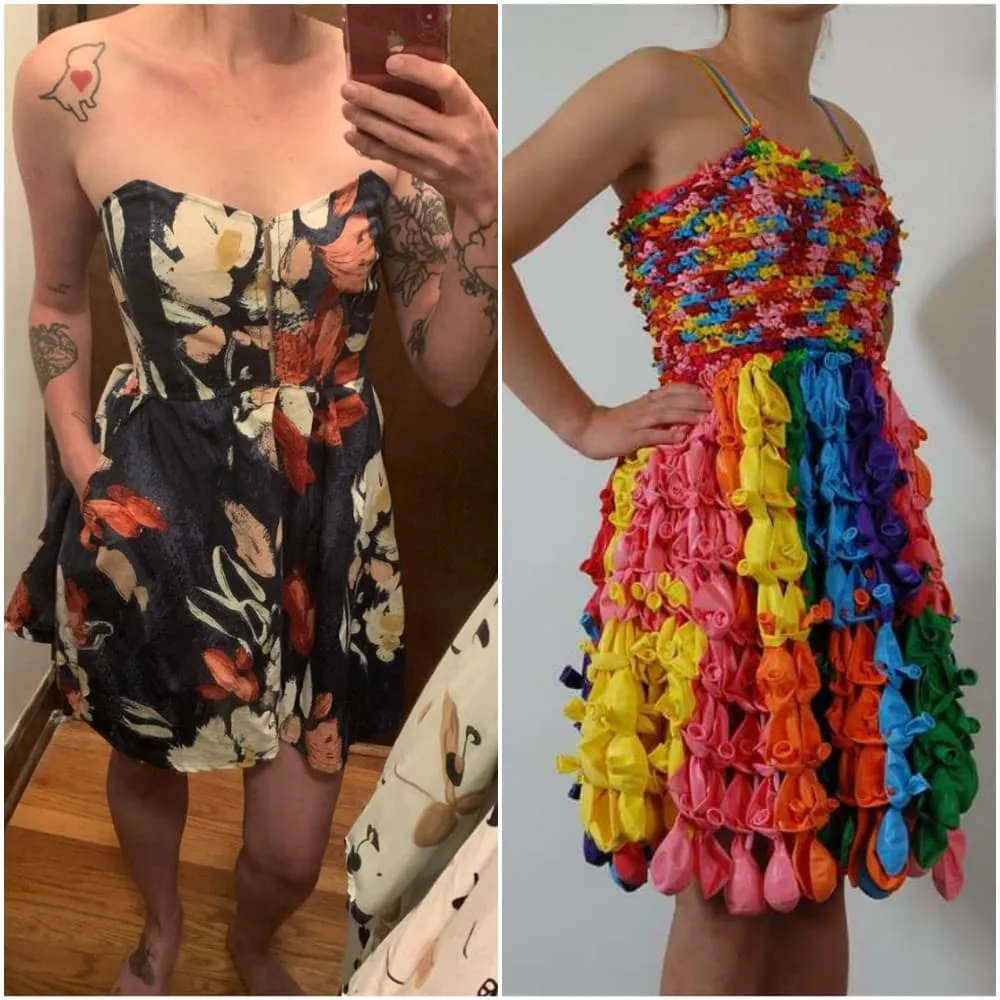 This year, due to having more time, lots of individuals have developed their skills by learning new hobbies. For instance, there are some who have acquired proficiency in cooking or crocheting, while others have mastered the art of sewing and even created amazing outfits using simple materials. We have rounded up some of the best projects to inspire you and awaken your inner artist.
Queen of Hearts
This dress is definitely not ordinary! It seems like it took a considerable amount of cards, more than the usual 52 of a deck, to create this stunning and one-of-a-kind attire that would be perfect for any masquerade event.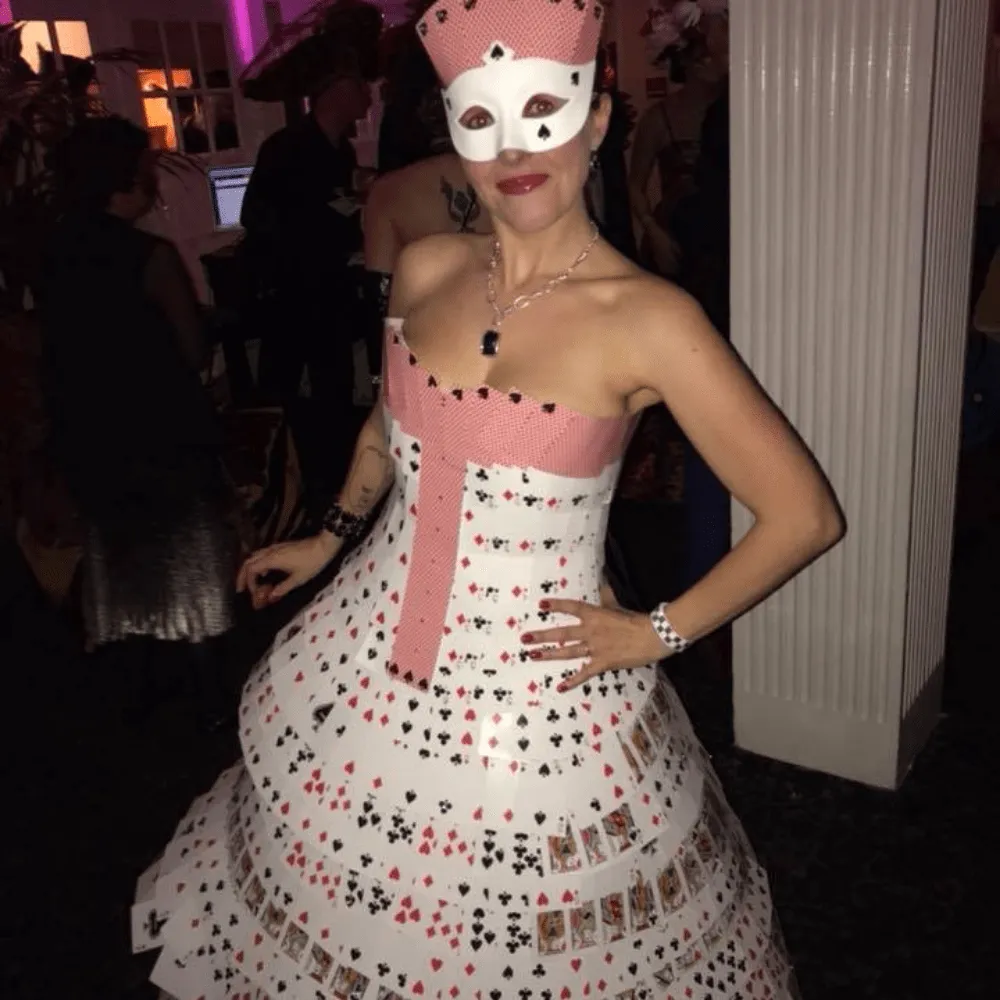 The ballgown features a line of Kings, Queens, and Jacks and has a corset lining consisting of the red checkered back of playing cards. Additionally, she crafted a crown that complements the dress perfectly.
Gum-Believable!
Do you know someone who is extremely fond of chewing gum? Is there a person in your circle who always keeps gum or mints in their bag? If so, this dress is perfect for them!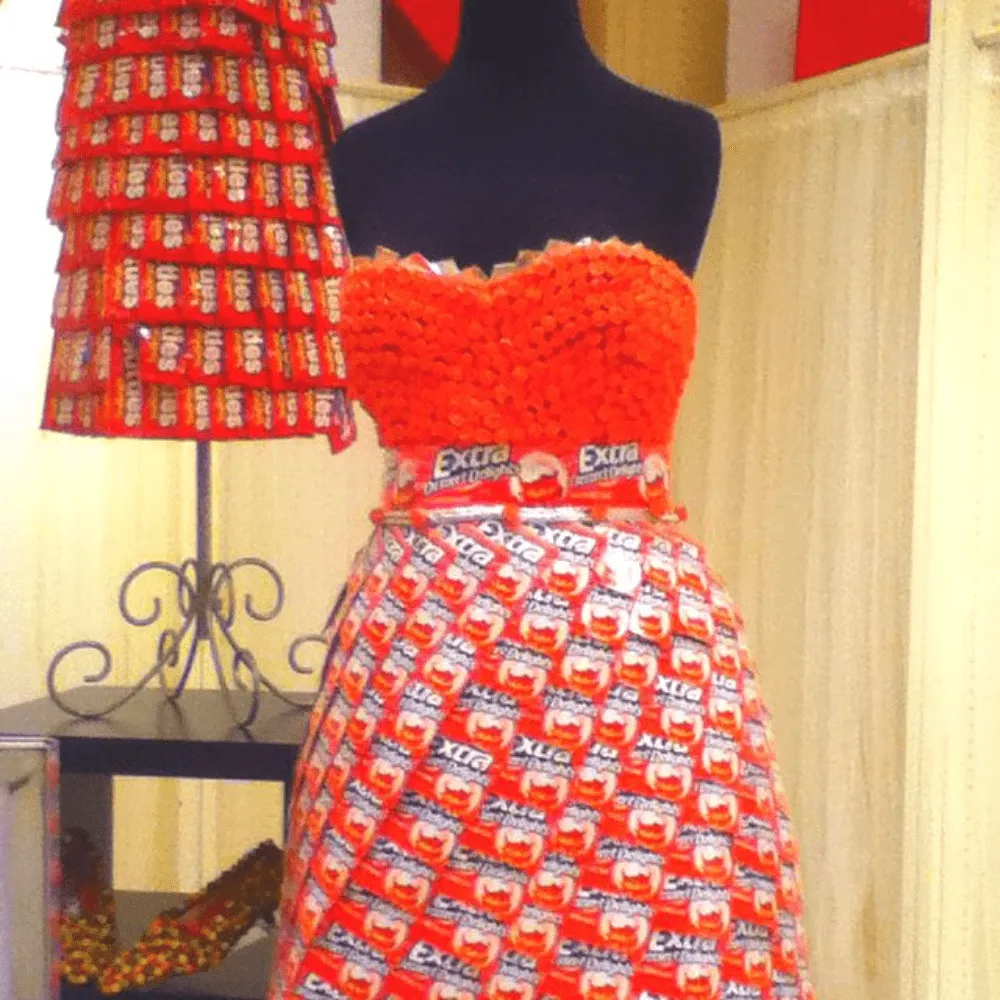 The individual who made this dress utilized gum packet cardboard to construct the body, and employed metallic wrappers for the top portion. Additionally, it appears that the "gems" were crafted from red candy or mints, contributing a delightful aspect to the design.
A Casual Corset
Discovering a sudden hole in your beloved pair of jeans can be an awful sensation; however, u/ironicphrases, a Reddit user, has ingeniously devised a resolution to this problem.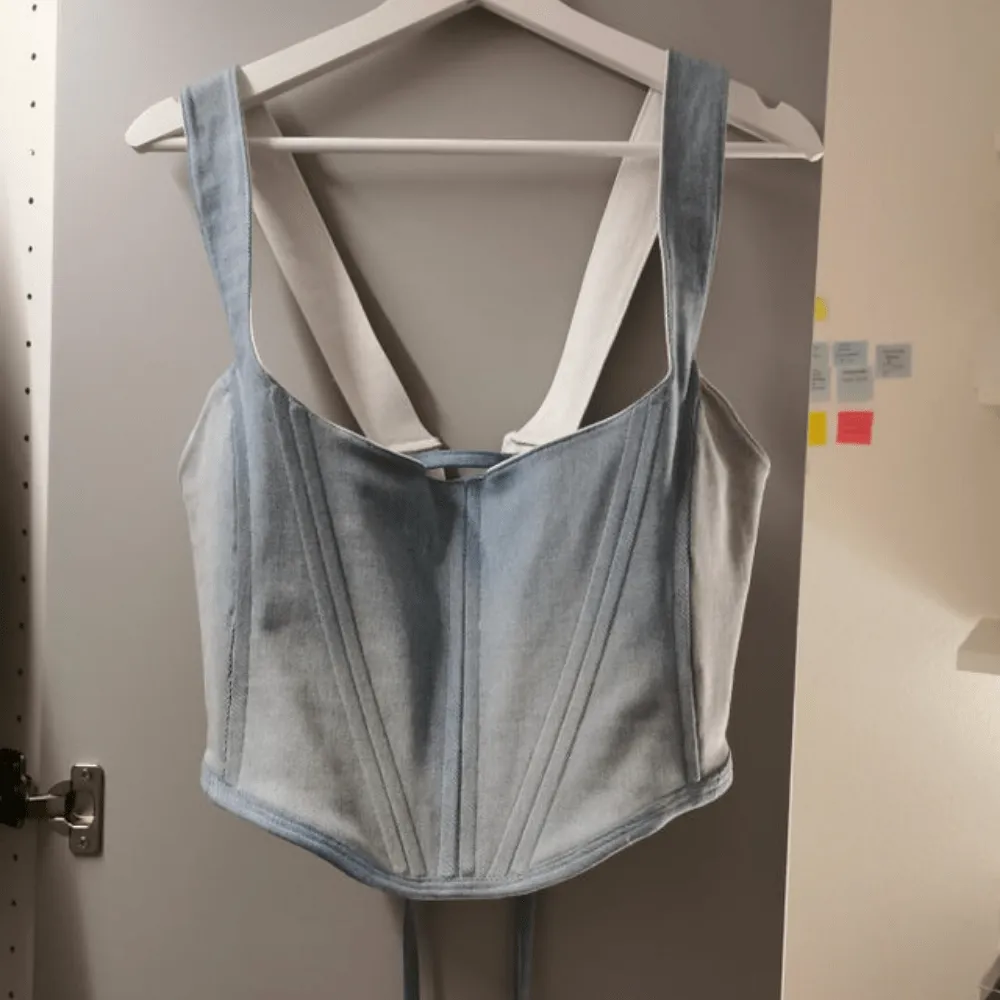 They used two sets of dilapidated jeans to produce a trendy corset that is suitable for anyone. This demonstrates that denim is a versatile material that can be transformed into anything.
Stuck at Prom
Christina, a 17-year-old, used duct tape to craft an exquisite dress for Duck Tape's Stuck at Prom Scholarship Contest, which encourages high school pupils to design splendid attires using duct tape.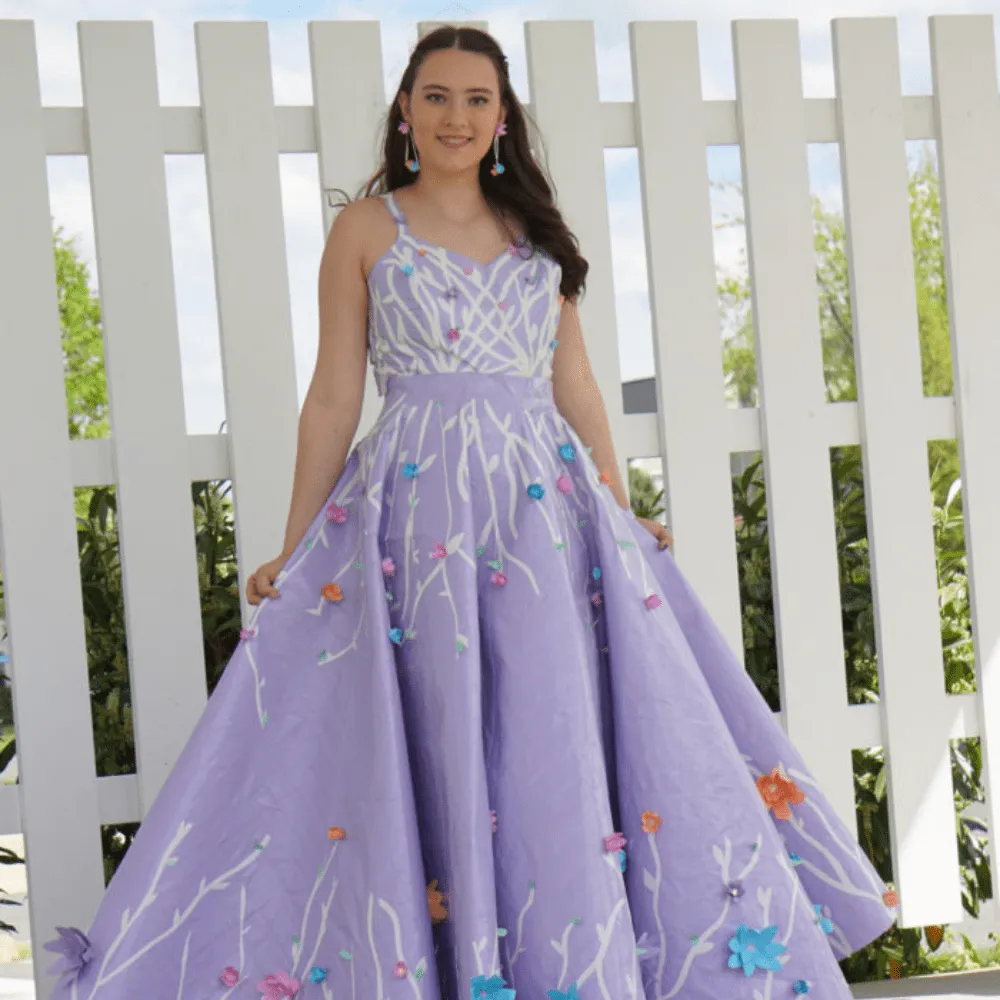 Typically, duct tape is not seen in the color lilac. However, when combined with beautiful flowers, it gives off a strong feeling of summer. Christina has been designing clothing for several years and she created an exquisite outfit that is guaranteed to grab everyone's attention.
Nice and Easy
Reddit user u/madison_babe designed this stunning summer dress by repurposing a thrift store bed sheet! Made of a breezy and lightweight fabric, the lovely smock gown is ideal for enjoying the hot summer weather.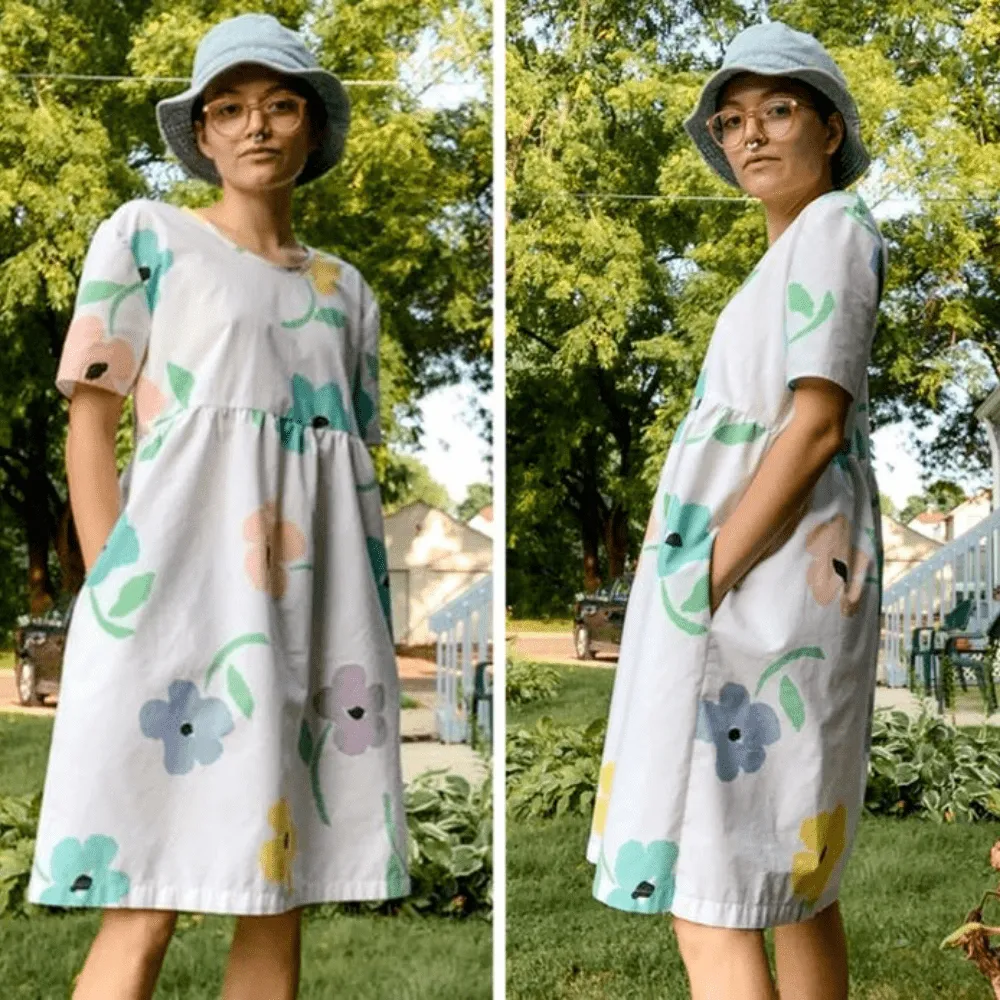 Redditors discussed how they still possessed the bedsheets they used in their childhood and planned on replicating Madison's design with them. It demonstrates the immense potential of the internet in connecting people.
Summer Fun
The woman's creative abilities allowed her to turn her grandparent's old kitchen wallpaper into a lovely summer dress and matching headband through the use of an online pattern instead of discarding the material.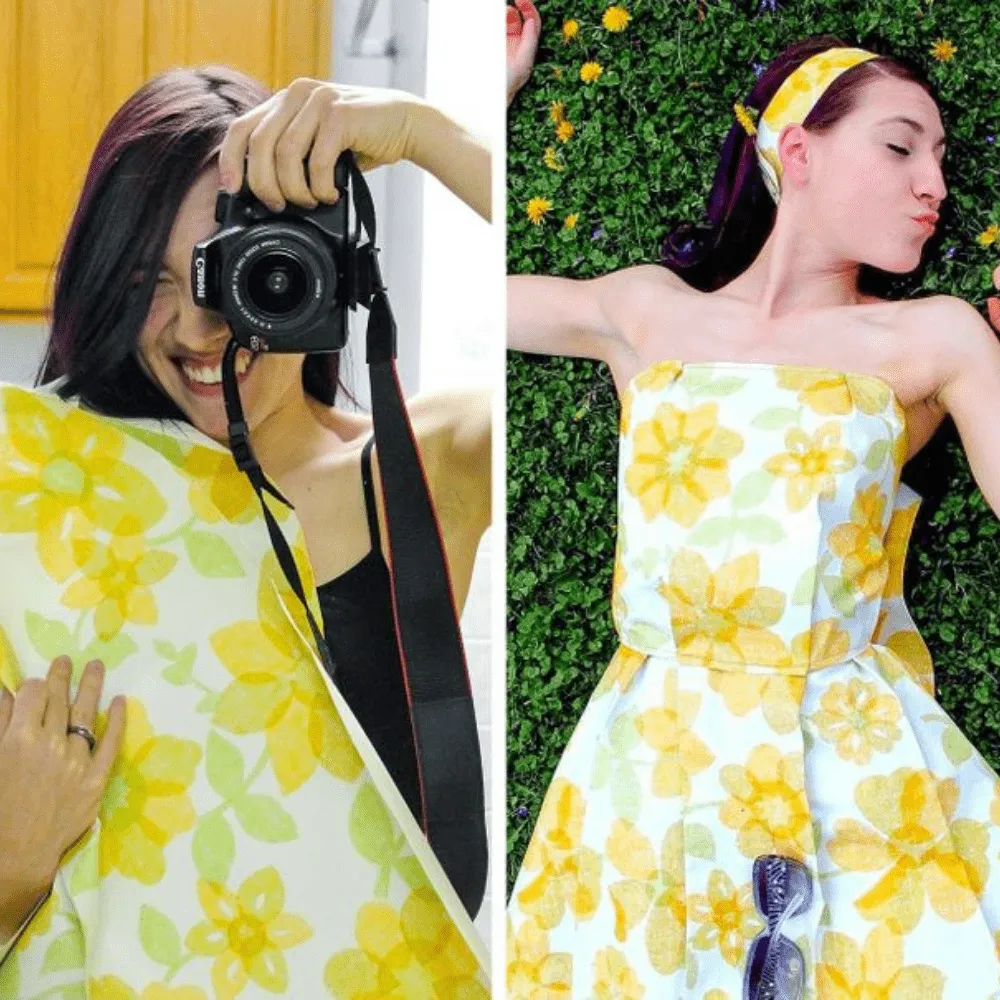 Creating a dress on your own is impressive, but being able to create a headband from the remaining material is truly exceptional. The vintage wallpaper enhances the '70s aesthetic that this ensemble is exuding.
Hold on Tight
Many people have a drawer full of pantyhose that are either too small or too damaged to wear. Instead of throwing them away repetitively, a resourceful woman has discovered a solution to breathe new life into them.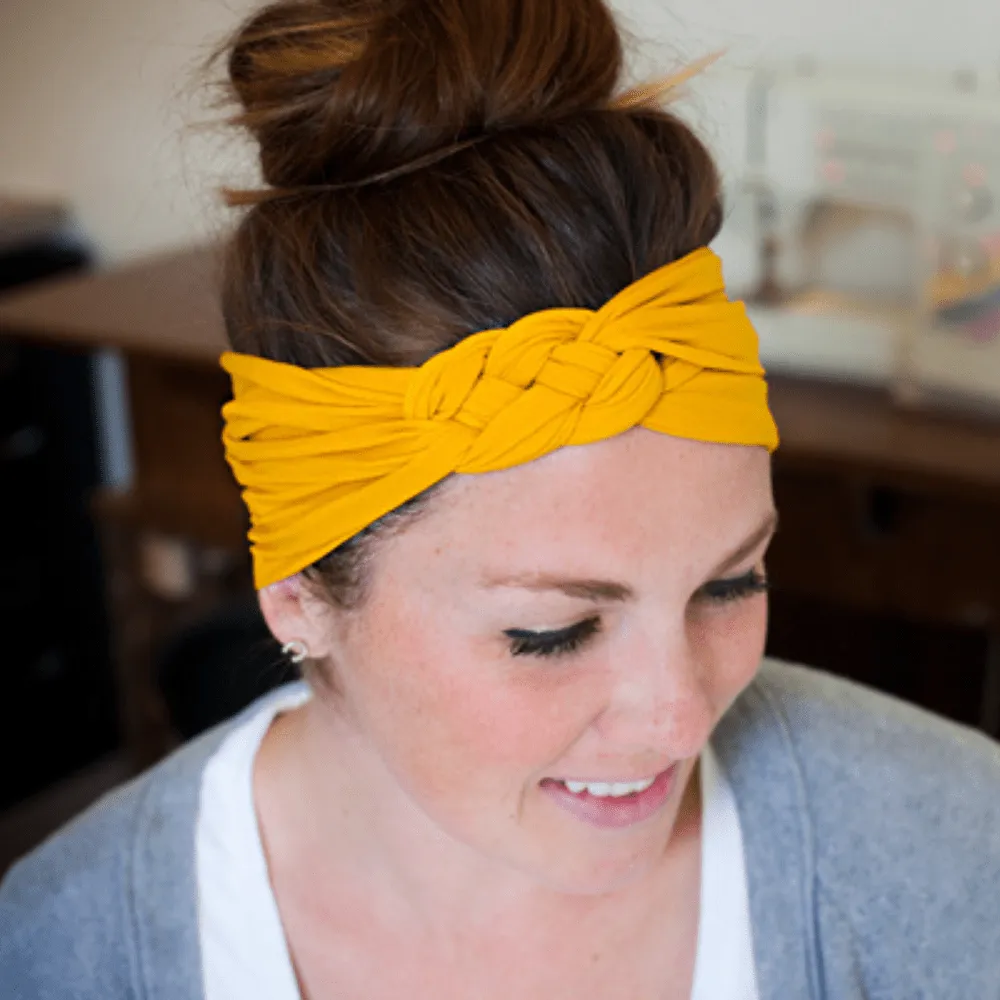 By following some easy steps, this woman transformed her ripped and old yellow pantyhose into an exquisitely crafted hairband. By using different colored pantyhose, you can create a hairband that matches each color in your wardrobe.
How'd She Dew That?
Do you enjoy drinking Mountain Dew? We presume this woman has earned the title of being the top fan. Although this outfit was crafted solely for a competition, it surely required significant dedication and hard work.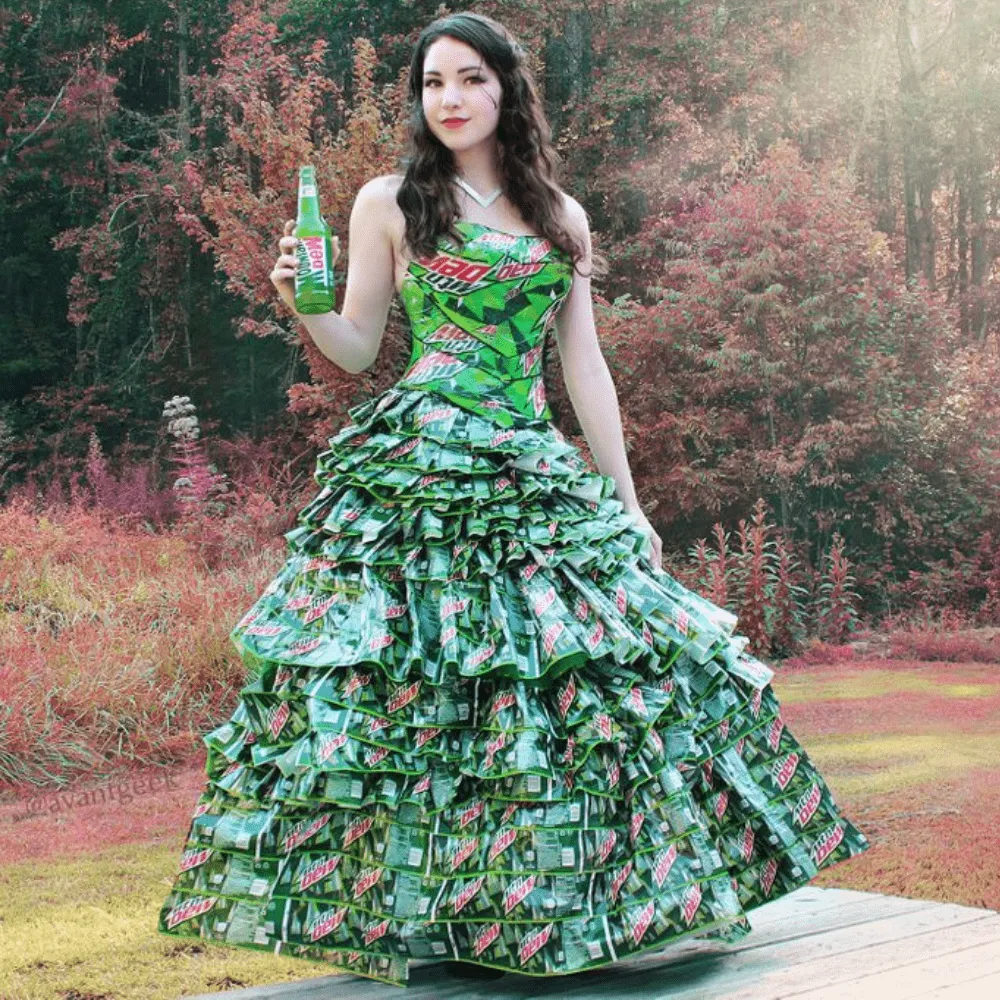 According to the creator of this distinctive dress, the upper part is crafted using reused plastic and wrappers, while the lower part comprises a petticoat covered in over 300 carefully stitched-up wrappers. It's undeniably an astonishing piece of work.
Sleeping Beauty
The beautiful dress resembles a blooming rose. The designer, u/gesasage88, stated that the dress was comprised mostly of bed linens, while the remaining fabrics were sourced from their past projects.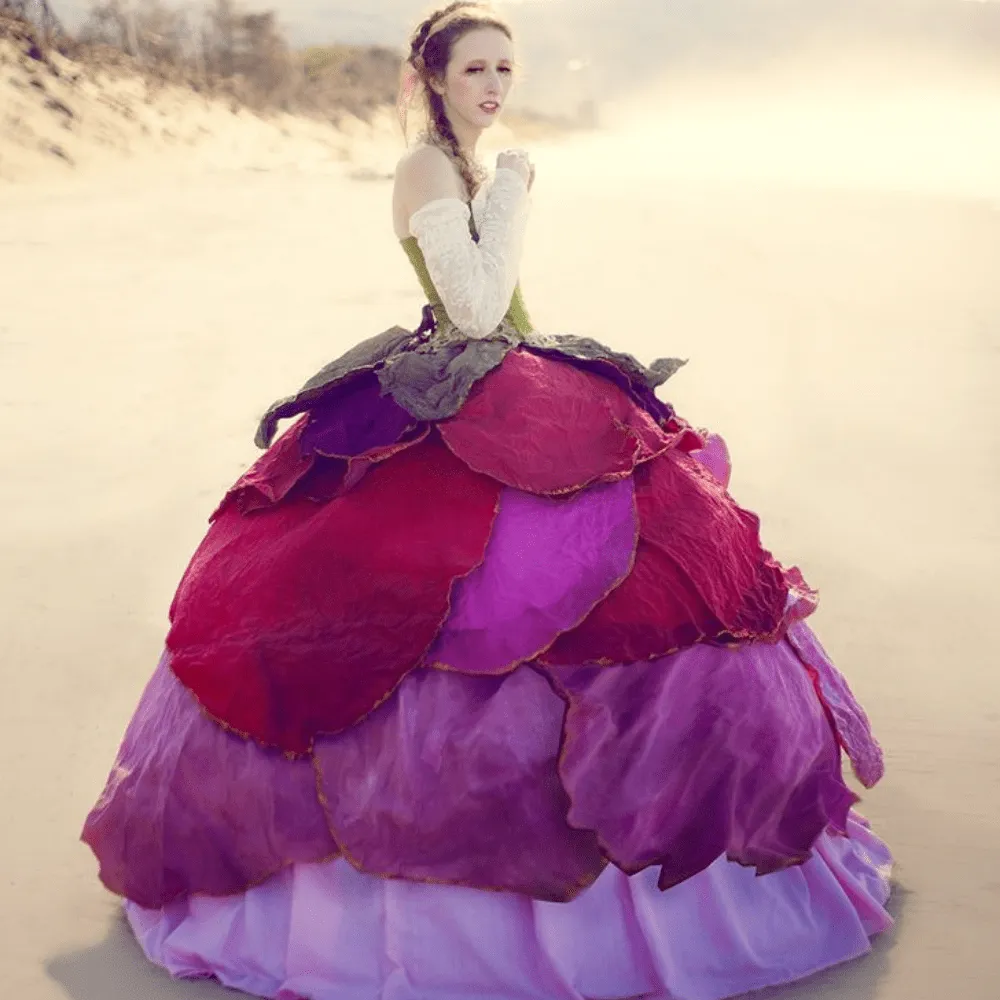 The various hues of the petals are arranged in a flawless manner resembling an inverted pink rose. Although it may not be suitable for formal occasions, the design is visually appealing. It is impressive for the first try at creating a three-dimensional flower.
Read Between the Lines
A lot of creativity and effort went into designing this amazing outfit which incorporates numerous papercuts. The dress was ingeniously crafted from a shredded dictionary, and upon closer inspection, it is possible to read the words in alphabetical sequence.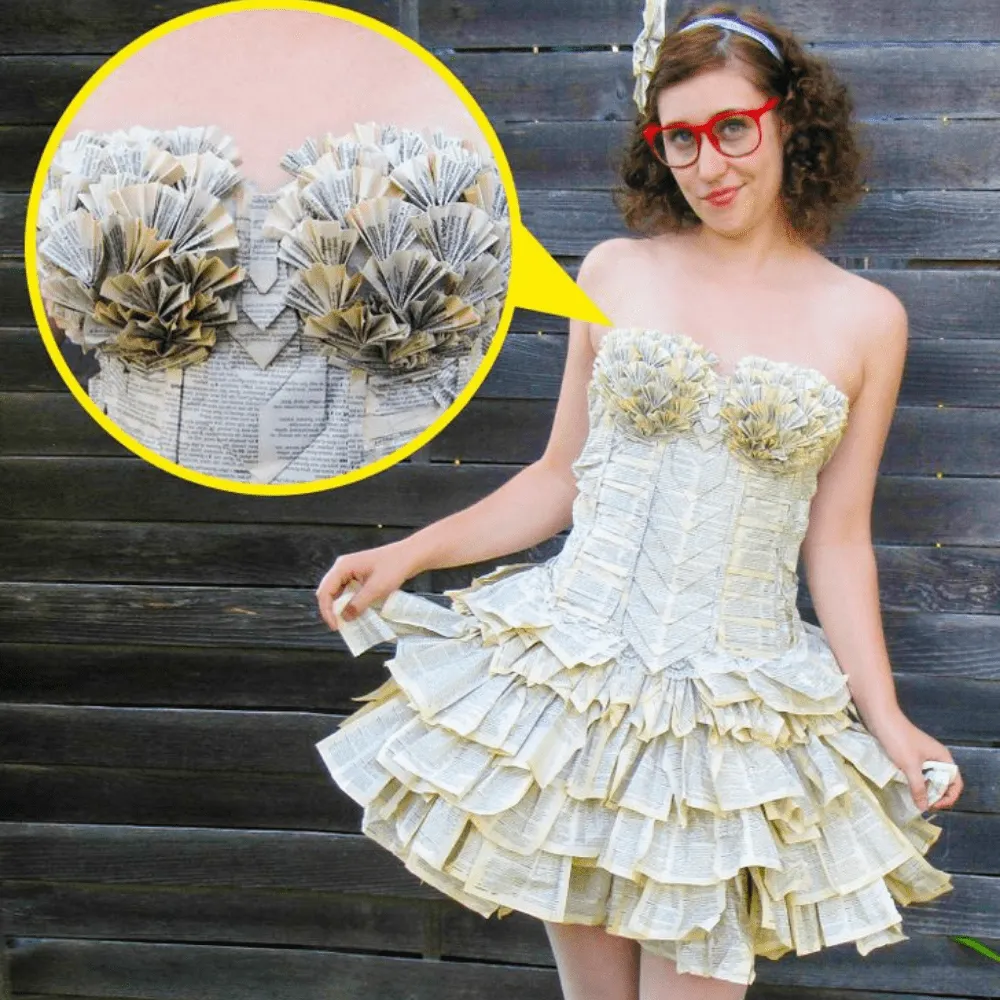 The bodice was folded to create a shell-type pattern on the bodice, with scale-like details flowing down into the skirt. We think this dress is perfect for someone who loves to read, and it looking for a bold new item to add to their wardrobe.
All Boxed Up
Ever wonder what do to with all of your leftover cardboard you can't fit into your recycling? This crafty lady turned all of her ripped up cardboard into a pastel dress fit for any evening party.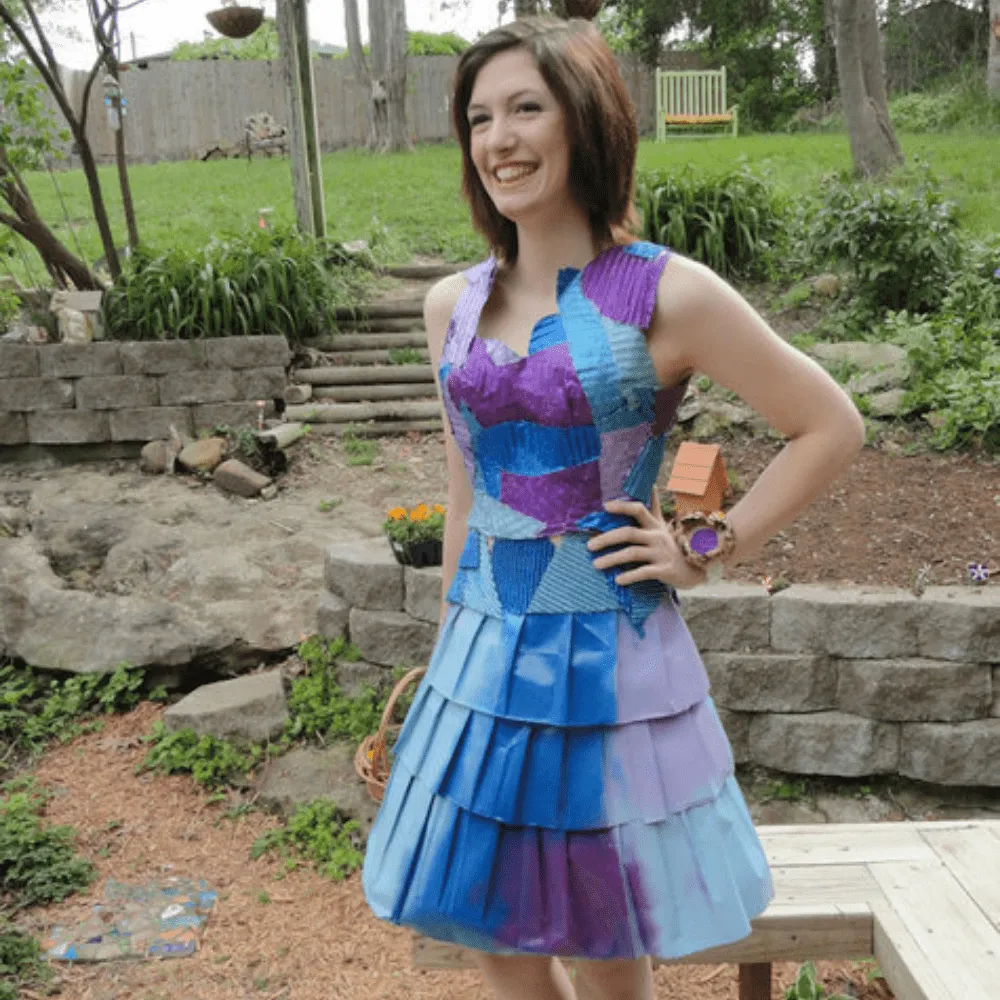 This unique cocktail dress displays a layered skirt made from spray-painted pieces of cardboard. The bodice is made up of cardboard triangles and different shapes to create a one-of-a-kind outfit. Even the corsage on her left hand is made from cardboard!
Here Comes the Bride
There are a lot of bizarre competitions out there, but what about the Toilet Paper Wedding Dress competition? The competition held in 2019 celebrated its 15th anniversary and crowned South Carolinian Mimoza Haska as their winner.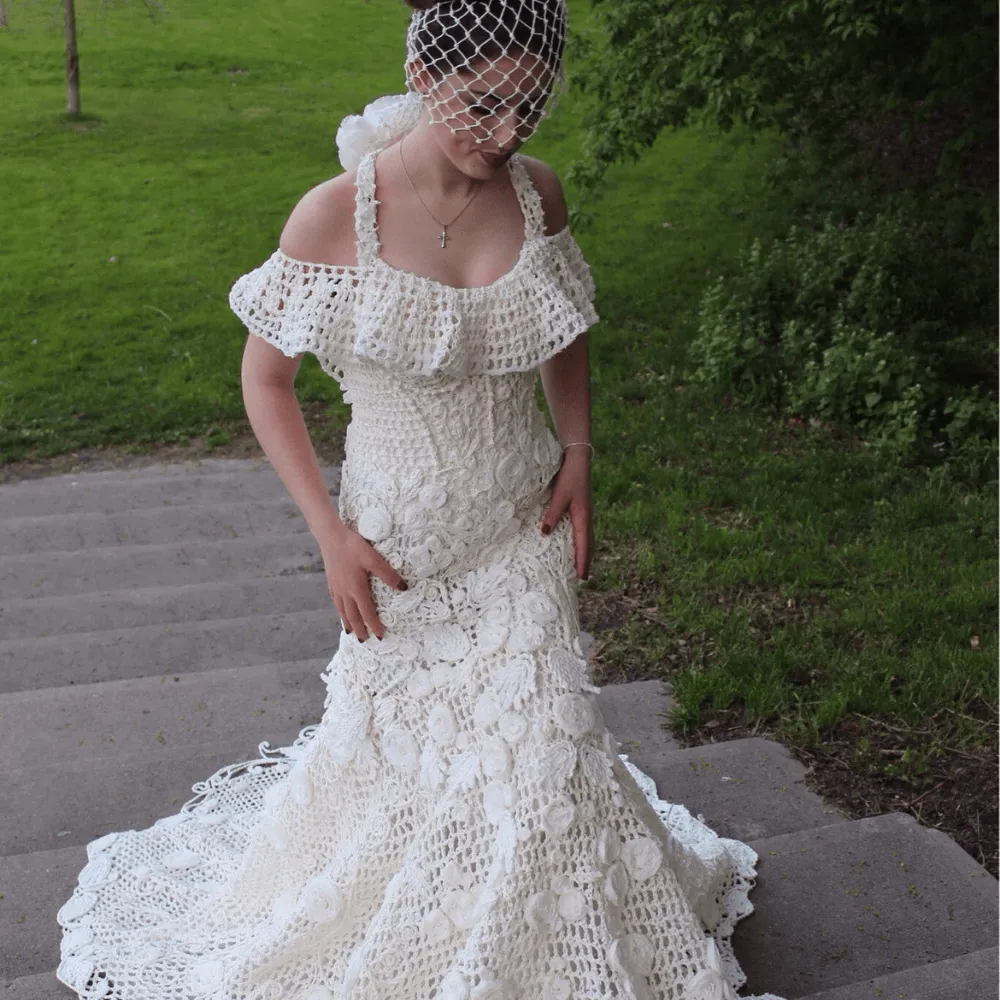 Haska's gown is a unique crocheted gown with flower appliques, and all of it is made entirely out of toilet paper! We're just glad it didn't rain that day otherwise this competition would have been a total washout.
Spread Your Wings
Cardboard is often easy enough to work with, but it takes a real artist to create something beautiful with it. Reddit user, u/Bckrudwig, created this piece after being inspired by Titania in A Midsummer Night's Dream. It includes multiple layers of intricate designs.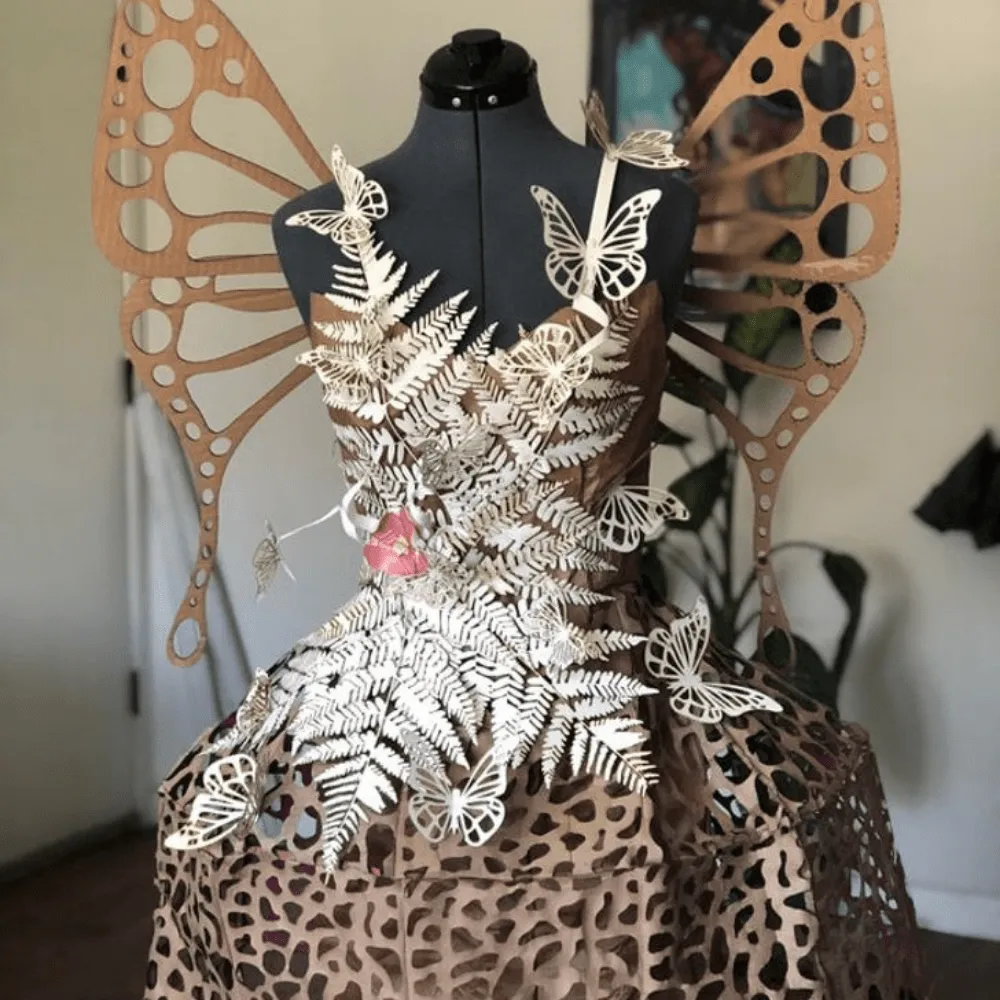 Using a laser cutter, a sewing machine, and a hot glue gun, u/Bckrudwig managed to create a piece that is almost as delicate as Shakespeare's words themselves. This really belongs in the Met!
Time to Dive
Originally posted to Reddit user, u/l_lumina, received a mountain of deserved praise for her ability to turn a used parachute into a mesmerizing gown sure to take the title of Best Dressed on any red carpet.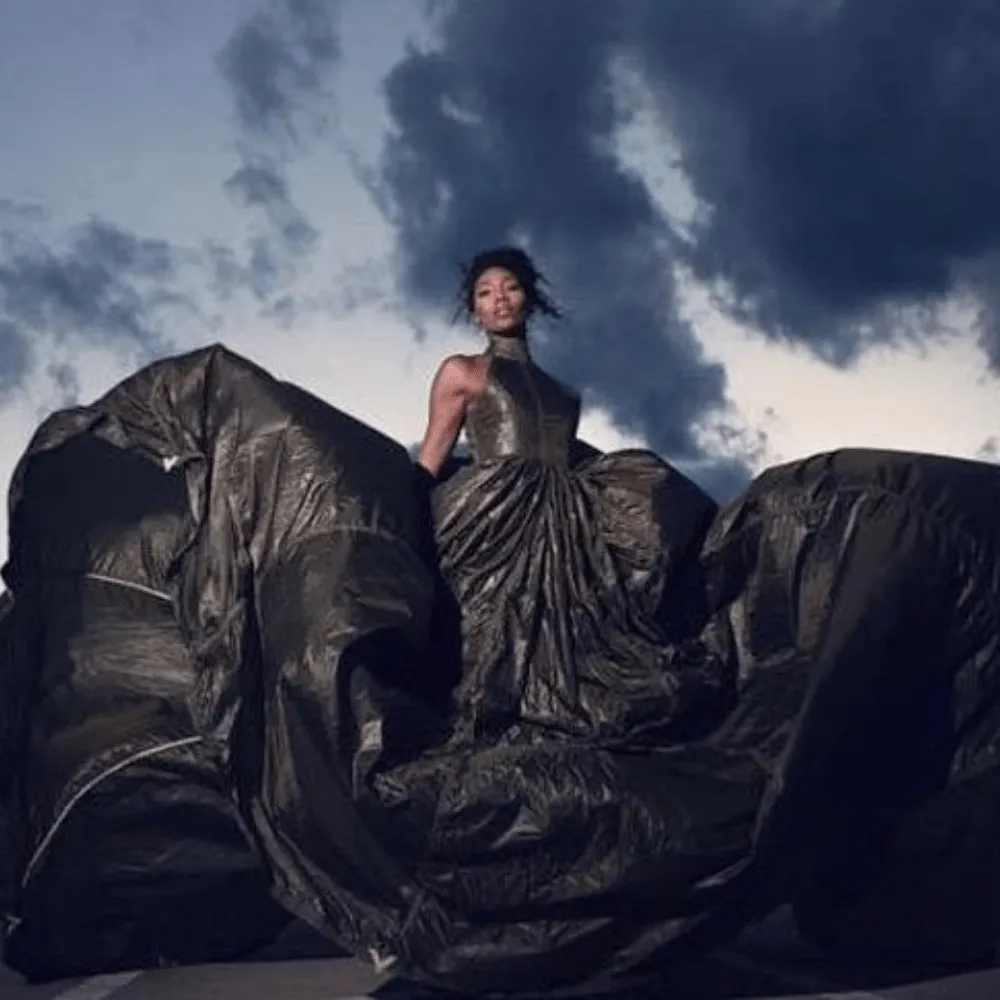 u/l_lumina initially started with a layer ballgown in her concept drawings, however, whenever she ended up finishing the dress, it was a lot more dramatic than what she anticipated. This might be an idea for anyone who wants to remember their time skydiving forever.
Roll the Dice
This creative Dungeons and Dragons fan was able to customize their very own denim jacket with pieces of scrap materials that were scattered throughout their home. They expertly cut pieces of scrap leather into the shape of an icosahedron, or a D20 in DnD terms.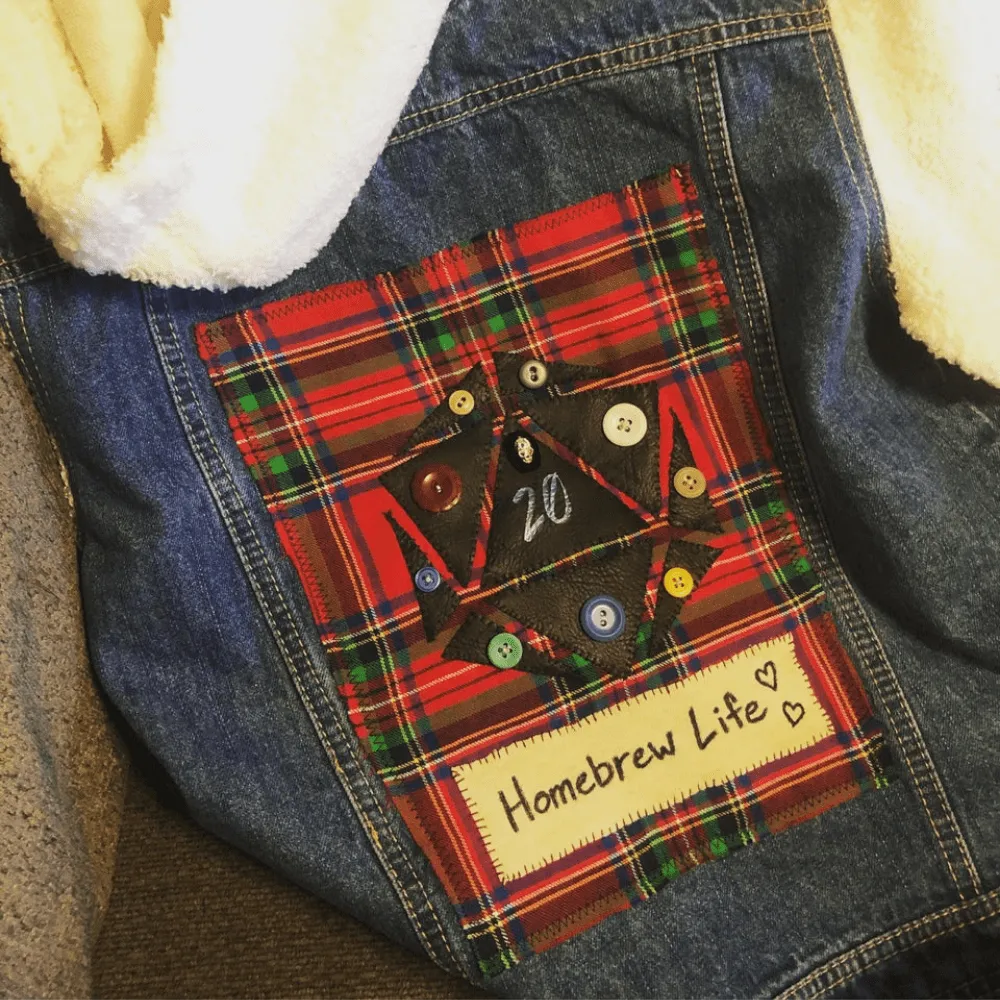 The buttons were also added to create more depth to the design. Using scraps of materials can definitely be an easy way to customize any boring piece of clothing and truly make it your own.
Chip Chip Hooray
The youth are starting to turn away from traditional prom dresses with big skirts and plunging necklines, and are starting to become creative with their designs. The designer of the infamous Doritos prom dress says that it took three years to finish!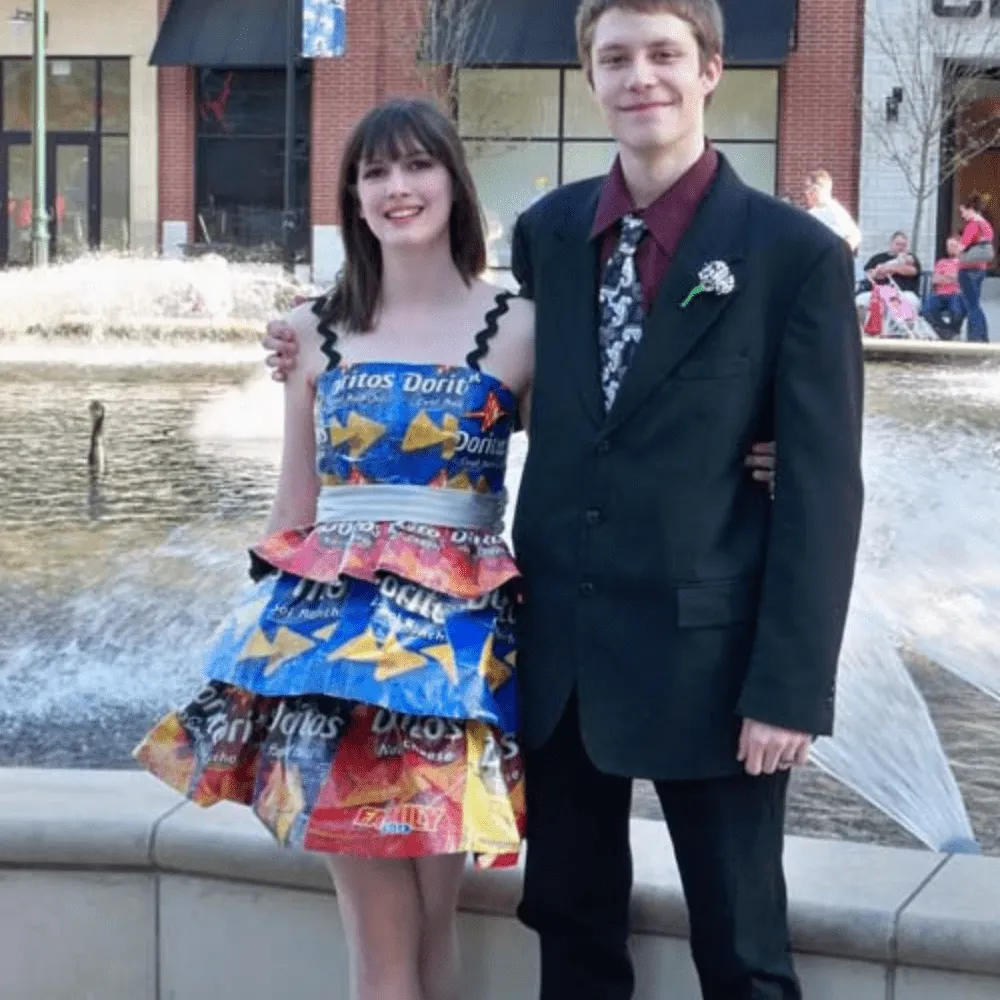 The chip bags are expertly sewn together, and paired with unique straps that tie this outfit together. It's so impressive that someone so young could make something often seen on shows like America's Next Top Model. We hope she's still creating amazing masterpieces!
Finding Other Uses
There are lots of jean-based clothing out there. Jean shorts, or often called "jorts," and now there's the jean dress "jress." This wonderful designer managed to take 12 pairs of torn jeans and one torn pair of overalls in order to create this jean ballgown, or "jallgown."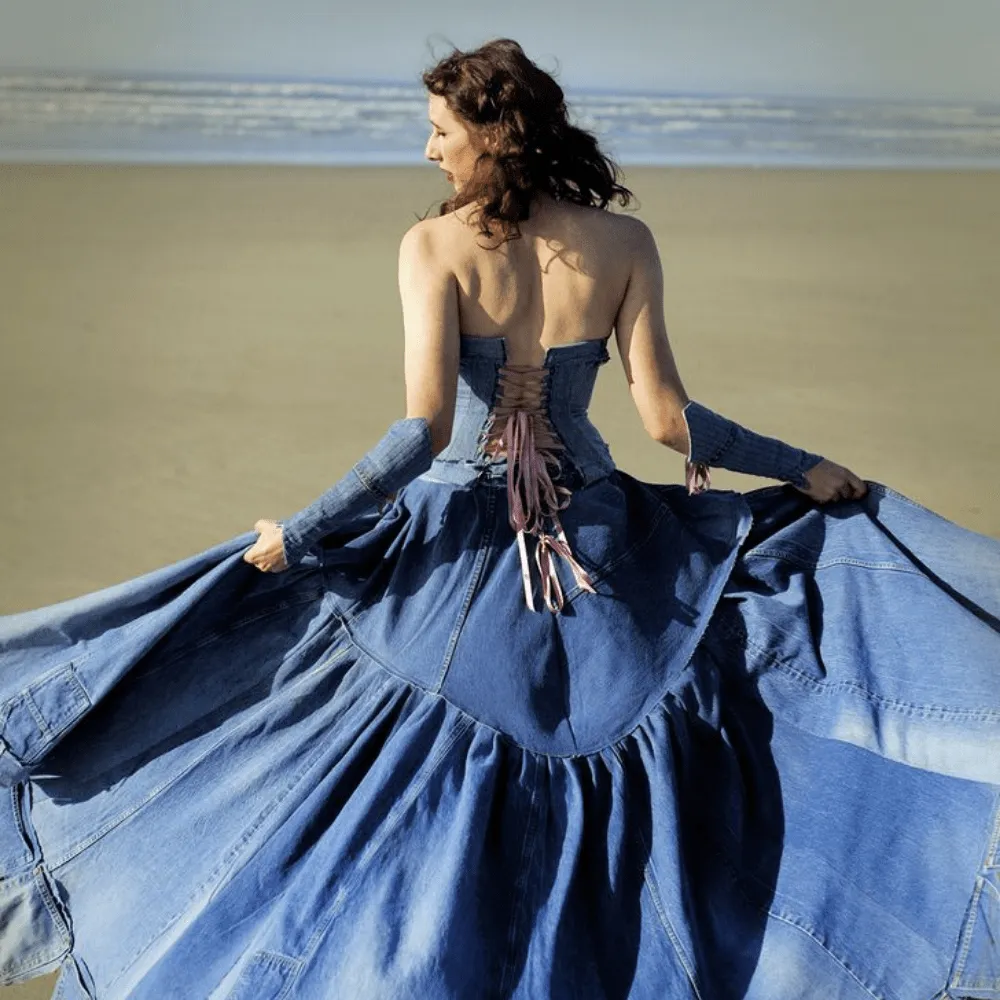 The designer says that, yes, it is as heavy as it looks. No doubt on a cold and blustery day at the beach, it'll manage to keep the wearer warm as well!
A Stinky One
This might not be to everyone's taste, and may even bring some of you back to unpleasant diaper changes in the middle of the night. One creative mother managed to take all the diapers her baby had grown out of and turned it into a floor-length dress.

The diapers have all been layered displaying the fun little cartoons and adding a bit of color to the dress. Whilst this would have taken a lot of time and effort, it also makes for a fashionable diaper holding as well — as long as there are no holes in important places!
Don't Sleep on This
One of the most useless items in the world has to be an air mattress. After one night, the entire bed has lost its air, and most times one night is all it takes to burst it. Reddit user, u/bbzarr, managed to take her air mattress and turn it into a work perfect for New York Fashion Week.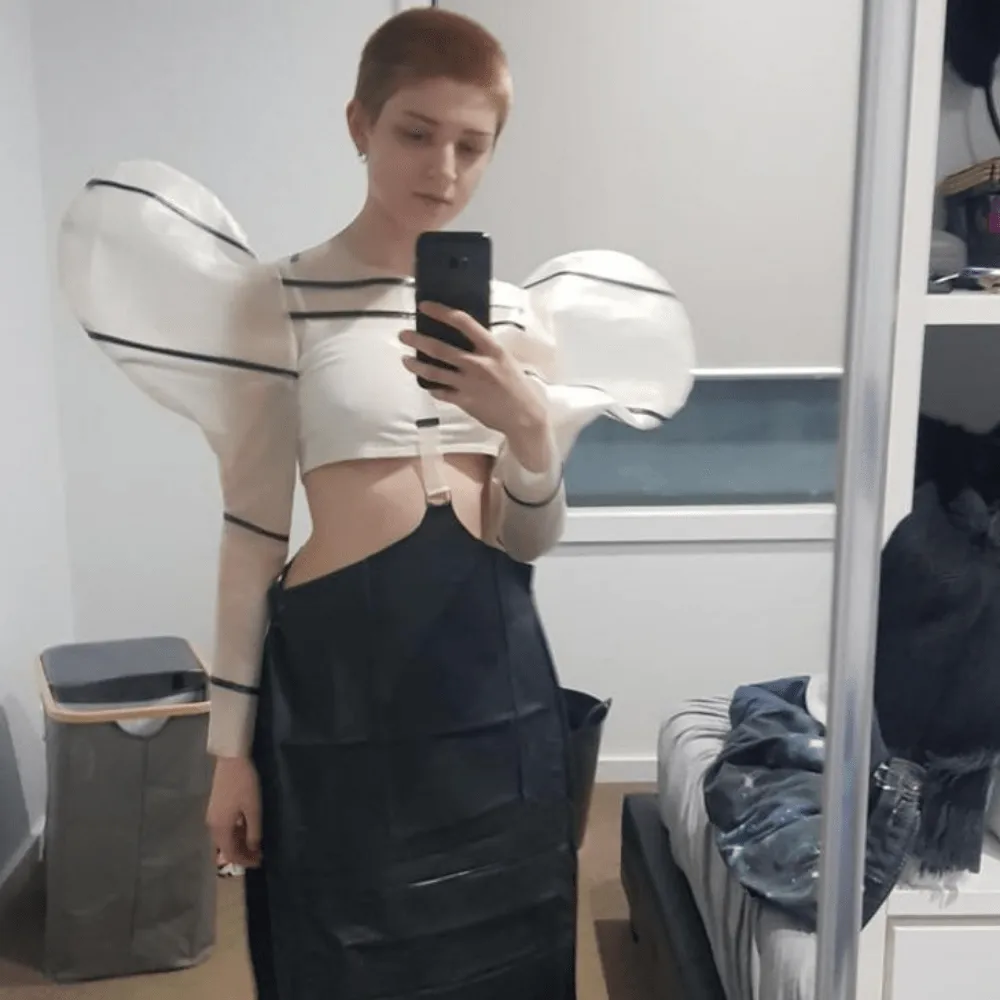 She says that the inspiration behind her self-patterned dress came from Icelandic singer-songwriter, Björk, which we can definitely see reflected in the dress. Not only is it totally original, but it also took less than 24 hours for u/bbzarr to debut her newest creation.
Taste the Rainbow
This is one for someone with an insanely sweet tooth. To celebrate her prom, a local high school student — Cristal — collaborated with the sweet shop Candyality to create a prom dress worth talking about. Candyality had previously created dresses out of candy wrappers for art festivals and other events.

Cristal's custom dress was created using wrappers from empty bags of Skittles. The logo was used to create the bodice, and fuller bags used to create a voluminous skirt. The perfect gown for the ultimate Skittles fan.
Can You Bead-lieve It?
Cosplay conventions happen all over the world annually — like Comiccon, Comiket, and Fan Expo. Cosplay usually involves people dressing up in costumes similar to their favorite TV show, movie, or book. Cosplayer Amy managed to make use of some beads to create her Wonder Woman costume.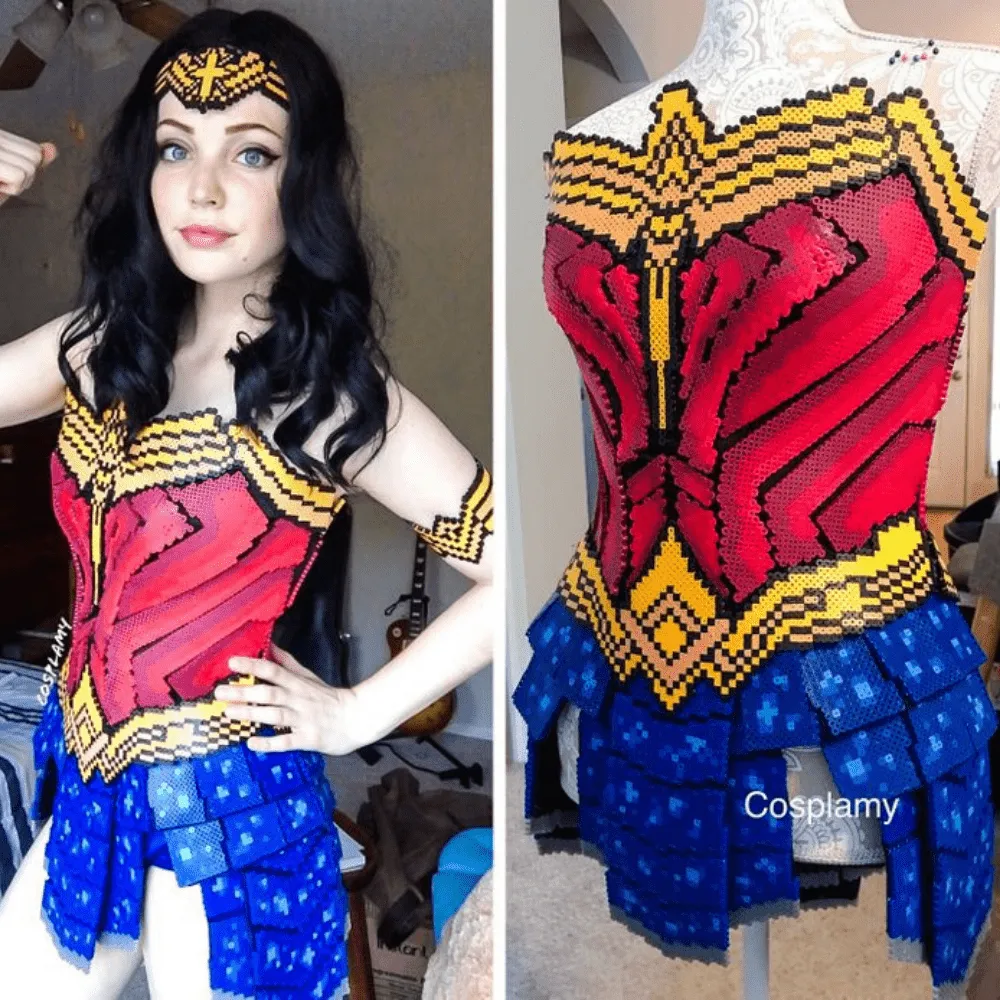 She posted her designs to Imgur saying, "This is a Wonder Woman dress made from fuse beads. Now, I'm off to make the gauntlets, boots, a sword, and a shield. Hopefully, I won't run out of beads." It looks like it's straight out of a video game!
Showered With Praise
Our attitudes towards our shower curtains come and go when the seasons change. When it's warm, we want something light and airy. However, when it's colder, we might want deep, warm colors to trick ourselves into thinking it's warmer than what it actually is.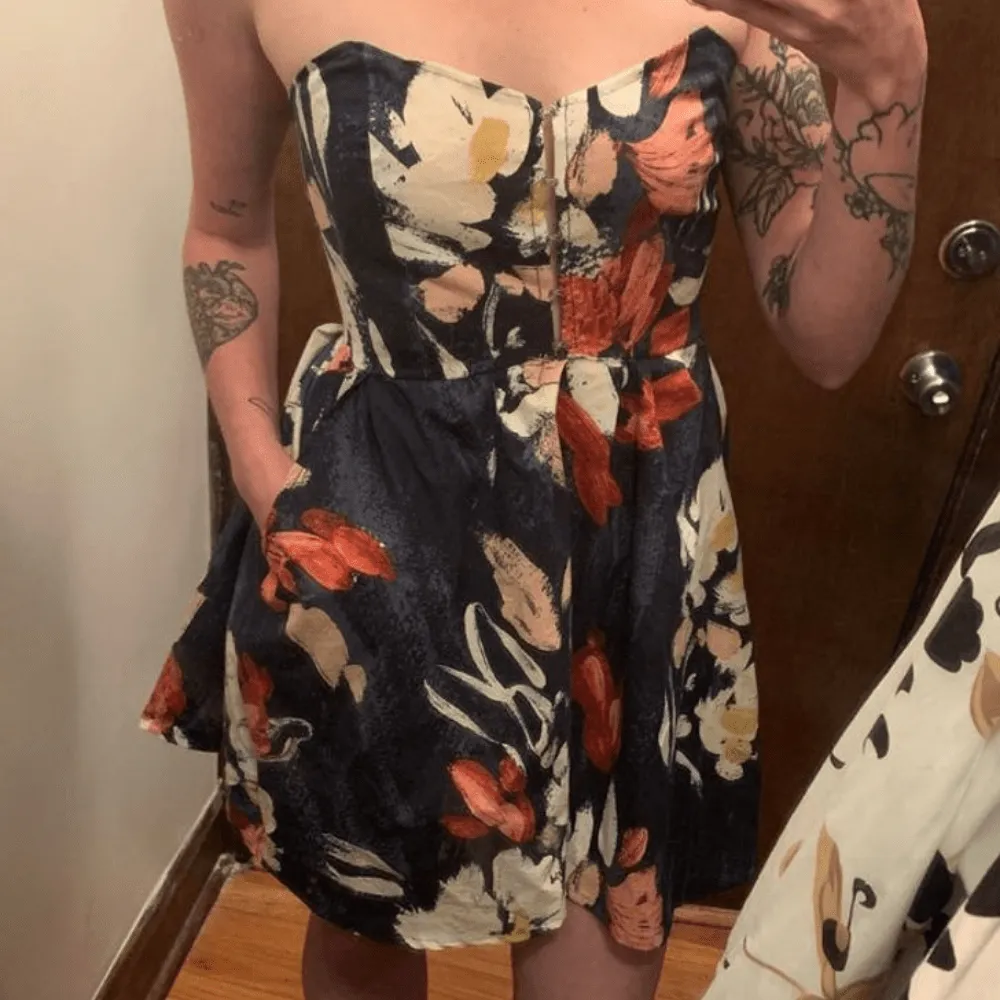 Reluctant to completely get rid of her old shower curtain, u/Iiwii said that despite being a complete amateur, she sewed together this dress. She even managed to add a few hook and eye details to the bodice of the dress to make it look even more professional.
A Trashy Dress
People often say that they're not interested in spending a lot of money on a wedding dress, as it will only be used for a few hours on the most special day. Brides have therefore been looking at alternative ways to get across their personality on their wedding day.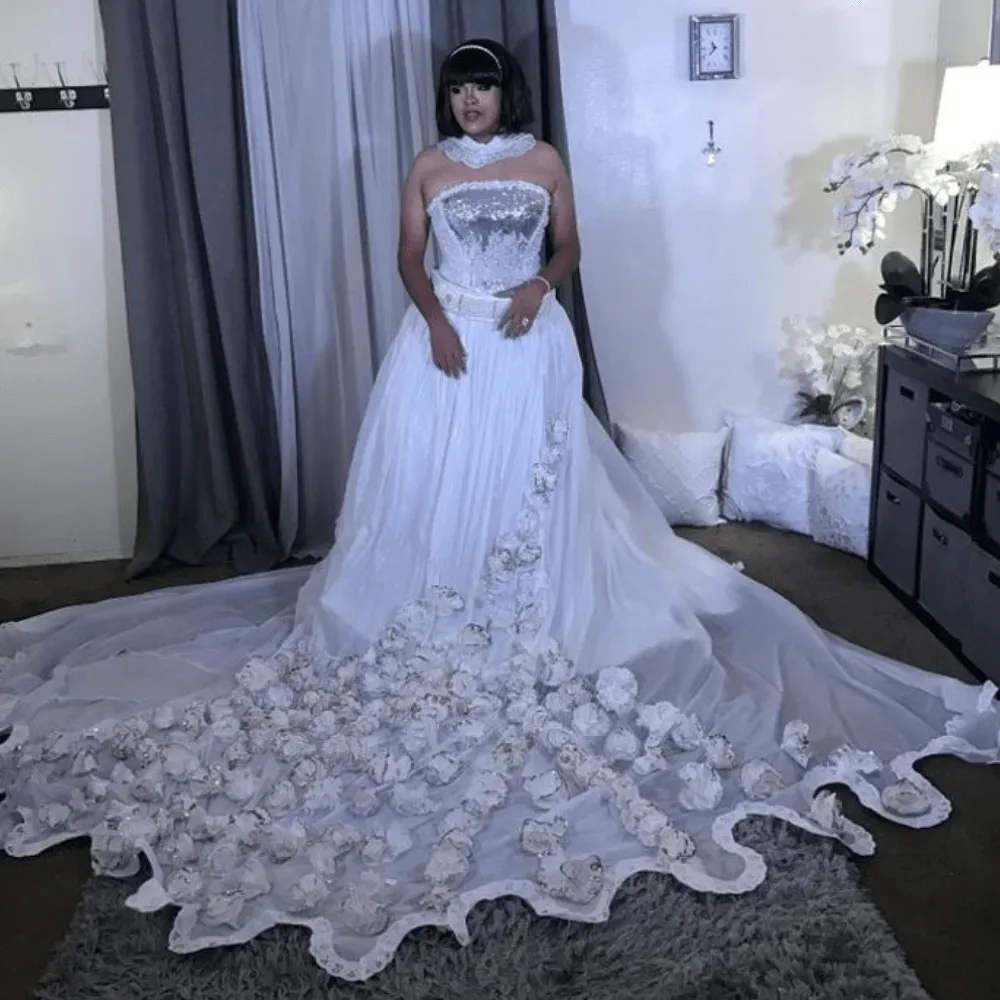 User u/matteFinnish posted her wedding dress that was made from trash bags, plastic table clothes, and butcher paper. Apparently, after a disastrous fitting, the bride was forced to think on her feet and spend the last six days before her wedding making this dress.
A Load of Tarp
Etsy seller, shopMissMalaprop, used some recycled FEMA (Federal Emergency Management Agency) issue blue tarp found on the streets of New Orleans to create this dress and choker masterpiece. It was designed for a charity fundraiser for the America's Wetland organization.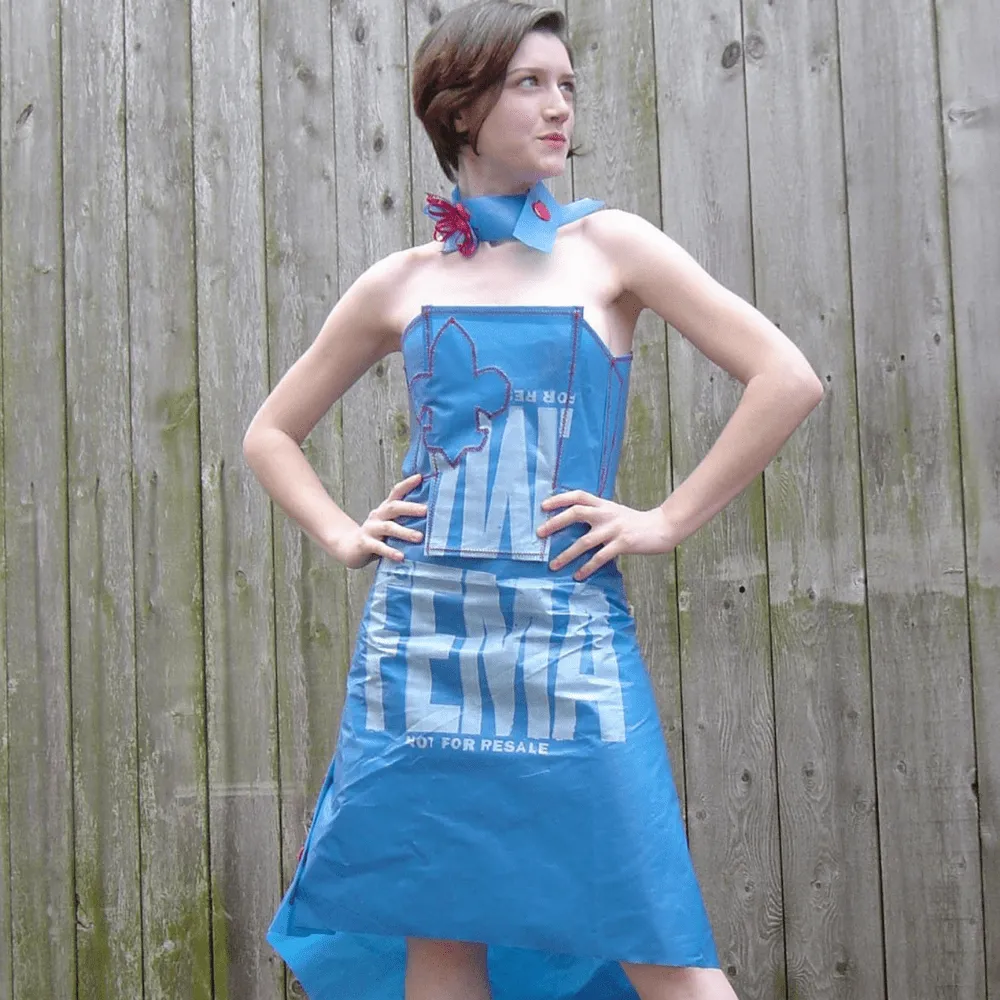 Whilst this dress has unfortunately long been sold, it shows how any piece of material can be repurposed for a new piece of clothing. We hope that whoever bought this piece was generous in their donation!
Burst of Color
This might be another one for the candy lovers. DIY-er, Emily, spent five years — four of which were spent gathering materials — making this beautiful off-the-shoulder dress out of Starburst wrappers. She claims that the majority of the materials came from her husband's discarded trash.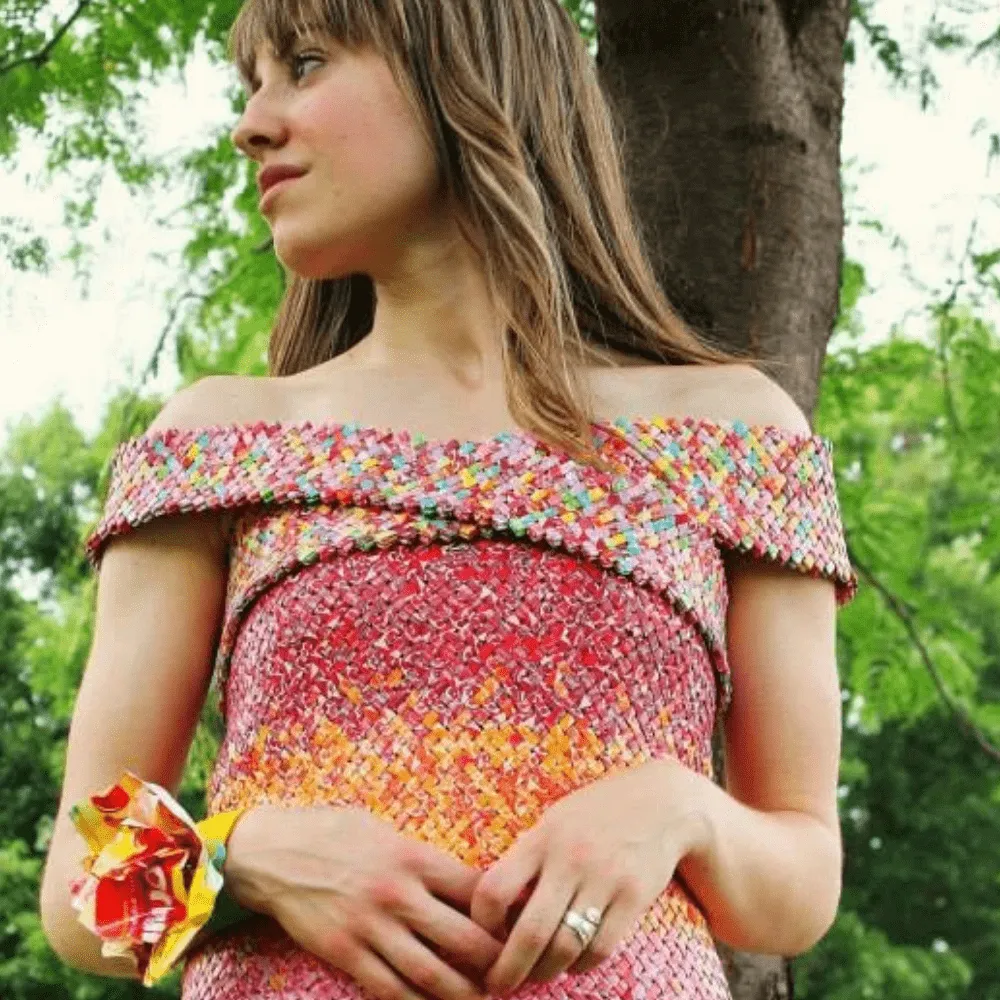 Emily used 10,000 Starburst wrappers to create her design and organized them into different colors before ironing them and folding into links. If she needs help finding another 10,000 wrappers for a second dress, we're more than happy to help out!
Up, Up, and Away
Water balloons can be fun to play with during the summer but come fall and winter, the pack will stay in a drawer until the next best day, which may be months away. This person managed to take all their leftover balloons and turn them into this colorful gown suitable for the Met Gala!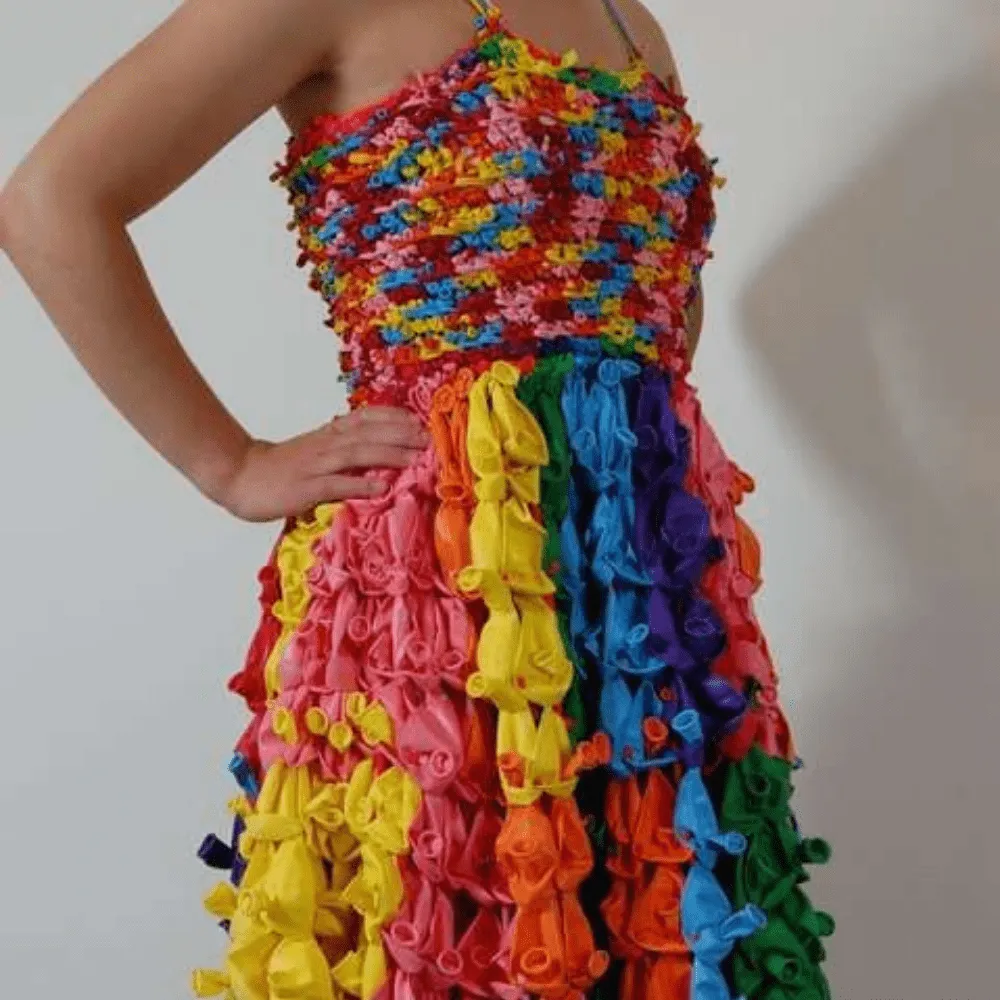 This dress features every color in the rainbow, making it completely stand out! This also would have required very little sewing work given that the balloons are masterfully tied together. Also, the tied ends of the balloons made for a beautifully detailed bodice.
All Wrapped Up
Leading up to the holiday season, we always buy way too much wrapping paper that we leave it until next year. However, when the next year rolls around, it's nowhere to be seen!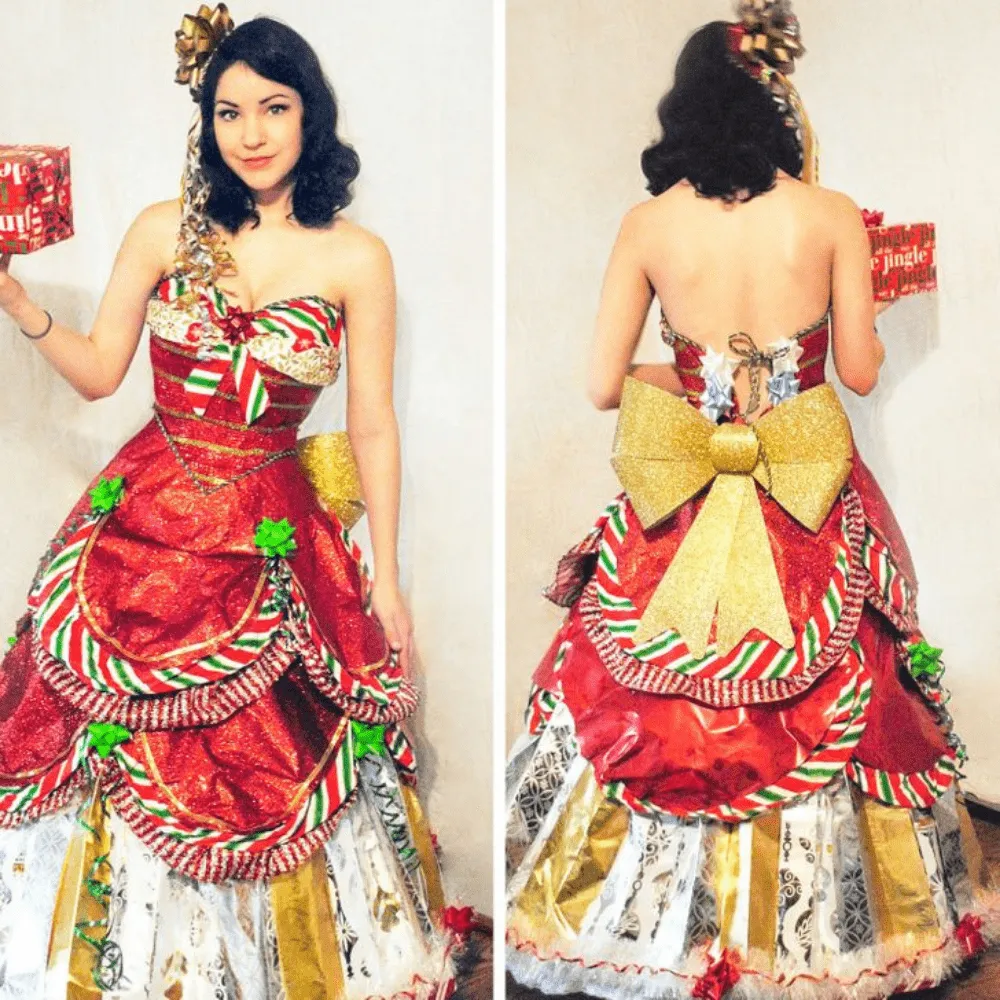 Made from "post-holiday paper, glue, and ribbon!" u/avantgeekart created a dress that Mrs. Claus would be jealous of. She even took the time to create a stunning gold ribbon head piece to compliment her glittery red dress. We hope finding glitter in your hair for the next few months was worth it!
Popping Off
We've never really given much thought to the tabs that open soda cans. Imgur user, @caribbeanamphibian, posted this photo of her prom dress — which is made up of thousands of soda can tabs. We do wonder how much soda she was drinking a year to get this many tabs.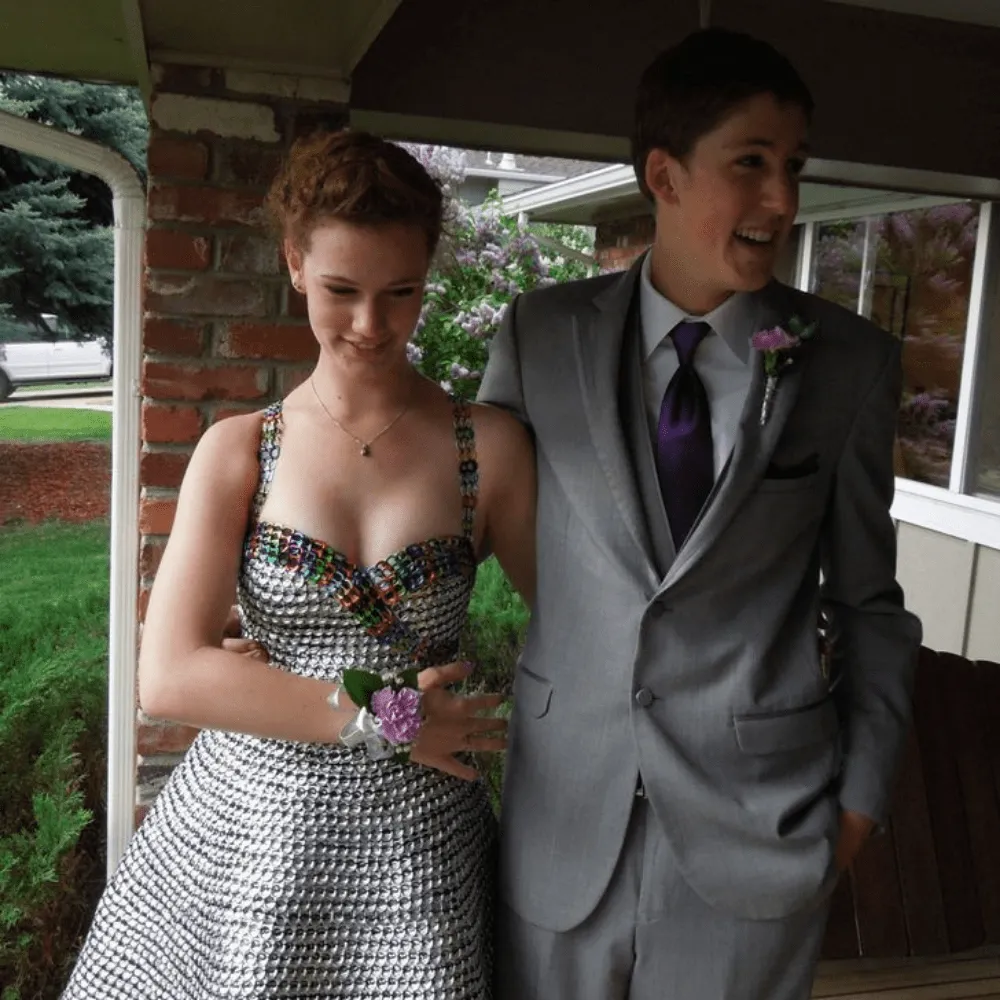 The majority of the dress is made up of regular gray aluminum tabs, however, the neckline and straps of the dress are complemented by an assortment of colors. It was nice of her date to match his tux with her unique dress!
Pop of Color
Another prom queen who has decided to make a statement. @Mollyballoons, appropriately named, decided that for homecoming, she would make her dress out of balloons. In the end, she created a cocktail dress out of cyan and pink balloons.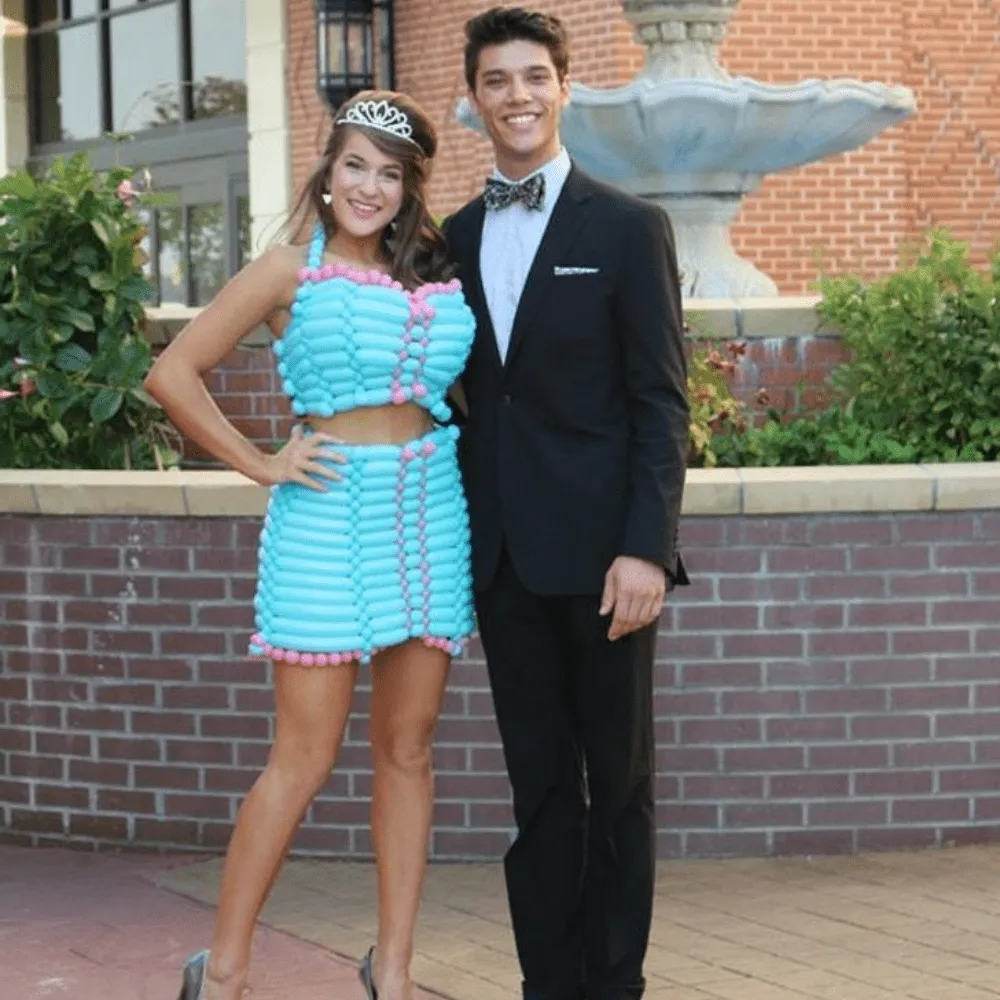 Molly's unique concept and brilliant execution wowed everyone at homecoming, and ended up winning her the title of Homecoming Queen! It's one thing to make balloon animals, but a completely different level of skill is needed to make a whole dress. Well done, Molly!
Always a Bridesmaid
Brides these days are always looking to make their wedding as affordable as possible. One way this thrifty bride thought of saving some dollars was by making her bridesmaid dresses out of tablecloths.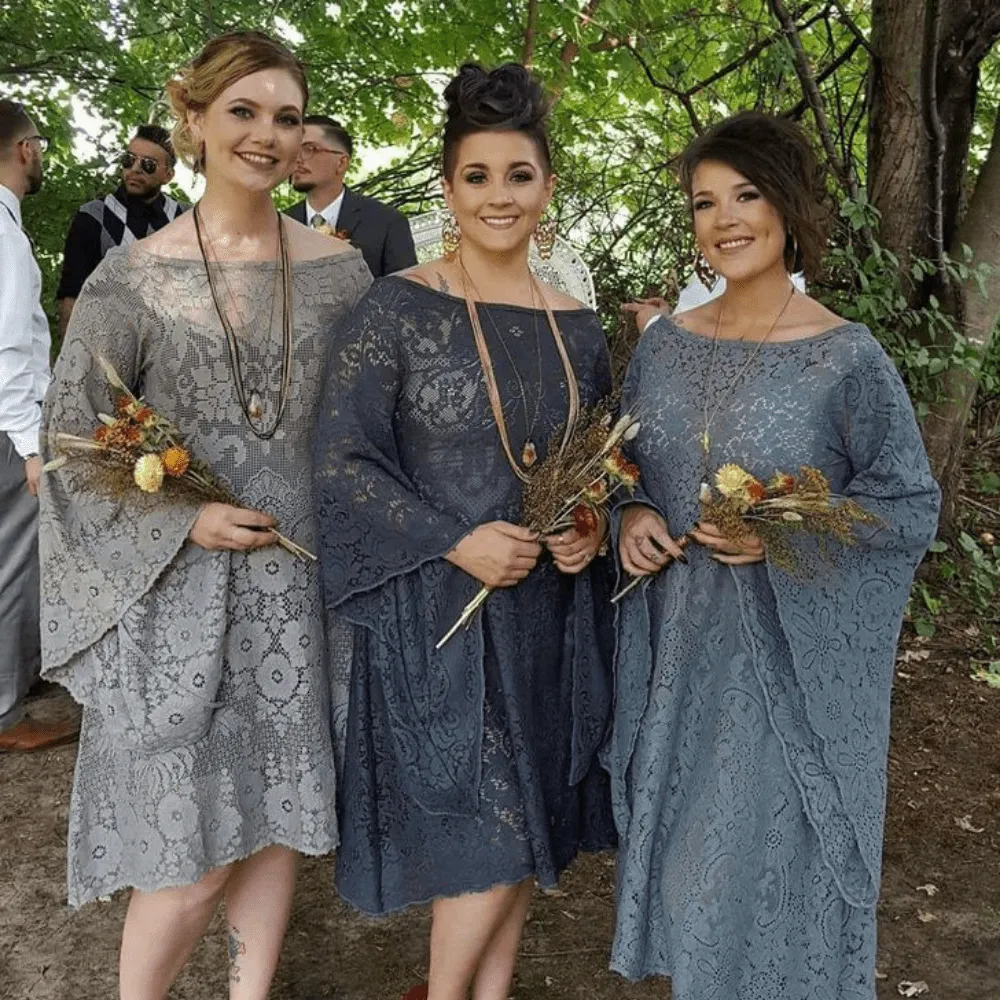 This creative bride took antique lace tablecloths and dyed them various shades of gray to match her wedding colors and aesthetics. It also made for a gorgeous bohemian style look, which all the bridesmaids looked fabulous in! We hope that these types of creative saving methods become the norm for future weddings.
Style Your Shirts Differently
People often don't realize there are hundreds of ways to customize and create different items of clothing using our t-shirts. We all have that pile of shirts we keep in the back of the closet that we want to repurpose but never get around to doing it.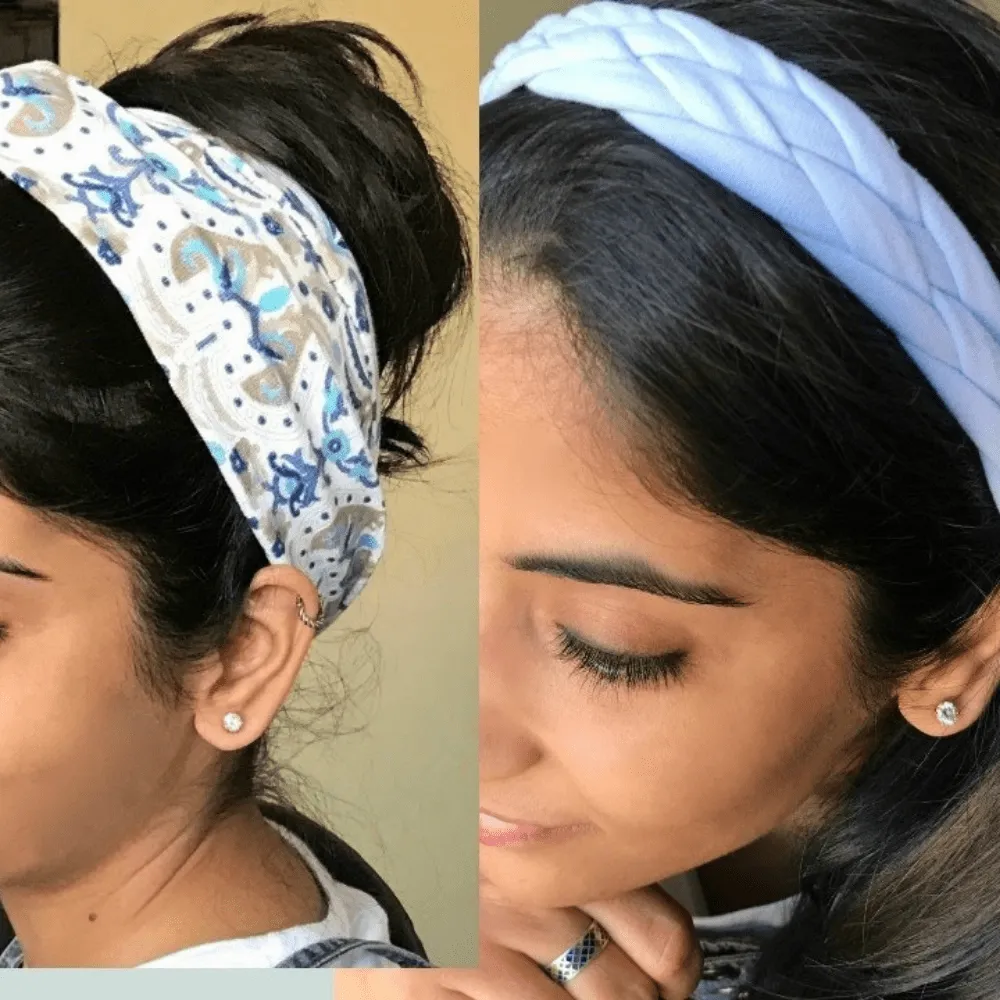 In the blink of an eye, you can transform your old raggedy t-shirts into cool, stylish headbands. By cutting the hem of your t-shirt and looping it inside itself, you can easily hide your greasy hair with your favorite new accessory!
A Chef's Favorite Item
Overalls became all the rage a few years ago, but it's unlikely to see anyone sporting them in this day and age. If you're looking to revamp your vintage overalls into something a bit more practical, it can be easily done.

This woman transformed her old denim overalls into a fashionable apron. The sewing is so clever, we almost didn't notice it was an apron! This could be a perfect gift idea for that special someone in your life reliving her teenage years.
Leave it Out
A lot of modern fashion tries to incorporate nature into its designs, but what happens when nature becomes the dress? This dress is the brainchild of four different designers, who made this elegant gown out of 5,888 leaves — and it's almost seven feet long!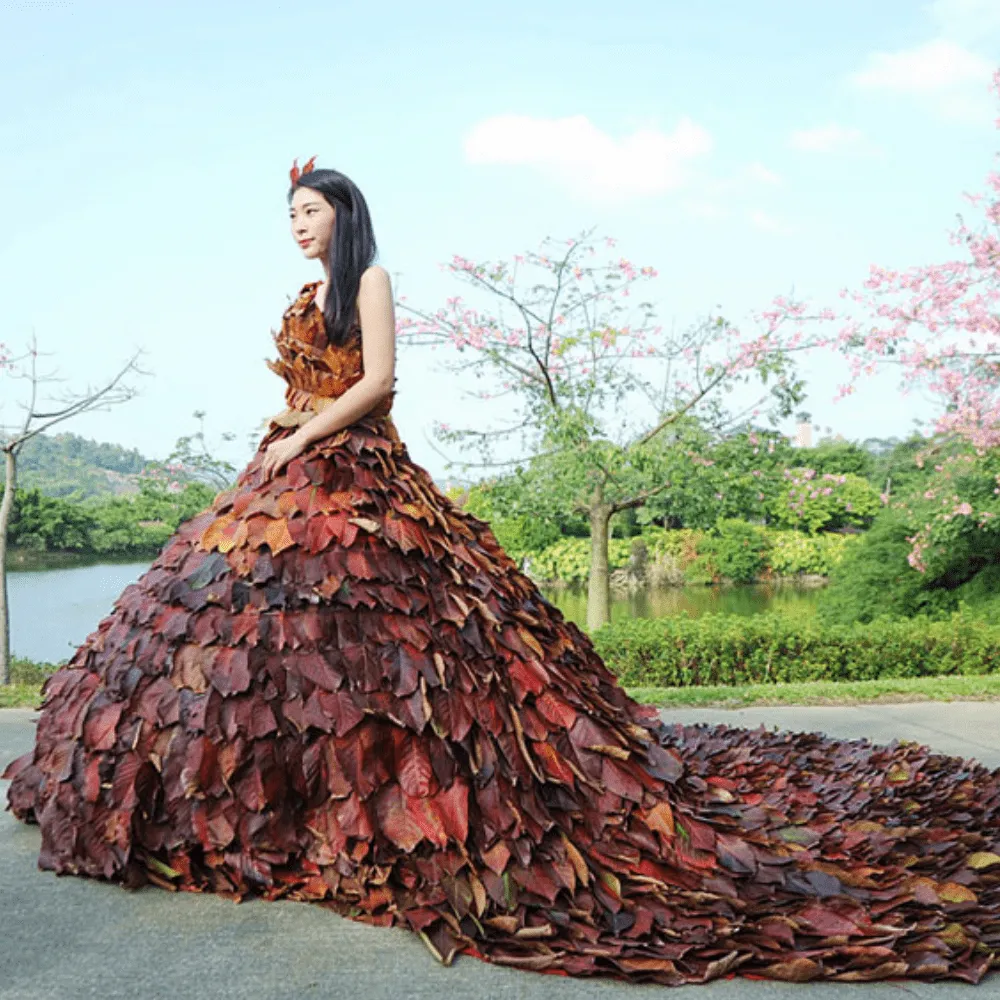 Given that we all spend so much time raking leaves, or using a leaf blower to get rid of the leaves on our lawns, it's so great to see that the beautiful fall leaves aren't going to waste. There is also a gorgeous ombré effect on the bodice right down to the train of the dress, which goes from light to dark.
Drawing the Curtain
Bohemian weddings are very fashionable right now. Brides are wanting to incorporate lace into their ideal wedding dress, however, one bride managed to make her dress completely out of antique lace curtains and tablecloths.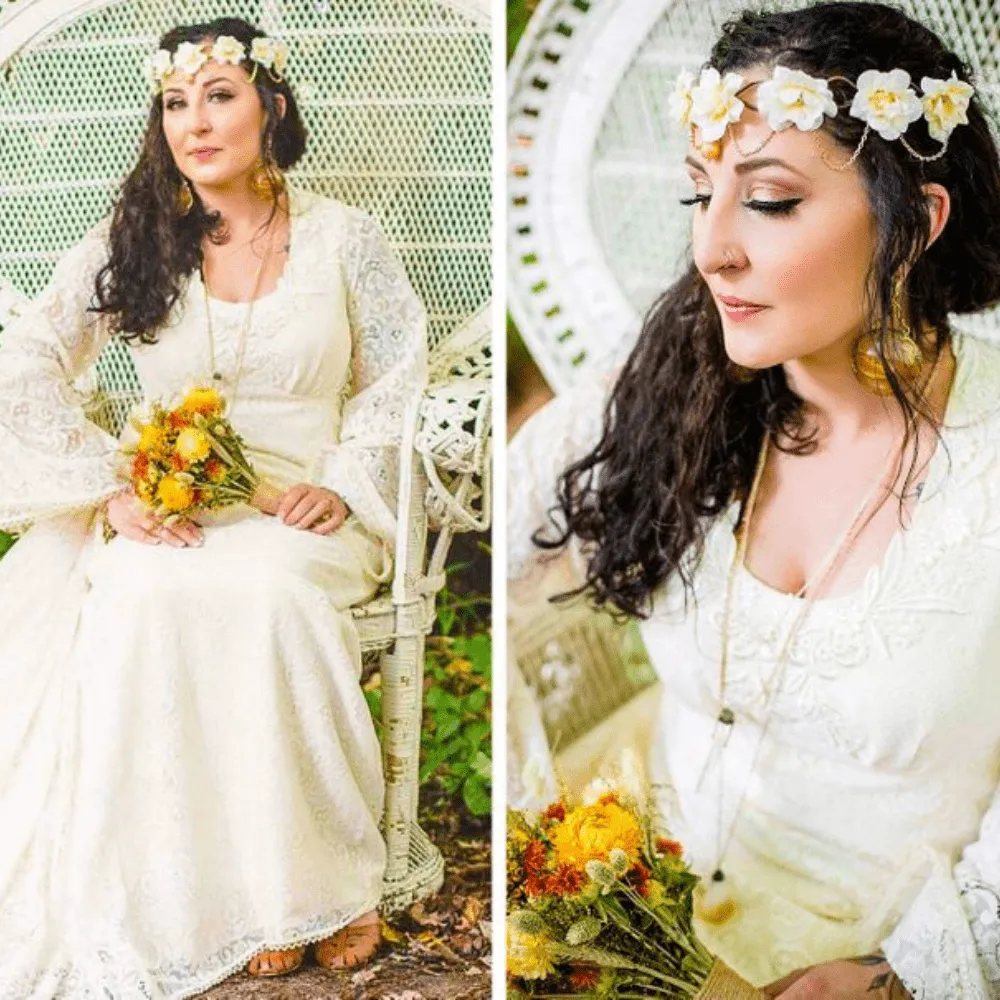 This bride's gorgeous vintage styled dress is made from antique ivory lace curtains and Venice lace appliques. It's hard to believe that this dress is made from curtains at all. Using repurposed materials is so refreshing to see in people's fashion choices, especially in their wedding dresses.
In the Holiday Spirit
Accidentally ordered too many stockings and don't have the time to return them? You can always make a dress just like this designer did to get you into the holiday mood. This dress looks like it could keep you cozy during the cold, winter nights.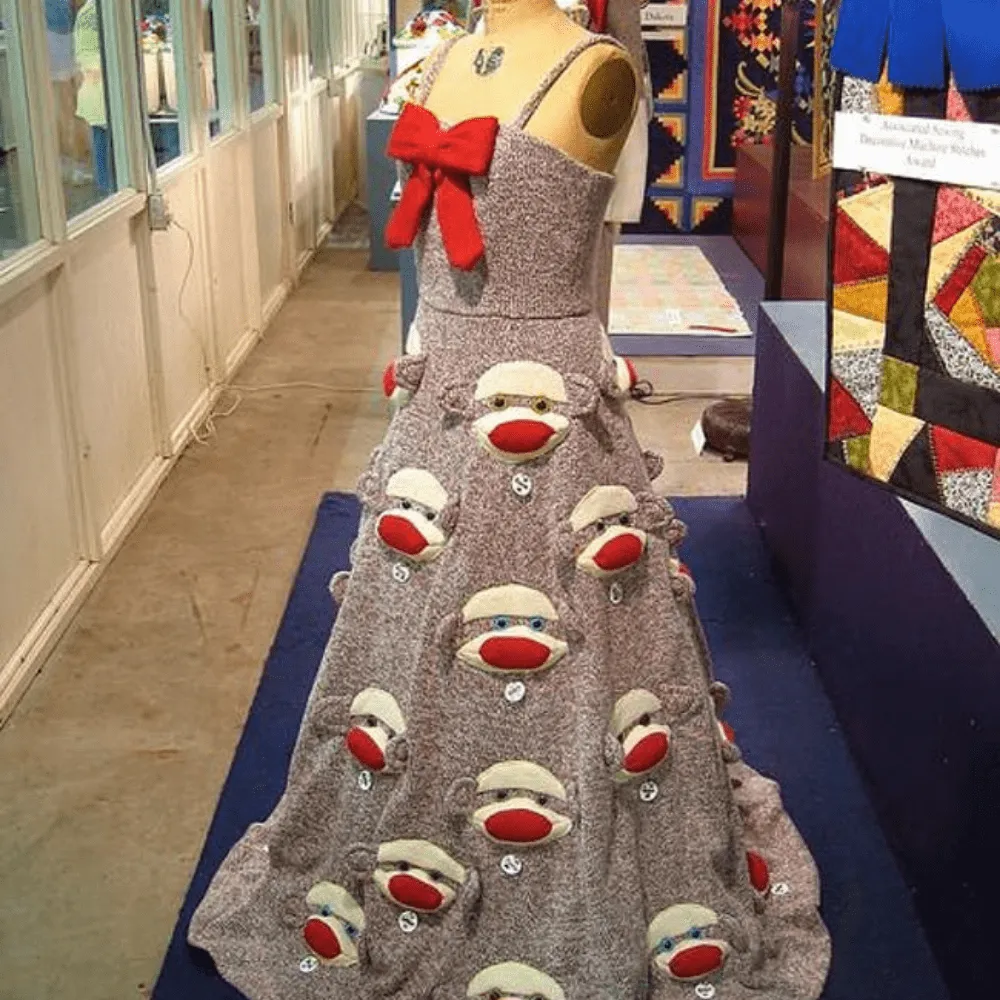 The animals all over the dress have their bright red noses on. The big red bow at the center of the neckline also adds to the holiday vibes of the design.
New Baby Bibs
One thing new mothers always complain about is the lack of clean bibs they have for their children while they eat. The consequences often involve bright food stains all around the collar of their shirts. However, it's entirely possible to make some of your own for emergencies.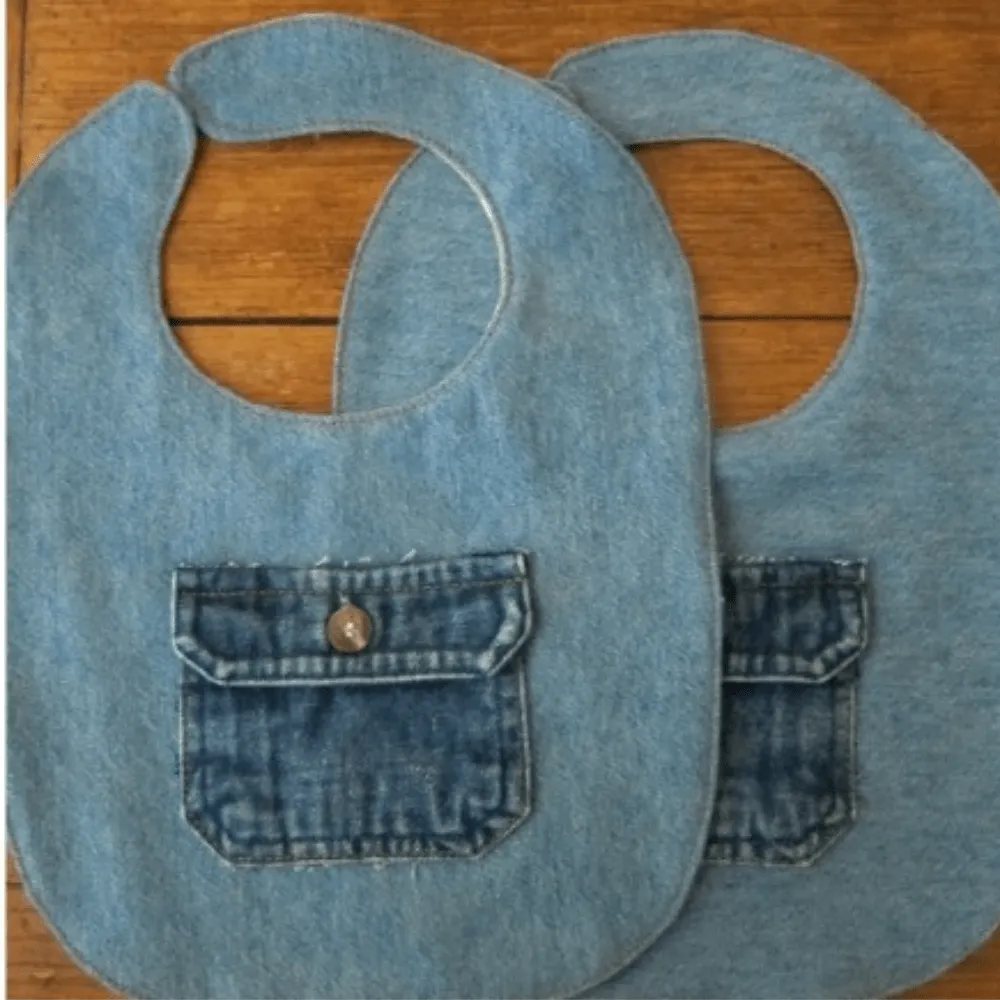 If you have some leftover denim from old jeans, shirts, or shorts, these can easily be repurposed into handy bibs for your baby. If you decide to wear some denim, you and your baby could match!
Mad Hatter Party Ready
When it comes to dress-up parties, the pressure is on to wear the most creative outfit. Oftentimes, we end up purchasing an over-priced costume from the store only to wear it once. Well, this designer decided to take matters into her own hands and put her household scrap materials to good use.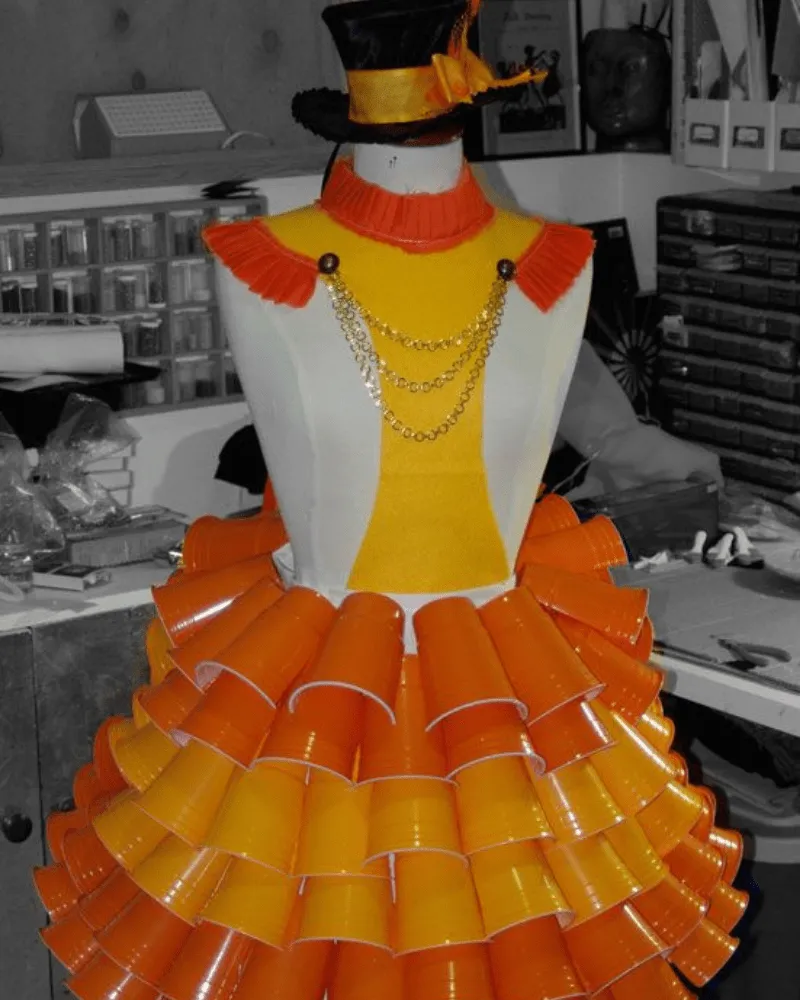 She used an array of plastic cups which she stitched to her skirt and used a hula hoop to cinch in the waistline, while the mini hat is made of cardboard, cardstock, and left-over felt.
New Drop of Recycled Ikea Bags
While Ikea is known to be the land of practical and inexpensive furniture, they may want to update their company ethos after seeing this. The designer behind these trendy pieces used her recycled Ikea Frakta bags as the main source of the material.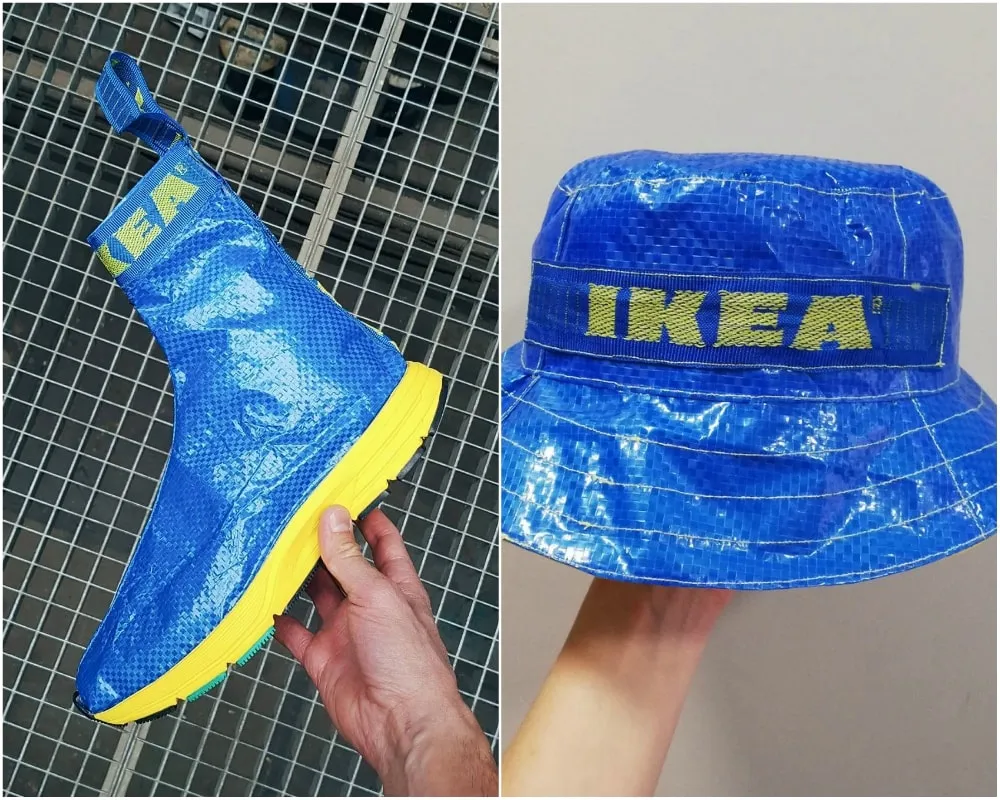 While hearing the idea about using shopping bags to create sneakers or bucket hands sounds like a recipe for disaster, the execution was actually perfect. Recycled fashion has never looked so cool and streetwear-ready.
Safety First, Style Second
Safety pins are known to have many uses, however being a stylish necklace probably isn't one of them, until now. The creator behind this hip and edgy jewelry piece is nothing short of a style genius.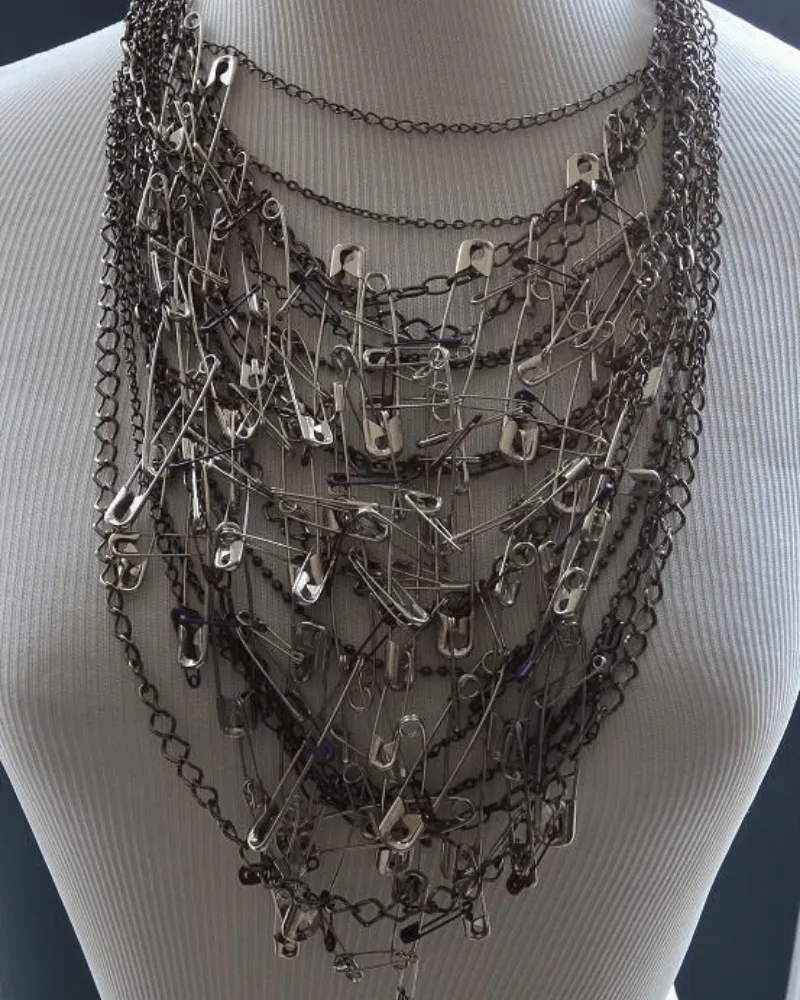 She took an old layered chain and leveled it up by adding on all the safety pins she had at her disposal. Now, not only does she have a ready-to-wear necklace but no one else will have anything like it.
Crime Scene But Make it Fashion
This next creation deserves an award from the fashion police for its creative use of barricade tape. When we usually see caution tape in the streets, we assume that it's due to an unfortunate or unprecedented accident. However, this dress design flips the script because caution tape has never looked so glamorous.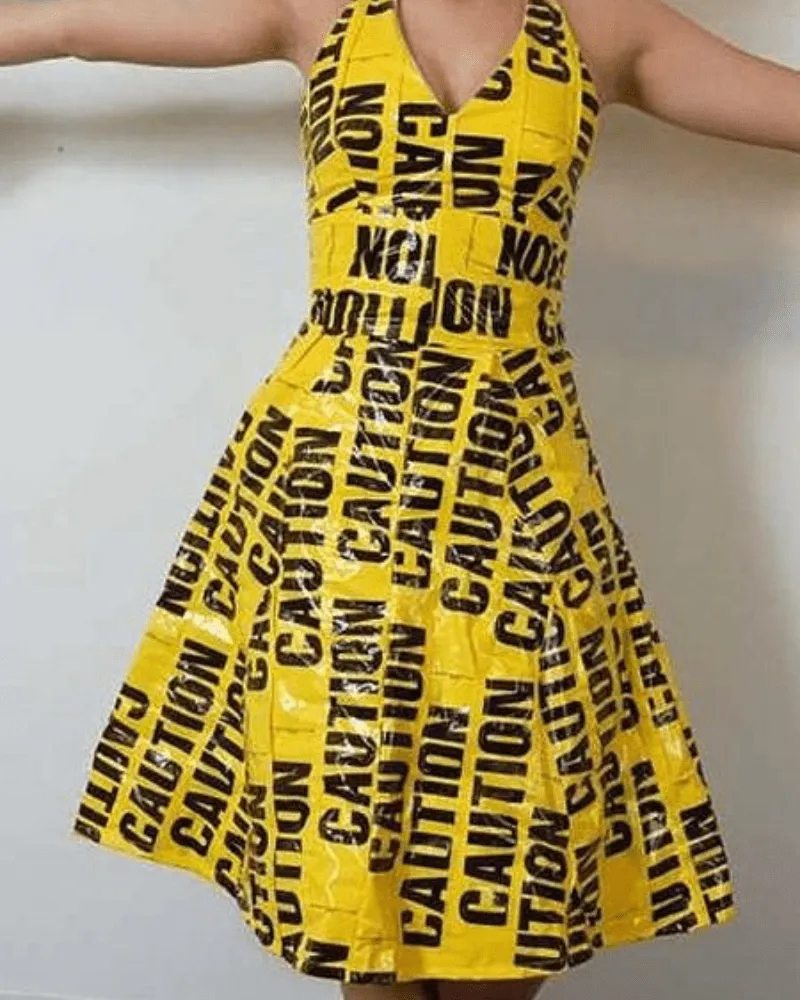 While this dress is not an everyday outfit, it's guaranteed to turn heads when worn. Kudos to the design sheriff in charge of putting this one together!
One Man's Trash Is Another's Costume
Trash bags are great for storing our garbage or acting as a form of protection when we're painting in the home. We thought that was it, until now. Usually, when people try to incorporate this material into fashion it ends up cheapening the outfit and looking trashy. Pun intended.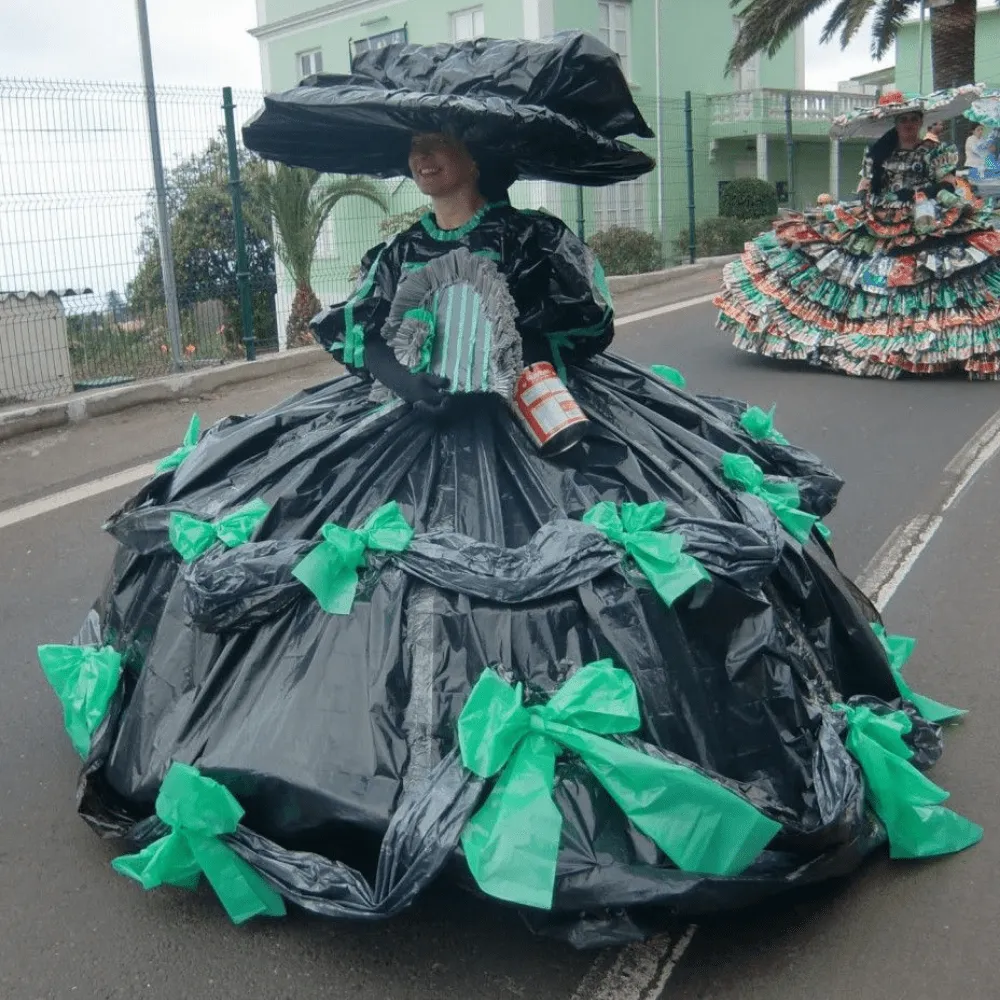 However, the creator of this avant-garde costume got it so right. Everything from the elaborate hat to the crinoline skirt looks totally sophisticated and fun. Don't throw this one in the trash!
A Wooden Corset
Wooden clothespins are very useful household essentials, commonly used to hang up our wet clothes – but little did we know, they had a greater purpose all along. While a full corset made of nothing but clothespins and wooden coat hangers sounds undoubtedly uncomfortable and difficult to move in, it would be worth it just to showcase this design.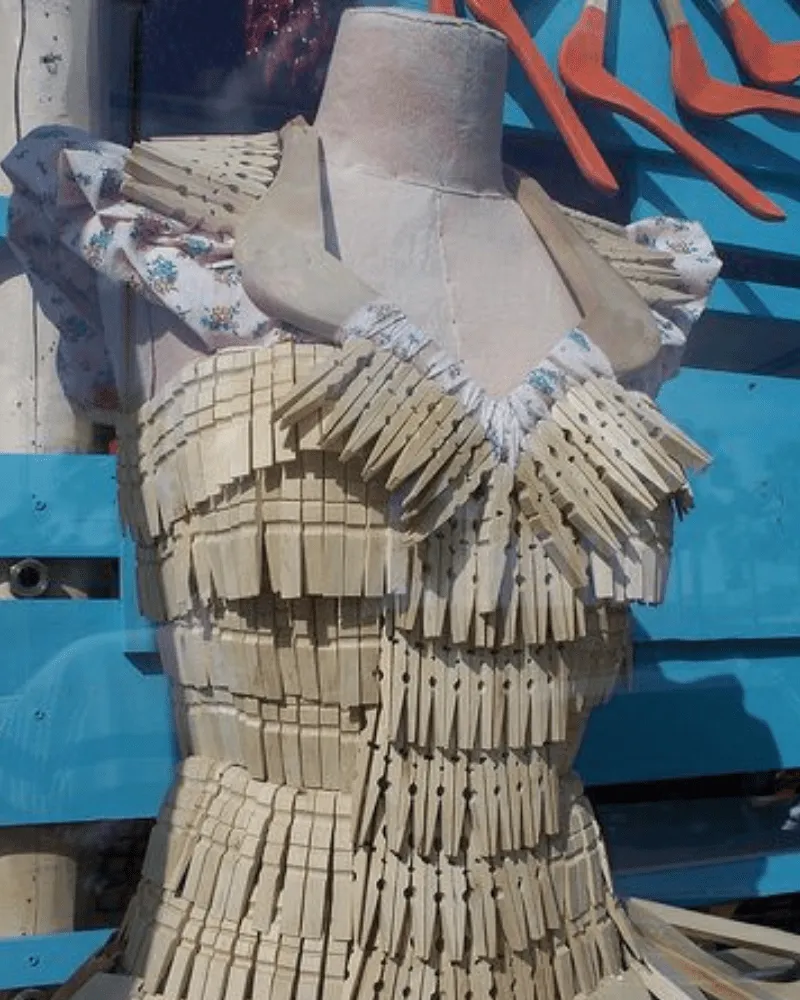 We can't stop staring at this DIY masterpiece that looks so professional it could be hanged in a museum. Drop the mic for that pun!
A Mask Fit for a Princess
While masks have become a necessity for us to wear with every outfit, that doesn't mean we have to look like everyone else. The designer of this beautiful and formal mask had that very idea in mind when she constructed the piece out of an old dress.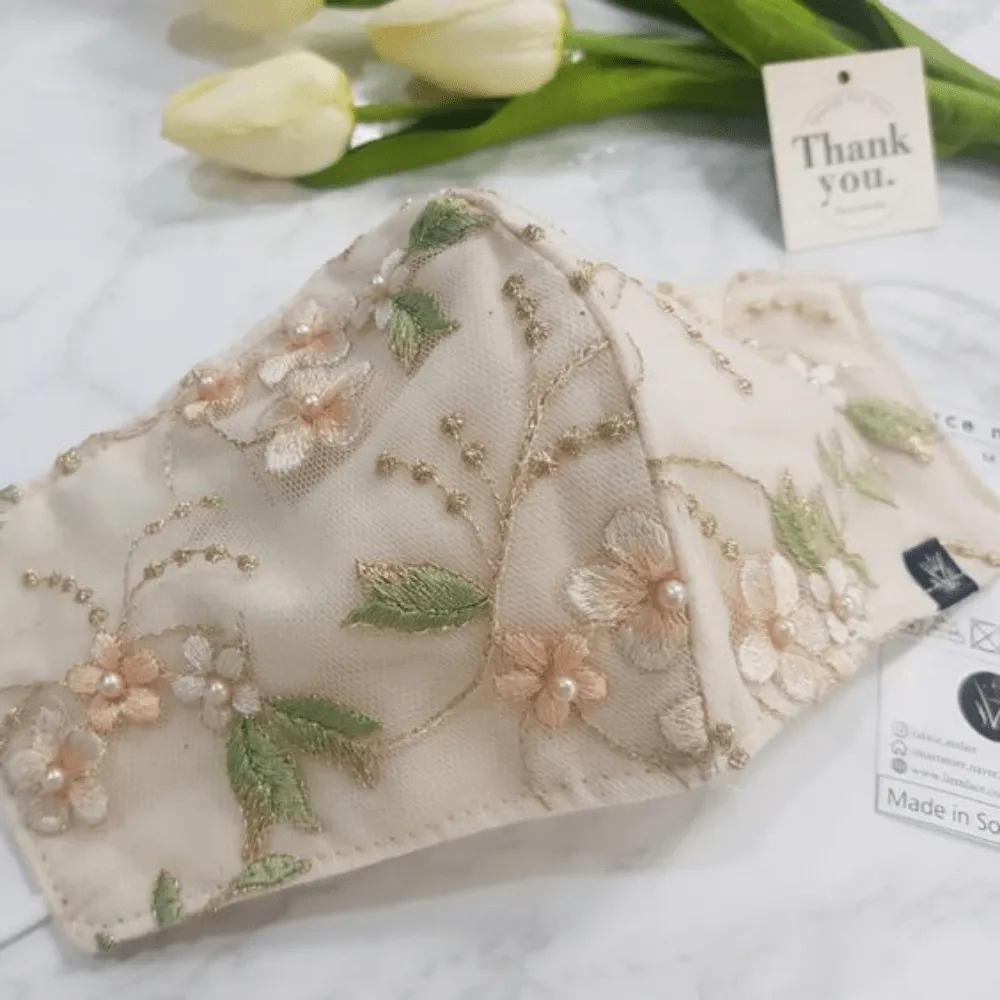 Also, the mask is still perfectly safe and cut to the correct proportions so you can look stylish while protecting yourself and others. Safe fashion never looked so good!
Hands Off the Corset
What do you do when you find a stack of old leather gloves in the back of your closet? Well, it's simple really, just sew them all together into a corset worthy of being featured on TV. In fact, this corset looks so chic it deserves a debut on a Project Runway episode.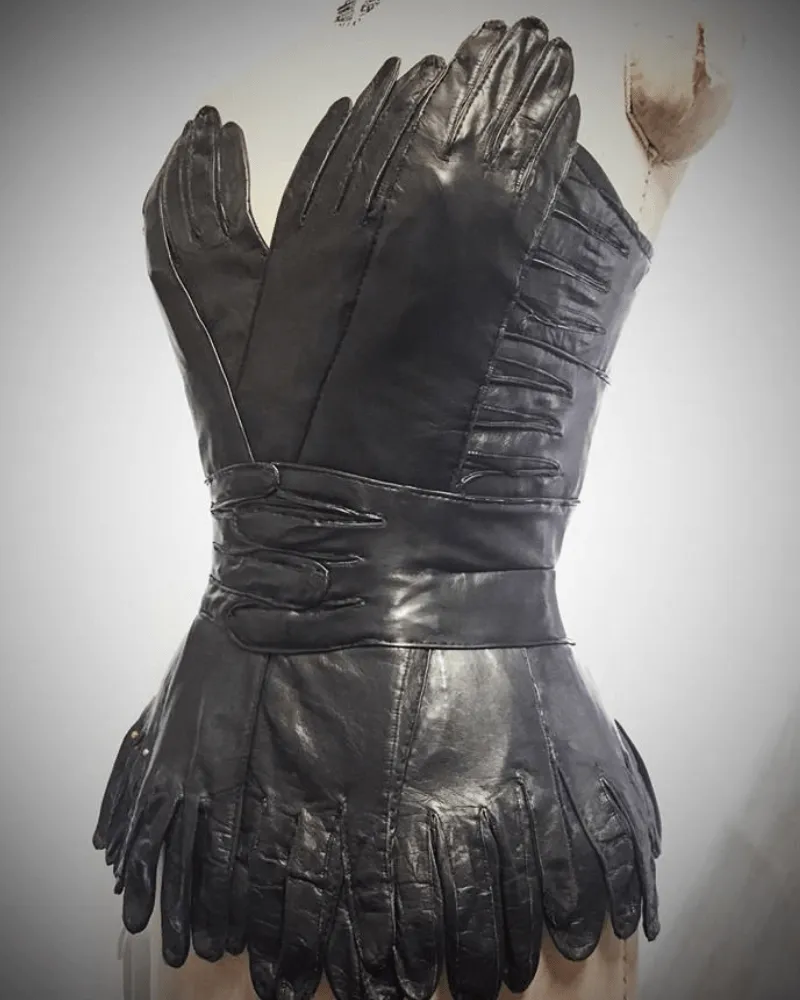 While we are unsure as to how pleasant it would feel to wear, one thing is certain, no one will be able to resist getting their hands on this piece. Get it?
You'll Never Be Lost With This On
While maps aren't as commonly used as before due to our new technological era of smartphones and apps, that doesn't mean to say that map books should become extinct. Because if that were the case then the creative designer who made this dress would have used a different material, and it just wouldn't have had the same effect.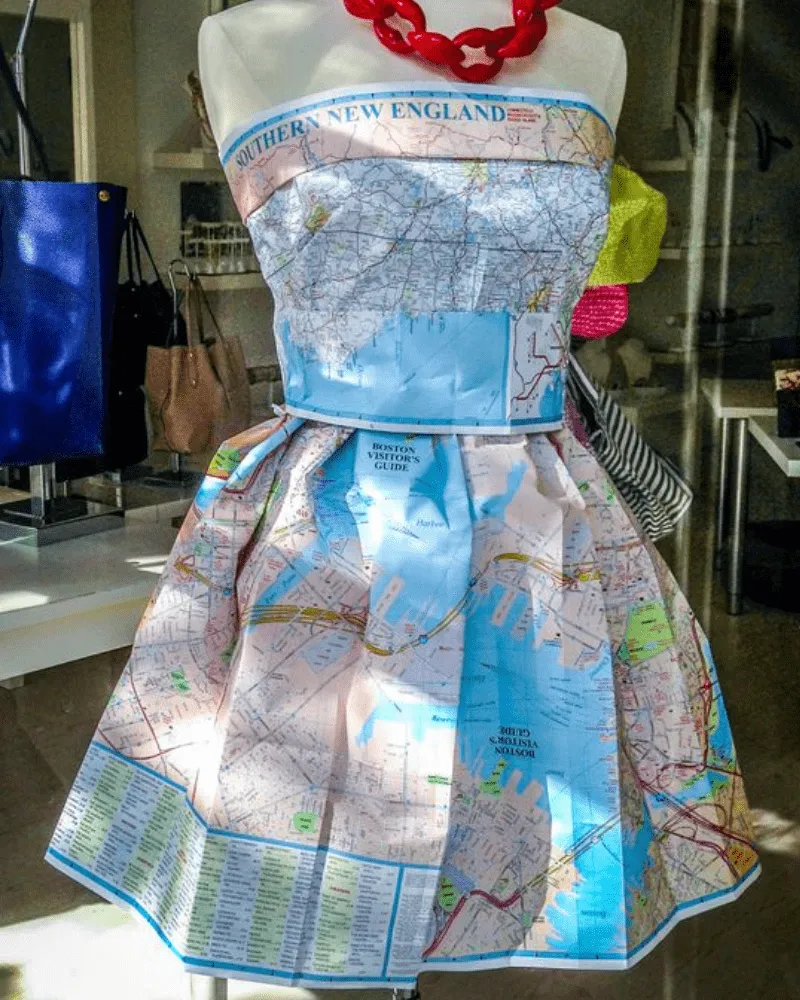 Not only is this piece an outright original, but it also has a dual purpose. When viewers see it, it will both entertain them and inform them on some geography simultaneously.
Granny's Buttons Never Looked Better
Most of us have old buttons lying around the house that have proven to be useless, but thanks to the inspiration behind this necklace, we've sourced your next DIY project. While the finished product here looks so chic and funky, it's actually a really easy design.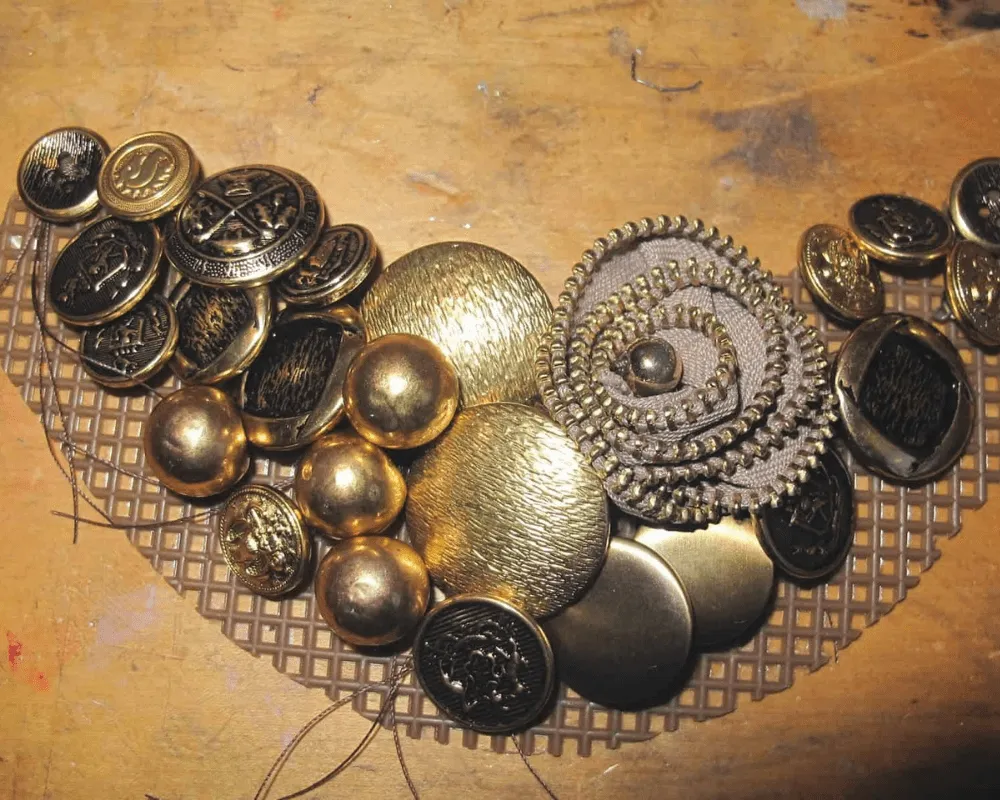 All you need to do is attach your buttons to a grid mat and cut it into a crescent shape to fit around your neck. In the end, you'll have a bib necklace design that's worthy of showcasing to a formal.
Repurposing Some Sheets
IKEA can often host some beautiful designs, and some people have decided that rather than splashing these designs on cushions and curtains, they will use them to create outfits. At the beginning of 2020, this Reddit user decided to take curtain designs from IKEA and make them into a vintage dress.

The black-and-white design features a minimalistic tree and leaf pattern, and has been cut up and sewn back together again to make this gorgeous skater dress. We hope they start selling these designs soon!
Read All About It
Imgur user, @Totallytrashedfashion, posted her latest design of a model wearing a dress solely made out of fashion magazines. The cut-up pieces became the bodice, whilst pages were rolled to create a full, textured skirt.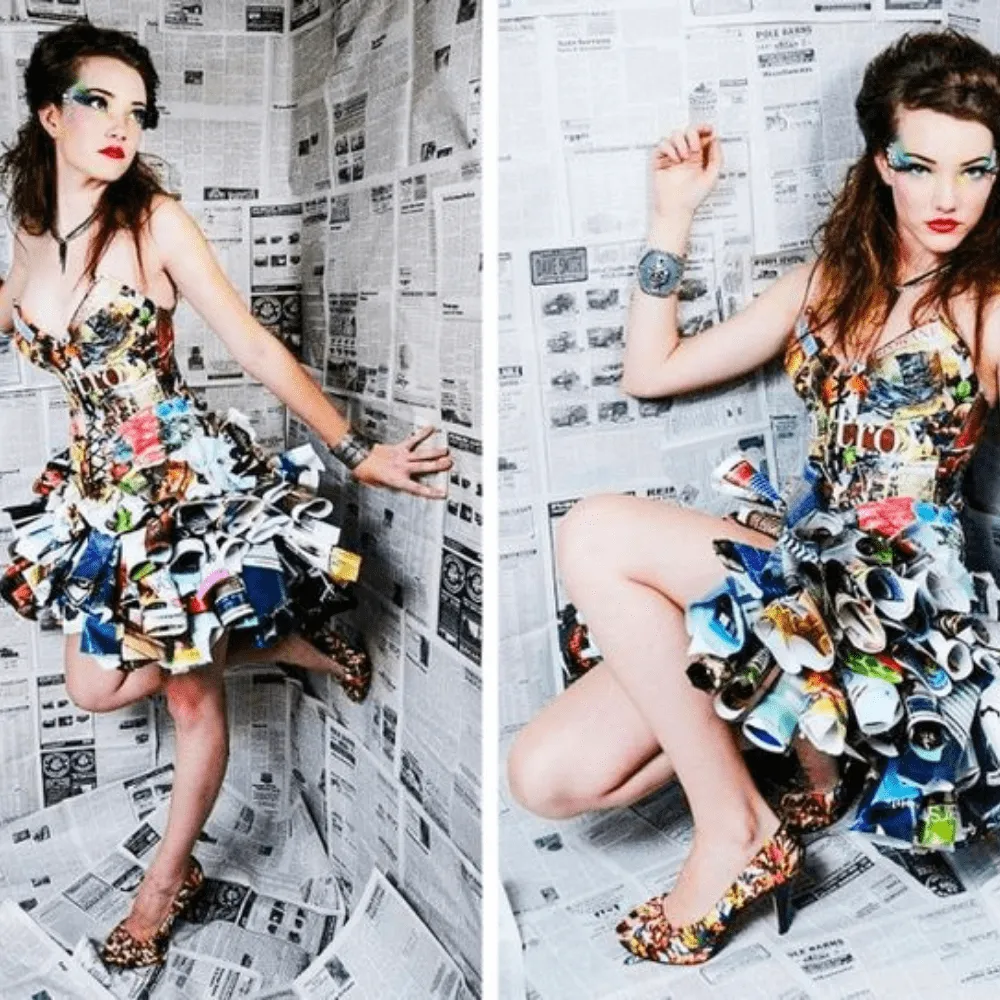 Speaking about her design, @Totallytrashedfashion said that the dress was made entirely out of paper, and was so popular that ironically her design — which features an array of fashion magazines — made its way into those same magazines. We hope that whatever she's doing or creating now, she has made a name for herself.
2020: A Summary
2020 hasn't been easy. Some of us have barely gotten out of our leggings and sweatpants while we're on multiple conference calls a day. Teenager Peyton wanted to create a dress out of duct tape and replicate the words of Leonardo da Vinci, however, the events of 2020 made her change her mind.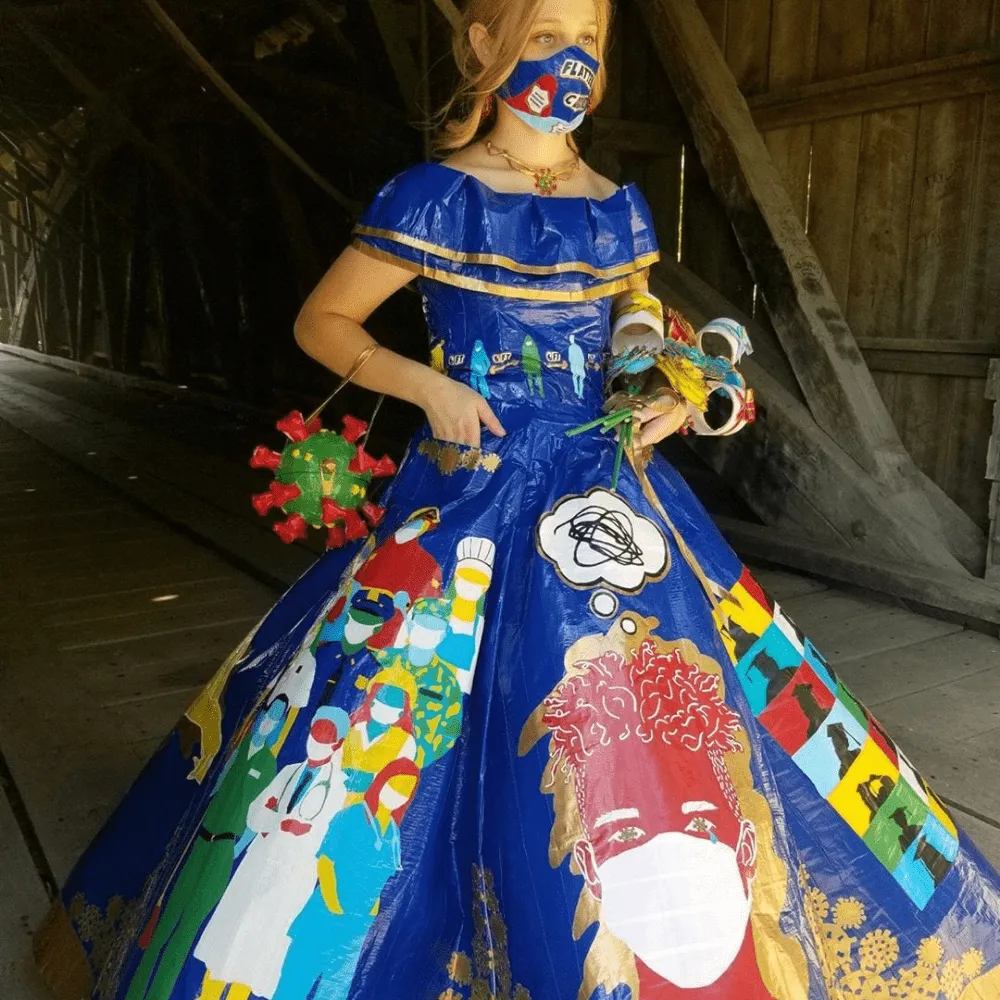 Using 41 rolls of duct tape, Peyton managed to create a dress that perfectly embodied 2020, from the masks to health workers on the frontline. She spent around 395 hours in total creating her masterpiece, but it was all worth it as her design managed to bag her a $10,000 win.
A Comfortable Seat
Much like pantyhose, we often have a drawer for our odd socks and our rejects. It's nothing personal, but who wants to walk around in holey socks? This clever woman found a way of revamping our odd socks.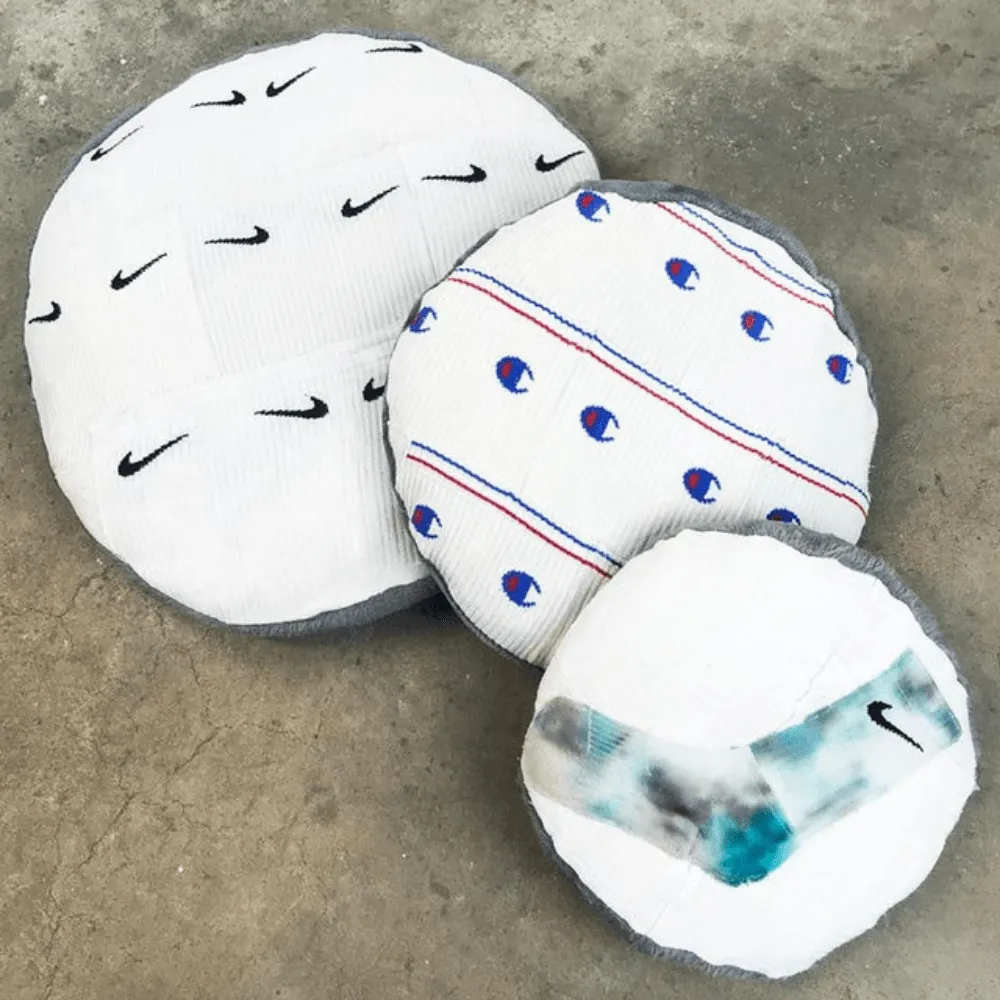 This design saw the designer take the best odd socks they had and turn them into amazing cushions! Even if this isn't your style, this might be a perfect DIY gift for someone in your life who takes their sock brands very seriously.
Even as the world transforms rapidly around us all, these traditional wedding dresses around the world have barely changed over the course of centuries.
Tibet
In Tibet, weddings are often suggested by elders in the family. In order to propose a match, an elder from the man's family would visit the other family bringing gifts and tea.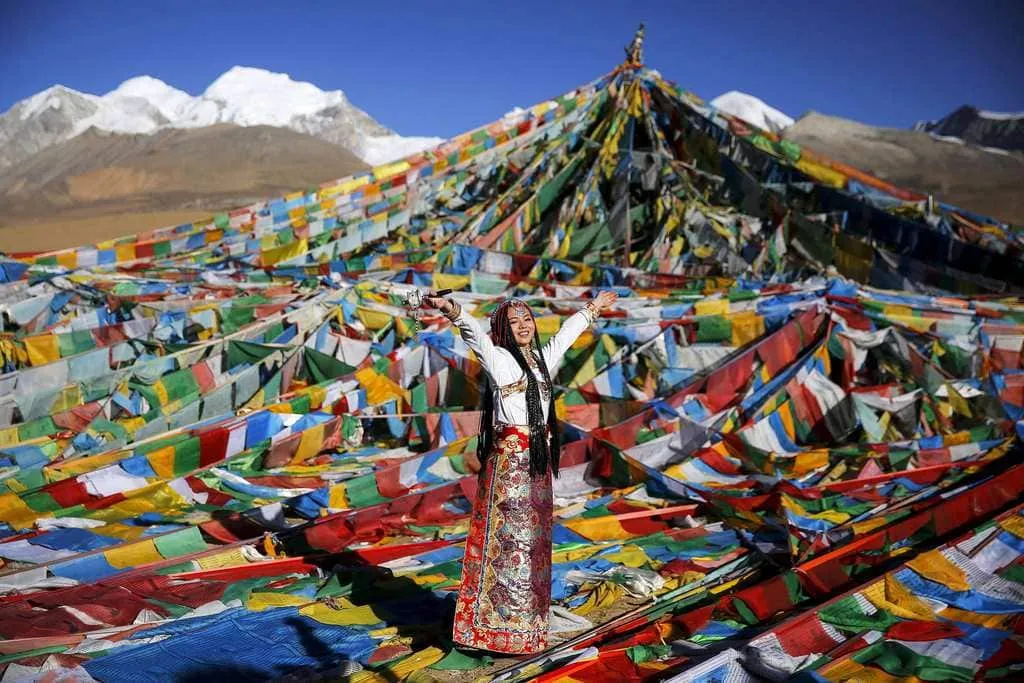 If the woman's family accepts the gifts, then they accept the proposal. The groom's family then prepares the wedding dress, a headdress adorned with silver coins, and a small metal Buddha amulet for the bride, which the groom brings to her on the day before the wedding.
Ghana
When a Ghanaian man proposes to a woman, they don't exactly have privacy. The traditional way to propose is to visit her house – with his entire family in tow. He better hope she says yes…otherwise it could get embarrassing. Ghanaian couples usually match their ceremonial attire to each other.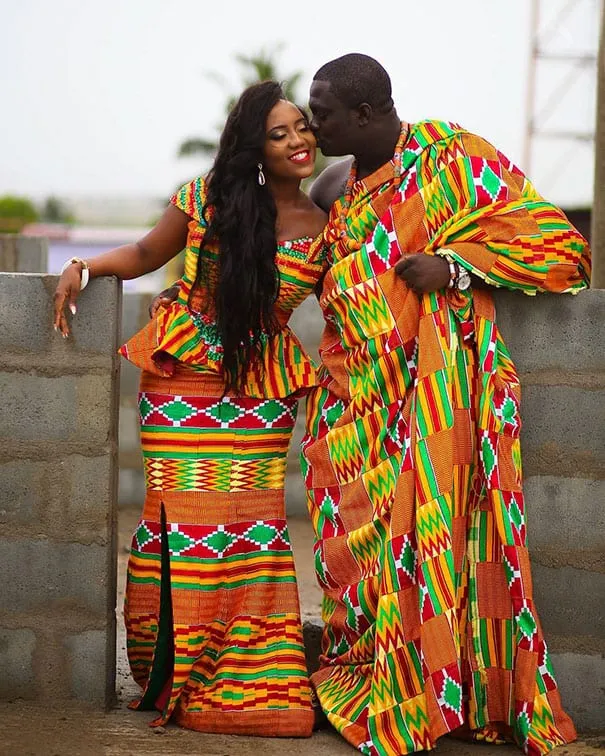 The outfits will be made of kente, a type of cloth handwoven in Ghana, and it's custom for them to feature bright, colorful patterns and intricate geometric designs. These unique outfits should emphasize the couple's unique love.
Hungary: Matyo People
The Matyo people are a subgroup of Hungarians who have inhabited Hungary's northern regions for many centuries, retaining their culture amid many surrounding political and cultural shifts. In Eastern Europe, a proverb is often heard that goes, "You're no Matyó embroidery!"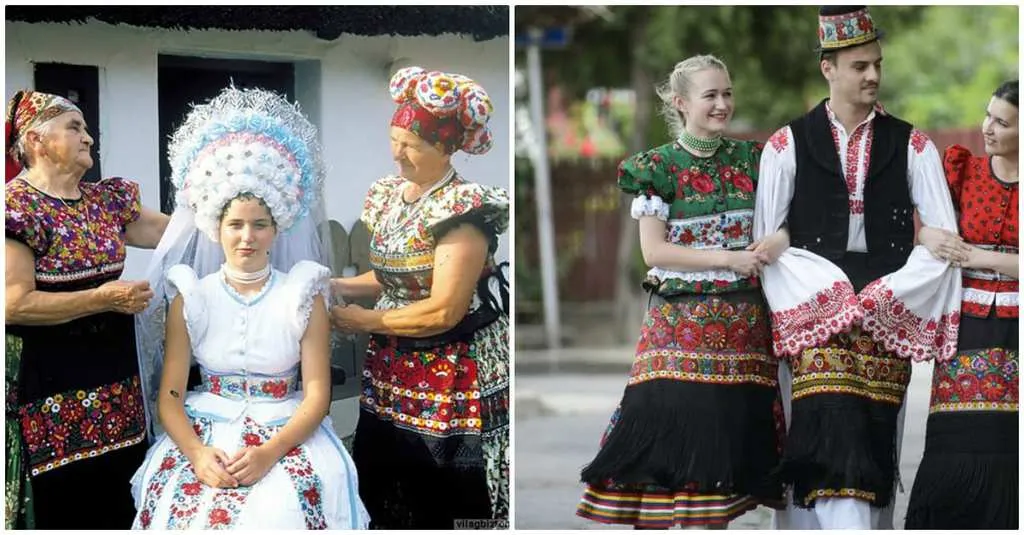 This developed in admiration of their intricate and flawless embroidery of the Matyo. The dress features many florals, as flowers are representative of fertility. Wheat is woven into the headdress to symbolize this too, as well as prosperity and fortune for the new family.
India
In India, bridal gowns are no joke. Layered and layered with symbolism, the dress will have sixteen embellishments in total – all considered crucial to ensure a happy marriage. The wedding dress, or sari, is usually red to represent the rising sun.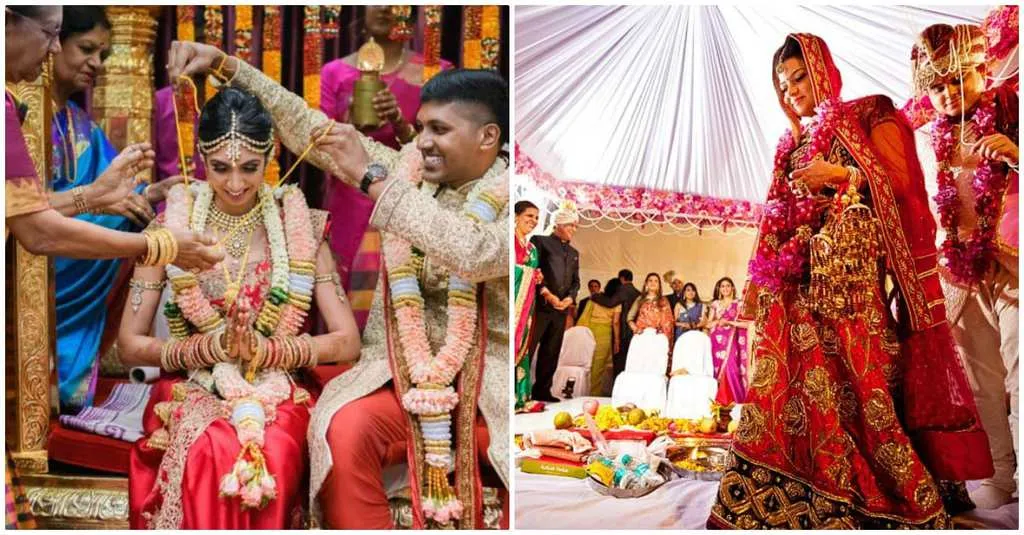 In addition to everything the bride is already wearing when she arrives, one more feature will be added later in the ceremony: the jaimala, in which the couple place flower garlands on each other in a promise of love.
Scandinavia: Sami People
Although Scandinavia is divided into different countries today, its different regions share plenty of history and customs. But one of the longest surviving cultures there is called Sami.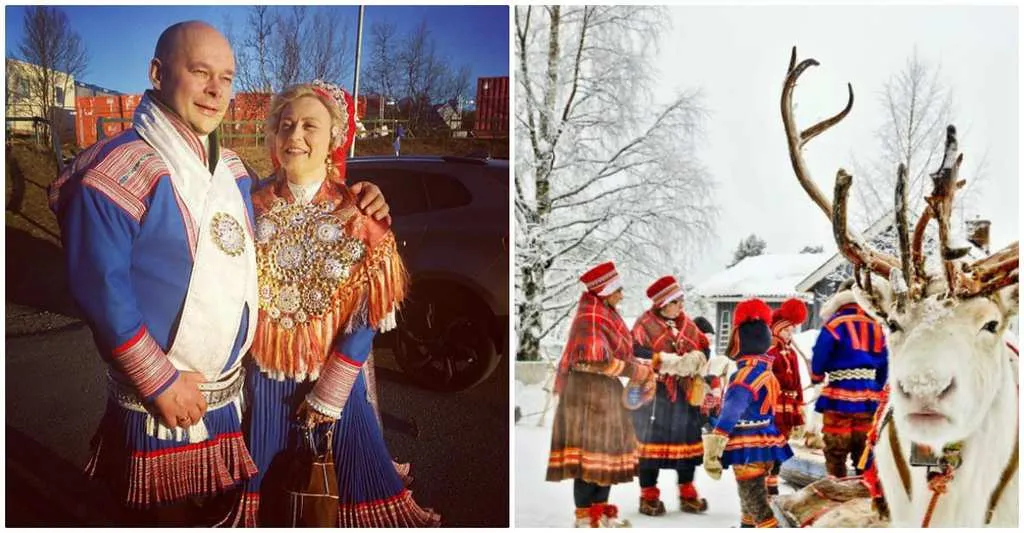 The Sami people are indigenous to the far north of Scandinavia, stretching across parts of Norway, Sweden, Finland, and the Kola Peninsula. Reindeer are native to this region, which the Sami are famous for herding. Their traditional clothing communicates many things about the person wearing them, such as their marital status.
Morocco
In Morocco, the wedding ceremony can last for up to a week and includes many parties. First, the bride and groom have separate parties to celebrate with their own families. Then, they come together for the legal procedure and a joint celebration, which symbolizes their marriage and the marriage of their two families together.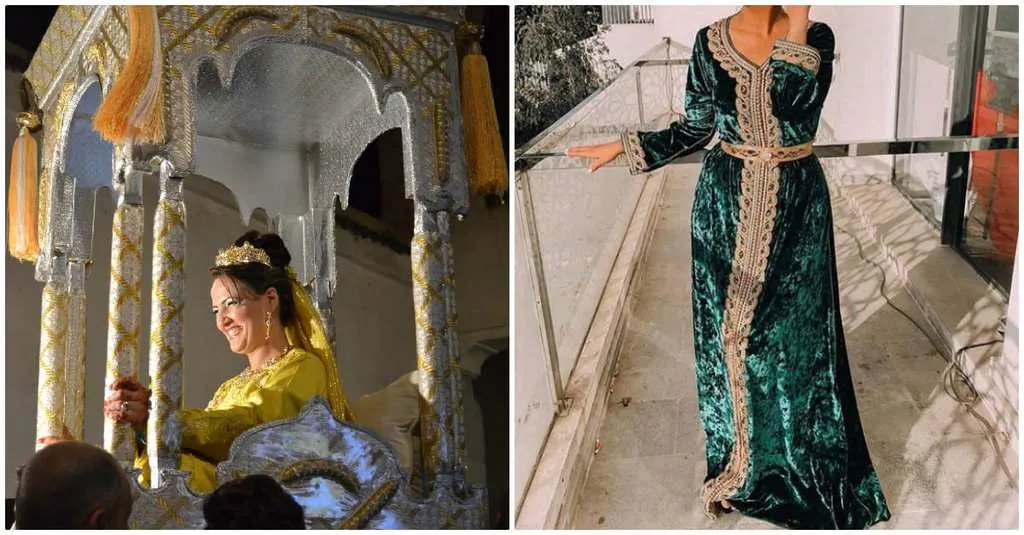 The bride wears a dress called a takchita, and the groom and his family carries the bride on a 4-legged amariyah to demonstrate his ability to support her.
South Korea
In South Korea, the traditional wedding outfits of both the husband and wife are called a hanbok. The bride's hanbok includes a short jacket with long sleeves, called a chima-jeogori, and a wrapped skirt.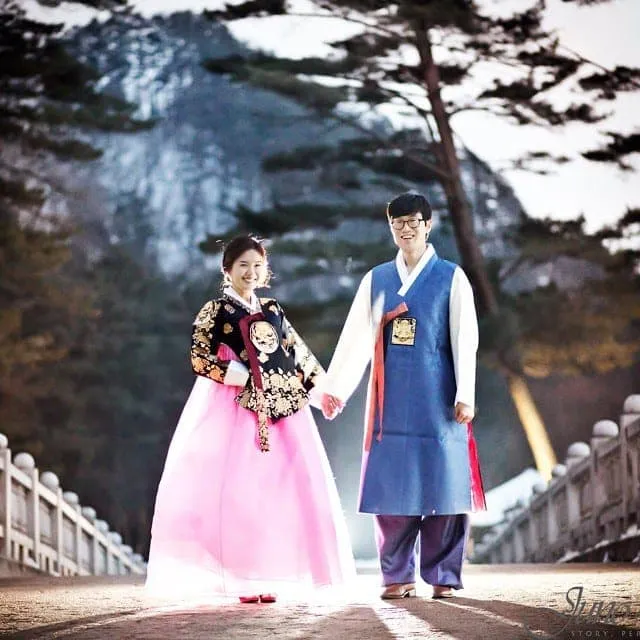 The groom's hanbok is composed of a short jacket, called a durumagi, and lose-fitting pants, called baji. Ancient tradition insists that the groom carry his wife around a sacred table on his back – an act that demonstrates a sense of reliability to the bride.
Eritrea
Eritrean weddings last for an entire week! First, the families exchange gifts to each other. The next day will be full of song and dance, celebrating the match. Then the two families share a large feast, to symbolize long health.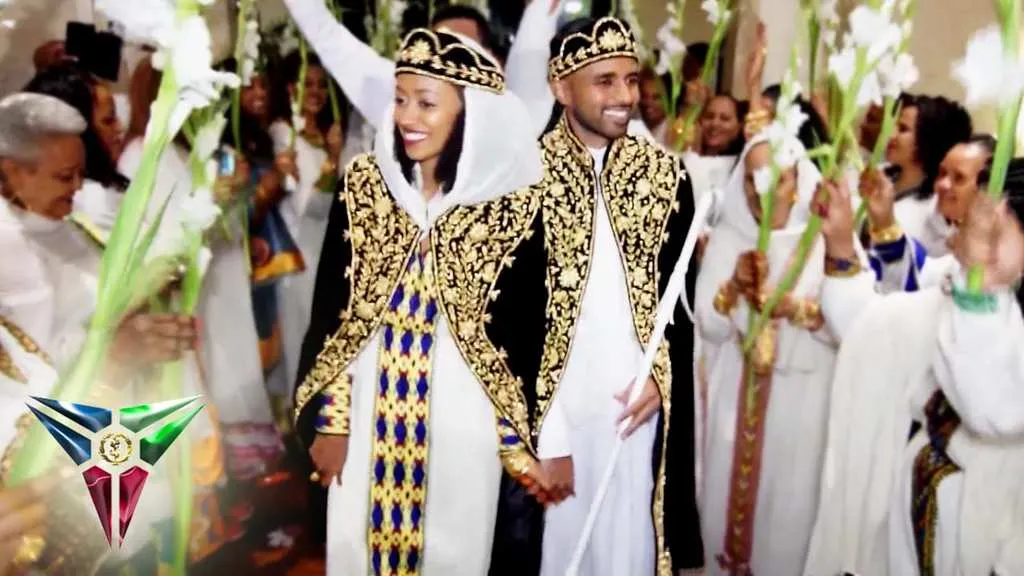 Following the feast, two traditional songs are mandatory to sing: the Awelo, naming and honoring each member of the family, and the Masse, honoring the women who prepared traditional food for the feast. The bride and groom have their outfits matching colors as a symbol of their bond.
Japan
A traditional Japanese ceremony has many stages. It begins with a dinner for the two families to exchange gifts; each family has prepared part of the wedding dress for the other family.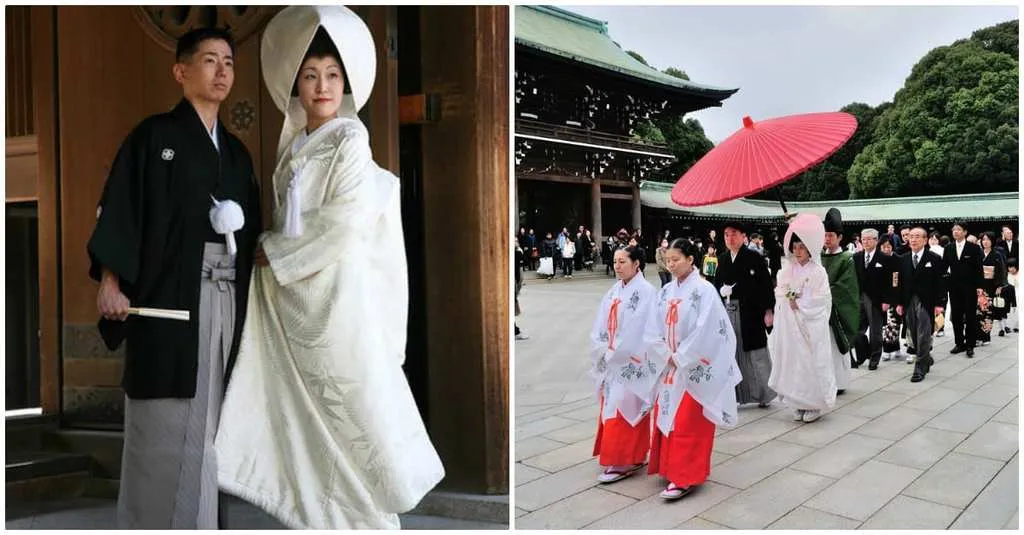 The husband's family will give the bride a wedding sash to wear over a white kimono, called an obi. The bride's family will give the groom a type of pleated trouser, called a hakama, and a jacket, called a haori, which he will wear on top of his usually black kimono.
Gora
Wait…you haven't heard of Gora? Don't panic. It's a region, not a country. But its bridal dresses will surprise you. Gora sits between Kosovo and Albania, and has long been inhabited by the nomadic Gorani people: ethnically Slavic, religiously Muslim, but retaining some traditions and customs from ancient pagan beliefs in the area.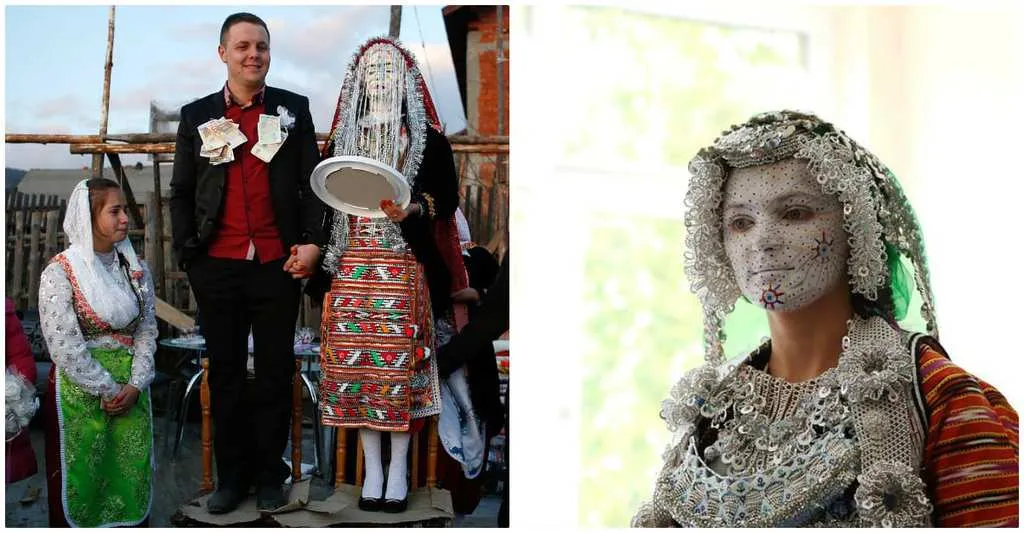 Their weddings are a three-day affair, carrying the bride on a white horse covered with a custom scarf and decorated umbrella to the husband's neighbor's house, who hosts the wedding.
Mongolia
In Mongolia, two people who want to get married have to make a trip together to the groom's house to ask for permission. If they agree, they will also then be in charge of preparing the wedding.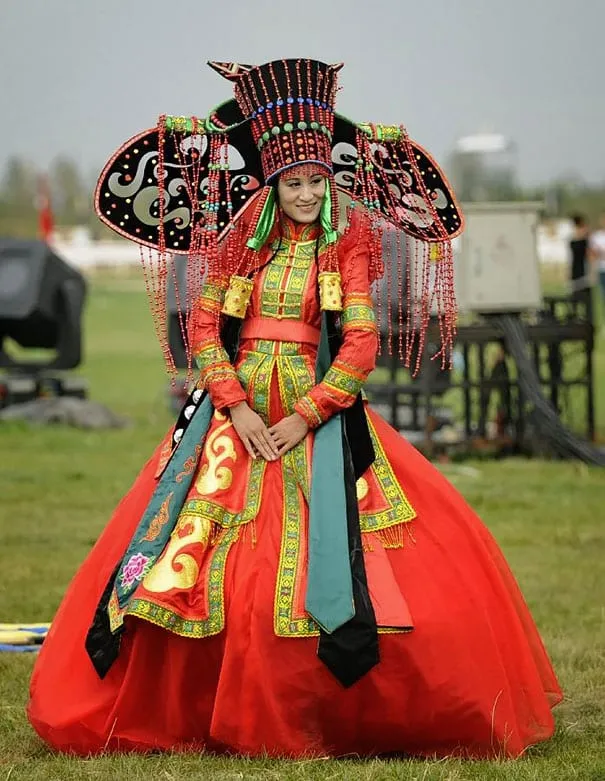 Brides and grooms in traditional Mongolian weddings wear patterned clothes called a "deel." Though deels refer to Mongolian clothing in general and include a lot of everyday wear, custom deel garbs have been made for centuries that are typically reserved for weddings and holidays.
Portugal
Traditional Portuguese weddings are layered with old pagan styles and somewhat more recent Catholic values. The brides traditionally wear a full-length tunic, covering them from head to toe and adorned with lots and lots of jewelry.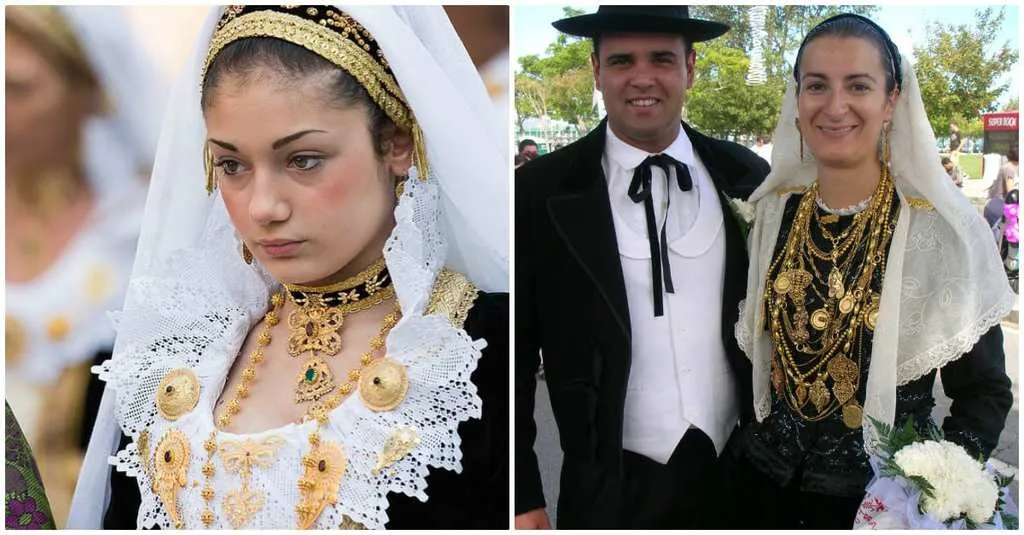 This jewelry has influence from a few different cultures – beads from the time of the Moors, crosses to honor the Catholic church, and gold in homage to the prosperity of the long line of Portuguese royals. In the past, these precious decorations would also serve as a dowry to the groom's family.
Nigeria
Nigeria is a big country with around 250 ethnic groups of many religions and ethnic backgrounds, meaning that wedding ceremonies can be quite different from region to region.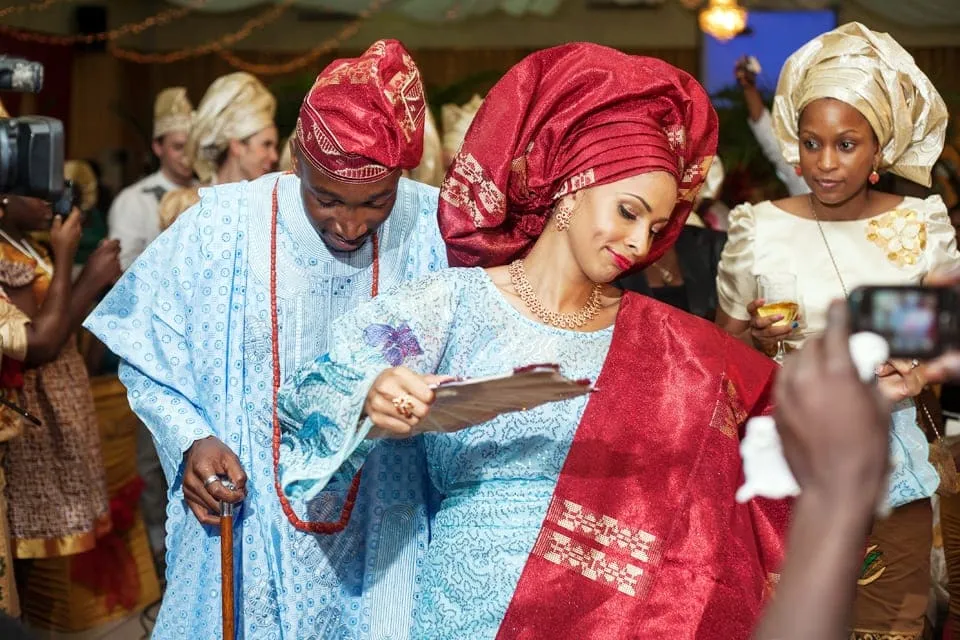 But one thing that is true of almost all these areas is that Nigerian brides will wear brightly colored wedding clothes, along with a unique head tie called a Gele in most parts of the country. As is the case in many African cultures, brides and grooms in Nigeria usually match the colors of their wedding outfits.
Sri Lanka
On the island of Sri Lanka, east meets west in a way that is especially easy to see at a traditional wedding. Their heavily embroidered silk saris are shared culturally with nearby India and beyond, while their long lace veils show an influence from Europe.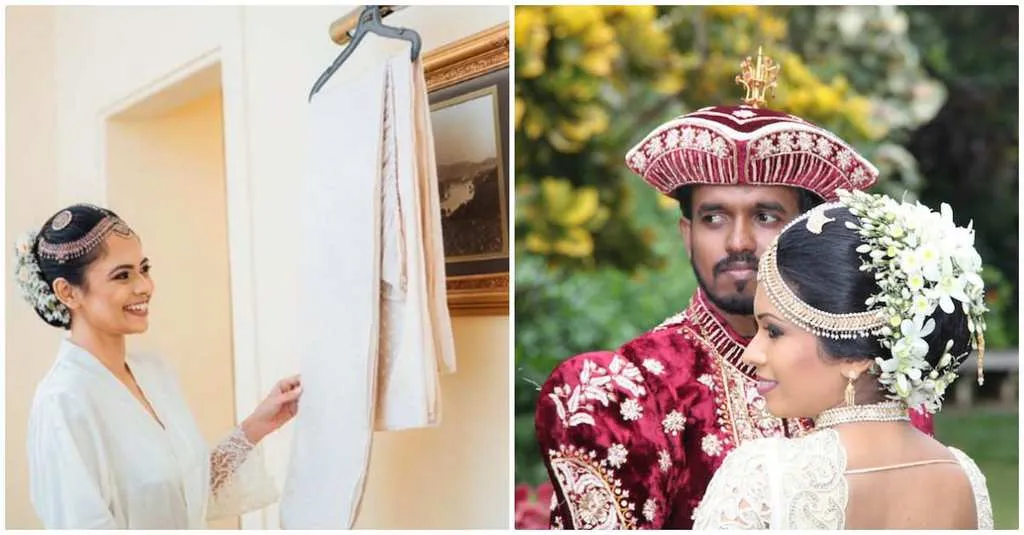 Along with the sari and veil, the bride will wear a headpiece called a nalapata Grooms will wear a 4-cornered hat, a velvet jacket, and a long white waistcloth called a mul anduma.
Scotland
"An nglacfaidh tú liom mar chéile?" That's Scottish Gaelic for, Will you marry me? If you've seen or heard of Scottish men in skirts, it's not quite what it sounds like.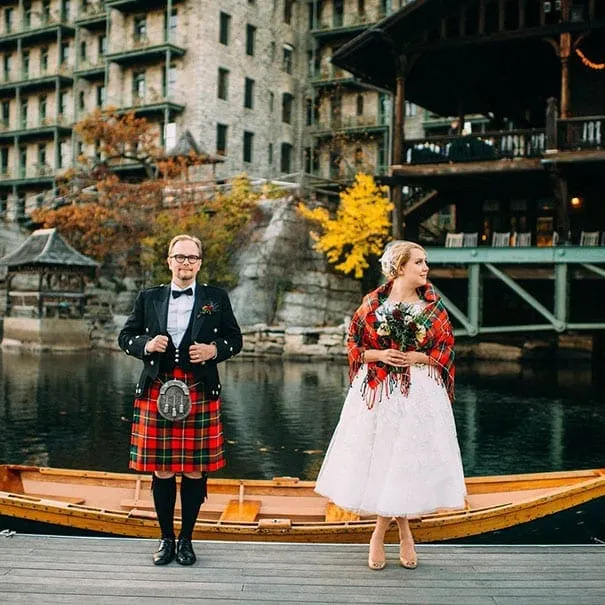 Wait-wrapped clothes in Scotland, called kilts, bore the colors and emblems of the clan they were born into. On their wedding day, men in Scotland traditionally wear the kilt of their clan. After the ceremony, the groom's family gives the bride a shawl in the colors of their clan to signify her transition into his family.
Indonesia
Much like the architecture in the region, most Indonesian weddings across many regional subcultures feature a lot of gold, featured especially on headdresses and jewelry from head to toe which results in the bride and groom sparkling literally all over their bodies.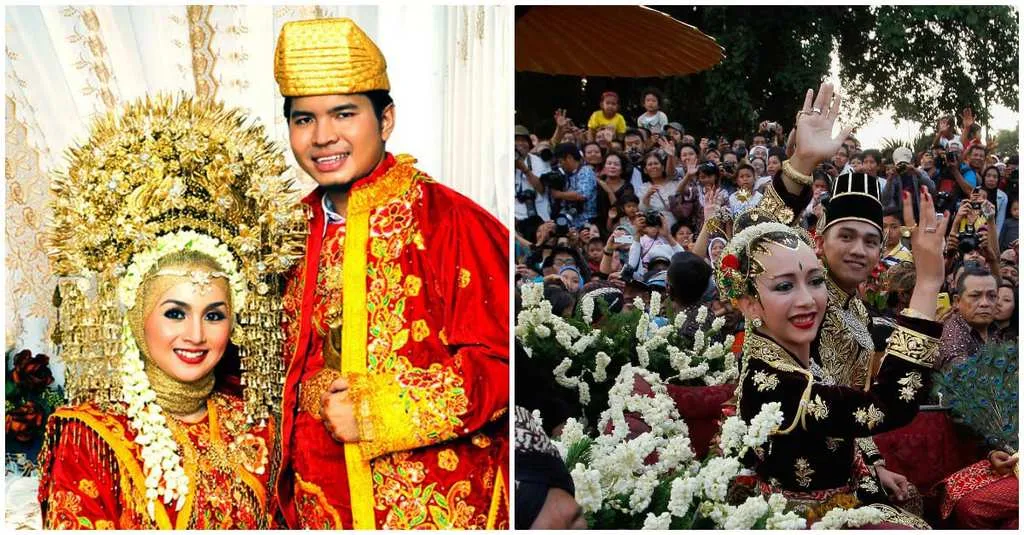 It's easy to see from its architecture that Indonesian empires had their fair share of glory and richness in the region, with many gold-adorned monuments. By wearing gold, the bride and groom as honor Indonesia's past as well as its kings and queens.
Peru
Color is the name of the game at a Peruvian wedding. Women wear bright handwoven skirts, called polleras, and men wear headdresses. The bride and groom will both also wear a cloak, or poncho.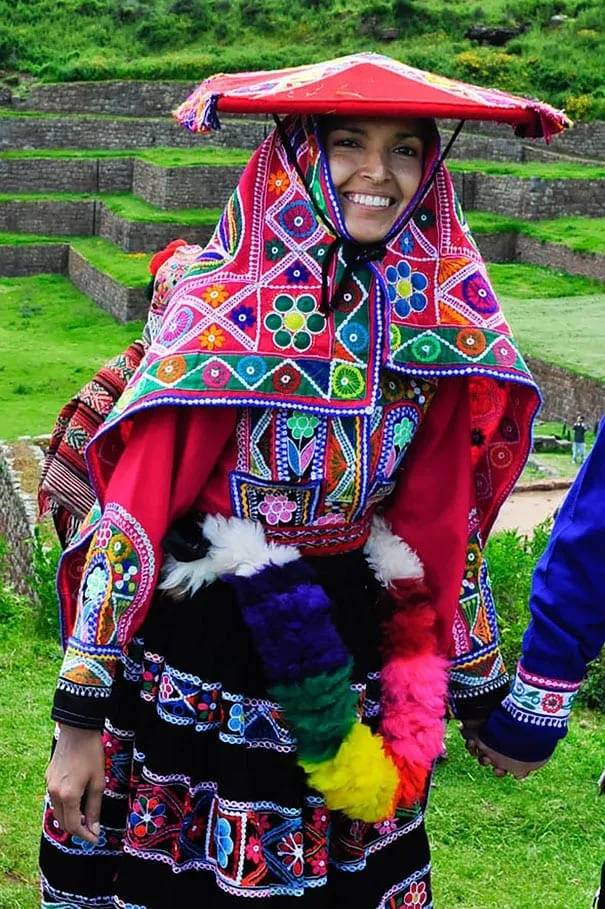 These decorations and styles are reminiscent of the powerful Incan empire that once inhabited the region and beyond, with their capital Macchu Picchu in the mountains of Peru. Peruvians even decorate their cakes in the same colors as their dress – as well as hiding a ring inside on a ribbon.
China
At traditional Chinese weddings, brides and grooms often opt for red outfits, as the color is culturally recognized as lucky. It keeps away evil spirits, as well as representing love and prosperity.

Like in many other cultures, they are dressed by their respective families. The groom will then go to the bride's family house, but he will first be blocked by her chosen bridesmaids. Once she gives him permission to pass, the families join each other for a tea ceremony.
Sardinia
In Sardinia, the dresses can be very elaborate, with ornate details that display influence from all around the Mediterranean from Northern Africa to Greece and northern Europe, including jeweled stitching, a velvet jacket, and a long veil.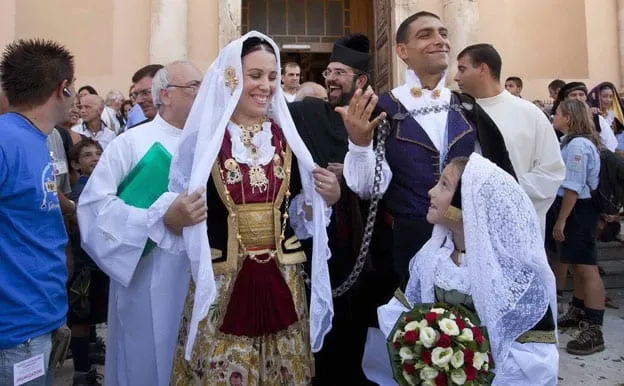 Unique to this island, there is even a special wedding pasta that you've probably heard of. Ziti has long been a local wedding tradition, with hollowed centers that can hold all kinds of pasta toppings. This was designed to fill up the bellies of famously large Italian families, who will all be celebrating, of course.
Iraq
In Iraq, a wedding proposal is accepted with rose water, cordial, and sweet Arabic coffee. Iraqi weddings are quite a long and epic affair: the engagement is known to take up to years even, and once the actual ceremony takes place, it takes 7 days.

Just before the wedding week, the bride will receive gifts from both families including many dresses of many colors. Then, on each of the seven days, she will wear a different color for each of the seven colors of the rainbow.
Poland
Traditional Polish weddings are not hard to find today. Bridal outfits include a special veil/cap (welon) that has its own ceremony (oczepiny) during the wedding. The groom puts on a flower matching the bride's bouquet.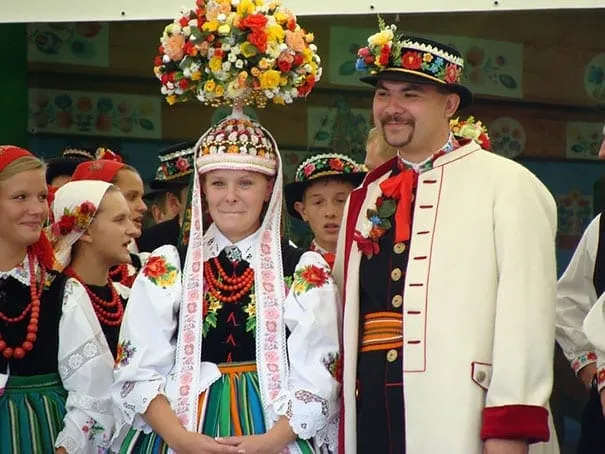 During the ceremony, brides will move their dresses to cover their husband's shoe – believing that this will give her a position of dominance in the relationship. Polish also believe that a bride can die of unhappiness, and the flower crown is created for her in the days before her wedding to manifest a happy, fertile marriage.
Caucus Mountains, Georgia
In the Caucus mountains of Georgia, wedding customs have stayed the same for many centuries. Many of their traditions reflect the warring nature of these mountains, where various groups of people have had to fight constantly for their survival.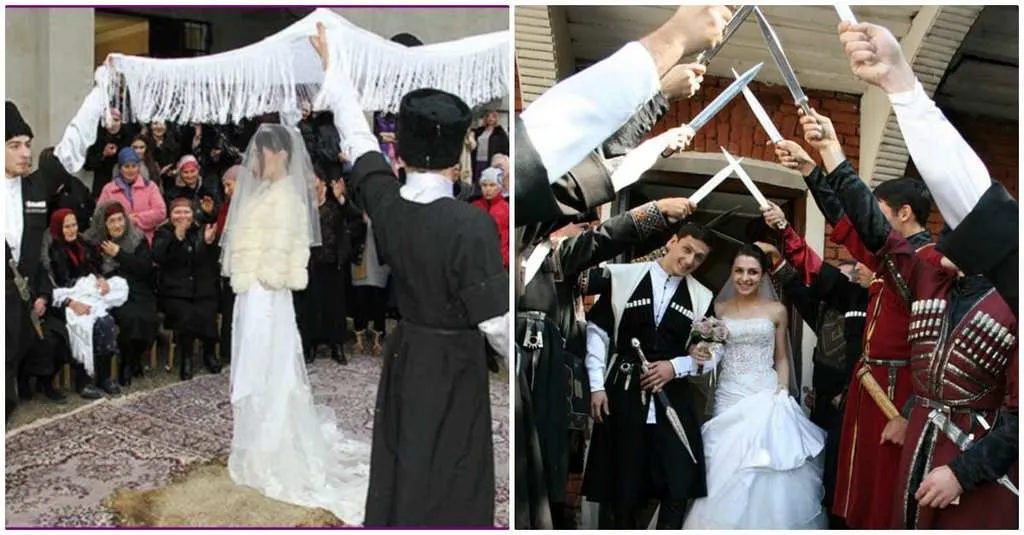 The bride is carried under a four-post canopy to symbolize her protection, while the groom wears a sheath in his belt. Towards the end of the ceremony, the bride will be kidnapped by her family, in order to make the groom prove he's capable of rescuing her.
Tonga
Like many other Polynesian islands and cultures, Tongan weddings are strongly symbolic of the environment around them. As can be seen from the hand-made attire from Tiare 'O Patitifa, women wear a colorful wrap that covers their bodies only from the torso to the knees, while the men's wraps will cover everything from the waist down.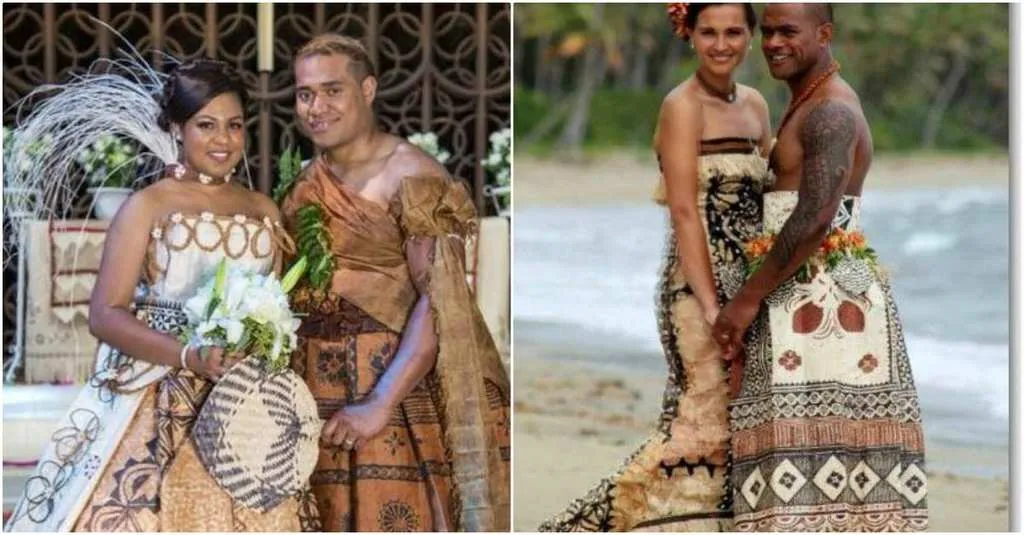 The priest who marries them wears a feathered headdress to symbolize the divine right given to him by higher powers, and the couple go to sea in a canoe to symbolize the isolation of their love from the world around them.
Greece
At Greek weddings, ancient pagan traditions are combined with those of the Greek Orthodox church. Older tradition demands that the bride's family places a lump of sugar in her glove to ensure a sweet life, and a gold coin to the inside of her shoe to bring good fortune.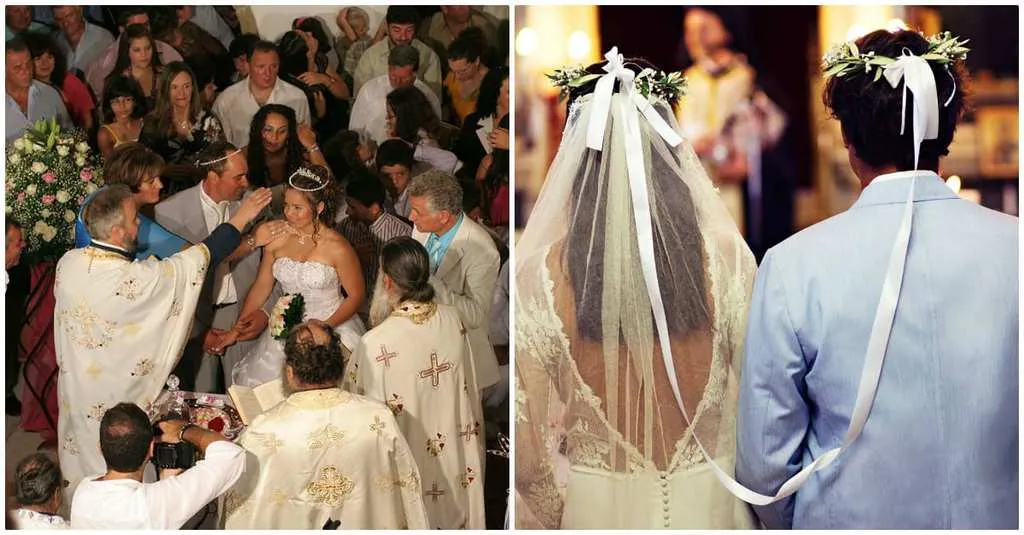 The groom puts a piece of iron in his pocket to ward off evil spirits throughout the day. A priest places crowns joined by a ribbon (called stefana) on the couple's heads, representing their new unity.
Ukraine: Hutsul People
Near the border of Ukraine and Romania live the Hutsul people, who are most likely descended from the old Rus tribe and still practice many of their customs. At their weddings, they ride to church on horseback, and celebrate for two or three days in a large wedding tent.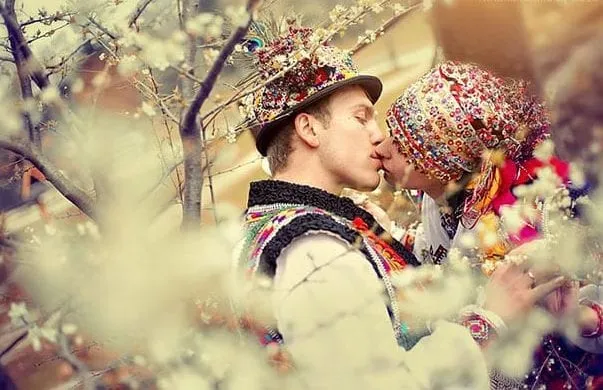 Their dresses are made by the delicate handwork of women in both families. Like certain other cultures, they strictly invite an odd number of people, believing odd numbers to be luckier because they can't be divided!
Khazakstan
Traditional Kazakh weddings involve the bride wearing a headdress called a "Saukele." This tall, conical hat is trimmed with fur and is the most expensive article of any wedding ceremony.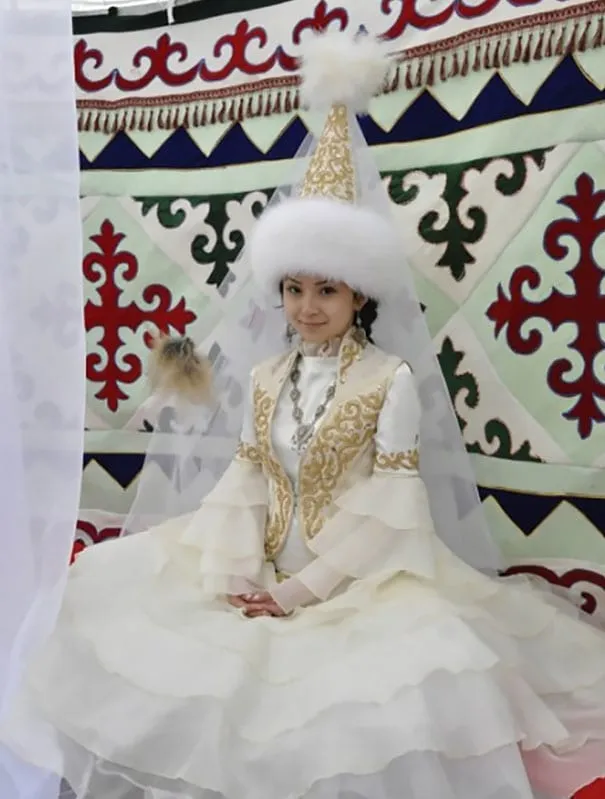 For wealthier women, the upper part of the hat is often decorated with semi-precious stone, blue velvet fabric, or gold thread. However, less prosperous women tend to make their "Saukele" from cheaper materials such as satin and will often use less precious beads made from glass to decorate the headgear.
Romania
Weddings in Oas are an important event in the Northwest part of Transylvania. The wedding is organized by the parents as well as the bride and groom-to-be and various different rituals are involved including the preparation of the dowry, the costumes, and choosing the godparents.