Welcome to "Unleashing the Adorable, Funny, and Fashionable Side of Pets" – a blog that celebrates the irresistible charm, hilarious antics, and stylish flair of our beloved furry friends. Join us on a journey filled with heartwarming stories, laugh-out-loud moments, and delightful fashion inspirations for pets. From adorable kittens rocking the latest trends to mischievous dogs showcasing their comedic genius, this blog is a treasure trove of cuteness and entertainment. Discover the endearing moments that make us fall in love with pets all over again, and get inspired to dress up your furry companions in trendy outfits that will make heads turn. Get ready to smile, laugh, and embrace the joy that pets bring into our lives as we uncover their irresistible charm and showcase their fabulous fashion sense. Let's embark on this exciting adventure together and celebrate the pawsome world of pets!
A Pomeranian wearinga princess dress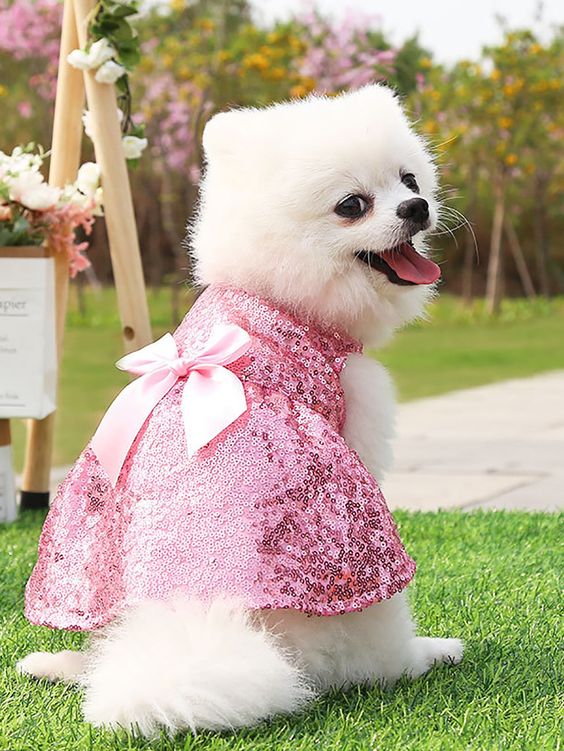 A precious Pomeranian named Bella, radiating pure joy as she struts her stuff in an adorable pink dress. Bella's soft, fluffy fur adds an extra layer of charm to her already lovable nature. The delightful pink dress she wears accentuates her petite frame, making her look like a true fashionista. With every playful step she takes, Bella's vibrant personality shines through, captivating everyone she meets. Her infectious happiness and undeniable cuteness bring smiles to faces and warm hearts. Bella reminds us that our furry friends can embrace their own sense of style, adding an extra dose of joy and laughter to our lives.
Chihuahua introducing us to red socks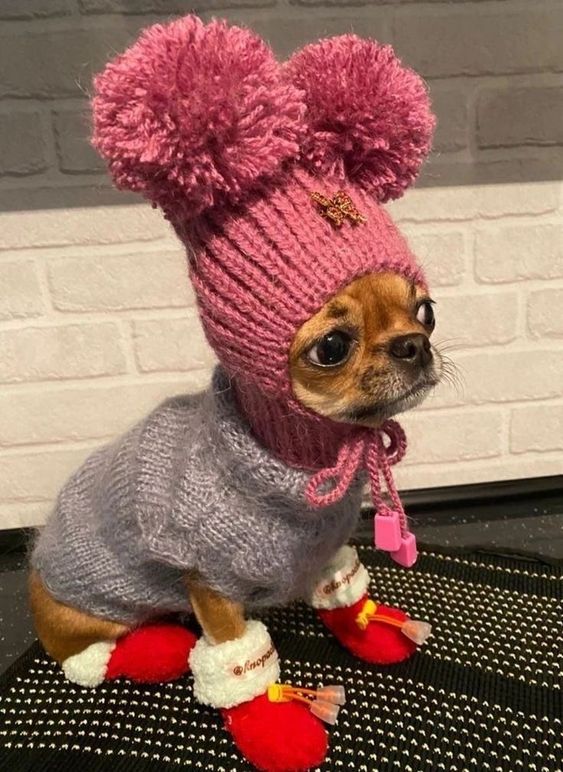 Let me introduce you to Coco, a delightful Chihuahua with an undeniable sense of style. Coco effortlessly rocks a charming pink hat adorned with cute mittens, perfectly complemented by a cozy grey sweater that fits like a dream. Adding a touch of festive cheer, Coco dons vibrant red Christmas socks that bring a smile to everyone's face. With each step they take, Coco captures hearts and turns heads, exuding a unique blend of cuteness and fashion-forward flair. This fashionable Chihuahua reminds us that our beloved pets can be fashion icons in their own right, embracing the joy of dressing up and spreading happiness wherever they go. Coco's charming ensemble is a true reflection of their vibrant personality and the love they bring to our lives.
British short hair being pawsome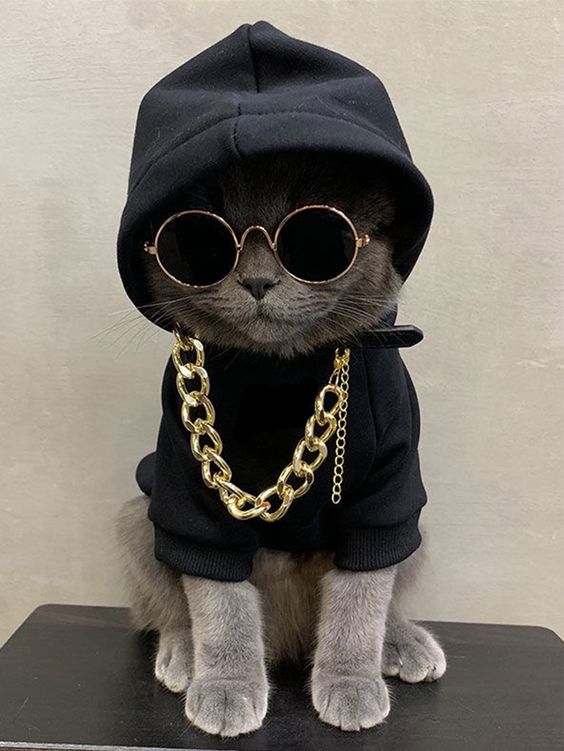 Allow me introduce you to Smoky, a magnificent grey cat who exudes style and confidence. Smoky rocks a black hoodie that perfectly complements their sleek fur, creating a striking contrast. Adding a touch of urban flair, a big chain hangs around Smoky's neck, accentuating their unique personality. With their piercing eyes and graceful movements, Smoky commands attention wherever they go. Their fashion-forward choice of a black hoodie and chain reflects their independent and self-assured nature. Smoky is a true trendsetter, effortlessly combining edginess and elegance in a way that captures the imagination. This stylish feline reminds us that our beloved pets can embrace their own sense of fashion and leave a lasting impression with their individuality. Smoky's fashion statement is a reflection of their captivating presence and their ability to make a statement without uttering a single word.
White cat spreading swag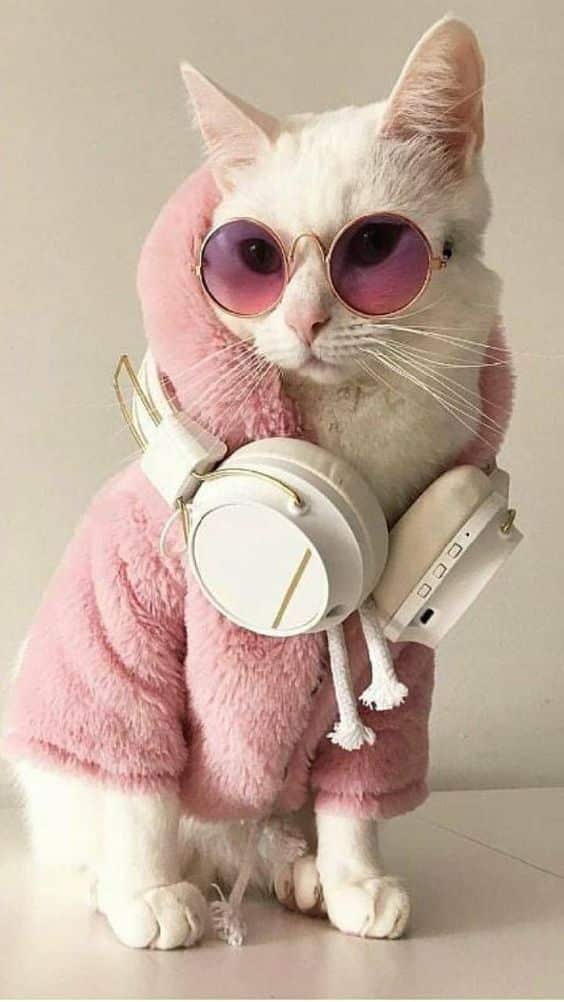 Let me introduce you to Whiskers, a charming white cat with a delightful sense of style. Picture Whiskers donning a pair of sleek white headphones that perfectly frame their adorable face, enhancing their captivating features. Adding a touch of playfulness, Whiskers rocks pink sunglasses, bringing a smile to everyone's face. Their cozy sweater not only keeps them warm but also complements their pristine white fur, creating a picture-perfect look. With each confident strut, Whiskers captures attention, showcasing their unique fashion sense and irresistible charm. Their fashion-forward choices reflect their vibrant personality and remind us that our furry friends can embrace style in their own adorable way. Whiskers is a true fashionista, demonstrating that even pets can make a statement and brighten our lives with their incredible fashion sense.
White Persian cat spreading smiles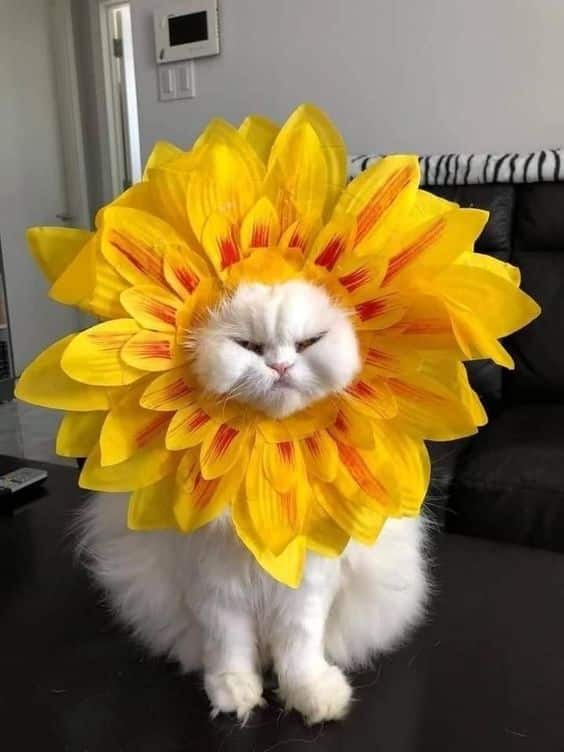 Allow me to introduce you to Snowflake, a beautiful white Persian cat who finds themselves in quite a hilarious predicament. Picture this magnificent feline, with their luscious, fluffy fur and striking blue eyes, reluctantly dressed up in a sunflower costume. The look on Snowflake's face clearly expresses their discontent with the situation, making for a comical sight. Despite their regal demeanor, the whimsical and vibrant sunflower costume creates a delightful contrast that brings laughter to everyone who sees it. Snowflake's displeasure adds a touch of humor and relatability, reminding us that even our beloved pets can have their moments of resistance when it comes to fashionable attire. This charming cat serves as a reminder to embrace the lighter side of life and find joy in the amusing situations that our furry friends can sometimes find themselves
A chucky pug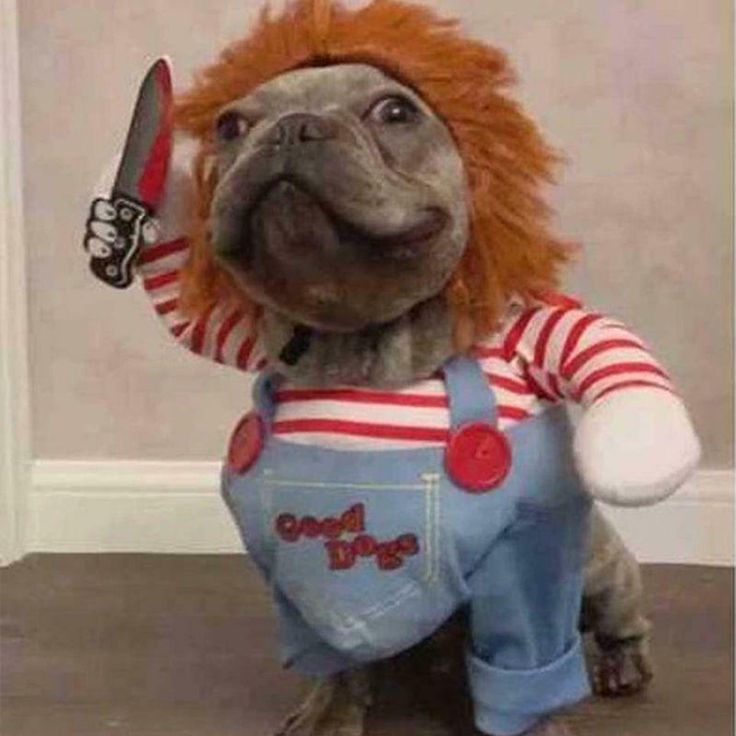 Here we have Buster, an adorable and playful pug with a mischievous side. Picture Buster dressed up in a Chucky costume, complete with a fake knife. With their lovable wrinkled face and expressive eyes, Buster's transformation into a mini Chucky is both endearing and slightly quirky. Although the knife is harmless and part of the costume, it adds a touch of whimsy and a hint of mischief to Buster's overall look. With confident strides, Buster captures the attention of everyone around, eliciting smiles and laughter. This delightful pug reminds us of the joy that our furry friends bring, even when they embrace a slightly spooky and humorous side. Buster's Chucky costume is a testament to their playful personality and their ability to brighten our lives with their adorable antics.
An orange cat being an orange cat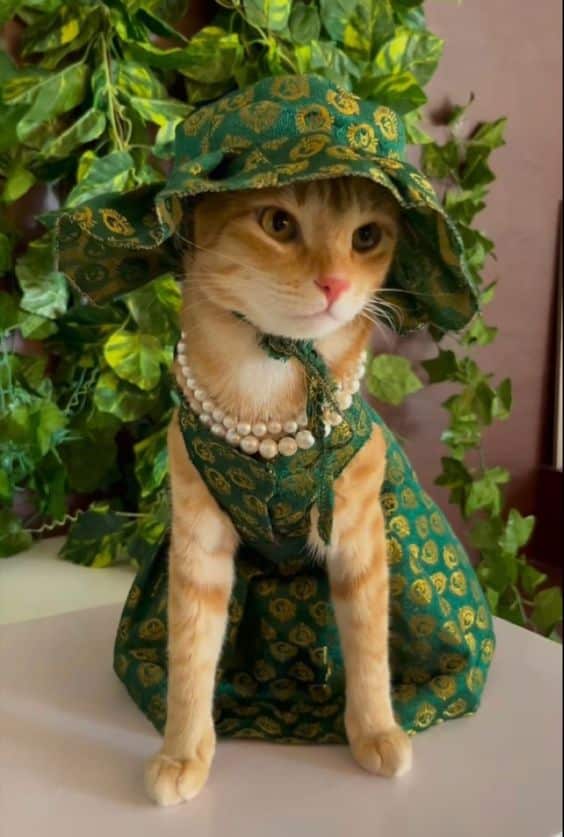 Meet Amber, the stylish orange cat who effortlessly embodies the spirit of the 1960s. With a vibrant green dress, a chic hat, and a pearl necklace, Amber exudes timeless elegance and charm. Their fashionable ensemble takes us back to the golden era of fashion, capturing the essence of retro glamour in a single glance. Amber's impeccable style serves as a delightful reminder that even our furry friends can make a bold fashion statement and transport us to a bygone era with their unique sense of flair.
Prisoner cat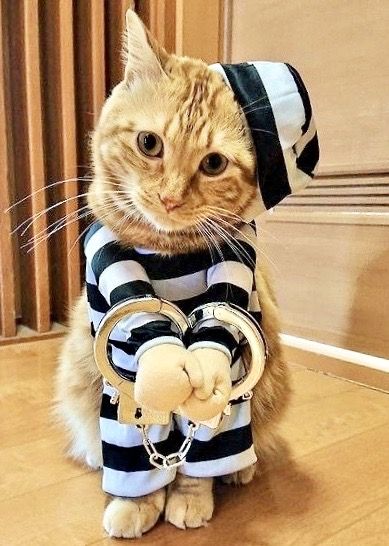 A beautiful cat named Whiskers, the adventurous cat who loves to play dress-up. Imagine them cosplaying as a prisoner, complete with a black and white striped uniform and playful handcuffs. Despite the costume, Whiskers maintains their charm and grace, captivating everyone with their mischievous spirit. This playful feline reminds us of the joy and laughter our pets bring, even when they embrace unconventional roles. Whiskers' prisoner cosplay is a delightful display of their imagination and their ability to turn any moment into a fun-filled adventure.
Spynx cat being goofy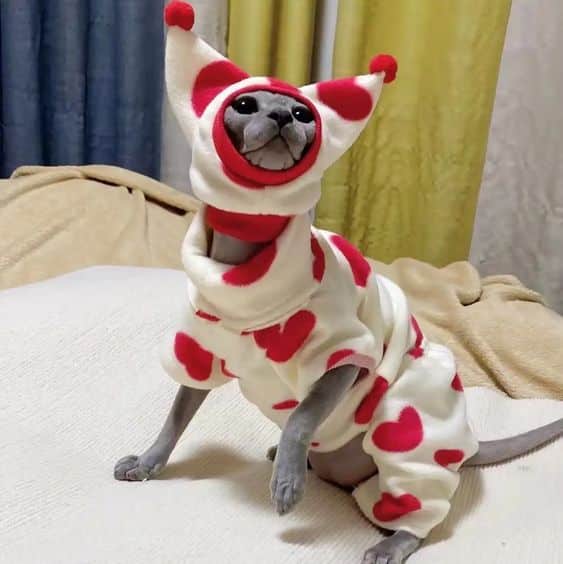 Meet Luna, the lovable grey Sphynx cat who knows how to relax in style. Picture Luna in a cozy white night suit adorned with playful red polka dots, complete with a matching hat. With their hairless coat and captivating eyes, Luna looks irresistibly cute and comfortable. This fashionable feline reminds us to embrace both comfort and style, even during our downtime. Luna's adorable night suit and hat combo is a delightful showcase of their unique personality and their expertise in the art of relaxation.
The Queen calico cat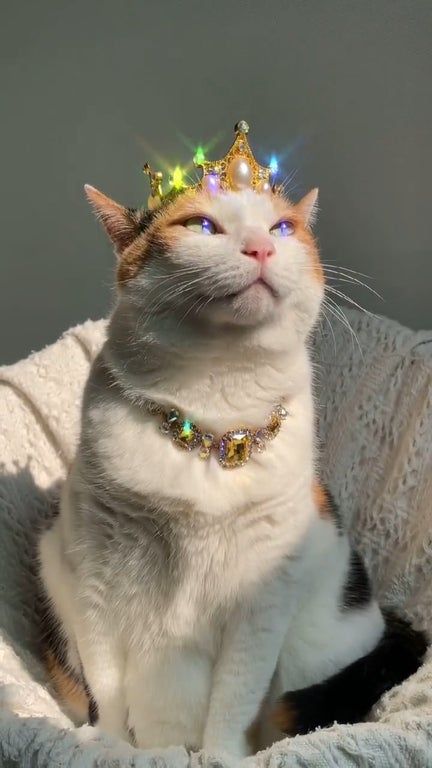 Here we have her highness Cleo, the regal Calico cat who has embraced her inner queen. Adorned with a beaded necklace and a magnificent crown, Cleo exudes elegance and grace. With her captivating coat and enchanting eyes, Cleo reigns with regal charm and captivates all who behold her. This majestic feline serves as a reminder of the inherent beauty and allure our pets possess. Cleo's royal ensemble is a testament to her majestic nature, inspiring us to appreciate the regal qualities within every creature.
Chihuahua in a bunny costume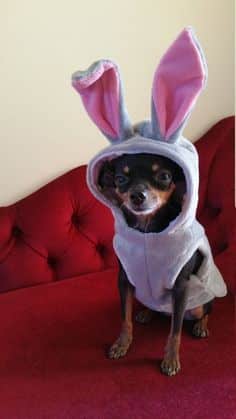 Step into the world of Coco, an adorable Chihuahua with a penchant for embracing their playful side. Imagine Coco, donning a delightful bunny hoodie that exudes charm and whimsy. Snuggled in the soft, fluffy fabric that mimics the fur of a bunny, Coco becomes a bundle of irresistible cuteness. With their bright, expressive eyes and petite frame, Coco captures hearts and spreads joy wherever they go. The bunny hoodie adds an extra touch of enchantment to Coco's already captivating personality, making them the center of attention and melting hearts with their undeniable appeal. Coco's playful fashion sense serves as a delightful reminder of the happiness and warmth our furry friends bring into our lives.
Littel Superman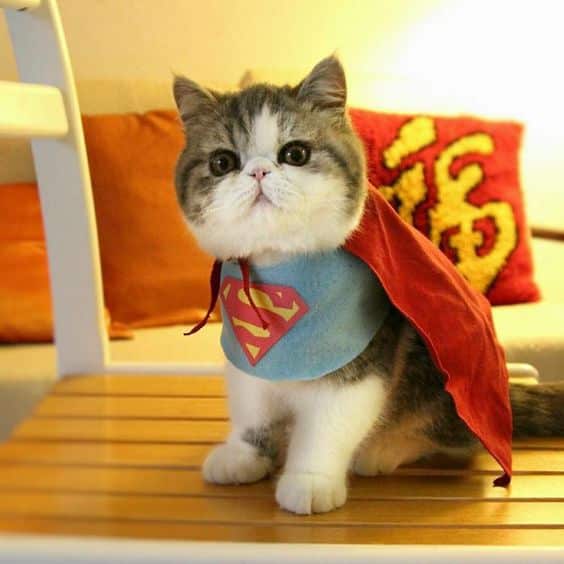 Imagine an Exotic Shorthair named Oliver, ready to save the day as the feline superhero, Superman. Picture Oliver donning a miniature Superman costume, complete with the iconic blue suit, red cape, and a bold "S" symbol on his chest. With his unique flat face and expressive eyes, Oliver becomes the epitome of an adorable superhero. As he confidently struts around, he exudes a sense of power and determination, ready to protect and bring joy to all in his path. Oliver's supercat persona serves as a delightful reminder that even our beloved pets can embrace their inner heroes and inspire us with their charm and bravery.
The LION King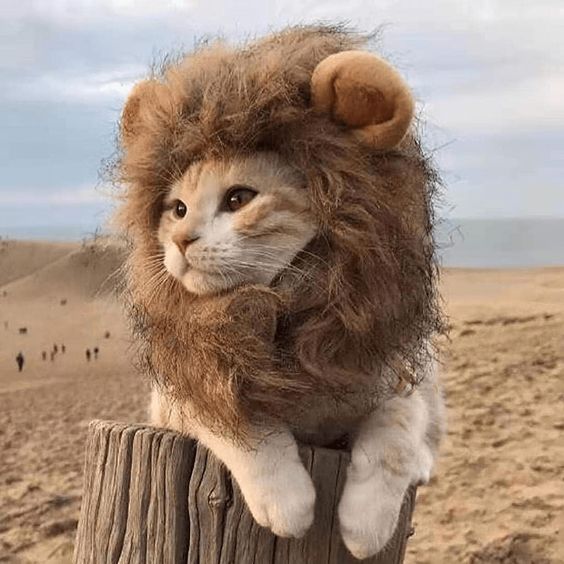 Imagine a charismatic cat named Leo, who exudes a majestic aura with their lion hair. Picture Leo with a luscious and voluminous mane that resembles the mane of a lion, radiating confidence and regality. With their piercing eyes and graceful movements, Leo effortlessly captures the essence of the king of the jungle. Whether strolling through the house or perched on their favorite spot, Leo's lion hair adds an extra touch of magnificence to their already captivating presence. This extraordinary feline serves as a reminder that even the smallest of creatures can possess an undeniable air of power and beauty. Leo's lion-like appearance brings a touch of the wild into our homes, reminding us of the untamed spirit and allure of nature.
German Iron Man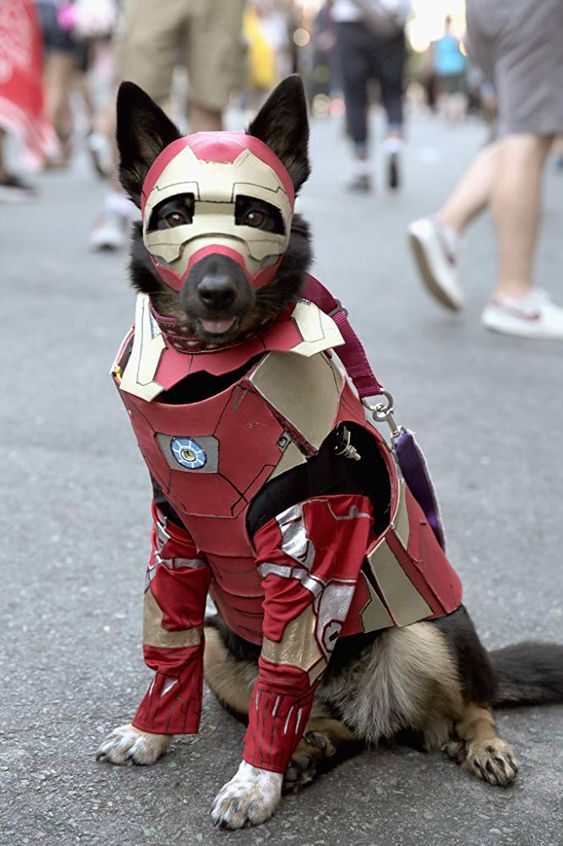 Prepare to be amazed by Max, the incredible German Shepherd who transforms into a real-life superhero in his Iron Man costume. With his striking red and gold suit, complete with a glowing arc reactor, Max exudes power and bravery. As he confidently struts through the neighborhood, his superhero persona captivates hearts and reminds us that our furry friends can be our very own everyday heroes. Max's Iron Man costume is a testament to the extraordinary spirit and boundless love that our loyal companions bring into our lives.
CLEOPETRA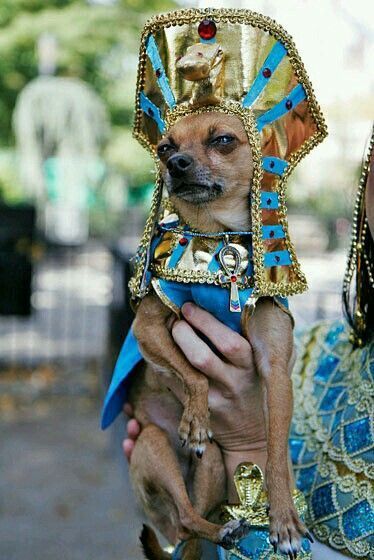 Introducing Cleopawtra, the sassy Chihuahua who rules the doghouse as the legendary Cleopatra. With a headdress that would make the pharaohs jealous and a regal strut that demands treats and belly rubs, Cleopawtra is the queen of canine cosplays. Watch as this pint-sized ruler captures hearts and commands attention, proving that even a tiny Chihuahua can rock the ancient Egyptian style with attitude and flair. Bow down to the furry majesty of Cleopawtra, the fur-bulous queen of pawsome transformations!