In Bollywood, there is a common issue of casting older male actors with younger female actresses. Although the age difference is usually within ten years, some instances have shown gaps of up to 20-30 years. Although this was once ignored, audiences are now beginning to voice their concerns. Below are some examples of films in which the male lead was significantly older than his female co-star.
Salman Khan – Disha Patani
Salman Khan has acted as a romantic lead with numerous young actresses in his films, and there are rumors suggesting that he has also off-screen relationships with some of them. However, one of his most unexpected on-screen collaborations was with the actress Disha Patani in the movie Radhe.

While shooting the 2021 movie, Khan was aged 55, while his romantic partner in the film, Disha Patani, was only 28, creating a remarkable age gap of 27 years between them.
Anil Kapoor – Kareena Kapoor Khan
The combination of these two actors in the movie Bewafa alongside Akshay Kumar was not only surprising due to the significant age difference but also because they come from separate eras of Bollywood.

During the release of the 2005 film, Anil Kapoor was almost double the age of Kareena Kapoor Khan, with a age gap of 24 years, yet they both effectively played the roles of a married couple.
Aamir Khan – Anushka Sharma
Aamir Khan goes against the typical Bollywood norms in multiple ways such as his acting style, script selection and lack of knowledge about social media. However, Khan was unable to buck the trend of age differences between male and female co-stars.

Aamir Khan, who is 49 years old, acted alongside Anushka Sharma, who is 26 years old, in one of his most popular movies, PK. Fortunately, their romantic relationship was portrayed as being one-sided, so the fact that there is a 23-year age difference between them did not cause much controversy.
Amitabh Bachhan – Soundarya
The Bollywood film Sooryavansham holds a special place in people's hearts and is considered a classic by many. It has become a cult favorite over the years, and families often gathered on Sundays to watch it together. However, one interesting detail that often goes unnoticed is the big age difference between the lead actors.

At the time of shooting this popular movie in 1999, Amitabh Bachhan was already 57 years old whereas his wife's character was portrayed by an actress who was just 22 years old. Consequently, the couple had an age gap of 25 years.
Shahrukh Khan – Anushka Sharma
King Khan, in his Bollywood films, has introduced many fresh and youthful talents. Nevertheless, even though he is getting older, his female counterparts continue to be undeniably young.

The male actor, who was 43 at the time, acted alongside Anushka Sharma in Rab Ne Bana Di Jodi, a movie that saw her debut at the young age of 20. The fact that there was an age difference of 23 years between the two was quite surprising. Nevertheless, the film proved to be an excellent starting point for the budding actress, making the trade-off worthwhile!
Shahrukh Khan – Deepika Padukone
Here's a rephrased version: Another prominent female actress of modern times was introduced around the same time as Shahrukh Khan in the late 2000s. However, the significant age difference between her and the Bollywood superstar is equally surprising.

In her first movie, Om Shanti Om, Deepika Padukone was a young and new 21-year-old actress. Meanwhile, Shahrukh Khan played her co-star at the age of 42, resulting in a significant age difference of 21 years between the lead pair. Since then, the pair has acted together twice – once in the blockbuster Chennai Express and soon in the upcoming movie Pathaan.
Ajay Devgn – Tamannaah
In the film Himmatwala released in 2013, these two actors starred together. However, the movie failed miserably due to its exaggerated plot. The storyline revolves around a protagonist, portrayed by Devgn, who seeks vengeance against a cruel landlord by wedging his daughter.

The movie featured Tamannah as Devgn's love interest and daughter, and during its release, Tamannah was 23 years old while Devgn was 44. The age difference of 21 years created a new dimension to the choreography of the song Naino Mein Sapna.
Akshay Kumar – Kiara Advani
In the near future, we can expect to see Akshay Kumar frequently as he acts alongside actresses who are considerably younger than him. As an action-comedy star, he has earned a reputation for himself through his remarkable performances and for being paired with younger female co-stars in his films.

In his movie Laxmii, the actor starred alongside Kiara Advani, who was 25 years younger than him. At the time of filming, Kumar was 53 years of age while Advani was 28.
Rajnikanth – Aishwariya Rai
The film Enthiran, which was also known as Robot, caused a great stir upon its initial release in 2010. Aishwarya Rai Bachchan, who was once crowned Miss World, and the famous Rajnikanth, were among its cast.

Despite the sci-fi action movie being widely praised and celebrated, a less prominent detail was the significant difference in age between the two main actors. At the time of the movie's release, Rajnikanth was 59 years old, whereas Aishwariya was only 37.
Rajnikanth – Amy Jackson
In 2018, the movie 2.0, which is the follow-up to Enthiran, was released. Rajnikanth once again portrays Dr. Vaseegaran, a scientist specialized in creating robots. However, contrary to the preceding film in which he played just two characters, this time the famous actor has three roles!

One of the characters he portrays is Chitti, a highly developed robot, and Nila, another robot who also has feelings for Chitti, is played by actress Amy Jackson. The age difference between the two actors is quite complex, with Rajnikanth being 67 years old and Amy Jackson being only 26, resulting in a 41-year gap.
Sanjay Dutt – Gracy Singh
Munna Bhai MBBS is a significant movie that can be considered an authentic symbol of Hindi cinema. It brought forward a bro-mantic relationship that is forever etched in the annals of Bollywood history as one of the finest on-screen friendships ever witnessed.

However, the film included a somewhat contentious element, which was the notable discrepancy in age between the main stars, with Gracy Singh being 23 years old and Sanjay Dutt being 44 years old.
Akshay Kumar – Manushi Chillar
The film Samrat Prithviraj, released in 2022, explores the concept of what is considered too great an age difference between actors playing the leading roles in a movie. While this historical drama grabbed attention for its disastrous performance at the box office, it also gained notoriety due to the 30-year age difference between the actors portraying the on-screen couple.

In the film, Prithviraj Chauhan's character is portrayed by Akshay Kumar, who is 54 years old, and princess Sanyogita's character is played by Manushi Chillar, who won the Miss World title in 2017 and is 24 years old.
Amitabh Bachchan – Shefali Shah
In the emotional family drama movie Waqt: The Race Against Time, Amitabh Bachchan, who was 63 years old, acted alongside Shefali Shah, who was 33 years old. However, this was not the only notable pairing in the film.

The character of the couple's son in the film is portrayed by Akshay Kumar, who is actually 38 years old, which is older than Shah. Furthermore, Kumar was cast alongside Priyanka Chopra, who is 16 years younger than him. This film is undoubtedly a thrilling race against time.
Nawazuddin Siddiqui – Huma Qureshi
The second installment of the Gangs of Wasseypur movie franchise has gained a strong, dedicated following and achieved equal levels of success to the first film. This crime movie presents a raw, intense atmosphere that is sure to captivate and thrill its audience.

Nevertheless, the concerning aspect of the film is the difference in age between the lead actor Nawazuddin Siddiqui, aged 37, and his romantic partner Huma Qureshi, 25. Moreover, the role of Siddiqui's mother in the movie is depicted by Richa Chaddha, who was also 25 while shooting for the film.
Hrithik Roshan – Mrunal Thakur
Many of the top male actors in Bollywood have starred in films where they are seen in romantic relationships with female co-stars who are much younger than them. This trend also appears to include Hrithik Roshan.

In his 2017 film Super 30, the actor who was 45 years old at the time, acted alongside actress Mrunal Thakur, who was 19 years younger than him. Thakur played the main love interest of Hrithik Roshan's character, who portrayed a mathematician in the movie.
John Abraham – Jacqueline Fernandez
The Housefull series is so absurd that it can disorient even the most rational person. The frequent perplexity in the films provides a significant comedic aspect, particularly in the initial two installments.

In the film Housefull 2, Jacqueline Fernandes and John Abraham played one of the four lead couples. Throughout the movie, Abraham, who is considered attractive, was 39 years old, while Fernandes, a Sri Lankan actress, was 27, making her 12 years younger than him.
Salman Khan – Katrina Kaif
Salman Khan and Katrina Kaif's on-screen combination has been tested and proven successful, producing several blockbuster movies throughout the years. Moreover, their chemistry on and off-screen has been exceptional, with the two having previously been in a relationship.

The two actors have acted together in a total of six movies, one of which is the successful film Ek Tha Tiger, and they are working on another one. Nevertheless, they face the challenge of a significant age difference of 17 years, proving that age disparity among lead actors can be problematic.
Anil Kapoor – Rani Mukherjee
The issue of age differences between main couples is not recent. This matter has been present for a long time, as seen in the film Nayak from 2001.

The political drama film features Anil Kapoor portraying an ordinary man who impresses the entire nation with his proactive approach and capacity to initiate changes. During the shooting of the film, Kapoor was 45 years old, whereas his co-star Rani Mukherjee was significantly younger, only 23 years old.
Saif Ali Khan – Tamannaah
Saif Ali Khan has expressed that "Humshakals" was his one of the major remorse in life. The film, which was a massive failure, faced ridicule for every aspect including the screenplay and performances.

It is not astonishing that there is a considerable age difference between the lead actors in the movie, Saif Ali Khan and Tamannaah. Saif was 46 years old at the time of filming in 2014 whereas Tamannaah was only 25 years old, indicating a 19-year age gap between them.
John Abraham – Mrunal Thakur
The 2019 action thriller movie Batla House features John Abraham as the action hero and he is seen acting alongside actress Mrunal Thakur. The movie draws inspiration from real-life events that occurred in September 2008.

Abraham is portraying the character of Sanjay Kumar, a police officer, and his on-screen wife is being played by Mrunal Thakur. However, there is a considerable age gap between the two actors. At the time of filming, Abraham was 46 years old, while Thakur was only 25, which is a 19-year age difference between them.
Ajay Devgn – Sonakshi Sinha
The two performers have co-starred as romantic partners in a number of films, such as Action Jackson and Son of Sardaar. However, the difference in their ages raises the query of the reason behind it.

In their first film together, Son of Sardaar, Sinha was a young actress at the age of 25, while Devgn, an experienced actor, was 43 years old. Despite an age difference of 18 years, Sinha continued to work with Devgn in various other movies and even made a special appearance in the song of Devgn's movie, Himmatwala.
Akshay Kumar – Katrina Kaif
The combination of Akshay Kumar and Katrina Kaif has been extremely successful in numerous movies, igniting the movie theater experience multiple times. They were regarded as the top couple in Bollywood at one point, producing multiple blockbuster films.

Although the actors display excellent chemistry, it is easy for the viewers to overlook the fact that there is a 15-year age difference between them. When Kumar and Katrina worked together in the film Humko Deewana Kar Gaye, Kumar was 38 while Katrina was just 24 years old. Additionally, the portrayal of Katrina's fiancé in the film was acted by Anil Kapoor, who is 26 years older than her, which is even more concerning.
Dhanush – Sara Ali Khan
Sara Ali Khan has joined the list of the most recent female actors who aren't immune to being matched with actors who are almost ten years their senior.

The 2021 film Atrangi Re features Dhanush and Sara Ali Khan portraying a married couple despite having a significant age difference of 12 years. The movie has an intricate plot, and Khan's character finds love with another man played by Akshay Kumar, who is 28 years older than her.
Nawazuddin Siddiqui – Avneet Kaur
Nawazuddin Siddiqui, a skilled actor with a range of talents, has garnered much admiration through his performances. He is ready to appear in an upcoming film project, Tiku Weds Sheru, alongside Avneet Kaur.

The unexpected combination of the two main actors in the movie has caused surprise as there is a significant difference in their ages. Siddiqui who is 47 years old has been paired with Kaur who is only 20 years old. This age gap of 27 years has certainly caught the attention of the viewers who are expressing their disbelief.
Govinda – Katrina Kaif
It is unexpected to see Govinda's name on the list because he is known as a friendly comedian from the 90s era. Nevertheless, in his film Partner in 2007, the actor was cast alongside Katrina Kaif, who is significantly younger than him.

At the time the movie was released, Govinda's age was 43 years old, which meant that Katrina Kaif's age of 24 made her 19 years younger than him.
Bobby Deol – Kriti Kharbanda
Bobby Deol acted in Housefull 4, one of his recent films, which is considered one of the least popular movies in the series. The film is not only peculiar but also presents three male protagonists who are involved in relationships with much younger women.

One of the couples, consisting of Bobby Deol and Kriti Kharbanda, has a significant age difference of 22 years. The second couple, Riteish Deshmukh and Pooja Hegde, have a smaller age difference of 12 years, while Akshay Kumar and Kriti Sanon also have a 22-year age gap.
Hrithik Roshan – Pooja Hegde
Hrithik's 2016 historical and action themed film, Mohenjodaro, features him alongside the debutant Pooja Hegde. The film narrates the tale of a man from a lower class background who falls in love with a woman from an upper-class background.

Although the fictional romance is nice, the truth is quite different. In the film, Roshan was 42 years old, while Hegde was younger at 25 by 17 years. This situation is nothing new, and has been seen before, just like in the movie's story.
Abhishek Bachchan – Taapsee Pannu
Manmarziyan is a contemporary love story that depicts the troubles of young people, the mistakes that can be made in love, and how unexpected events can turn into precious memories. In the film, Abhishek Bachchan portrays the role of an Non-Resident Indian who travels to India to meet Rumi, played by Taapsee Pannu, for an arranged marriage.

While portraying a couple in the film, the two actors have a significant age gap, with one being 42 years old and the other 31 years old during the filming.
R Madhavan – Dia Mirza
Rehnaa Hai Terre Dil Mein enjoyed massive success in 2001 and has continued to gain popularity over time. Nonetheless, the film's storyline has attracted some contentious critiques, hence it is not surprising that age-related concerns have also arisen in the movie.

The male protagonist of the film, R Madhavan, is 12 years senior to the female lead, Dia Mirza. Similarly, Saif Ali Khan, who is playing the supposed fiancé of Mirza's character, is also 12 years older than her.
Sunny Deol – Amisha Patel
In Bollywood's Gadar, Sunny Deol and Amisha Patel played the lead roles in a poignant love story. The movie was released in 2001, which was indeed an extraordinary year for unconventional romantic tales. The plot follows the story of Jeet and Tara, who had to face numerous hurdles that pushed them apart.

At the time of the movie, one of the Deol brothers was in his prime at the age of 44, while Amisha Patel, who starred alongside him, was 25 years old, making her 19 years younger.
Farhan Akhtar – Prachi Desai
Farhan Akhtar, who is known for his multiple talents in acting, directing, and singing, ventured into the field of acting after gaining recognition as a successful director. He made his debut as an actor in the 2008 musical blockbuster Rock On, when he was 34 years old.

The movie served as the first movie for Prachi Desai, who is a well-known TV personality. In the movie, she portrayed the role of Akhtar's wife. Despite being a leading lady on television, she was just 19 years old when the movie was filmed.
Suniel Shetty – Sameera Reddy
In the 90's, Suniel Shetty was known for his dominant and fierce appearance on the big screen. However, he was also skilled in making people laugh and demonstrated this in the 2009 comedy film De Dana Dan, where he acted alongside Sameera Reddy.

Despite portraying a romantic couple on screen, Shetty and Sameera Reddy had a significant age difference. At the time of filming, Shetty was 48 years old whereas Reddy was just 28 years old.
Salman Khan – Sneha Ullal
Salman Khan, known for his controversial relationships, has discovered a unique approach to coping with breakups. Following the end of each relationship, the actor introduces a new actress to the industry who strongly resembles his former girlfriend.

An example that illustrates this is Sneha Ullal, who acted alongside Khan in the film Lucky in 2005. Ullal looks strikingly similar to Khan's former partner Aishwariya Rai Bachchan. Nonetheless, it is worth noting that during the movie's premiere, Khan was 41 years old, whereas Ullal was only 19.
Rishi Kapoor – Divya Bharti
The movie Deewana from 1992 revolves around Kajal, the wife of Ravi who dies and later she decides to start a new life by marrying someone else. But things take an unexpected turn when Ravi returns alive, jeopardizing her new life.

In this movie, Kajal was played by actress Divya Bharti while Rishi Kapoor played the role of Ravi. The age gaps during those times weren't such a big deal, maybe that's why the directors decided to pair the 18-year-old Bharti against the 40-year-old Kapoor.
Sanjay Dutt – Vidya Balan
The problem of age gap continues to exist in movie franchises, whether it's because the men refuse to age and behave accordingly or because the directors want to keep bringing them back.

In Lage Raho Munna Bhai, Sanjay Dutt plays the character of Munna once again, but this time he is pitted against actress Vidya Balan, who portrays the role of a radio jockey. When the movie was being filmed in 2006, Dutt was 47 years old, which was 20 years older than Balan who was just 27 years old.
Saif Ali Khan – Deepika Padukone
Certain couples in Bollywood establish themselves as a reliable choice and repeatedly collaborate in films because of their exceptional rapport and devoted fanbase. An example of this is the on-screen duo of Saif Ali Khan and Deepika Padukone, who have acted together in four movies.

Despite working together in their first movie Love Aaj Kal, Saif Ali Khan and Deepika Padukone had a significant age gap of 16 years as Khan was 39 years old at that time, while Padukone was only 23.
Bobby Deol – Priyanka Chopra
These two Bollywood actors appeared together in a movie called Kismat in 2004, which is an improbable pairing by today's standards. The character of Bobby Deol unintentionally poses a threat to the father of the girl he is deeply in love with, played by Priyanka Chopra, in the film. This was the first and last time that they worked together.

It's surprising to note that during this movie, Chopra was only 22 years old while Bobby Deol, 13 years her senior, was 35.
Anil Kapoor – Amisha Patel
For the last four decades, Anil Kapoor has been one of the leading figures in Bollywood cinema, consistently delivering films. Throughout his career, he has played diverse roles, transitioning from being a romantic lead in the 90s to a comedian in the 2000s.

One of his comedic roles was in the multicast ensemble Race 2, where he played an inspector who goes to solve a case with his airhead secretary, played by Ameesha Patel. What's shocking is that the two, who strike up a romance on-screen, actually have a 20 year age gap!
Aamir Khan – Asin
Asin's Bollywood debut is a success story through and through. Ghajini inspired a generation of men to cut their hair close to their scalp, the cut being dubbed 'The Ghajini Cut' throughout the country. The movie starred Asin opposite Aamir Khan in the leading role.

Even though Aamir looked like an innocent and sweet businessman during some parts of the movie, he was actually already 43 years old, while Asin was only 22.
Irrfan Khan – Saba Qamar
Hindi Medium was a movie praised by the audience for its amazing script and stellar performances by all involved. The 2017 movie saw versatile actor Irrfan Khan and Saba Qamar play husband and wife.

Even though the duo played the role of parents and spouses in the movie perfectly, in reality, they're actually quite far apart in age. Khan was 50 years old when the movie was released, while Saba Qamar was only 33.

For some Hollywood stars, life is all about dating around. But, for all the bachelors and playboys, there are also the long-time monogamists. That's right — even in the world of celebrity, there are some relationships that really do last. These celebs married their first love and while some made it, others didn't. Check out all the celebrities that went all-in with their first loves.
Jack Black and Tanya Haden
This one isn't exactly straightforward. Musician and actor Jack Black met Tanya Haden in high school, but they ended up losing touch after leaving school. 15 years later, the couple met at a mutual friend's party, and hit it off.

Jack Black finally popped the question in 2006, and the pair were hitched just months later — no wonder after waiting so long! Now, the happy couple has two sons together — Samuel Jason, and Thomas David.
Kathy Avanzino and Rick Hilton
While her half-sisters Kim and Kyle were sent down the child star path, Kathy Avanzino was instead encouraged to marry into money. Paris and Nicky's mom met businessman and heir Rick Hilton when she was just 15, and married him at 20. Together, these long-time lovers have four kids, including sons Barron and Conrad.

Clearly, a Hollywood institution, Rick and Kathy Hilton have weathered the storm for decades. They are now grandparents to Lily Grace, Teddy Marilyn, and Milou Alizée.
Samuel L. Jackson and LaTanya Richardson Jackson
First up is the highest-grossing actor of all time — Samuel L. Jackson. The star met his wife, LaTanya Richardson, while the two attended different colleges in Atlanta. Richardson is an actress but stepped back after the birth of their daughter, Zoe.

Speaking about their relationship, Jackson has said, "We actually thought we were going to be the black Liz Taylor and Richard Burton, but we were going to stay together! She's had a good career. I've had a good career. So it's worked."
Jeff Daniels and Kathleen Rosemary Treado
Another committed monogamist in the acting world is Jeff Daniels. The Emmy Award winner married his high school sweetheart, Kathleen Treado, in 1979. Interestingly, the pair decided to raise their kids in the couple's home state, Michigan, rather than in Beverly Hills.

Speaking about the decision, the star said, "Kathleen and I had both been raised here; good enough for us, good enough for them." He continued, "It was just too important to get wrong. My career came second to that."
Ron Howard and Cheryl Alley
Director and actor Ron Howard has been on our screens for quite some time. Starting as a child star, the actor has starred in successful sitcoms and directed multiple hit movies. For his efforts, Ron Howard has won two Oscars.

Howard married wife Cheryl Alley when they were both 21 years old. He remembers, "It's crazy — we were teenagers, it shouldn't have worked. We got married young, that shouldn't have worked either, and yet it really and truly has."
Heather Morris and Taylor Hubbell
The delightful Heather Morris warmed our hearts as the goofy, hip popping Brittany S. Pierce in Glee. The actress met her future husband, Taylor Hubbell, when he was still a college baseball player. In fact, the couple had attended the same Arizona high school, but didn't cross paths.

When Heather Morris moved to LA, Taylor Hubbell hit her up on Myspace. Since then, the couple has tied the knot and welcomed two sons — Elijah Beckwith, and Owen Bartlett.
Jon Bon Jovi and Dorothea Hurley
While rockstars tend to have a reputation for womanizing, that isn't true in all cases. Just take Jon Bon Jovi as an example. The Grammy Award winner met his wife, Dorothea Hurley, at their New Jersey high school. Then, they made a stop on one of the band's tours and got married in Vegas.

Definitely not just a whim, this marriage has lasted over three decades, and the couple shares four kids. The star has said, "We really like each other. We want to hang out."
Rainn Wilson and Holiday Reinhorn
Another set of long-term lovers are actor Rainn Wilson and author Holiday Reinhorn. This couple met when they were both studying acting at the University of Washington. After dating for over a decade, they got hitched in 1995.

Now, Wilson and Reinhorn have a son together, as well as a menagerie of animals. Among other things, the pair own two Vietnamese pot-bellied pigs named Snortington and Amy, and a zonkey named Derek. Together, the couple works with an educational foundation in Haiti.
Chris O'Donnell and Caroline Fentress
Next, we have actor Chris O'Donnell, and his wife Caroline Fentress. This couple met at Boston College and got married in 1997 in Washington. Together, the pair have five children — Charles, Lily, Finley, Maeve, and Christopher.

After over 30 years together, it's safe to say that these two have a pretty strong marriage. O'Donnell himself grew up with six siblings, so clearly having a big family is normal for this star. Adorably, all of his kids have had cameo roles in his TV shows.
LeBron James and Savannah Brinson
There are rather a lot of athletes on this list, starting with the iconic LeBron James. While some athletes have a reputation for using their status to date lots of models and actresses, others stick to one person.

Savannah Brinson and LeBron James started dating in high school, and she became pregnant with their first child. After 10 years together, the star proposed, and the couple eventually married in 2014. In total, they have three children — Bronny, Bryce, and Zhuri.
Tyler Posey and Seana Gorlick
Here are some more childhood sweethearts — this time it's actor Tyler Posey and his teen love, Seana Gorlick. Sadly, unlike some others on this list, this couple didn't make it. Posey and Gorlick actually got engaged in 2013, but broke it off in the same year, after 10 years together.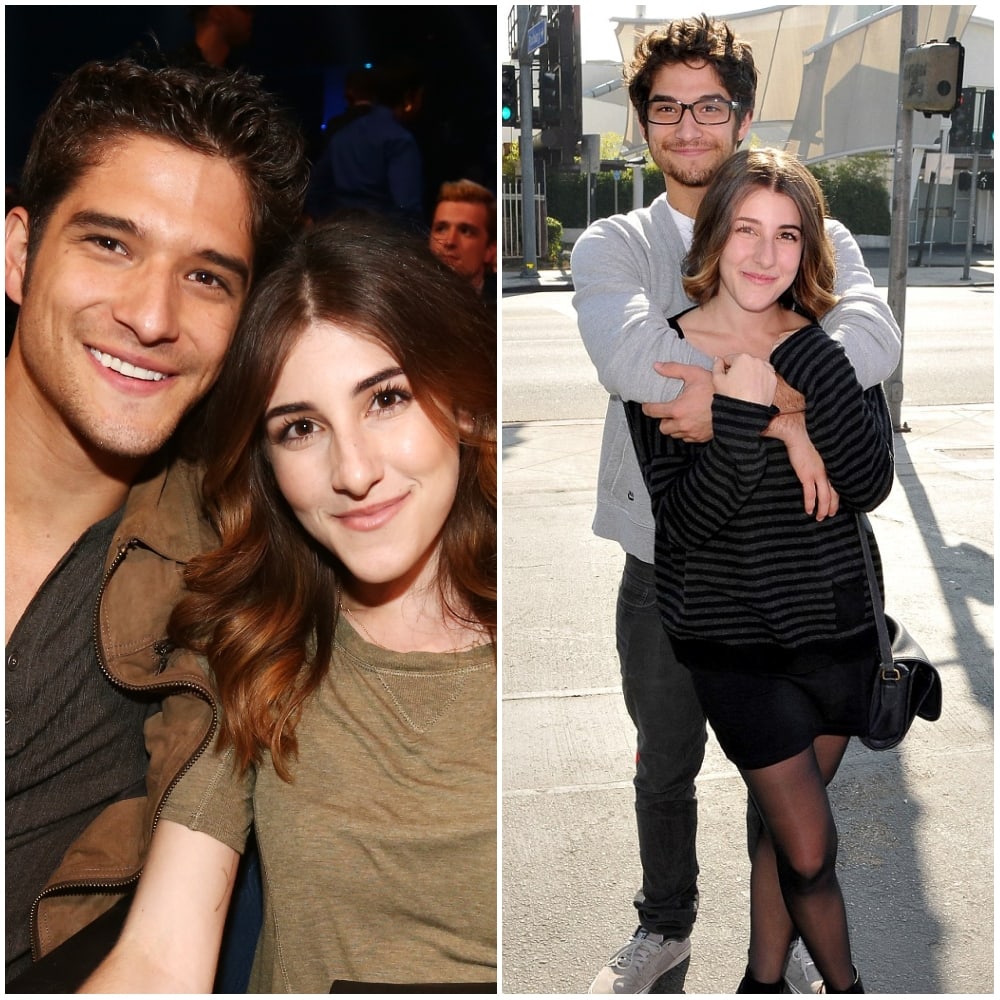 Some time later, the actor came out as queer in a YouTube video. He has said, "You can be whoever you want to be and get with whoever you want to get with and it shouldn't affect you."
Ozzy Osbourne and Sharon Levy
Okay, so technically Ozzy Osbourne was married before pairing up with his wife, Sharon. However, the Black Sabbath frontman has described his first marriage as "a terrible mistake," so arguably he did marry his first love. Admittedly, he then cheated on her multiple times.

However, it's undeniable that Sharon Levy married her first love. The star met Ozzy when she was just 18, and he was married. Years later, the star divorced his wife and married Sharon in the same year. They've been together ever since.
Jack Johnson and Kim Baker
Hawaiian-born singer-songwriter Jack Johnson is perhaps best known for his upbeat acoustic tune, "Better Together." The star met his future wife, Kim Baker, in college, and they tied the knot in 2000. Now, they have three children — two sons, and one daughter.

Together, Jack and Kim Johnson are heavily involved in environmentalism, and particularly with ocean conservation. The star has donated the proceeds of his tours to environmental projects. He has said, "All my songs about love come when I'm trying to make my wife smile."
Julia Louis-Dreyfus and Brad Hall
Comedic heavy hitter Julia Louis-Dreyfus has also been in a long-term relationship with her first love. The actress married college sweetheart Brad Hall in 1987, after meeting in an improv class. How perfect!

Together, this star couple has two sons — Henry, and Charles. Considering Brad Hall is also a comedic actor, we reckon this house must be a barrel of laughs! Julia Louis-Dreyfus is one of the most decorated actors in TV history. Perhaps a long marriage is the secret.
Anthony Mackie and Sheletta Chapital
Here we have another long-term celebrity couple that just didn't make it. Actor Anthony Mackie married his childhood sweetheart Sheletta Chapital in 2014, having met her in grade school. Despite their long relationship, the marriage only lasted a few years, with the couple officially splitting in 2018.

Together, Anthony Mackie and Sheletta Chapital have four sons. Interestingly, Mackie and Chapital were able to keep the end of their marriage on the down-low. The press only found out it had happened years after the official divorce.
Russell Wilson and Ashton Meem
And so soon we have another ill-fated couple that married their first love. This time it's NFL quarterback Russell Wilson, who is now in a high-profile relationship with singer Ciara. But, before Ciara, there was Ashton.

Russell Wilson married his high school sweetheart, Ashton Meem, in 2012. Much like long-term couple Anthony Mackie and Sheletta Chapital, Russell Wilson and Ashton Meem's marriage only lasted a few years. The couple didn't have any kids, though Wilson is now a father with his second wife.
Sasha Pieterse and Hudson Sheaffer
Actress Sasha Pieterse was pretty young when she tied the knot. The star married husband Hudson Sheaffer when she was 23, in 2018. However, it makes sense that Pieterse didn't want to wait any longer. After all, this pair had been dating since they were both teenagers. Speaking about her husband, the star has said, "He's incredible. I've known him for so long."

Despite Sasha Pieterse's rising fame, the young couple managed to stay together. They welcomed their first child — son Hendrix Wade Sheaffer.
Sofía Vergara and Joe Gonzalez
Before she met husband Joe Manganiello, actress Sofía Vergara was married to another Joe entirely. The Columbian star met her first love in high school, and the couple tied the knot while still in their teens.

Together, Sofía and her first Joe have a son named Manolo — just like her fictional counterpart. Several years after the birth of their child, this young couple decided to call it quits. As we know, the star went on to marry actor Joe Manganiello.
Kendrick Lamar and Whitney Alford
Speaking about his longtime partner Whitney Alford, rapper Kendrick Lamar says, "I wouldn't even call her my girl, that's my best friend. I don't even like the term that society has put in the world as far as being a companion — she's somebody I can tell my fears to."

These two met at the same high school, and Kendrick Lamar popped the question in 2015. These two are pretty private, but it is speculated that they welcomed a daughter in 2020.
Eminem and Kim Scott
Even a casual listener of Eminem's music has heard about Kim. Particularly in his early career, the star was constantly bashing his ex-childhood sweetheart on his tracks. These two met in high school, when a young Marshall Mathers stood on a desk to rap an LL Cool J song.

At the time, a teenage Kim and her sister had run away from home, and then moved in with Eminem and his mom. The pair have been married and divorced twice, and are parents to Hailie, Alaina, and Whitney.
Snoop Dogg and Shante Taylor
Here's another rap superstar that has stuck with one woman for most of his life. The inimitable Snoop Dogg — also known as Calvin Cordozar Broadus Jr. — met his love in high school, and has been with her ever since. Well, her and some other ladies along the way.

Snoop married Shante Taylor back in 1997, and though they filed for divorce in 2004, they actually renewed their vows in 2008. Together, they have three sons — Cordé, Cordell, and Cori.
Joey Fatone and Kelly Baldwin
NSYNC star Joey Fatone is another celebrity that married his childhood sweetheart. However, these two didn't last, confirming their divorce in 2020. Joey Fatone and Kelly Baldwin met in high school, and had an on-off relationship while the celeb toured with NSYNC.

After rekindling their relationship in 2000, Fatone and Baldwin welcomed their first child. They got married in 2004, and later welcomed daughter Kloey in 2010. Since then, Fatone has been dating social media personality Izabel Araujo.
Catelynn Lowell and Tyler Baltierra
Since they became famous as teen parents, it's no surprise that Catelynn Lowell and Tyler Baltierra married their first loves. The reality stars got together in middle school, and shortly after, Lowell became pregnant. The teens put their first daughter up for adoption, and managed to stay together throughout the stressful time.

These reality TV parents got married in 2014, and have since welcomed two daughters — Novalee, and Vaeda. In fact, the pair have recently revealed that they're expecting again.
David Beckham and Victoria Adams
Back in the '90s, soccer player David Beckham had his eye on Spice Girl Victoria Adams. Posh Spice attended one of Beckham's soccer matches, and soon after, the couple was an item. Becks proposed in 1998, and the pair made it official in 1999 (complete with gold thrones).

Together, Posh and Becks have four kids — sons Brooklyn, Romeo, and Cruz, and daughter Harper. It should be no surprise that all of the Beckham boys play soccer, and that two have modeled.
Stephen King and Tabitha Spruce
Author extraordinaire Stephen King has sold over 350 million copies of his books. On top of that, the King of Horror has a long-lasting relationship with his author wife Tabitha Spruce. The couple met in a writing seminar at the University of Maine. King remembers, "She came across — and still does — as a tough broad."

Stephen King and Tabitha Spruce got married in 1971, and have three children together. Much like in the Beckham family, King's sons have taken up the family trade, working as authors.
Brandi and Bryan Redmond
Redheads Brandi and Bryan Redmond met in high school, and tied the knot in 2003. When they joined Bravo's Housewife franchise, the couple was parents to two girls — Brinkley, and Brooklyn. Shortly after, we saw them welcome adopted son Bruin, and more recently, they were surprised by daughter Brilynn.

However, reality fans know that Bryan Redmond was spotted with another woman in a viral video. Speaking about the situation, Brandi commented, "I will tell you that, you know, this was the craziest year and my darkest hour."
Ja Rule and Aisha Murray
Ja Rule — real name Jeffrey Bruce Atkins — has been with wife Aisha since middle school. According to the rapper, "The first time I met her I was getting off the school bus, and she was the new girl in school."

Ja Rule and Aisha Murray got married in 2001, and together they have three kids — daughter Brittney Asja, and sons Jeffrey Jr. and Jordan. This couple has certainly been through their ups and downs, especially because Ja spent some time in jail.
Thomas Rhett and Lauren Akins
Our next set of happy celebs who married their first loves are country singer Thomas Rhett Atkins Jr. and wife Laura Akins. These two met when they were children, and started dating when they were teens. However, along the way, they did split and almost paired off with other people.

Thankfully, Rhett and Atkins tied the knot in 2012. Since then they have adopted a daughter, Willa Gray, and welcomed two more — Ada James, and Lennon Love. Adorable!
Timothy Olyphant and Alexis Knief
Actor Timothy Olyphant also met his wife through education. In this case, it was at college where the star first laid eyes on Alexis Knief. This pair got married when Olyphant was just 23 years old, but they've been together ever since.

Together, Timothy Olyphant and Alexis Knief have three children — Grace Katherine, Henry, and Vivian. Adorably, these two were an item long before Olyphant became a household name. It looks like they managed to weather the storm!
Bono and Ali Stewart
Here's another star that met his future wife on the school bus. Bono remembers, "We were teenagers, went to the same high school. And just so happens that one afternoon I walked her to her bus."

The star — real name Paul David Hewson — met Alison Stewart when she was just 12 years old. The couple got married in 1982, and are parents to daughters Jordan and Memphis, and sons Elijah and John. Unsurprisingly, Ali has inspired lots of U2 songs, including "The Sweetest Thing."
Paul Bettany and Jennifer Connelly
Alright, so this one is a little different than the others on this list. English actor Paul Bettany was in love with actress Jennifer Connelly long before he met her. In fact, she was his first crush, and he proudly hung a poster of her in his childhood bedroom.

Years later, the couple worked together but were dating other people. Then, after the 9/11 attacks, Bettany tracked Connelly down and proposed. The pair weren't even in a relationship, but she said yes! Now they have two kids together.
Mariano and Clara Rivera
Panamanian-American baseball player Mariano Rivera met wife Clara when they were both in elementary school. The elementary school sweethearts got married in 1991 in Panama, and lived there for almost a decade before moving to New York.

Together, Mariano and Clara Rivera are parents to three sons — Mariano, Jafet, and Jaziel. There have been accusations of infidelity made towards the former professional athlete, though he has called them "unfounded." The legendary pitcher is currently involved in various charity projects.
Steph Curry and Ayesha Alexander
Basketball royalty Steph and Ayesha Curry met at a church youth group when they were just teenagers. However, Ayesha claims that she didn't even go to a basketball game until she'd been casually dating Steph for five years.

As Steph tells it, he was going to LA for the ESPY awards, and couldn't stop thinking about his teen love. As it turned out, Ayesha was pursuing acting in Hollywood, so the two met up. After that, they tied the knot in 2001. Now, they have three kids together.
Misha Collins and Victoria Vantoch
Misha Collins — real name Dmitri Tippens Krushnic — had a difficult childhood. The actor came from a poor family, and experienced homelessness more than once. Incredibly, the star managed to make a name for himself, working as an actor and published poet.

Misha Collins first met Victoria Vantoch when he was the only boy in English class. They got married years later in 2001, and have two children together — son Anaximander, and daughter Maison. Victoria Vantoch is a successful writer and historian.
Alan Rickman and Rima Horton
Acting legend Alan Rickman met his future wife, Rima Horton when he was 19 years old, in 1965. Rickman and Horton met in an amateur theater group, and moved in together in 1977. Interestingly, these two didn't get married until 2012. That's four decades together before walking up the aisle!

Rima Horton worked as a politician, and as a senior lecturer. These two got married in a private New York City ceremony in 2012, but didn't reveal it for another three years.
Patrick Mahomes and Brittany Matthews
Here's another athlete who married his first love. Patrick Mahomes, an American football quarterback, met his future wife, Brittany Matthews when they were in high school together. When the athlete received his Super Bowl Championship Ring in 2020, he took the opportunity to pop the question to his long-time other half.

Patrick Mahomes and Brittany Matthews have a daughter together, born in 2021. Matthews was a professional soccer player, a personal trainer, and now co-owns a women's professional soccer team.
Clayton Kershaw and Ellen Melson
From one happily monogamous athlete to another, we turn to pro baseball player Clayton Kershaw. The eight-time All-Star met Ellen Melson in high school, and the couple got engaged when they were both 21 years old.

Together, Clayton Kershaw and Ellen Melson have two children — daughter Cali Ann, and son Charley. Together, this couple does lots of volunteering and charity work. For example, they launched "Kershaw's Challenge" to raise money to build an orphanage in Zambia.
Robin Thicke and Paula Patton
When Robin Thicke first met Paula Patton, he was just 14 years old, and she 16. Later, the pair tied the knot in 2005, but this long-term relationship ended up exploding into a tabloid frenzy. Thicke and Patton have son Julian together, and were in a relationship for over 20 years.

However, when actress Paula Patton filed for divorce, she cited her husband's infidelity, abuse, and addiction issues. Since then, Robin Thicke married April Love Geary, with whom he has three children.
Witney Carson and Carson McAllister
Up next is professional Latin ballroom dancer Witney Carson. The TV star started dating her future husband in her senior year of high school, but he had always had his eye on her. McAllister remembers, "She was my dream girl since seventh grade. But she didn't know I existed until senior year."

Witney Carson and Carson McAllister got married in Salt Lake City in 2016, with fellow professional dancers as bridesmaids. The happy couple welcomed their son, Kevin, in 2021.
Elizabeth Banks and Max Handelman
The fabulous Elizabeth Banks is another celebrity that's been with the same guy since her younger years. Actually, Banks met Max Handelman on her first-ever day of college, but she didn't think she'd marry him at that point. She later claimed, "Really, what happened was I've never met anyone that I liked more."

Elizabeth Banks and sportswriter Max Handelman got hitched in 2003, and the actress converted to Judaism for her husband. Together, the lifelong pair have two sons.
Mark Zuckerberg and Priscilla Chan
According to his version of the story, Facebook founder Mark Zuckerberg was in a bit of a rush when he first asked out Priscilla Chan. He claims that his first words to his future wife were, "I'm going to get kicked out in three days, so we need to go on a date quickly." How romantic!

Apparently, these two met at a frat party, and things must have gone well. They got married in the media magnate's backyard in 2012, also celebrating Priscilla Chan's graduation from medical school.
Mike Sorrentino and Lauren Pesce
Incredibly, Mike "The Situation" Sorrentino postponed his relationship with college sweetheart Lauren Pesce so he could appear on reality TV. The star pursued Pesce when the pair attended high school together, but then ended the relationship before his star turn in 2009.

After he made his money, Mike Sorrentino went back to Lauren Pesce and eventually married her in 2018. Together, the couple has a son named Romeo Reign. Lauren Pesce clearly has a lot of patience, especially as Sorrentino was imprisoned in 2019.
Kobe Bryant and Vanessa Lane
The late Kobe Bryant sadly passed away in a helicopter crash in 2020. During his incredible life, the professional athlete was in a long-term relationship with Vanessa Lane. The star first met his future wife when she was a high school student, and backup dancer in a music video. They were engaged six months later.

Because Kobe Bryant was already signed to the NBA, the couple faced huge amounts of scrutiny. In fact, Lane ended up finishing her education via homeschooling. These two got married in 2001.
LL Cool J and Simone Smith
According to rapper LL Cool J, the secret to a long-lasting marriage is good communication. He has said, "I'm not looking to win arguments, this isn't debate class. We each express ourselves and then either fix the issue or move on." That sounds reasonable!

The star met Simone Smith when they were both teenagers and a friend introduced them. After dating for eight years, the couple got married in 1995. Together, these two have four children — Najee, Italia, Samaria, and Nina.
Prince William and Kate Middleton
Last but not least are their royal highnesses, Prince William and Kate Middleton. As most people know, these two met at St Andrew's University. In fact, Kate caught Wills' eye when she walked in a fashion show wearing nothing but a slip.

Kate Middleton and Prince William started dating in 2003, and shared a flat with other housemates while studying. As you might expect, this couple was hounded by the press. Of course, their highly publicized royal wedding took place in 2011.