Although weddings can be stressful and cause panic for some people, there are brides who are highly committed and ready to take on the challenge of making their own wedding dress. These inventive brides demonstrate that with an idea and some patience, a perfect gown can be fashioned. Continue reading to see how these brides-to-be were inspired to create their own dresses.
Modern Modifications to Mom's Wedding Dress
At first, the bride didn't pay much attention to her mother's old wedding dress after inheriting it. She was determined to find a new dress for herself. However, after numerous unsuccessful attempts, she eventually realized that she could create her ideal dress on her own.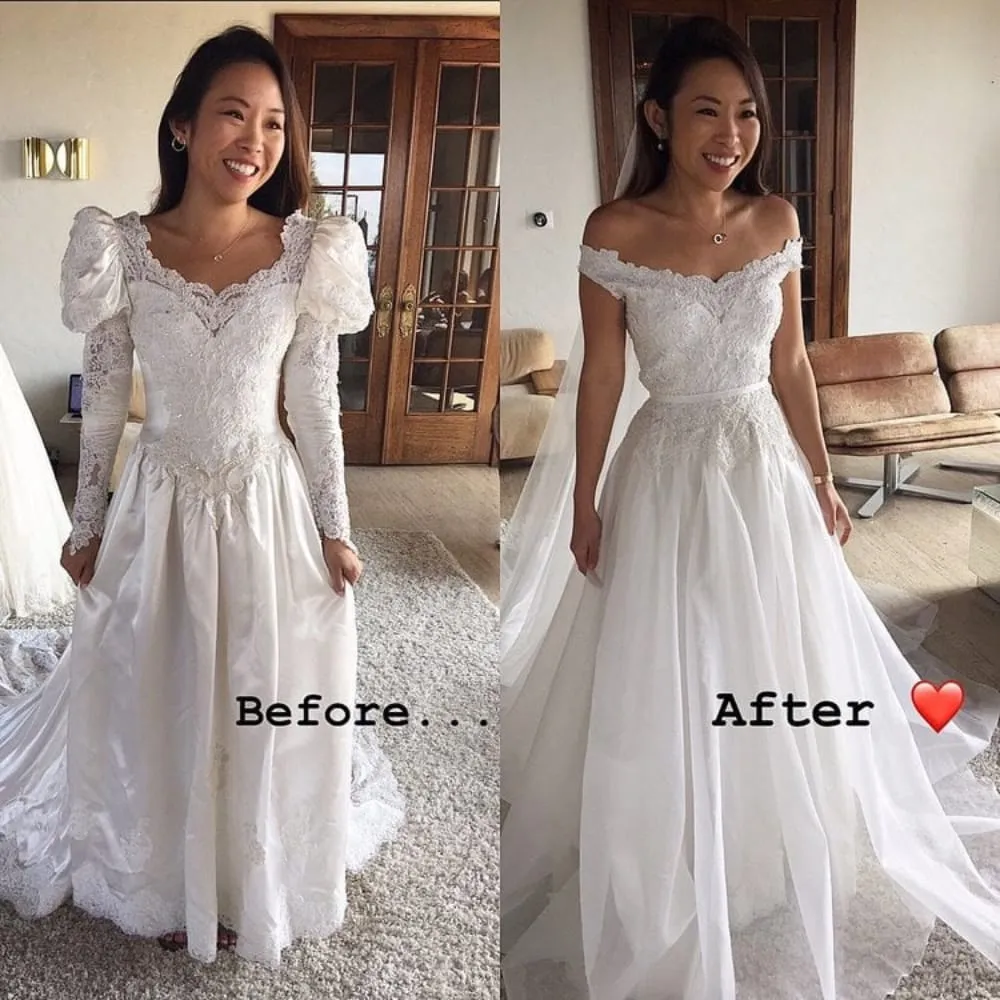 Subsequently, she returned to her mother's dress and through some creativity and deliberate preparation, the bride managed to obtain a new dress. Despite the fact that the thirty-year-old gown was entirely altered, not a single piece of the initial fabric was wasted.
Crochet Pastime
Chi Krneta started to crochet during her bus ride back home from work as a way of occupying herself, but had no idea she would end up making her very own wedding dress. Over the course of five months, her hobby turned into a unique undertaking. By only purchasing the materials she needed, she was able to create an exquisite gown.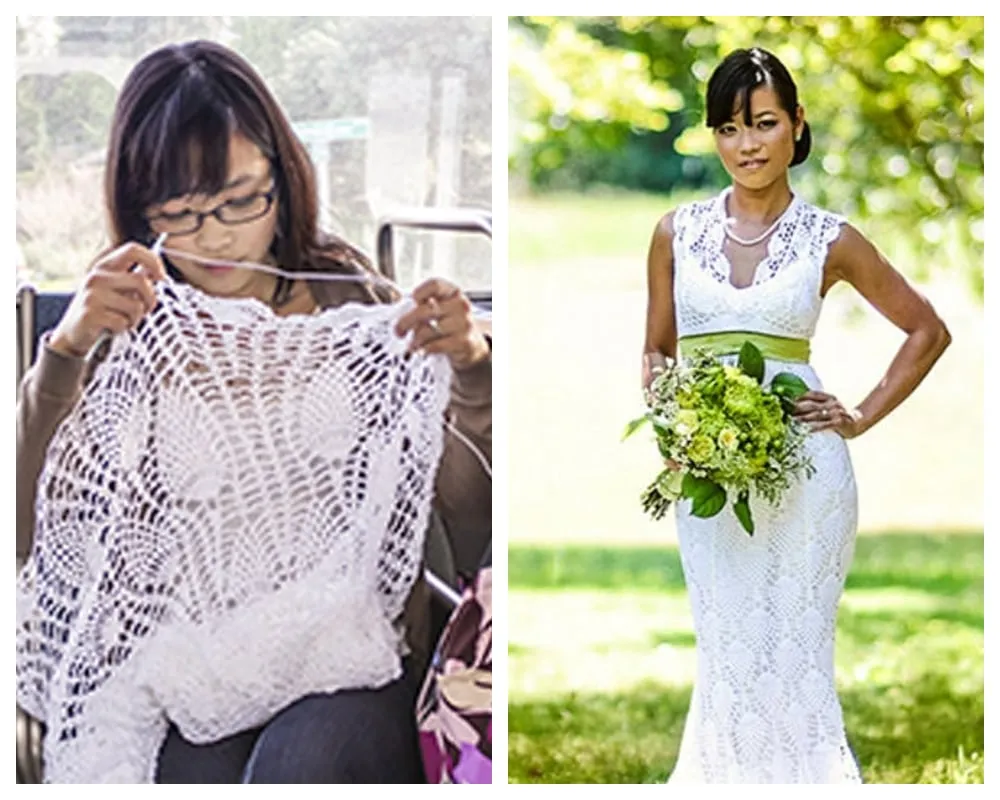 This elaborate pattern was creatively designed by Chi, without following any particular template for her dress. However, after gaining immense popularity through her viral story, she has now shared the pattern online for her numerous admirers.
Delicate Lace Dress
Instead of spending a fortune on a wedding gown, this resourceful bride opted to create her own. However, before beginning the project, she recognized the importance of ensuring the dress fit flawlessly.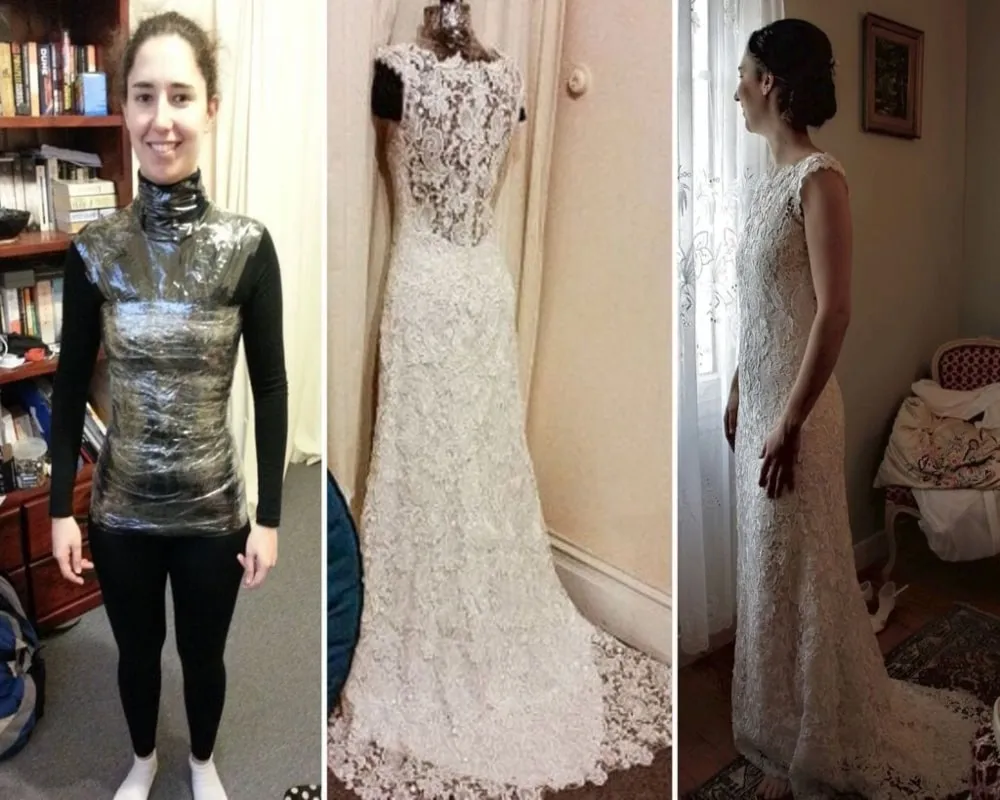 She received assistance from her fiancé in making a mannequin out of duct tape, with the help of a YouTube tutorial, and had ample fabric to begin the task. As a result, she successfully created a beautiful piece.
A Modern Twist to a Vintage Gown
Although the bride was thrilled to discover a stunning vintage wedding gown at an affordable price of $50, she acknowledged that modifications were required to achieve an impeccable fit and flaunt her authentic elegance.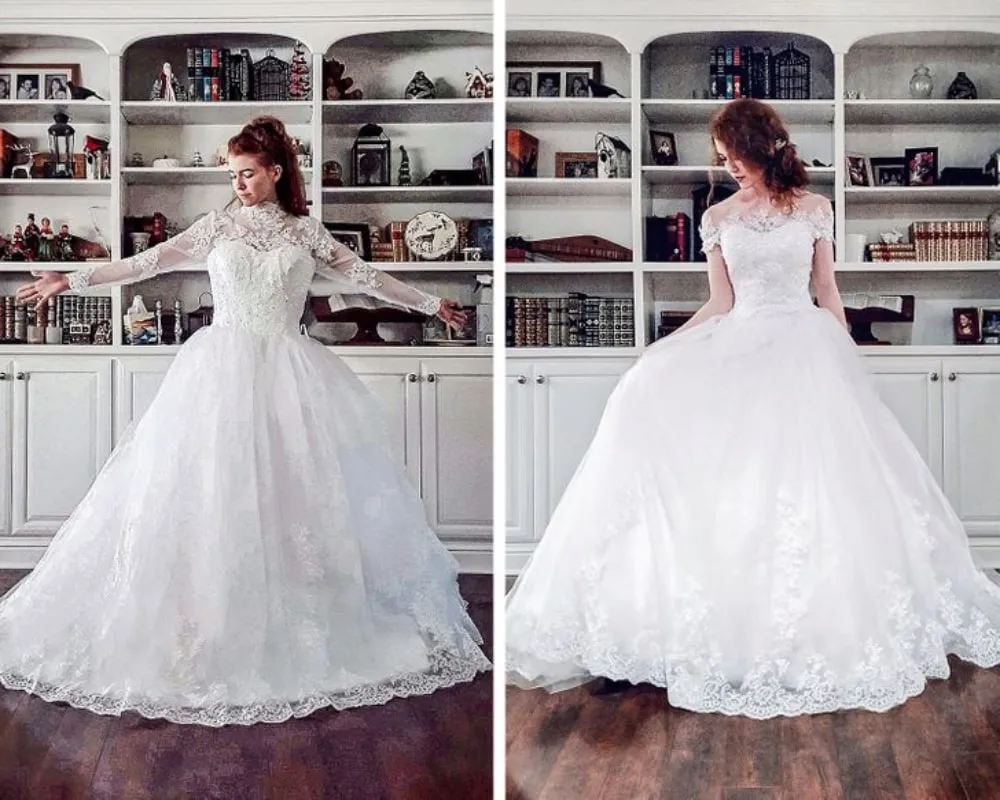 The dress underwent a transformation by taking off the sleeves and high neck and adjusting the bodice to the bride's body, resulting in a gown with classic details that was ideal for her special day.
DIY Dress Success
Opting to design and sew one's own wedding gown can be quite audacious, particularly when lacking encouragement from loved ones. Nonetheless, this bride persevered despite her acquaintances' doubts regarding the value of her undertaking.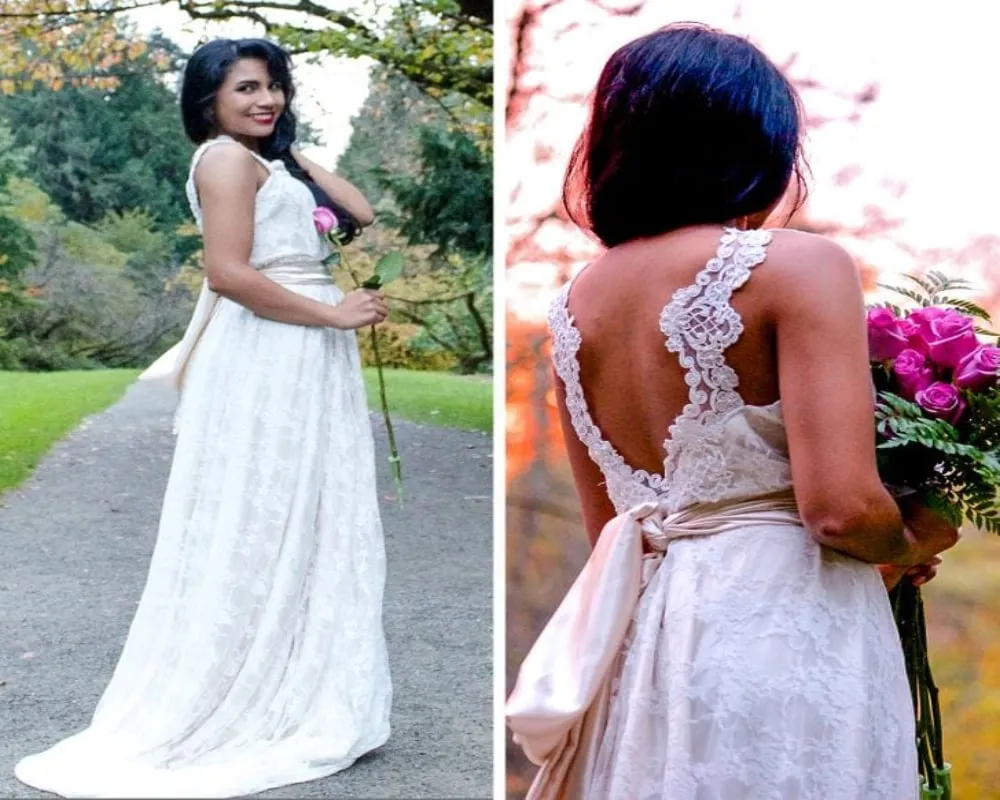 It was discovered that the bride's self-made dress was a great triumph. Despite having only a few meters of fabric and a vision of creating the perfect dress, she amazed everyone with her elegant and expertly crafted gown on her wedding day.
Classic and Colorful
On her wedding day, this soon-to-be bride wished to ensure that her dress mirrored her individual taste. Consequently, she opted to create her own gown. With several visits to the textile emporium and discovering an old-fashioned off-white dress, the ideal outfit was created.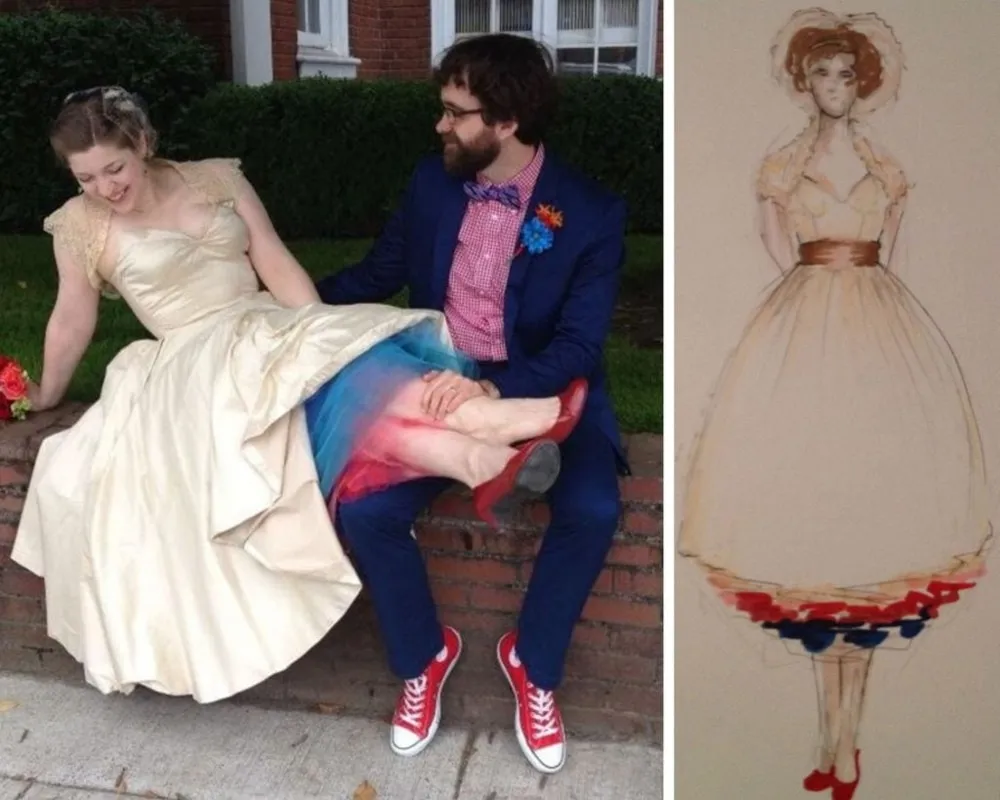 The princess dress had delightful tulle of vivid colors beneath its hemline, bringing an extra touch of fantasy for the bride and groom. They also matched their look with red shoes, which made it even more charismatic.
Designer Bride
Maya, who was soon to be married, collaborated with a seamstress and created a unique design to construct a flawless wedding dress. The wedding was set to happen on a stunning cliffside in Israel, and Maya was closely involved in the creation of the dress, from the gown to the veil, to ensure that it matched her idea of perfection.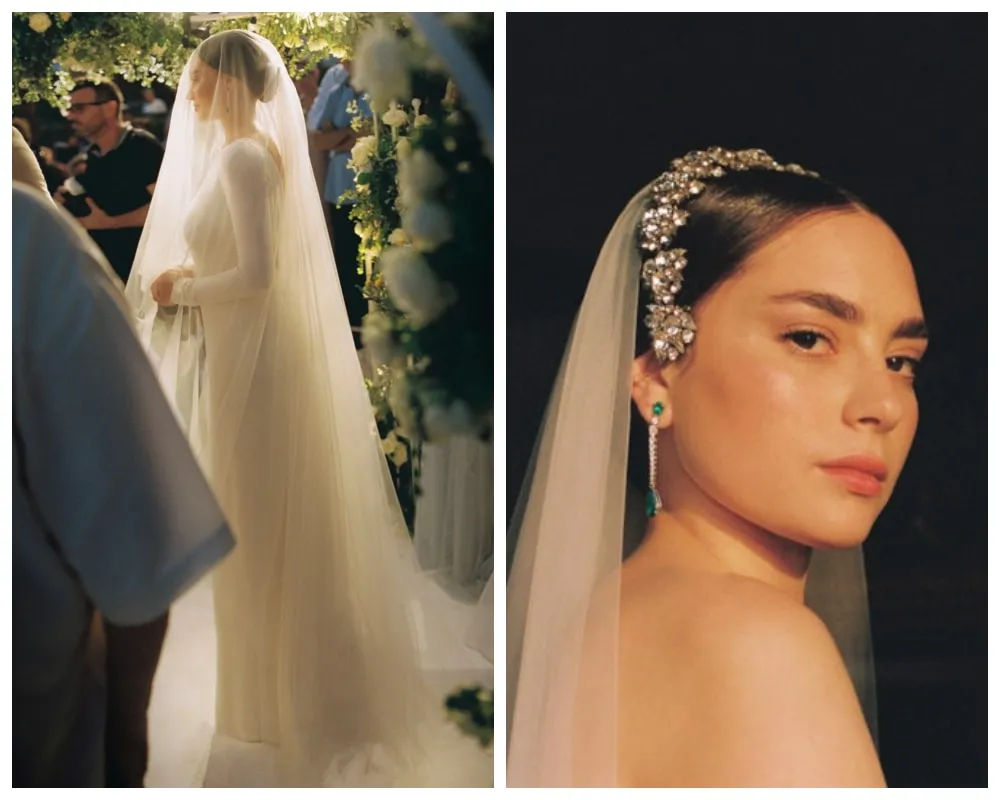 Maya used a vintage Dior necklace from the 1970s as the main feature in her glamorous veil headpiece. She discovered the necklace at a Parisian store, and since the city held special significance to her and her fiancé, she decided to make it a crucial element in the overall design.
Revamping Mother's Wedding Dress
Erica struggled to imagine the potential of her mother's dress from the 1980s at first. Fortunately, a skilled seamstress assisted her in converting the family heirloom into a chic contemporary gown that Erica wore for her 2018 wedding.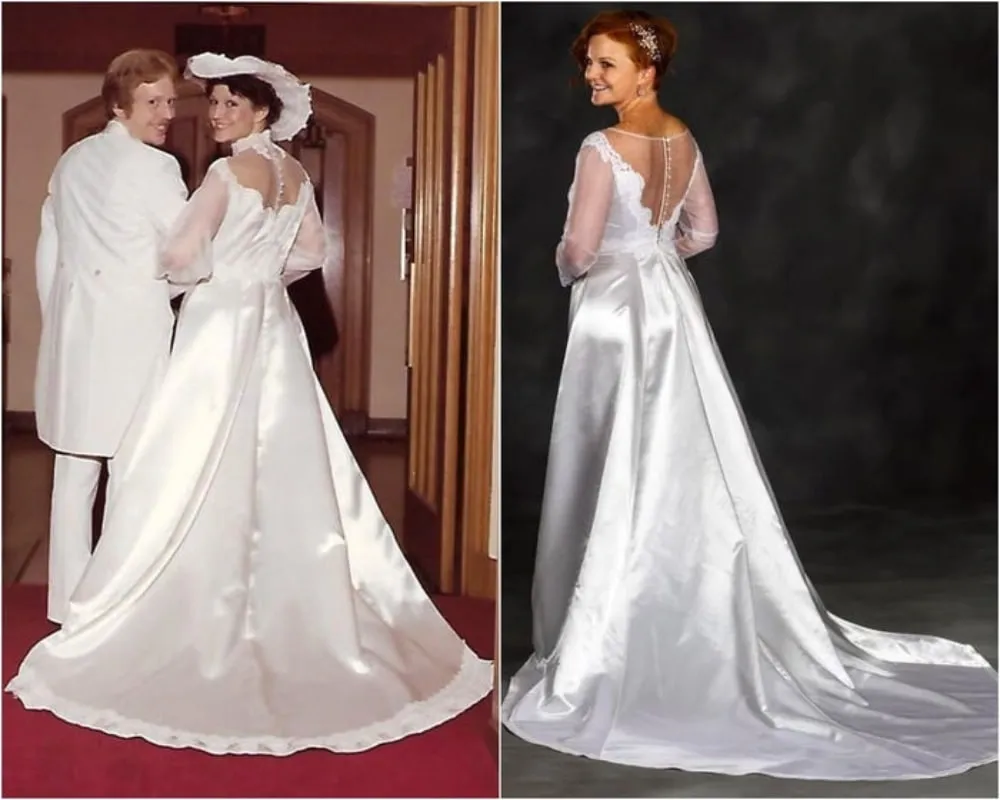 Erica and her seamstress Lisa successfully preserved the original lace of the dress while adjusting the open back, fitting the sleeves, and shaping the skirt to Erica's body. The dress maintained its classic form, but with modern updates that suited Erica's individual taste.
Autumnal Mermaid Theme
This pair had a fondness for imaginative things, which inspired the soon-to-be-bride to want to integrate them into her ideal wedding. She busied herself with creating not only her gown, but also her partner's suit and the decorations for the reception, and felt both fulfilled and proud of her efforts.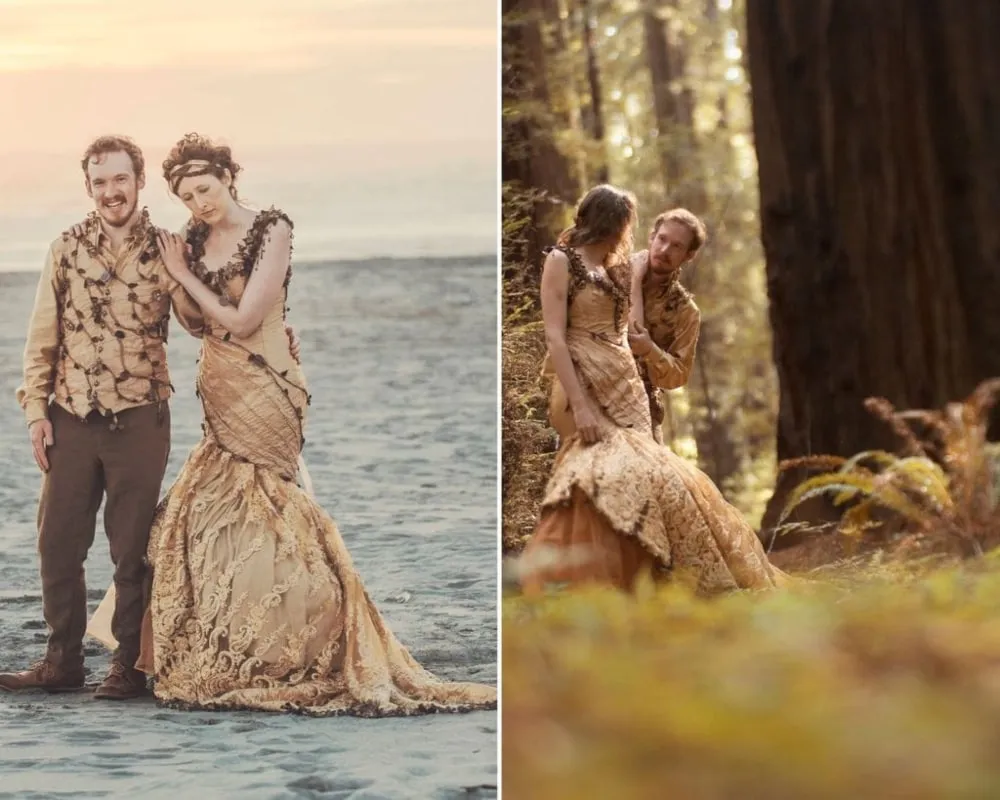 The bride's attire, inspired by autumn and featuring maritime mermaid elements, allowed her to beautifully capture the memorable moments of the day through photographs that will be cherished perpetually.
YouTube Tutorial
If you want to learn how to make anything on your own, YouTube is an excellent resource. In this case, a bride took on the task of creating her own wedding dress by following a tutorial from Nick Verreos.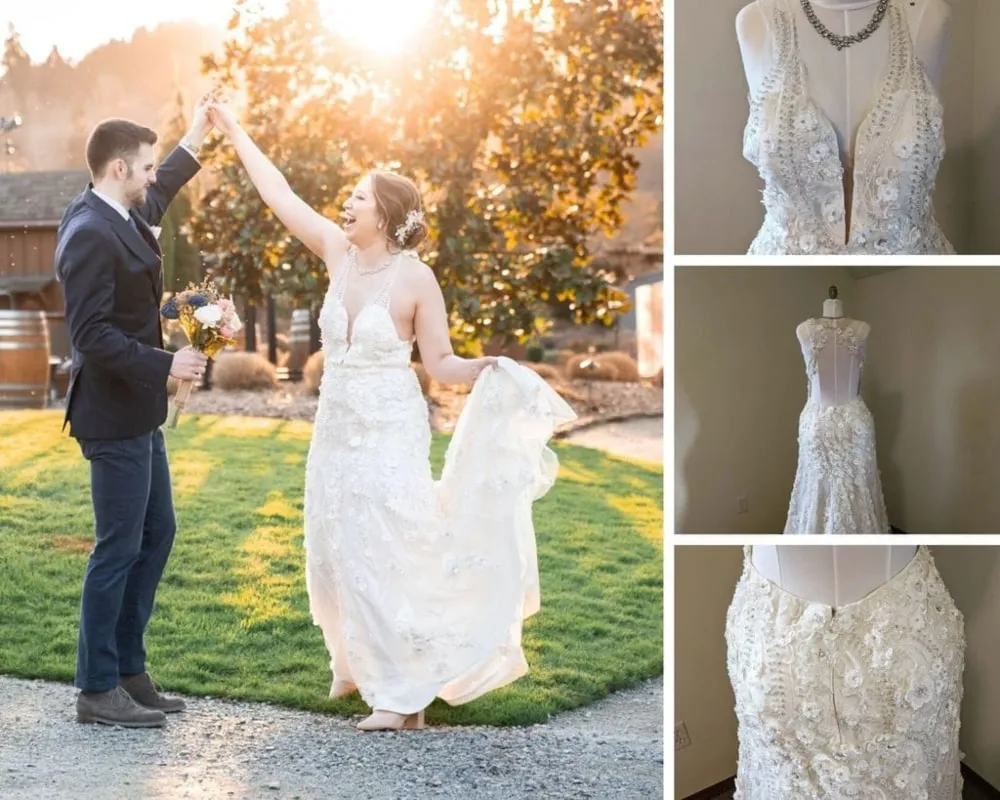 As she had the liberty to make changes along the way, she ultimately had a gown that was the ideal match for her body and fashion sense. The intricate lace and challenging stitching – all of it was worth the effort in creating an unforgettable dress.
Balenciaga-Inspired Wedding Gown
The bride had a great interest in creating timeless fashion inspired by the 1950s era, and when it came to her wedding dress, she was determined to reflect her beloved style. She decided to take inspiration from the late esteemed Spanish fashion designer Cristobal Balenciaga's haute couture suit and used it as a blueprint for her wedding gown.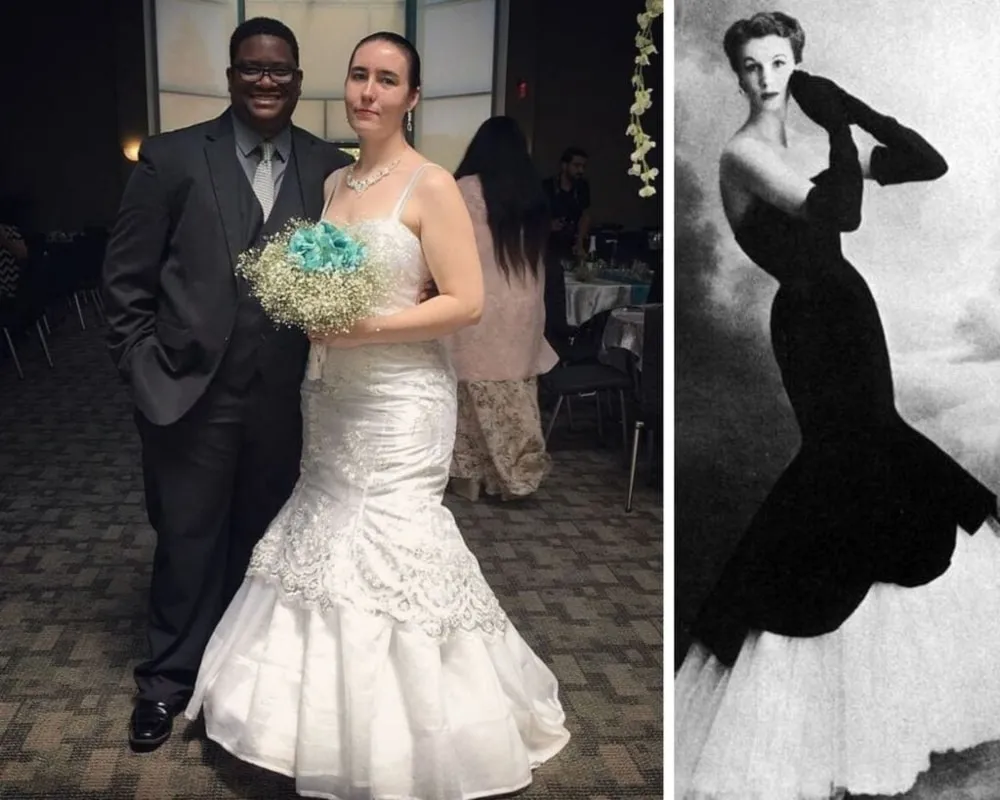 On her wedding day, she stands beside her partner wearing a meticulously designed gown adorned with intricate embroidery. The vintage jewelry and delicate flowers that accompany the sleek silhouette and flared skirt of the dress perfectly complement her overall look.
Beaded Bodice Wedding Dress
Being a dancer and artist by nature, it did not come as a surprise when the bride opted to craft her own wedding gown. However, the final outcome was undoubtedly striking. She fabricated a two-piece dress consisting of a silk skirt and an intricate bodice. The skirt has a plain flowing design, while the top features precise rhinestone embellishments.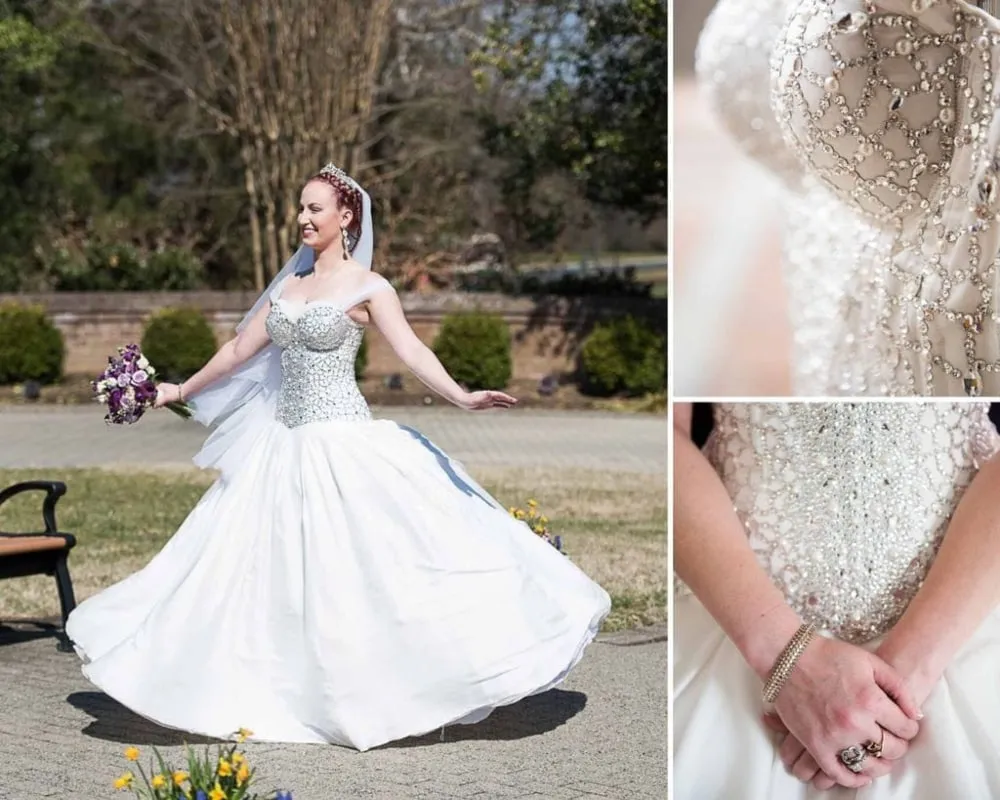 The bride showcased her genuine artistic side in the creation of her dress through incorporating her unique beading design, which resulted in her looking particularly joyous on her big day, as evidenced in the picture.
Traditional Indian Wedding Dress
The traditional Indian wedding dress worn by the bride is unique as it features handmade elements that depict the love story of the bride and the groom, right from the beginning of their relationship to the present day, on various parts of the dress.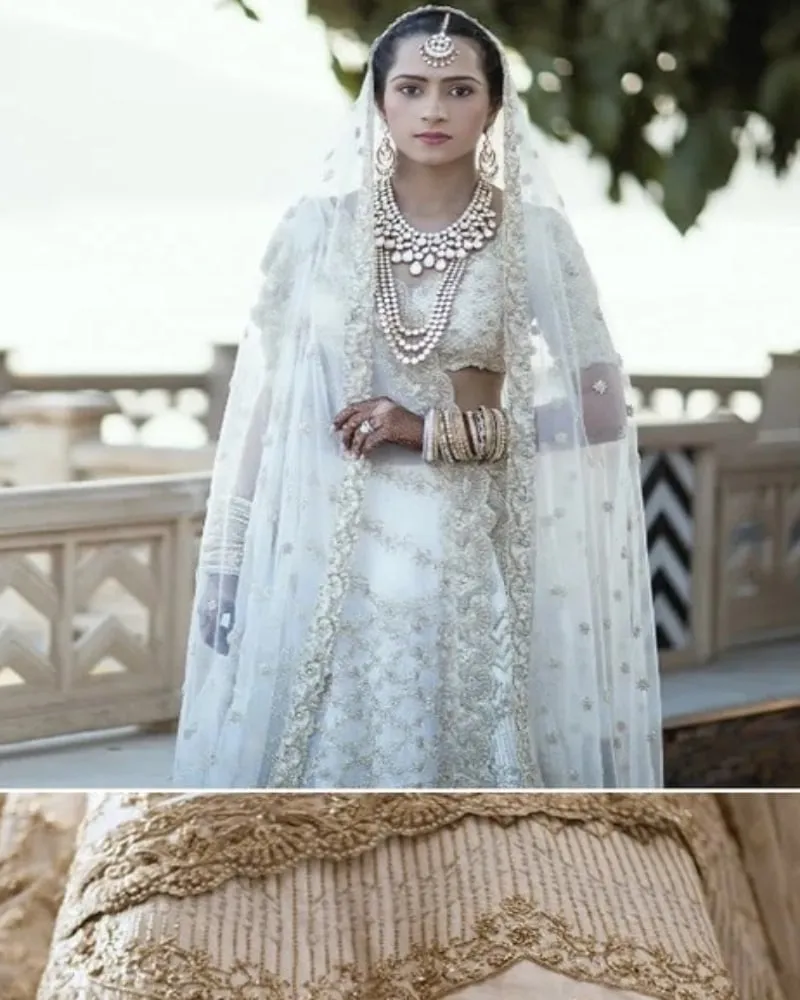 The couple's names have been meticulously embroidered in Zari thread onto the skirt. The dress was a standout feature on the wedding day and is expected to be a cherished memento for years to come.
Colorful Gradient Wedding Dress
This bride's larger-than-life personality required her to do something extra special with her wedding dress in order to let it shine through. She decided to try her hand at customizing the dress herself, and thus began the process of airbrushing a colorful gradient starting from the hem up.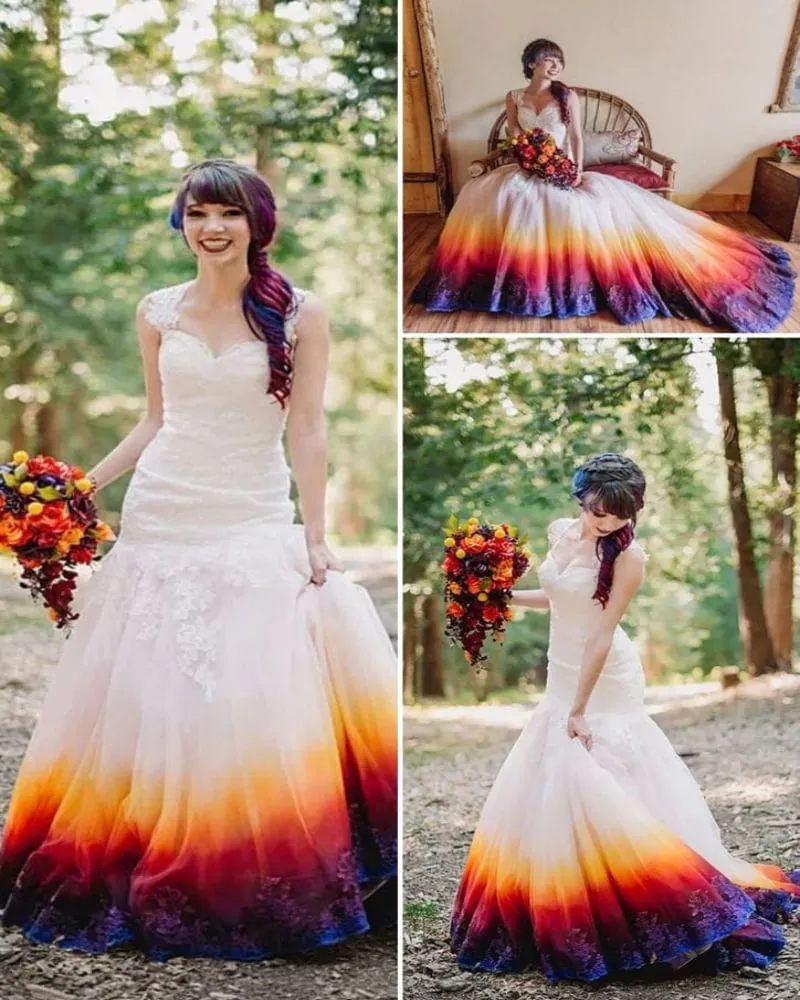 Even though she felt unsure at the start of the process, the bride quickly gained more confidence and used it to create a stunning one-of-a-kind wedding gown.
Beautiful Short Wedding Dress
Bride and wedding dress designer, Brooks Ann Camper, had long been making wedding gowns for her friends and family as part of her successful design business. When it came time for her own special day, it was only natural for her to begin thinking about designing her own.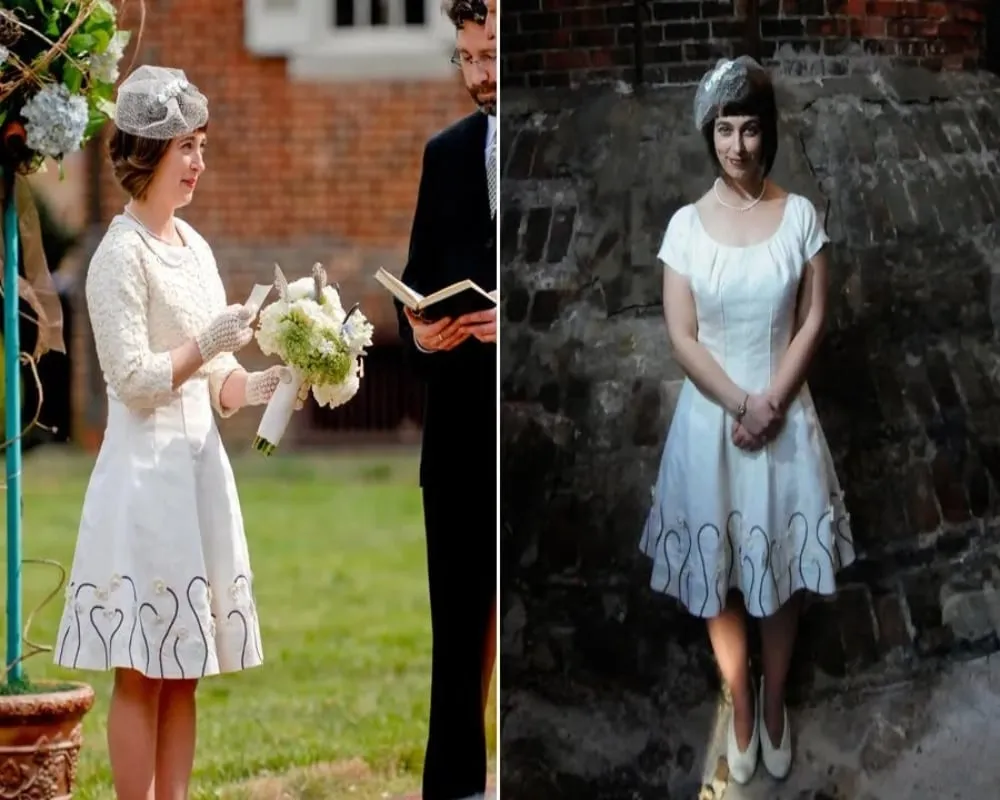 She decided to switch it up and opt for a short design when it came to her own wedding dress, and the results spoke for themselves. This bride looked beautiful and classic in her custom-made knee-length dress.
Gold Sequin Wedding Dress
This bride wanted to be sure her wedding dress made a splash on her big day. To achieve this look, she spent countless hours customizing her simple white dress with gold sequins and rhinestones.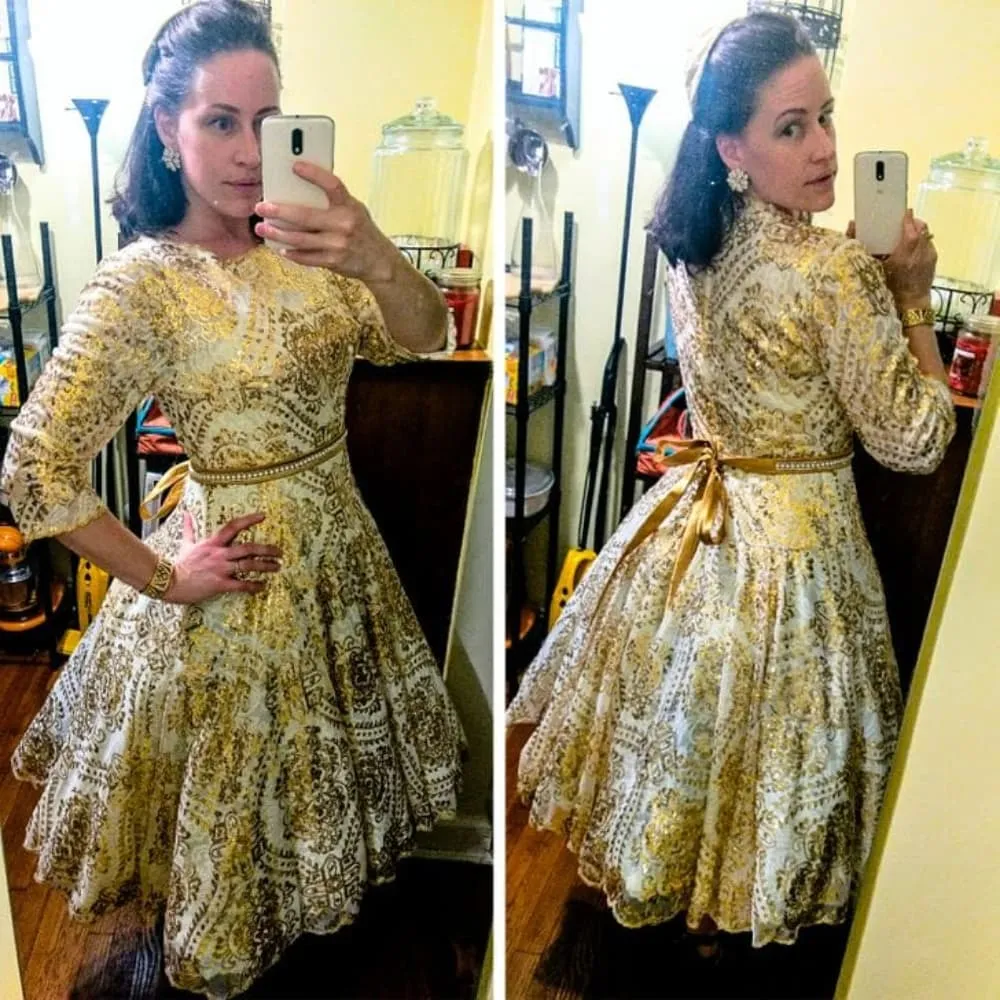 In addition to its unique and flattering silhouette, the dress would now sparkle and glisten under the ceremony lights. It's safe to say that the bride's time and effort was well spent in creating this memorable gown.
Tight Budget
This bride and her fiancé committed to designing their wedding to their tastes and tight budget. With the help of friends and family, the couple planned handmade decorations, bouquets, wedding cake, and most importantly — the bride's dress.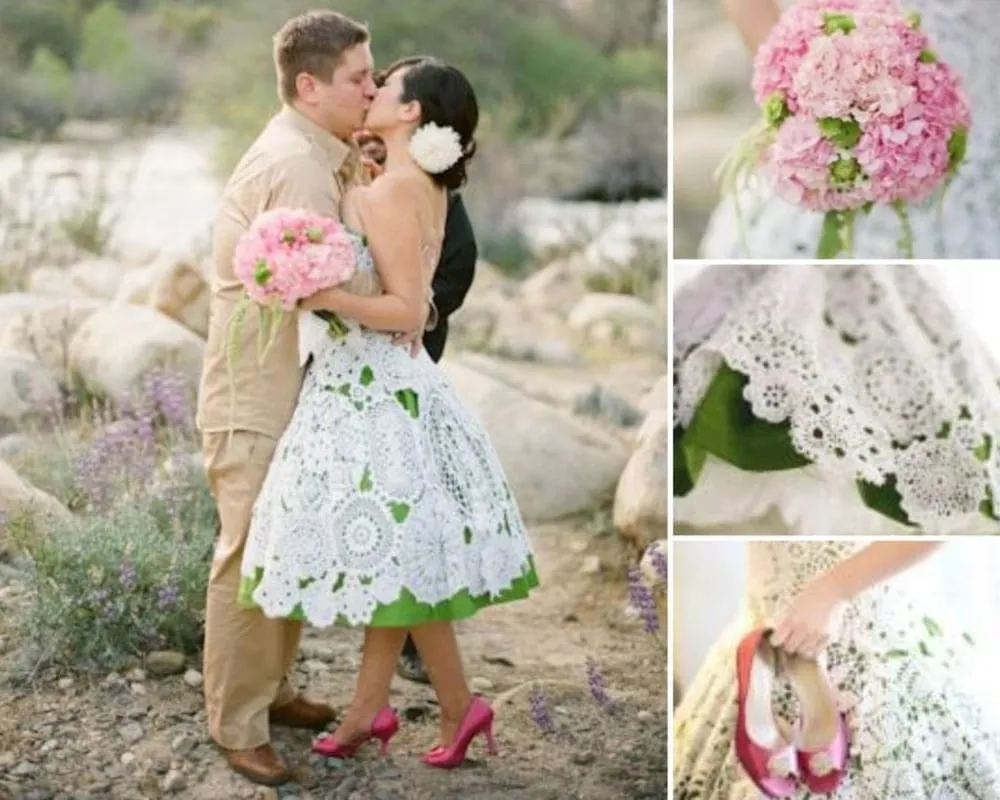 The final result culminated in beautiful photos of the couple celebrating each other and their hard work. The bride undeniably stands out in her delicate lace gown with colorful green lining and pink heels.
Vintage Floral Handmade Wedding Gown
This classic bride adores the vintage floral designs of gowns from the '50s and '60s. For her wedding day, she decided to take this inspiration and use it to her to design her own dress by hand.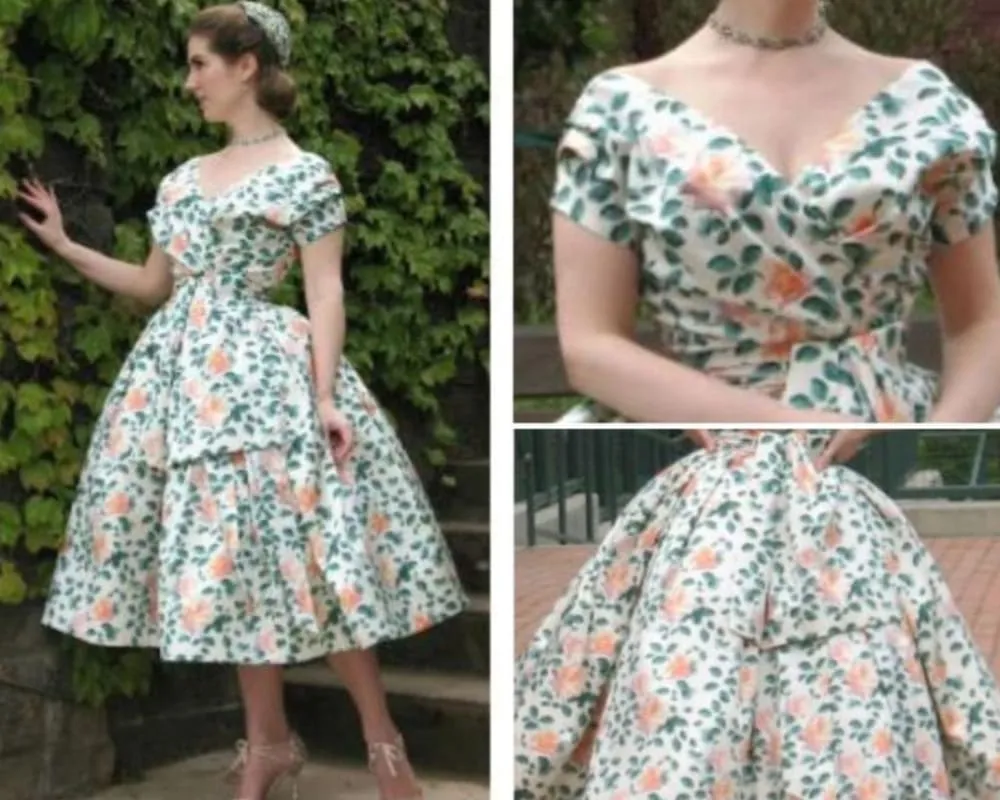 On her special day, this bride looked beautiful in a youthful yet classic dress design, complete with a floral pattern and matching headpiece. In photos, she looks like something out of a storybook — she will certainly look back on her hard work with admiration.
Fun Cocktail Dress
This bride wanted a fun and different approach to her wedding dress. While on the hunt for the perfect gown, she came across a vintage traditional wedding gown that she realized had tons of potential.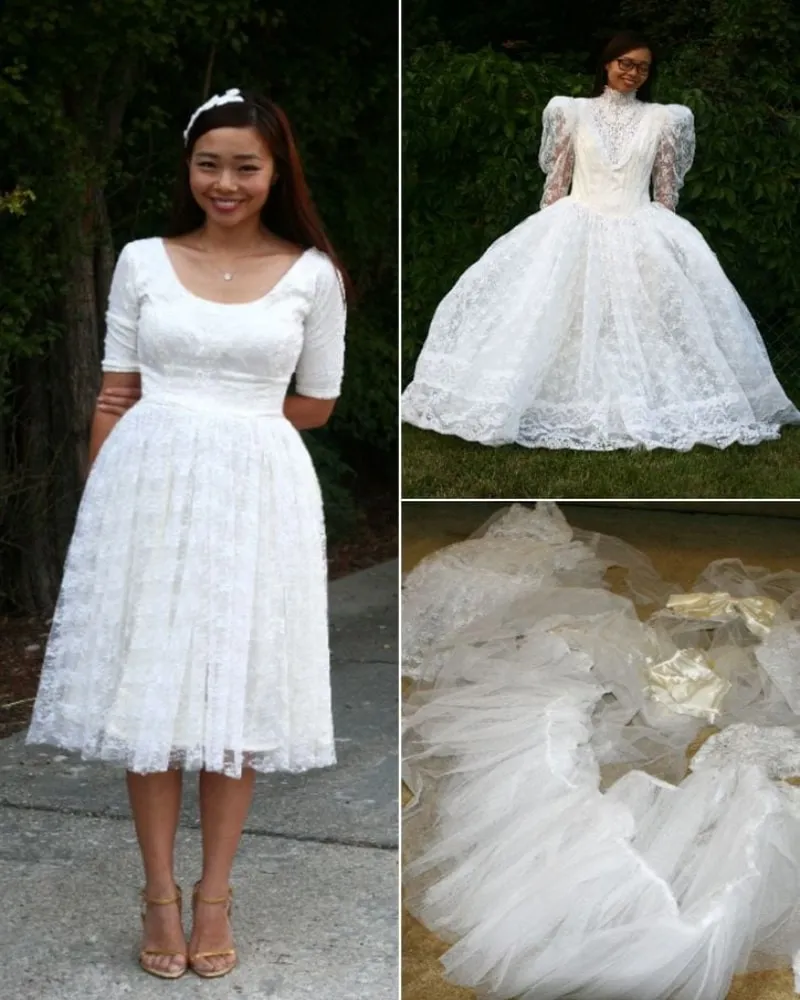 With lots of hard work and patience, the bride elegantly transformed the antique dress into a playful cocktail-style wedding gown. She even used extra fabric pieces from the original to design a matching headband.
White Wedding Dress Gets a Makeover
This bride renovated her own wedding dress from its traditional white style to punk rock and colorful. By cutting the dress into a high-low shape to show off her legs and adding splashes of green and purple paint, she took wedding wear to the next level.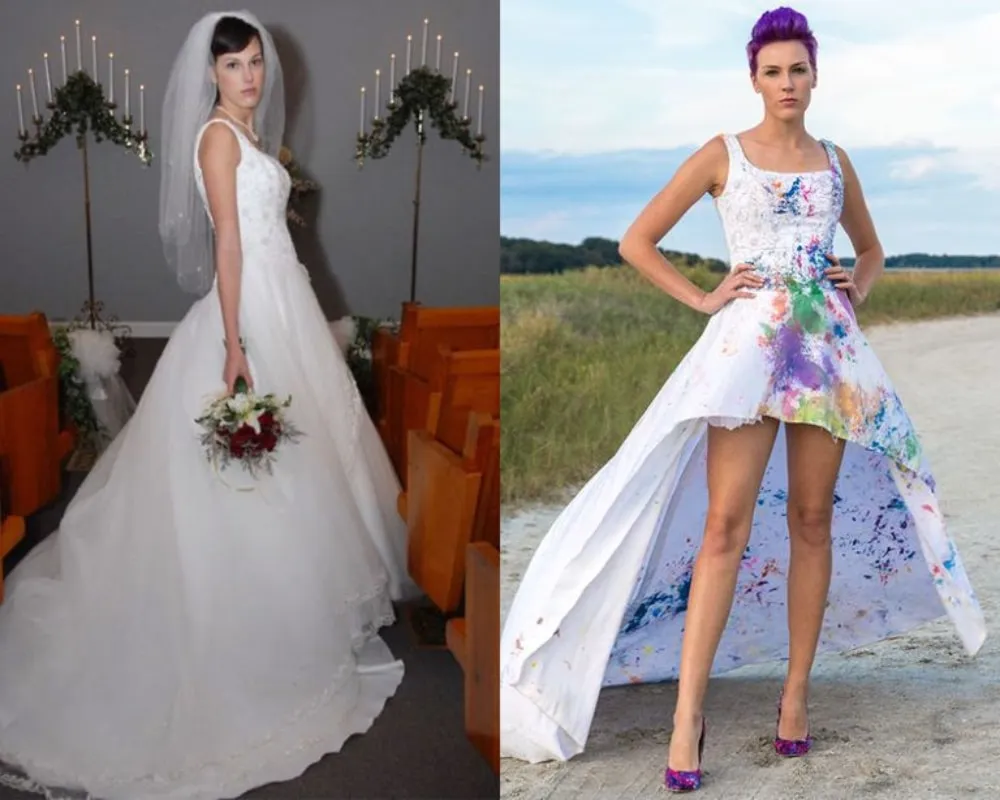 She even cut and colored her hair to complement the new look and made sure to take before and after photos to show off the remarkable transformation.
Yellow Gradient Wedding Gown
Incorporating your favorite color into your wedding dress is a simple but impactful way to make it truly your own — at least, that's what this bride discovered when she customized her own wedding gown.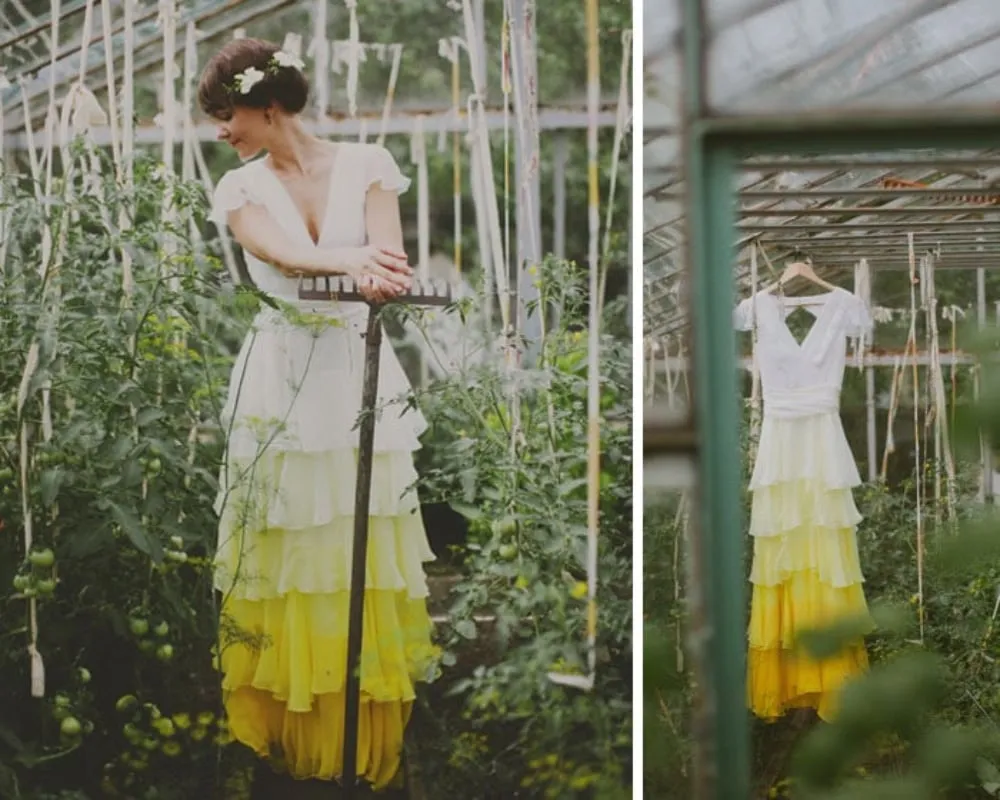 For her special day, she accented not just the bridal party and venue with her favorite color yellow, but hand-dyed a gradient yellow pattern on the dress itself. Against a rustic natural background, this bride shines on her special day.
Fantasy Blue Wedding Dress
The bride and groom of this fantasy-themed wedding went all out in terms of style on their special day. Next to the groom's blue medieval look, the bride in her hand-dyed blue wedding dress looks straight from a fairytale.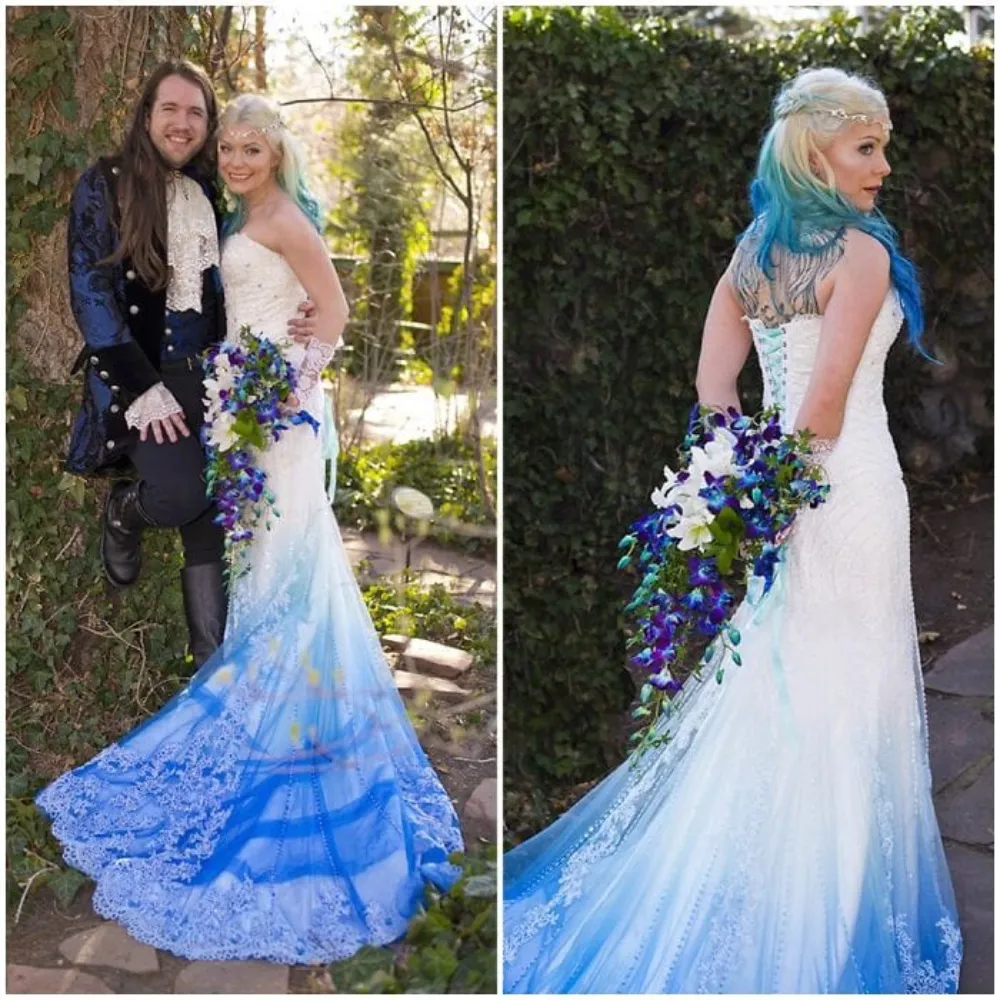 To match her blue-tipped hair and custom blue and purple bouquet, the bride added her own dye design and lace embellishments to the wedding gown to make it the perfect fit for the occasion.
Bohemian-Inspired Wedding Dress for a Natural Bride
This simple and flowing white dress was taken up a notch for this outdoor wedding. Bride-to-be decided to customize her bohemian-style wedding dress by adding her favorite color, blue. To do so, she created a gradient of dark navy to ocean blue up from the bottom of the skirt.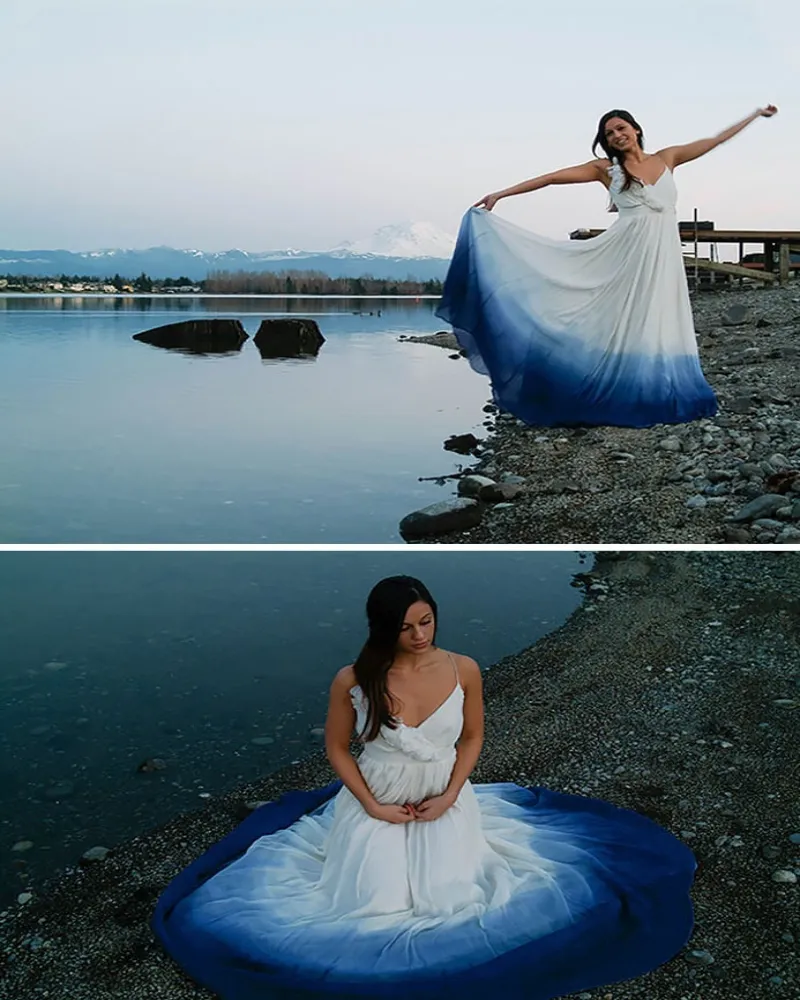 She knew she needed a way to add her own style to her wedding, and it turns out she nailed it by custom-dying her wedding gown. Next to the water on her wedding day, this bride appears to be one with nature.
Handstitched Ruffles
This bride, Emma, knew she needed a very special designer to make her the dress of her dreams for her wedding day. That's why she turned to her sister, renowned bridal designer, as well as a group of friends to collaborate on the perfect gown.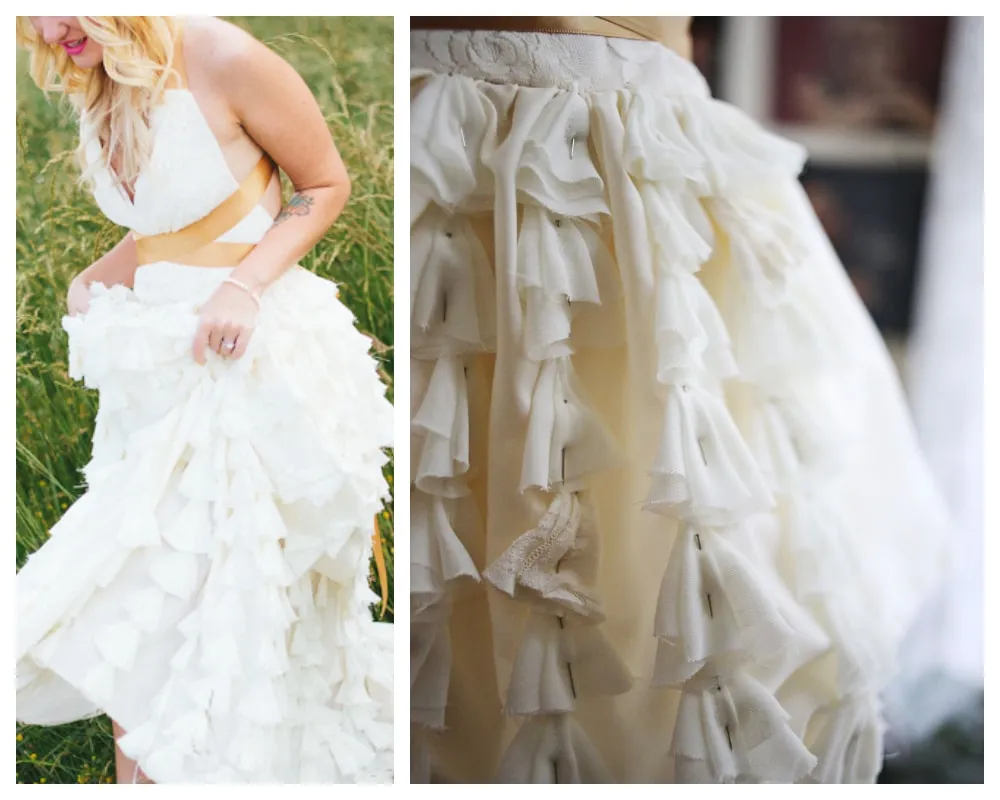 The final result? A stunning wedding dress with a simple open back and tons of hand-stitched ruffles on the skirt. Because so many people played a part in making this dress, it will surely be a keepsake for legacies to come.
Two-Piece Wedding Dress Sewed by Bride
Even without much sewing experience, this bride was determined to custom make her own wedding dress. With some patience and practice, she was able to pull off a stunning design with lace embellishments.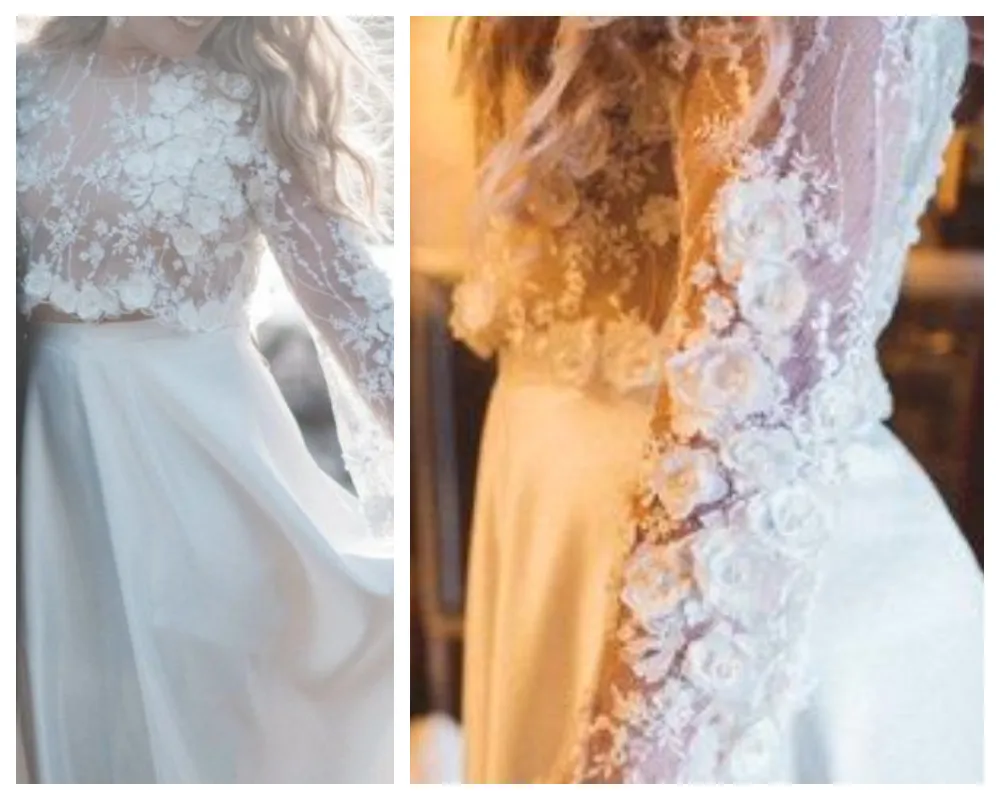 The two-piece gown may have been the bride's first handmade garment, but it was a special one that deserved much care and attention. And in the end, she got her dream dress that will always bring back memories of her wedding day.
From the '80s to Modern Day
This bride tried on a classic '80s-style wedding dress and saw it not for what it was, but for what it could be. She knew that with the help of a talented tailor, she would be able to design her own dream wedding gown using this outdated piece.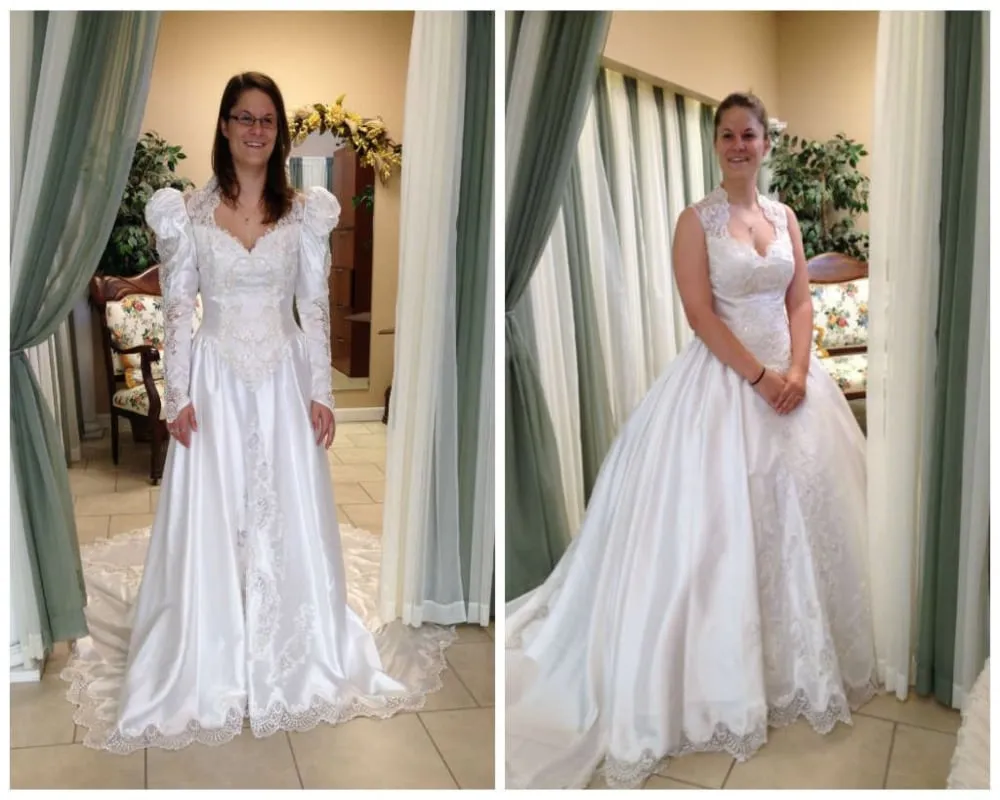 By removing the sleeves and adding a crinoline underneath the skirt for structure, the tailor left the bride with a modern, elegant wedding dress for the big day.
Passed Down From Mother to Daughter
When this bride tried on her mother's vintage wedding dress, she didn't expect to find that some components of the style truly inspired her. To her mother's surprise, she agreed to wear the dress under the premise that she would make significant changes.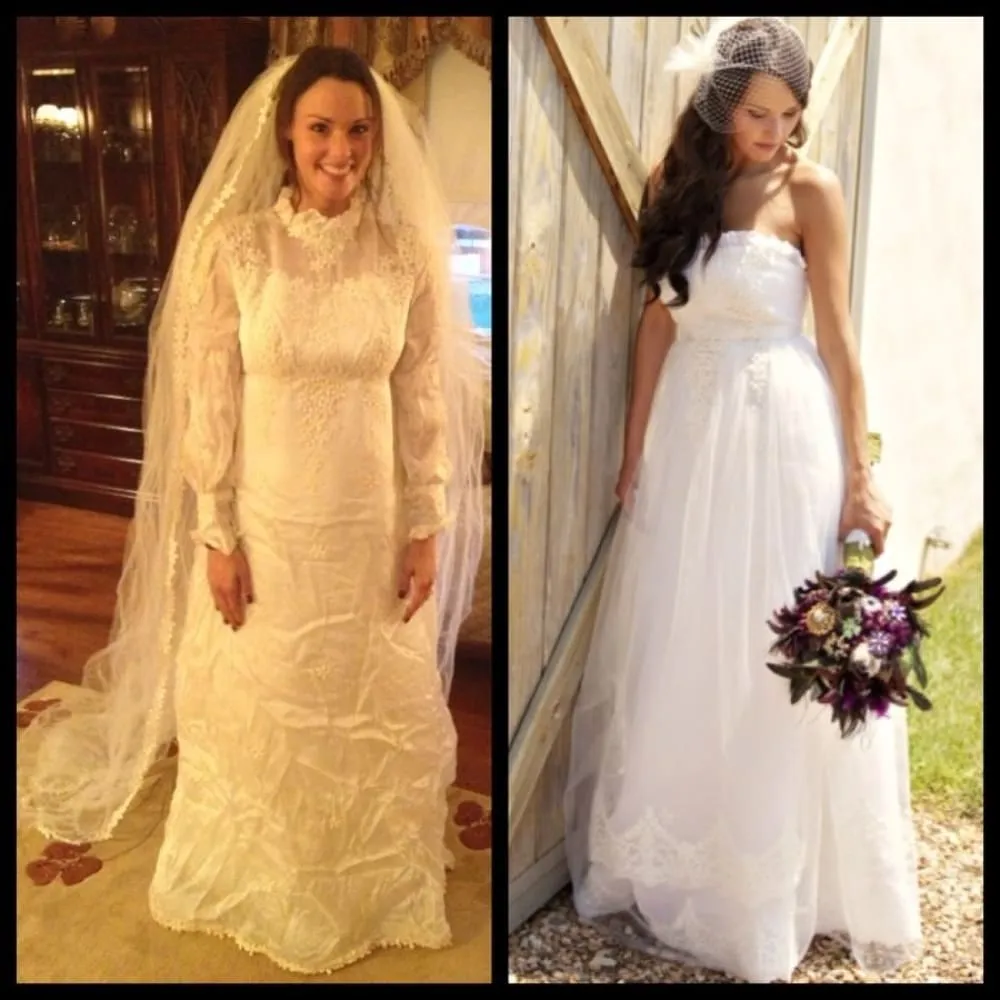 She kept the core inspiration of the dress the same but altered the shape to be more modern and flattering on her shape. She also changed the veil and removed the sleeves, while still maintaining the original lace accents.
45-Year-Old Dress Looks Stunning on Modern Bride
This bride wanted to get married in a vintage gown more than 40 years old, but she wanted to be sure that her personal style would shine through. She chose to make some custom changes to the classic garment in order to build her perfect dress.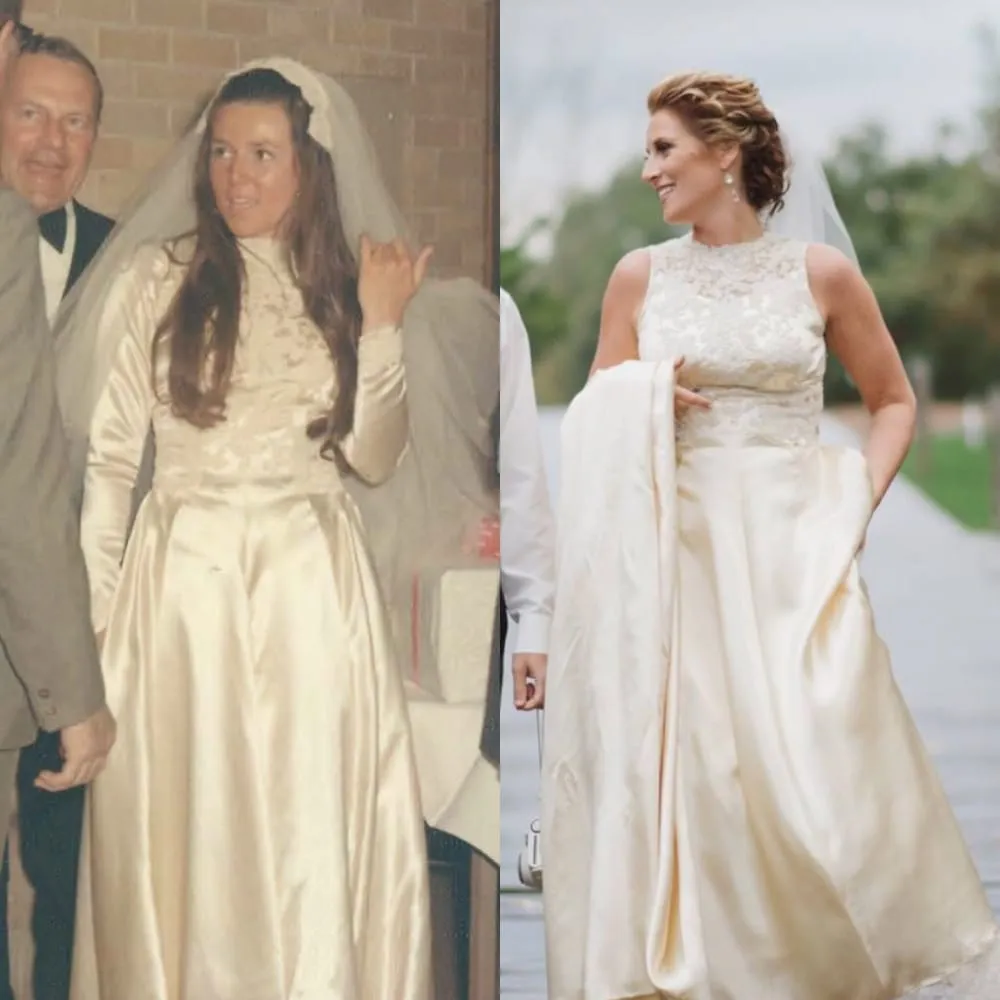 By keeping the original print of the bodice intact and fitting the silk skirt to her shape, the bride was able to create a simple modern gown perfect for the occasion.
Designer Turned Bride-to-Be
Madalynne, an intimates and lingerie designer, embarked on a journey to create her own wedding dress out of muslin material and a basic pattern. She documented the journey on her design blog and the results were outstanding.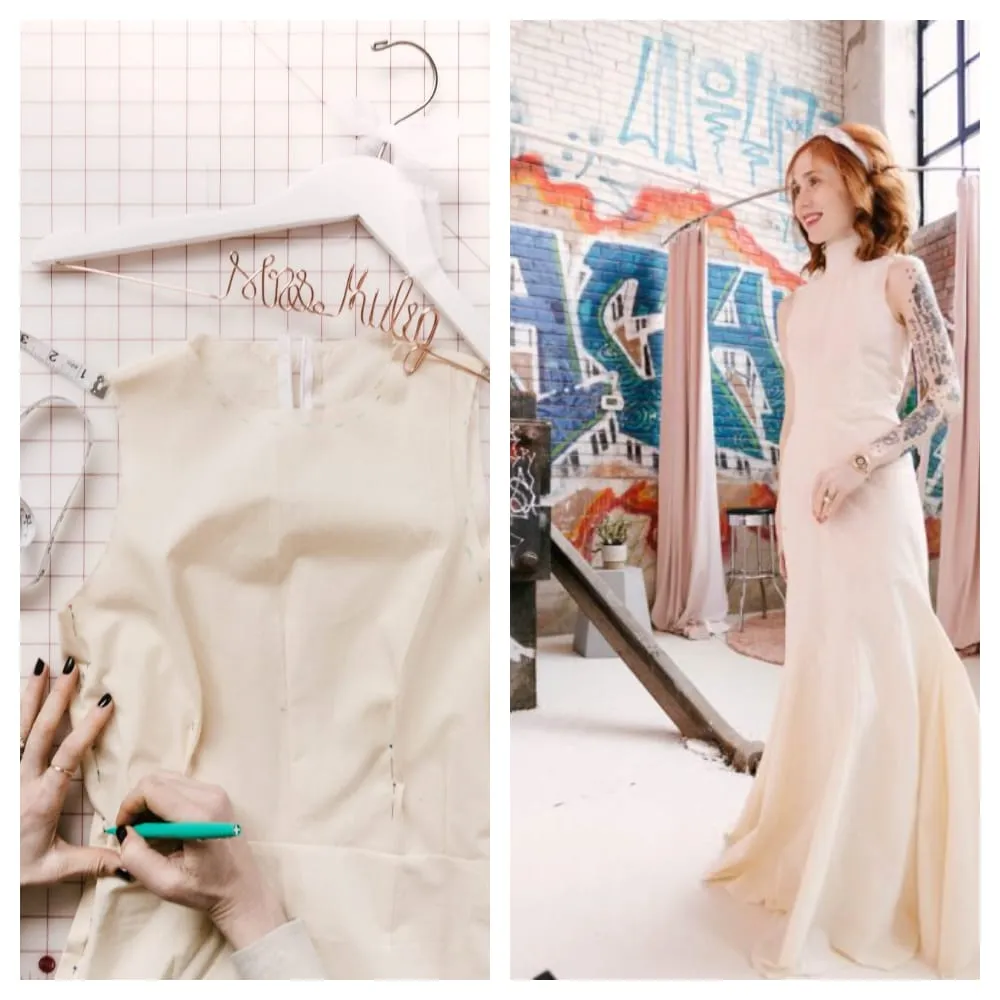 She photographed the alterations every step of the way so her readers could see each stage. Even before its completion, the shape of the dress and its natural fit looked great on the bride-to-be.
Mom's Wedding Gown Gets a Western-Inspired Update
This country bride wanted to wear her mother's wedding gown on her big day, but also wanted to incorporate more western-inspired touches to the garment. After some necessary planning and creativity, she was able to make a few simple but impactful changes.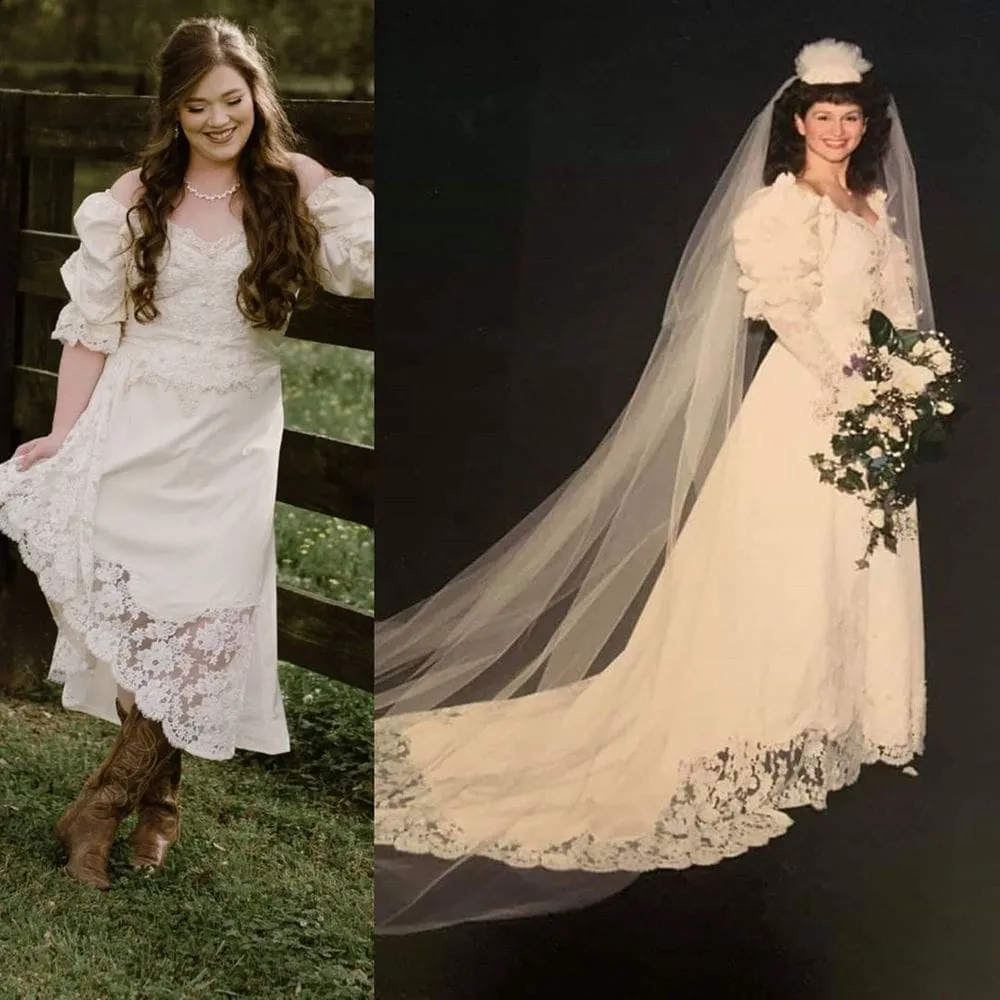 By shortening the sleeves and the total length, without losing the original lace, the bride was able to transform the original dress's style to fit her best. With cowboy boots and simple accessories, the end result was beautiful.
Accessory Swap Turned Vintage Dress Into Something New
This bride loved her mom's original wedding dress so much that she didn't want to change much before putting it on for her wedding day. Once it was fit to the bride's shape, she committed to leaving everything intact except for the accessories.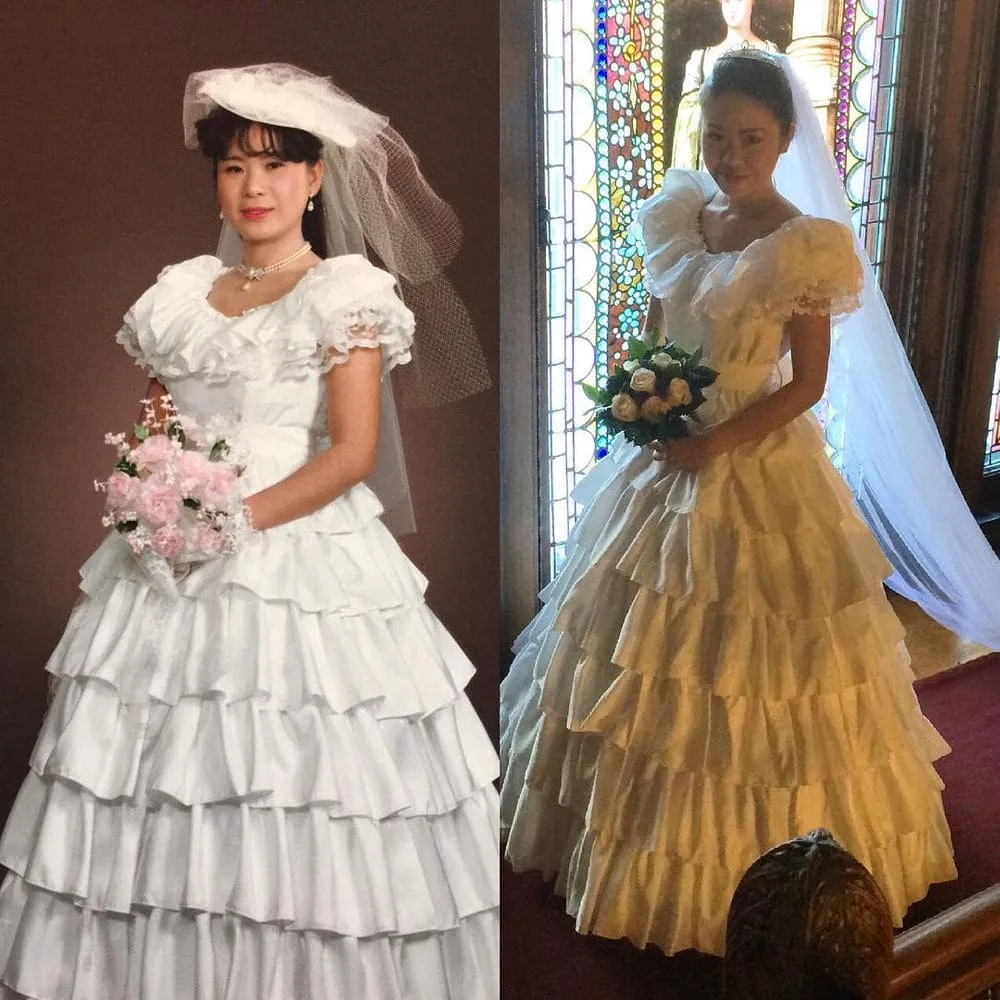 By changing the veil from its original state to something longer and more elegant, the bride was able to add her own flair to her mom's beloved keepsake dress.
Bride-to-Be Customizes '80s Wedding Dress
With just a few simple changes, this voluminous '80s wedding dress turned into a modern beauty. This inspired bride got to work on her DIY wedding dress by removing the puffy sleeves, altering the shape of the bodice, and adding a simple jeweled belt.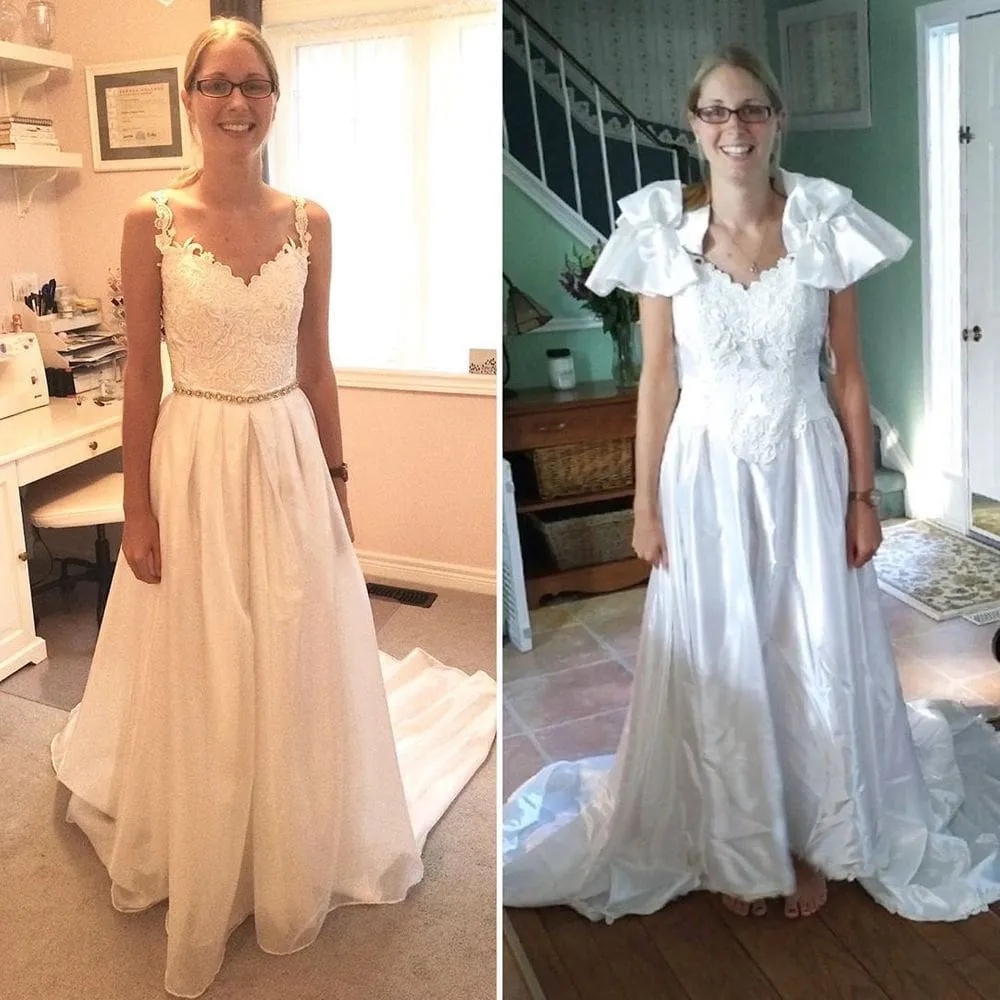 These changes sound small but made a huge impact. The end result was a delicate lace wedding gown that perfectly fit the bride, her style, and the tone for the big day.
'70s Dress Gets a Modern Twist for Wedding
This bride absolutely loved her mother's '70s-style wedding dress that she tried on before her big day. However, it needed just a bit of work before it would fit properly and also reflect the bride's true style and personality.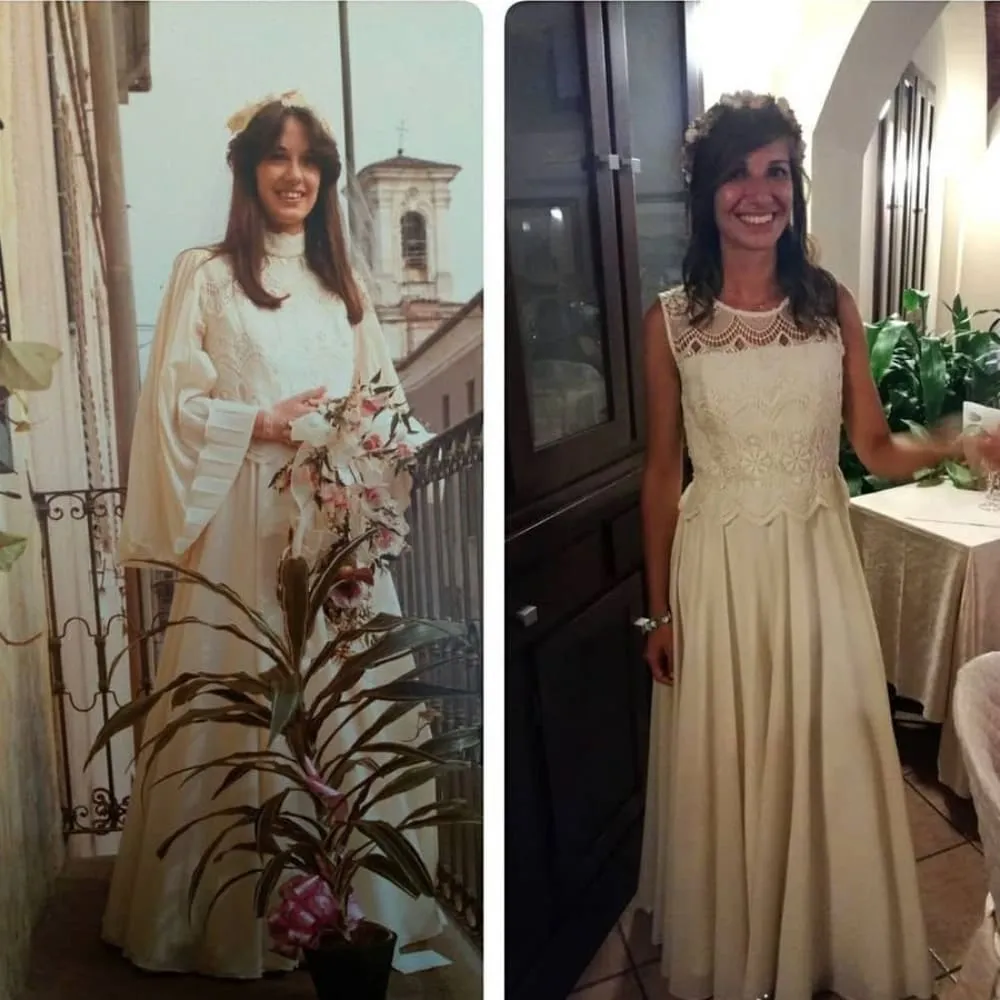 By removing the sleeves, altering the neckline, and swapping out the headpieces, the bride was able to create a modern wedding gown from her beloved '70s inspiration.
Bride Chooses Vintage Dress as DIY Inspiration
This bride was set on finding her dream dress for her wedding. When she tried on this vintage gown with voluminous train, sleeves, and veil, she was surprised to fall in love with it.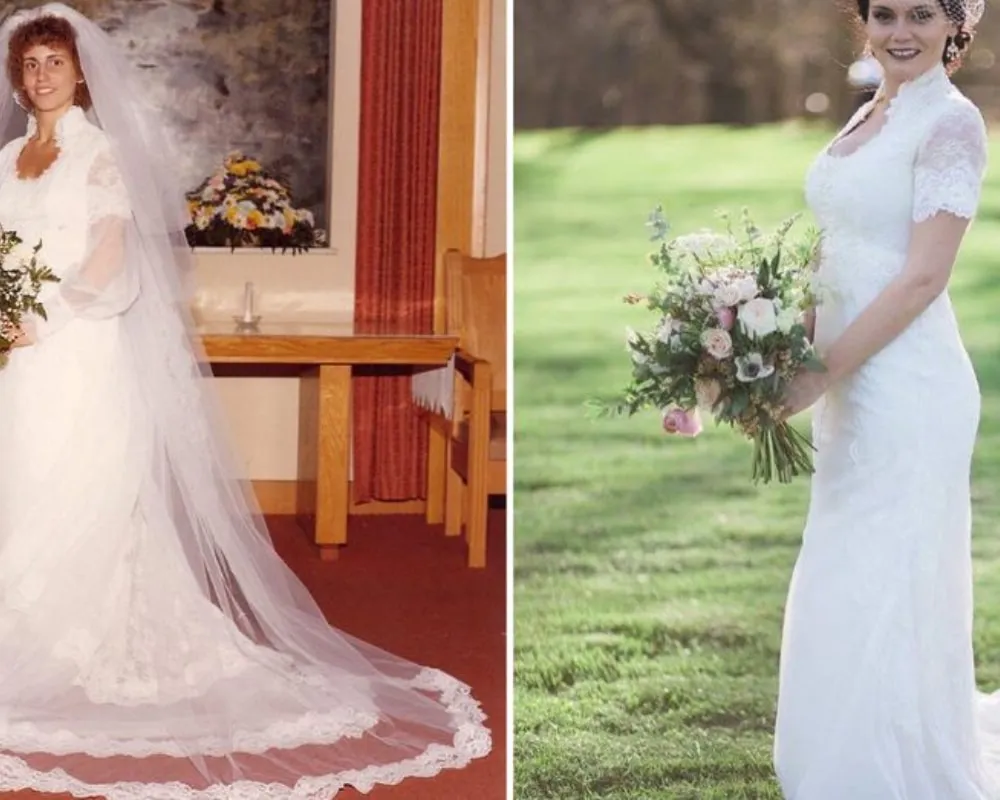 To keep the original feel of the dress and still make enough changes to fit the bride-to-be, she opted to maintain the structured collar and open neckline. The final result was a fitted modern gown with a vintage-inspired neckline that was sure to make a statement.
Bride-to-Be Customizes Her Antique Lace Dress
This bride tried on a vintage dress and knew it would be hers for her big day. However, she also knew that she wanted to maintain just one true element of the dress while changing the rest to reflect her personal style and best fit.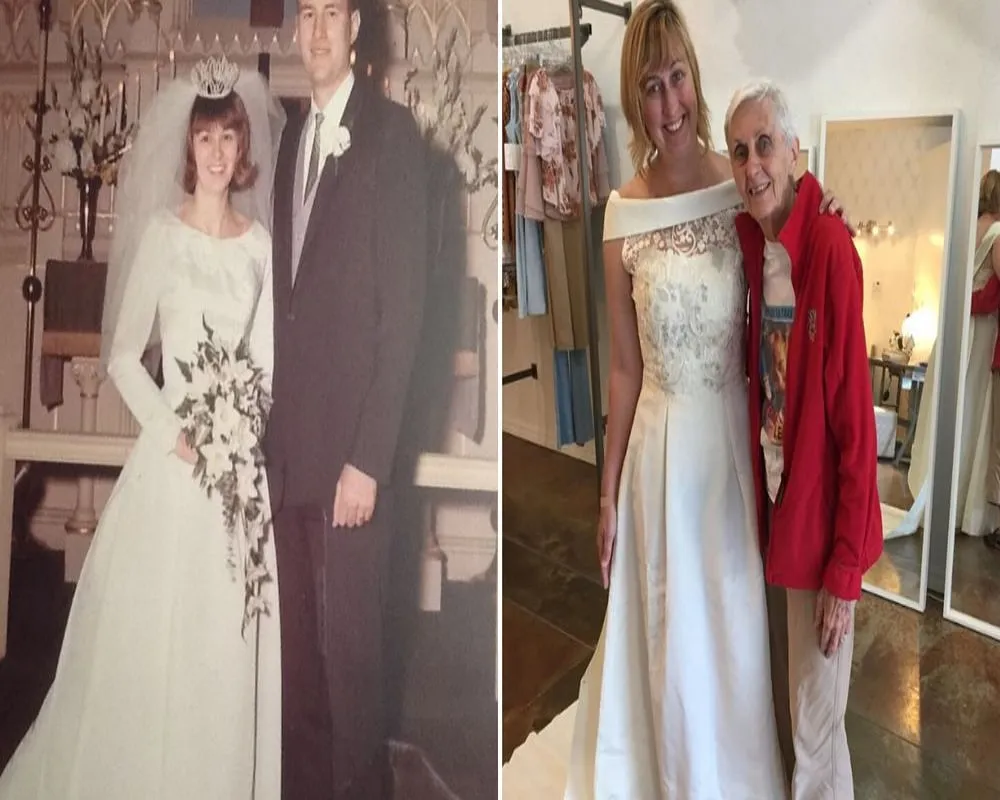 That's why the original delicate lace pattern of the bodice was left intact for the modern wedding. So, while the dress looked brand new, the bride was happy to have held on to the lace as a nod to the original garment.
A Knitted Masterpiece
Here we have yet another beautiful bride that chose to go down the route of knitting her own wedding dress for the big day. Not only does the gown look mega comfortable but the details — from the unique plum color of the dress itself to the white overskirt and even the bejeweled belt — are absolutely incredible.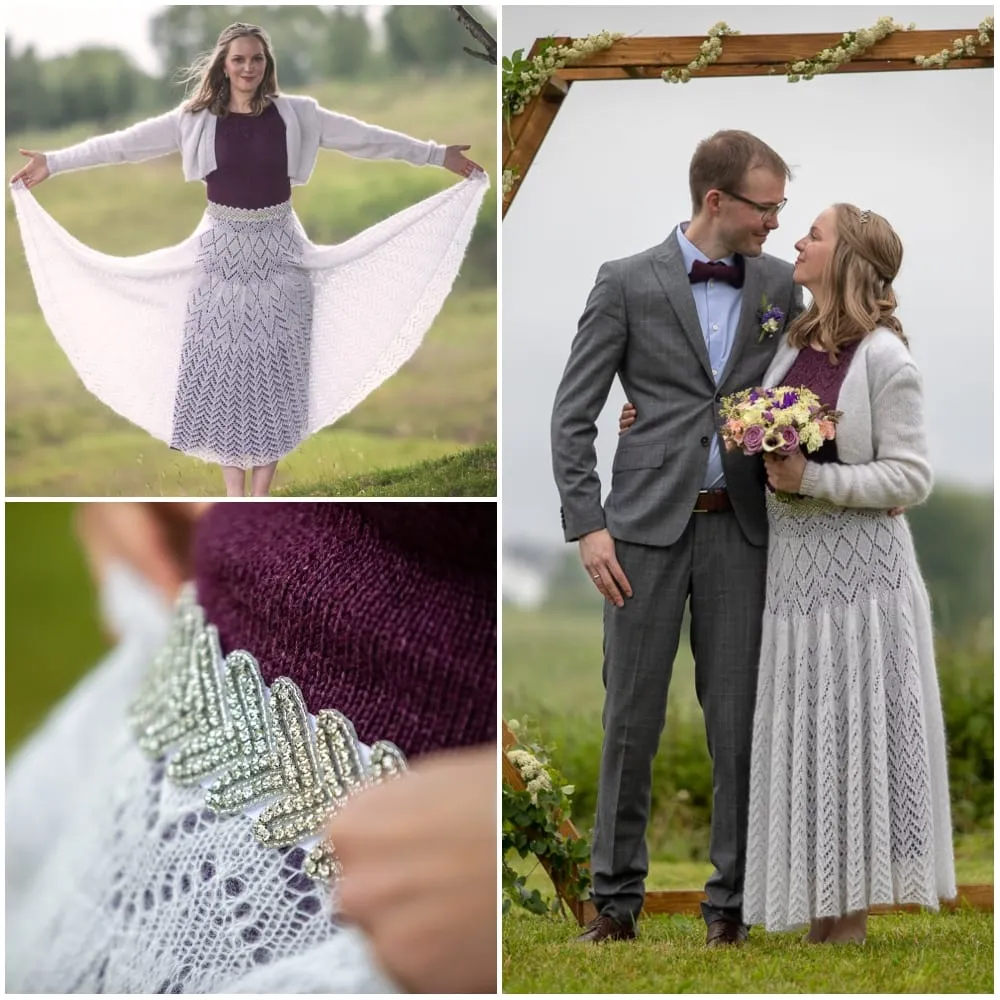 And it's clear that the bride herself thought so, too. Whether that smile is due to the fact that she made her own dress or because she's marrying her best friend, there's no denying she's full of pride.
Aggressive Dancing
This particular bride designed and handmade her own wedding dress over the course of eight months, using an online tutorial site. According to the gal herself, "It's not perfect at all, and I ripped the mesh a bit during some aggressive dancing…but I did it and that's what counts!"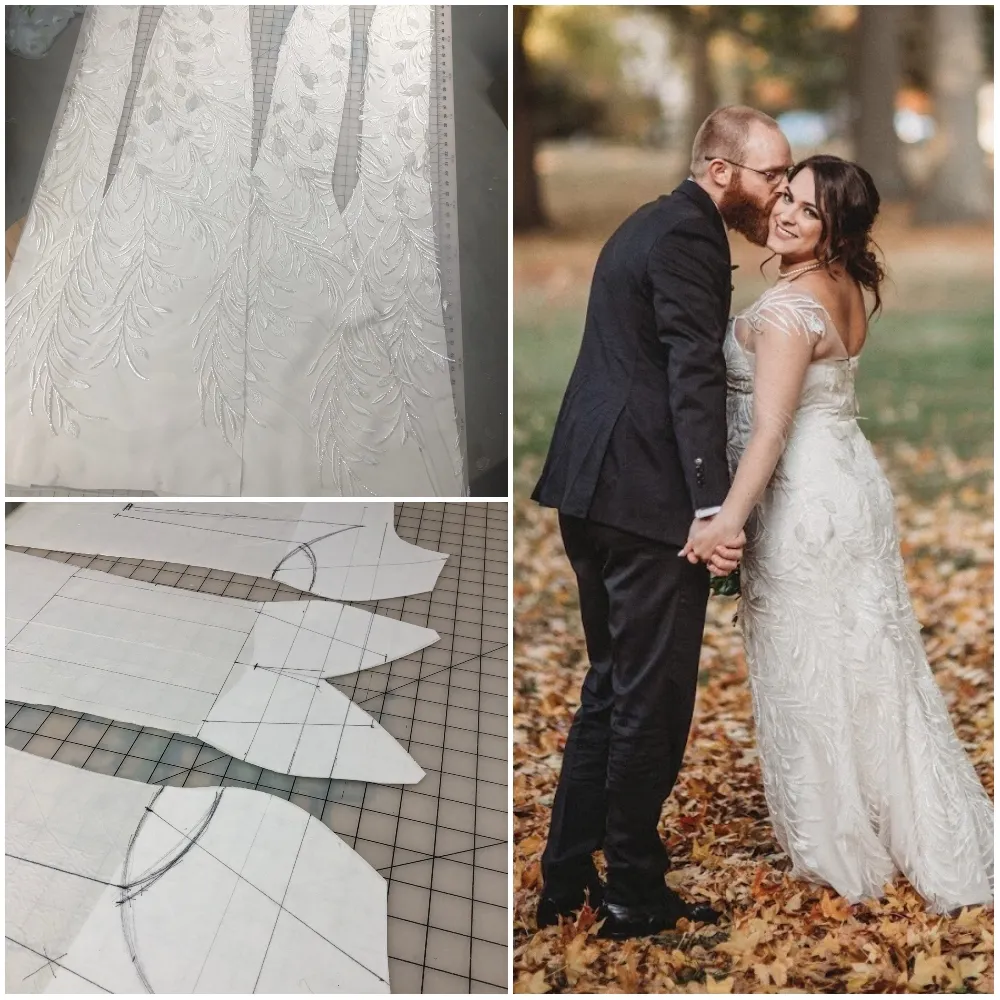 And we really couldn't agree more! Kelsie here put in the hard work and effort into making something special of her own, and it's absolutely gorgeous! We mean, look at all the detail that went into this gown — and those sleeves are to die for!
Vogue-Inspired
Just because this wedding dress is unconventional doesn't make it any less beautiful. In fact, we love how much it stands out.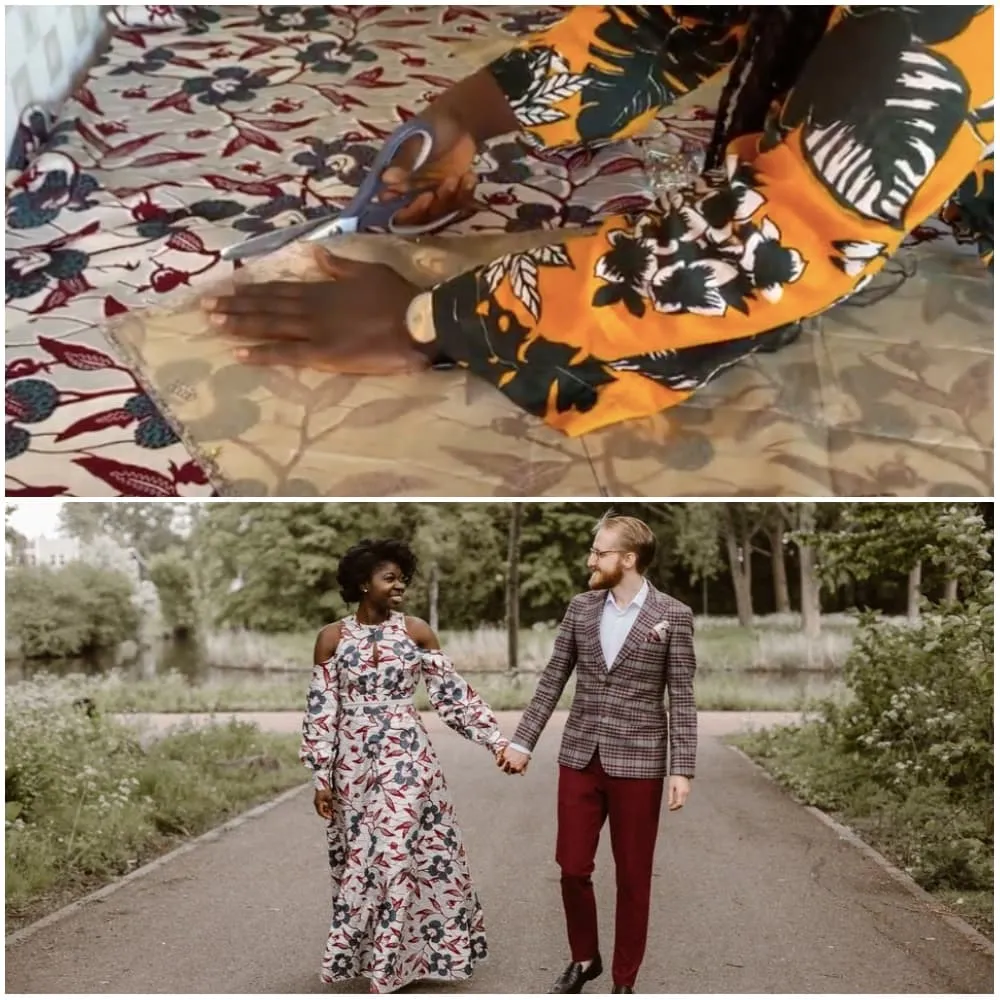 According to the bride herself, she "made this dress with a Vogue Pattern […] For fabric, I used a cotton satin with a silver finishing on the surface to give off a bridal look. The choice of color was based off of the jacket of my husband." In order to show the step-by-step process of how she made the dress, this gal even posted a video via YouTube!
Bohemian Chic
If we're being honest here, we'd love for this gal to sew our wedding dress. We adore absolutely everything about this gown — the bohemian-type sleeves, the lace accents, the wrap-around style, and simply how flowy it is.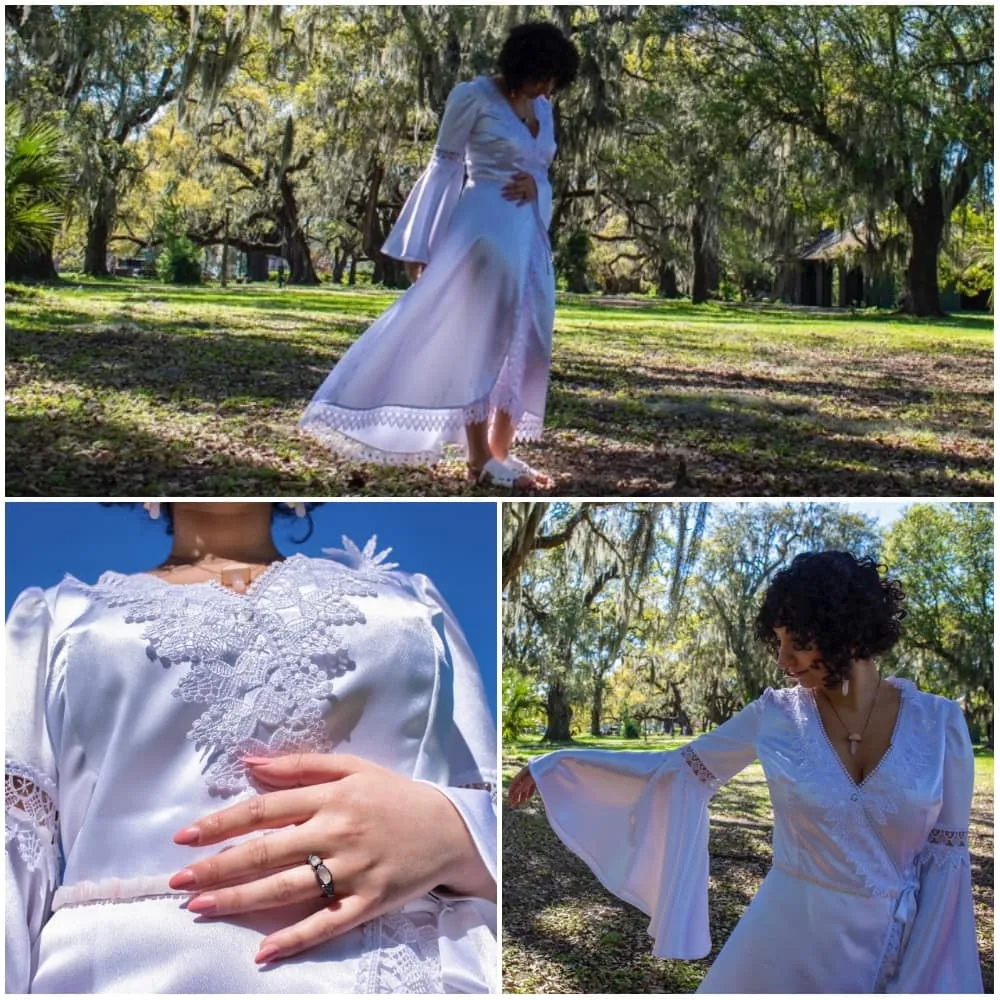 While the bride herself hasn't revealed much about the process of making her own gown for the big day, it's clear that she feels as beautiful in this creation as she looks to us. This dress only further proves the point that you don't have to spend a lot of money to look absolutely radiant.
The Dress Has Pockets!
This bride may not have worn white on her wedding day but she looks like an absolute princess — and it's clear that she feels it, too. The best part? She added pockets to her gown, and what gal doesn't love pockets?!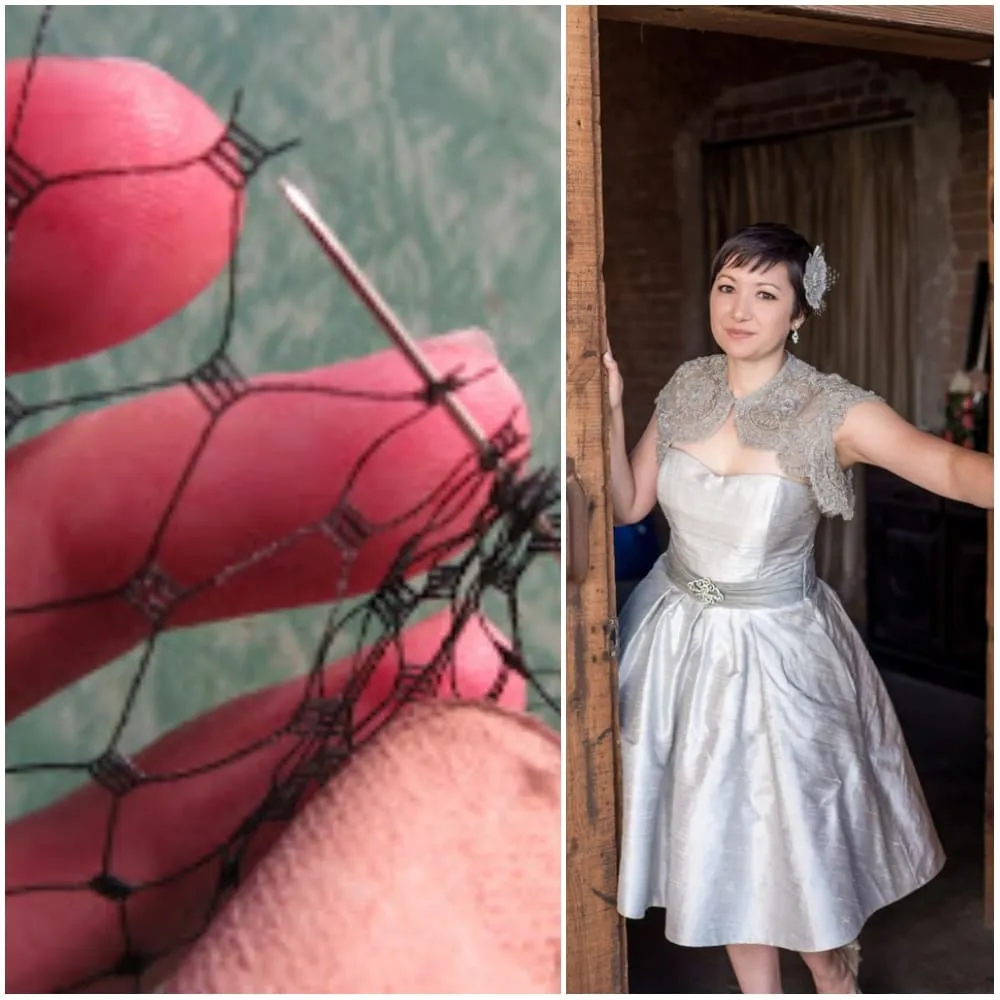 According to the beauty herself, she "added the sash and antique brooch for fun! Bolero [jacket] is hand sewn and lined with silk organza. Fabric is silk dupioni from Silk Baron and beaded lace from Mood Fabrics." And that, ladies, is how you own your wedding day!
Completed the Day Before Her Wedding
Okay, so, how awesome is this dress?! Not only is this gown beautifully unique, but according to the bride herself, it was made in the nick of time! Being that she's a fashion designer, she wanted to make something of her own.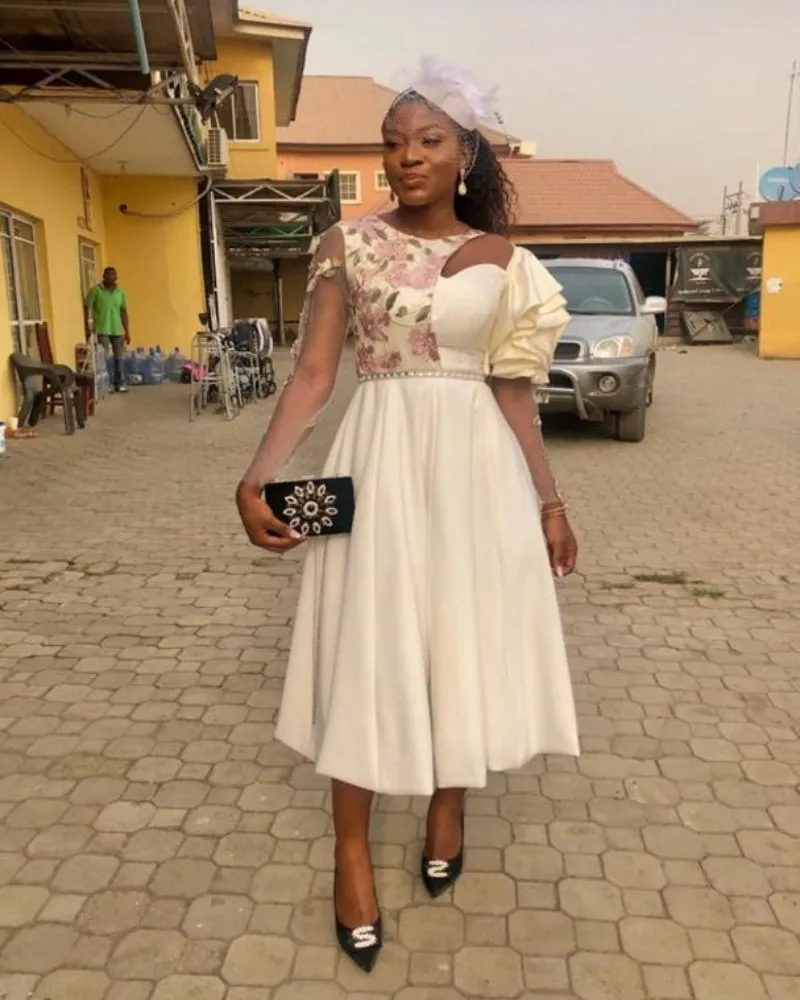 The interesting part, though, is that "I didn't make my dress 'till a day to my wedding, I was busy making clothes for other people…" Knowing those details, we're nothing short of impressed that she was able to create something so striking in such little time!
Crocheted Beauty
Let's be real here, people — this dress is elegant, clean, and special in every way. According to a Reddit post that the bride had posted on, her now-husband proposed to her after Thanksgiving. That's when she began working on her handmade, crocheted gown.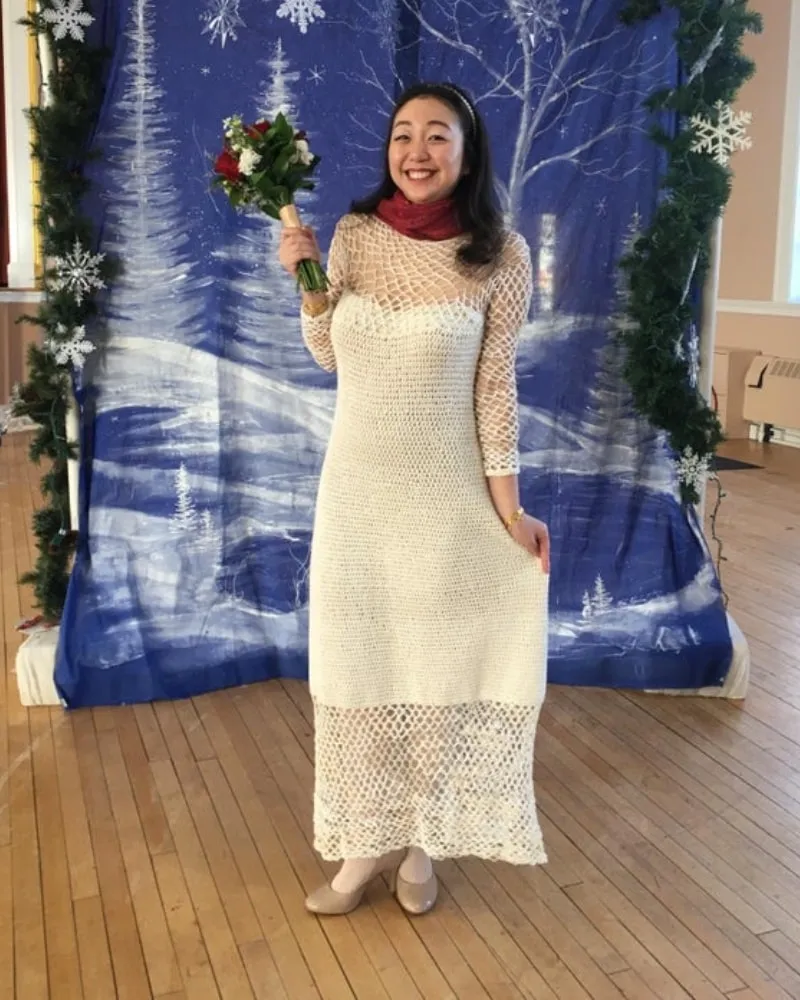 It was only four weeks later that she and her beau exchanged "I dos" at their local town hall. Aside from the fact that this creation is one of a kind, this gal looks absolutely radiant and so ecstatic to be marrying her best friend!
Purple Craze
Wow! We're absolutely in love with this color scheme! Not only did this bride create her own gown but she also made the attire for her whole wedding party, as well as for her now-husband! With that, we think it's safe to say that this gal has quite a lot of patience!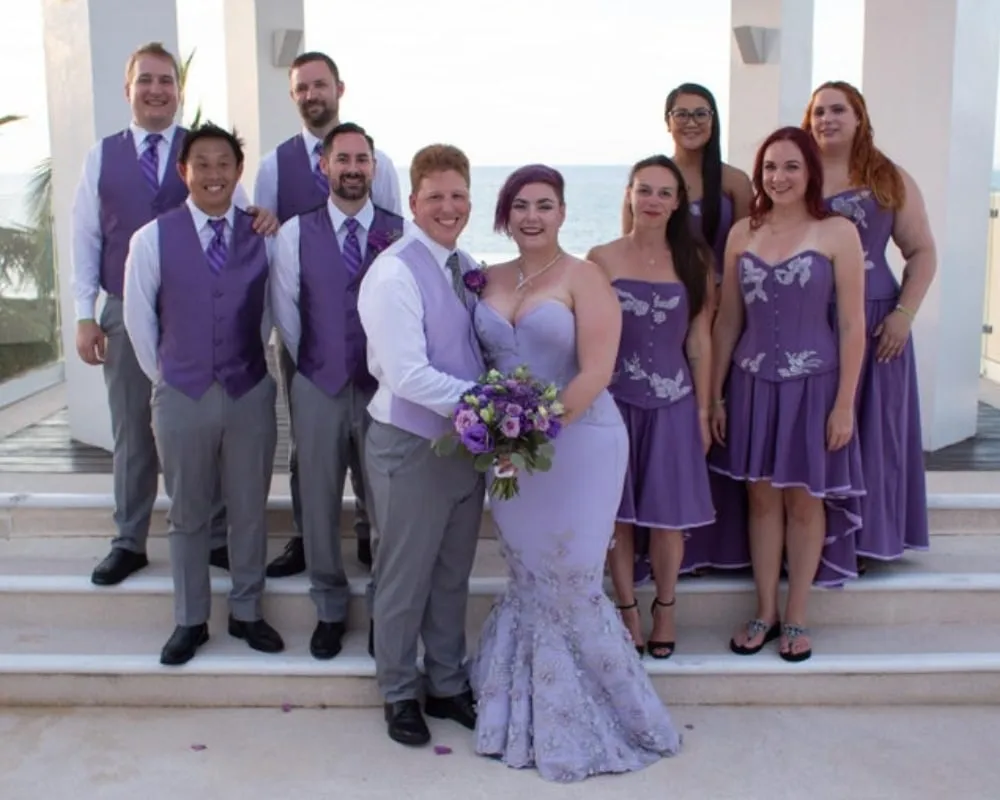 In any event, according to the bride herself, all the patterns are self-drafted. She made her bridesmaids' dresses, as well as her own, using a silk jersey blend. And she added beading and gemstones to the lace for a touch of sparkle.
27 Yards of Hem
How radiant does the bride look? And understandably so considering that she not only married the love of her life, but she also designed her own wedding gown for the big day!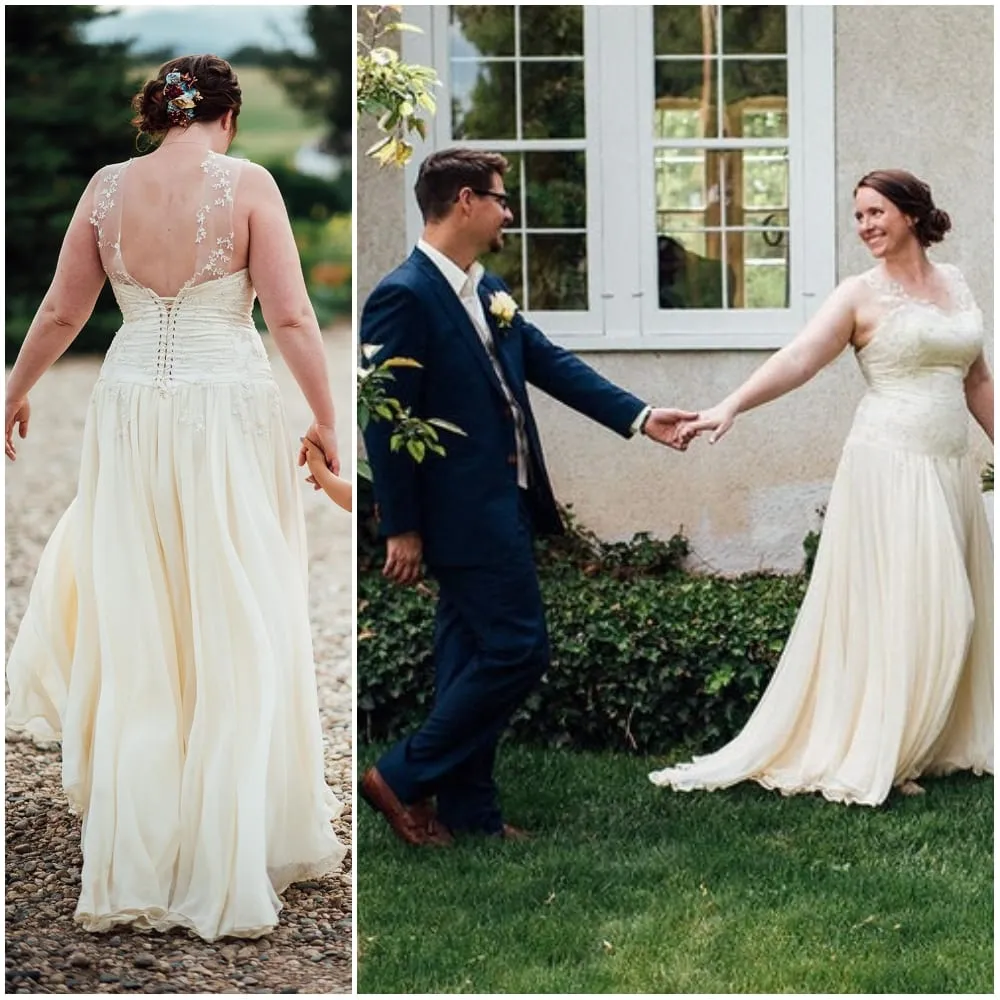 She has no idea how long it took her to actually create and complete the dress — it must have taken quite a while — but she does know that she used 27 yards of hem to make it happen! The skirt is made of panels of circle skirt pieced together. The upper bodice is boned with three layers of fabric, and a lace bodice over the top.
A Fairy Princess
The first thought that came to mind after seeing this bride in her masterpiece of a gown is of a fairy princess! We mean, she's absolutely glowing, is she not?! This gown is the perfect combination of simple and classically elegant.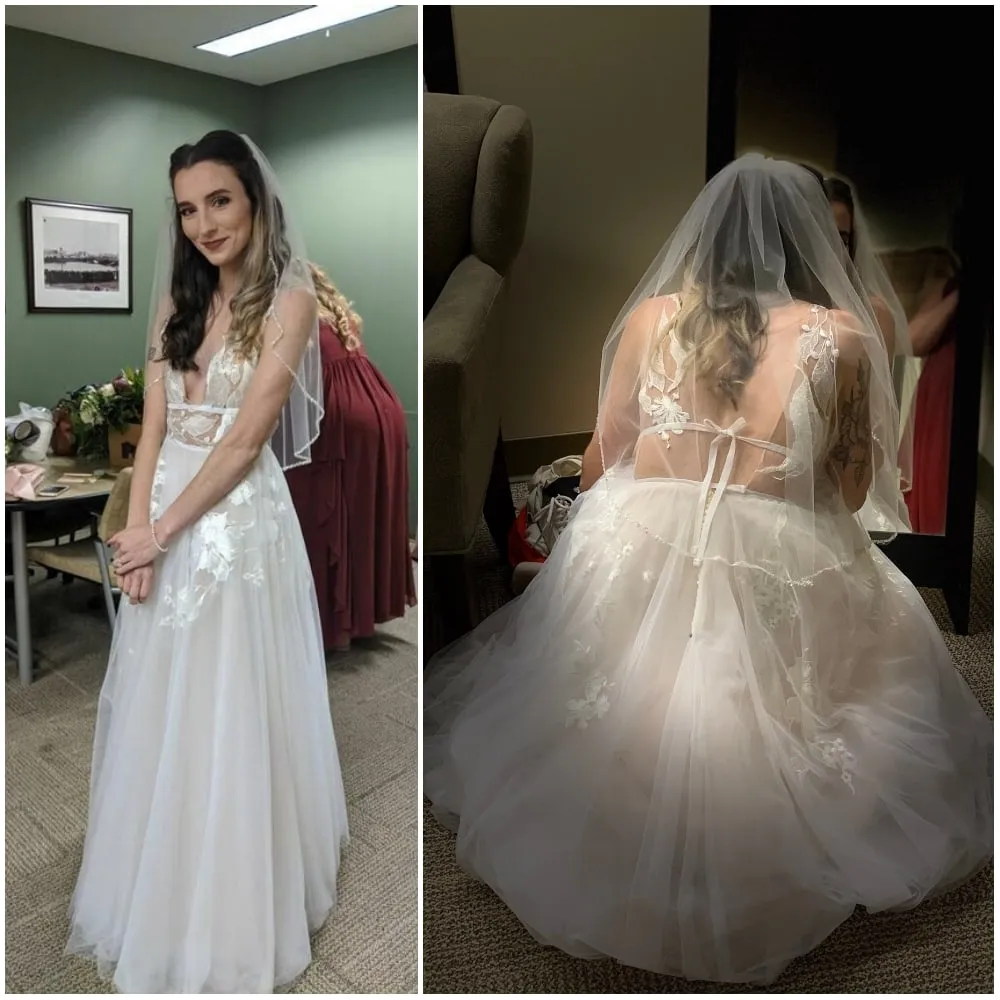 And we can't forget to mention the details — the shape of the neckline, the floral pattern streaming down the tulle skirt, the mesh accents. It's just all incredible, and truly no wonder why it took the bombshell around 50 to 60 hours to complete this work of art.
A Liking for Teal
Call us crazy but we're getting the impression that this bride is really into teal, and we can't say we blame her because she's totally rocking it! Apparently, the process of making this dress wasn't all that simple. Although she only made one mock-up for the skirt, this beauty ended up creating five different mock-ups for the top!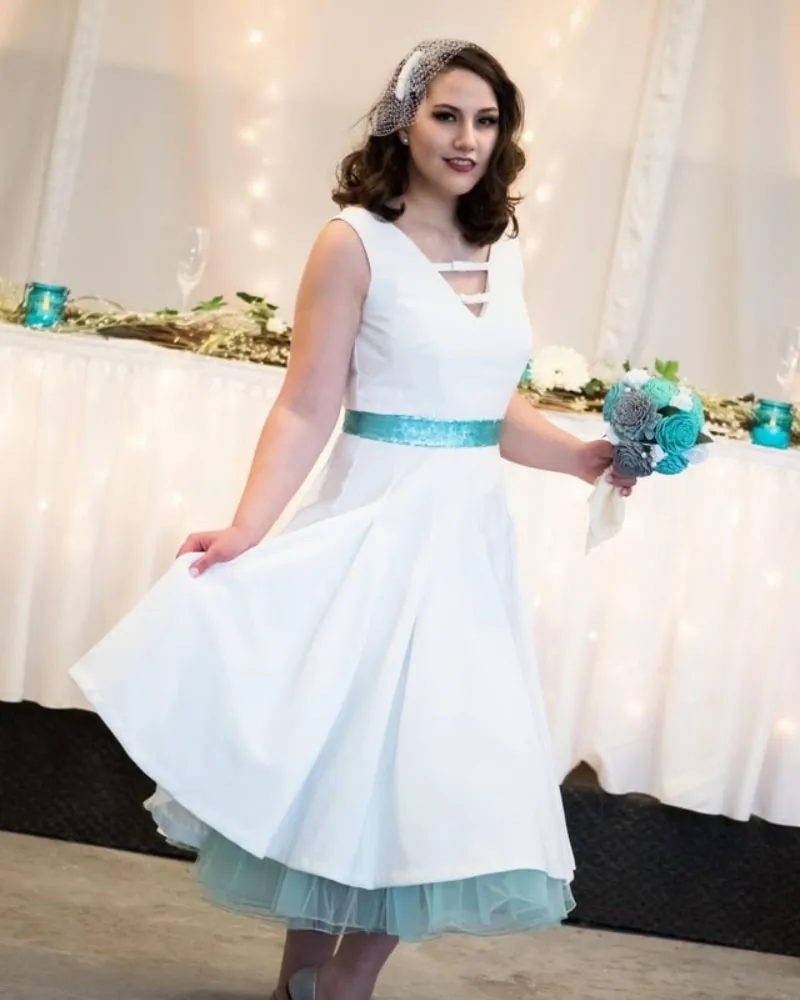 She tried out a few different styles before deciding on the final one. In order to have the teal accent low enough to show, she hacked two crinolines — a structured petticoat designed to hold out a woman's skirt — together.
Thanks, Sis!
So, it turns out that the bride herself didn't actually design and create the gown herself. It was actually her sister that created this masterpiece — what an amazing sibling! In any case, she used about 100 yards of tulle, and probably another 50 yards of crinoline and netting in order to make this work of art.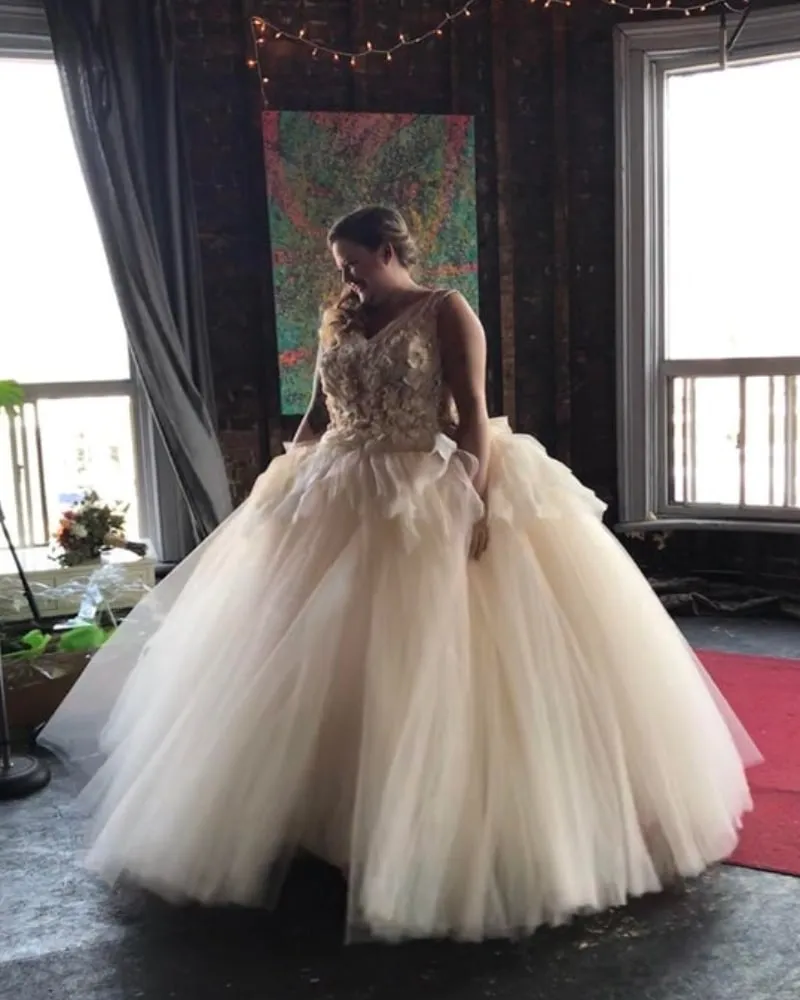 Although she hasn't revealed just how long it took her to design this gown, we do know that she learned much of her technique using YouTube tutorials.
A Few Bucks Can Go a Long Way
There's no denying — that after looking at the before-and-after of this wedding dress — this bride is super creative. According to her Reddit post, she spent $25 on this wedding dress from 1986.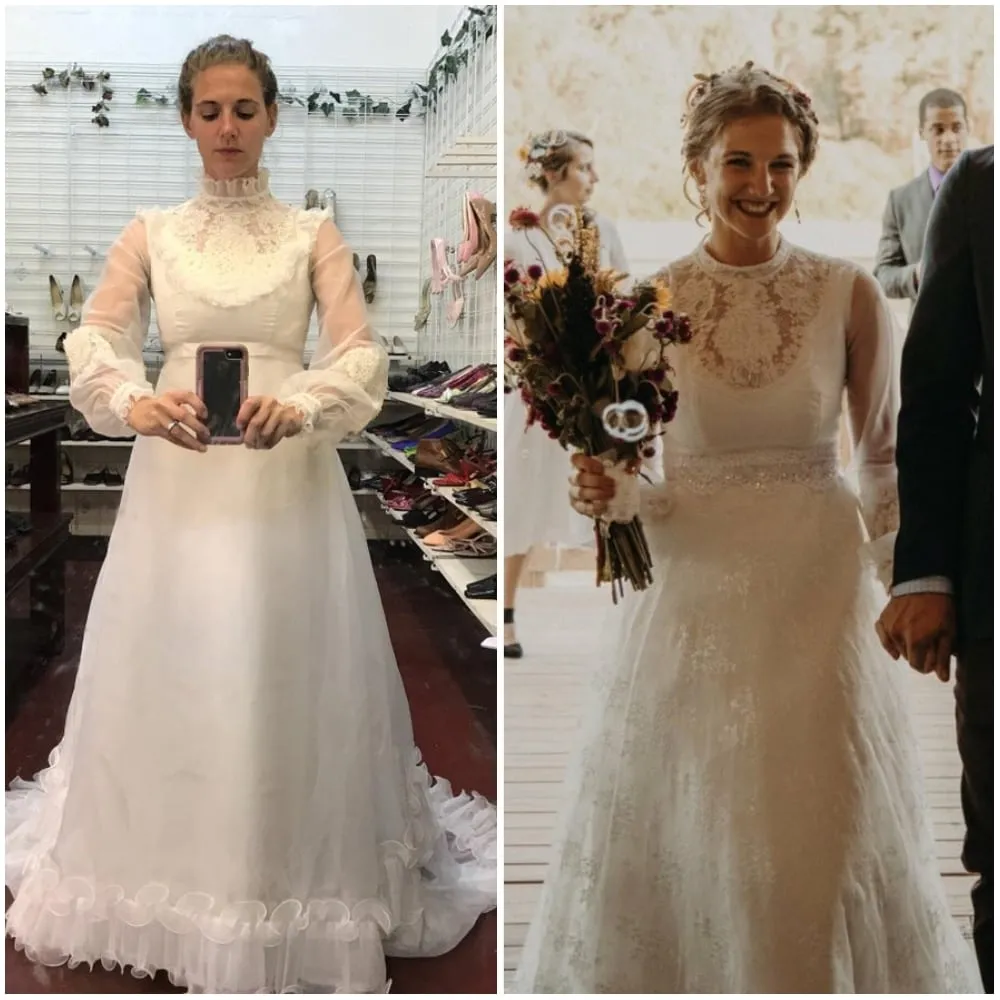 In order to make her dream dress, she got rid of the ruffle using a seam ripper. She also opened up the lace more, added a skirt on top of the existing dress from a different dress that her friend had thrifted, and completed the whole look with a belt accent made from lace.
Princess Seams
The first thing that caught our eye about this wedding dress is the textured fabric. How cool is that?! The bride started off with an organza brocade fabric — essentially a geometric texture. Since the material is sheer, she "decided to use it as an overlay for a more opaque fabric, which ended up being a hammered silk satin."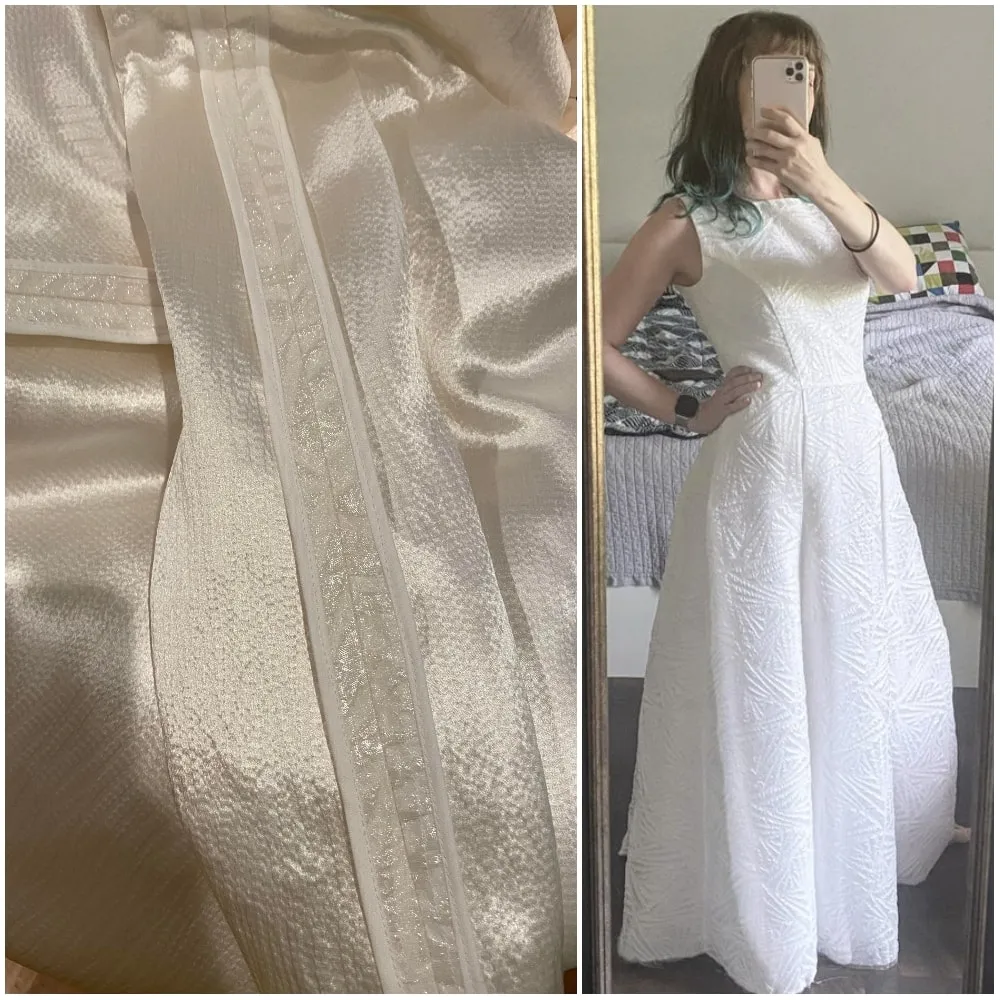 The process definitely wasn't simple as she had to sew every piece together with the two fabrics ahead of time to create each piece that she worked with. Still, she created a masterpiece so we can only assume it was worth the time and effort.
A Complete Transformation
There was a lot going on in this mother's old wedding dress. But her daughter, the bride-to-be, tried it on and loved it enough to want to wear it on her big day. To make it her own, the bride decided to remove the sleeves and alter the neckline while incorporating even more of a mermaid shape to the skirt.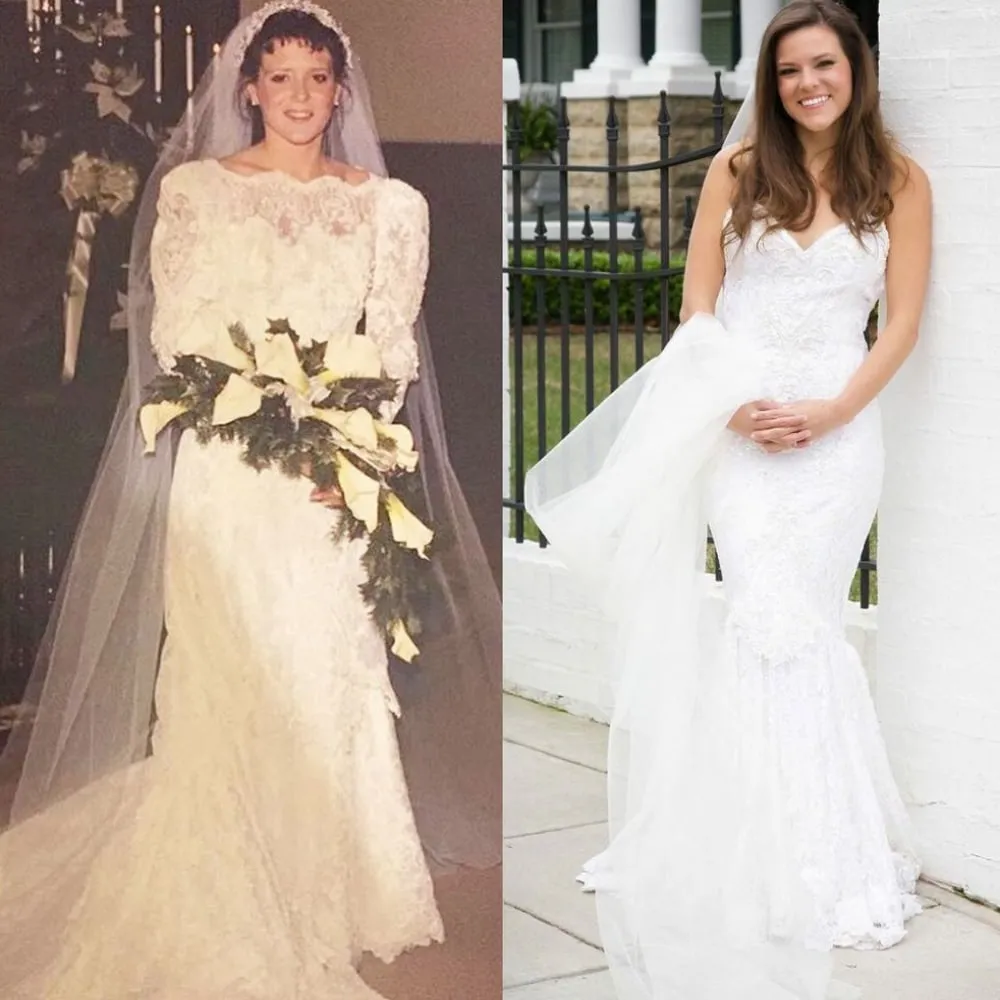 In the end, the bride looked absolutely beautiful in her mother's wedding dress turned new.
Bride Customizes Own Vintage Wedding Dress
When this bride tried on this vintage wedding dress with ruffle sleeves, she immediately saw the potential it had if she could just make a few minor tweaks to the dress's shape. She soon got to work, altering the high neckline and lightening the weight of the sleeves.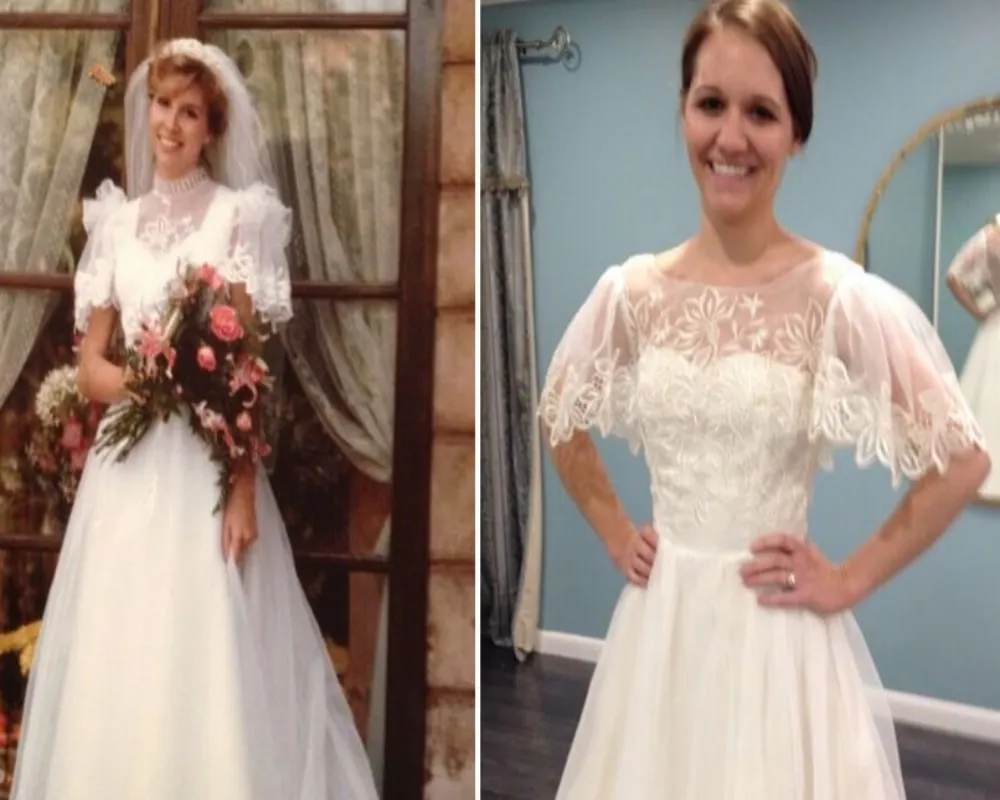 Though the major components of the original dress are still intact, the revised garment fits the bride much better and has a more modern feel.
Antique Wedding Dress Gets a Silhouette Update
This bride customized her own wedding dress by taking this antique gown with lace sleeves and a ruffled skirt, and updating its shape. With a better fit and a new silhouette that gave the dress a more modern feel, the bride was still able to maintain much of the original lace and the neckline.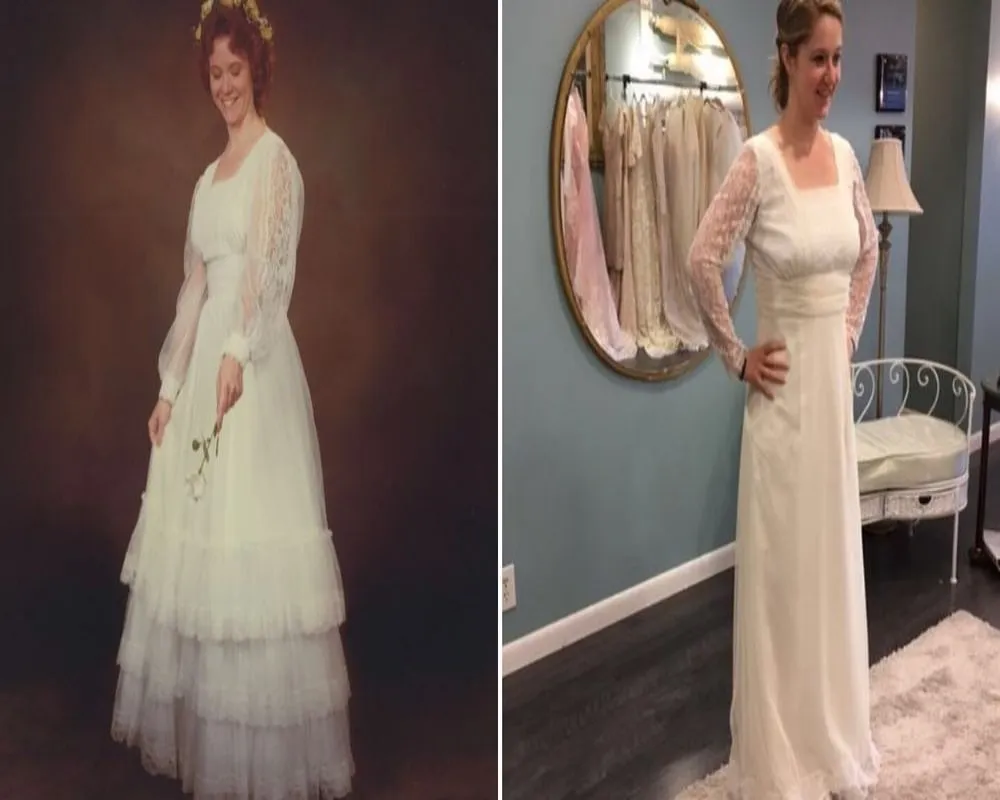 In photos, it's hard to believe the new dress could have come from the original, but the end result was a win for this beautiful bride.
I Got it From My Mama
This bride-to-be altered her mother's beloved vintage wedding gown for her special day. It didn't take much to completely transform the style of the gown — the bride removed the original lace sleeves and hemmed the skirt to end up with a totally new dress.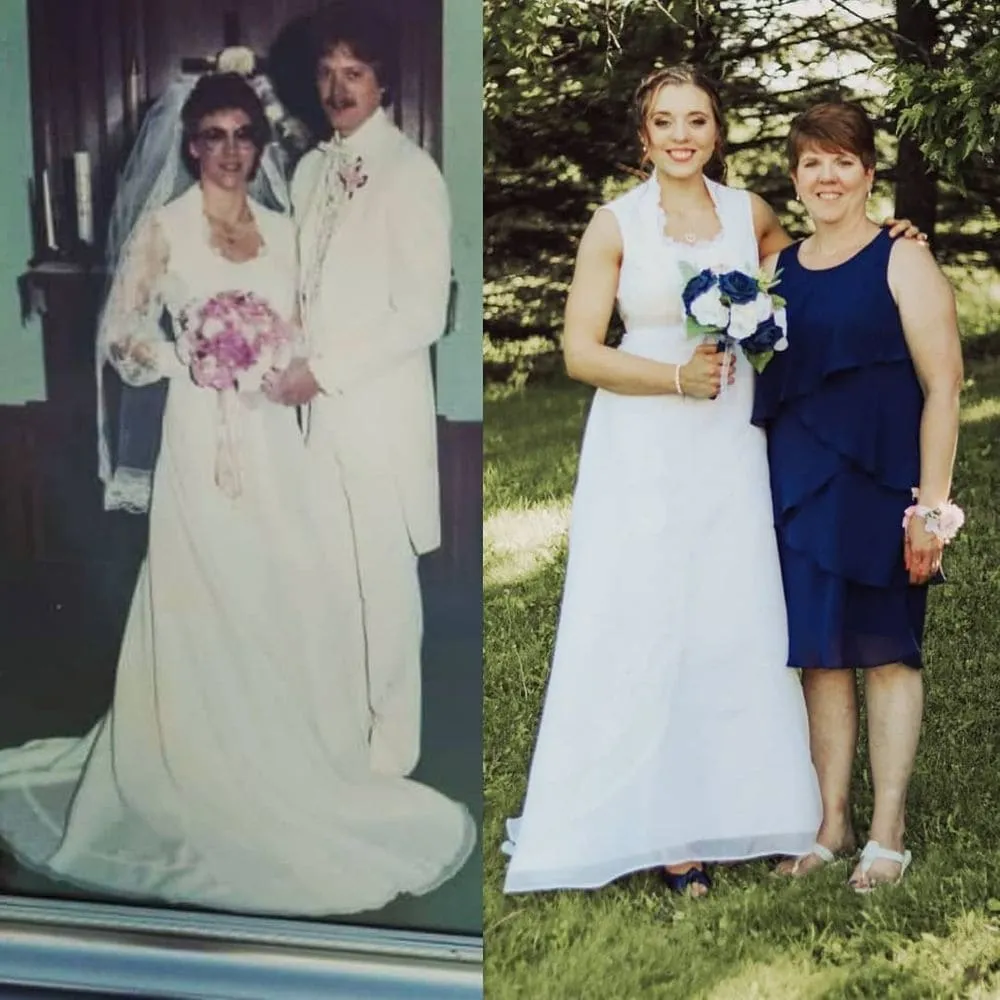 The scoop neckline of the original dress was maintained through the alterations and gives the new DIY gown a hint of what once was.
Handmade Vintage Lace
This bride, Kelly, is the owner of KMR Bespoke Bridal Designer. In addition to helping countless others find perfect fits for their weddings, she decided to design her own dress when it came time for her special day.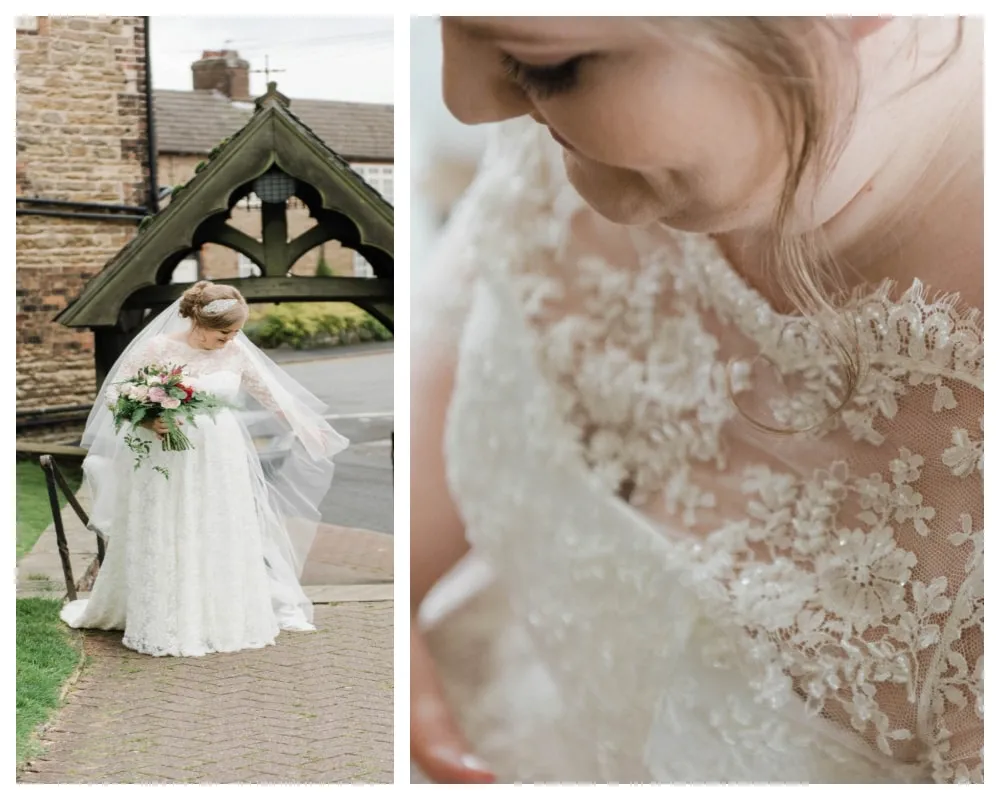 Here she is in her handmade vintage lace gown — she even crafted the cathedral length veil! With a silhouette perfect for her shape and a comfortable skirt to move in, this dress certainly stole the show.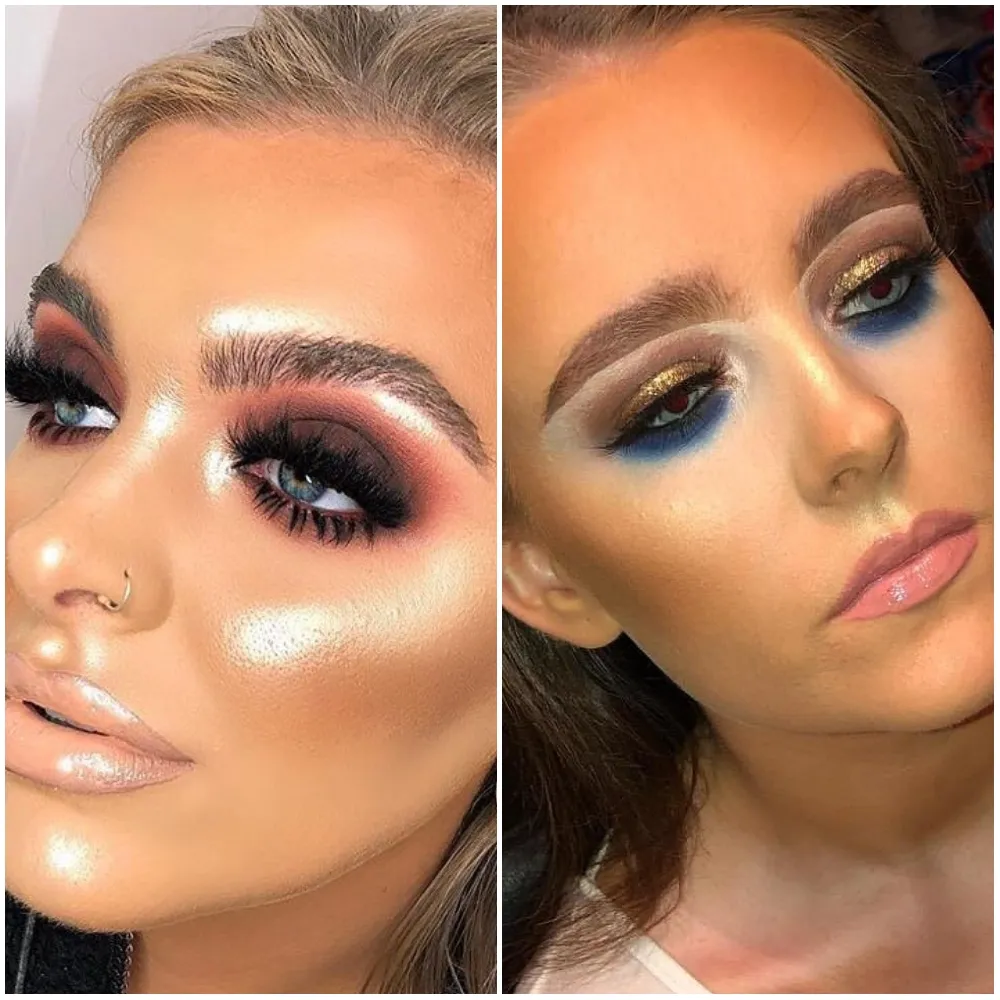 Makeup is an amazing thing for those of us that choose to use it. It allows us to play dress up every single day, and to face the world with our own special type of armor. Some of us have been experimenting with dusty old cosmetics since we were children, and others have been learning here and there as they get older. There are many wonderful ways to apply makeup, but we've gathered a list of makeup mistakes that every woman should avoid. Enjoy!
Pumping the Mascara Wand
Let's start with the most fundamental of makeup tips. Do not pump your mascara wand when you open it up. Yes, we understand that it can be tempting. And we understand that it feels quite professional to give your mascara a quick pump. However, it's actually very amateur.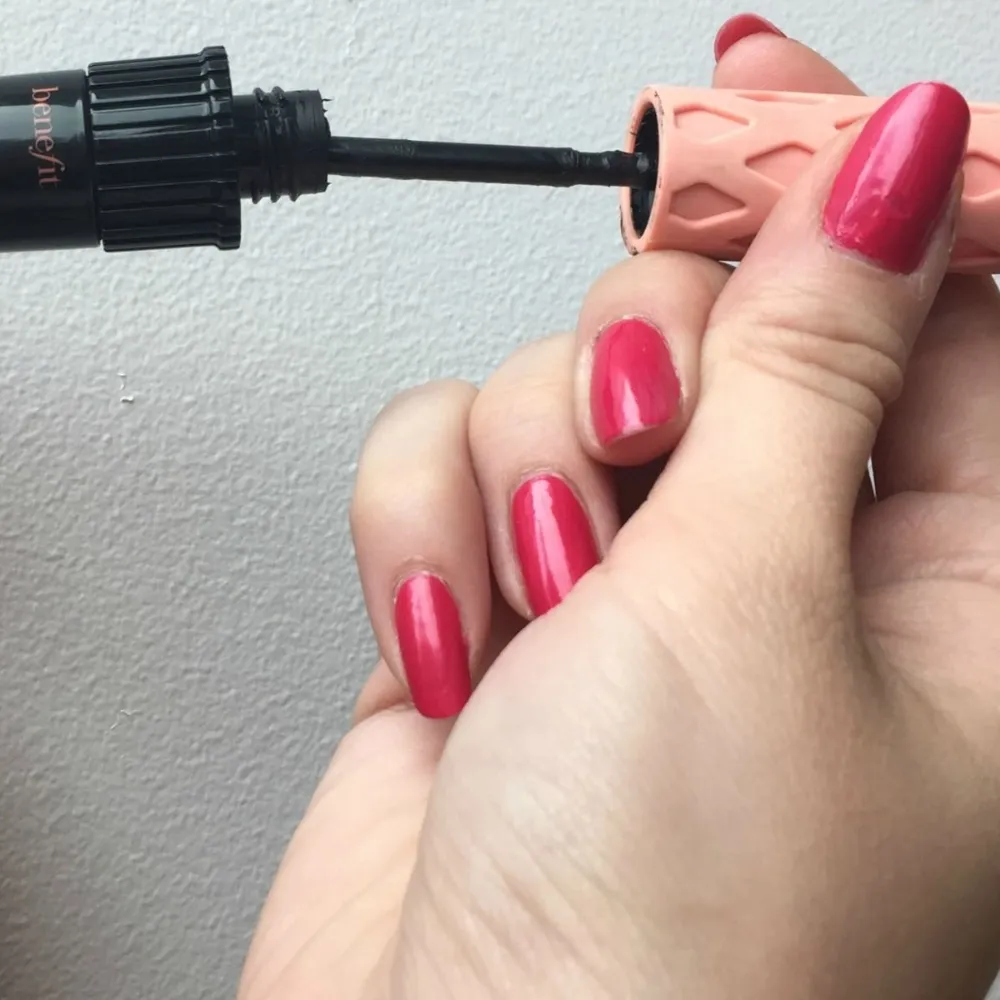 You see, pumping forces air into your lovely mascara, and with air comes bacteria. Also, pumping means your brush ends up overloaded with product. Just remove your wand, wipe excess, and apply!
Gap Between Wing and Lashes
Many items on this list will discuss liquid liner, and that's because liquid liner is both a blessing and a curse. On the one hand, it gives us dramatically framed eyes. On the other hand, it isn't exactly easy to become a pro at winger liner.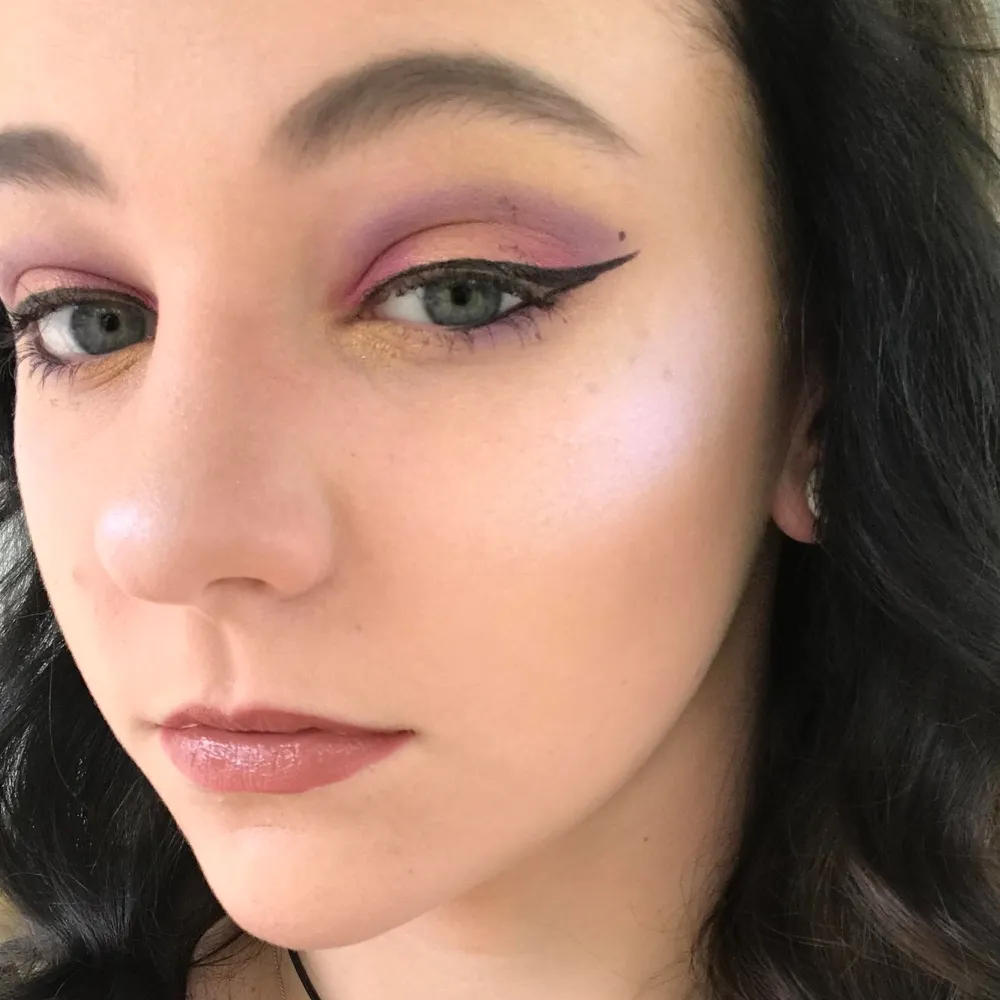 Anyway, one of the common issues with liquid liner is the pesky gap that appears between the liner and your lash line. Try a super thin liner to allow you to get nice and close to your lashes.
Wearing Bronzer All Over
Before we proceed any further — as with all beauty advice, these are to be taken with a pinch of salt. If you like a face full of foundation and a full application of bronzer, then don't let us tell you otherwise. However, in general, it's best to avoid piling on the bronzer.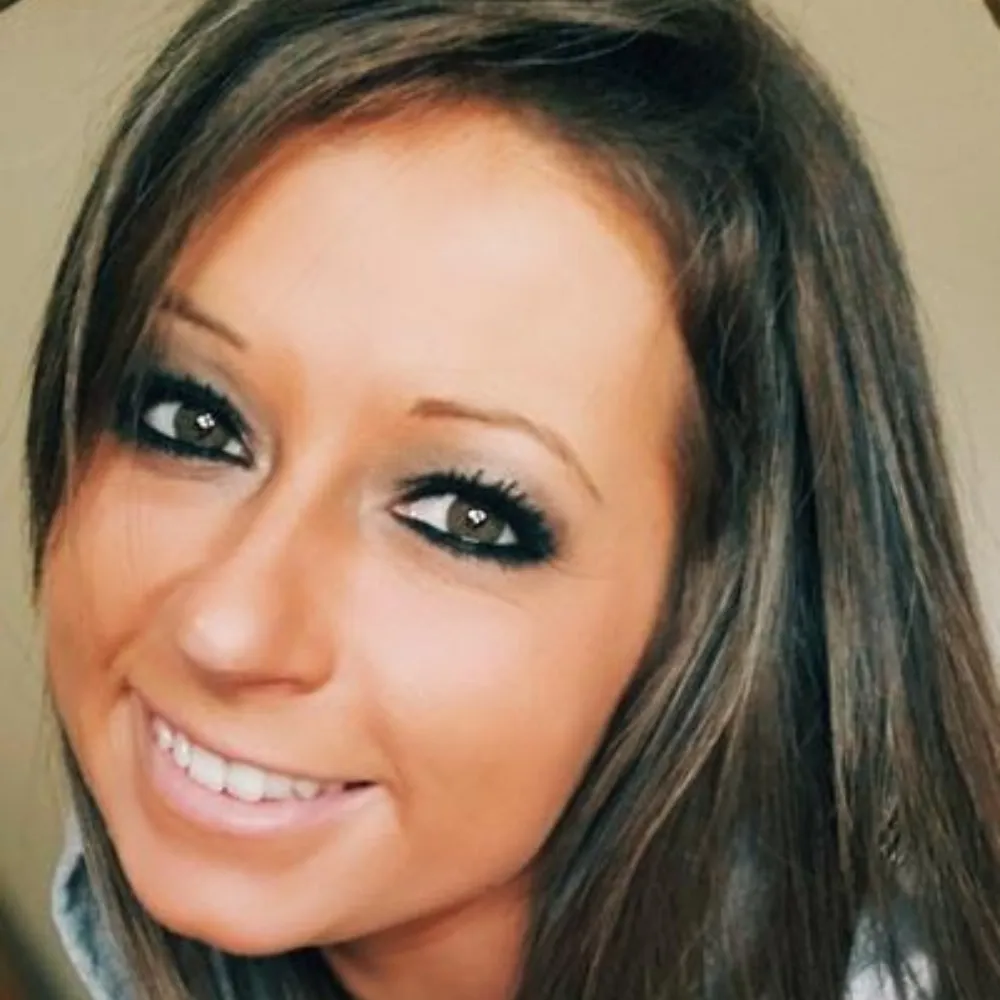 Aim to bronze the parts of your face that would be naturally tanned by the sun — your cheekbones, jawline, and forehead. Experiment with different options and see which you prefer.
Overfilling Your Brows
Brows have become big business in the last few decades. Whereas the '90s and '00s reveled in the skinny brow, fashion since then has fully leant into the bushy brow. Everyone seems to be going bigger and darker, with models like Cara Delevingne leading the way.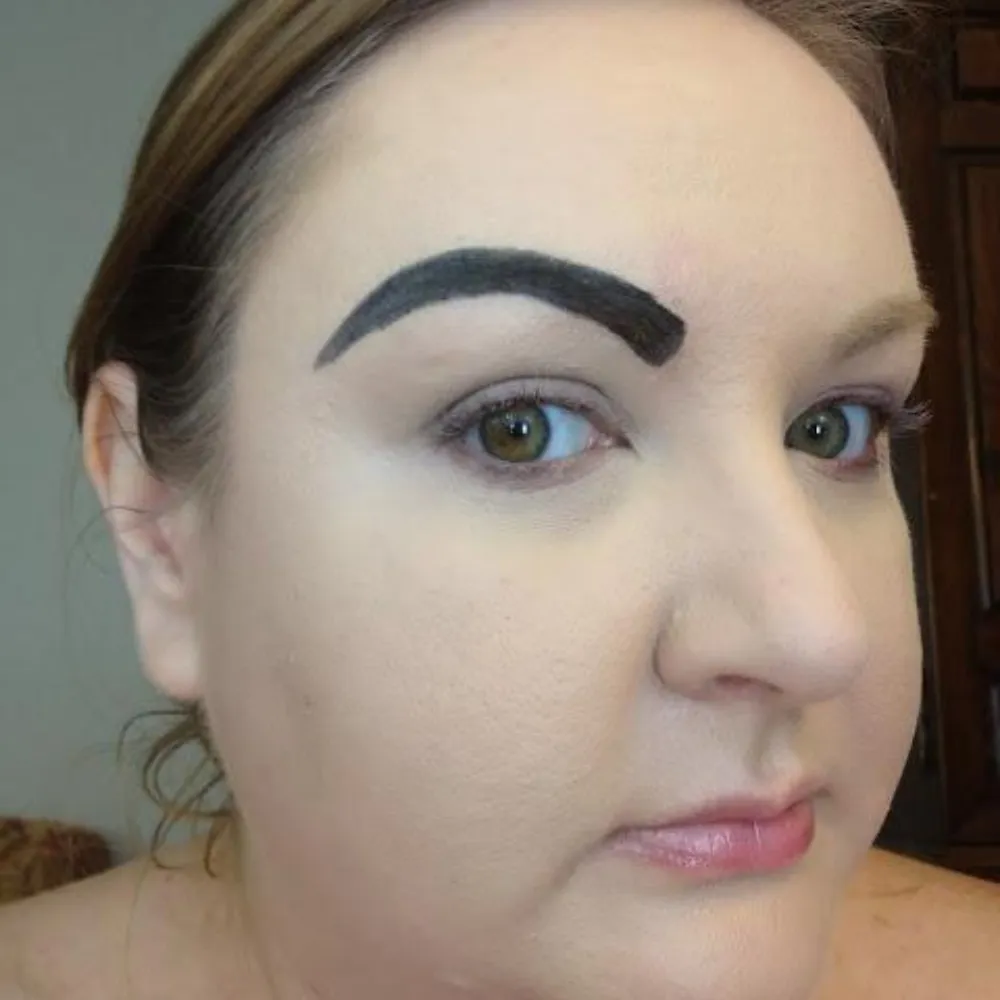 Whilst it's tempting to keep drawing on and filling in your brows, it's best to actually get them done professionally. A wax and tint is cheap, and means you won't have to bother with them for weeks!
Using the Wrong Lighting
When it comes to makeup, it's not just the products that matter. The light that you use to apply your makeup is extremely important in terms of how your face will eventually turn out. Ideally, you want to use natural lighting, or an illuminated mirror that replicates strong, white light.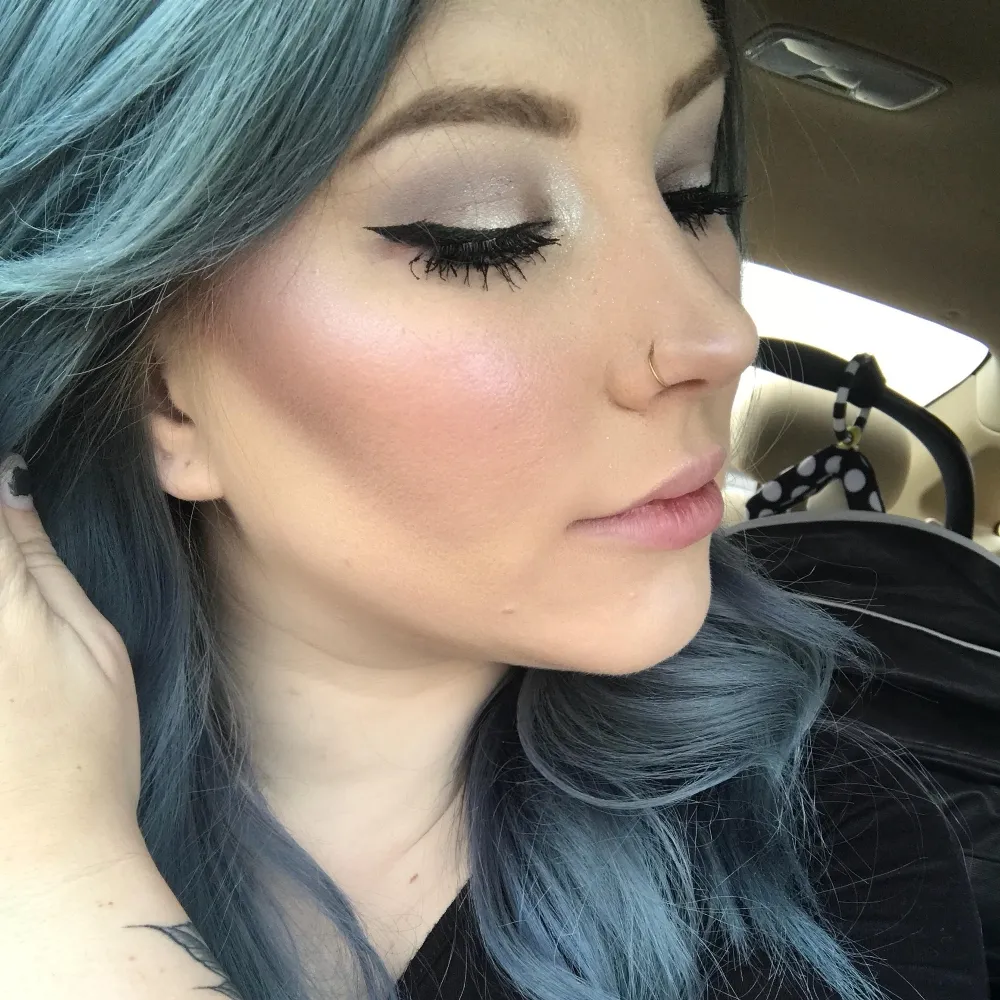 Applying makeup in the dark, or in a yellow light, will distort how your skin actually looks. You'll end up walking outside, glancing in a reflection, and realizing that you're wearing ten times more makeup than you intended.
Too Much Concealer Under Eyes
It's very tempting to excessively apply concealer. Come on — it's called concealer, surely that's the point? However, some formulas will cake and settle on your face, leaving you with even worse looking under eyes.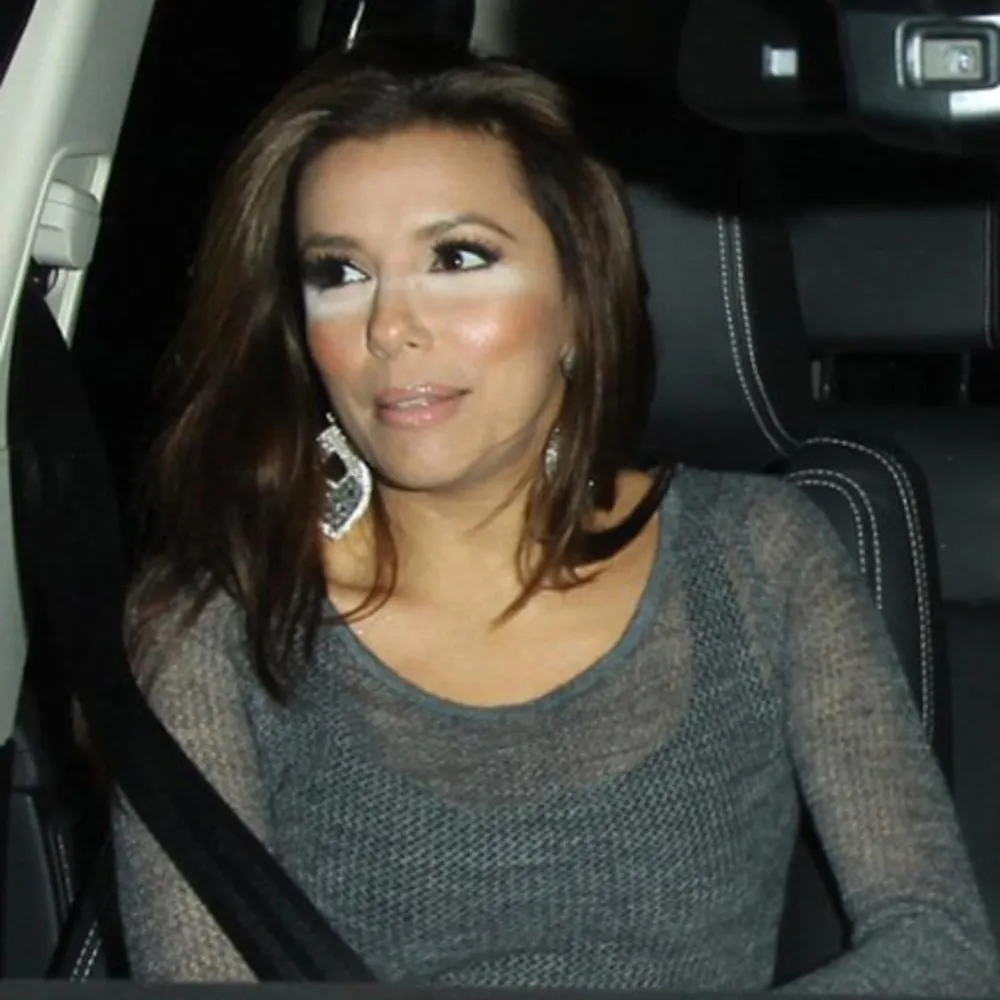 It takes some time to get used to different concealers and where they'll work best on your face. For the undereye area, use something fine, creamy, and blend-able. Remember to also apply to the inner eye as it usually has blueish tones that make circles look darker.
Sticking to Only One Eyeshadow
Admittedly, some monochromatic eyeshadow looks can be very cool. However, for general use, avoid using just one eyeshadow on the entire eye. It tends to remove any dimension from the eyelid, and gives the face a flat or dull appearance.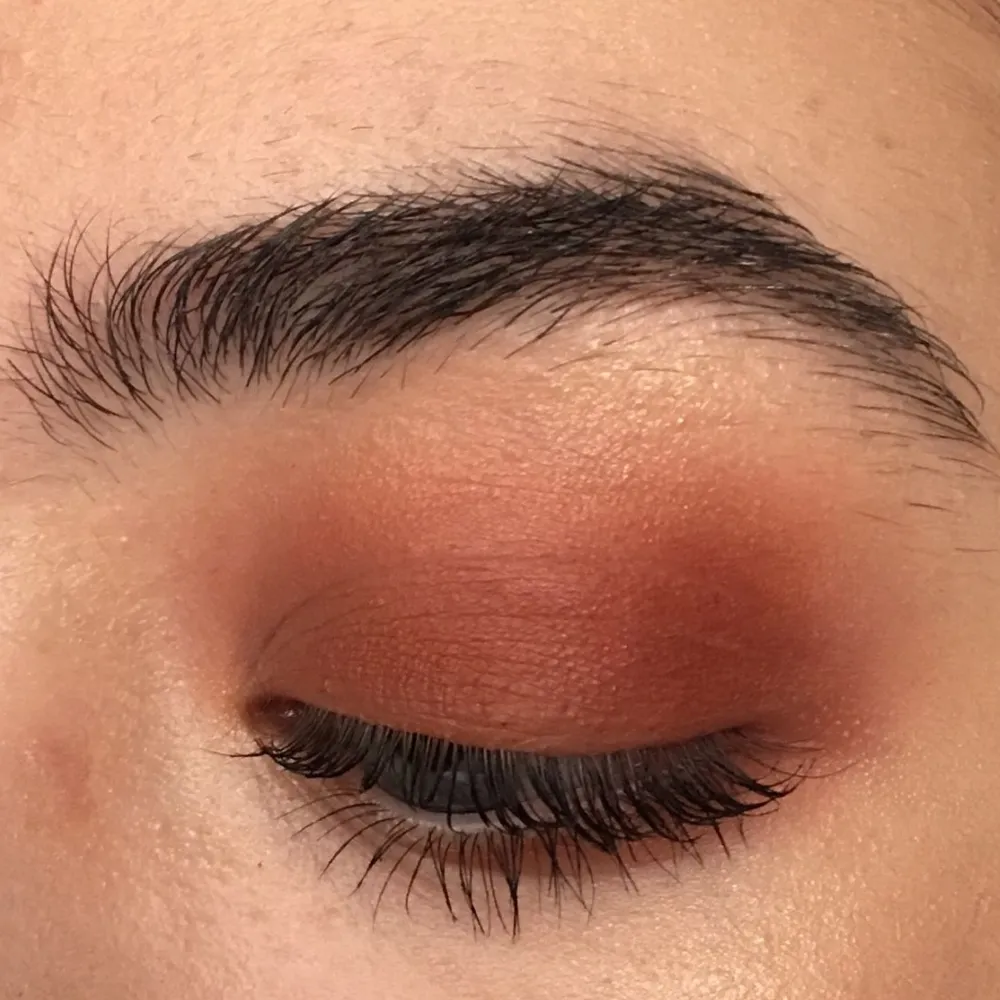 Instead, use a lighter shade under the brow, experiment with a darker shade at the outer corner, and add a pop of metallic to the inner corner. In fact — a sweep of metallic shadow will add dimension immediately.
Wearing Blush Too Low
It's always a nightmare figuring out where to apply blush. Yes, there are various rules about where to put it, but people have different shaped faces! Some people can easily apply lots of rosy blush and look like a glowing English rose.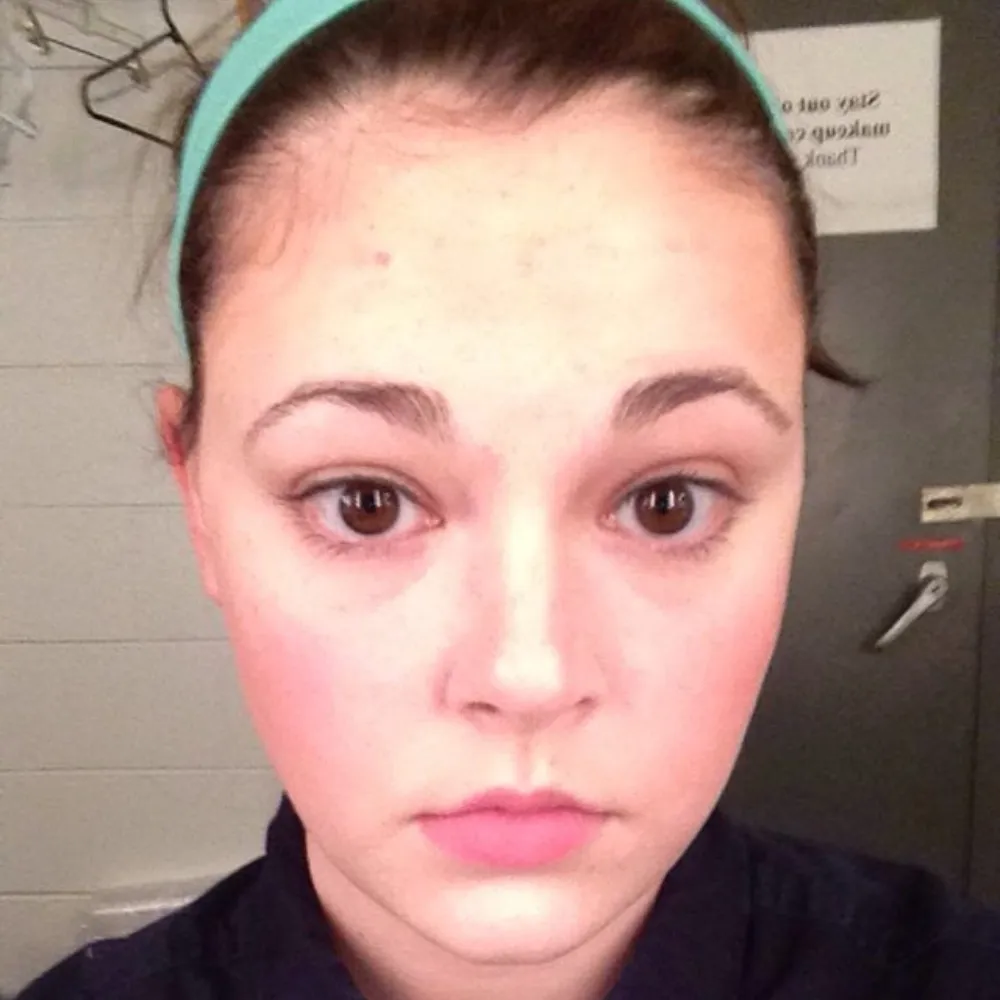 Others can use the same amount and end up looking more like Pennywise. Try to think of your blush as a finishing touch, rather than a main attraction — wearing it too low can drag the entire face down.
Badly Sharpened Pencil
As a rule of thumb, keep all of your makeup pencils well sharpened. You may have learnt to still get a reasonable brow out of your ancient stubby brow pencil, but it's easier all around to just use a sharp one. The same applies for lip liner, eyeliner, and whatever other liners you have lying around.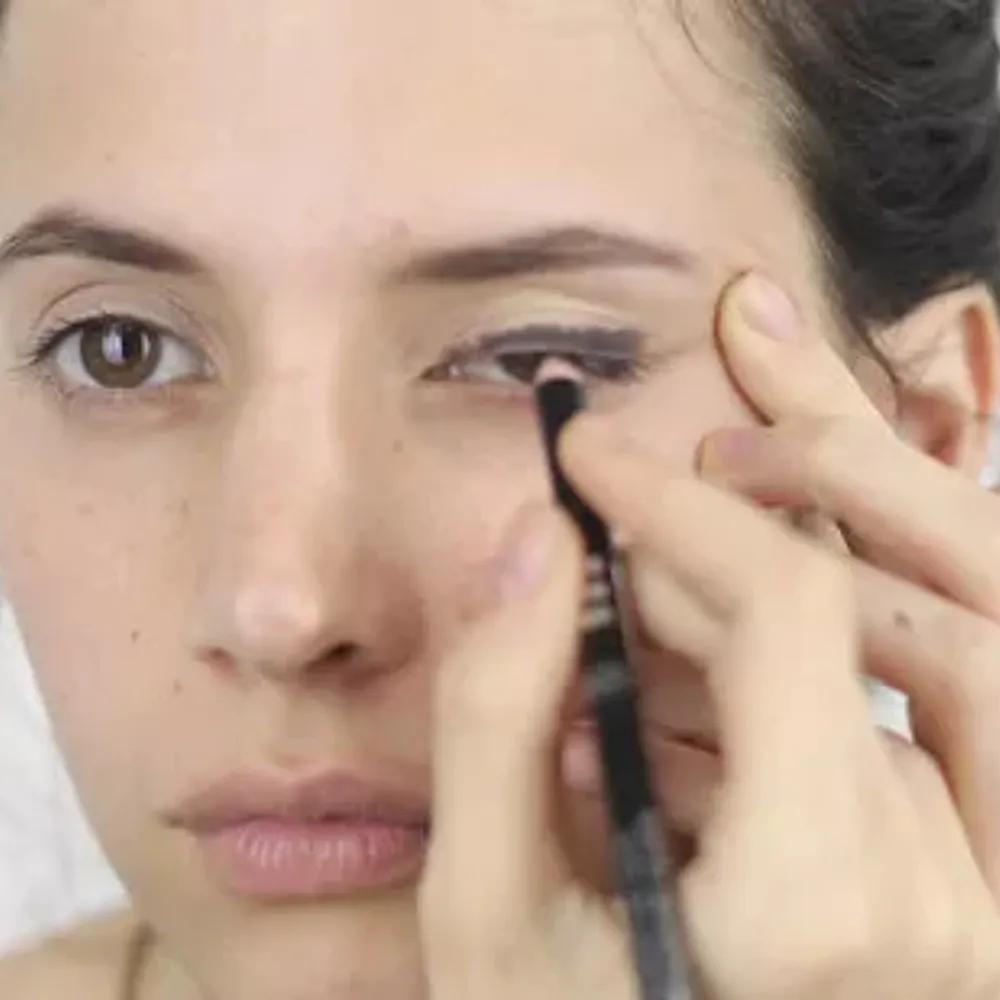 We recommend keeping a small, yet cute, sharpener in your makeup bag. It's best to choose one that stores all those pencil shavings!
Putting Makeup on Dry Skin
A common makeup mistake is to start application without taking care of your skin. We can't overestimate just how important skincare is to good makeup application. In fact, in many Asian countries, skincare is seen as more important than makeup, because beautiful skin will always show through. This is why Korea has a 12-step skincare routine!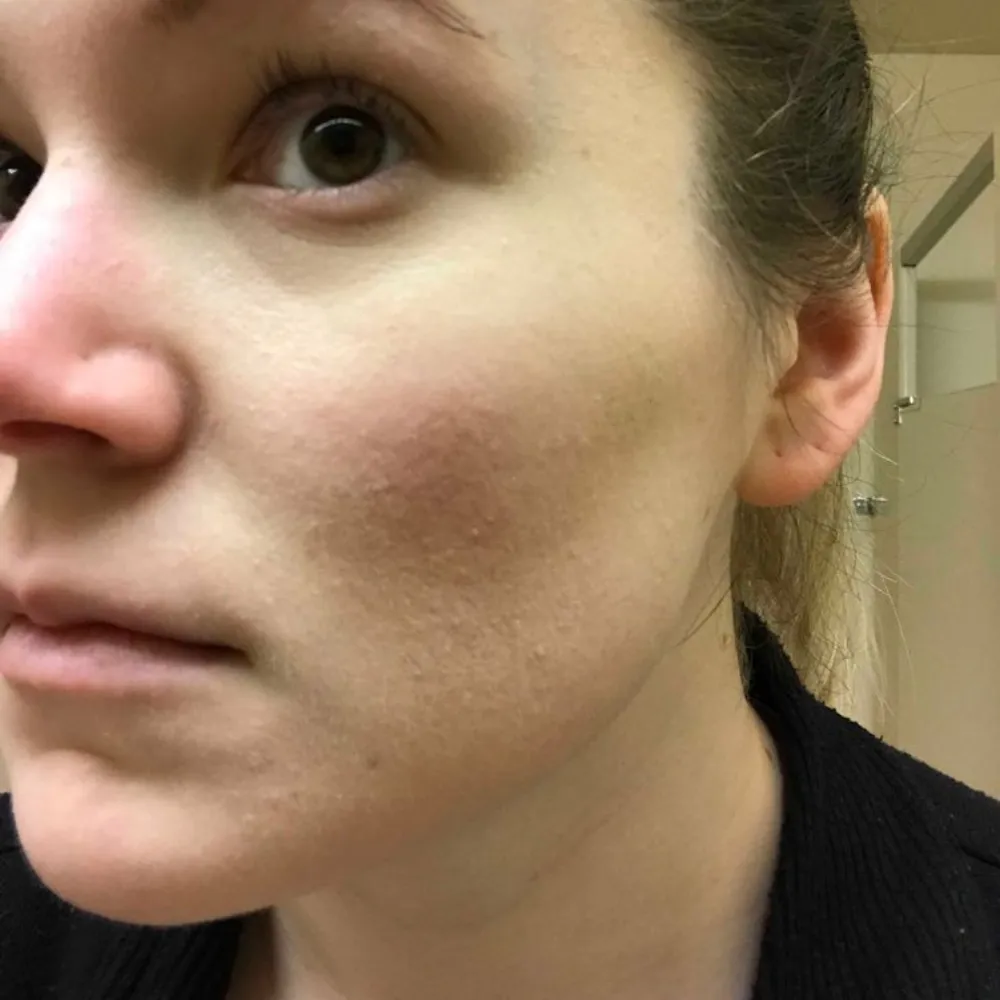 For beginners, we recommend a simple cleanse, tone, moisturize routine. Micellar water is an incredibly easy product to use, and your skin will thank you!
Testing Foundation on Wrong Spots
In the age of YouTube beauty bloggers, and social media businesses like Kylie Cosmetics, swatching is a big thing. For the uninitiated, swatching is applying a smear of product to your hand or arm to see how it looks on the skin.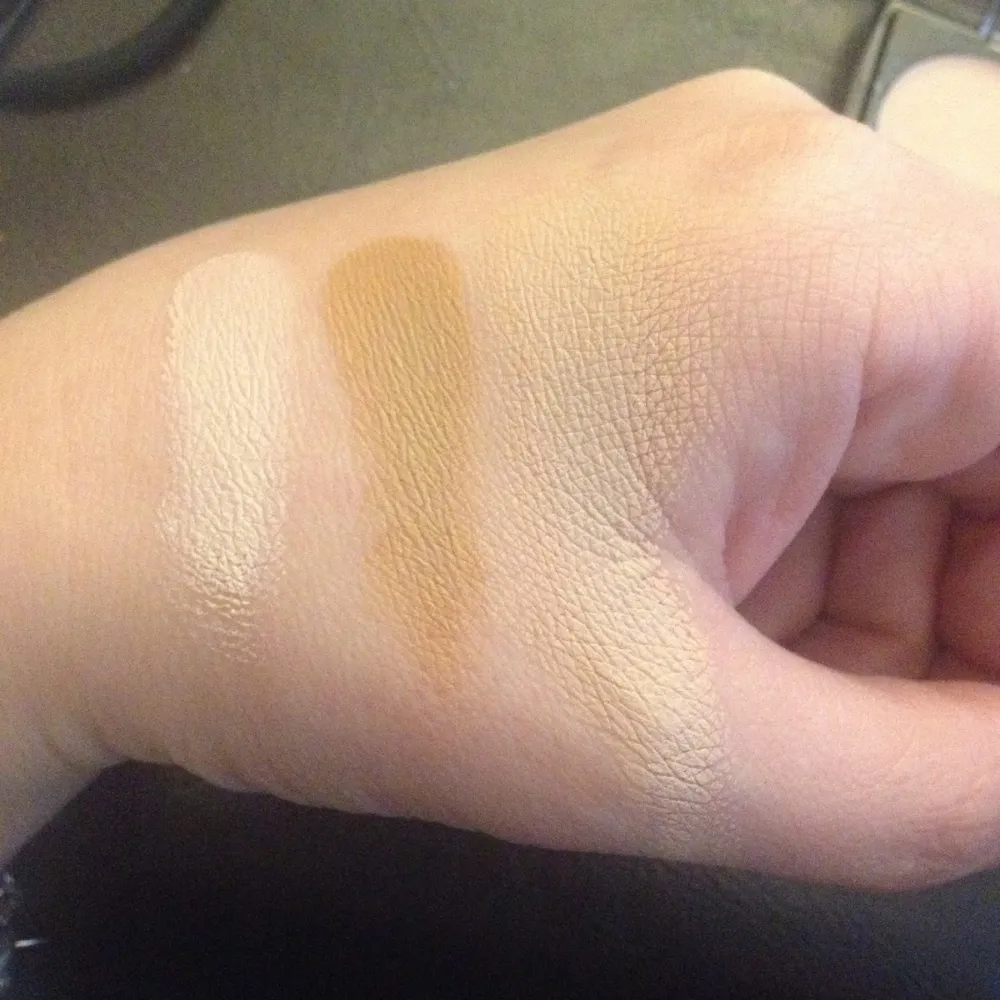 While this is quite satisfying to watch on Instagram videos, it's not the best way to test makeup shades. Hands tend to be a different tone than your face, so instead, try foundation on your jawline.
Eyeliner That Doesn't Last
It's extremely annoying to apply your liquid liner and then realize hours later that it has faded off. Some formulas of liquid liner can actually harden and peel off, and others will flake off. Obviously, the solution to this problem is to find a good brand of liner that works for you, but there are other options.

You can bring your liner with you and fill in the faded bits whenever possible, or you can choose a waterproof brand that won't budge.
Poorly Blended Makeup
With the rise of beauty bloggers, we've all learned how important it is to blend, blend, blend. Gone are the days where we can hastily apply some eyeshadow and hope for the best. Now, we must apply seven different shades in a particular order, and blend our limbs off, hoping to transform into Michelle Phan.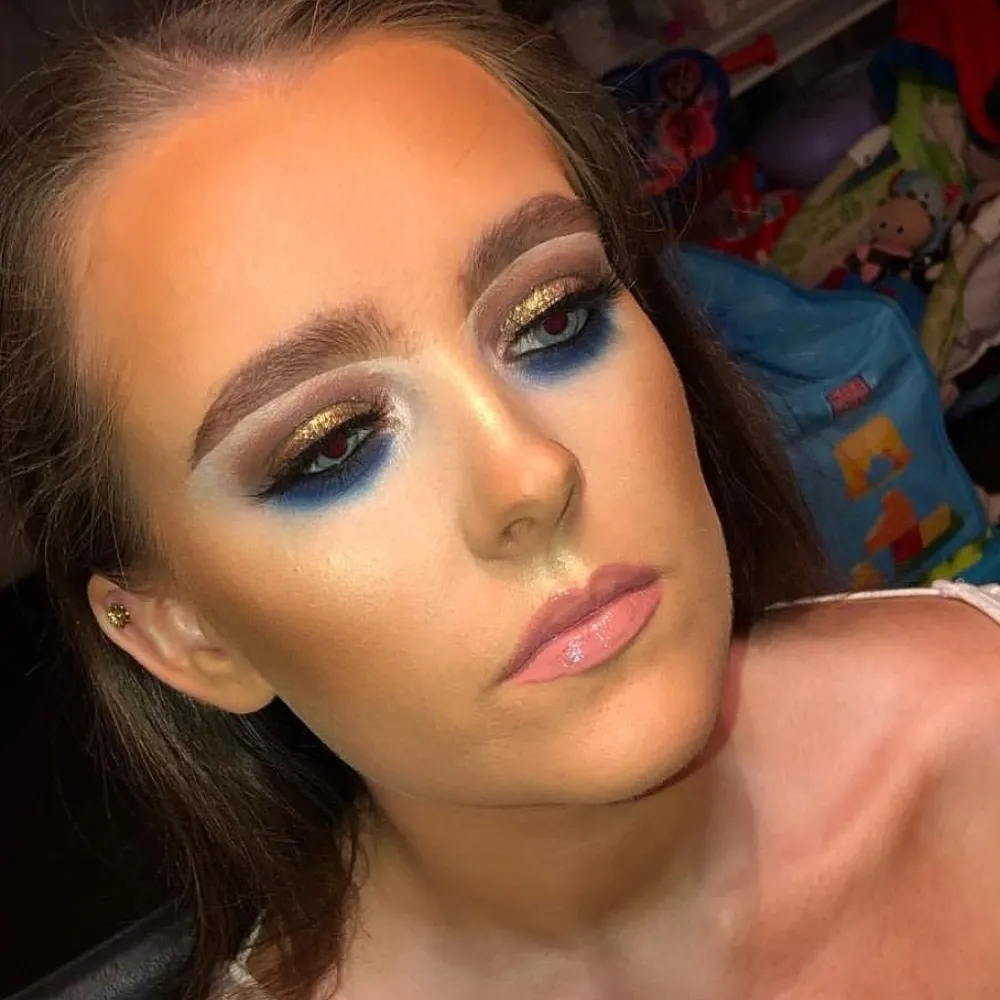 It's worth learning how to blend, though, as it will make a huge difference to your entire makeup game. Sponges seem to be the preferred tool.
Matte Lipstick on Dry Lips
Kylie Cosmetics brought back the matte liquid lip with its endless libraries of lip colors and Instagram photos. However, in order to pull off this look, you need to have nicely moisturized lips. Otherwise, the matte lipstick will stick to every chapped crevice, leaving you with flaky, unappealing smackers.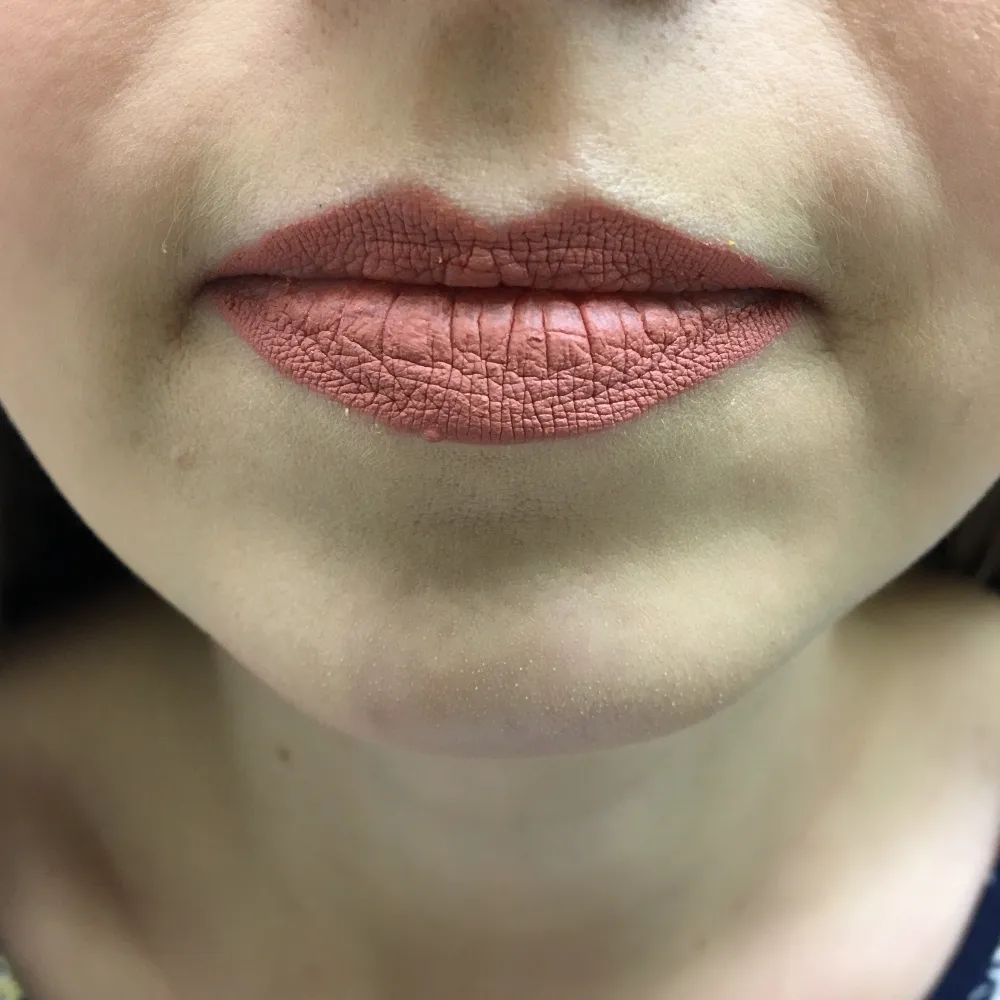 Moisturize your lips with lip balm, and experiment with exfoliators. Here's a top tip for a homemade recipe — smear some sugar and coconut oil on your lips, rub, and ta-dah!
Using Unwashed Makeup Brushes
It goes without saying that makeup brushes pick up a lot of bacteria, dust, and hair. Even if you keep them organized and upright, you still smear your brushes over your face and dip them in various products. It's certainly possible that your makeup brushes are giving you breakouts.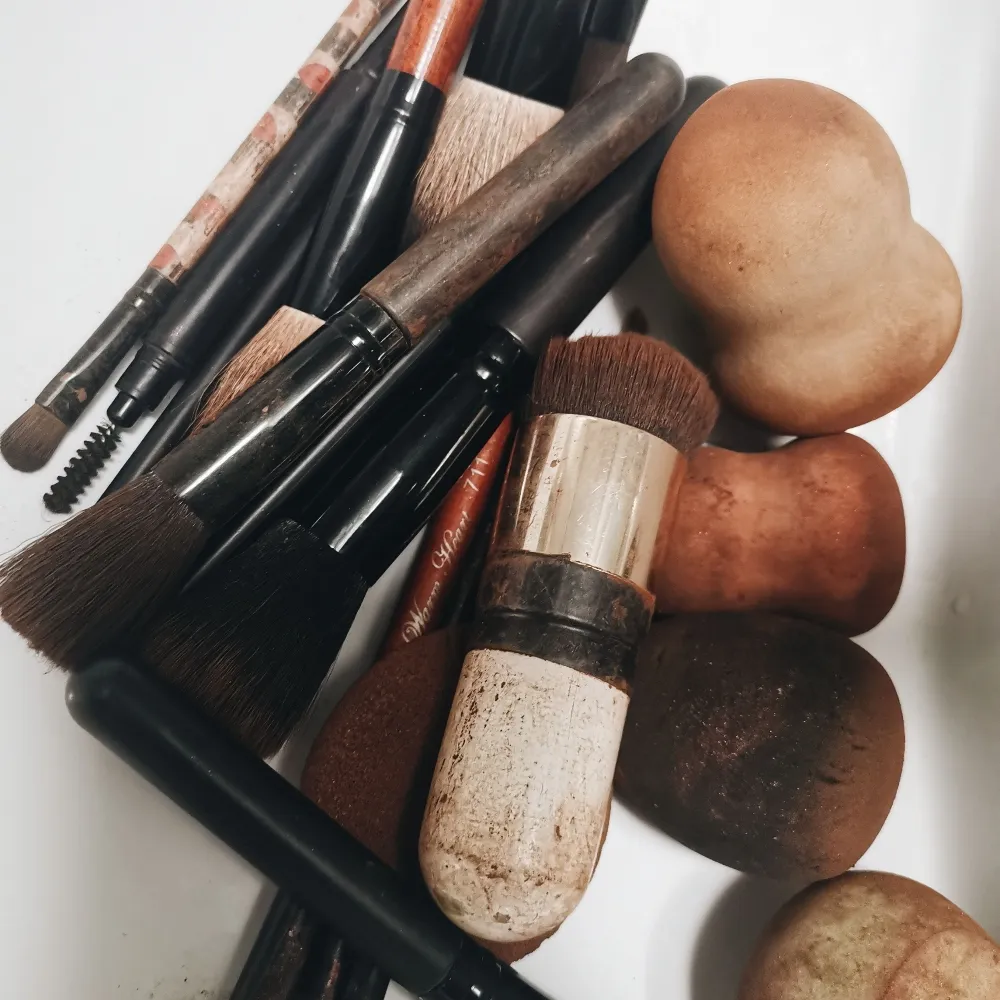 You can wash your brushes with a mild baby shampoo, or buy one designed for makeup. Avoid soaking the glue that holds the bristles in place — we need them to stay there!
Messy Wing Tips
We're back to liquid liner, and the many curses it rains upon us as we search for perfect cat-eye beauty. In order to be at its best, winged liquid liner should be completely symmetrical. This causes a lot of anxiety while applying the liner, and usually escalates as you desperately add another tiny line to each eye, hoping that they'll balance out.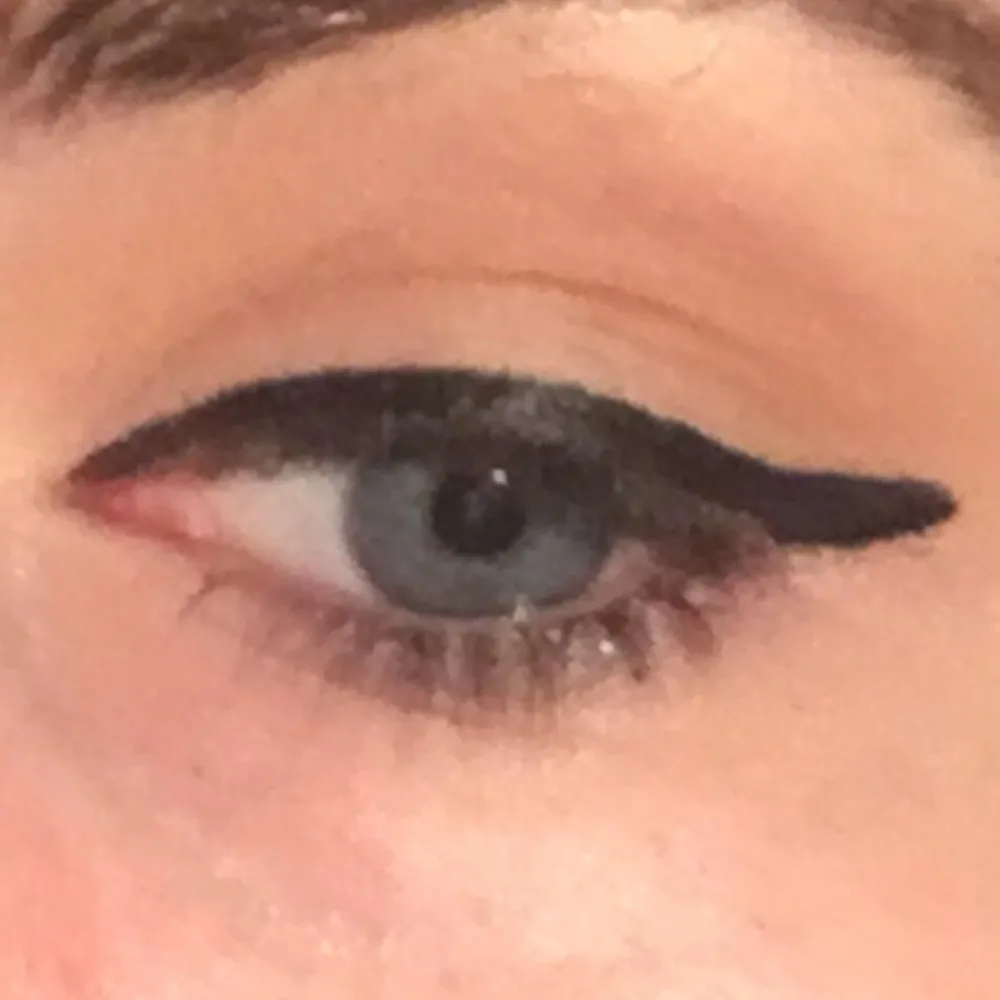 What can we say? You just have to practice until you can do sharp, clean, matching wingtips.
Using Too Many Contouring Products
Contouring originates from the world of drag, but it was popularized by the Kardashian-Jenner family. We all used to be perfectly happy just applying makeup to our faces in a regular way, but now we're obsessed with drawing on our own faces with various different colors and textures.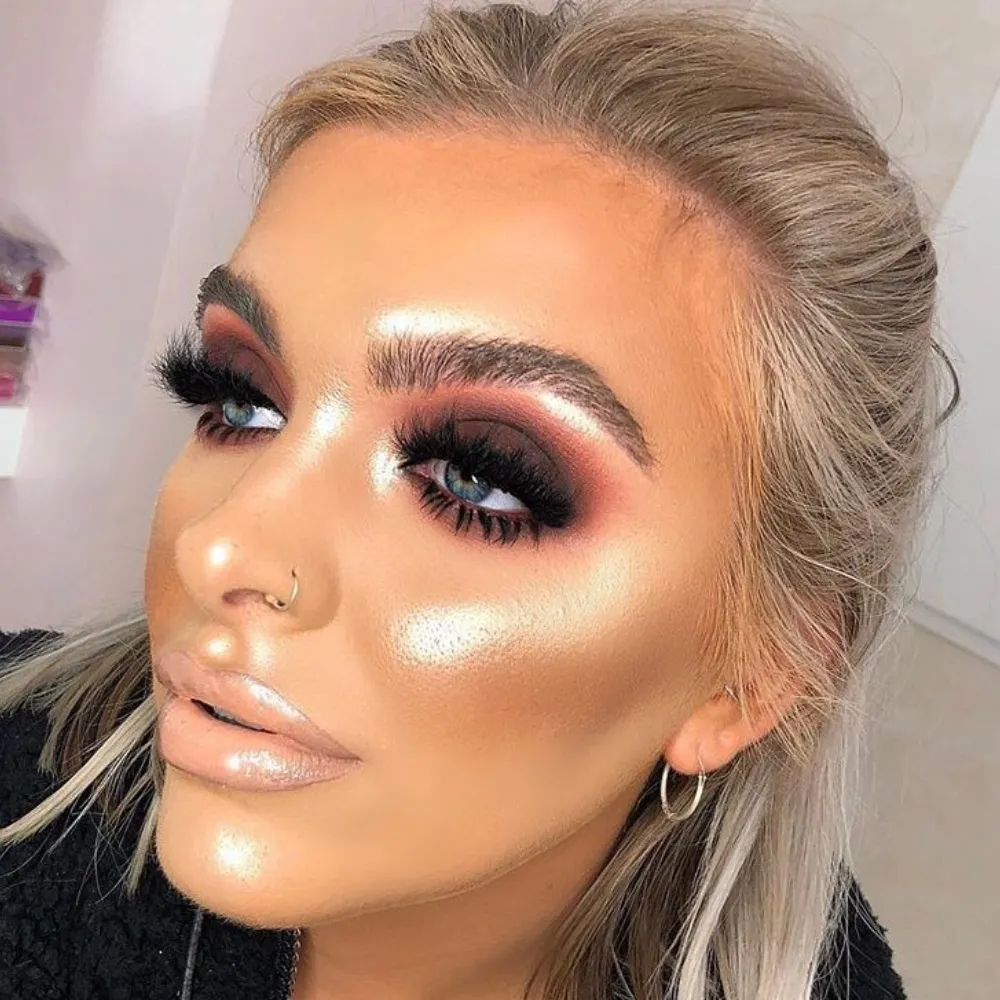 If you want to contour, then keep it simple. Grab a matt bronzer, and a light powder, and use those to create the illusion of light hitting your face.
Overstretching Your Eyelids
Many people are in the habit of stretching back and holding their eyelids while they apply makeup. The logic is that you can get a clearer idea of where your eye makeup should go, but actually, the opposite happens.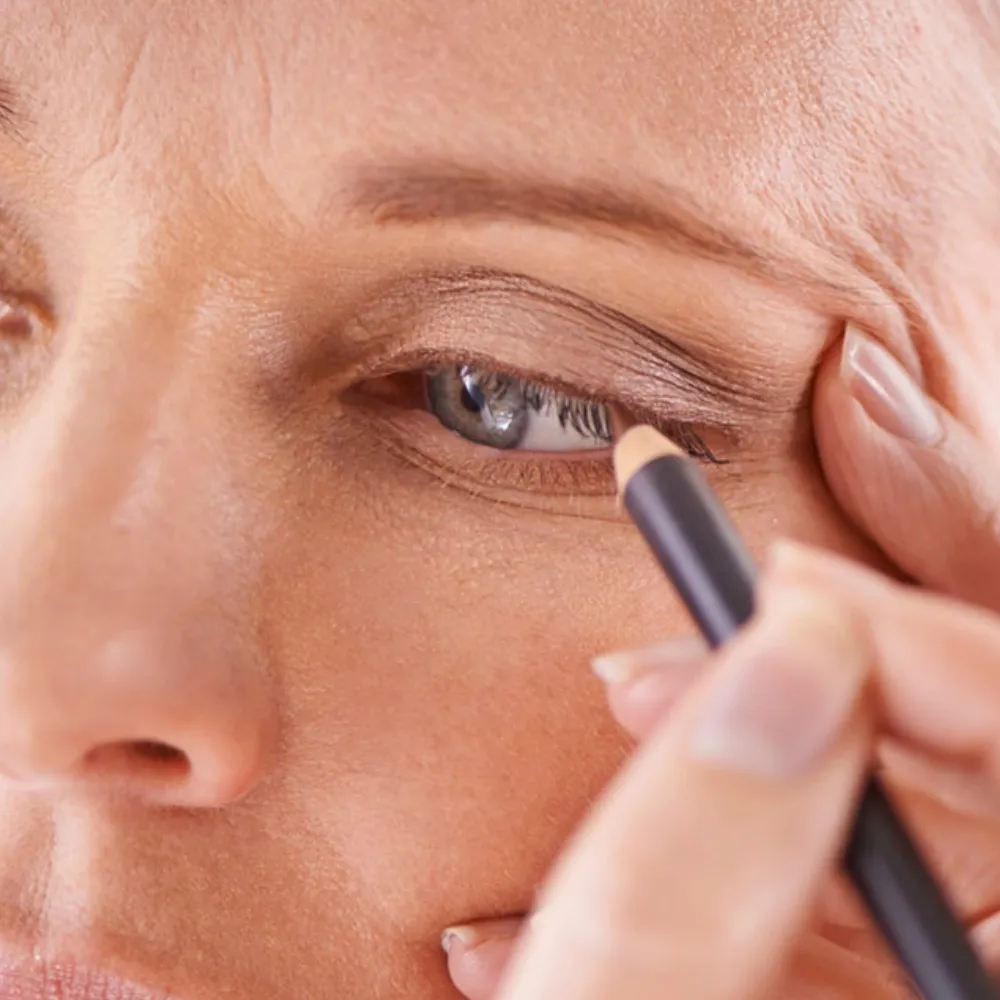 Whilst you might be able to see better with your eyelid stretched, your eye will return to a different position when you let go. This means that your wings will end up looking uneven and your eyeshadow could be at different heights. Avoid!
An Unrealistic Eyelash Curl
If you're a fan of lush, curly lashes (and who isn't?), then don't forget about the trusty eyelash curler. It can seem like a bit of an old fashioned piece of makeup equipment, but it definitely does the trick. Remember — don't use eyelash curlers on lashes with mascara.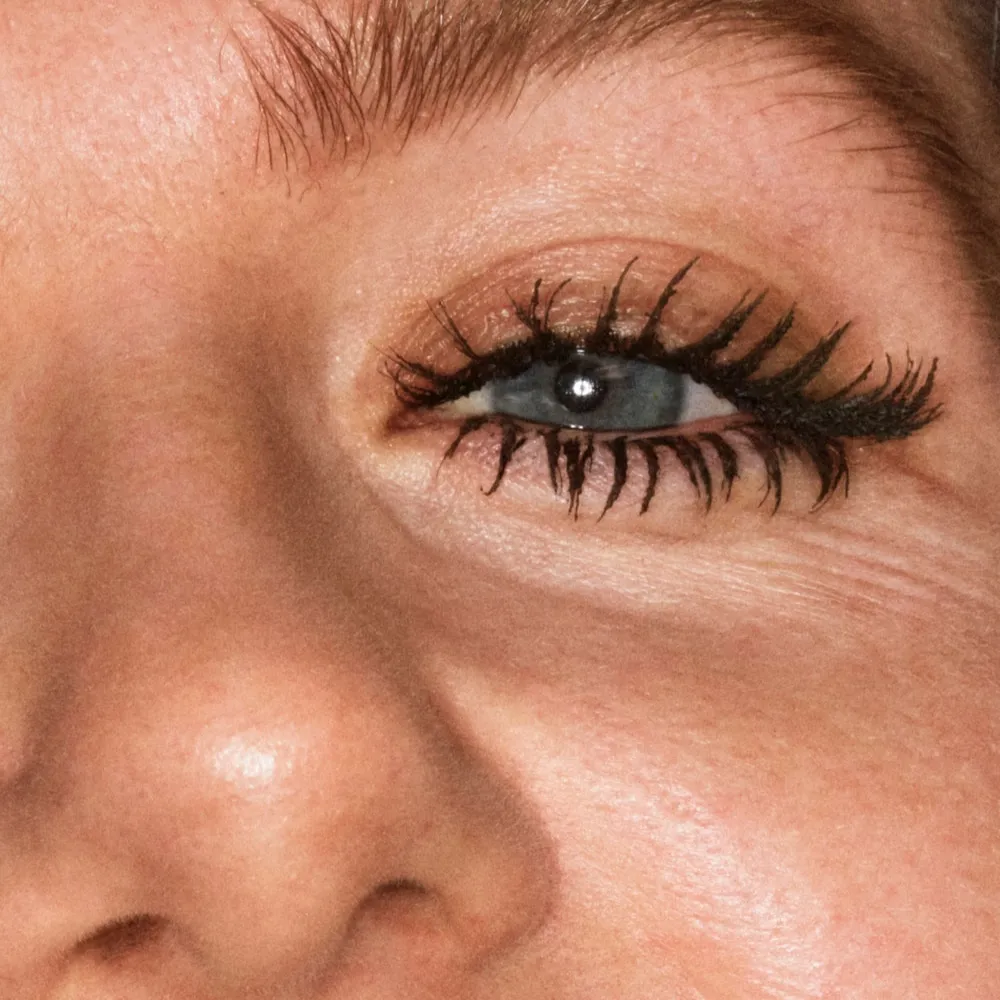 The mascara will dry on your lashes, and they'll snap off when in contact with a curler. Also, press gently so your lashes don't bend into an unrealistic curl. Spend about 10 seconds on each eye.
Colored Eyeliner on Lower Lid
In general, wearing eyeliner on your lower lid makes your eyes look smaller, and more intense. Anyone who lived through the goth/emo/scene kid era has tried to line their eyes in black kohl before quickly learning that it doesn't look great unless you have gigantic eyes.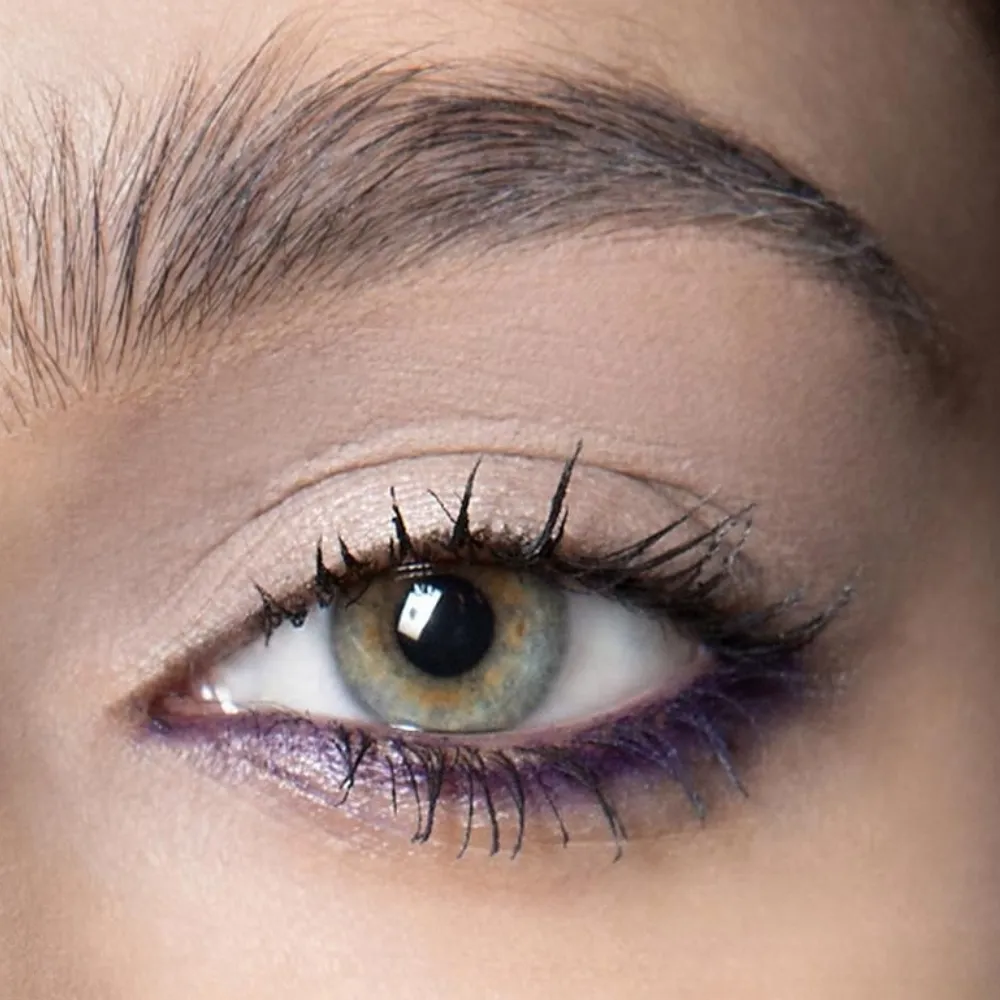 The same is true for colored eyeliner, which can throw off the whole shape of your eye if only applied to the lower waterline. Stick to using it on the top.
Forgetting About Primers
We all have different ideas about what items are central to a good makeup kit. Most people will have a foundation, concealer, mascara, and lip color, but not everyone will have a primer, highlighter, or color corrector. Primers are incredible because they prime your skin for the makeup to come.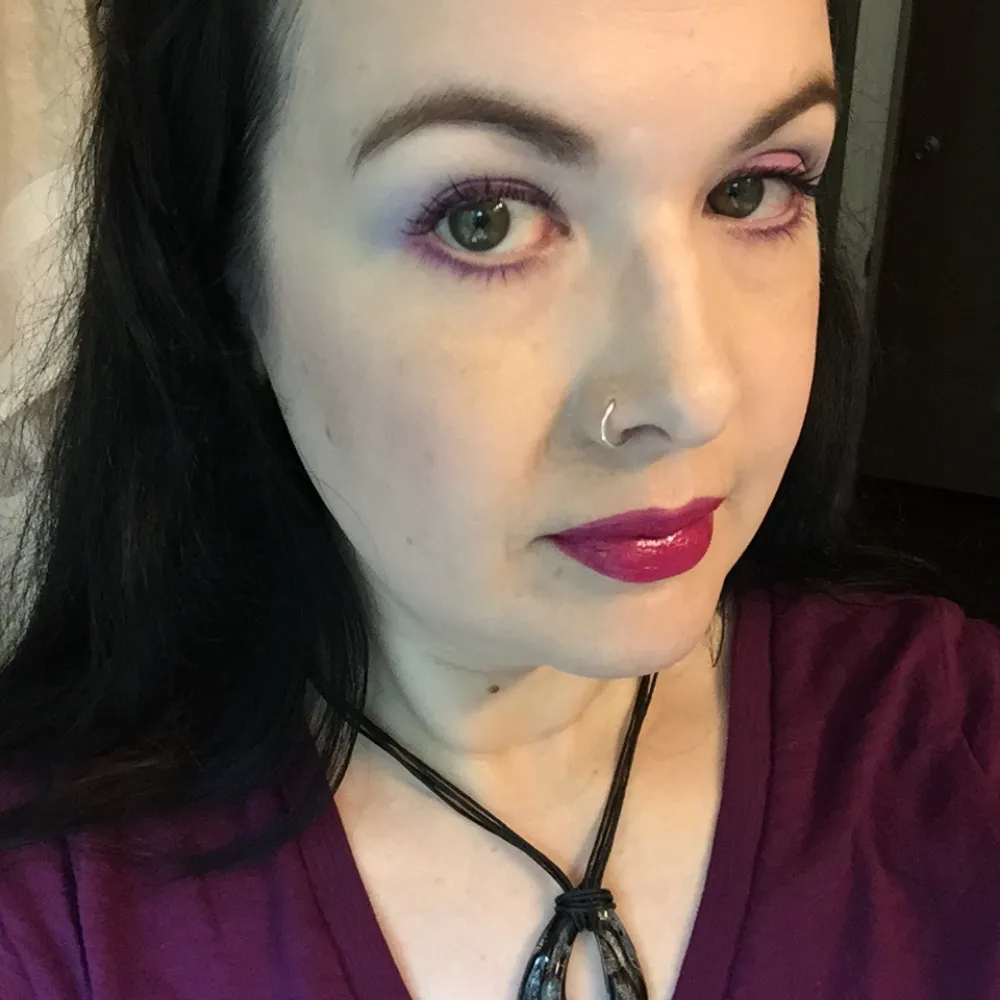 This means that the makeup sits on the primer, and doesn't fade into your skin or smear over your face. Plus, primers can be mixed, so experiment to find a combination you like!
Putting Makeup on Naked Lips
We've already mentioned that it's best to exfoliate and moisturize lips if you plan to wear lipstick. However, when it's time to apply that lipstick, you can't just put it straight onto your lips. Absolutely not!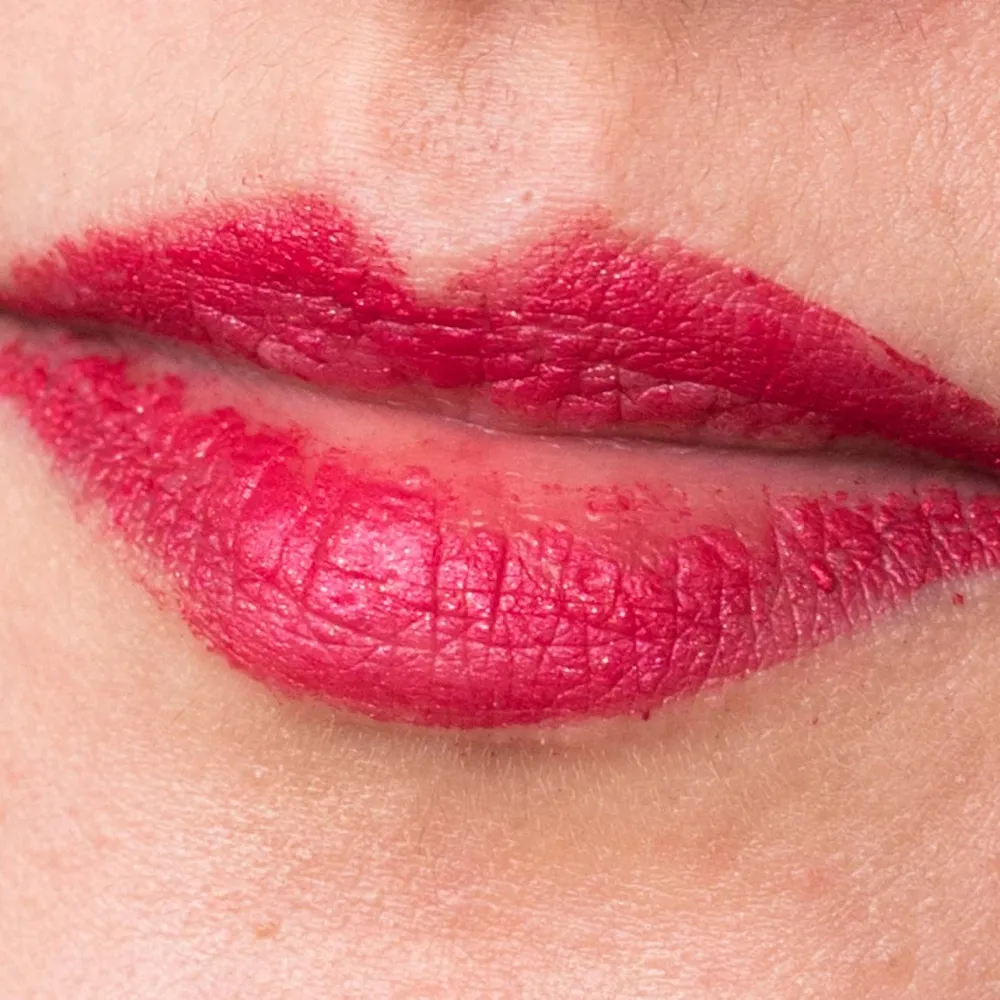 Instead, always apply primer, foundation, or concealer to your lips before adding lip products. They provide a nice blank base for your lipstick, and give it something to cling to. Seriously — your lipsticks will pop in a completely different way if you wear them on top of a base.
Painted Inner Lower Lid
We've already mentioned the perils of colored liner on the lower lid, and now we're here to advise against putting liquid liner down there. Yes, some people like to apply a little bit of liquid eyeliner to their lower waterline, but it always ends up bleeding. And who wants cloudy black liner in their eyes?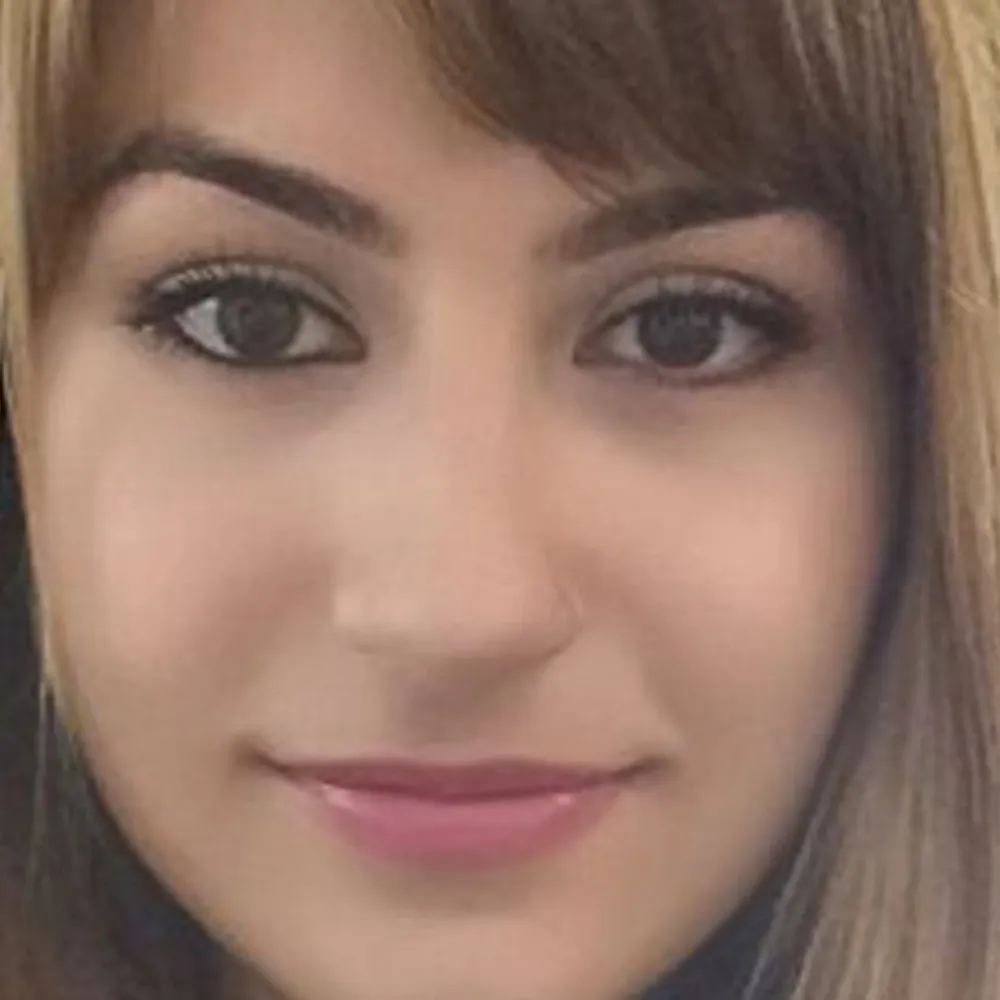 If you're insistent on lining your lower lashline, then stick with a pencil. Although avoid kohl pencil — it's far too smudgy!
Not Priming Your Eyelids
In the same way that you should never apply product to a naked lip, you shouldn't apply anything to a naked eye. The eye area is extremely delicate, and it's best to treat the skin before applying any makeup.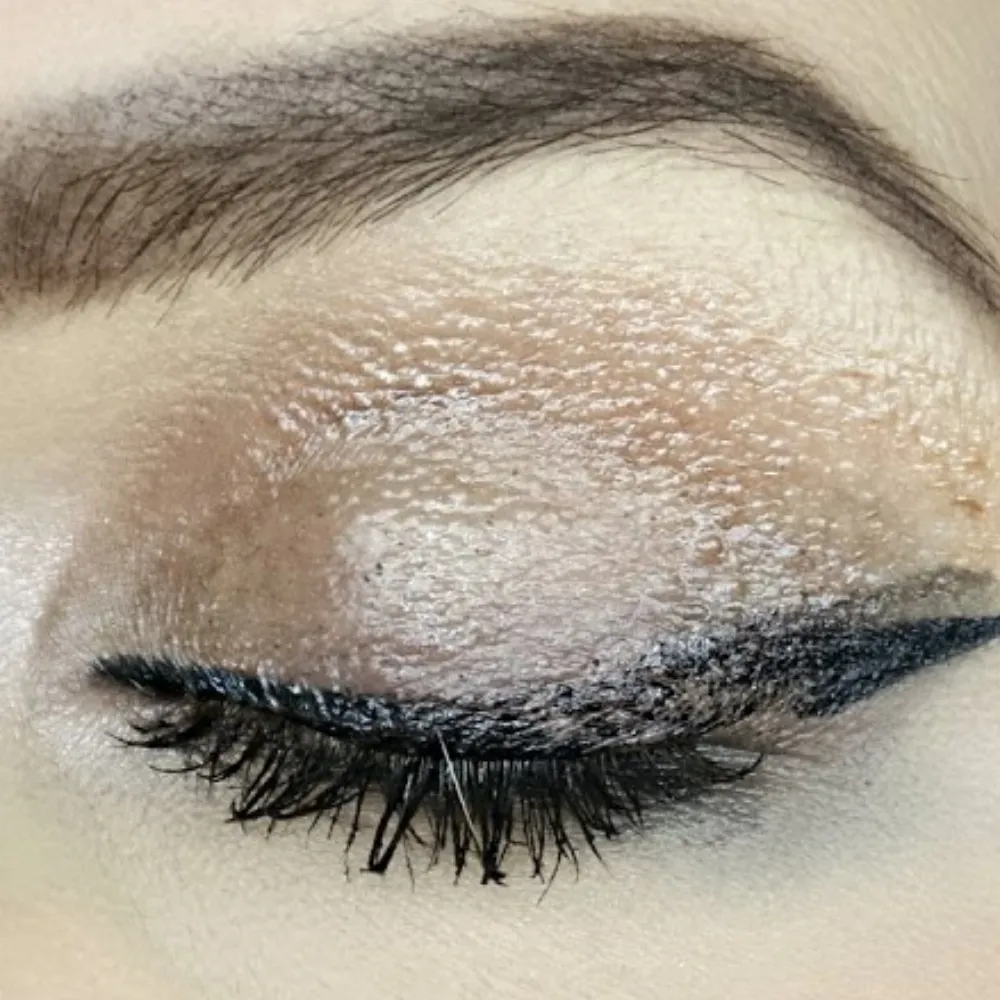 You can use your regular facial primer on your eyelids, but many brands also make a special formula just for lids. You can also use a color corrector or a thin layer of foundation so your eyeshadow has a neutral base to stick to.
Using the Same Foundation
It's easy to get nostalgic about makeup. Lots of us remember the first lipstick we ever bought, or the color of eyeliner we were wearing on a special day. However, it's good practice to experiment with different formulas and brands.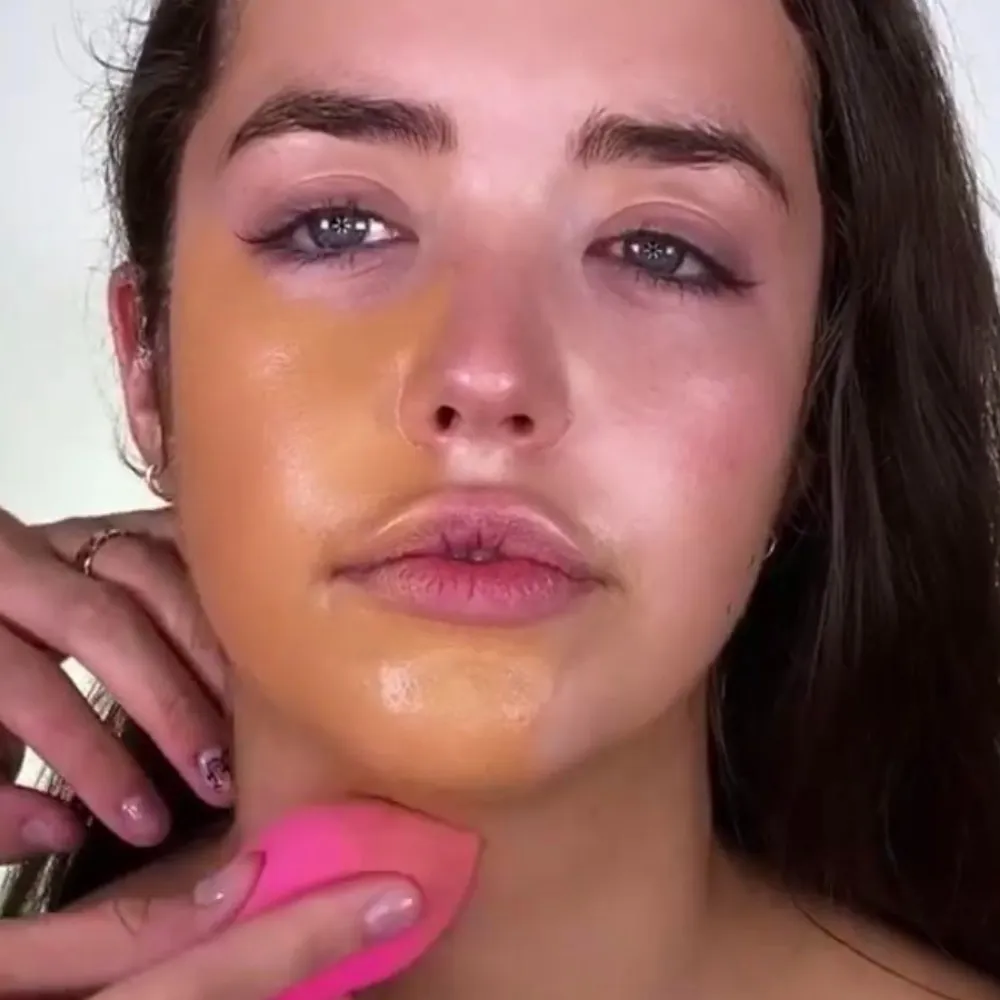 Of course, many people will learn what mascara they like and will stick with it for decades, but it's not the same situation for foundations. Think about it — your skin changes as you age, so you'll need to change up your formula.
Concealing Instead of Correcting
It's all too tempting to just slap concealer over any facial blemish. Dark under eyes? Pass the concealer. A gigantic red spot! Just cover it with concealer. Veins on your eyelid? Concealer, quickly! But, that often just leaves you with a patchy face and a cakey texture.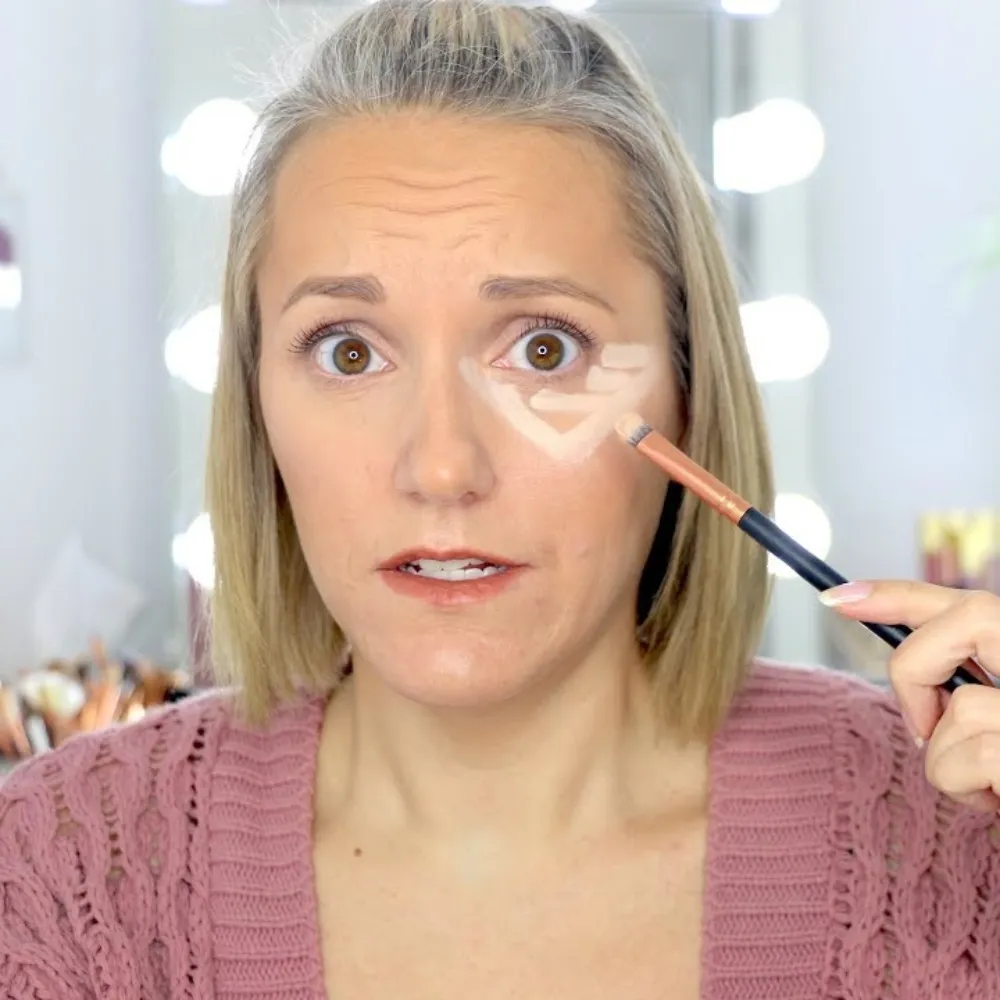 Instead, invest in a color correcting palette. Different shades of lilac, green, and yellow correcting cream come together to balance the blue and orange tones in the skin. Or, try a color-correcting primer.
Only Using One Concealer
Concealer can be an amazing makeup item. Sure — it used to be pretty boring, but there are so many types now! There are fine elastic textured creamy ones, thick heavy coverage waterproof ones, light and airy mousse ones, and firm bullet ones. It's a concealer connoisseur's delight.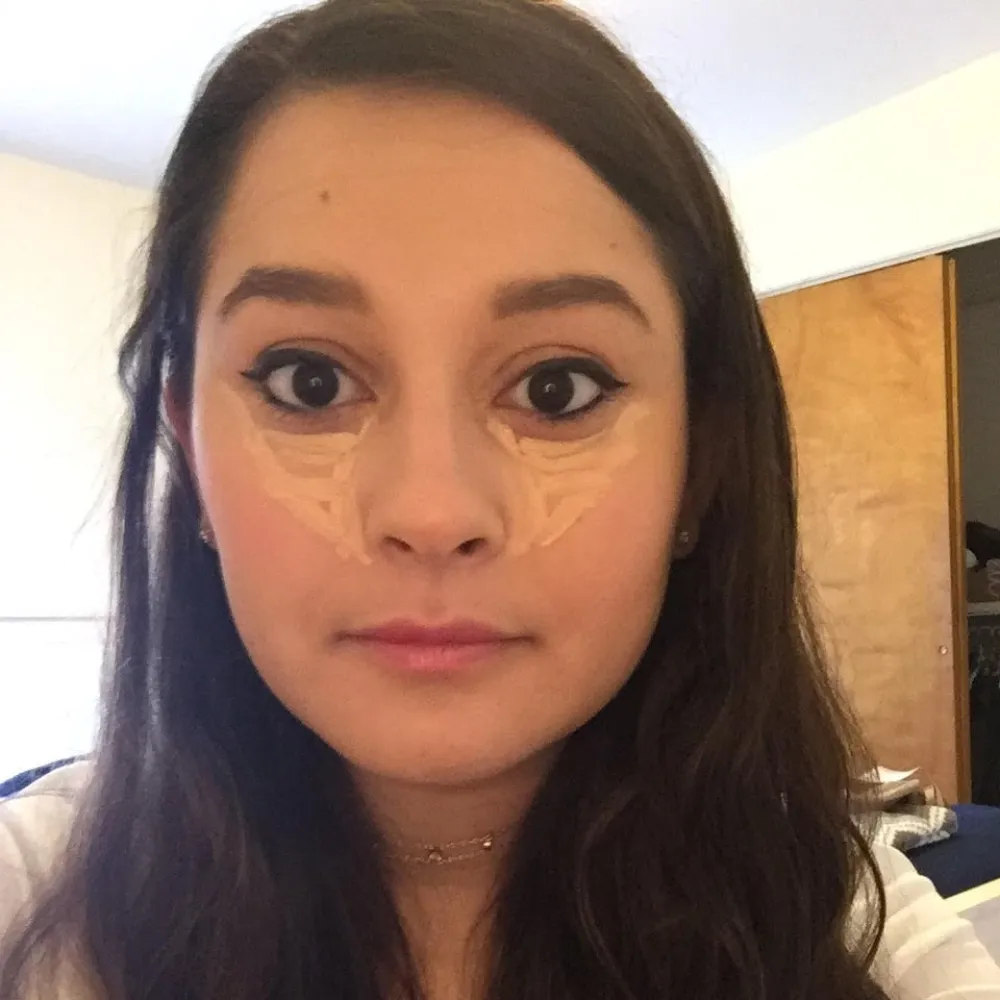 So, make sure that you avail of the plentiful concealer bounty and don't just use one concealer for all of your concealing needs. Different parts of the face need different textures, so have fun playing!
Ending Up With Spider Lashes
For those of us that aren't blessed with luscious lashes, it can be tempting to just keep applying mascara in the hope that we'll suddenly have some. However, that often leads to dreaded spider lashes — the thing our mothers warned us about.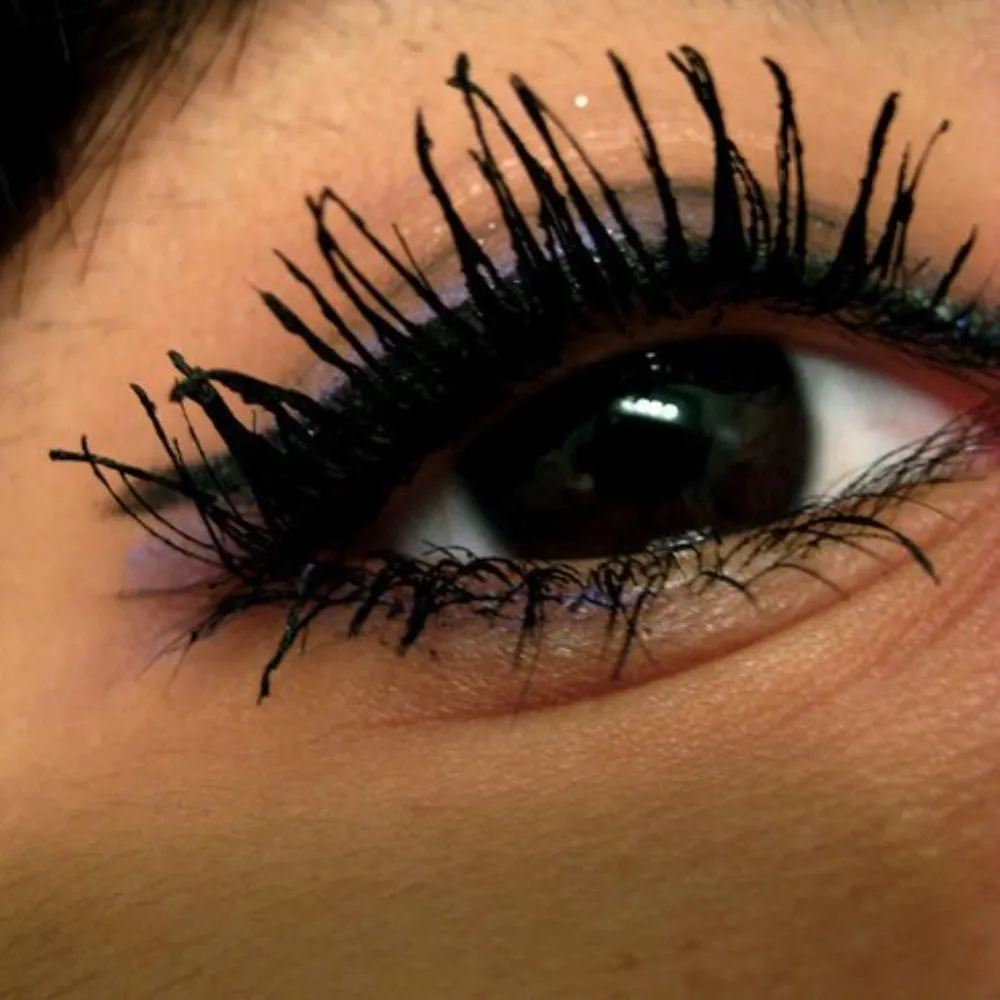 Applying too much mascara means that each lash becomes excessively coated in product. This results in clumpy eyes that look like they have spiders perched along their lids. That might be OK for Halloween, but not everyday life!
Always Resorting to Contouring
We've already advised that you stick to a small amount of products when contouring. But, have you considered not contouring at all? Let's think this through — contouring was initially used by drag artists to give an exaggerated appearance and to make features pop on stage.

It was then used by celebrities who are photographed all day and have entire teams of people to beautify them. So do we really need such exaggerated and thick makeup? There's nothing wrong with mixing it up every now and then.
Buying the Wrong Products
For some people, using makeup is a fun pastime. These people enjoy buying and using lots of products. For other people, dealing with cosmetics is a stressful situation. They don't know what to buy, and they panic and buy whatever everyone else has.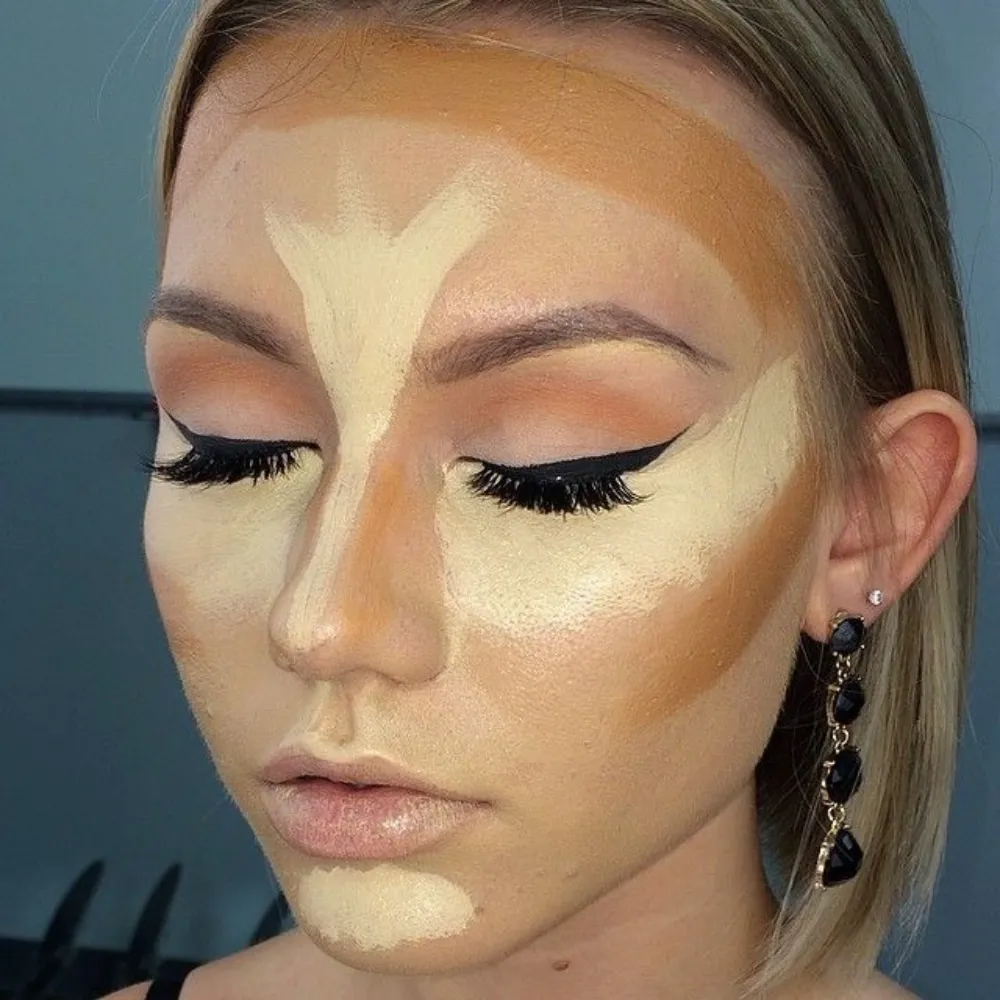 Just because something looks good on your friend, that doesn't mean it will look the same on your skin. Make use of samples and experiment to see what works with your routine, your skin's texture, and your skin tone.
Not Prepping the Undereye
There are various arguments when it comes to what order you should apply your makeup in. Traditionalists will say you should start with the base and build from there. But, others will argue that you should do the eyes first so that you can tidy up before building your perfect base.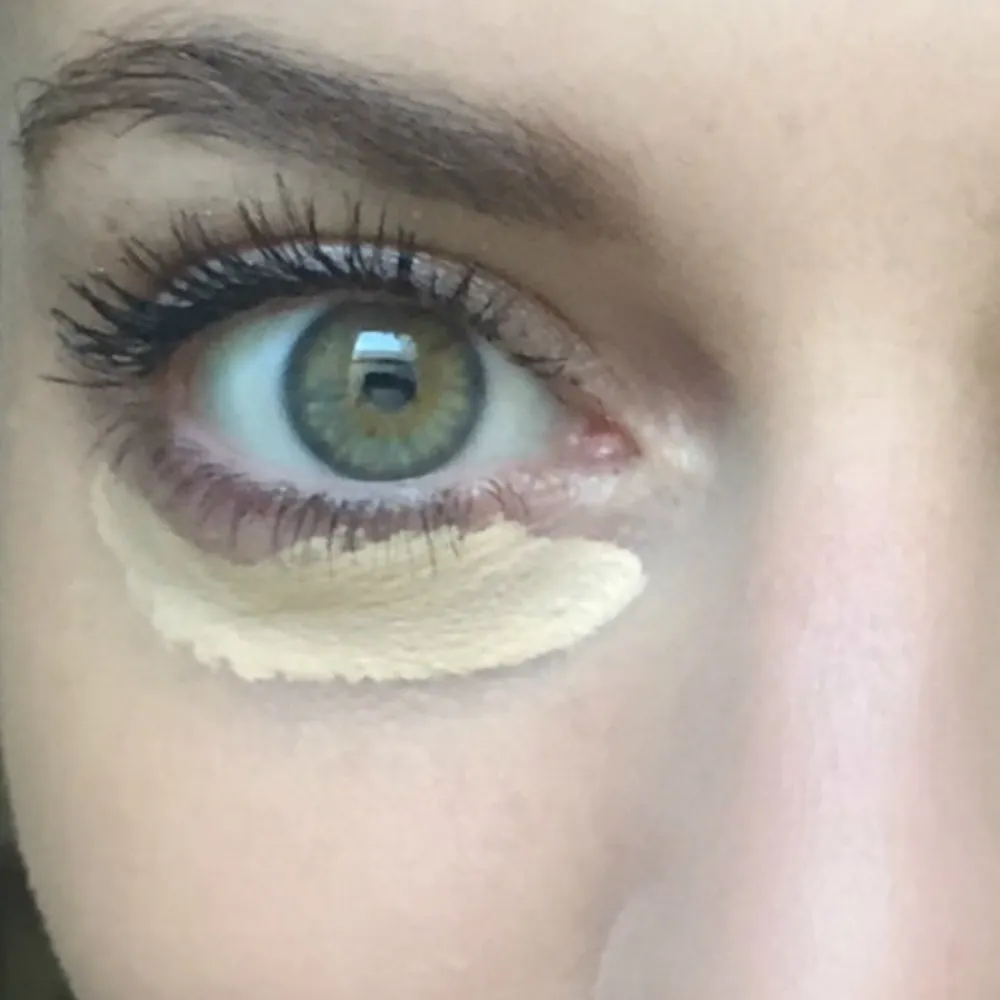 If you do decide to start with your eyes, then make sure you prep your undereye, as well as your eyelid. Add some serum, and then apply primer.
Powdering the Entire Face
Beauty trends change, and what was once normal might now be frowned upon by those in the know. Whilst it was a trend in the '90s and '00s to have a heavily powdered, matte face, that's no longer the case. Increasingly, beauty trends favor glossy or dewy skin, and everyone is obsessed with highlighter now.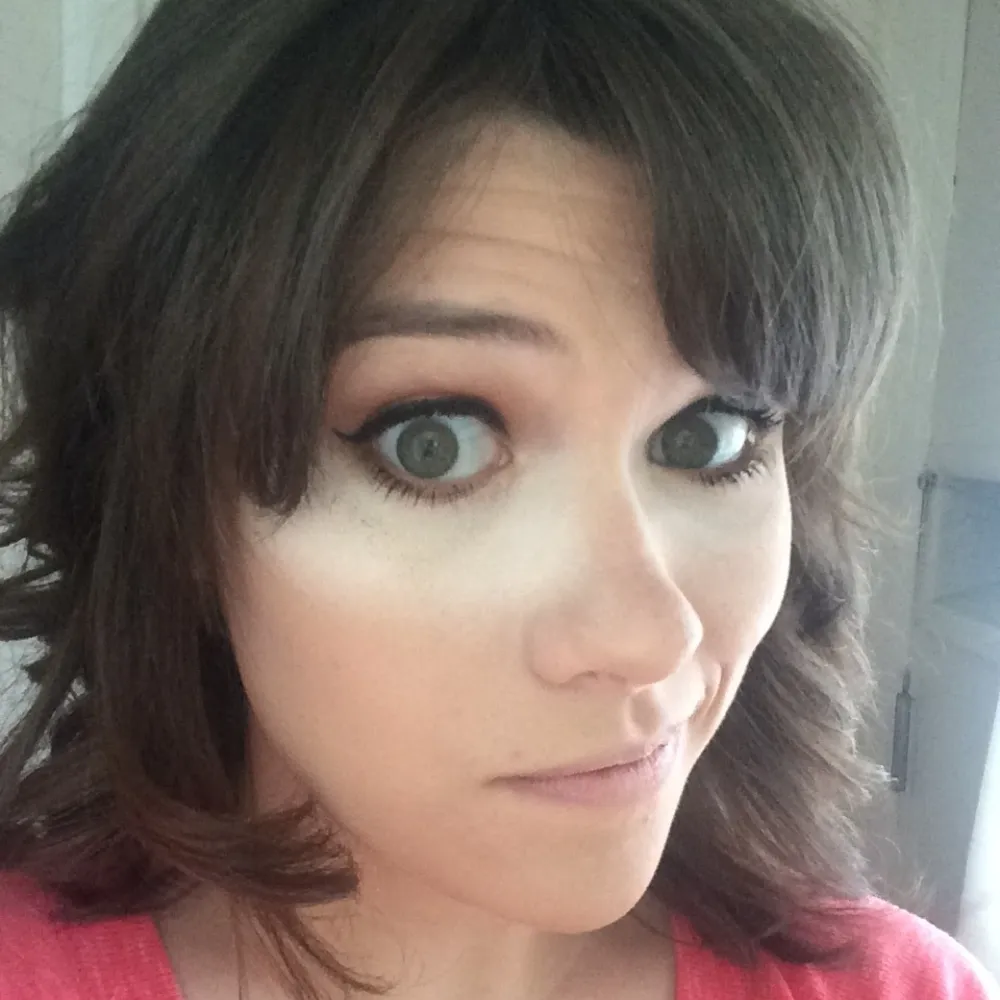 This doesn't mean that you shouldn't still use powder, though. Just apply it to areas where you tend to get oily, like on your T-zone.
Using Too Much Dark Eyeshadow
While everyone is excited by a smoky eye now and then, it's wise to be cautious when it comes to piling on the dark shadows. When it comes to eyeshadows in black, plum, indigo, navy, or deep brown, less is more.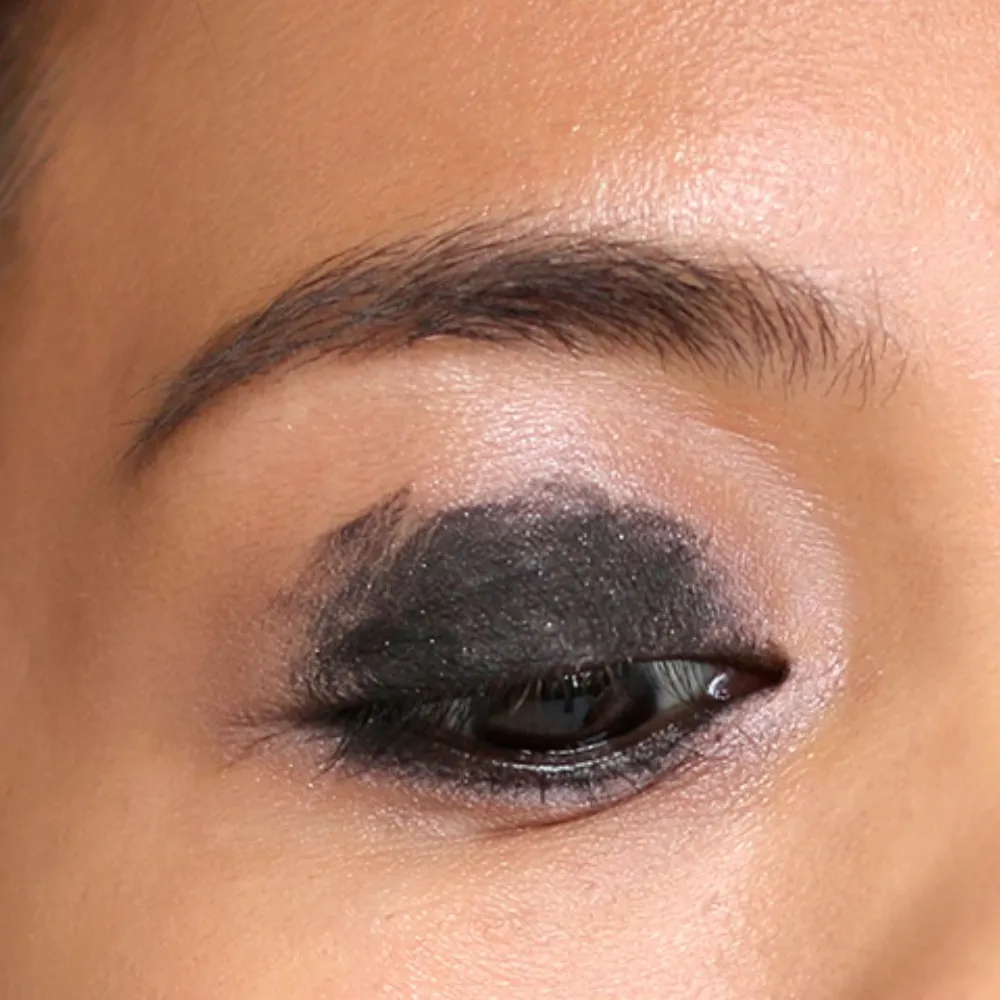 Dip your brush in, blow off the excess, and lightly apply the color. You can then build up the color until it's at the right intensity. Stick to using dark shadows on the outer corner of your eyelid, rather than applying it all over.
Using Too Much Eyelash Glue
Applying false eyelashes is an art in itself, but before you even begin — make sure you don't use too much glue! It's a common problem, so try to avoid it right from the get-go.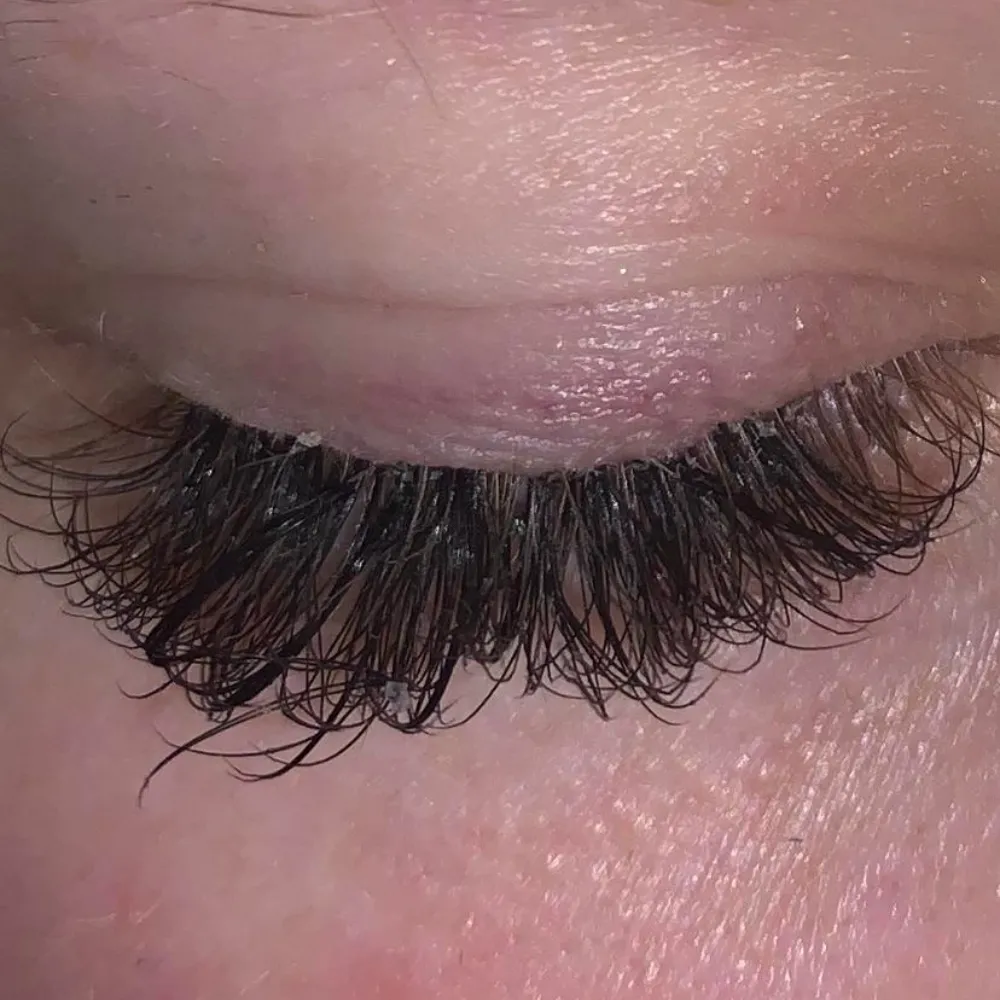 The best method is to put a small amount of glue on the false lashes, and let them dry for 40 to 50 seconds (regardless of what the packaging says), before applying. Apply a touch more glue to the outer lashes because they are more likely to fall out.
Only Lining the Outer Lips
In the '90s and '00s, lip liner was applied to the perimeter of the lips, and then the lips were covered in super sticky lip gloss. Girl bands and RnB singers of this era sported deep brown or burgundy lip liner, with a sheen of frosted gloss on top. Still, the times they are a-changin,' and now it's advised to wear lip liner all over the lips.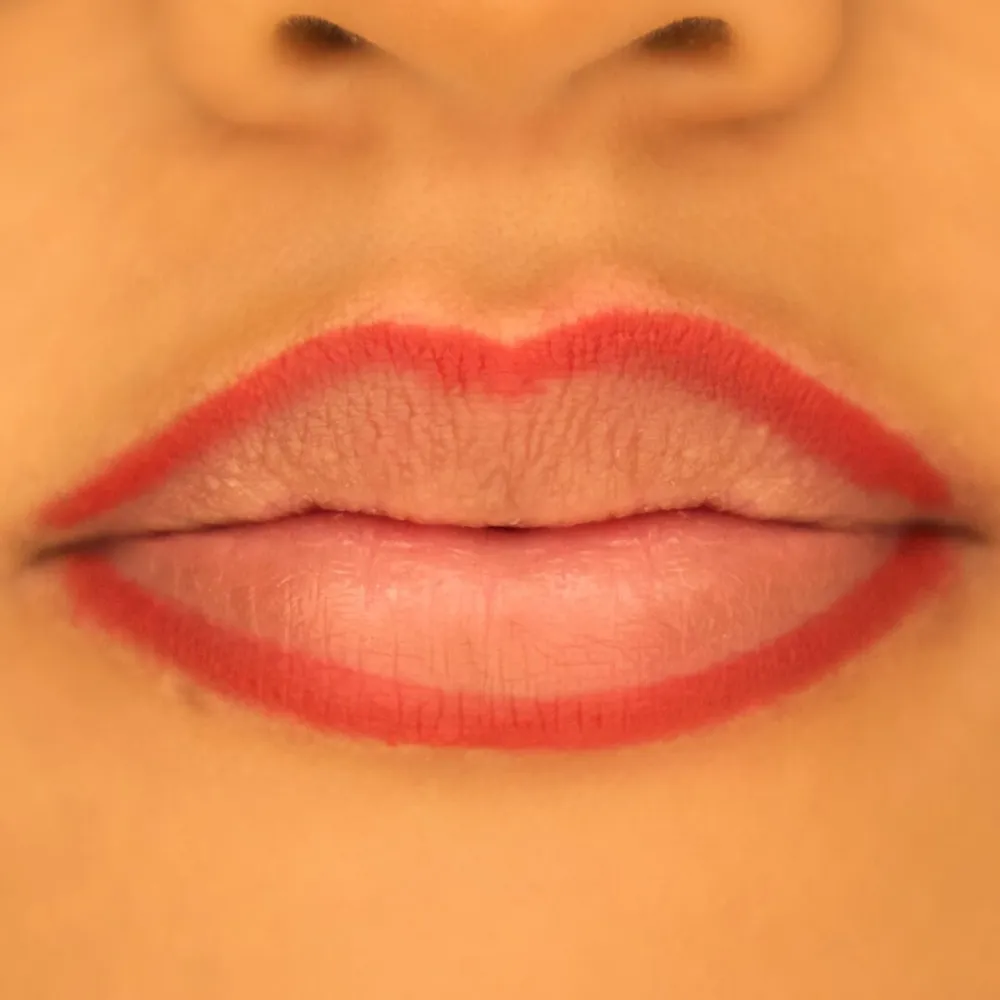 This nifty tricks gives your lips more depth of color, and provides a good base for lipstick, or gloss…
Heavily Blended Eyeliner
When Avril Lavigne first appeared on the scene, she was recognizable by her long straightened hair, her angsty Canadian pop-rock, and her smudgy black eyeliner. However, that look has evolved, and we no longer aspire to Avril's zombie style eye makeup.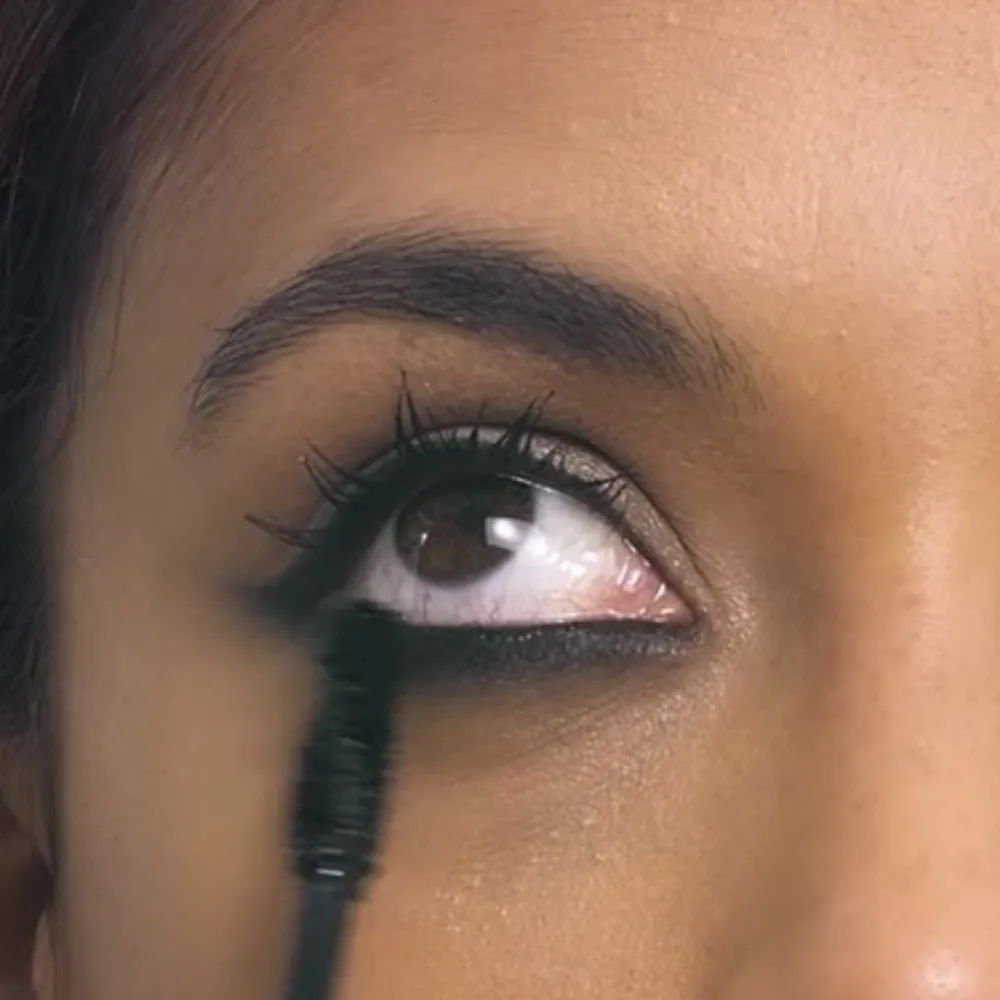 It's completely reasonable — nay advisable — to blend your eyeliner, but just don't get carried away. Use a small brush to gently blend the eyeliner on your lower lid. Using a large brush will lead to big black circles, otherwise known as panda eyes.
Not Changing Seasons for Foundation
It's important to change your foundation as you get older, but also depending on the time of year. In winter, you might be using a lighter shade of foundation, and prefer fuller coverage. However, by the time summer has arrived, you might have a sunny glow and only want to wear a tinted moisturizer.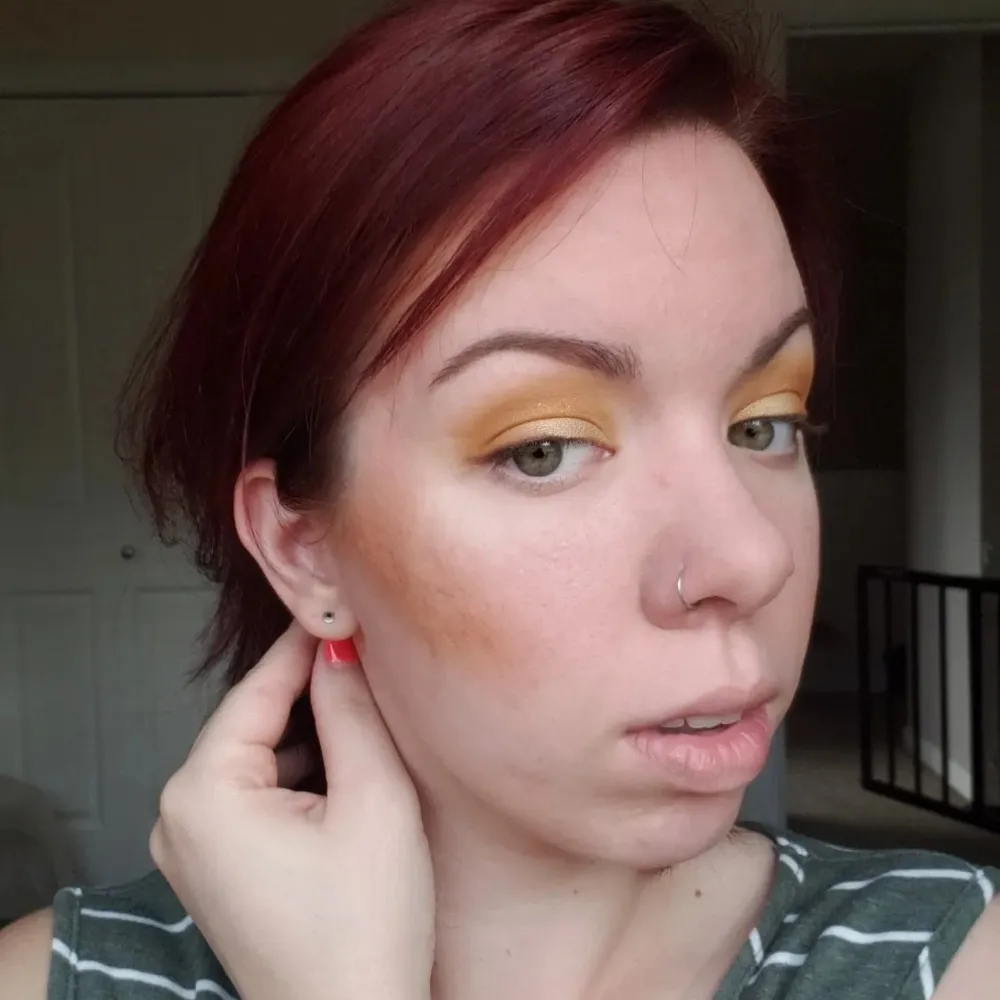 Your skin has needs that will change according to the temperature, humidity, and light. Have a variety of foundations that you can use throughout the year.
Wearing Too Much Foundation
Foundation is a tricky thing, and many people struggle with deciding on one to suit their skin and lifestyle. Think about it — there's cream, powder, full coverage, tint. You can apply it with a sponge, a brush, your fingers. And then there are the shades; we all know it can be a nightmare when it comes to choosing the right one.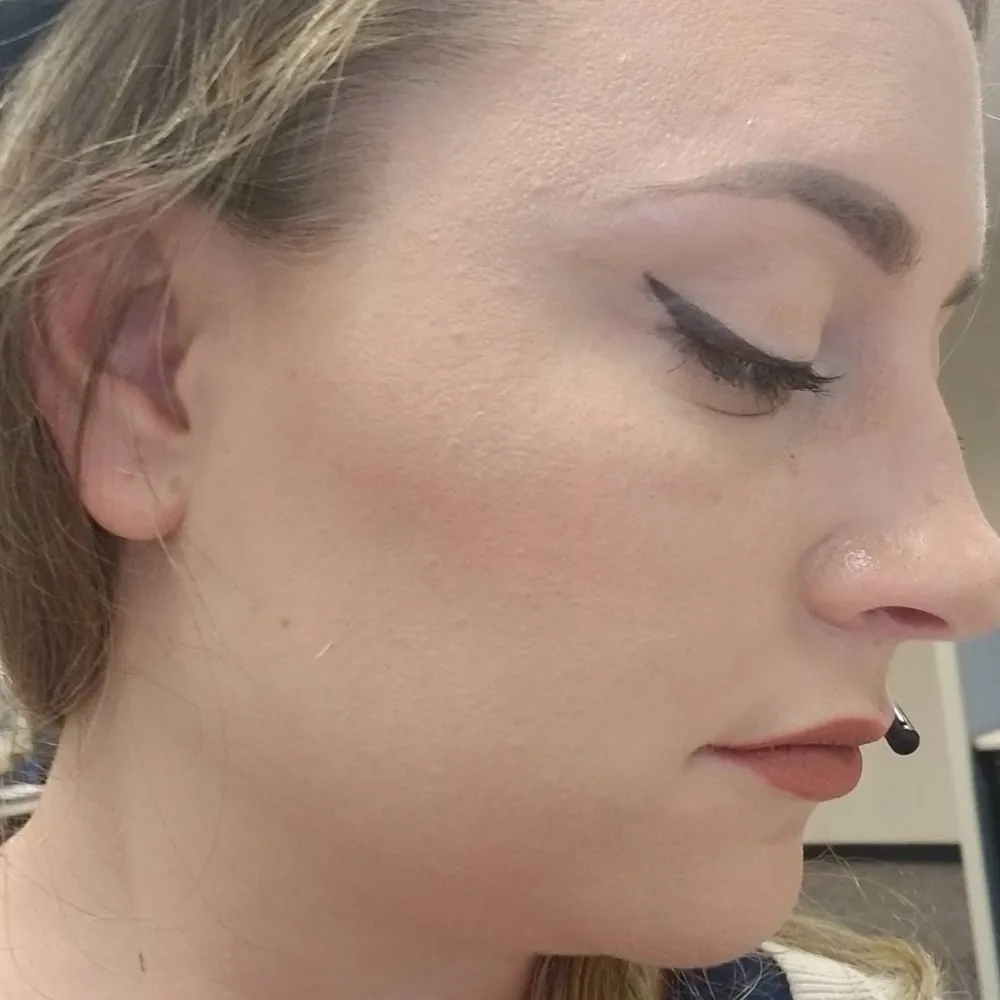 If you're experimenting and learning what makeup you like, then go light on the foundation. You can always build it up, but you most definitely want to avoid a cakey face.