It is a well-known fact that diamonds hold a special place in a woman's heart. We have put together a comprehensive list of over 40 valuable engagement rings worn by famous personalities. This list covers a broad range of celebrity couples, ring styles, and precious stones from emerald cut to pear-shaped, rubies to pearls. Besides the details of carat size and ring value, you will also gain insight into the relationships between these stars.
Jennifer Lopez
Occasion: J.Lo and Ben Affleck's second engagement // Value of Ring: Estimated value of up to $10 million
J.Lo and Ben Affleck, popularly referred to as Bennifer, have demonstrated that people can be given another chance at love. The love story between Bennifer began in December 2001, and a year later, Ben made a proposal with a 6.1-carat pink, solitaire ring. Unfortunately, they broke up just a few days before their wedding.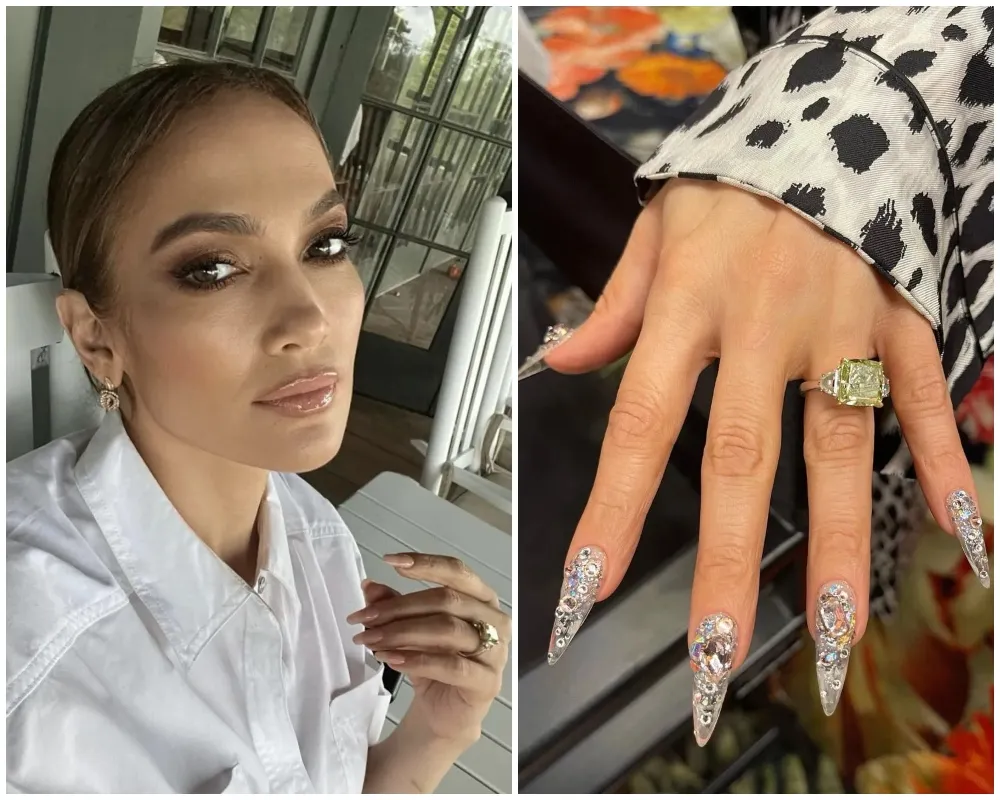 In 2021, Bennifer reignited their romance, and in April 2022 Ben proposed, using an unusual 8.5-carat green diamond ring. The pair got married in Vegas and subsequently had a second wedding, celebrating with their loved ones and friends at Ben's home in Georgia.
Blake Lively
Event: The engagement of Blake Lively and Ryan Reynolds
Monetary worth of the ring: Two million dollars.
Blake and Ryan are recognised as one of the most influential couples in Hollywood. They initially met in 2010, but it wasn't until a year later when they went on a double date. However, this double date turned out to be a bit uncomfortable as they were with different companions. Reynolds ultimately proposed in 2012, and the engagement ring he gave to Blake was a 12-carat diamond valued at $2 million.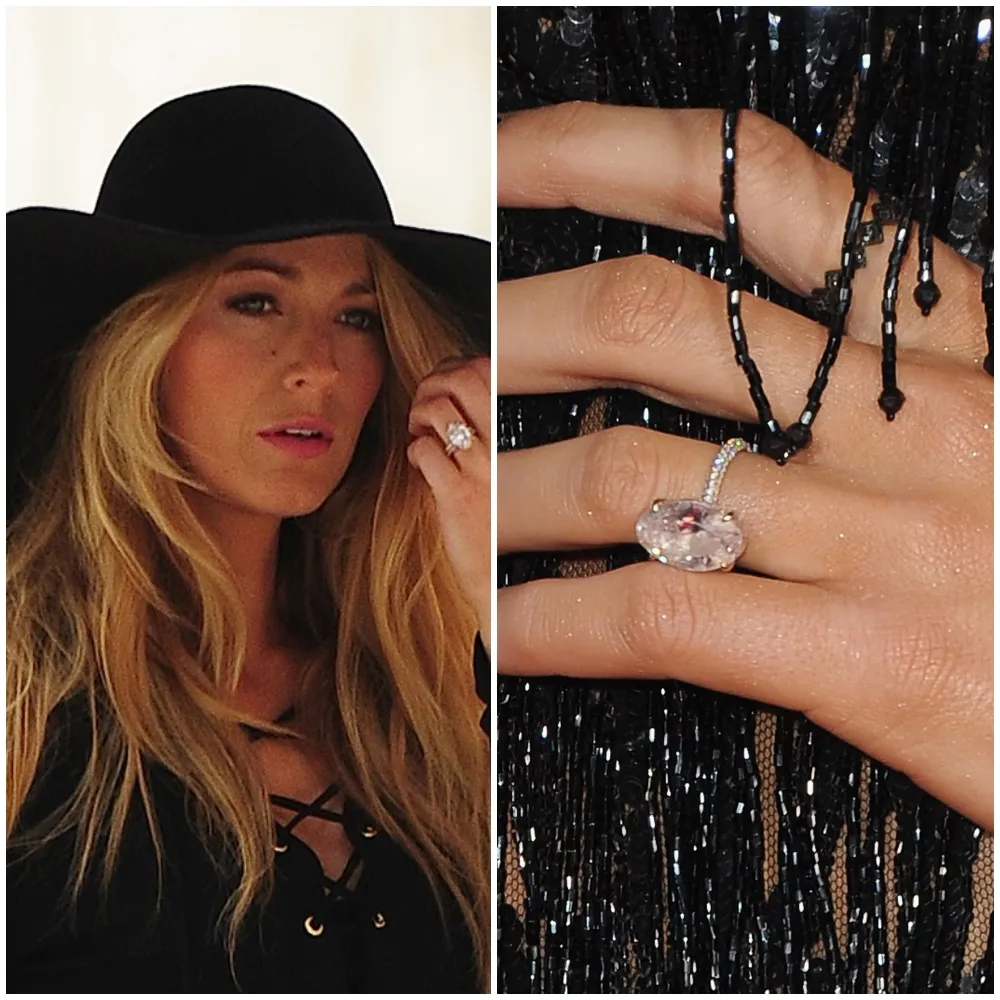 The wedding was said to be flawless, but unfortunately a sparkler caused damage to Blake's dress. Despite the disappointment, Reynolds managed to turn the mishap into a charming memory which holds a special place in Blake's heart. They now have three daughters and have just announced their fourth child is on the way.
Heidi Klum
Event: The engagement of Heidi Klum and Seal.
Cost of the ring: $150,000.
In 2004, Heidi and Seal crossed paths in the hotel lobby where Seal promptly proposed to her with a large, 10-carat, canary diamond ring. Seal had already planned an intricate proposal that involved taking Klum to the Canadian Rockies. As anticipated, there were rose petals beautifully arranged inside an igloo to help set the romantic ambiance.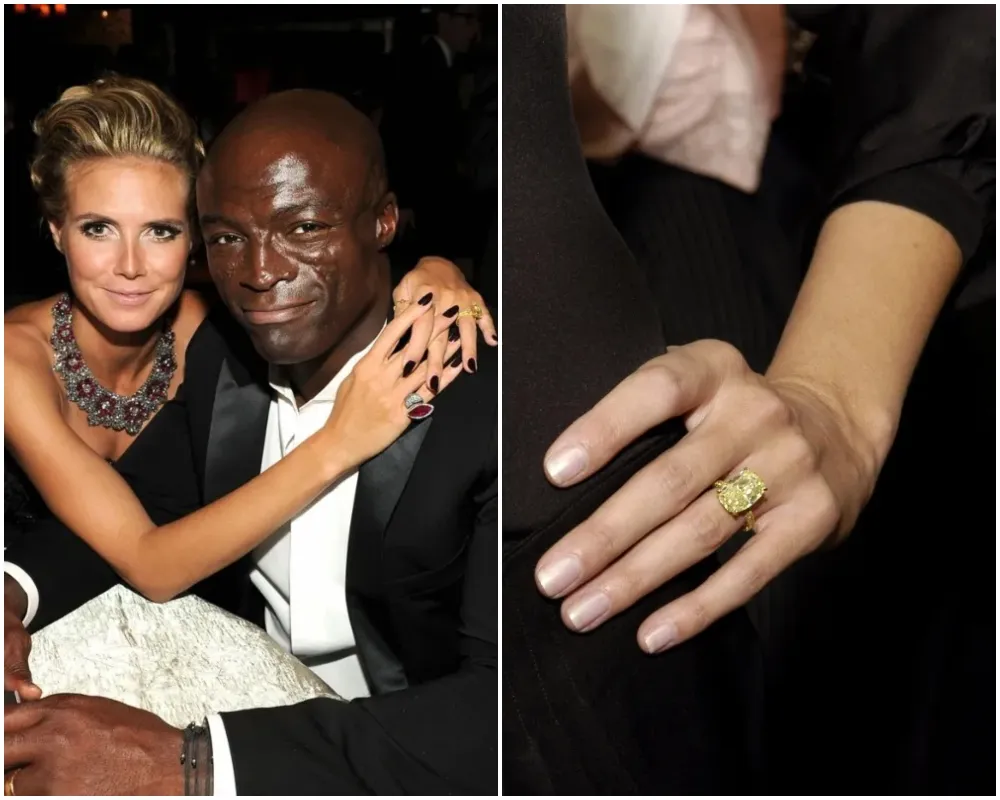 The pair tied the knot in Mexico, and they have three offspring. Klum's eldest child from a former relationship was also adopted by Seal. Every year, they celebrated their love by renewing their vows. Nonetheless, the relationship came to an end in 2012, and they eventually got divorced in 2014. Despite this, they still maintain a close friendship and jointly raise their children.
Serena Williams
Serena Williams and Alexis Ohanian got engaged and the ring's worth is $2 million.
Serena and Alexis crossed paths unexpectedly in 2015 during breakfast in Rome. On the day they met, Alexis was attending the Italian Open and Serena kindly invited him to watch her play at the French Open. Alexis decided to fly to Paris for the weekend to watch her play and, as they say, the rest is history.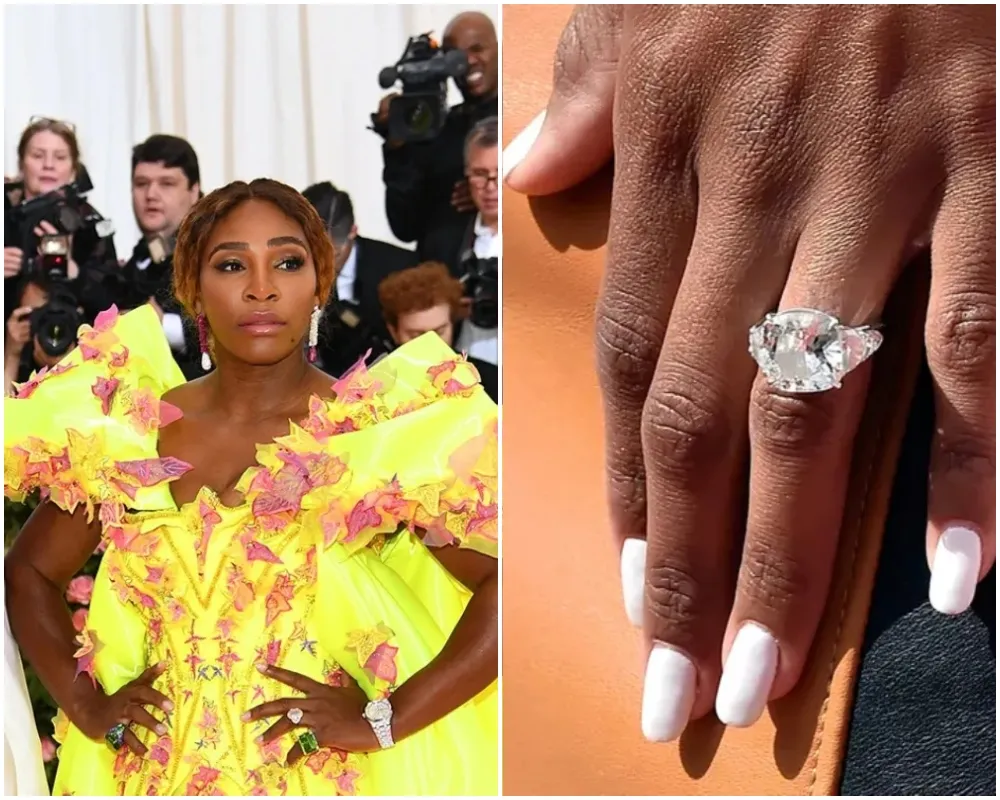 Alexis proposed to his partner in 2016 at the hotel where they first met. He asked for their hand in marriage with a beautiful 12-carat emerald-cut diamond ring. Only a month after the proposal, they discovered that they were expecting a child. The couple had a stunning wedding in 2017, complete with three outfit changes and many famous guests in attendance, making it the talk of the town.
Katie Holmes
Katie Holmes and Tom Cruise celebrated their engagement with a ring that was valued at $250,000.
Katie Holmes and Tom Cruise announced their romantic relationship in Rome back in 2005, but some people believed it was a way to attract public attention. Soon after meeting, Tom proposed to Katie during a romantic dinner at the Eiffel Tower, almost eight weeks after they first met. He gifted her a five-carat oval-shaped ring as a symbol of his love.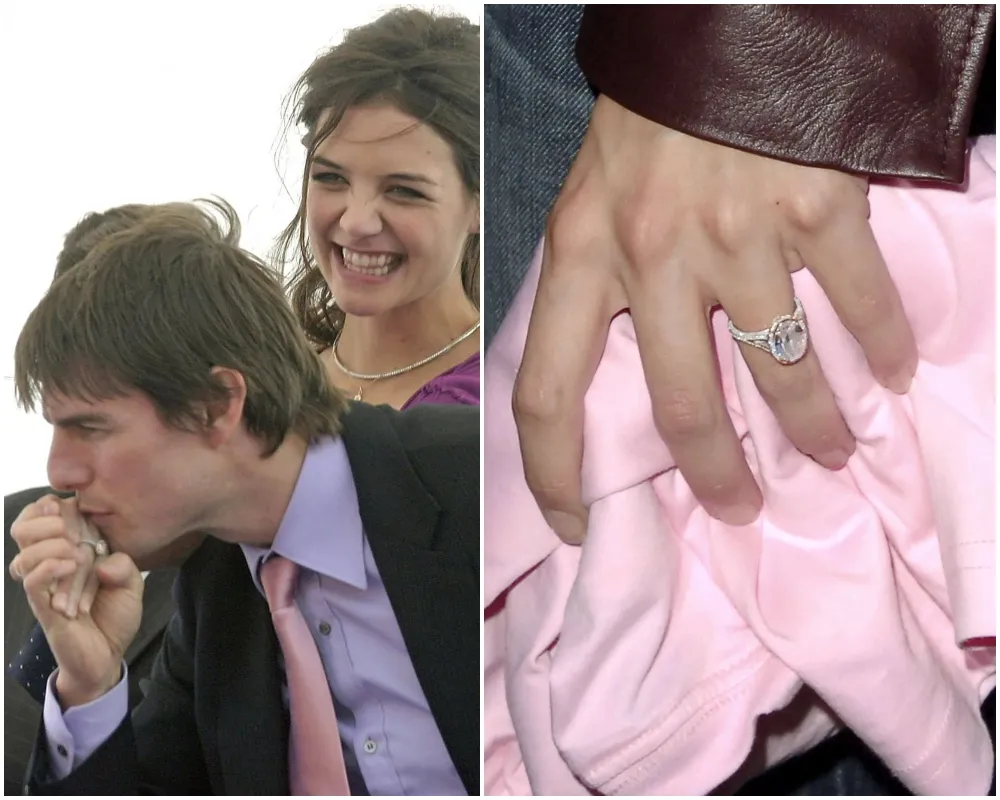 The Hollywood celebrities announced their pregnancy soon after their engagement. To monitor the baby's growth, Cruise bought a sonogram machine. They tied the knot in an extravagant wedding ceremony in Italy, attended by numerous popular celebrities. However, after six years of marriage, Katie initiated the divorce process.
Paris Hilton
Event: The engagement of Paris Hilton and Carter Reum // The ring's worth is $5 million.
Even though the couple had been acquainted for 15 years, they did not start dating until 2019 when Paris was invited to their Thanksgiving dinner. When discussing their relationship, Paris acknowledged that the lockdown played a role as it provided more opportunities for her to be with her partner.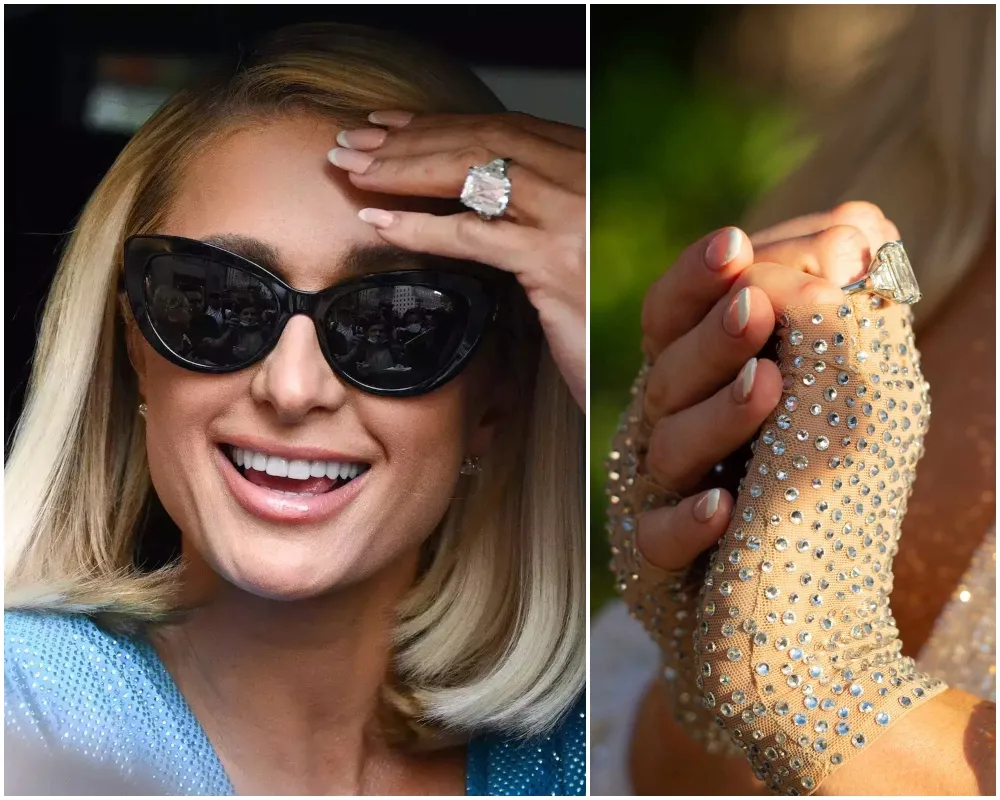 Hilton and Reum marked Paris' 40th birthday by going on a private island trip where Carter proposed to her with a 24-carat diamond ring. As expected, the couple went all out with an extravagant wedding in November 2021, complete with three different outfits and a six-foot-tall cake, leaving no detail spared to make it a luxurious and unforgettable event.
Catherine Zeta-Jones
Event: The engagement of Catherine Zeta-Jones and Michael Douglas // Cost of the engagement ring: $1 million
In 1998, a mutual friend introduced Catherine Zeta-Jones and Michael Douglas to each other, and after just three months, the couple announced their pregnancy. A month later, on New Year's Eve, Douglas proposed to Zeta-Jones with a 10-carat diamond ring that had a vintage style.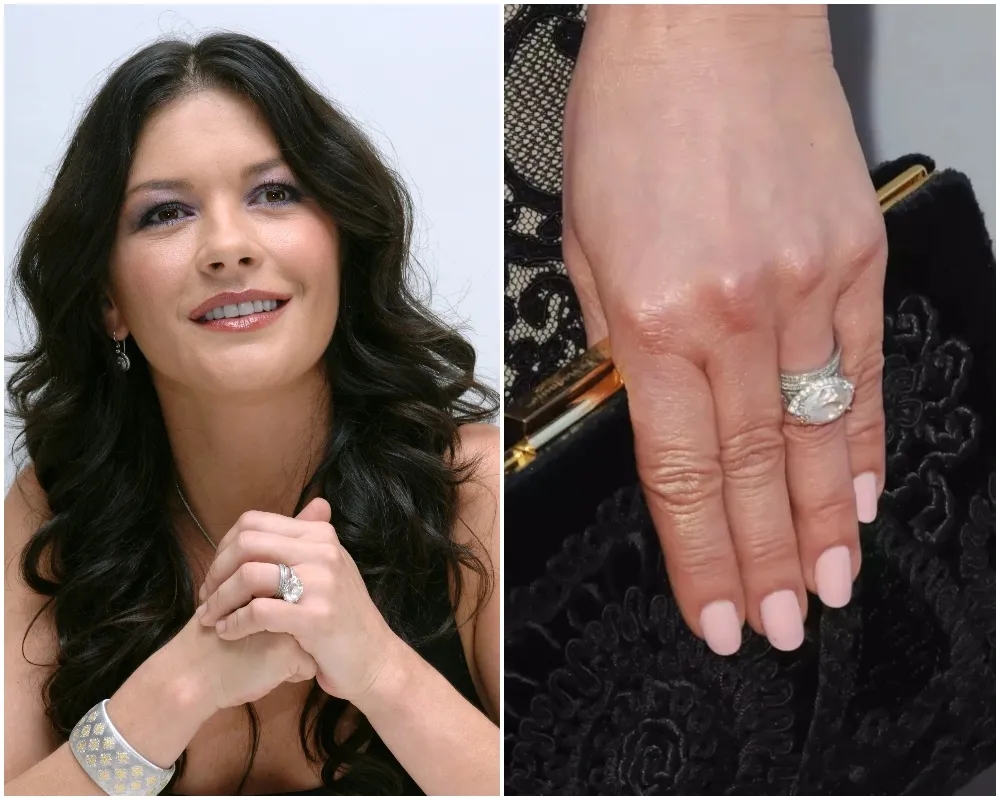 The pair tied the knot in New York City and marked the occasion with an extravagant event that allegedly cost around $1.5 million. Despite their 25-year age difference, they've been happily married for 21 years, making the hefty price tag seem worthwhile. Interestingly, it's worth noting that Catherine and Michael share the same birthday.
Kim Kardashian
Event: The engagement of Kim Kardashian and Kanye West // Price of Ring: Three million dollars
Kim has had enough experience with engagement and marriage-related items/events. The couple started their relationship officially in 2011 when Kanye invited Kim to attend his fashion show in Paris.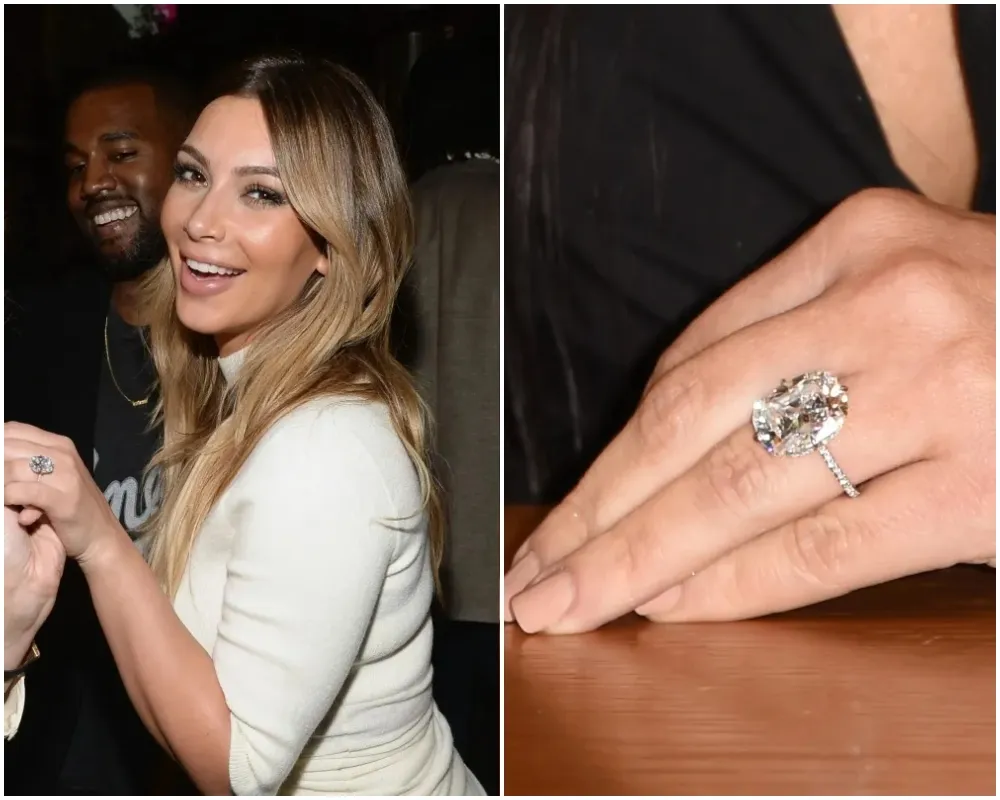 In 2013, Kanye West proposed to Kim Kardashian on her 33rd birthday with a ring that had a 15-carat diamond. The following year in 2014, they held a wedding in Europe that started in Paris and concluded in Italy. Their wedding expenses amounted to $2.8 million.
Beyoncé
The event was Beyoncé and Jay-Z's proposal and the ring's worth was $5 million.
One of the most famous celebrity pairs to date is Beyoncé and Jay-Z. They initially met in 2000 while on the same aircraft headed to Cancun and started dating a year later. They secretly got engaged and married in 2008, with Beyoncé receiving a 24-carat diamond engagement ring for the ceremony.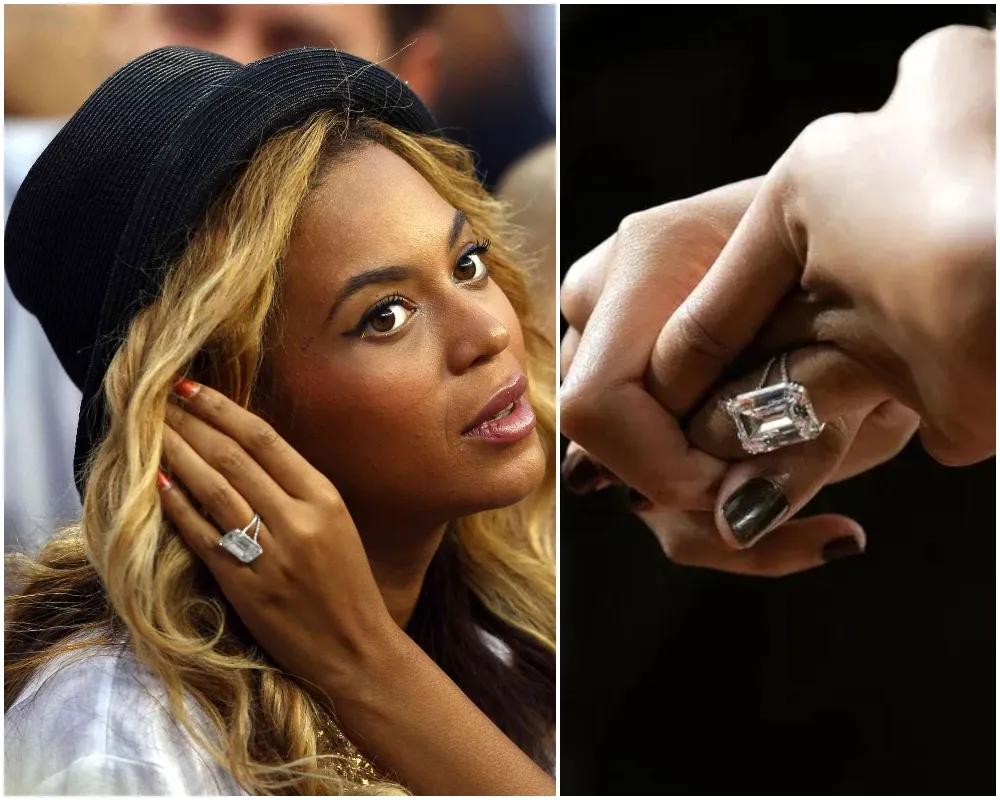 During one of her performances in 2011, Beyoncé shared the news of her pregnancy for the first time. Additionally, she made history by using Instagram to reveal her second pregnancy through an elegant photoshoot.
Anna Kournikova
Anna Kournikova and Enrique Iglesias got engaged, and the ring they chose for the occasion is worth 2.5 million dollars.
The duo initially encountered each other in 2001 while filming for Enrique's music video. People started speculating about their engagement after Anna was seen sporting a canary ring weighing 11 carats. However, there is limited information on when they got engaged, or whether they tied the knot.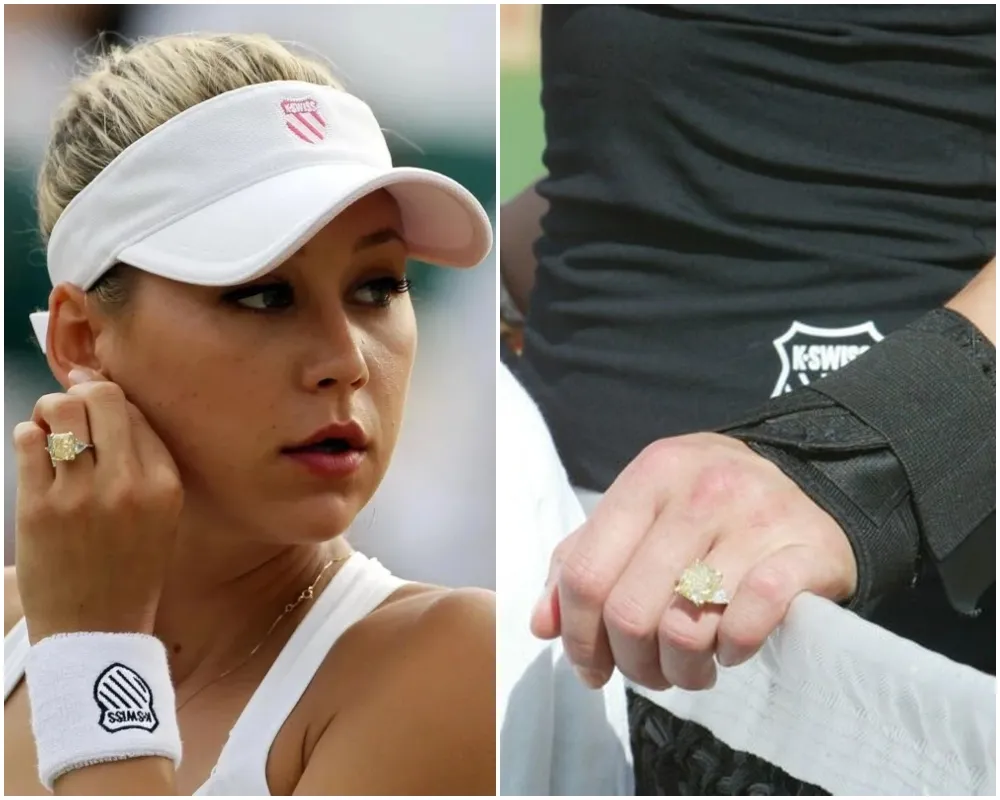 Anna previously stated that she doesn't value marriage much and is content with her current relationship. She and her partner became the parents of twins in 2017 and later on, a daughter in 2020. Due to their discreet persona regarding their relationship, it is expected that they are also reserved about their family and kids.
Mariah Carey
Event: Mariah Carey and James Packer getting engaged // Price of the engagement ring: $10 million
Mariah Carey and James Packer's romance ended almost as soon as it began. The two initially crossed paths in July 2014 and quickly developed a connection. By 2015, they had stepped out publicly as a couple for the first time.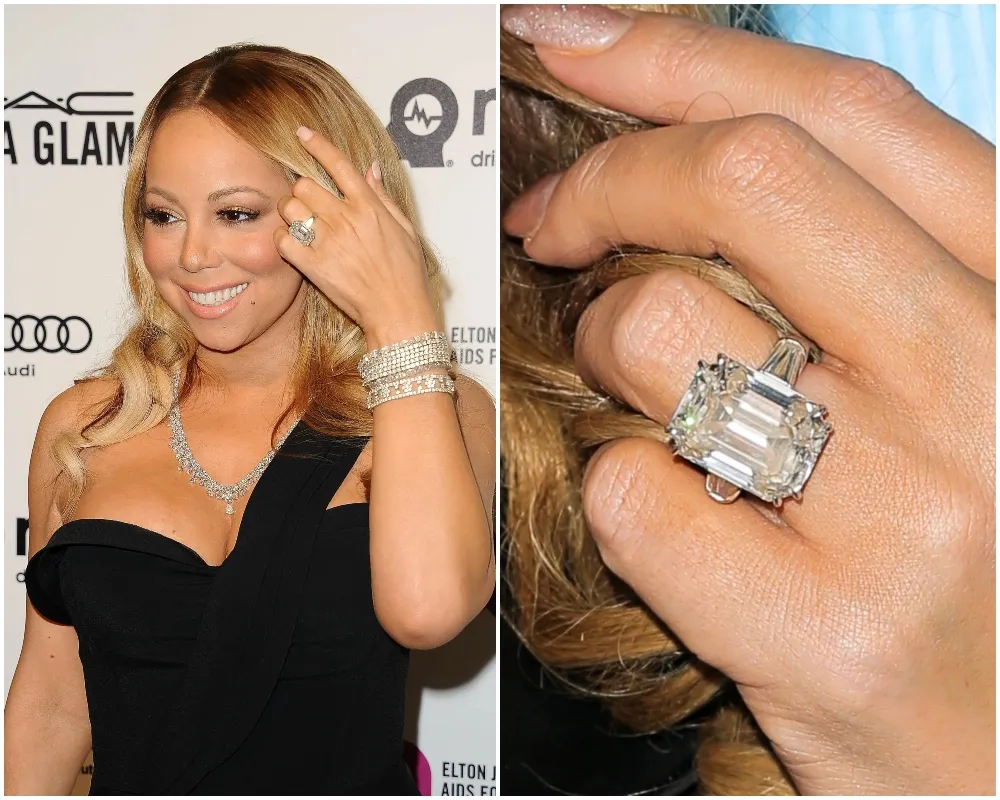 The couple became engaged in January 2016 and Mariah was gifted with a huge diamond ring that weighed 35 carats. Mariah hinted at but did not reveal any specific details about her upcoming wedding plans. Unfortunately, shortly after their engagement announcement, Carey and Packer ended their relationship.
Elizabeth Taylor
Event: Richard Burton's present to Elizabeth Taylor // Price of the ring: One million dollars.
In 1954, Elizabeth and Richard had their first encounter at a Hollywood party but nothing significant happened between them. After nine years, they met again as cast members of Cleopatra. Although they were both married during the production, they developed feelings for each other, leading to one of the most scandalous affairs in Hollywood history. Burton eventually proposed in 1964 and they got married later that year after finalizing their respective divorces.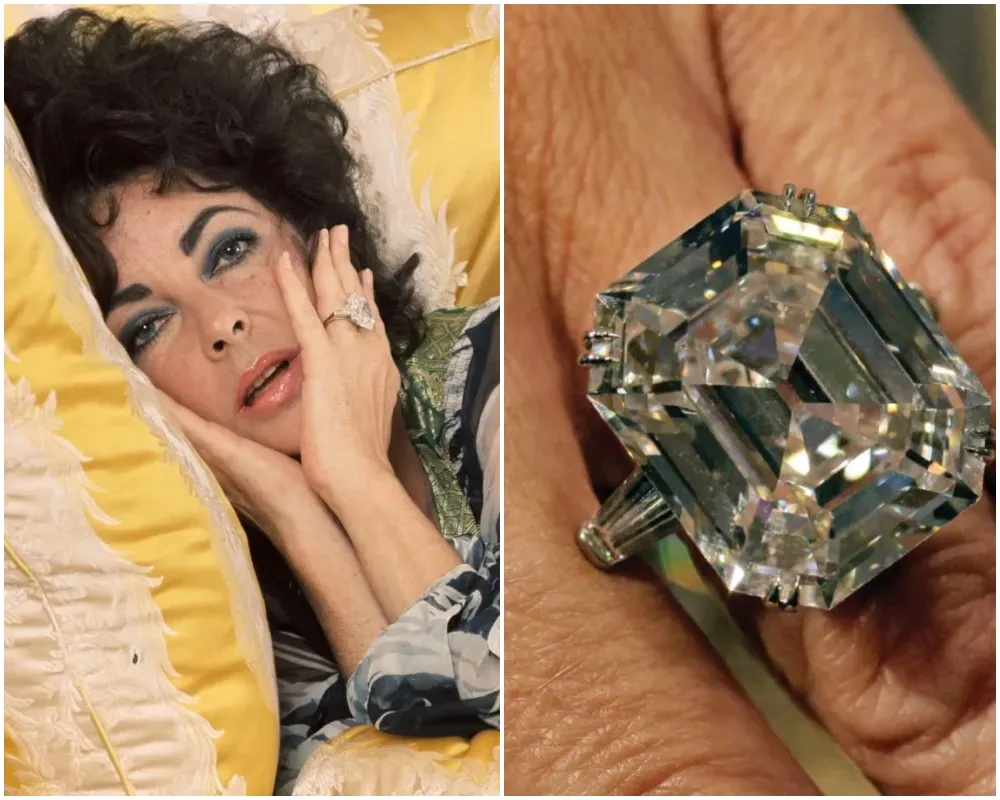 After being in a relationship for a decade, they ended their marriage in 1974. However, the following year, they reunited and tied the knot once again, but the reunion was short-lived as they parted ways just a year later. Despite getting married twice, Taylor did not receive an engagement ring from Burton. Instead, when he first proposed, Burton gave her an emerald brooch, which Taylor wore on her marigold wedding dress. During their first five years of marriage, Burton later gave Taylor a one-million-dollar diamond, which was later named the Taylor-Burton diamond.
Kirsten Dunst
The event of Kirsten Dunst and Jesse Plemons getting engaged was marked by the presentation of a ring, which was valued at $80,000.
Kirsten and Jesse first crossed paths on a film set back in 2015. Two years later, fans noticed Kirsten wearing an engagement ring on her left hand, and it was soon confirmed that the couple was indeed planning to get married. Jesse popped the question with a stunning three-carat diamond ring, which he reportedly spent $80,000 on.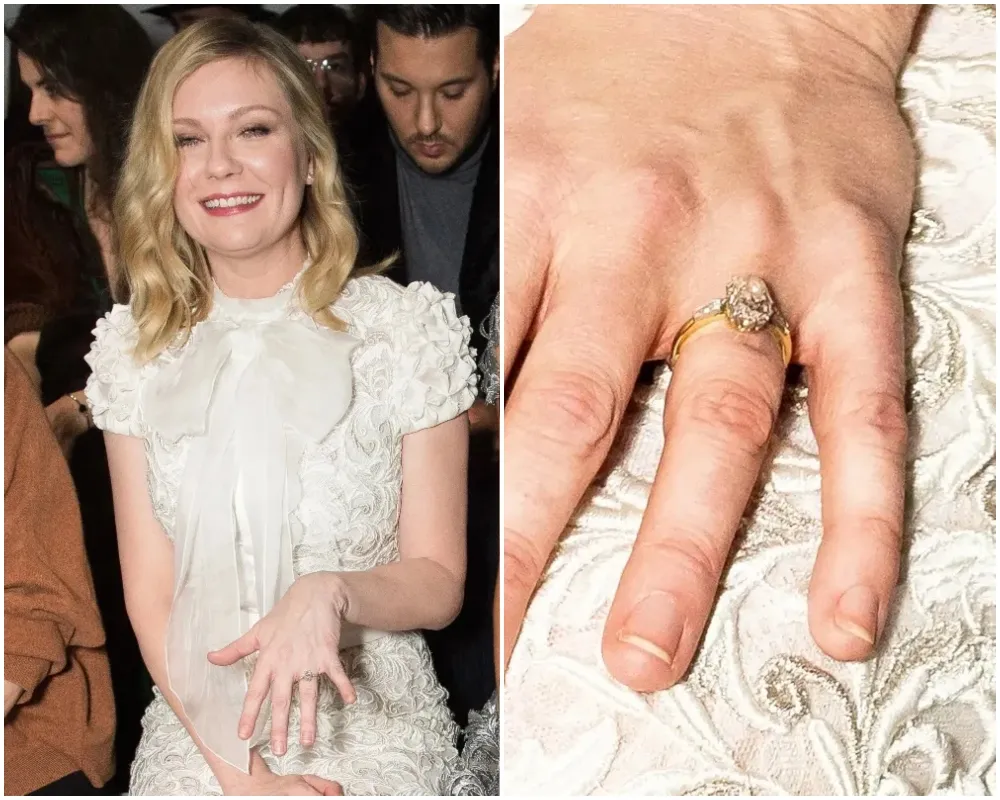 The couple revealed in 2018 that they were anticipating their first offspring. Later on, in 2021, they celebrated the arrival of their second child. However, it wasn't until July 2022 that they exchanged vows and had a lovely wedding at a luxurious resort in Jamaica.
Simone Biles
Simone Biles and Jonathan Owens are engaged and the ring they have chosen for the occasion is valued at $300,000.
Simone Biles and her current partner, Jonathan, connected on the dating platform Raya, where she took the initiative to initiate contact. Their relationship became public and legitimate on social media after they made their first appearance together on Instagram in August 2020.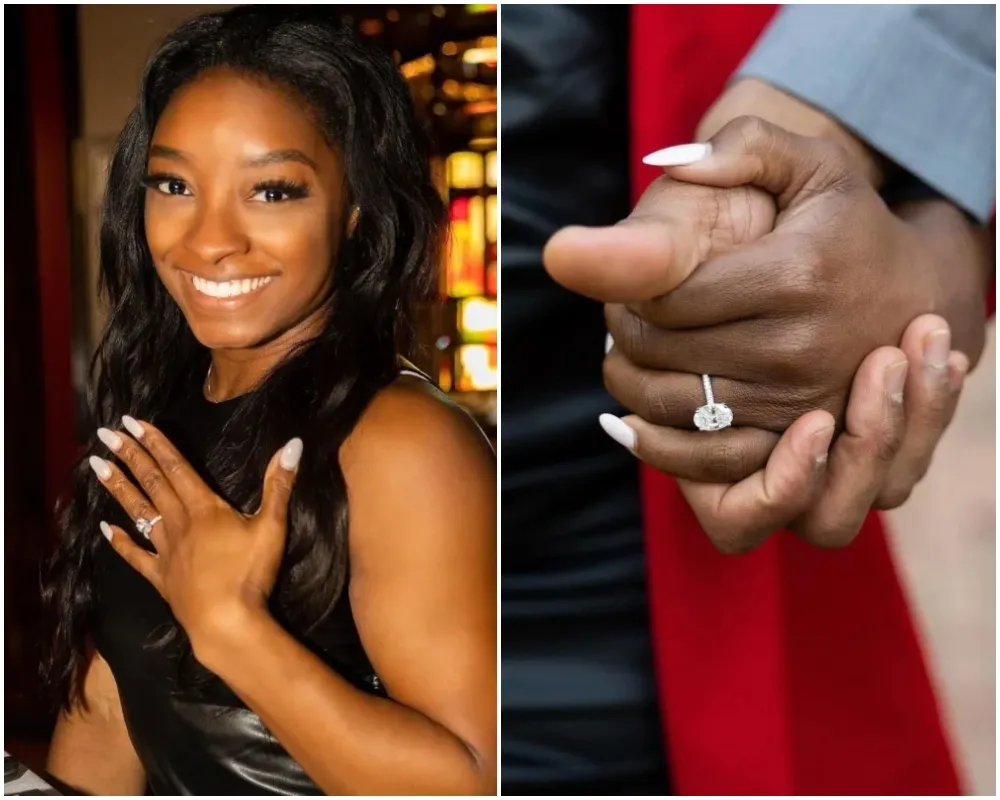 The couple went to Belize to commemorate their first anniversary and shared their romantic holiday with their followers on social media. In February 2022, Jonathan proposed with an impressive diamond ring weighing eight carats.
Britney Spears
Event: The engagement of Britney Spears and Sam Ashgari // The ring's worth is approximately $70,000.
In 2016, Britney and Sam first encountered each other. Sam almost ruined his opportunity with the celebrity when he made an ill-fated joke. Fortunately, Britney forgave Sam's mistake and they swapped contact information.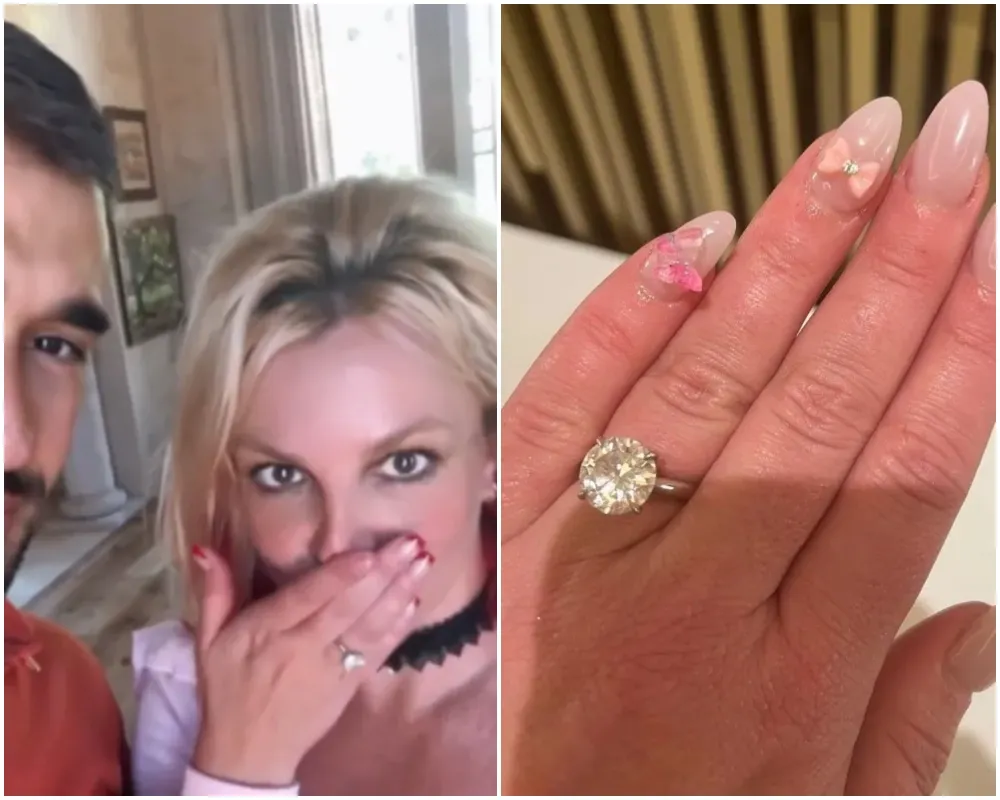 In September 2021, the couple publicly revealed their engagement on Instagram. Sam had assisted in designing a four-carat diamond ring, which he used to propose to Britney. In June 2022, the couple got married in the presence of A-list celebrities such as Selena Gomez, Madonna, and Paris Hilton.
Lily Collins
Event: Lily Collins and Charlie McDowell are engaged // Worth of the engagement ring: $100,000.
Lily explained that she fell in love with Charlie the moment they met and felt certain that they would get married in the future. The couple announced their relationship on Instagram in August 2019, and Charlie proposed to Lily only a year later.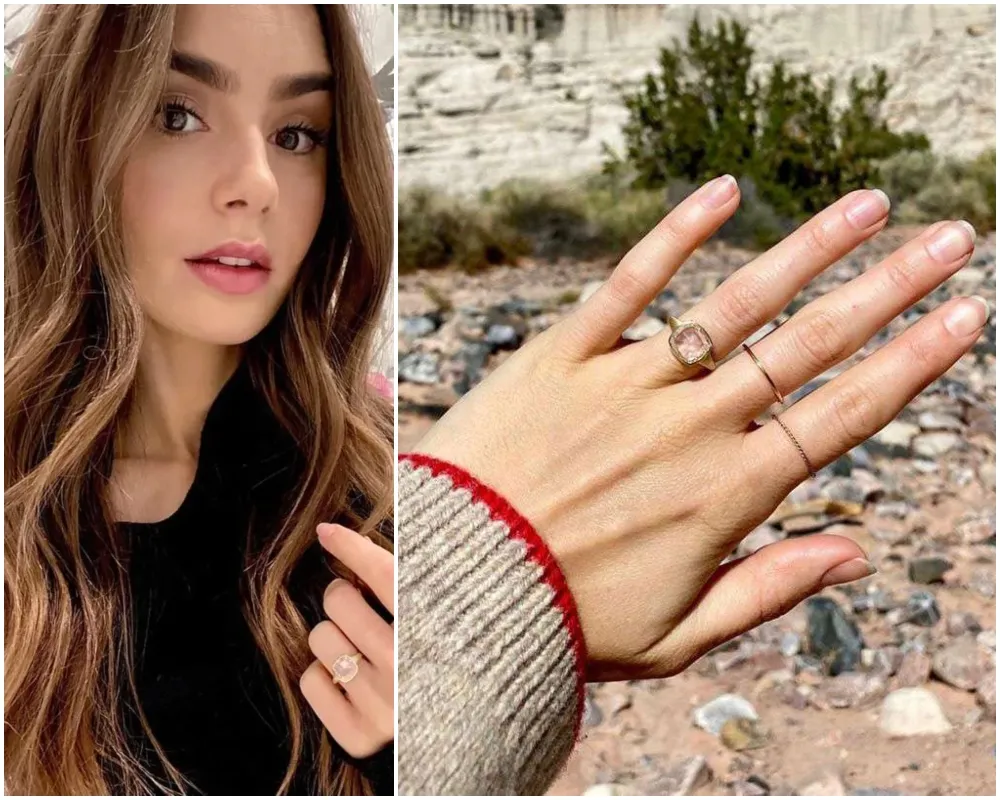 During a road trip through Mexico, Charlie popped the question to Lily with an impressive four-carat diamond ring. Afterward, they had a cozy and rustic wedding in Colorado in September 2021. Lily looked breathtaking in a beautiful long-sleeved Ralph Lauren lace gown that had a hood.
Nicola Peltz
Nicola Peltz and Brooklyn Beckham's engagement was marked by a ring valued at $2 million.
In October 2019, there were rumors about Nicola and Brooklyn being in a relationship after they were spotted having dinner following a Halloween party hosted by Leonardo DiCaprio. The couple is very open about their love for each other, evident from their social media accounts, which have numerous love-themed posts and captions.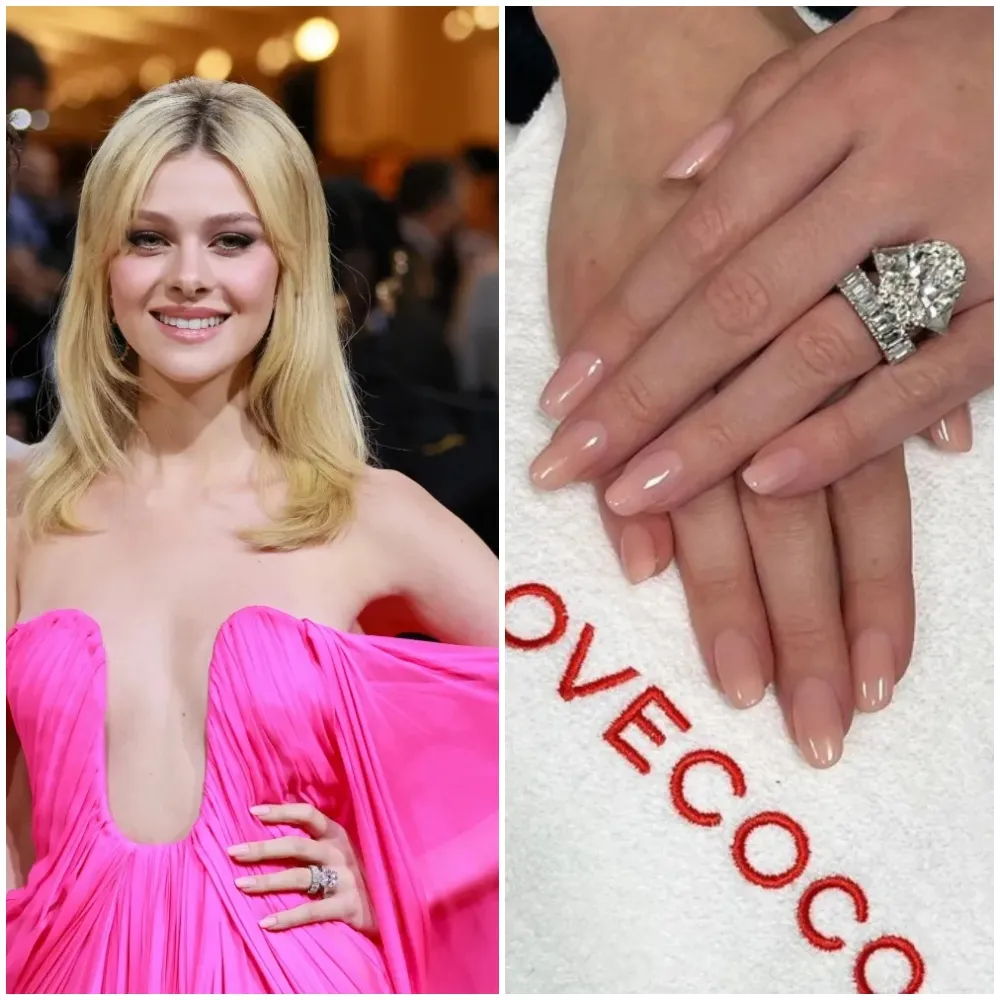 Brooklyn proposed to Nicola after half a year of dating with a five-carat emerald-cut diamond ring. Nicola decided to enhance the ring to an eight-carat oval diamond worth two million dollars. The couple exchanged their wedding vows in April 2022, and the festivity lasted several days.
Sophie Turner
Sophie Turner and Joe Jonas got engaged and the cost of the engagement ring is estimated to be between $20,000 to $58,000.
In 2016, the couple was seen kissing at a Kings of Leon concert, but they kept their relationship private until January 2017 when they confirmed it. Unexpectedly, in October 2017, Joe proposed to Sophie with a diamond ring with a pear shape and weighing three carats.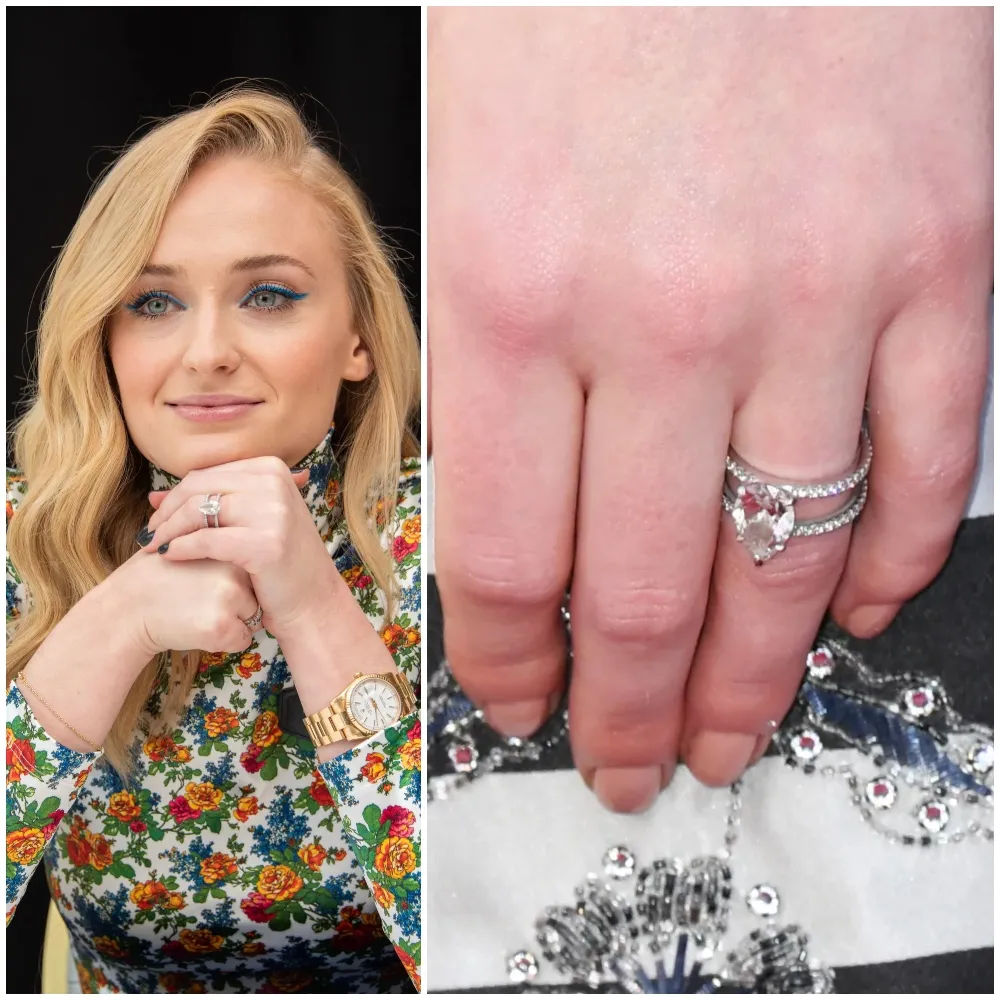 The couple got married at a chapel in Las Vegas with an Elvis impersonator. However, they also had a second wedding in the south of France with all their loved ones. Later on, they had two daughters.
Chrissy Teigen
Event: Proposal of Chrissy Teigen and John Legend // Worth of Engagement Ring: Estimated between $150,000 and $200,000.
We have another famous couple from Hollywood! They initially crossed paths in 2006. John admitted in an interview that he attempted to break up with Chrissy once; however, she put her foot down and refused. After thirty minutes, they reconciled. In 2011, the couple got engaged while on a trip to the Maldives, where John presented Chrissy with a six-carat diamond engagement ring.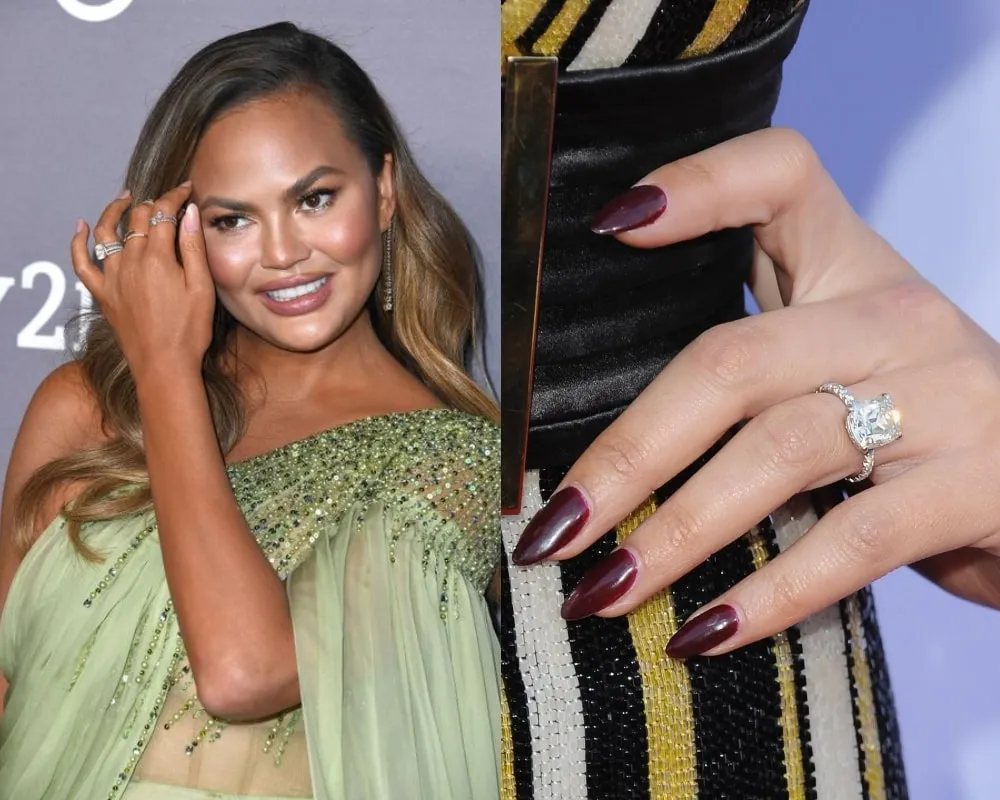 The couple had their wedding ceremony in Lake Como, as it was the location of their first holiday together. During the wedding, Chrissy wore three custom-made Vera Wang dresses while John not only sang, but Stevie Wonder also gave a remarkable performance. Since then, Chrissy and John have become parents to a daughter and a son and are anticipating the arrival of another child in 2022.
Gwyneth Paltrow
Event: The engagement of Gwyneth Paltrow and Brad Falchuk // Cost of the engagement ring: $500,000
Gwyneth and Falchuk first crossed paths in 2010 while working on the popular TV series Glee, where Brad was one of the producers. They started a romantic relationship in 2014 and two years later, Brad asked for Gwyneth's hand in marriage with a stunning sapphire ring that had 13 carats. Afterward, the couple got married in a private ceremony in the Hamptons.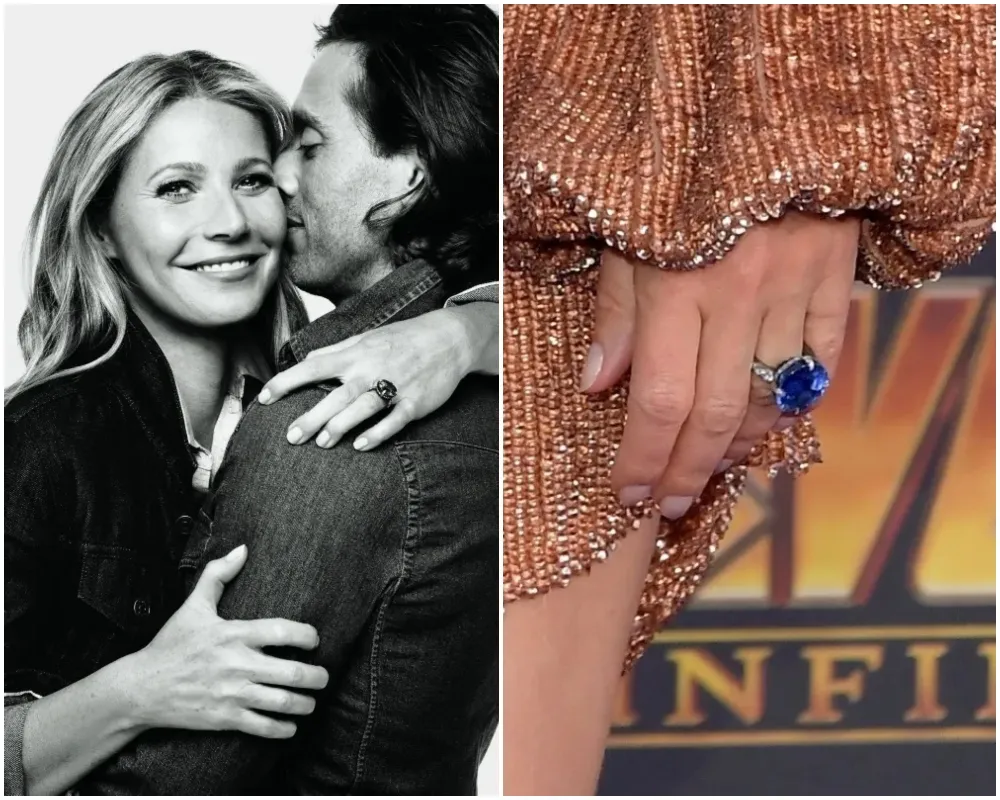 Gwyneth disclosed in 2021 that she still experiences the early stages of their relationship, the "honeymoon phase," and revealed a custom they established while dating. She mentioned that during their time as a couple, she started a practice of preparing breakfast for Brad every Saturday morning, which she called #boyfriendbreakfasts. This routine served as a way for Gwyneth to detach from other stressors in her life and concentrate on Brad. The tradition remains in place even now.
Katy Perry
The engagement of Katy Perry and Orlando Bloom is being celebrated and the ring they used on this occasion is priced at $5 million.
In 2016, speculation about Katy Perry and Orlando Bloom's romantic involvement started circulating after they were seen acting flirtatiously at the afterparty of the Golden Globes. During the event, Katy took the initiative to challenge Orlando to a dance-off. The couple went through several temporary separations, but eventually declared their engagement in 2019. Orlando proposed on Valentine's Day during a helicopter ride.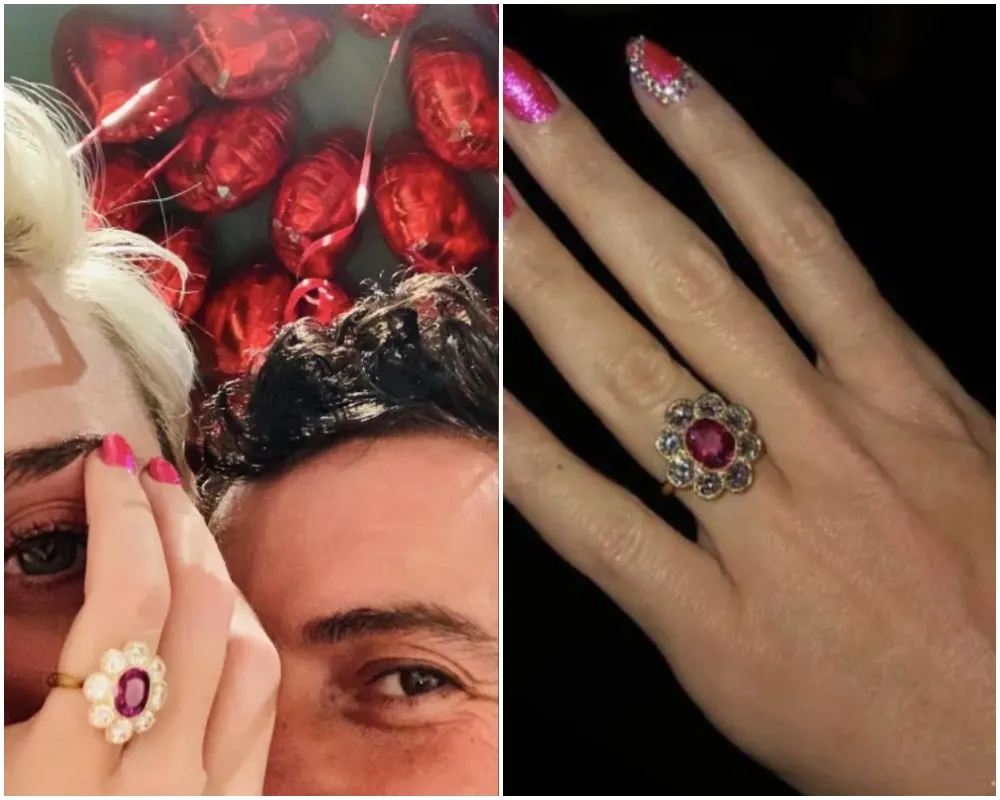 Katy was gifted a breathtaking pink diamond that weighed four carats. Soon after, she hinted at being pregnant in one of her music videos where she could be seen holding her baby bump. She later confirmed the rumors and revealed that she was indeed expecting. In August of 2020, Katy and her partner welcomed a baby girl named Daisy Dove Bloom.
Katherine Schwarzenegger
Event: The engagement of Katherine Schwarzenegger and Chris Pratt
Ring's worth: $350,000
Chris Pratt and his current wife Katherine Schwarzenegger first crossed paths while attending church. Pratt mentioned that there were various coincidences and associations, but ultimately it was where they first met. Their romantic relationship began in 2018 and within a year, they were engaged. Chris proposed with a diamond ring that was five carats in size.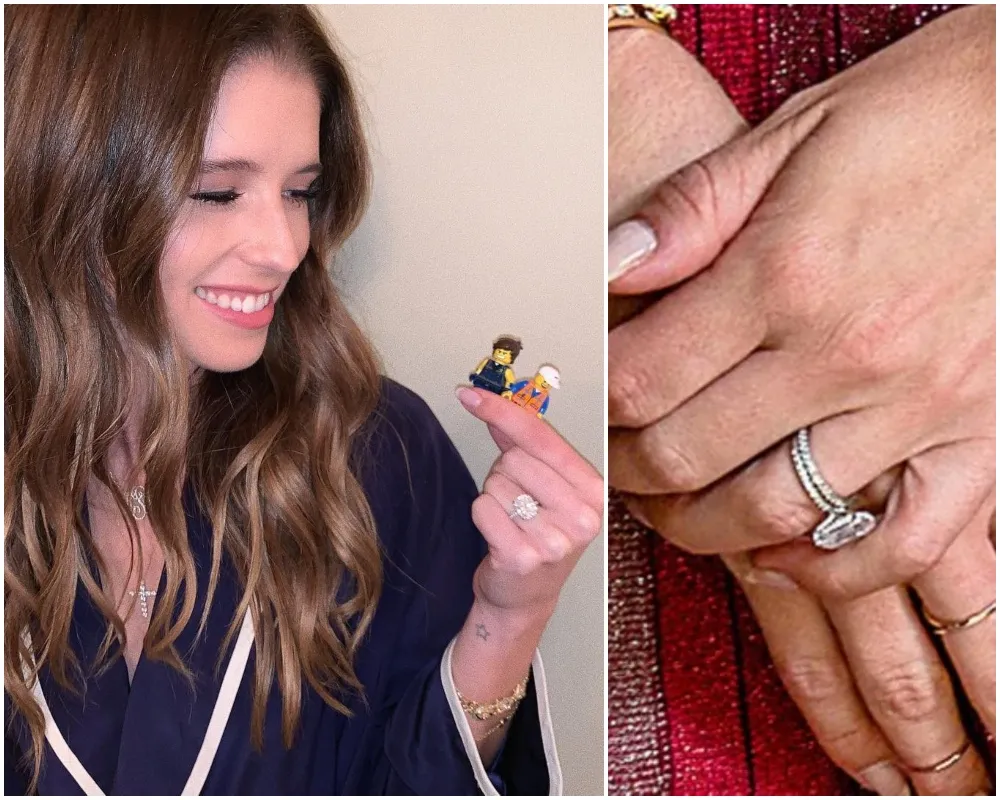 Soon after declaring their intention to marry, the couple tied the knot in an intimate event with loved ones, which included Pratt's son Jack from his previous marriage with Anna Faris. Schwarzenegger and Pratt had their first child together in 2020, and revealed in December 2021 that they were anticipating another child.
Jada Pinkett-Smith
Jada and Will Smith got engaged and the value of the ring was $250,000.
Jada and Will's initial encounter occurred at an audition for Fresh Prince of Bel-Air, but it wasn't until 1995 that they started a romantic relationship. Will asked for Jada's hand in marriage with a massive 12-carat diamond ring in 1997, two years later. Their wedding was held privately in Baltimore, and their first child was born in 1998.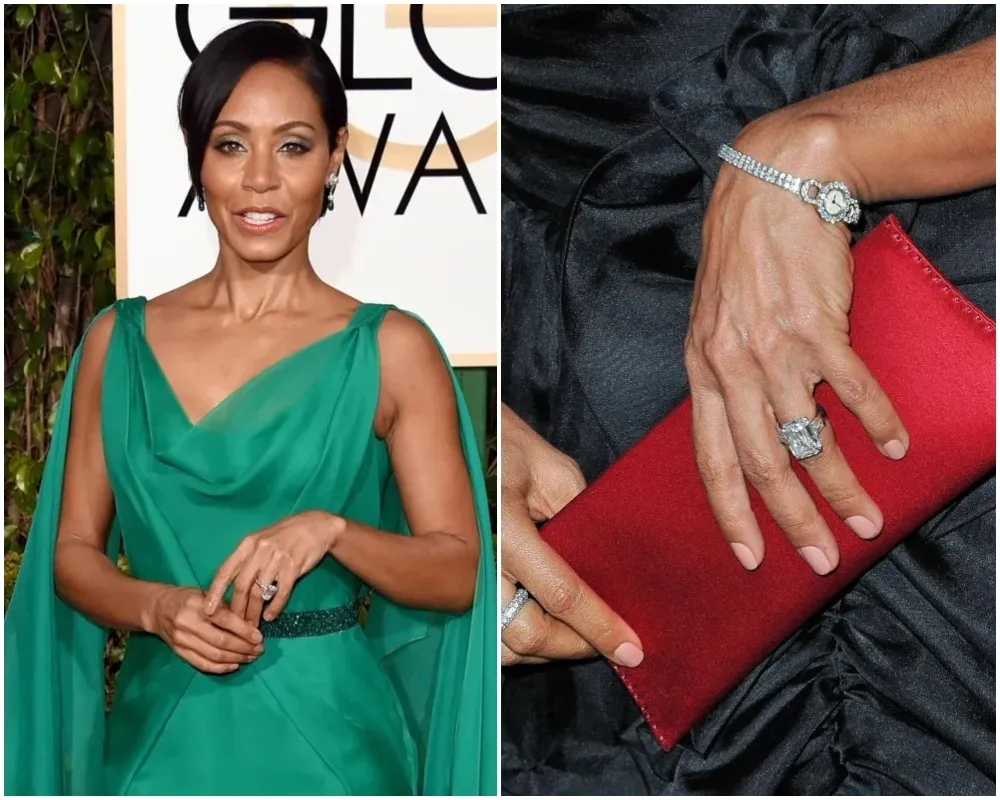 In the year 2000, the couple gave birth to their second child. Throughout the years, they have been open and honest about the difficulties they have encountered in their relationship. Jada disclosed during a 2013 interview that they even have a non-exclusive marriage. Nevertheless, despite the obstacles they have experienced, the couple has managed to stay together until now.
Priyanka Chopra
Priyanka Chopra and Nick Jonas got engaged, and the ring is valued at $200,000.
Priyanka took the first step in their relationship by sending a direct message to Nick in 2016. They went public with their relationship in 2018, and soon after there were speculations about their engagement when they were spotted wearing matching gold rings. Nick closed a Tiffany store in July 2018 to select the five-carat diamond ring he would use for his proposal.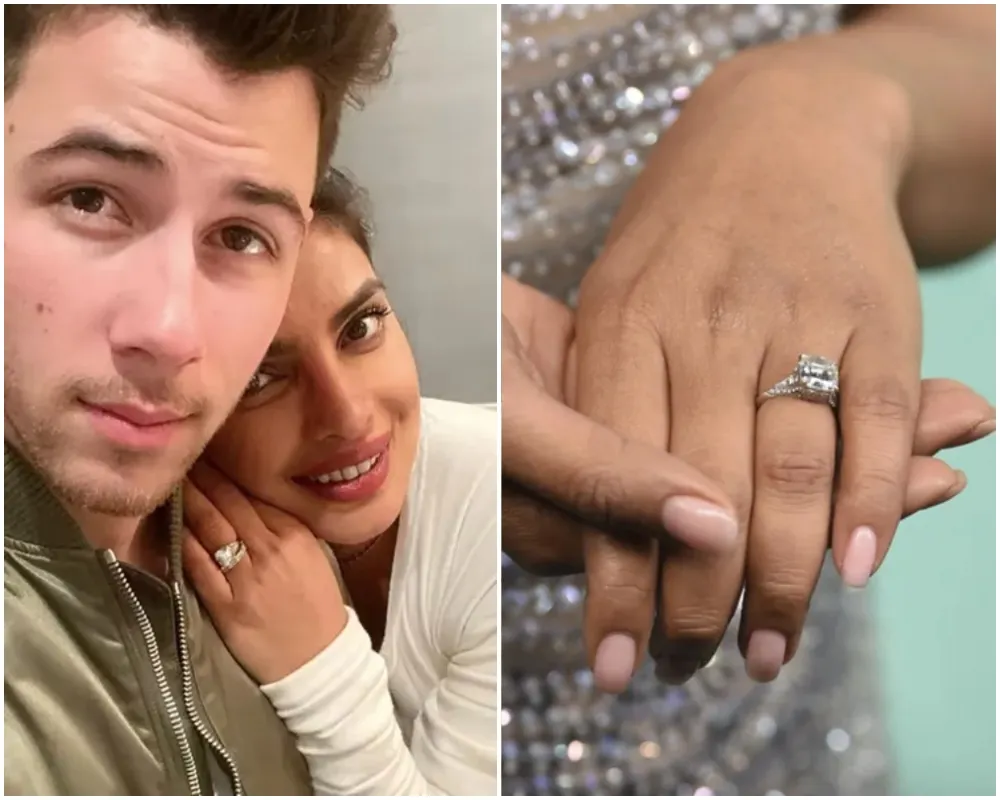 Their wedding festivities lasted for three days and incorporated elements of both their Christian and Hindu marriage customs. Ever since, they have been enjoying a happy and fulfilling marriage. In January 2022, they joyfully welcomed Malti Marie Chopra Jonas as their daughter through surrogacy.
Amal Clooney
Event: Amal and George Clooney's decision to get married
Price of the engagement ring: $750,000.
George was initially acquainted with his current spouse by a mutual friend who invited her to join for dinner. George's pal called him to request bringing a guest before Amal even reached the gathering place. While on the phone, George's agent prophesied that he would marry the unanticipated guest someday. When they met, George and Amal had an immediate bond and spent the entire evening conversing.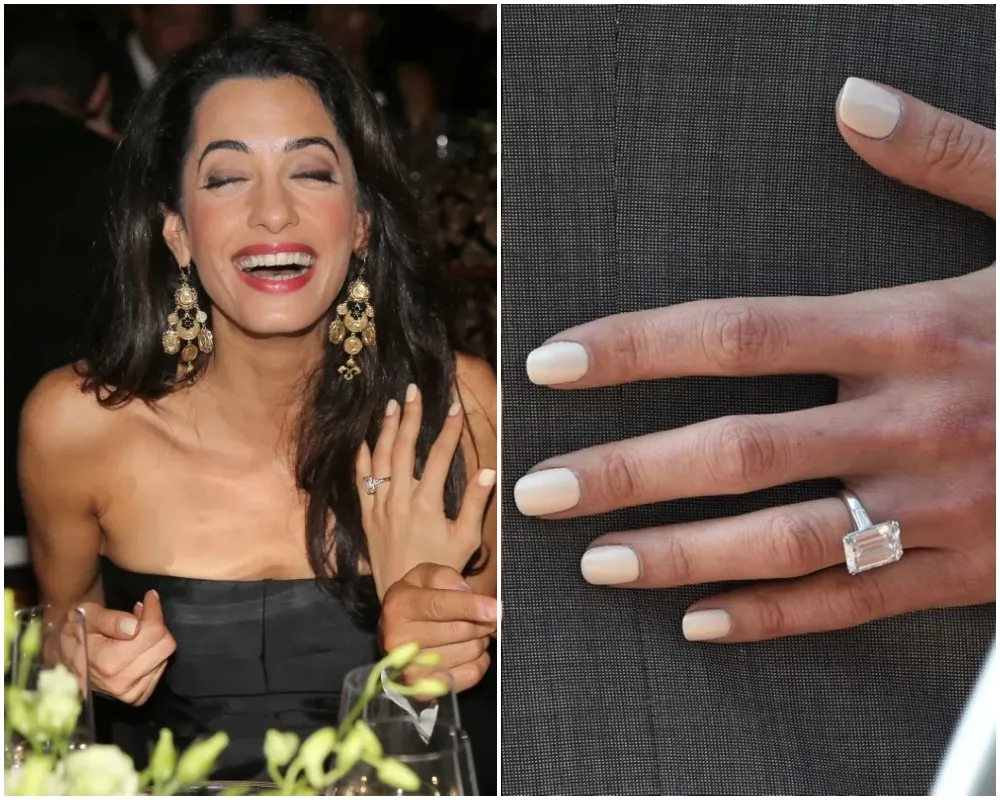 In 2014, George asked for his partner's hand in marriage while they enjoyed a romantic, homemade meal and presented them with a stunning diamond ring weighing seven carats. Their wedding took place in September of the same year, and it was considered to be the most significant celebrity wedding since Prince William and Kate's wedding three years prior. Several years later, in 2017, the couple became parents to twins.
Kate Middleton
The event in question is the announcement of the engagement between Kate Middleton and Prince William, and the ring given as a symbol of this commitment has a value of half a million dollars.
William and Kate, who belong to the royal family, crossed paths for the first time in 2001 when they were both in college. They started off as friends and remained so for over a year before they developed feelings for each other. Their relationship continued throughout their college years, but after they completed their studies, they decided to break up so that they could focus on discovering more about themselves. However, they eventually got back together during the summer of 2007.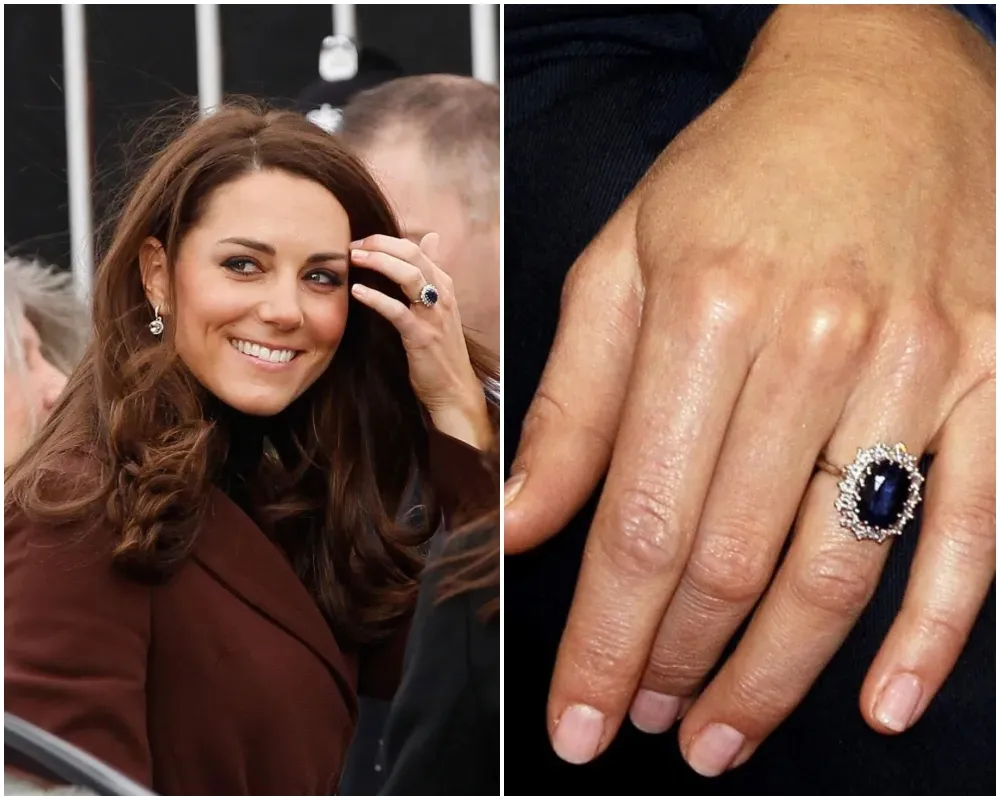 In 2010, Prince William proposed using a 12-carat sapphire ring that originally belonged to Princess Diana, his late mother. The ring is estimated to be worth $500,000. The couple officially got married in 2011 at Westminster Abbey in London. The announcement of their first child followed in 2012, and they welcomed two more children in 2015 and 2018.
Eva Longoria
The engagement between Eva Longoria and José Baston was marked by a ring worth $500,000.
According to reports, in 2013 the two individuals were introduced by their mutual friends, however, it was mentioned that they did not feel any chemistry between them initially. After a gap of six months, the same friend reintroduced them to each other and a strong bond was immediately formed. While on a trip to Dubai, José proposed to his partner with a magnificent six-carat ruby diamond.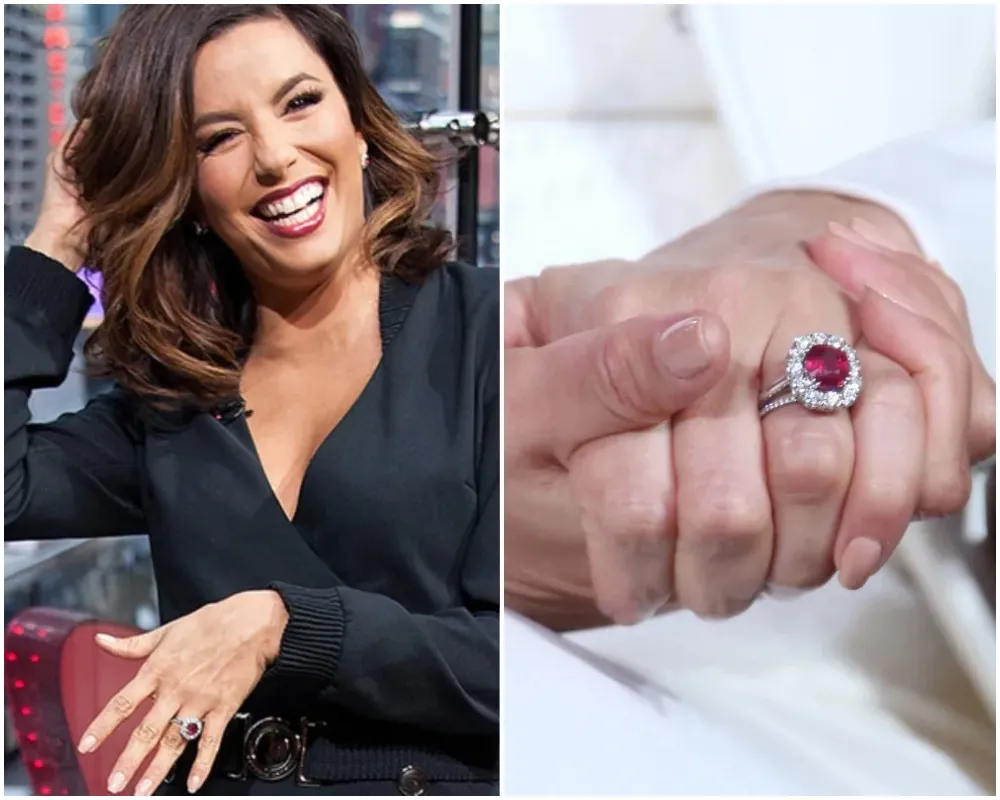 In 2016, the couple got married in Mexico in a grand celebration attended by numerous celebrities. Eva's close friend, Victoria Beckham, designed her wedding dress. Their first child was born in 2018, which became the fourth child for José.
Hailey Baldwin
On the occasion of Hailey Baldwin and Justin Bieber getting engaged, the ring's value was estimated to be around $500,000.
In 2009, Hailey and Justin briefly met during a meet-and-greet. In 2015, they were seen kissing while ringing in the New Year. Even though they separated at some point, they got back together in 2018. Justin proposed to Hailey in July of that year, presenting her with a 10-carat diamond ring.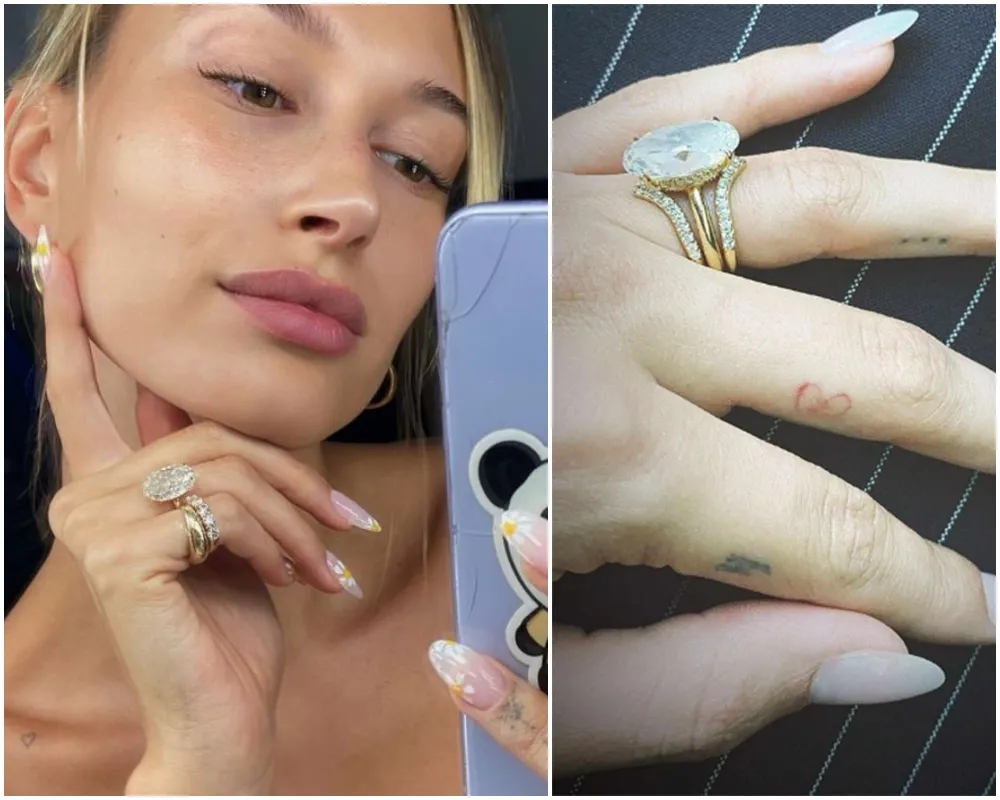 During September of 2018, the couple officially got married in a civil ceremony that was recognized by legal authorities. Hailey announced the news publicly by changing her Instagram handle to @HaileyBieber. A year after this, the couple hosted a wedding ceremony in South Carolina, where Hailey wore a distinctive veil featuring the words "Till Death Do Us Part" embroidered on it.
Sofia Vergara
Event: The engagement of Sofia Vergara and Joe Manganiello // Cost of Ring: $750,000
In 2014, Sofia was already committed in a relationship when she first encountered Joe. Upon learning about Sofia's single status, Joe contacted Jesse Tyler Ferguson, his Modern Family co-star, to obtain her contact information. After going out on a date, Sofia spent their entire time together enumerating the reasons why they would not be compatible. However, love eventually triumphed over their doubts.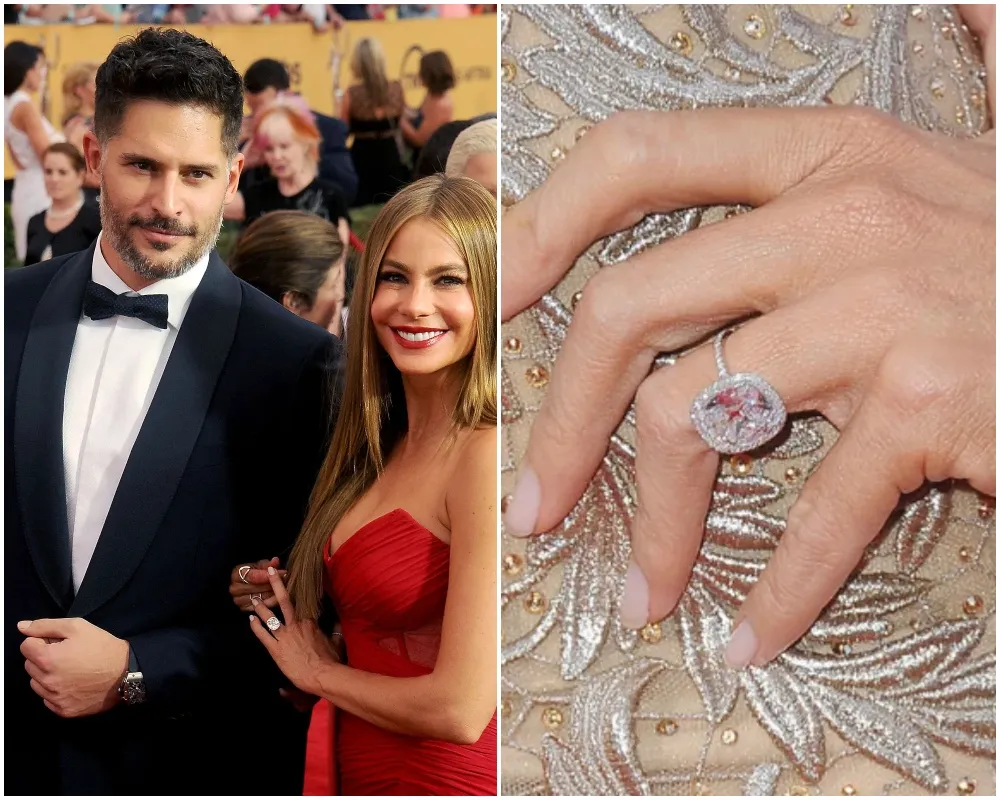 Joe was seen browsing for engagement rings only six months after this incident. To avoid the paparazzi ruining his proposal plan, Joe asked Sofia to marry him in their hotel suite during their Christmas vacation. To add more charm, he proposed to her in Spanish and gave her a five-carat diamond ring. This romantic couple tied the knot in 2015 in Palm Beach.
Ciara
Ciara and Russell Wilson announced their engagement, and the estimated value of the ring is around 2 million dollars.
Russell and Ciara were introduced to each other in 2015 at a basketball game. Russell proposed to Ciara in 2016, on a beach in Seychelles, with a 16-carat diamond ring, which brought them closer. They held a private wedding in England a few months later. Then, in 2017, the couple received the gift of their first daughter.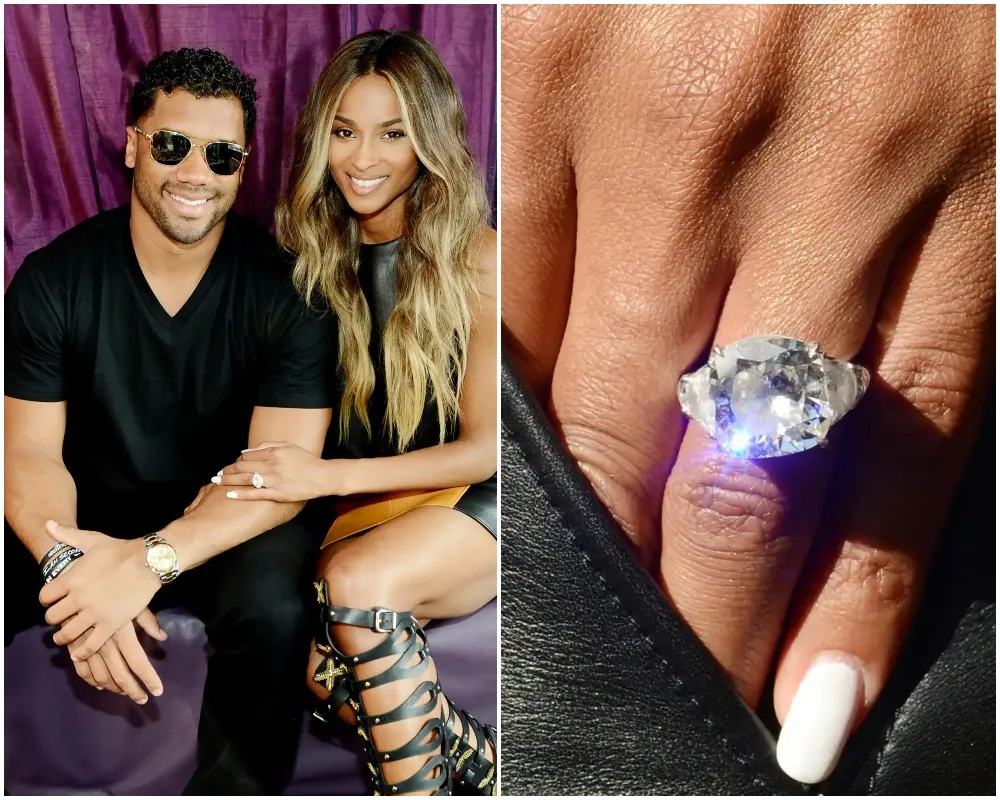 Ciara and Wilson made an announcement on Instagram in 2020 that they were going to have another child. In 2022, during Ciara's co-hosting of The Ellen DeGeneres Show, Russell proposed for the second time, and requested to have a baby together. Ciara found it adorable and agreed after laughing about it.
Hilary Duff
Event: The engagement of Hilary Duff and Matthew Koma // Cost of the ring: $80,000
In 2015, Hilary Duff and Matthew Koma connected while working together in the studio on an album, and in 2017, they made their first public appearance as a couple. Despite a brief separation, they reignited their relationship in 2018 and shared on social media that they were going to be parents. In October of that year, their first child, Banks, was born.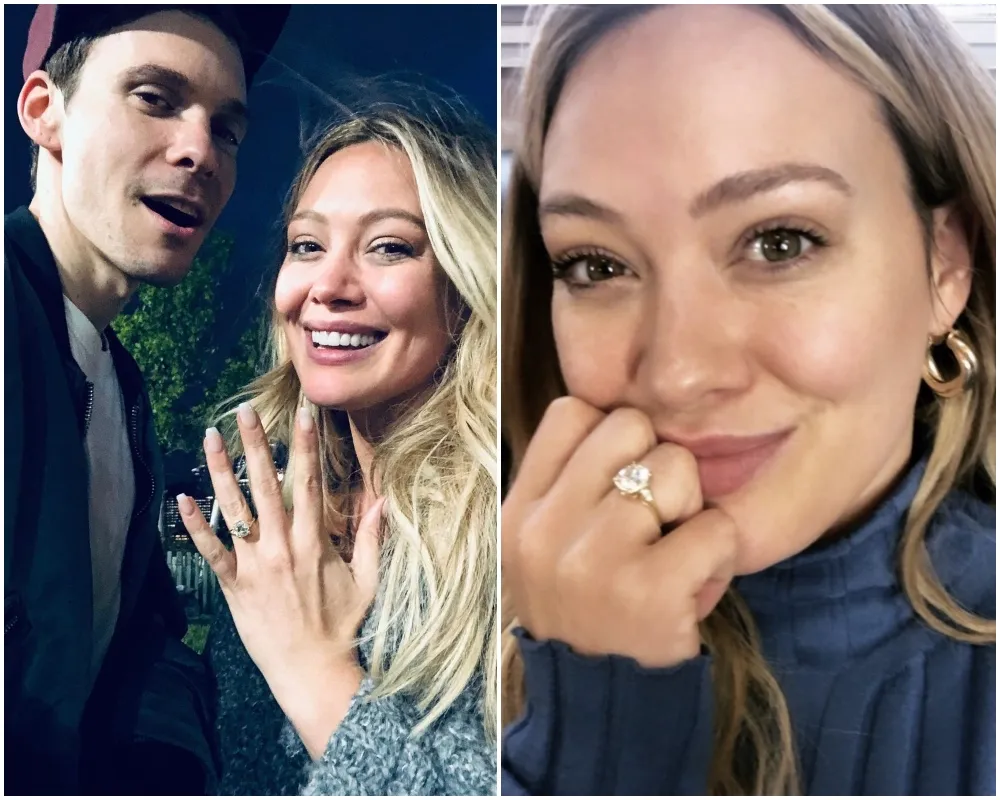 During the year 2019, the couple took a stroll together, during which time Matthew gifted Hilary with a handmade book that chronicled their relationship. At the conclusion of the book, there was a concealed section that contained a diamond ring weighing four carats and valued at $80,000. Some months later, the couple exchanged vows in a small, personal wedding ceremony.
Kourtney Kardashian
The event is the engagement of Kourtney Kardashian and Travis Barker, and the ring holds a worth of one million dollars.
Kravis made their relationship official in 2021, following a brief period of dating. The couple publicly displayed their affection through social media and public appearances. In October 2021, on the beach, Travis asked for Kravis' hand in marriage surrounded by numerous red roses.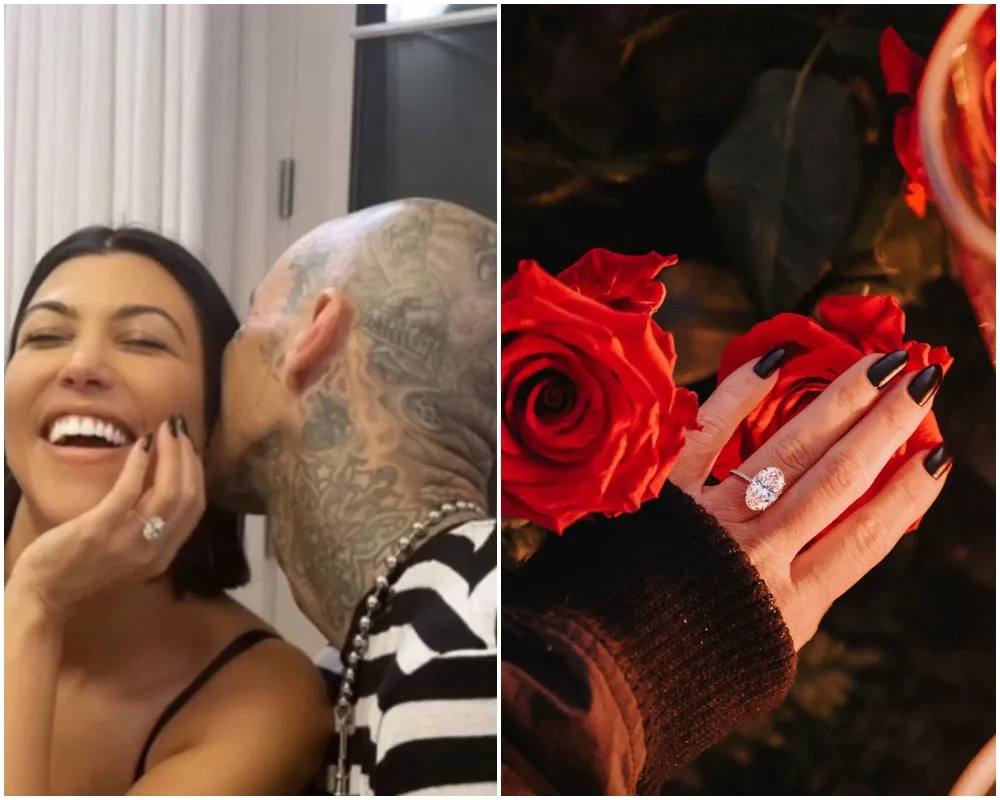 Kourtney was gifted with a ring containing a 12-carat diamond. The two lovebirds exchanged their vows in Las Vegas in April of 2022. A month later, Kravis held an extravagant event at the luxurious villa of Dolce and Gabbana in Italy, where they joyfully celebrated their union along with their loved ones.
Gabrielle Union
Event: The engagement of Gabrielle Union and Dwyane Wade // Price of the ring: One million dollars.
In 2009, the couple started their romantic relationship. They took a brief pause but declared their plan to get married in 2013. While inspecting their house under construction, Gabrielle encountered Dwyane's sons from his prior marriage carrying a sign asking her to marry them. She suspected it was a jest since the children had already made the same inquiry on several occasions.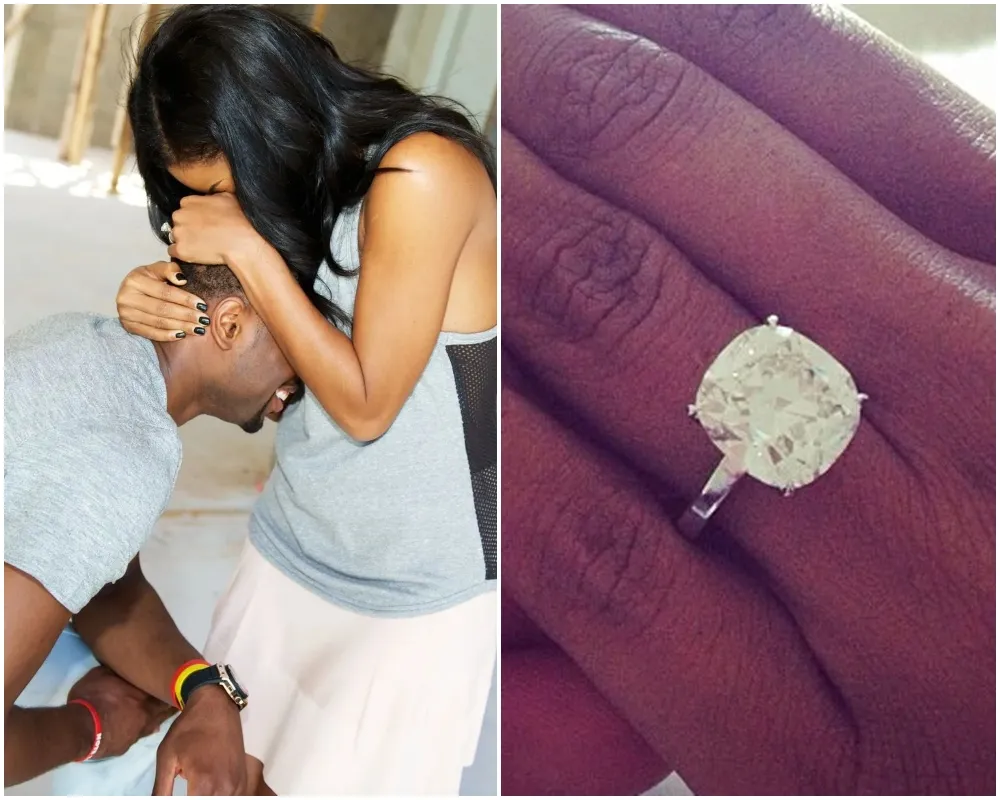 Dwyane popped the question with a huge diamond ring that measured 8.5 carats. The couple exchanged their wedding vows in a private ceremony held in Florida in 2014. In 2017, Gabrielle openly talked about her difficulties with fertility and the numerous miscarriages she experienced. Nonetheless, a year later, Union and Wade had their first child together through surrogacy and welcomed their daughter in 2018.
Cardi B
The event being referred to is the engagement of Cardi B and Offset. The engagement ring in question holds a value of $500,000.
Cardi B and Offset teamed up to release a joint track in January 2017, and within a month, they enjoyed their inaugural date, thanks to Offset who took Cardi to the Super Bowl. It was quite a memorable moment. Later in the year, Cardi hinted publicly on being ready for engagement, and not long after, Offset popped the question by presenting an impressive eight-carat diamond ring on stage.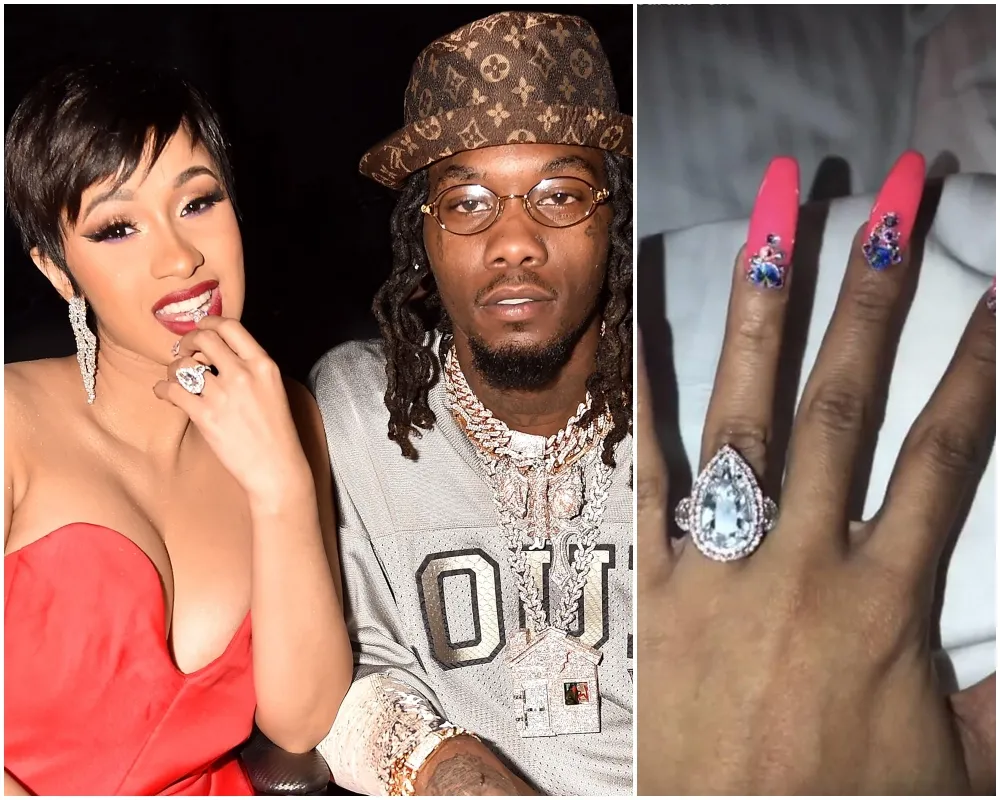 The musicians got married in private in 2017, and one year later, they had their first child. Although Cardi filed for divorce in September 2020, the divorce was eventually canceled. In June 2021, Cardi announced her second pregnancy with a breathtaking pregnancy photoshoot.
Megan Fox
Event: Megan Fox and Machine Gun Kelly are engaged // The worth of the ring is $300,000.
Before rumors about a potential romance between Megan and Machine Gun Kelly (MGK) began circulating in early 2020, Megan had already separated from her husband. Their relationship became a topic of discussion when Megan starred in MGK's music video, and the rumors continued to gain traction. The unexpected couple finally confirmed their relationship in June 2020.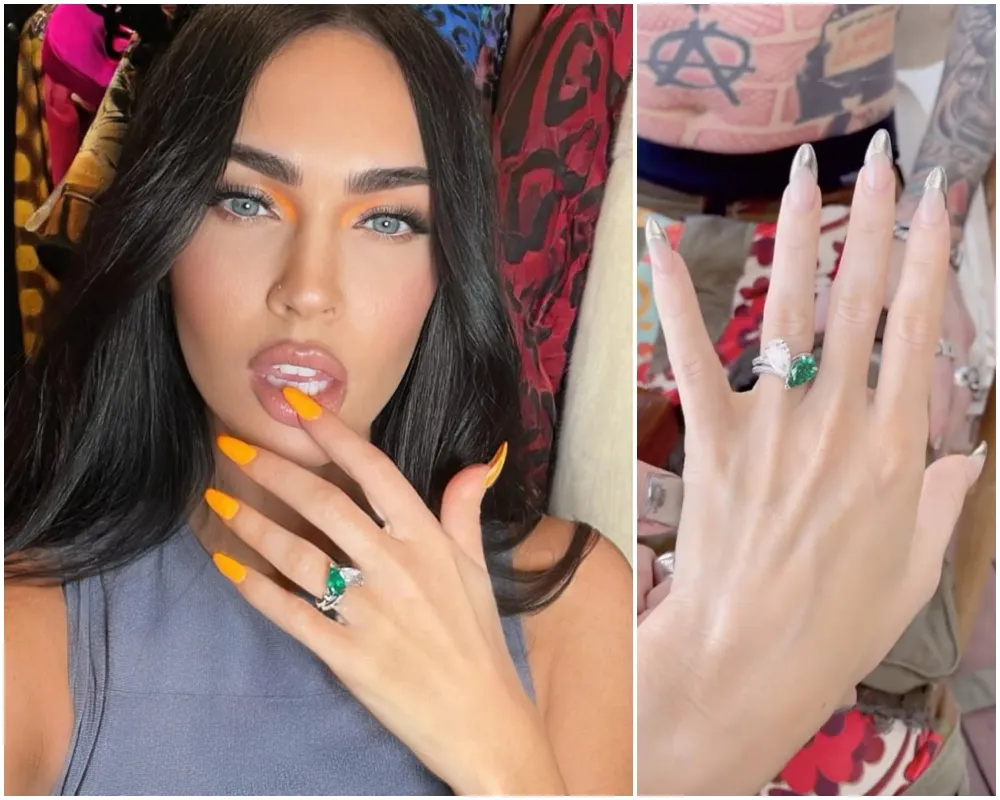 The couple made public their engagement in January 2022. Using two six-carat diamonds, MGK created a ring that represents the merging of two parts into one. The ring, adorned with both MGK's and Fox's birthstones (diamond and emerald, respectively), caused a bit of controversy due to its thorny design, which was initially met with mixed reactions from fans.
Jennifer Lawrence
It has been reported that Jennifer Lawrence and Cooke Maroney got engaged, and the estimated worth of the engagement ring is between $150,000 – $200,000.
Jennifer and Cooke began their romantic relationship thanks to a mutual friend who introduced them to one another in 2018. In the following year, specifically in February, they decided to take a step further by getting engaged. Although the particulars of the proposal remain largely undisclosed, we are informed that Cooke surprised his future wife with a five-carat diamond ring.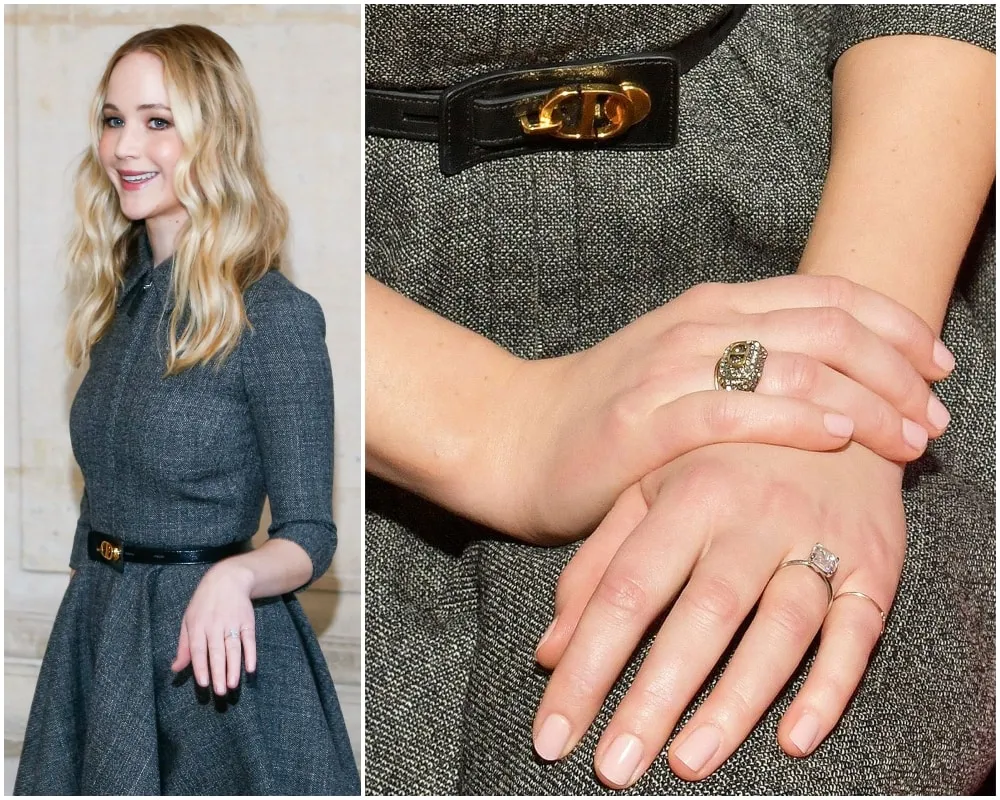 In October 2019, the couple tied the knot at the Belcourt of Newport mansion in Rhode Island, confirming their love for each other. Sources reveal that they enjoyed partying all night at their wedding and only left at 5:30 am before going on their honeymoon to Indonesia. Later in 2022, the couple welcomed their first child.
Reese Witherspoon
Reese Witherspoon and Jim Toth got engaged and their engagement ring cost $200,000.
In 2010, at a mutual acquaintance's residence, Reese Witherspoon and Jim Toth crossed paths and immediately clicked. Less than a year afterwards, in December, the two became engaged, with Jim presenting a four-carat diamond ring. Soon after, the newly engaged couple tied the knot on their ranch.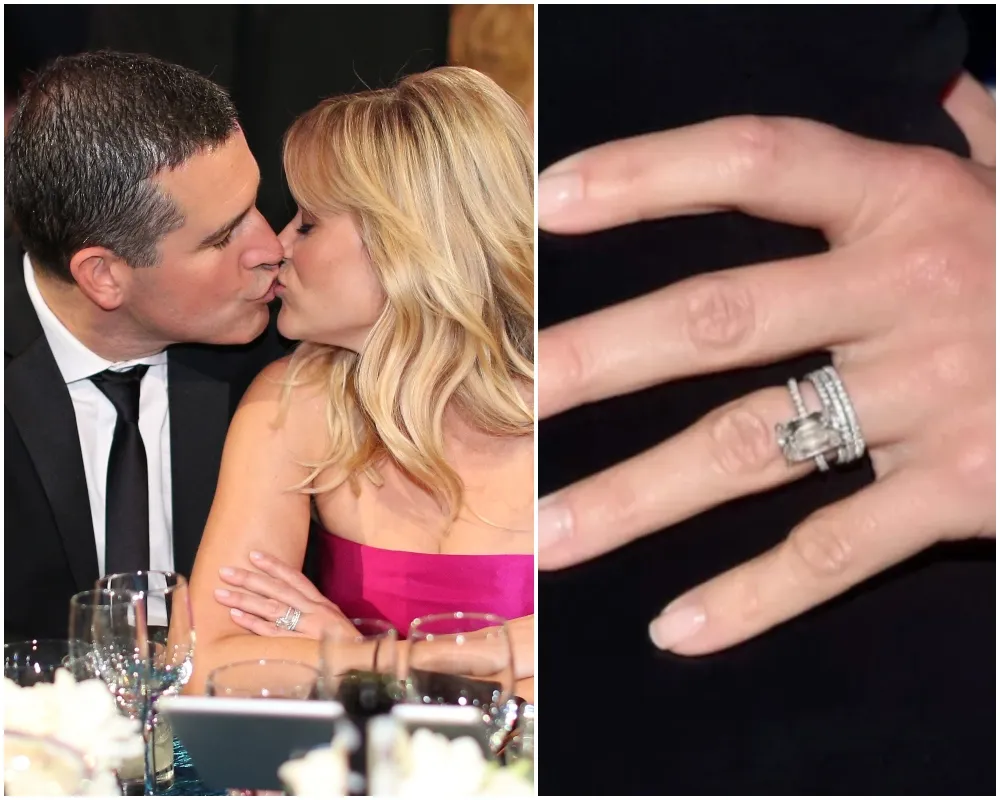 The couple made public in 2012 that they were anticipating the arrival of their first child. Later in September of that year, they became parents to a baby boy. To celebrate their 11th wedding anniversary, in March 2022, Reese posted a selfie on Instagram.
Ariana Grande
Event: The engagement of Dalton Gomez and Ariana Grande // Worth of the ring: $350,000
In 2018, Ariana terminated her engagement with Pete Davidson, a Saturday Night Live performer, and chose to keep her subsequent romance with Dalton a secret. However, in May 2020, the pair finally disclosed their relationship to the public. Ariana later posted several photos on her Instagram, including birthday shoutouts to both of them, to showcase their relationship.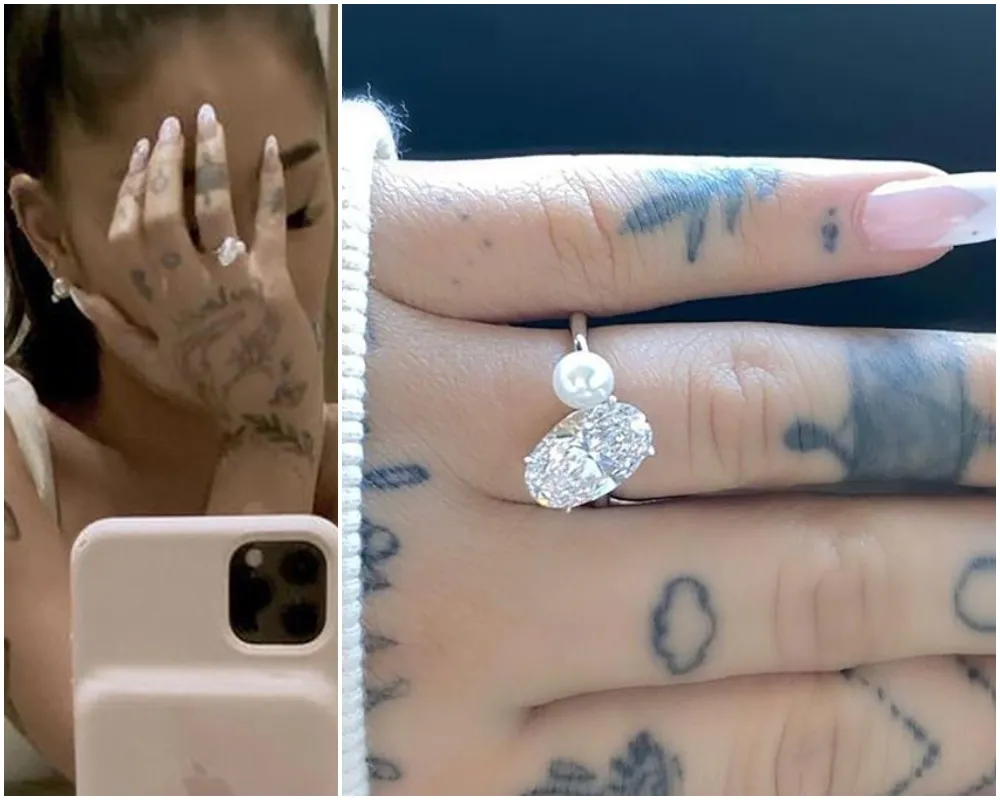 Dalton proposed just before Christmas in December of 2020, he designed and customized Grande's ring, which features a five-carat diamond and a pearl. The pearl was from a ring that her grandmother had gifted her. In May 2021, they exchanged vows in an intimate wedding.
Scarlett Johansson
Occasion: Scarlett Johansson and Colin Jost's engagement // Value of Ring: $450,000
In 2006, Scarlett was hosting Saturday Night Live for the first time. Her now-husband, Colin, had just become a writer on the show. Scarlett hosted SNL quite a few times but it wasn't until 2017, at an SNL afterparty, that the two were romantically linked.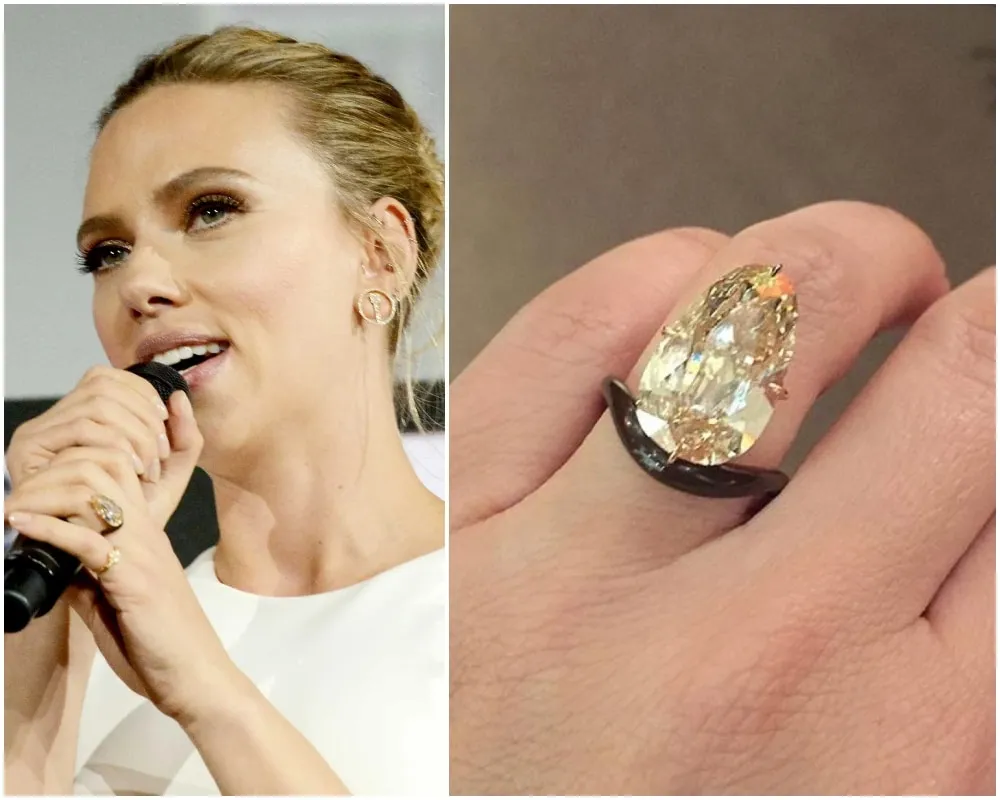 Colin proposed in 2019 with an 11-carat pear-shaped diamond. Months later, while hosting SNL again, Scarlett joked about how Colin would get fired if the show didn't go well and thanked SNL for being the place she met the love of her life. The couple wed in 2020 and welcomed their first child a year later.
Yvette Prieto
Occasion: Yvette Prieto and Michael Jordan's engagement // Value of Ring: $1 million
This ultra-private couple hasn't shared much about their relationship, but this is what we do know. Yvette and Michael first met on the dance floor of a Miami club in 2007 and moved in together two years later. On Christmas Eve of 2011, basketball legend proposed with an estimated 10-carat diamond ring.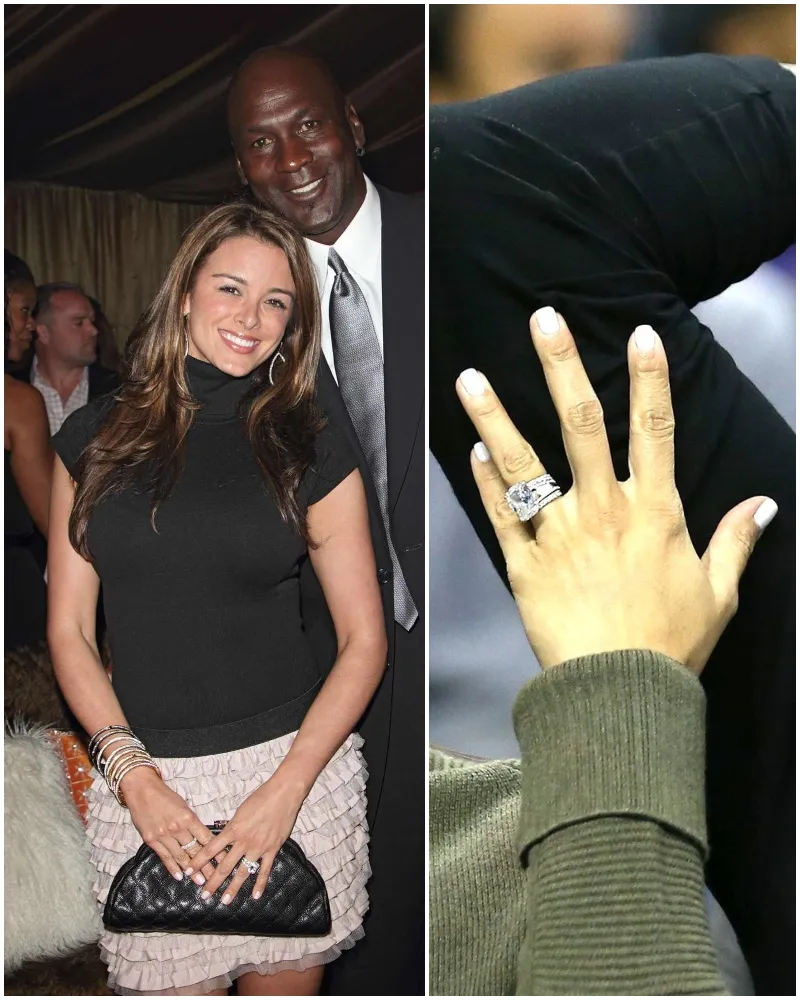 If a million bucks wasn't a lot to begin with, it's said that their 2013 lavish wedding cost $10 million! The wedding included 300 of their closest friends and family members — plus, Usher and Robin Thicke both performed at the wedding. In February of 2014, the couple welcomed twin daughters.
Victoria Beckham
Occasion: Victoria and David Beckham's engagement // Value of Ring: $1.3 million
Victoria said she knew David was the one when they first met in 1997. David proposed in 1998 with a three-carat diamond ring. Over their 22 years of marriage, this is one of many rings that she has received — 1 of 15, to be exact. The couple welcomed their first son in March 1999 and wed four months later.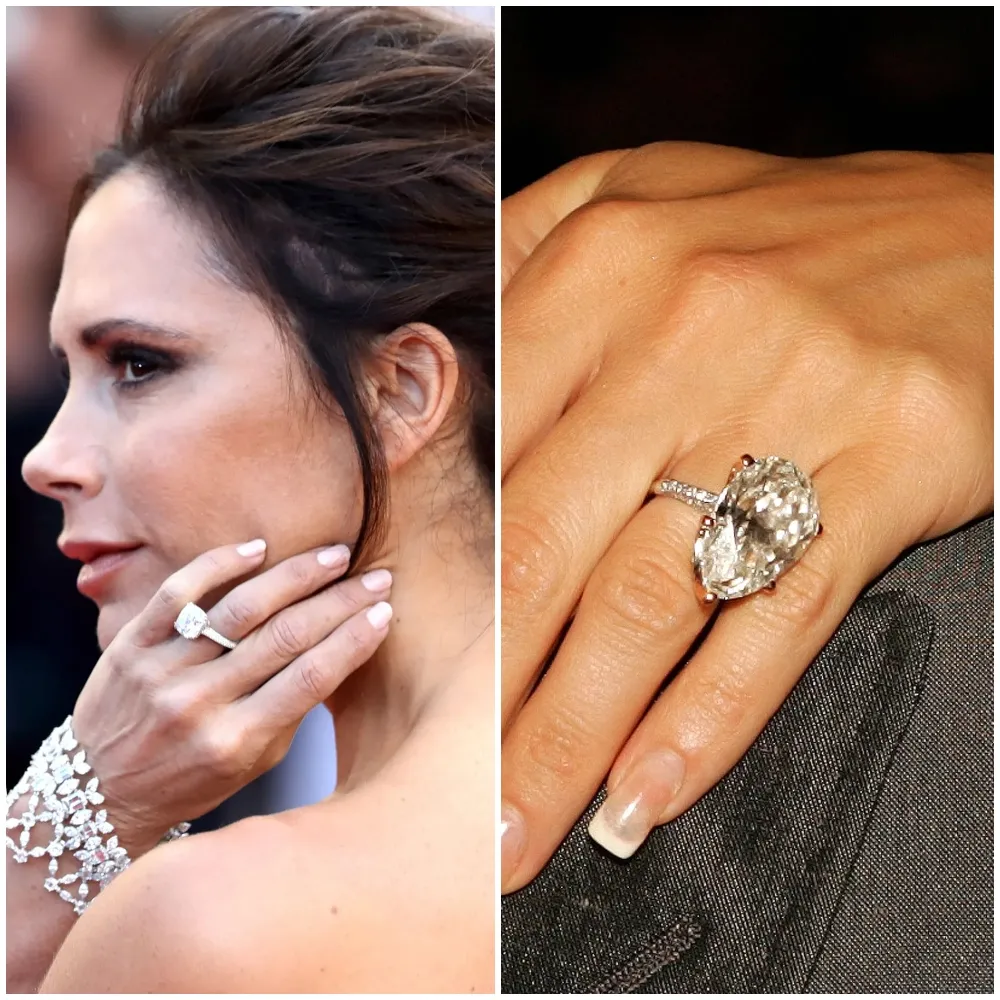 The bombshell couple went on to have another two sons in 2002 and 2005, and welcomed a daughter in 2011. The latest ring Victoria received was in 2018, a square-cut yellow diamond worth a whopping $1.3 million.
Angelina Jolie
Occasion: Angelina Jolie and Brad Pitt's engagement // Value of Ring: $1 million
Brad and Angelina first met in 2004 while filming the movie Mr. and Mrs. Smith. Brangelina became official in 2005. In 2006, Brad legally adopted Angelina's two children, whom she had adopted from Cambodia and Ethiopia. In May of that year, the couple welcomed their first child together.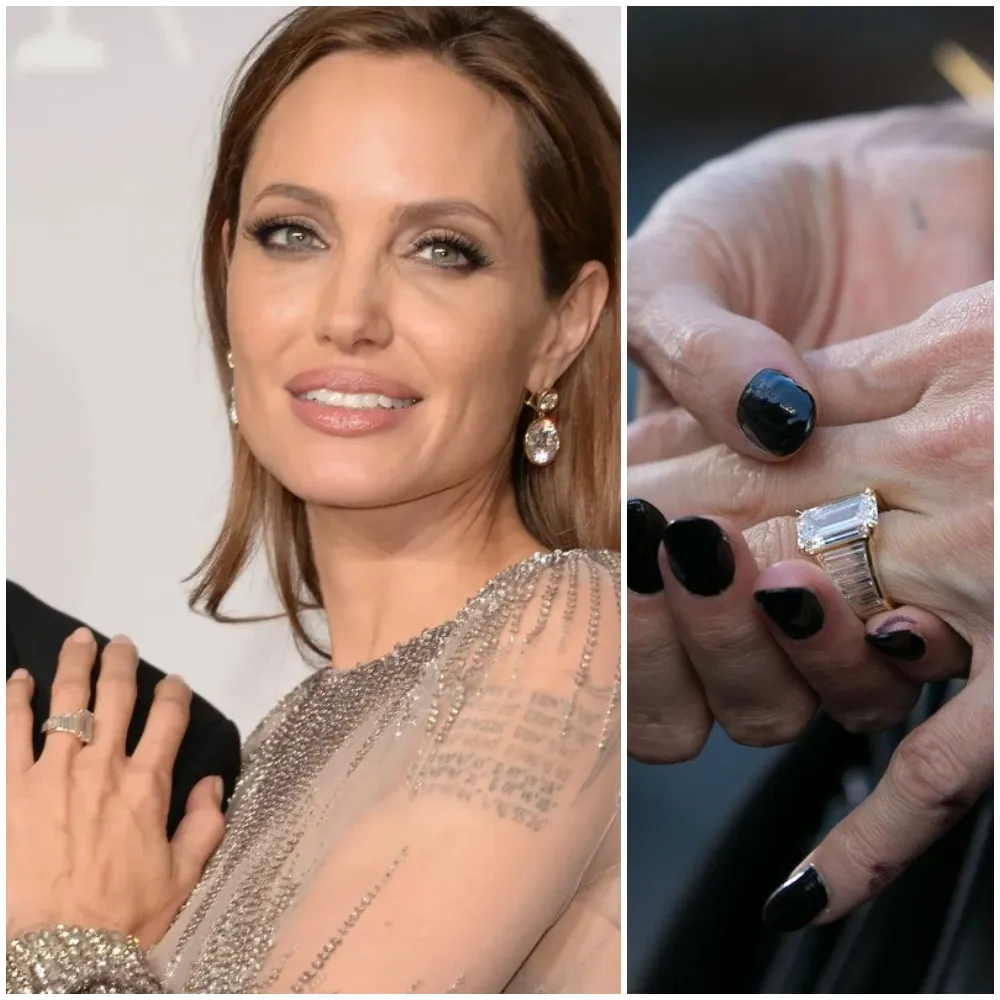 In 2007, the couple adopted their fourth child from Vietnam and welcomed a set of biological twins in July of 2008. After seven years, Brad popped the question with a 16-carat diamond ring, which he designed himself. In 2014, the couple had a very intimate wedding. Soon after their second wedding anniversary, however, Angelina filed for divorce.
Jessica Biel
Occasion: Jessica Biel and Justin Timberlake's engagement // Value of Ring: $100,000
While snowboarding together in Utah in 2007, Jessica Biel and Justin Timberlake sparked up a romance. After a brief break in the relationship in 2011, the couple came back stronger than ever and announced their engagement. Justin proposed in December of 2011 while on their annual vacation to Montana, with a six-carat diamond.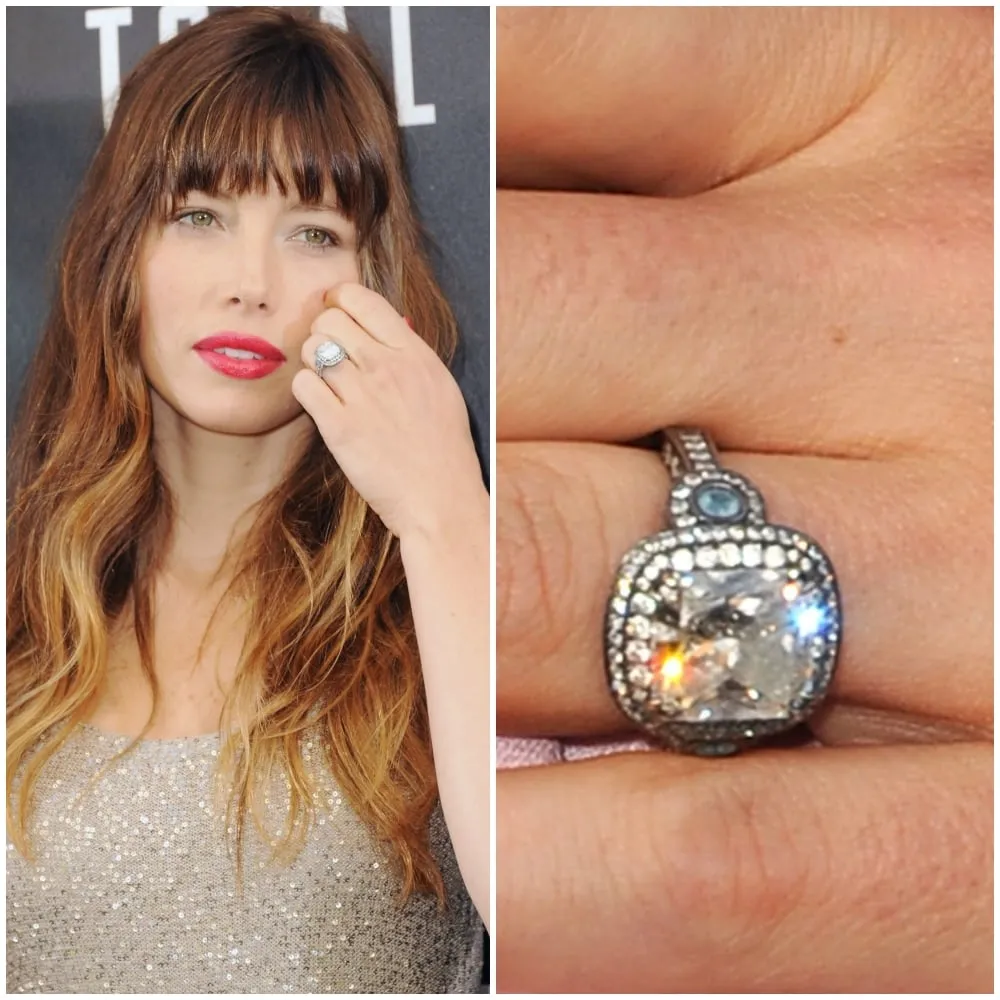 The two married in a low-key wedding in Italy in October of 2012. In 2015, the celebs welcomed their first child — and had their second in 2021. Jessica recently posted a series of photos of the couple on Instagram in celebration of their 10th wedding anniversary.
Emily Blunt
Occasion: Emily Blunt and John Krasinski's engagement // Value of Ring: $100,000
A mutual friend introduced this beloved couple back in November 2008. Less than a year later, John proposed to Emily with a three-carat diamond ring. The two wed in 2010 at George Clooney's estate in Lake Como. The couple welcomed their first child in February 2014.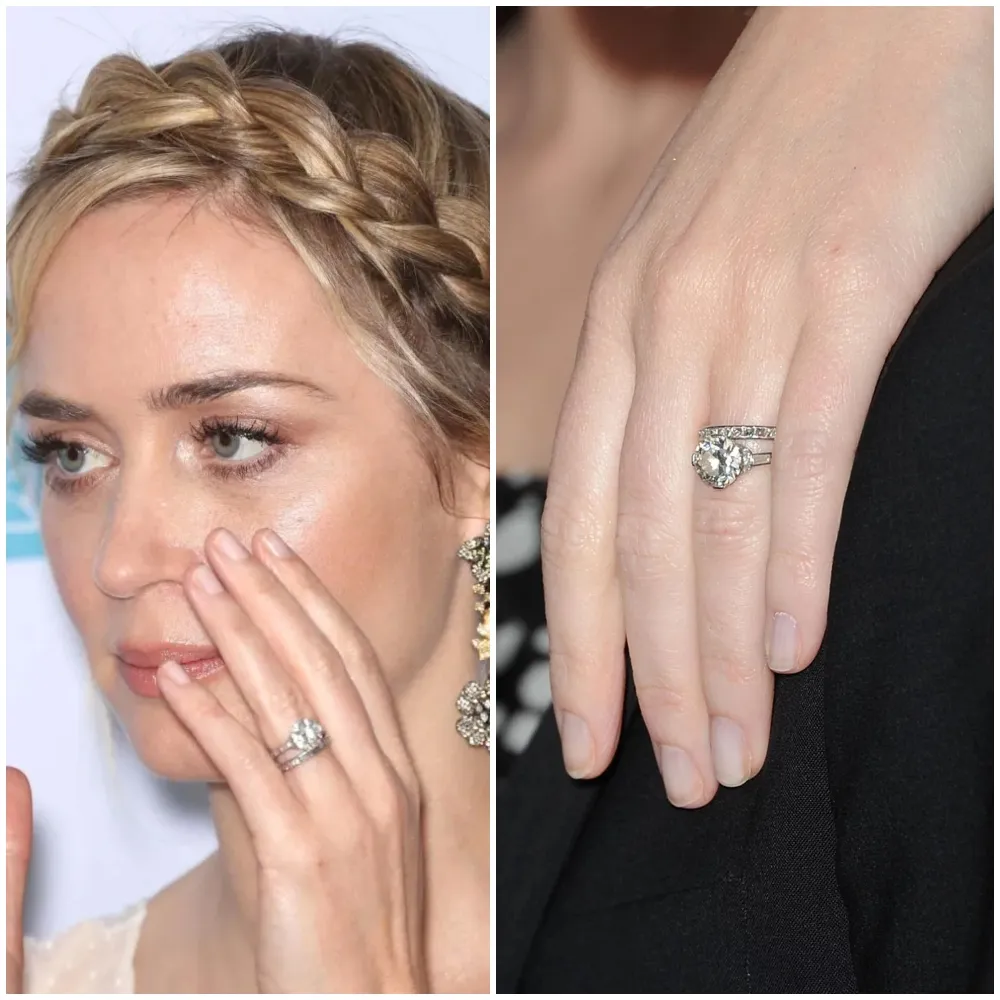 In 2016, the A-list celebs welcomed their second child together. A year later, the two announced they'd be creating a film together, A Quiet Place. After much critical acclaim and award nominations — including a win for Emily — Blunt and Krasinski announced they'll be making a sequel.
Bella Thorne
Occasion: Bella Thorne and Benjamin Mascolo's engagement // Value of Ring: $150,000
Bella and Benjamin first met at Coachella in April of 2019 and made their relationship Instagram official just months later. Due to the pandemic, the couple had to spend months apart and reunited in July 2020. A few months later, the two became co-stars in Benjamin's first film.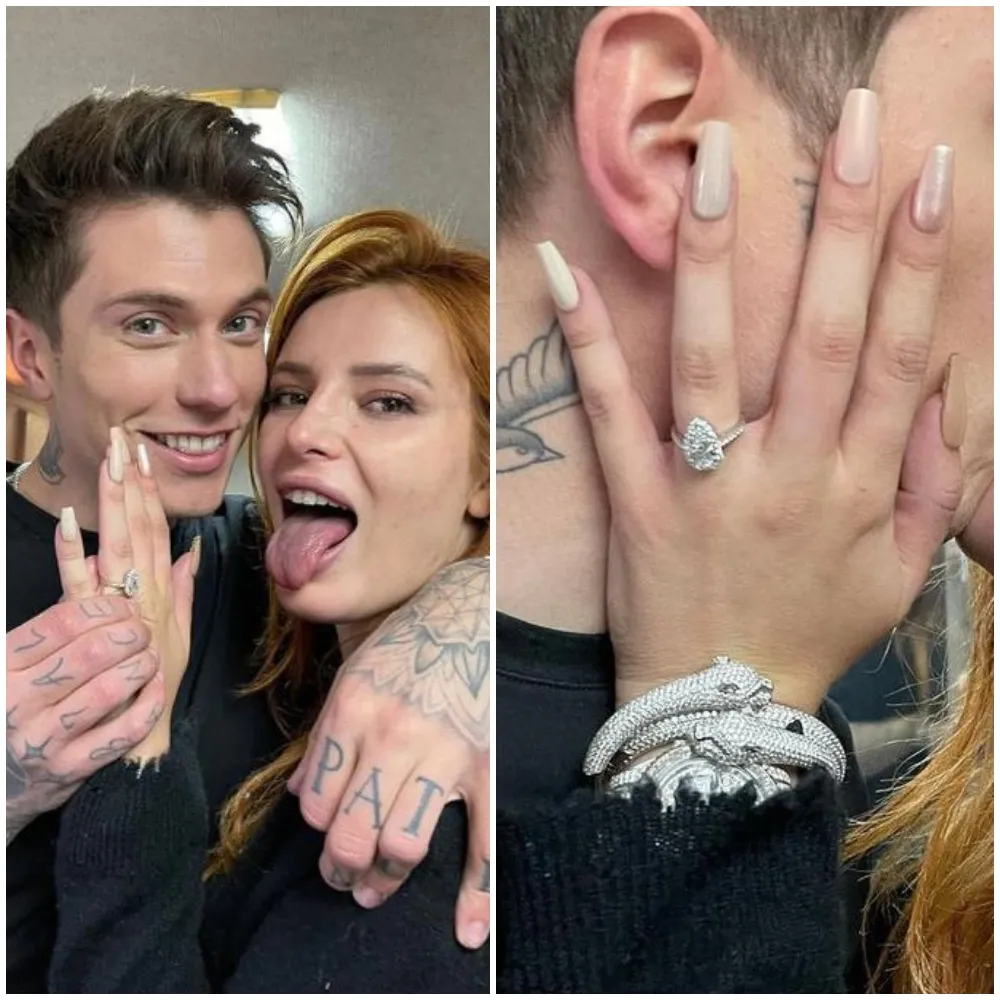 After almost two years of dating, Ben popped the question with a four-carat, pear-shaped ring. Unfortunately, in June 2022, Bella shared on her Instagram that she had ended their relationship and requested privacy during this time.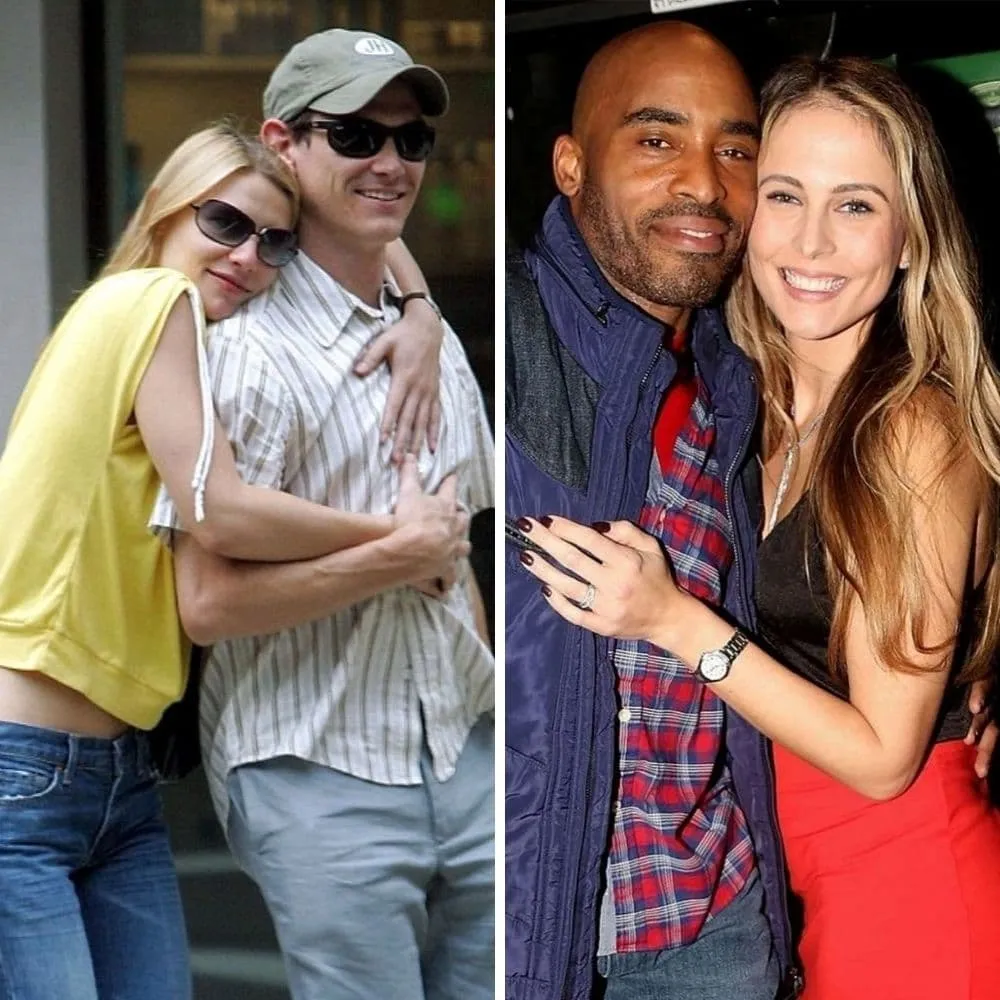 Hollywood romances are something many of us are enamored with. There's nothing like watching two beautiful people you have fallen in love with on the screen fall in love in real life. But sometimes, the extramarital affairs they get into seem to enrapture us even more. These celebrity mistresses are often more entertaining than seeing our favorite stars walk hand in hand with their significant others. Many of these mistresses eventually found love and became wives. Here are several of the most famous women who were thrust into some pretty massive scandals.
Gisele Bündchen
Tom Brady and Gisele Bündchen are a couple that many people fawn over now. But before they became a celebrity IT couple, they were a scandalous story. Tom Brady, the quarterback for the New England Patriots, was still in a relationship when they began dating.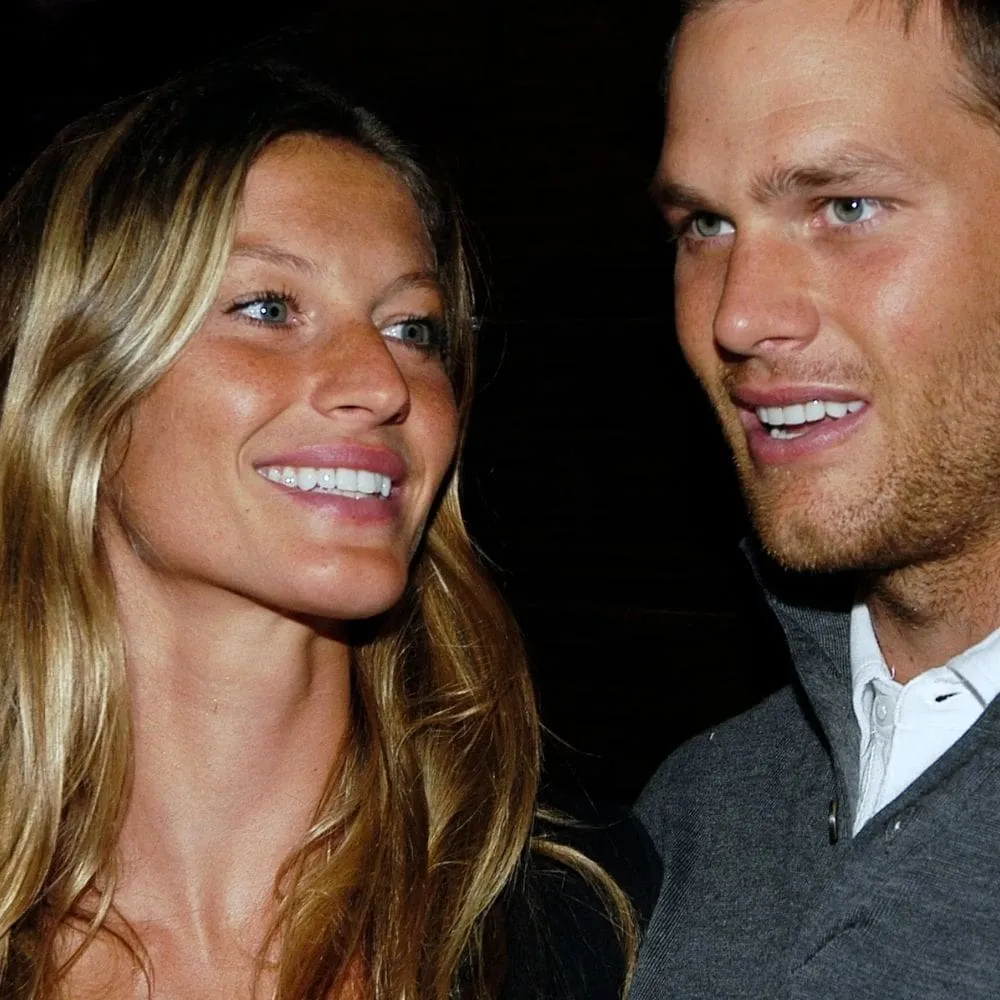 After dating Gisele Bündchen and Bridget Moynahan, Tom would eventually break it off with Moynahan and walk down the aisle with Gisele in 2009.
Alicia Keys
When many think of Alicia Keys, most people think of stylish music that gives them good feelings. But in her personal life, different aspects are going on. Now, the R&B star is coupled with Swizz Beatz, but the beginning of their relationship was a little rocky.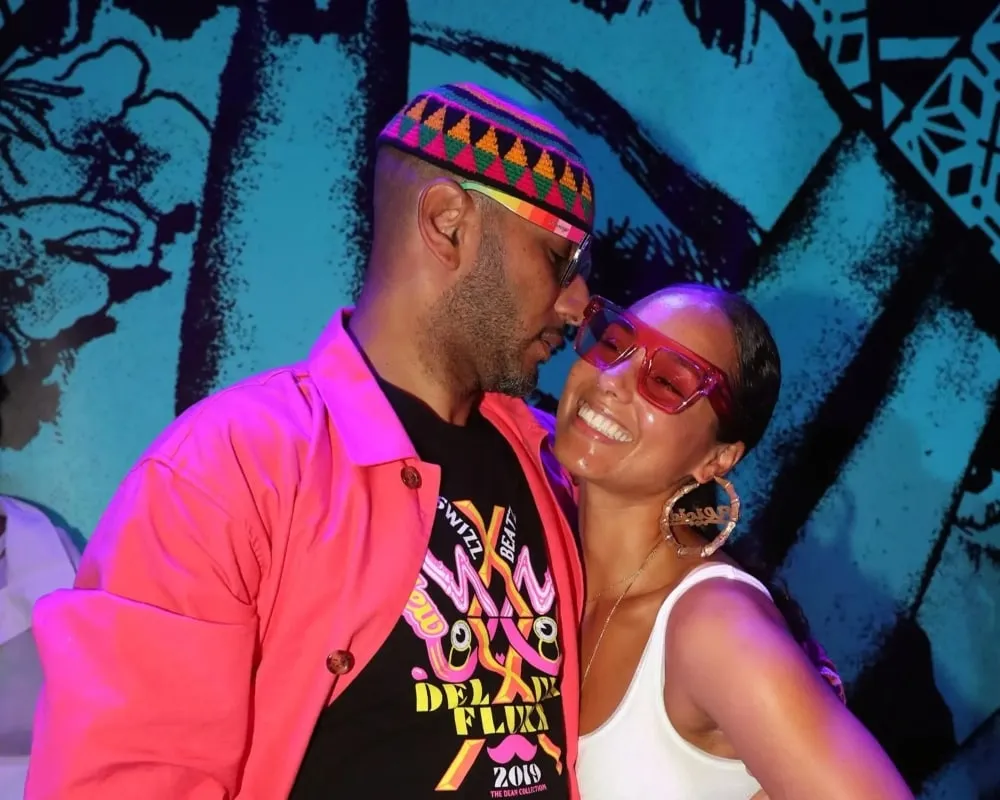 Swizz Beatz's ex claimed the couple got together before their marriage had ended. Of course, that's her take on it because the other members of this relationship say that they didn't get together until the marriage was entirely over.
Kayte Walsh
When you're in the public eye, you have to be careful about stepping out on your significant other. Of course, when you meet someone you love, it might be challenging because now you have to go through a whole new phase of the relationship with the person you are currently attached to.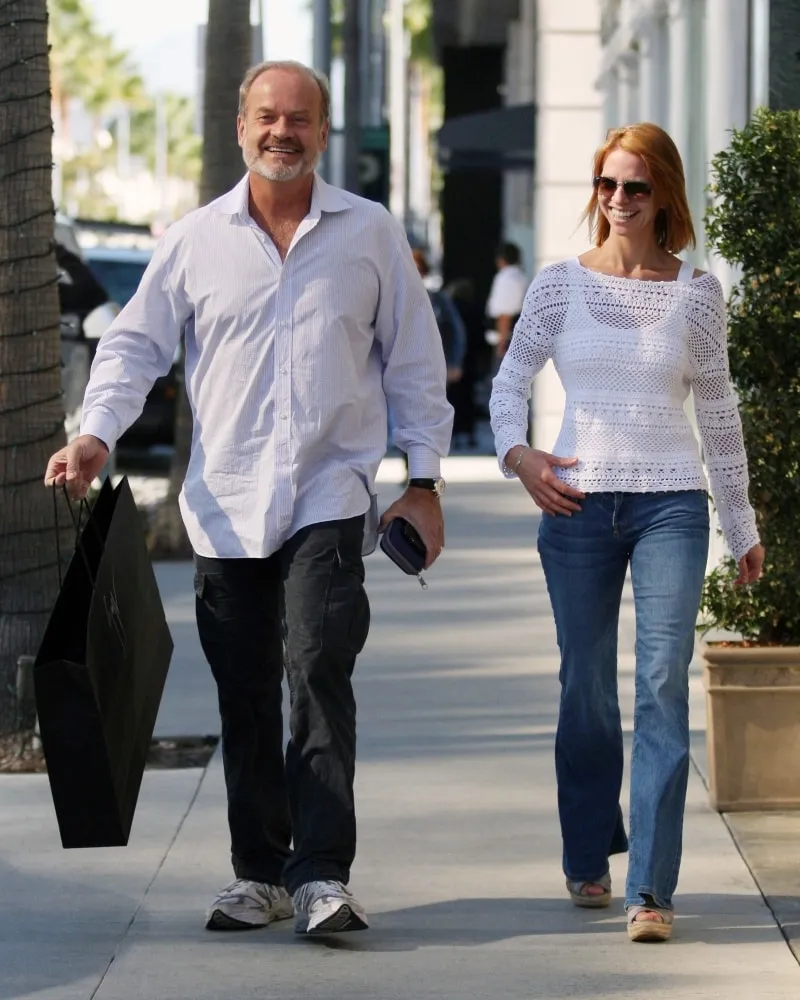 Kelsey Grammar met this flight attendant and dated her six months before his divorce. Eventually, Kelsey married Kayte once the divorce was finalized. Now they have three children together and are living happily ever after.
Patti Scialfa
Sometimes, closeness breeds a stronger connection. That may be the case with what happened between Bruce Springsteen and Patti Scialfa. The musician became part of his tour in the '80s, and they began to fall for each other.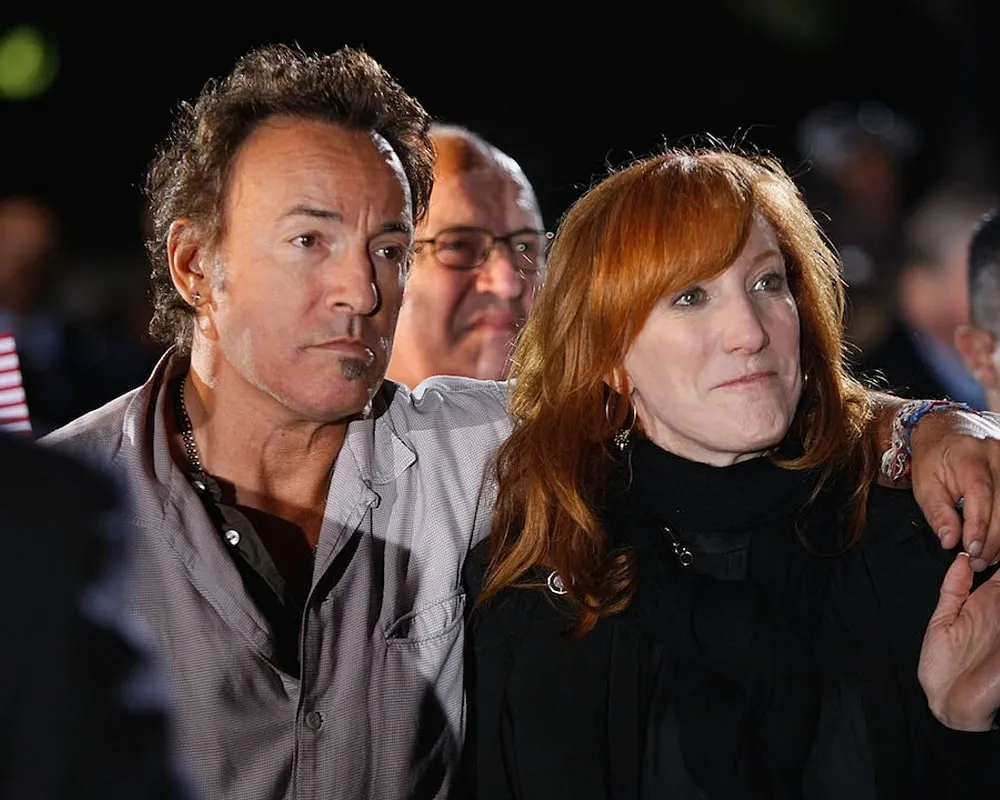 Unfortunately, Bruce was already married. Eventually, the affair was found out and his first marriage ended, which freed him to tie the knot with Patti and they've been together ever since.
Amber Heard
Though no one is sure that this actually began as an affair, most people have noticed that Amber Heard and Johnny Depp began their relationship on the set of a movie.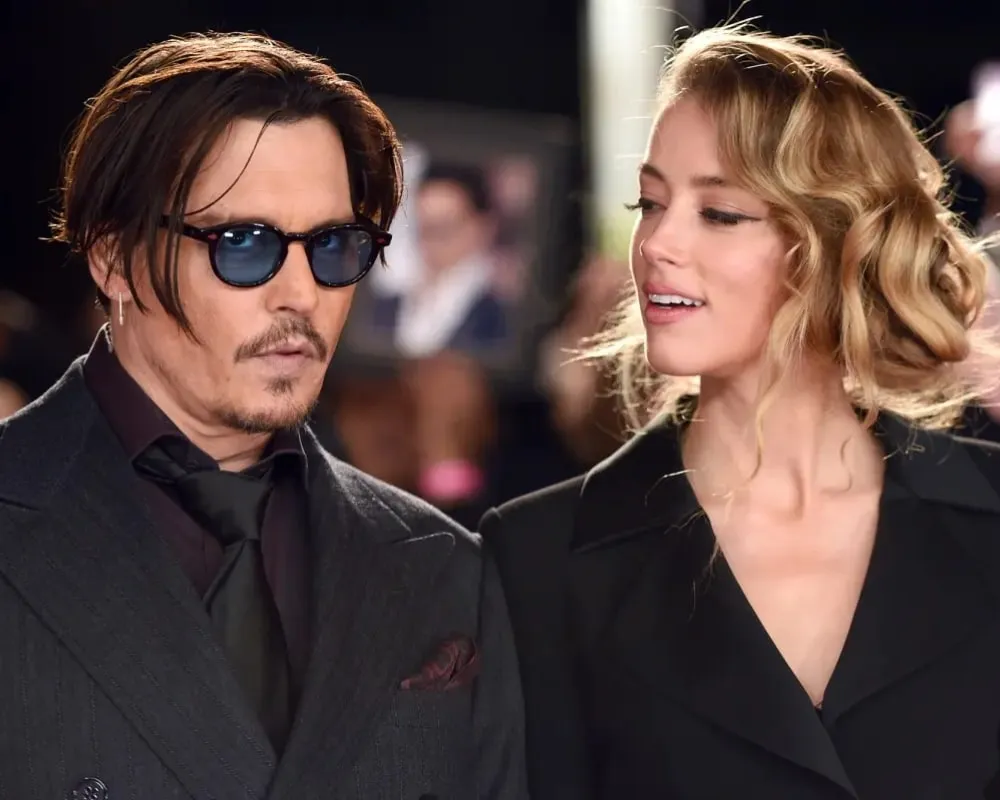 In 2012, Johnny Depp ended his marriage and soon began a new marriage with Amber. Sadly, the two could not keep this relationship together and would part ways just two years after tying the knot.
Madonna
This is another one of those scandals that weren't entirely found to be true. But allegedly, while married to Cynthia Scurtis, Alex Rodriguez had a side thing with Madonna. Of course, Madonna was also married at the time, so this was a double scandal.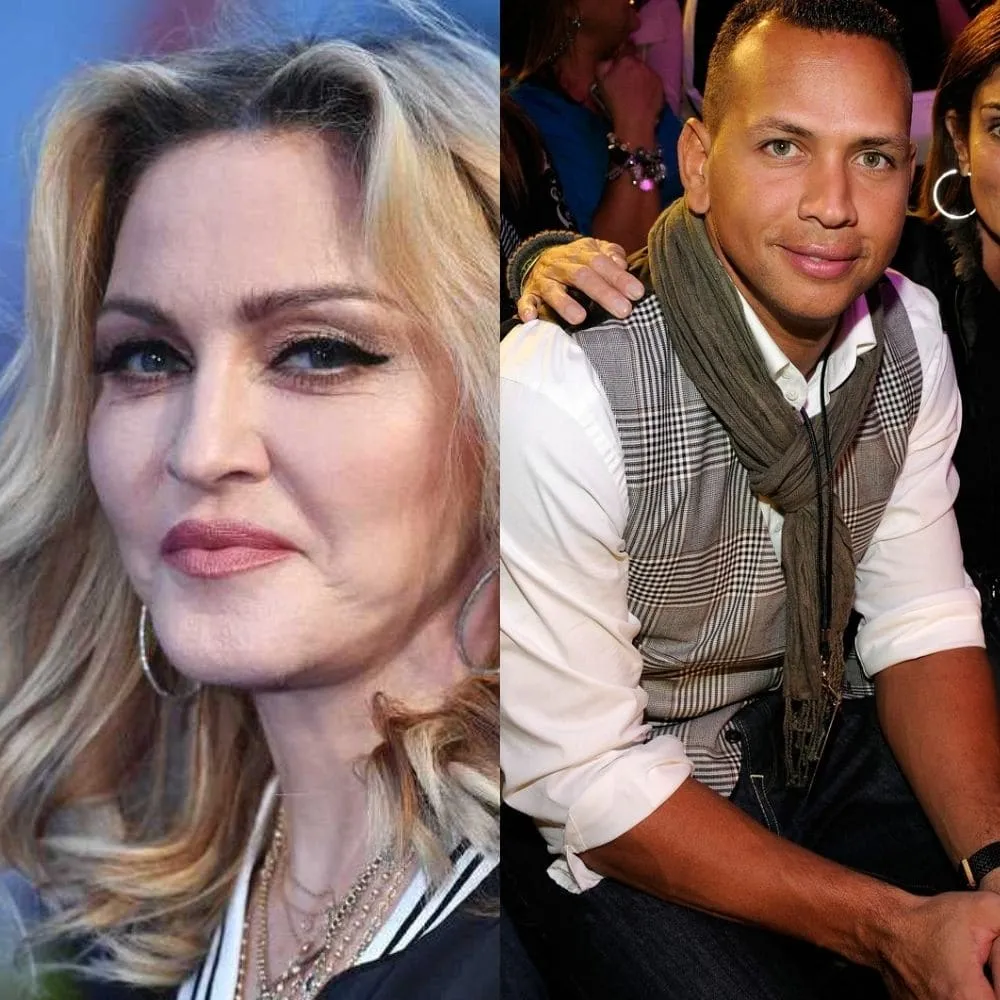 Though both have denied that this ever happened, the rumors seemed to be pretty rampant, and it would eventually cost Rodriguez his marriage.
Ryan Shawhughes
It's no surprise when you hear about some Hollywood star having an extramarital adventure with the nanny. Several have happened, and most of them made top headlines, but one of the ones that seemed to impact the scandal mill the most was when Ethan Hawke stepped out with Ryan Shawhughes.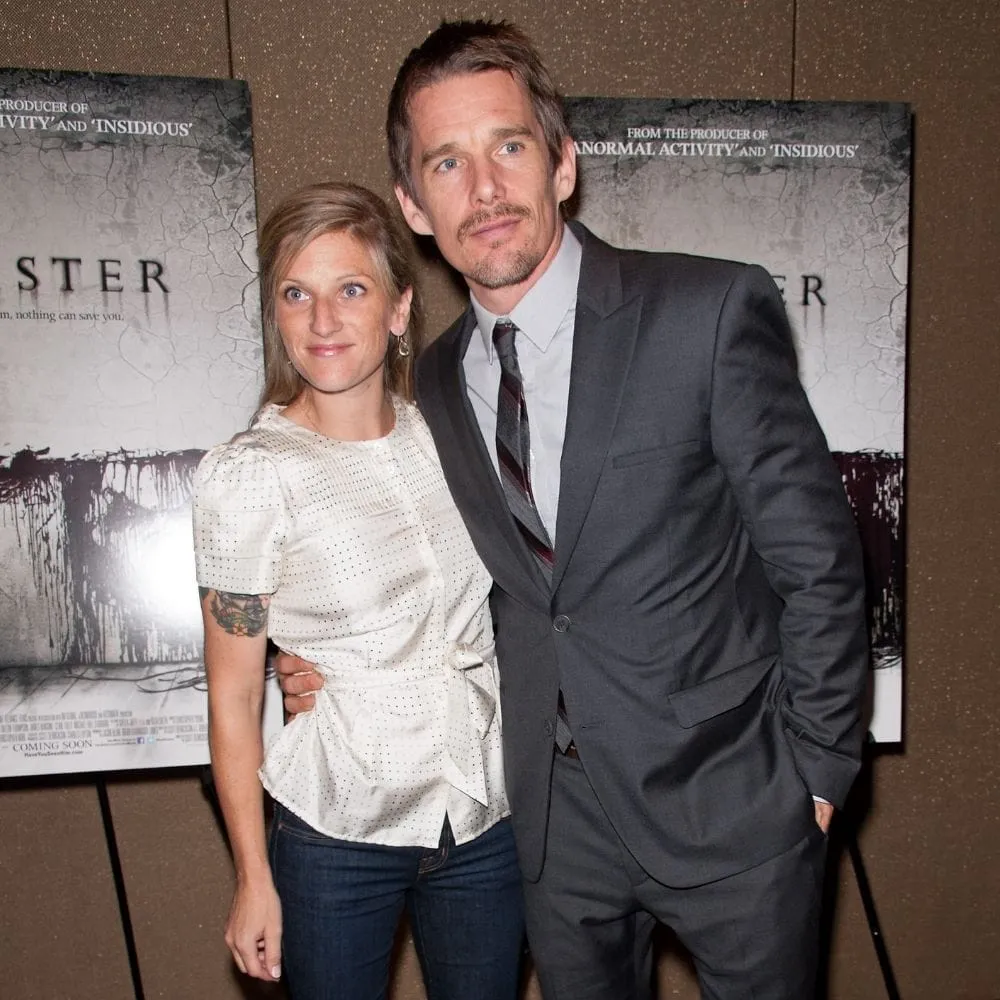 While he was married to Uma Thurman, Ethan Hawke let his eyes wander, and eventually, this got him in trouble. After separating from Uma Thurman and divorcing, Ryan and Ethan eventually tied the knot.
Melanie Griffith
When you think about Melanie Griffith and Antonio Banderas, you think of a couple that was together for decades, eventually divorcing in 2015. However, this marriage only came about after the two stepped out on their significant others in the '90s.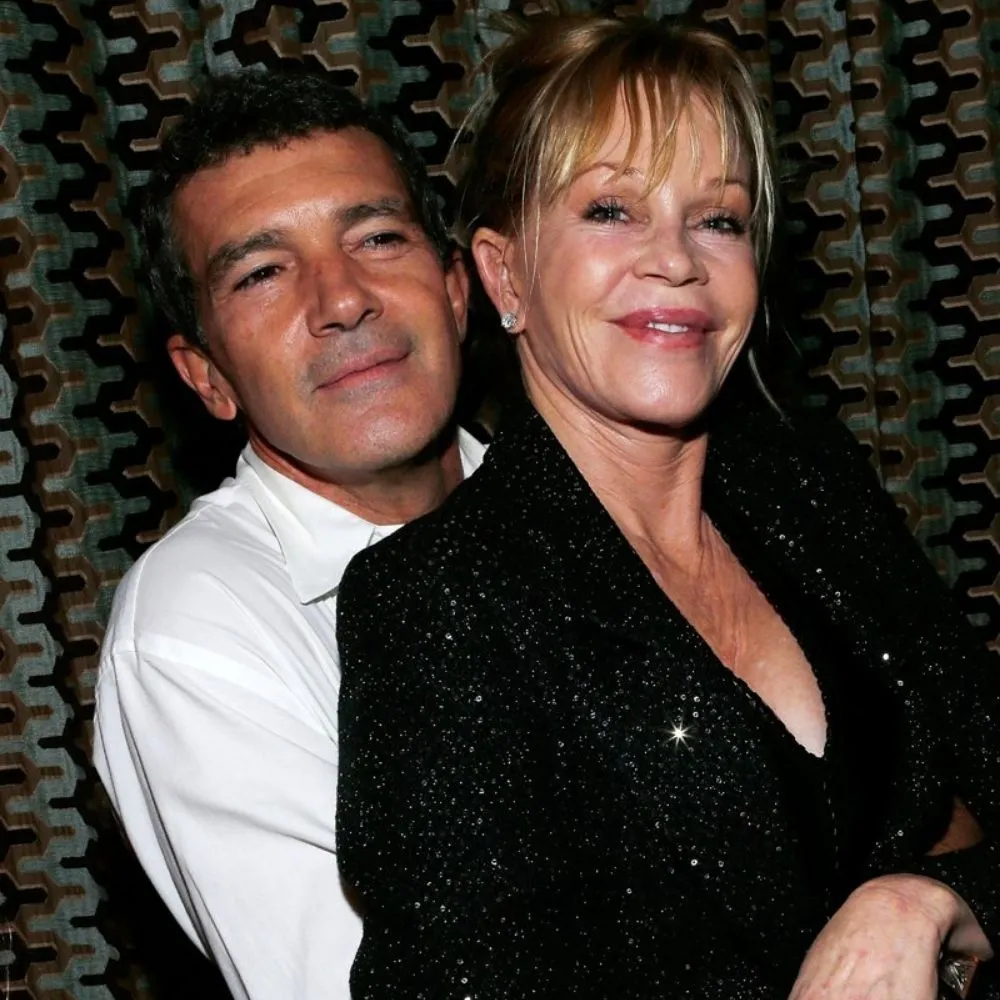 Once the relationship began, though, both divorced their current partners and then walked down the aisle just a year later.
Julia Roberts
In 2000, Julia Roberts and Danny Moder met. She was in a relationship with Benjamin Bratt and he was married to Vera Steimberg. The two felt the sparks and eventually began seeing each other behind the other two's backs. This lasted for six months before they were found out.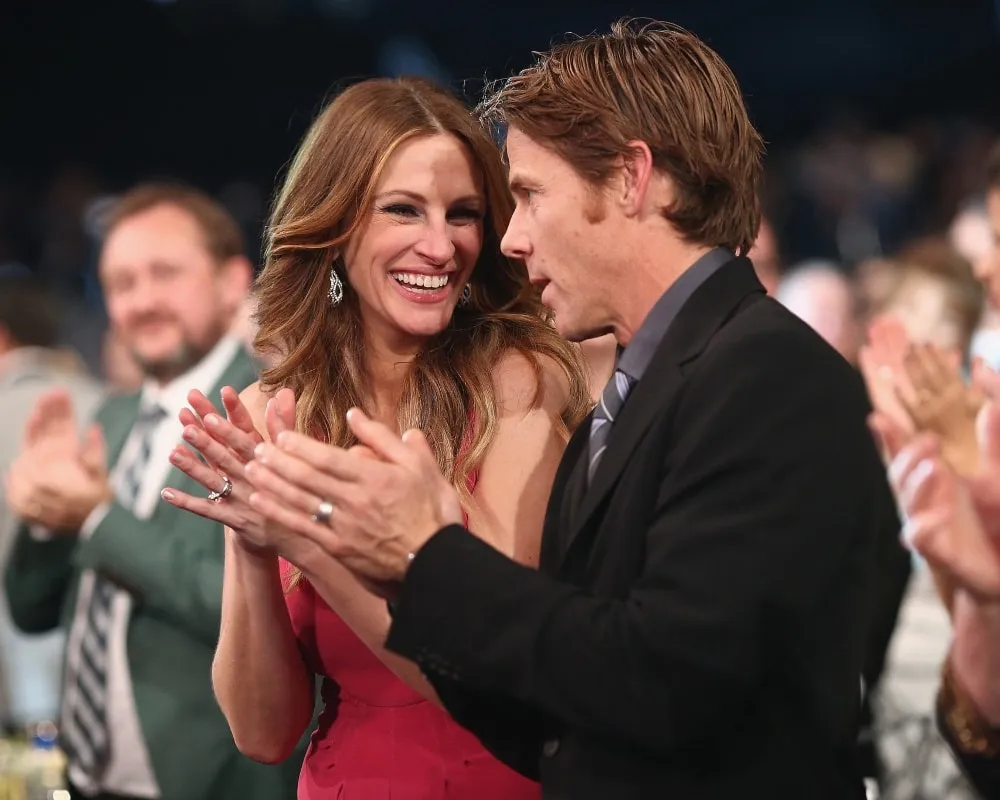 Eventually, after being found out, Danny divorced and then he and Julia got together and have been together ever since.
Angelina Jolie
Maybe one of the most scandalous things to happen in Hollywood was the separation of Brad Pitt and Jennifer Aniston, due to his relationship with Angelina Jolie. Though this has come and gone, and Angelina and Brad eventually separated, it's still a scandal of contention.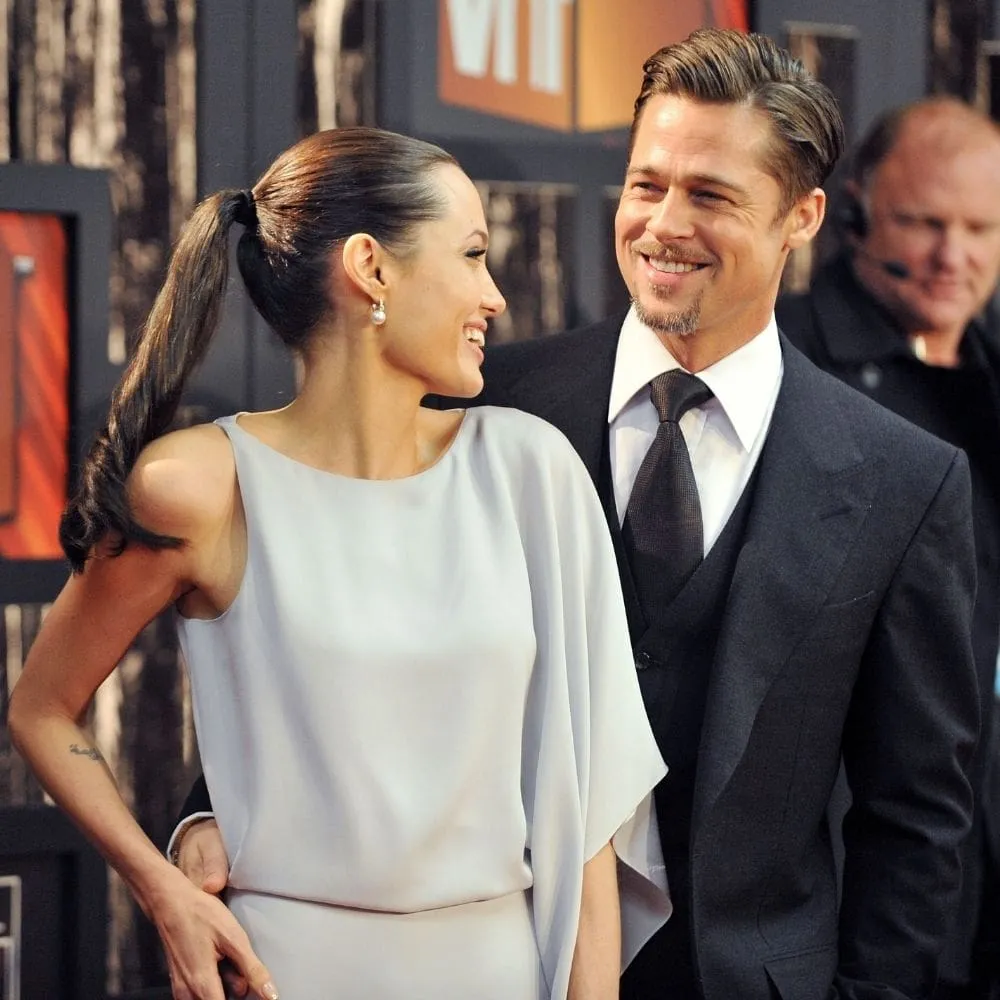 The two met on the set of a movie in 2016 and quickly began their relationship. Eventually, the two would marry and build a beautiful family. Unfortunately, the couple didn't last and have separated now.
Camilla, Duchess of Cornwall
Thousands of people watched across the globe as Prince Charles married Princess Diana in the '80s. It was one of those relationships that everybody was vested in, though there was plenty of turmoil behind closed doors.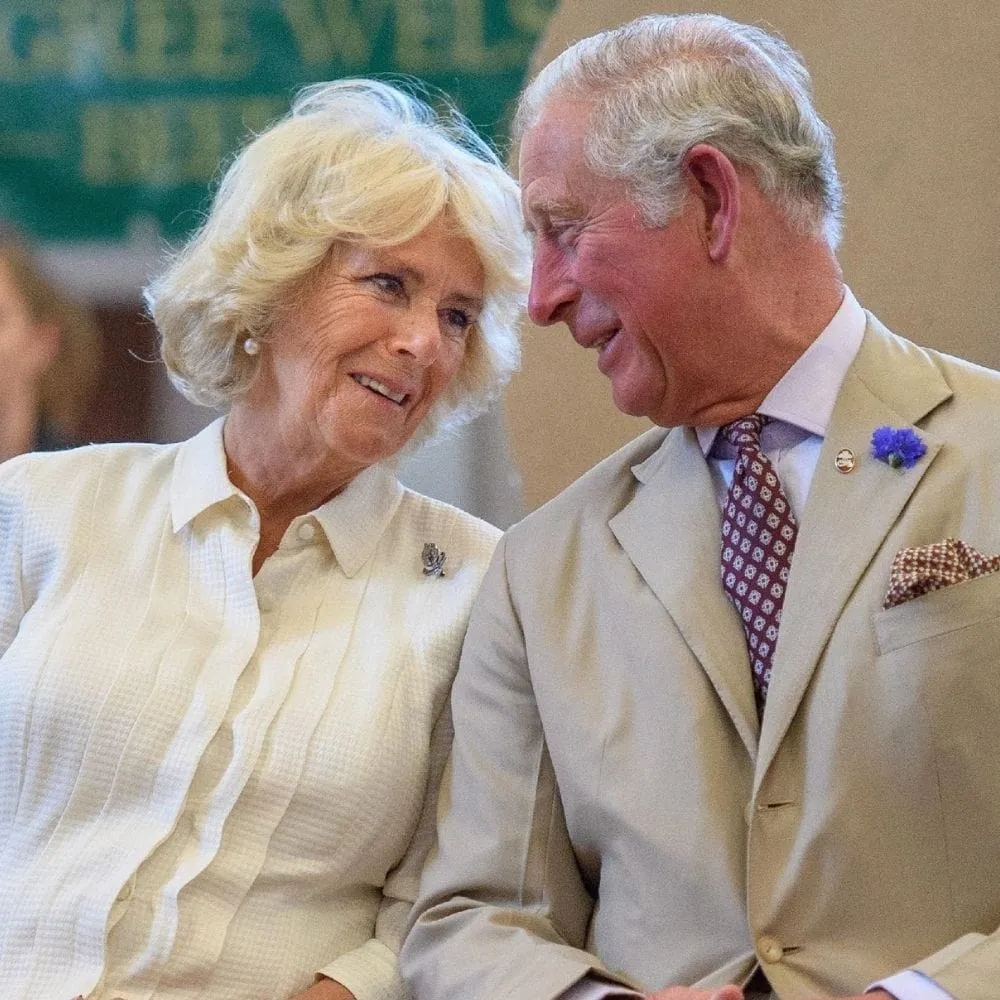 One of those turmoils was Prince Charles's affair with Camilla Parker Bowles. Eventually, Prince Charles and Diana would separate, and in 2005, Charles and Camilla would walk down the aisle, cementing their love.
Miranda Lambert
Though Blake Shelton and Miranda Lambert eventually parted ways, their union only came about due to a side relationship. Blake was married at the time that he and Miranda got together.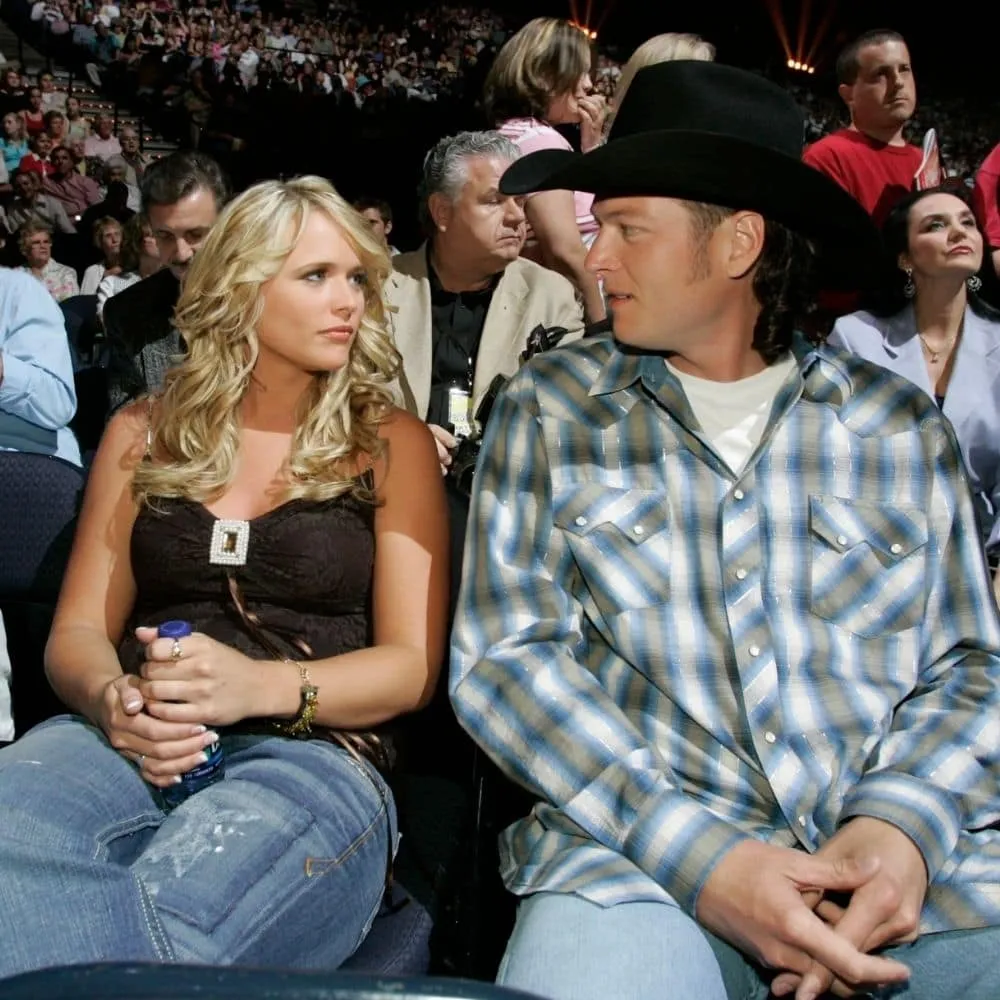 Eventually, Blake divorced his first wife, and he and Miranda married. In the end, though, the two separated and Blake moved on with fellow The Voice host, Gwen Stefani, while Miranda moved on with musician, Evan Felker.
Tori Spelling
You have no control over who you fall in love with, though, usually, you try not to do so when you're already attached to someone else. Unfortunately, Tori Spelling and Dean McDermott were both married when they met and fell for each other.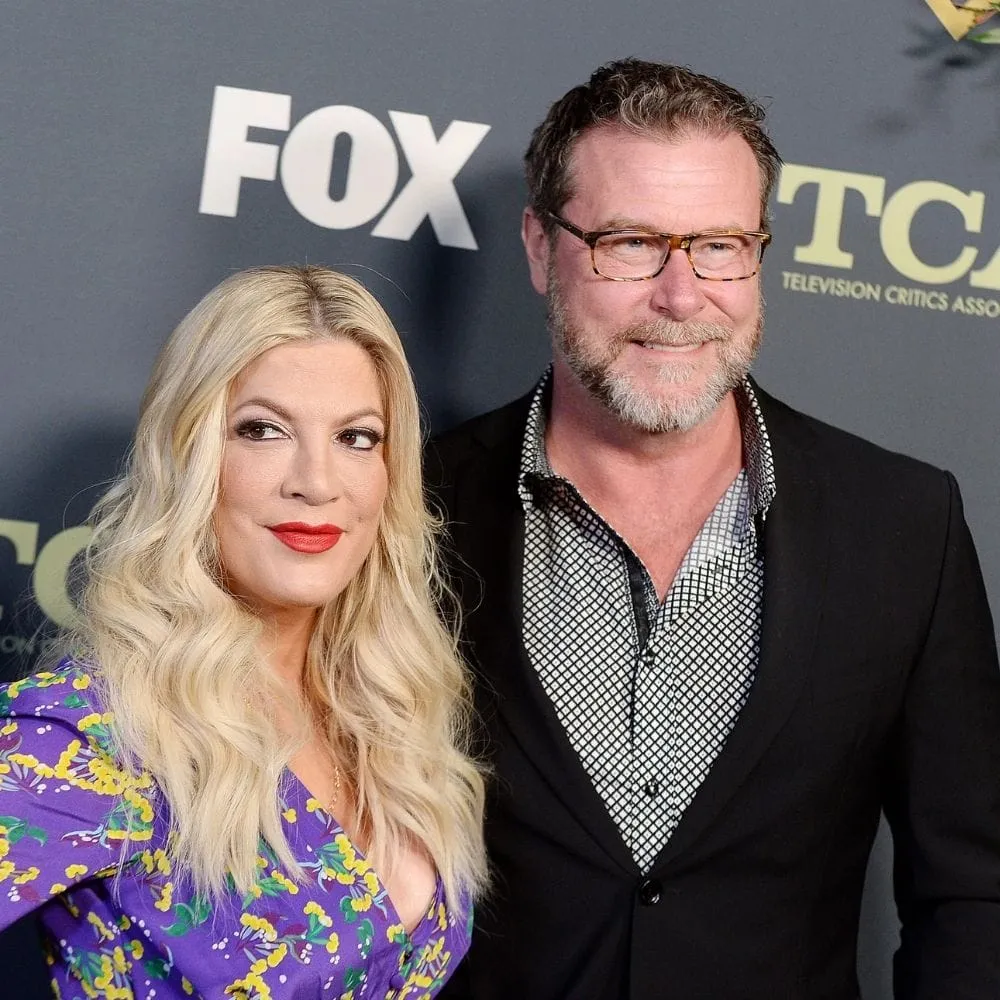 Knowing that they were meant to be together, both set about separating from their current spouses and would eventually get married once the divorces were finalized.
LeAnn Rimes
When you're on the set of a movie that's all about love, sometimes, those feelings translate over, especially if there's chemistry between you and your co-star. That's what happened to LeAnn Rimes and Eddie Cibrian when they met on the set of the Lifetime movie, Northern Lights.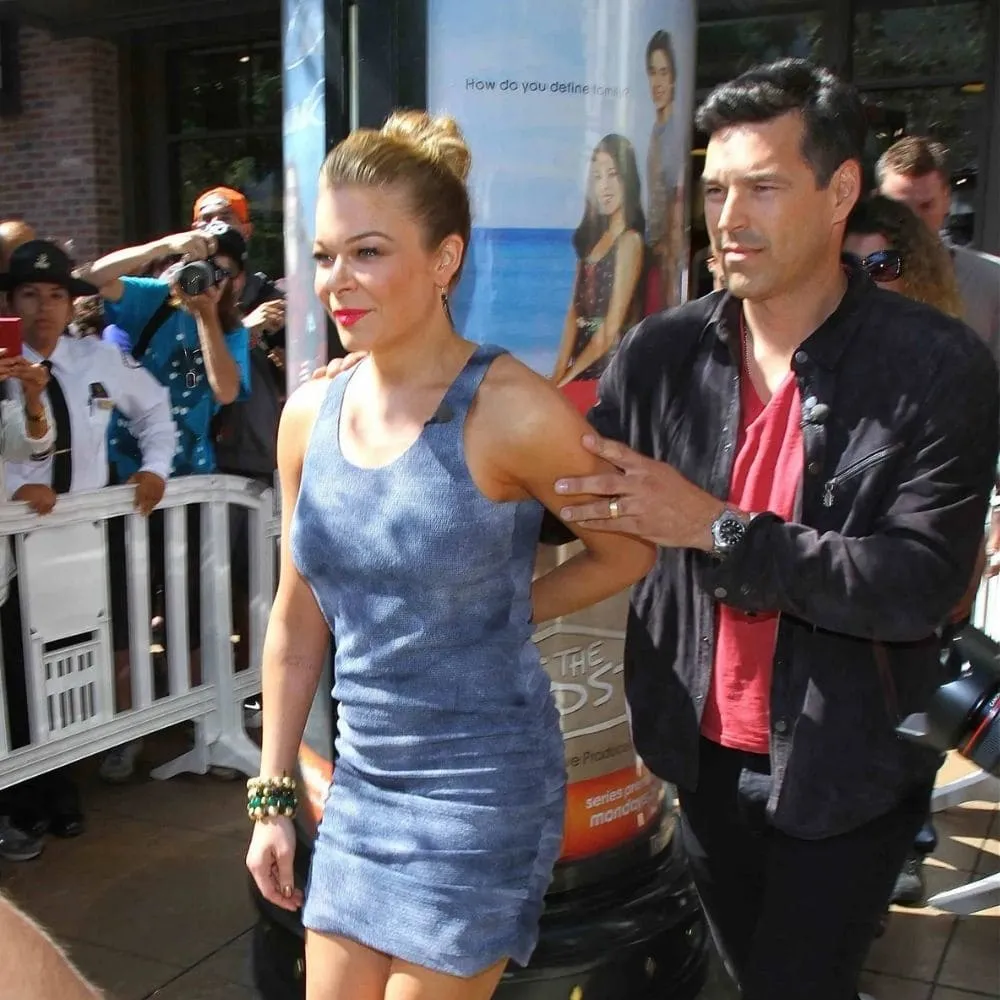 The problem was that both of them were already tied to other people, so when word of their extracurricular activities came to light, it wasn't long before both were single again. Although, this did free them up to get together.
Lauren Bacall
Many of us may think these scandals are something new, but they've been going on in Hollywood for decades. In fact, one of the very first scandalous relationships was between Humphrey Bogart and Lauren Bacall.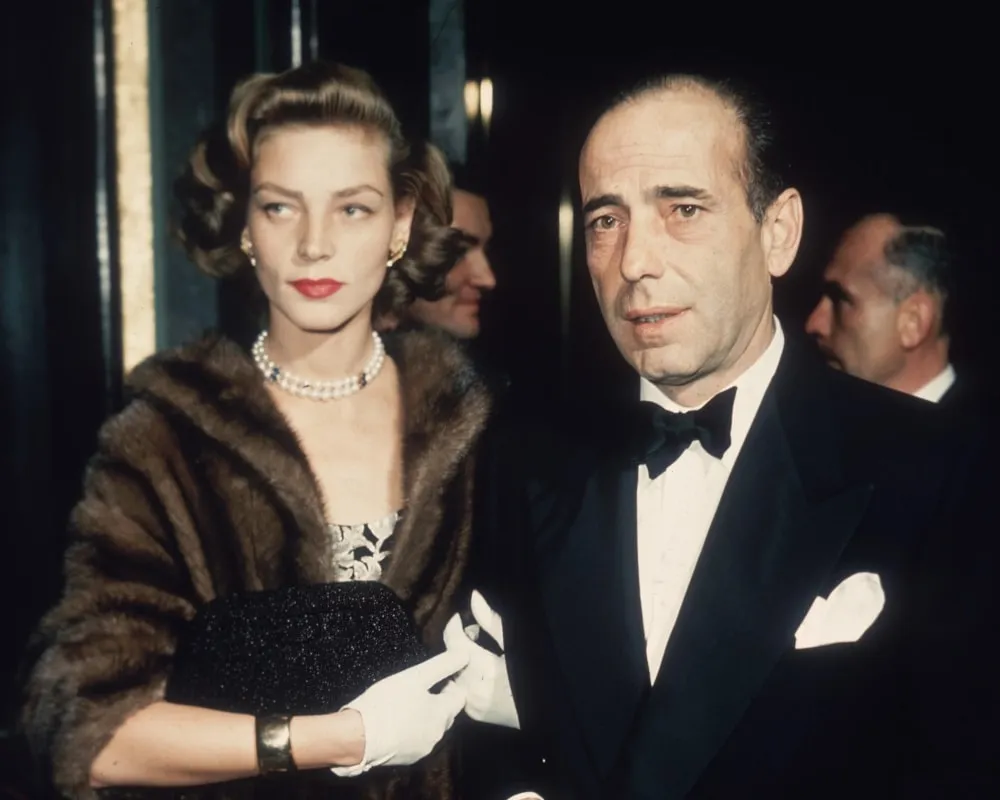 Bogart was married when he and Bacall originally began seeing each other. A year later, he filed for divorce and made their relationship public, and they were together until his passing in 1957.
Sienna Miller
Sienna Miller is no stranger to public scandals. In fact, on top of the one she had with her tumultuous relationship with Jude Law, she was attached to another actor, Balthazar Getty, in the same type of situation.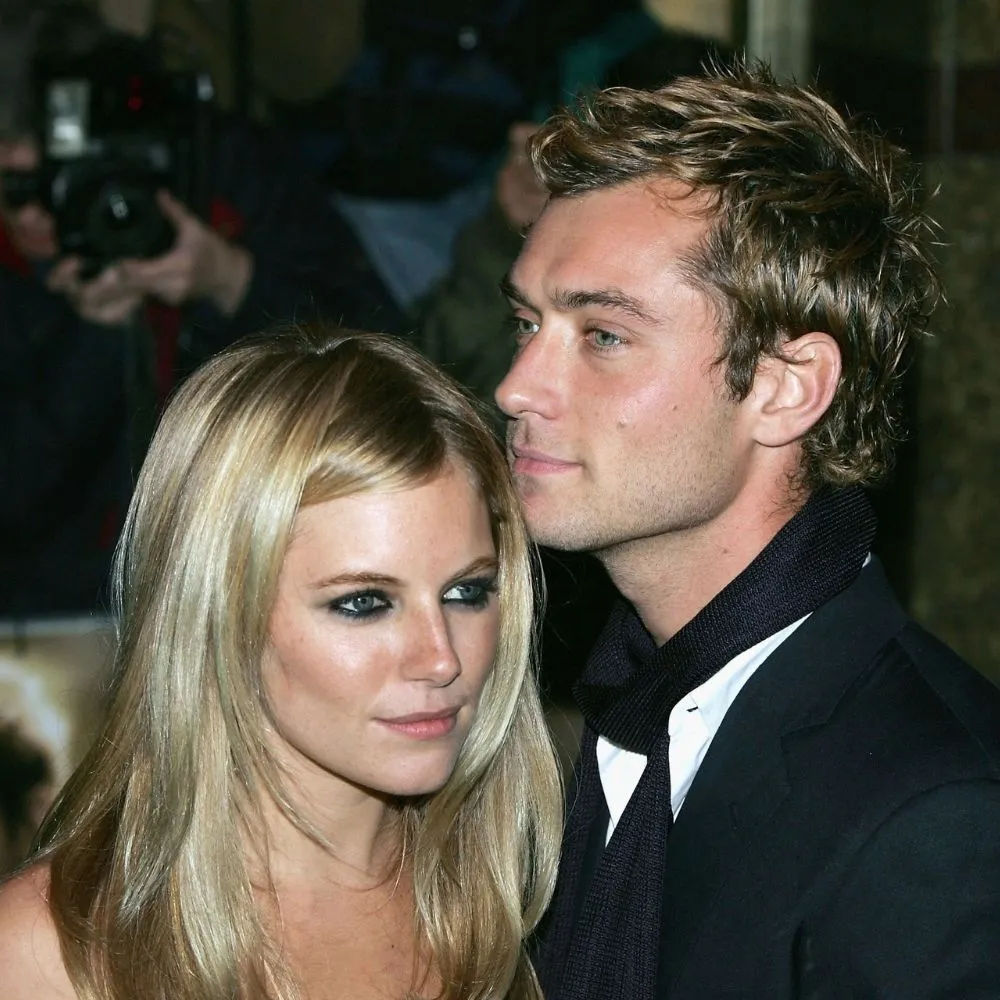 But maybe the one with Jude Law is the most prominent, and that's because they were both involved with other people when they were together. Either way, she definitely has had her turn in the spotlight, and not always in the best light.
Rebecca Loos
Victoria and David Beckham are one of those couples that everyone looks up to. After all, they're not only super attractive but have been able to stand the test of time… Even when they came up against a bit of a scandal.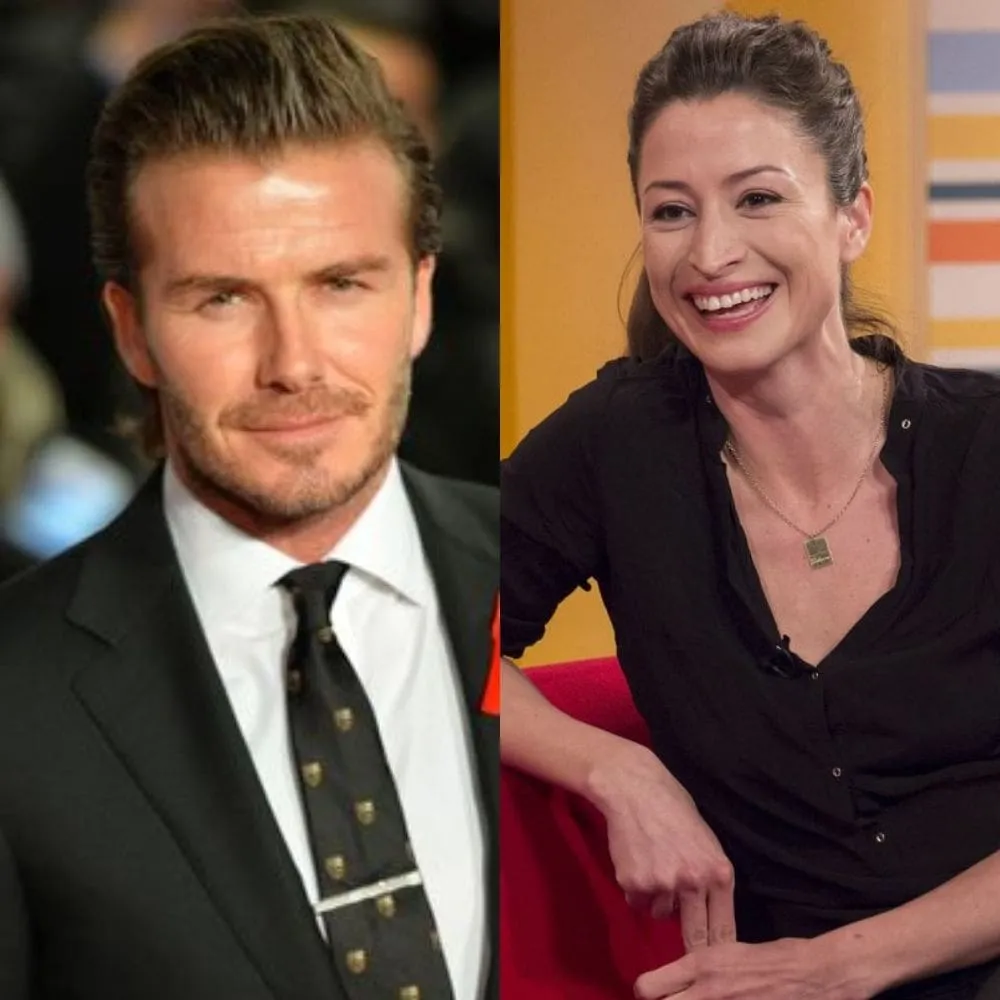 In 2016, it came out that the famous soccer player was outed as having an extramarital dalliance while in Madrid, in 2004. Rebecca Loos eventually came out about her affair. After her time in the spotlight, though, the pair went back to their lives, and Rebecca found love elsewhere.
Kristen Stewart
It seemed only fitting that the two stars of the hit teen supernatural romance, Twilight, would wind up in a relationship. Unfortunately for Robert Pattinson, someone else had caught Kristen Stewart's eye.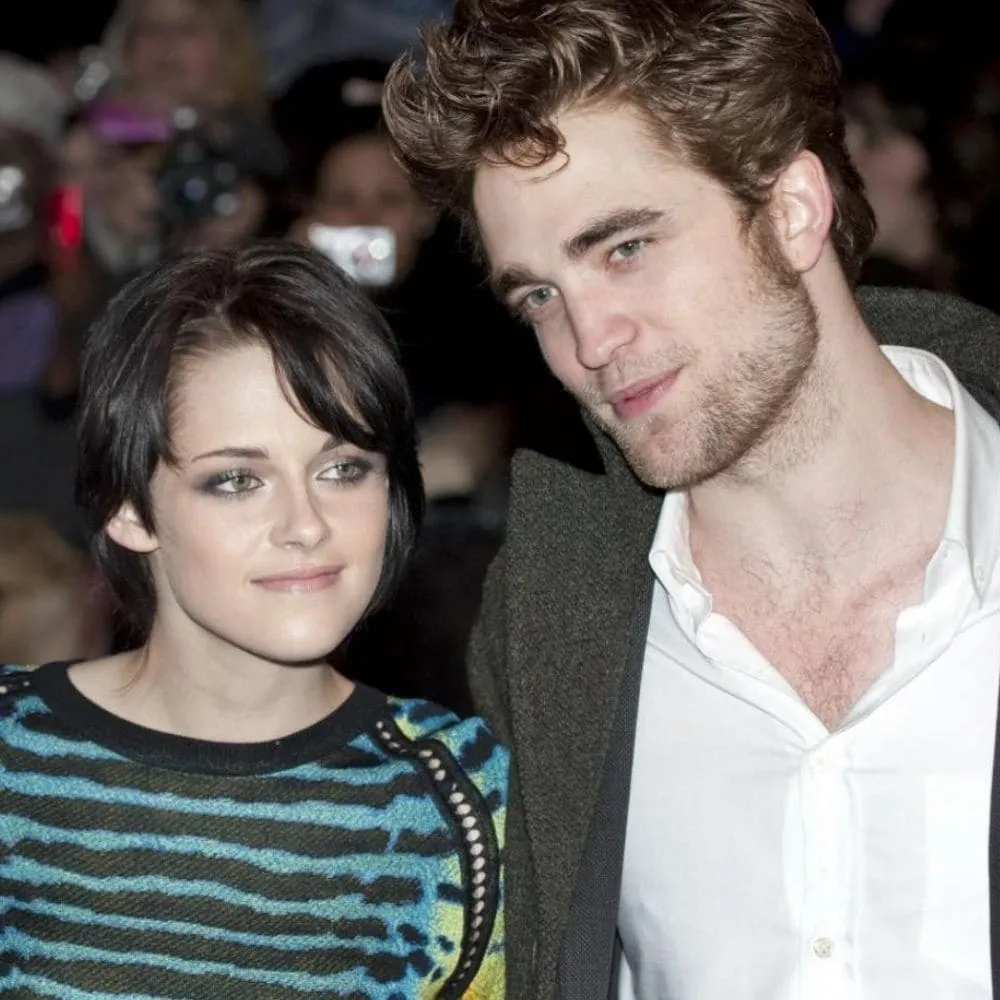 Stewart found her eyes wandering to director Rupert Sanders, who was married at the time. The relationship eventually broke up Pattinson and Stewart's relationship, but that's okay because this led Kristen to move on with her life and eventually find love again.
Evan Rachel Wood
Marilyn Manson and Evan Rachel Wood met when she was very young. At the time, the rock star was married to Dita Von Teese, but that didn't stop them from beginning to date. Eventually, Marilyn Manson divorced his wife.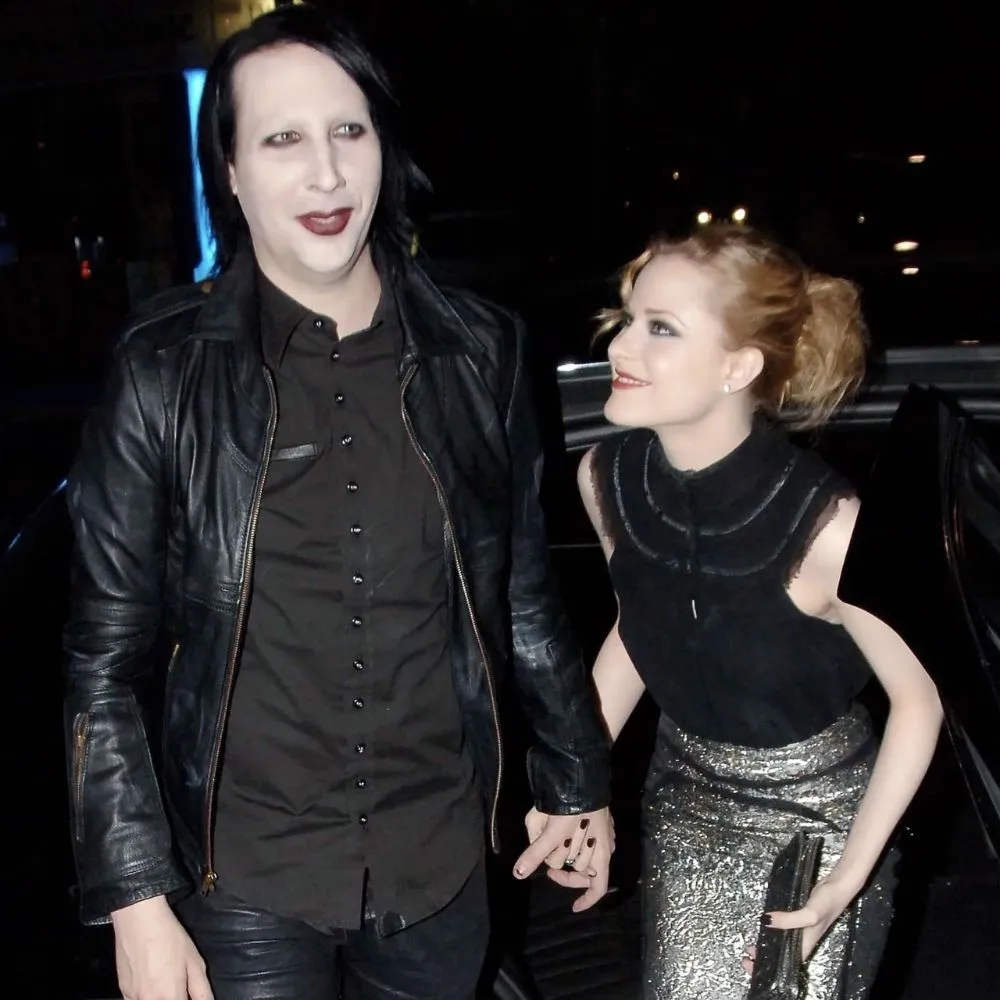 This allowed the two to get together but they never officially become a couple. Eventually, the two separated, and several years later, Evan Rachel would accuse Manson of misconduct.
Elizabeth Taylor
Old Hollywood had its fair share of scandalous relationships. Along with ones like Marilyn Monroe and JFK, there was the breakup of Eddie Fisher and Debbie Reynolds's marriage by Elizabeth Taylor.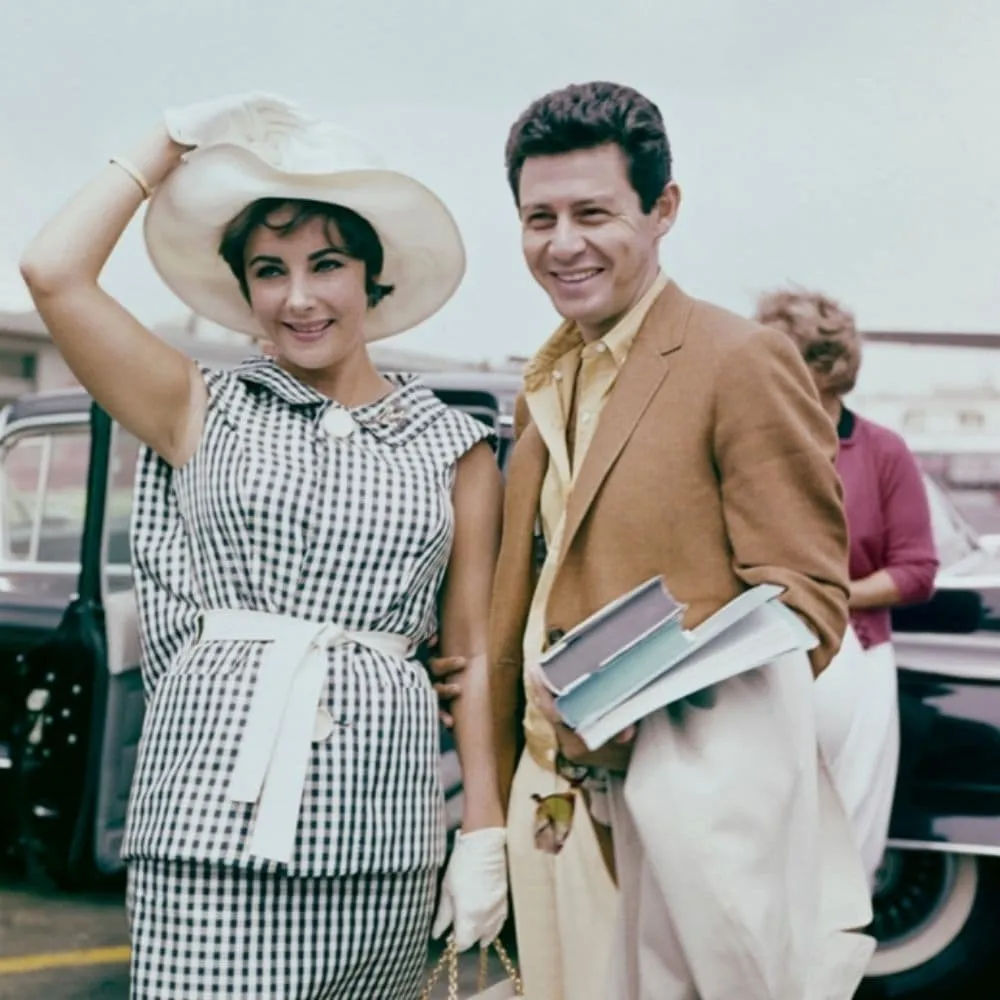 This was scandalous because Eddie was married and Elizabeth was very close friends with Debbie Reynolds. The relationship would last for five years, and then Taylor would step out on Fisher with Hollywood actor, Richard Burton.
Soon-Yi Previn
It may have been the scandal of all scandals when it was made publicly known that Woody Allen had been dating his adopted daughter. This ended his decade-long relationship with Mia Farrow and caused a lot of negative press, to say the least.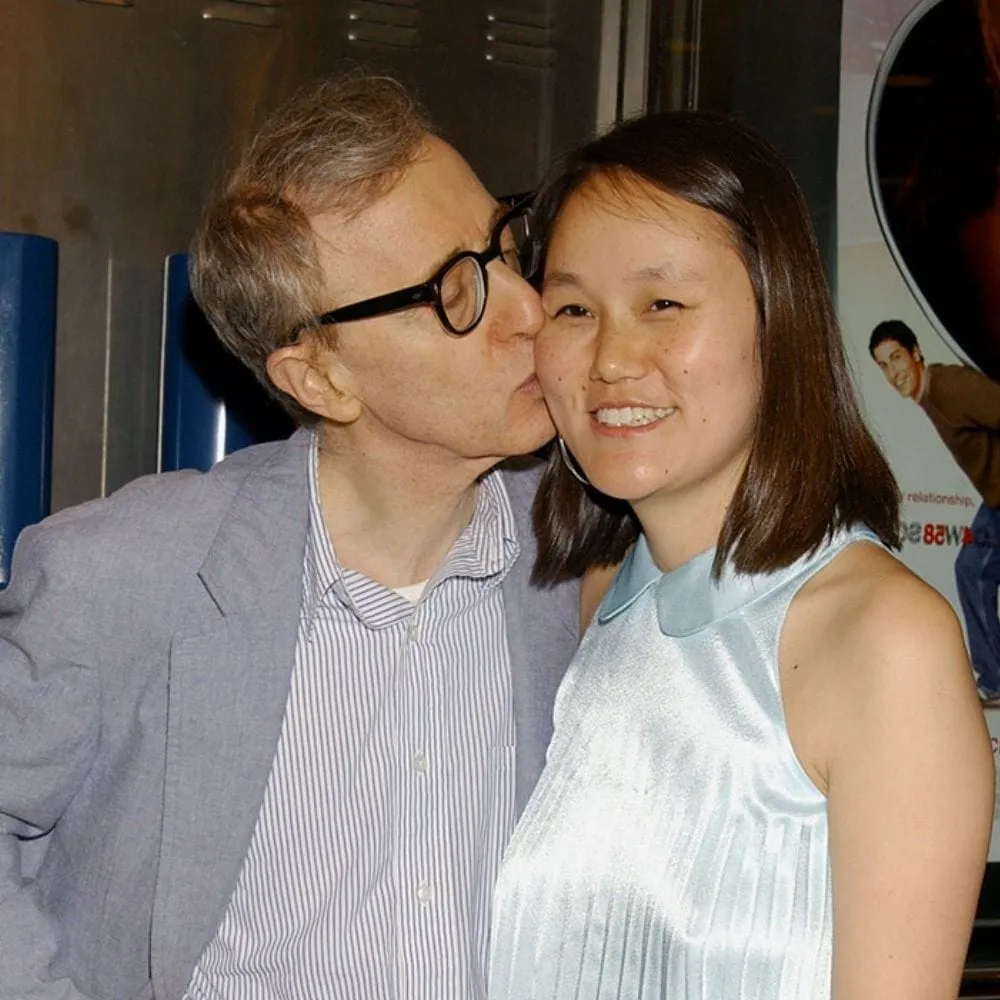 Though many still feel that this was an inappropriate relationship, the two have been together since 1997. Who knows how and why this relationship works, but it has, and though many people still have a disgusting image of this, it seems to be working for them.
Jennifer Lopez
In 2004, Marc Anthony and Jennifer Lopez made their relationship official and walked down the aisle. But that was just five months after Marc's divorce was filed. That's why many people think that some extramarital activities were happening between these two.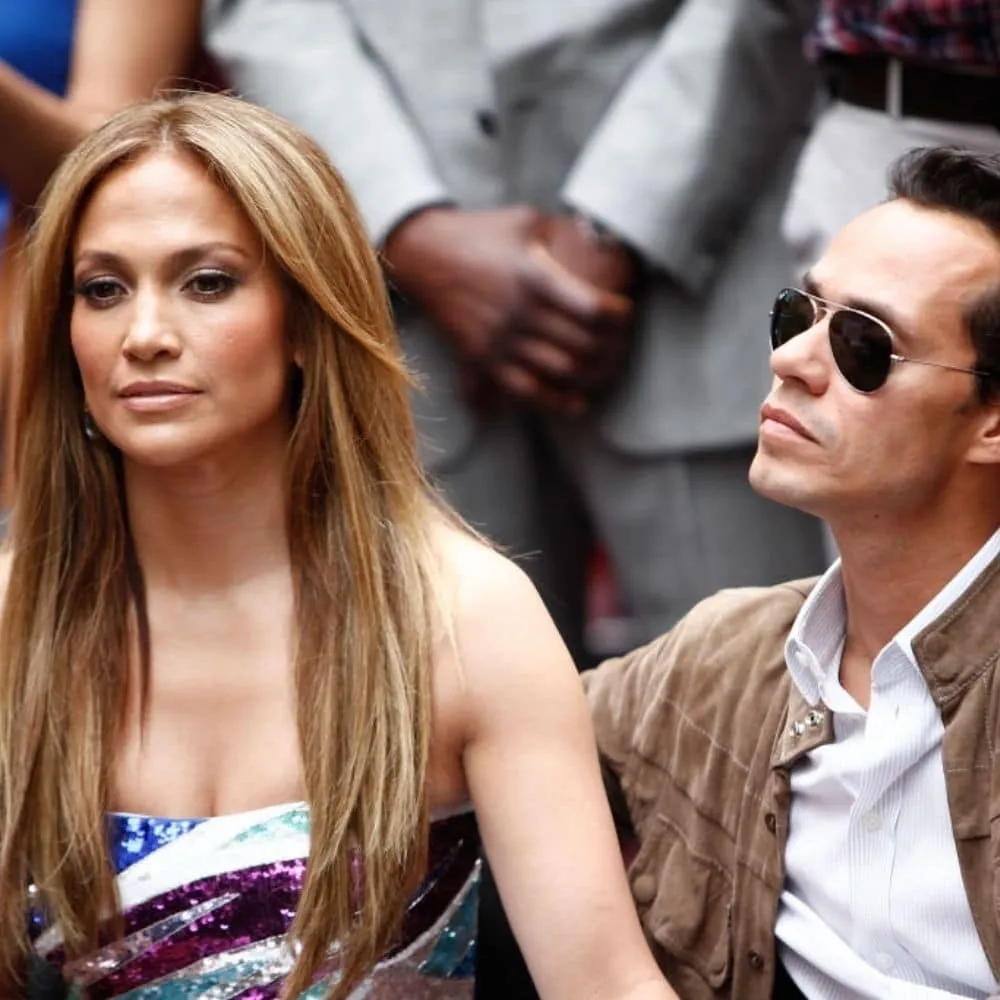 The couple would stay together for quite a while but, eventually, would separate. Now, Jennifer Lopez is happy with her new beau and Marc Anthony is happy with his new lady.
Britney Spears
Many people find feelings growing when they work with someone for hours and hours every day. When Britney Spears fell for Kevin Federline, who was her backup dancer in 2004, he was engaged at the time.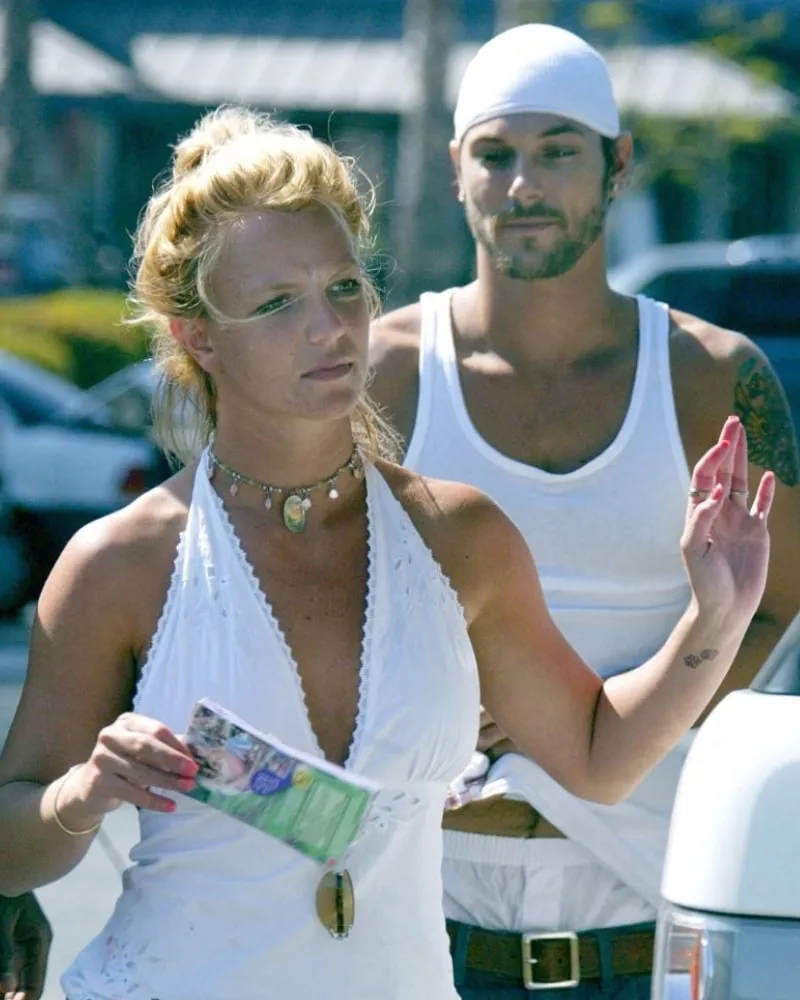 Despite the fact he was already engaged, Kevin and Britney decided to tie the knot and went on to have two children together. In 2006, though, the couple split and have been in the headlines ever since because of their scandalous actions.
Brittany Kerr
When you're looking to step out on your significant other, you want to keep it quiet. Unfortunately, Jason Aldean didn't get that memo because he was caught making out with his mistress, Brittany Kerr.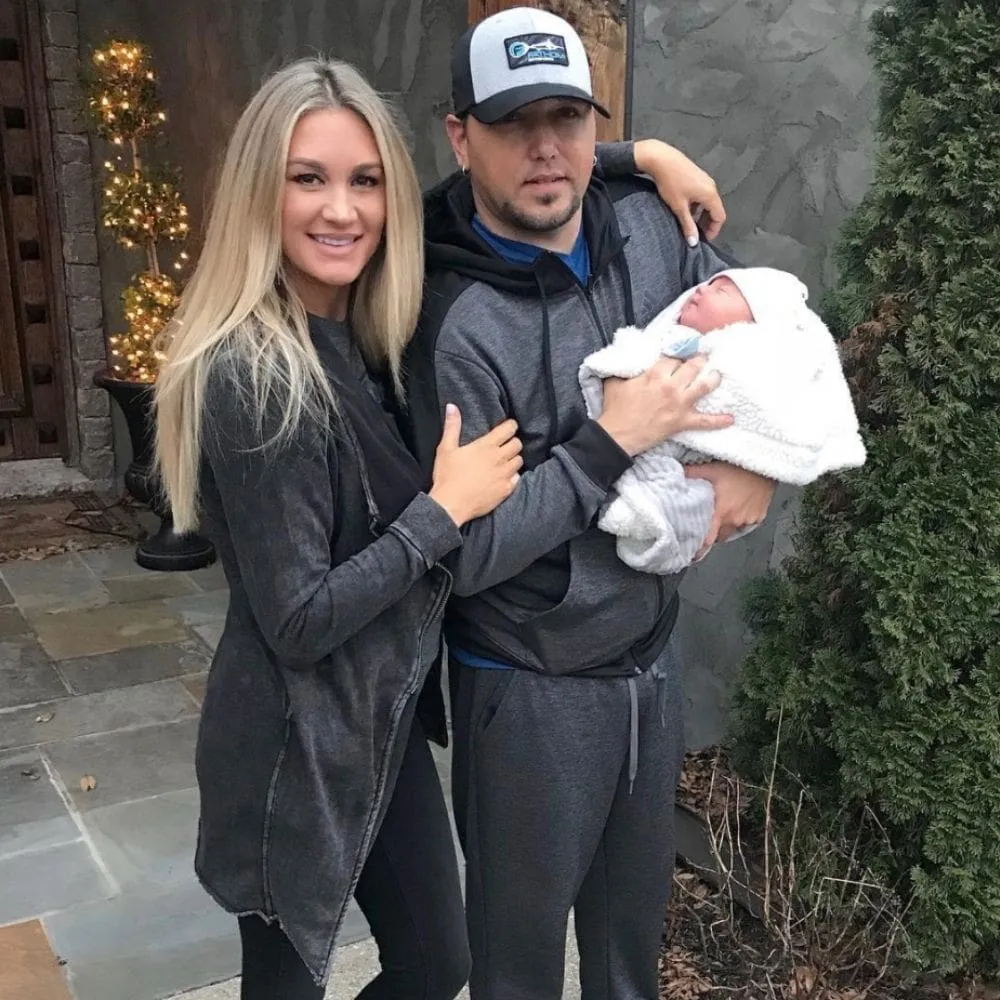 This clearly upset his wife and eventually led to them separating. That was okay for him because it freed him up to begin dating Brittany openly. Eventually, in 2014, they announced that they were engaged and got married in 2015.
Lil' Kim
Lil' Kim was a pretty prominent rap star in the '90s. As part of Biggie Smalls's crew, she got a lot of attention and had her fair share of scandals. But one of the biggest may be that she and Biggie were hooking up behind Biggie's wife's back.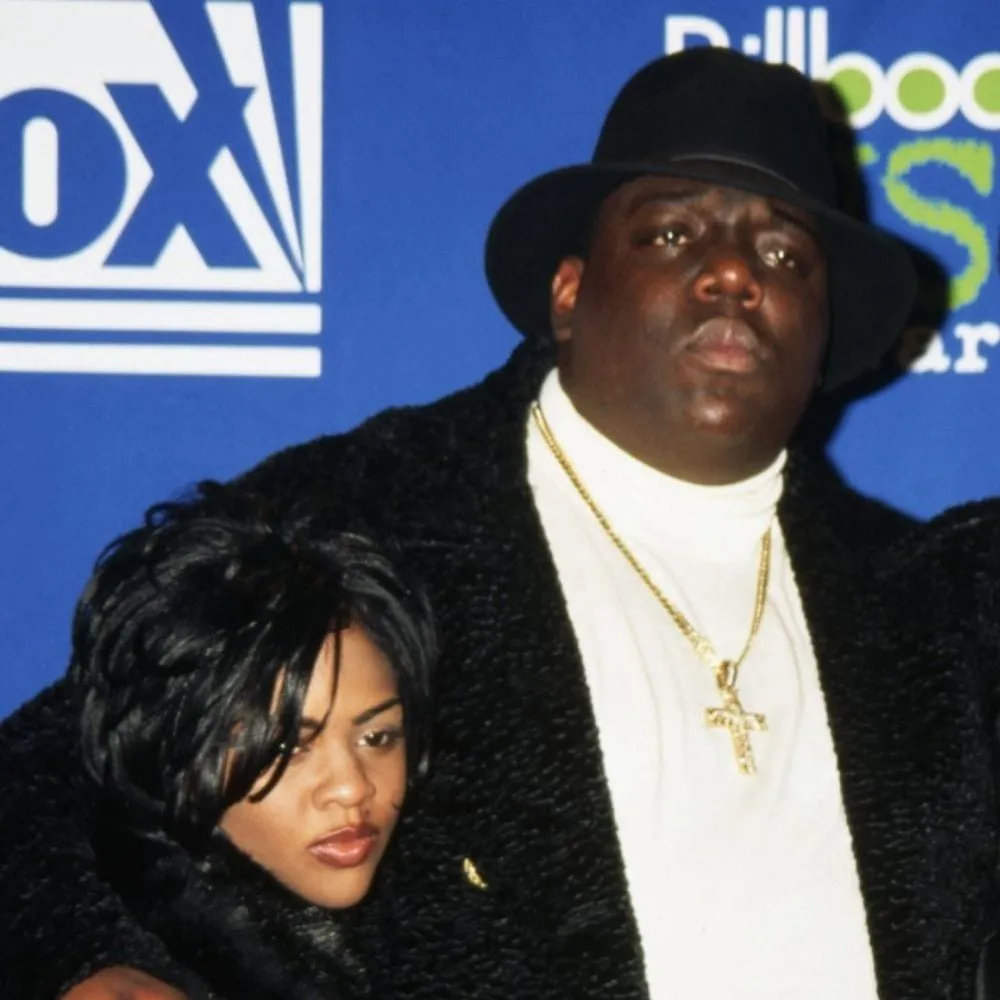 The two were an item, while Biggie Smalls was married to Faith Evans at the time. However, many speculate that he would have eventually broken ties with her and married Kim if he hadn't passed away.
Rihanna
Rihanna and Chris Brown were a couple who just couldn't get enough of each other, for quite a while. So much so, that even when they were off, they often wound up on again. And it just so happens that one time it happened while Chris was actually attached to someone else.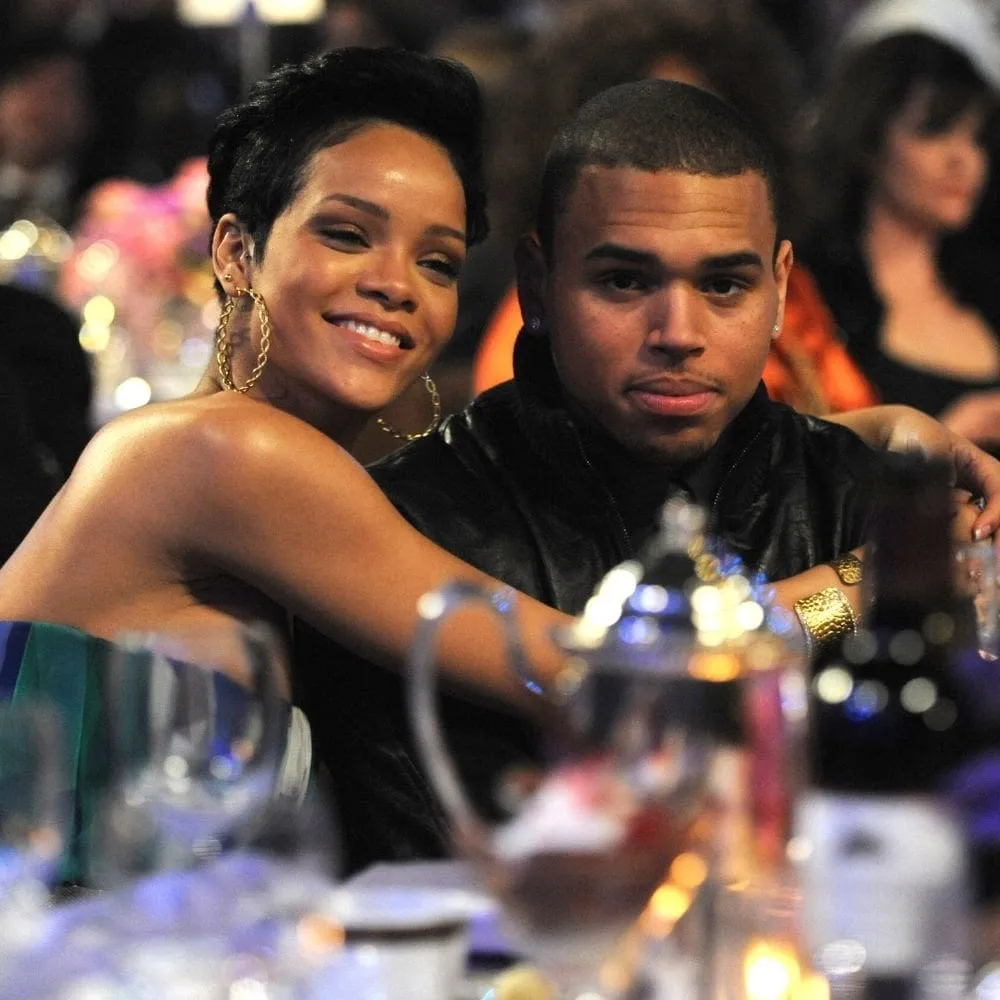 You can, of course, love whoever you want. According to many, even though it was a scandalous relationship between Chris and Rihanna, it didn't seem to mess with his marriage.
Gabrielle Union
Gabrielle Union and Dwyane Wade are one of those couples that everybody looks up to. And though they're now happily married, the relationship did begin with a bit of an issue.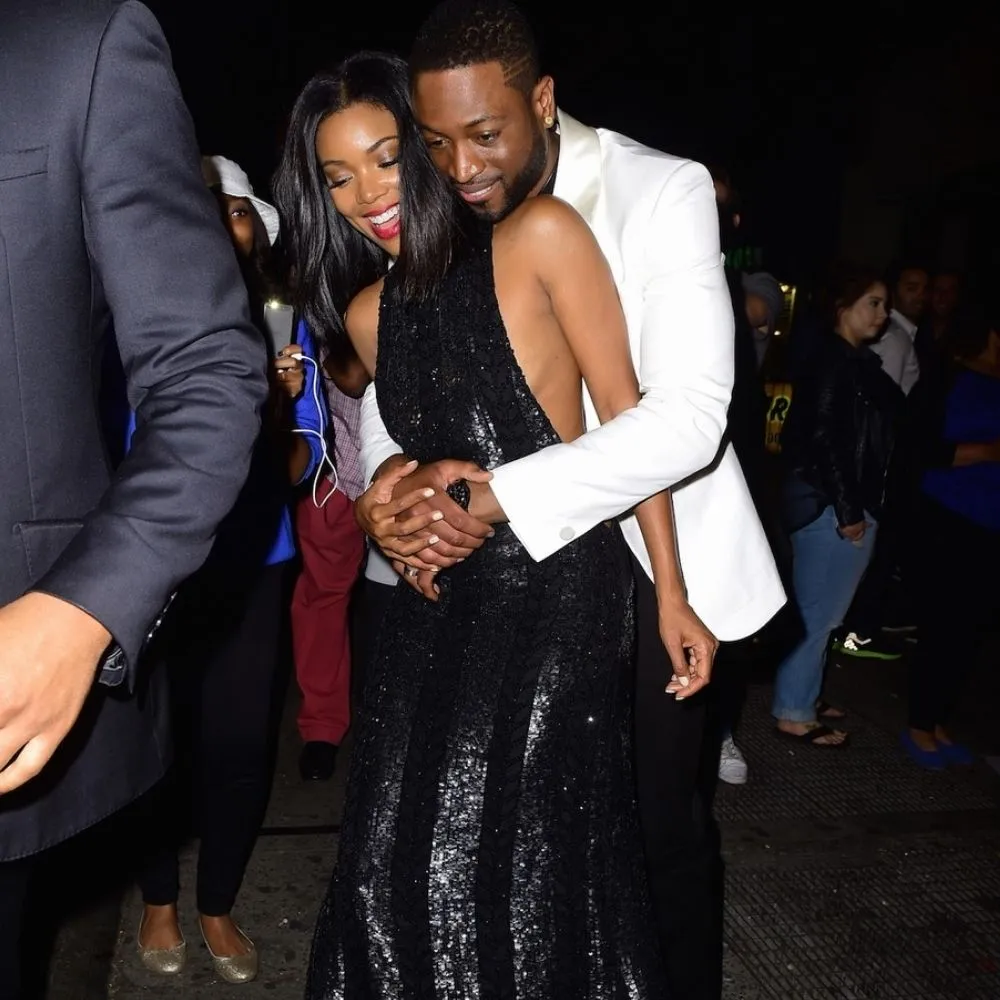 This was because Dwayne Wade's ex accused him of cheating on her with Gabrielle Union. Who knows if this is the actual case, but this would be a bit of a scandal if it were.
Rachel Uchitel
When you hear the name Tiger Woods, you often think about some nefarious activities. That's because he's well known for stepping out on women he's involved with. In fact, maybe one of the most famous is Rachel Uchitel.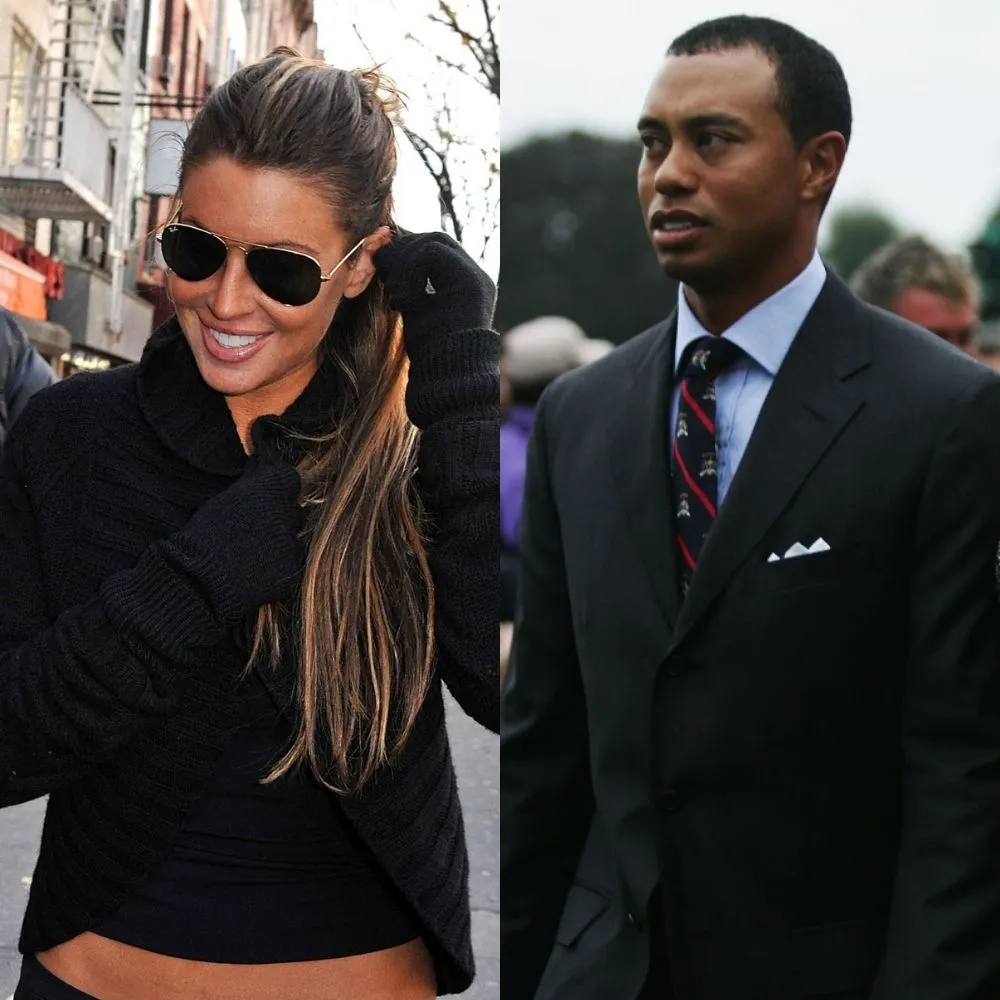 This couple got together while Tiger was married to Elin Nordegren, and was found out through a series of very inappropriate texts. Eventually, Uchitel would go on to find love, but not with Tiger, of course.
Michelle Williams
Michelle Williams is forever tied to Heath Ledger, but that doesn't mean that her life is over. Eventually, she would tie the knot with Phil Elverum in 2018. However, they would soon part ways because of an alleged side relationship with theater director, Thomas Kail.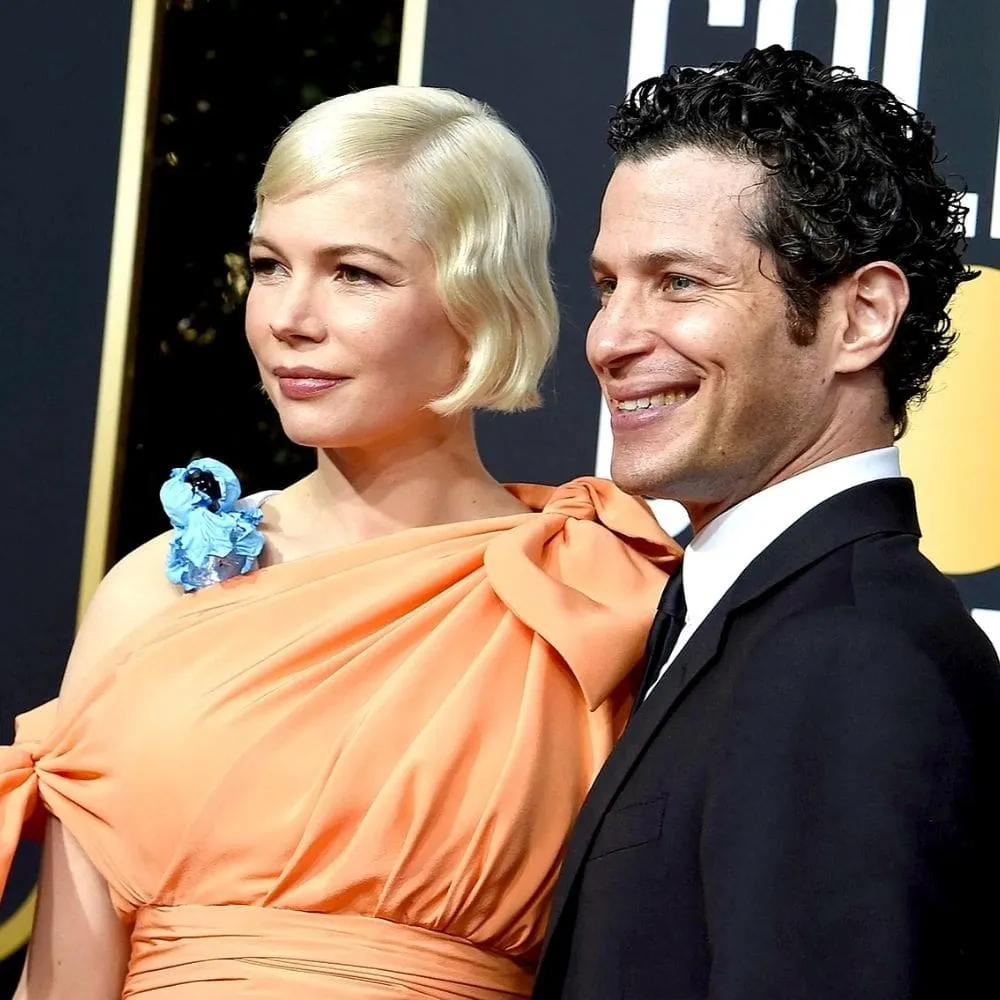 It's said that this relationship started on the set of a television show. Eventually, after finally getting a divorce, Williams and Kail would start a relationship and a family.
Gwen Stefani
It seems that maybe Blake Shelton has a little bit of a thing for dangerous relationships. Though this one seems to have worked out as the two have been happy for quite a while, he initially started dating Gwen Stefani when she hadn't finished her divorce.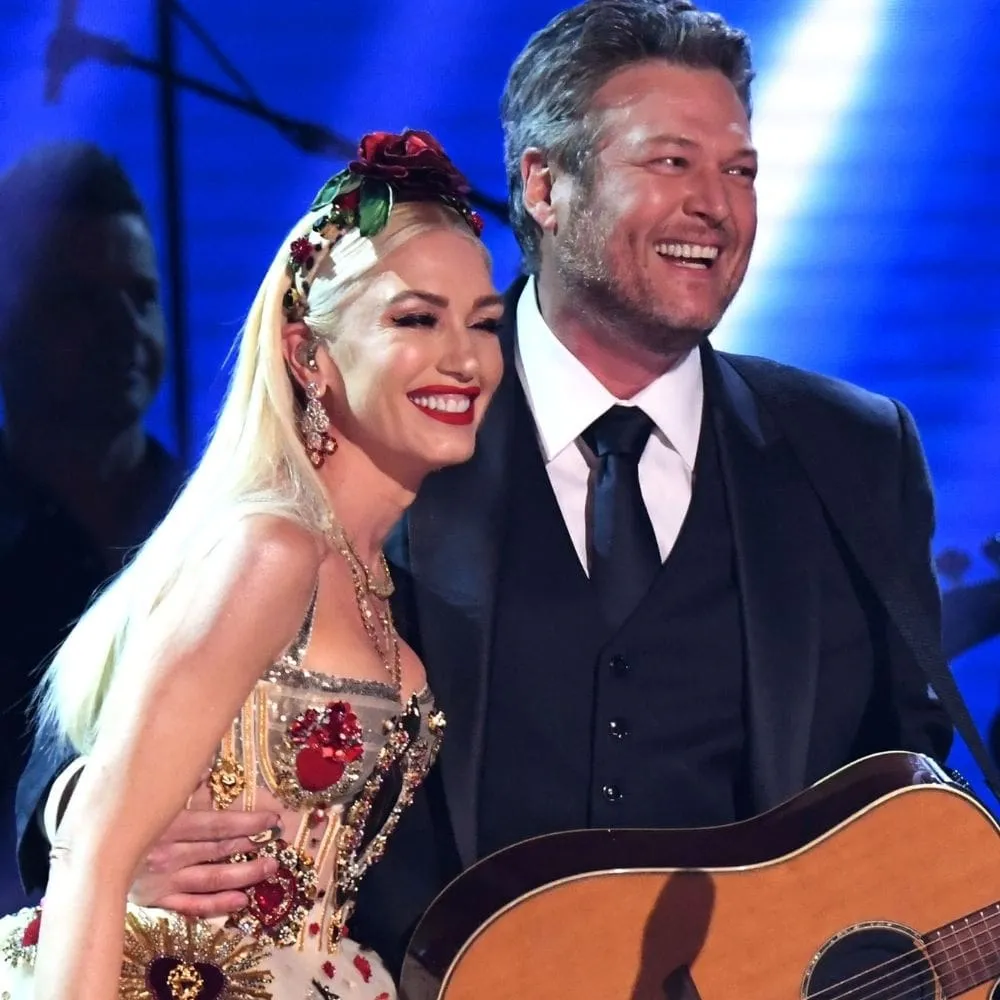 Also, he was still technically married to Miranda Lambert. Eventually, both got their divorces and found their way to tying the knot together.
Rebecca Romijn
When you're in the public eye, it's hard to deal with love affairs. So when Rebecca Romijn and Jerry O'Connell first started dating, it quickly became known, which created quite a scandal – probably because he was still involved with Giuliana Rancic.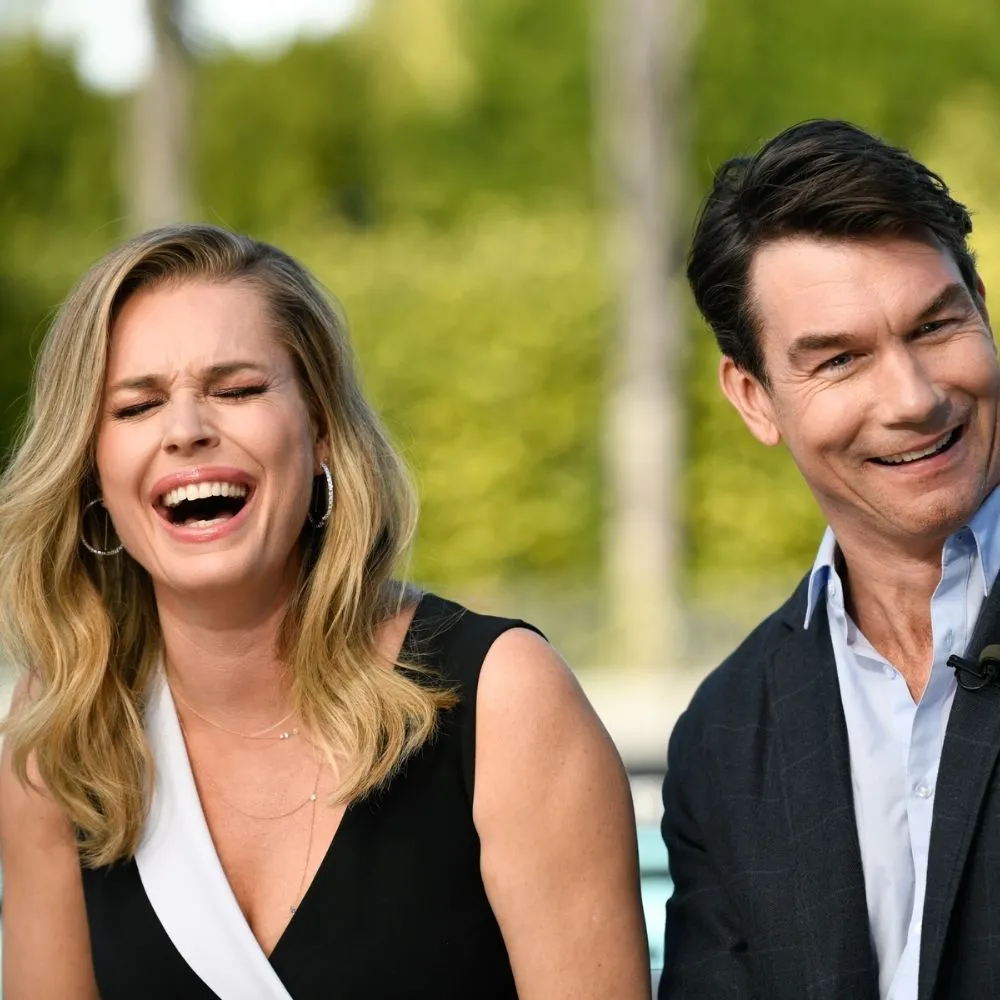 The pair eventually worked their way out of their other relationships and tied the knot in 2007. Since then, they've been a happily married couple raising a family.
Claire Danes
There are countless stories of co-stars falling in love on the set of some film. This is what happened between Claire Danes and Billy Crudup, but unfortunately, this wasn't a glamorous romance story – but rather a tale of someone stepping out on another person.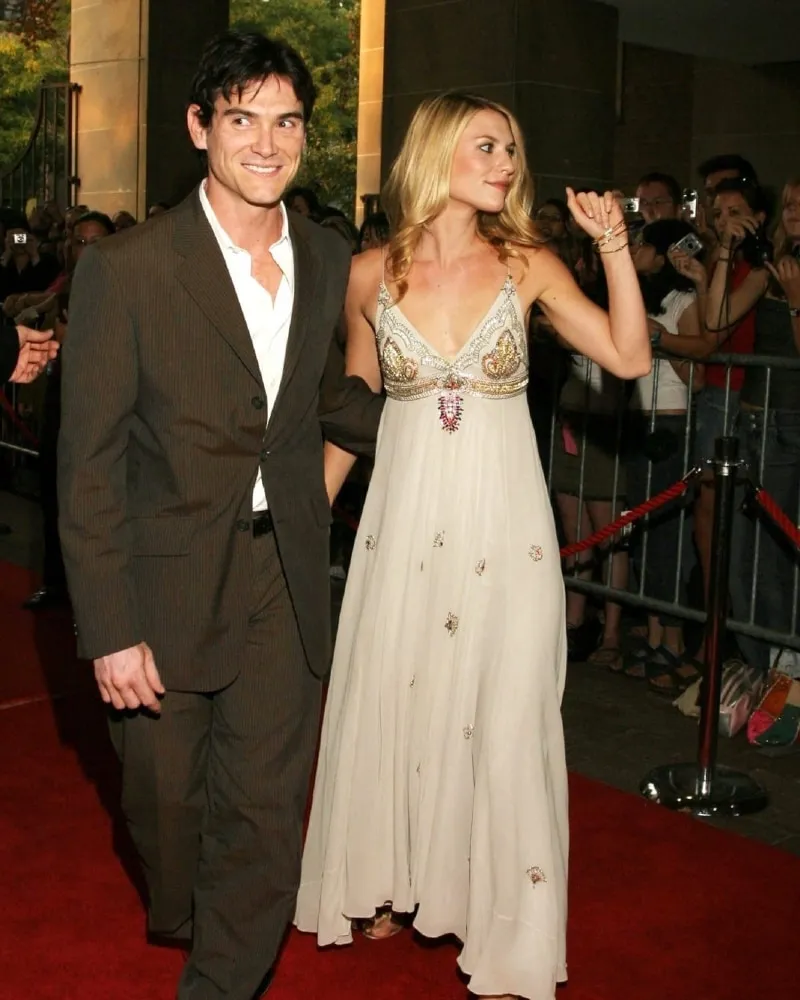 Both Danes and Crudup ended up being torn apart by the public. Eventually, Crudup would leave his partner and begin a relationship with Danes. Though they didn't last long, it was a relationship that began as a scandal.
Jennifer Aniston
Jennifer Aniston finally found love with Justin Theroux and walked down the aisle. But before they made it down that aisle, Jennifer and Justin were not the only people in this relationship. In fact, Justin was tied to Heidi Bivens.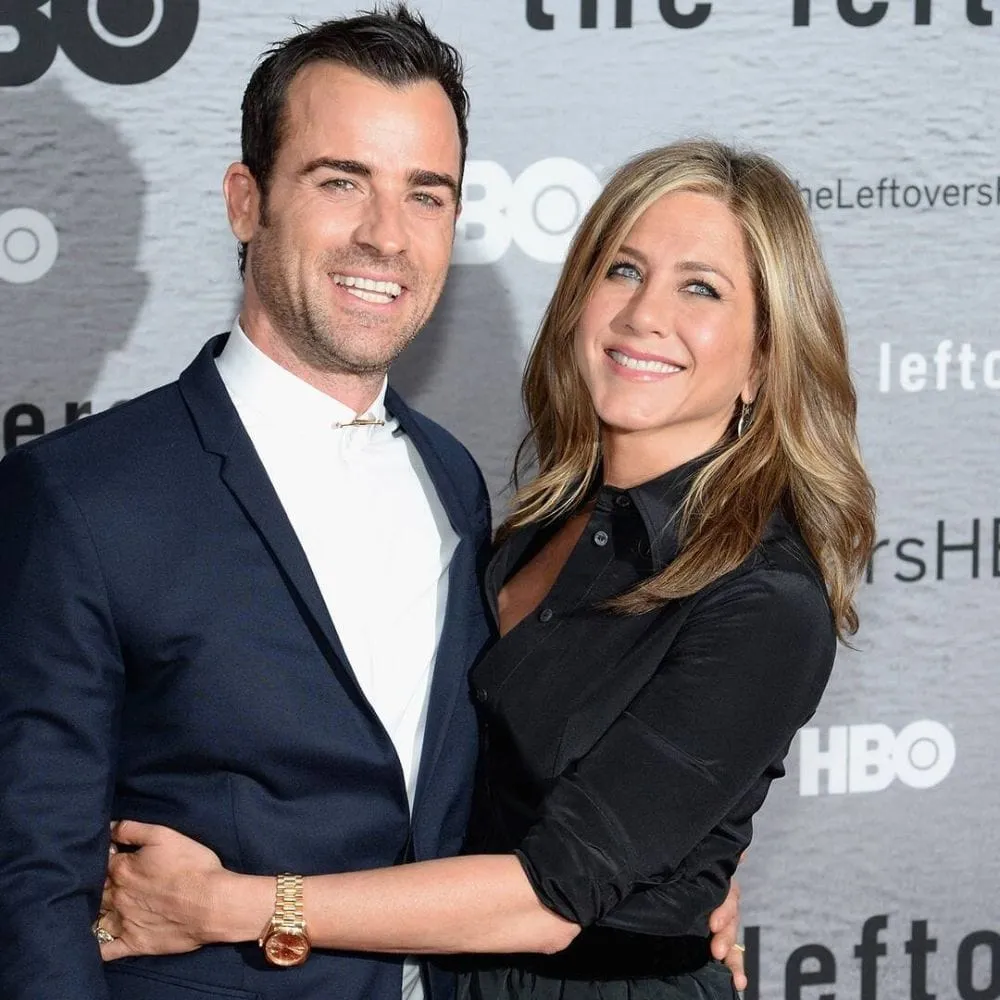 Eventually, after handling being the other woman for a while, Jennifer and Justin became exclusive. In 2010, he popped the question, and the rest is history. Or least it was for a little while; the two did end up splitting up, eventually.
Jessica Sklar
Sometimes when you meet a person at a work event, you just click. For Jerry Seinfeld and Jessica Sklar, that happened in 1998. Unfortunately, she was already married at that time, which caused quite the scandal.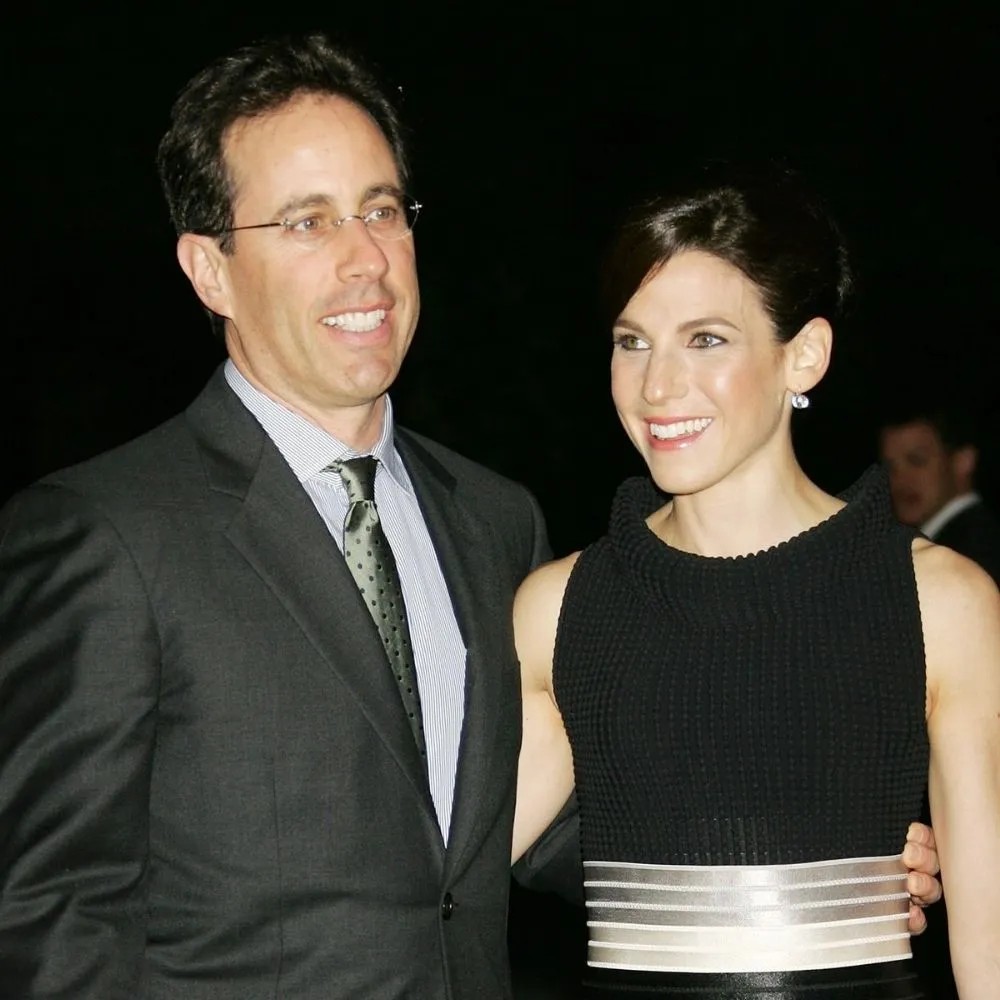 She would rapidly separate from her then-husband, and she and Jerry would marry in 1999. They've been married ever since and seemed to be very happy, despite their scandalous beginnings.
Debra Messing
There are those that find their special someone right after separating from someone they thought they would be together with forever. Of course, typically, this is done with someone else who is also available, but sometimes, that may not be the case.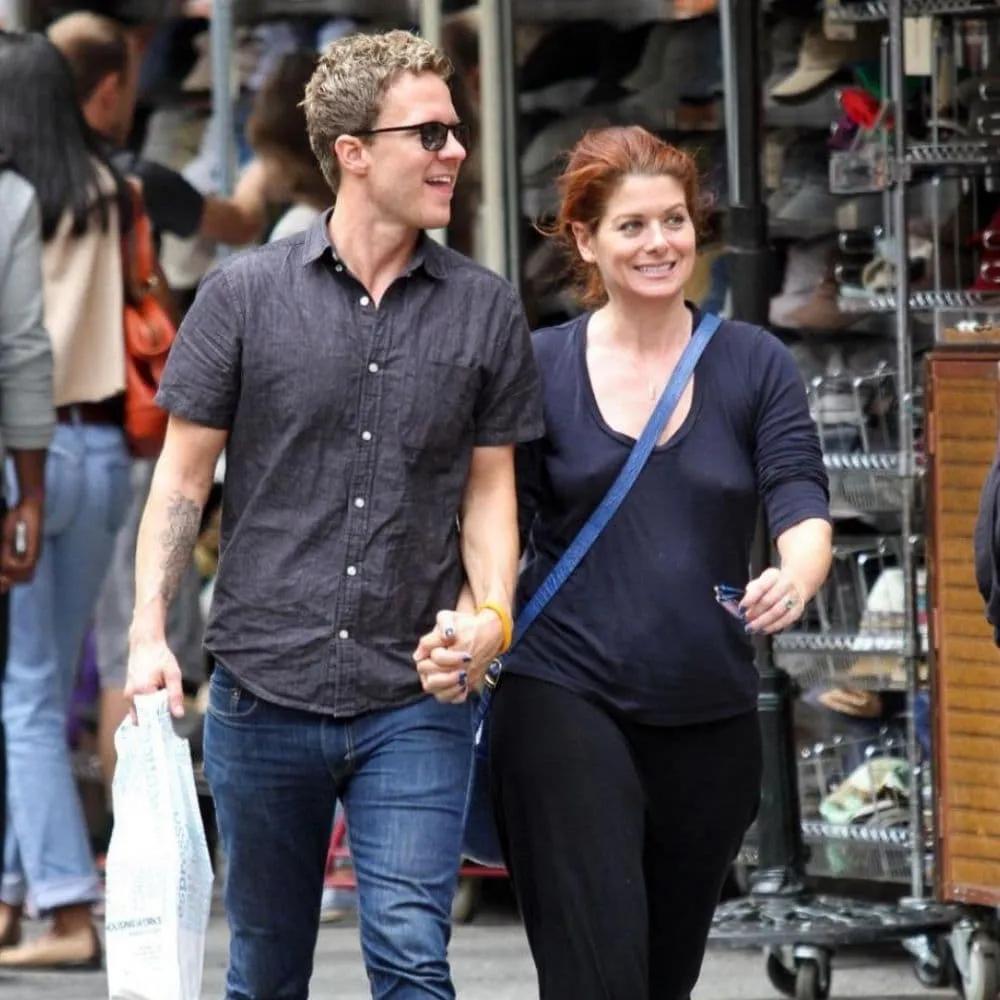 For Debra Messing and Will Chase, that's what happened. Right after meeting, Will divorced his then-wife and began dating Debra. Though the relationship only lasted three years before they decided they wanted to go their separate ways.
Amy Fisher
Though not truly famous because of her actions, this mistress found her name in the papers for quite a while. Amy Fisher and Joey Buttafuoco were having an affair behind Joey's wife's back. Eventually, though, Amy took matters into her own hands.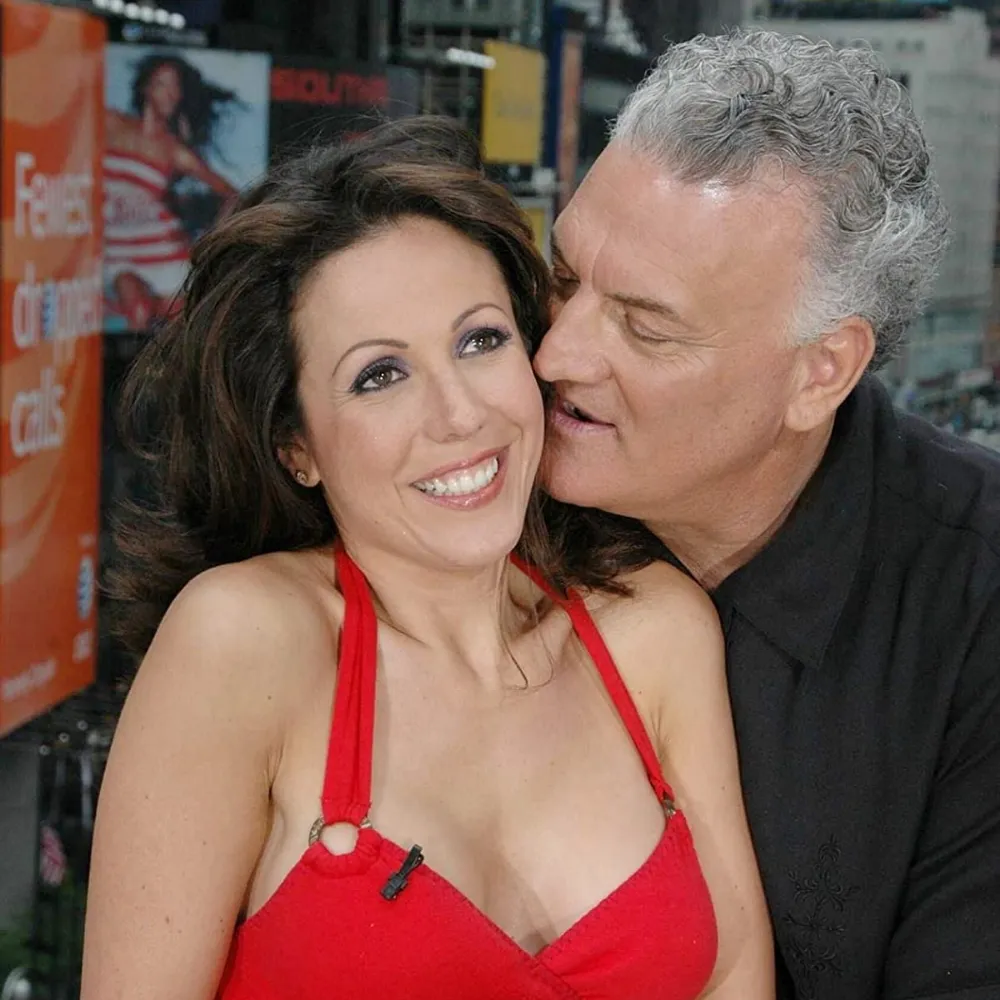 Her actions led to her winding up going to trial because of violent acts. And because of this, her name forever went down in the annals of time as one of the most famous mistresses ever.
Traci Lynn Johnson
There are plenty of very famous mistresses who got themselves into trouble and a little bit of controversy when interacting with their bosses. But maybe one of the ones that went under the radar is Traci Lynn Johnson and her affair with Tiki Barber.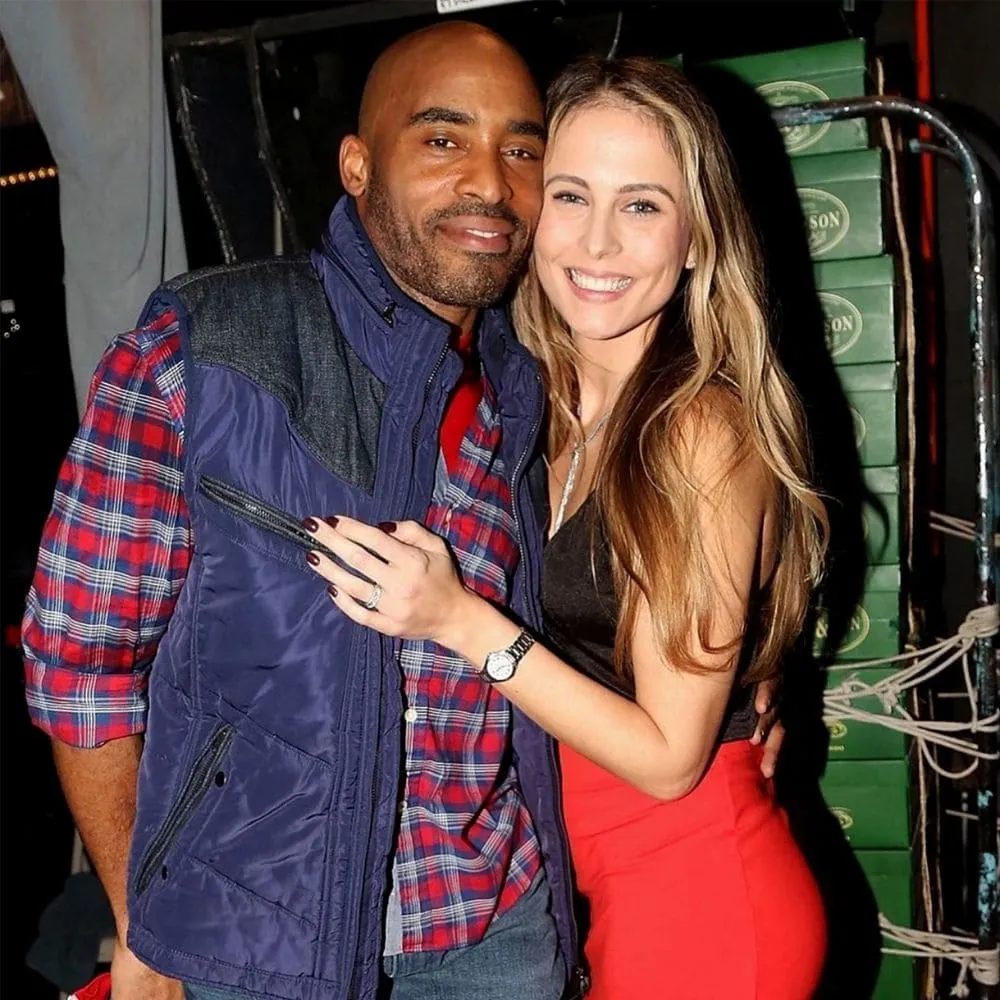 They met after Barber had retired in 2007, and a relationship quickly formed. However, he was married at the time. The ex-NFL player eventually chose to leave his wife and started dating Traci instead.
Kat von D
Jesse James made himself famous by being the guy who always fixed motorcycles. He has been attached to several big names, including Sandra Bullock, who he stepped out on with this young lady.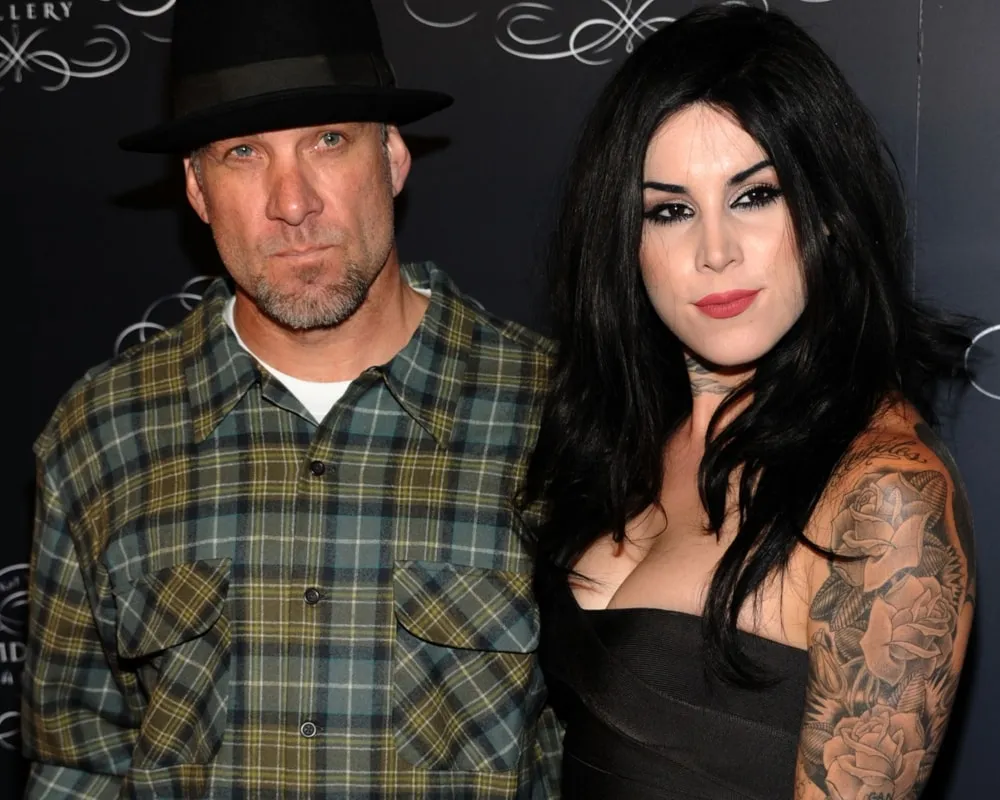 Just three years after being married to Sandra Bullock, he began texting with this young woman. Sandra forgave him, but it wouldn't be the only time that his wandering eye would get him in trouble!
Vanessa Curry
Kobe Bryant was the icon of the basketball court. But sometimes, he had a little bit of a wandering eye in his personal life. Eventually, this would get him in trouble when he hooked up with one of the Laker girls, Vanessa Curry.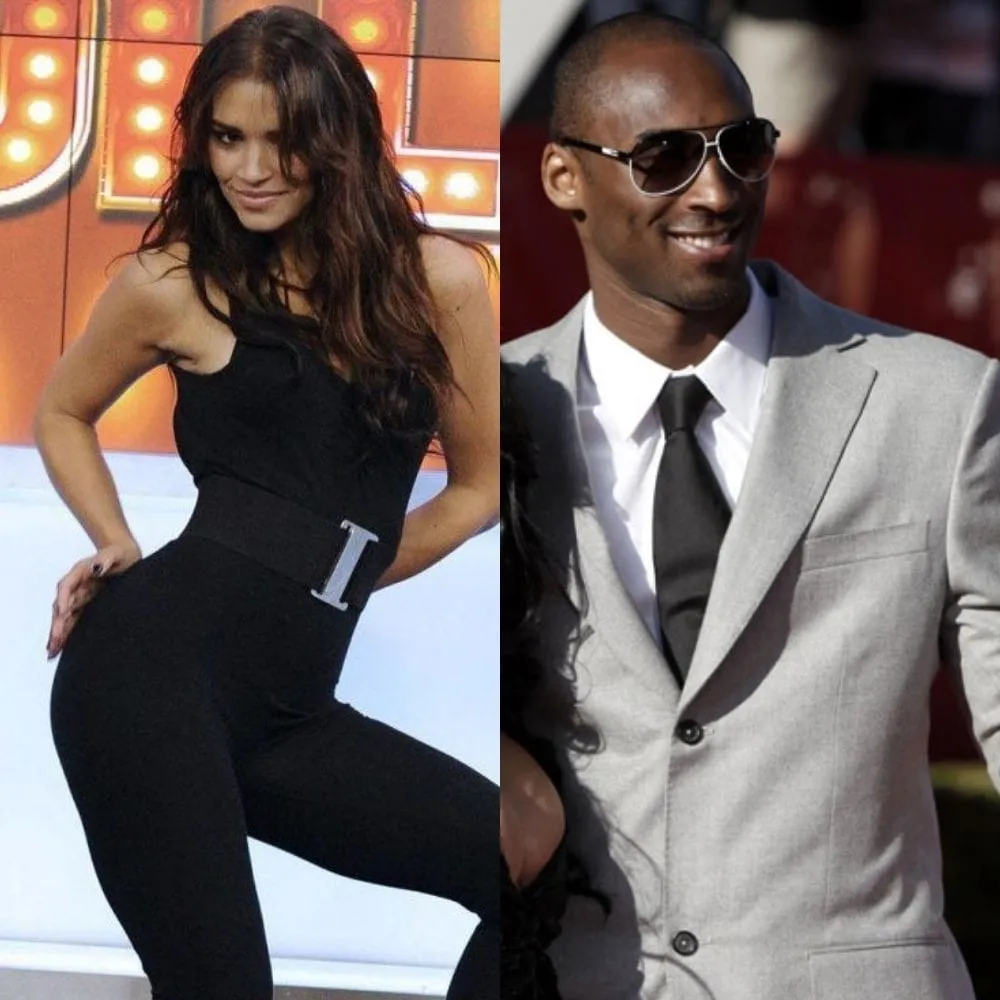 Though nobody is sure if this affair actually happened, it was still leaked to the press and wound up getting Kobe in a bit of a bind. Especially since his wife wasn't too keen on the fact that he was stepping out with someone else who had the same name as her!
Mindy McCready
It seems that Hollywood stars, and sports stars, have a problem with fidelity. And sometimes, these sports stars have multiple scandals going on at the same time. That's what happened to Roger Clemens when he was in trouble for dealing with some illegal substances and found himself also in the limelight with a scandalous affair.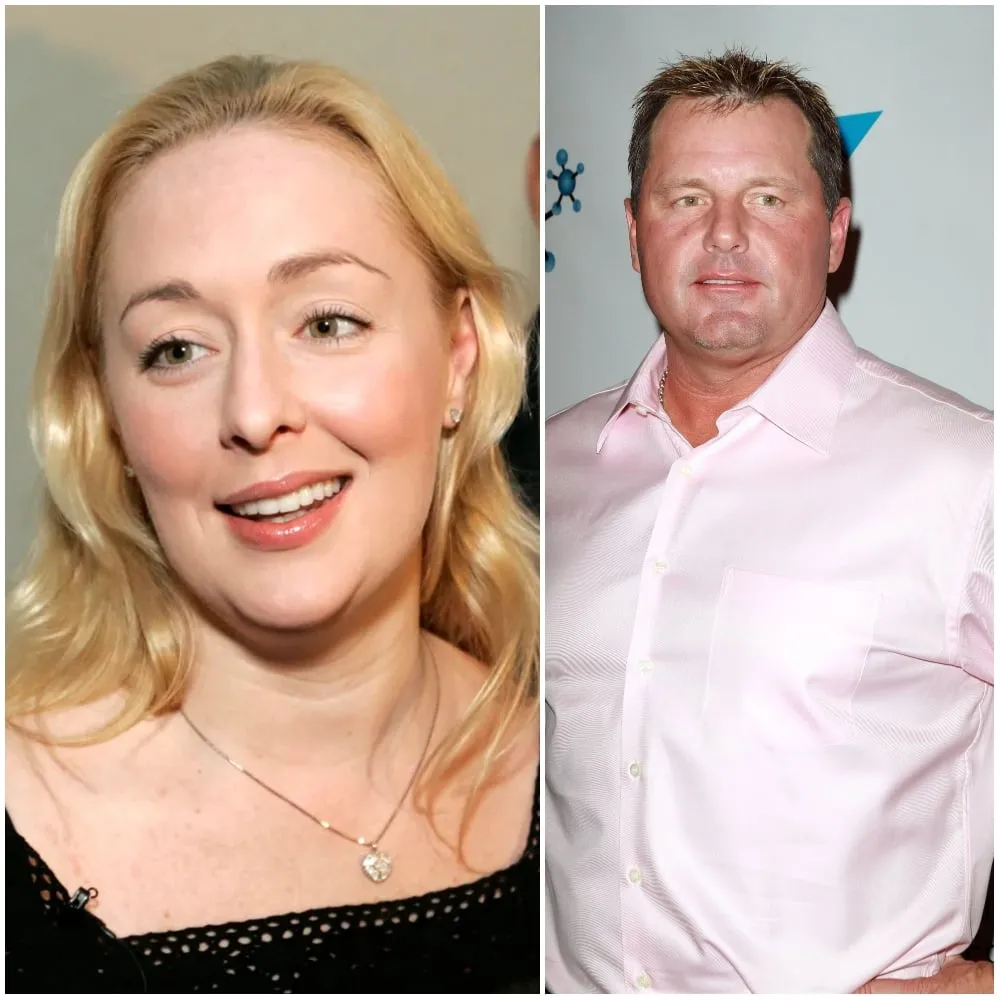 Having found love with Mindy McCready, a country music star, the married baseball player got himself in a bit of trouble. However, he eventually separated from his wife and he and Mindy wound up splitting in the end, as well.
Natalie Portman
Natalie Portman and Benjamin Millepied are now a happy couple, but before they made it down the aisle, they fended off rumors of Natalie being the other woman. When they first started out, it seemed that Ben had a girlfriend.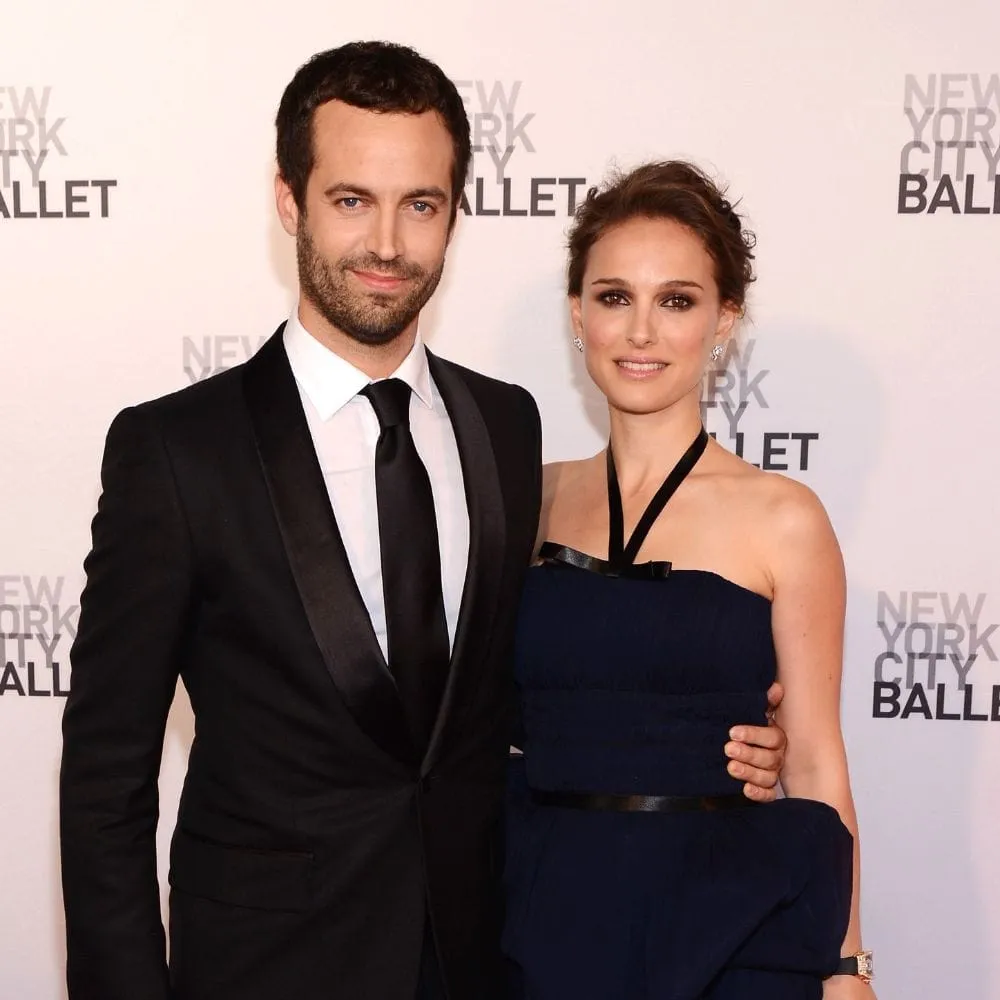 He and Natalie didn't officially make their relationship public until he finally broke it off with his then-girlfriend. But when they did, it wasn't long before they found their happily ever after.
Michelle McGee
Though the marriage between Jesse James and Sandra Bullock didn't end with his inappropriate relations with Brigitte, it would eventually be called "done" after he was caught with the second woman.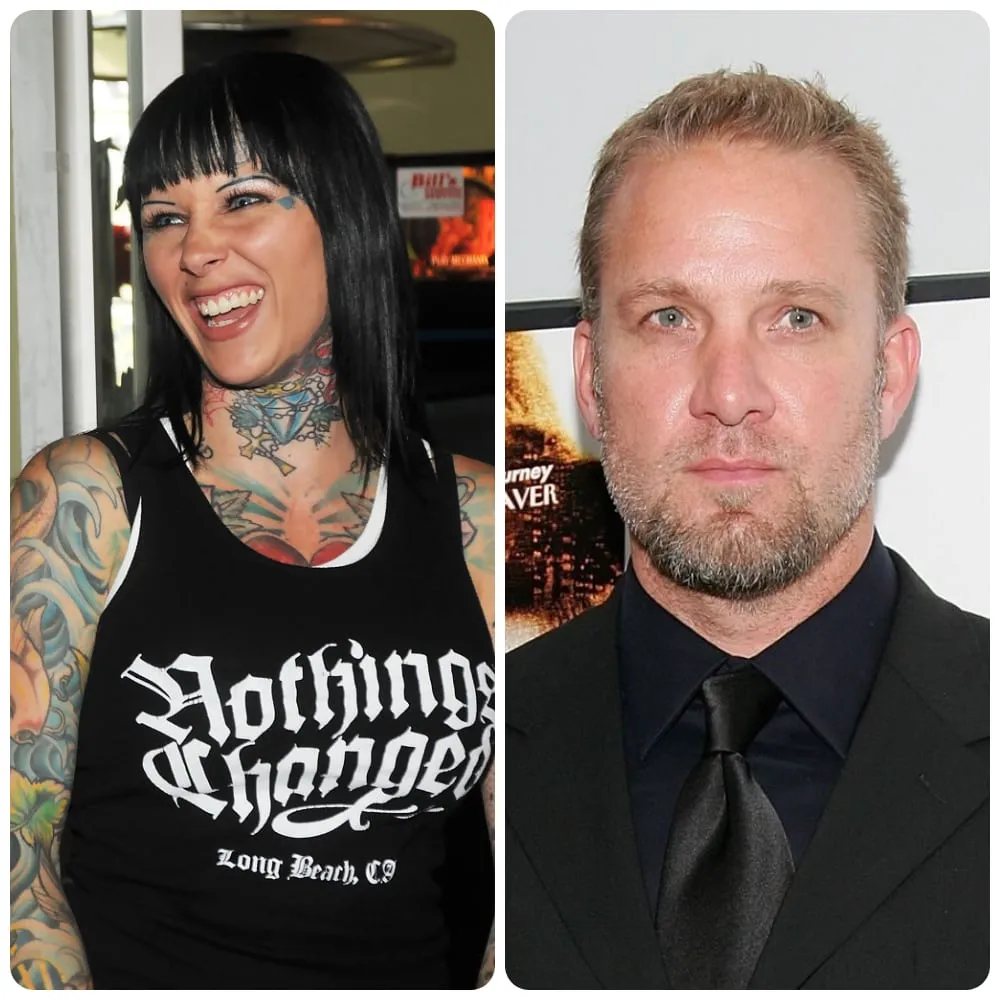 Michelle McGee was a little bit more of who everybody expected Jesse to be with. She had tattoos and was a little wilder than the classic and respectable Sandra Bullock. He was still married, which caused the five-year marriage to go down in flames.
Carla Bruni
Rockers are notorious for being very open to new relationships. Mick Jagger is one of the biggest rock stars there is and he's been in quite a few scandalous relationships, including the one with Carla Bruni.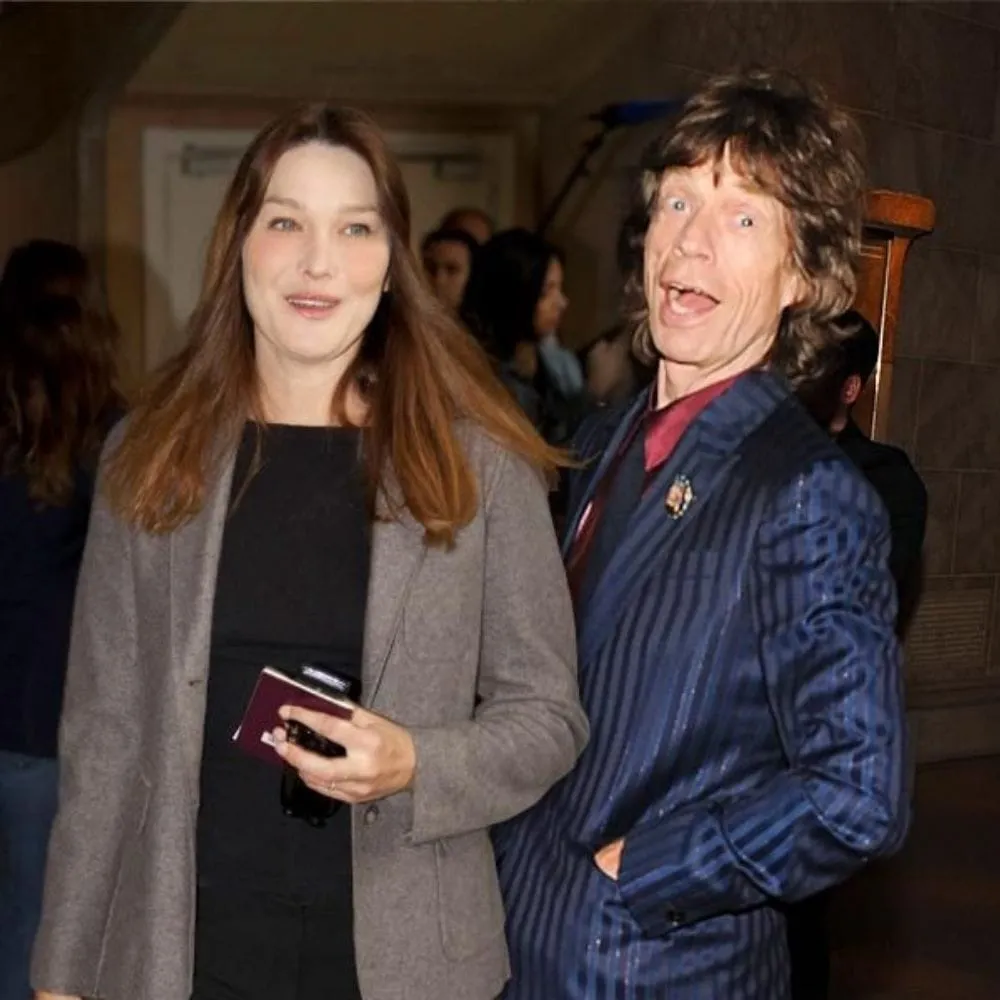 Apparently, while Mick was still married to Jerry Hall, he and Carla had a relationship. Eventually, though, the scandal came out. Although it was hard, Jerry and Mick worked their way through it. Carla would go on to be the first lady of France for a few years, after that.
Brittney Jones
It was shocking when it was found out that Ashton Kutcher and Demi Moore were an item. But eventually, everybody fell in love with the two and it seemed like they were happily married… But looks can always be deceiving.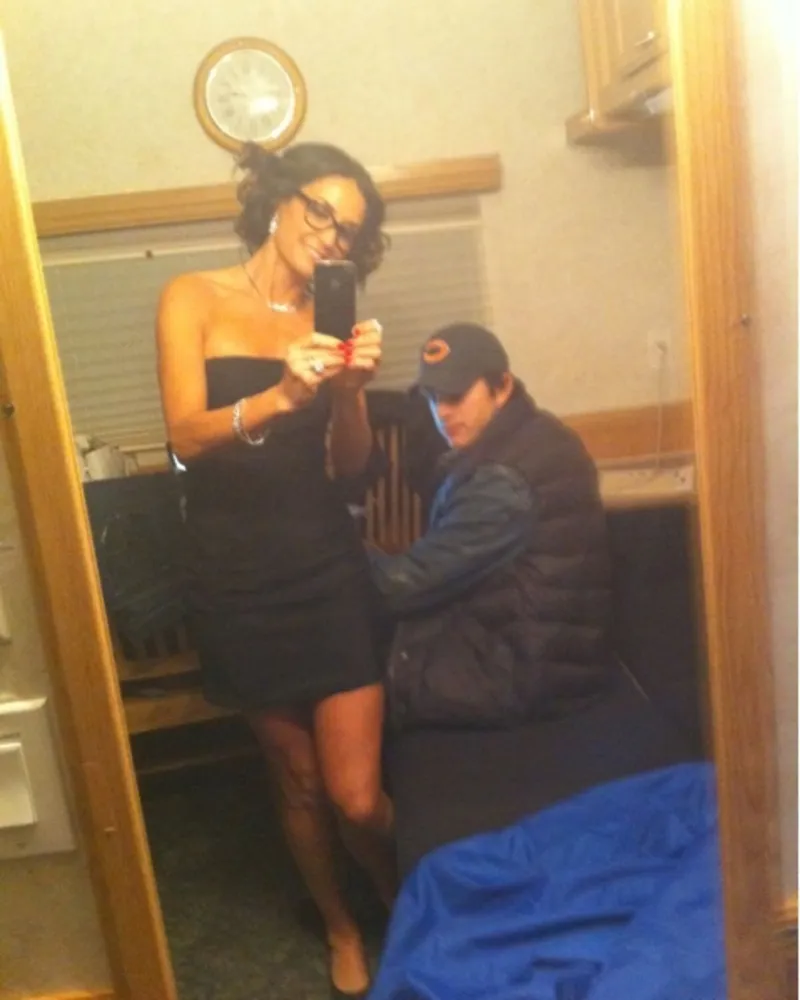 In 2010, rumors started to spread that there were some illicit texts between Brittney and Ashton. Ashton denied it, but the rumors were pretty consistent. Demi chose to stick by Ashton, even though it definitely looked like he had stepped out on her.
Abbie Cornish
For years, the world tuned in to the relationship of Ryan Phillippe and Reese Witherspoon. The "it couple" was the marker for many of us. That is until it came out that Ryan had stepped out on Reese.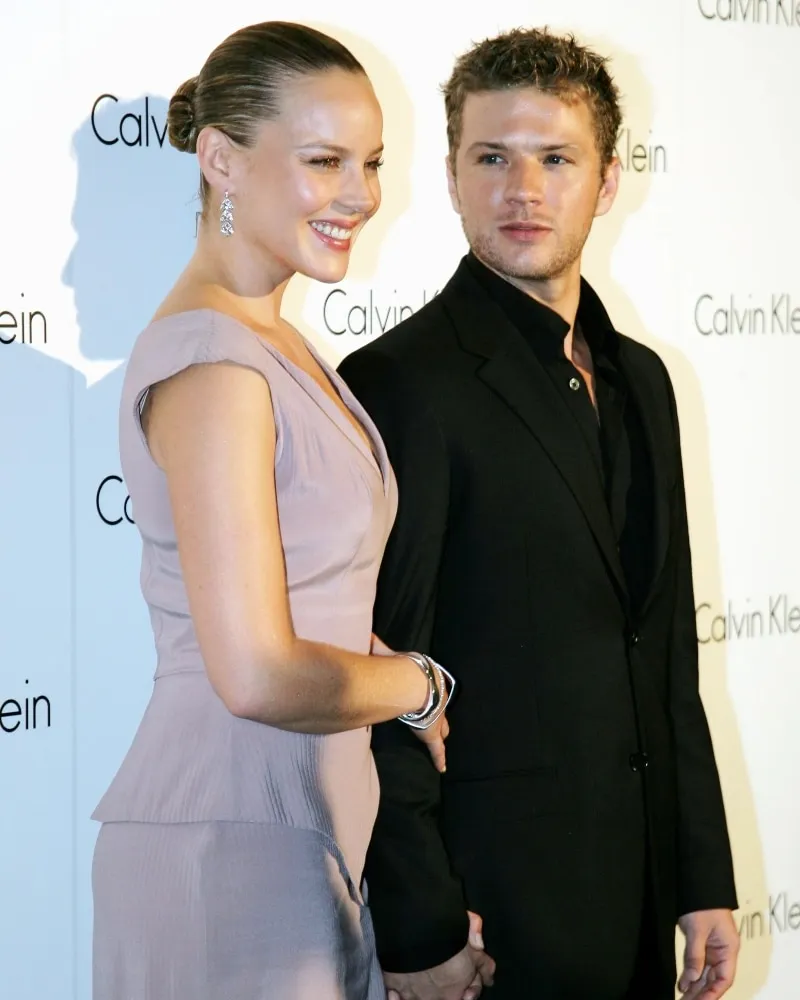 He did this with Abbie Cornish, who would eventually wind up being on his arm. They stayed together for several years but eventually parted ways. Each, though, would go on to find their happily ever after with others.