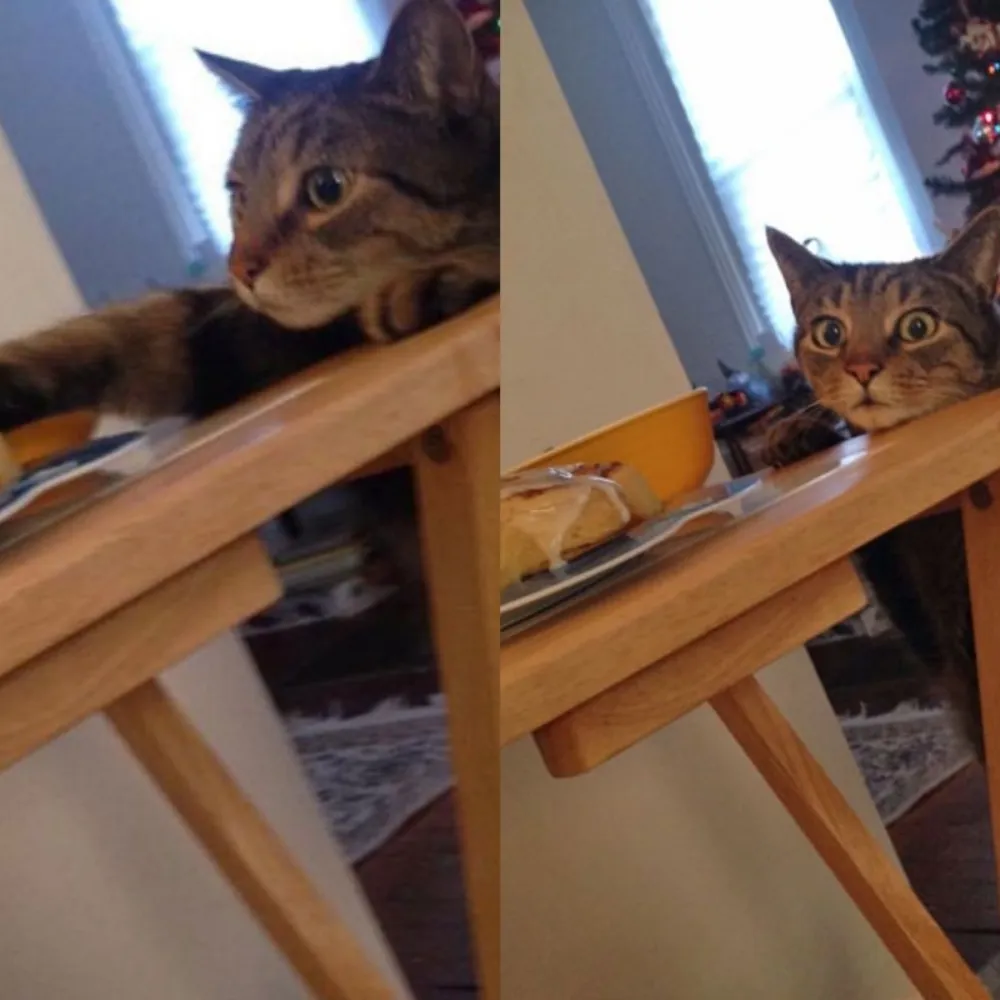 Owning a pet can bring immense joy and fulfillment as they provide comfort and companionship. However, it also comes with its own set of challenges. There may be instances where pet owners become aware of a wrongdoing related to their pets, for which solving the mystery may not be difficult. We have compiled a few such instances where pet owners have shared their experiences on social media for your enjoyment.
Leaving an Impression
Similar to a child, a young cat enjoys exploring and getting involved in everything. While their curiosity can be endearing at times, it can also be exasperating. Crafting a flawless pie crust requires significant effort, and we imagine the baker found it quite challenging.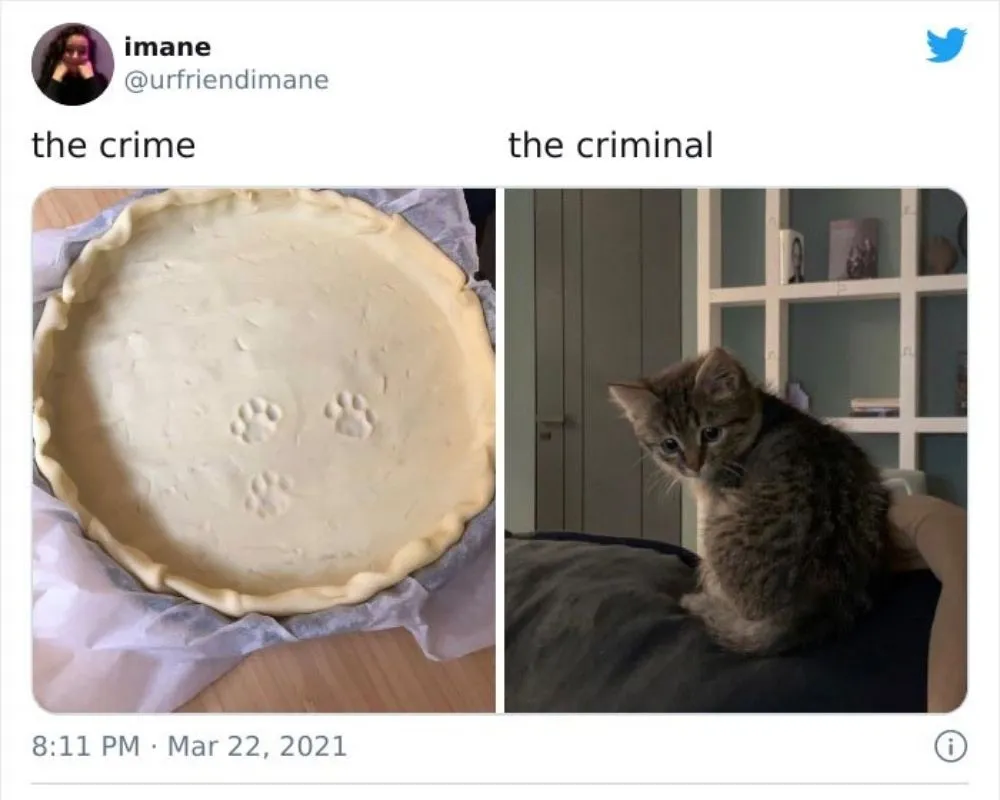 When she noticed the adorable tiny paw prints in the kitchen, it was easy to identify the culprit. Although the offender was discovered, the punishment was likely not severe as the culprit had an innocent face.
No Means No!
If you're constantly occupied with work, you might feel reluctant to leave your pet at home and instead consider taking them to a dog daycare facility. This option is delightful as it gives your pet an opportunity to socialize with other animals.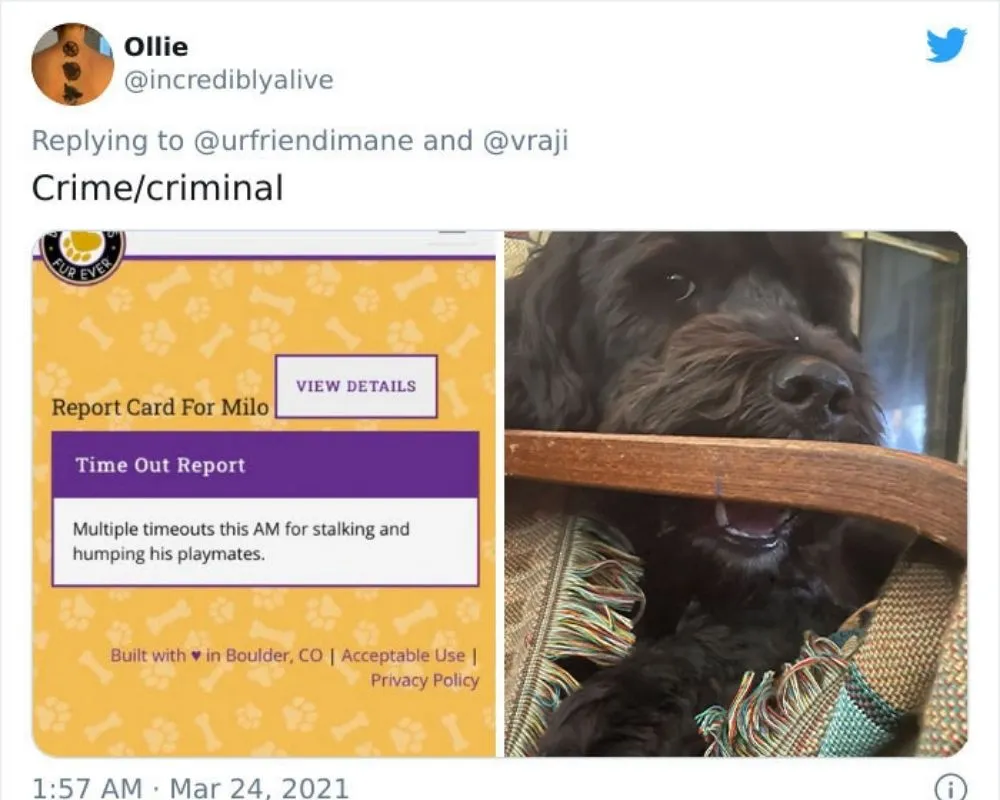 However, apparently, this pup wanted to be extra friendly with his playmates and wouldn't take no for an answer. Because of this, we're sure he didn't only get a timeout at the daycare but when he got home as well.
Muahahaha!
It's very disappointing to find out that your dessert has been tampered with, especially when you're craving something sweet. It's even more frustrating when the person responsible for the mischief is as adorable as this perpetrator.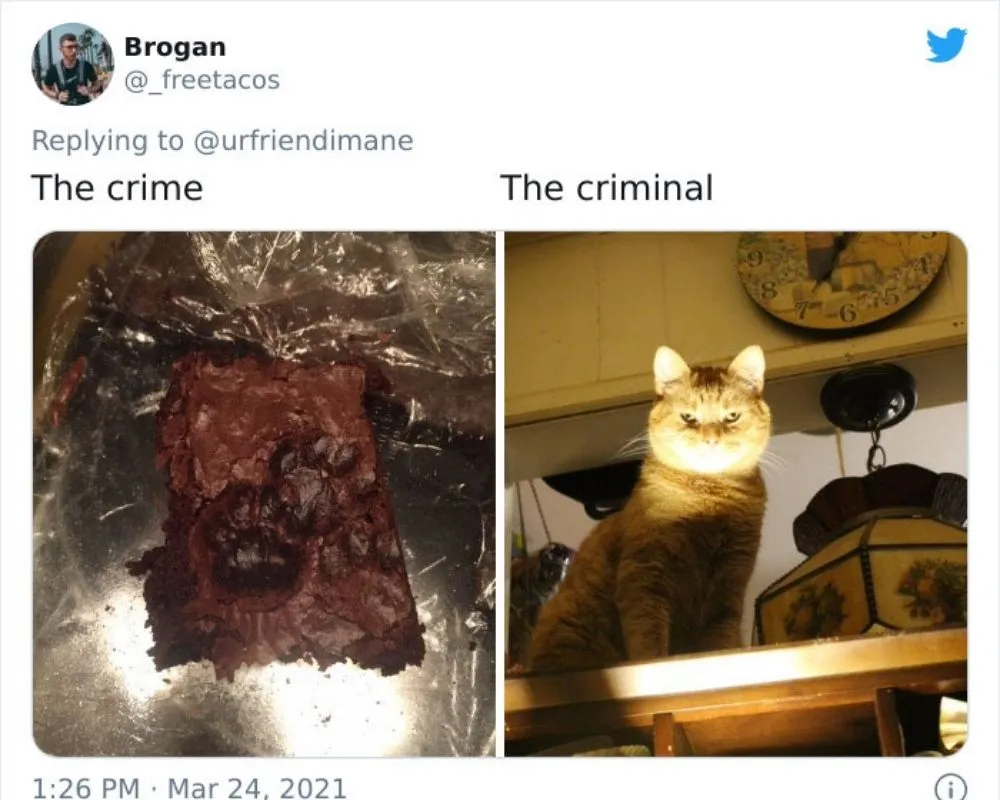 On the other hand, looking at this picture, we can notice a second personality in this cat. Perhaps it's due to the lighting or the intense gaze, but we feel a bit scared and may forgive any mischief this cat causes.
Disconnected
While dogs and cats are the most popular choices for pets, some individuals find joy in the companionship of adorable small rodents. However, these mouse-like pets may pose a challenge to maintain as they are roughly the size of a computer mouse, resulting in difficulty in keeping them under control. Do you understand the reference?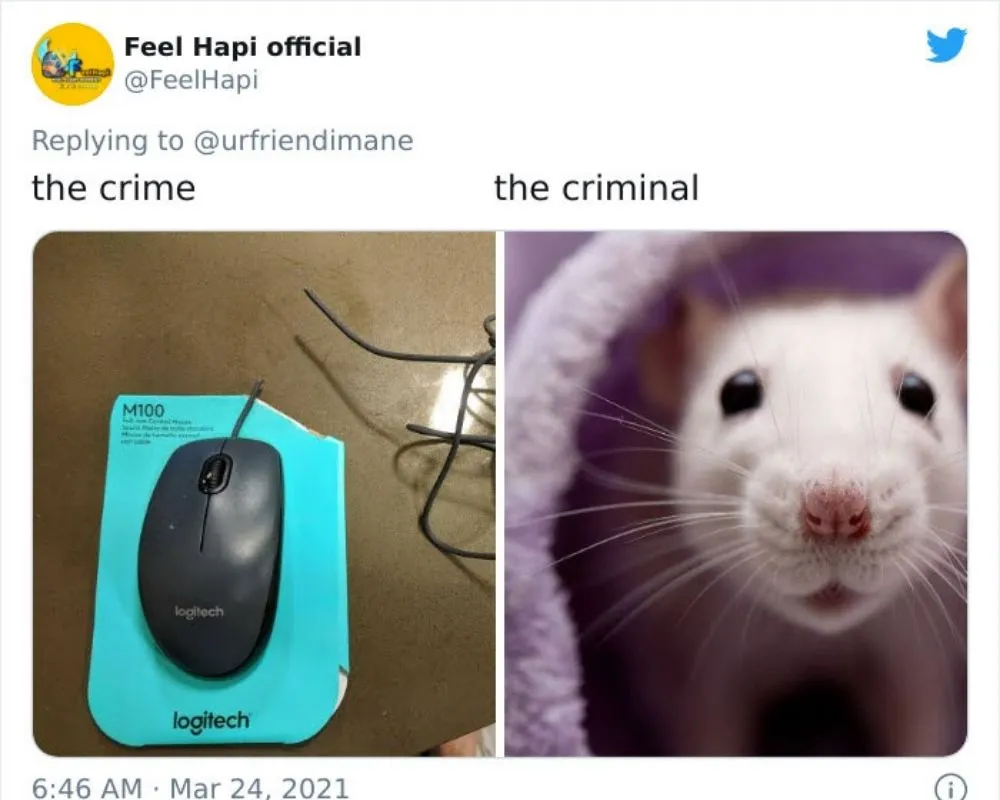 They can be easily forgotten and may end up causing some trouble. Perhaps the mouse was tired of being compared to a computer device and decided to prove its true identity.
It Was the Cat!
At times, pets are unable to resist their natural urges and end up creating a mess. Specifically, one of the areas they often attempt to explore is the trash as it contains a variety of intriguing odors and discoveries.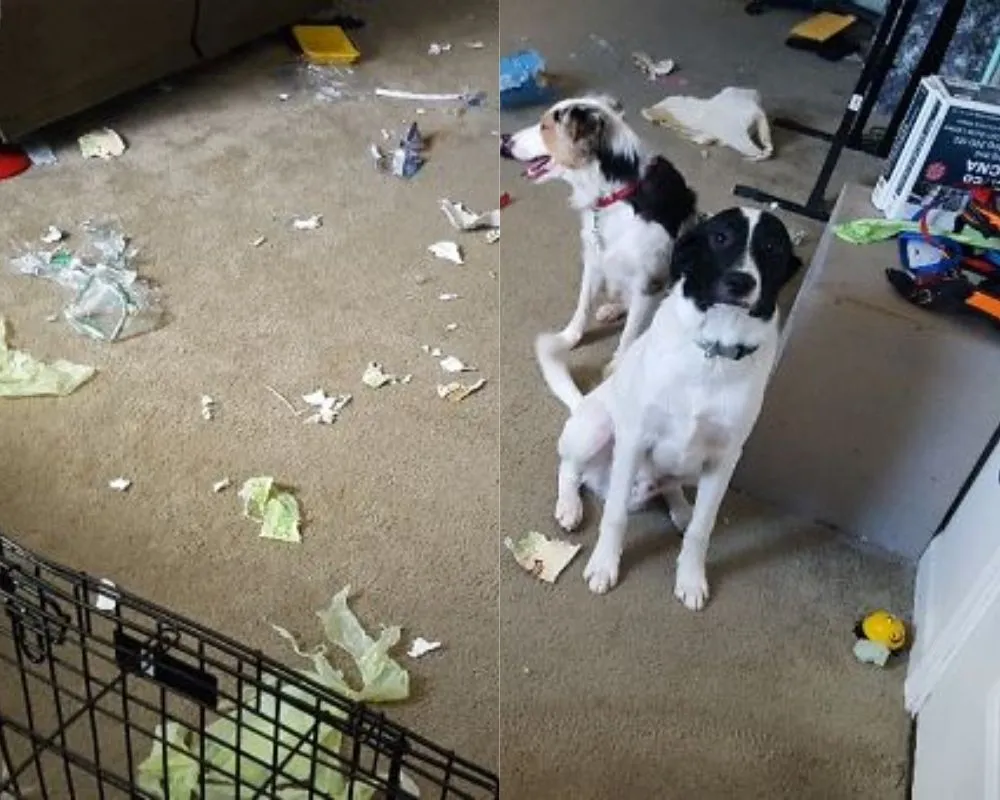 Even though the culprit's identity is clear, the puppies' expressions suggest that they are attempting to shift the blame onto one of the other household animals. The cat could be a possibility, but it seems unlikely.
So Cheesy!
Baking is a way that a lot of people relax, though it can actually be quite difficult to perfect. Things like cheesecakes and soufflés are always challenging, so when you finally get it right, you want to show it off to everyone.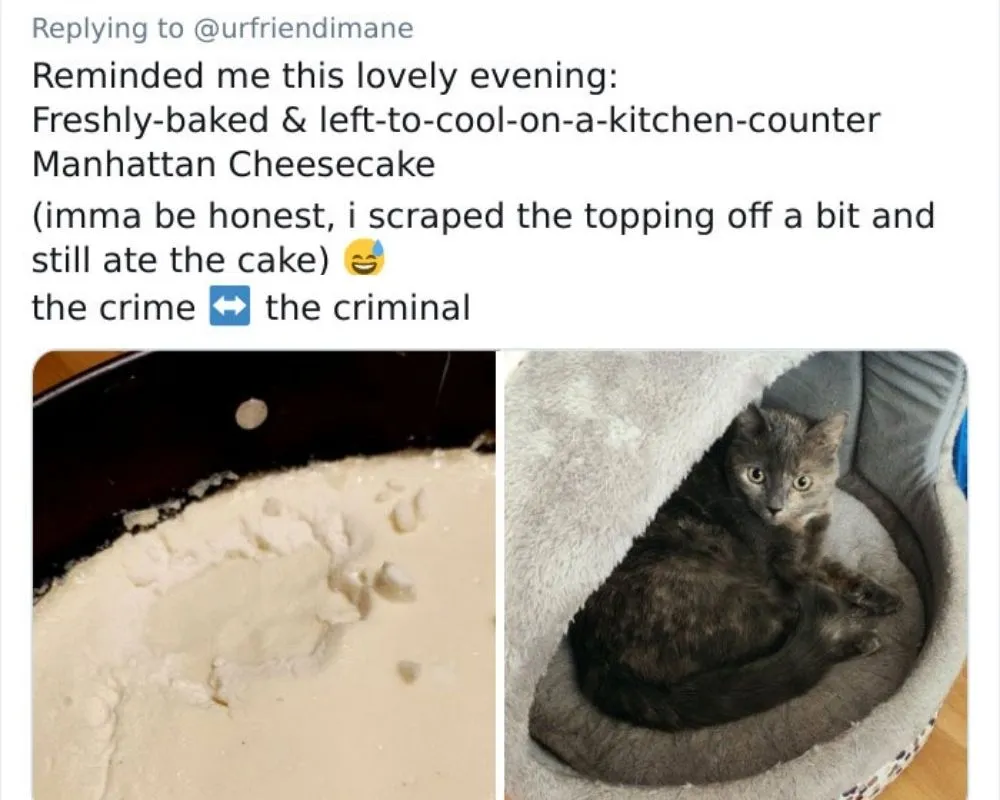 Regrettably, the individual left the cheesecake on the kitchen counter for a bit too long, which led their furry companion to find it irresistibly tempting. Can we truly fault the adorable creature for this act?
Don't Pet Me!
We all love to get home and pet our animal friends. It's one of the ways that many people who own pets relax, but sometimes they're just not in the mood for it. Just like us, sometimes our pets just want to be left alone.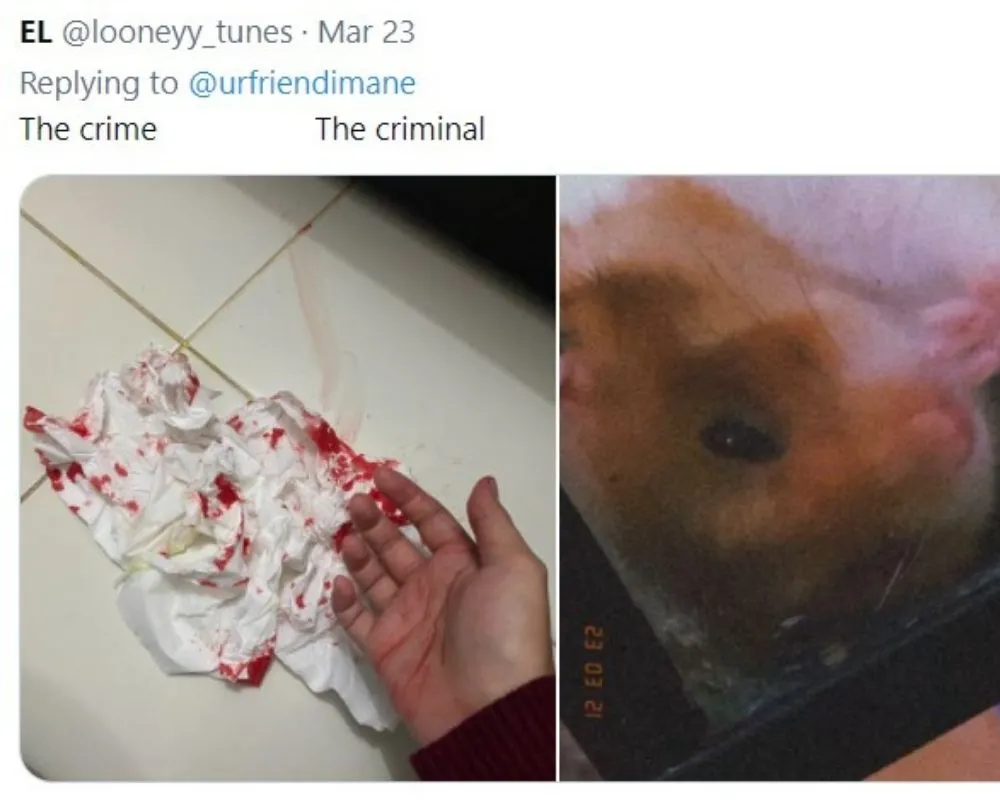 While it's true that blood may not always be involved, in cases where a pet is uncertain of their own strength, the outcome could unfortunately be similar to what happened to this individual.
Have a Seat
If you've ever had a cat, you would be familiar with the term 'zoomies', which pertains to the moment when a cat suddenly becomes hyperactive and uses your home as their personal racetrack without any apparent reason.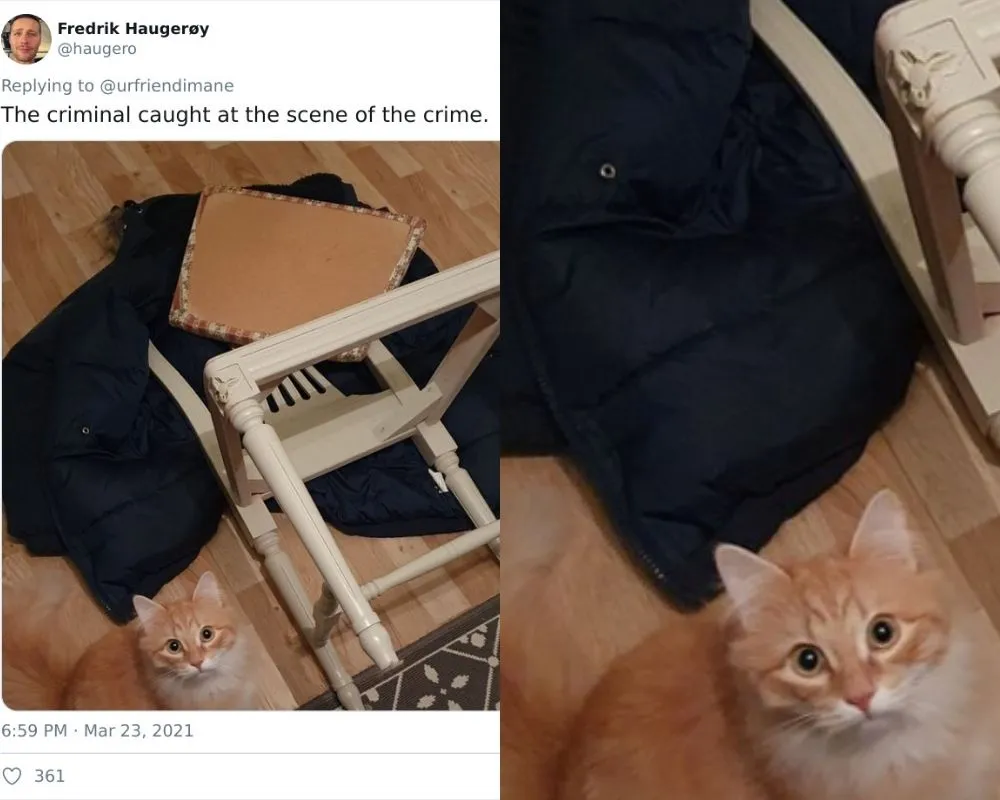 It seems that the cat was experiencing a serious condition and in the midst of it, it chose to leap over some furniture. Regrettably, it seems that in miscalculating one of the jumps, the dining room table ended up losing one of its chairs.
Silent but Violent
Playing with your pet can be enjoyable, however, at times the play can become too vigorous, resulting in potential injuries. Although your pet may not be aware of their actions, you, as the owner, could be affected. Keep in mind that this doesn't equate to your pet not caring for you.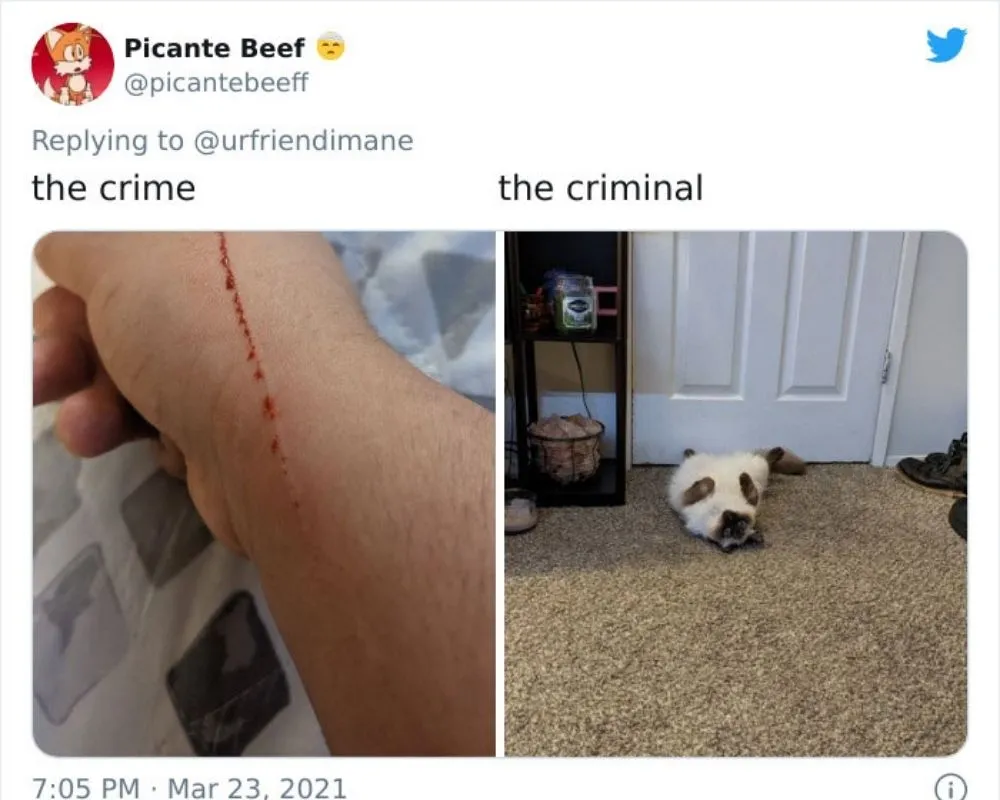 We are confident that scratching its owner was not the cat's intention, and they may have become a bit too enthusiastic. The cat is evidently affectionate rather than aggressive, as evidenced by the picture.
One Giant Step
Generally, when engaging in artistic endeavors or renovation projects, it's common practice to confine or keep your pet away from the area being worked on. But, if the animal is clever, it may be able to bypass your safety measures and gain access to the room.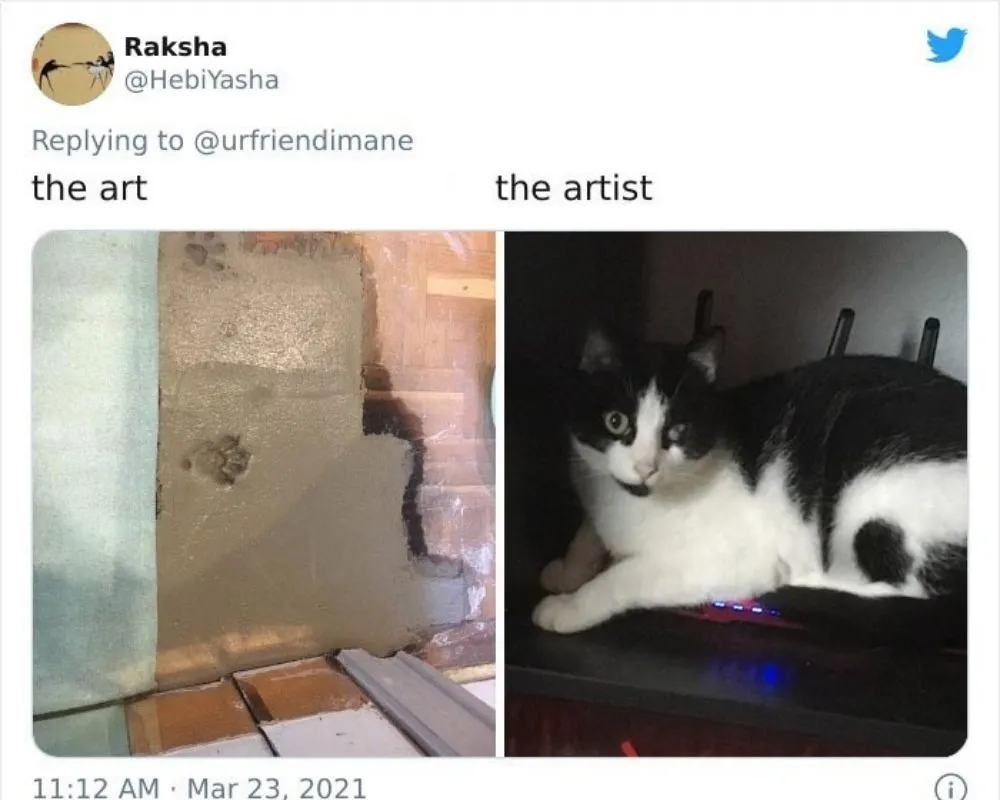 The cat had a curious nature and desired to know what was happening. Sadly, it left traces that it had breached the barricade, displaying its lack of proficiency as a criminal.
Sticky Paws
When a pet wants attention, it won't stop until it gets its way. That includes getting up in your space when you're trying to make a snack for yourself. Clearly, that is what was happening here.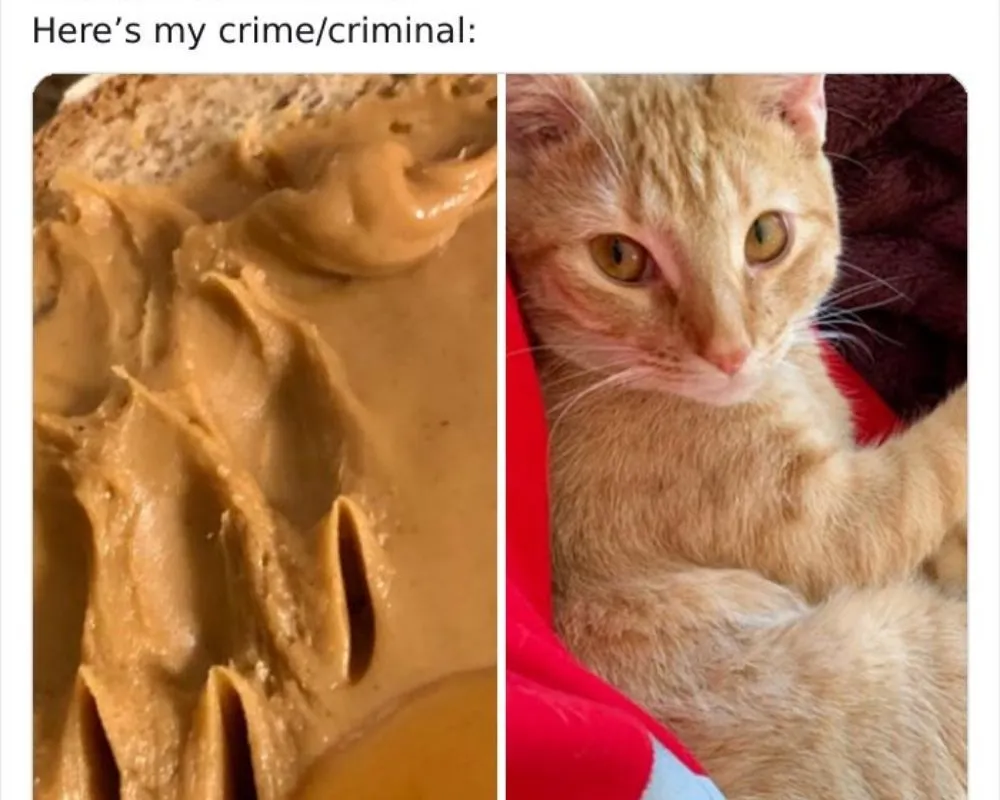 It may seem needy, but this kitty just wanted a little love from their human parent and they felt that the best way to do that was to reach out and touch something. Too bad it was the owner's PB toast!
Who, Me?
Sometimes you just have to take a break and sit down and relax. Maybe that is why this cat thought that it was OK to take a seat on this newly baked cake. Or perhaps they were just trying to say something…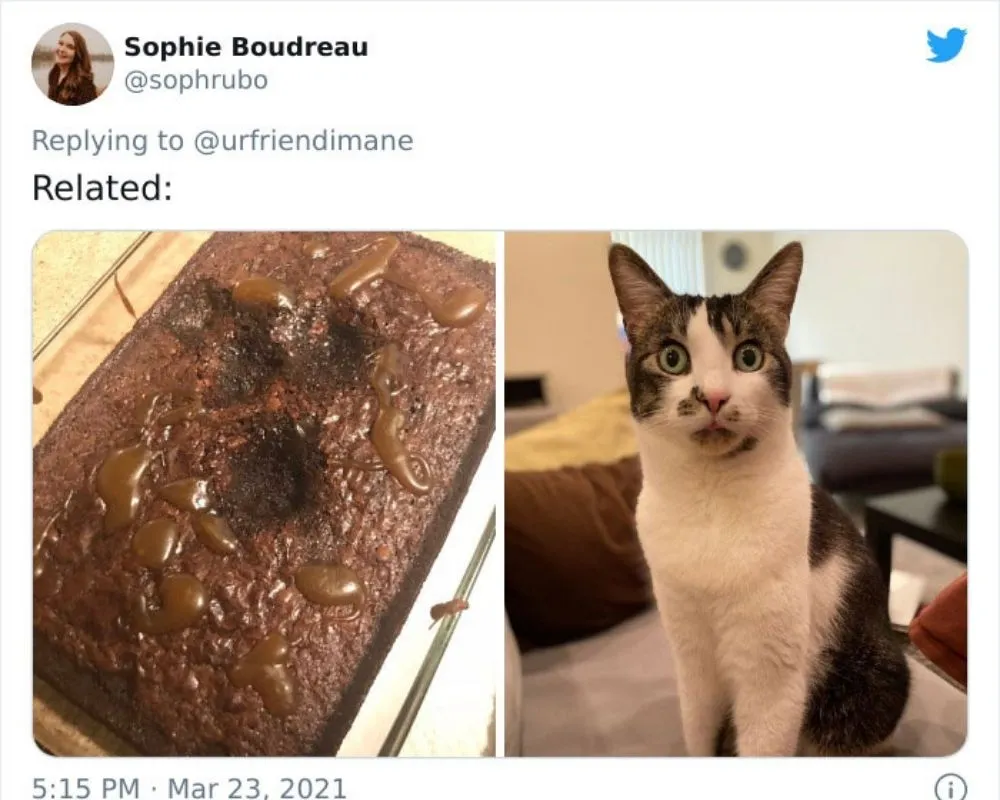 One thing was for sure when the criminal was caught, he certainly looked like he had no idea what his owner was talking about. Or he was just really good at playing dumb… We all know how smart cats really are!
I Was Framed
Most criminals try to get away with their crime without leaving a trace of evidence, and most of them are good at it. However, it doesn't look like this cat is one of those types of criminals. After all, they left their mark all over the place.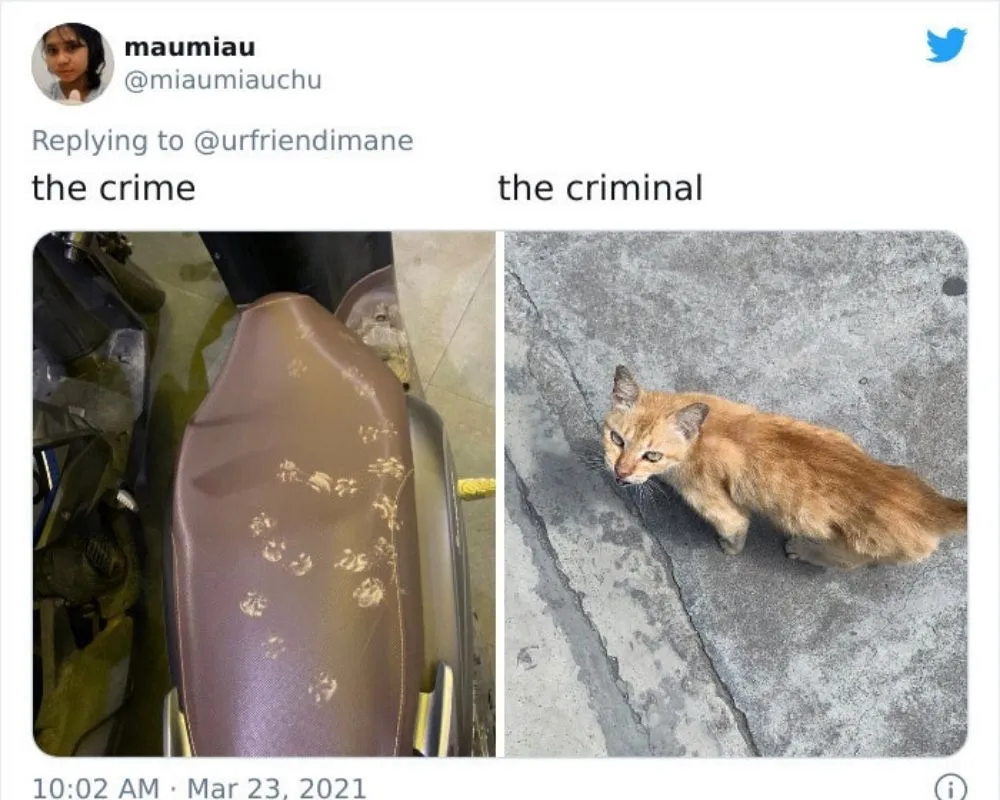 When the owner found the cat's imprints on his motorbike and questioned him, it looked like the cat felt he was framed. Just look at that face! He is clearly insulted by the accusation.
Prove It
One of the biggest grievances that most cat owners have to fight against is the need for their cat to sharpen their claws on practically everything. Of course, there are many ways to combat this, but apparently, this cat dances to the beat of their own drum.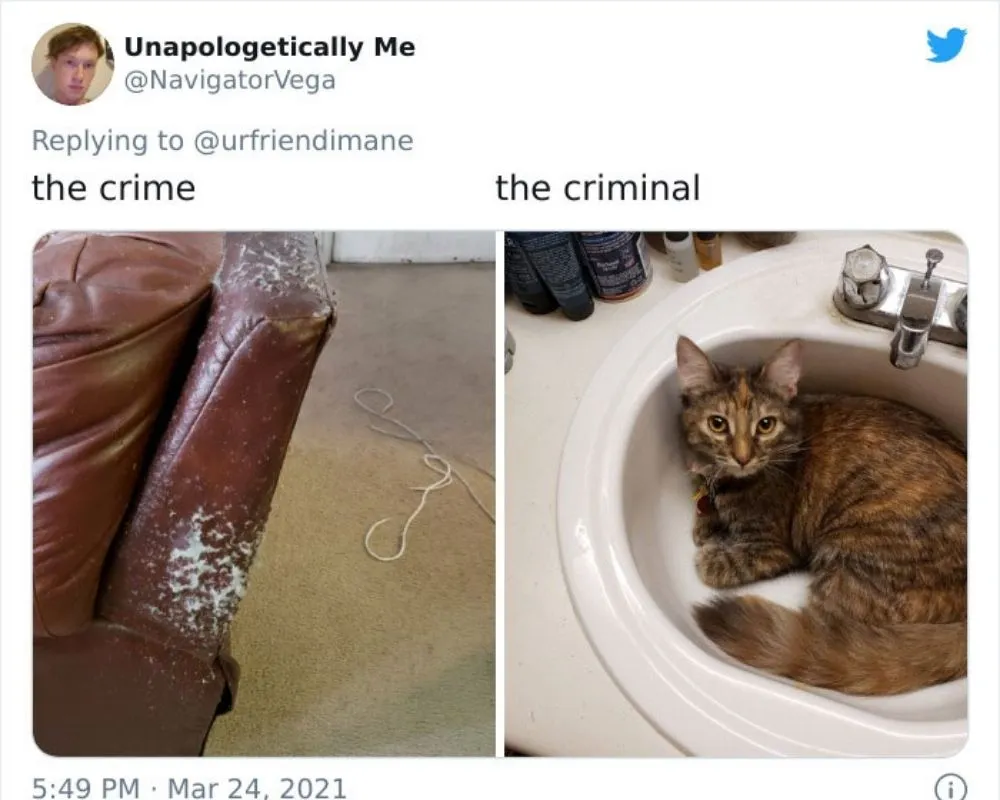 This criminal looks pretty laid back and unconcerned with the ramifications of climbing up the couch. After all, their human parent has to prove it was them!
Caught 'White'-Handed
Just like when you're outside on a rainy day, and you get mud on your shoes, pets can sometimes walk through things and leave their mark. That is why it's important to keep liquids like paint far away from your furry friends.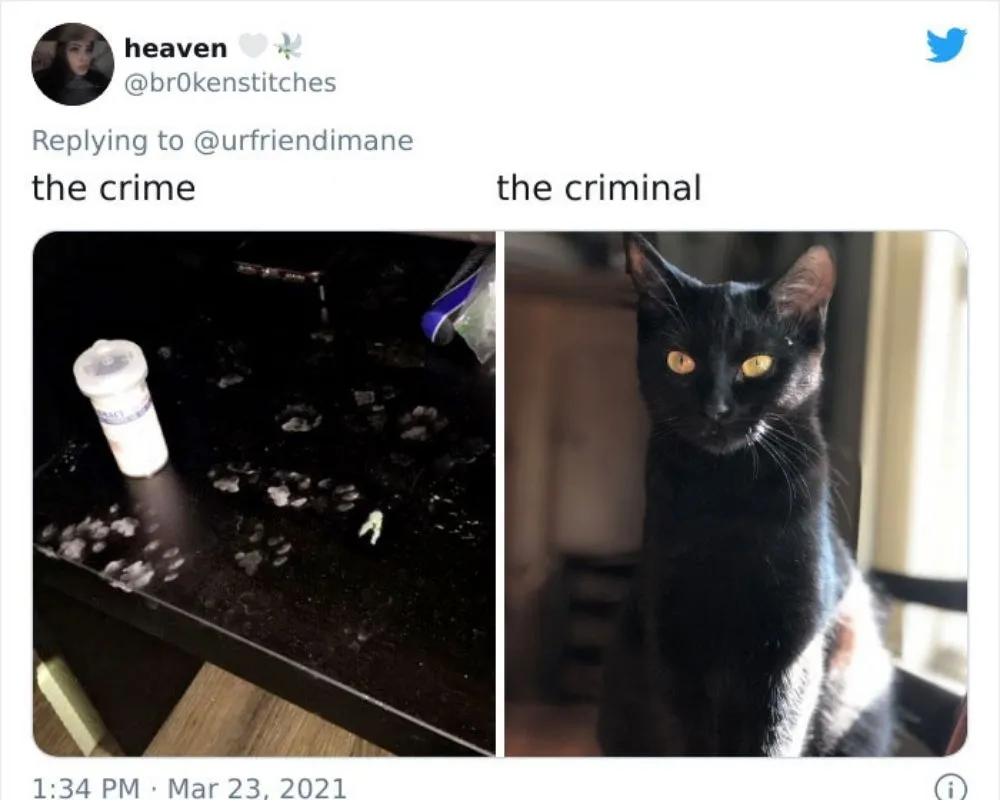 Even still, this cat managed to get covered in white ink and because of this, we have no doubt as to who the criminal here is. He can purr all he wants, we know it's him!
It Can't Be
Preparing dinner after a long day is hard enough, but when you have an inquisitive and intrusive pet, this can be even more challenging. Sometimes all it takes is for you to walk away for just a second before the criminal strikes.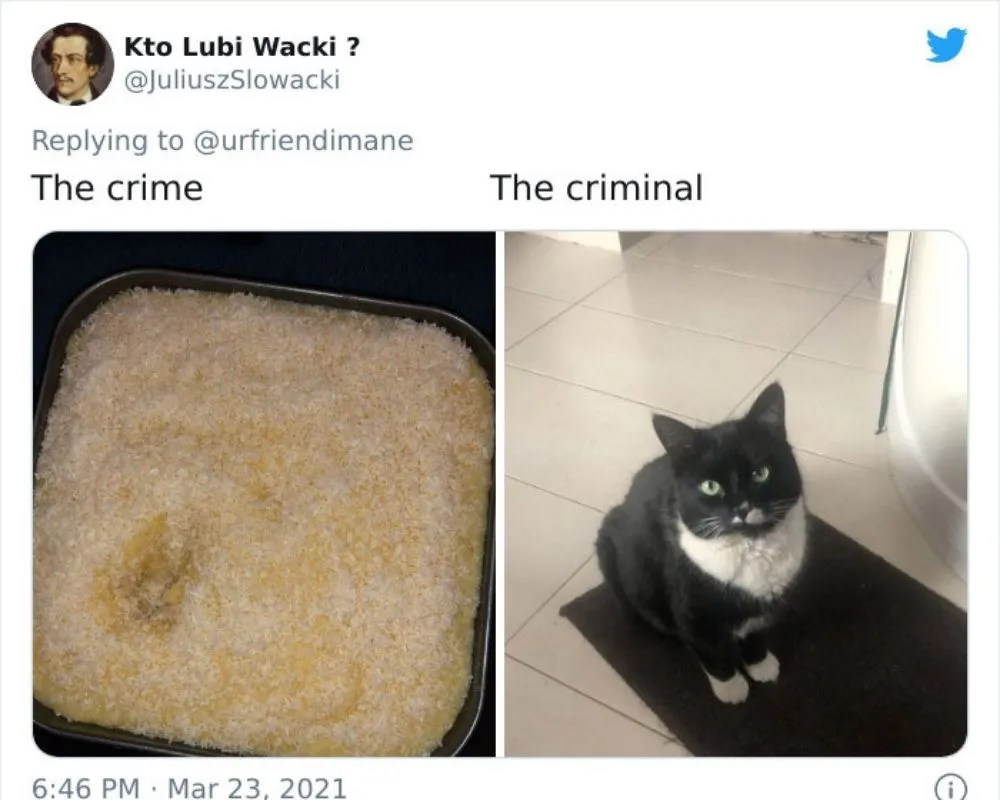 This cat was interested in these breadcrumbs and decided they would take a little look. We can't really tell what the crime was but we worry that he mistook this dish for his litter box. Oh no!!!
Pizza Lover
Everyone loves pizza, and when we say everyone, we mean everyone, so that includes your cute little furballs. But, unfortunately, when you are making it at home, sometimes that will lead to the potential chance for a crime to be executed.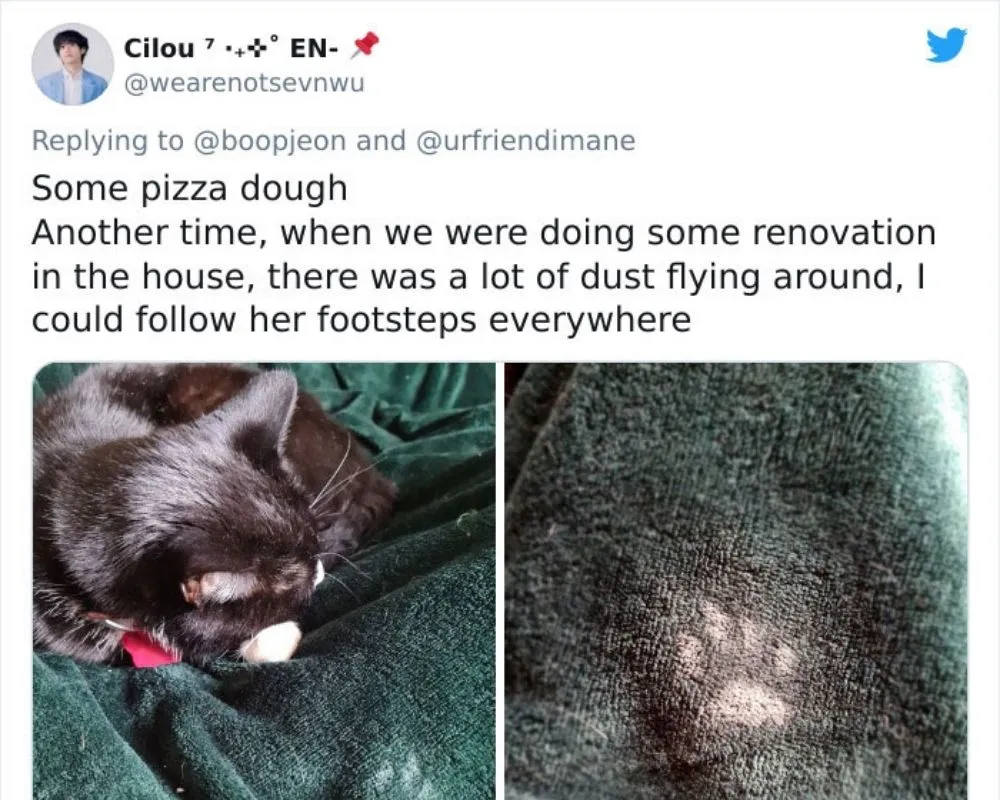 This cute cat might have gotten away with it if they hadn't decided to jump onto the bed with mom and snuggle up in that cozy blanket. It's always the finger(paw)prints that get you! Better luck next time!
'Dough' Not Try It
Children and pets don't know that they shouldn't be eating raw dough, so whenever mom is making a pastry, they like to get into the mix. This is why when you are a parent, you have to be vigilant when kneading your dough.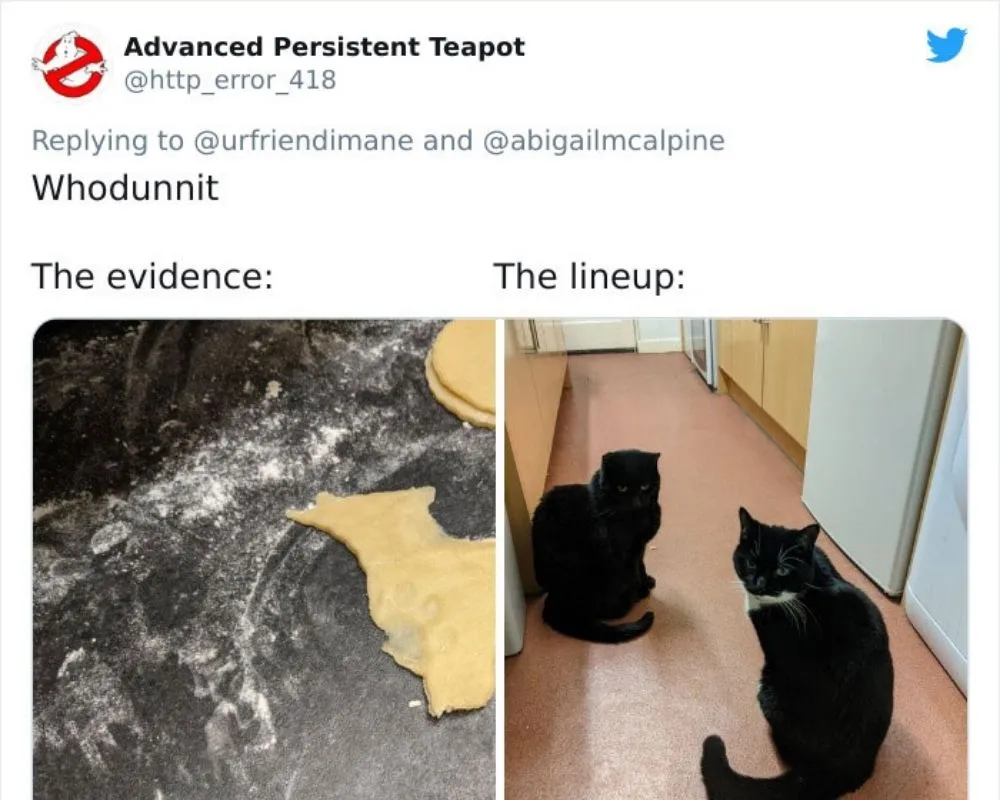 The only problem in this house is that there are two prime suspects and no clear answer on which one of their grubby little paws got into the dough. Hopefully, they can get one of them to spill the beans. Lol!
Walking it Out
Everyone knows that having a carpet and a pet is a nightmare waiting to happen. This is one of those crimes that probably should go to the People's Court as there is no clear person at fault.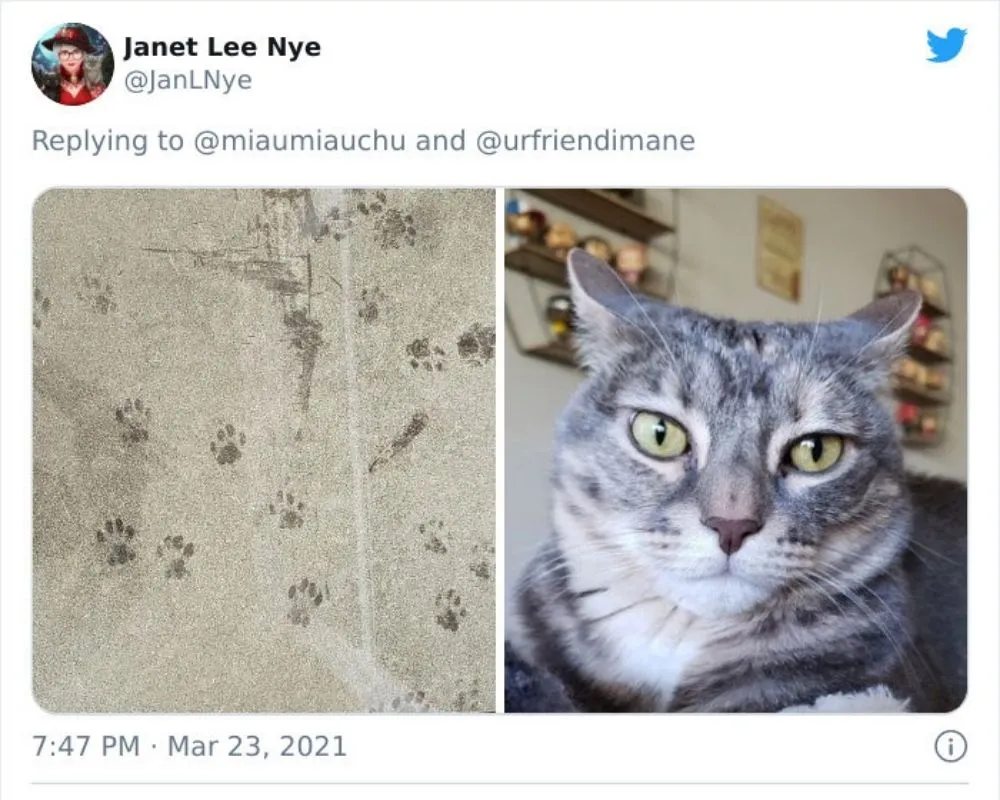 Both the human who decided a carpet was a good idea, and the cat who decided to walk through water and then walk all over the carpet is at fault here. Don't you agree?
I'm Sorry!
It's all fun and games until someone gets scratched! Though most people think of playing around with their playful dogs, you can also have a ball with cats. Unfortunately, oftentimes that may mean that you will end up with a scratch or two.

Though there is a clear idea of who the criminal is, we are sure that they didn't mean to. So expect a lot of loving and cuteness to come your way to show you that they did not intend to hurt you.
Everyone's a Critic
When you're raising a small puppy, you have to assume that there are going to be things that get torn apart, ripped up, and gotten into that you just didn't think of. They're still learning just like a kid, and you have to teach them right from wrong.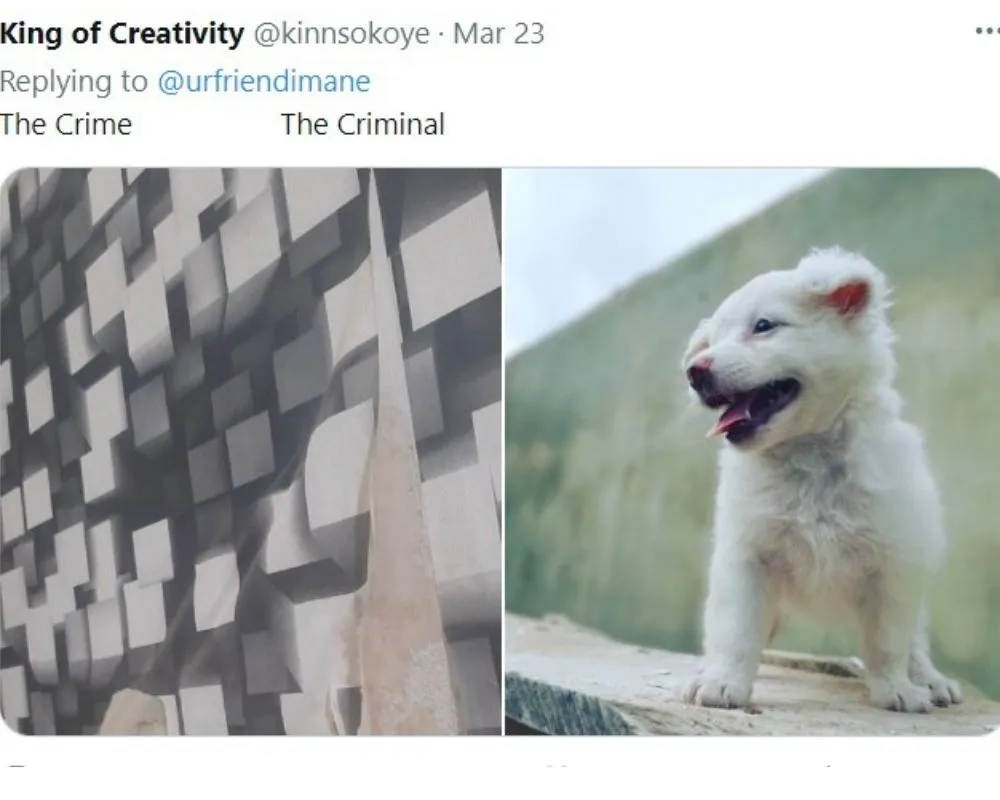 This gorgeous little puppy happens to be very opinionated and he decided that he did not like the wallpaper in the room where his bed was.
Is That a Trap?
We wouldn't expect our beloved family pet to plot a plan that could put us in harm's way but just like humans, animals have a dark side as well…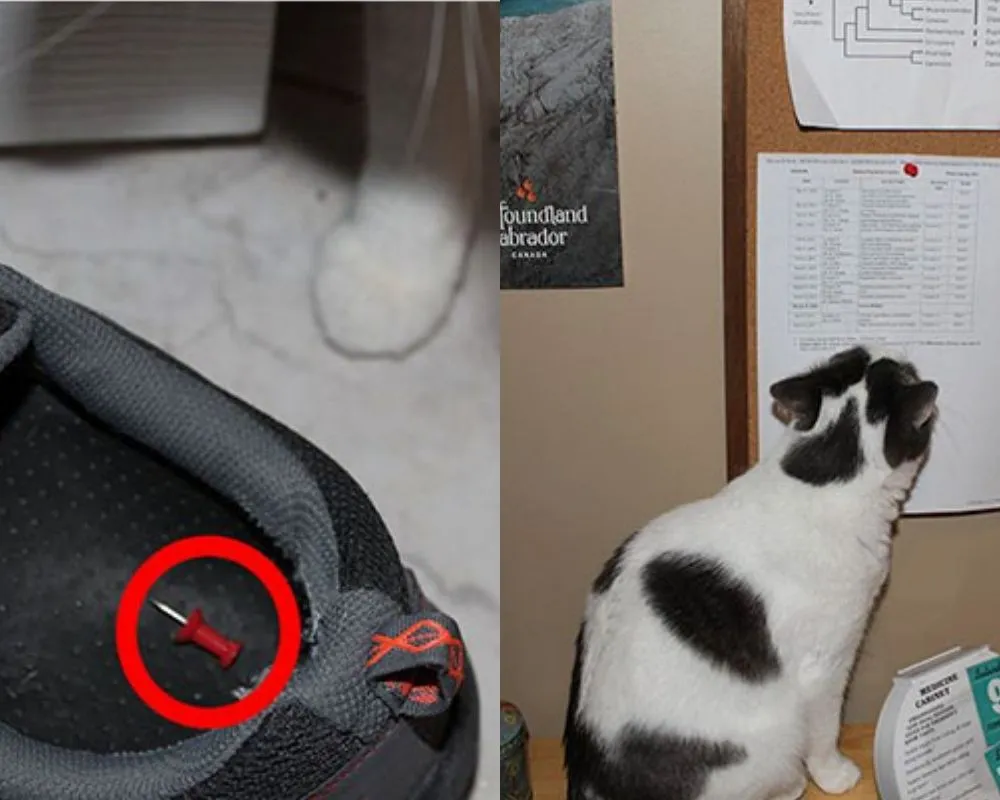 This cat tried to pull off the crime of the century and place a tack in the shoe of his mom's shoe. It was almost a perfect crime except for the photographic evidence of him plotting. Perhaps this was a genuine mistake but we've watched one too many CSI episodes.
The Restaurant Critic
Most pet owners frown upon their pets getting up on or near the dining room table when everyone's eating. This may be torture for some as the smells get to them and drive them crazy. But maybe that is this cat's defense!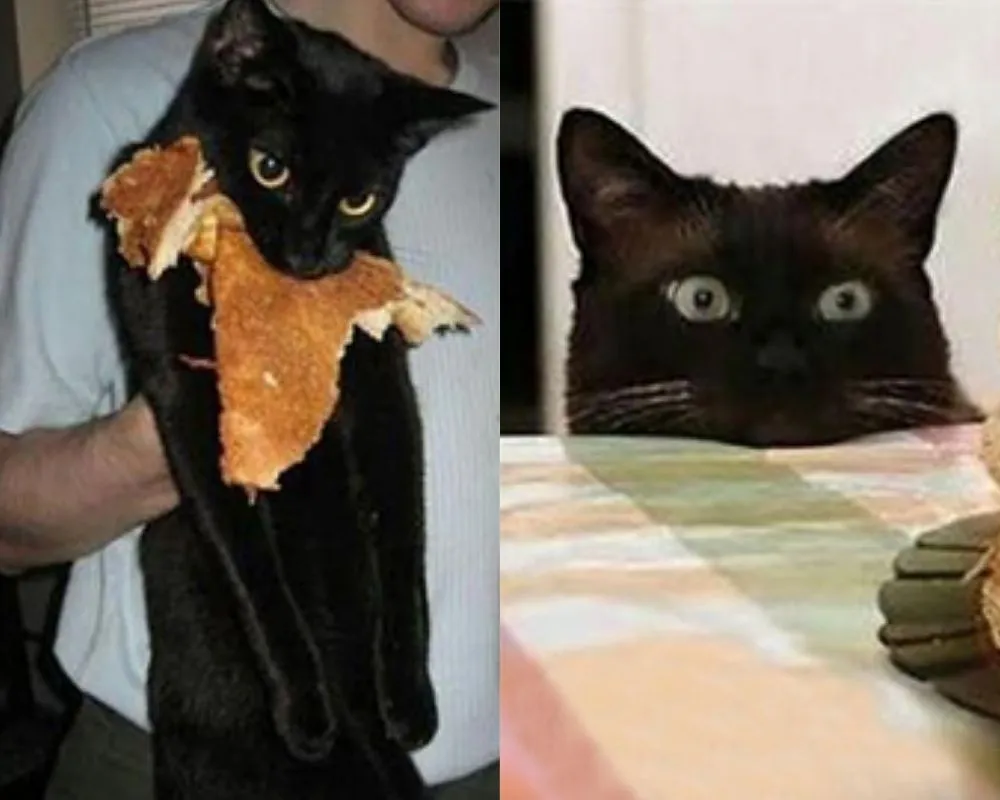 It is clear who the culprit was who took the pancakes off the table. We hope the cat has a good lawyer and can plead completely not guilty because of insanity.
Blue Clue
A new coat of paint can be just the thing you need to refresh your home and give you the feel of being in a new house. But when you have a pet, your renovation is no simple task as you have to ensure that you keep the pet out of that area.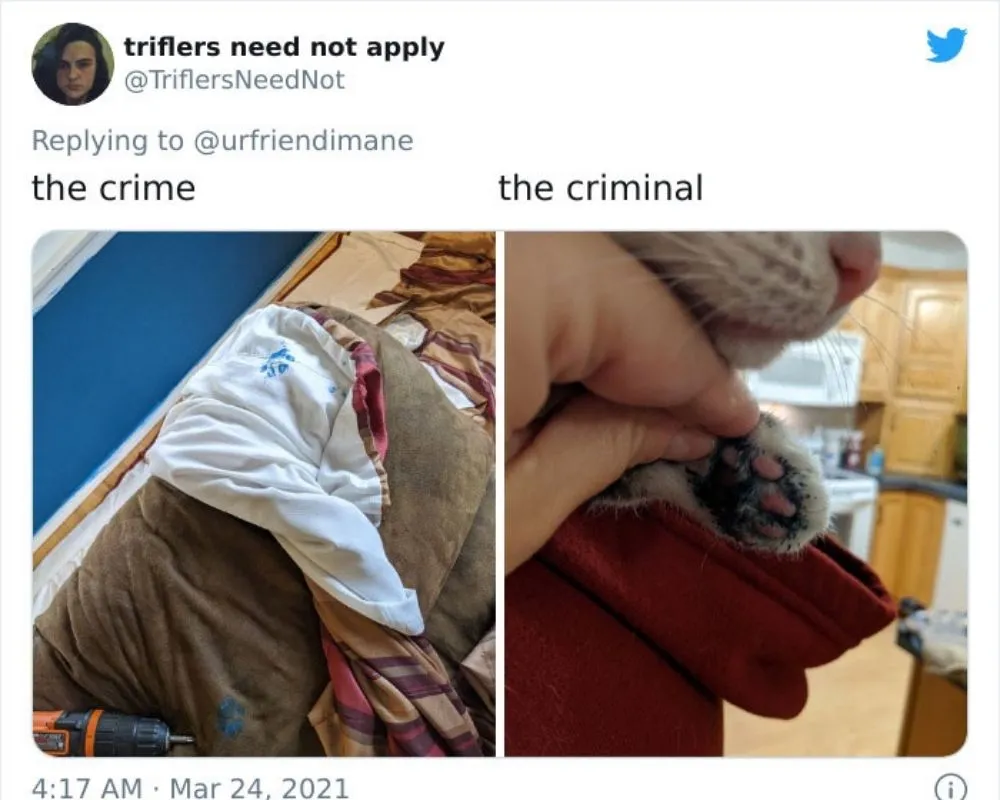 However, sometimes pets are super crafty, and they try to sneak in behind you, which is what happened to this cat. Unfortunately for them, the color was unique and easy to track, so they got busted.
The Mighty Pen
Have you ever wondered what happens to all your pens? If you're anything like us, then you probably just lose them along the way, but when you have a pet, maybe the answer to this question is simpler than we all think.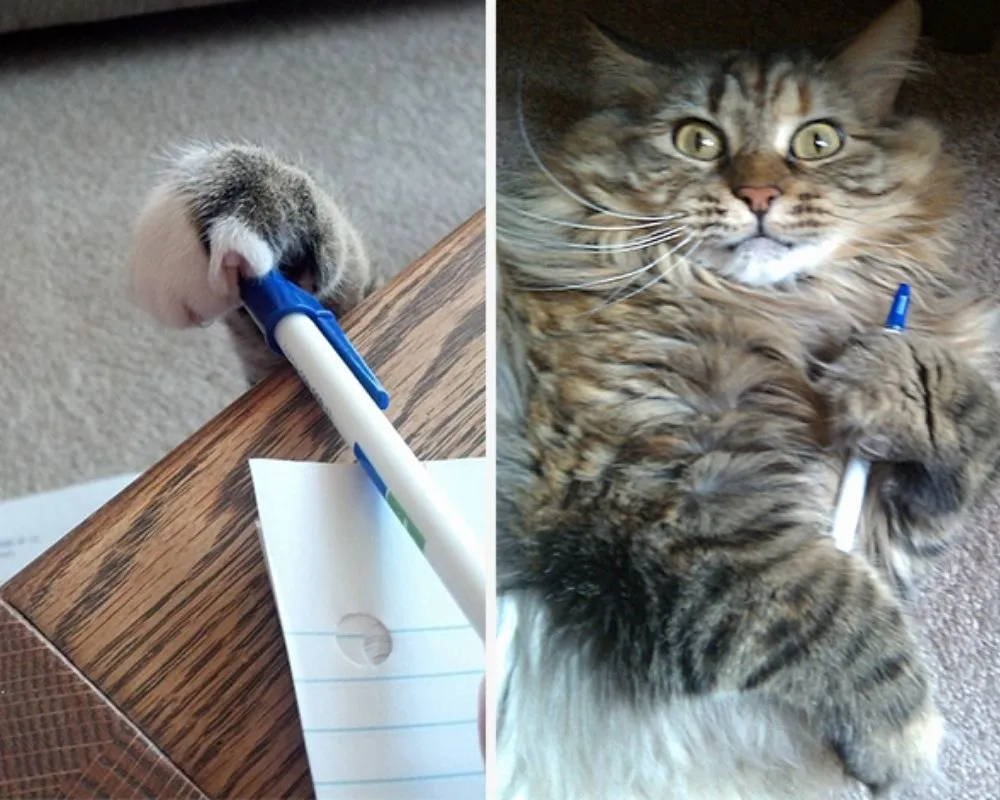 The execution of this crime by this cute feline was well done and sneaky. In the end, though, the humans were able to deduce just who the criminal was.
They Started It
Any type of pet is tempted by plants. They have nice smells, and many times, the pets like to chew on the leaves. But this is not healthy for the plants, and in the long run, that means it is really not healthy for the pets.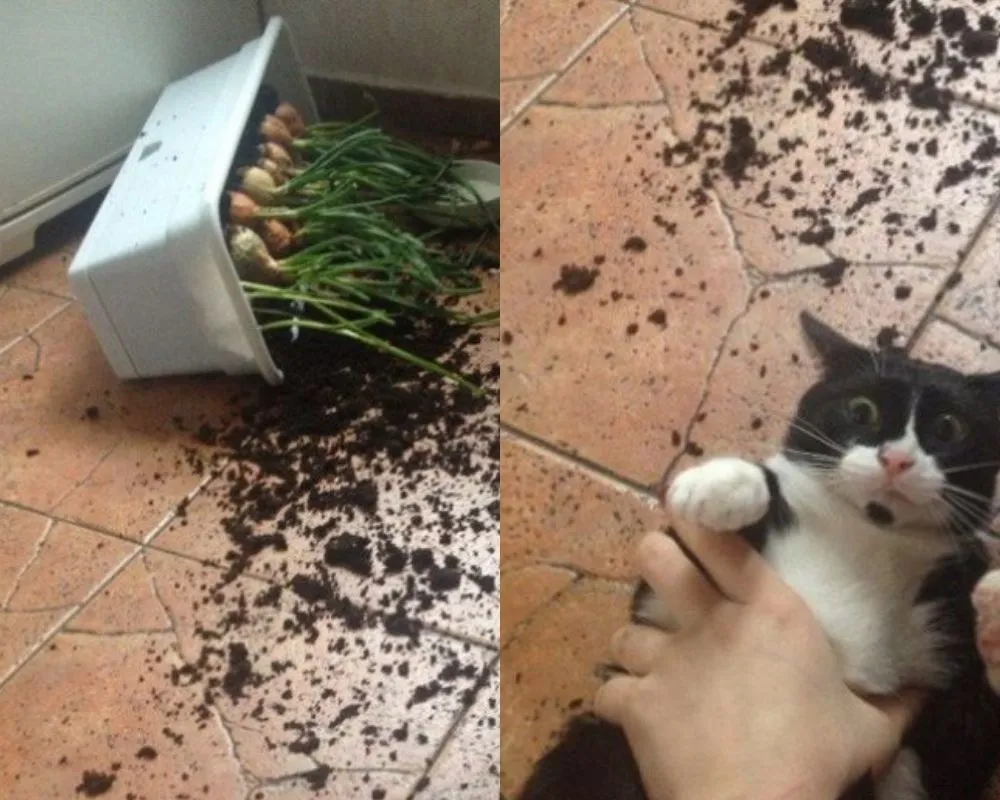 This cat was having a little bit of a one-on-one with the onions growing in the backroom. Unfortunately, the onions couldn't retaliate and were left in a mess on the floor. Now, before you blame the naughty cat, just look at his shock. What a cutie!
No One Is Looking
One of the things that cats love the most, at least if you pay attention to all the cartoons, is fish. So it is like letting a kid loose in a candy store when you decide to dry your fish outside, and you have a few feline friends roaming around.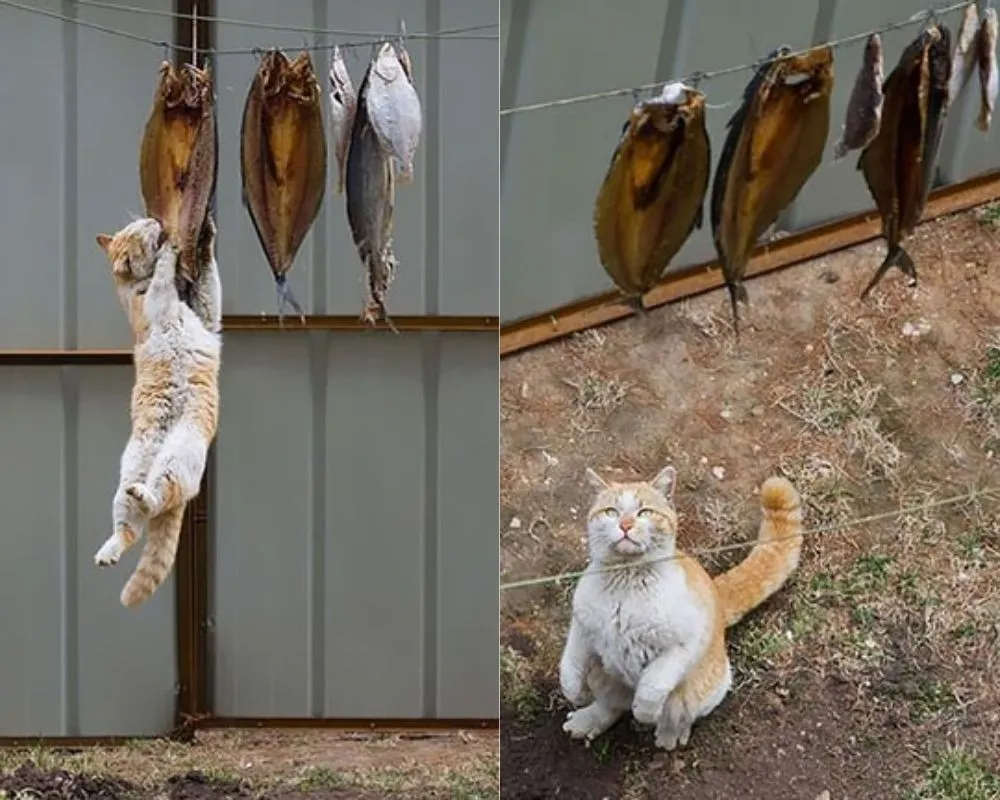 This cat could have been a little more stealthy and waited until it was dark, but the smell drove them crazy, and they just had to have it. On the bright side, these photos are priceless!
How Do I Look?
We all know that Mom's purse is a magical place and that there are tons of fun things to find inside. Even the family cat knows it, and so she too was tempted to take a look inside and see what the magic's all about.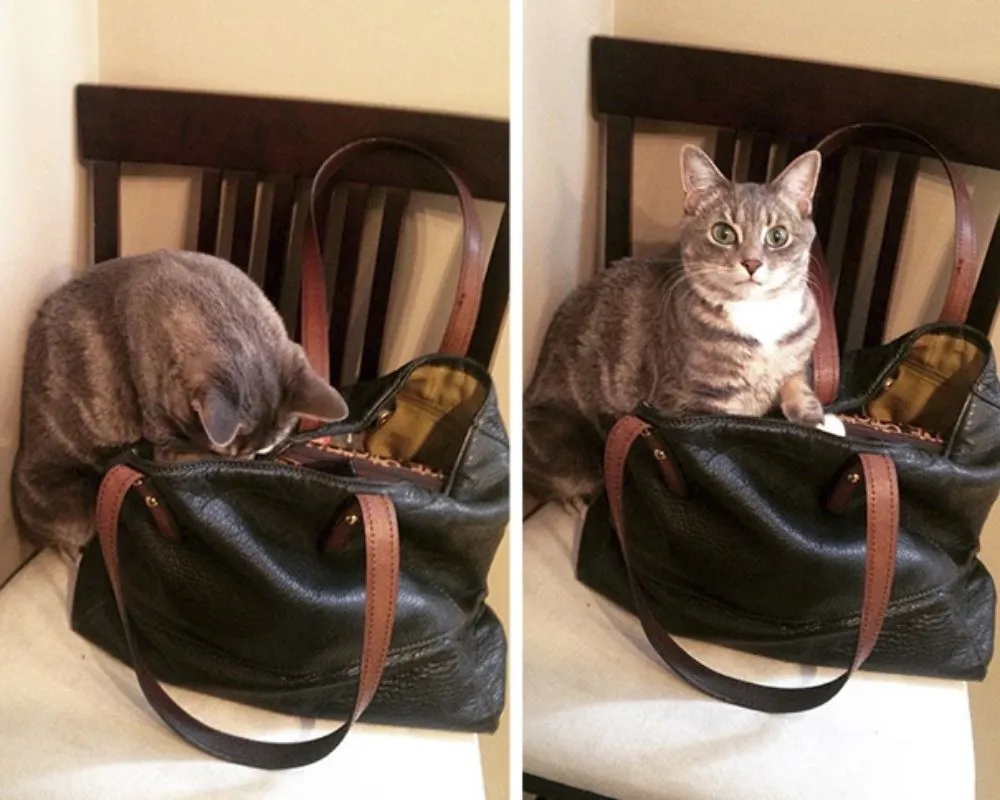 The only problem with that was that this cat was brave enough to do it in front of mom and therefore was caught quickly as the criminal. We're assuming her mommy wasn't too mad as she let her baby pose for some pics.
Getting My Fiber
Dogs love to chew on grass and plants. It's actually really good for them but not so good for the plants themselves. This pet's parent couldn't figure out exactly what was going on with the potted plant outside on the porch.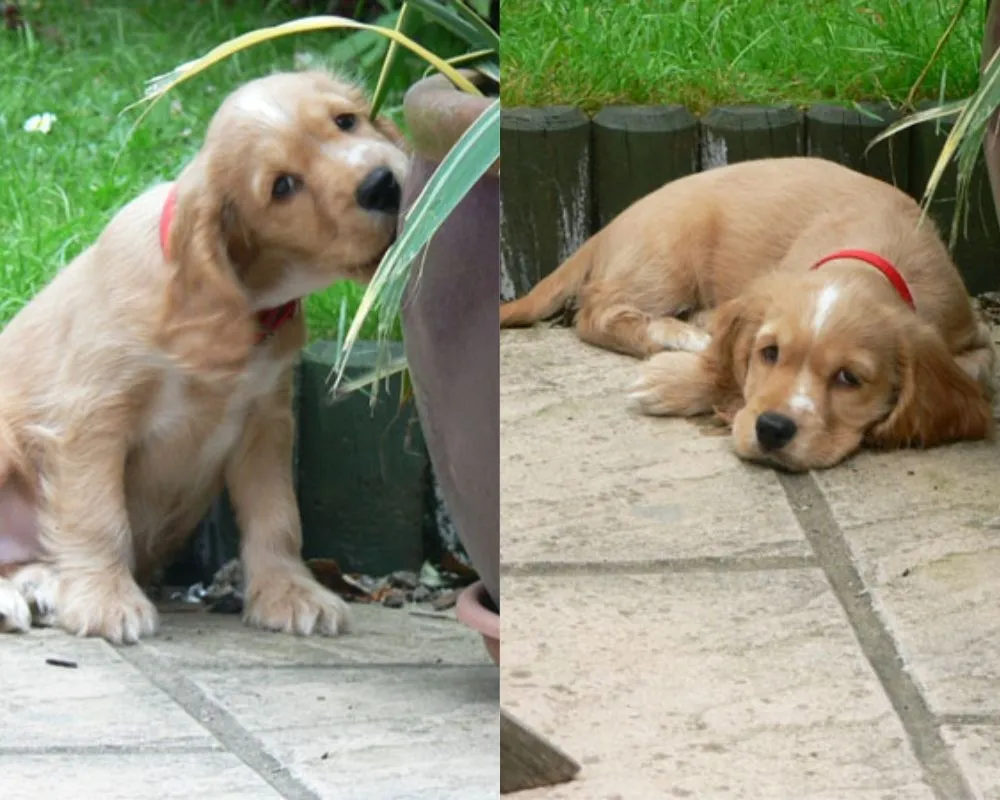 After a bit of investigation, it became very clear who the culprit was, but thankfully, for this culprit, his adorable face helped him get off easy. Must be nice!
No One Will Notice
Sometimes pets think they're being sly and will even try to execute a crime in broad daylight. This cat was trying to have a little Christmas breakfast without the family noticing. Unfortunately, his plan had one fatal flaw…

During the holidays, we all have our cameras at the ready in case we need to capture a memory or a moment. Unfortunately for this feline, that means she was caught in the act.
Explain Yourself!
Some kids are the type that takes care of their toys, and others like to destroy them. The same can be said for your dog! Sometimes they just don't know how strong they are and when you give them a cloth toy, you have to expect a little carnage.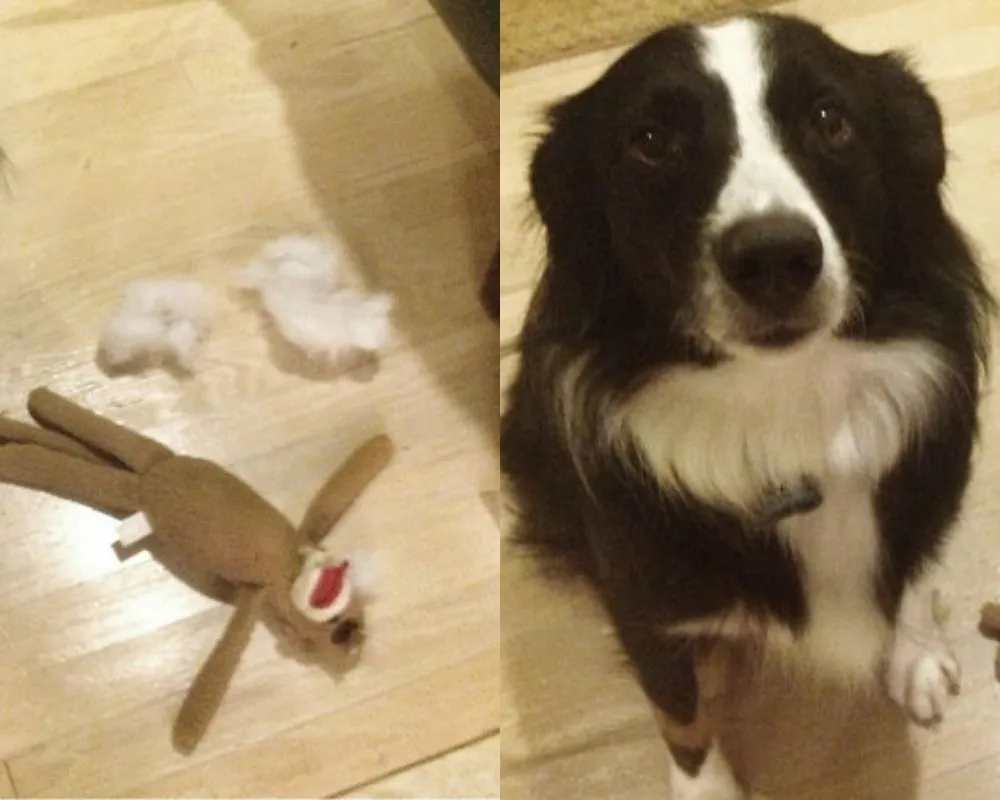 Finding this stuffed toy disemboweled on the floor may have been a saddening sight. But seeing as how you know who the toy belonged to, the criminal was easy to find.
A Little Snack
Have you ever walked into the kitchen and found the kitchen door open and wondered who thought it was OK to leave it like that? We are sure many people would have been accused of this if it hadn't been for the criminal not leaving the scene of the crime.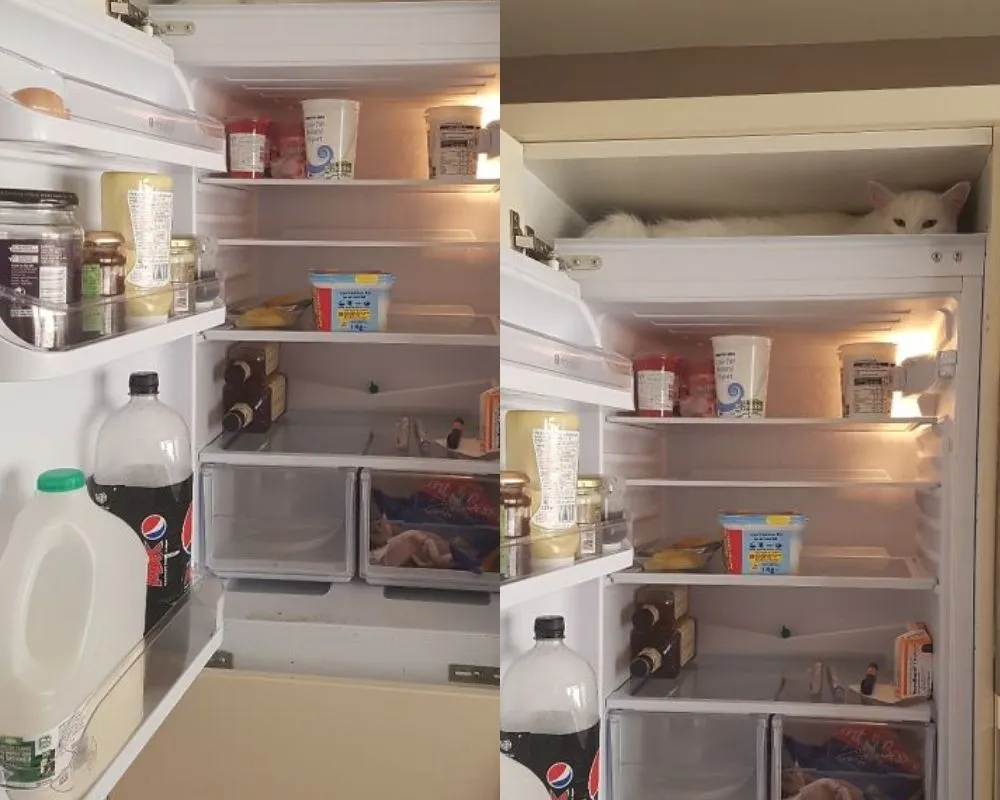 Sure the cat tried to blend in, but unfortunately for them, their human was a little too smart for that and quickly wrapped the case up.
The Sock Culprit
So, we've all heard the excuse "my dog ate my homework" but how many of you have heard of someone saying "my dog ate my sock"? Well, evidently, people do say it because this little guy even has a collar that owns up to his crime.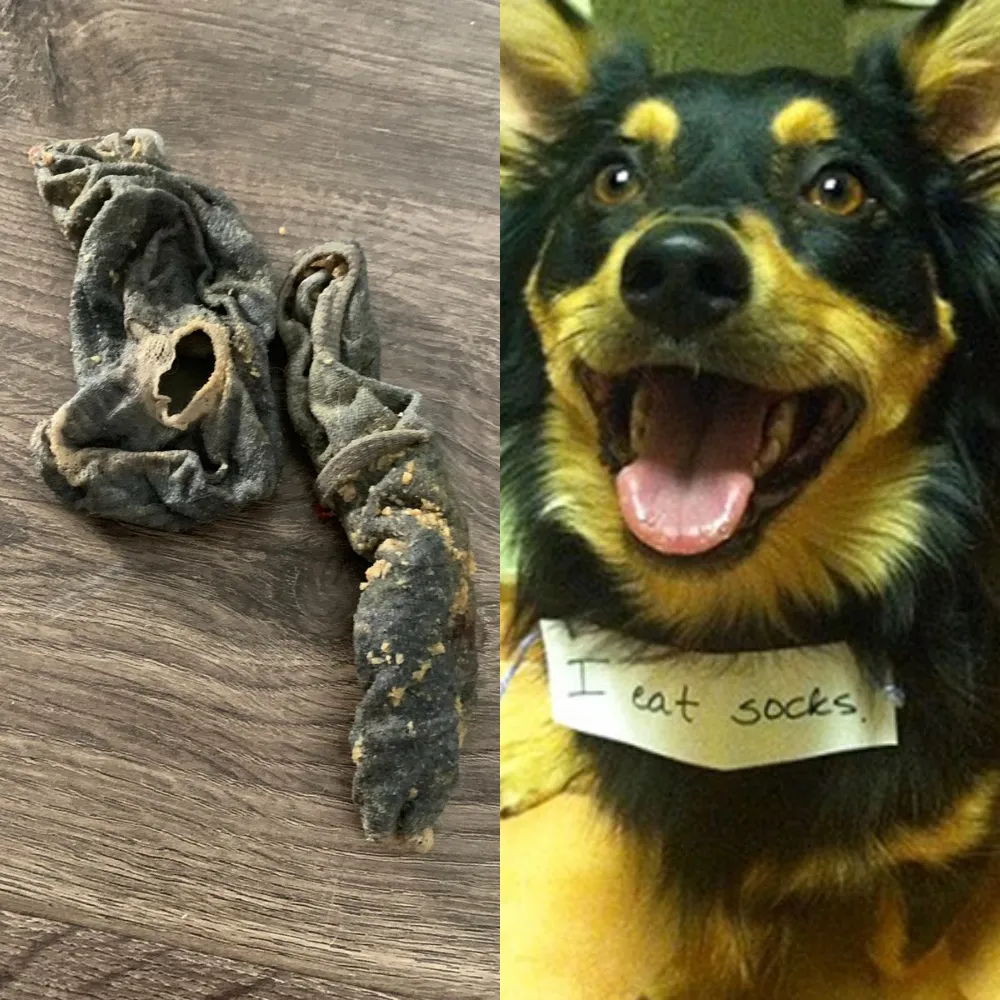 We're also guessing this isn't his first offense and that's why his owner thought to pop this collar on. But will it teach him a lesson? Probably not but it sure does make for a sweet picture!
Life of Crime
Cats are inquisitive creatures and like to see where everything is and how everything works. Sometimes that can lead them to a life of crime. These crimes can include things such as knocking food off counters and playing in things they shouldn't.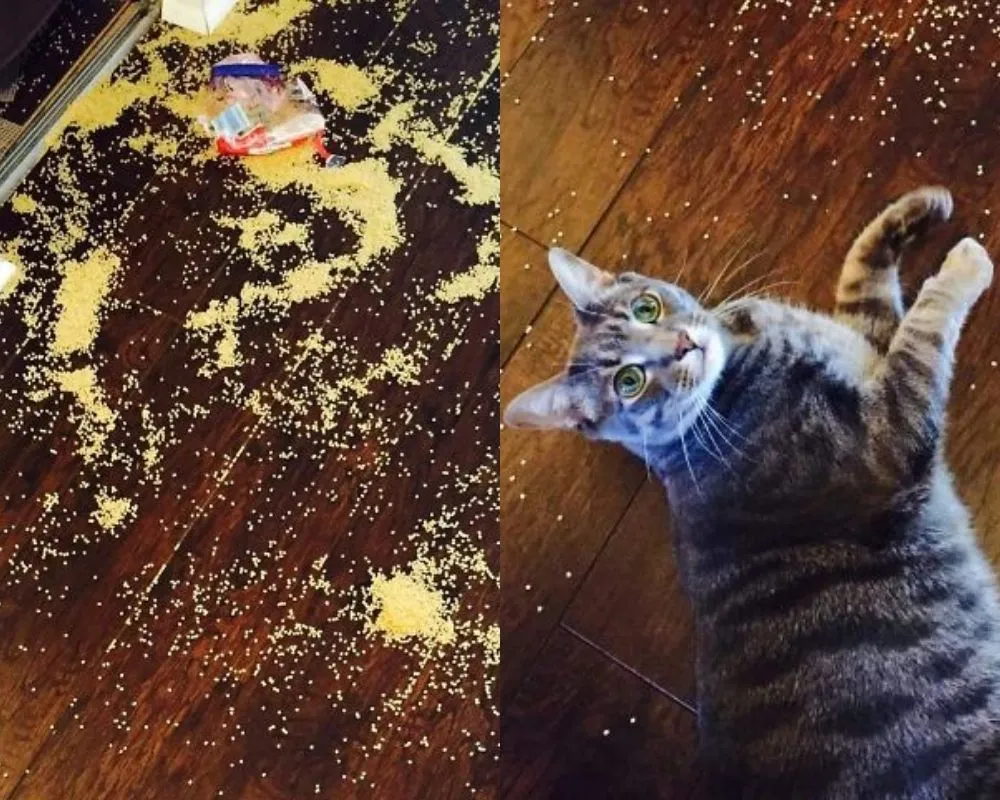 This could have been a perfect crime had the cat decided to flee the scene. Unfortunately, they stuck around because it was too fun playing in the mess they had made. Busted!
Toilet-Paper-Gate
One of the most enticing things to pets, especially dogs and cats, is toilet paper or paper towel rolls that we all keep in our bathrooms and kitchens.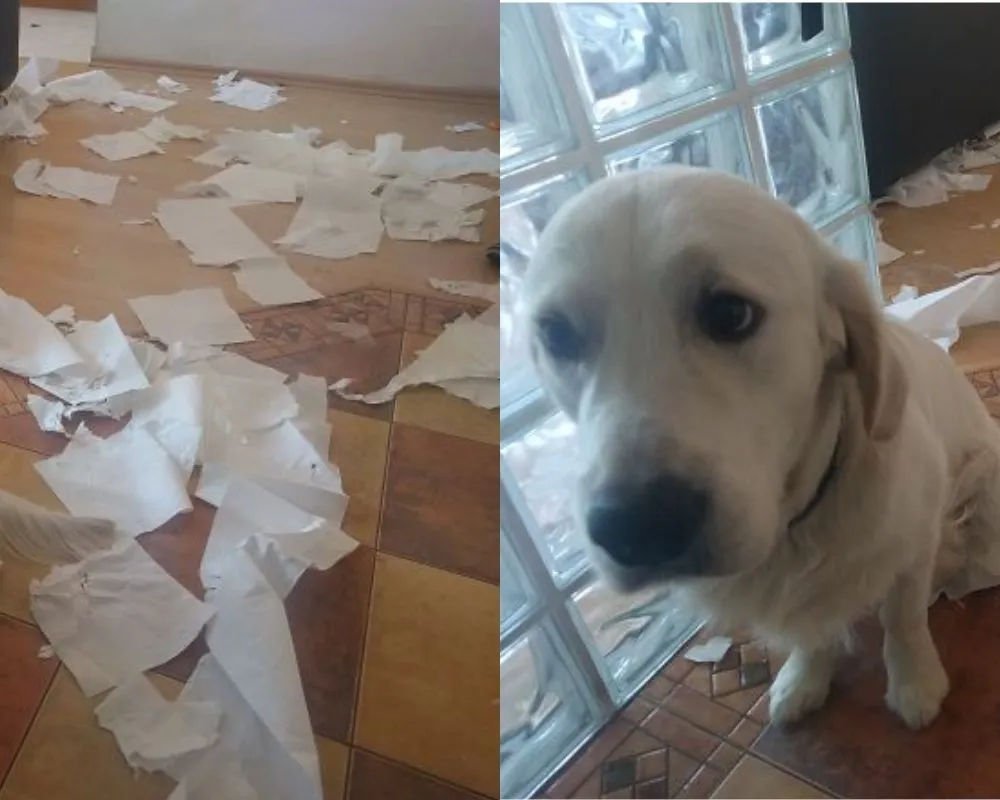 The fact that it just keeps rolling and rolling sends these pets into a frenzy. This pup was just having a little fun when his owner caught him. However, that face says that he really does regret his actions.
I'm Stuffed
Sometimes when your pup is left alone, they get lonely and act out. Just like a toddler or a small child, your pet is simply wanting some attention and when you don't respond to their demands, stuff like this happens.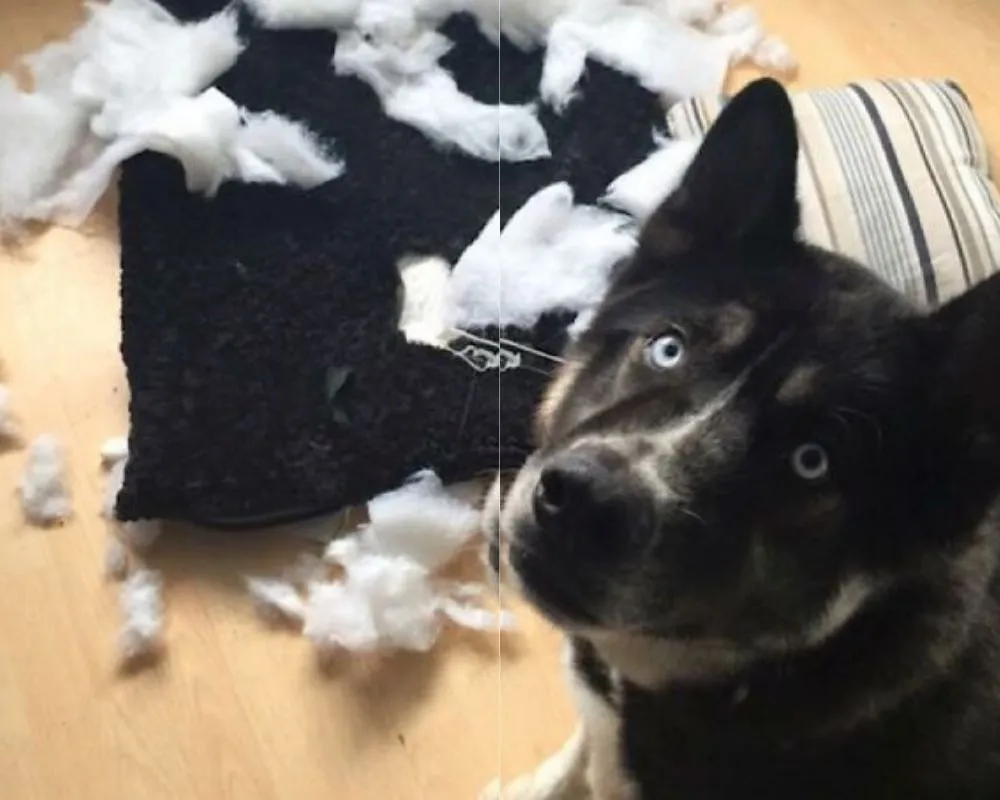 This dog was just trying to make it known that he wanted to spend some time with you. But, unfortunately, the crime was undeniable, and the criminal wanted to get caught.