Toilet Sneaker
The dog believed that if he can't see someone, they can't see him. Although, in truth, even if one tries to conceal themselves by draping a sheet of toilet paper over their face, their recognizable German Shepherd nose would still give them away.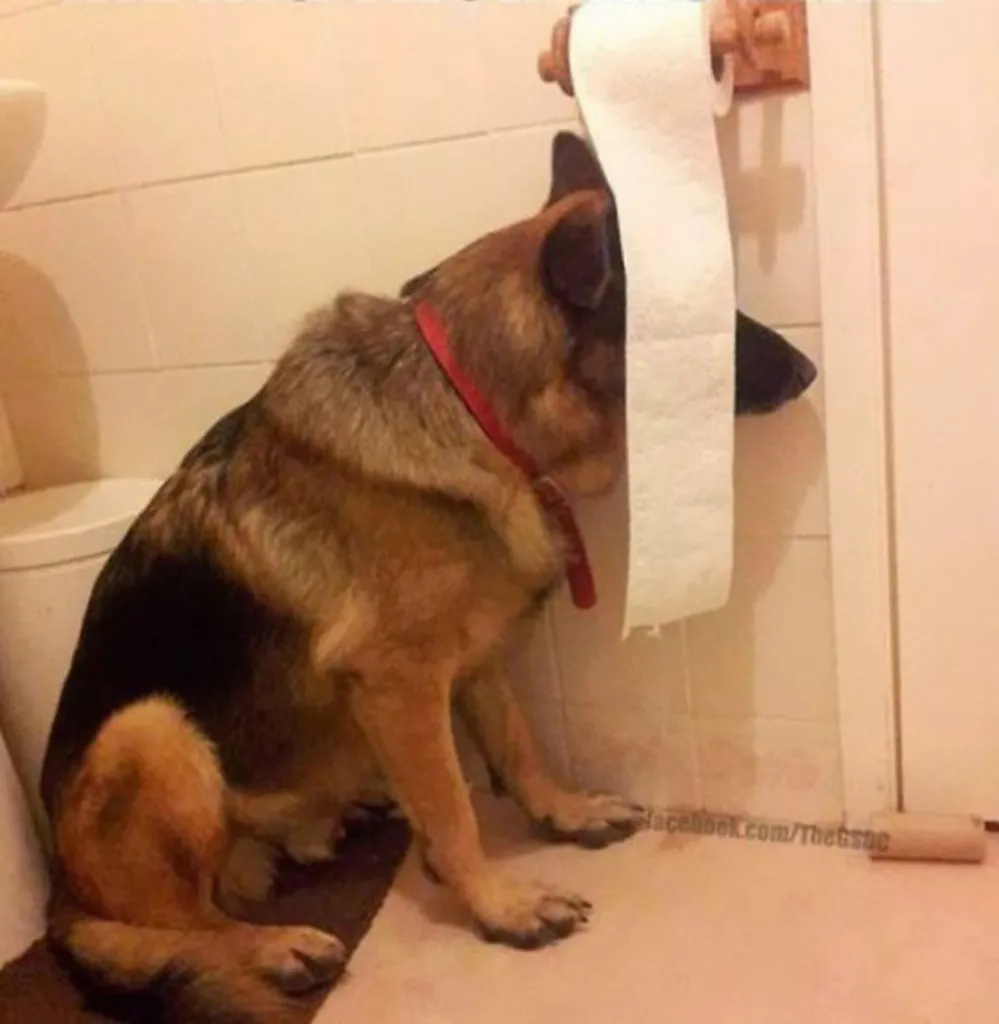 Couch Creeper
We've all had that experience when we accidentally drop something between our couch cushions and can no longer locate our keys, wallet, or cell phone. However, amid the deep void of the sofa has emerged an unexpected delight – a fluffy and cute dog face peeking out. Despite the couch's smushed cushions pressing from both sides, the pooch is unwavering and resolute in its defense of the living room. The purpose or business of this mysterious couch-dwelling pup remains unknown.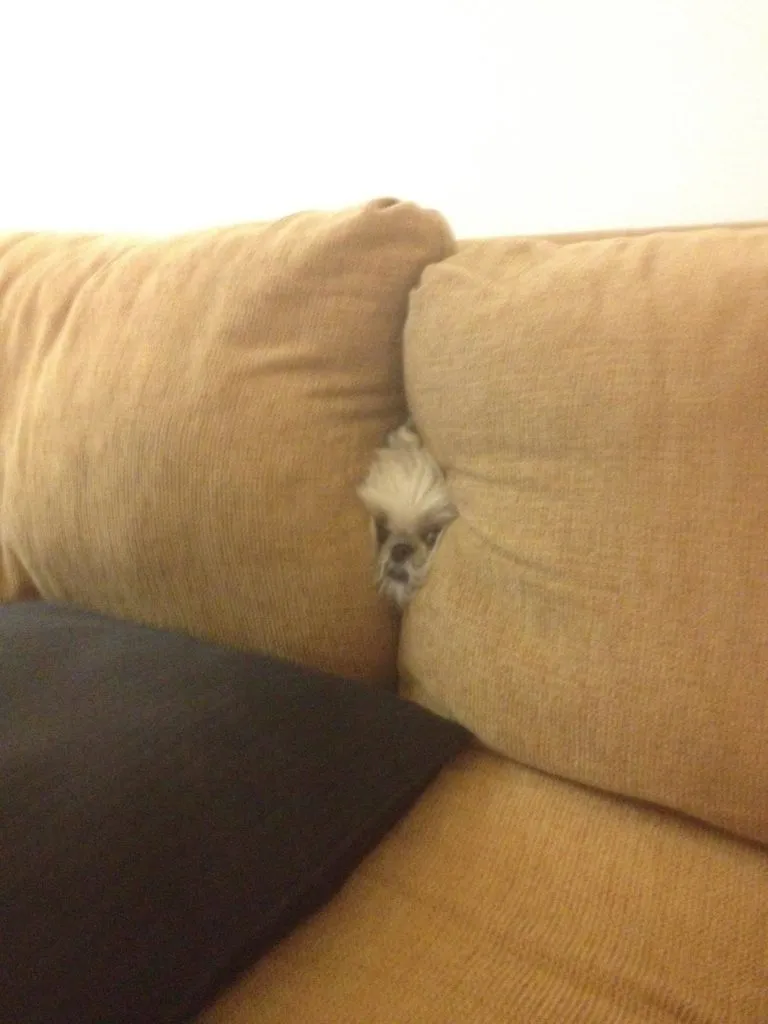 Fridge Bandit
One of the challenges of playing hide and seek is the need to stay hidden for an unknown amount of time, not knowing if anyone will ever find you. However, this Husky has found a clever solution to this problem. By sitting on a shelf in the refrigerator, he has access to food and drinks to sustain himself during the wait. Despite the chilly environment, this breed is well-suited for cold temperatures, as they originate from Siberia. The Husky appears content and prepared for the game, making himself comfortable in his preferred environment.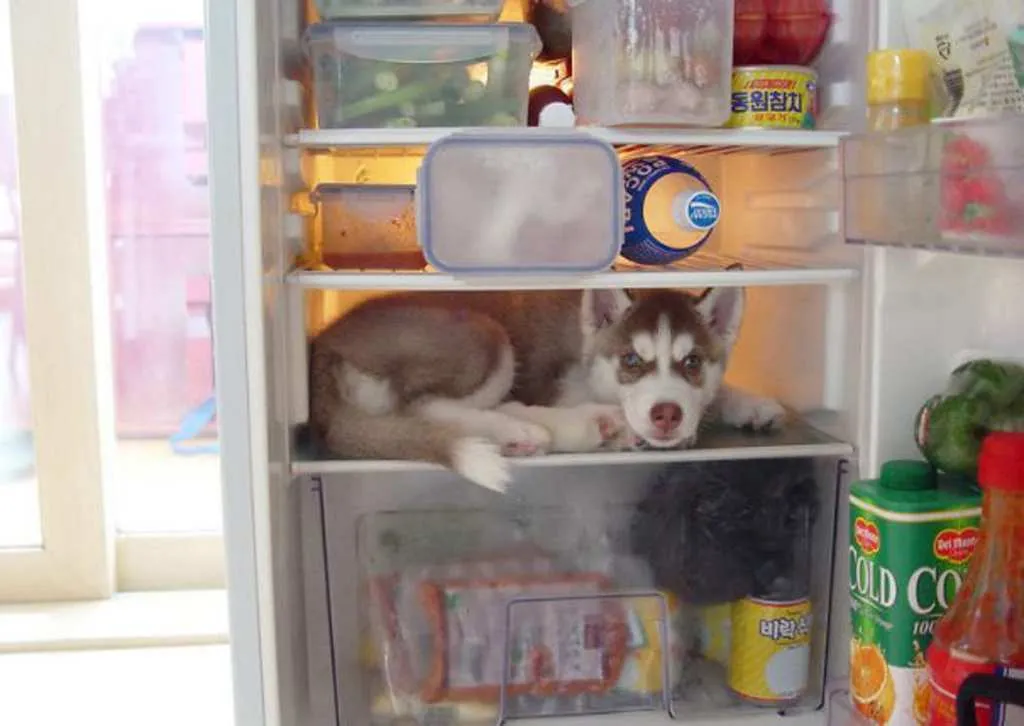 Hydrant Hiding
As a small dog in the city, a fire hydrant may appear to be the perfect place to hide. However, your curiosity may have taken over, causing you to peek out at the world around you. Even though this little dog is almost completely hidden, his nosy wet nose and black-and-white bushy tail can still be seen. It seems as though this dog wanted to make sure that his owner, who was taking the picture, was still nearby and safe.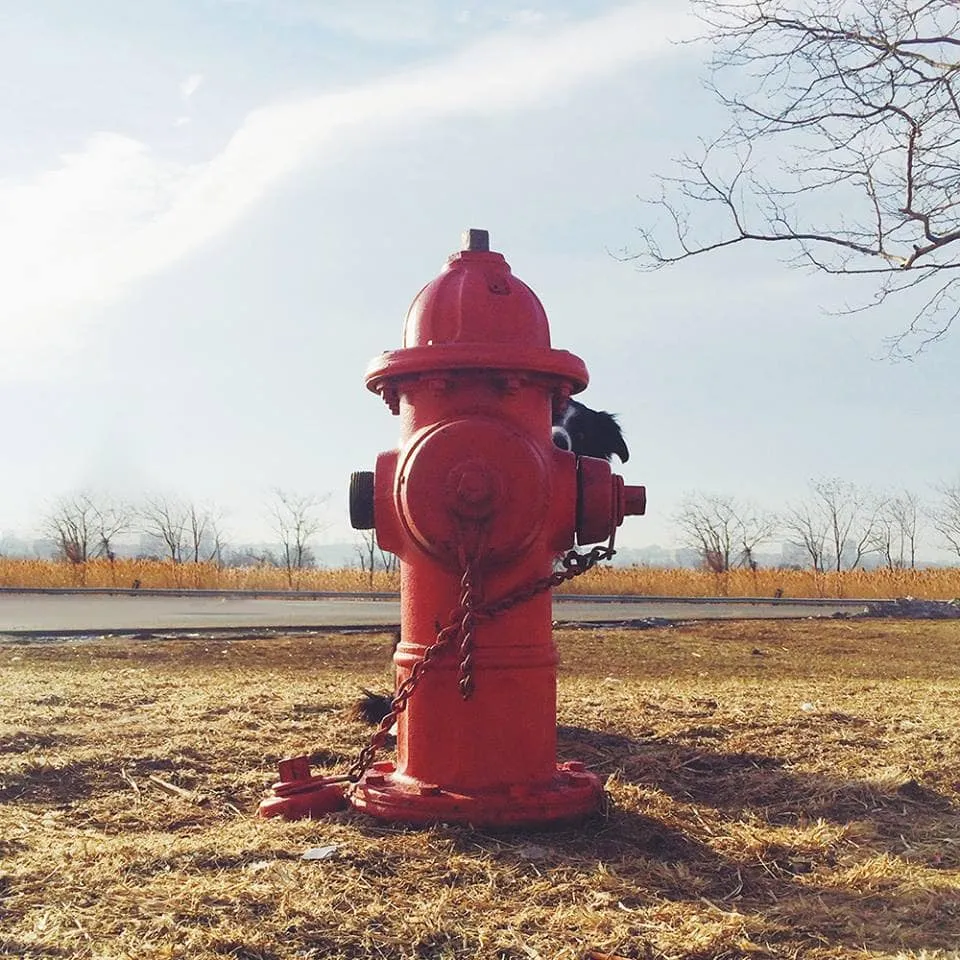 Hide-and-Seek Fail
The Golden Retriever in the picture struck a funny pose, but thanks to its owner, we now know why. The dog overheard its owner talking about going to the vet and smartly decided to hide to avoid the dreaded visit. However, its hiding spot was not very good as its hind legs and its long yellow tail were easily visible from beneath its small dog bed. Next time, the dog might find a better place to hide.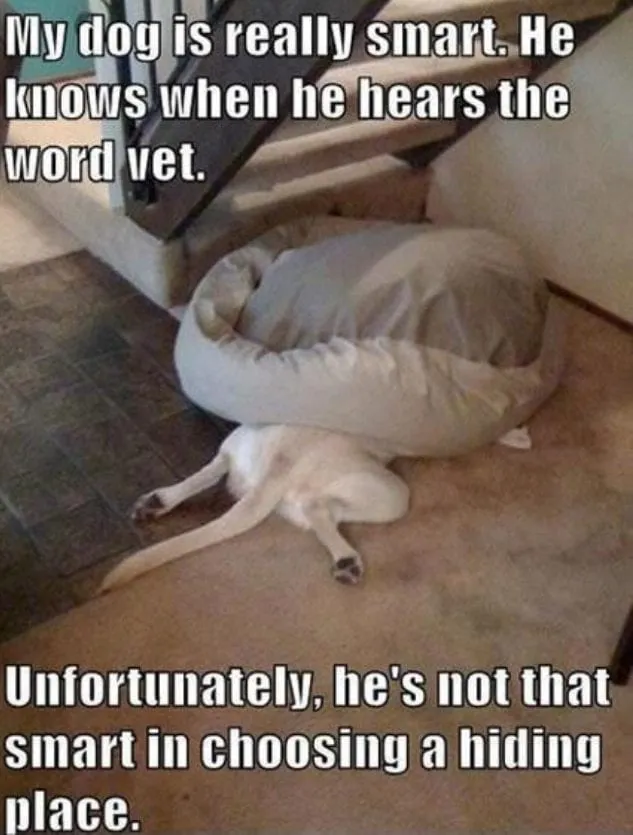 Wedged In
The popular saying "Don't ignore your problems" is commonly known to us. It serves as a reminder that we should confront unpleasant realities rather than pretending they do not exist. Nonetheless, this particular dog has decided to take this figurative phrase literally. She has wedged her face between the corners of two couches, leaving the rest of her body uncovered. The reason behind her strange behavior is uncertain.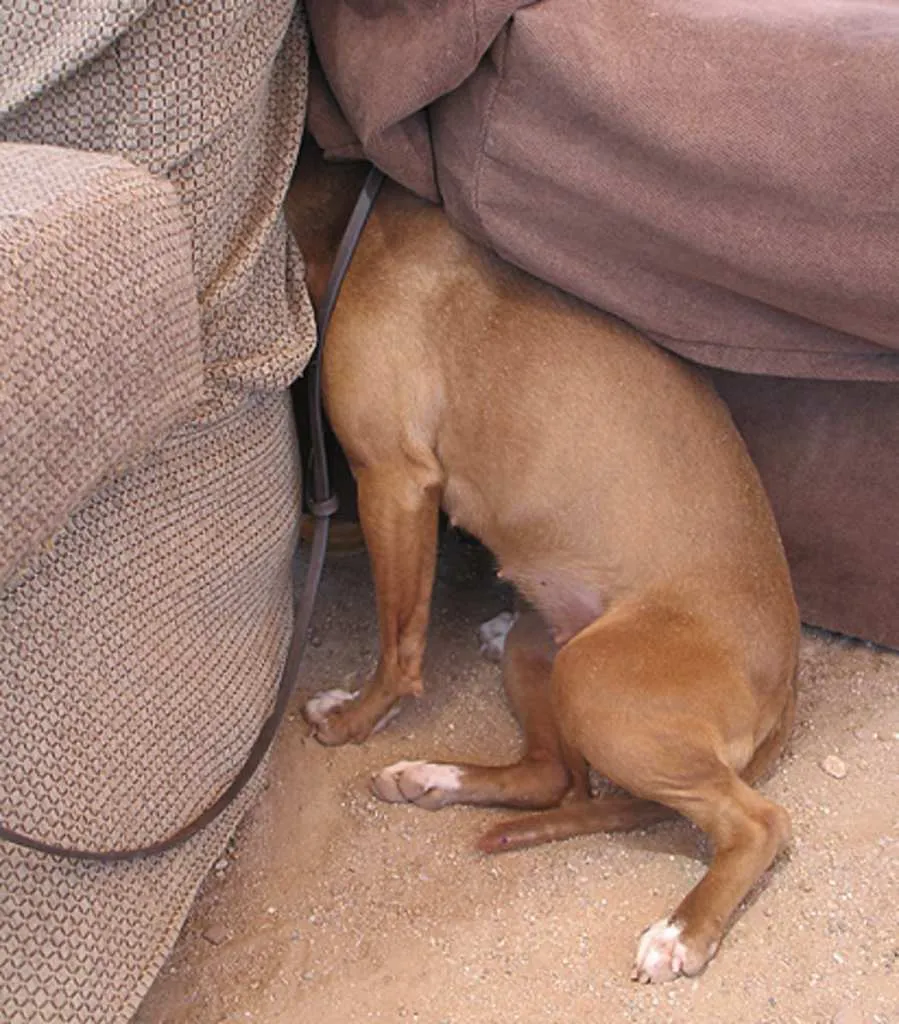 Tip-Toeing Husky
Many of us have attempted to go unnoticed while walking quietly through a hallway, trying to avoid being detected. However, what could this black-and-white dog be up to by sneakily moving around? Is this adorable Husky secretly indulging in a snack from the fridge at midnight? Or maybe it is coming back home after a wild night out past curfew, without waking up a sleeping baby? Another interesting possibility is that this Husky may have been a ballerina in the past and enjoys walking on its toes around the house. It could be anything, and the answer is uncertain.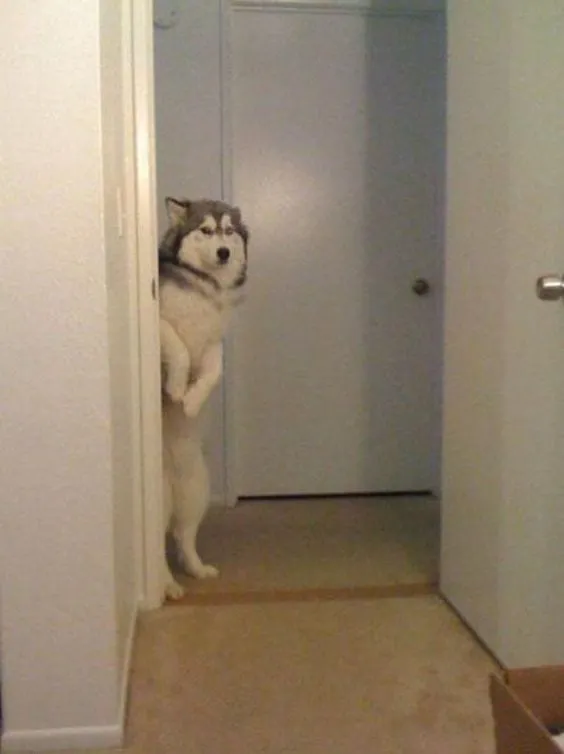 Curtain Caper
Playing hide and seek can be quite demanding as it requires you to locate a suitable hiding spot and remain concealed for extended periods, even if that means squatting in an uncomfortable posture. However, this smart dog chose to skip all the basic steps of the game and instead positioned herself on the ground, elegantly hiding her nose with a curtain. By taking such an effortless approach, the dog has managed to accomplish a fine outcome – she looks amazing! Simple yet effective.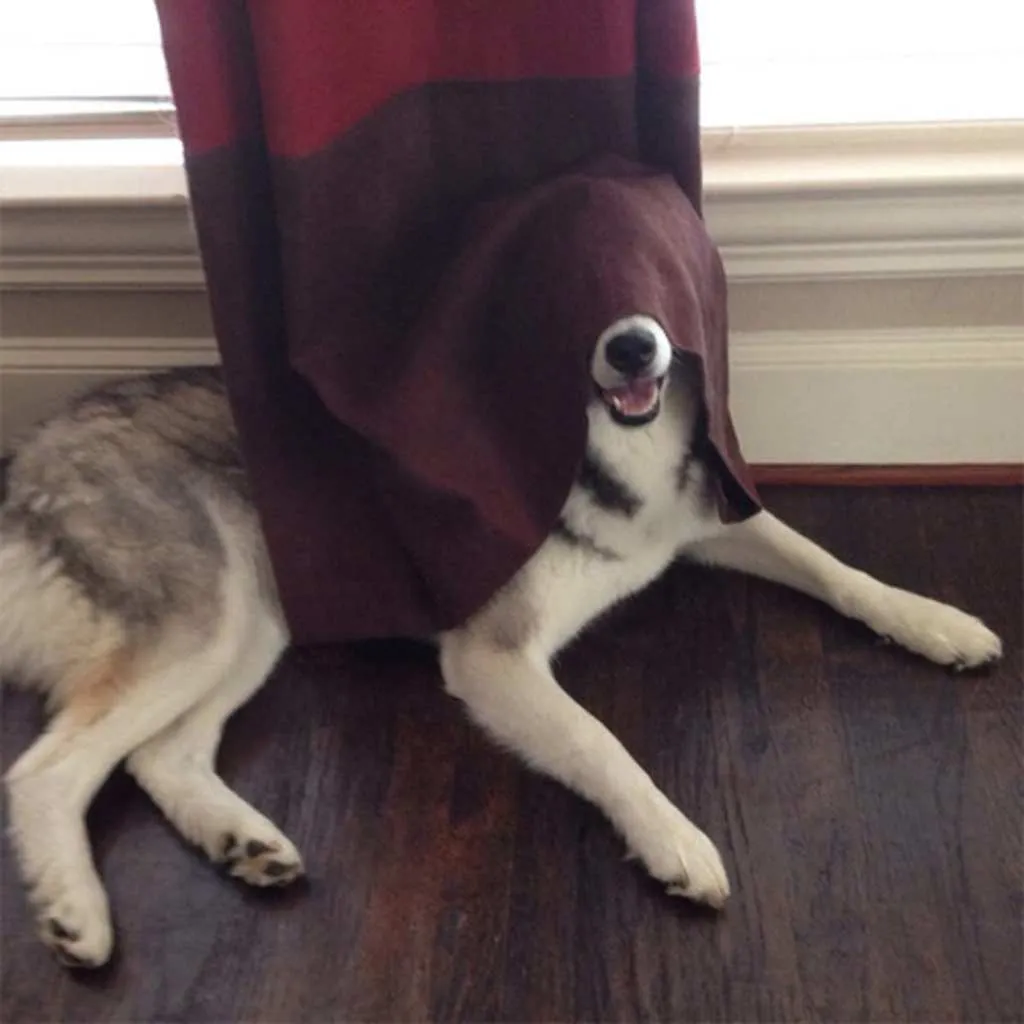 Potted Boxer
Commonly seen in apartments and offices are potted plants like ferns or cacti, and sometimes fake plastic succulents. Yet, this picture displays a more unusual type of potted flora. Meet the Potted Boxer – it is a rare species that can only be found under special circumstances, like during a game of hide and seek. This plant is an excellent example of poise and balance, elegantly aligning itself with the greenery in the flowerpot. Ecologists would be thrilled with the opportunity to study this unique plant!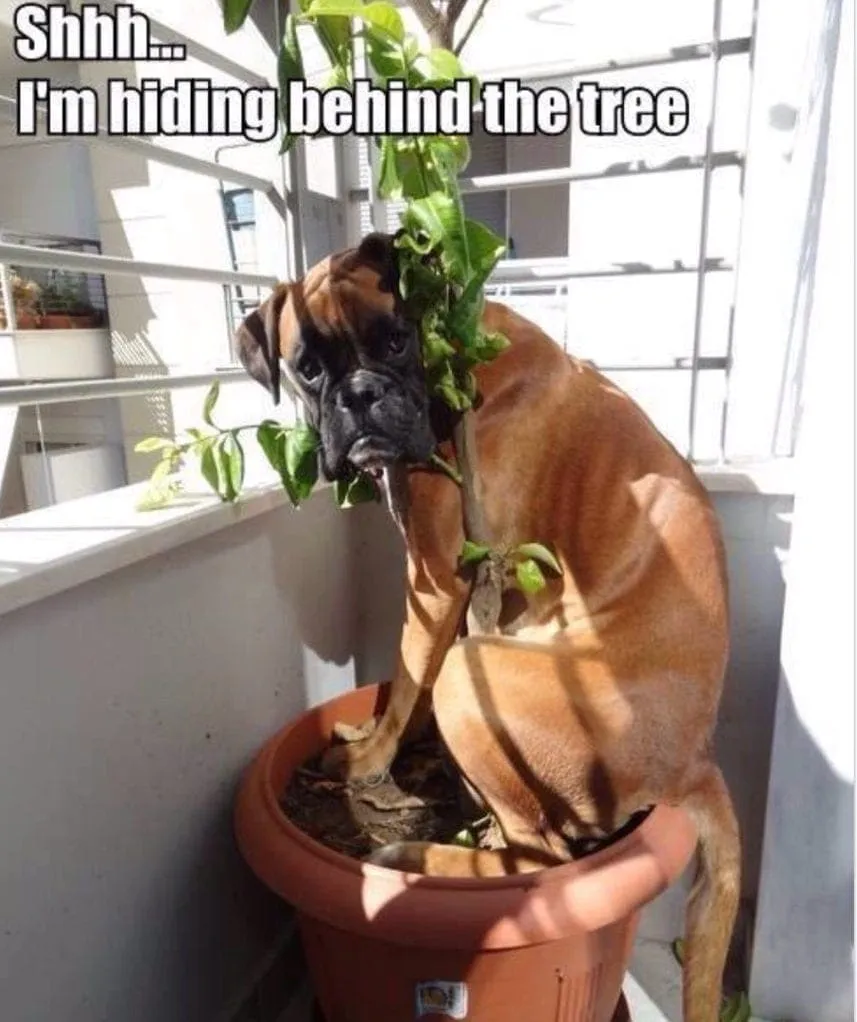 Peeking Pupper
Can you identify the object protruding from under the cushion of the sofa? After several months of being misplaced, is it possible that the remote control has finally been discovered? Alternatively, could it be a combination of change and debris? Neither of those options is correct, according to our findings. Instead, an unseen dog has thrust its snout out from inside the sofa's depths, concealing herself. It is unclear how she managed to squeeze into such a tight space, but she appears to be concealing something mischievous. Her guilty conscience is evident from her regretful expression and long snout.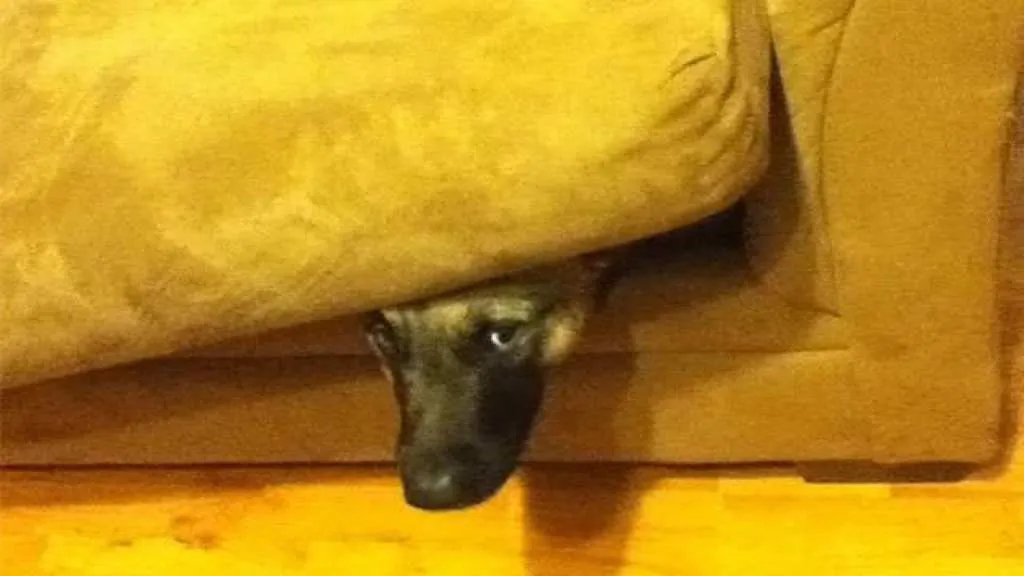 Bashful Barker
This reserved person appears to experience some social unease. He has opted to lean on a birch tree for solace, keeping half of his face hidden while coyly showing off one of his large black eyes. With the rapid increase in social media use, many individuals struggle to avoid being featured in unfavorable pictures. Consequently, it's more challenging than ever to avoid the public eye. This cute dog deserves recognition for maintaining his anonymity, which is refreshing in today's society that is excessively exposed to social media.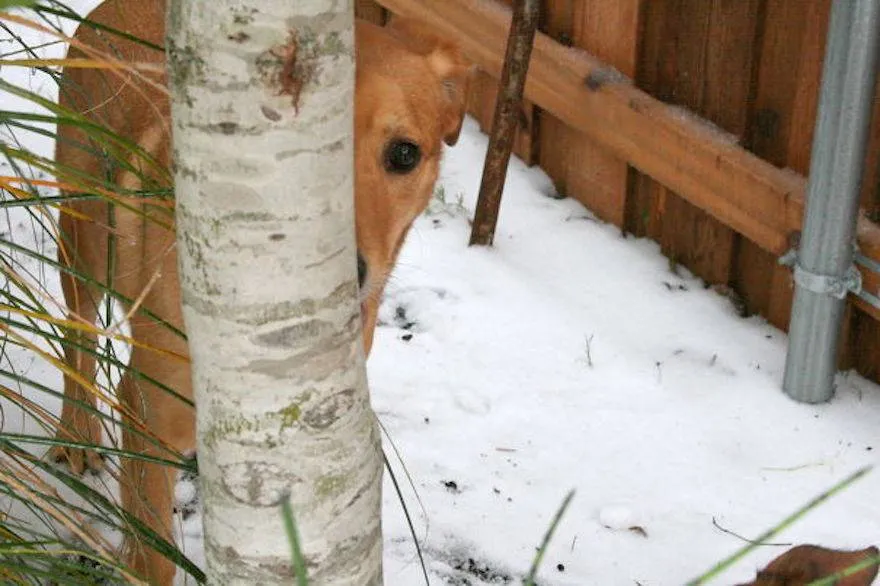 File Cabinet Pomeranian Hating Life
This adorable Pomeranian has a fluffy appearance, prominent eyes, and seems unaware of how she ended up in a precarious situation. Although known for being able to fit in small spaces, the pup is stuck in a file cabinet drawer and seems unhappy about it. The confined space also constrains her lovely fluffy hairstyle, which is a disappointment.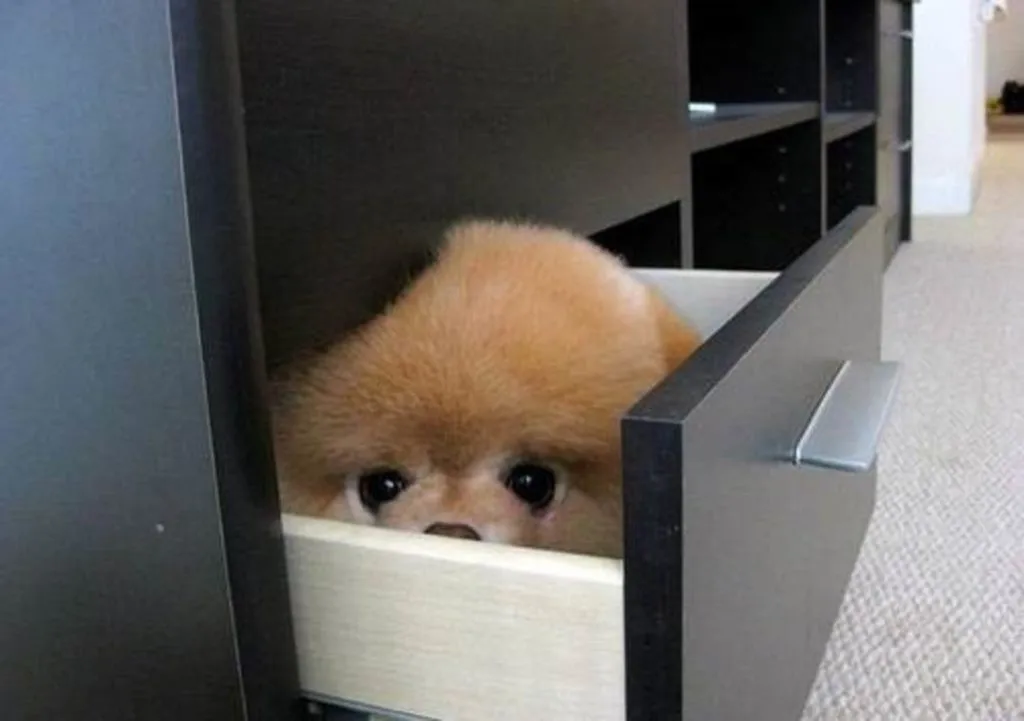 Shiba Shelf
The dog is using the clutter to his advantage and hiding behind a crowded bookshelf, which makes it difficult for anyone to spot him. The Shiba is impressively fitting himself into a small cubbyhole in a home office environment, similar to the design of an IKEA furniture piece. Although it's unclear how he managed to squeeze into such a limited space initially, his strategy is highly effective.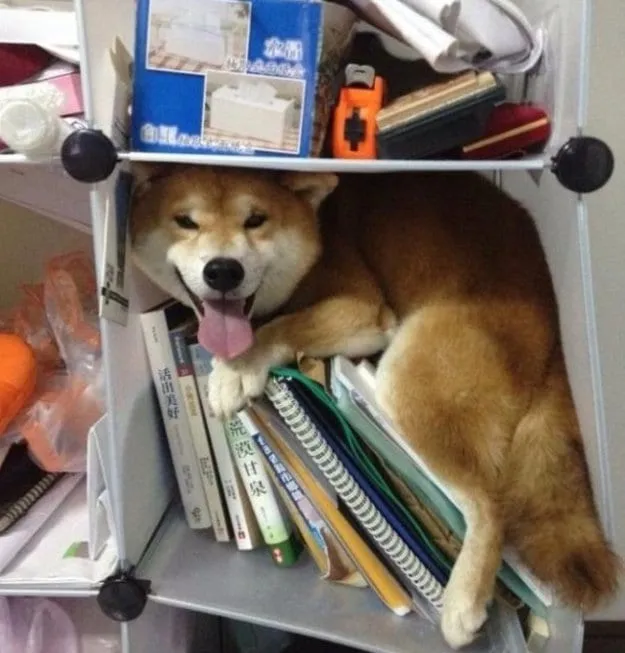 Among Enemies
According to an old proverb, it's best to keep your enemies close. One clever dog has evidently taken this advice quite seriously and has managed to blend in with three cats without being detected. Unfortunately, her cover is eventually blown due to her wagging tail, but most of the feline residents seem oblivious to her presence. The exception appears to be the red tabby cat who is quick to detect the interloper. The purpose of the dog's secret mission in enemy territory remains a mystery.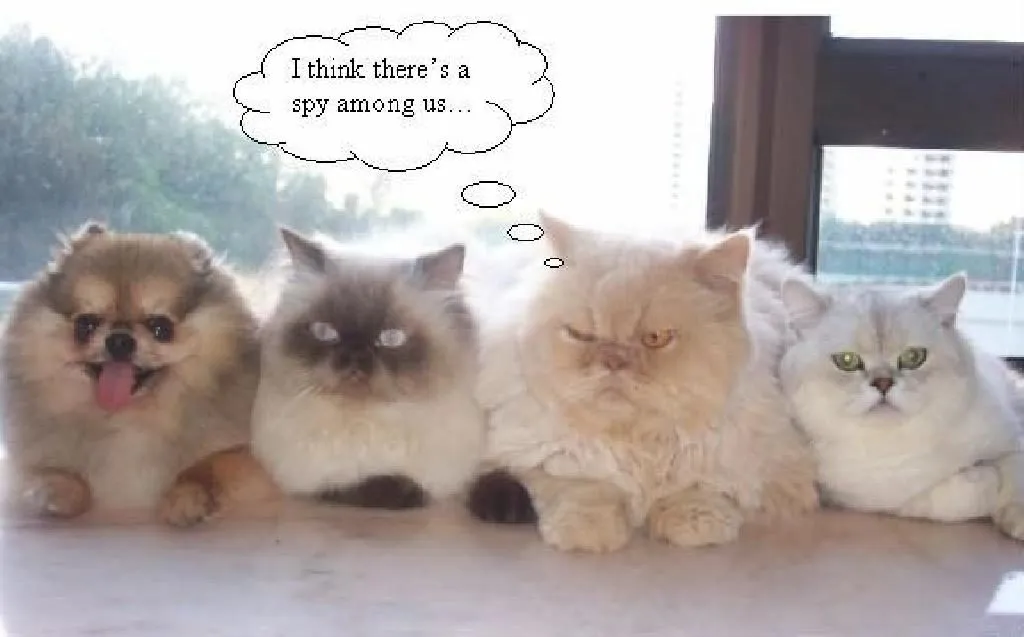 Puppy Fugitive
According to experienced criminals, it's crucial to leave the area of the crime as quickly as possible to avoid being caught. However, this dog tried to follow the same strategy, but didn't go far enough to escape the law. As he's found within a short distance from the crime scene, it's still easy to link him to the crime. In the case of the broken pot plant, this dog is found guilty of the offense.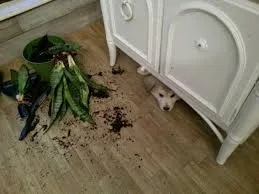 Doggie Door Disaster
The British bulldog has been caught in the act with a red snout, indicating that he may have snatched a treat from the kitchen counter and was possibly trying to escape. It's possible that he even did his business inside the house. However, now he's trapped and unable to escape the scene. Hopefully, the owner won't be too angry and will release him soon. Despite his mischievous behavior, the bulldog has an adorable face.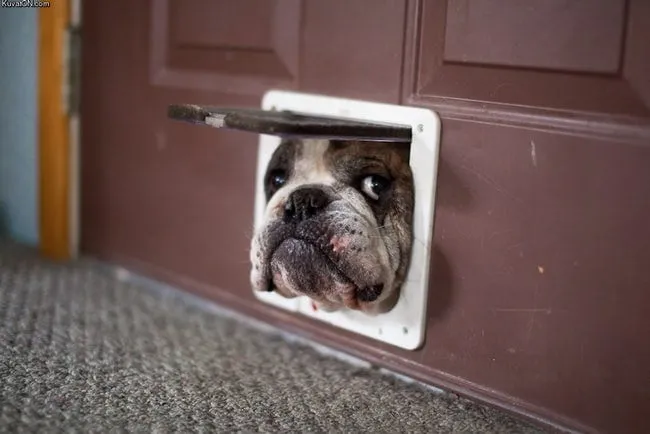 Nice Try
The dog has managed to conceal its tail, paws, and ears in the depths of the sofa but its black fur stands out against the white sofa, making it easily noticeable. If the dog were white or cream-colored, it may have been able to blend in better. However, since it's not, it's apparent that it's not really hidden. Hopefully, the dog is just playing and not really trying to hide because it won't work. Maybe next time it will have better luck.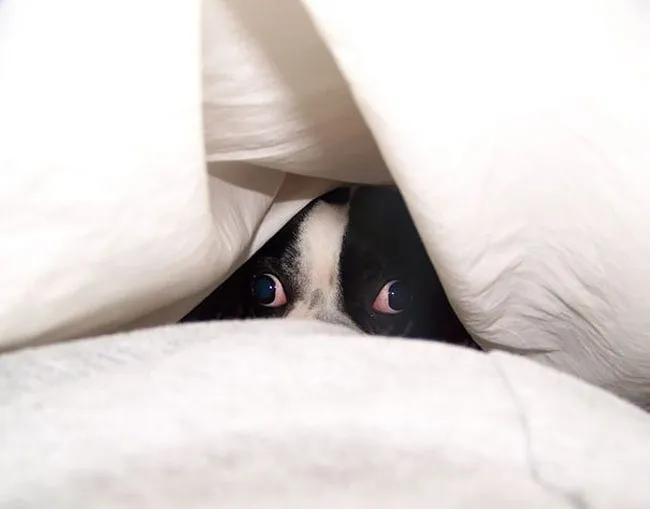 After the Storm
Maybe this adorable dog was attempting to assist in arranging and beautifying the house, based on his own creative vision. Alternatively, he might have been craving a can of tuna, and became irritated at his inability to open it without thumbs, so he resorted to using force and causing havoc throughout the house. Realizing the damage he had caused, the dog tried to conceal himself. Regardless of the reason, this canine understands that he is facing significant consequences.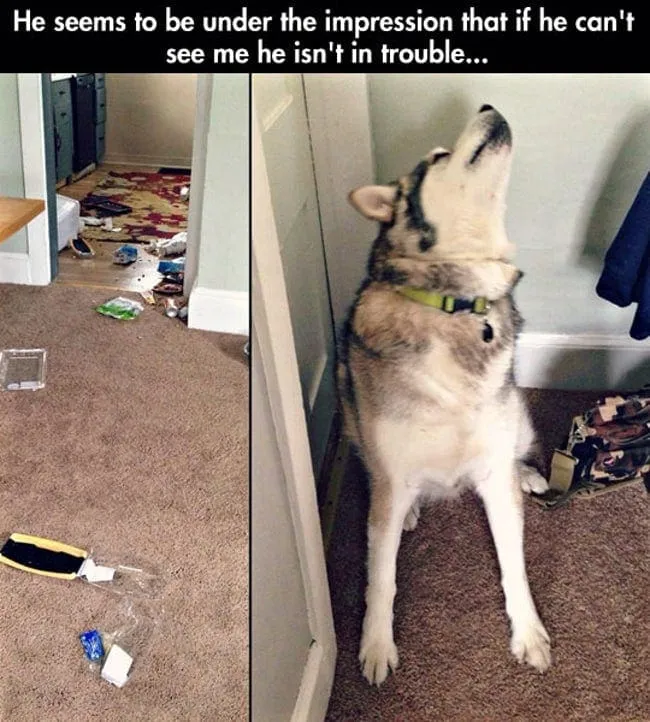 Bed and Hiding Spot, All in One
Everyone loves a multi-purpose item! Whether it's a reversible sweater, a Swiss army knife, a scarf that turns into a dress, or a pen which can be used as a weapon, we feel we get our money's worth when we are able to do many different tasks with one thing. This doggie is demonstrating how her bed is worth every penny. Not only is it a soft, warm place for slumber, it's also a very effective hiding spot when needed!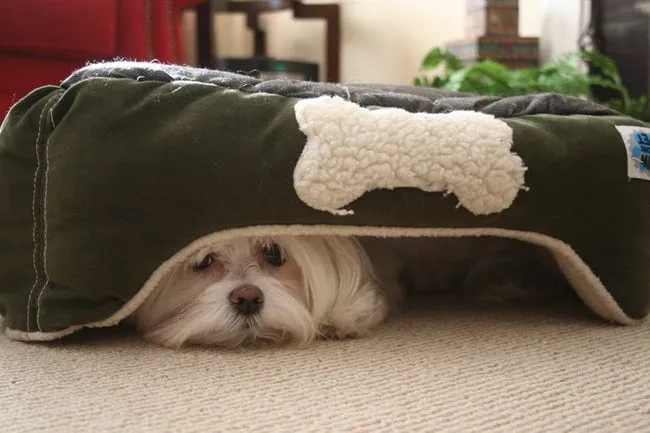 Doggo With a Pearl Earring
We all possess a creative side but for some, it might be challenging to tap into it. Nonetheless, this little dog seems to have a knack for it as its way of hiding appears to have been influenced by the renowned painting called Girl With A Pearl Earring by the Dutch oil painter. With its elegant stance, poise, and peaceful facial expression, this puppy would undoubtedly excel in a game of hide and seek held inside an art exhibition. When you have a classic beauty, blending in is a piece of cake.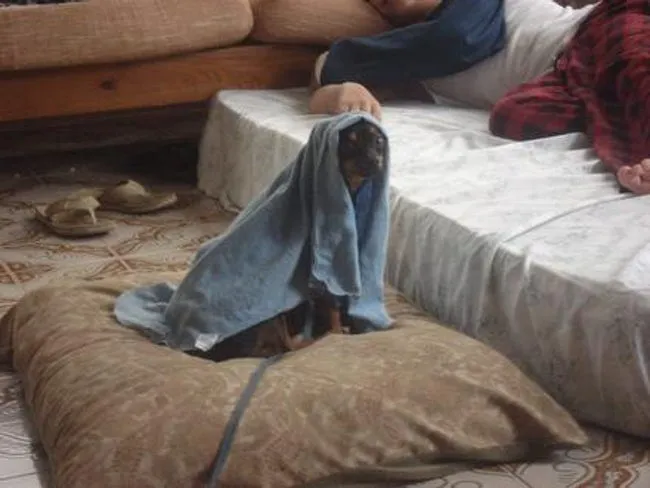 Loving the Leaf
When we need to avoid being detected, nature can provide an effective disguise. But this particular dog doesn't seem to be intentionally hiding. Instead, he seems to be enjoying life as evidenced by his charming smile. It's possible that the leaf cover is a part of a celebration of spring and the dog is participating. In any case, everyone can agree that this delightful dog looks wonderful in green.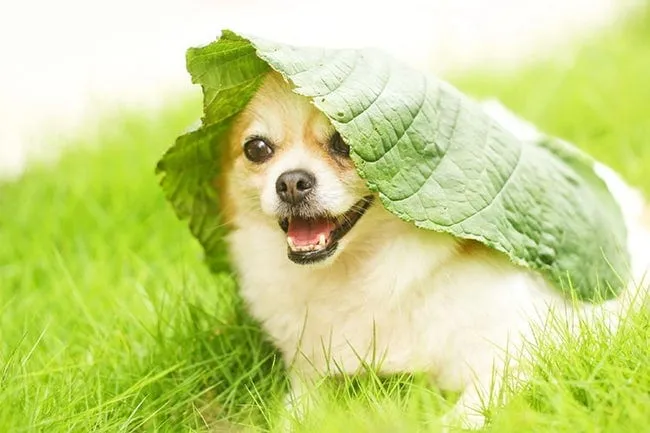 Secret Snout
Groucho Marx's simple disguise, consisting of thick glasses, drawn-on brows and a fake nose, is still sold in costume shops today. He was able to easily transform himself into a different individual using this disguise. Similarly, the dog in the photo has added a shoe to its snout as a new nose and it does make him look different. However, the dog's fluffy fur remains unchanged and easily recognizable. It's unlikely that anyone would be fooled into thinking this is a new type of dog with a shoe for a nose.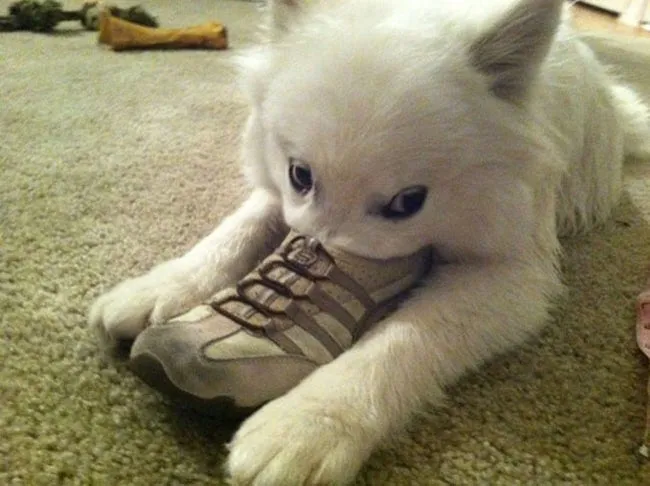 Baby Got Back
This Corgi is attempting to conceal itself but not doing a very good job, and it might make you think of hot cross buns. Corgis are commonly recognized for their plump physique and bouncy posterior, which is likely their most notable feature. This endearing and chubby Corgi has bulbous white paws that resemble permanent tube socks. However, the most eye-catching aspect of this candid photograph is undoubtedly the unmistakable Corgi butt!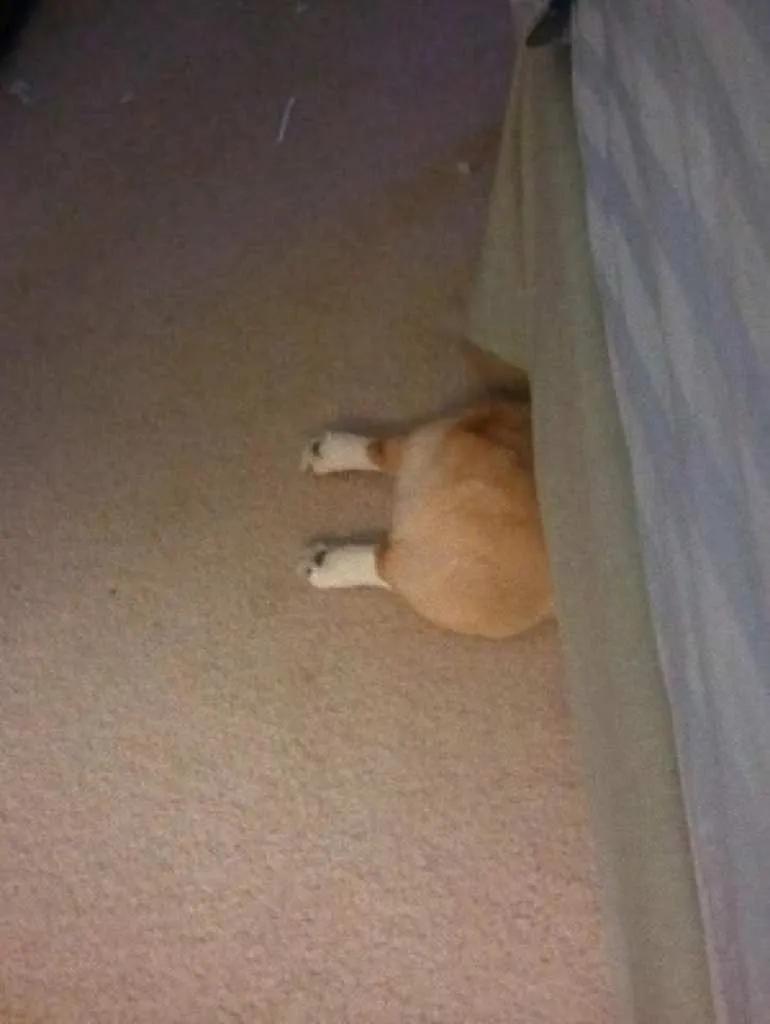 Ready or Not…
One of the best parts of hide and the seek is the seeker's countdown. Everyone who had a childhood remembers "Ready or not, here I come!" This pupper seems to be savoring the moment as he covers his eyes, waiting for others to hide so that the game can start. He seems to be taking the rules of hide and seek pretty seriously. Instead of using his paws, he's using a steel bar for extra coverage – nobody can accuse him of cheating!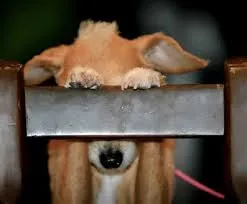 Leaf Me Alone!
Sometimes you've had a rough day. Maybe your boss yelled at you. Maybe your car didn't start. Maybe you're late on rent – again – and the landlord has called and threatened to kick you out. We all need a break from this cruel world, and hiding in a pile of leaves is the best way to be left alone. This pitbull has the right idea – with a leaf on his forehead to help him camouflage, nobody will be bothering him for a while.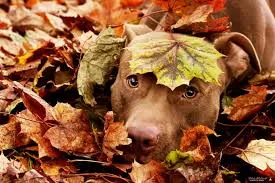 Snorkel Snout
Jumping into bed and wrapping yourself up in the covers is the best feeling after a long, hard day. Who knows what this dog went through, but it's clear she's done with the world and plans on staying in bed to Netflix and chill for the foreseeable future. From her cozy spot, this innovative doggie is using her snout like a snorkel – wisely sticking it out just enough to get air, but still keeping the rest of her body warm and hidden.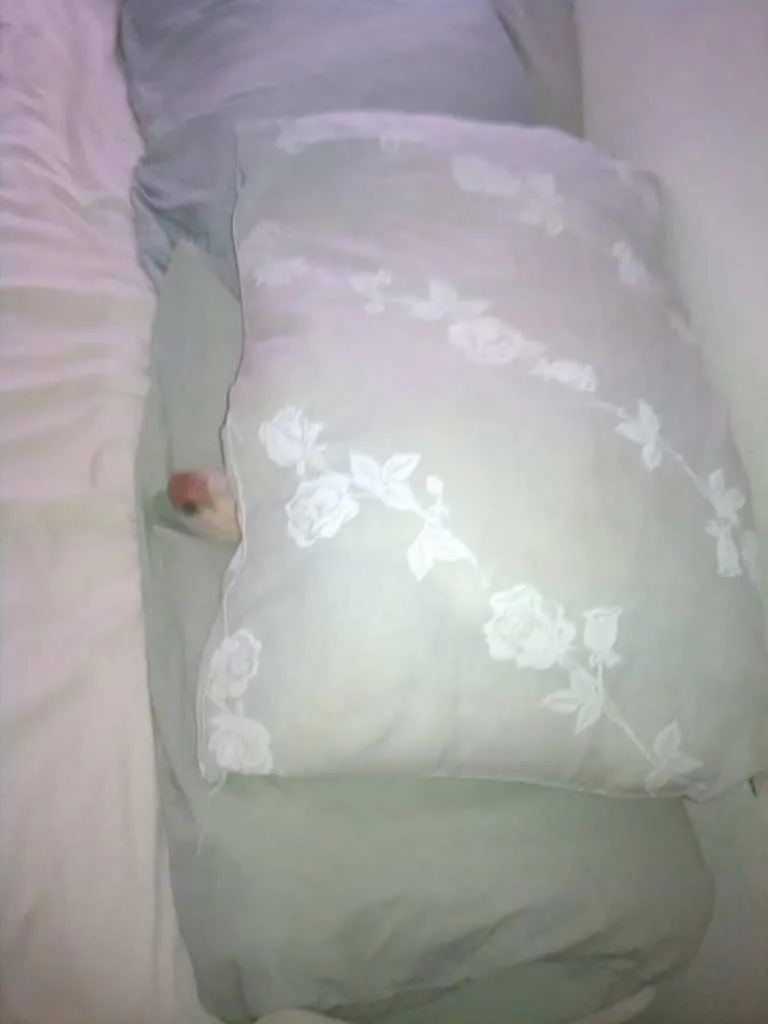 Sleeve Sneaker
After a long day at work, the last thing we want to do is hang up our clothes and put them away nicely – it's much easier to just peel off our sweatshirt and toss it on to the sofa. The pupper in this pic has taken advantage of his owner's laziness and has made a great hiding spot in the casual clothing, nestling deep in the fabric. The sweatshirt's sleeve, which is perfectly shaped to accommodate this puppy's lengthy snout, serves its purpose well.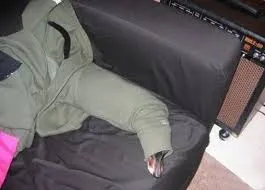 Tattle Tail
All of us have a trademark feature. Maybe we have a loud laugh, booming voice, or unforgettable smile. This pupper has a long, yellow tail that loves to wag. The most expressive part of any pupper's body can't be tamed. Despite his excellent choice of hiding spot, his tail makes his location obvious to everyone. He may have gone totally undetected due to his under-the-couch position, but the sight of his happy tail makes us want to pull him out and pet him.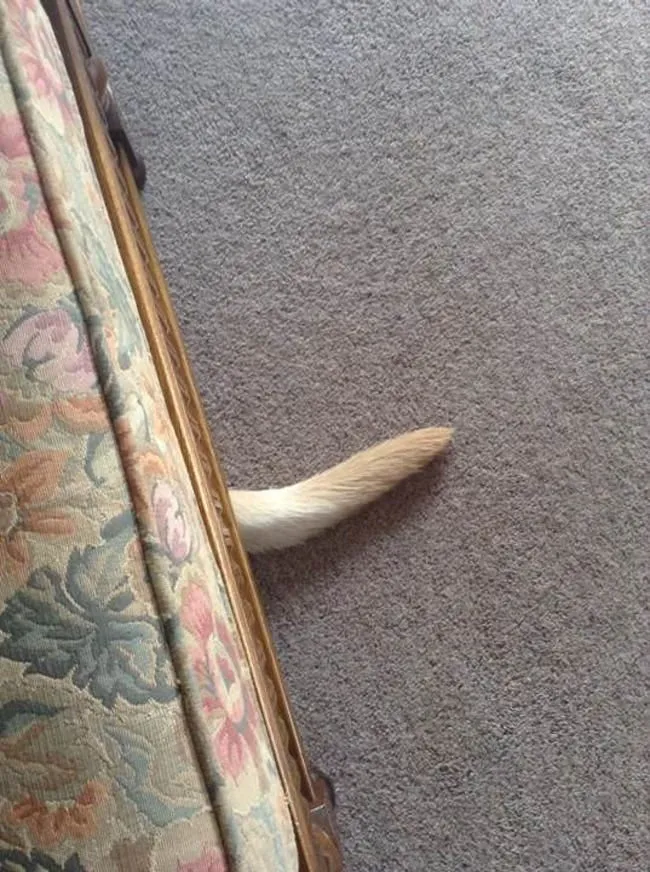 Towel Party
"If I can't see you, then you can't see me" goes the thinking most popular with children playing hide and seek. But in this doggo's case, a towel draped over the eyes isn't enough to hide. We'd recognize that wet snout and pink tongue anywhere! We're not sure exactly how this golden pupper managed to get the towel on himself, but we appreciate his strategy. From the expression on his face, it looks like he's super proud of his hiding spot.
Towel Party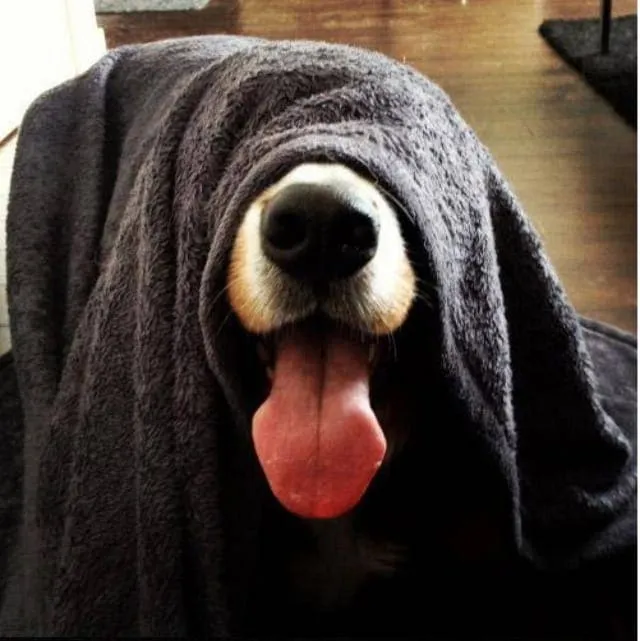 Toasty Buns
Well, it looks like this adorable husky found a new spot to plant himself. Our guess is that a load of laundry just came out of the dryer so the machine is still warm to the touch, and this pupper here figured that he'd keep himself toasty for a while. If we're all being honest with ourselves, we know that this doggo has several hang-out places throughout the house depending on what kind of vibe he's looking for at that particular moment…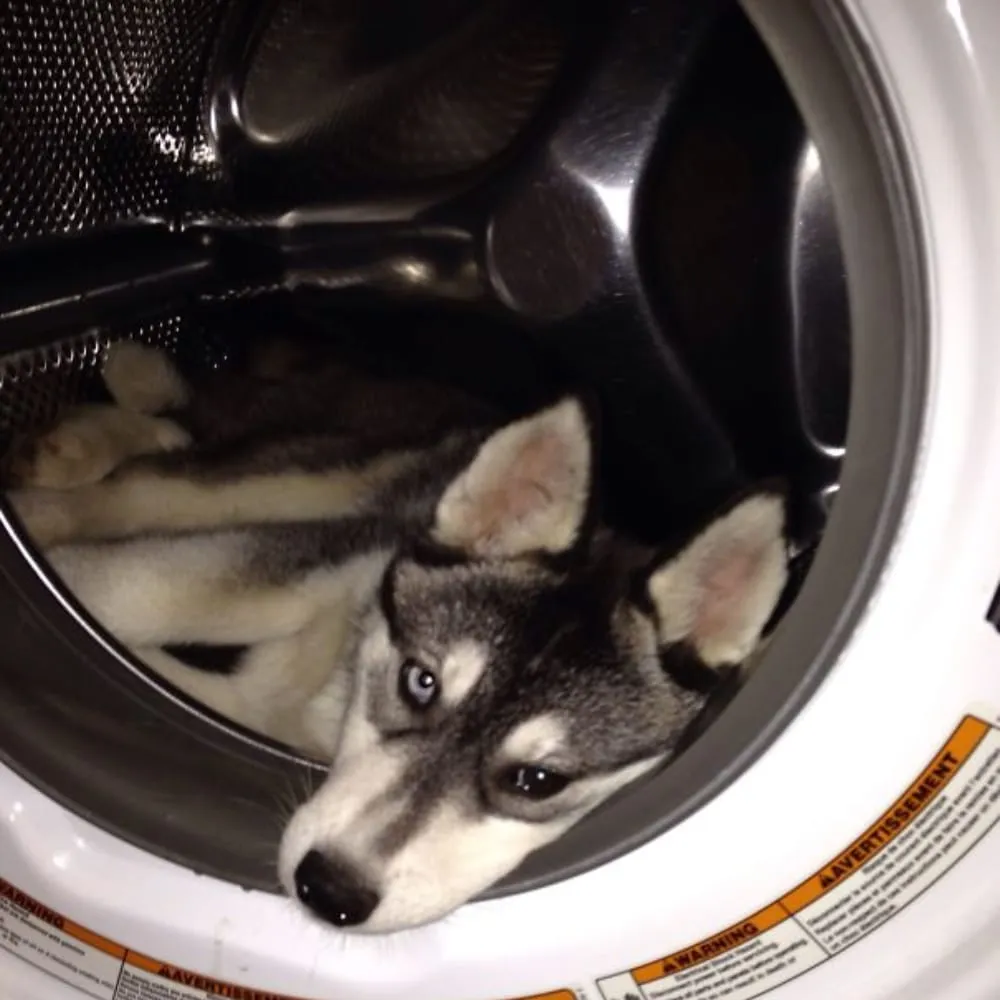 Couch Potato
According to Imgur user @DanMarshall, his dog kept hiding under the sofa. In order to stop her from doing that, Dan turned the couch on its side. It wasn't long, though, before the dog owner found his little pup like this — crammed into a tiny crevice next to the pull-out mattress. While we have to admit that position looks quite uncomfortable, it doesn't seem like this cutie minds it one bit. Still, if her goal was to hide, then this doggo needs to find a different spot…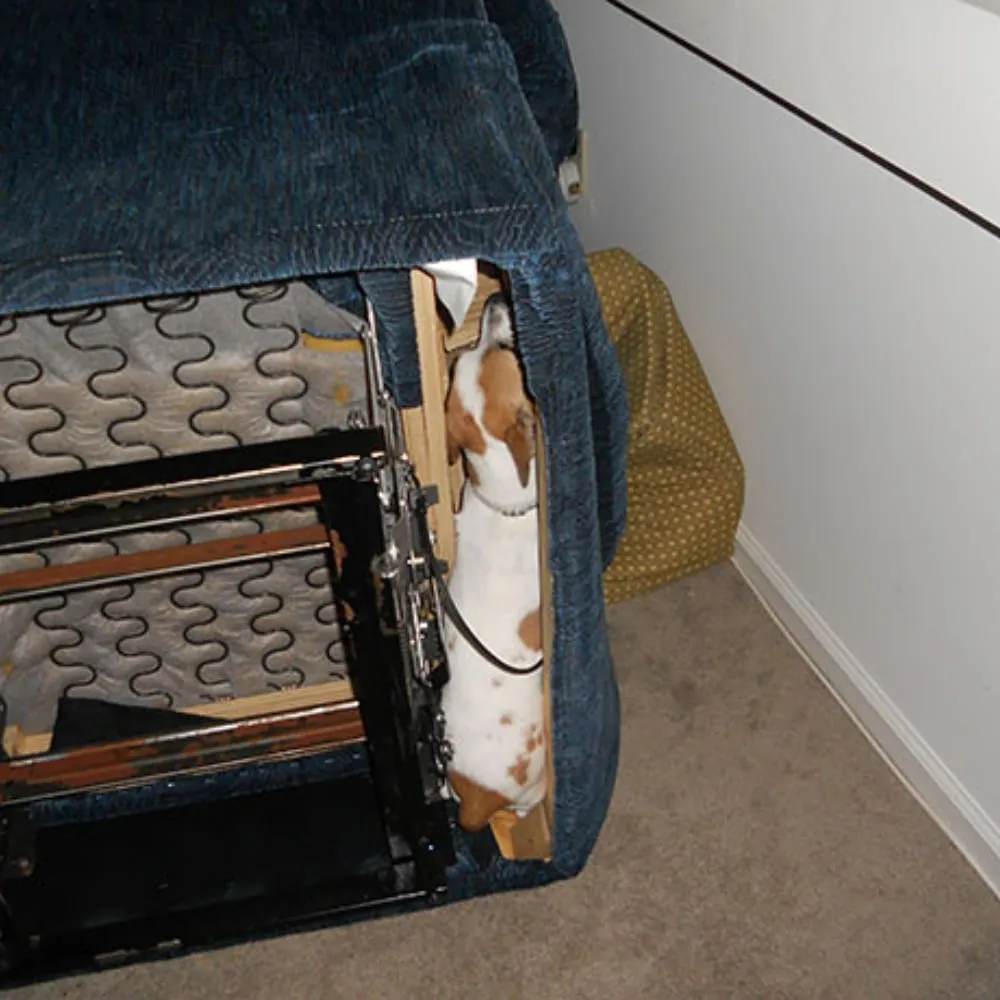 Quick! Mom's Coming!
"Quick Bruce! Mom's coming! We have to hide," is all that comes to mind when we look at this hilarious photo. Whatever these two doggos are up to underneath that bed, there's no doubt that their owner had a good laugh after finding them like this. Perhaps they're both trying to reach for a bone that slid underneath the bed frame. If they're trying to hide, well, they might need to find a different spot. They still get an A for effort, though!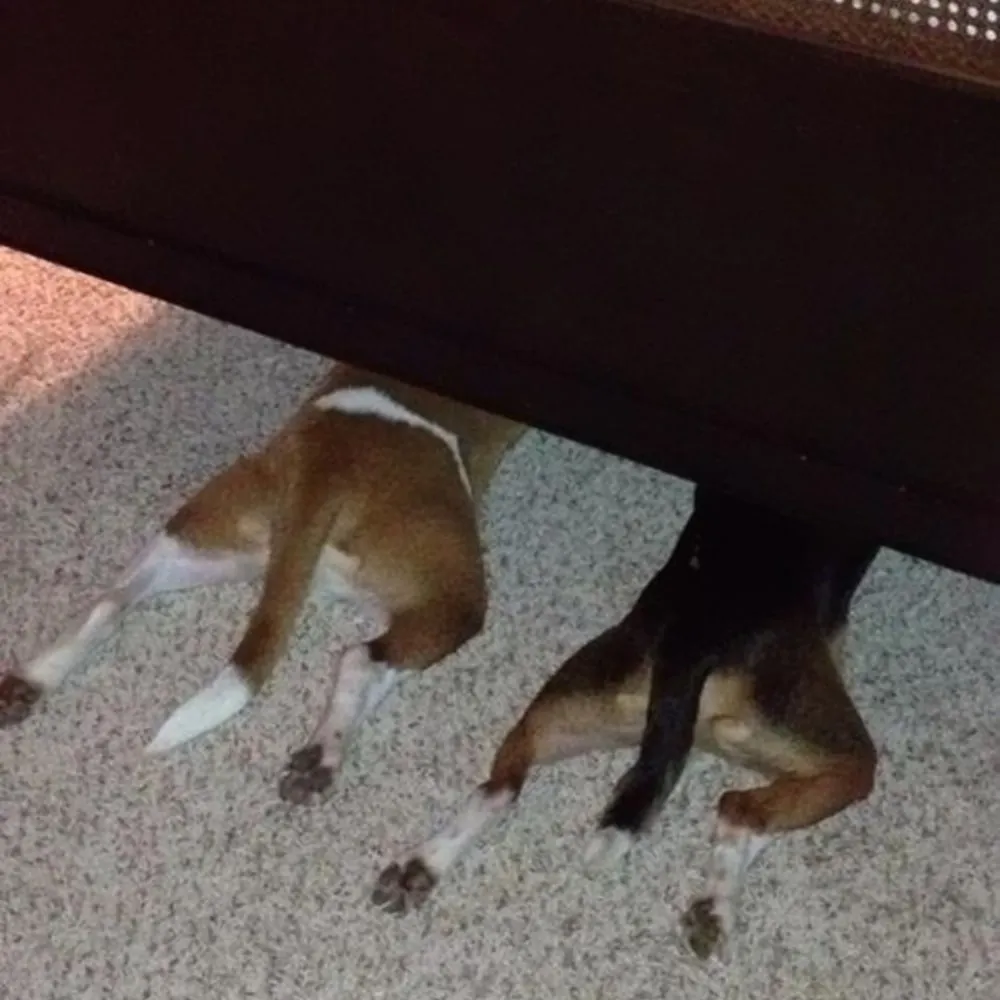 One With the Rug
Whether this cute pup was actively trying to hide or simply found a comfy spot for himself, one thing is for sure — everyone in that house should probably look twice before stepping foot onto that rug. After all, this dog blends right in, basically becoming one with the carpet. And for the record, while some of the other dogs' hiding spots are pretty hilarious, we have to say that this one is pretty genius. This dog is basically a camouflage expert…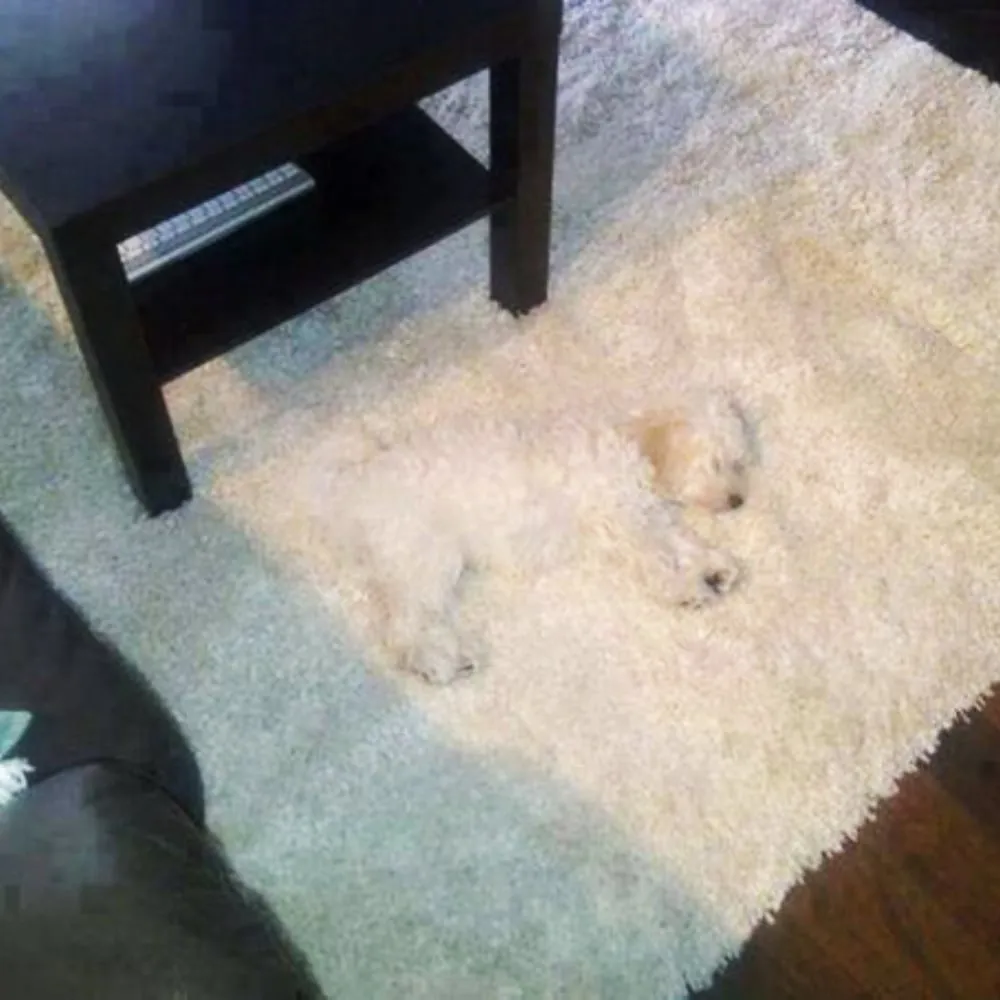 Hiding Spot or Cuddle Zone?
While this isn't the worst hiding spot in the world, it seems more as though this dog is simply attempting to lure her owner in for cuddles. Just look at those puppy eyes, people! Who wouldn't want to snuggle this little ball of fur?! In any event, if this doggo had positioned herself just slightly differently, she could have completely hidden underneath the giant stuffed animal, which is actually bigger than her! We can only hope that this pup got some cuddles after this photo was taken…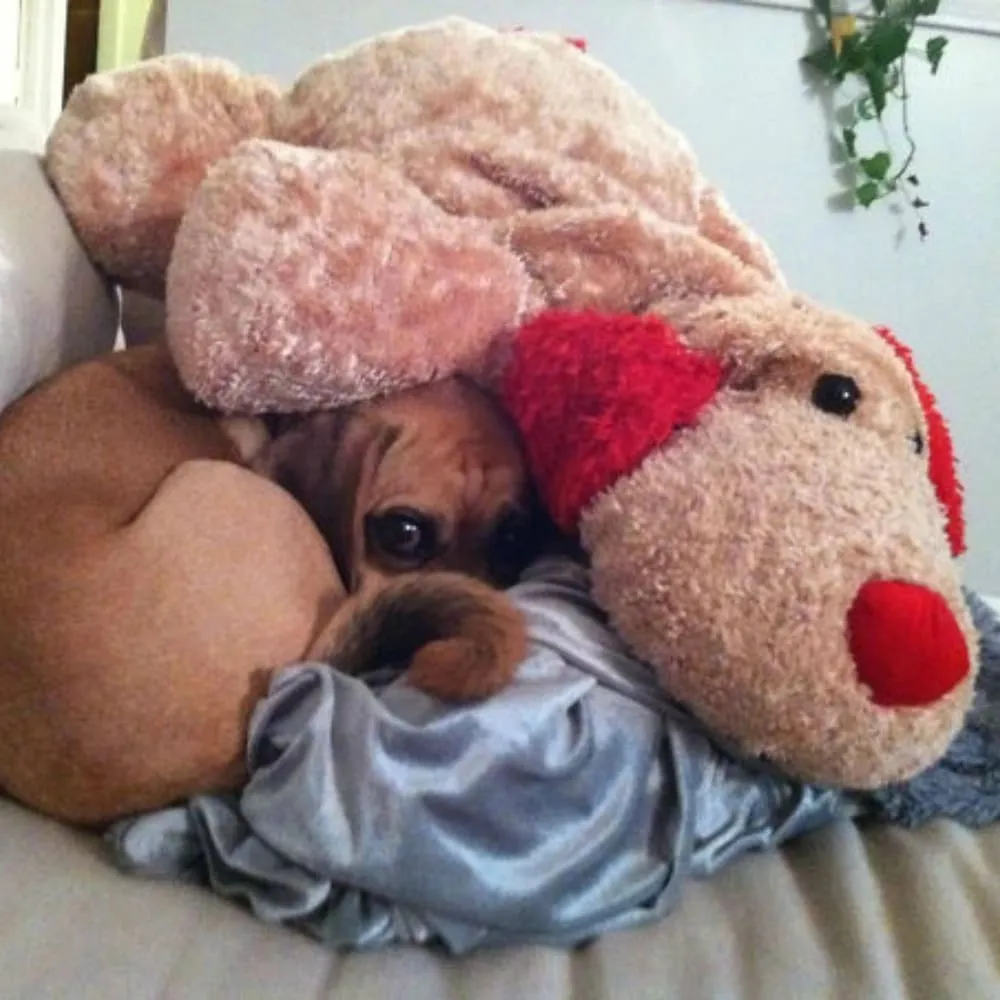 Head in the Sand
There's something undeniably hilarious about dogs getting all hyped up and running around in circles before sticking their head in the dirt or sand. From the looks of it, this doggo was playing fetch with his owner. After some time, though, he got tired of the game and decided to bury the tennis ball, as well as himself, in the sand. This may not have been this dog's best of hiding spots but one thing is for certain — he looks absolutely adorable…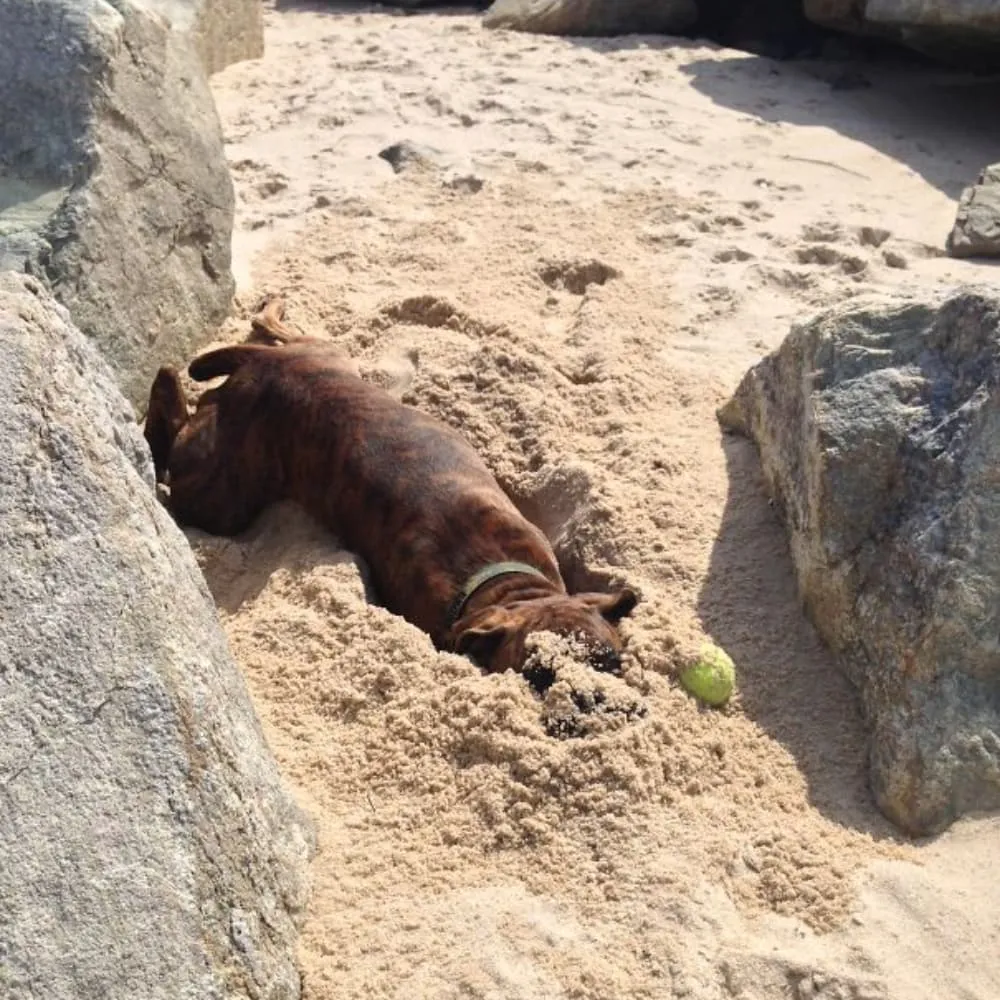 How to Make the Most of Your Hiding Spot
It's no secret that dogs tend to beg for food. With that being said, this dog probably only found a hiding spot behind the refrigerator door to let his owner know that he, too, is hungry. Chances are, this cutie's owner closed the fridge only to find her most loyal pal looking up at her with the sweetest of puppy eyes. With just one little whimper, this owner had no other choice but to give her dog a treat. And that, our friends, is how you make the most out of your hiding spot…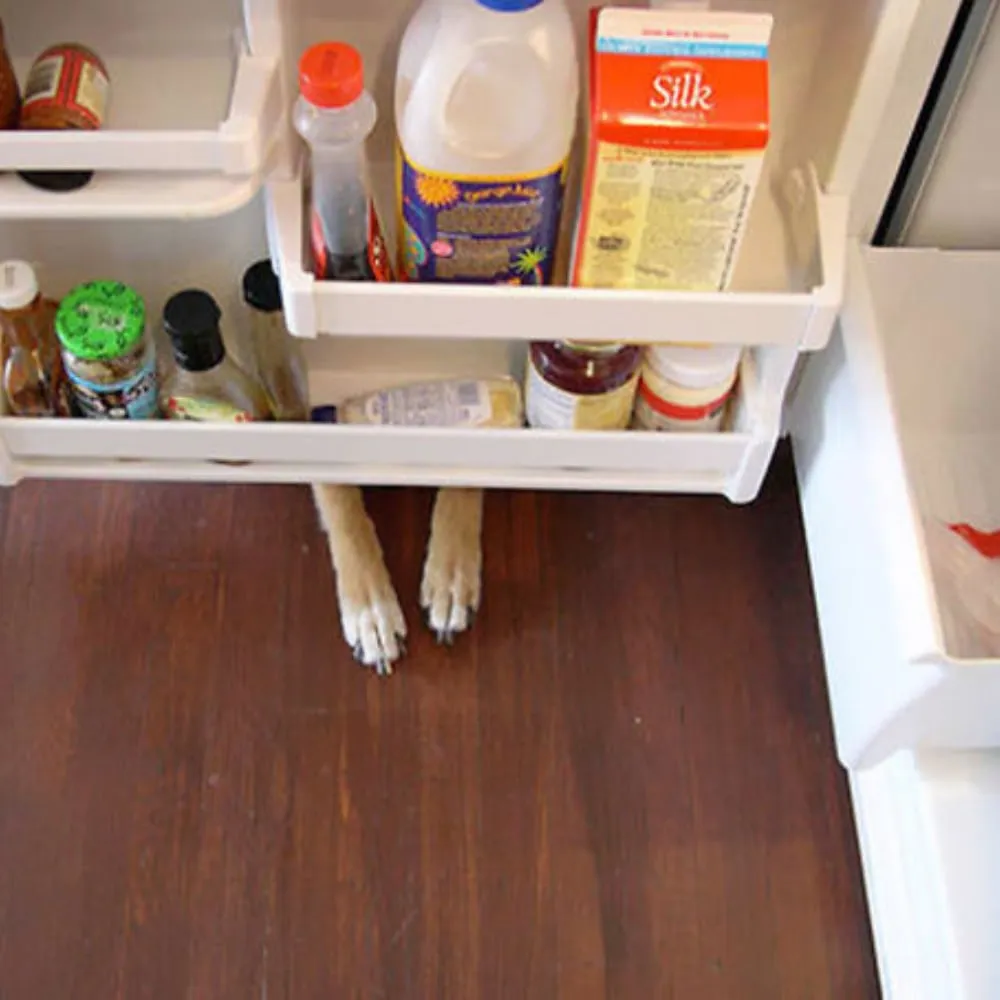 Camera Shy
"Ugh, mom! I know I'm cute and everything, but no more pictures," barked Spot as he buried his head in the blanket. That's what we've gathered from this photo because apparently, in our heads, dogs can talk. In any event, we're not entirely sure what this doggo is doing. But whether he's intentionally trying to hide, is just a bit camera shy, or is simply being playful, we can honestly say that he's adorable — even if we can't see his face.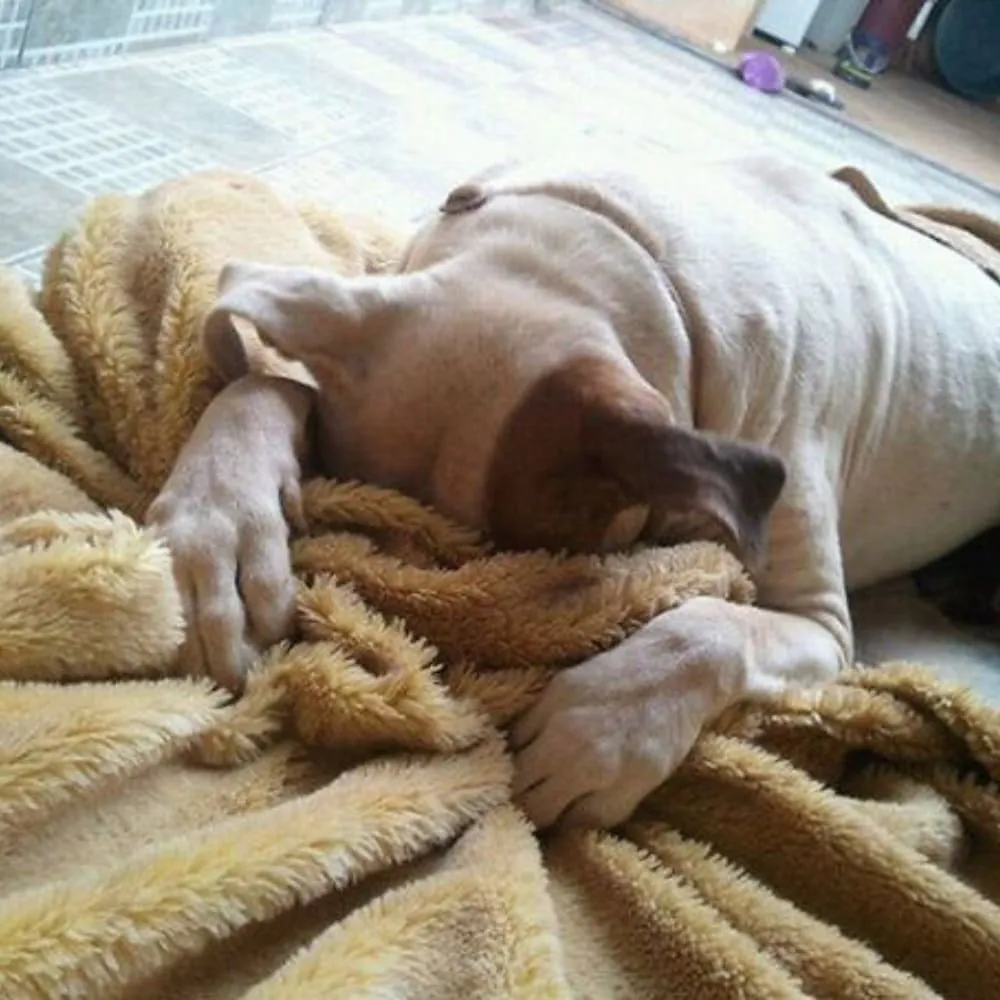 Will the Real Pupper Stand Up?
This Pomeranian named Boo has the honor of the title "World's Cutest Dog." He may be the most sweet and adorable pupper on the planet, but what's clear is that he's not great at playing hide and seek. An Internet sensation, he gained popularity because of his doll like appearance. But in this pic we can clearly see who the imposter is amongst these cute stuffed animals. He's obviously front and center, loving his time in the spotlight.
Will the Real Pupper Stand Up?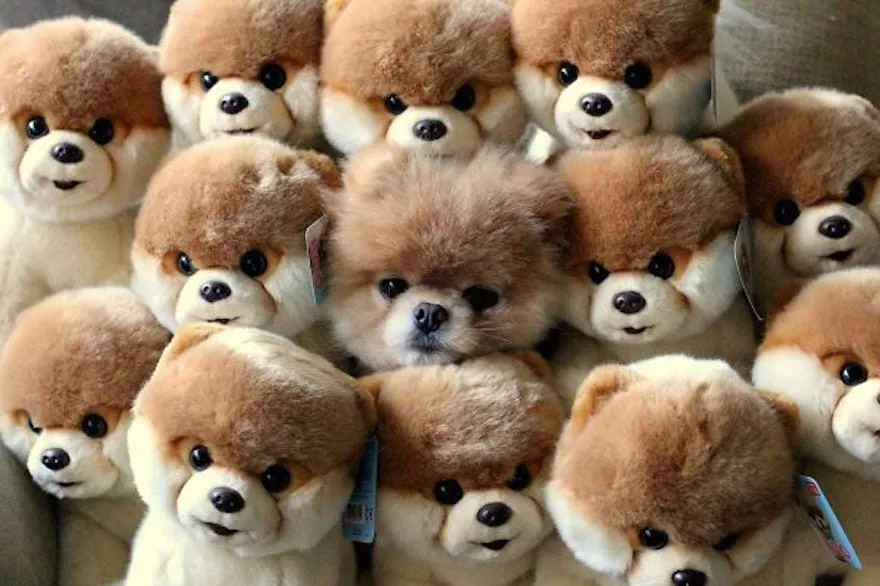 Guilty as Charged
This dog reminds us of going to a scary movie as a child, covering our eyes in the really creepy parts, but then getting curious and peaking through our fingers at the screen. This dog looks pretty guilty – we're guessing he destroyed some shoes or ate something off the kitchen counter that he wasn't supposed to, and now is hiding to avoid taking responsibility. Too bad he's curious and has his guilty mug peeking out from behind the corner of the bed.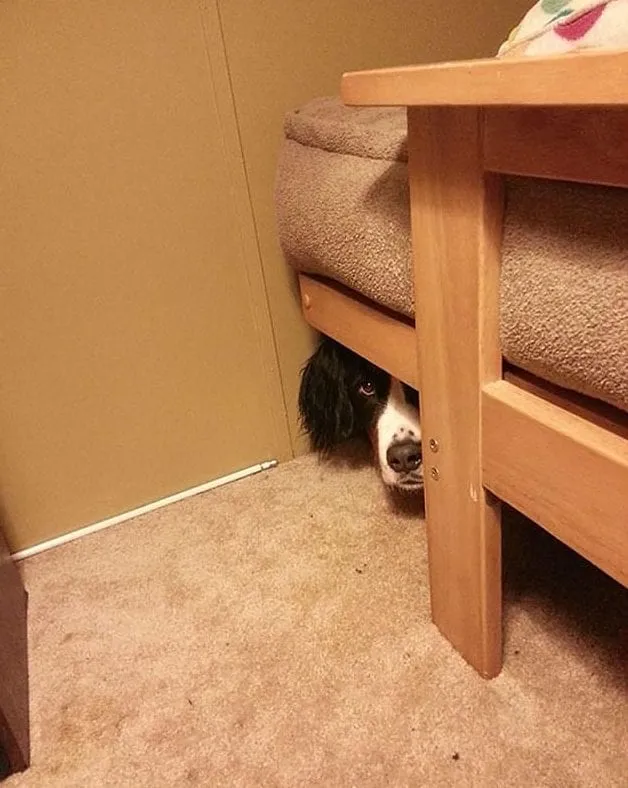 Man in the Mirror
Here we have yet another guilty looking doggo who we assume is very ashamed of whatever naughty thing he's done. Rather than face the music, he's decided to run away from responsibility and try to avoid dealing with the consequences as long as possible. He's put himself in a less visible part of the house. Hiding behind a corner is almost always a good idea, but that darn mirror gives away his exact position. It's time to come clean.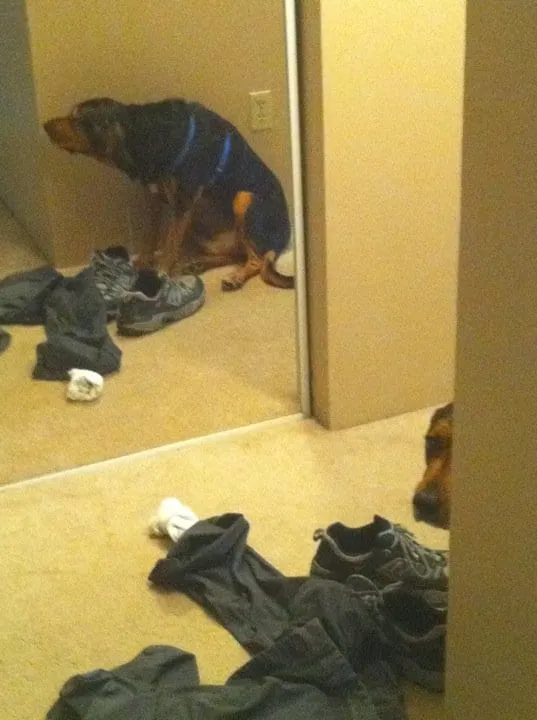 So Close, Yet So Far
This doggo has gone for one of the most trusted hiding spots in the book – behind the door. A favorite of children everywhere, it's super effective if you manage to squeeze your entire body between the wall and the door. This doggo got pretty far in his plan and got his snout hidden behind the door. Unfortunately, his follow through wasn't great and his fluffalicious fur and rear end are clearly visible to whoever happens to be passing by.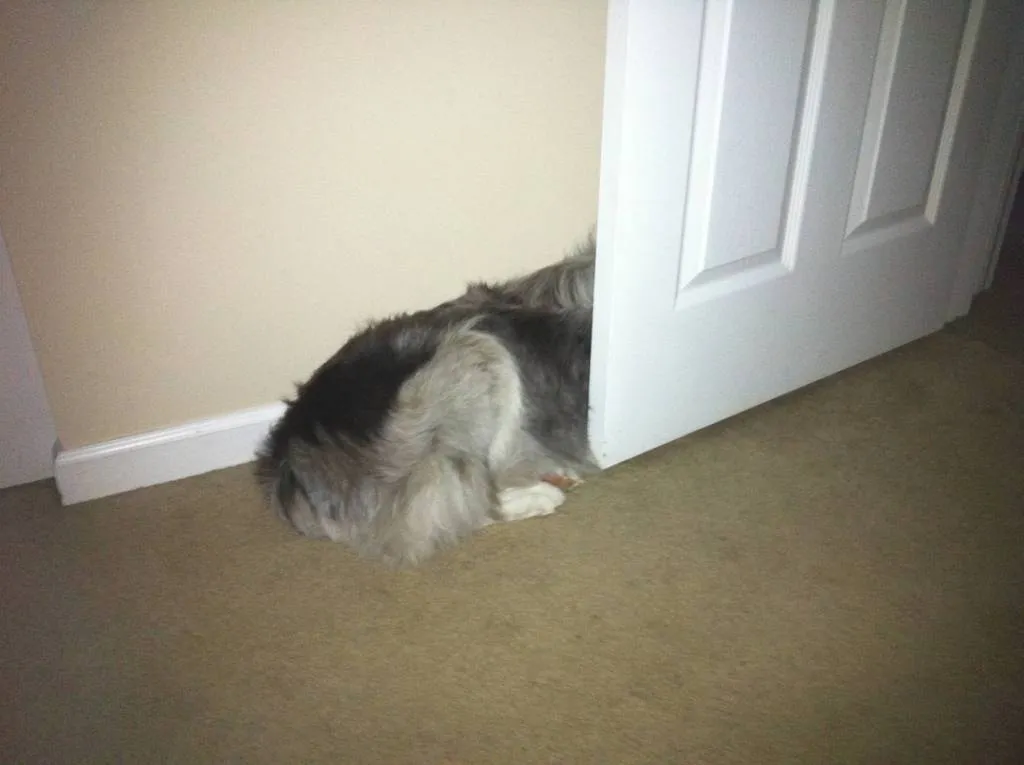 Group Effort
As the famous Beatles song goes, "I get by with a little help from my friends." Group efforts often pay off more than when we try to accomplish things on our own – but sometimes, it's better to fly solo. Take for instance this team playing hide and seek. The most effective strategy would be splitting up and having every man – or in this case, dog – out for himself. While we can see good intentions, these puppers are too playful to be discrete when they're around each other.