Planning a picnic and wondering what delicious dishes to prepare? Look no further! In this article, we will guide you through 10 easy and scrumptious picnic food ideas that are sure to make your outdoor feast a memorable one. Whether you're a seasoned picnic-goer or a newbie, these recipes and tips will help you create a spread that is both convenient to pack and delightful to indulge in. So grab your picnic blanket and get ready to explore a world of mouthwatering flavors that will elevate your outdoor dining experience to a whole new level. Let's dive in!
California Grilled Chicken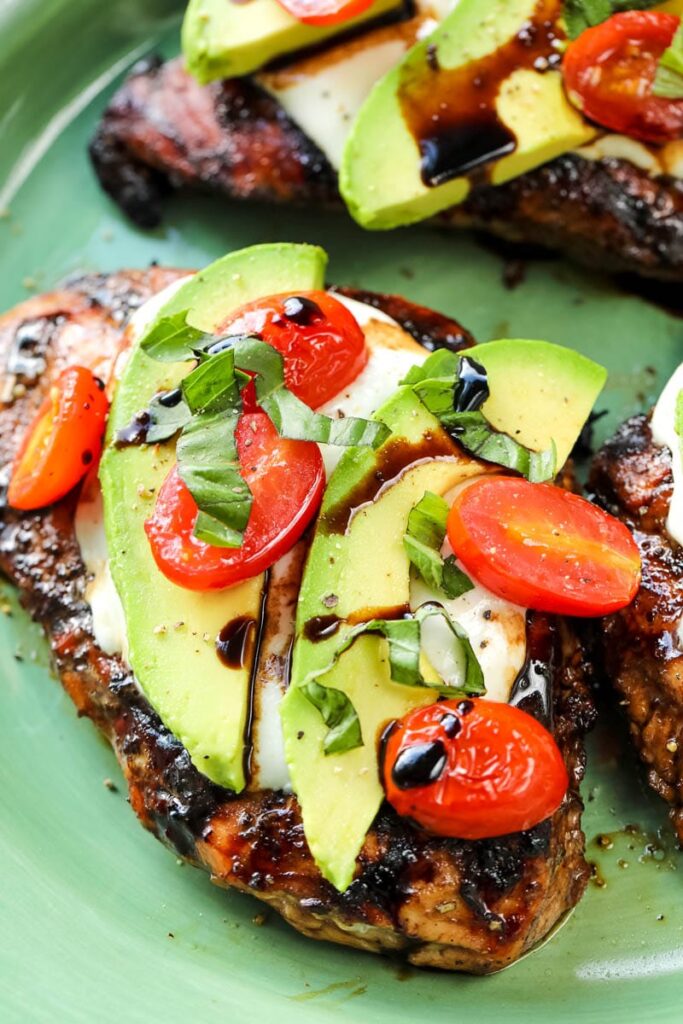 California Grilled Chicken is the perfect easy picnic food option that will leave your taste buds dancing with joy. Marinated in a blend of citrusy flavors and grilled to perfection, this juicy chicken dish is a crowd-pleaser. With its vibrant colors and tantalizing aroma, it adds a touch of freshness to your outdoor feast. Serve it alongside some crisp salad and crusty bread for a complete and satisfying picnic meal.
Baked Chicken Thighs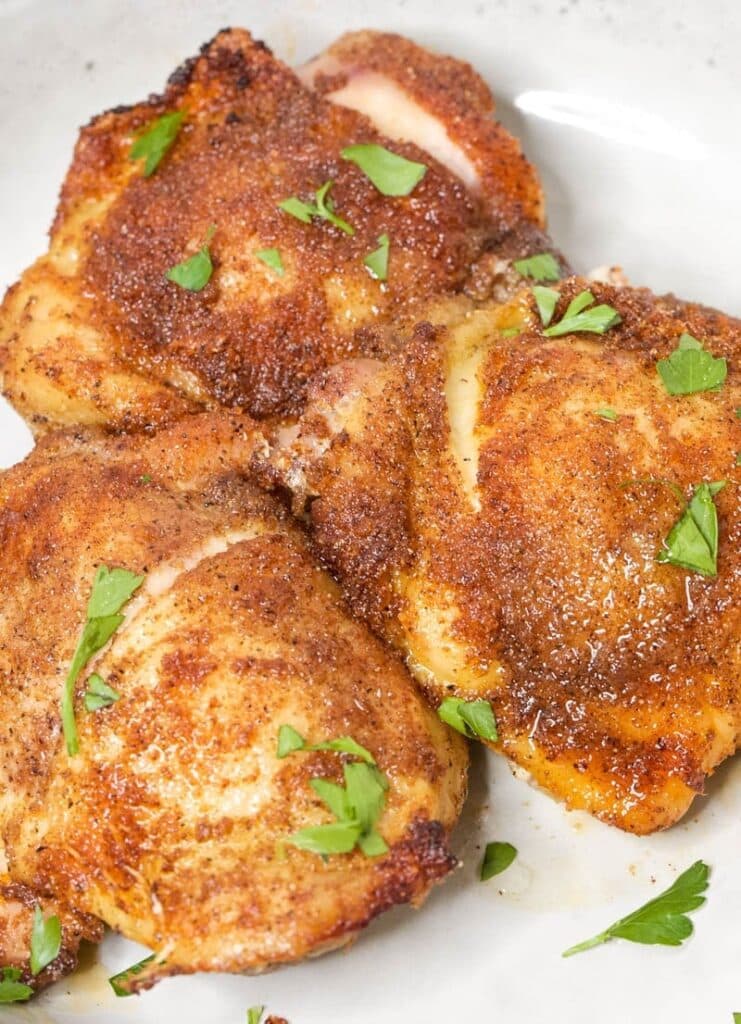 Baked Chicken Thighs are a delightful choice for an easy picnic meal that will have everyone reaching for seconds. Tender and juicy, these chicken thighs are seasoned with a delicious blend of herbs and spices, then baked to golden perfection. The crispy skin and succulent meat make for a mouthwatering combination that is sure to satisfy your picnic cravings. Pack them in a container and enjoy them hot or cold, making them a versatile and hassle-free option for your outdoor feast.
Crock-Pot Chicken Tacos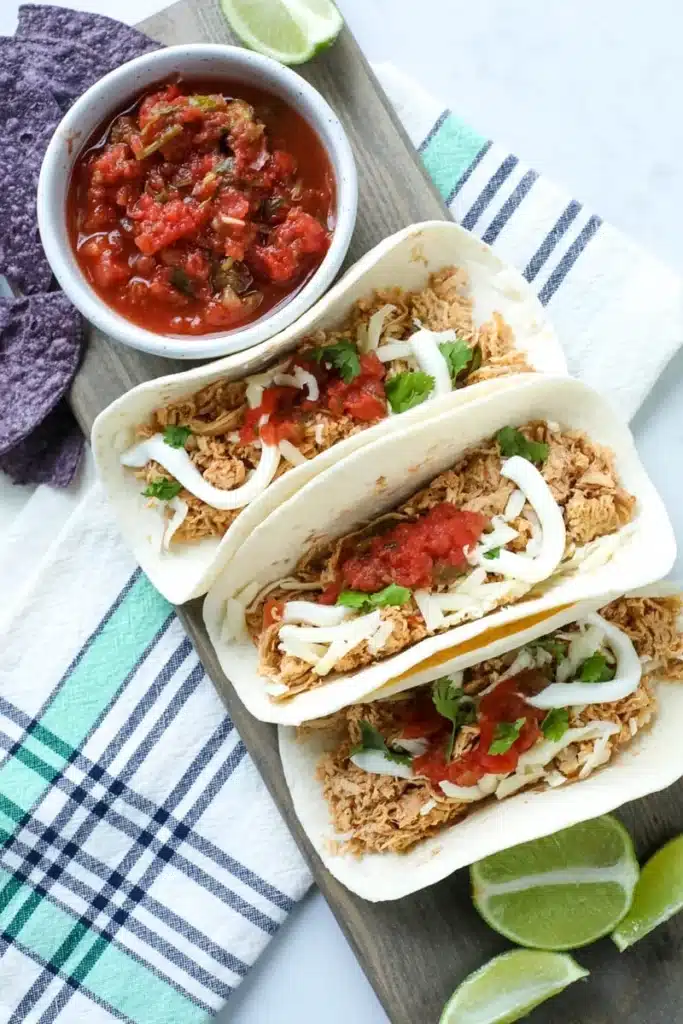 Get ready for a flavor-packed picnic with Crock-Pot Chicken Tacos! This easy-to-make dish is a game-changer when it comes to outdoor feasting. Tender, slow-cooked chicken infused with zesty spices and served in warm tortillas creates a fiesta in every bite. Top it off with your favorite toppings like fresh salsa, creamy guacamole, and tangy lime for an extra burst of deliciousness. These portable and crowd-pleasing tacos will make your picnic a hit while keeping the prep and cleanup a breeze.
All-American Burger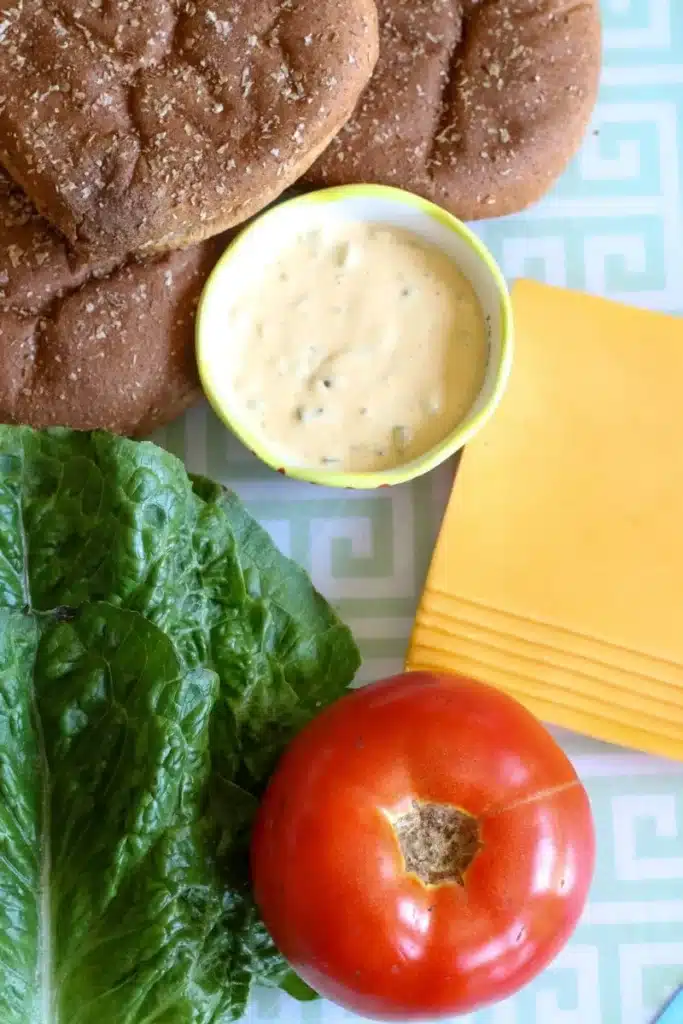 Nothing screams classic picnic food like an All-American Burger! Sink your teeth into a juicy, grilled patty nestled between a soft bun, topped with all your favorite fixings. Whether you prefer cheese, lettuce, tomatoes, or a tangy sauce, this iconic dish offers endless customization options to suit your taste buds. The combination of savory flavors and satisfying textures makes it a go-to choice for a casual and delicious picnic experience. So fire up the grill, gather your loved ones, and savor the taste of Americana with this timeless picnic favorite.
Crock Pot Pulled Pork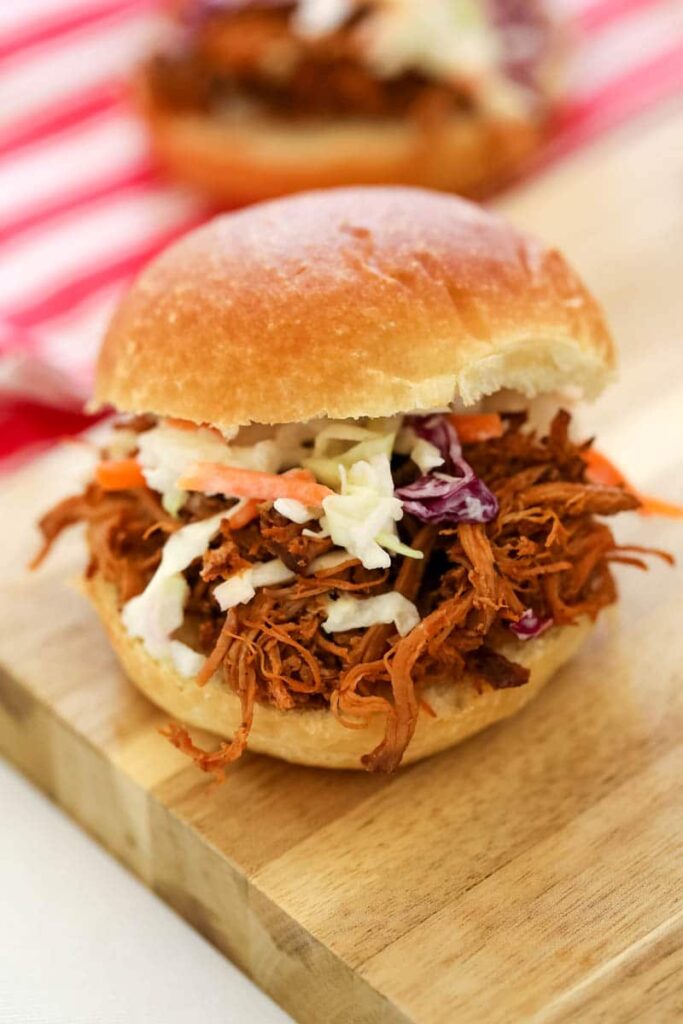 Prepare to indulge in a mouthwatering picnic treat with Crock Pot Pulled Pork! This easy and fuss-free dish delivers tender, flavorful pork that falls apart with a gentle touch. Slow-cooked to perfection in a savory blend of spices and sauces, it creates a rich and succulent filling for sandwiches or sliders. Just pile it high on a bun, add your favorite toppings, and savor the irresistible combination of smoky, tangy, and sweet flavors. Perfect for picnics, this crowd-pleasing dish will have everyone coming back for seconds.
Ham and Swiss Sliders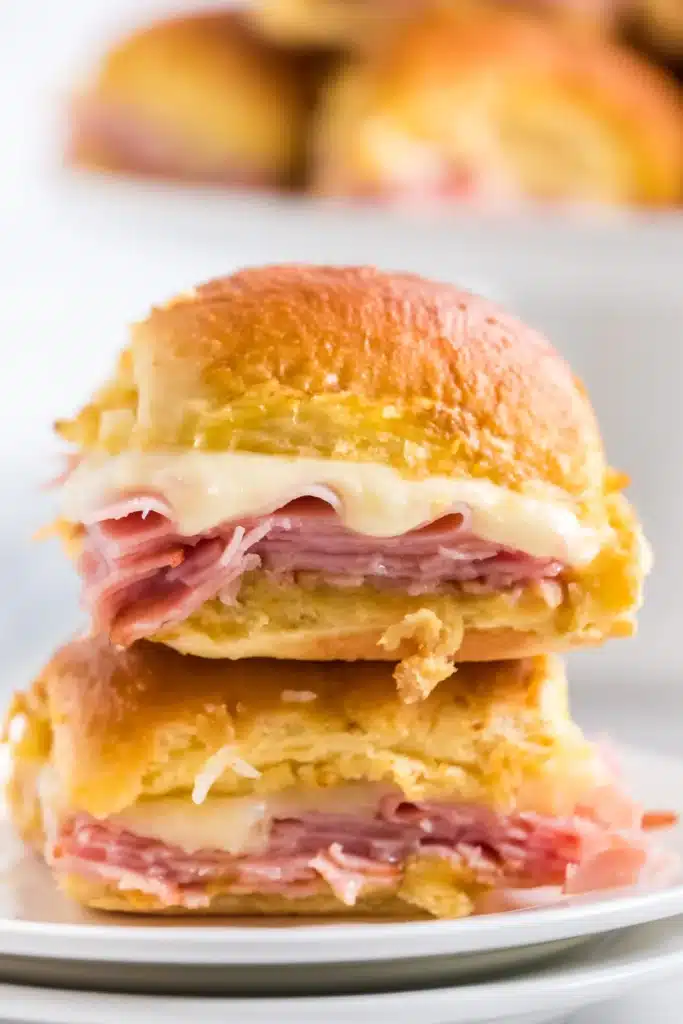 Elevate your picnic experience with Ham and Swiss Sliders, a delightful and easy-to-make treat. These miniature sandwiches are packed with layers of thinly sliced ham and melty Swiss cheese, all nestled between soft, buttery rolls. The combination of savory and melty flavors creates a mouthwatering bite-sized delight. Whether enjoyed warm or at room temperature, these sliders are the perfect addition to your picnic spread, offering a delicious and satisfying option for all ages. Prepare a batch, pack them up, and watch them disappear as your picnic-goers savor every delectable morsel.
Grilled BBQ Chicken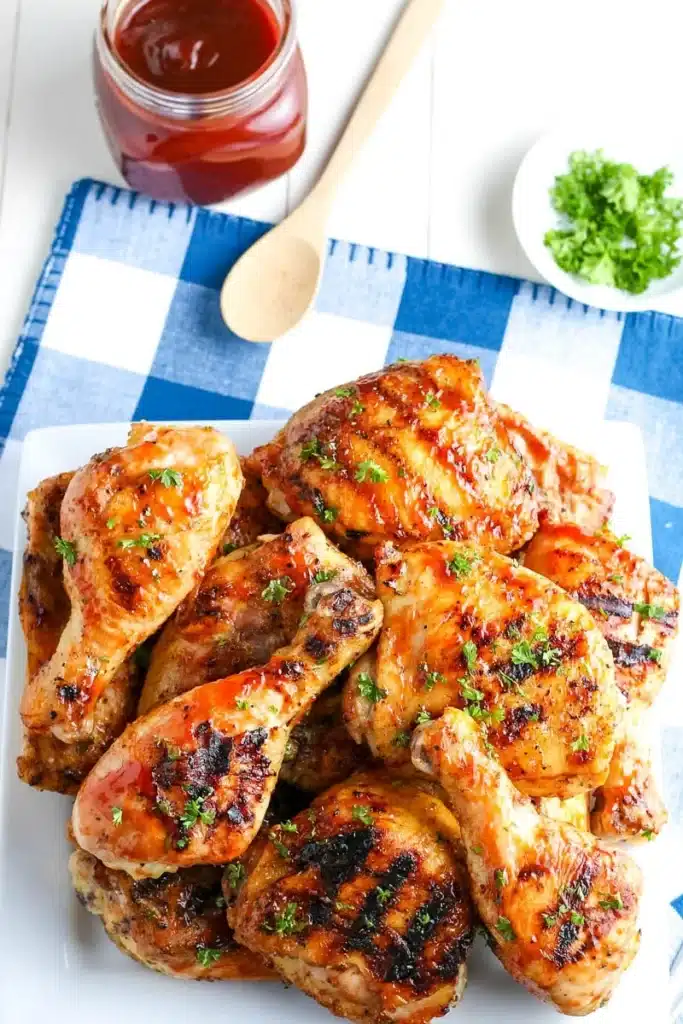 Spice up your picnic with the smoky and irresistible flavors of Grilled BBQ Chicken. Juicy and tender, each bite is a burst of tangy and savory goodness. The chicken is marinated in a mouthwatering barbecue sauce, then expertly grilled to perfection, resulting in a deliciously charred exterior. Whether enjoyed on its own or in a sandwich, this classic picnic dish will have everyone reaching for seconds. So fire up the grill, gather your loved ones, and savor the finger-licking joy of Grilled BBQ Chicken at your next outdoor feast.
Dr. Pepper Crock Pot Pulled Pork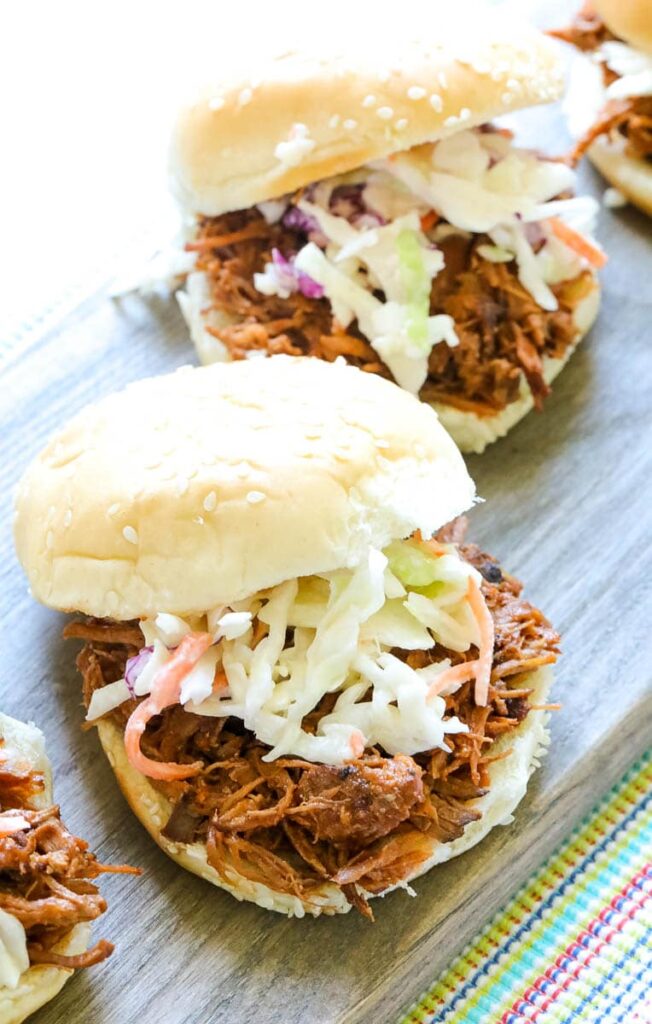 Get ready for a flavor-packed picnic experience with Dr. Pepper Crock Pot Pulled Pork! This unique twist on a classic dish takes tender pork to the next level of deliciousness. Slow-cooked in a tantalizing blend of Dr. Pepper soda and savory seasonings, the result is a melt-in-your-mouth, sweet and savory delight. Shred the pork, pile it high on buns, and savor the perfect combination of tangy, smoky, and slightly sweet flavors. With minimal effort and maximum flavor, this pulled pork is guaranteed to be a crowd-pleaser at your next picnic adventure.
Chicken Salad Sandwich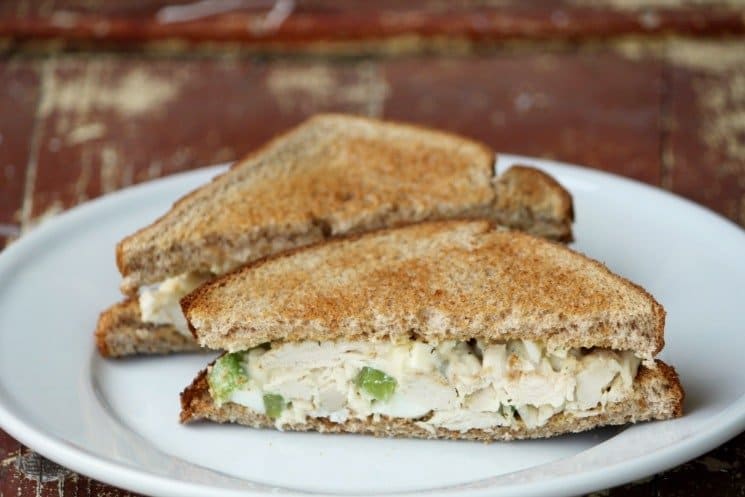 Elevate your picnic with a delightful Chicken Salad Sandwich that will satisfy your taste buds. Tender, flavorful chicken chunks are mixed with crunchy celery, sweet grapes, and a creamy dressing, creating a heavenly filling. Spread it generously between two slices of your favorite bread, and you've got a portable and delicious picnic meal. The combination of textures and flavors makes this sandwich a refreshing and satisfying option for your outdoor dining. Pack it up, take a bite, and enjoy a taste of picnic perfection.
Sloppy Joes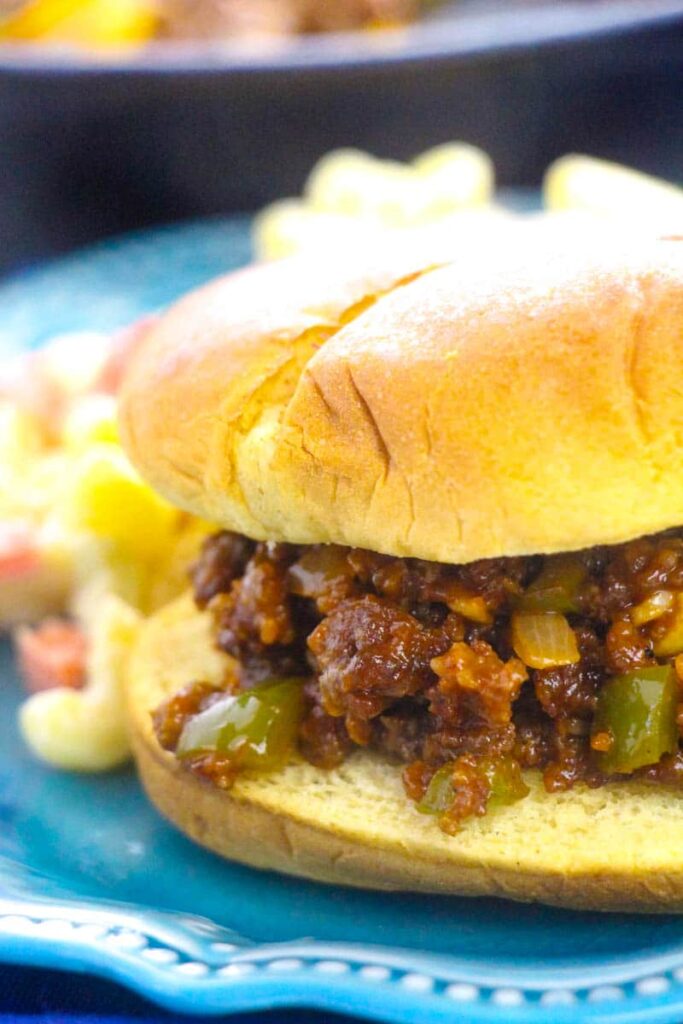 Add a touch of nostalgia to your picnic with Sloppy Joes, a classic comfort food that is both easy to make and satisfying to eat. This messy delight features a hearty mixture of ground beef, onions, and tangy tomato-based sauce, all sandwiched between soft buns. The juicy and flavorful combination of ingredients will make your taste buds dance with joy. Grab a handful of napkins, dive in, and enjoy the messy goodness of Sloppy Joes at your next picnic adventure.
Crock Pot Hot Dogs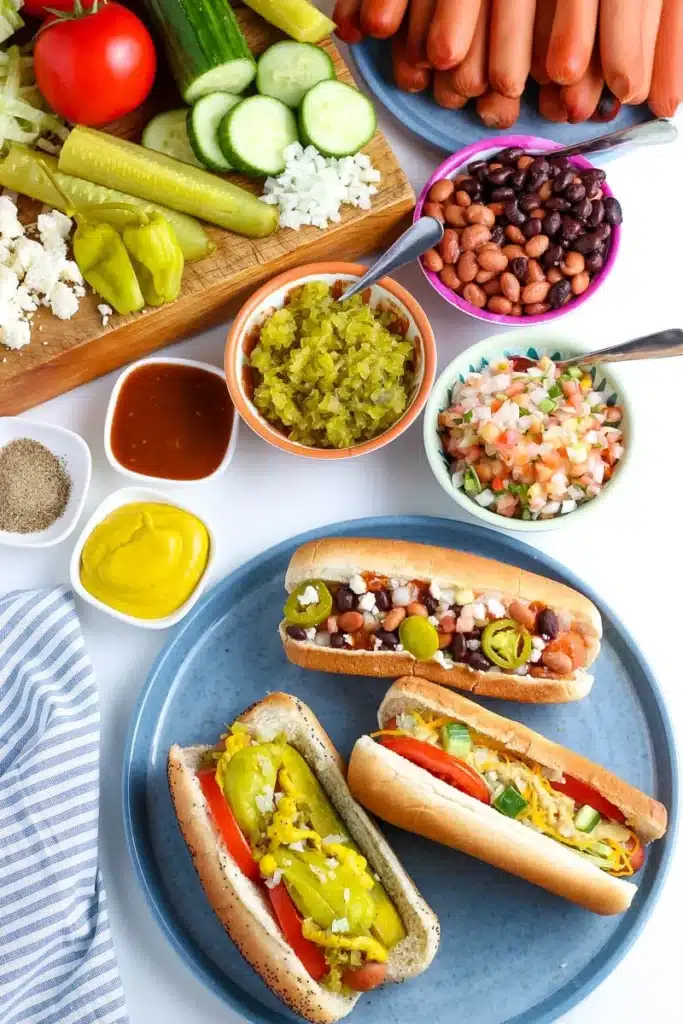 Simplify your picnic feast with the hassle-free deliciousness of Crock Pot Hot Dogs. Just toss your favorite hot dogs into the slow cooker, let them simmer in a flavorful bath, and voila! Juicy, plump hot dogs ready to be enjoyed. The low and slow cooking method ensures they stay tender and infused with mouthwatering flavors. Serve them on buns with your preferred condiments and toppings for an easy and crowd-pleasing picnic treat that will leave everyone satisfied.
Mexican Corn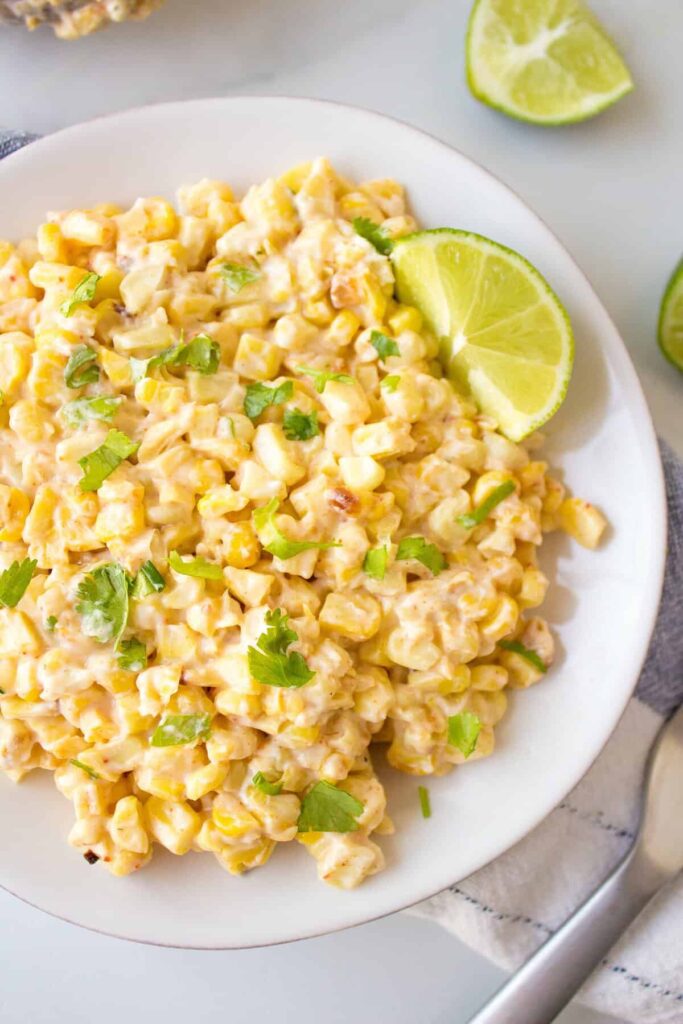 Spice up your picnic with the irresistible flavors of Mexican Corn! This easy and vibrant dish features grilled or roasted corn on the cob slathered with a creamy and tangy sauce, then sprinkled with chili powder, cheese, and fresh herbs. Each bite is a harmonious blend of smoky, sweet, and savory goodness. Messy and satisfying, Mexican Corn adds a burst of flavor and a touch of fiesta to your outdoor gathering. Get ready to savor this delightful treat and transport your taste buds to the streets of Mexico.
Fried Chicken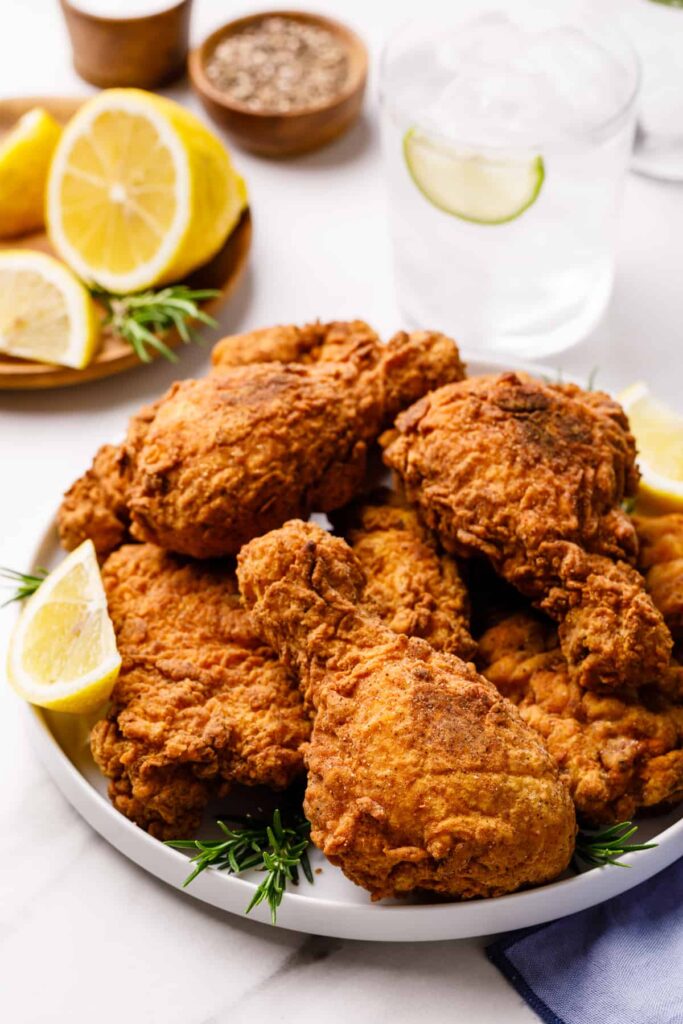 Indulge in a classic picnic favorite with mouthwatering Fried Chicken! Crispy on the outside and juicy on the inside, this beloved dish never fails to please. Whether you opt for traditional Southern-style or put your own spin on it with unique seasonings, fried chicken is a crowd-pleaser that satisfies both young and old. Pack it up in a picnic basket, pair it with some refreshing sides, and let the crispy goodness and comforting flavors of fried chicken make your outdoor gathering unforgettable.
Garlic Butter Steak Bites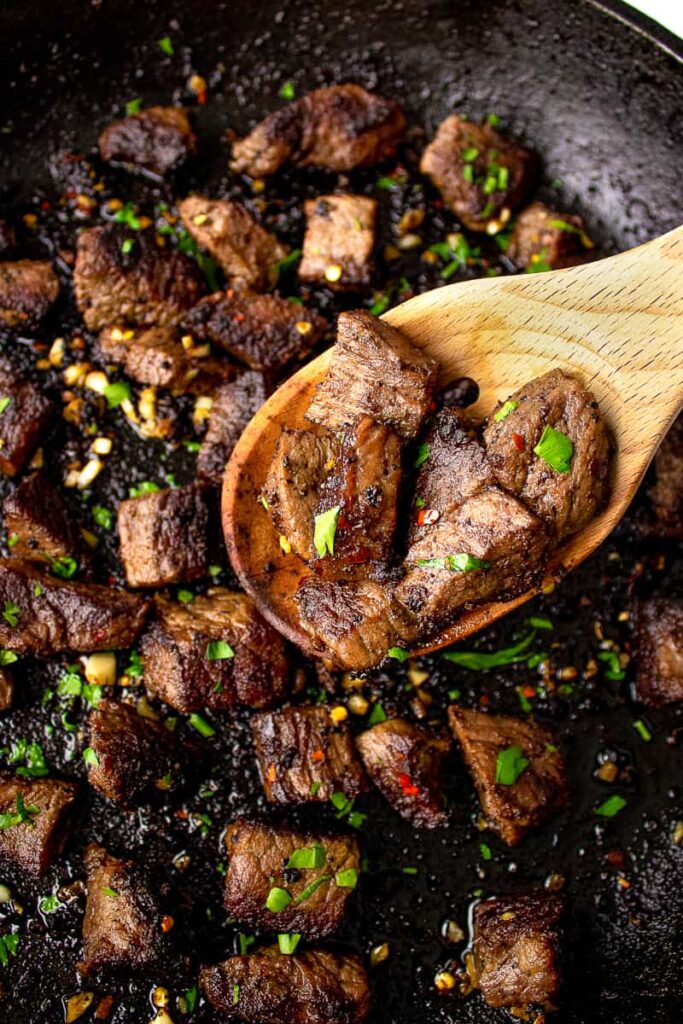 Elevate your picnic experience with tantalizing Garlic Butter Steak Bites! Tender and succulent pieces of steak are seared to perfection, then coated in a luscious garlic butter sauce. Each bite is a burst of flavor, with the richness of the steak complemented by the savory and aromatic garlic. These bite-sized morsels are easy to pack and make for a luxurious picnic treat that will impress your fellow picnickers. So grab a skewer, savor the juicy goodness, and enjoy a mouthwatering steak experience amidst the great outdoors.
Roasted Pork Tenderloin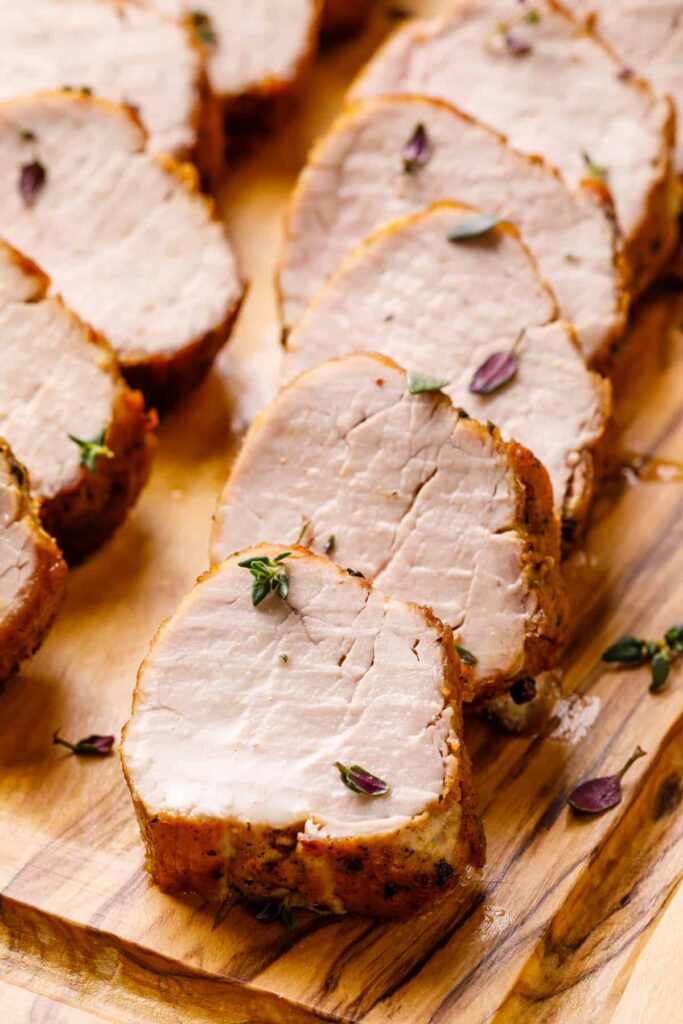 Take your picnic to the next level with succulent Roasted Pork Tenderloin! This impressive yet easy-to-make dish is a crowd-pleaser that will leave your taste buds wanting more. Tender and juicy, the pork tenderloin is seasoned with aromatic herbs and spices, then roasted to perfection. Sliced and served either warm or cold, it makes for a versatile and satisfying picnic centerpiece. Pack it along with some fresh sides and enjoy a delicious and elegant outdoor feast that will have everyone asking for the recipe.