With the conclusion of Coachella weekend one and the imminent arrival of weekend two, our infatuation with festival style is not only at its peak but also fueled by the festival fashion ensembles we come across on our social media feeds. Even if you aren't venturing to the desert for Coachella, a solitary music festival does not define the entirety of festival season. This spring and summer are brimming with art and music festivals, and we have you covered with a comprehensive list of the nine most prominent festival fashion trends of 2023.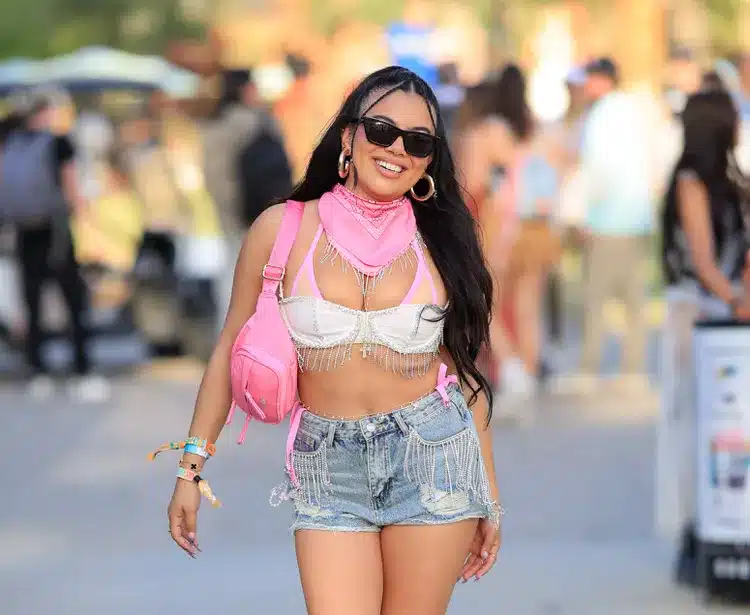 We consulted with brand founders and scoured the internet for insights to meticulously curate our lineup of what the crème de la crème of festival-goers will be donning. Additionally, we delved into shoppers' searches to pinpoint the season's top trends. Below, you'll find some beloved festival classics such as western wear, petite skirt sets, and an abundance of rhinestones. Furthermore, we present a fresh take on spring's major trends, elegantly tailored to suit the festival atmosphere, featuring crochet and retro glamour.
Western Barbiecore
According to the latest insights from Google Trends, the most sought-after Coachella ensemble this year is none other than the "pink cowgirl outfit." However, this trend is far from your typical coastal cowgirl look. Instead, it embraces an explosion of vivid pink hues, extravagant adornments, and show-stopping cowboy boots that are not only stylish but also practical for dancing fervently and dashing between stages. If you wish to assemble your very own pink cowgirl festival attire, fully embrace the allure of excess and ensure you include at least one standout piece.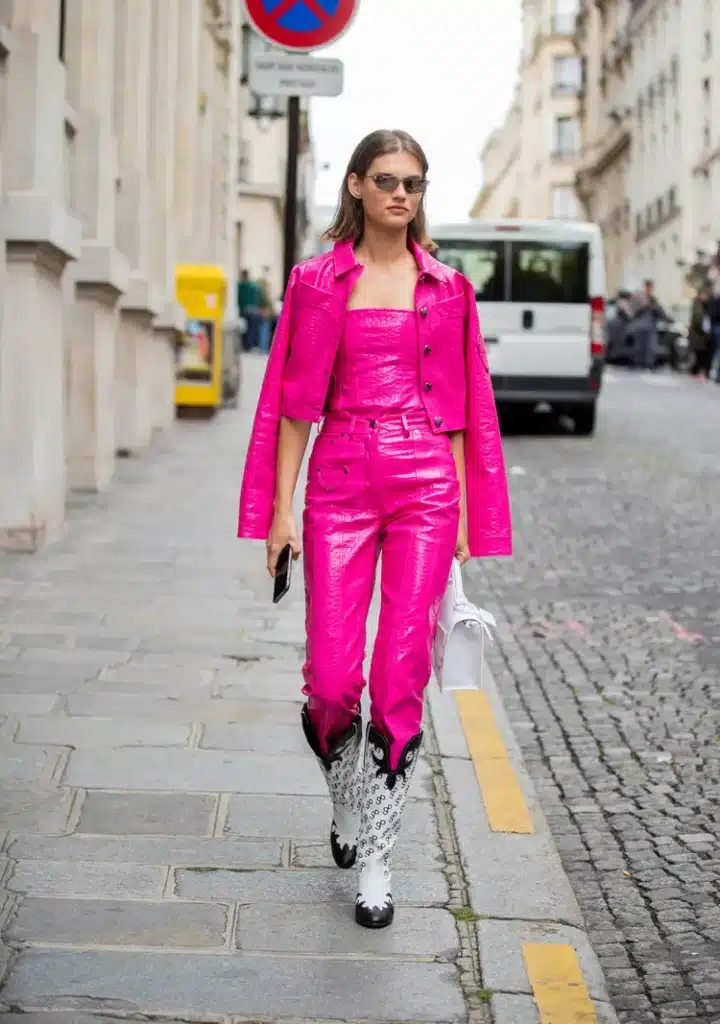 Crochet Sets
Google Trends has revealed that one of the most popular festival looks, currently among the top 10 trending styles, is the crochet set. This comes as no shock considering the immense popularity crochet has garnered this spring, and its momentum is expected to carry on throughout the summer. The reason for our delight is quite evident: crochet is an incredibly versatile fabric. Whether you prefer an alluring and sophisticated vibe, opt for a midi set crafted in a loose-knit pattern, or lean towards a sportier aesthetic, selecting a shorts and crop set in a tighter, more compact knit, the possibilities are endless.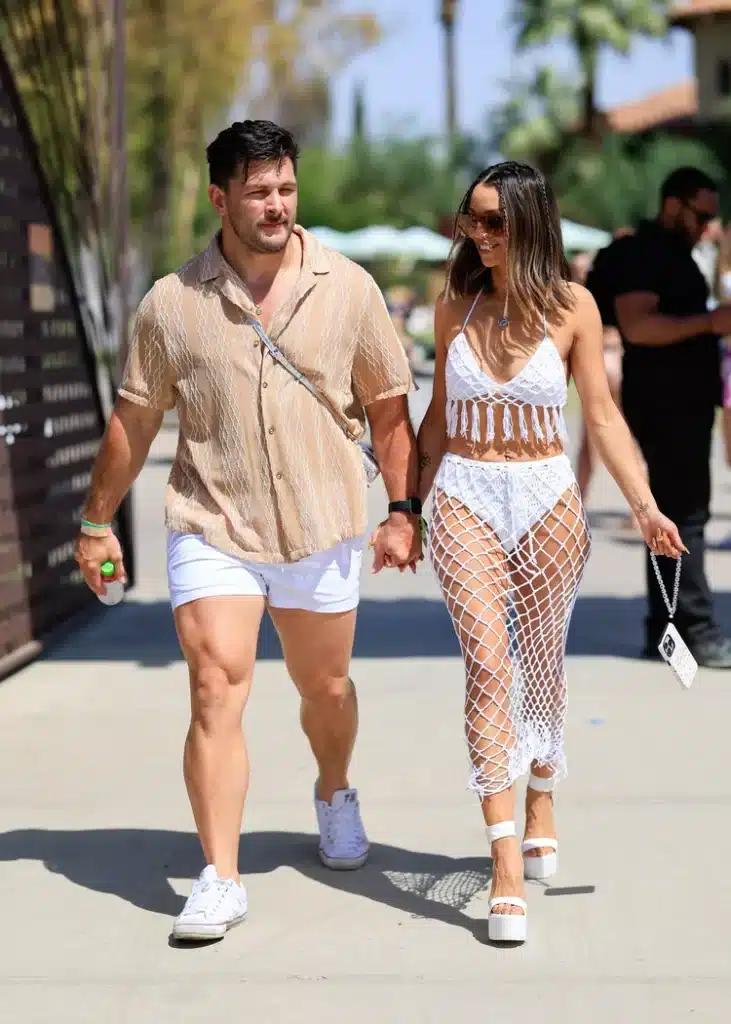 Mesh Dresses
Google Trends has unveiled yet another highly coveted festival look: the mesmerizing mesh dress. It comes as no surprise that this trend has captured the attention of festival-goers worldwide. Whether you prefer a breezy and beachy aesthetic, embracing an open knit design, or desire something that exudes a touch of glamour with sparkling elements like rhinestone-studded micro-mail, the options are truly endless. Let your style shine and embrace the allure of the mesh dress trend that is currently creating a buzz in the festival fashion scene.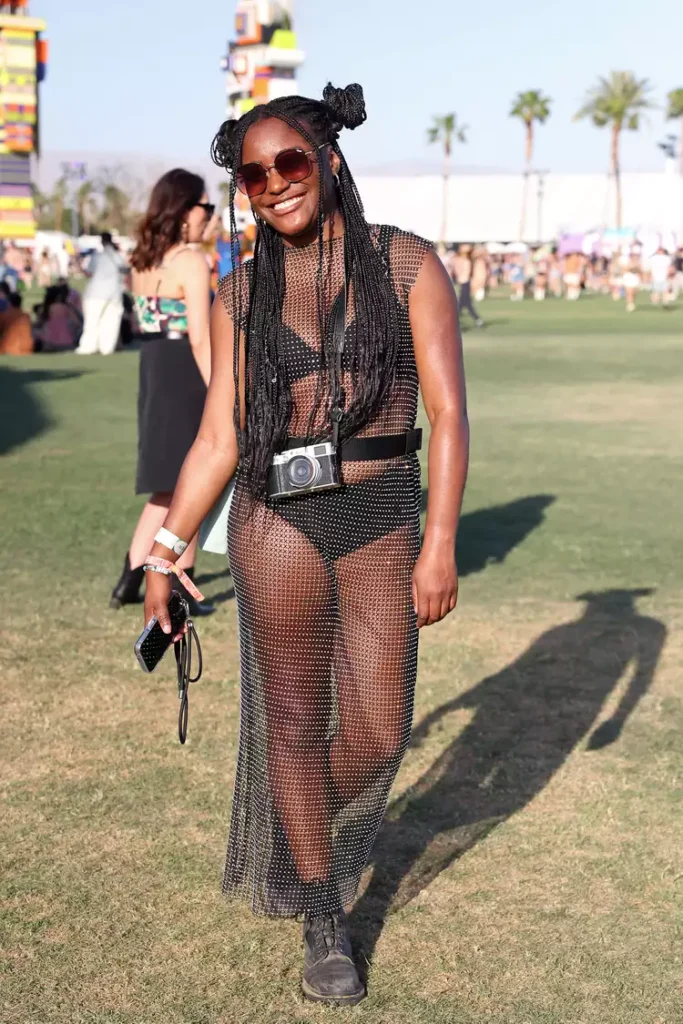 '70s Glam
As we enthusiastically witnessed the revival of Y2K fashion, another era has been quietly making its way into the mainstream fashion scene: the 1970s. During the first weekend of Coachella, celebrities made a splash by donning the iconic flower child look, complete with wide-leg pants, ornate belts, and crochet cut-out tops. You have the freedom to choose a singular style that resonates with you or go all-in by embracing a delightful blend of three or even four '70s-inspired elements. The possibilities are limitless as you embark on a fashion journey that pays homage to the groovy vibes of this beloved era.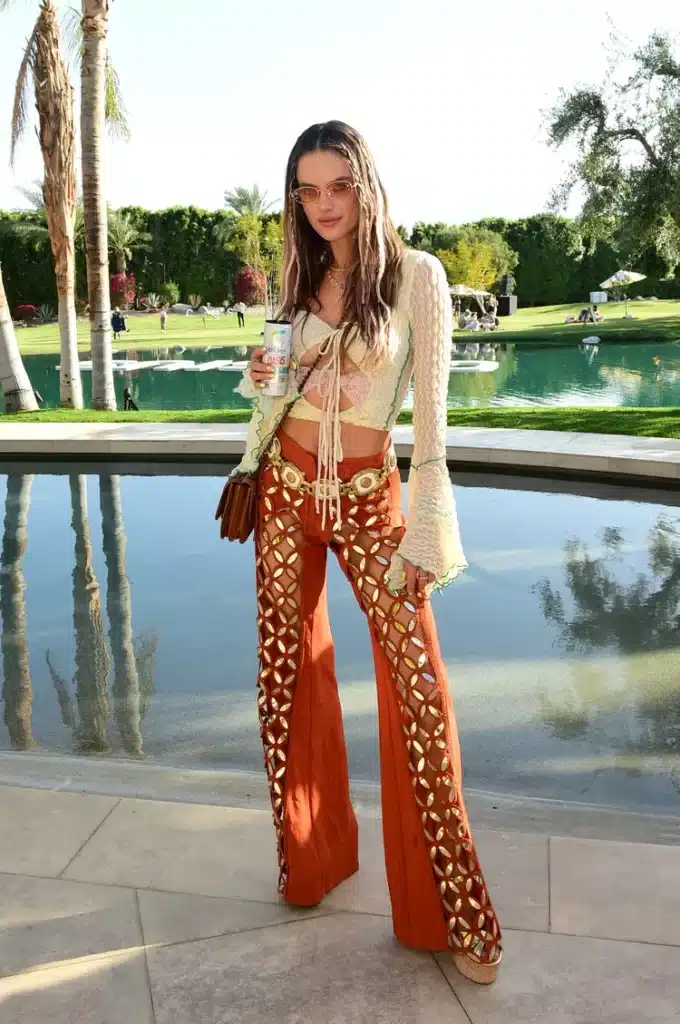 Cowboy Boots
According to Erikka Wang, co-founder of AKIRA, "Cowboy boots and Coachella are a perfect match, just like PB&J. The modern rendition of Western boots pays homage to the enduring appeal of Y2K fashion trends. As a beloved item adored by the brightest stars of that era, this iconic wardrobe staple effortlessly captures the essence of both casual coolness and the extravagant allure of festival fashion." Embrace the timeless charm of cowboy boots as you embark on your festival journey, channeling a style that effortlessly combines nostalgia with contemporary flair.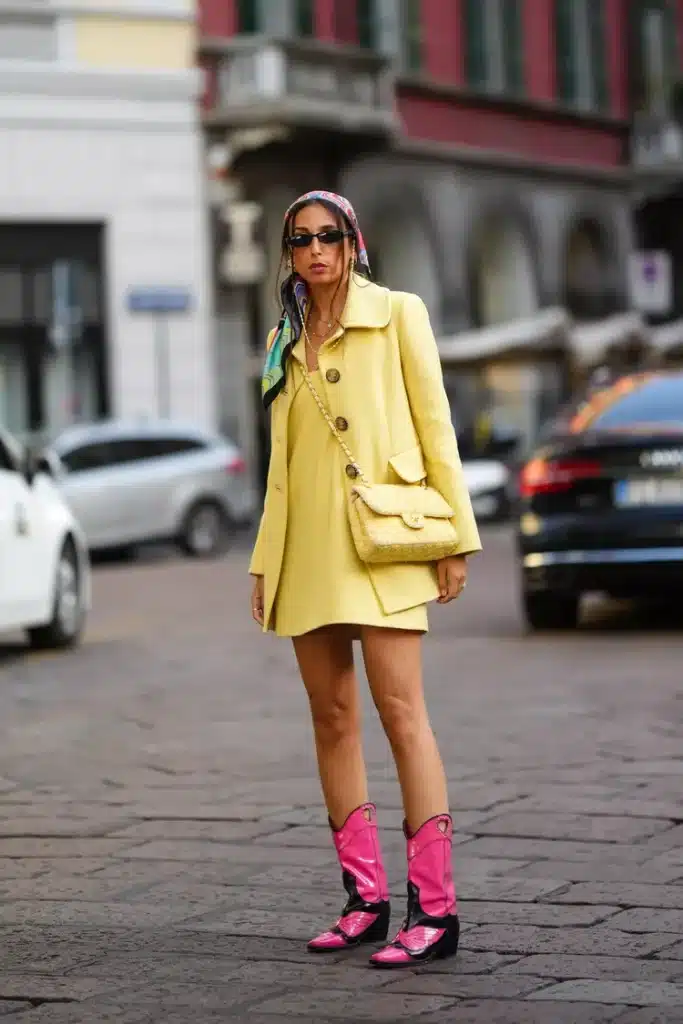 Ultra-Distressed Shorts
Robin Chretien, the founder of Robin's Jeans, declares that denim and crystals have reached the pinnacle of trend heaven this season. The key to nailing this trend, according to Chretien, lies in embracing distressed denim to the fullest extent. The more wear and tear, the better. When you embark on your shopping journey, Chretien suggests seeking out shorts that boast a combination of embellishments and carefully placed rips, allowing you to achieve an authentic vintage feel. Dive into the world of denim and crystals, where fashion meets celestial allure, and create a look that exudes both contemporary style and a touch of nostalgic charm.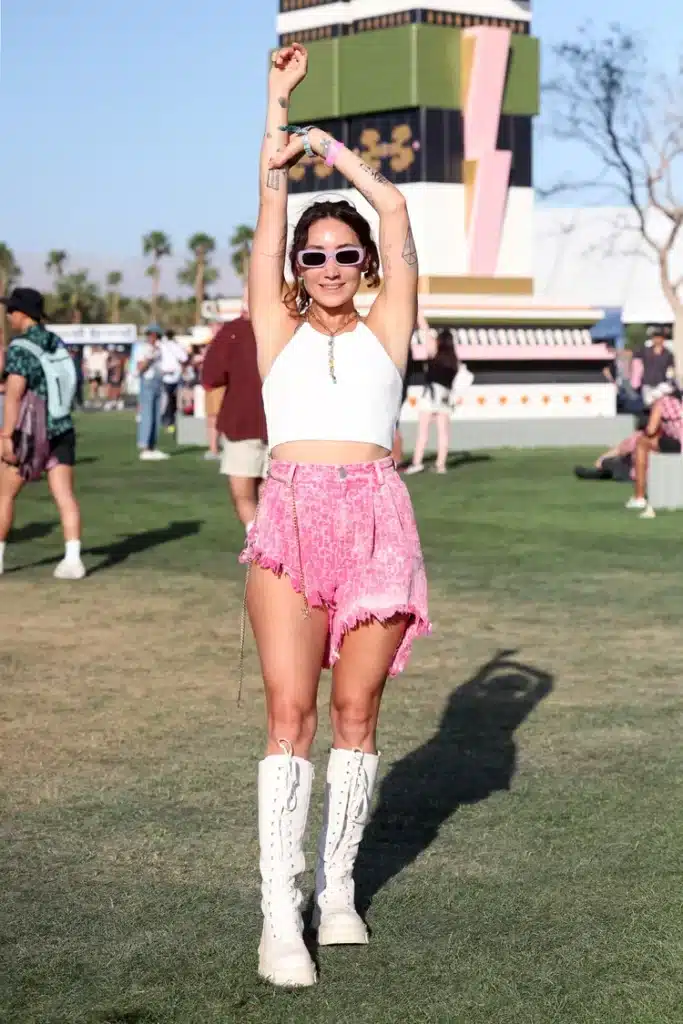 Barely There Pastels
While festival season has traditionally been associated with baring skin, this year brings a refreshing twist as the ethereal maxi dresses take center stage. Delicate shades of bubblegum pink and periwinkle soften the allure of these barely-there ensembles. To elevate your festival fashion game to new heights, consider coordinating your shorts, bra, or bodysuit worn underneath the top layer. By harmonizing the various elements of your outfit, you can achieve a seamlessly cohesive and stunning look that is sure to turn heads. Embrace the enchanting charm of these soft-toned maxi dresses and indulge in a festival experience like no other.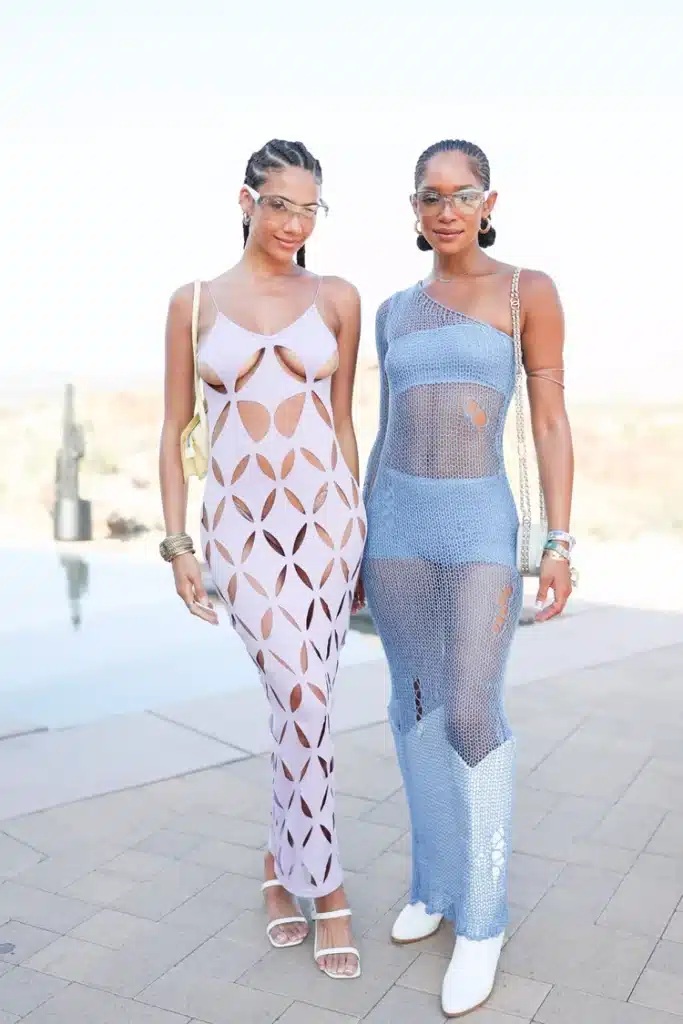 Corset Tops
The corset tops that are currently making waves in this year's festival season are far from the traditional corsets worn by our Victorian ancestors generations ago. Festival season 2023 has embraced a modern twist on this iconic garment, shifting away from romantic satin and velvet and venturing into edgier territory. Inspired by the vibrant club kid scene, the corset tops of this season feature captivating buckle-and-strap details that exude an unmistakable sense of daring style. Embrace the fusion of fashion and rebellion as you rock these contemporary corset tops that perfectly capture the spirit of the festival season.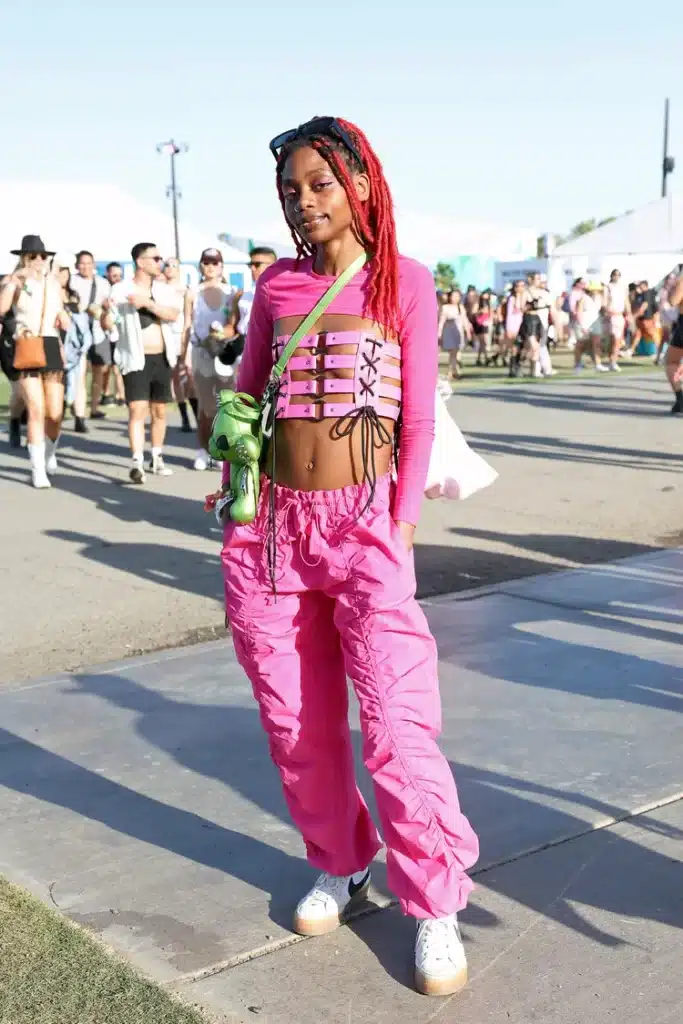 Ultra-Low-Rise Jeans
Although many Millennials may still have nightmares about low-rise jeans, the super low-rise jeans dominating this year's festival season come with a few styling redeems. Unlike their predecessors, these jeans boast a baggier fit, ensuring that they are surprisingly comfortable to wear (yes, we were just as surprised!). Moreover, the distressed and embroidered elements add a touch of '90s flair, making them reminiscent of that era rather than Y2K styling. Embrace the revival of this trend with newfound confidence, knowing that these modern iterations offer both comfort and a nod to the beloved '90s aesthetic.