Although celebrities are often used to having their professional accomplishments and endeavors publicized by the media, other aspects of their lives are also considered noteworthy. It is not unusual for the personal conflicts of wealthy and renowned individuals to become widely known. Below are over 40 celebrities whose disagreements have been the subject of headlines in mainstream media.
Taylor Swift vs. Kanye West
In 2009, during the MTV Music Awards, Kanye West interrupted Taylor Swift's speech after winning Best Female Video. He went on stage, took the microphone from Swift and said, "Yo Taylor, I'm really happy for you and I'll let you finish, but Beyoncé had one of the best videos of all time."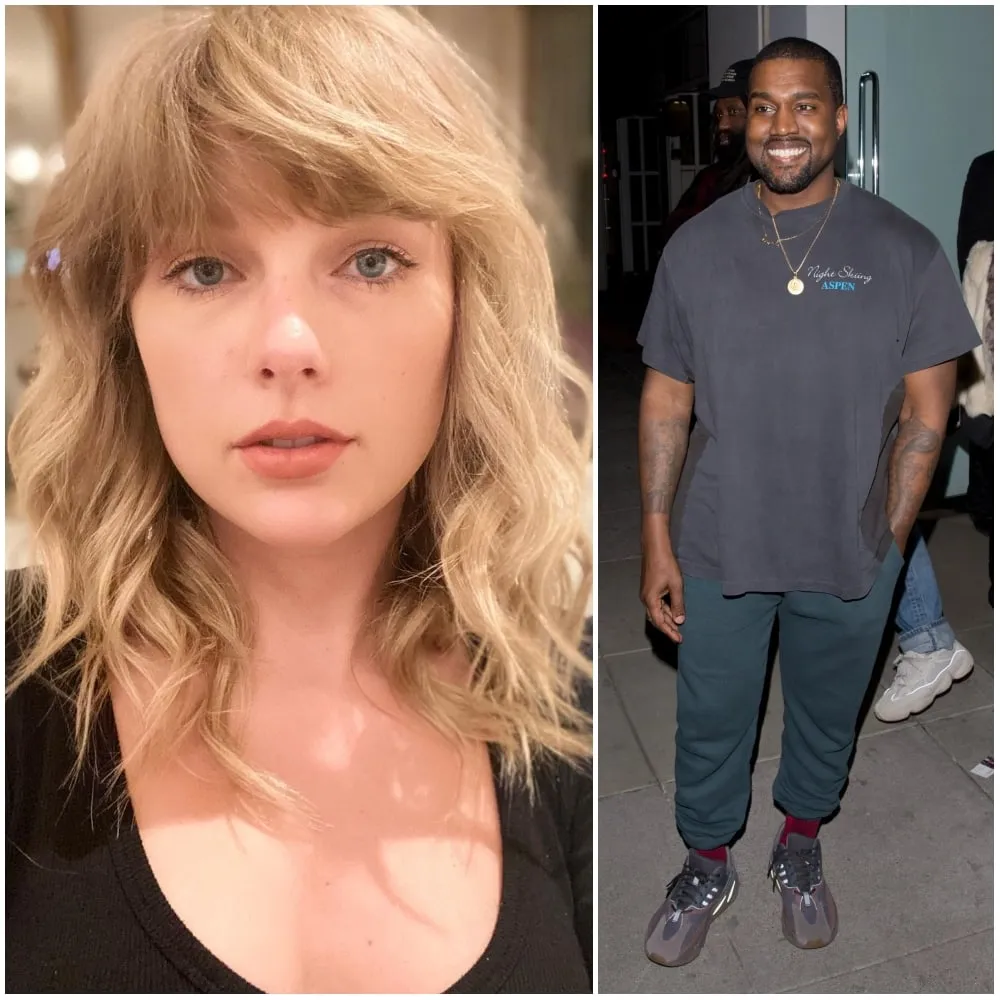 Converting! Wait…
Vin Diesel vs. The Rock
Vin Diesel and The Rock, who collaborated on The Fast and the Furious films, appear to have encountered some negative conflict while filming. Although the particular cause of the argument was never officially resolved, numerous remarks were made on social media hinting at a situation where one of the performers acted in an improper way.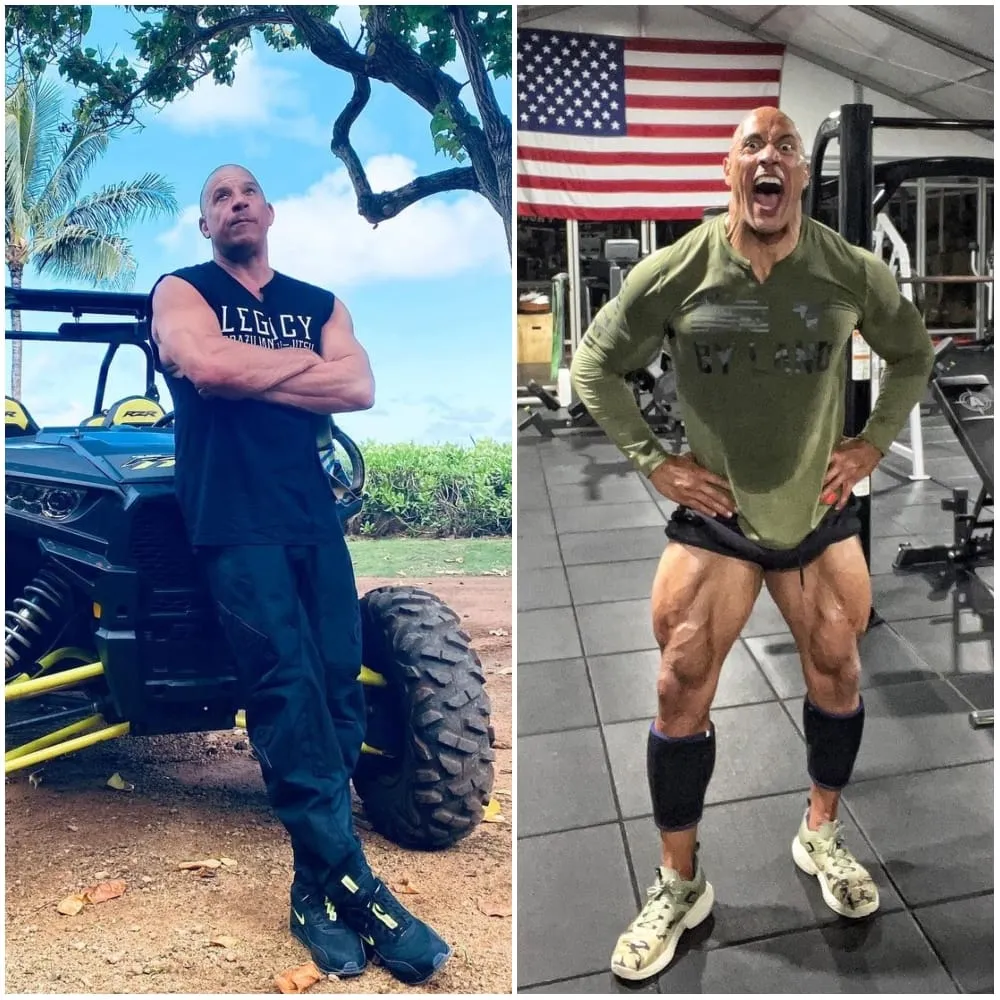 Both Vin Diesel and The Rock appear to have let go of their feud in 2019, and it seems that they have removed any evidence of it from their social media platforms.
Jennifer Lopez vs. Mariah Carey
Mariah Carey, a renowned artist and influential personality in the world of pop culture, had planned to incorporate a sample into her upcoming music release.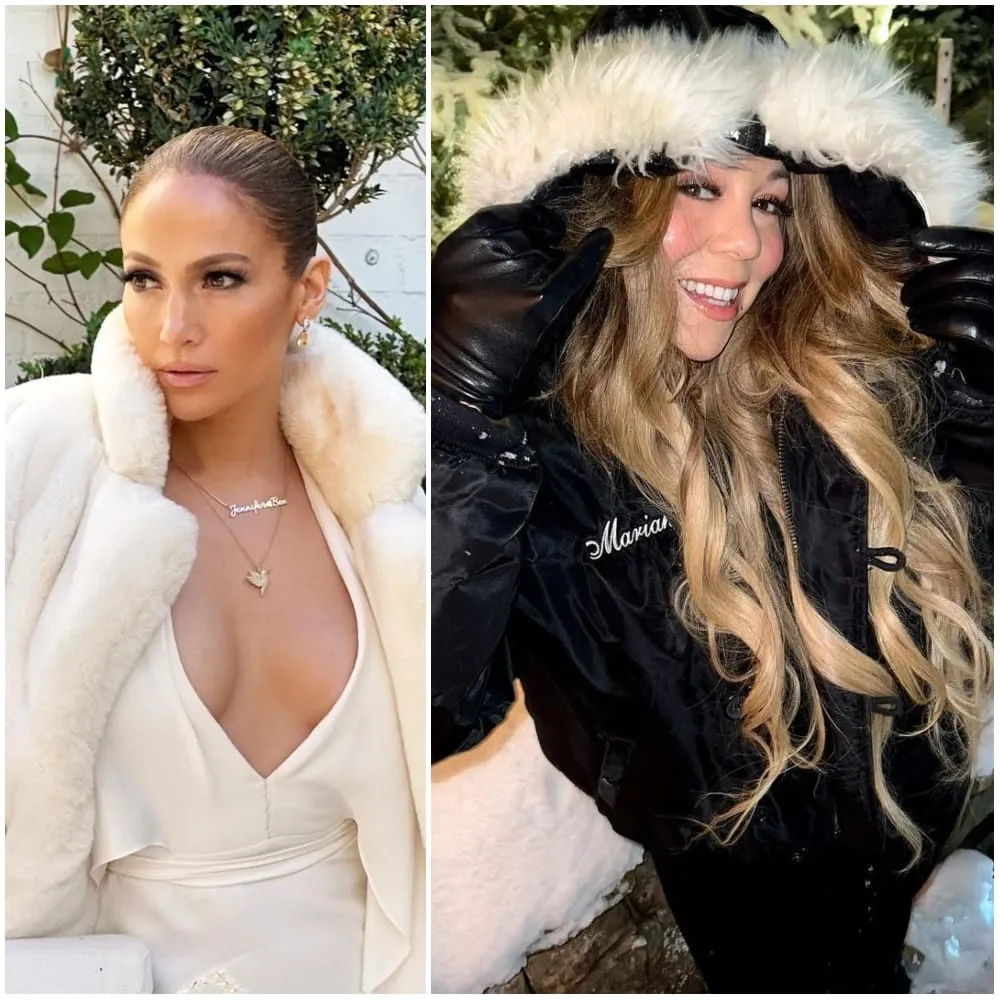 Mariah stated that Jennifer Lopez, who is also a musician and well-known personality in popular culture, utilized the same sample as her and hastily released the song before Mariah could. When Mariah was enquired about her thoughts on J-Lo, she replied with a straightforward "I am not acquainted with her," implying that she doesn't have a relationship with her. It's a clear indication of distancing oneself from someone who has caused harm.
Grimes vs. Azealia Banks
The plan was for Azealia Banks and Grimes to work together on a song. Azealia Banks travelled to Los Angeles with the intention of meeting Grimes at Musk Mansion where she was residing with her husband, Elon Musk. However, upon arrival, Azealia Banks discovered that Grimes wasn't present in the residence.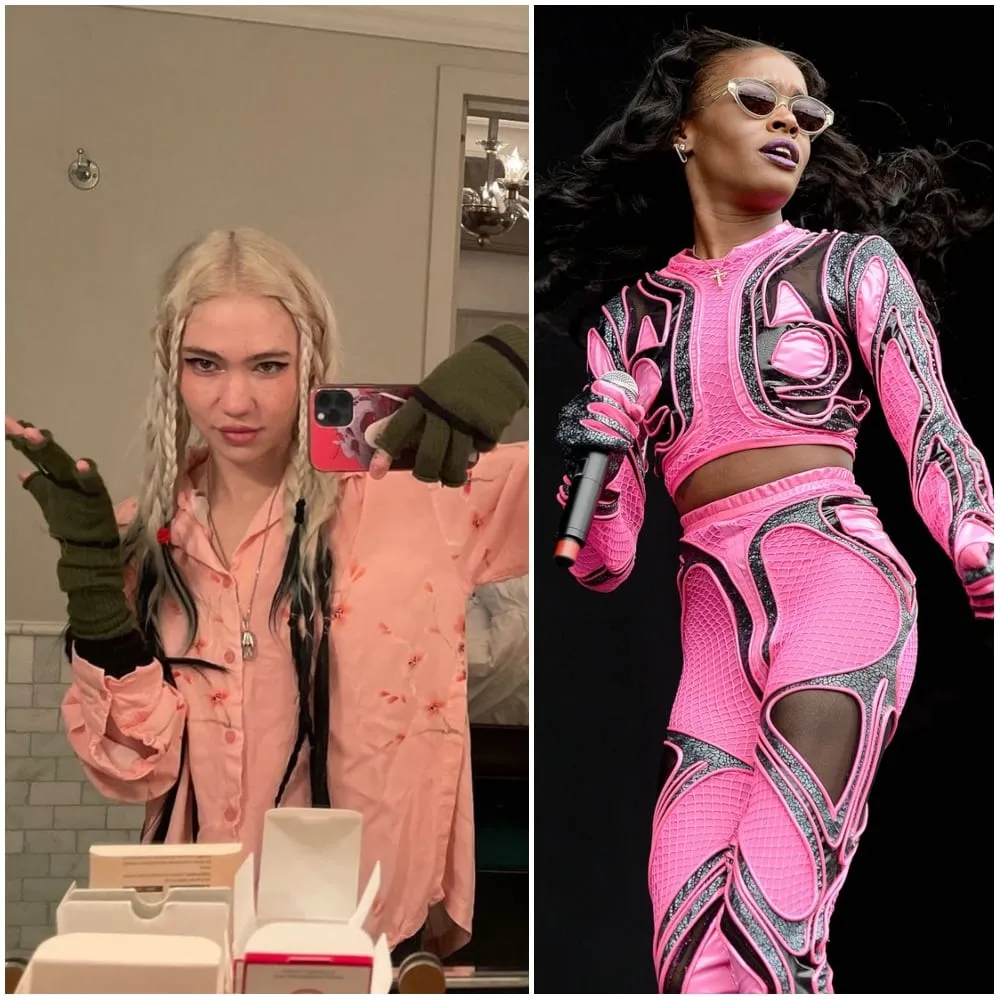 Azealia Banks had to wait for Grimes at the meeting but she did not arrive. Azealia expressed her frustration on social media and alleged that Grimes had an unpleasant odor, comparing it to that of a roll of nickels.
Will Smith vs. Chris Rock
During the 2022 Academy Awards, Chris Rock appeared onstage to present an award. As expected, he gave a brief address to the audience, which included some humorous comments directed at Jada Pinkett Smith, particularly about her short hairdo.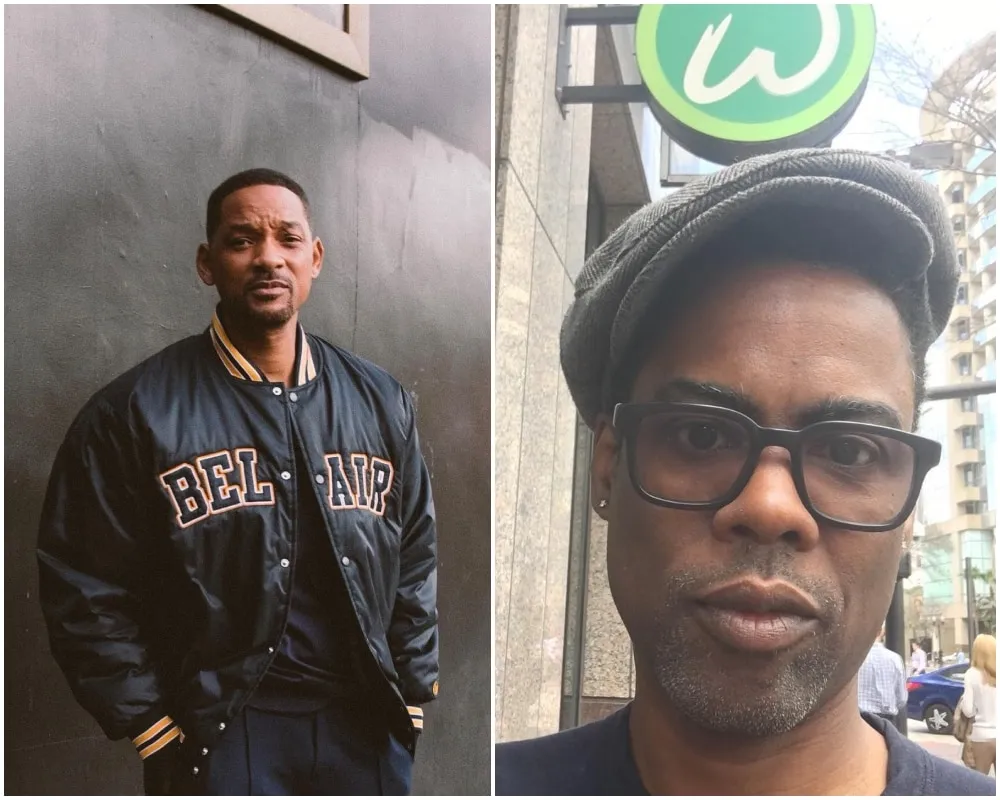 It seems that Will Smith was very displeased as he shouted at the comedian and even physically hit Rock on stage. Though Smith has attempted to make amends, Rock doesn't appear to be interested in forgiving him just yet.
Britney Spears vs. Jamie Lynn Spears
The #FreeBritney campaign emerged and gained popularity soon after distressing information about Britney Spears' conservatorship was revealed to the public. For more than ten years, her father had dominance over her life, and as per Britney's own account, her sister Jamie Lynn disregarded the issue and failed to take any action.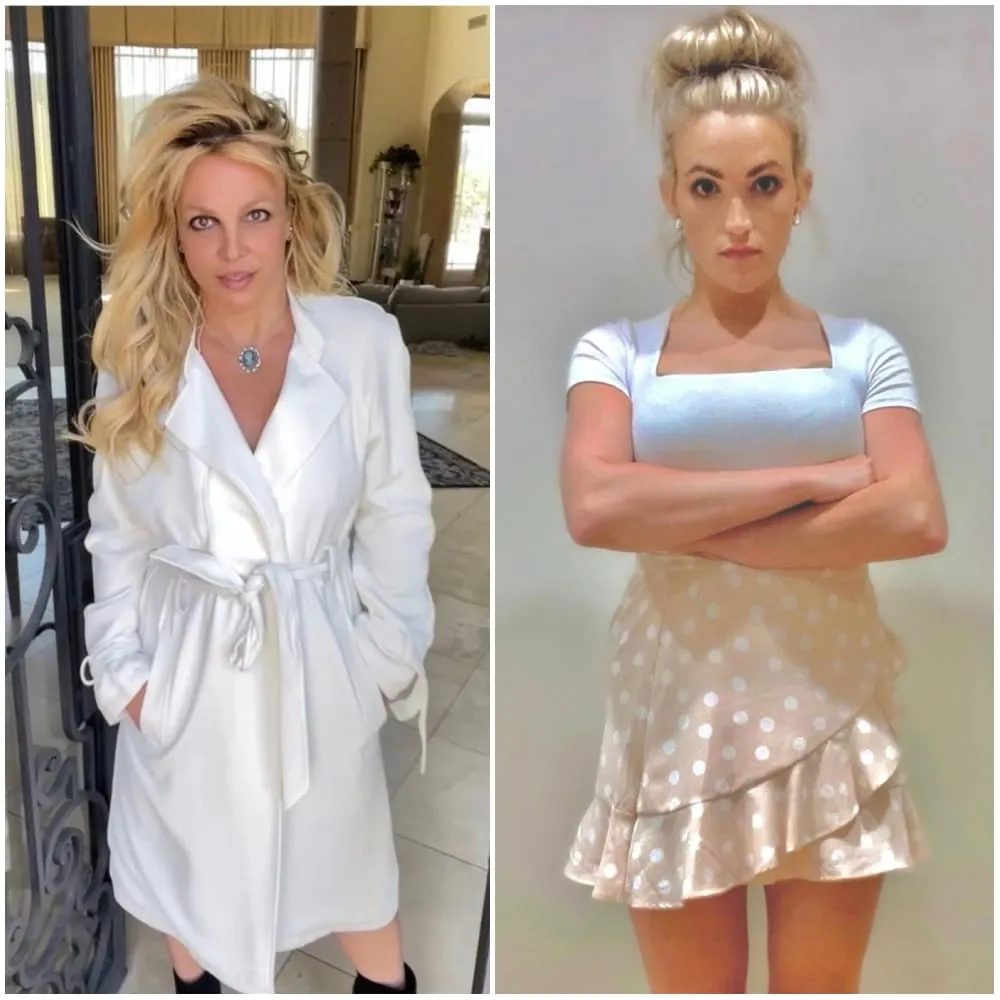 As the public followed Britney's situation, anticipating a favorable resolution for the celebrity, it became evident how much harm her own family had inflicted. Britney expressed that her supposed support network had caused her significant pain. This certainly appears to be quite the familial ordeal.
Zayn Malik vs. Gigi Hadid
Zayn Malik, a musician and former member of One Direction, and model Gigi Hadid had a tumultuous relationship for many years that was on and off. It is said that an argument erupted between Zayn and Gigi's mother, Yolanda Hadid, when she unexpectedly entered their home.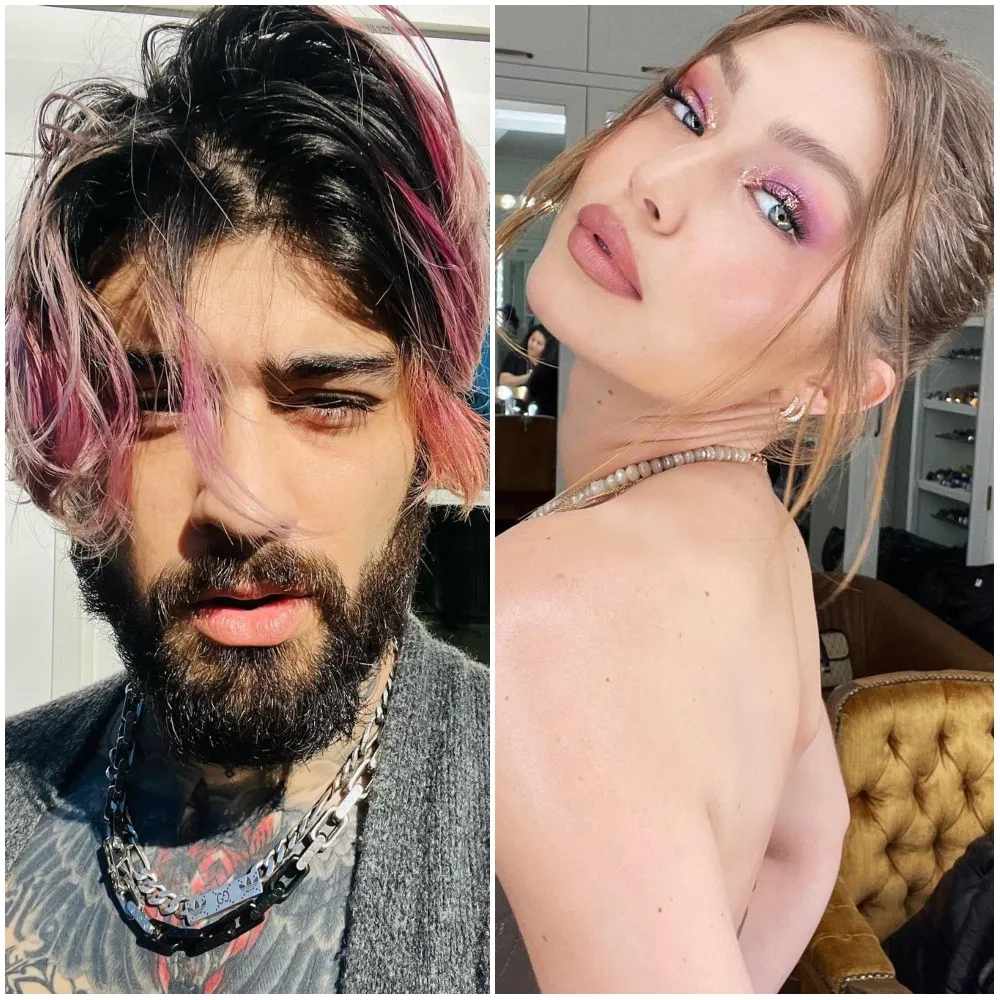 Despite Zayn's strong denials and his plea of no contest, he agreed to undergo 360 days of probation and participate in anger management and domestic violence programs. The incident caused his breakup with Gigi, but the two work together to co-parent their child.
Cardi B vs. Nicki Minaj
In 2018, New York Fashion Week was attended by both rappers Cardi B and Nicki Minaj. Allegedly, this may have motivated Cardi B to throw a shoe at Minaj while she was in conversation with someone else, according to a source.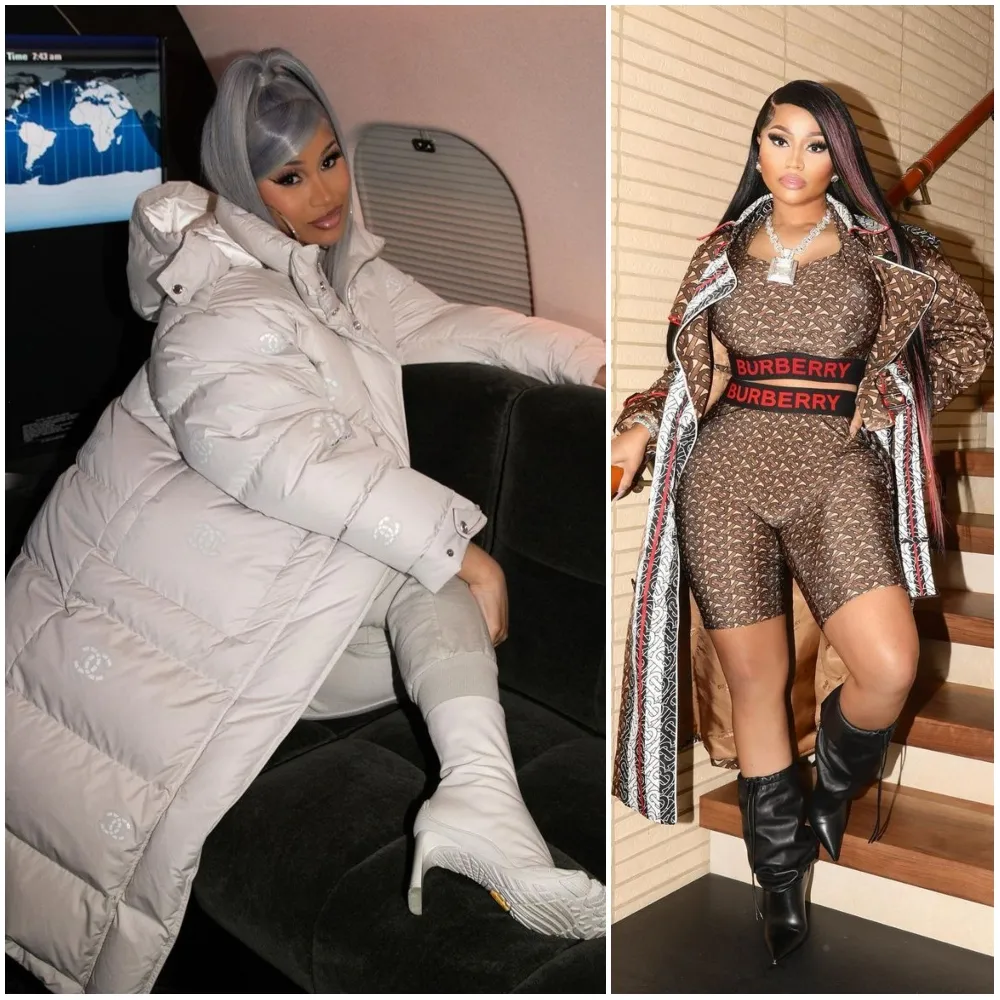 Fortunately, Minaj's security personnel interfered just in time, although Minaj ended up with a bruise. As expected, Cardi B was requested to exit New York Fashion Week following the incident, but the true cause of the fight remained undisclosed.
Eminem vs. Machine Gun Kelly
Both of these rappers have a prior experience of publishing tracks to insult one another. What was the origin of their conflict? MGK shared a post on Twitter, where he complimented Eminem's teenage daughter's appearance.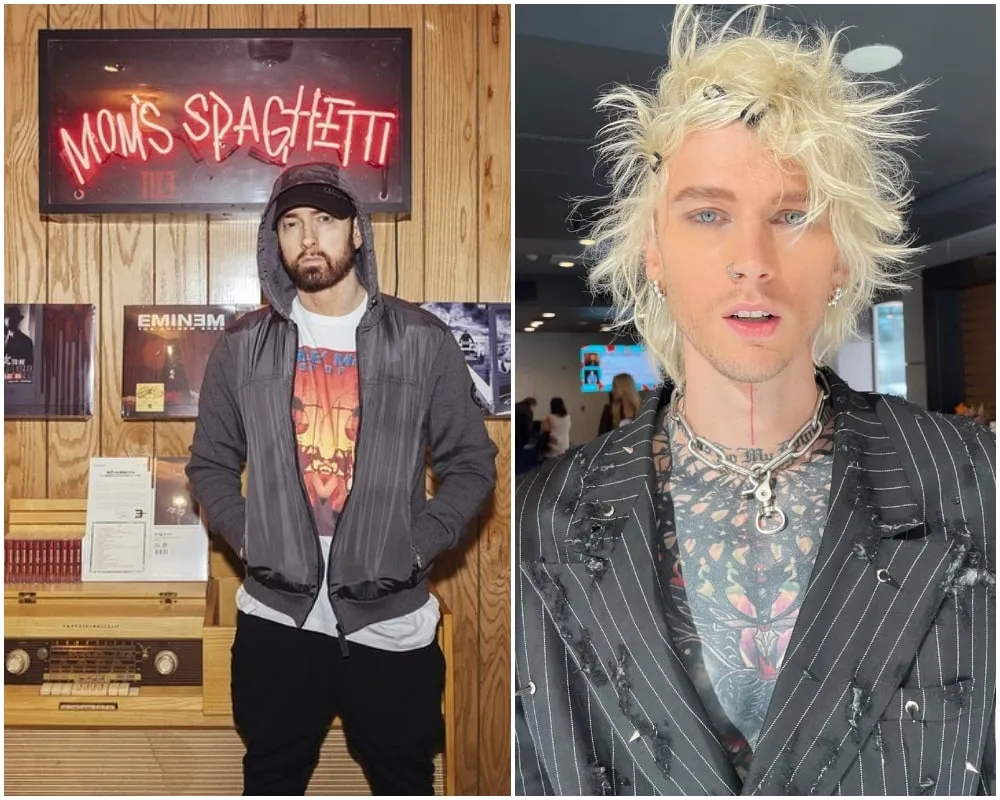 There are several diss tracks such as Eminem's "Not Alike" about MGK and MGK's "Rap Devil" in response to Eminem's "Rap God". This is just a few examples. Last year in 2020, Eminem released "Unaccommodating" where he confessed that he has forgiven MGK.
Madonna vs. Lady Gaga
Madonna accused Lady Gaga of drawing inspiration from her song "Express Yourself" for her own hit "Born This Way". Madonna's track had already been out for 22 years at the time of Gaga's release. Although some people believe that imitation is a form of praise, Madonna did not share this sentiment.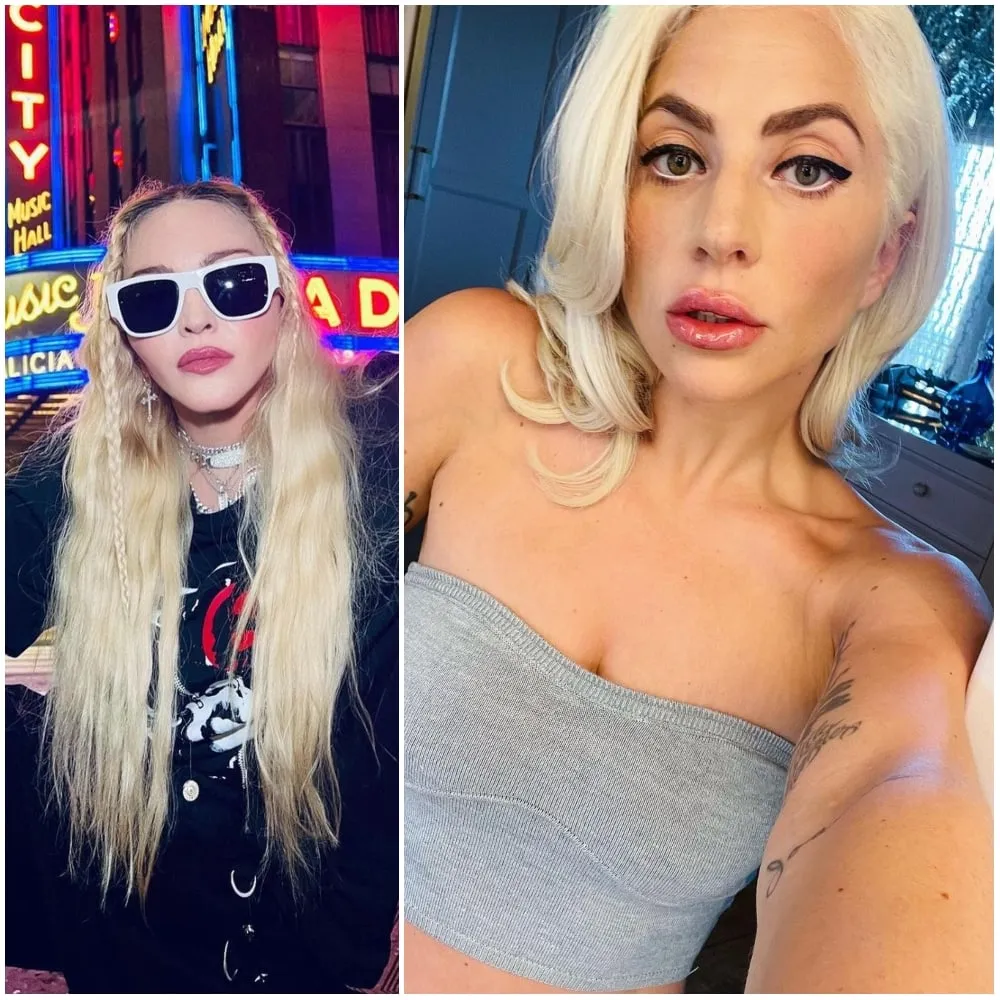 Gaga responded to Madonna by stating that some individuals tend to feel more confident by belittling, ridiculing or mocking others, or even making a satire out of their creations.
Jennifer Aniston vs. Kanye West
Jennifer Aniston expressed her displeasure when Kanye West declared himself as a candidate for the Presidential Elections of the United States in 2020. She advised the American voters to make sensible and well-informed decisions during the election and refrain from voting for an unqualified celebrity candidate as a mere prank.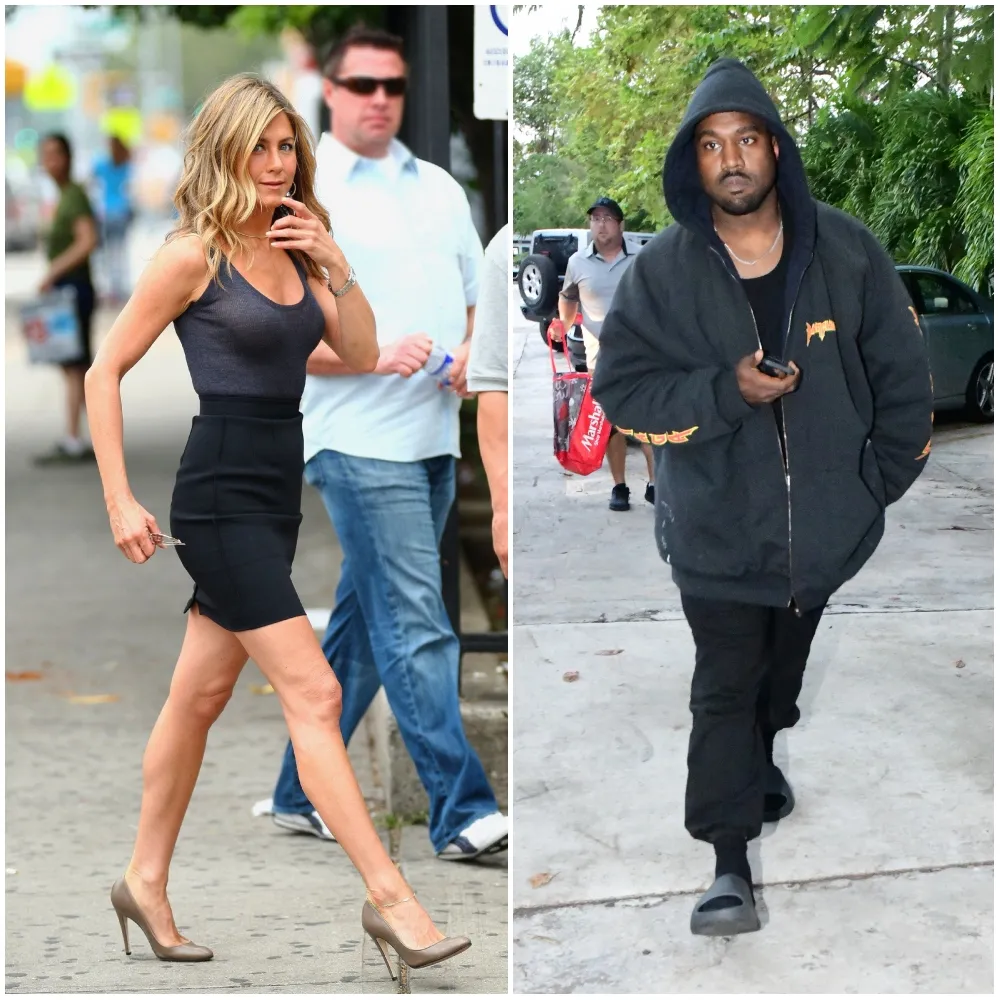 Kanye was disturbed by Aniston's remarks and responded by stating that even "Friends" wasn't amusing. He aimed to be viewed as a credible contender, but Aniston was doubtful about his qualifications.
Justin Bieber vs. Orlando Bloom
In 2014, Justin Bieber's flirty text messages with Miranda Kerr, a Victoria's Secret supermodel and Orlando Bloom's spouse, were discovered. Despite the fact that she was married, Justin appeared unfazed. However, things took a turn for the worse when he unexpectedly encountered the couple while on vacation, and the situation became controversial.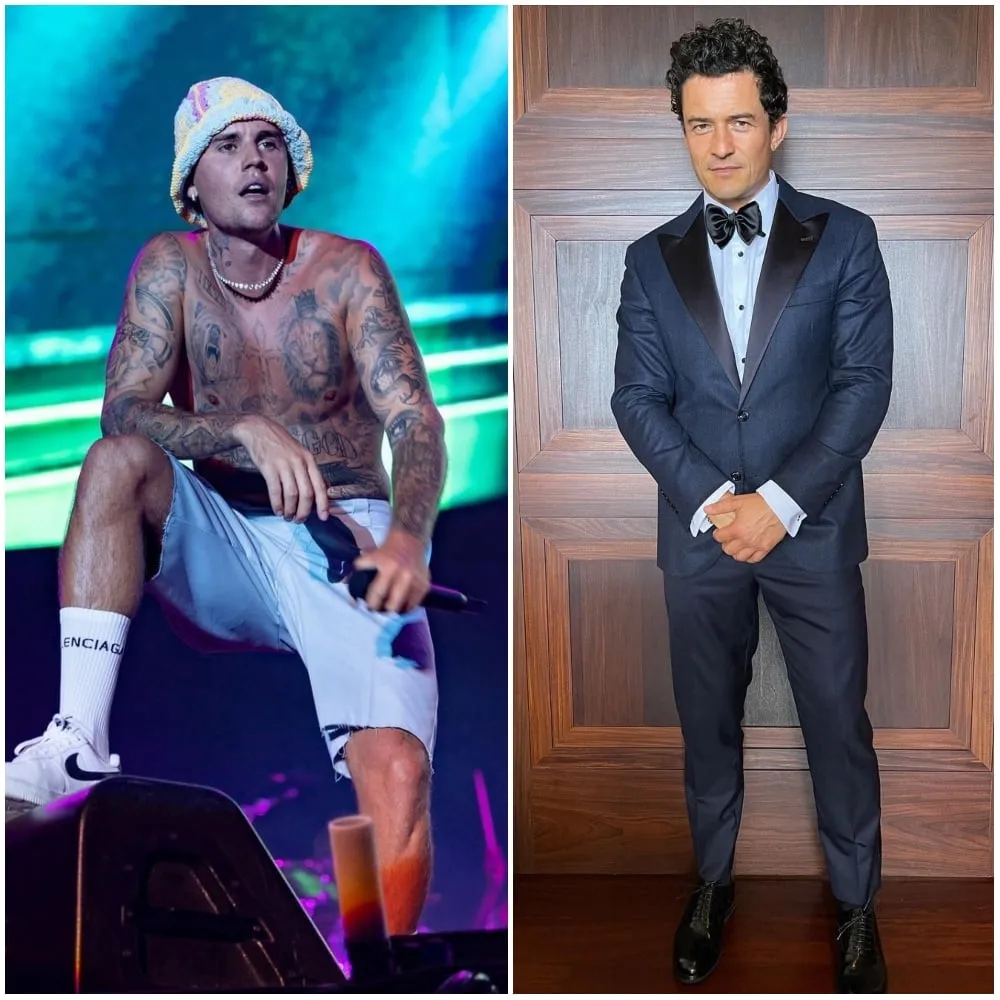 At a party in Ibiza where many celebrities were present, Orlando approached Justin and attempted to physically harm him. However, Justin managed to avoid it by ducking and his security guards quickly intervened. Orlando seemed displeased with Justin's actions.
Lily Allen vs. Courtney Love
According to reports, Courtney Love reportedly spread rumors at the 2010 Brit Awards in London that Lily Allen had reserved all the Chanel clothing for the event. The dispute continued on social media platform Twitter, where Lily Allen stated that she didn't engage in an argument with Courtney Love because she doesn't intentionally pick on mentally unstable elderly ladies.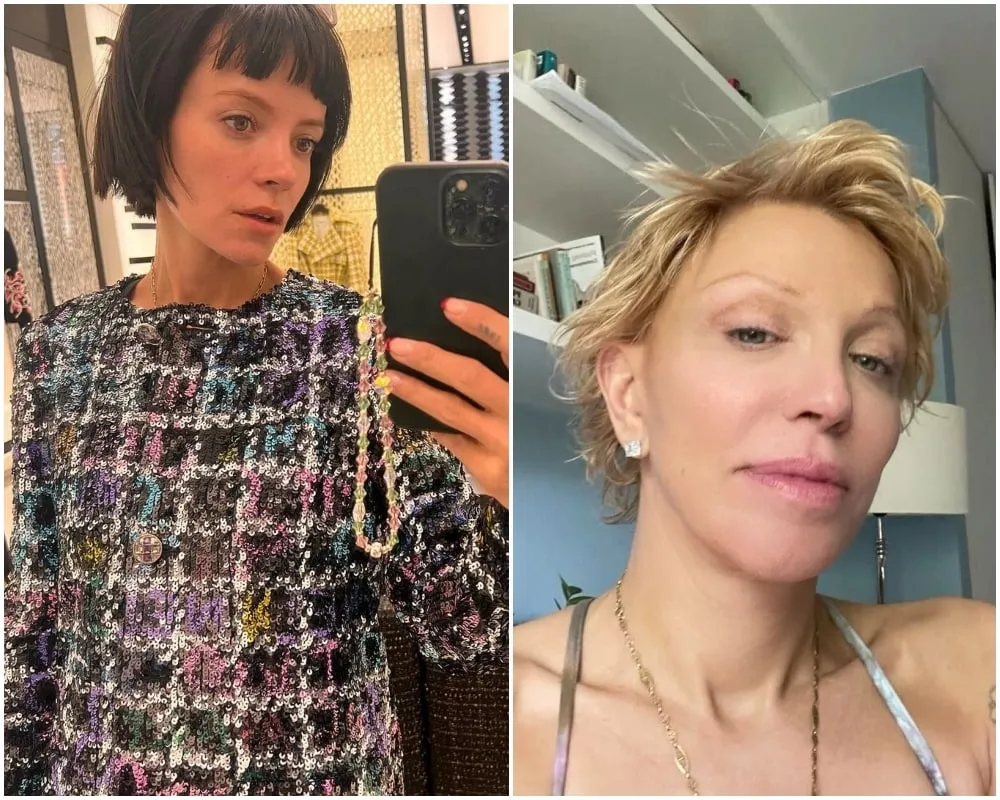 Next, the two females started sharing unfavorable photographs of each other. Courtney even resorted to criticizing Lily's body, accusing her of acting inappropriately in her home. As a result of Courtney's accusations, Lily posted an apology tweet.
Chris Brown vs. Drake
In June of 2012, there was a big altercation between Chris Brown and Drake which led to five people getting minor injuries. As a result, Brown had a noticeable cut on his chin. The fight began when Brown sent a bottle of alcohol to Drake's table.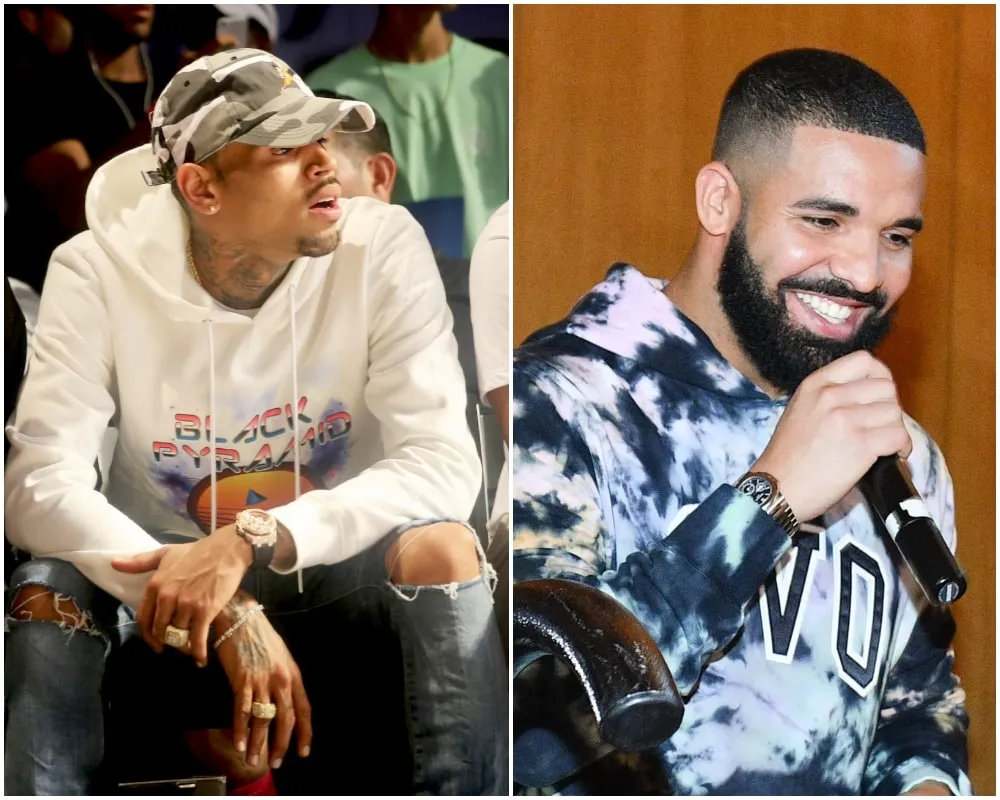 Drake returned the bottle to the Look at Me Now rapper and included a message implying that he had a romantic relationship with Rihanna, who happens to be Brown's former partner. Brown's unfavorable reaction during the altercation strongly suggests that he was displeased with the situation.
Kanye West vs. Pete Davidson
Kim Kardashian started dating Pete Davidson shortly after her divorce from Kanye. However, Kanye had a hard time letting go and didn't approve of his ex's new relationship. Instead of keeping his emotions to himself, he chose to instigate a social media attack.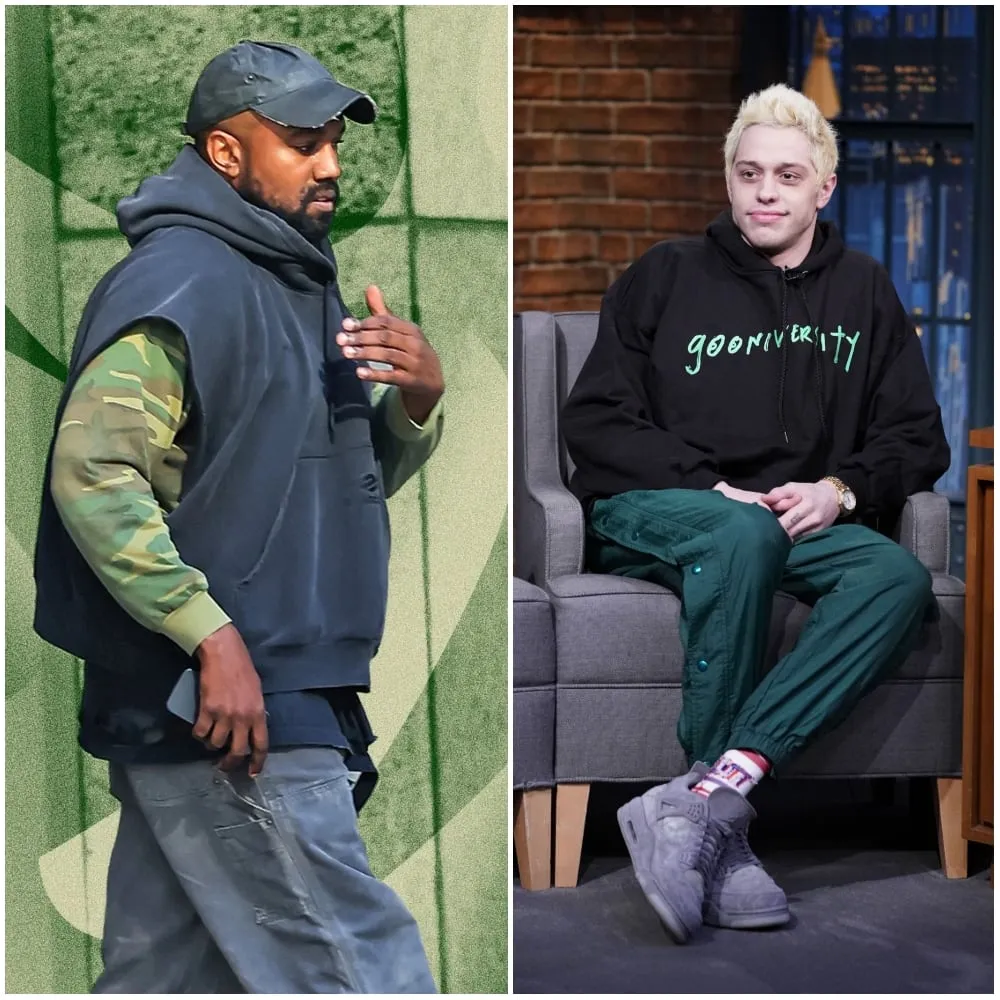 He repeatedly targeted Pete with online abuse, even revealing personal details about his ex-wife and her new partner. It became so extreme that the rapper was temporarily prohibited from using Instagram. In response, Pete sent a private message to Kanye expressing his opposition to being treated in such a manner and stating that he would no longer remain silent.
Snoop Dogg vs. Iggy Azalea
Following Snoop Dogg's inappropriate post that compared Iggy Azalea to an African-American woman with albinism, the Australian rapper responded with her own attack. However, the dispute continued as Snoop shared images drawing comparisons between Azalea and Marlon Wayans' character from the movie "White Chicks." This exchange was certainly hurtful!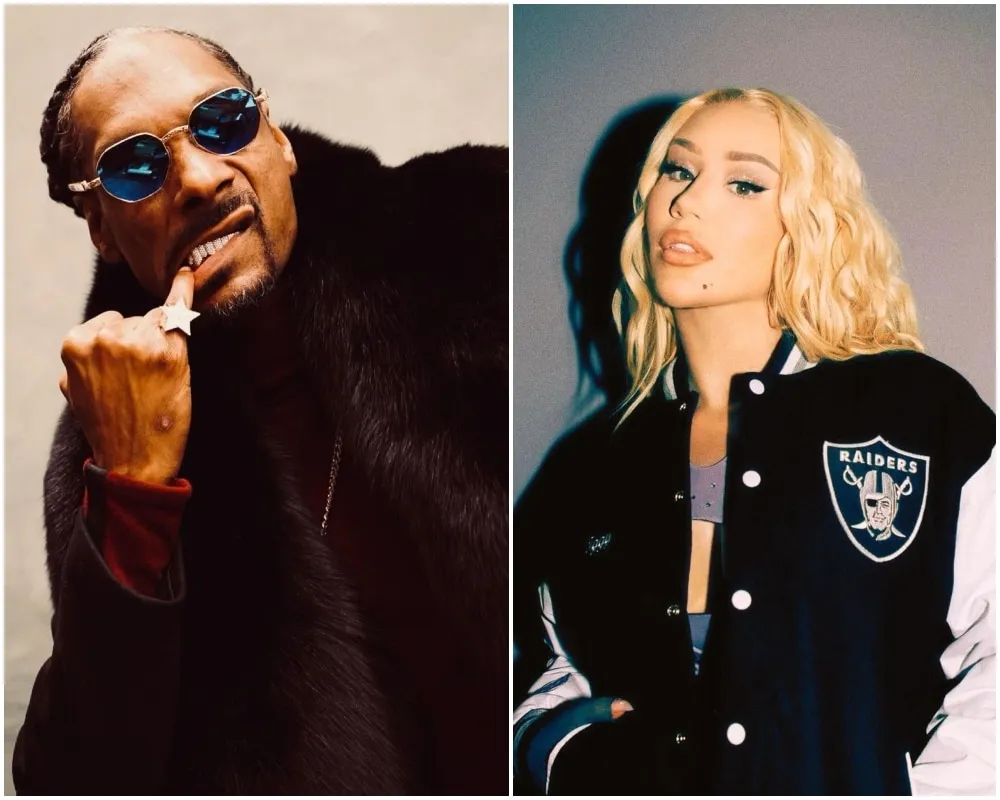 The disagreement kept intensifying from that point. However, Snoop Dogg eventually said sorry and Iggy agreed. It was uncovered that T.I., who collaborated with Iggy, intervened in the quarrel and helped both artists reconcile.
Elton John vs. Madonna
Elton John accused Madonna of lip-syncing and not deserving some of her awards due to lack of talent. Madonna did not respond directly, but had her publicist issue a statement denying lip-syncing and condemning talking negatively about other artists.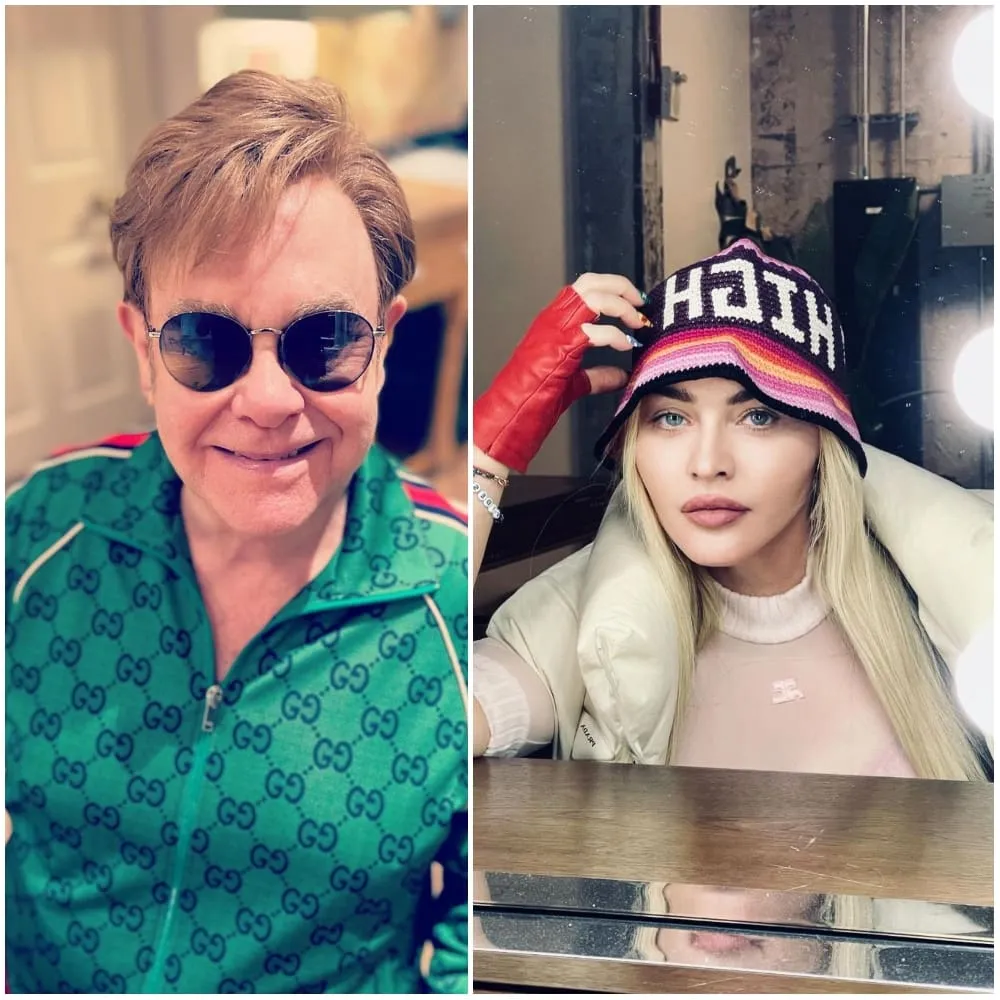 During one of her concerts, she made a humorous remark about the situation by saying that she would like to dedicate the next song to someone who is a great admirer of it, Mr. Elton John.
George Clooney vs. Russell Crowe
Clooney stated in Esquire's December 2013 edition that he was owed an apology from Crowe after Crowe claimed that Clooney, Harrison Ford, and Robert De Niro were sellouts.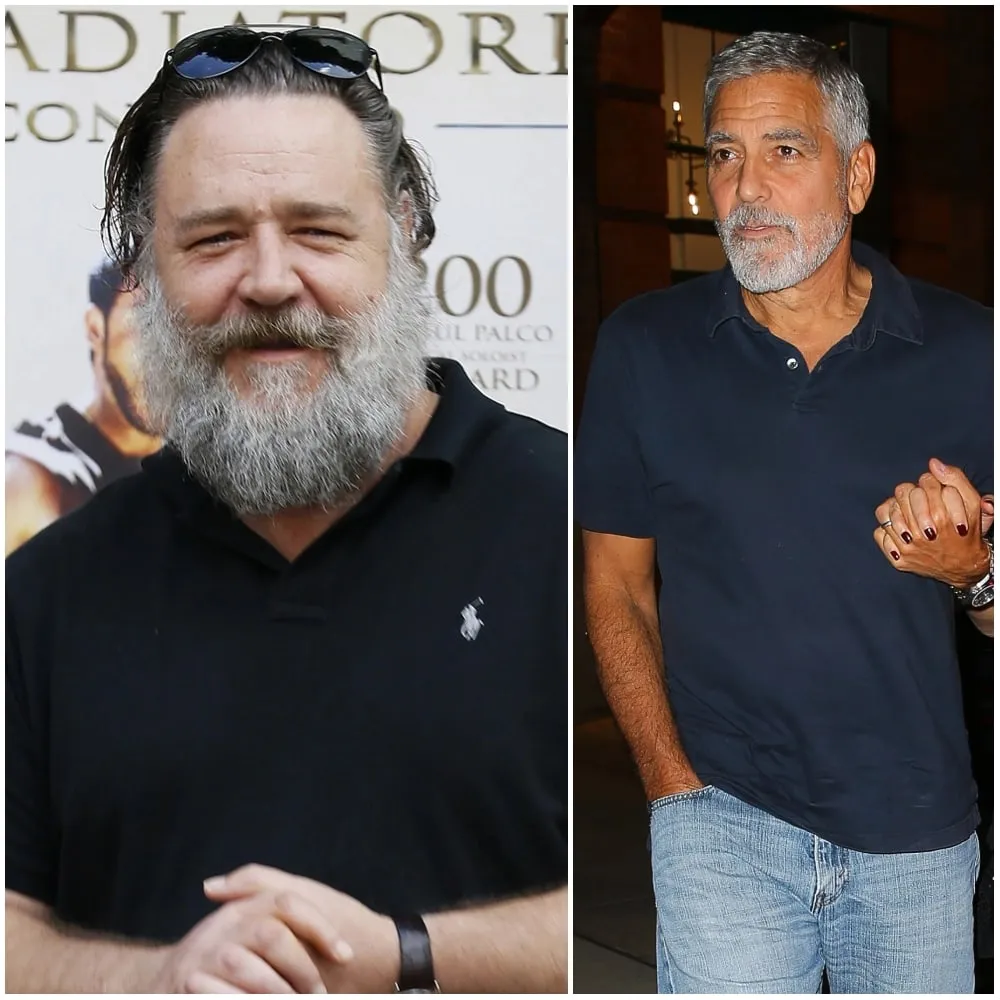 Clooney made a humorous remark that he was forming a music group together with Ford and De Niro. Crowe reportedly replied, criticizing him as a Frank Sinatra imitator. Later, Crowe apologized, although Clooney interpreted it as insincere because of a possible misquotation. Clooney remarked, "He claimed to have been quoted incorrectly, but I didn't believe him."
Jameela Jamil vs. Cardi B
Jameela Jamil, the actress who is known for being vocal about problematic or offensive behavior of companies and celebrities, did not spare Cardi B who advertised a tea product promoting weight loss through laxative effects.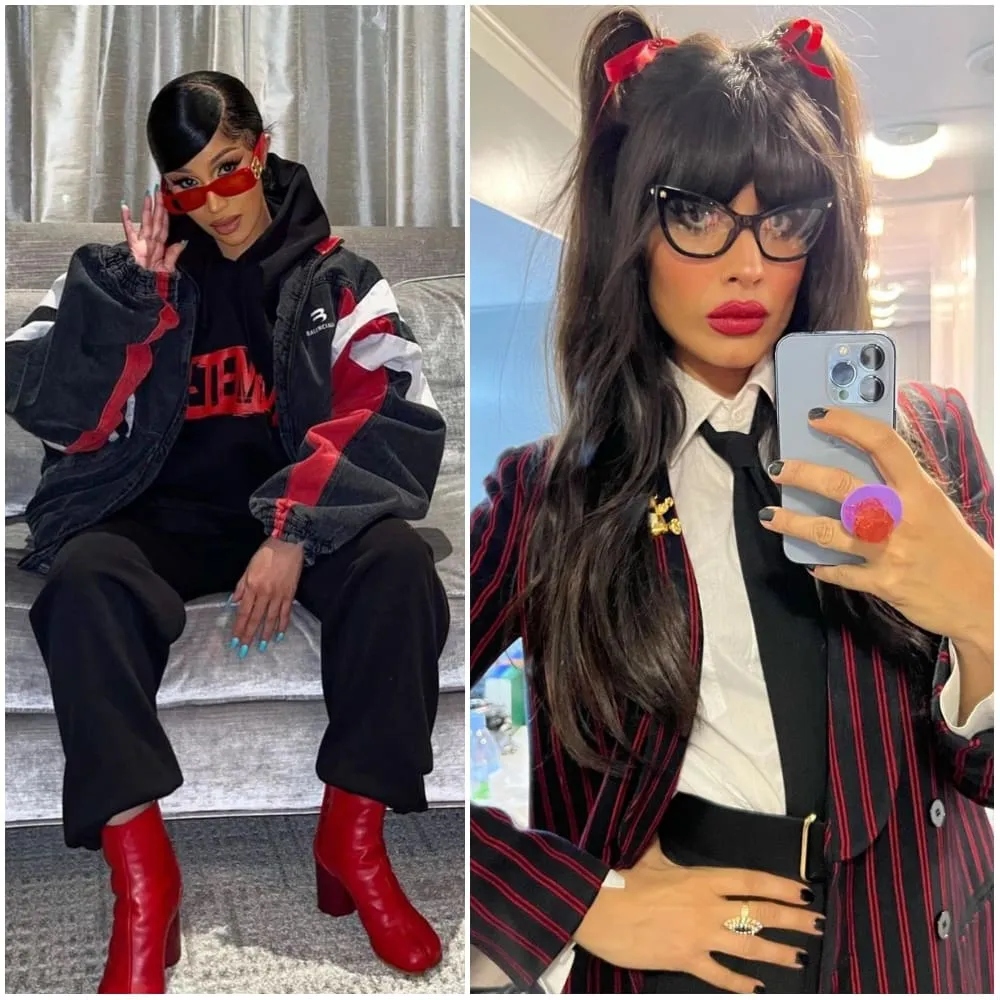 Jameela Jamil spoke straightforwardly when she explained the negative impacts and risks of the promoted tea. Additionally, she stated that by endorsing the product, Cardi B displayed a lack of concern for her supporters and solely prioritized financial gain.
Kim Cattrall vs. Sarah Jessica Parker
Kim Catrall's character and Sarah Jessica Parker's character are portrayed as close friends in Sex and the City. However, in real life, their relationship has been quite turbulent. Kim openly disclosed that she never had a fondness for Sarah and stated that people are unaware of the real Sarah.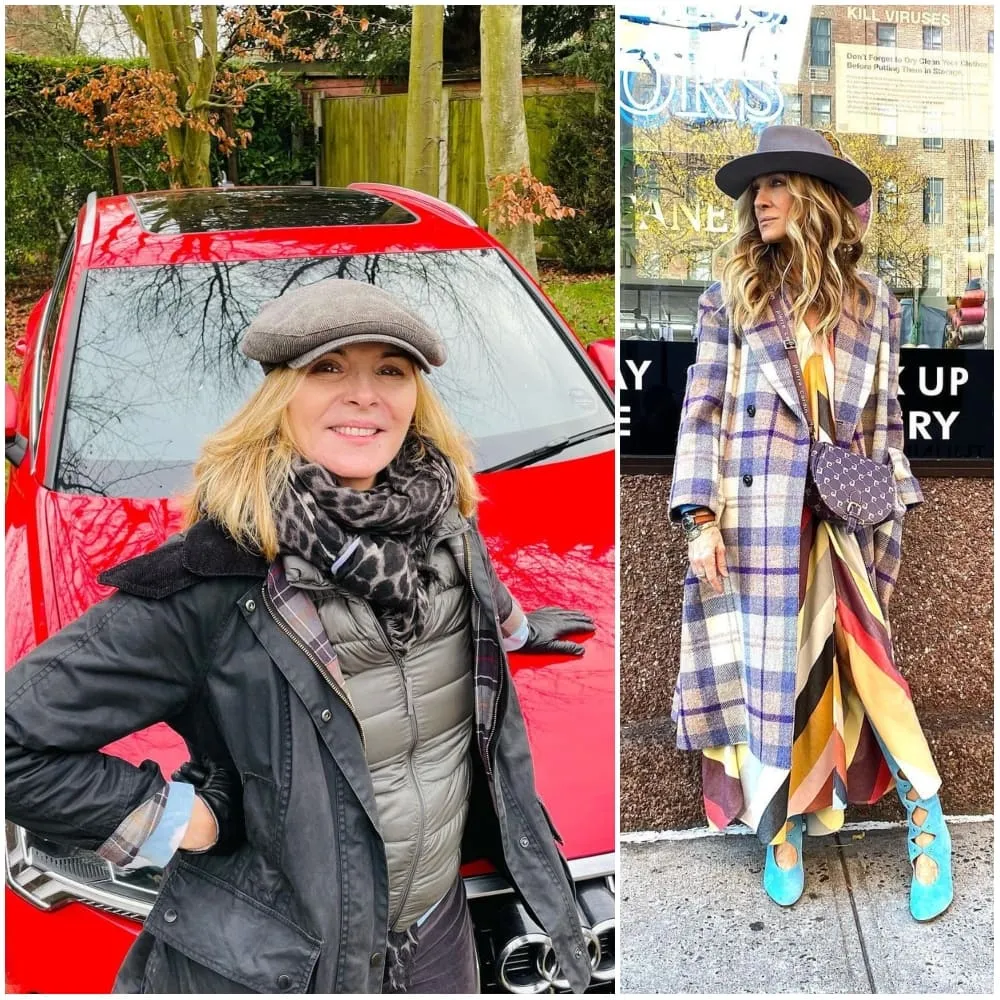 She alleged that she was a victim of bullying during the filming of the show. Due to her negative comments regarding SJP and the rest of the team, Kim was not asked to return for the reboot series, And Just Like That.
Taylor Swift vs. Katy Perry
Even though the two had initially been friends, it was inevitable that their relationship would eventually deteriorate. The root of the problem began when three backup dancers who were working with Swift on her Red tour suddenly left to join Perry on her tour.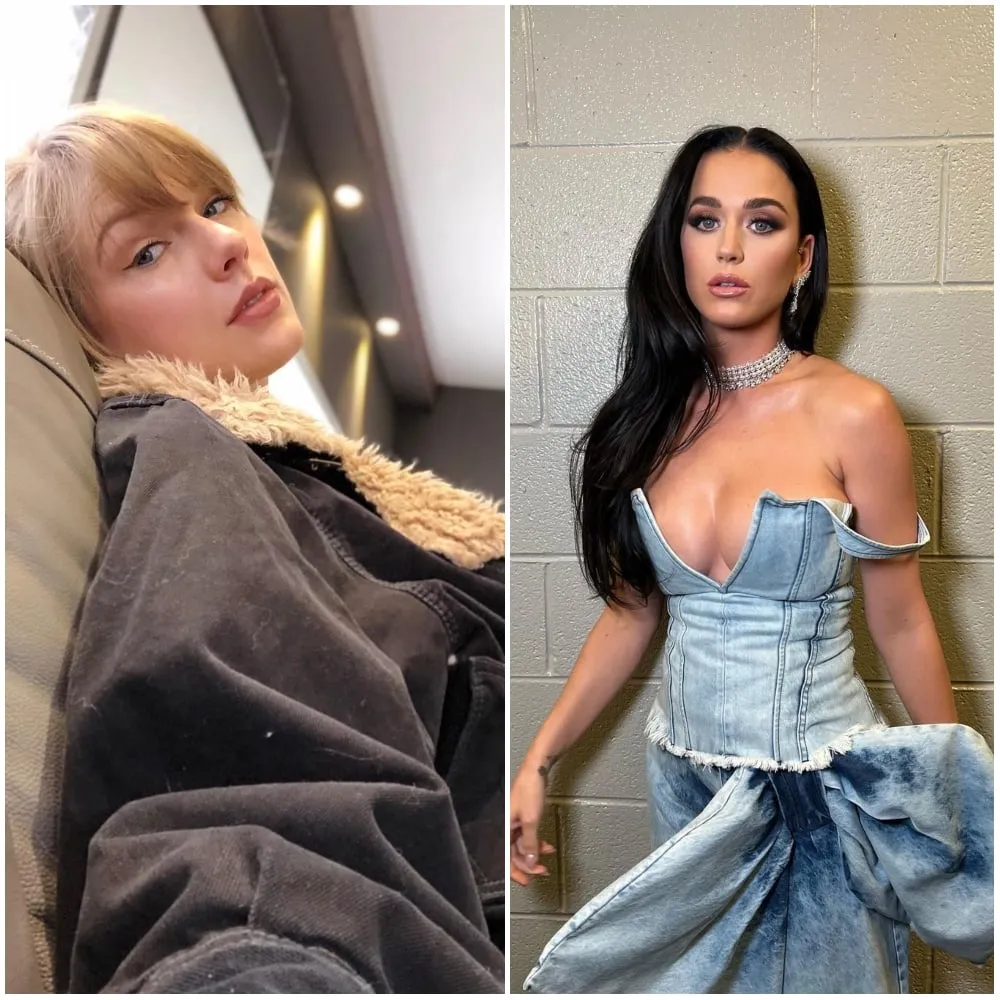 Swift reportedly composed a tune titled "Bad Blood" that supposedly pertains to her association with Perry. Although Swift never acknowledged that it was precisely about Perry, she has given clues of it. After many years of discord, the two vocalists ultimately reconciled in 2018.
Ariana Grande vs. Piers Morgan
Piers Morgan, who is a news broadcaster, has a reputation for making unkind remarks towards female celebrities. When he suggested that female celebrities only achieve richness and fame because of their physical appearance rather than their skills, Ariana Grande felt the need to confront him for his insulting and misogynistic statement.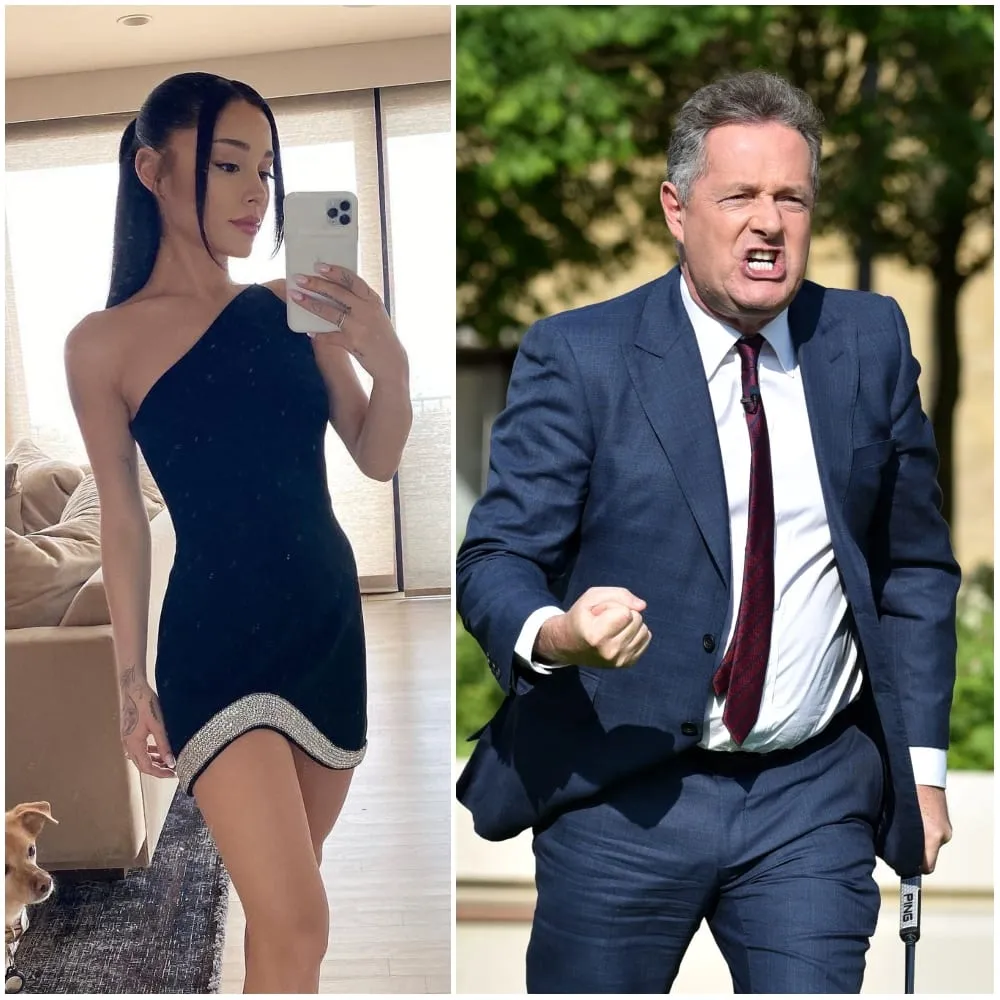 According to her, females have the option to possess sensuality as well as skills. During their chance encounter at a restaurant, they opted to join each other and have a conversation. Their social media posts indicate that they have reconciled.
Christina Aguilera vs. Kelly Osbourne
In a segment of E!'s Fashion Police in August 2011, Kelly Osbourne stated that Christina Aguilera had been calling her "fat" for years, even though she did not believe that she was that overweight. However, it is important to note that Kelly also made some derogatory comments about Christina's body.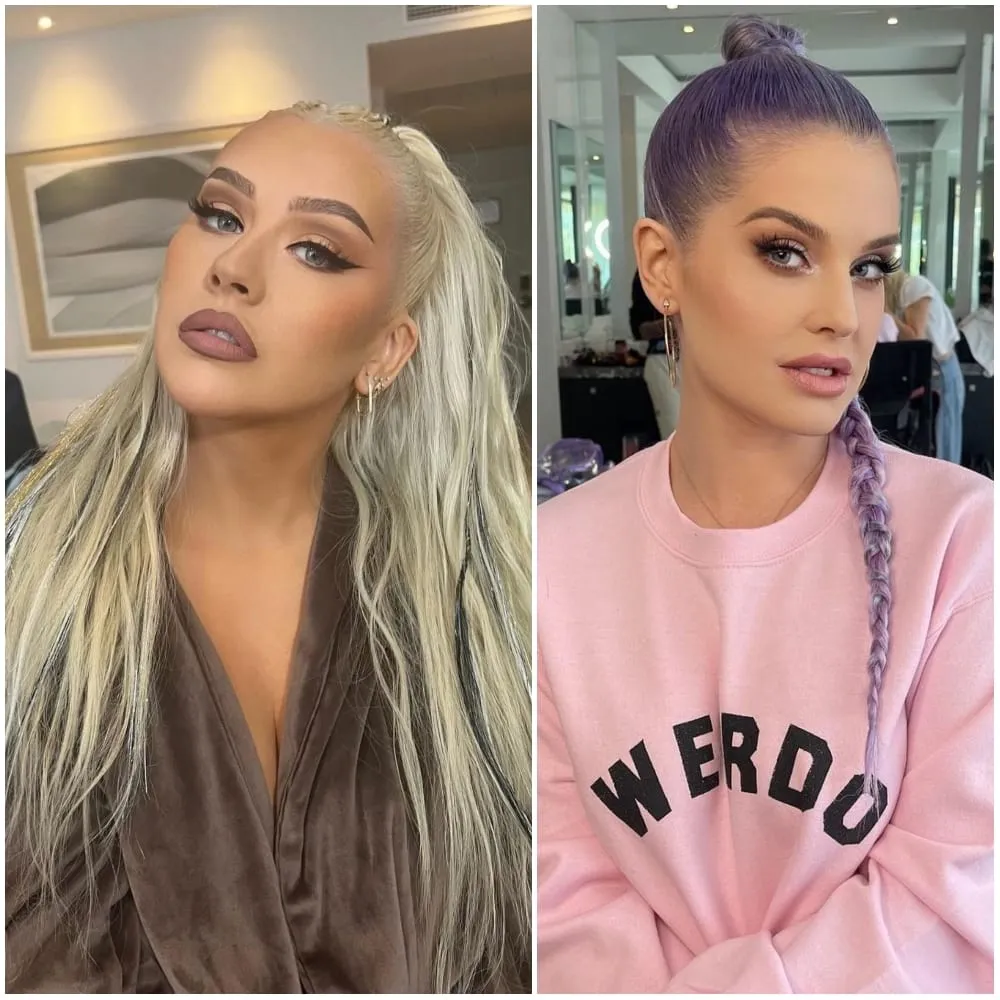 During a segment on his show a few months later, Andy Cohen asked Osbourne to mention three positive things about Aguilera. In response to this, Osborne stated that she thinks Aguilera is currently appearing more attractive, has a wonderful singing voice, and also has a very lovely son.
Khloé Kardashian vs. Tristan Thompson
For a number of years, this couple has been going through periods of breaking up and reconciling. When the news about Tristan Thompson's cheating became public, once again, it was not surprising that Khloé experienced a lot of emotional pain. In addition, the timing of this revelation could not have been more unfortunate.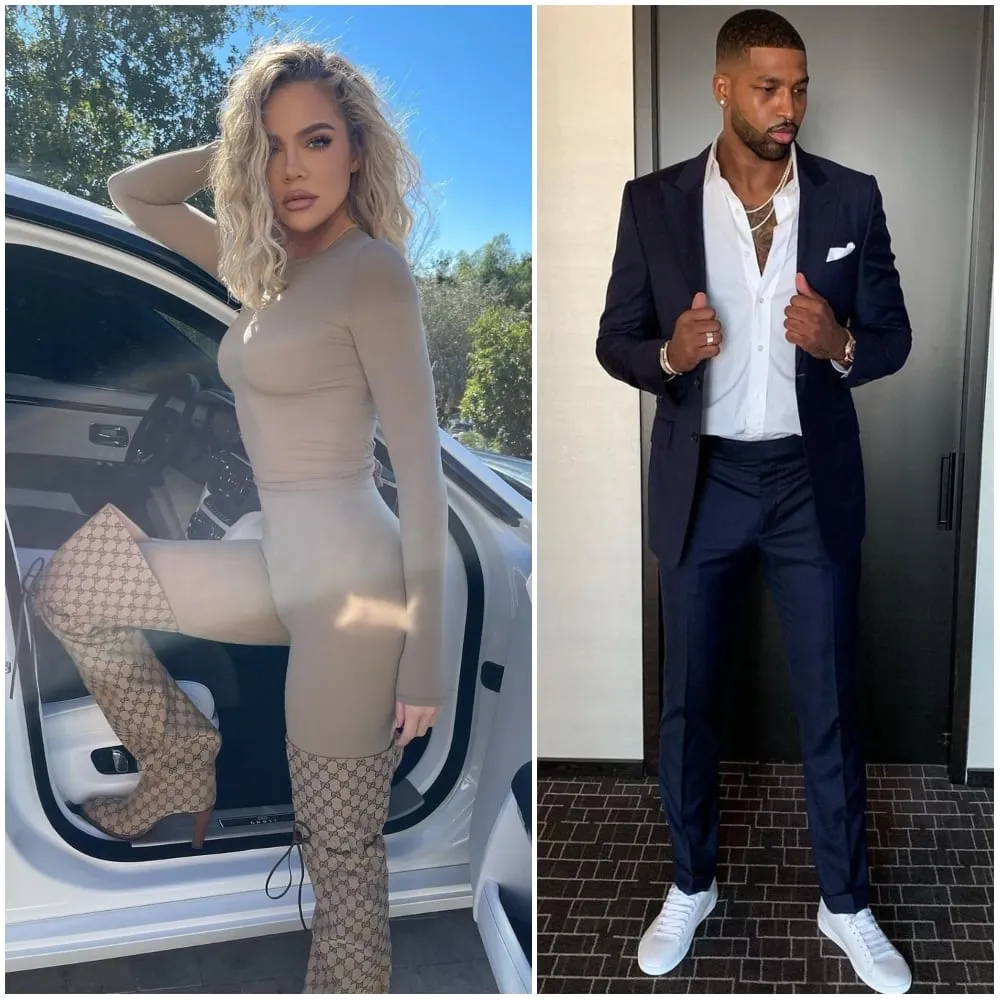 The news broke out a few weeks before the birth of their second child who was to be delivered through a surrogate. Despite their commitment to co-parenting, the two celebrities have parted ways romantically.
Kanye West vs. Drake
It is not uncommon for musicians to collaborate, particularly among notable figures in the industry. Kanye West and Drake had expressed interest in working together on a joint project, but their plans were cut short due to an early falling out. This began when Drake was seen socializing with Amber Rose, who had previously been romantically involved with Kanye West.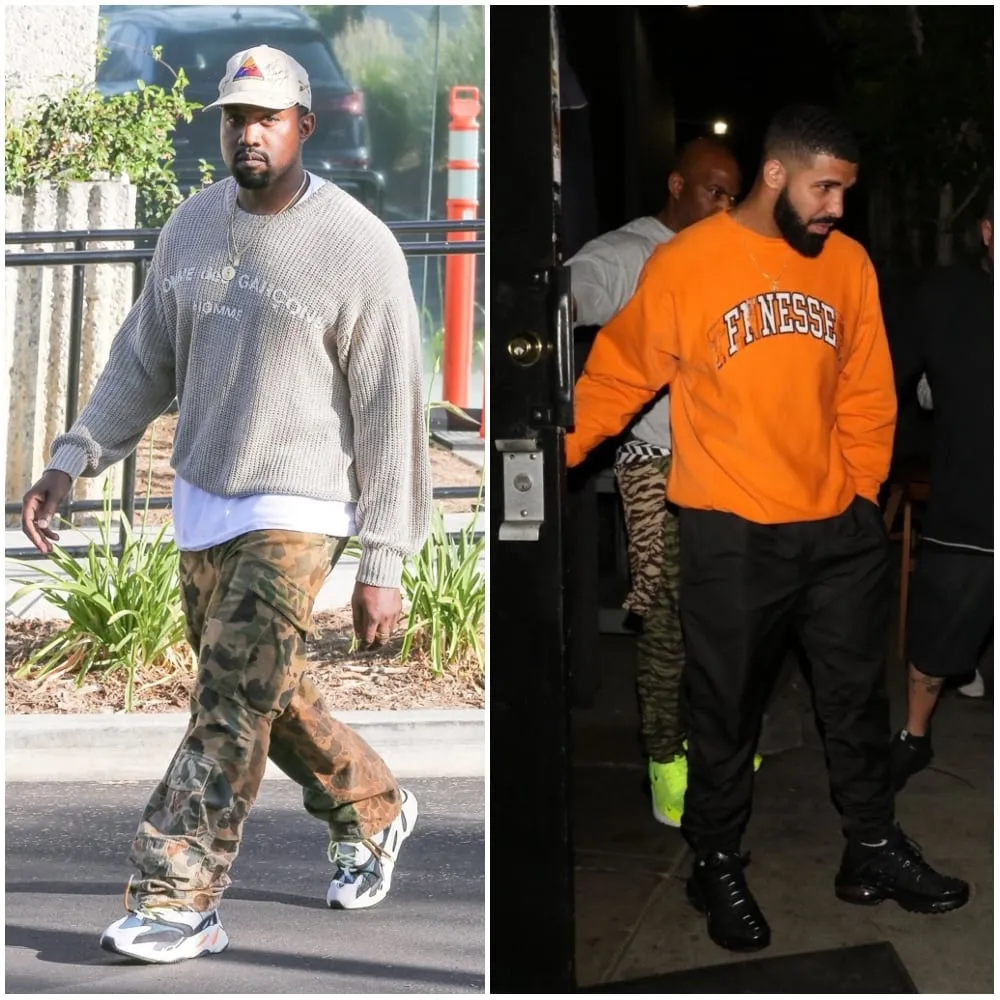 Afterwards, both of them have produced multiple songs that insult each other. Kanye went as far as posting on Twitter that Drake owes his career to him and should never dare to threaten him.
Paris Hilton vs. Lindsay Lohan
During the early 2000s, Paris Hilton and Lindsay Lohan were constant subjects of public attention and they were also known to be close buddies. Nonetheless, their companionship did not have a lasting effect as in 2006, Lohan was spotted by photographers spending time with one of Hilton's former partners.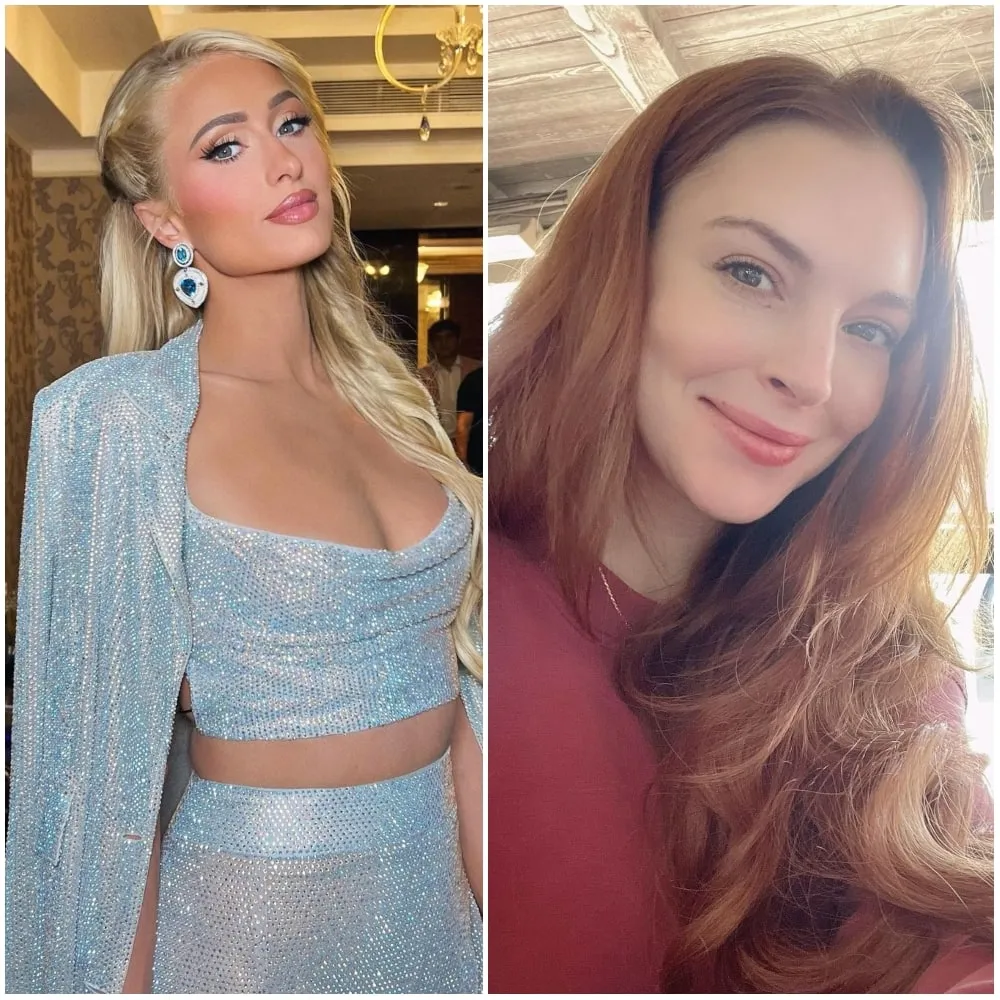 To exacerbate the situation, Lohan started dating him shortly after, prompting Paris to make a public statement about Lohan's declining career.
Selena Gomez vs. Kendall and Kylie Jenner
Selena Gomez stopped following Kendall and Kylie Jenner on Instagram during the spring of 2014, while she was trying to prioritize her music career. It seems that she wanted to remove negative influences from her life, but what led her to specifically unfollow the Jenner sisters remains unclear.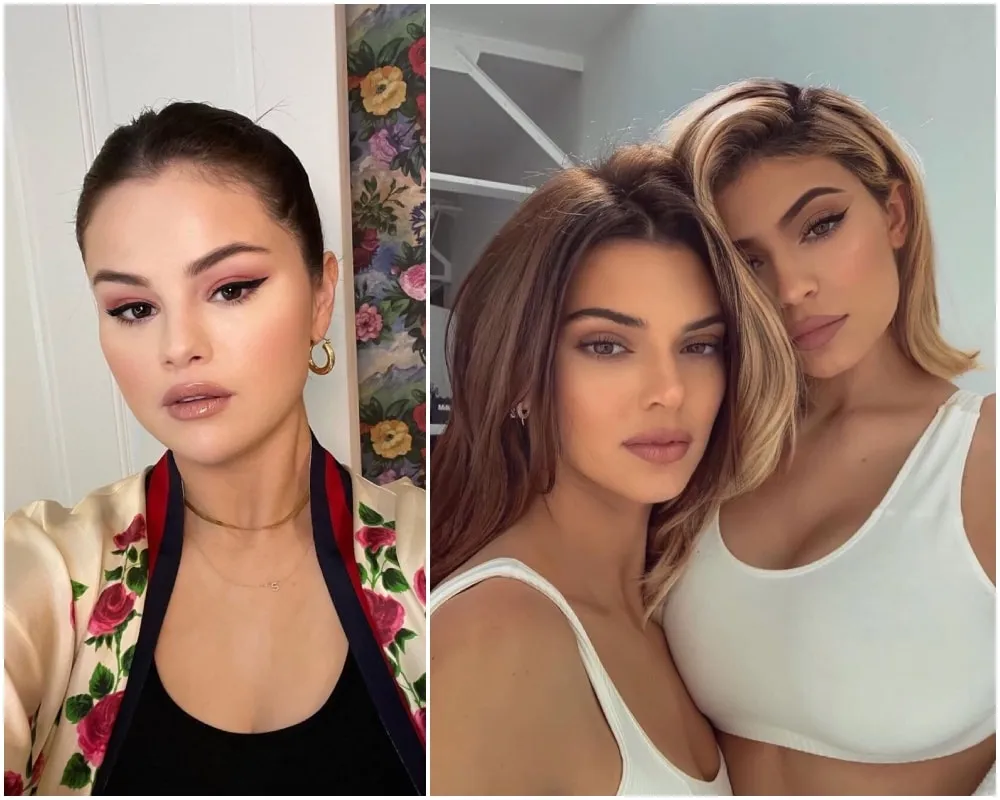 Justin Bieber, Selena's intermittent partner, played a crucial role in the situation. According to Selena, the sisters were trying to seduce Justin at Coachella. Additionally, Selena reportedly discovered some inappropriate texts from Kylie on Justin's phone.
Kim Kardashian vs. Chloë Grace Moretz
Kim Kardashian gained fame by sharing images of her physique, but Chloë Grace Moretz didn't think highly of this and considered Kim's conduct to be problematic.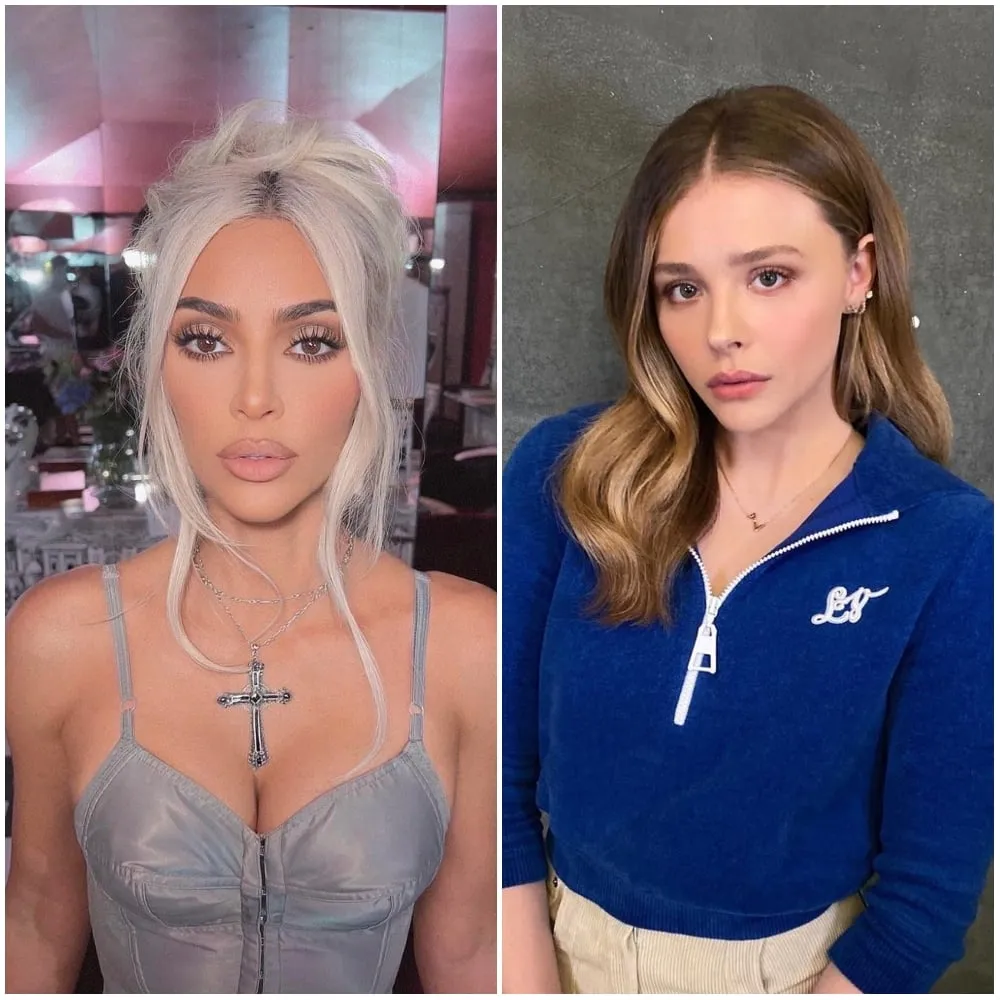 She went on Twitter to criticize Kim, stating that it's crucial for young women to learn the significance of setting goals and understanding that they have more to offer besides their physical appearance. Kim replied by saying, "Welcome to Twitter @ChloeGMoretz. Since nobody knows who she is."
Solange vs. Jay-Z
After a 2014 Met Gala afterparty, leaked security footage showed Solange Knowles attacking her brother-in-law Jay-Z in an elevator while Beyoncé watched. At one point, Beyoncé stood in between them, and a security guard tried to intervene. The footage didn't contain audio, but allegedly Jay-Z said something that upset Solange, and she couldn't hold herself back.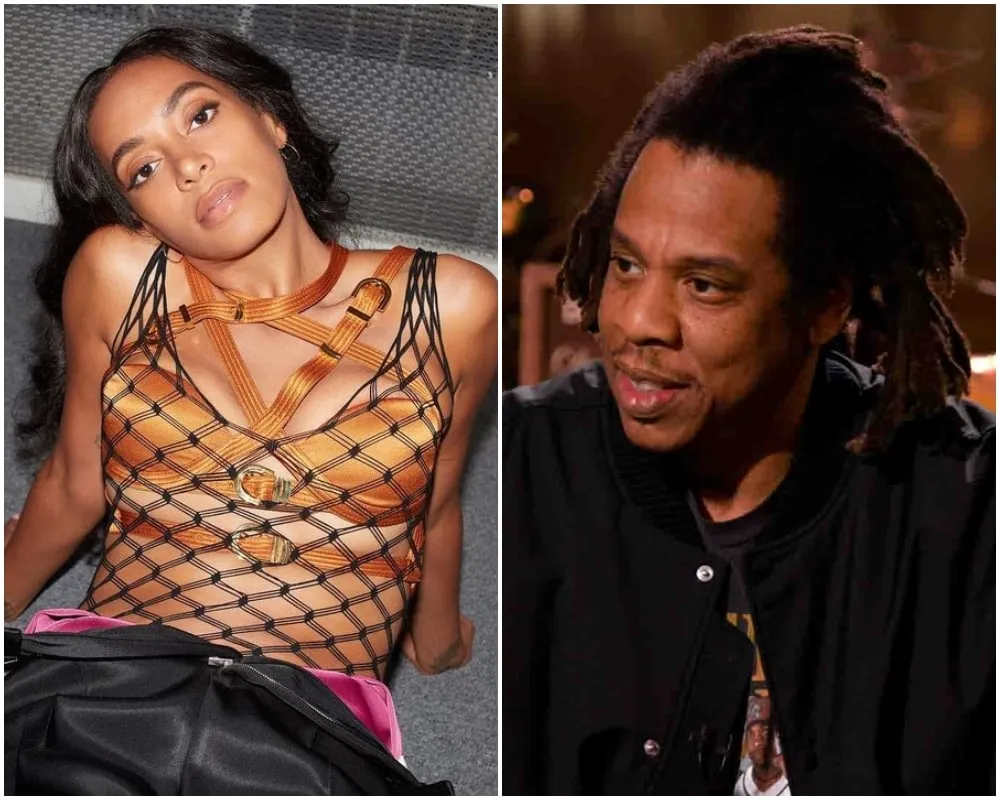 Evidently, he had crossed a line. However, they've since given each other sincere apologies. On his relationship with Solange, Jay-Z has said that "we've always had a great relationship […] We've had one disagreement. Before and after, we've been cool […] That's my sister. Not my sister-in-law, no, my sister. Period."
Gwenyth Paltrow vs. Martha Stewart
For many years, Martha Stewart has been known for her iconic lifestyle and wellness brand, and has undeniably dominated her industry. Actress Gwenyth Paltrow launched her own lifestyle and wellness brand in 2008, called Goop. Today, Paltrow is now a dominant figure in the industry — as well as healthy competition for Martha.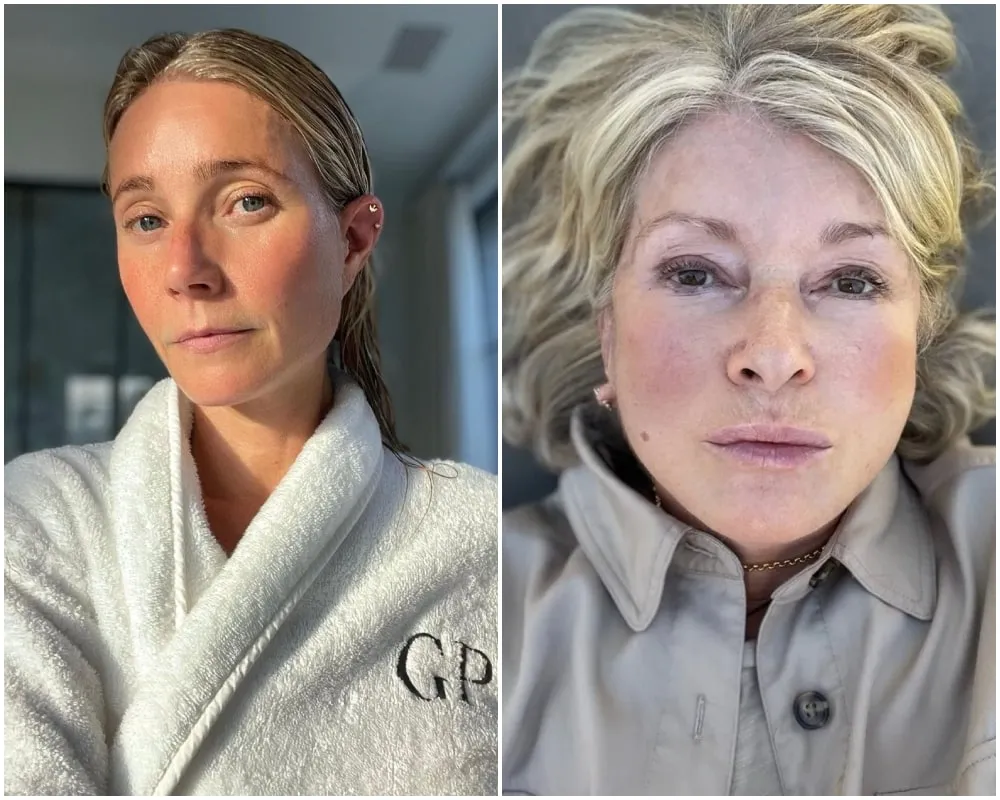 Martha was clearly feeling a little insecure when she learned that Gwenyth founded her own wellness brand. In reference to Paltrow, Stewart has said, "She's a movie star. If she were confident in her acting, she wouldn't be trying to be Martha Stewart."
Whoopi Goldberg vs. Bella Thorne
Bella Thorne's phone was hacked, and the hacker threatened to release her nudes. Instead, she posted them herself, taking back the upper hand and empowering women in the process.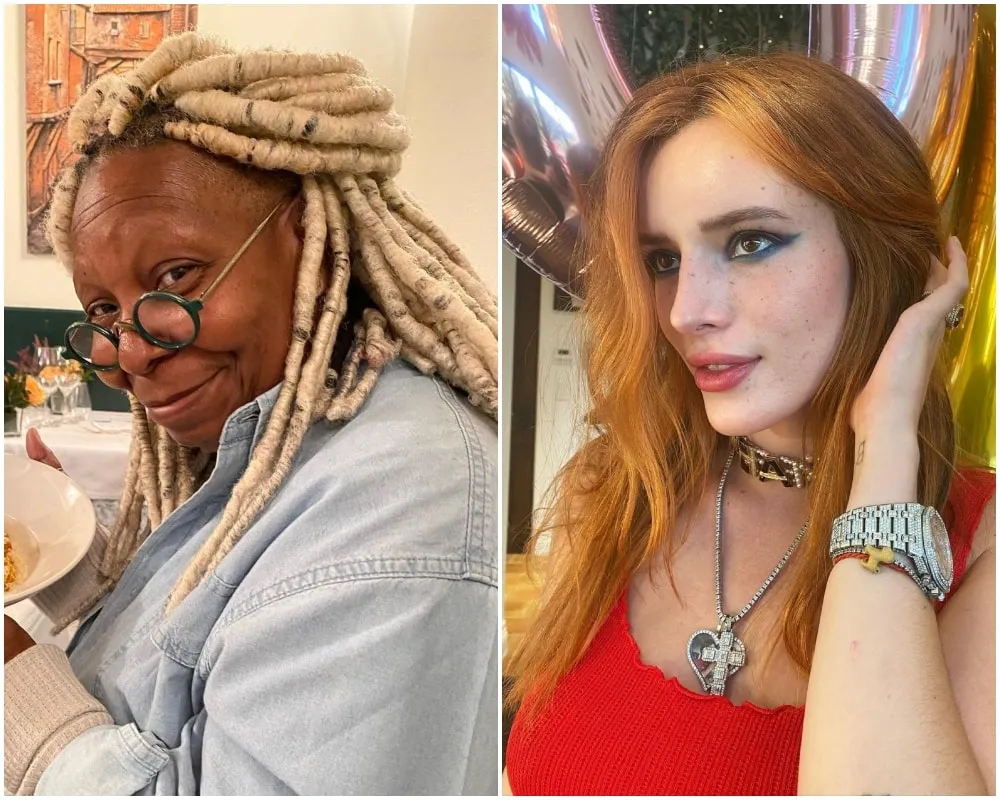 Whoopi Goldberg criticized and even shamed her for taking the pictures in the first place, saying she should have known that it would be easy enough for hackers to acquire her pictures. Bella called out Whoopi for victim-blaming and said that Whoopi's words had made her feel bad about herself.
Anthony Daniels vs. Kenny Baker
Anthony Daniels and Kenny Baker play C-3PO and R2-D2 respectively in the iconic Star Wars cinematic franchise. Though their robotic characters are friends on screen, the actors' real-life relationship isn't smooth-sailing. Kenny Baker claimed that Anthony didn't want to spend time with his co-stars and that he was very rude.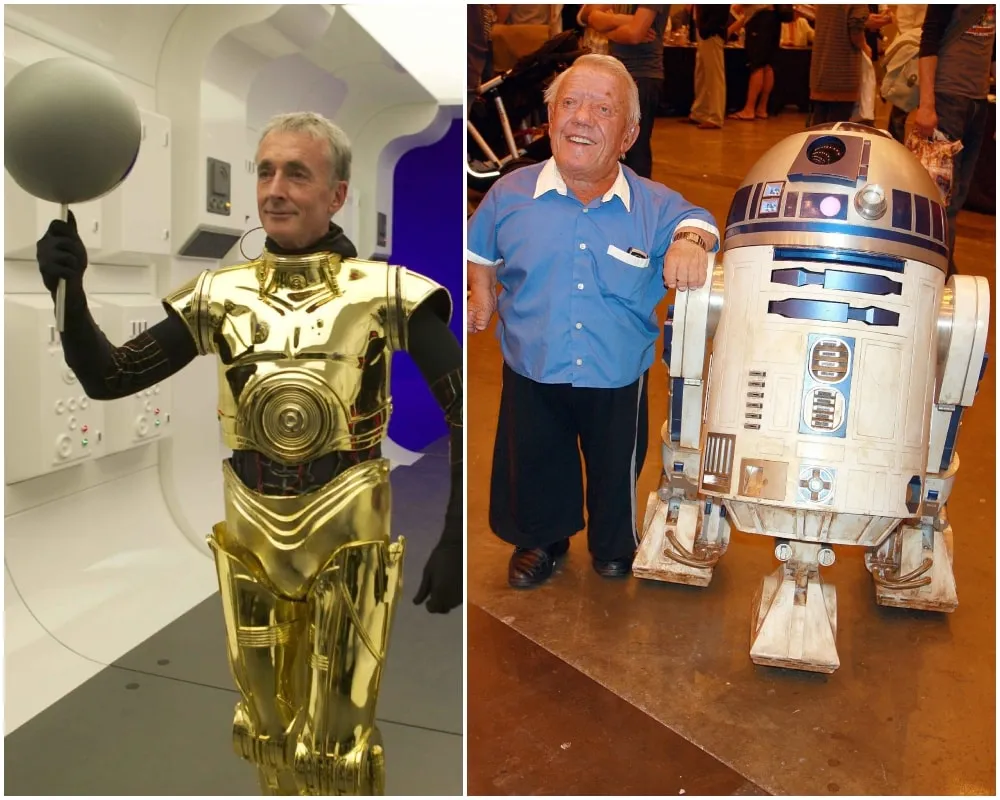 Anthony Daniels never agreed to do meet-and-greets with Kenny Baker. He went as far as to say that Baker's role in the movies didn't matter and that he could have been played by a bucket.
Jennifer Lawrence vs. Lala Kent
It seems that Jennifer Lawrence, much like many of us non-celebs, likes to watch reality TV in her spare time. In an interview, she said that she was a fan of Vanderpump Rules, though she called star Lala Kent fake.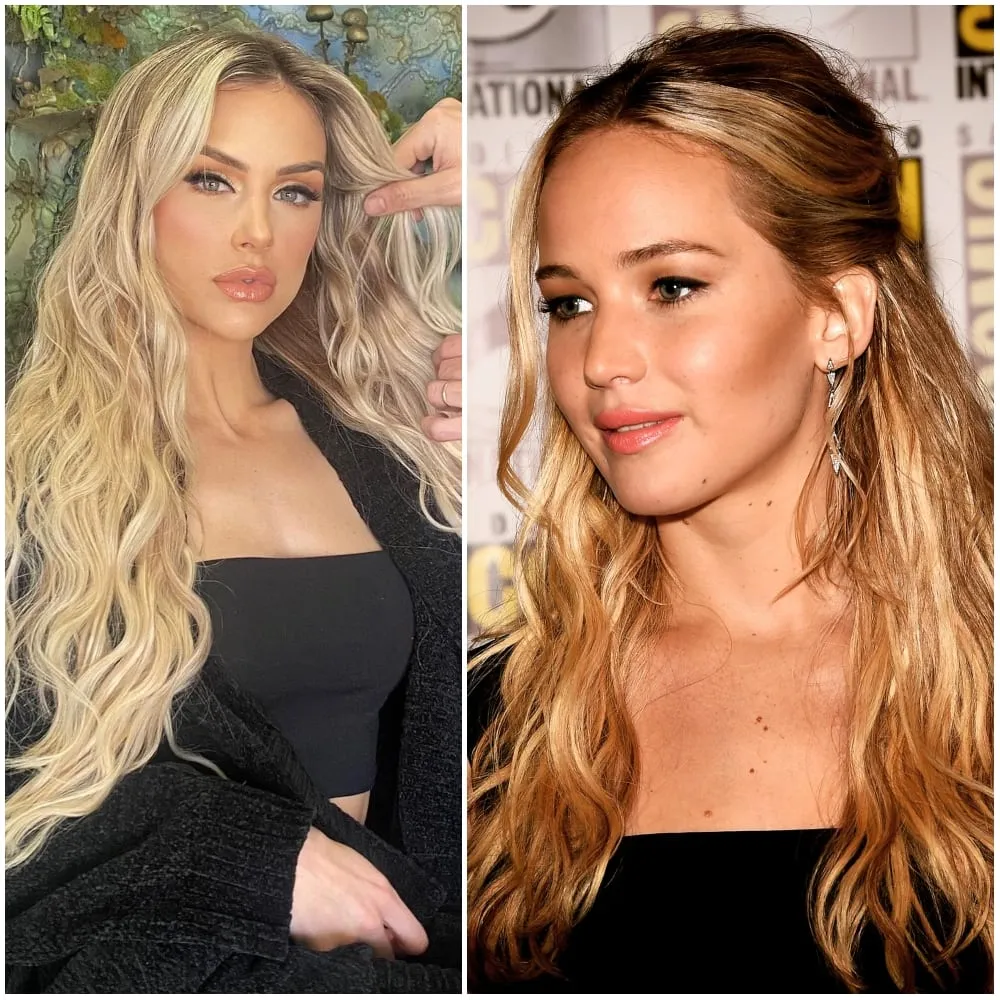 Kent was not at all pleased and said, "You better pray I don't see you in the streets." She then went on to bash Lawrence's career and call her bad names, but The Hunger Games star has remained silent since.
Axl Rose vs. Kurt Cobain
These two 90's rock icons apparently didn't get along. Guns N' Roses leading man Axl Rose asked Nirvana's Kurt Cobain to open for them. Apparently, though, Cobain was neither a fan of Guns N' Roses nor Axl Rose and turned down the offer.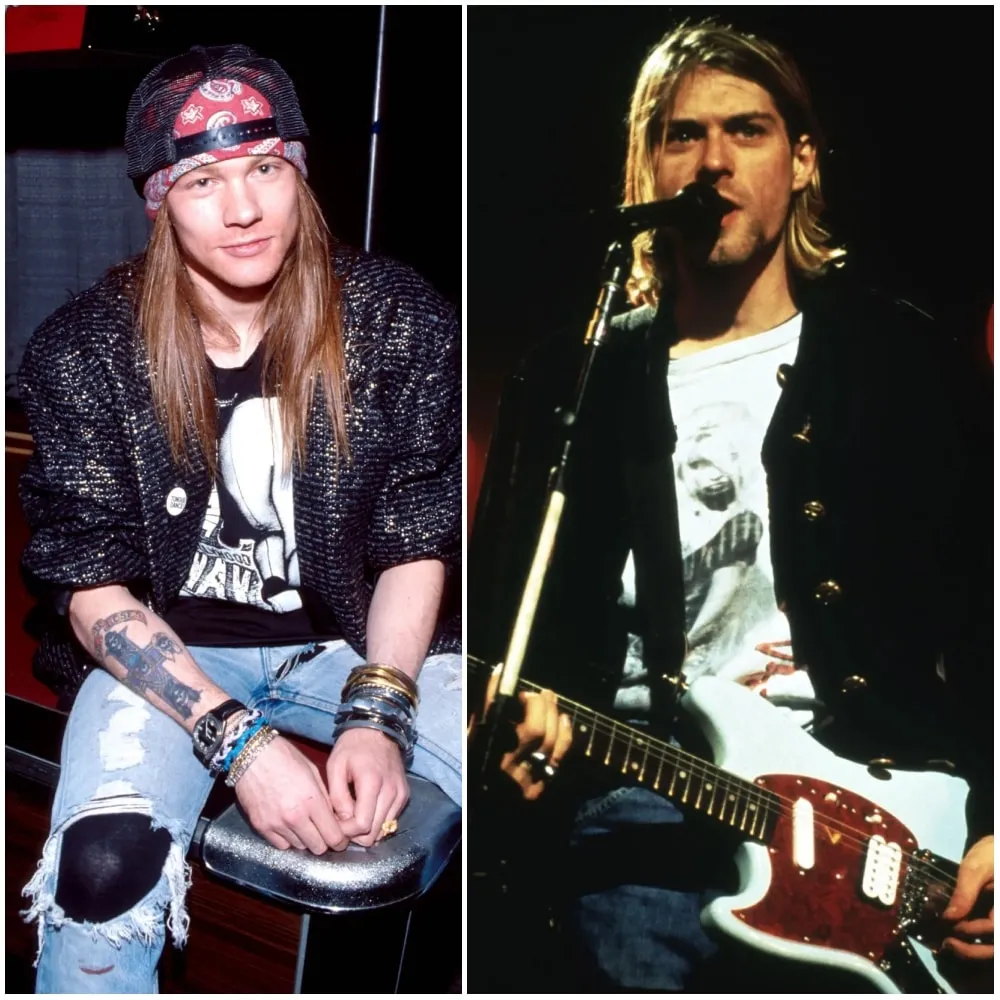 In response, Rose called Cobain and his wife, Courtney Love, cruel names. Over the years, the two rockers continued to speak negatively about one another, and even had a backstage confrontation at the 1992 MTV Video Music Awards.
Azealia Banks vs. Lana Del Rey
This particular feud began when musician Lana Del Rey called out Kanye West for wearing a 'Make America Great Again' hat. Azealia Banks felt that Lana Del Rey could be doing much more to oppose the government besides simply calling out Kanye. However, Azealia Banks didn't stop there.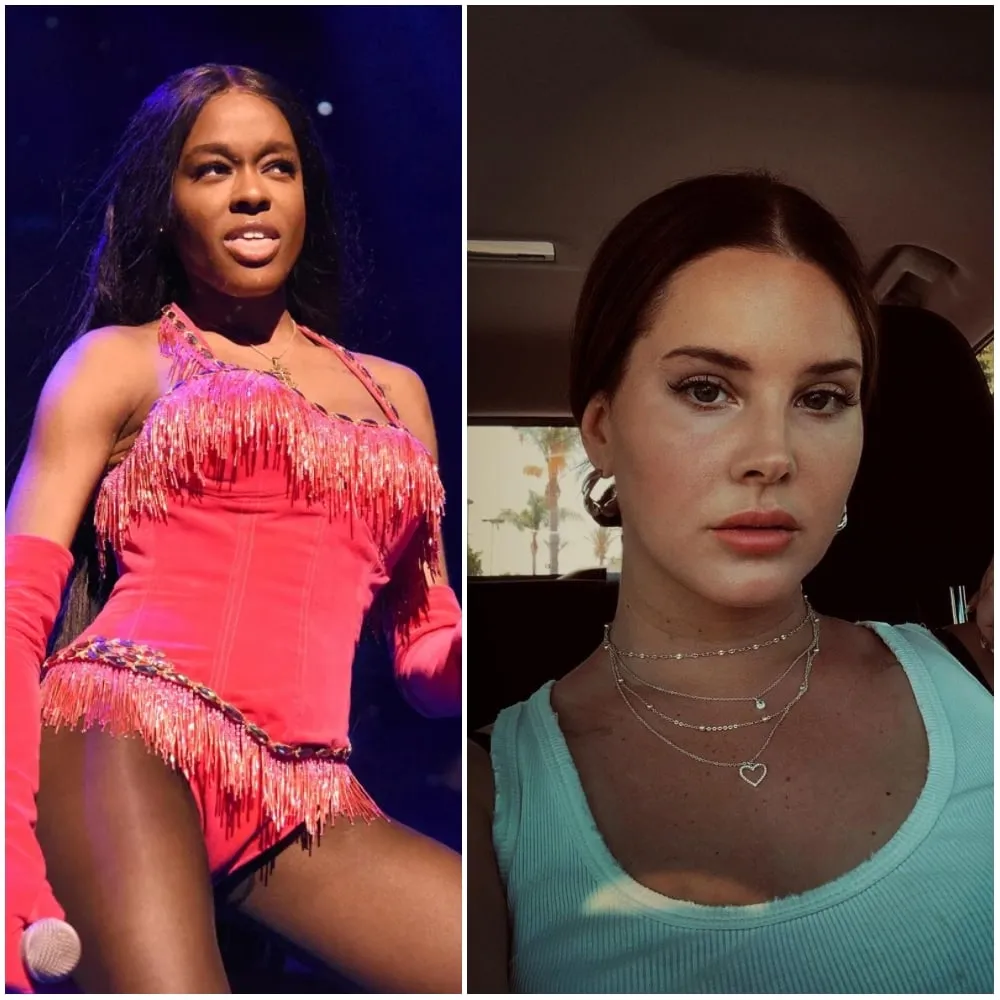 Somehow, this turned into Azealia insulting Lana and her music, as well as going so far as to body-shame her. Lana responded by saying, "Pull up anytime. Say it to my face."
Chelsea Handler vs. Angelina Jolie
Chelsea Handler is known for saying whatever comes to mind, even when it clearly crosses a line. She has spoken about Angelina Jolie, in particular, on quite a few occasions — going so far as to call her a demon and a homewrecker.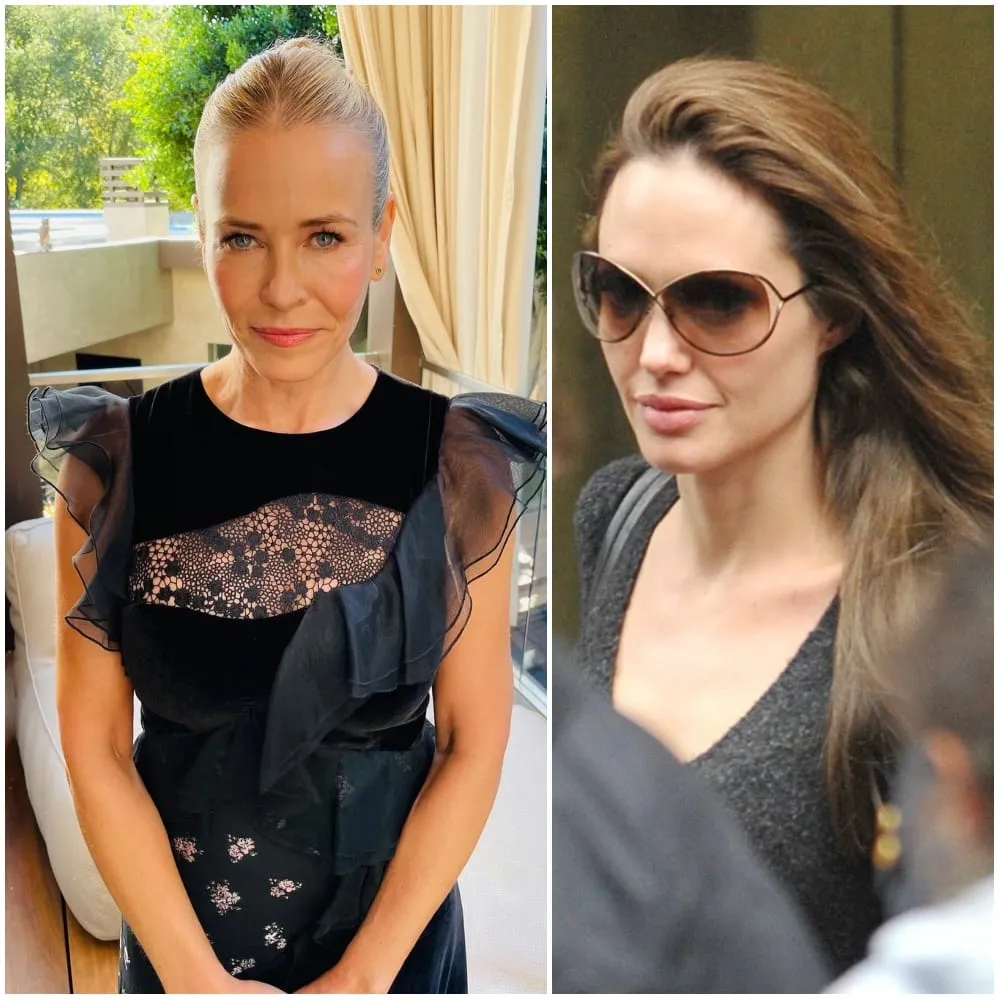 Handler continued to talk cruelly about Jolie throughout Brangelina's divorce, although Jolie never responded. However, in recent years, Handler has admitted she crossed a line and that it was not the right thing to do.
Jane Fonda vs. Megyn Kelly
Megyn Kelly was interviewing Jane Fonda, and asked her to talk about all of her plastic surgeries. While it would be considered inappropriate to ask a non-celebrity such a question, people sometimes don't have normal boundaries when it comes to celebrities. This type of behavior can lead to unpleasant situations, such as this one.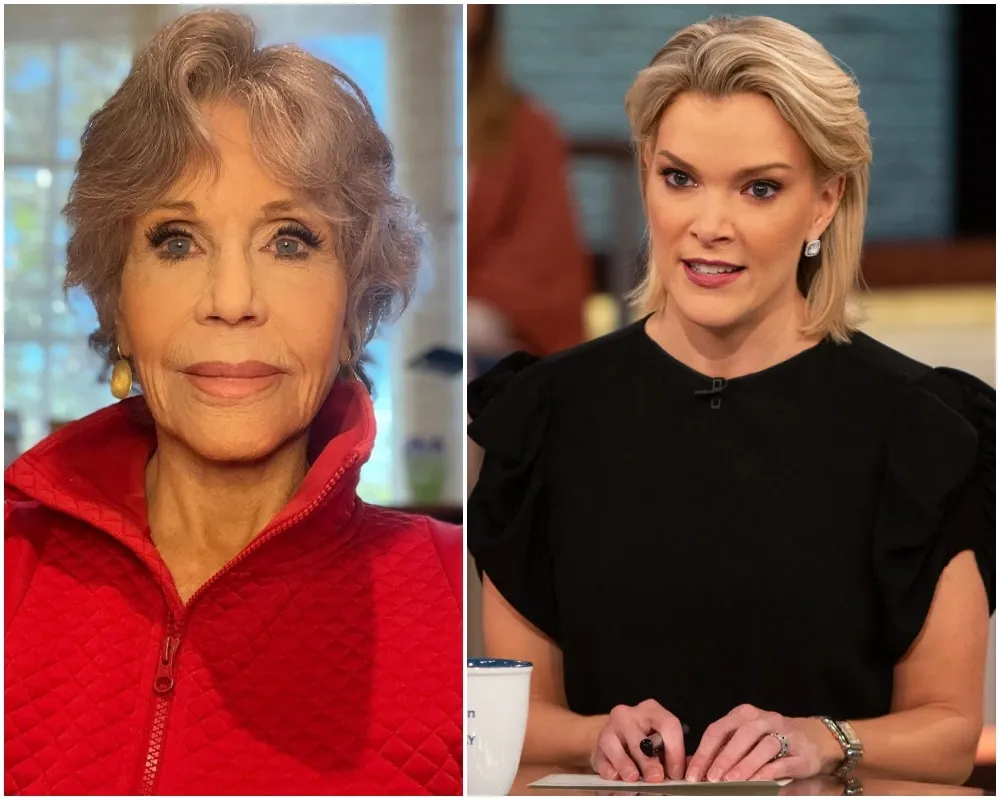 Fonda was clearly uncomfortable when Kelly asked her this question and afterward, Fonda said that she had felt cornered. Kelly later shamed Fonda on TV for not being sufficiently open with her.
Katherine Heigl vs. Shonda Rhimes
Katherine Heigl once starred in Grey's Anatomy — which was created, written, and directed by Shonda Rhimes. Heigl was nominated for an Emmy Award for her performance in the series, but she actually withdrew her name, surprising everyone and offending Rhimes in the process.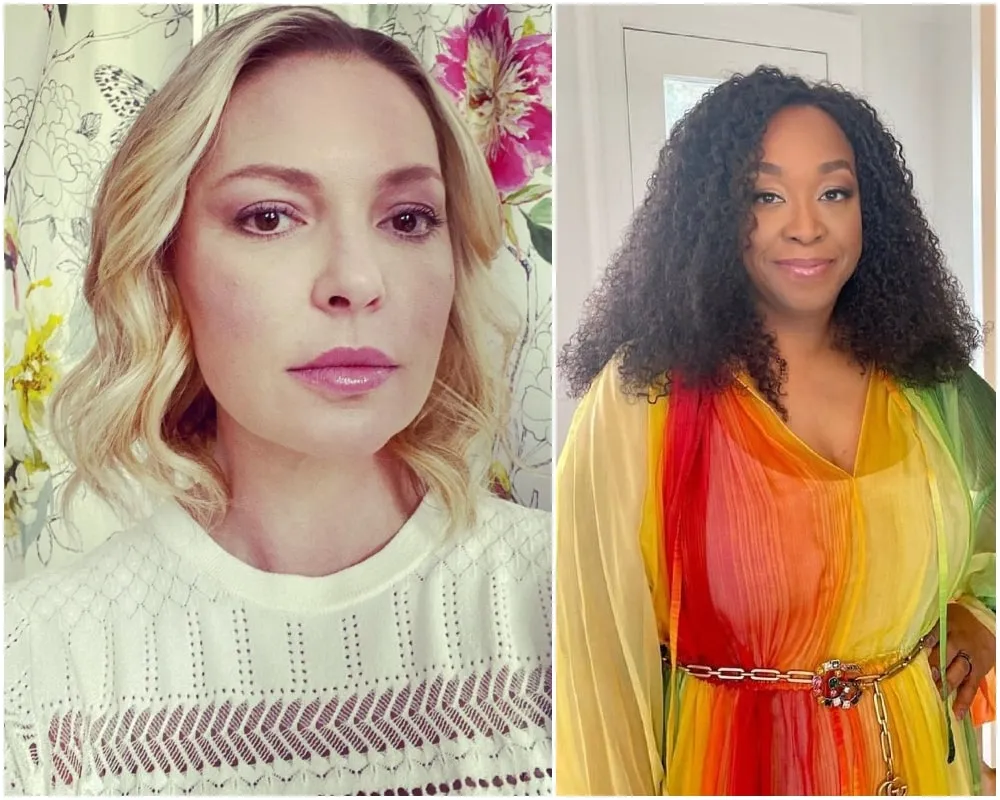 Heigl claimed, "I did not feel that I was given the material this season to warrant an Emmy nomination." Two years later, Katherine left the show and Shonda publicly claimed she had been difficult to work with.
Priyanka Chopra vs. Rosie O'Donnell
One night, Rosie O'Donnell happened to be eating at the same restaurant as Priyanka Chopra, who was having dinner with her husband, Nick Jonas. Rosie incorrectly made a seemingly racist assumption that Priyanka's father was author Deepak Chopra, and Priyanka took offense. O'Donnell, rather than apologizing, released a statement that was, in itself, problematic.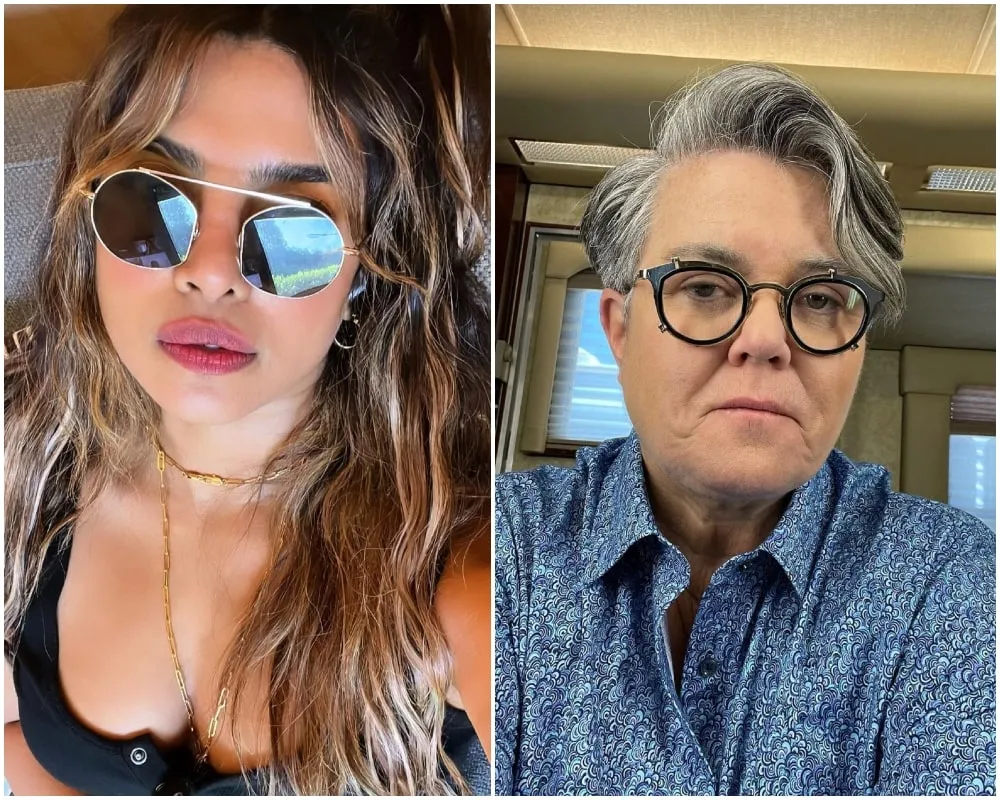 She didn't bother learning Priyanka Chopra's first name, and reduced her to simply being Jonas's wife. In doing so, she disregarded Priyanka's own personal identity and achievements.
William Shatner vs. George Takei
While these two actors appeared together on screen in the Star Trek series, their off-screen relationship was not such a happy one. Their beef began in the 1960s but, unfortunately, they never made amends.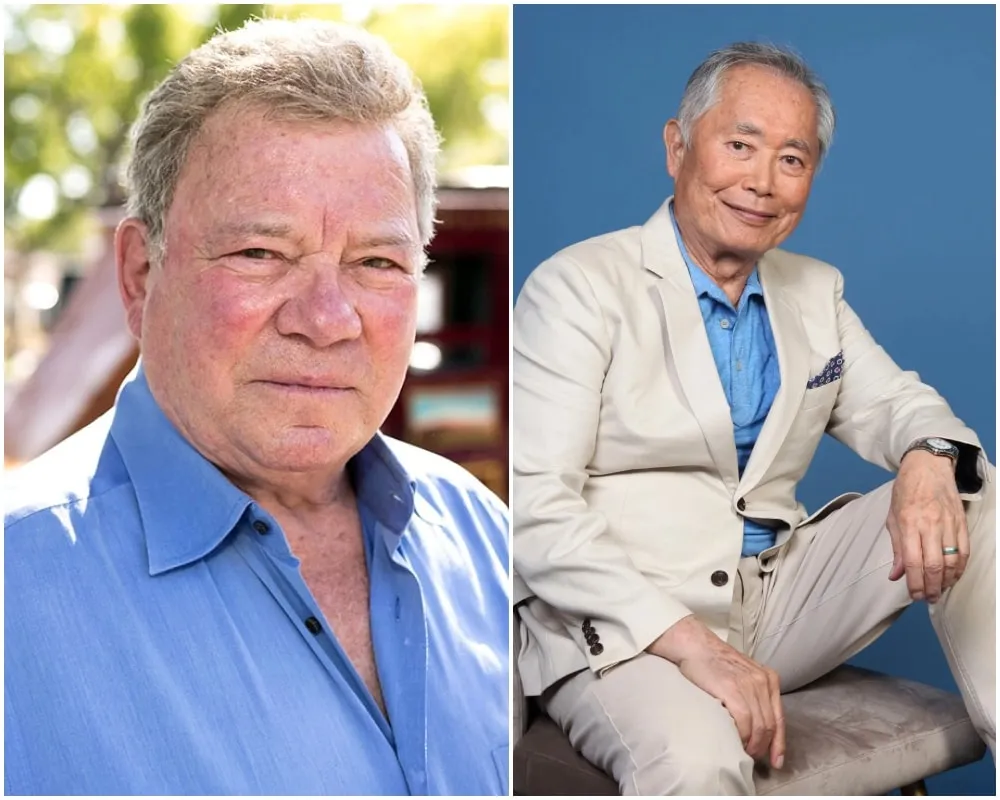 In the many decades of their feud, they've criticized one another in autobiographies, on talk shows, and more. Takei said that Shatner always ignored him on set, while Shatner claimed that Takei was mentally unstable and didn't extend an invitation to his wedding.
Selena Gomez vs. Hailey Bieber
Selena Gomez and Hailey Bieber have been pitted against each other repeatedly over the years. Yet, the two A-listers always insist that everything's fine between them, and this incident is no different.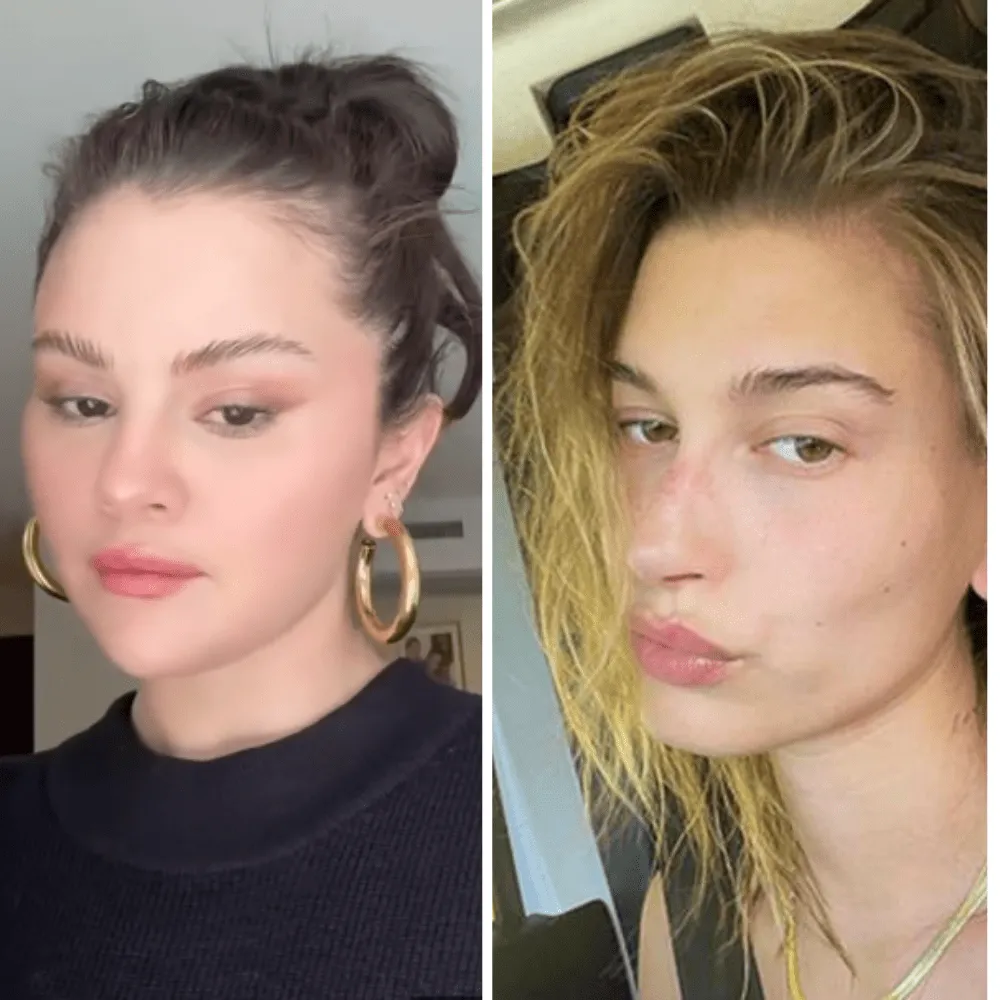 Selena posted a photo of her eyebrows on social media, expressing that she wasn't happy with how they looked. Shortly after, Hailey and Kylie Jenner posted their own eyebrow photos, seemingly mocking Selena. Kylie and Hailey insist they didn't see Gomez's post, and that it was just a coincidence. Selena seems to believe them – do you?
When these A-list babies were born, they were inundated with diamond rattles, excessive nurseries, and a baby closet full of Chanel. These kids ended up with more than most fully grown adults! Let's take a look at the most spoiled famous kids from the '00s.
Max and Emme Muniz
We begin with noughties kid royalty, Max and Emme Anthony — Jennifer Lopez and Marc Anthony's twins. When they were little, they played with diamond-encrusted rattles. They also had a Shetland pony each and 600 thread count Egyptian sheets for their cribs. Plus, they received professional massages as children.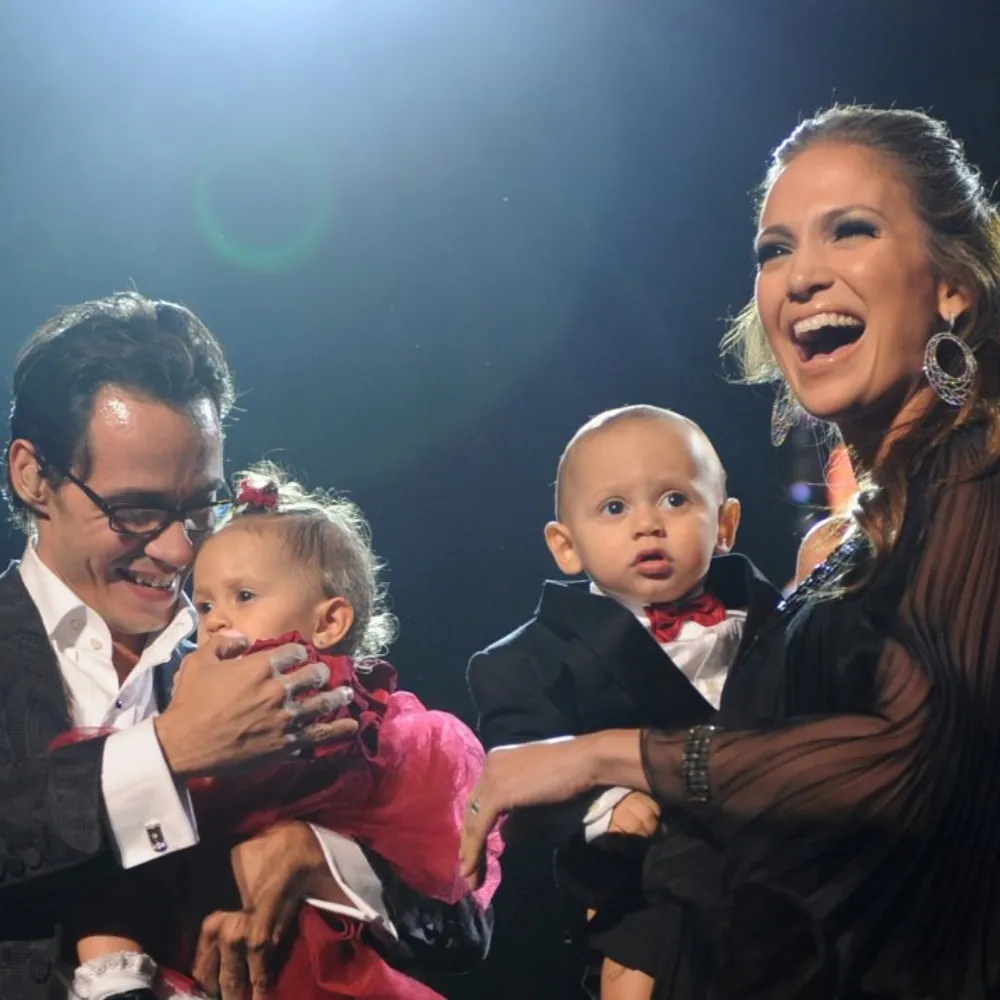 Kingston Rossdale
In the noughties, it was totally normal to see paparazzi shots of Gwen Stefani out and about with son Kingston. Back then, Gwen was married to Gavin Rossdale and lived in Primrose Hill in London. Tabloids were treated to the singer's flashy fashion sense, and whatever Kingston was wearing.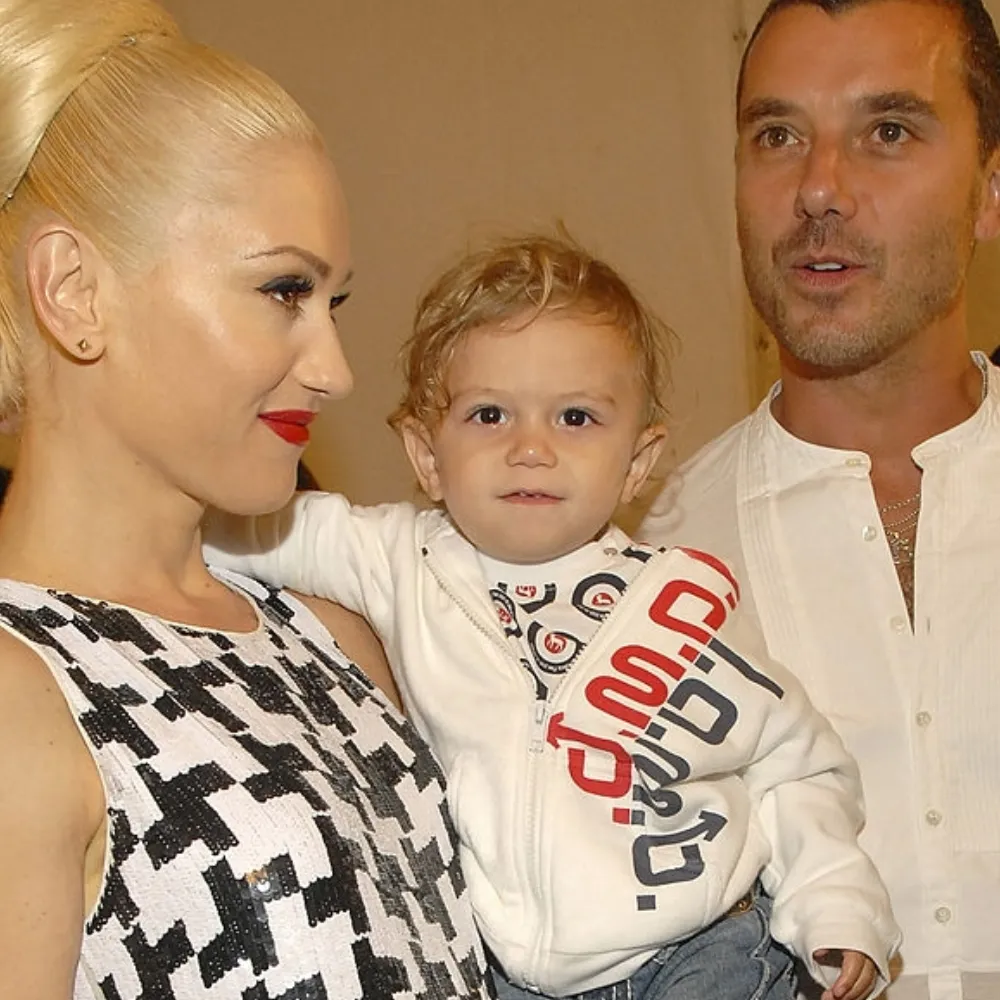 For his fourth birthday, Kingston had a rock star-themed party with A-list celebrity guests. There was a cotton candy machine, a lemonade stand, a balloon artist, a bounce house, and superheroes!
Paris Jackson
Did you know that close friends Michael Jackson and Kathy Hilton once agreed to call their daughters Paris? Well, that's how we ended up with Paris Jackson and Paris Hilton. This Paris is the middle child and only daughter of MJ and was raised solely by her dad.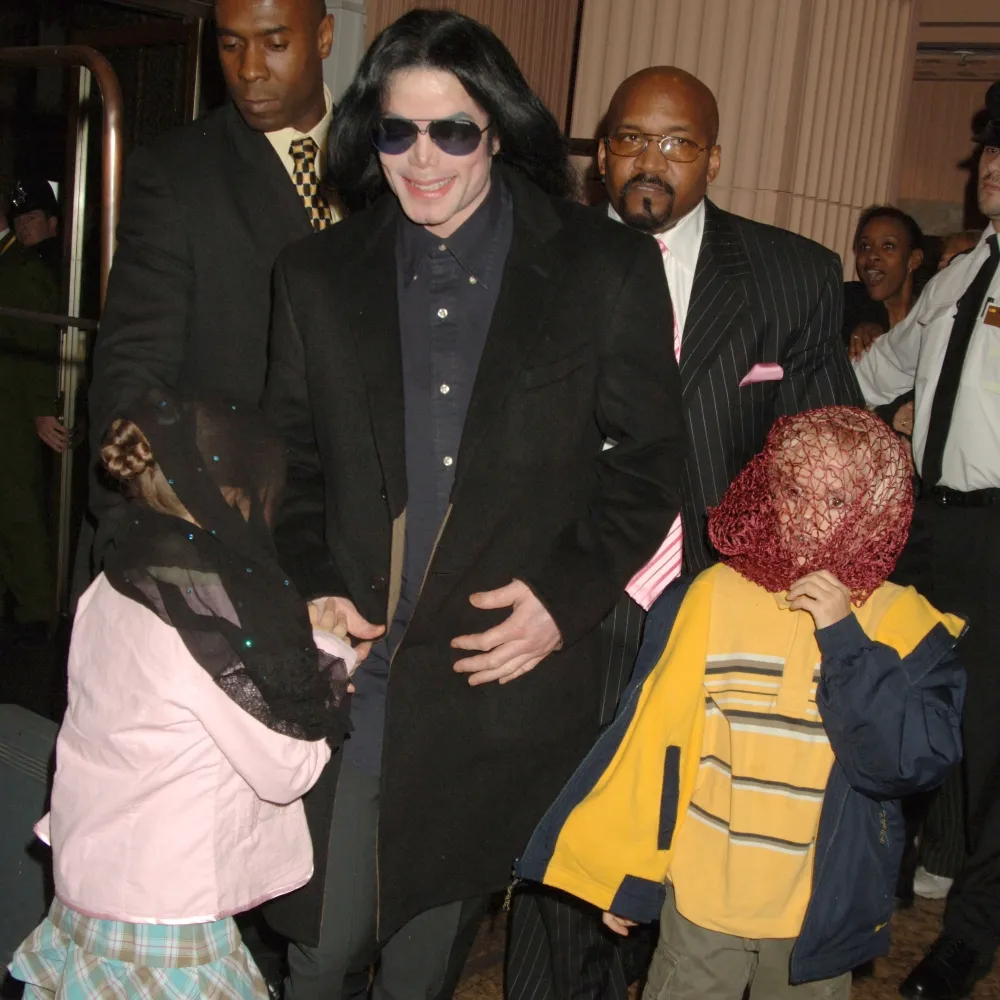 As a child, Paris was usually covered up so paparazzi couldn't take pictures of her. Obviously, the only daughter of MJ would be spoiled! Paris grew up at the Neverland ranch, and her godparents are Elizabeth Taylor and Macauley Culkin.
Koraun Mayweather
There are plenty of kids on this list who ended up with a luxury vehicle when they were just teenagers. One of them is Koraun Mayweather, one of former boxer Floyd Mayweather's children. As an Olympian and undefeated fighter, Floyd Mayweather has plenty of cash to splash.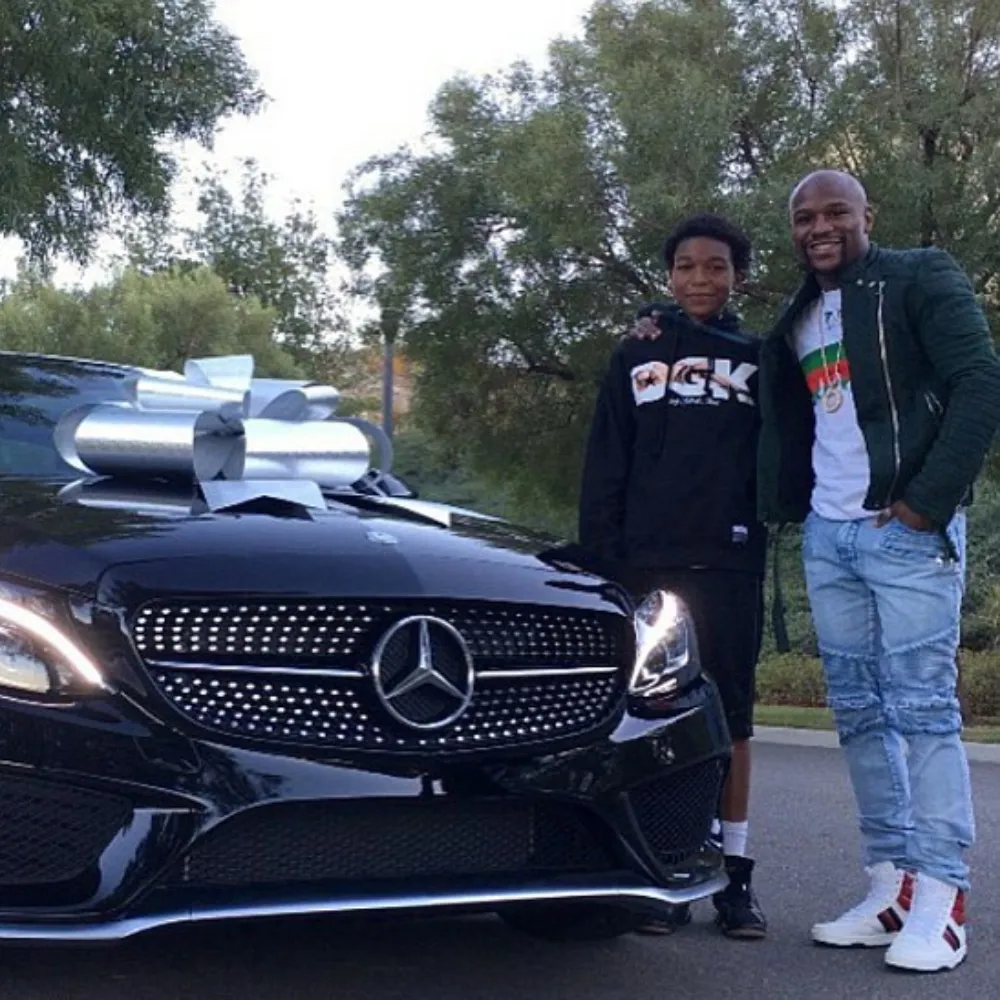 Apparently, the athlete wanted to buy Koraun a car for his 15th birthday, but settled on a gold Bentley golf cart instead. When he turned 16, Koraun got a Mercedes C Class.
Hailie Mathers
Anyone who grew up in the noughties has heard of Eminem's daughter, Hailie. But, did you know that the rapper also raised two other kids? The real slim shady got full custody of his ex-wife's daughter, Whitney, and adopted her niece, Alaina. That makes him the proud father of three daughters.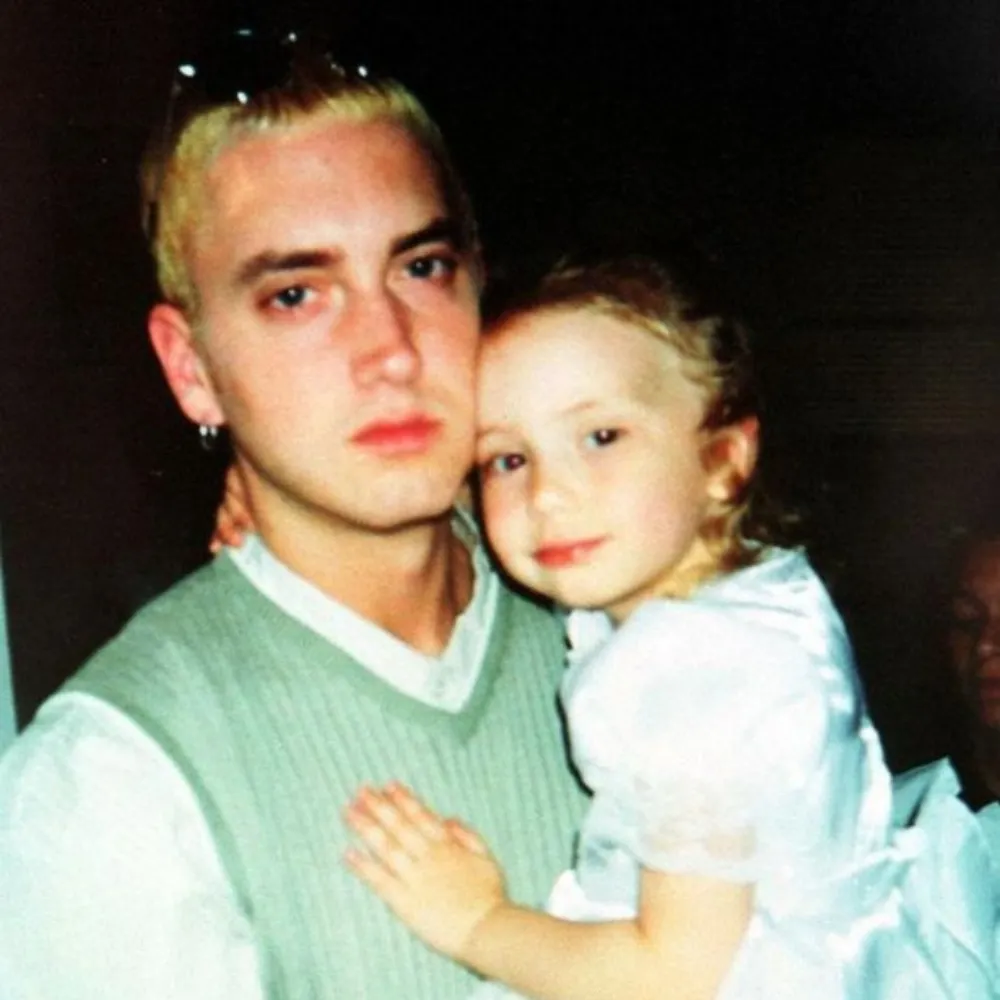 While Eminem's early songs were about his tough life, he soon started raking in the cash. The star apparently bought each of his daughters matching diamond necklaces. Not bad!
Suri Cruise
When we talk about spoiled noughties kids, surely the first person everyone thinks of is Suri Cruise. The daughter of actors Tom Cruise and Katie Holmes, little Suri was all over the media when she was just a small child. Among other lavish gifts, Suri received a treehouse with running water, electricity, and shag carpeting.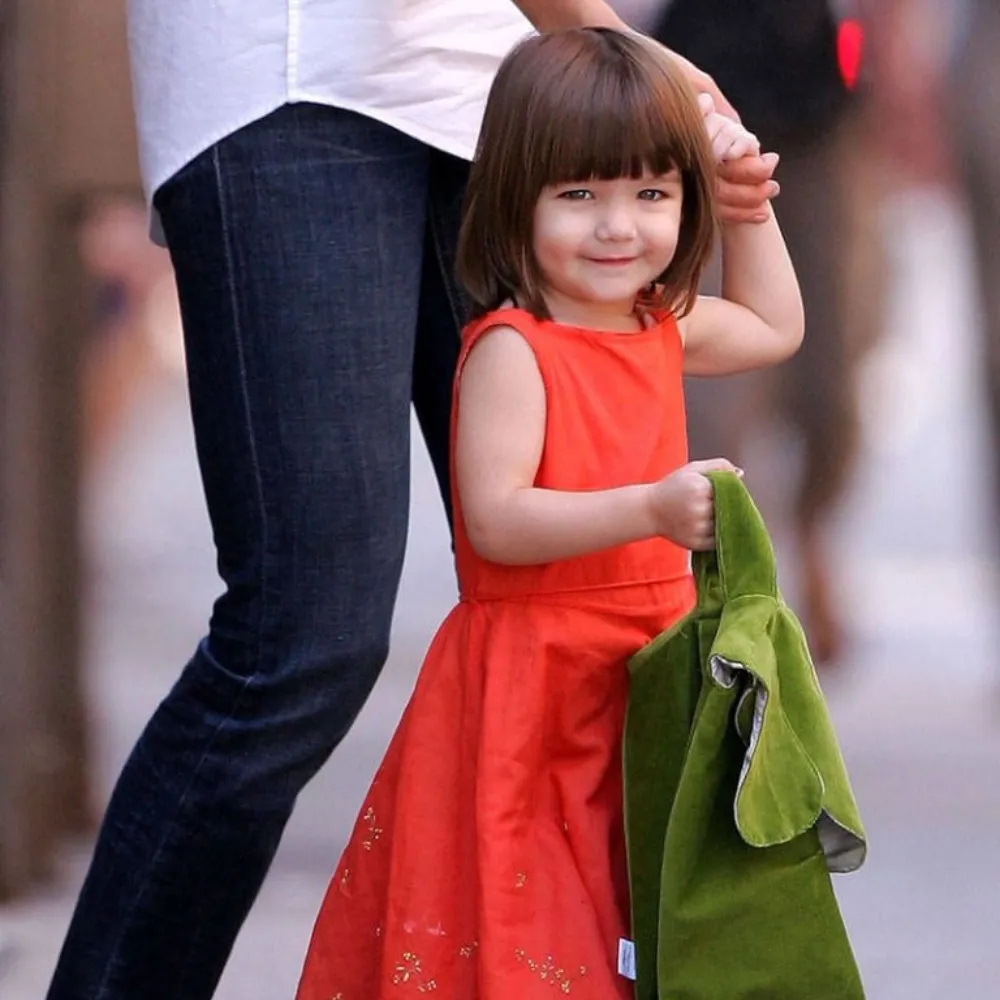 She also traveled on private jets and boasted a closet full of designer dresses. Plus, when Suri saw Mary Poppins on Broadway, she wanted a singing nanny all of her own.
Maxwell Drew
Next up is Maxwell Drew, the daughter of singer and actress Jessica Simpson and professional footballer Eric Johnson. At just one month old, this cutie had a closet to rival most adults. In fact, her popstar aunt Ashlee Simpson said as much.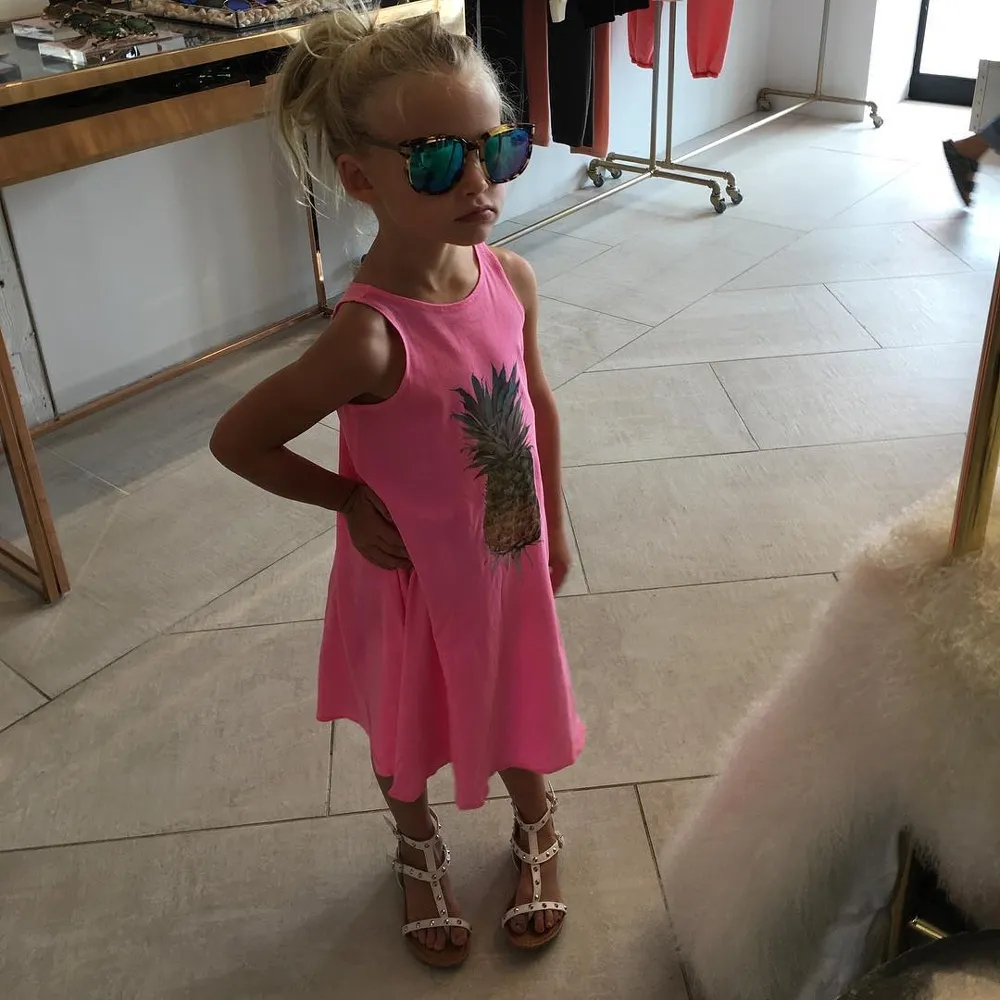 Ashlee commented on her new niece, "She is definitely spoiled. You should see her closet! I'm like, 'G-d I wish I had your closet!' Her closet is beautiful." We bet she had oversized sunglasses and daisy dukes to match her mom.
Max Liron Bratman
Singer Christina Aguilera didn't grow up with much money, so she loved splashing the cash on her son Max. In particular, little Max Liron Bratman had a rather elaborate nursery. Not just a crib and a rocking chair for this pampered celebrity child!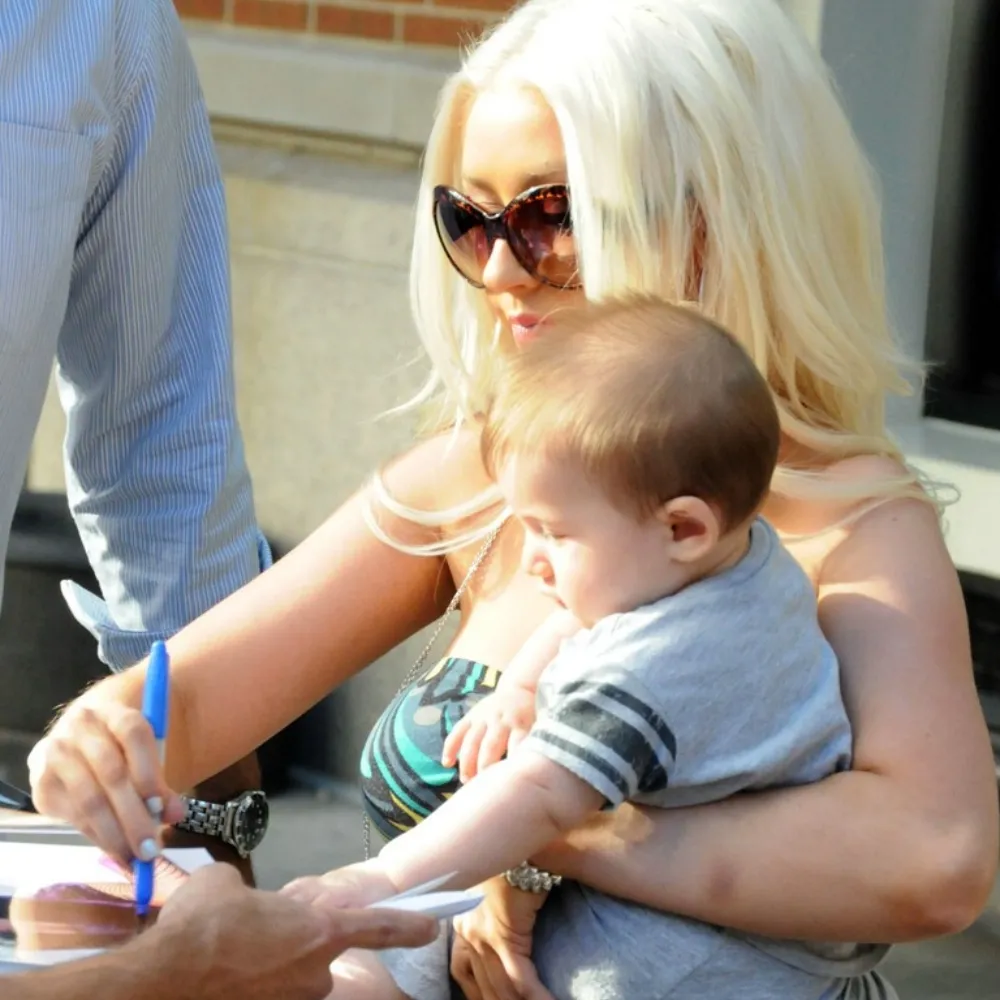 Instead, Max's nursery had wall murals, a round crib, and an 11-foot moon from one of Christina's sets. She remarked, "My family was always struggling for money. It's surreal to be able to give my child this lifestyle."
Willow Smith
It always amuses us that Will Smith and Jada Pinkett Smith named their kids versions of their own names. Not exactly creative, eh? Their daughter, Willow, was pretty famous in the noughties when she was just a kid. She appeared in a movie with her dad, and then launched her single "Whip My Hair."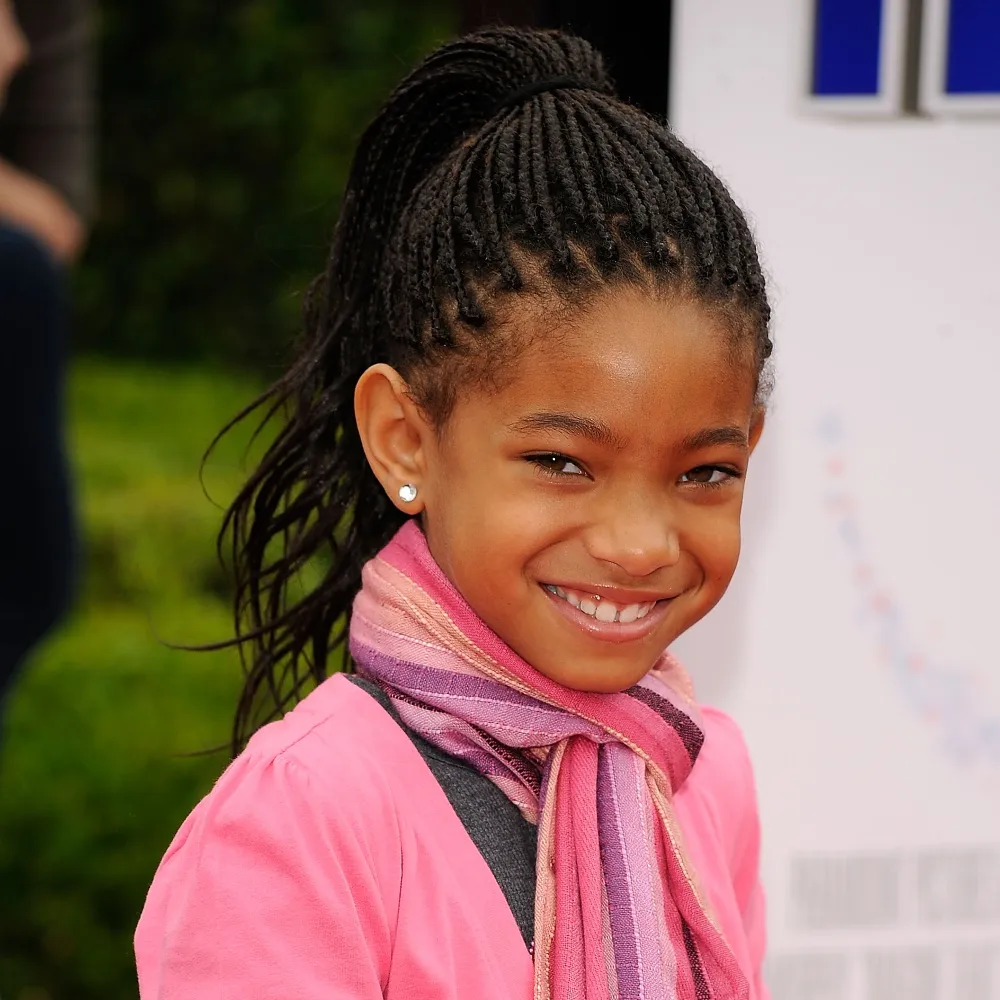 As the daughter of Hollywood royalty, it makes sense that Willow was spoiled. Famously, she grew up with little discipline, and she received a Porsche Cayenne for her birthday.
Monroe and Moroccan Cannon
How could you be the only children of super diva Mariah Carey and not be spoiled? Come on! Little Monroe and Moroccan Cannon are the singer's twins with TV presenter and actor Nick Cannon. When they were first born, the twins' parents treated them to a diamond diaper pin each. Just what newborns most want!

As they got older, the twins kept getting luxurious gifts. Mariah has since revealed that they have a Cannon Candy Shop and a ball pit inside their home.
Zonnique Pullins
Several spoiled noughties kids on this list had a pretty magnificent sweet 16. Zonnique Pullins is the daughter of singer-songwriter Tameka Harris and the stepdaughter of rapper T.I. For her birthday, she received a luxurious party and had several outfit changes. In fact, she was carried into the event by a group of handsome men.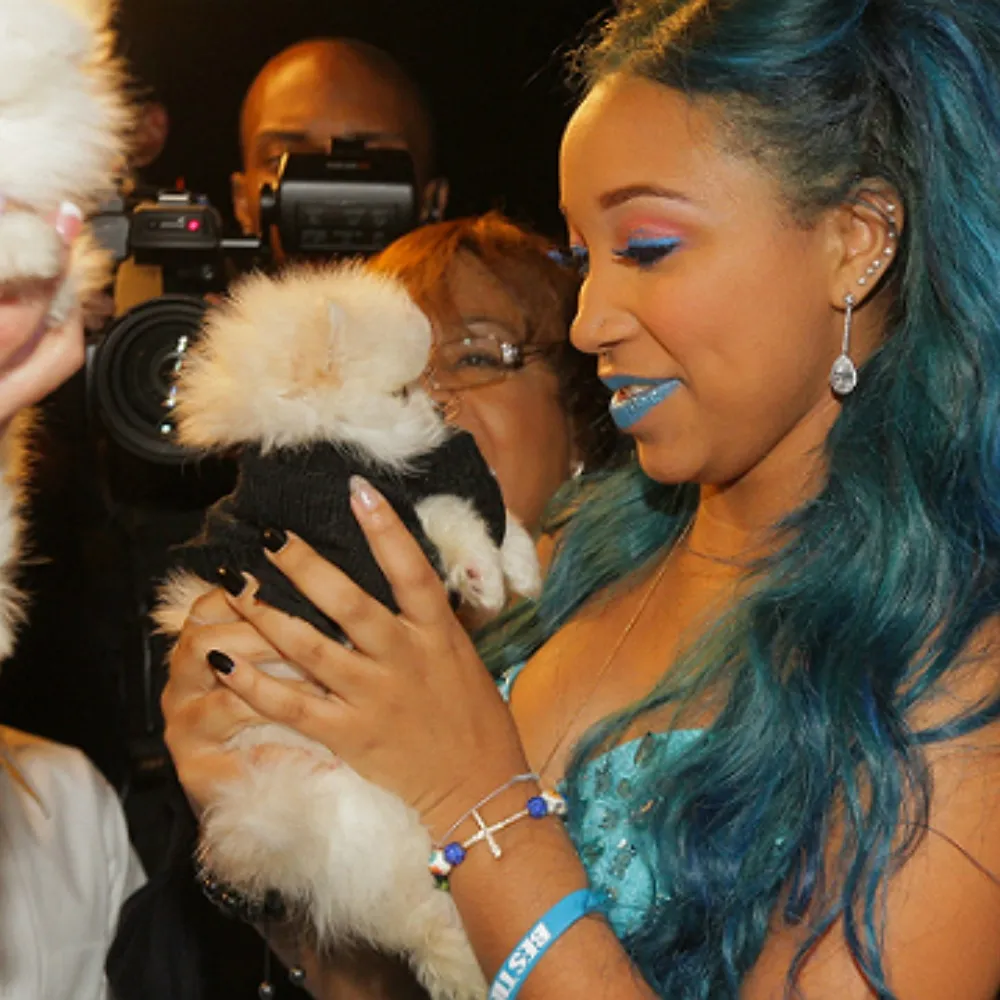 At the end of the night, Zonnique was presented with a Porsche Cayenne and two Pomeranian puppies. Wouldn't have just one of those things been enough?
Zachary John-Furnish
According to some, little Zachary John-Furnish is the most spoiled child on the planet. That makes sense to us, considering one of his dads is musical legend Elton John and the other is a filmmaker. Zachary just wasn't destined to wear hand-me-downs or spend the day playing with some sticks and mud.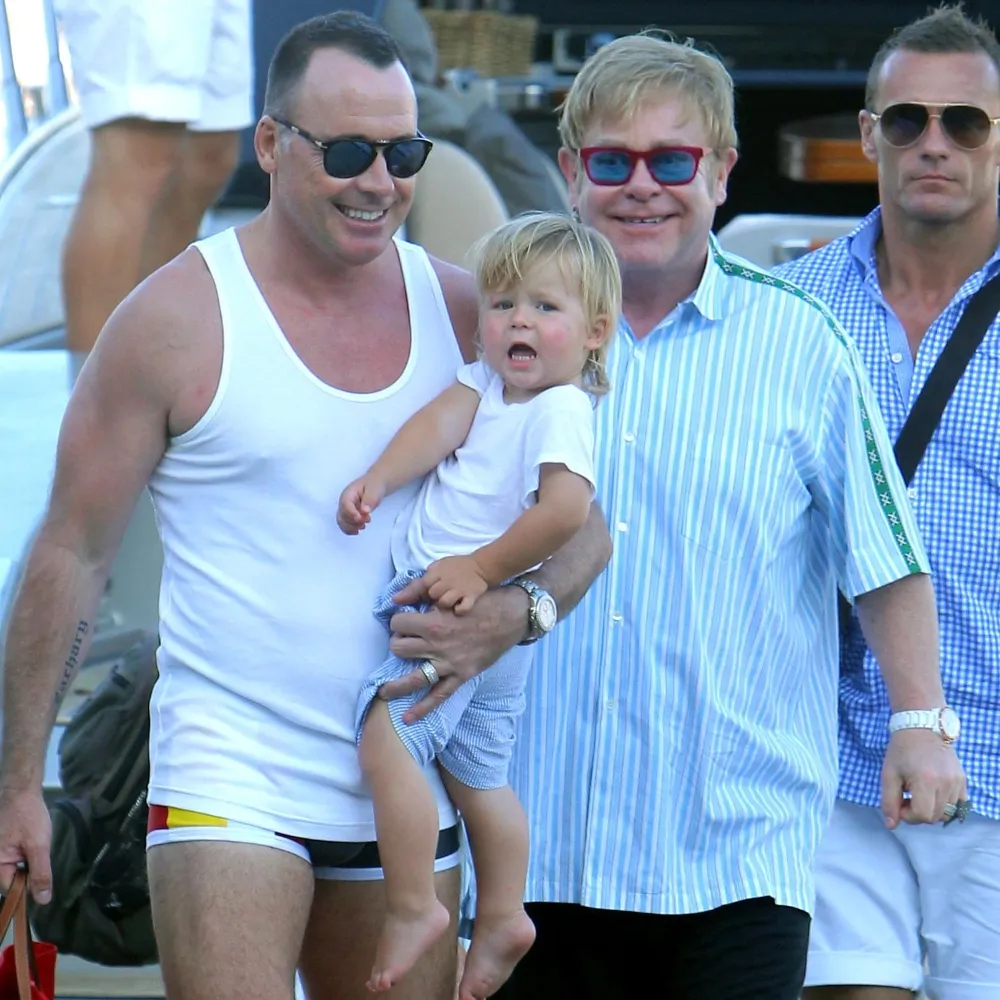 Instead, Elton John and David Furnish bought an entire apartment for their son to play in. The residence is attached to the couple's main home, and means that Zachary has a private nursery.
Kennedy Russell
Reality TV is full of spoiled kids, usually with parents competing to throw the biggest party or give the greatest gift. In the early seasons of Real Housewives of Beverly Hills, Taylor Armstrong throws some incredibly elaborate parties for her only daughter, Kennedy.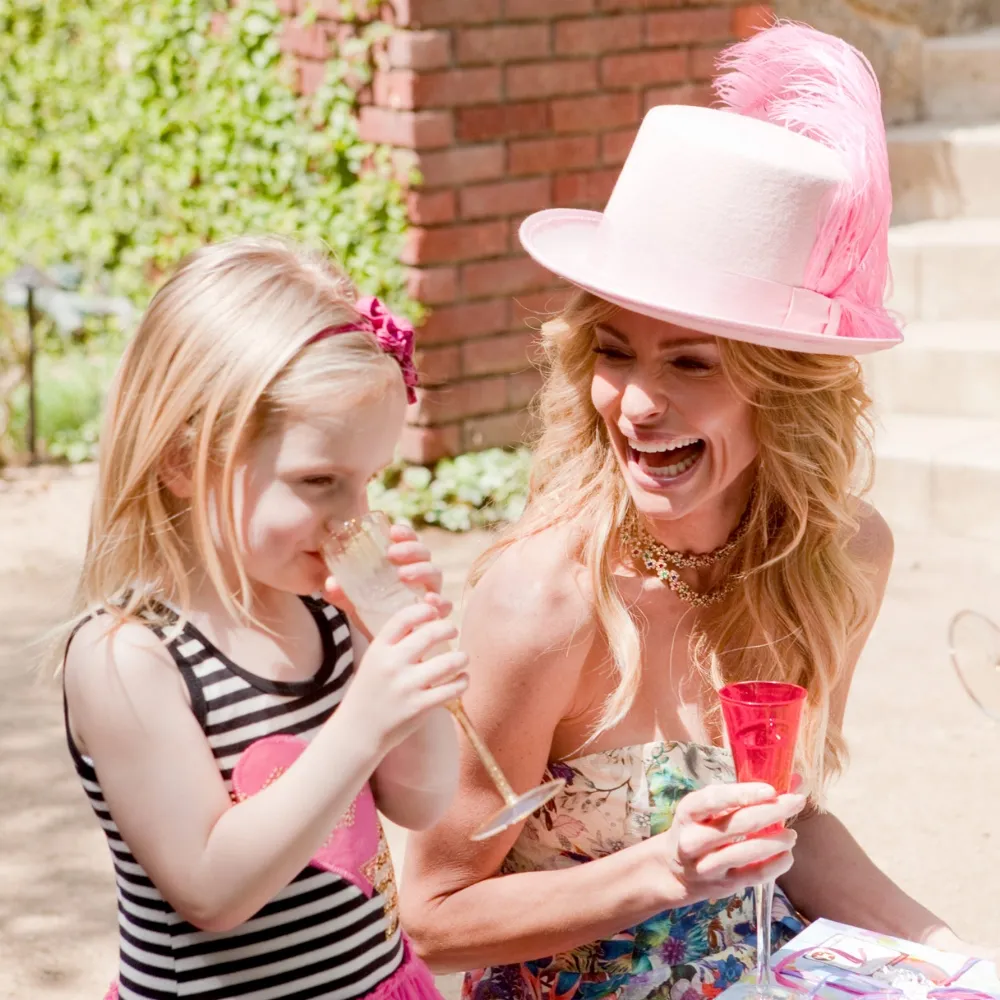 The thing is, it seems like Kennedy just wants some love from her parents. At her rodeo-themed party on a large ranch, Kennedy received a pony from her dad. Plus, there was a petting zoo, a live musical performance, and a pricy cake.
Toie Roberts
Rapper Rick Ross found himself the subject of a bidding war back in the noughties. As a result, he had plenty of money to spend. The star has four children in total, including eldest daughter Toie, his only child with Lastonia Leviston.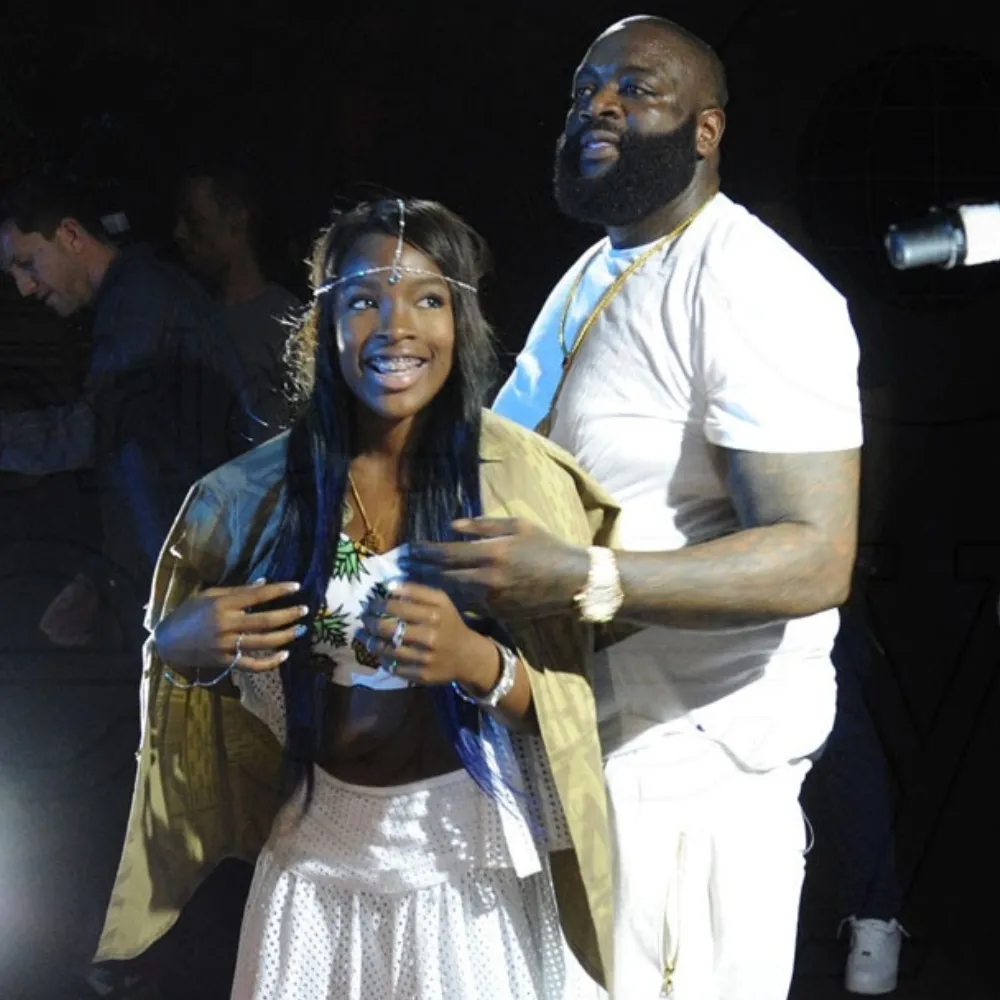 For her 16th birthday, Toie's dad threw her a massive party with A-list performers. He also gifted his daughter a Bentley Bentayga. For his son's recent birthday, he gifted him a chicken wing franchise.
Blue Ivy
Much like Suri Cruise, everyone expected little Blue Ivy to be super spoiled. After all, she's the firstborn child of megastars Beyoncé and Jay Z. Those two weren't going to be lowkey about their precious baby!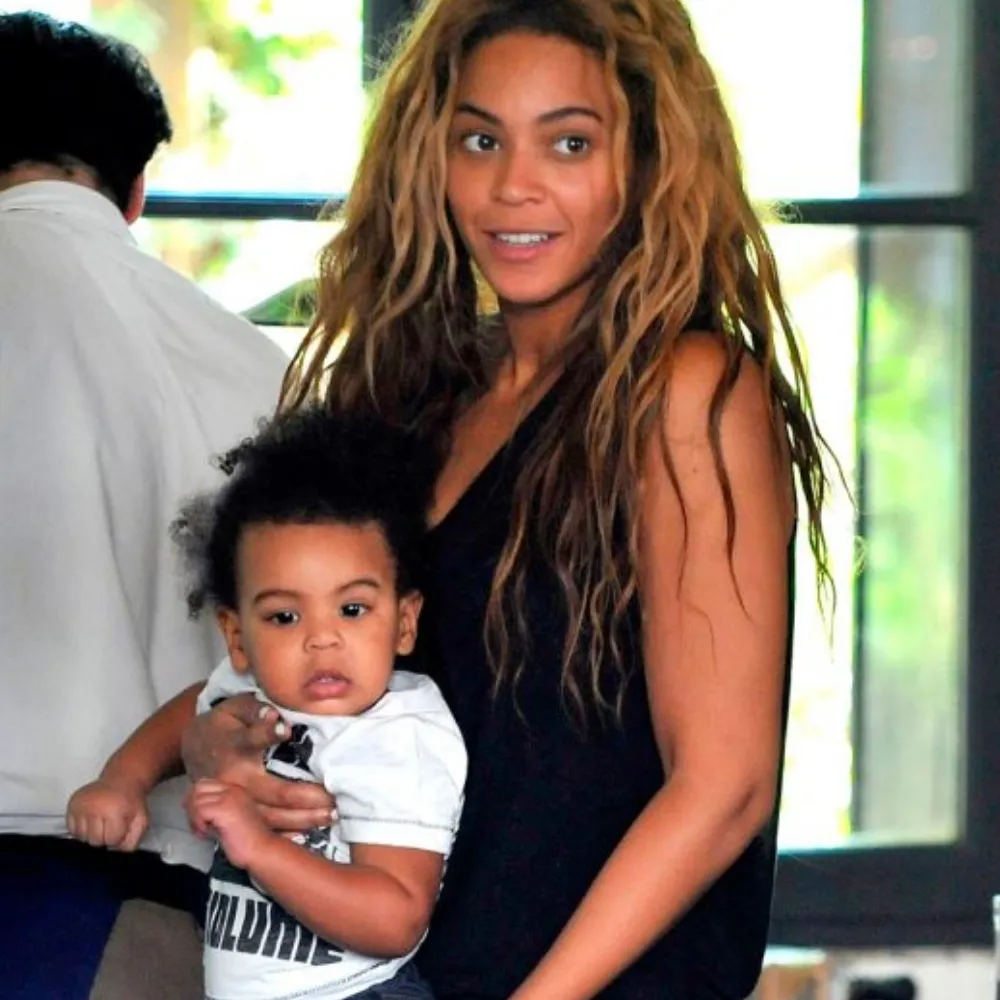 Blue Ivy had luxury everywhere she turned. She took her baths in a Swarovski crystal bathtub, and those can't be cheap. She also boasted a diamond-encrusted Barbie, and an impressive toy car collection. Hey, this kid needs practice for her life as a millionaire!
Valentina Paloma Pinault
When you're born into an extremely rich family, you immediately get all sorts of benefits. While the rest of us might have to study, work, and save, celebrity tots just have to exist. Unfair!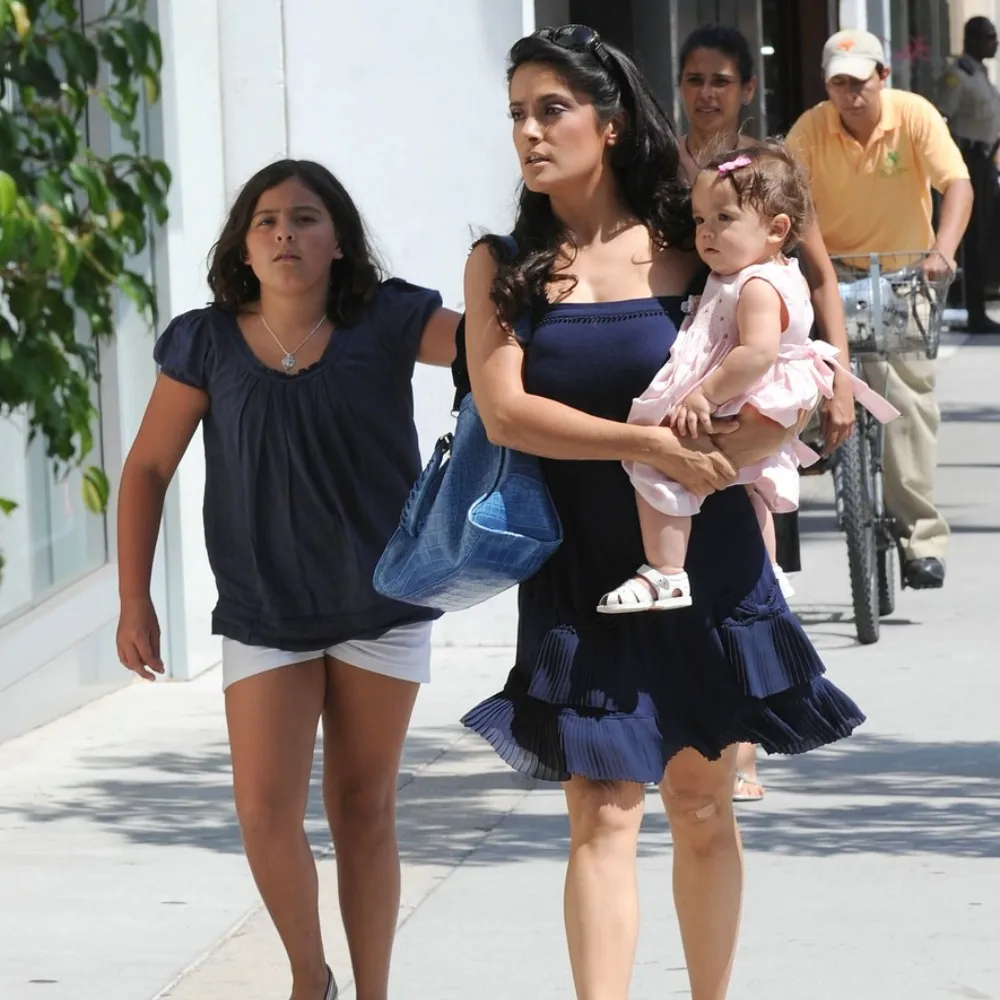 The daughter of Mexican-American actress Salma Hayek and French businessman Francois-Henri Pinault was certainly born into luxury. As a small child, Valentina was on red carpets, visiting art galleries, and vacationing in St. Barts. She also has a mega trust and a luxury home in her name.
Ayden Nida
We have another reality TV tot, this time it's the perfect Ayden Nida from Real Housewives of Atlanta. This gorgeous boy is the son of Phaedra Parks and Apollo Nida, a rather controversial couple. On the show, viewers watched as Phaedra threw elaborate events for her little one, affectionately known as Prince Ayden.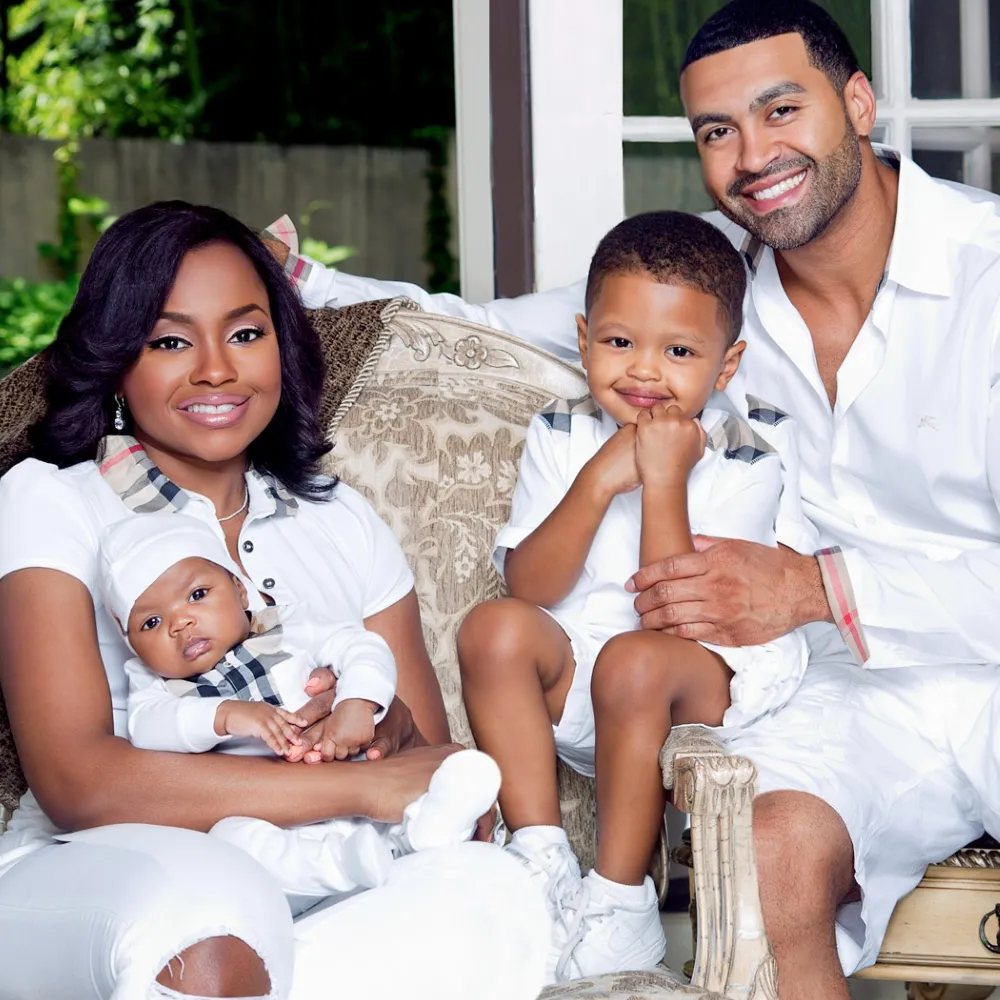 For his first-ever birthday, Ayden was presented with 12 birthday cakes! That's one for every month of his life. The event took place at an Atlanta water park.
Kaia Gerber
Model Kaia Gerber grew up with two high-profile parents. Her mom is supermodel Cindy Crawford, and her dad is businessman Rande Gerber. She grew up in LA and was modeling kids Versace when she was just 10 years old.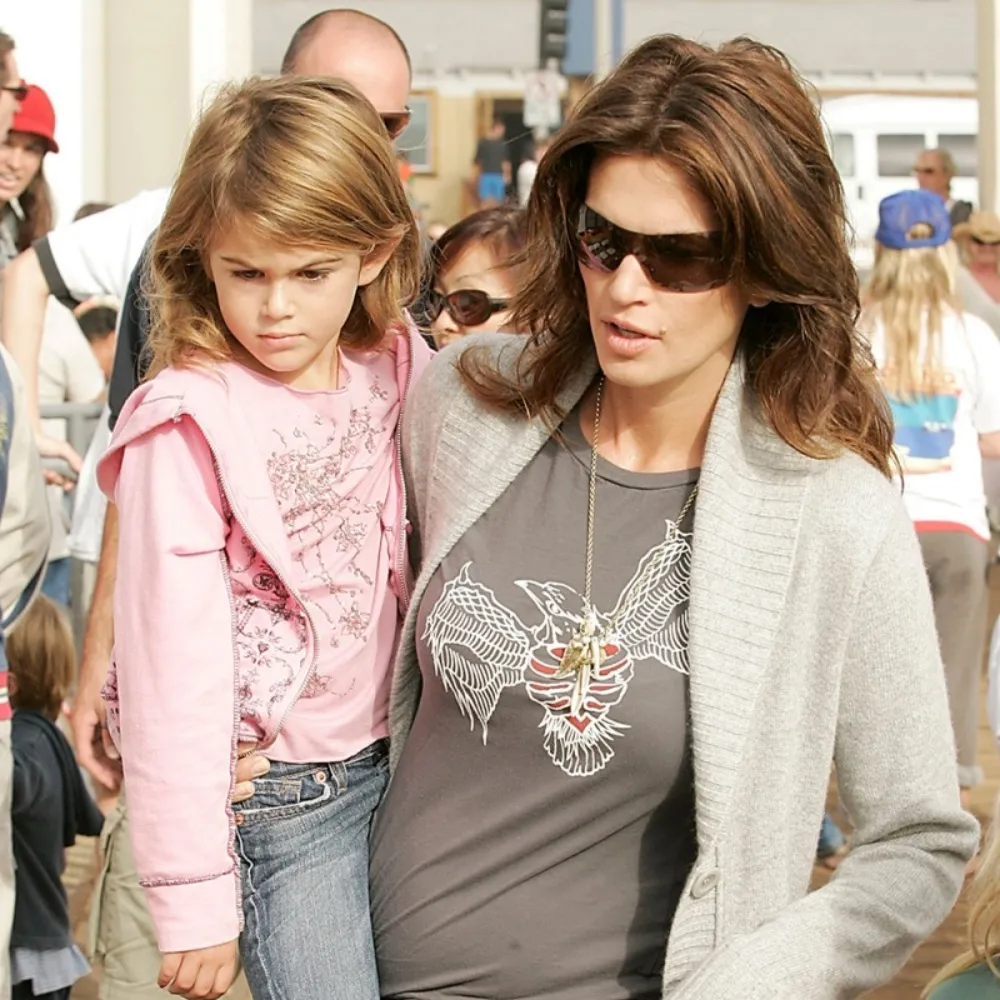 From a young age, Kaia had access to all sorts of celebrities. She has said, "From when I was five, I would always hang out with my parents and their friends." One of those friends? The one and only Naomi Campbell.
Zahara Jolie-Pitt
As the child of celebrities herself, actress Angelina Jolie must know what it's like to grow up privileged. The star is the daughter of actors Jon Voight and Marcheline Bertrand. For her own brood, Angelina has a mixture of adopted and biological children.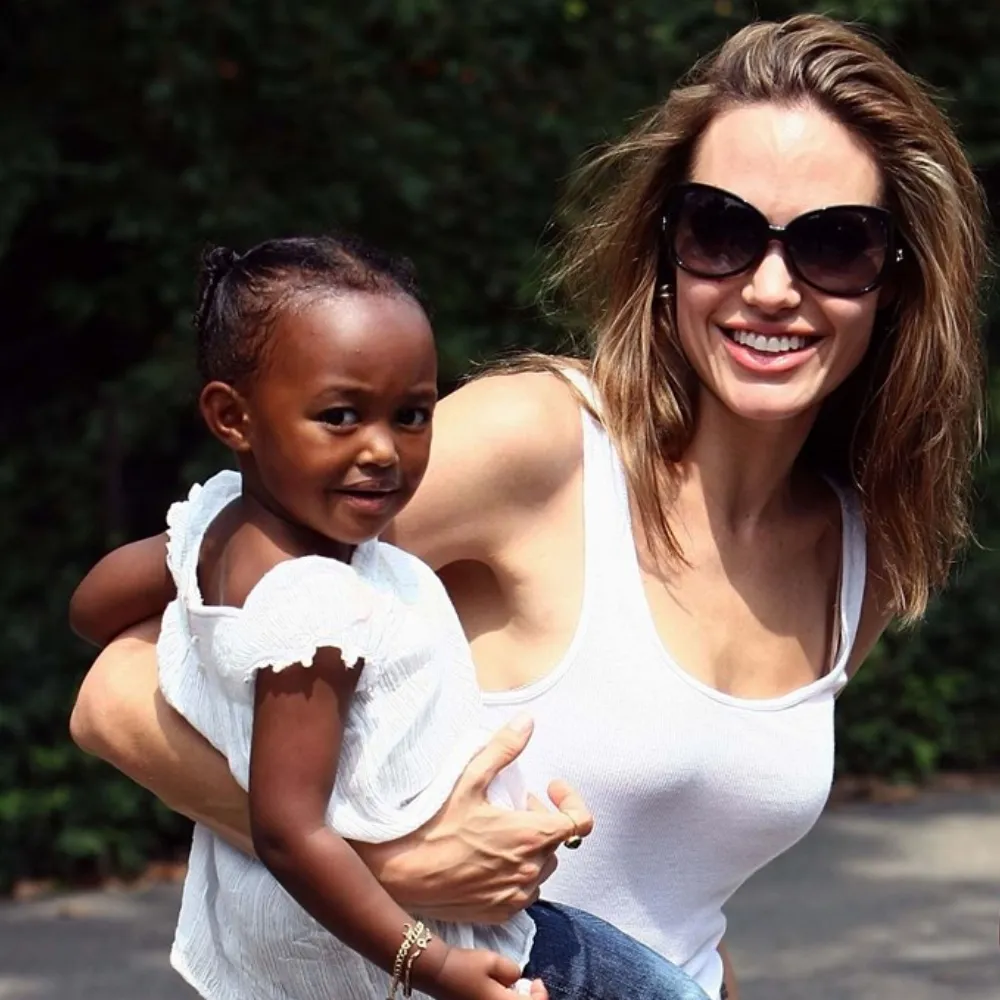 Naturally, they were all raised as one big happy family. Like her siblings, Zahara was raised by two multi-millionaires. She has enjoyed luxurious birthday parties and plenty of world travel. She's done more than most adults!
Jaden Smith
We've already covered Willow, but what about older brother Jaden? Much like his sister, Jaden was raised in an unconventional way. Growing up with both parents in the entertainment industry made it much more likely Jaden would also take that path.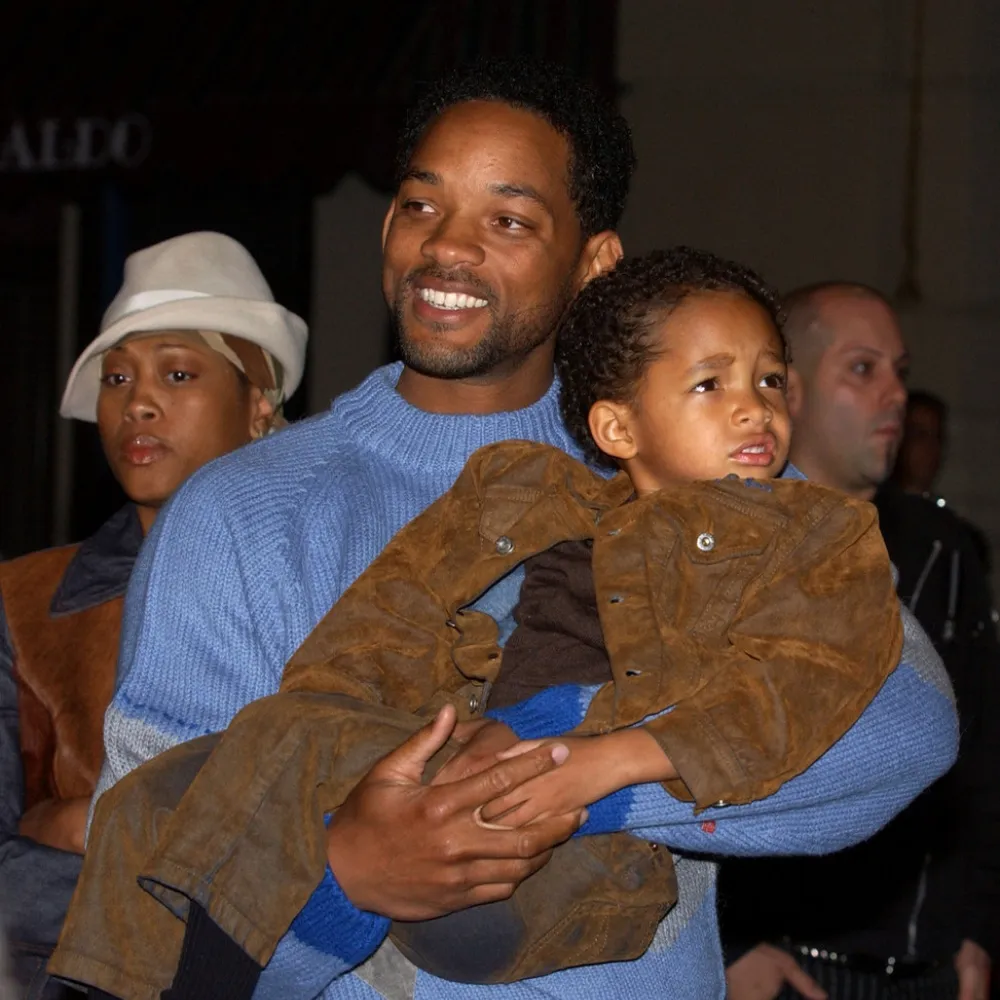 The Smiths have acknowledged that their kids didn't have much discipline. As a result, Jaden regularly splashed his cash on Cartier jewelry. He also grew up thinking he was "the future of music, photography, and film making." Sure, Jaden.
Harper Beckham
After having three sons, former Spice Girl Victoria Beckham and former soccer player David Beckham, welcomed their only daughter. Harper Seven was destined to be dressed in designer gear with a fashion designer for a mom. But, she's also an early art lover.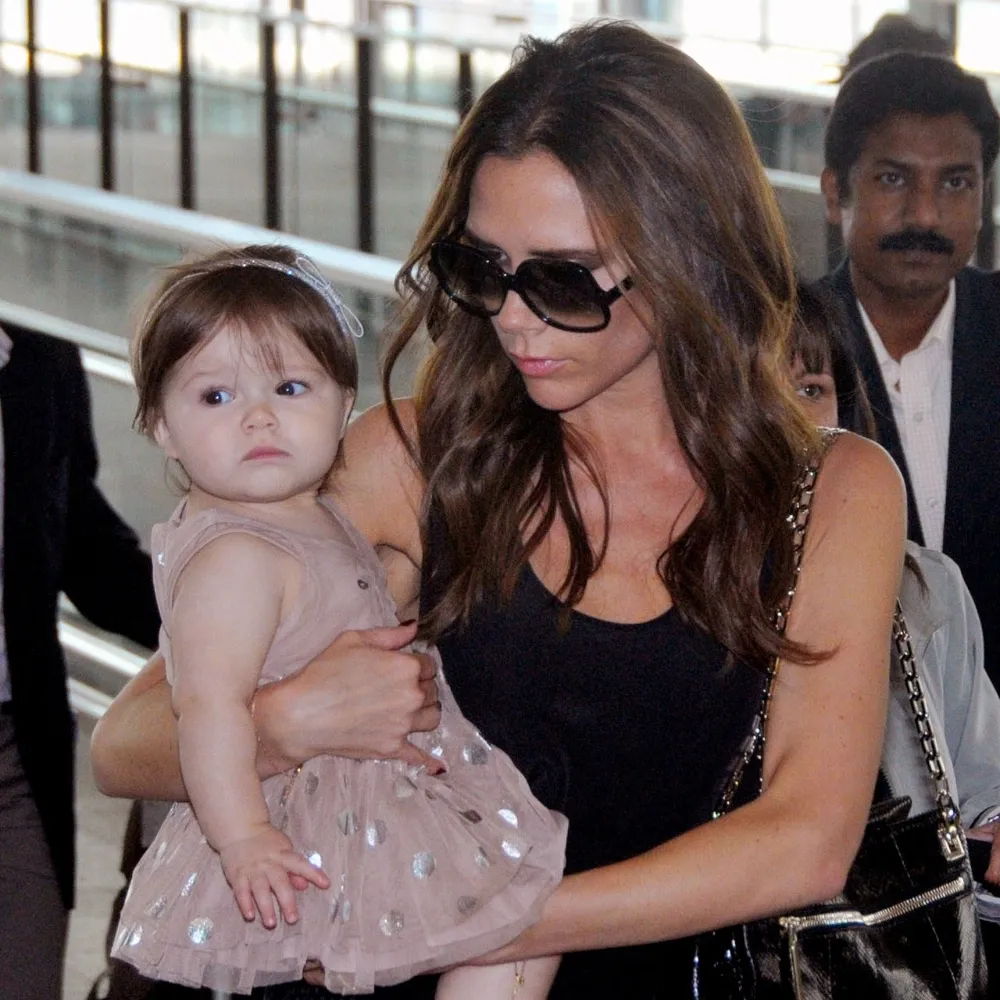 The Beckhams commissioned an artwork for Harper named "Daddy's Girl," and it's worth rather a lot of money. When she got a little older, Harper had a princess party inside Buckingham Palace with actual Princess Eugenie.
Honor Warren
Another regularly seen baby of the noughties is Honor Warren, daughter of actress Jessica Alba and husband Cash Warren. This cutie also hung out in Hollywood when she was growing up and was regularly snapped by the paparazzi.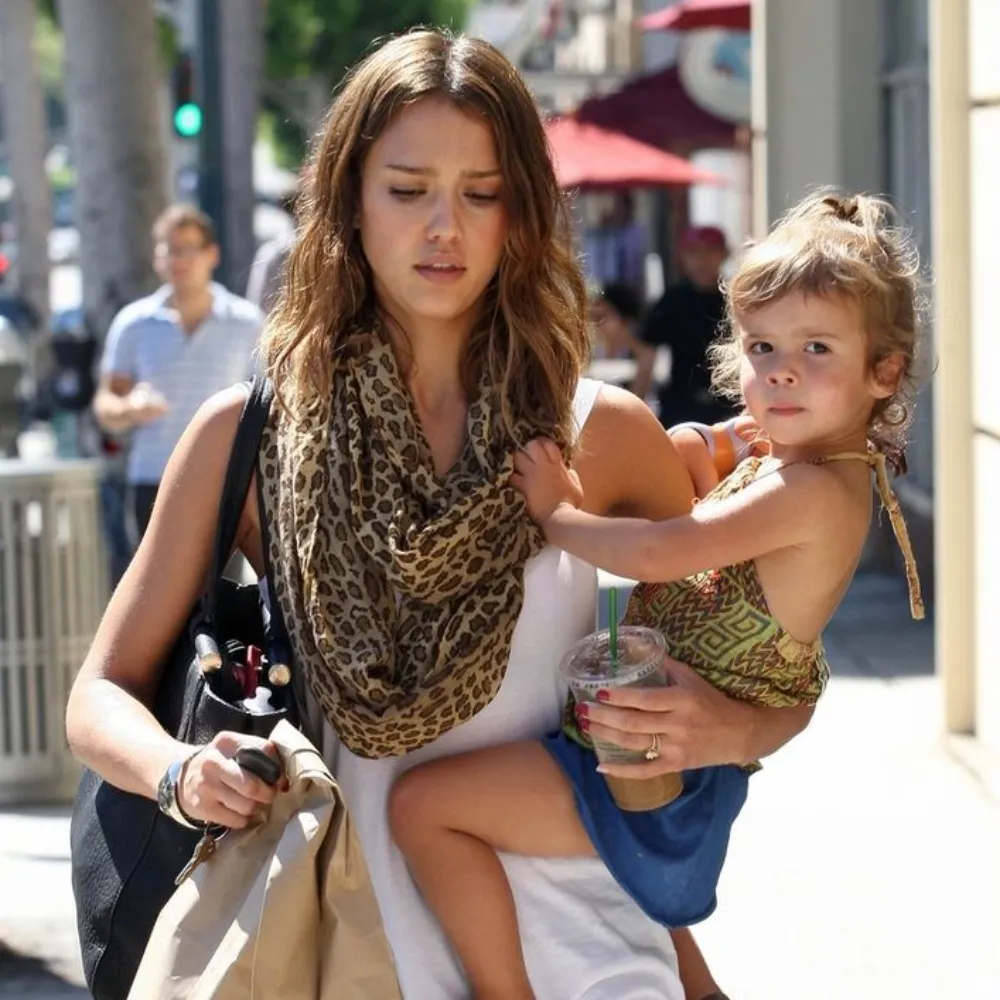 Little Honor Warren enjoyed having her nails done, as many of us do. The pint-sized celebrity child was spotted having manicures and pedicures in a Hollywood salon several times. While the rest of us were painting our own nails with markers, this one was having hers professionally done.
Vivian Brady
Much like Harper Seven Beckham, little Vivian Brady was also the first girl among a family of boys. This spoiled noughties tot is the daughter of supermodel Gisele Bündchen and NFL star Tom Brady.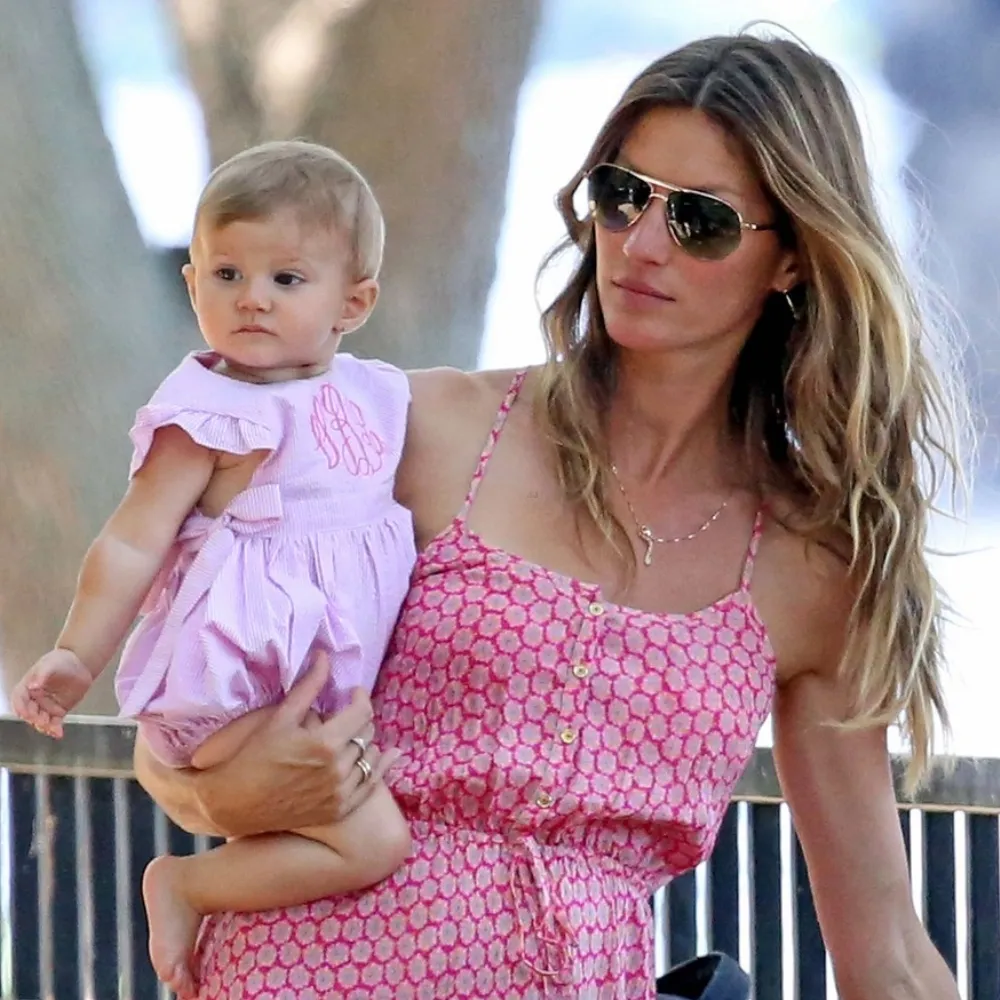 The athlete has admitted, "I let my daughter do basically anything she wants, which is a little bit of a problem in the house." When Vivian was born, Tom and Gisele lived in a 5,300-square-foot triplex penthouse in Boston. From there, they moved to a custom mansion in Brookline.
Apple Martin
Who could forget the noughties arrivals of Apple and Moses Martin? With her unusual name, Apple grabbed attention from the instant she was born. The daughter of actress Gwyneth Paltrow and singer Chris Martin has certainly lived a pampered life.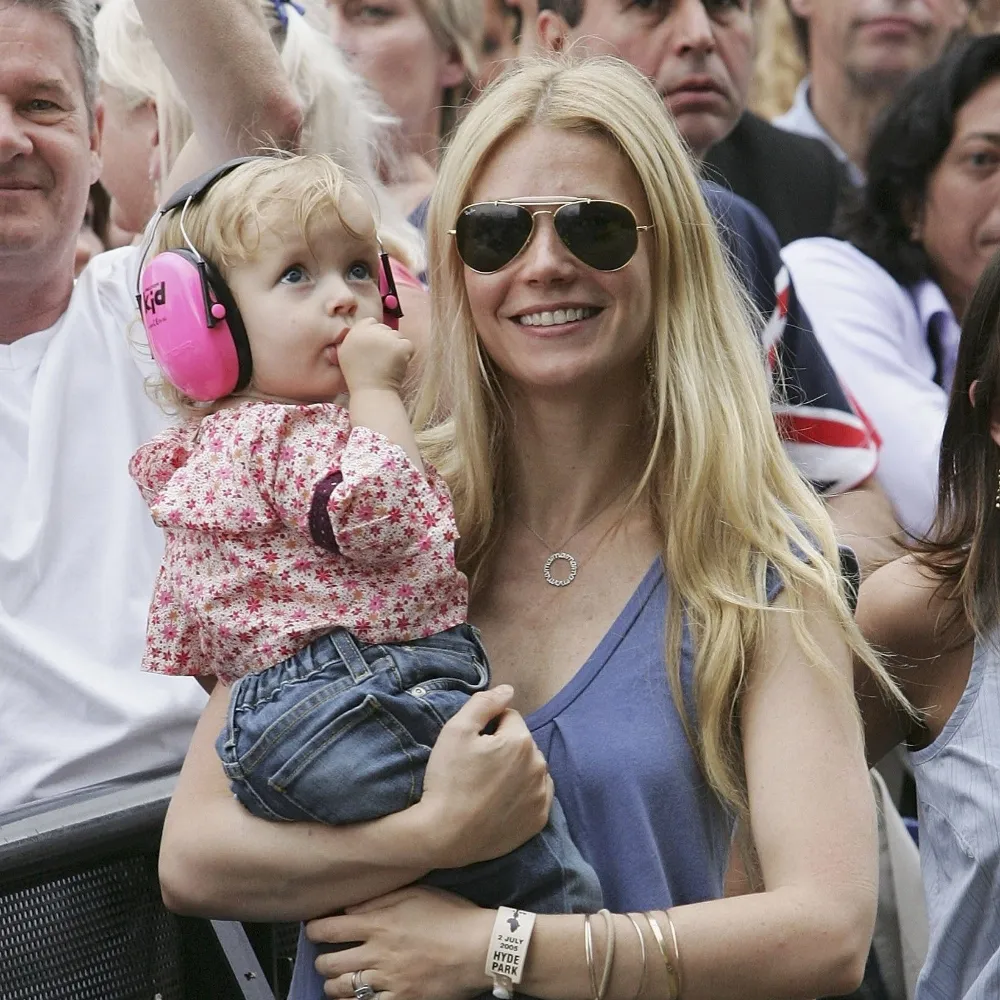 When Apple was born, the A-List family lived in a luxurious London home that they purchased from Kate Winslet. When she was just a tiny toddler, Apple was front row at her dad's concerts. Plus, she has actor Simon Pegg as a godparent.
Mason Disick
He's the first grandchild of the Kardashian-Jenner brood, so it's no surprise that Mason Disick was spoiled. Viewers watched as Kourtney pulled Mason out of her on TV surrounded by her family. There's no denying he was loved from the instant he appeared on Earth.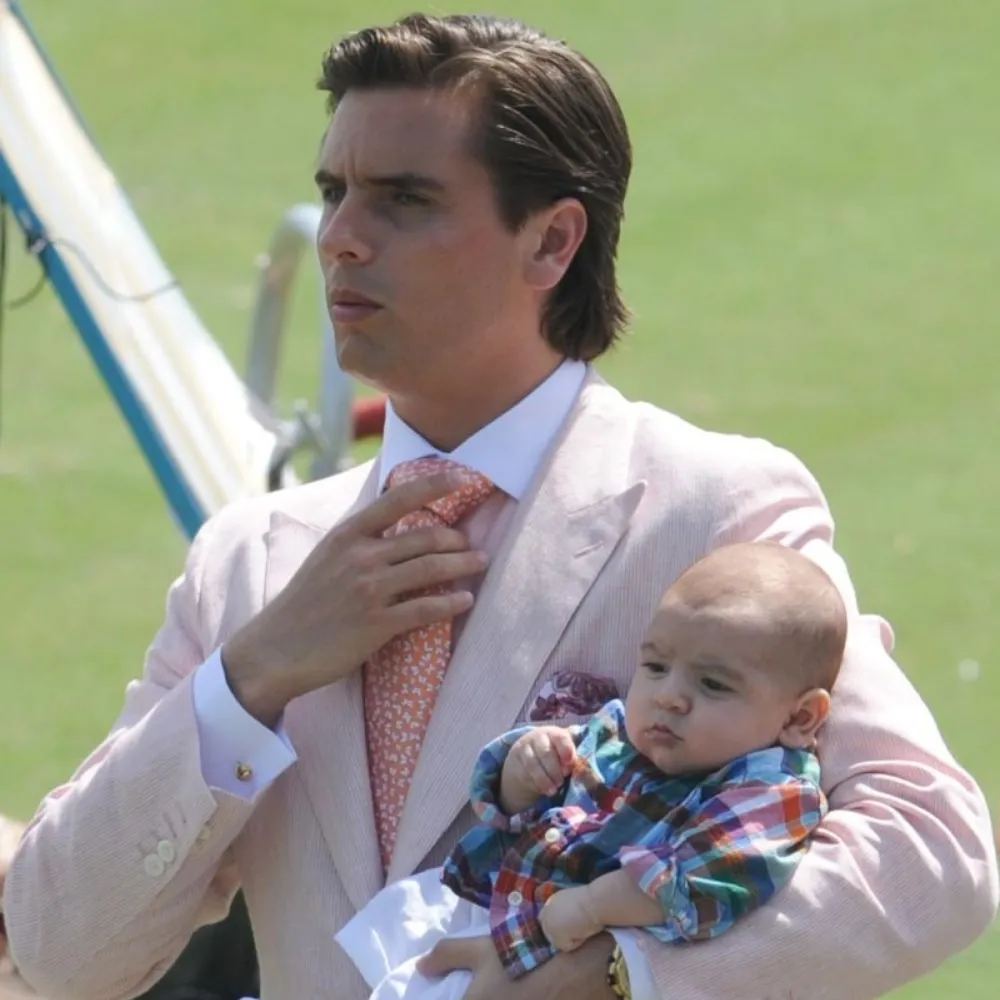 Mason has lived a very pampered life since he was born. His godparent is fellow multi-millionaire reality star Khloé Kardashian, so he'll be spoiled forever. Mason has always worn designer clothes and lived in mansions.
D'Lila Star and Jessie James Combs
Our next pampered noughties kids are P. Diddy's twin daughters, D'Lila Star and Jessie James. The rapper and music mogul has six children in total, and the twins are his youngest with on-again, off-again partner Kim Porter.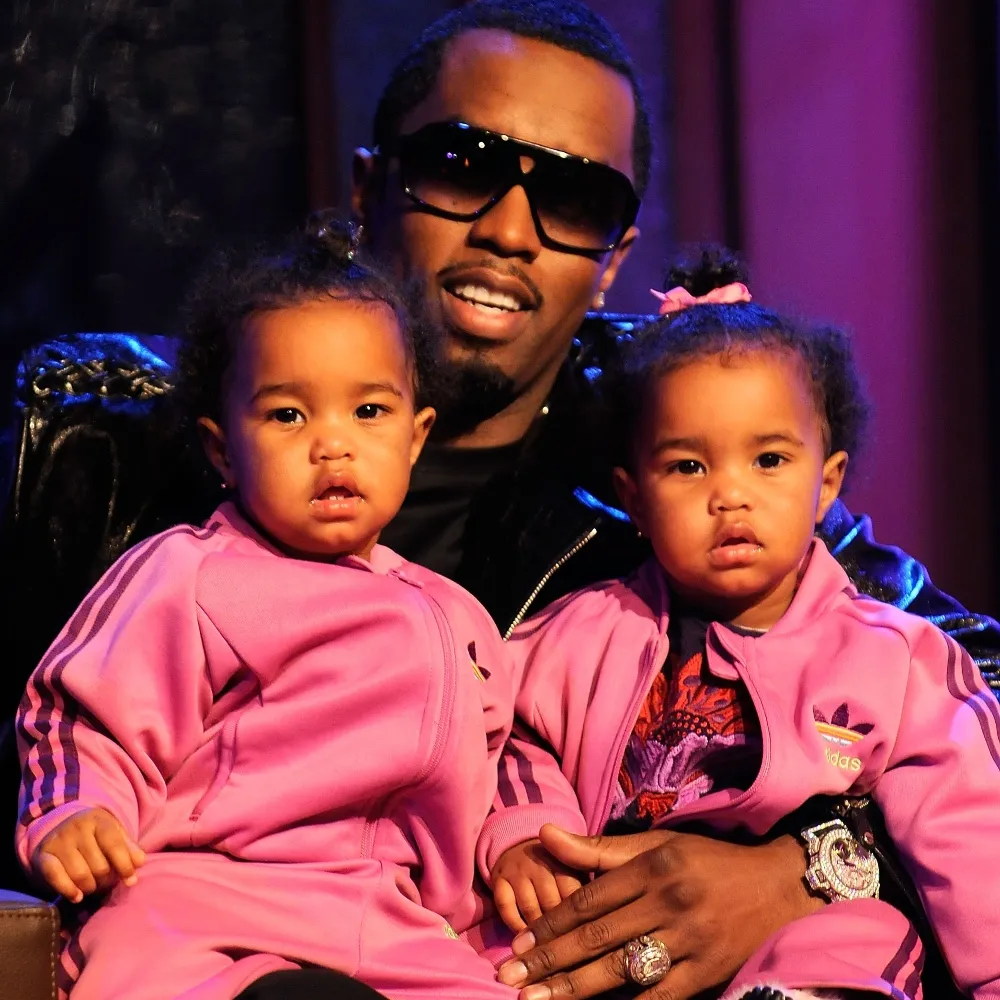 As the adorable daughters of a huge figure in the entertainment industry, D'Lila and Jessie were always going to be spoiled. When they were growing up, their dad owned restaurants and a mansion in Atlanta, and a luxury apartment in New York.
Sophia Abraham
Back in the noughties, MTV audiences were introduced to 16 and Pregnant. On the show, we met teenager Farrah Abraham who was expecting her daughter, Sophia. Since her birth, Sophia has been treated like one of Farrah's friends, rather than her dependent daughter.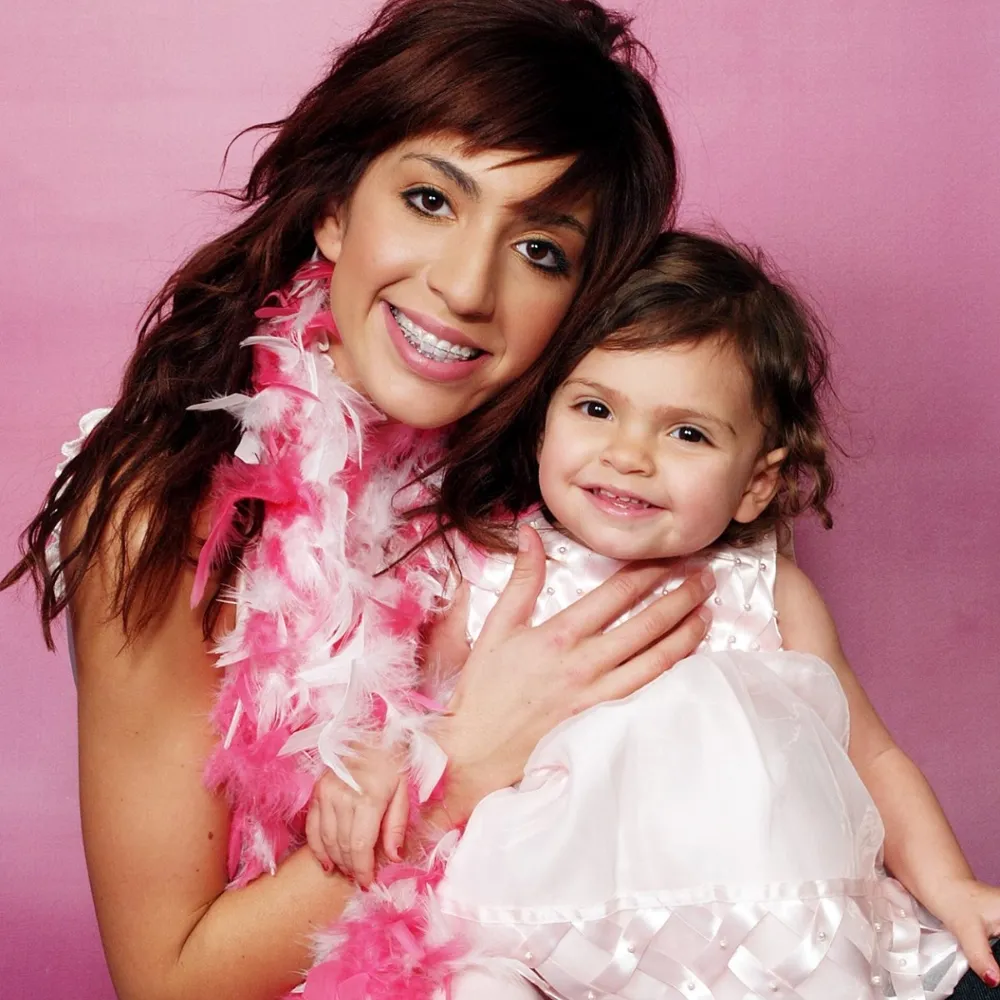 At one stage, the reality star even commented that the then four-year-old "has her own life and is doing her own thing, and I'm doing mine." Sophia received stacks of cash from the tooth fairy, and received a pony named Stardust for Christmas.
Shareef O'Neal
He's now a fully grown college basketball player, but in the noughties, Shareef O'Neal was just another spoiled celebrity kid. Shareef is the son of basketball icon Shaquille O'Neal, so he was always going to live a life of ambition and luxury.

He's actually the eldest of the athlete's four kids with TV presenter Shaunie Nelson. When Shareef turned 16, his famous dad bought him a Lamborghini Gallardo. On top of that, the teen also received a Jeep Wrangler. Why just have one luxury car, right?
Louis Bardo Bullock
We've already learned that Harper Seven Beckham was a young art lover, and here's another one. Sandra Bullock initially adopted her son, Louis Bardo, with husband Jesse James — but then as a single mother when they split.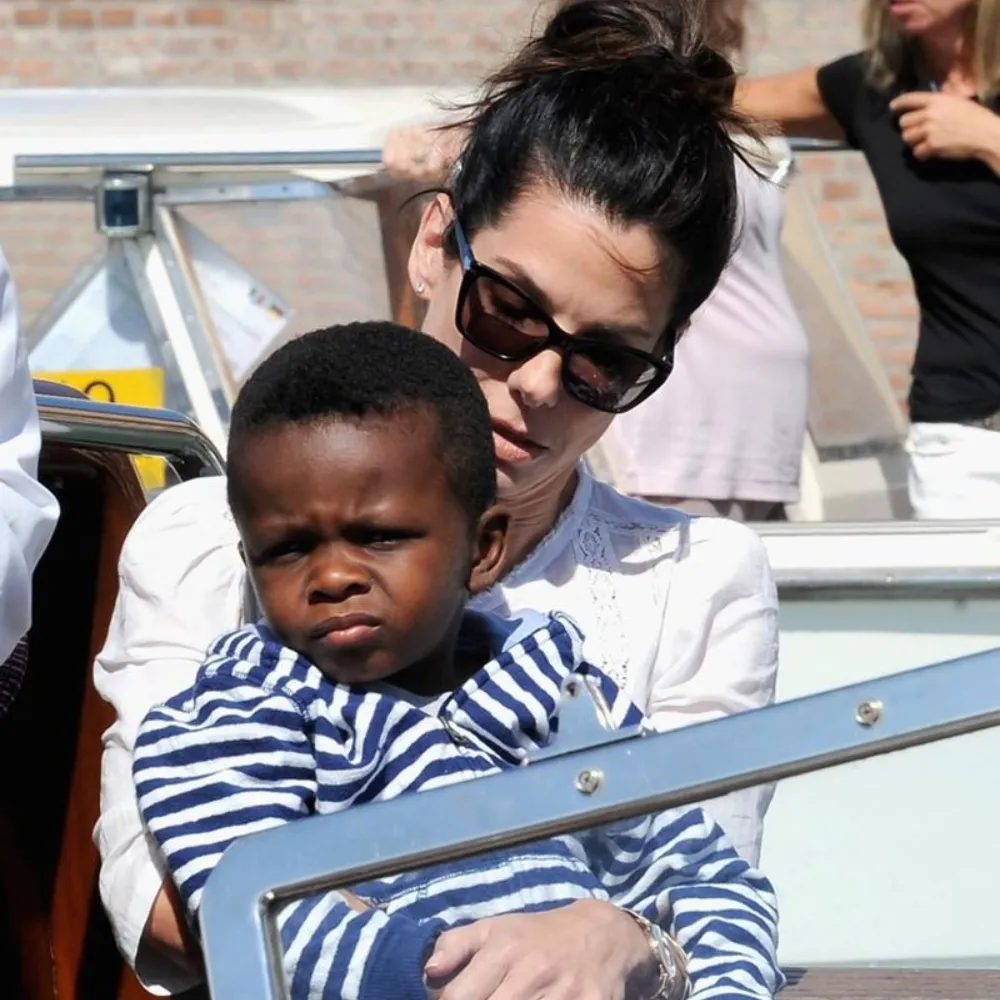 For his first-ever birthday, the award-winning actress gifted her child an Andy Warhol painting. At just one year old, Louis had a serious investment in the art world. Not bad for someone that recently learned to sit up.
Demetrius Mosley
We have another rapper's child next, and another massive sweet 16 party. In fact, Timbaland and his son, Demetrius, actually starred in their own episode of MTV's My Super Sweet 16. He's the first of the entertainer's three kids, and he got everything a teen could wish for on his birthday.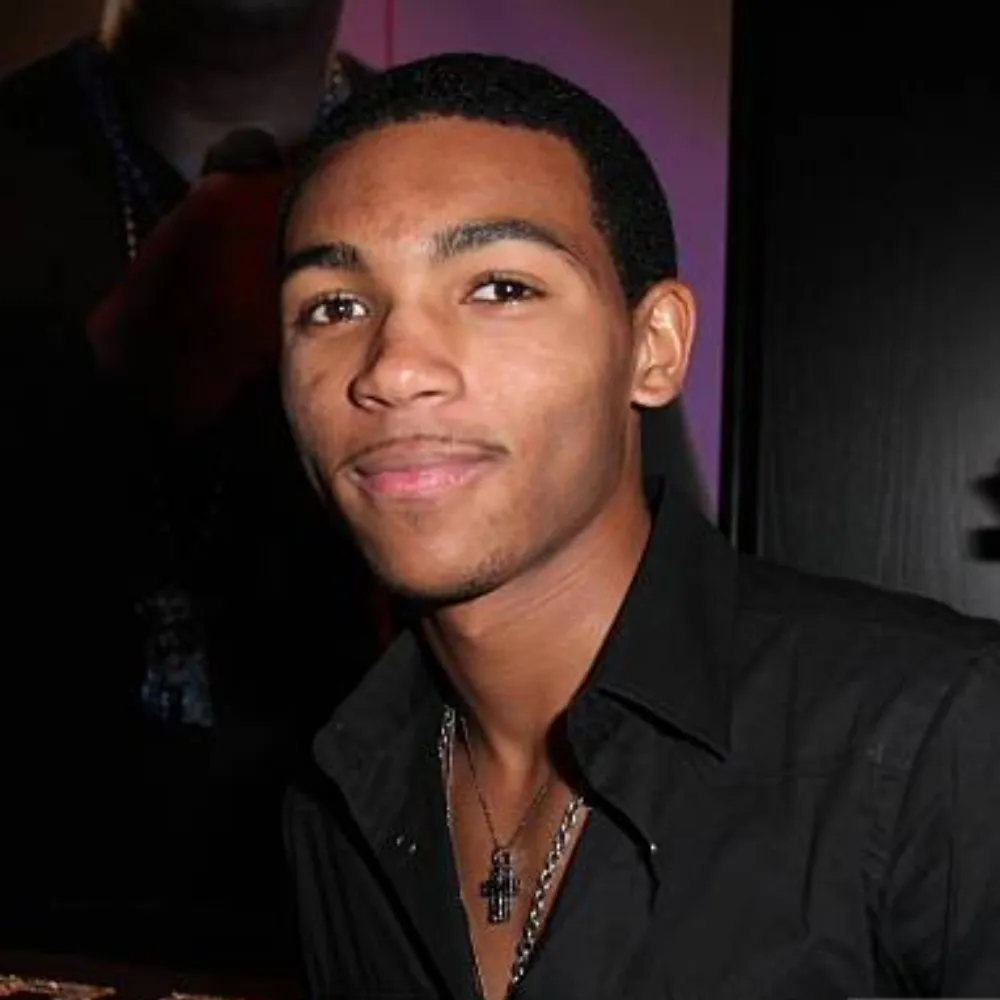 Demetrius enjoyed a Saint-Tropez-themed birthday party thrown in Miami. As well as having celebs there, the teen was presented with a brand new Lamborghini as his gift. Outrageous!
Reginae Carter
In total, rapper Lil Wayne has four children. His eldest is daughter Reginae, who he fathered when he was just 16 years old. Reginae's mom is reality TV star and rapper Toya Johnson. With these two for parents, it's no surprise that Reginae was never told no.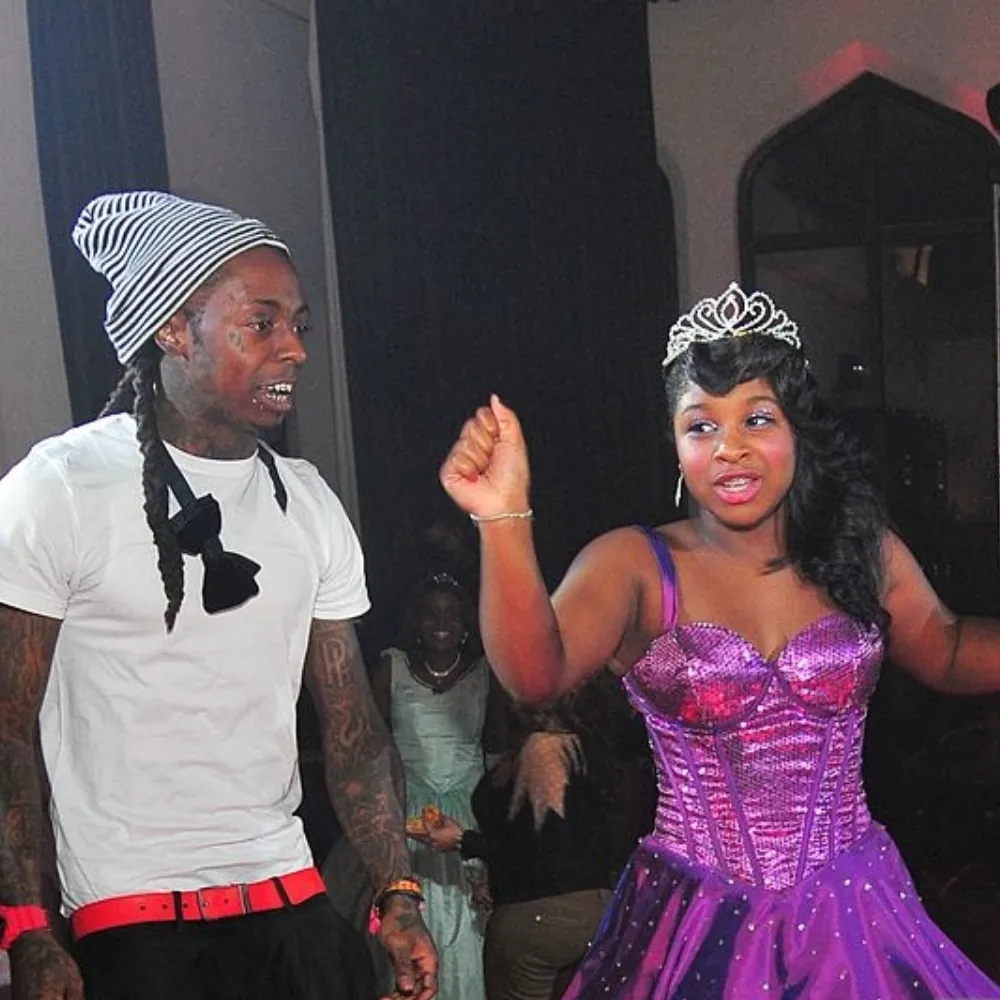 When the family appeared on MTV's My Super Sweet 16, the lucky noughties kid was presented with two cars. That's right — two! Reginae received a red BMW and a white Ferrari at her lavish birthday bash.
Kylie Jenner
She's about to be a mom of two, but back in the noughties, Kylie Jenner was just a kid. She and sister Kendall appeared in their family's reality series from the ages of 10 and 12. Famously, Kylie is shown swirling around a pole in several episodes of the show.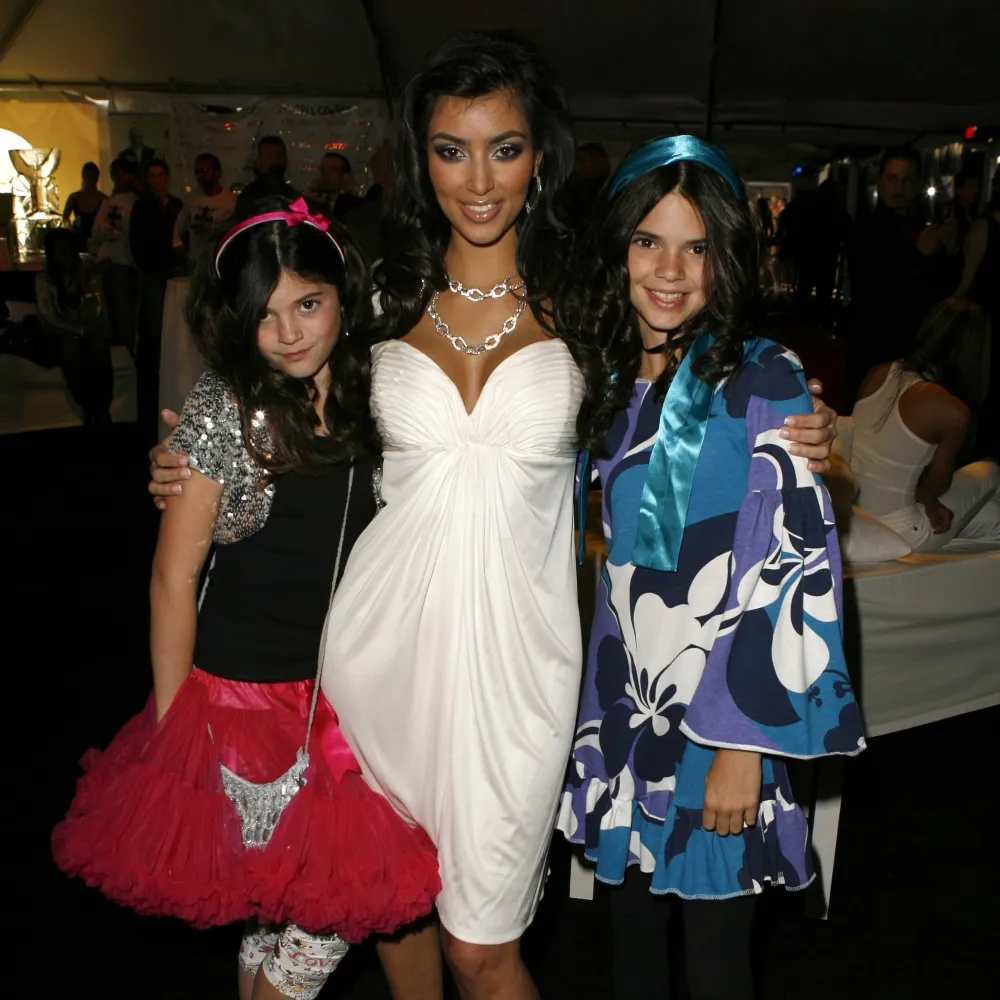 Growing up in the Kardashian-Jenner family meant that Kylie always lived like an A-lister. She's always lived in mansions, always worn designer clothes, and always hung out with celebrities.
Justin Combs
We've already covered Diddy's twin daughters, but let's not forget his other noughties kids. Both Justin and Quincy Combs ended up celebrating their 16th birthdays on MTV's outlandish reality series My Super Sweet 16. For Justin's birthday, his mogul dad gave him a Mercedes Maybach. Yes, really.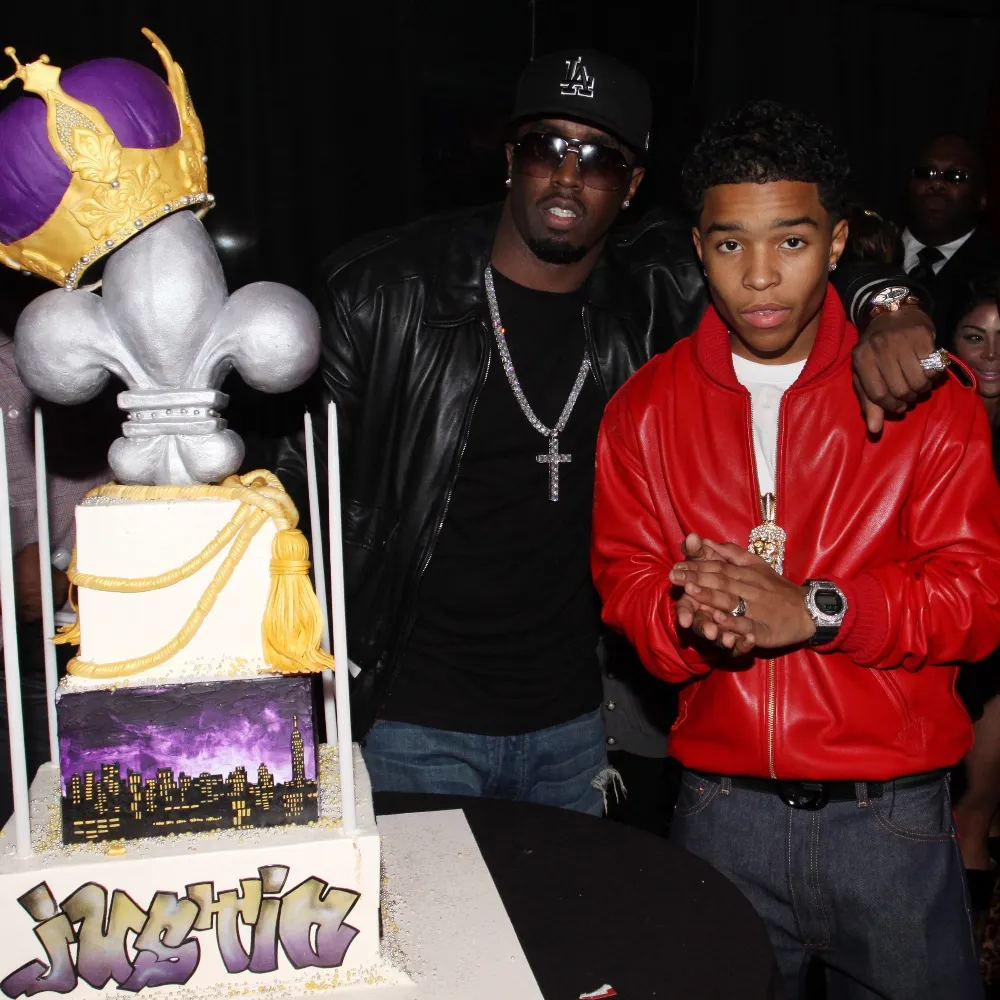 When criticized for spoiling his kids, Diddy replied, "I think it's appropriate to give my kids whatever I want to give my kids. I feel the way I raise my children, I don't have to explain to you or anyone else."
Maddox Jolie Pitt
Likewise, we've covered young Zahara Jolie-Pitt, but she has a bunch of siblings that were little kids in the noughties. Maddox Jolie Pitt is the eldest of Brangelina's brood. He was adopted in 2002 by Angelina when she was still married to actor Billy Bob Thornton.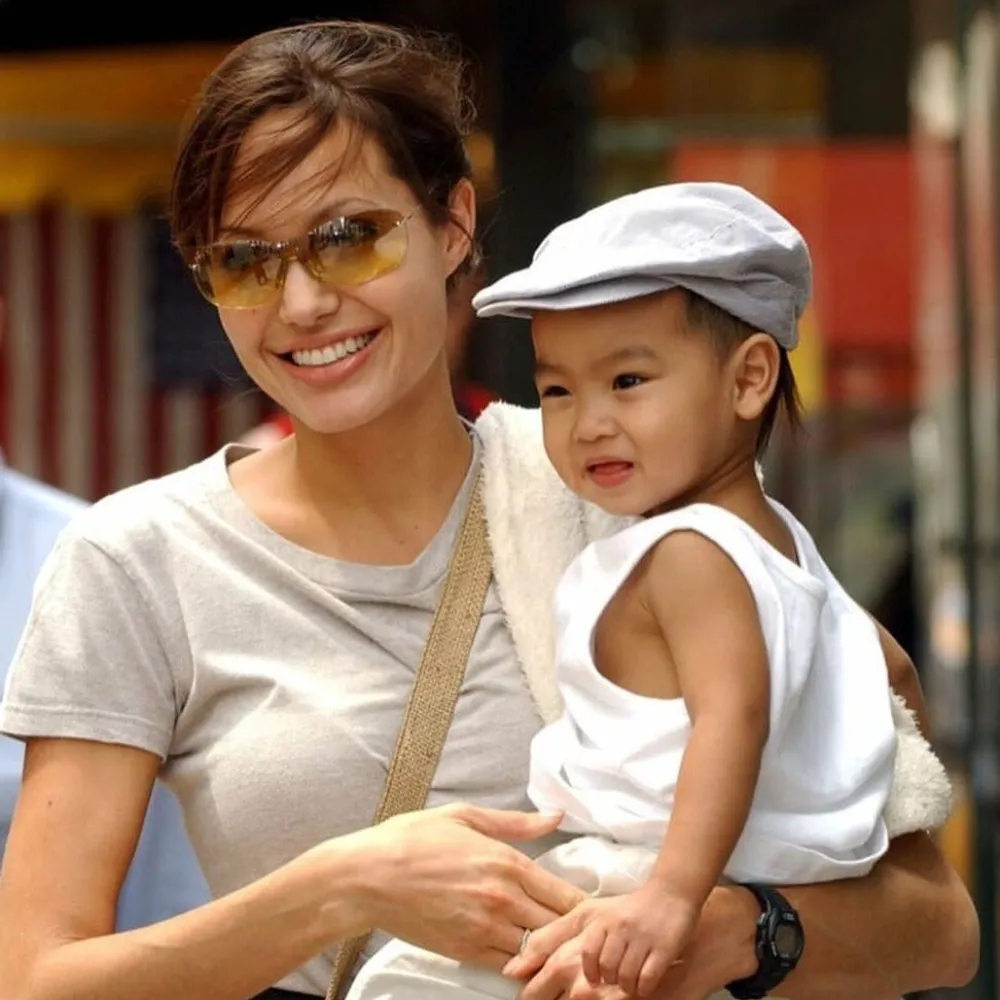 However, she later adopted him as a single mom, and then Brad adopted him in 2006. Maddox grew up with nannies, private jets, and extensive world travel. The family's château in France had 35 bedrooms.
Shayla Gibson
We reckon Shayla Gibson might be the most spoiled kid on this list. That's right — more than Elton John's child with an entire apartment for a nursery. More than Suri Cruise, and even Blue Ivy. This is because Ms. Shayla Gibson is in possession of an entire island. Now, that's spoiled!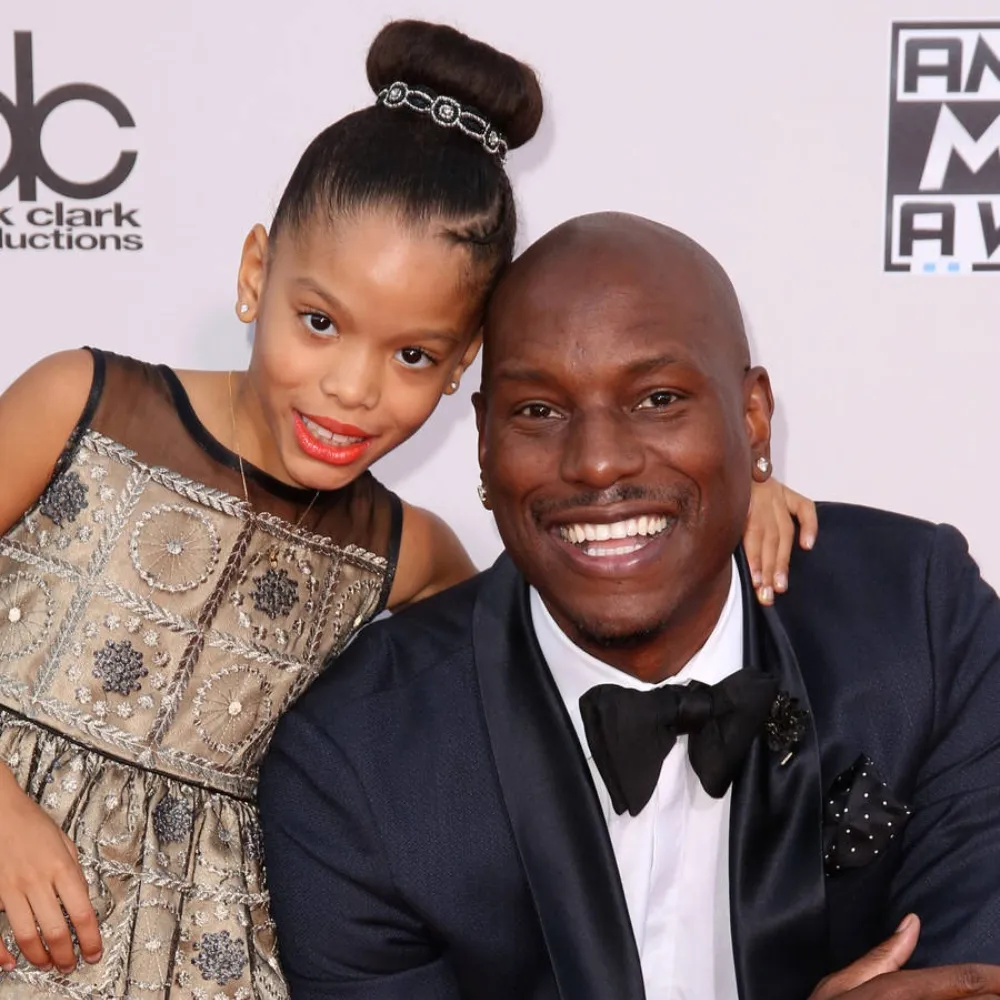 Shayla's dad, singer and actor Tyrese Gibson, bought her an island, reportedly called Love Island, as a birthday gift. On top of this, Shayla joined her dad at top music events, including the American Music Awards.
Ming and Aoki Lee
Aren't these two adorable? Who wouldn't spoil them? Twins Ming and Aoki Lee are the daughters of model and businesswoman Kimora Lee Leissner. The girls are Kimora's kids with former husband, record executive Russell Simmons.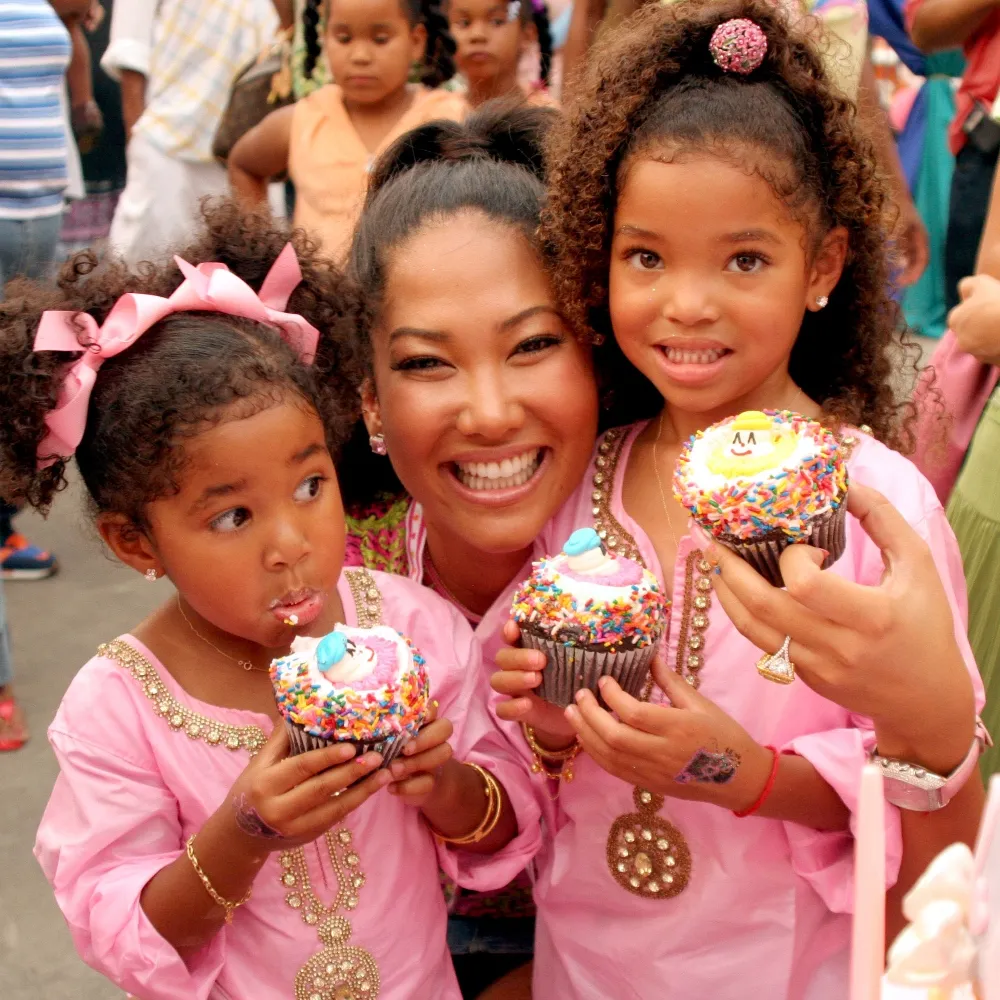 These lucky little ladies get all sorts of perks. They travel around the world, do ballet and yoga, speak various languages, and have a team of staff. Plus, these kiddos were walking runways for their mom's line when they were no age.
Brooklyn Beckham
We've looked at the littlest Beckham, so let's revisit the eldest. Posh and Becks' first-born child was obviously treated like a little Prince. After all, his parents literally sat on thrones at their lavish celebrity wedding.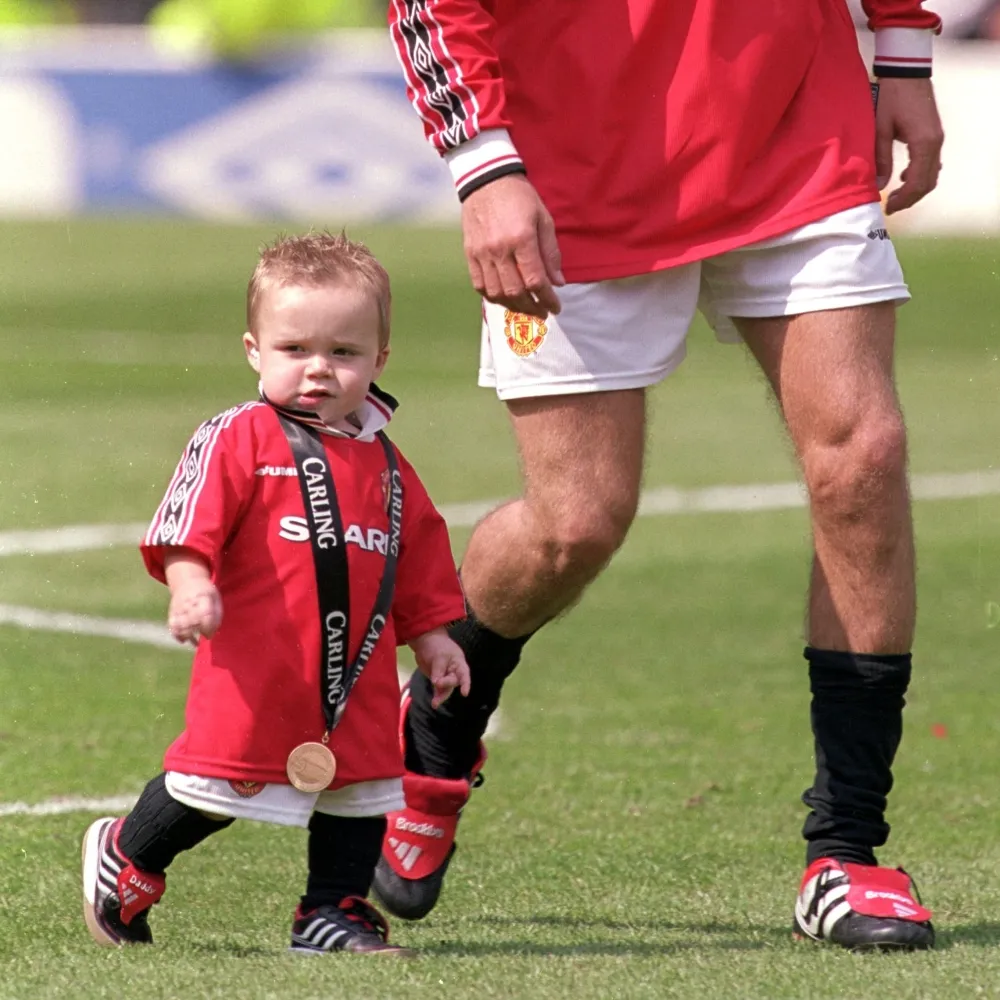 Apparently, young Brooklyn was given a luxury treehouse and had a fiberoptic ceiling that simulated stars in his bedroom. No stick-on stars for this A-list tot! The Beckhams' nine-foot tree tent was described as a "limited dollop of sci-fi futurism." Cool, cool.
Shiloh Jolie Pitt
Let's check in with another of the Jolie-Pitt siblings. Brad and Angelina's daughter Shiloh was their first biological child. It was reported that the movie star bought his daughter two diamond and platinum necklaces from a top jeweler for her third birthday.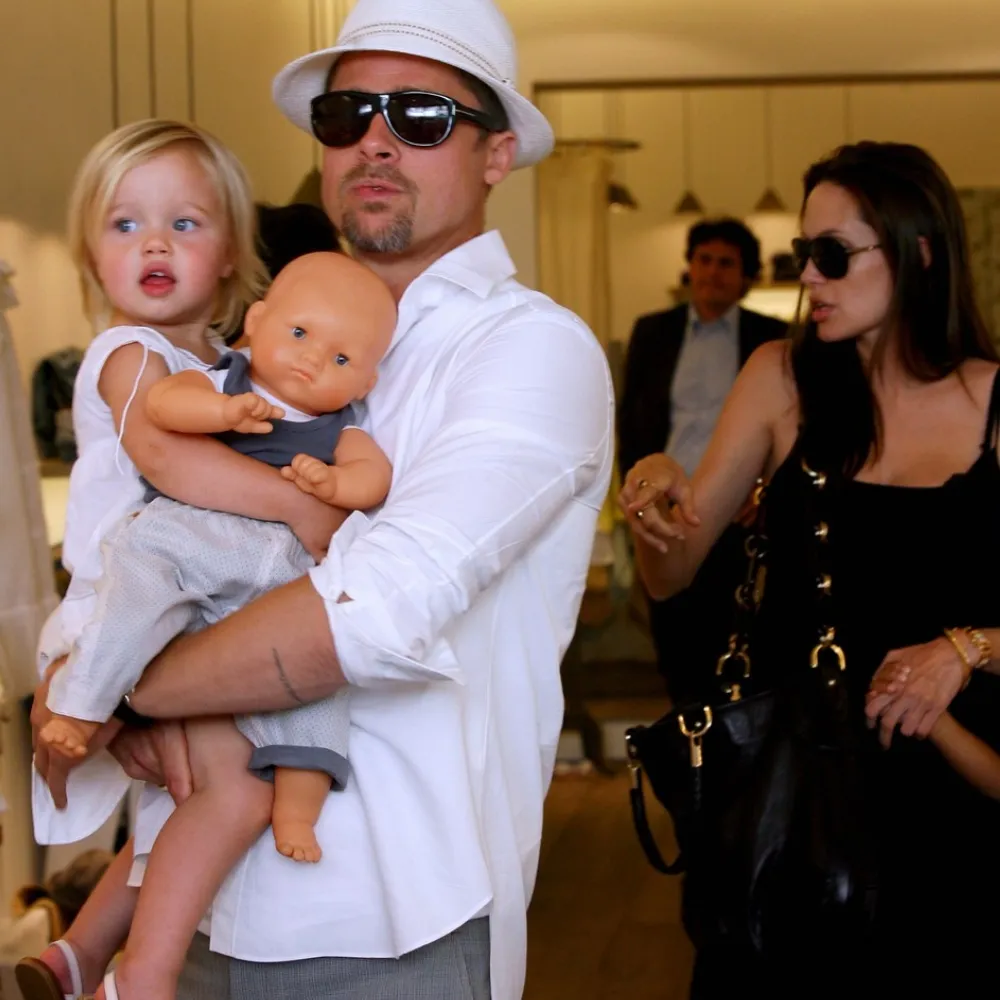 What toddler doesn't need to start building their jewelry collection? It was also reported that Shiloh's parents treated her to a diamond pacifier. Apparently, those are just for decoration, though. Otherwise, it would just be silly.
Carlysia Levert
On MTV's My Super Sweet 16, a bunch of extremely spoiled kids would demand a party, gifts, and whatever else they could nab. It was particularly fun when a celebrity kid was on the show, such as Carlysia Levert. The teen is the daughter of R&B singer Gerald Levert, and had plenty of outlandish suggestions.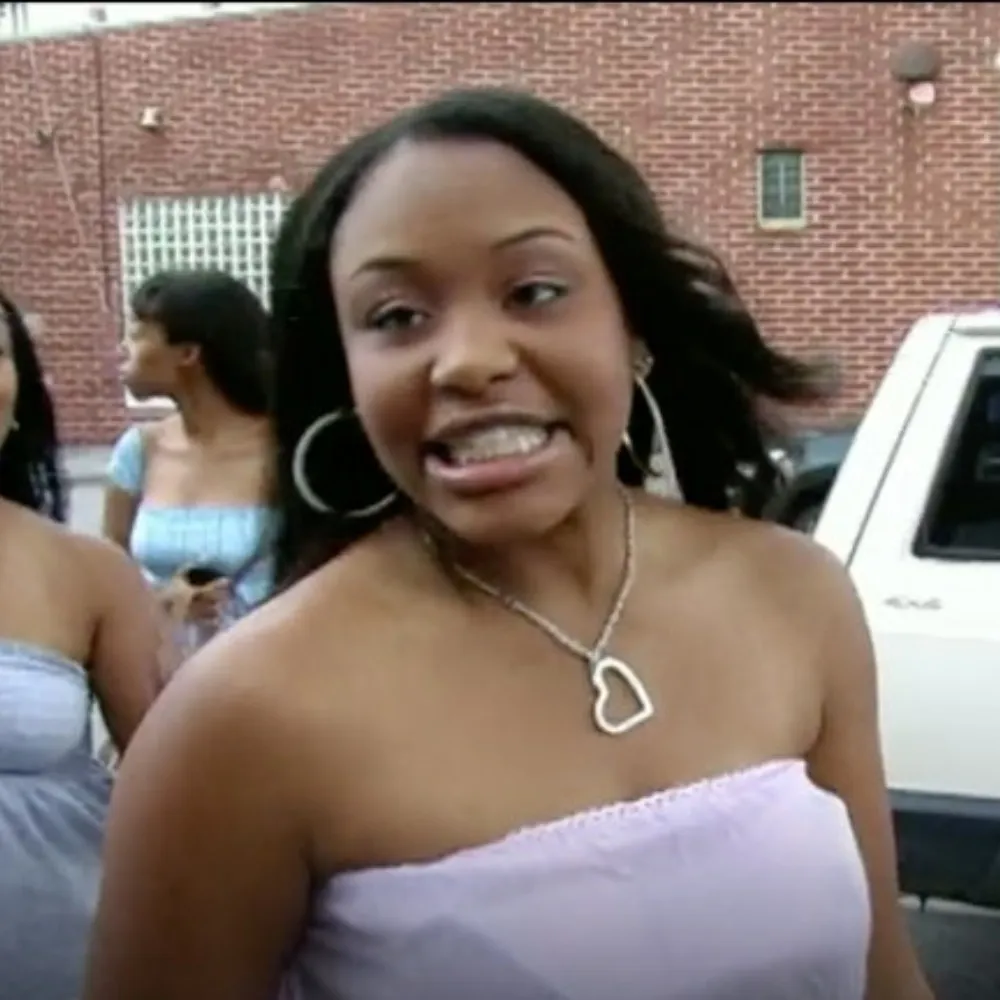 Carlysia wasn't happy with plain old invites, so she gave each guest a CD instead. For her big birthday gift, the lucky teen was given a Mercedes Benz.
Stella McDermott
As we've seen, one way that celebrity parents can really spoil their kids is with birthday parties. When Tori Spelling and Dean McDermott celebrated daughter Stella's first birthday, they didn't hold back.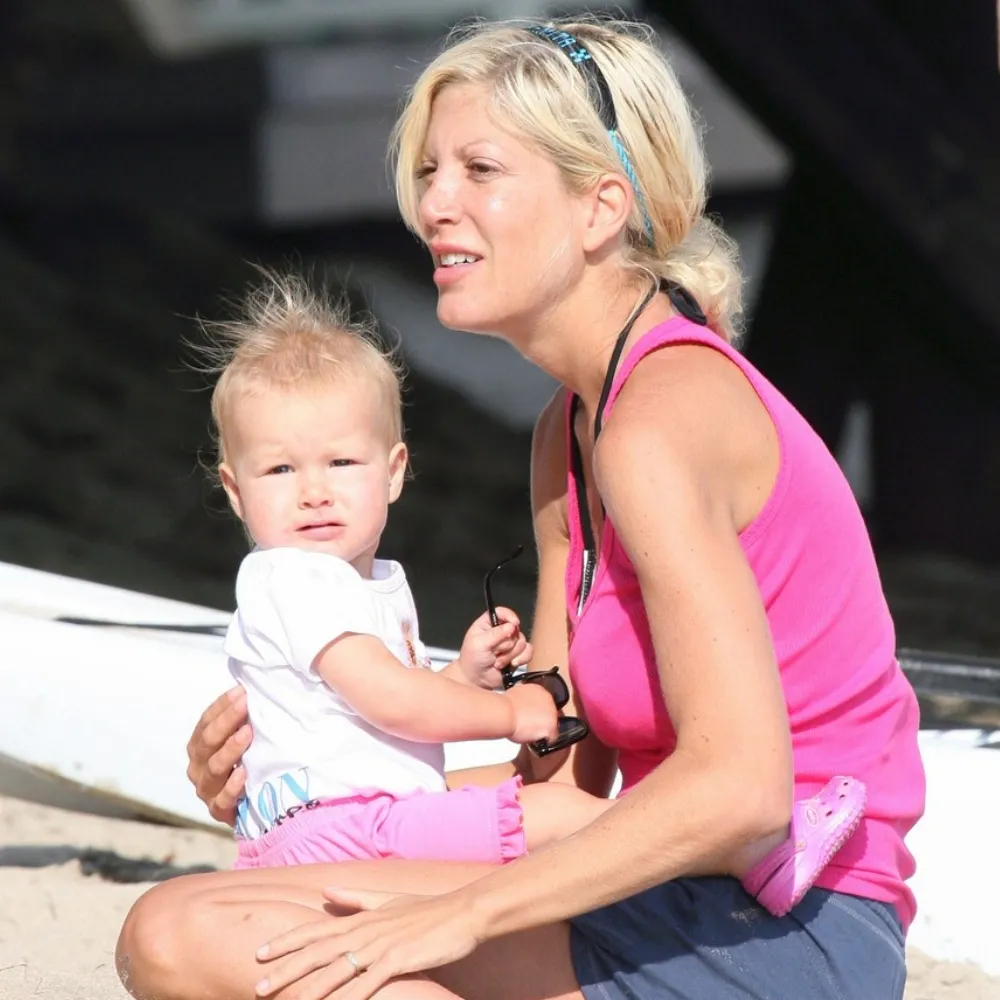 The noughties bash was ladybug-themed and organized by a celebrity party planner. Over 100 people attended the event, including Lisa Rinna and Melissa Joan Hart. The huge party featured a tented tennis court with chandeliers and pony rides. Afterwards, the lucky guests walked away with lavish gift bags.
Pax Jolie Pitt
It's our final member of the Jolie Pitt crew! Second child Pax was adopted by Jolie in 2007 and Brad in 2008. For one of his birthday parties, Pax enjoyed a cruise down the River Seine. No bounce house and cupcakes for Pax!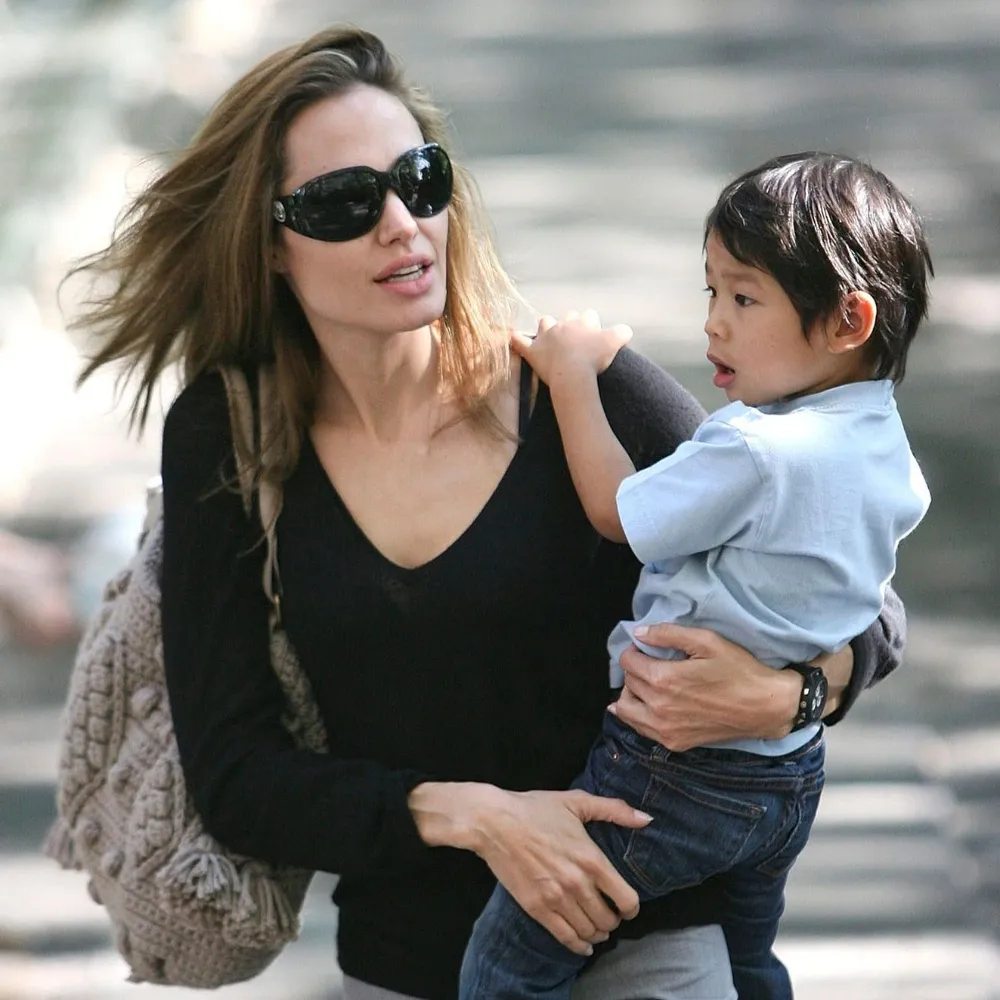 As with all of the pampered Jolie Pitt fam, Pax has grown up with drivers, private chefs, and lavish vacations. The family often rented out entire floors of hotels so they could enjoy the lavish accommodation alone.
Lourdes Leon
We don't know about you, but musical icon Madonna doesn't strike us as a strict mom. The artist admitted that she spoils eldest daughter Lourdes.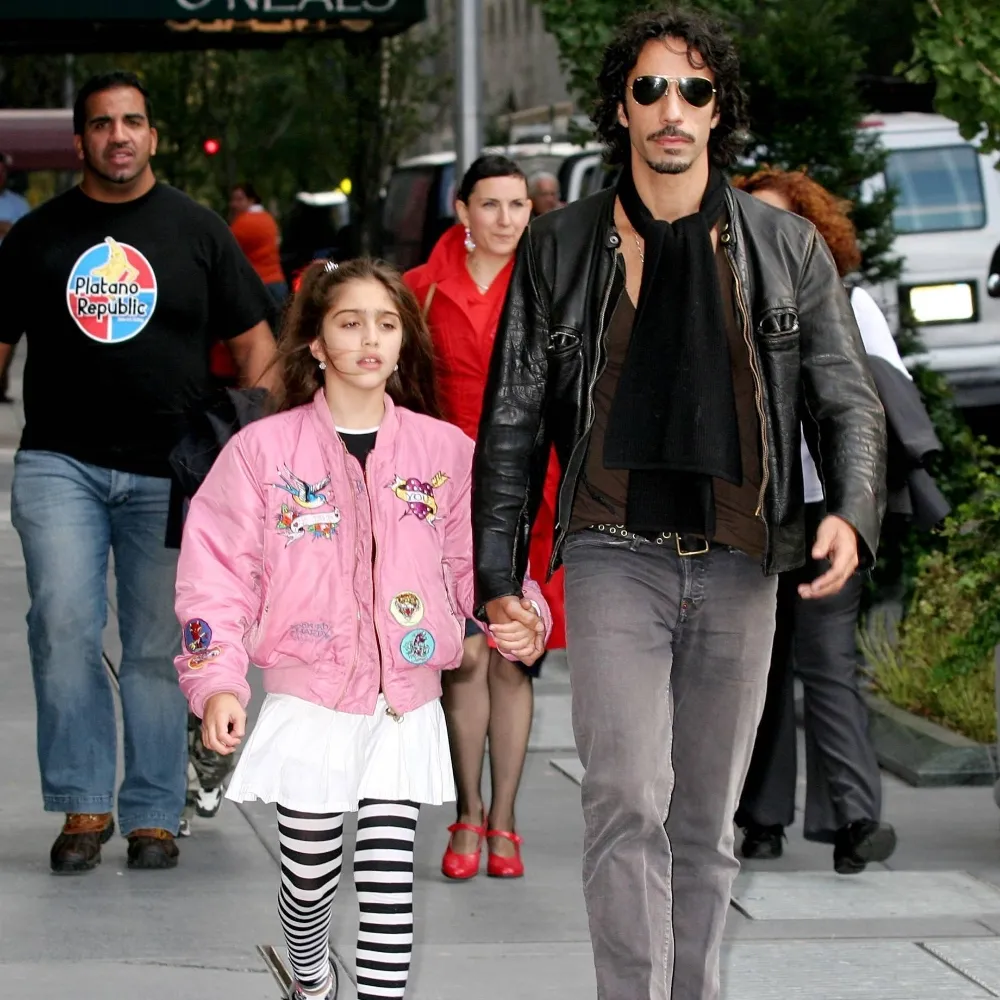 She said, "If she had her way, she'd be eating candy all day. She loves candy. She doesn't like playing with toys, but she likes taking the top off of every writing implement in my house and drawing all over the walls." Madonna continued, "Unfortunately, all of my friends do spoil her when they come around. But, what can you do?"