As the temperature starts to climb and the sun graces us with its warm rays, it's the perfect moment to dive into the world of vibrant and captivating nail art. Take a moment to explore this handpicked collection of stunning summer nail designs that cater to both subtle and daring preferences, ensuring there's something that resonates with your personal taste. From the enchanting allure of tropical patterns and delicate floral motifs to the whimsical charm of playful fruit designs and mesmerizing beach-inspired themes, these summer nail art ideas are guaranteed to elevate your summer nail style and infuse a sense of joy and elegance into your overall look.
Tropical Paradise
Escape to a tropical paradise right at your fingertips with the mesmerizing Tropical Paradise nails. These exquisite designs bring the allure of a lush paradise to your nail art, immersing you in the beauty and tranquility of a sun-soaked beach getaway. Imagine vibrant palm leaves gently swaying in the breeze, tropical flowers blooming in brilliant hues, and the captivating shades of ocean blues. With every stroke of color, your nails become a vibrant canvas, allowing you to embrace the laid-back atmosphere and vibrant colors of a dreamy island retreat. Get ready to embark on a journey to a world of relaxation, beauty, and tropical bliss as you adorn your nails with these stunning Tropical Paradise designs.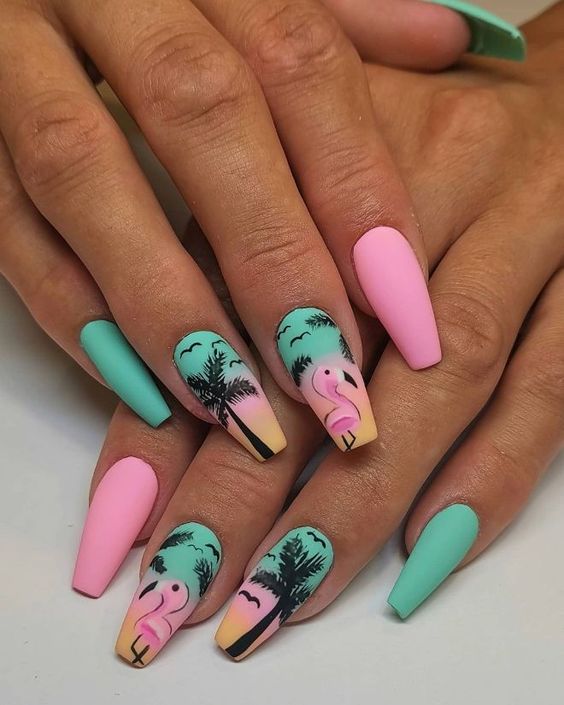 Sunflower Bliss
Immerse yourself in the enchanting beauty of Sunflower Bliss nails, where the golden glow of sunflowers wraps around your fingertips like a warm embrace. These mesmerizing designs perfectly capture the essence of joyful summer moments, radiating the vibrant energy that sunflowers exude when they're in full bloom. With their cheerful disposition and lively petals, these nail designs bring a ray of sunshine to every movement you make. Let your nails bloom with the delightful charm and graceful elegance of sunflowers, infusing every step you take with a blissful ambiance. Embrace the uplifting spirit of Sunflower Bliss nails, allowing them to ignite a profound sense of happiness and positivity deep within your heart.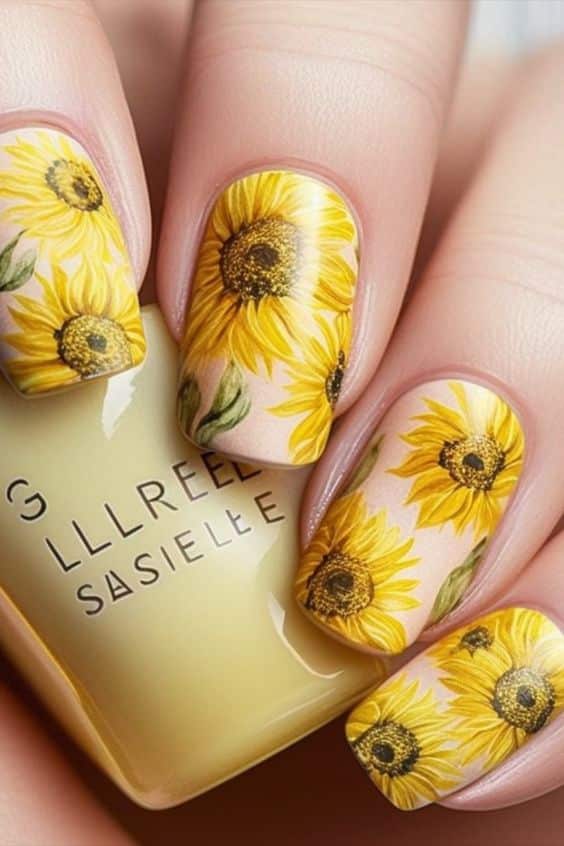 Mermaid Dreams
Immerse yourself in a world of enchantment with the captivating Mermaid Dreams nails design. Let your imagination take flight as these mystical designs transport you to the realm of mermaids, where the magic of shimmering scales and iridescent hues come alive on your nails. Embrace the irresistible allure of the ocean, as your fingertips become precious treasures beneath the sea. With whimsical seashells, glistening pearls, and intricate motifs inspired by the depths of the ocean, these nail designs evoke the captivating essence of mermaid dreams. Give your nails the power to express your deep love for the sea and unleash your inner mermaid. Get ready to make waves and captivate all with the mesmerizing beauty of Mermaid Dreams nails.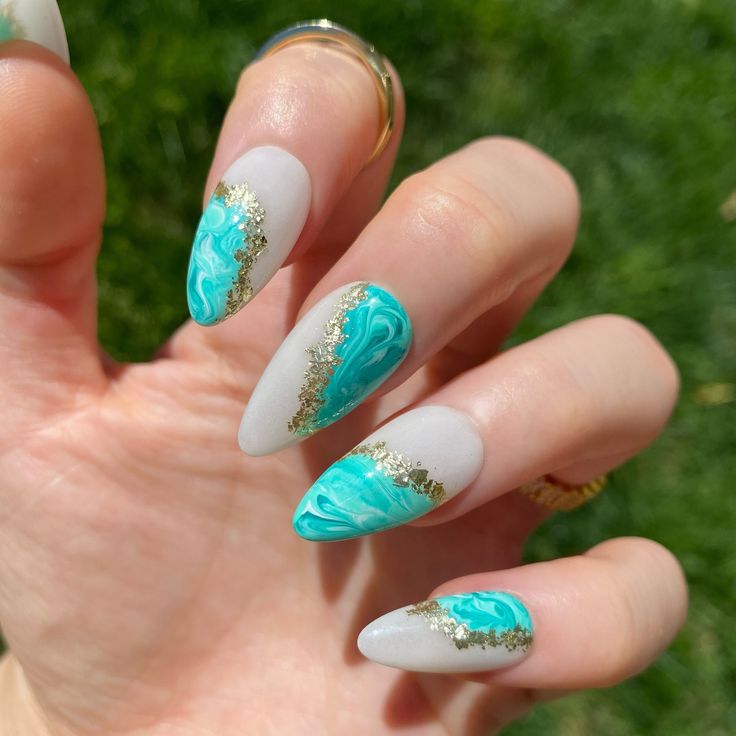 Beach Vibes
Immerse yourself in the true essence of summer with our Beach Vibes summer nail design. These enchanting designs effortlessly bring the lively spirit of the beach to your fingertips. Just imagine yourself walking on golden sands, feeling the gentle rhythm of ocean waves, and basking in the warm embrace of the sun, all while your nails transport you to a blissful tropical paradise.
Our Beach Vibes nail designs feature playful seashells, graceful palm trees, and a palette of vibrant colors inspired by the beach. These captivating designs perfectly capture the carefree and relaxed ambiance of beach life. Let your nails radiate the joyful vibes of sandy shores and make a stylish statement that embodies the very essence of summer.
Indulge in the Beach Vibes experience and allow your nails to become a lively reflection of your love for the beach.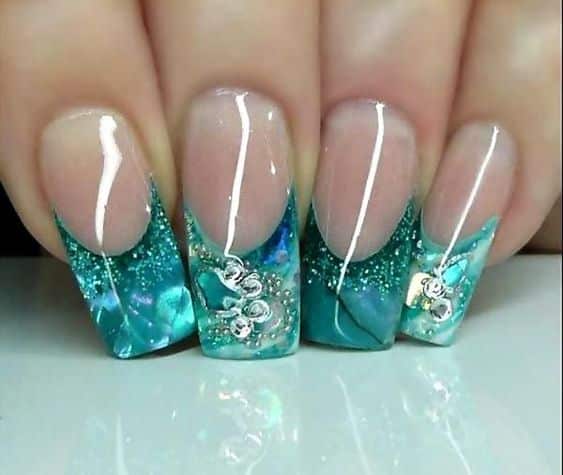 Watermelon Delight
Experience the ultimate summer nail sensation with our delightful Watermelon Delight summer nail design. Prepare yourself to immerse in a burst of refreshing vibes right at your fingertips. Embrace the vibrant colors that mirror the juicy nature of this fruity-inspired nail art. As you adorn your nails with shades of lively green and luscious red, you'll pay a sweet homage to the beloved watermelon.
Let this captivating design take you on a journey to sun-kissed picnics and carefree moments by the pool. It effortlessly captures the very essence of joy that summer brings. Indulge in the Watermelon Delight and let your nails become the perfect accessory, adding a touch of freshness and delight to your season. Treat yourself to this delightful experience and revel in the summertime bliss.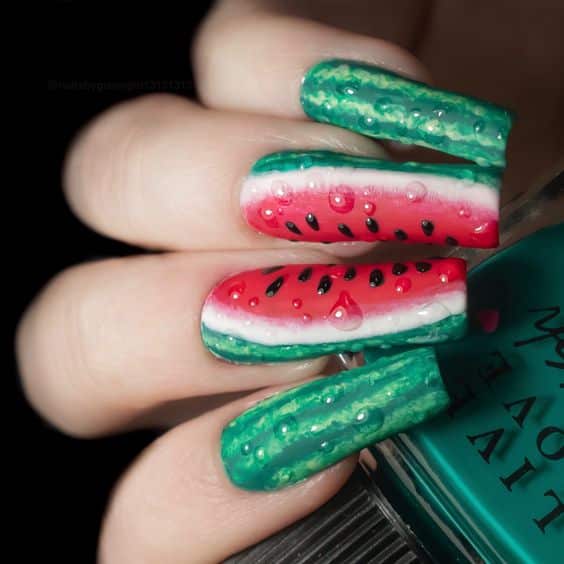 Palm Tree Paradise
Indulge in the captivating Palm Tree Paradise nail design and experience the magic of tropical dreams right at your fingertips. Immerse yourself in a world where the serene beauty of palm trees whisks you away to a blissful paradise. Picture yourself strolling along sandy beaches, with palm leaves gently swaying in the breeze, creating a tranquil atmosphere that soothes your soul.
With shades of lush green reminiscent of lush palm fronds and hints of golden sunsets, your nails will become a captivating embodiment of a tropical getaway. Embrace the exotic allure and allow your nails to reflect your wanderlust and deep love for the beach. Step into Palm Tree Paradise and let your nails transport you to a place of ultimate relaxation and tropical serenity.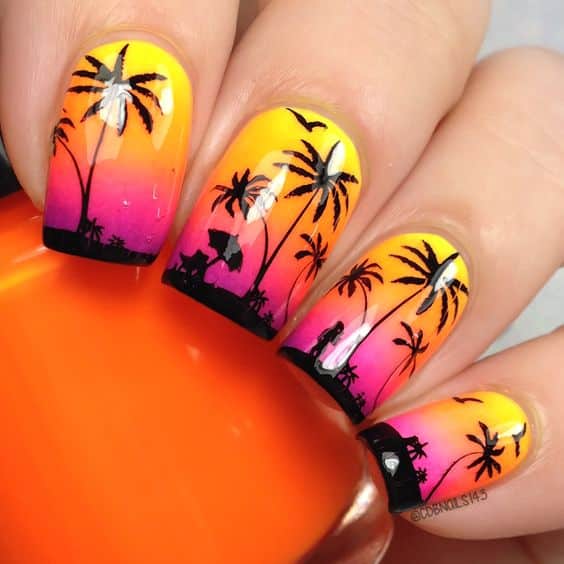 Flamingo Frenzy
Prepare yourself for the vibrant and whimsical Flamingo Frenzy nail design, where elegance seamlessly merges with playfulness. Let the graceful presence of flamingos take center stage on your fingertips, infusing your look with charm and a dash of excitement. The bold shades of pink and subtle tropical vibes in this design will make your nails come alive, exuding the same energy as these majestic birds.
Embrace the joy that this design brings and let it add a touch of fun to your manicure. Get ready to make a stylish statement that turns heads wherever you go. Step into the world of Flamingo Frenzy and allow your nails to become a delightful reflection of your vibrant personality. It's time to unleash your inner flamboyance and let your nails showcase your unique style with flair.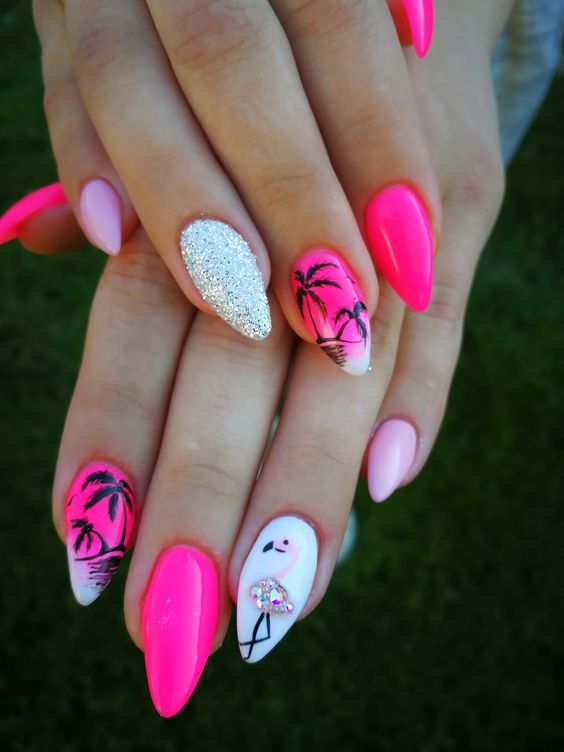 Citrus Burst
Immerse yourself in the refreshing and invigorating Citrus Burst nail design, a vibrant explosion of citrusy goodness that will awaken your fingertips. Let the lively hues of oranges, lemons, and limes transport you to a sun-drenched citrus grove, where the air is filled with the invigorating aroma of these juicy fruits. Envision your nails adorned with vibrant yellows, tangy greens, and a subtle hint of citrus zest, paying homage to their irresistible flavors.
Embrace the lively and uplifting vibes this design brings, radiating positivity and zest wherever you go. Allow your nails to reflect your vibrant personality and infuse your look with a spirited touch. Indulge in the Citrus Burst and relish the joy of vibrant colors and citrus-inspired beauty. It's time to make a statement that exudes energy and freshness with every movement of your hands.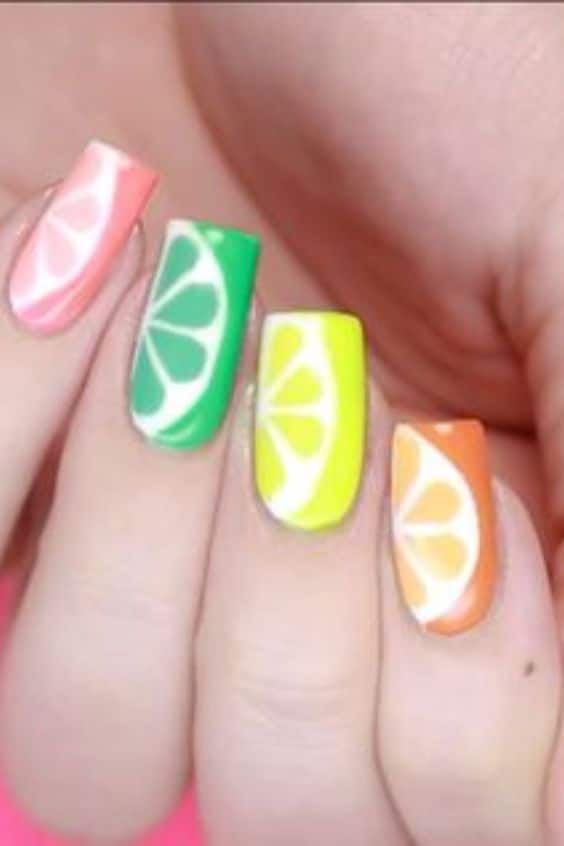 Seashell Serenade
Get ready to be captivated by the exquisite Seashell Serenade nail art, a mesmerizing symphony of beauty delicately crafted for your fingertips. Allow the enchanting allure of seashells to transport you to a serene beachside paradise, where gentle waves whisper and the sand invites tranquility. Imagine your nails adorned with intricate seashell designs, evoking a sense of serenity and refined elegance.
Embrace the coastal-inspired colors, reminiscent of the soft hues found along the shoreline, as they shimmer like the glistening ocean. Your nails will become a breathtaking tribute to the treasures of the sea, reflecting its timeless allure. Indulge in the enchanting melody of Seashell Serenade and let your nails make a stunning statement, captivating hearts with their ethereal charm. Prepare to dazzle with a touch of oceanic grace that will leave a lasting impression.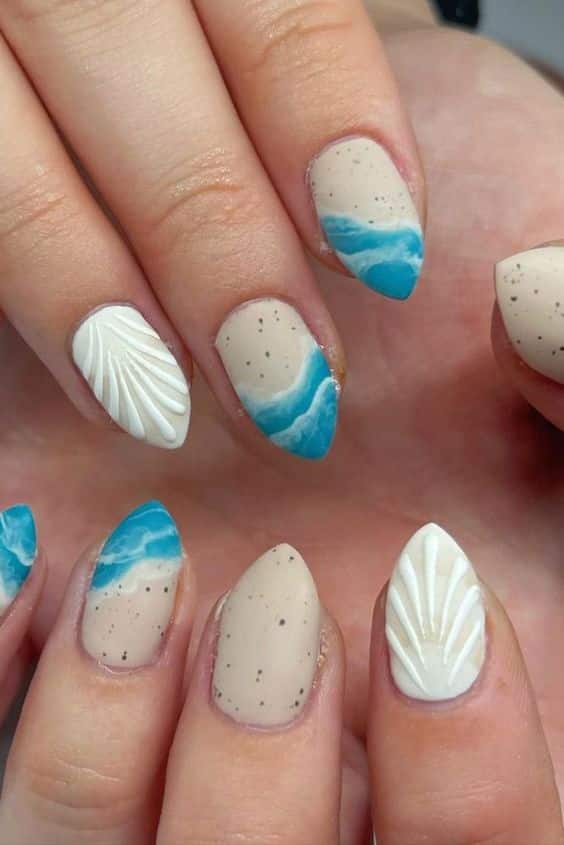 Pineapple Punch
Get ready to embrace the delightful Pineapple Punch nail art, an explosion of tropical flavor that will instantly transport you to a sun-drenched paradise. Feel the vibrant essence of pineapples infuse your senses with the excitement of exotic delights. Imagine your nails adorned with playful pineapple designs, exuding a sense of joy and tropical vibes.
With their bold yellow hues and hints of refreshing green, your nails will pay a vibrant tribute to this beloved fruit. They will become a refreshing and eye-catching accessory, adding a touch of tropical charm to any look. Allow yourself to be swept away by the invigorating punch of Pineapple Punch, letting your nails make a bold and lively statement. Get ready to inject a splash of tropical charisma into your style and enjoy the vibrant energy it brings.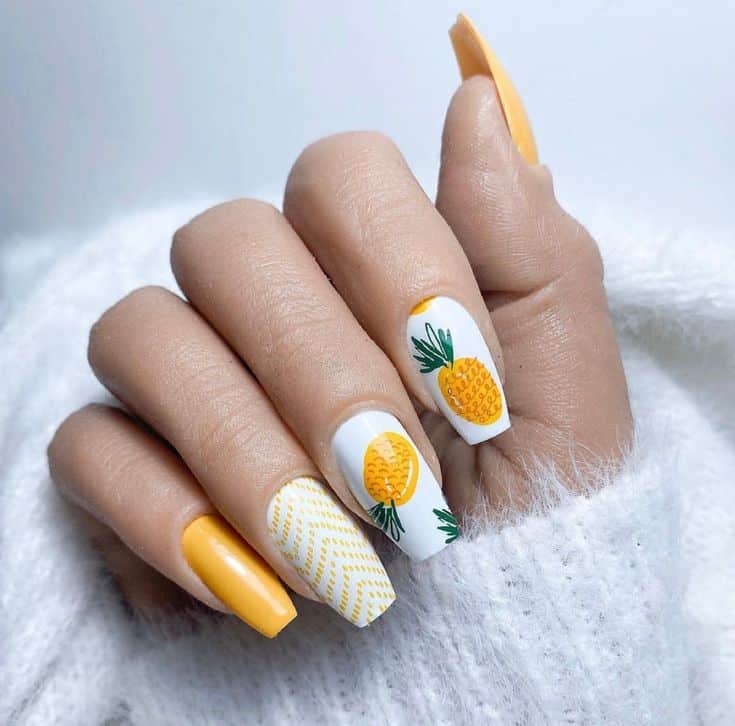 Floral Fantasy
Embark on a journey into the enchanting world of Floral Fantasy nail art design, where the beauty of nature comes alive in the most captivating way. Lose yourself in a whimsical realm where delicate blooms and vibrant petals weave their magic on your fingertips. Visualize your nails adorned with meticulously crafted floral patterns, each petal blooming with an irresistible elegance and grace.
With a palette of soft pastels and bursts of vibrant colors, your nails will transform into a captivating canvas, showcasing the artistry of nature's floral wonders. Embrace the dreamy allure that Floral Fantasy offers, allowing your nails to take center stage as the mesmerizing centerpiece of a botanical masterpiece. Let them become a delightful expression of your love for nature and a source of awe and admiration for all who see them.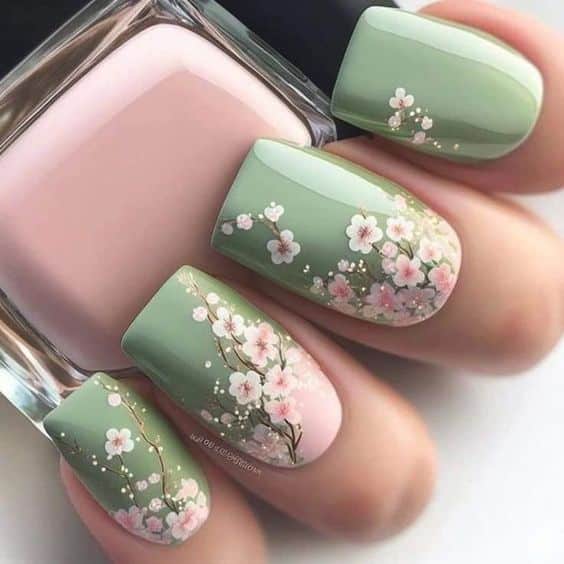 Sunset Mirage
Experience the awe-inspiring beauty of Sunset Mirage nail art, where the mesmerizing shades of a setting sun come to life right at your fingertips. Immerse yourself in the enchanting atmosphere of a captivating sunset, as warm golden oranges, radiant pinks, and serene purples blend together in a magical dance of colors. Visualize your nails adorned with intricate designs that perfectly capture the essence of this breathtaking natural phenomenon, creating a stunning mirage that evokes both tranquility and wonder.
With every glance, your nails will transport you to a serene oasis, where the everlasting beauty of a sunset is forever preserved. Embrace the enchantment of Sunset Mirage and allow your nails to become a captivating canvas, radiating the sublime beauty of a sunset with every graceful movement. Let them serve as a reminder of the mesmerizing power of nature and the serenity it brings to our lives.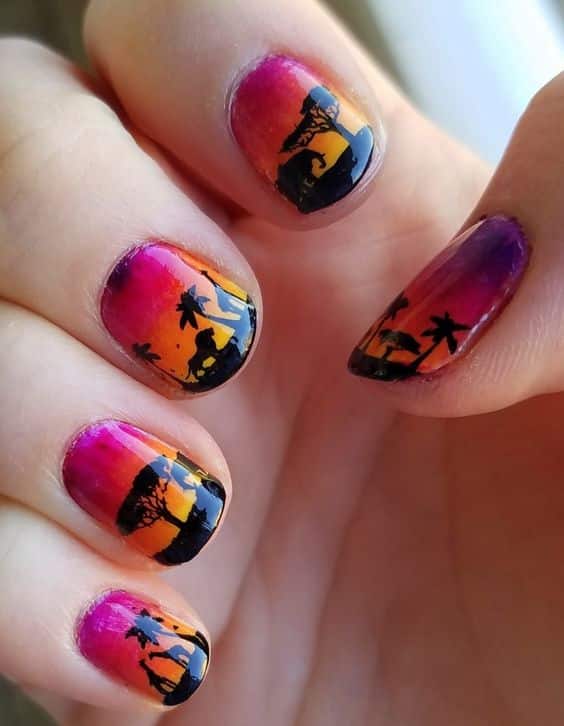 Strawberry Sorbet
Treat yourself to the irresistible pleasure of Strawberry Sorbet nail art, a delightful combination of lively colors and alluring charm that will captivate your fingertips. Imagine your nails adorned with soft, gentle pinks and succulent, juicy reds, evoking the mouthwatering essence of a freshly prepared strawberry sorbet. Allow this exquisite design to indulge your senses, infusing your overall look with a touch of sweetness and undeniable style. Embrace the delectable charm of Strawberry Sorbet and let your nails become a scrumptious indulgence that leaves a lasting impression, making you feel truly pampered.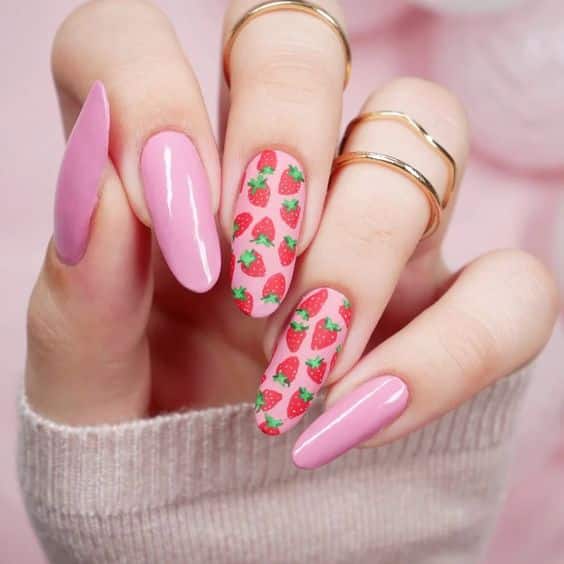 Butterfly Garden
Step into the enchanting world of Butterfly Garden nail art, where the beauty of nature takes flight on your fingertips. Immerse yourself in a kaleidoscope of vibrant colors and delicate wings as butterflies gracefully adorn your nails. Imagine a garden in full bloom, with exquisite flowers and fluttering butterflies, captured in intricate designs that bring a touch of whimsy and elegance to your manicure.
With each stroke of the brush, your nails transform into a captivating canvas, showcasing the ethereal beauty of these delicate creatures. Let your nails become a mesmerizing testament to the grace and charm of butterflies, as they flutter their wings and add a touch of magic to your look. Welcome to the Butterfly Garden, where your nails become a stunning masterpiece that celebrates the enchantment of nature's most graceful inhabitants.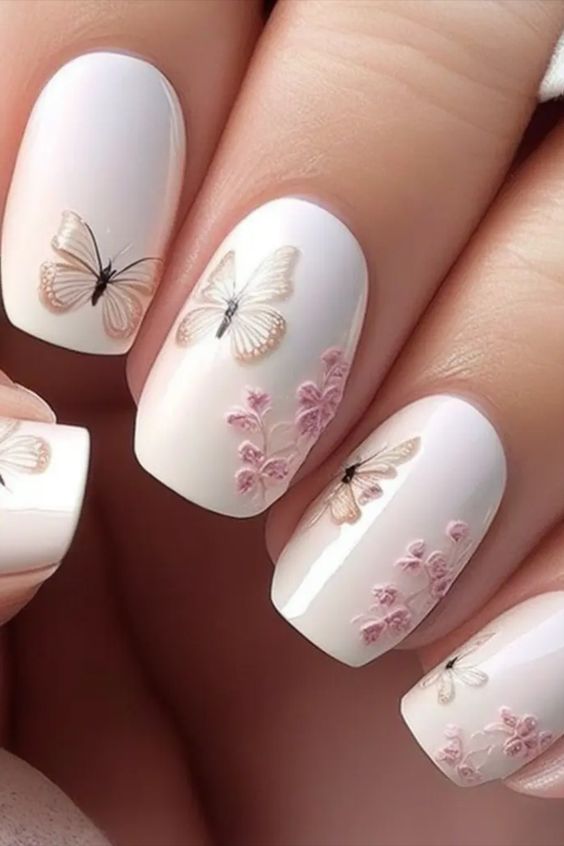 Ice Cream Delight
Treat yourself to the delightful indulgence of Ice Cream Delight nail art, a whimsical treat that will bring joy to your fingertips. Imagine your nails adorned with vibrant colors and playful designs, reminiscent of mouthwatering scoops of ice cream. Let this enchanting design be a fun and delicious way to express your unique style and add a touch of sweetness to your overall look. Embrace the whimsy of Ice Cream Delight and let your nails become a delightful conversation starter that brings smiles to everyone around you.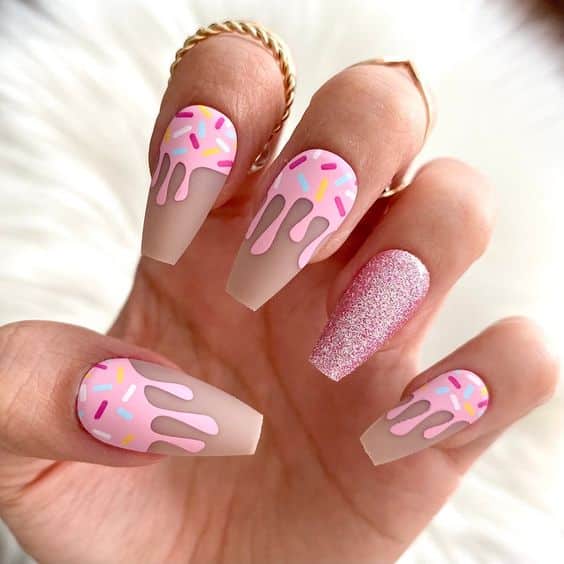 In summary, these summer nail designs are a definite must-try for anyone looking to enhance their style this season. With captivating beach-inspired themes and vibrant tropical motifs, these designs beautifully encapsulate the essence of summer, infusing your nails with a sense of excitement and rejuvenation. Embrace the vibrant spirit of the season and allow your nails to become a stunning accessory, reflecting your deep affection for the joys of summertime. Let your nails be the perfect complement to your summer look, radiating fun and freshness wherever you go.