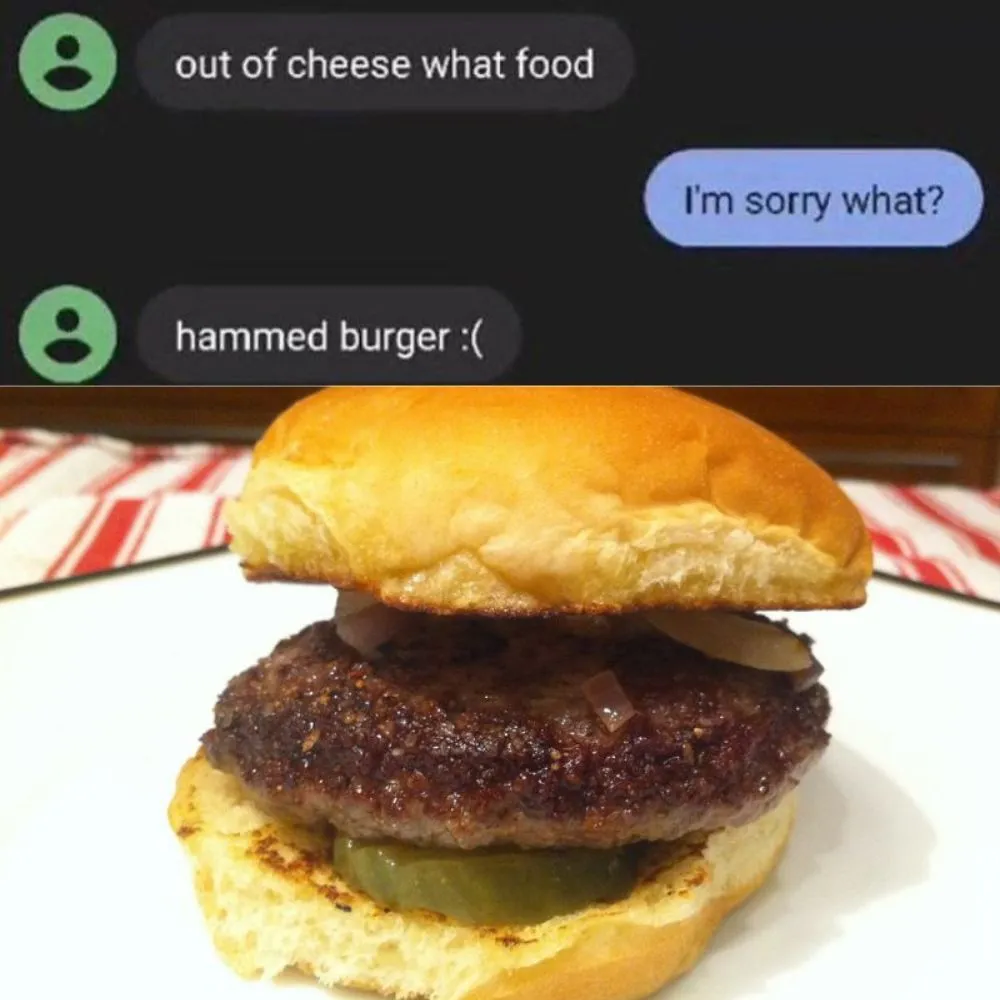 In recent years, various food delivery services have emerged as a convenient option for people who lack the energy to cook. However, some drivers tend to cross the line when it comes to texting, which can be either amusing or unsettling. Therefore, a compilation of text messages from food delivery workers that fit both categories may be intriguing.
Talk to Text
Using your phone while driving can be very risky, so many individuals opt to use talk-to-text feature to stay in touch with others. This can be especially advantageous for drivers who deliver food.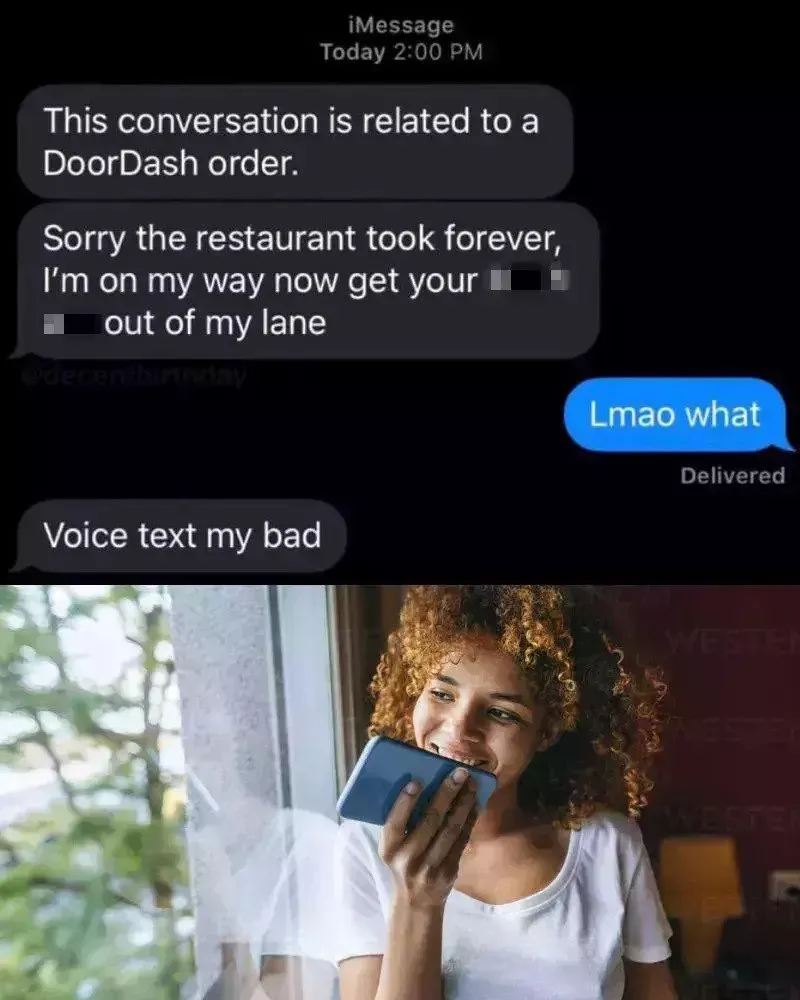 It might not be desirable for the person in question. Although receiving such a message from our driver would elicit laughter, we can also empathize with where he is coming from.
No Lasagna
Several delivery services have recently started providing an option to purchase groceries too, which proves to be extremely convenient for busy parents who find it difficult to run these incidental errands due to their busy schedules.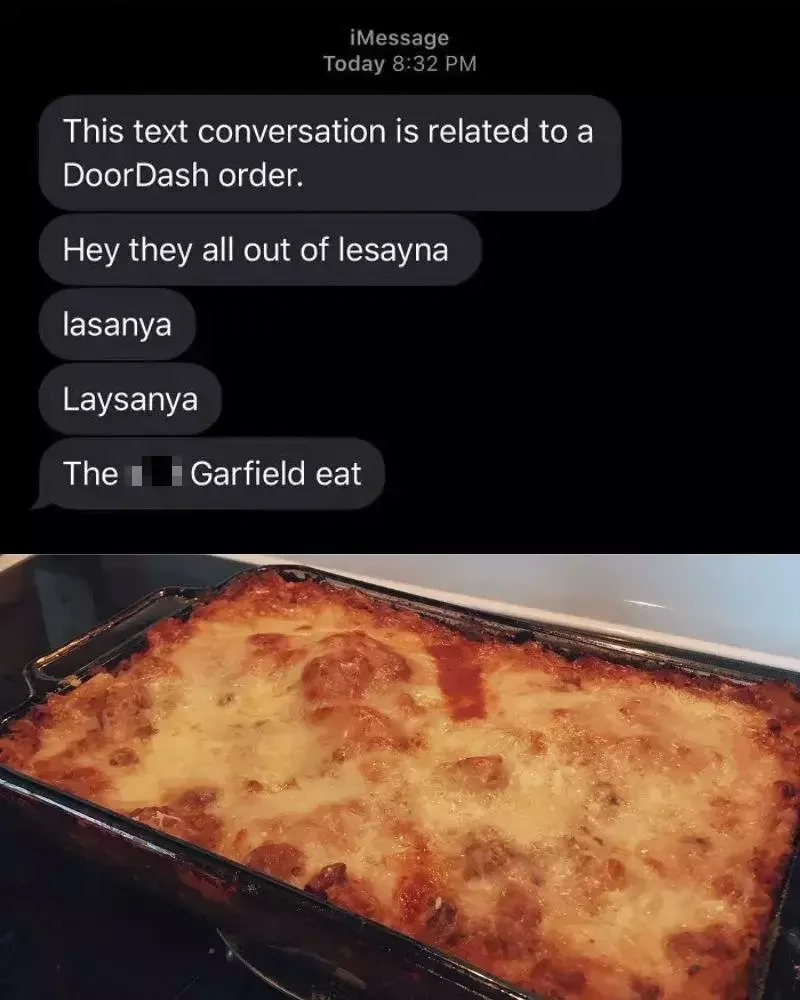 Even though we understand that the delivery person may experience significant pressure while collecting all the food, we believe there is no justification for utilizing such language.
I'm Batman
There is merit in having an individual who finds pleasure in their job and has the desire to guarantee customer satisfaction. We can admire the level of commitment displayed by this food delivery worker who takes their job seriously while also finding joy in it.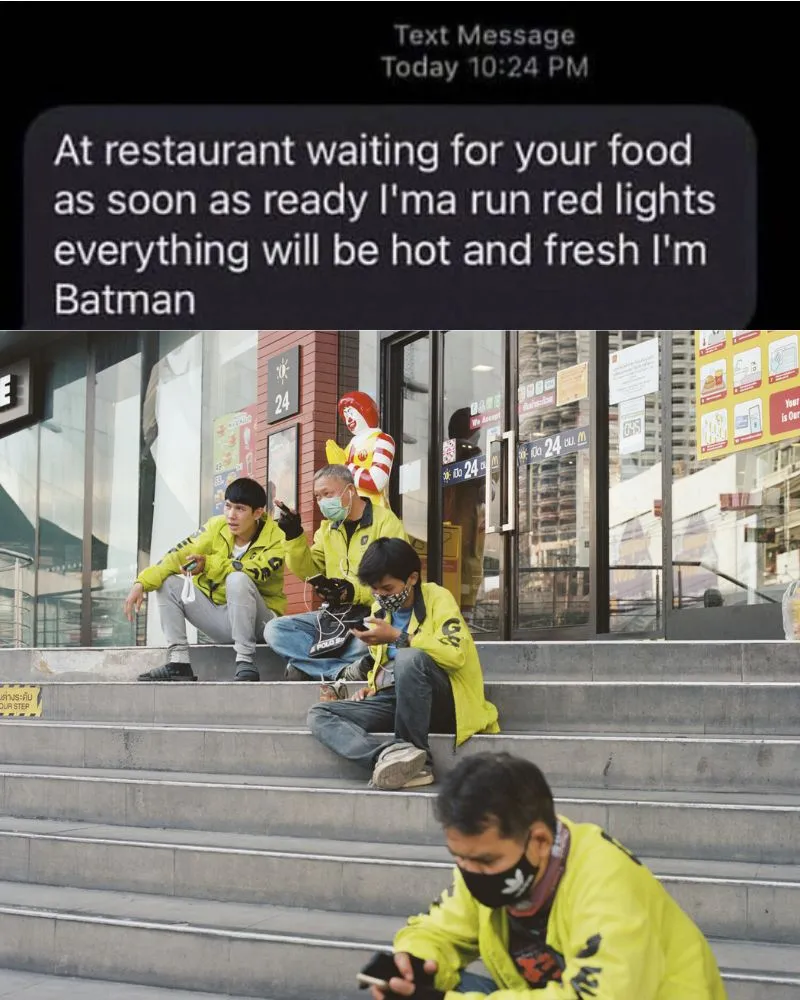 The situation may appear quite sorrowful if Batman has resorted to doing a second job due to his difficult financial circumstances.
Follow the Light
It is understandable that food delivery individuals might encounter difficulties locating residences in certain neighborhoods. This could result in the recipient of the food providing some assistance to them.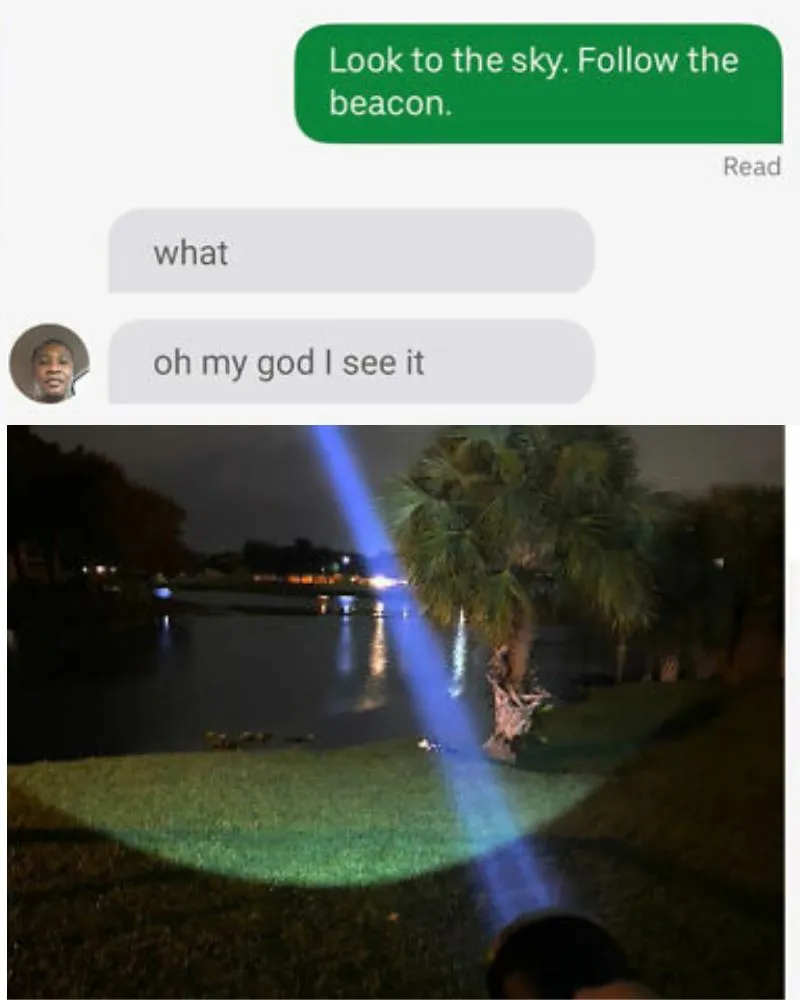 We are uncertain about why this person decided to use a beacon instead of simply sending the driver a Google pin. Although it's an unusual concept, it may not be very reliable.
Pick a Number
On occasions, engaging in light-hearted banter with a stranger during a transaction can be enjoyable. It has the potential to enhance the customer service experience, but there are also situations where it is inappropriate to engage in playful behavior.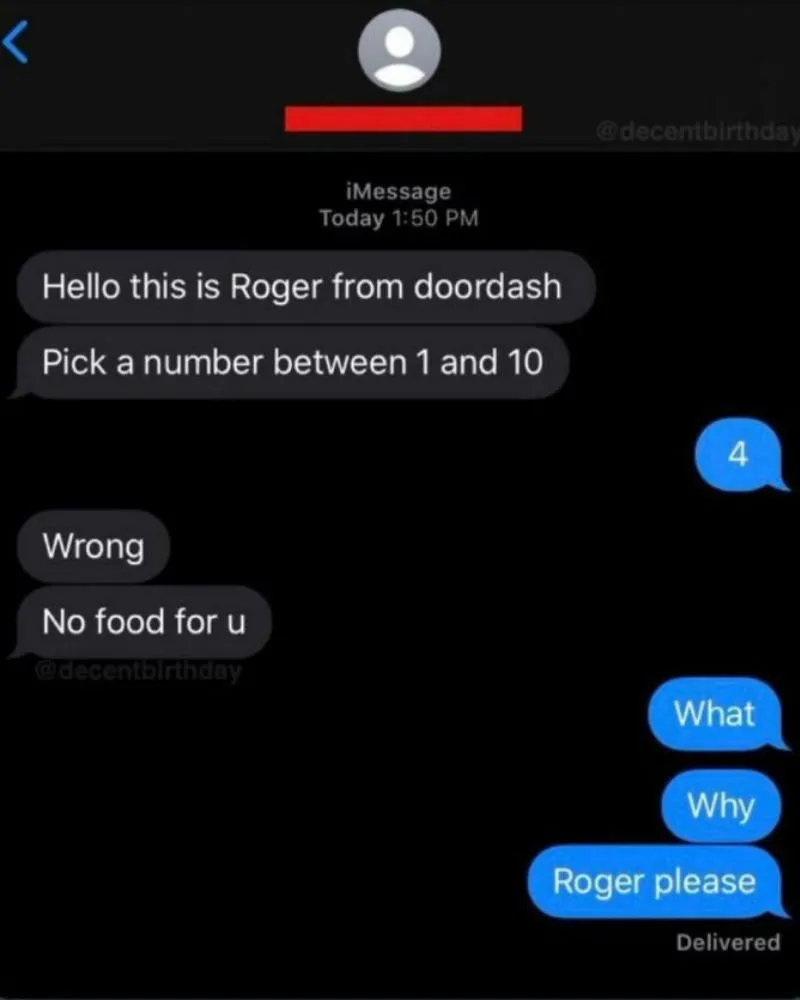 In terms of our food, this delivery person needs to calm down or they'll quickly lose their tip.
Long Wait
Occasionally, getting the food delivered to you may take longer due to factors out of the delivery people's control. They may have to contend with queues, just like we would if we dined at the restaurants.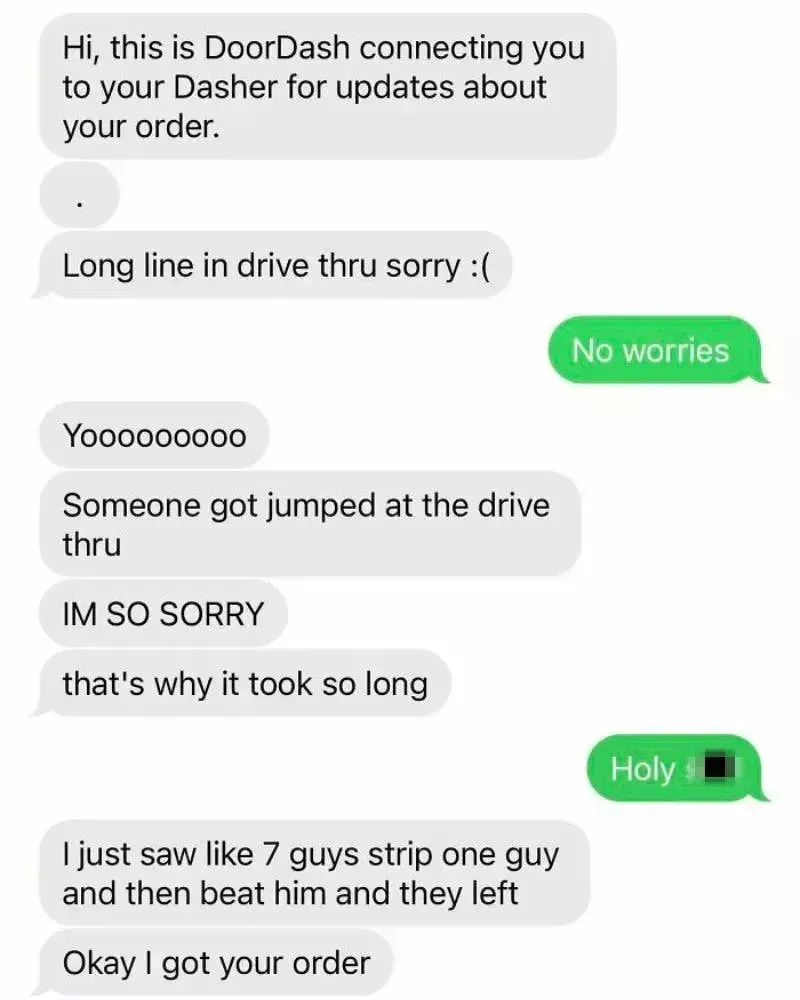 We are optimistic that the individual was extremely empathetic as the driver went through a series of challenges in a brief period. It's difficult to comprehend that the driver endured all of it successfully. Undoubtedly, they possess greater endurance and tolerance than we do.
Meet Me on the Roof
Although sarcasm is a well-liked form of humor and can be useful in certain situations, it is not appreciated when you are tired and waiting for your Uber Eats delivery.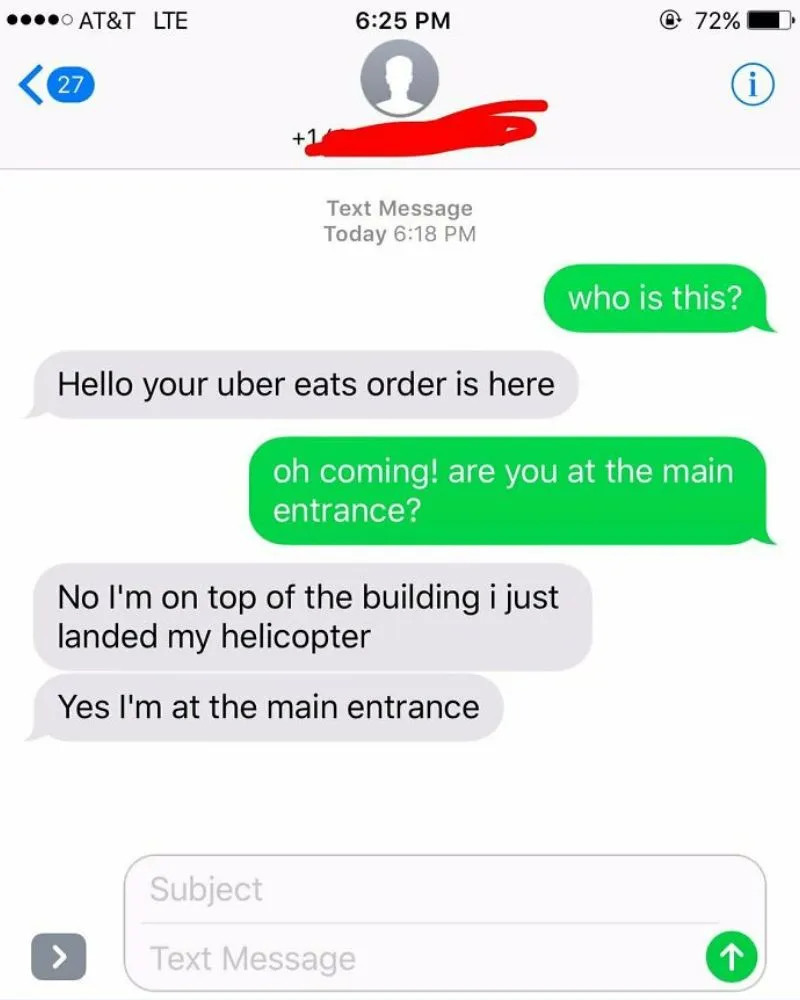 This activity would have been enjoyable on another day, but as the current person, we would feel annoyed. We might have expressed our frustration to the delivery person at the main entrance.
Reassign Your Order
The worst scenario during food delivery wait time is receiving a message from the delivery person notifying you of their inability to complete the delivery because they are en route to jail. This is particularly challenging because you are now left wondering who will deliver your food, as it is unlikely to arrive at the police station with them.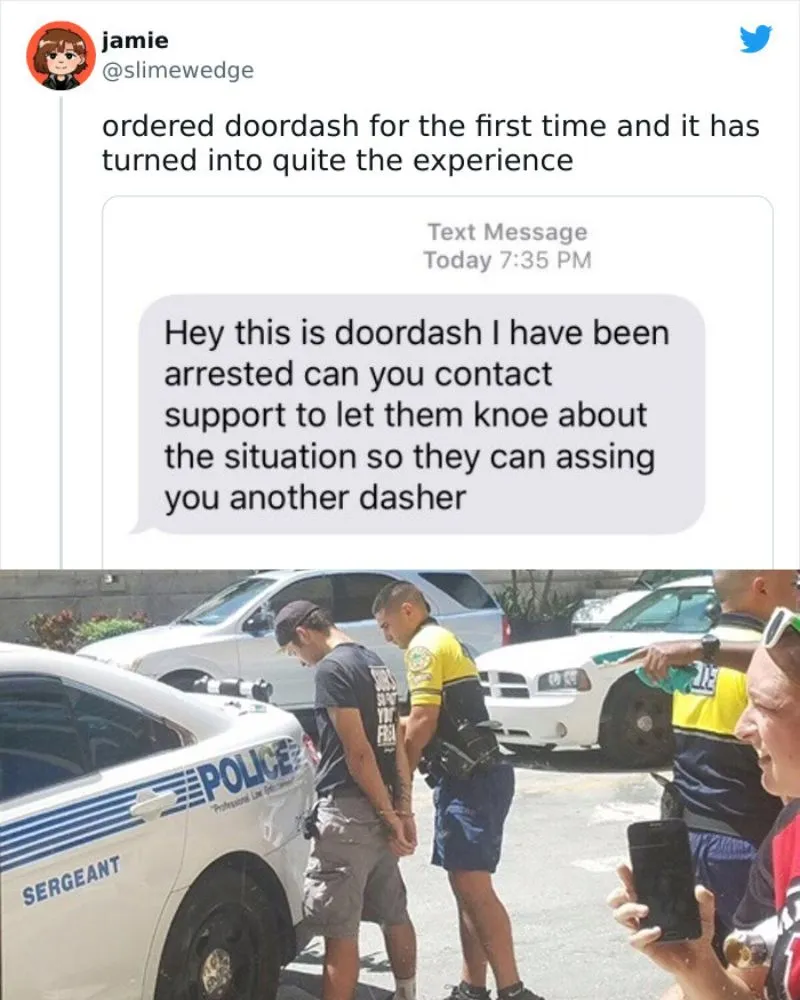 It is uncertain whether we would find the situation humorous or become frustrated due to not receiving our food. Nevertheless, it presents an engaging topic for a post on social media!
Justice League of Food
Having a delivery driver with some personality can be beneficial. Getting messages like these from your driver could brighten up your day. In addition to delivering your food, he also has a great sense of humor.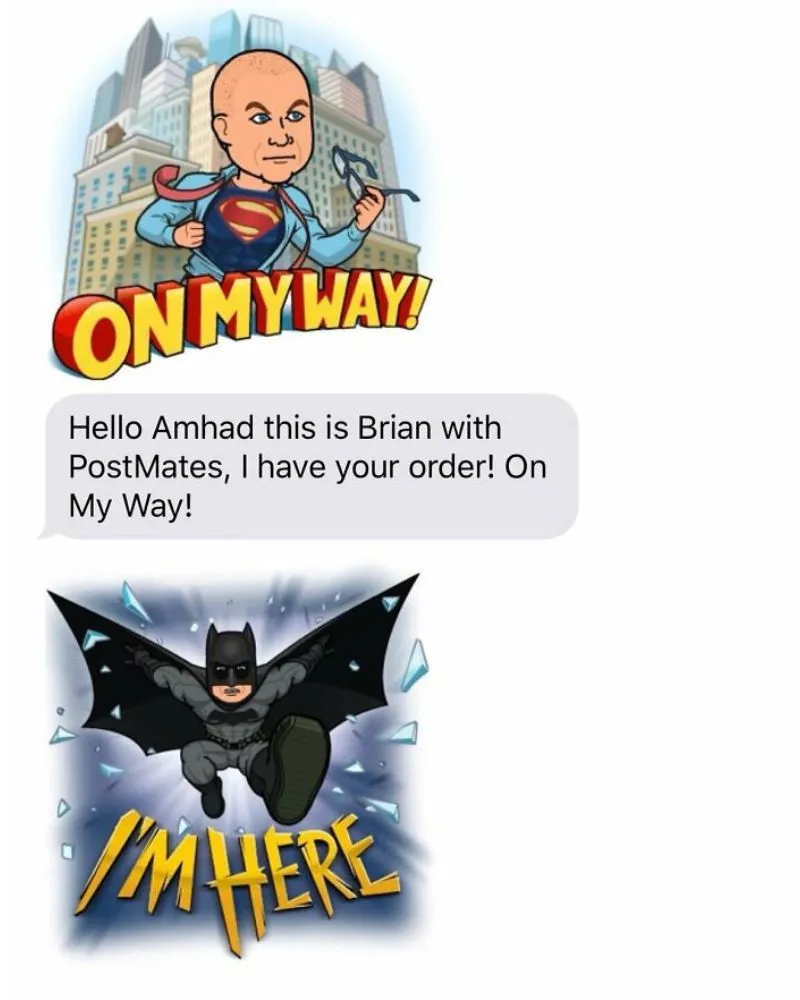 If you are not interested in comic book characters, you might not find it as enjoyable as we do. However, you can still acknowledge their effort to make the most out of the circumstances.
Making a Statement
It is quite clear that at times when you order food from fast food places for home delivery, you may not be mindful of the effects of consuming such tasty food.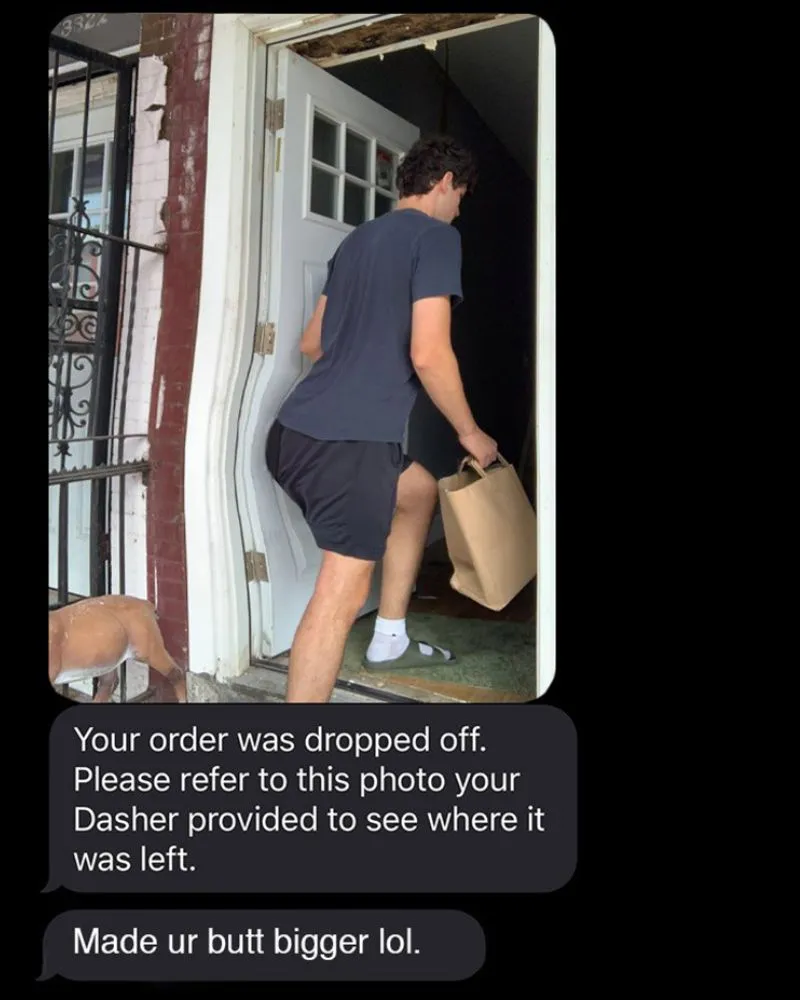 It is not desirable for your driver to embarrass you by applying a filter on your picture. This behavior would worsen our self-esteem, and thus, we would not consider tipping him.
I'm Going to Be Late
There is a certain level of risk involved in driving around and delivering food as there are other vehicles on the road, which means one has to be cautious all the time. However, in the case of this person, things did not turn out quite as planned.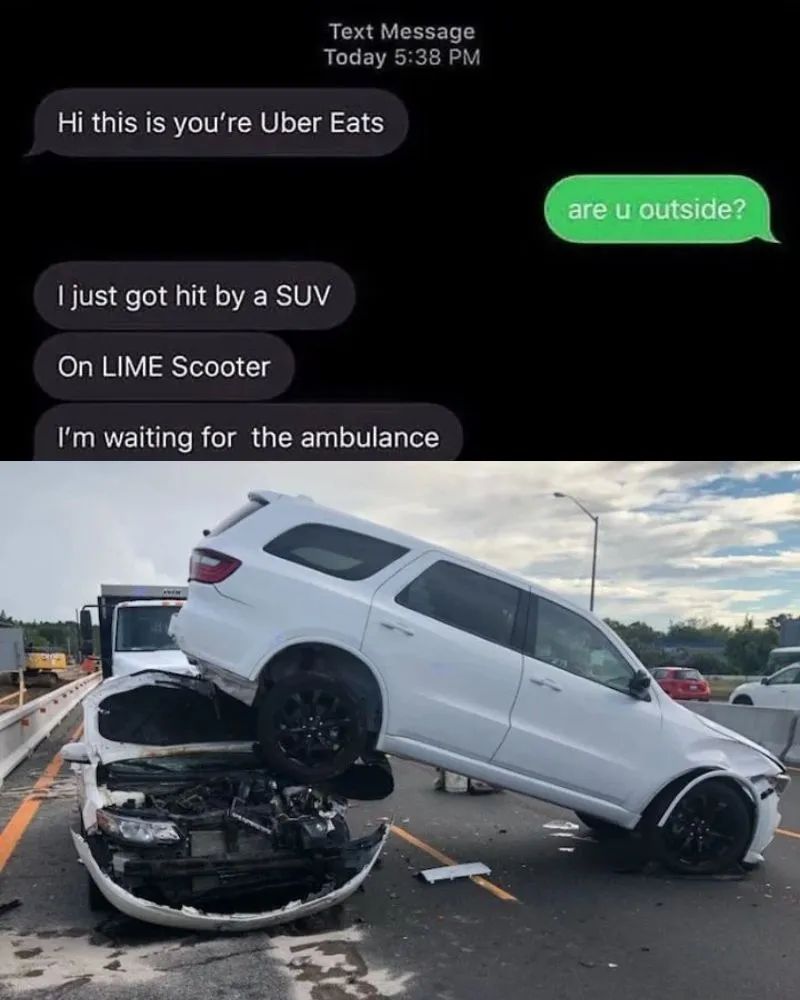 We are optimistic that everything is fine and that UberEats ultimately proves beneficial to them. Our primary concern wouldn't even be our meal in this situation.
Let Me Check
It is a pleasant experience when the delivery driver goes above and beyond to meet your expectations. Hence, the fact that this individual was willing to verify the restaurant's working hours is impressive.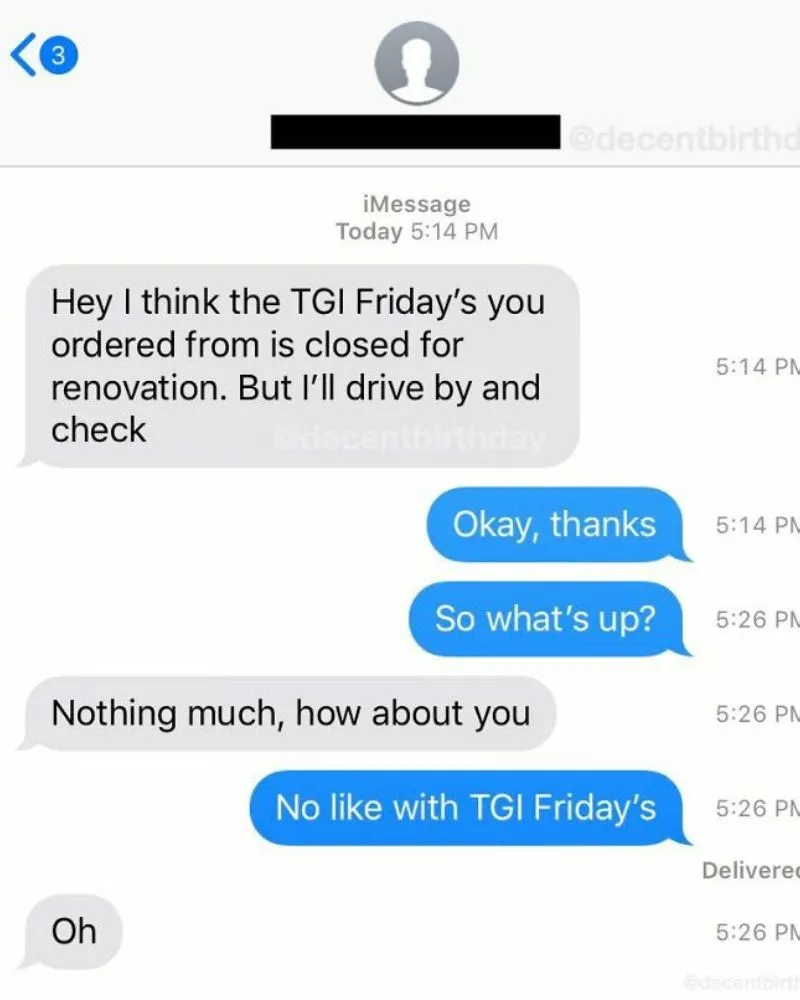 Alternatively, we could be annoyed if he failed to update us regarding the situation with our boneless wings.
Add-On
Sometimes, in a busy and fast-paced environment, you may unintentionally forget about certain items when placing an order. However, certain delivery services offer the option to communicate with the driver to check if they can assist you in case you remember anything after the order has been placed.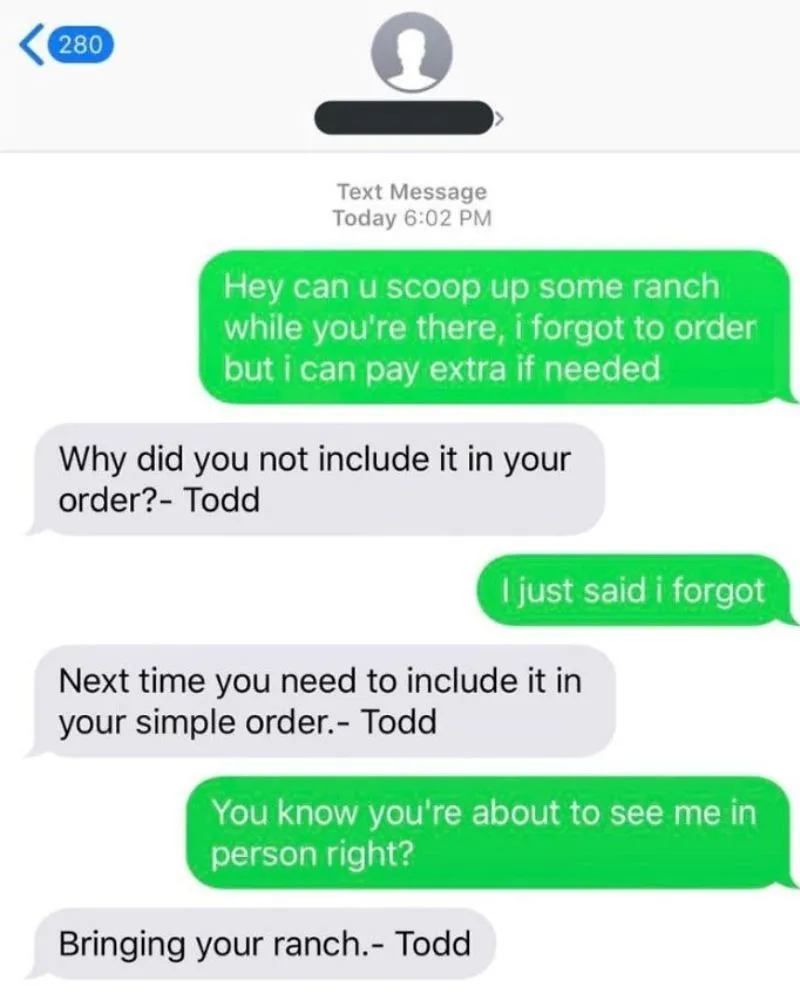 At first, the man displays impolite behavior but later receives a reality check. The car operator should adapt to the surrounding traffic conditions instead of trying to control the situation.
Pick-Up Lines
As a food delivery person, no matter which company you work for, you're going to meet a lot of people. You might find some of those people attractive, so you might think it's OK to reach out to them and flirt a little.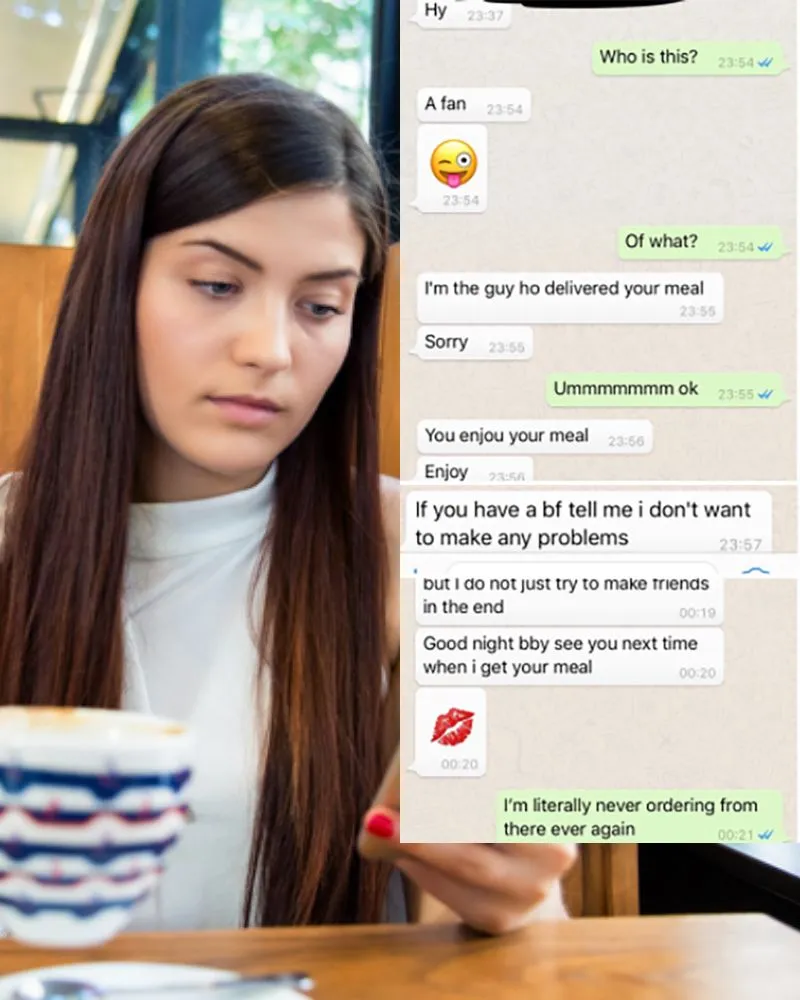 But you must stop and think about the fact that you only met them once, so this is a little creepy. We certainly hope this person said something or at least blocked the number.
Quality Control
It's always frustrating when you get your meals and it seems like things are missing, but it would be really unnerving to open up your order and see that someone had taken a bite out of it. Though this is a problem, at least he was kind enough to let them know.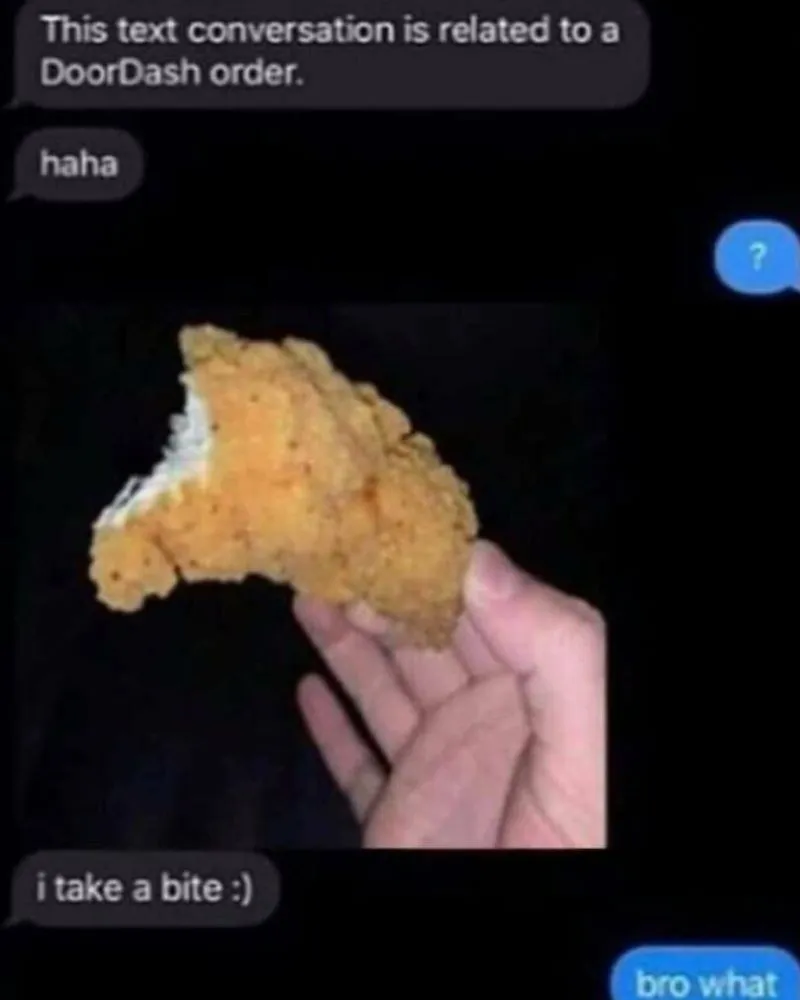 Maybe the driver was just trying to be a good person and make sure that the meal was up to quality? Or maybe they were just hungry; either way, what are you going to do?
Relayed the Message
It's very nice that many of these delivery services allow you to put in specific instructions. This allows you to customize your service the way that you want it and to really allow for certain circumstances to not prevent you from getting your food.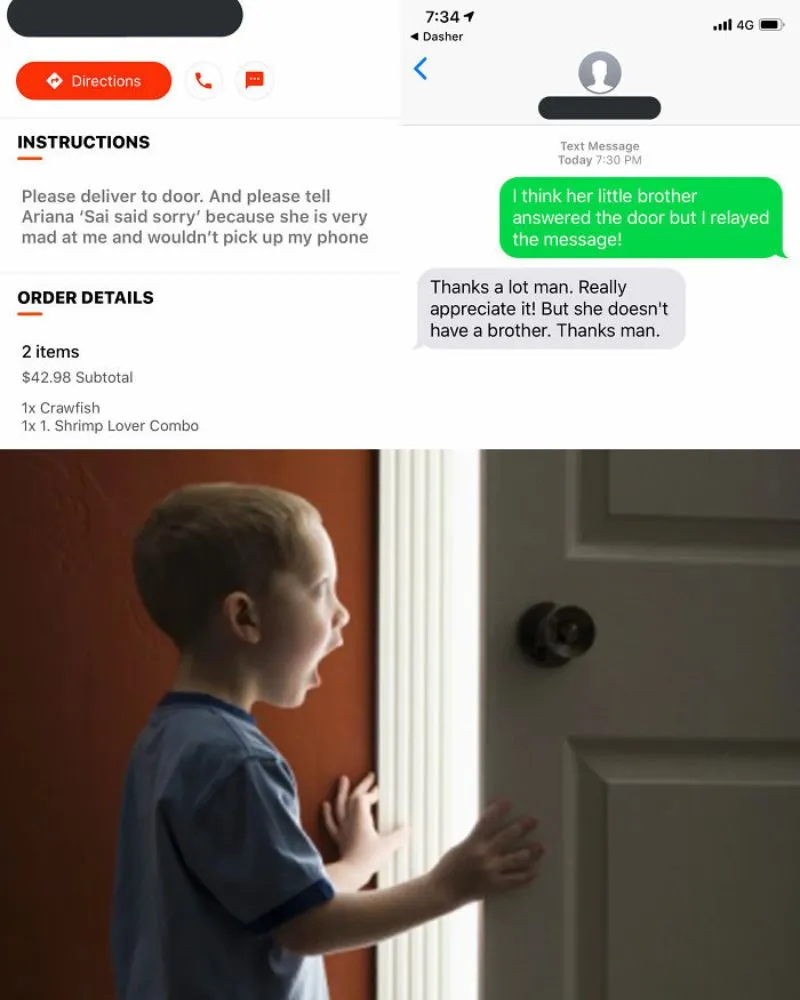 But having your driver say sorry to someone for you seems to be pretty strange. Even stranger, it appears that this guy did it, which should earn him a pretty decent tip.
TMI
It's one thing for you to be excited about doing your job. It's another thing to go a little bit too over the top when someone tips you. Though, we understand that having some extra cash in your pocket is nice. It's probably a little too much with what this guy said he wanted to do.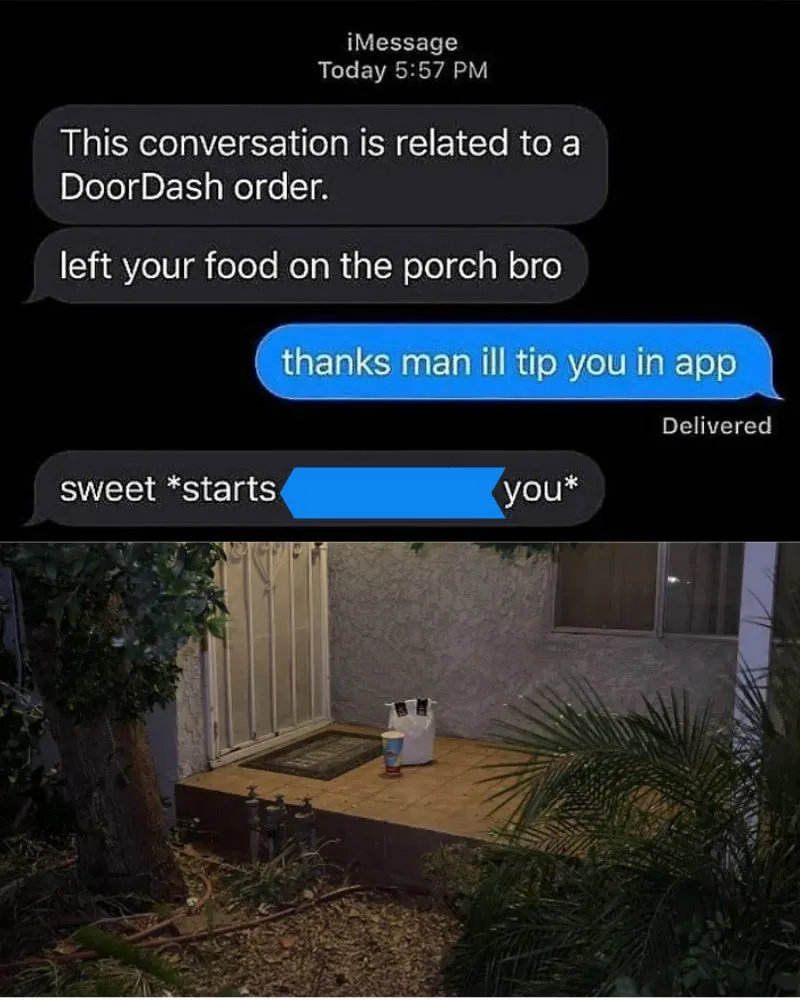 We think this guy probably should have kept it professional and left it at a simple 'thank you.' Because now, it just got really weird between the two of them!
Sorry!
Just like with any job, food drivers have long shifts sometimes. This may mean that there's not a lot of downtime, especially if they're always taking orders. We can understand how it'd be really hard to sit in a car with wonderful-smelling food and not get a little hungry.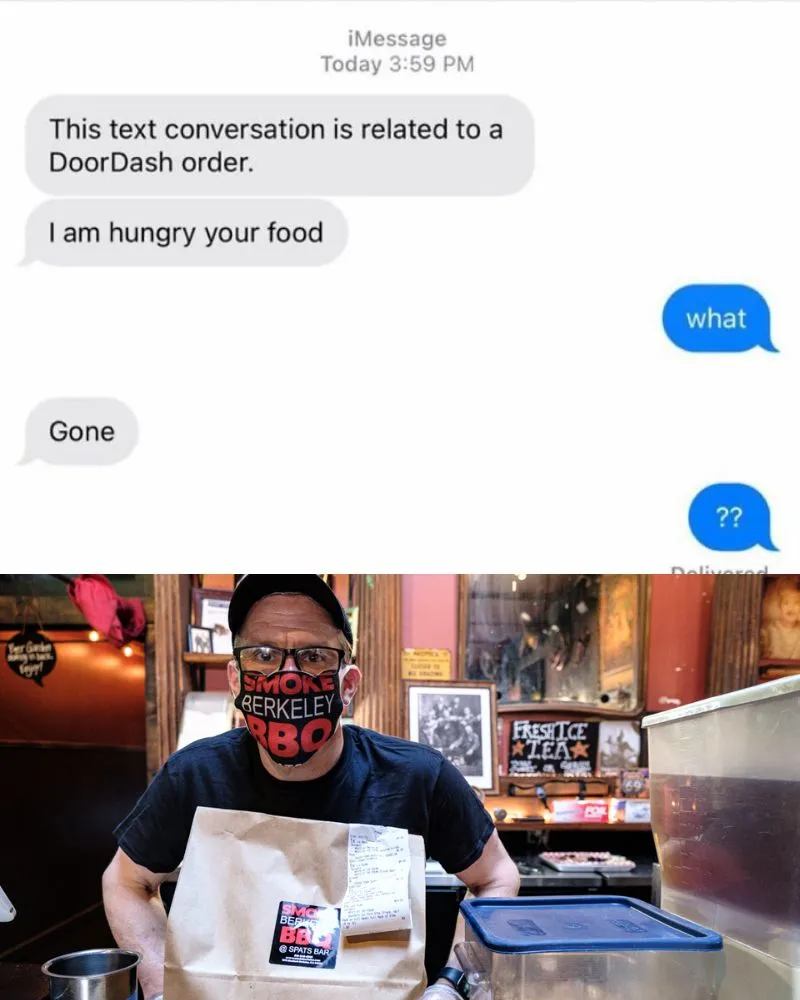 On the flip side, we'd be mad if our driver said they ate our food. Though, at least he messaged and didn't leave them hanging.
Meme Me My Food
Memes and GIFs are wonderful things to utilize with your friends and on social media. Though, we're not sure it should be used when it comes to your communication with a customer. Maybe we're wrong!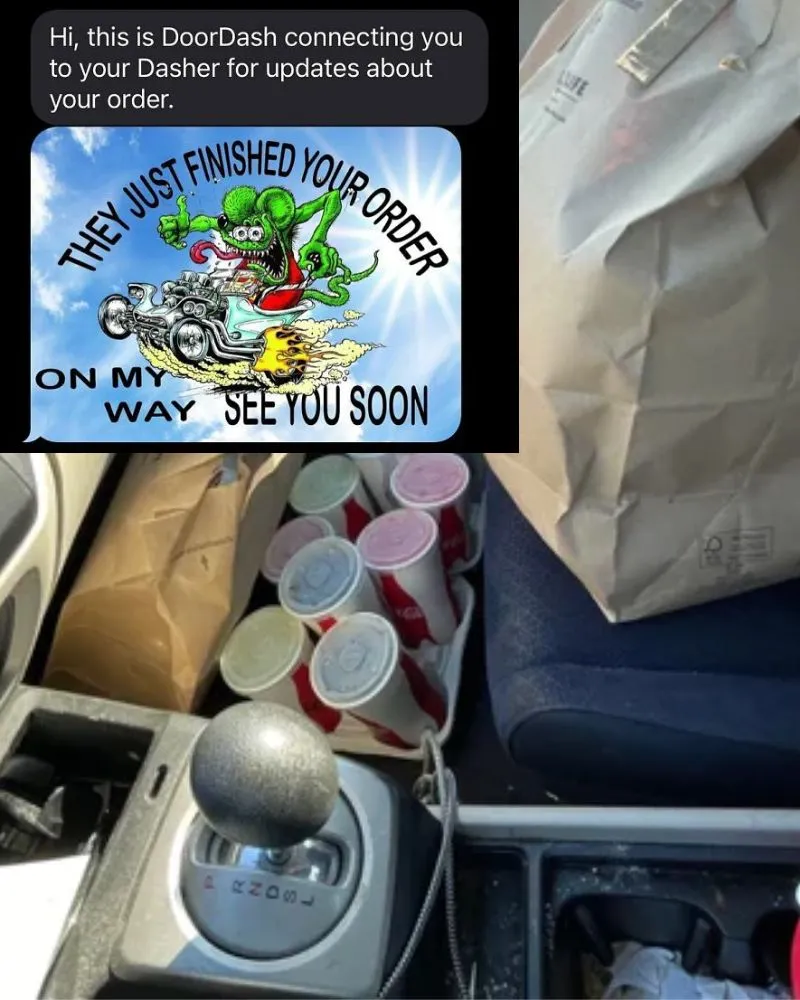 After all, this is a pretty cool GIF, and it shows that there's a lot of enthusiasm behind that order. Maybe that means it'll get to the person on time?
Have a Drink
It can be a pretty cool thing when you meet your delivery guy and hit it off. But very few, we're sure, have the experience of being invited in for a couple of adult beverages when they deliver their pizzas.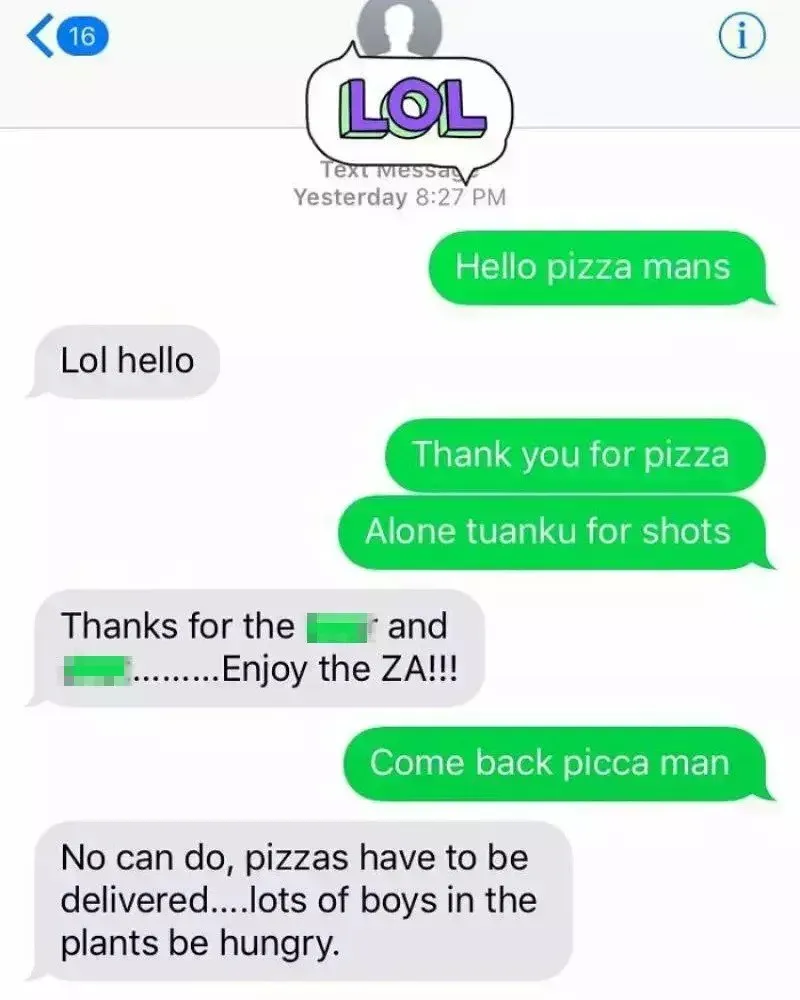 We think this guy is pretty cool, and we hope that the two exchange numbers because it seems like they could be pretty good friends.
Too Much?
We're sure that everyone has that one person in their life that just takes their wacky and zaniness a step too far. Sometimes, that means being a little too extroverted and saying whatever comes to your mind, like this driver.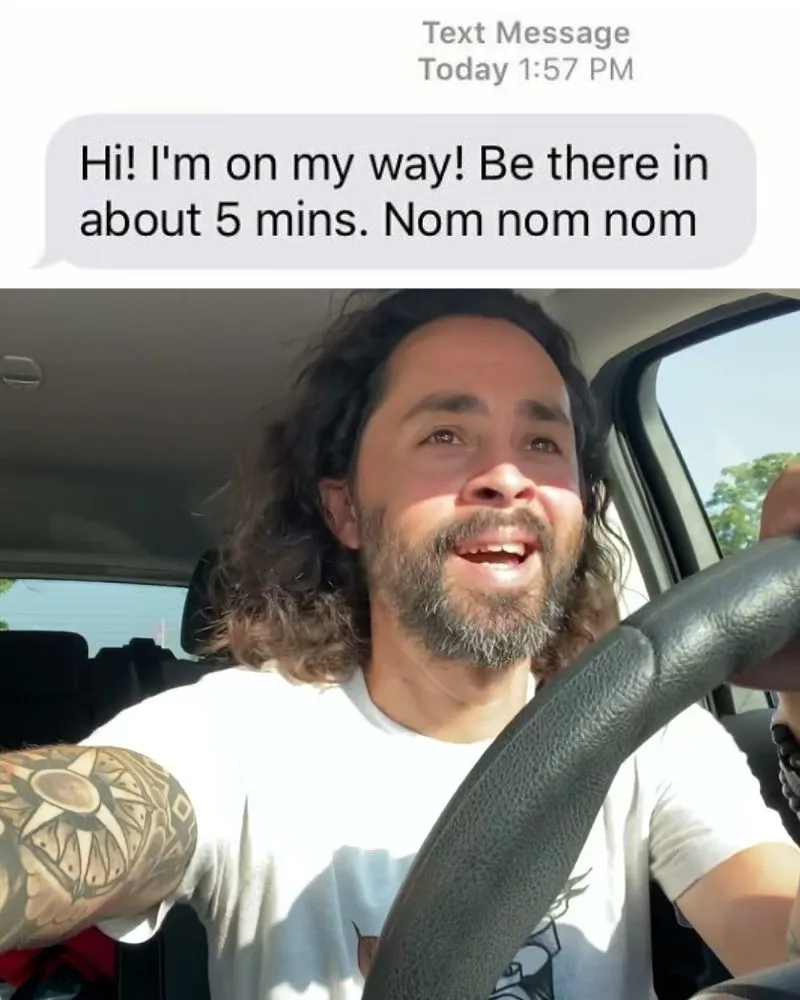 On the other hand, at least he's being very communicative and saying when he'll arrive. And clearly, the food smells good because he seems to be pretty hungry!
Awesome Day
Just like in films and television series, some people find it amazing to have a catchphrase. But typically, a catchphrase isn't used after every sentence, so someone needs to really tell this driver that he needs to cut back a bit.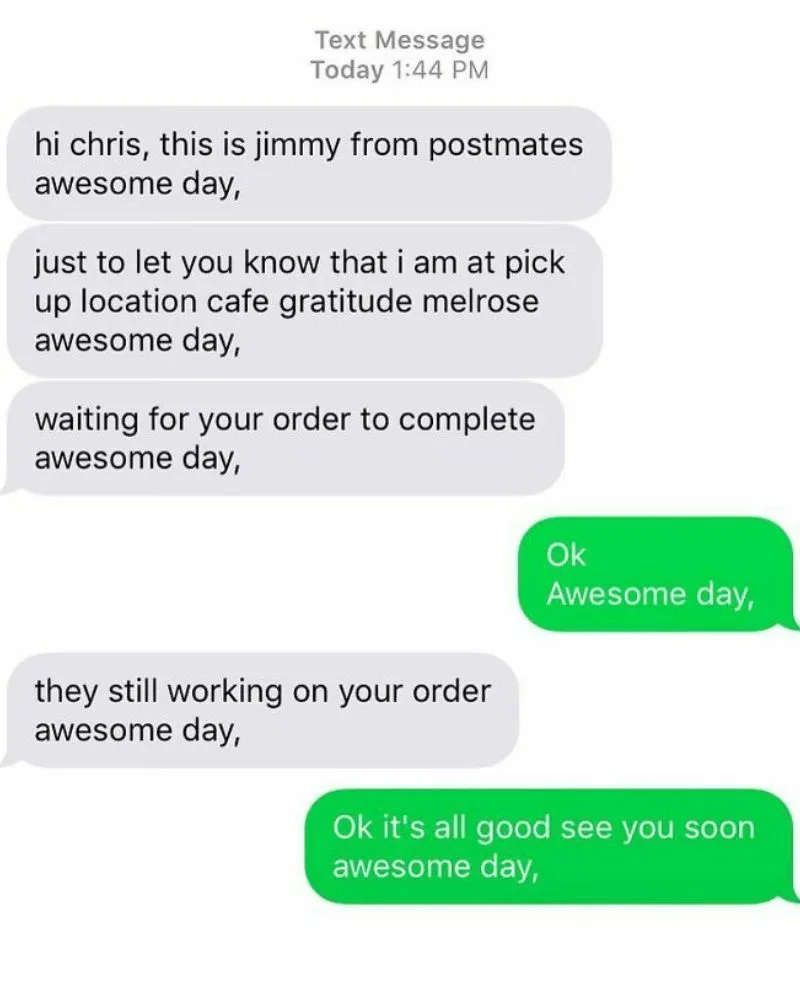 At least the person on the other end is having a pretty good time with it. It seems to be contagious, and maybe a new trend is forming…
Taking a Stroll
There are multiple ways that drivers can get the food from point A to point B. Many people drive, and some bike, but some walk too. That seems like a bad transport mode for a business looking to get things places fast.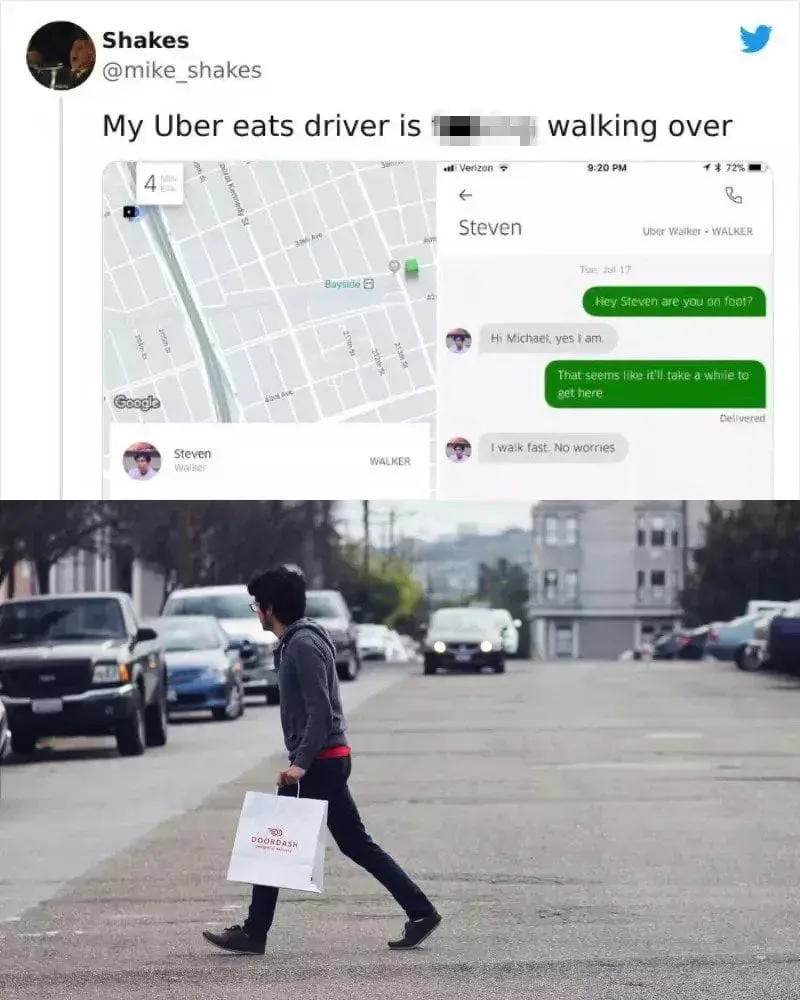 But maybe we could be wrong? Maybe this guy is one of those speed walkers we all see in the malls. One thing's for sure, though; the tip will be very low because that food will be very cold.
Followed the Rules
Sometimes when a customer is rude or demanding, the person that is the customer service representative has this deep urge to go against the grain. But in order to ensure customer service is good, you have to fight that urge.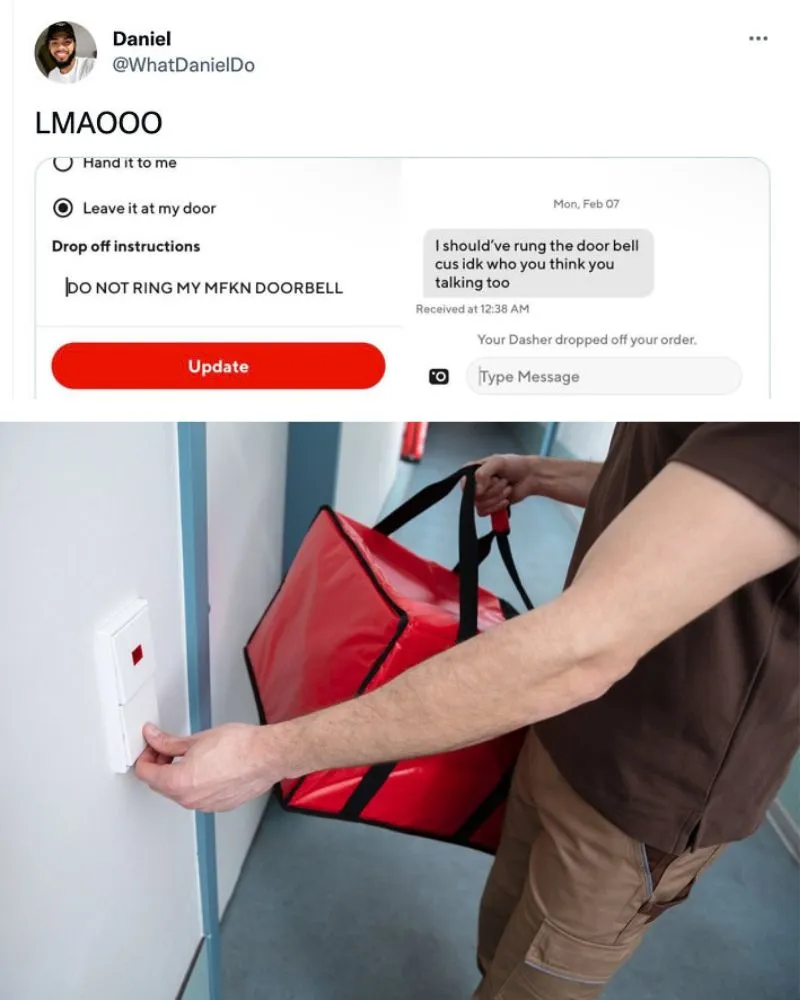 So we're very proud that this driver decided to go by the rules and do everything he was supposed to. Otherwise, it could have ended up being a pretty stressful situation.
Off Topic
We just hope that maybe this is a strange case of someone thinking they're texting one person and accidentally sending the message to someone else. Otherwise, maybe there are more voices in this driver's mind than we would feel comfortable with.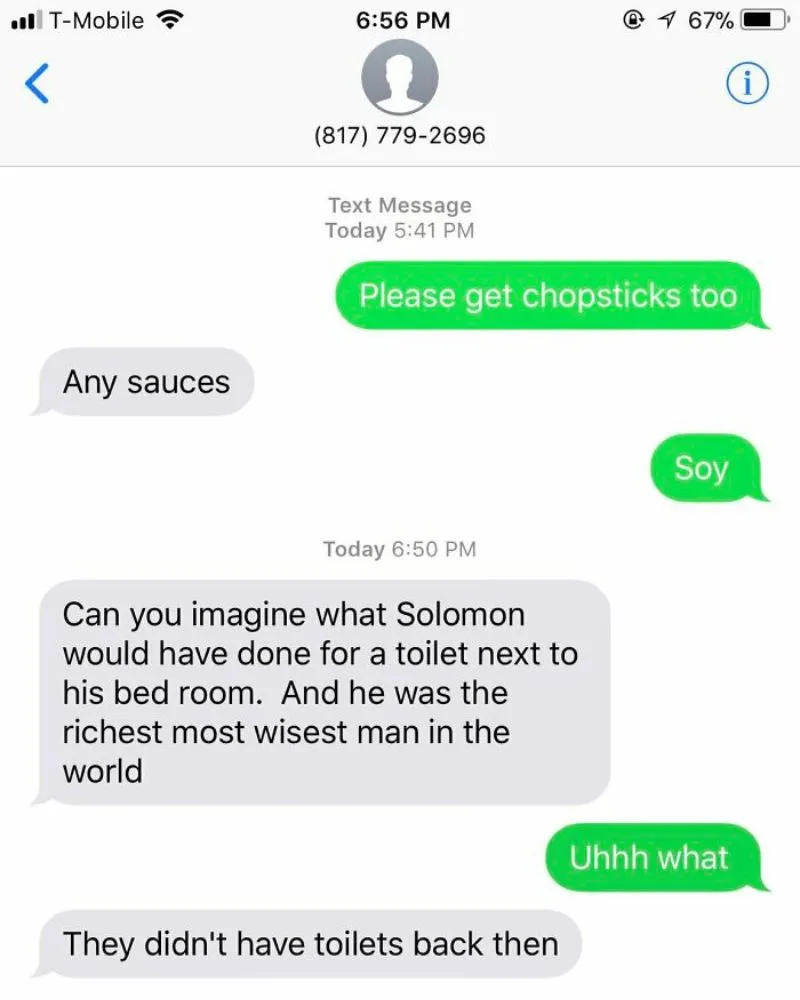 After all, how do you go from talking about soy sauce to Solomon? This just doesn't make sense and must be a big mistake!
Cancel That Order
It's one thing to be super honest when you're in the customer service industry, and it's another to be rude. This person is seriously trying to get the customer to cancel the order because their girlfriend ate the food.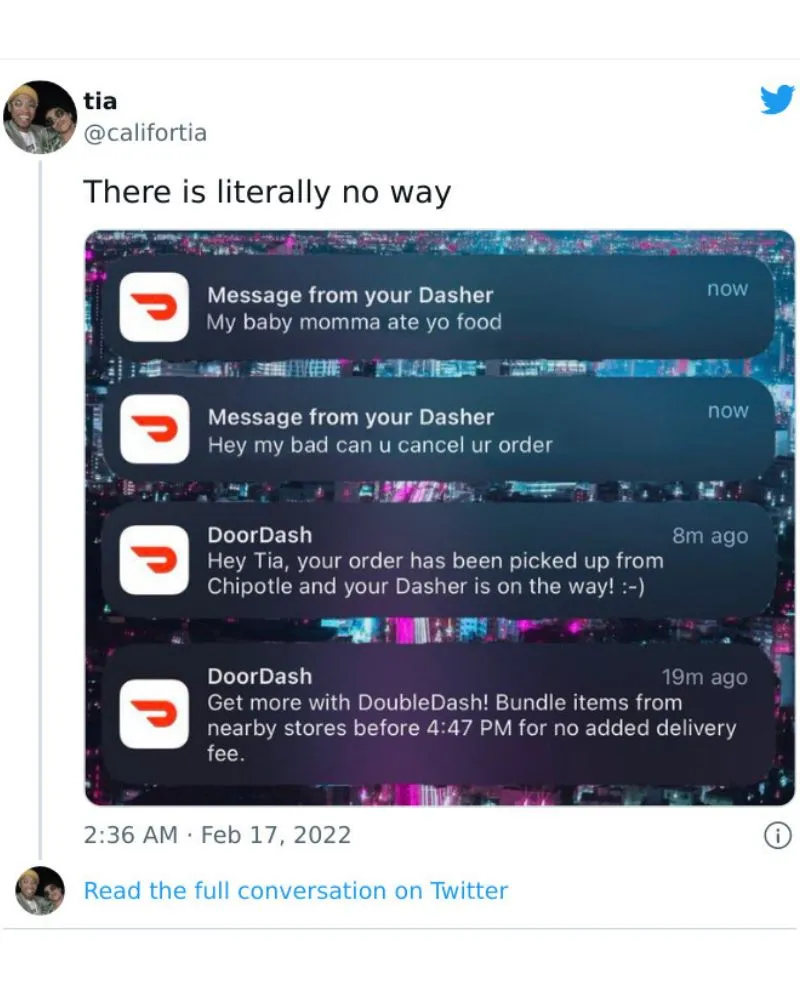 We hope that somebody did something and that this poor person didn't have to pay for that! Also, why couldn't you just buy something for your girlfriend when you were at the restaurant?
Which Office?
We're sure there are a lot of places that are very challenging to deliver to, but maybe one of the most challenging in our mind probably would be an office building. With so many levels of security nowadays, it might be challenging for the delivery guy to find the right place.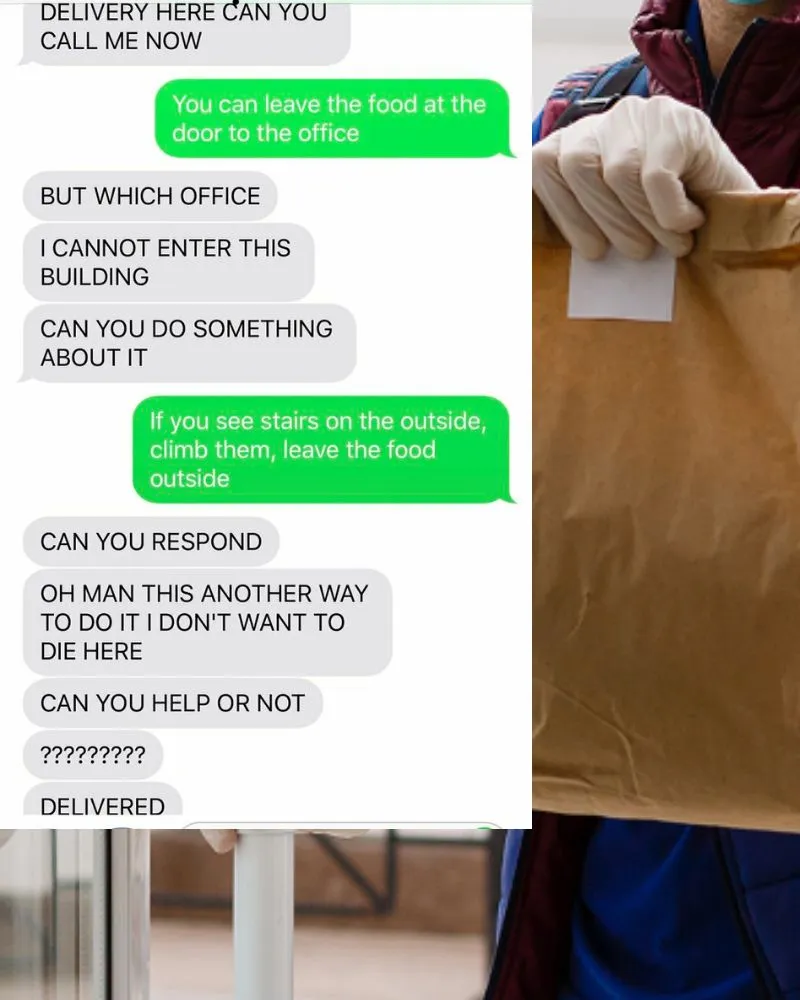 That's where you hope the person would be helpful, but this guy doesn't seem to be, so we understand the driver's frustration.
Left it for You
Many delivery services like when their clients take pictures of where the food was left so they can have proof of delivery. But if you were there when they opened the door, I don't think the company really cares about that.

It could be quite humorous, too, we guess. It was kind of funny in this situation, so maybe it will be alright. We'll leave that for you to decide.
No Cheese
The one thing about being a delivery driver is that you have to be able to communicate with the person you're getting the food for. It doesn't have to be perfect, but it has to be something they'll understand.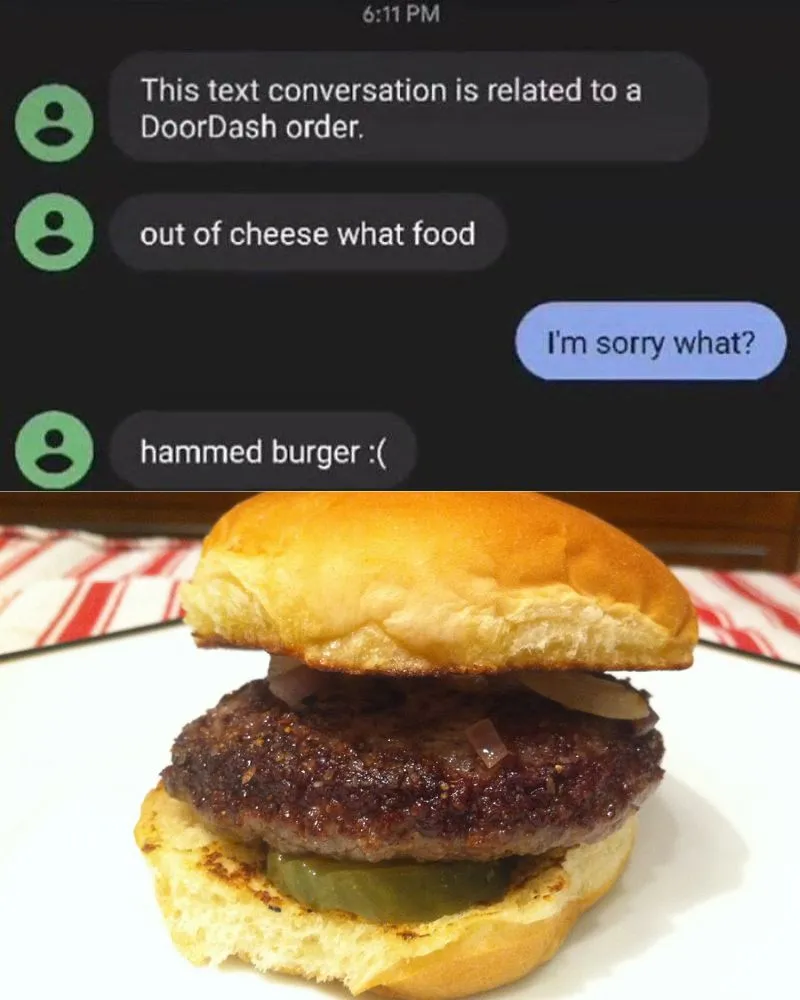 This person doesn't have a good grasp of grammar or the English language, so that might be a little challenging. We just hope there was some patience on both sides of the communication.
If You're Froggy
It's pretty forward when a driver automatically sends you ways that you can get the extra money when it comes to tips. Getting creative is not a bad thing, but you have to expect that there will be some people that don't respond well to it.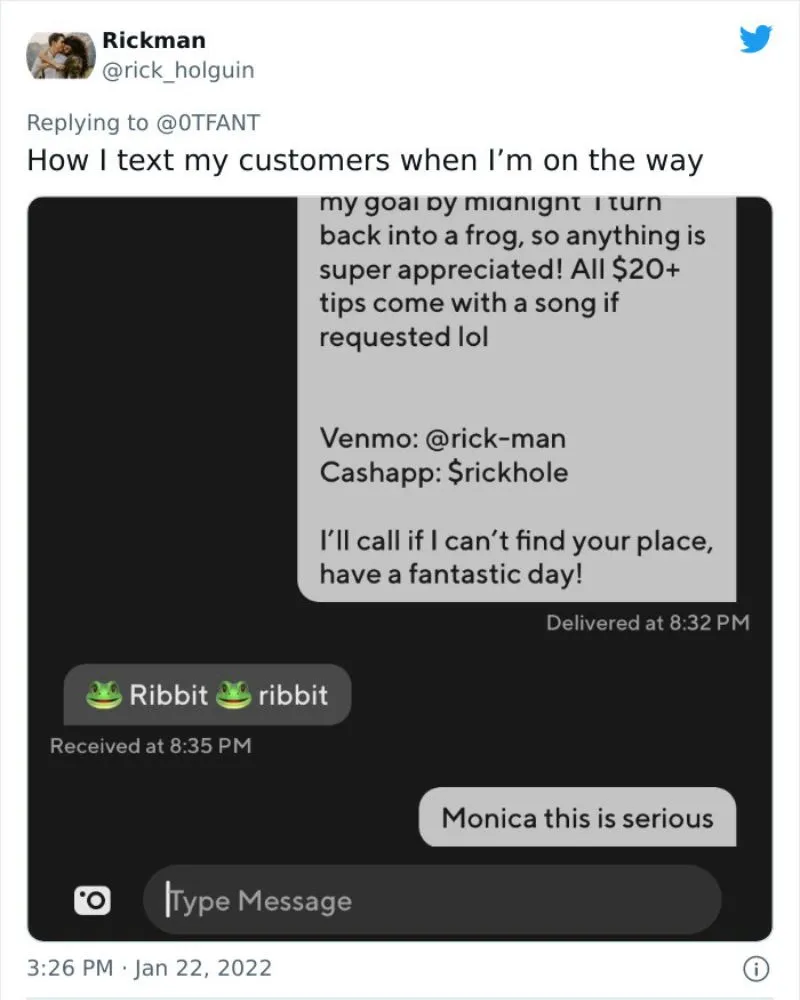 We think this person could have been a little bit nicer about it, but we understand how being asked for a tip is annoying.
What Did You Say?
There's something to be said for being yourself when talking to friends. Bringing that into work could be very unprofessional and lead to many bizarre interactions. Kind of like it did for this food delivery guy.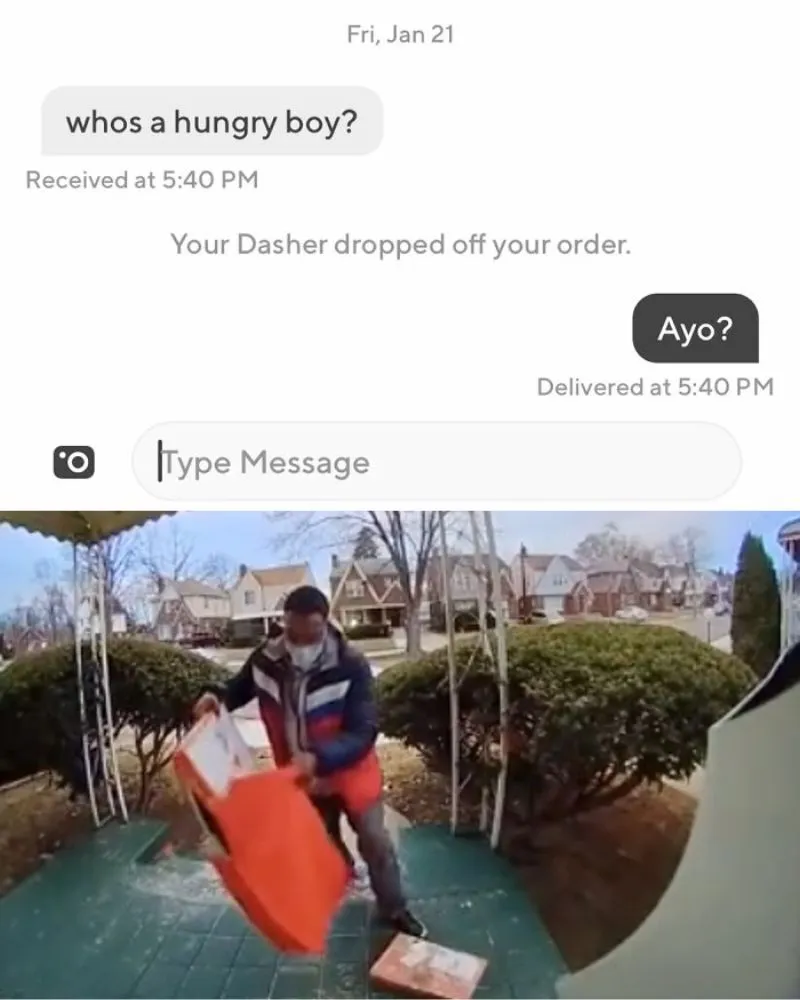 We would not take kindly to being addressed like we were a dog, and the last interaction would be the straw that broke the camel's back.
Love Is in the Air
You never know where you'll find your soulmate. But very rarely are you going to find that person in the individual that brings food to your door. But we guess you never know; anything is possible!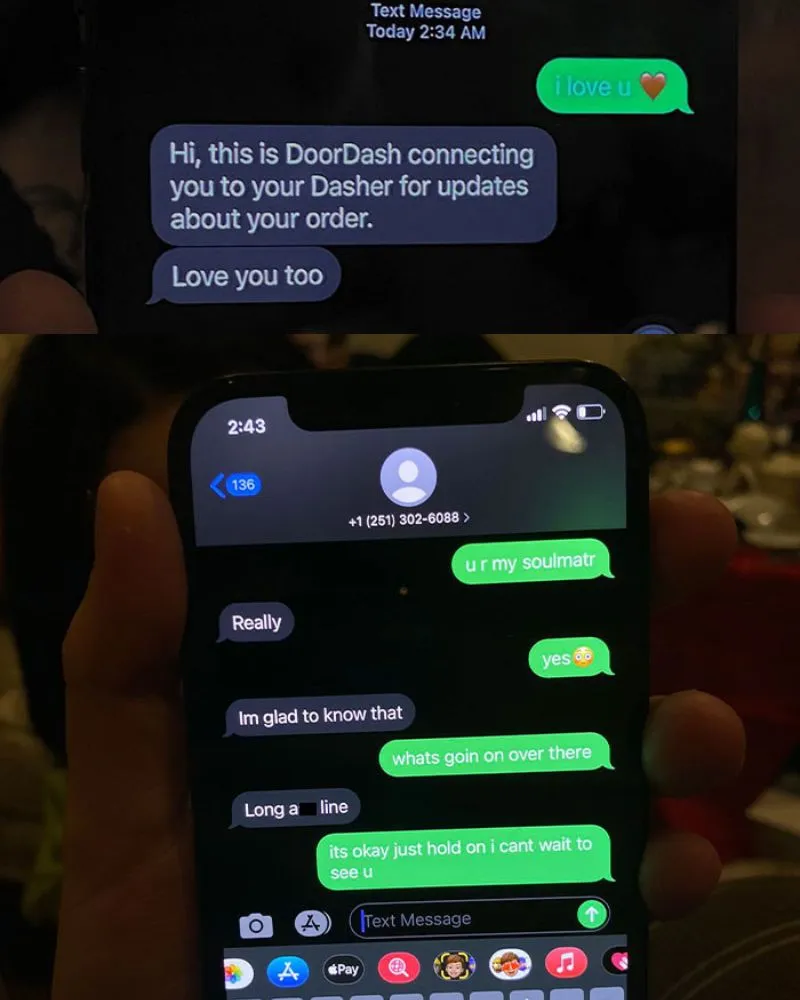 But you do have to have a good conversation, at least, before texts like this happen. Or at least that's how we feel. What do you think about finding your soulmate by ordering a whopper?
Too Aggressive
If you're going to take the chance to hit on someone, make sure the picture you send is not creepy. This is not any way to get a good tip or find your special someone. Also, this driver could've waited until they at least dropped off the food.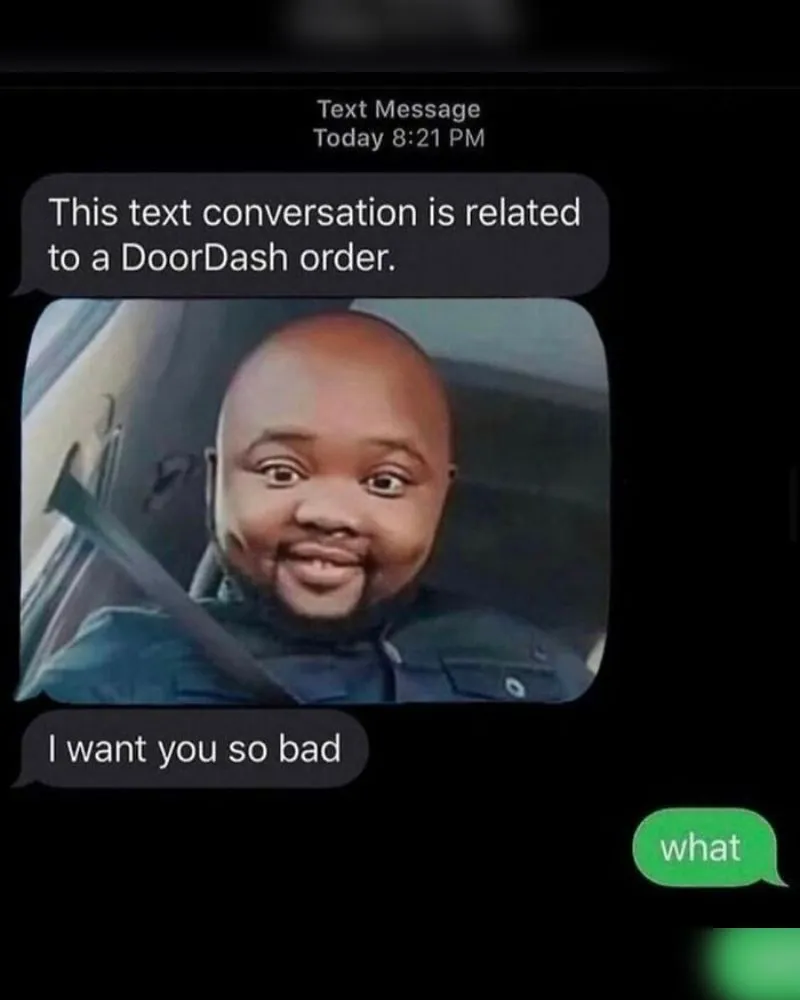 We would definitely have the same reaction as the person waiting for their food. It would be an uncomfortable situation, for sure.
Repeat That Again!
We all want to be heard in our lives, and sometimes that means repeating ourselves a few times. But this is a little excessive. There doesn't seem that there's any clear message.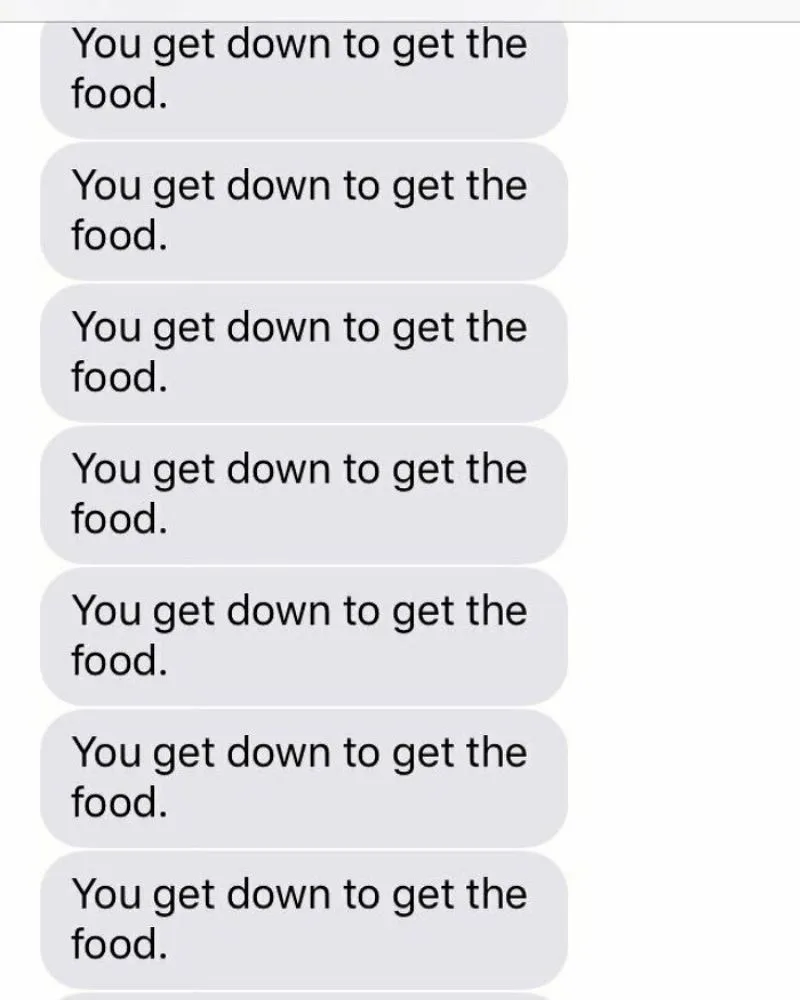 Not sure this is even proper grammar, making it even harder to understand. In the end, we hope they got their food. Otherwise, this is a pretty strange situation.
No, Thank You!
There are some lines that just shouldn't be crossed, and this food delivery person has found one. This person went a little too graphic with their texts, and we're sure they'll get a good talking to.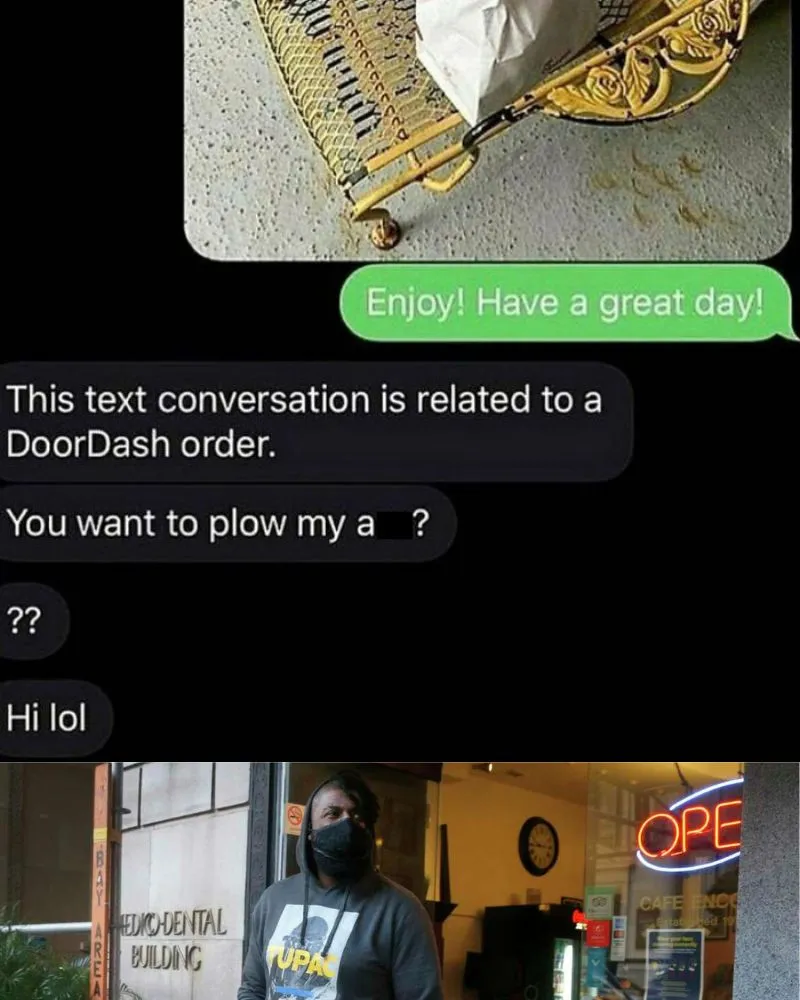 We're not sure why this person felt so comfortable with his customer. We would've loved to hear the conversation at the door. Maybe there was something that happened to instigate this?
How Do You Know?
We don't know about you, but we love customer service workers with a good sense of humor. It makes the interactions between them and us so much more enjoyable. But there's one thing you can't joke about… food.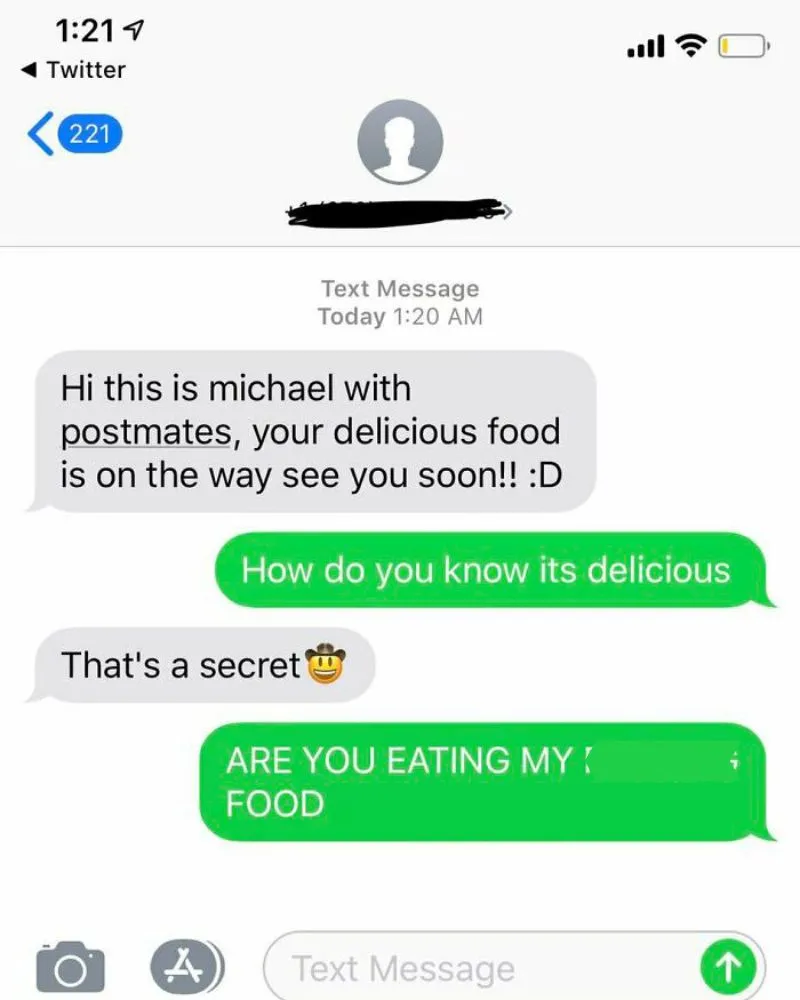 This driver is tempting fate, and we would have loved to see the face of the person when they got to the house. We hope they had enough time to calm down and forget about solving the mystery of this guy's secret.
Fix Yourself Something Else
We all have had those days when we just can't take anymore and throw our hands up. This driver seems to have had one of those while waiting in that line. But the audacity of them to give their customers suggestions is something else!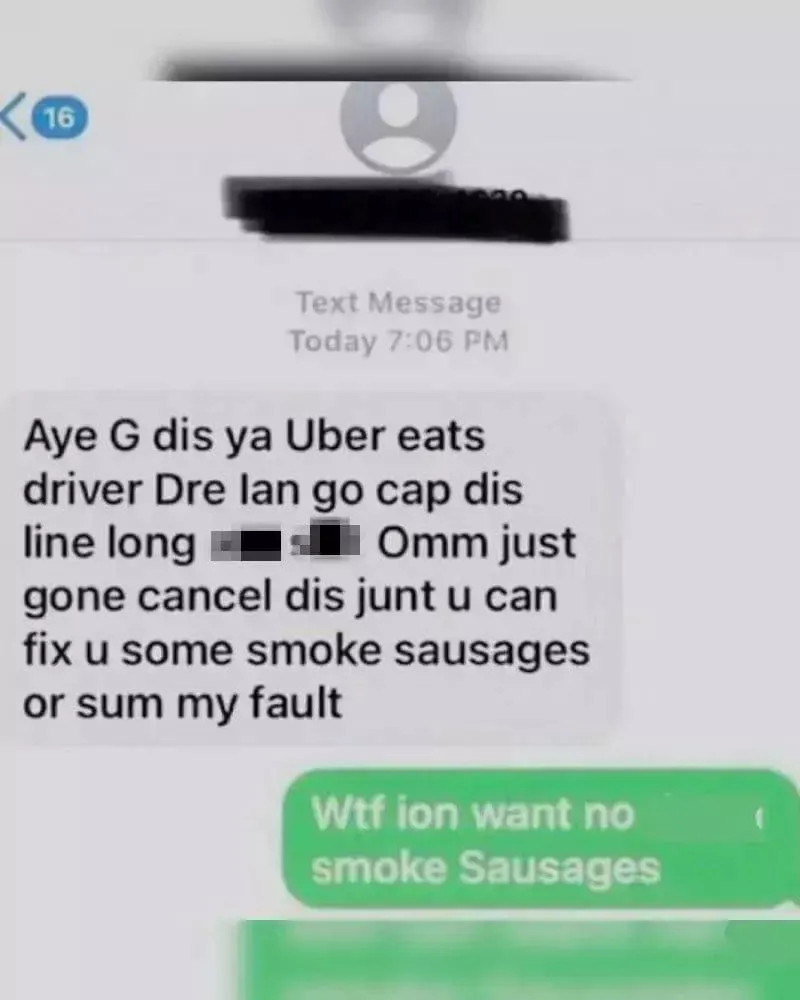 If we were this person, we wouldn't have even responded, or if we did, we wouldn't be pleading not to eat smoked sausages!
Boss?
There are people in life that when they meet someone, just feel a kindred connection. But usually, there's more communication than 'here's your order' and 'thank you.' However, it appears that this person is trying to groom that connection by going above and beyond.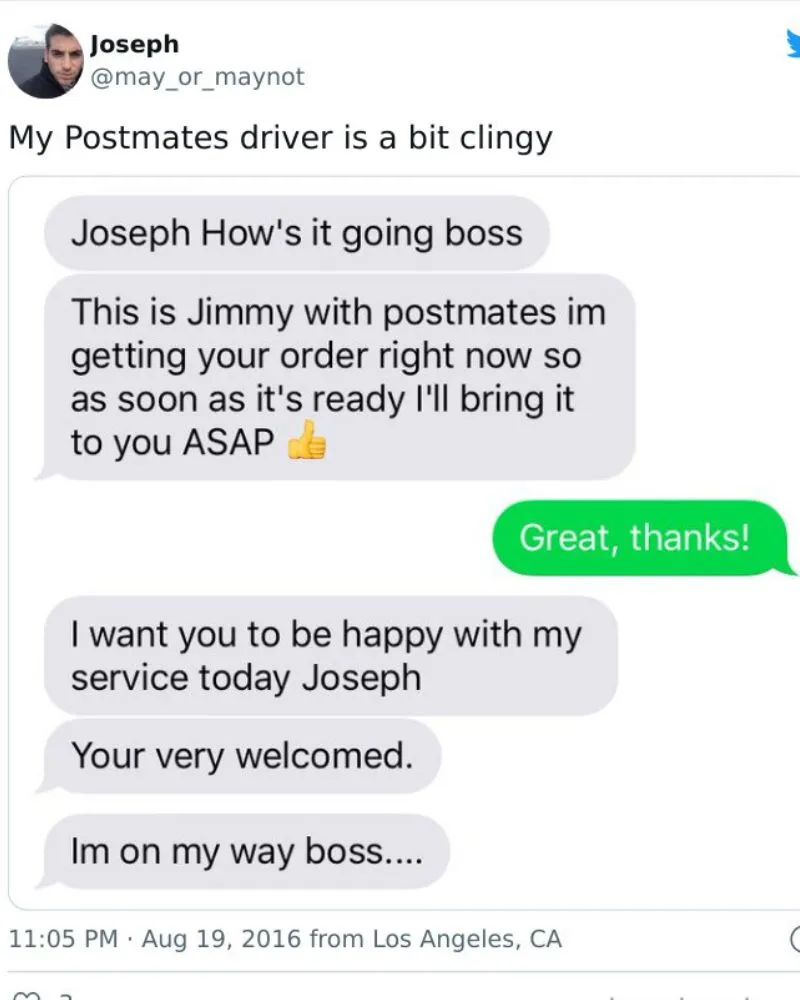 The driver already has a nickname for his new client, which is definitely a little much. Plus, the nickname is giving us a pretty strange feeling!
#What
Hashtags are super important and often used on social media. But when you're texting someone about your food, you shouldn't get a list like this back. If we were them, we'd be a little confused at what this all meant.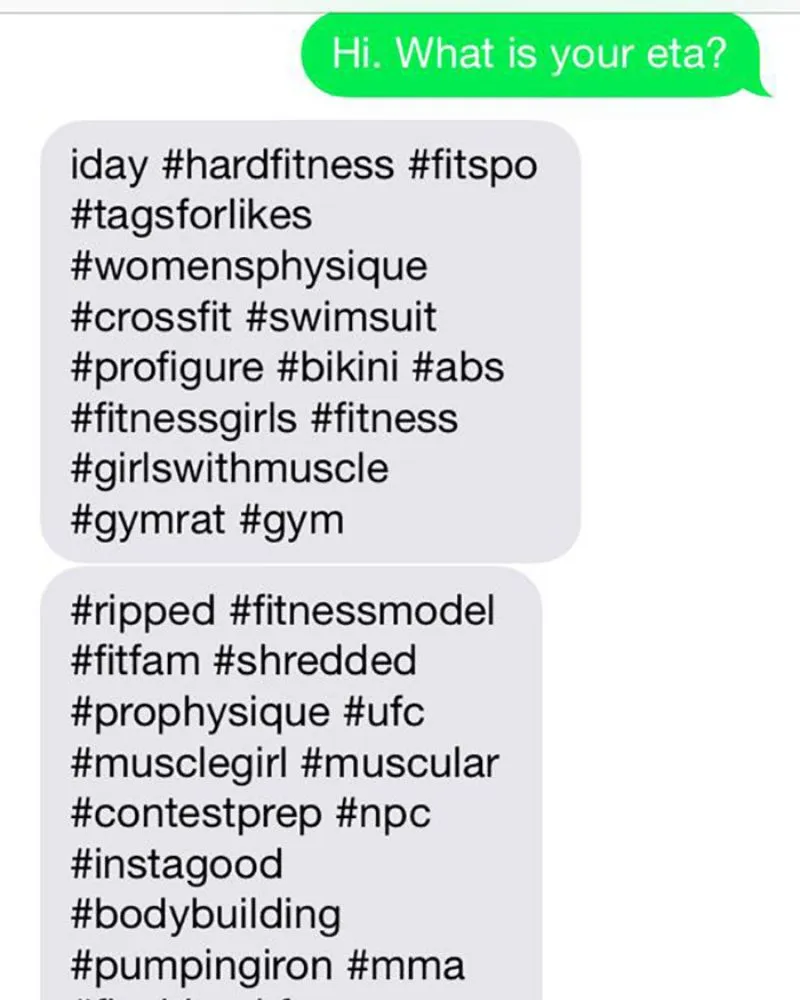 The only thing we could think was going on was that somebody copied and pasted their Instagram list without them knowing. Either that or they're trying to send some sort of subliminal message. After all, these hashtags seem to be about fitness.
Riddle Me This
A little mystery can be good when it comes to a lot of different types of relationships. But it doesn't play well with the delivery driver and the customer waiting for the goods. After all, most of the time, you just want your food and not a conversation.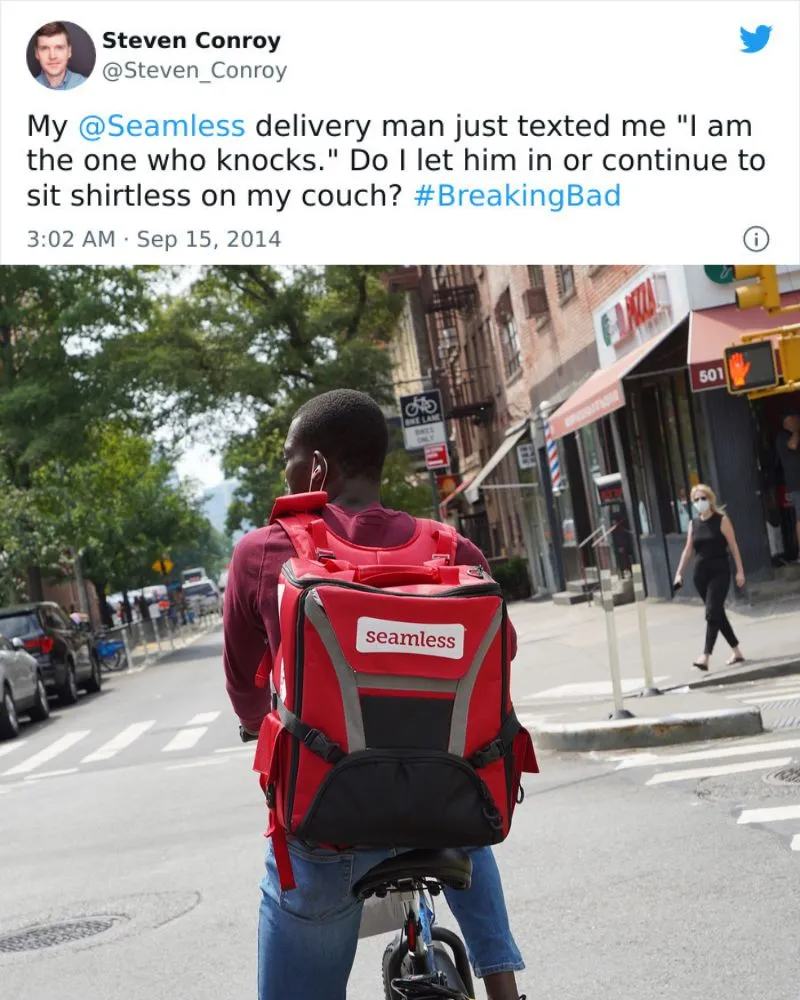 But then again, maybe this person is just trying to give a little insight into his true personality? Who knows, this little bit of fun could lead to him becoming friends with at least one of his customers!
Getting Better
It's always nice to meet someone who truly cares about their work. It does seem rare when it comes to food delivery guys, but there's at least one we know of, and he likes to let his customers know.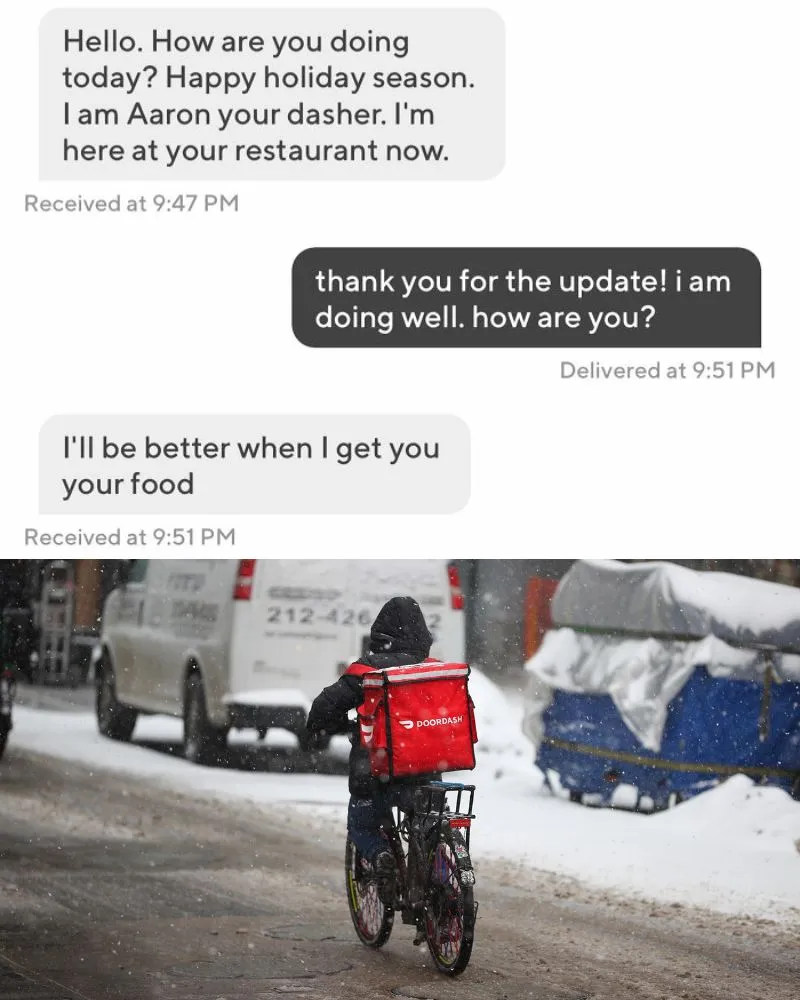 That being said, maybe this guy is just a bit too into his job. It does seem like maybe he's a little too excited about his job, if you get our drift.
Working for Those Tips
We know that any person working in food service has a tendency to live on the tips. So we understand why they're always trying to do things to get a bigger tip. But the best way to do that isn't by threatening your customer.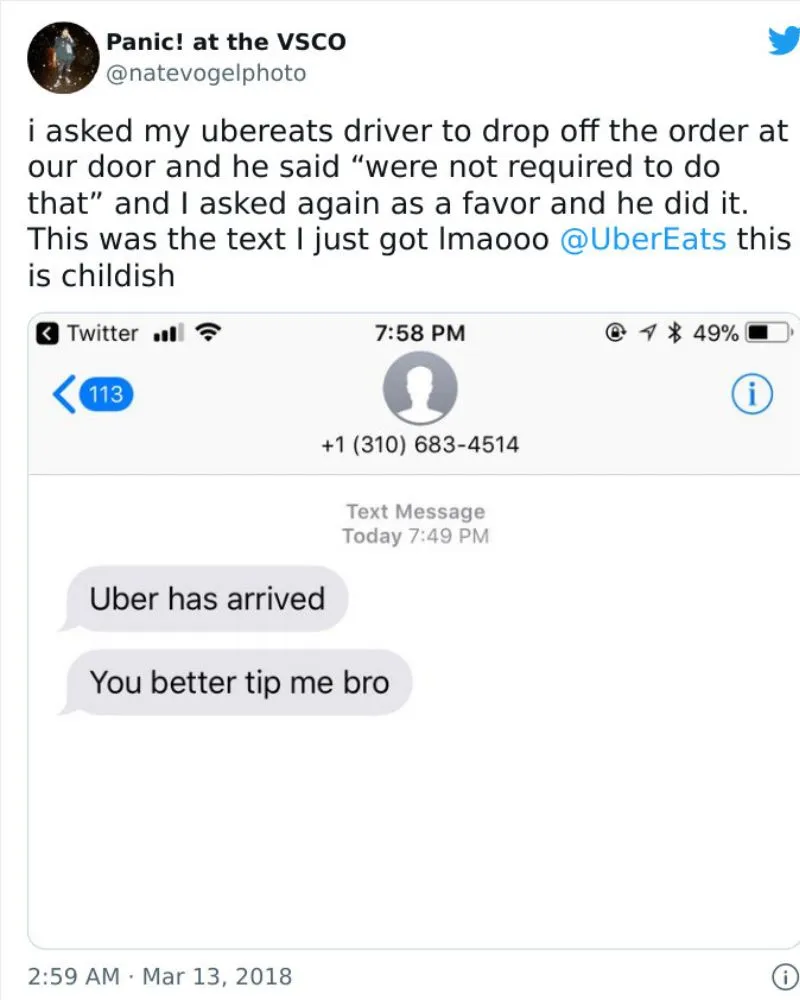 Not sure what kind of day this driver is having, but we can wager a guess. We're pretty sure that whatever we came up with would be pretty on the nose.
Some Inspirational Reading
Some topics just shouldn't be discussed while you're at work. Just like over the dinner table, politics and religion should never find their way into texts sent to your customers. At least, that's what we think!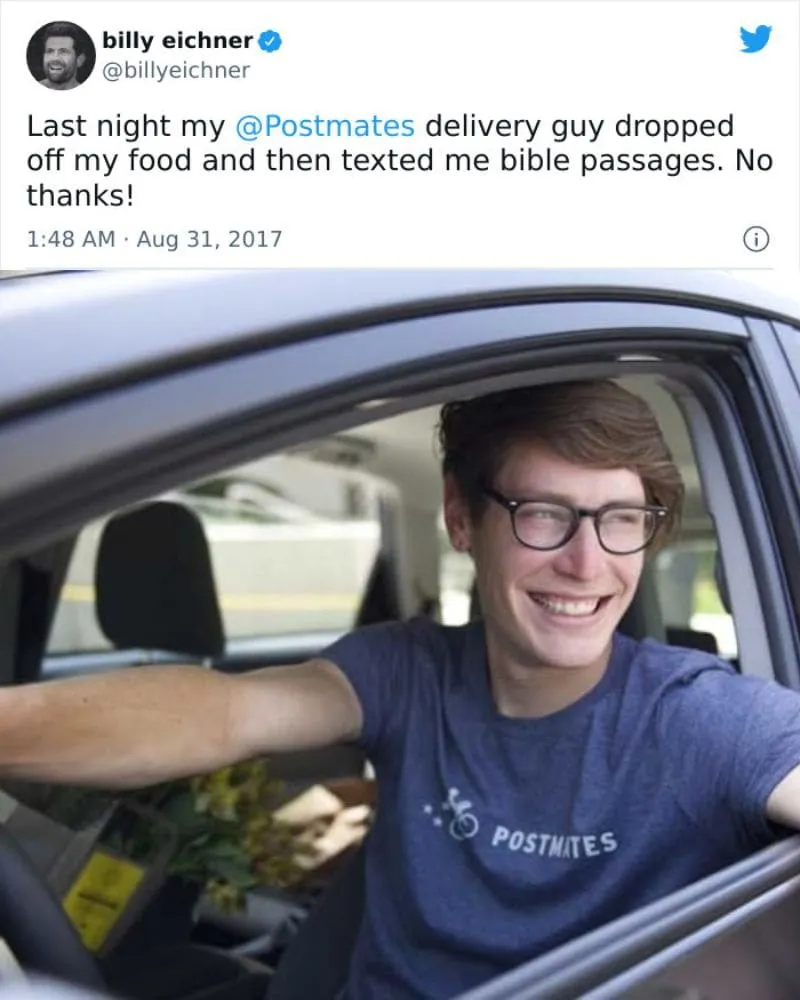 This guy, though, has a different idea. What did this guy see when he dropped off that food that made him feel that the people need the good word in their life?!
Something Wrong?
To start off texting like this seems unwarranted. What did this person do to be spoken to like that? We certainly hope that this driver isn't expecting any kind of tip! If he is, he's not the sharpest crayon in the box.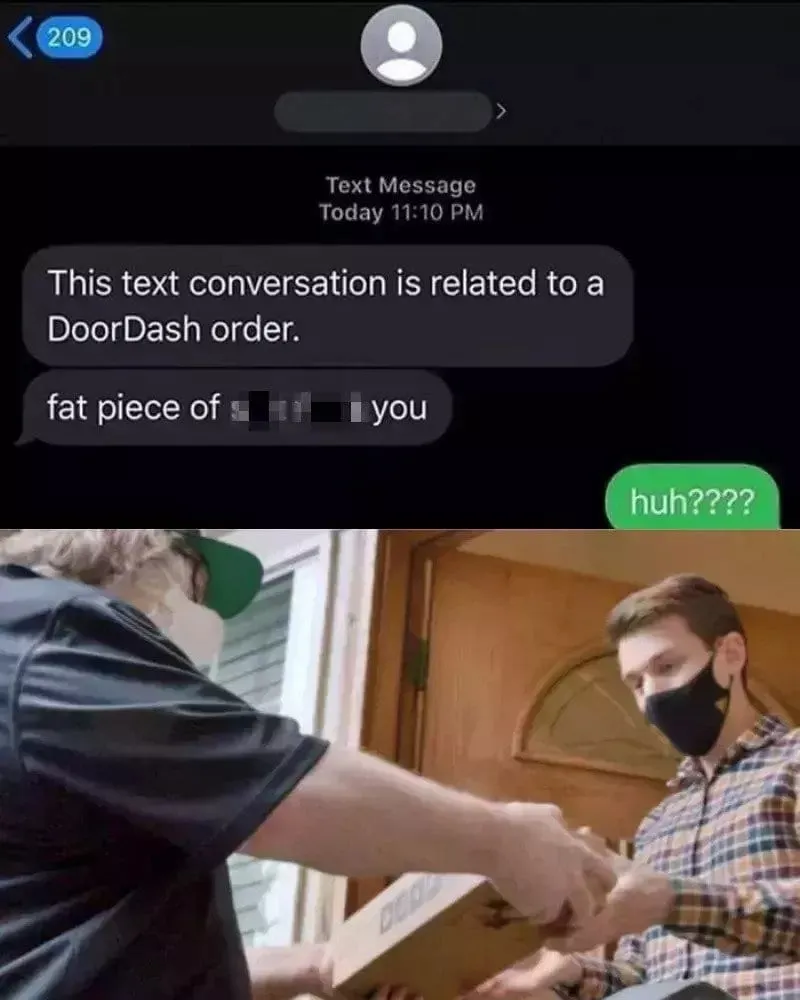 We would've had much more to say than this person did. After all, there were a lot of expletives and no catalyst. That just seems to us like someone is having a bad day!
Wanted
Being confident is a good thing, especially when you are working with customers. You have to have some level of confidence even to be able to look in the eyes of these strangers.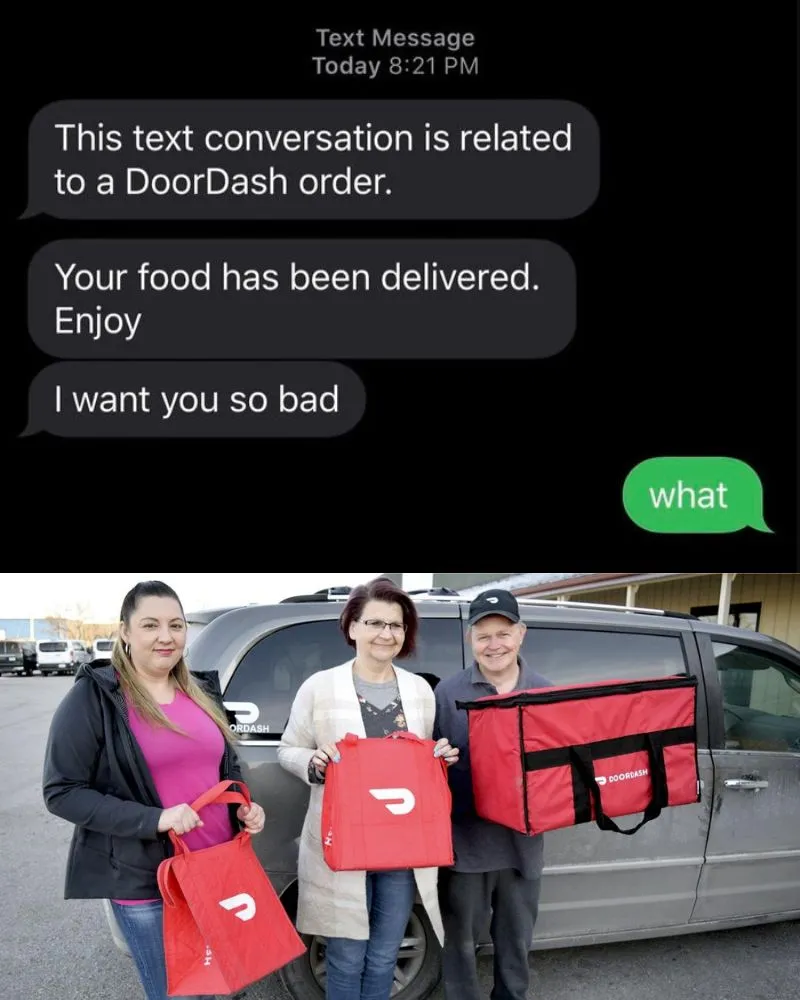 However, this is a little too much confidence. At least the driver was not too forward. He started off with a simple message but then moved too quickly into a really, really weird territory.