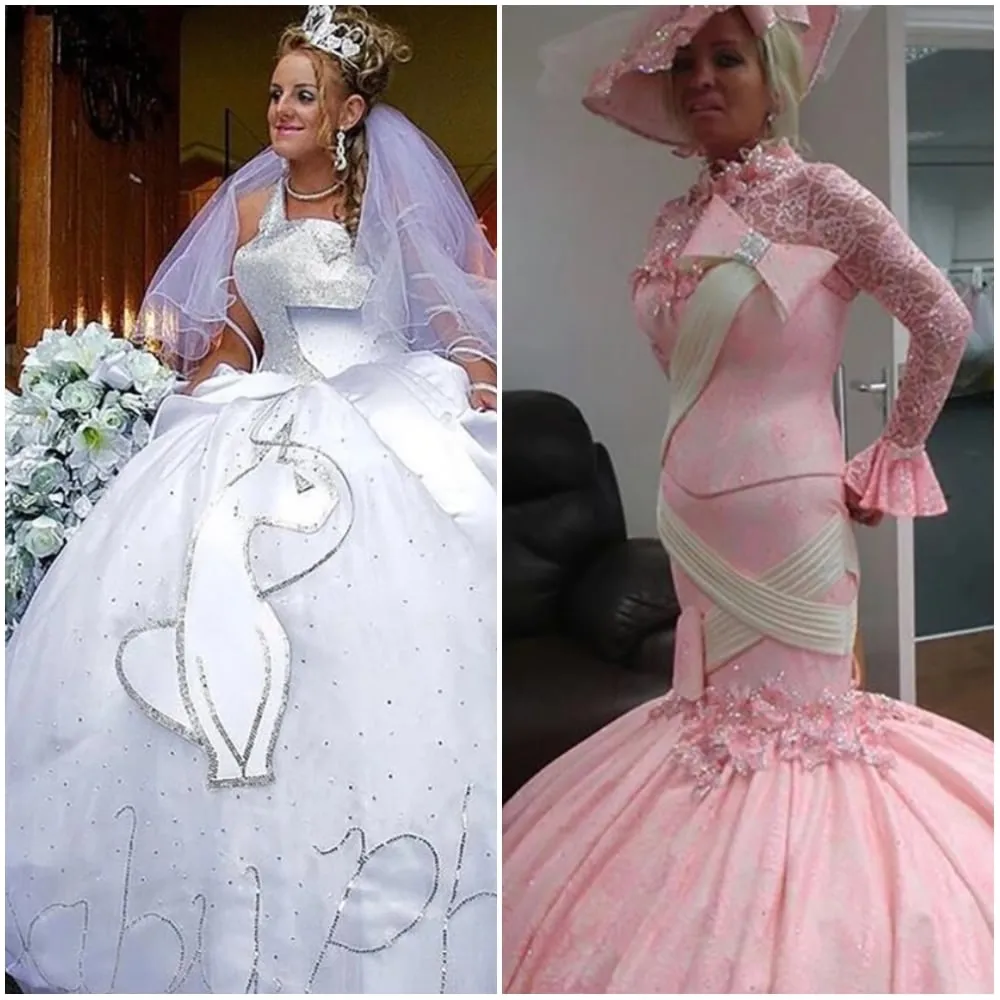 Examining someone's wedding gown and forming an opinion on it is a common practice that we indulge in while attending weddings, passing by bridal boutiques, or even while watching reality TV. The saying "one man's trash is another man's treasure" is especially true for these unconventional wedding dresses that left wedding guests baffled. In the following list of 40 such dresses, we can only hope that the brides were content with their choices, although it wouldn't be surprising if they later regretted them.
Lettuce Celebrate Our Love
Thanks to a contest held by Taco Bell in Las Vegas where the winner would get married by the fast-food chain, a unique bridal gown was created. It may sound unbelievable, but Diane Nguyen (who coincidentally shares a name with the best friend of Bojack Horseman) crafted this stunning wedding dress using recycled burrito wrappers.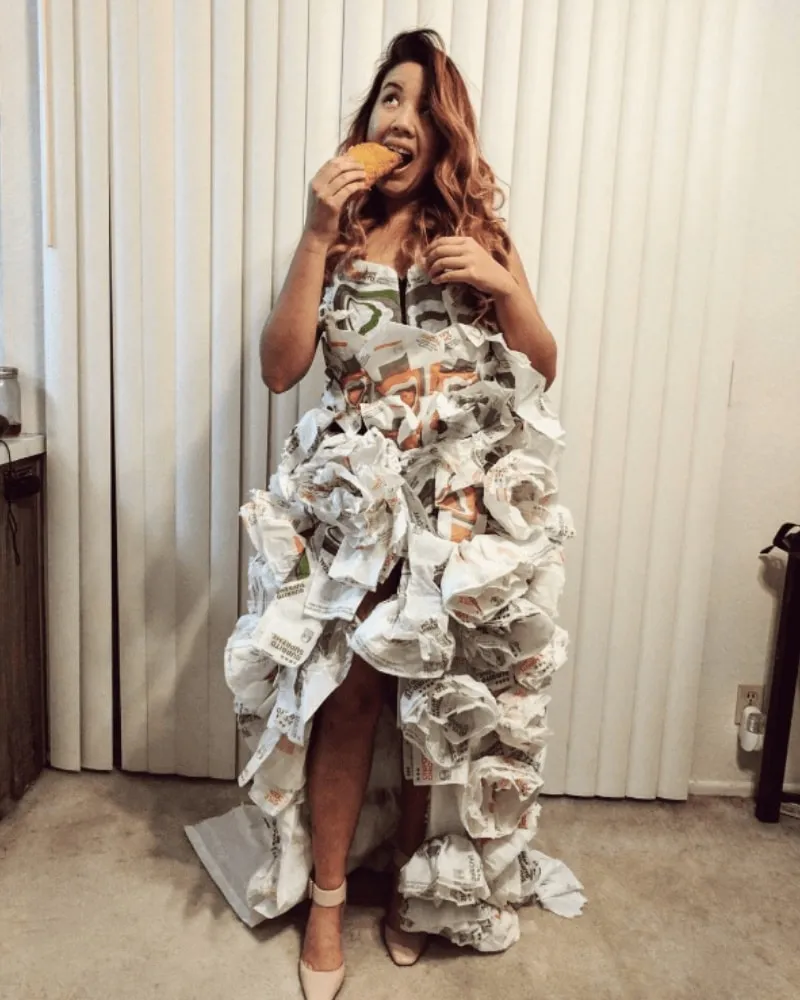 Nguyen made use of a few puns in her submission for the contest, stating that "It's the moment to reveal the truth…Our affection for each other is as cheesy as a quesadilla."
Number One Fan
Although it was not a typical bridal dress, it suited the couple who shared a passion for soccer and were getting married. The wedding was held in Britain and the bride and groom were avid supporters of Manchester City, a soccer team.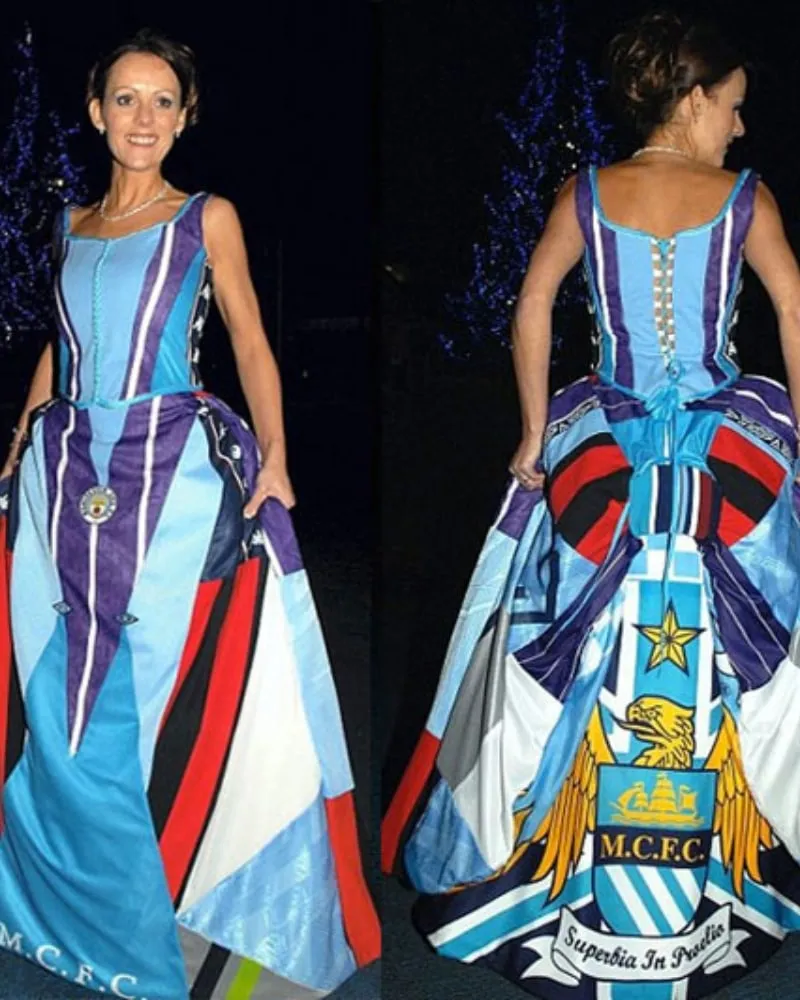 To get ready for the main event, the future bride dedicated herself to working at her sewing machine six nights each week, mending her partner's old shirts. Once they exchanged their vows, the couple chose to skip the celebration held afterwards and instead watched a game played by their beloved team.
Enter the Corpse Bride
The dress, which takes inspiration from the tradition of Day of the Dead, creates a unique and fitting atmosphere. This bridal outfit is suitable for those who have affinity for gothic style and costumes, as it may appear quite startling to others. The complete set consists of a white figure-hugging dress, a long white veil, a lone red rose, and a frightening makeup.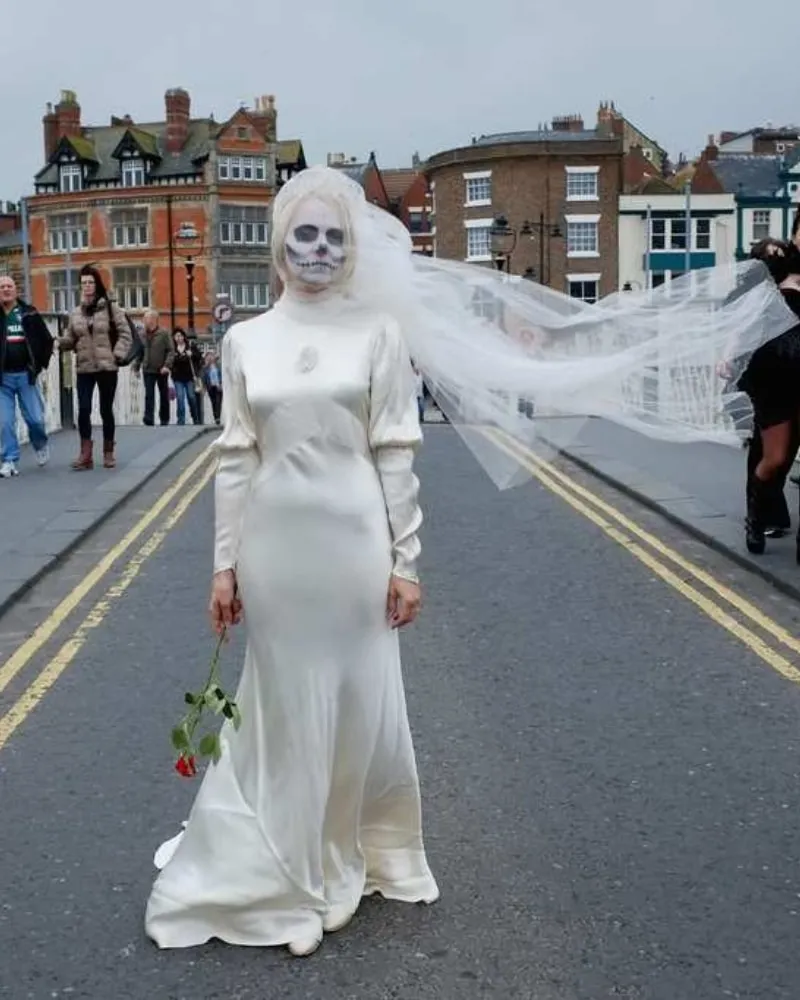 Even without the makeup, this appearance is not very surprising. However, it would be interesting to witness the reactions of the guests when they see the frightening bride walking down the aisle.
Dance of the Swans
The wedding dress in question is comparatively subdued when compared to the rest on the list. However, this does not warrant the assumption that it looks good. While it may be simple to ridicule massive wedding dresses, one should not disregard the potential horrors of an ill-fitting or poorly designed slim-fit dress.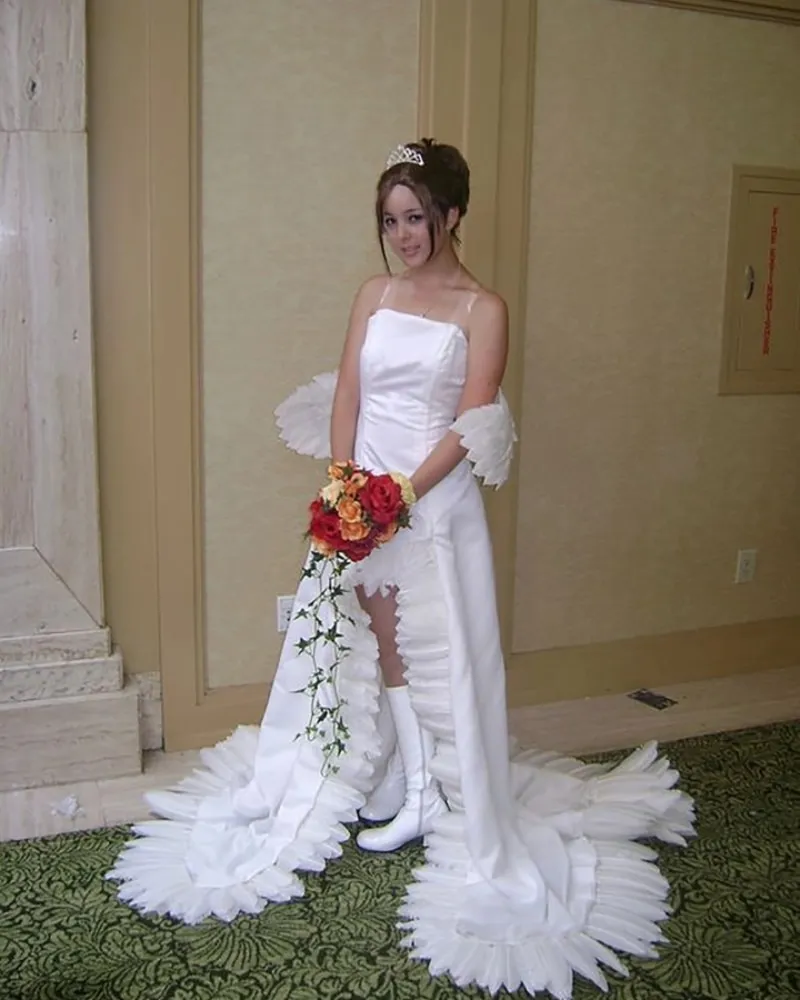 It appears that this outfit has feathers on it, and it resembles a homemade dress made by students attempting to use a swan. Furthermore, the boots do not match the ensemble.
Comfortable or Comforter?
Can you provide me with more context on this?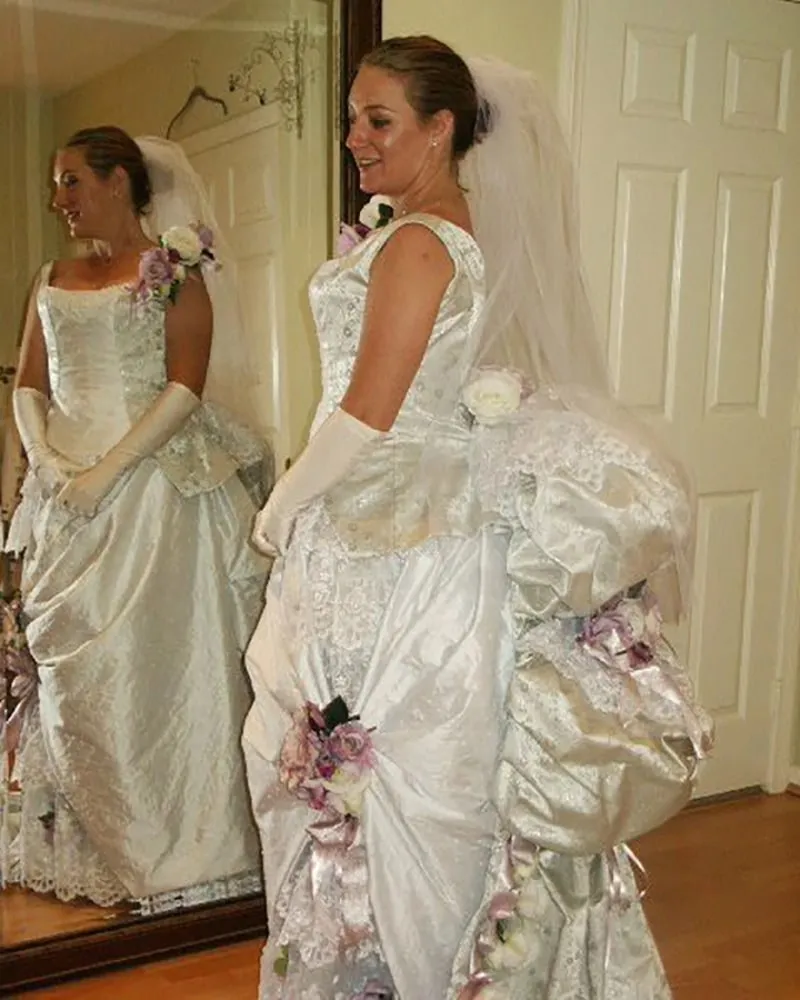 Do you see where this is headed? This dress looks more like a blanket than some actual blankets. It is possible that some tired wedding guests may mistake the train for a comfortable place to rest their heads. However, it does look quite comfortable.
A Kawaii Cutie
To be truthful, we must acknowledge that we somewhat enjoy this dress. The issue is, those who are fans of the Japanese anime character Hello Kitty are devoted admirers. It's not possible to have a moderate appreciation for Hello Kitty. You may either be indifferent to the emotionless feline, or you may desire to have her image on all your possessions.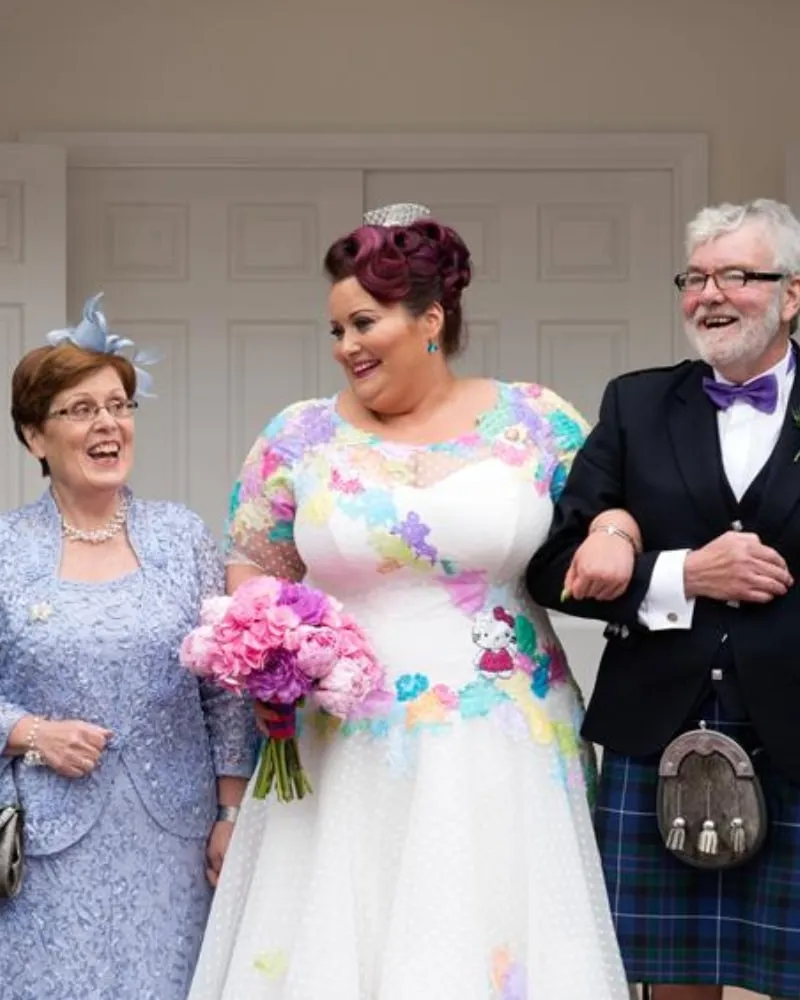 Although some guests may be confused by the wedding dress's Hello Kitty theme, it shouldn't really matter or concern anyone.
And the Oscar Goes To
This picture prompts numerous inquiries. While the focus may be on the gold foil dress, it's hard not to wonder why the bride appears so dissatisfied. It's possible she's attempting to remain completely motionless to give the illusion of being a statue. Alternatively, she may be keeping a straight face to enhance the sparkle of her dress under the light.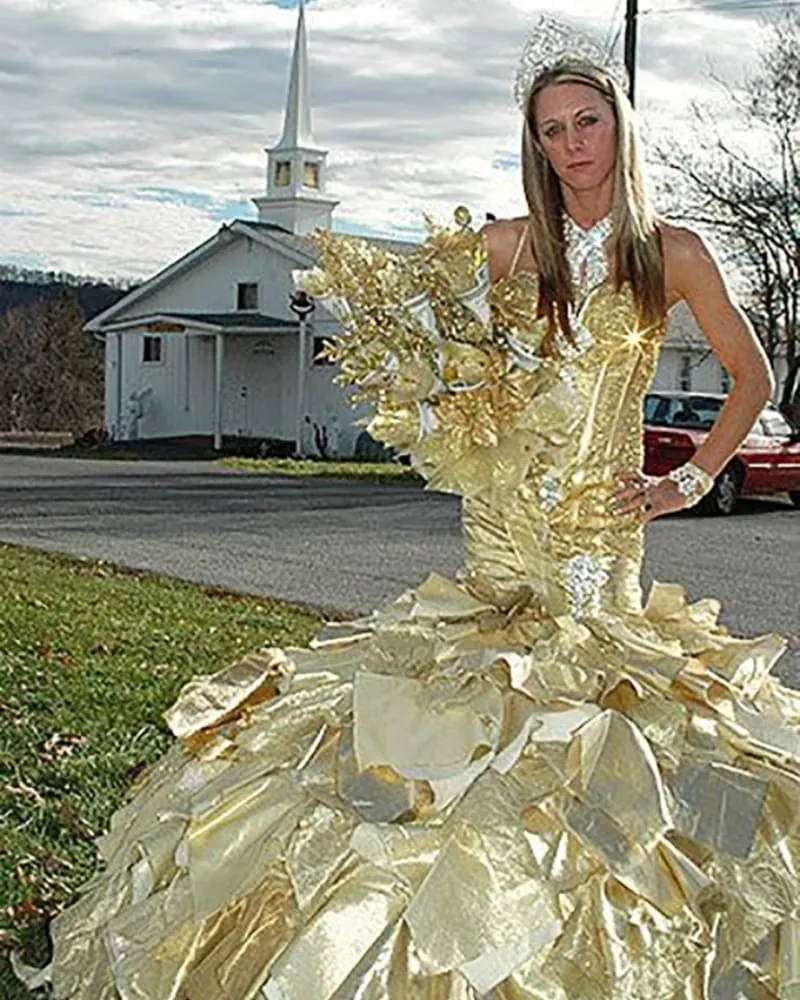 The dress is considered monstrous in most ways. It has an angular and well-defined shape and is very bright. Let's move on to the next item.
Two Dresses In One
Observing a dress of this nature leads one to consider the thoughts and emotions of its wearer. It is uncertain if this bride was there when she made the purchase or if she assessed herself in the mirror before departing. One may wonder if she is pleased with the final decision.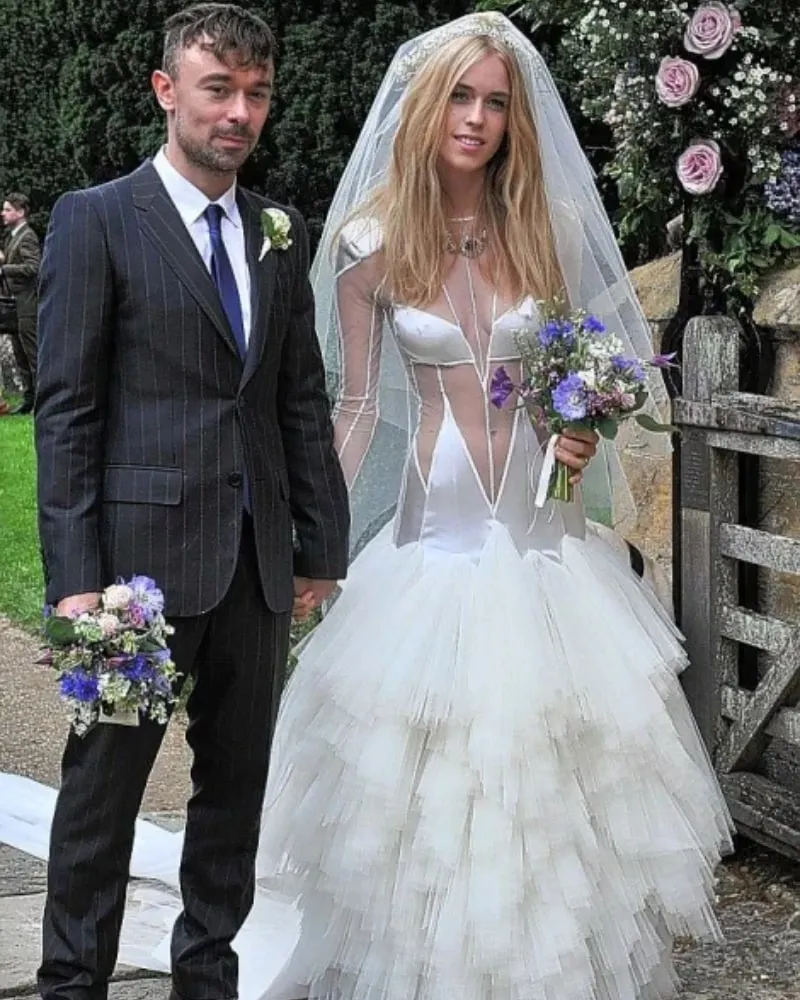 Essentially, this bridal dress (if it can even be classified as such) features a tight-fitting bodice with geometric cut-outs and a very low, drop waist. Layers of tulle are present underneath the bodice. In general, the dress does not come together cohesively.
Baa Baa Bride Sheep
Go on, acknowledge it – this image made you feel happy. Moreover, the specifics enhance its adorableness. Louise Fairburn, a sheep enthusiast bride, incorporated woolen elements throughout her wedding. Her attire, constructed out of the wool of her beloved Lincoln Longwool sheep, Olivia, is especially noteworthy.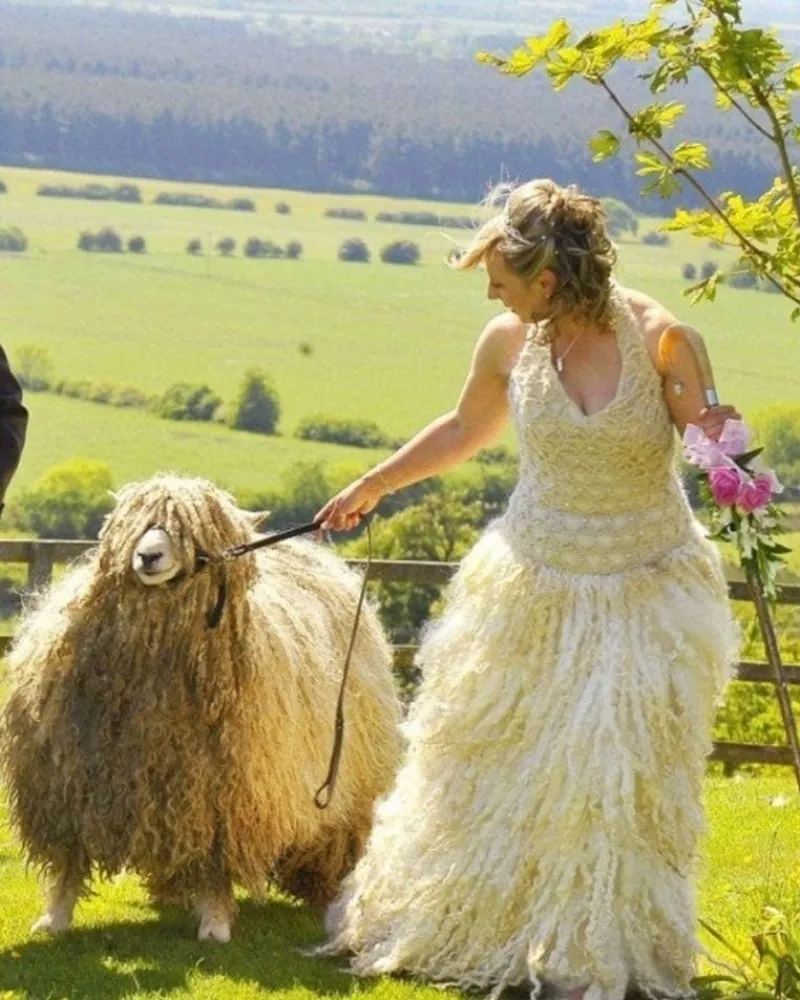 On her wedding day, Fairburn also had a cane with her, while her groom wore a vest crafted from wool. However, the meal served to the attendees of the event featured lamb entrees, which was not as pleasant.
That Dress is Un-Ball-ievable
Although this appearance lacks any resemblance to a traditional bridal look, it fully embraces bold and vibrant hues and incorporates elements of child's play area balls. Essentially, it is a dress that resembles what would happen if the balls in a soft play area's ball pit arranged themselves in the shape of Cinderella's dress.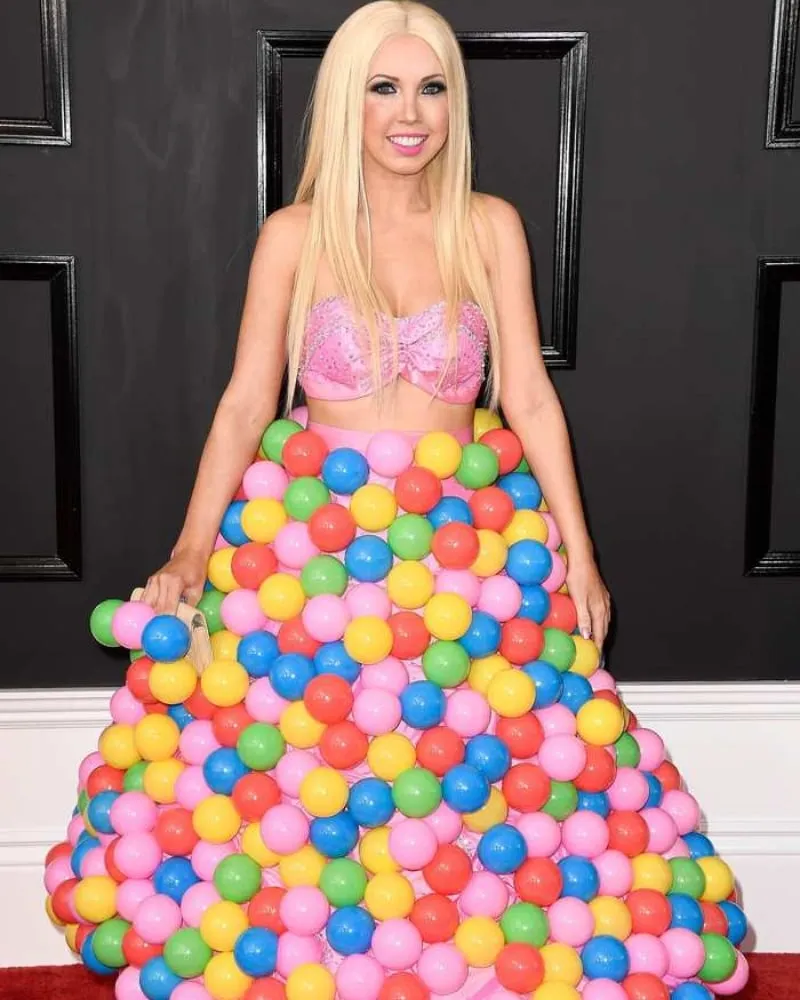 The entire ball pit encircles the bride with tiny, plastic balls, covering her completely. All she needs to complete her wedding attire is a pink bandeau that resembles a mermaid's appearance. Additionally, even her clutch has a ball-themed design.
Fork Better or Fork Worse
We've already seen one bride celebrating Mexican holiday Dia de los Muertos, and here we have another, but with a twist. If you look closely, every part of this ghoulish dress is actually made from paper cups, paper plates, and a whole host of cutlery.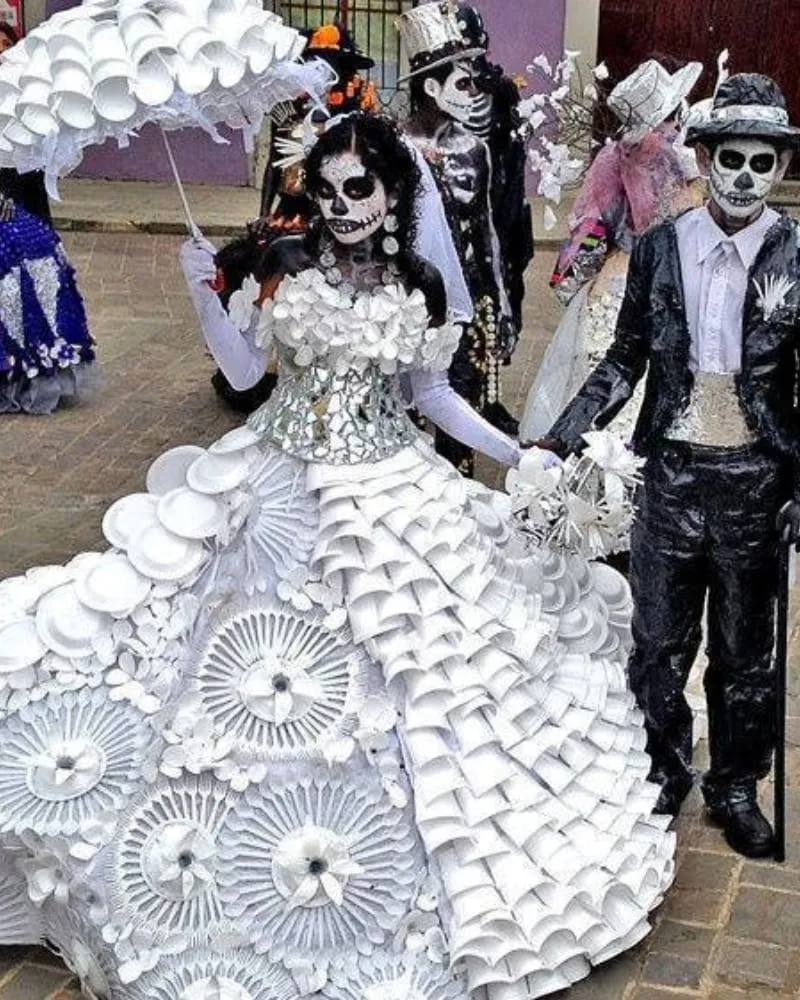 This entire dress could probably be stuffed in the recycling bin after use, so it's definitely eco-friendly. Clearly, a lot of work and effort has gone into this creation, but we suspect the guests might still be confused.
Once Upon a Time
We know that some people dream about their wedding day for their entire lives. Often, these people view their big day as a fairytale, and the beginning of their happy ending together. This couple went all-in with the fairytale theme, which meant a huge pair of white wings affixed to the bride's back.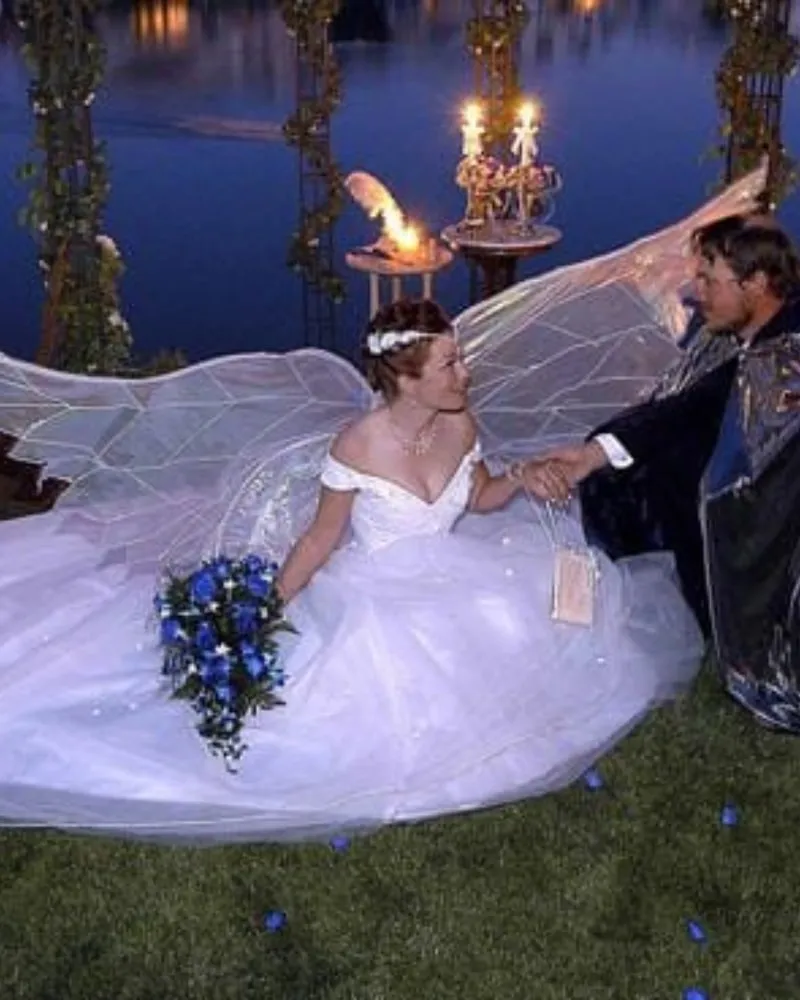 The groom appears to be wearing an ornate cape, petals are strewn on the ground, and candles flicker in the background. Let's hope it's happily ever after.
Here Comes the Bride
This bride doesn't just love incredibly long wedding dresses – she and her husband broke the Guinness World Record for the world's longest wedding dress. The extremely long dress had a train that measured 219 yards, and was an homage to the 2008 Beijing Olympics.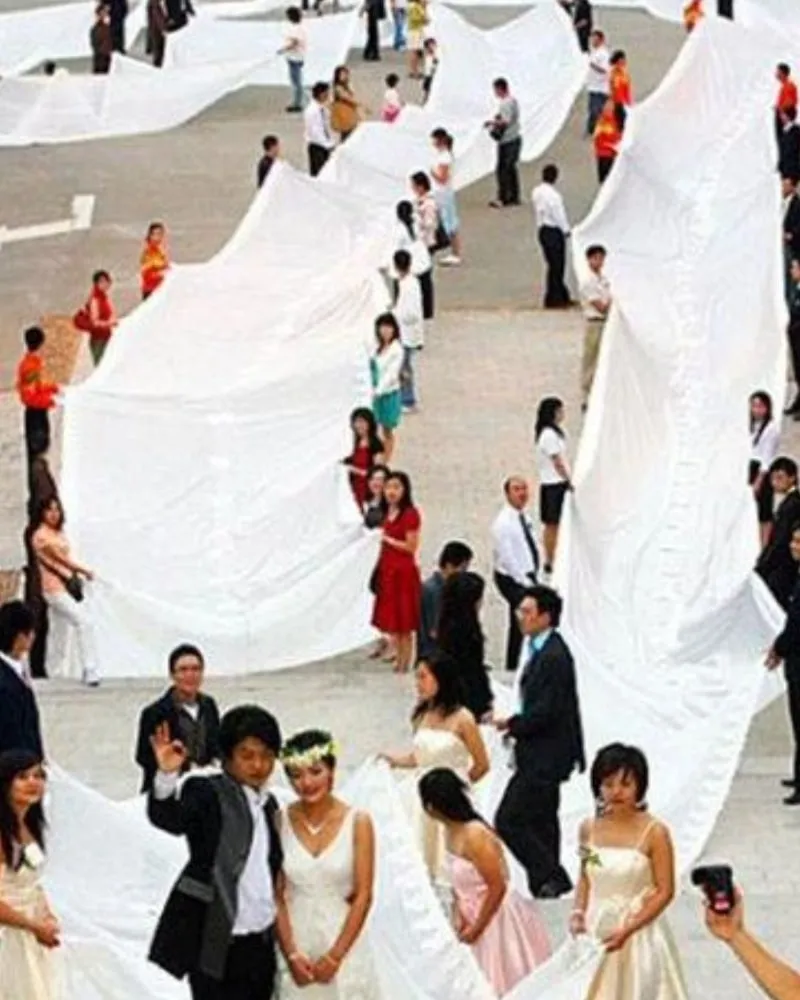 The record has since been broken, but imagine the experience for a guest at this wedding. Standing far away from the couple yet still holding the bride's dress doesn't exactly sound like a fun time.
The Plant Loving Pair
Despite this being a list of confusing wedding dresses, this one takes the cake. It's hard to make sense out of this image, but a little more context does thankfully fill in some blanks. You see, this couple are fans of cacti, so this wedding dress is actually an homage to the prickly plants.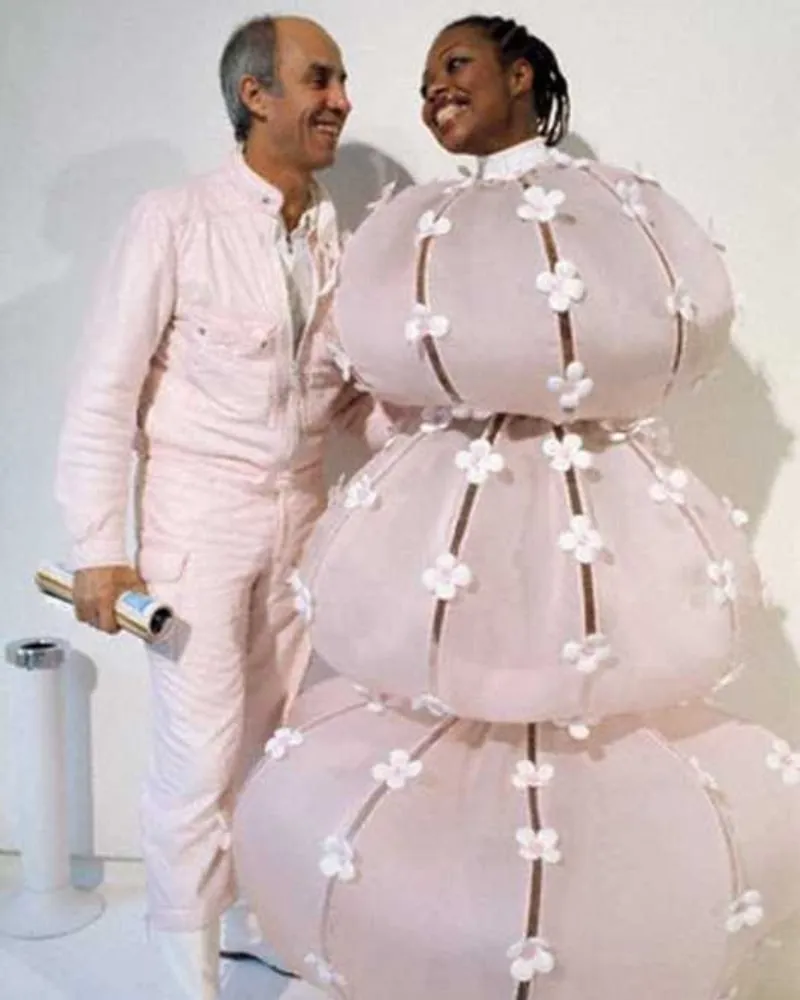 While the context explains things, it doesn't make this dress any less confusing. We have to assume this was a temporary costume because the bride can't use her arms at all!
O Say Can You See
We feel like this unusual wedding dress is a little more predictable than some of the others on this list. After all, there are always proud Americans who want to show off their patriotism to their nearest and dearest. And what better way than with a red, white and blue wedding gown?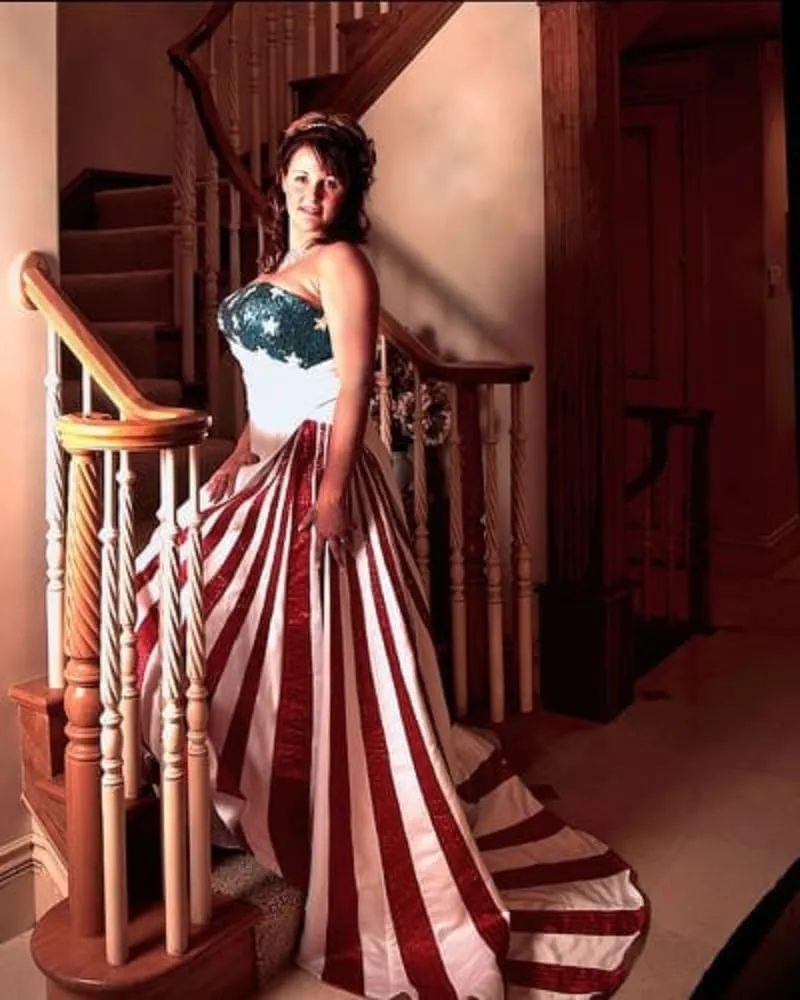 This dress is basically an American flag in gown shape, and leaves no mystery as to where this bride hails from. Now we want to see the groom!
Rainbow and Ruffles Galore
Now, this dress is confusing, but it's not cactus confusing, or Day of the Dead mixed with recyclables confusing. This one has more of a pageant-Carnival vibe, complete with a glittery, multi-colored ruffled skirt, and a bejeweled corset.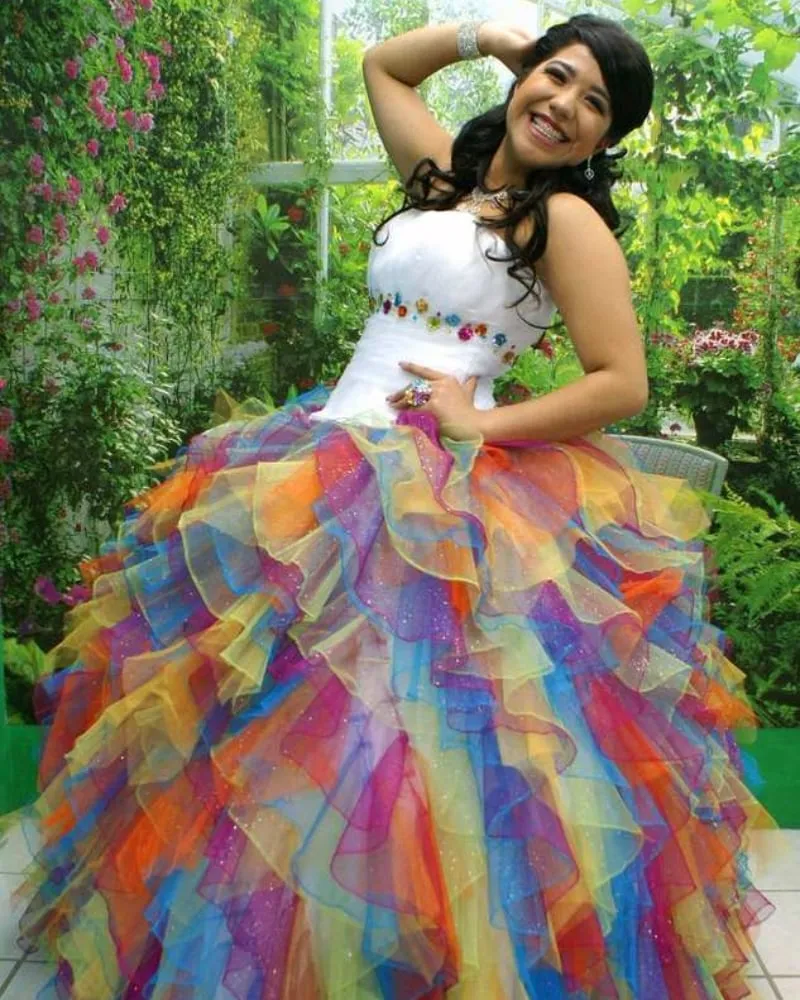 Clearly this bride is full of life, and wants her personality to be reflected in her dress. Overall, this dress might be more at home in a Samba-led street parade, but we bet it looked great sashaying down the aisle.
They Lived Happily Ever After
We think it's only right to stop and applaud this couple. This British couple are obviously big fans of green swamp-dweller Shrek, and his damsel turned ogre wife, Princess Fiona. The groom told a local newspaper, "I've always said I'd give her the fairytale wedding if she married me and she said, in our fairytale, we'd be Shrek and Princess Fiona."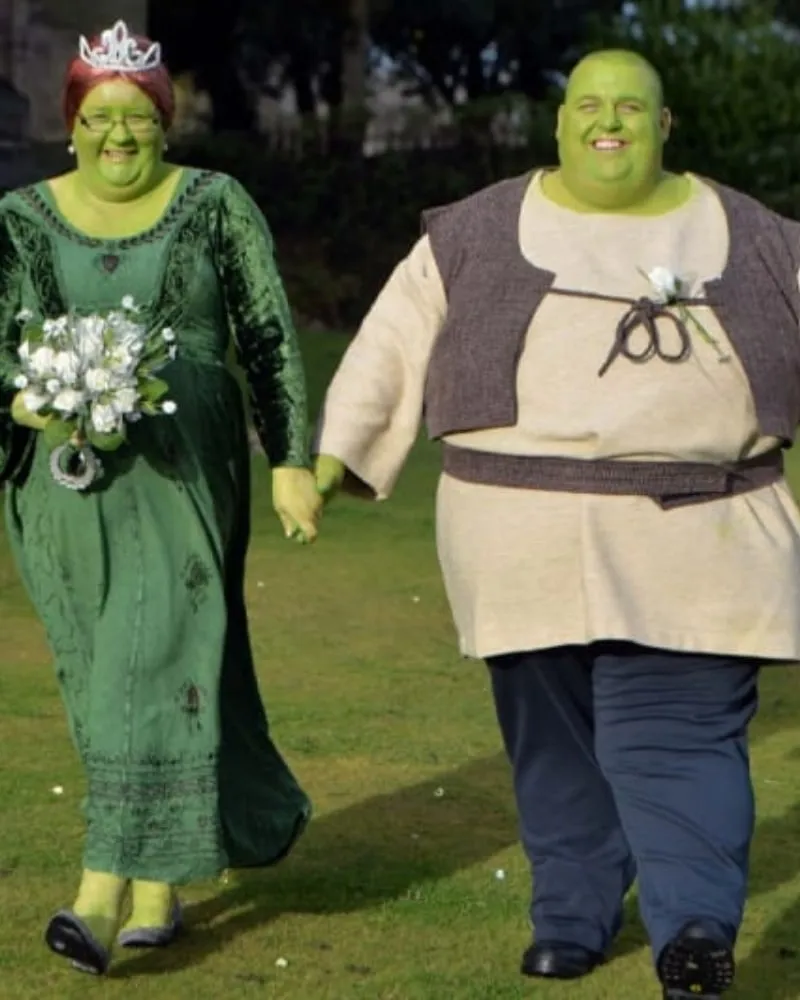 The couple's guests also wore fun costumes, so they tied the knot in front of Captain Jack Sparrow, Snow White, and Mr. T.
Becoming the Bride Groom
While we're applauding people, let's stay on our feet for this excellent human. This creative individual didn't commit to just one gender presentation for their big day, instead choosing to go half and half. On one side we have the feminine presenting bride with a floor-length white gown, long hair, and a bunch of flowers.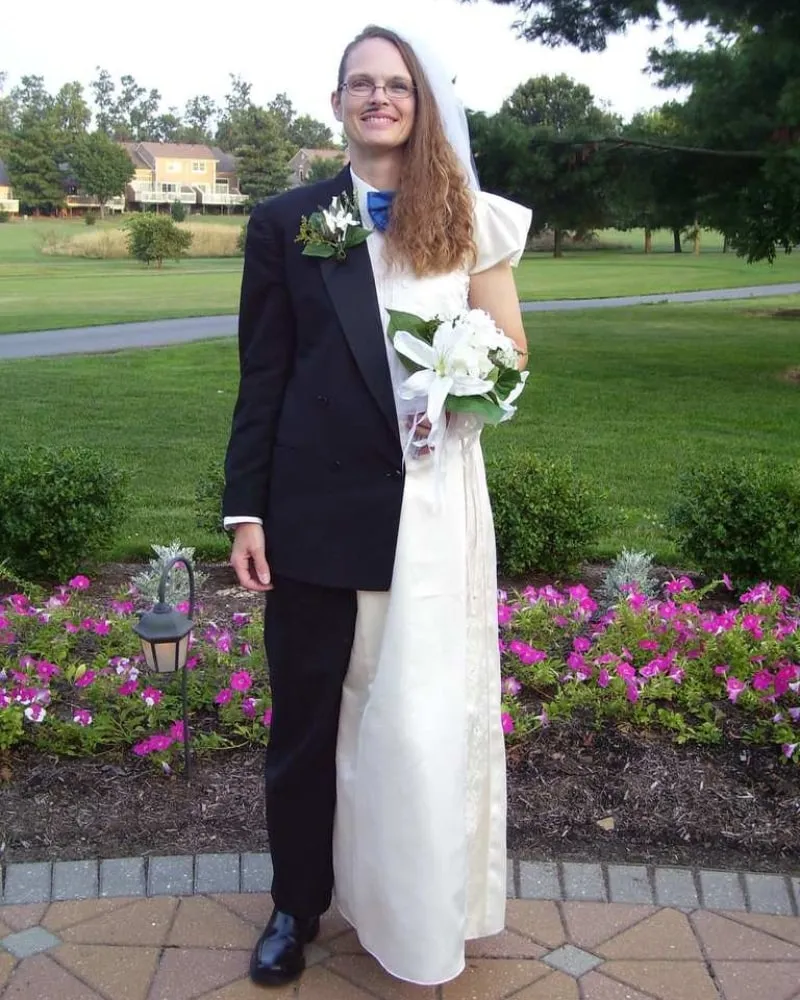 On the other, we have a tuxedo with a bowtie, and half a mustache. The guests may have been confused, but we say bravo!
Time to Cut the Cake
We could argue that this bride's wedding dress isn't that strange. We could say that, sure, it has a strange, colored, patterned, breastplate, but ultimately, it's a long white dress. However, as this picture shows, this wedding dress is not just a wedding dress. It's also the template for what looks like a life-size wedding cake depicting the bride in her dress.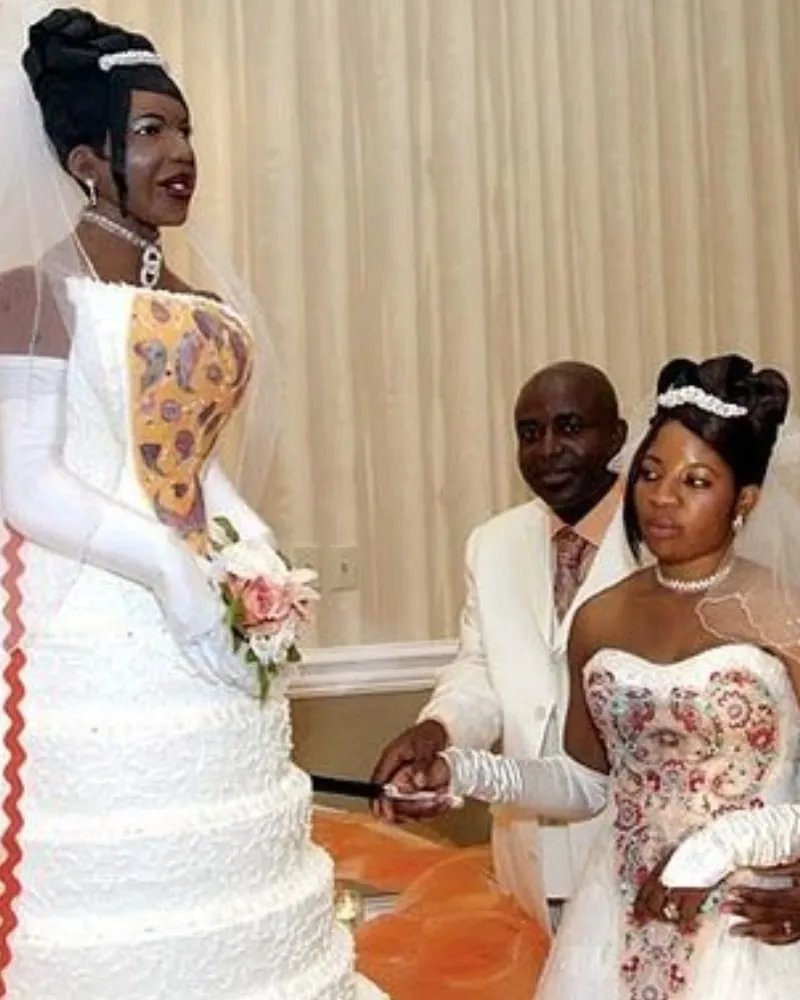 If the wedding guests weren't confused already, this is sure to tip them over the edge. The bride doesn't look too happy about it, either.
Nursery Rhyme Nightmares
You might be most familiar with Bo Peep from the Toy Story franchise, which sees the crook wielding character embrace her feminist side as the story progresses. Not so for this dress wearer, who's sticking to the Little Bo Beep that lost her sheep, and doesn't know where to find them.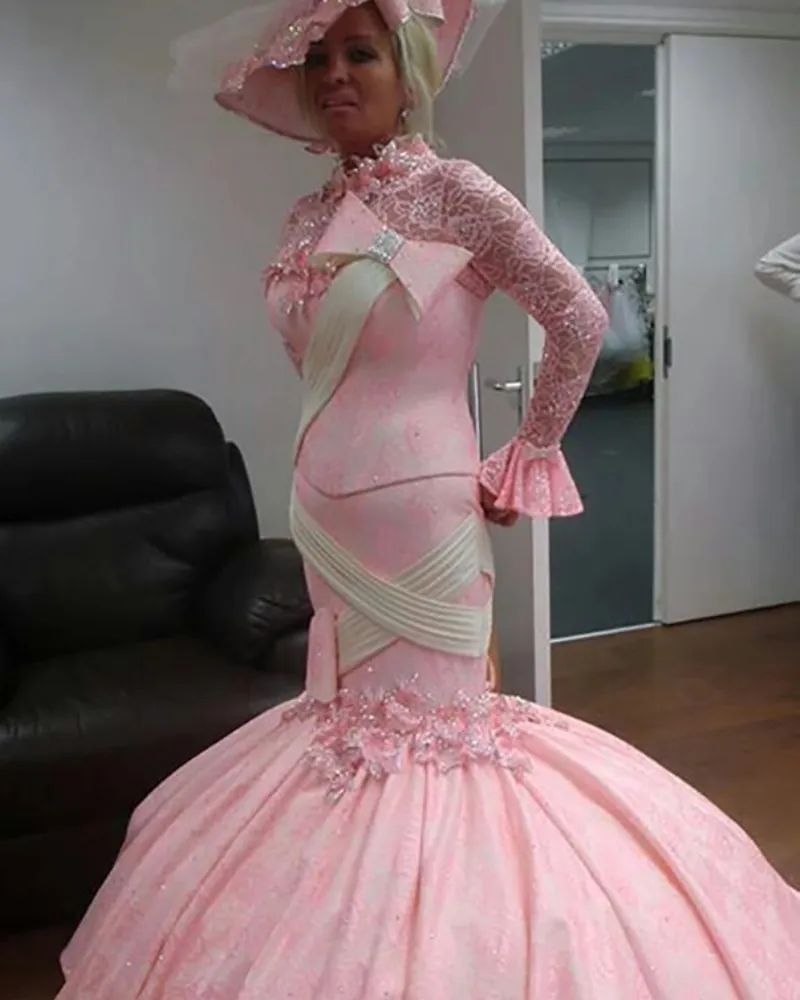 This hideous wedding creation is lacy, sparkly, pink, and ill-fitting all at once. It's like a popsicle that's come to life and stolen the frilly hat from a nursery rhyme character.
Big Fat Kitty Wedding
Ten years ago, British TV came out with a controversial and highly popular docuseries, Big Fat Gypsy Weddings. The show traveled to the US, where it was known as My Big Fat Gypsy Wedding. Understandably, people from the communities depicted complained about the show, arguing that it didn't fully represent their lives.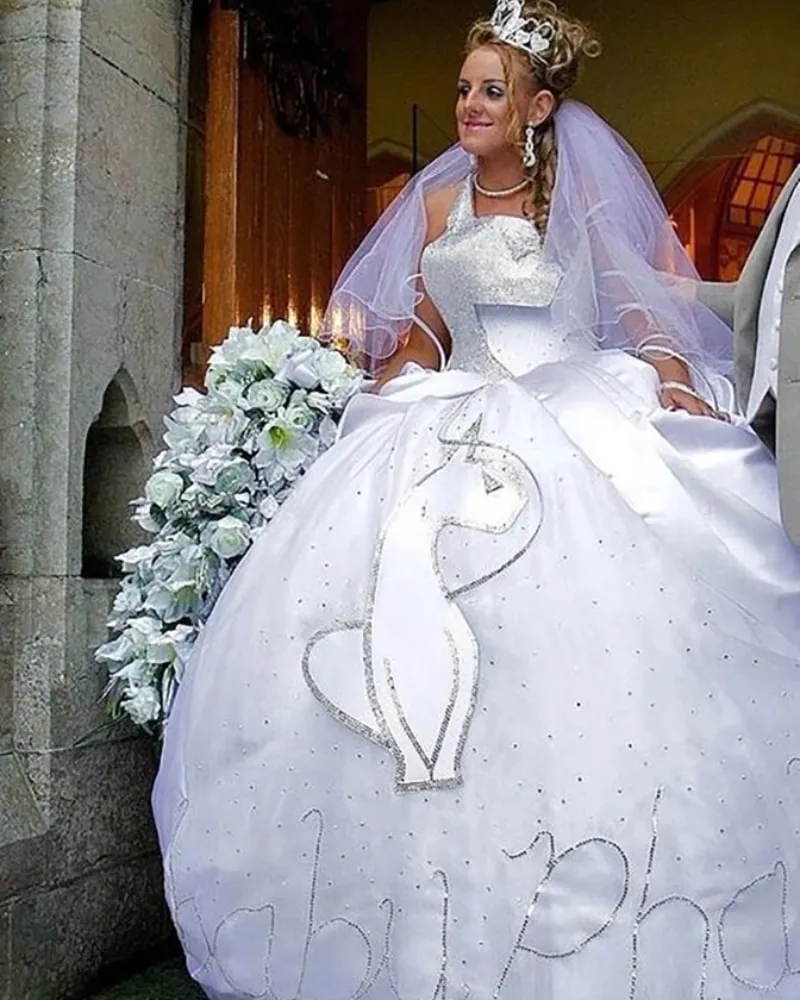 Aside from the poor representation, the show did give us some gigantic dresses, like this one, emblazoned with a cat's silhouette. Somehow we suspect that tiara has a cat on it as well.
Lady in Blue
What to say about this picture? Frankly, it has left us just as confused as the wedding guests must have been. Is this actually a wedding outfit, or some sort of confusing Halloween costume? And why, tell us why, is there a glittery blue wig perched on top of this lady's brown bob?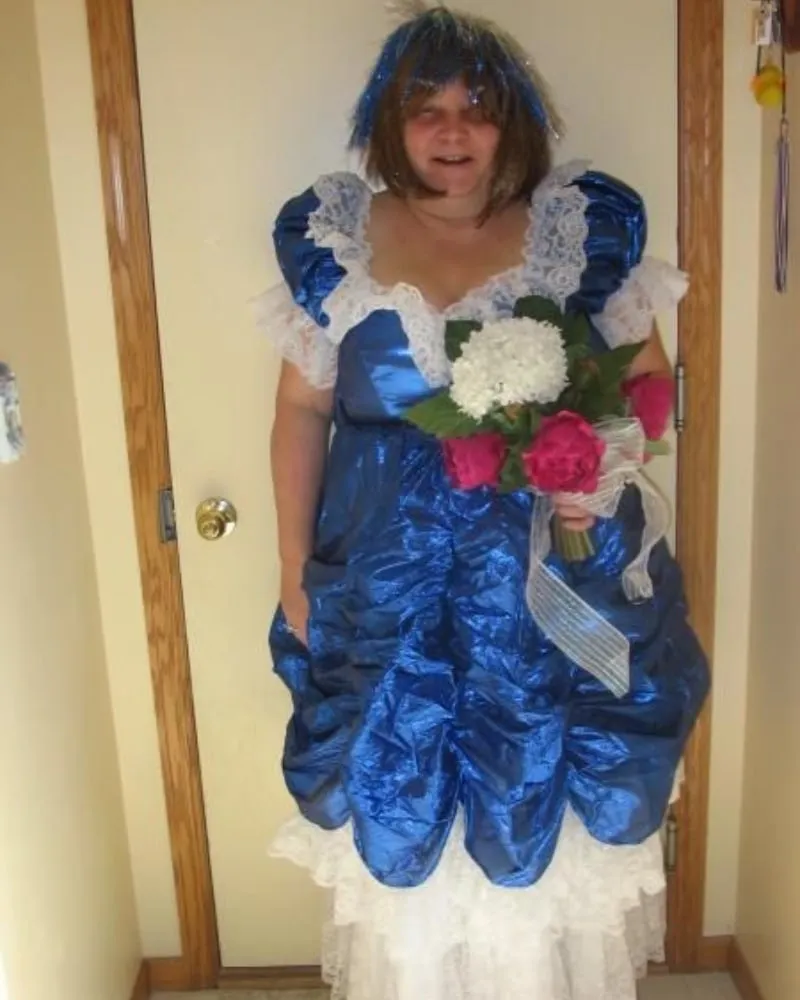 This outfit is the combination of a frilly, lace, full-length wedding dress, and a 1980s blue taffeta, puffy sleeve, lace-trimmed short party dress. Does. Not. Compute.
Orange You Into It?
This orange extravaganza looks like it has also come from reality show My Big Fat Gypsy Wedding. While these shows were often patronizing and sensationalist towards the communities involved, they also gave us some seriously dramatic bridal looks.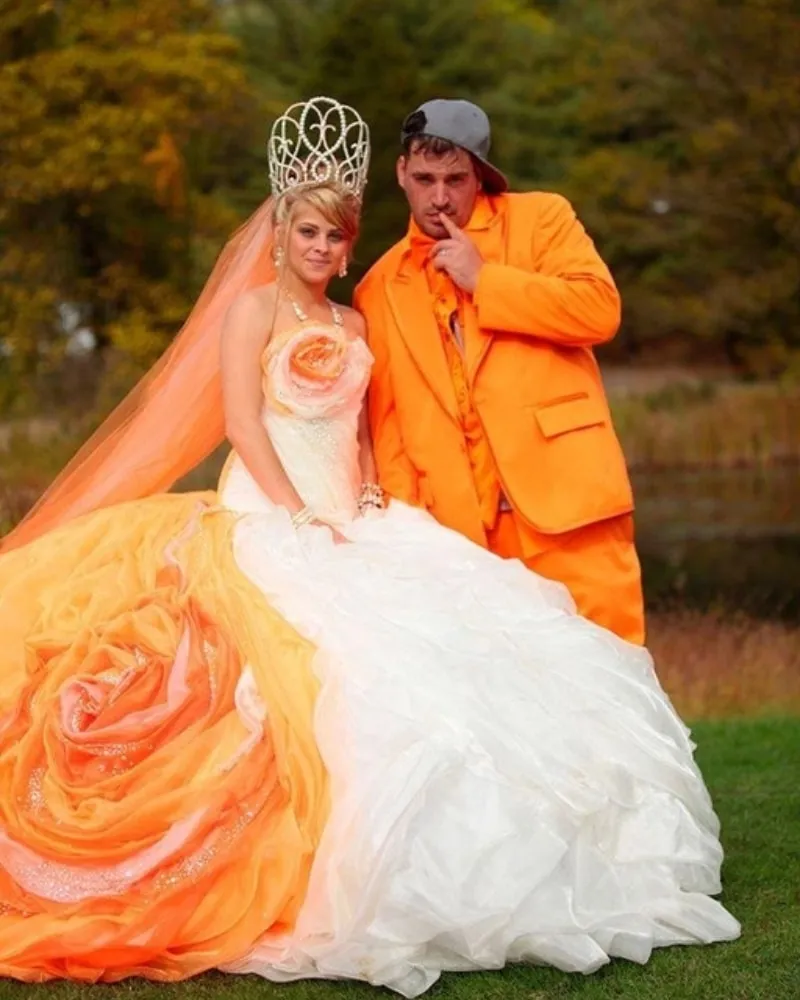 In particular, brides on this show tend to love an oversized tiara or crown. This orange-loving duo has gone with a huge orange swirl in the bride's meringue skirt, an orange rosette on the bust, and of course, a full-length orange veil.
Ring the Alarm
This unusual wedding dress makes a little more sense with some context, but still remains quite confusing. This dress was for a vow renewal to celebrate 10 years of marriage. The man in question? A fire-fighter of course.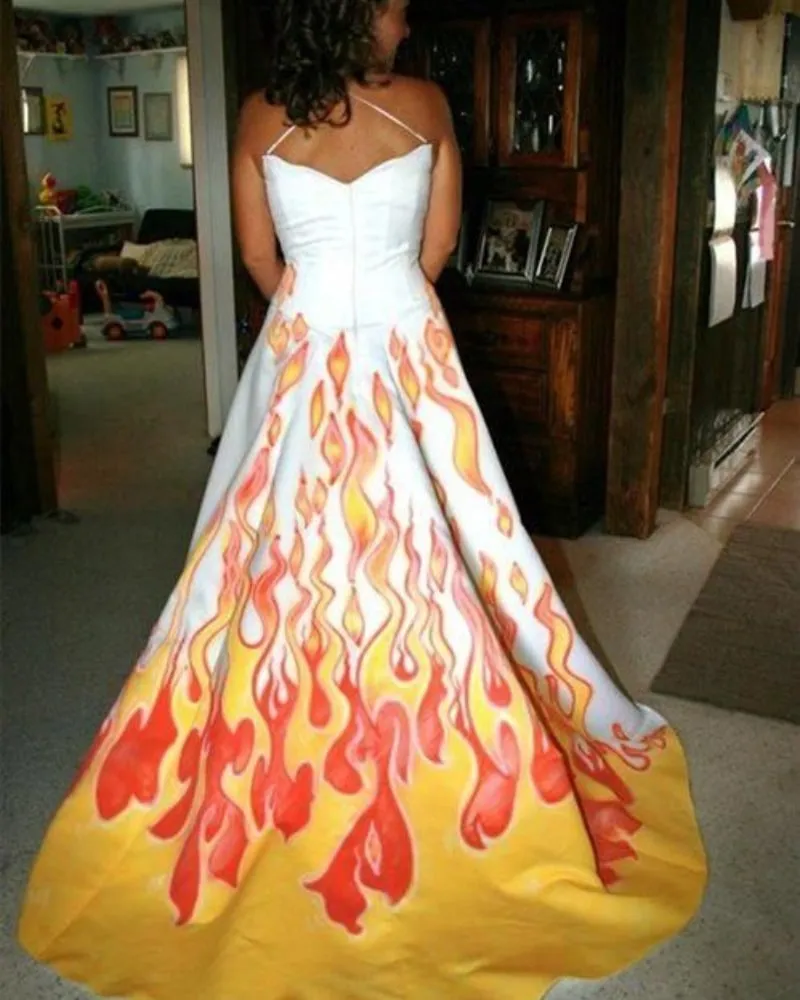 As a way of paying respect to her man's profession, this creative bride got her wedding dress airbrushed to look like roaring flames. Presumably, flames are the last thing a fireman would want to see creeping up his bride's dress, but hey – what do we know?
Rocking Rainbow Robes
We've seen colorful wedding dresses on this list, but we haven't seen anything quite like this. This colorful ensemble is paired with a black base, rather than the traditional white one, making the whole look seem almost religious. Don't these two look like rainbow priests? Or the heads of their own alternative religion?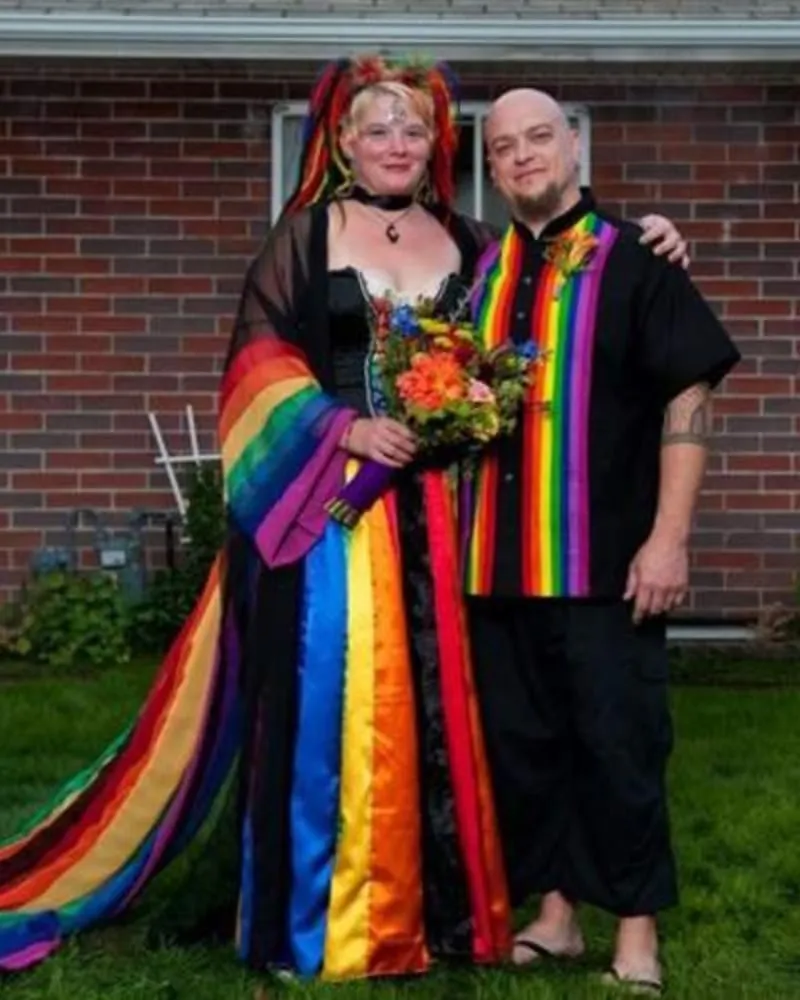 However, let's not over-focus on this bizarre dress to the detriment of pointing out the groom's flip-flops. Paneled rainbow stripes we can take, but flip-flops, we cannot.
Full of Hot Air
Speaking of flip-flops, we can't help but notice that this groom is wearing open-toed sandals on his big day, along with shorts and the top half of a tuxedo. Incredibly, that isn't the weirdest thing going on in this photo, because the bride is dressed from head to toe in balloons.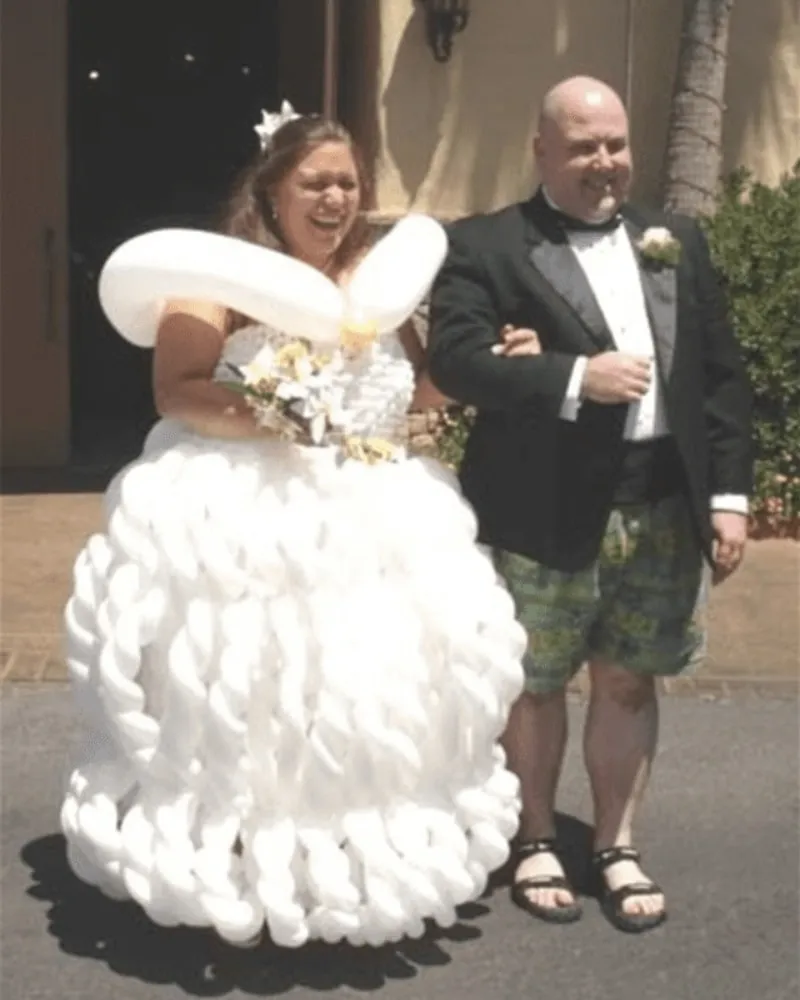 Thank goodness this bride is laughing, because there's nothing else to be done in this situation. Let's hope none of the guests came with a vendetta and a pin.
Wedding in a Winter Wonderland
We'll hazard a guess that this bridal image also came from a reality TV show. Either that, or this crew has some outlandish taste all on their own. What we have here is a winter wonderland wedding, complete with a fur-trimmed wedding dress that also lights up.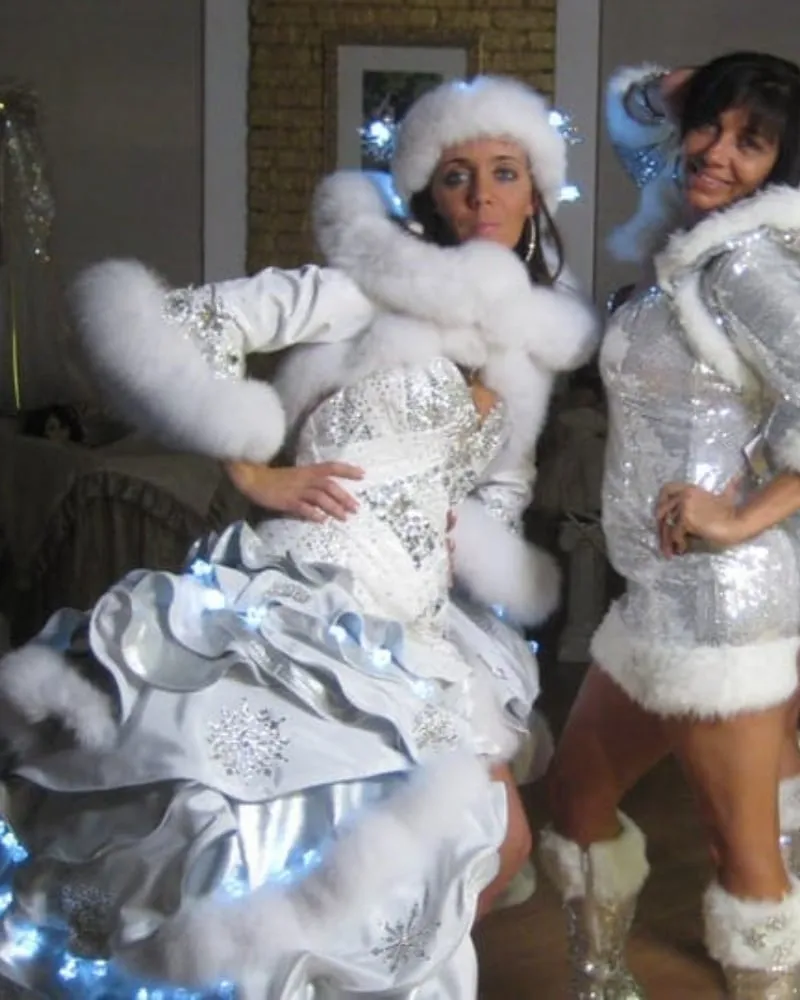 This bride looks like Jack Frost's sister (Jacqueline Frost?) with her sequined bustier, fluted sleeves, and snowflake embroidered ruffled skirt. And what winter bride would waltz down the aisle not wearing a white Santa Clause hat?
Looking Loved Up and Layered
Here's yet another colorful bride who has abandoned the traditional white in favor of every color of the rainbow. This bride doesn't even have a white bodice, instead opting for a hot pink, bejeweled corset.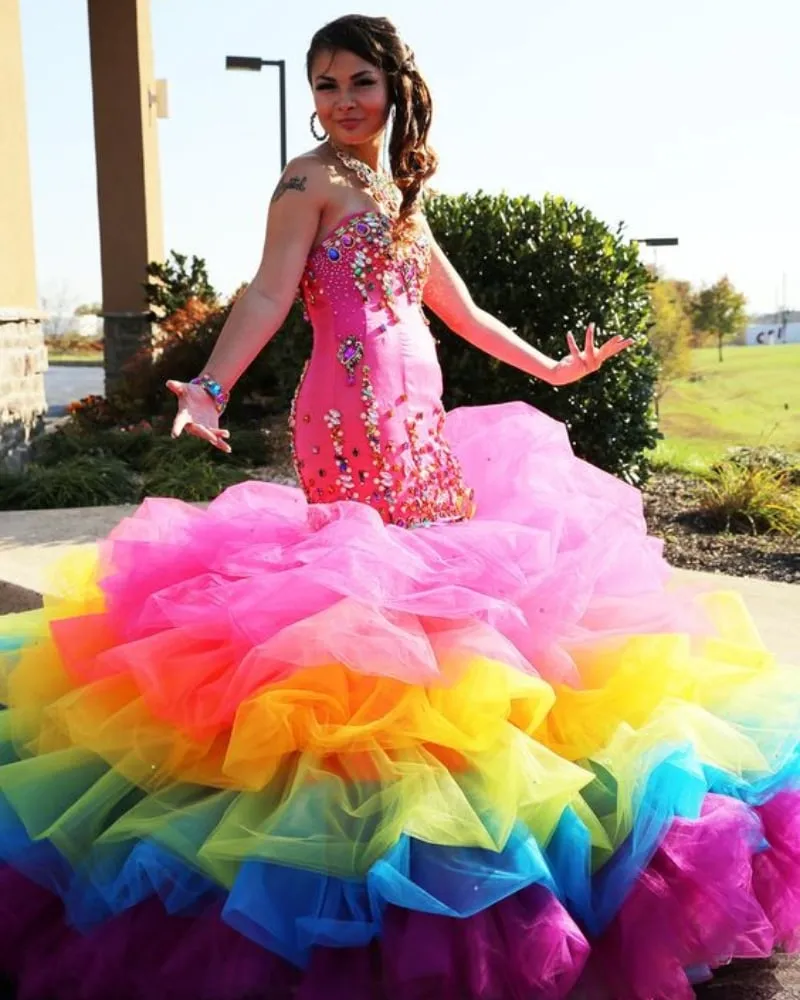 Listen – there's no reason at all to wear white on your wedding day just because that's what has always been done. This outgoing bride shows us that layers of rainbow tulle can be just as celebratory as a classic white dress and veil.
The Graffitied Gown
This is certainly a confusing wedding dress design, but it all makes sense to this happy bride. Michelle is an art student, and had a street art theme for her big day. This meant that she spray painted her wedding dress with her and her groom's initials, and proudly wore the graffitied gown on her special day.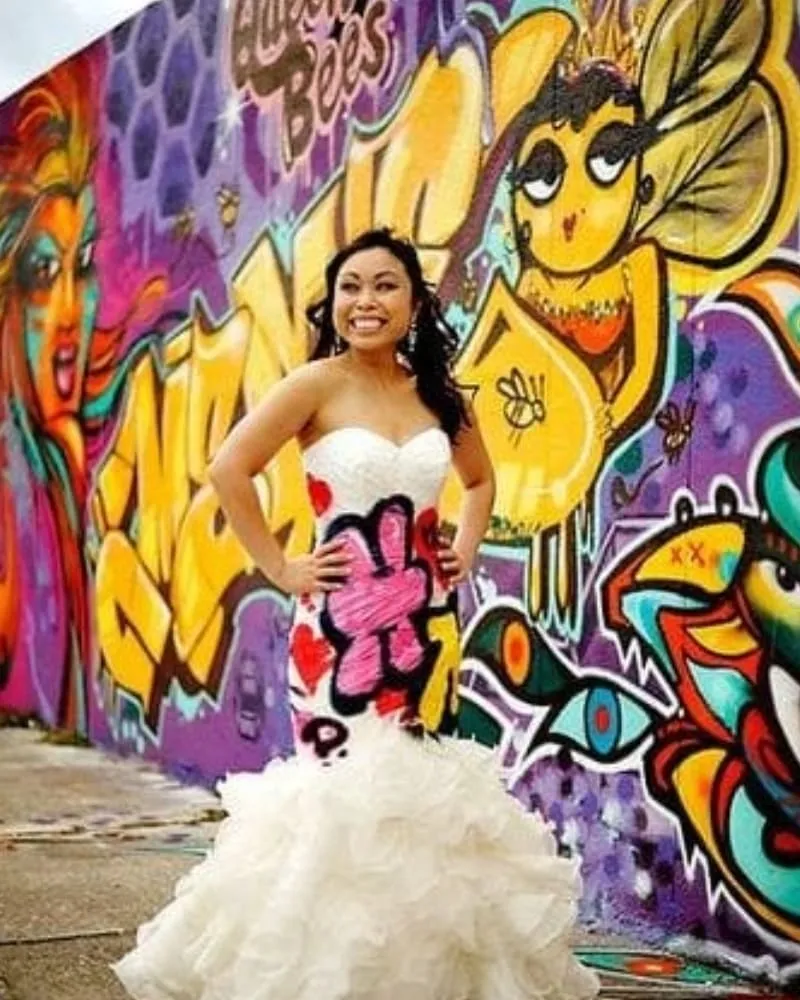 We assume that guests weren't too confused if they were invited to a graffiti-themed wedding, but who could predict a spray-painted white wedding gown?
Move Over Please
We'll bet our sparkly tiara and matching scepter that this image is from a bridal reality show. Where else would we see a hapless groom being shunted out of his bridal carriage by the poufy skirts of his soon-to-be bride?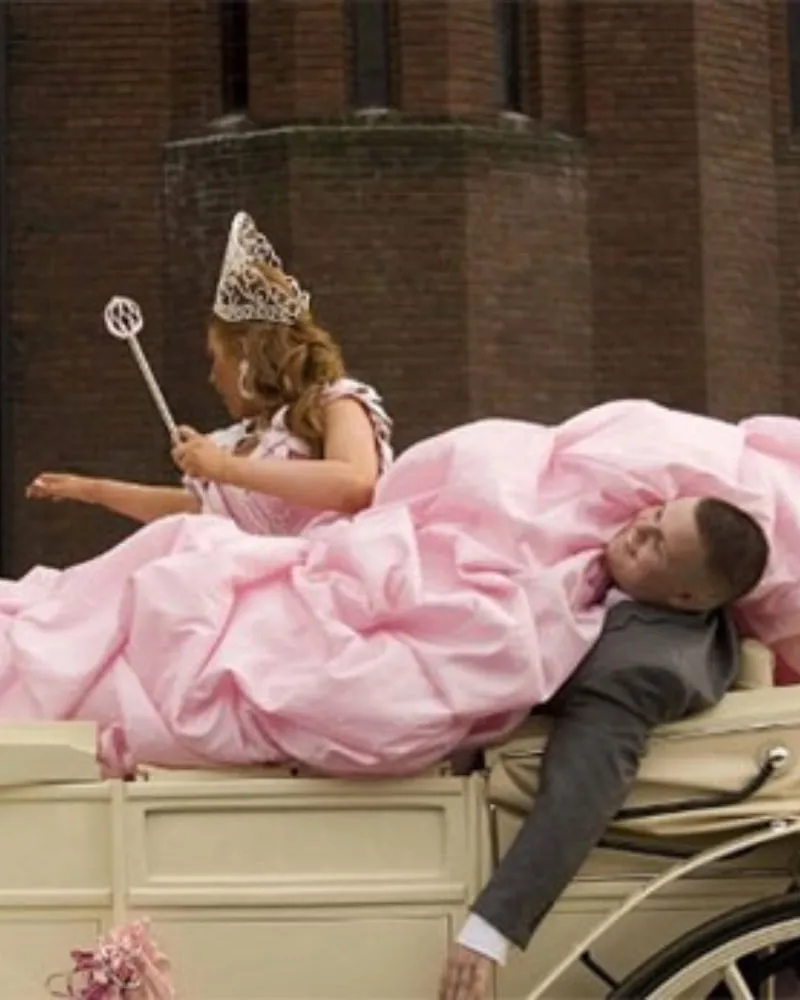 Fitting a puffy meringue dress into your wedding vehicle of choice is never an easy task, but it's way harder when the meringue skirts are bigger than the mode of transport. At least this guy knows what he's getting into, right?
Real Lady Marmalade
Again, we are momentarily left speechless. And after composing ourselves, where do we begin? Is it with the red and white feather boas that make up the bottom of this "dress?" Is it with the matching parasol, so carefully plonked upside down on the ground?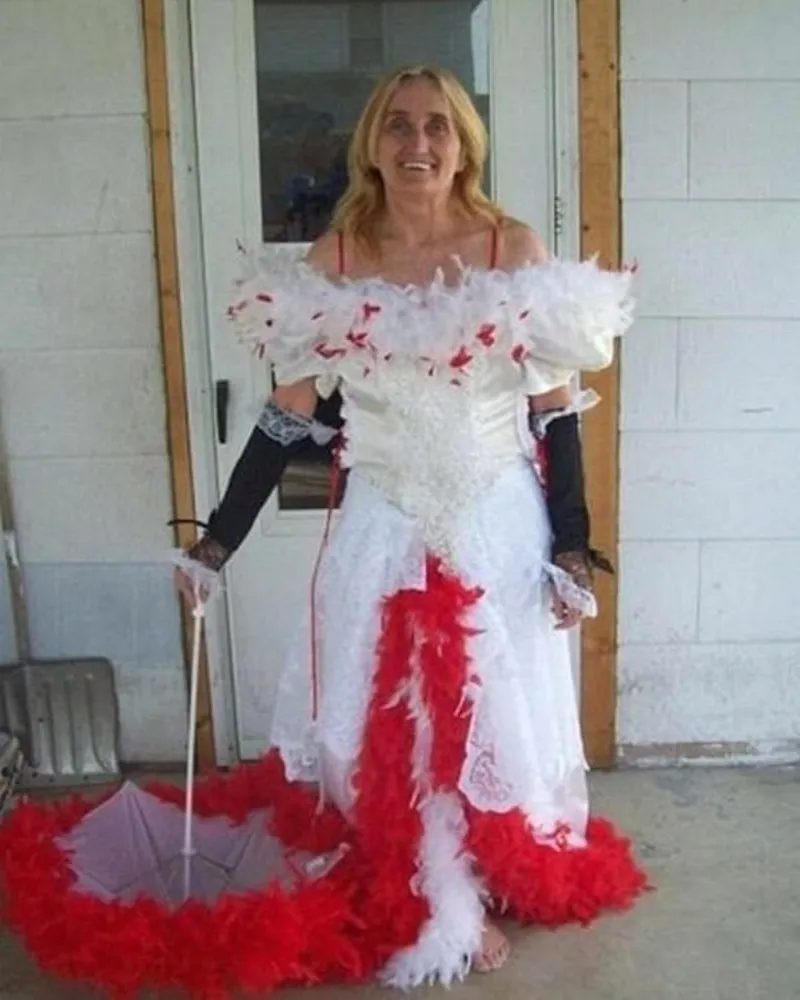 Perhaps it's the elbow-length "gloves" that don't actually go over this lady's hands? We suppose we could start with the red straps, or the feather trim, or the bare feet, but taking it all in at once? Not possible.
Feeling Flashy in Fatigues
Camouflage wedding dresses are actually pretty popular, so it's a wonder we haven't seen one on this list yet. Famously worn by Mama June, mother of reality child star Alana, aka Honey Boo Boo, the camo wedding gown is a bold bridal move. Usually worn by hunting aficionados or people with military connections, the camo gown certainly makes a statement.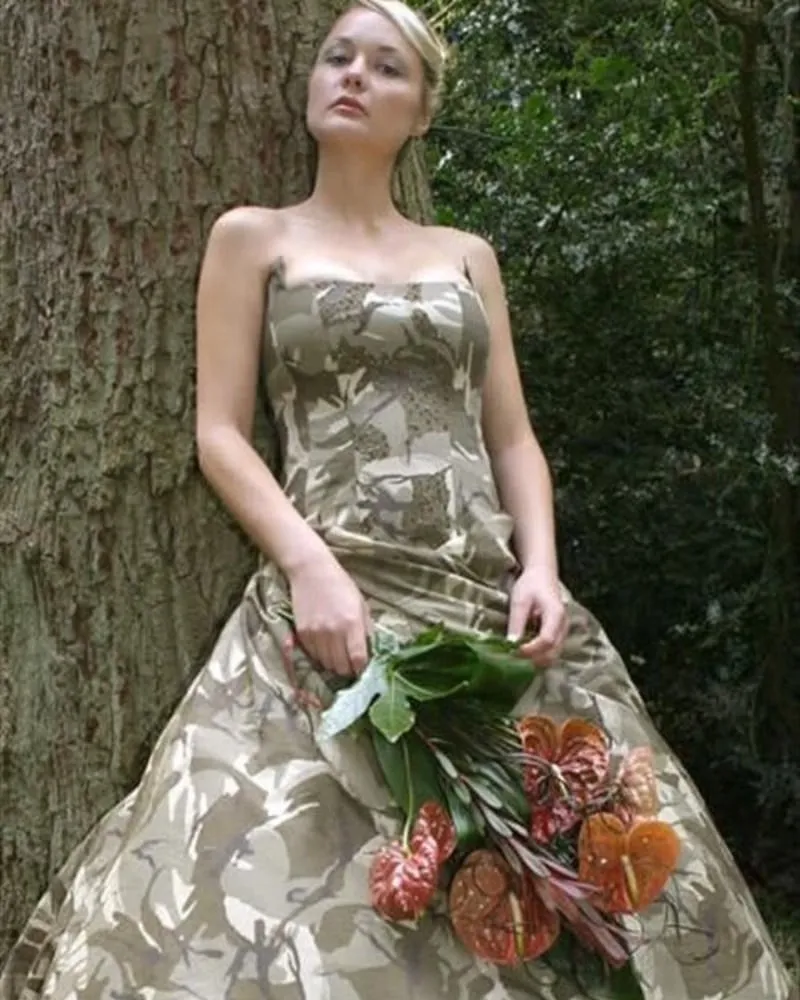 This bride posed against a tree in her green and white dress, which is a risky move. Can you guys even see her?
Aye Aye Do Matey!
It looks like we have another themed wedding on our hands – and this time, it's pirates ahoy! Again, we have to assume that wedding guests to these sorts of events aren't confused, because surely you can't surprise an entire guest list by rocking up in a pirate costume?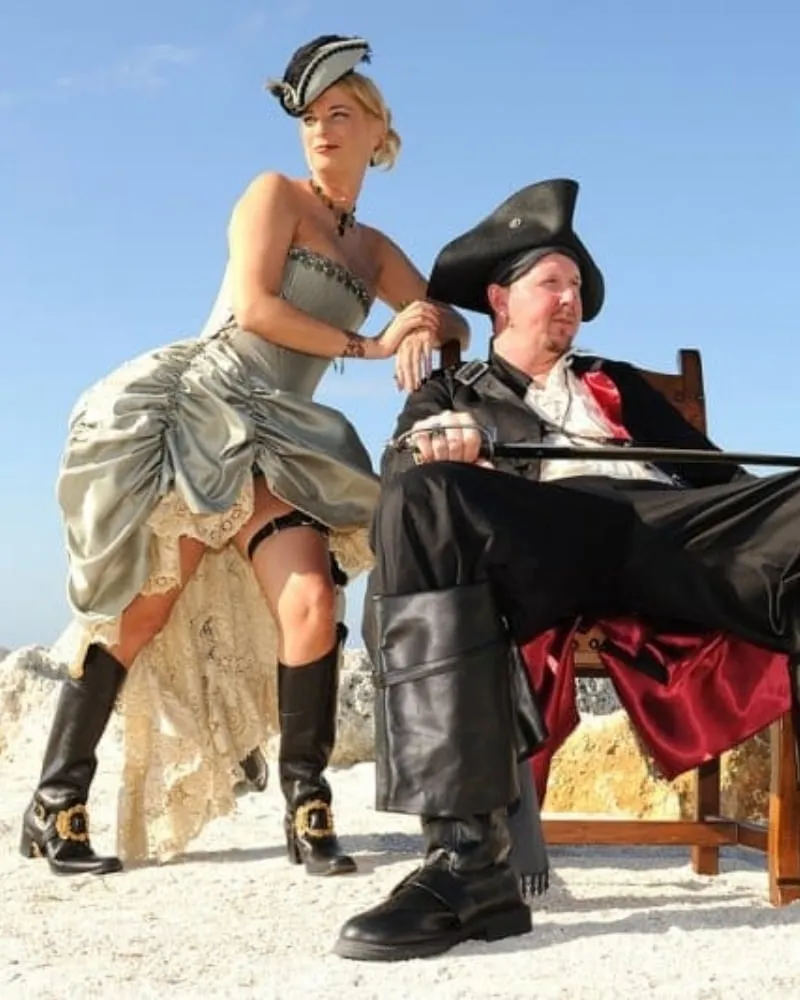 On the other hand, these guests might have expected some sand, and some themed table settings, but not that the bride would pull out her buckled boots and hitch up her dress. Regardless, ahoy matey!
The Fabulously Floral Frock
If anyone had the pleasure of watching Ari Aster's 2019 horror movie Midsommar, this bridal look will be rather familiar. In the movie, a couple take a trip to Sweden in order to experience the rural festival of Midsommar, but things take a bizarre and violent turn.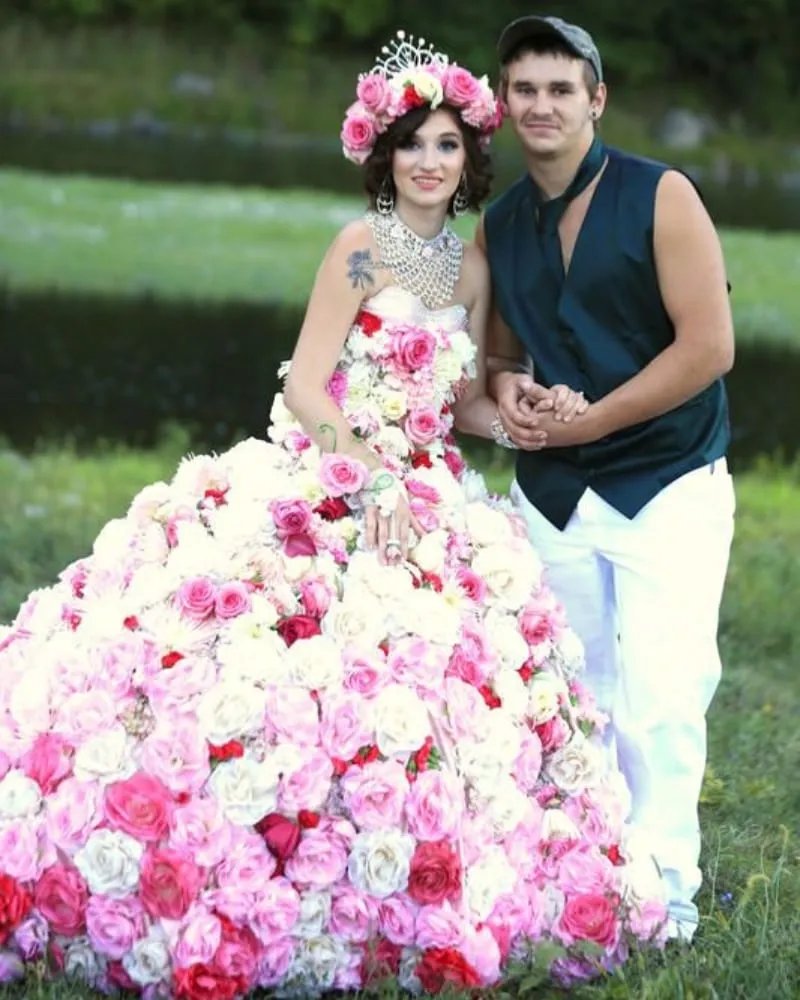 Towards the end of the movie, we see the main character dressed from head to toe in a wall of flowers. The moment is frightening, yet freeing. This look may be confusing, but it's also fabulously dramatic.
Perfectly Poised in Pastry
Clearly, behind this picture, is a story that explains why this bride is dressed in row after row of cream puff pastries. And luckily for you – we're going to tell you that story. This is pastry chef Valentyn Shtefano, and his lucky bride Viktoriya, who are both from Ukraine.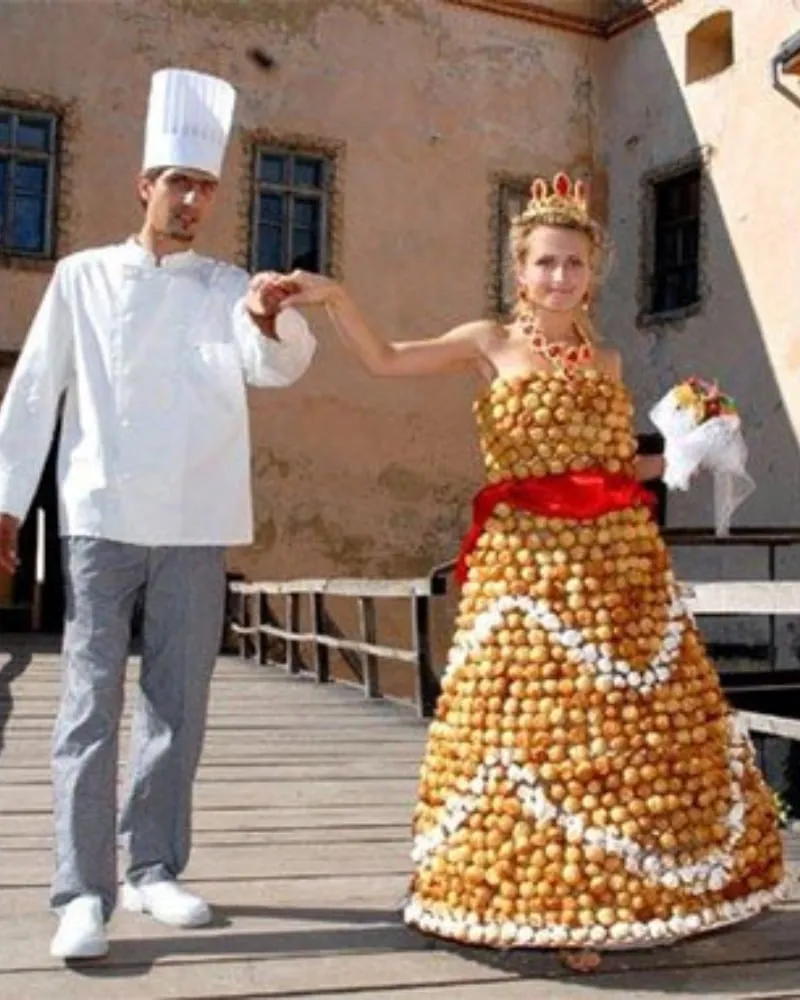 Apparently, Valentyn informed Viktoriya that he would be making her wedding dress from eggs, sugar and caramel. In the end, Viktoriya loved it, and never wanted to take it off. Surely this would be sticky, right?
News Flash
It's not uncommon to sit down on the couch after a long day and turn on the TV to watch the news, so you can catch up on all the current events. After all, you need to know what's going on in the world, right?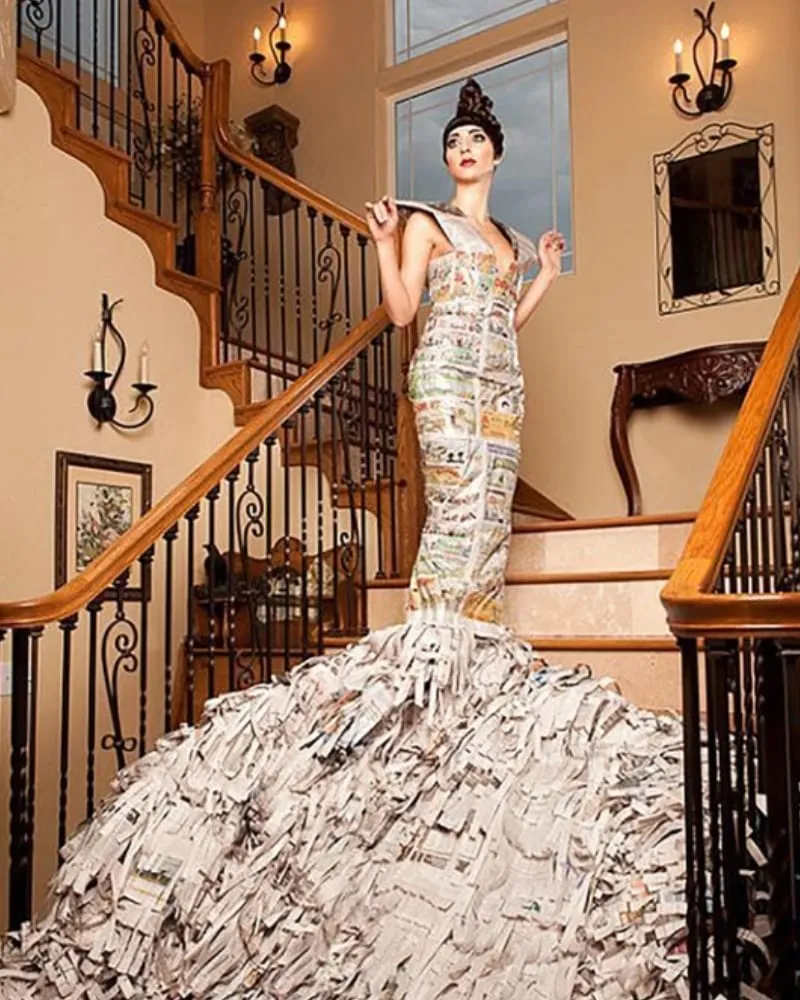 Still, we don't know that people expect or want to read up on the news when they're attending someone's wedding. Unfortunately, the guests at this woman's affair are really going to get a taste of the real world, as her dress seems to be made from newspaper scraps.
Safeguard Gown
This woman truly looks like she's living her best life — even if she is wrapped in a bunch of tape and gauze bandages. We're not entirely sure what she was trying to achieve by wearing this particular wedding gown but we do know that she looks like she's in absolute bliss.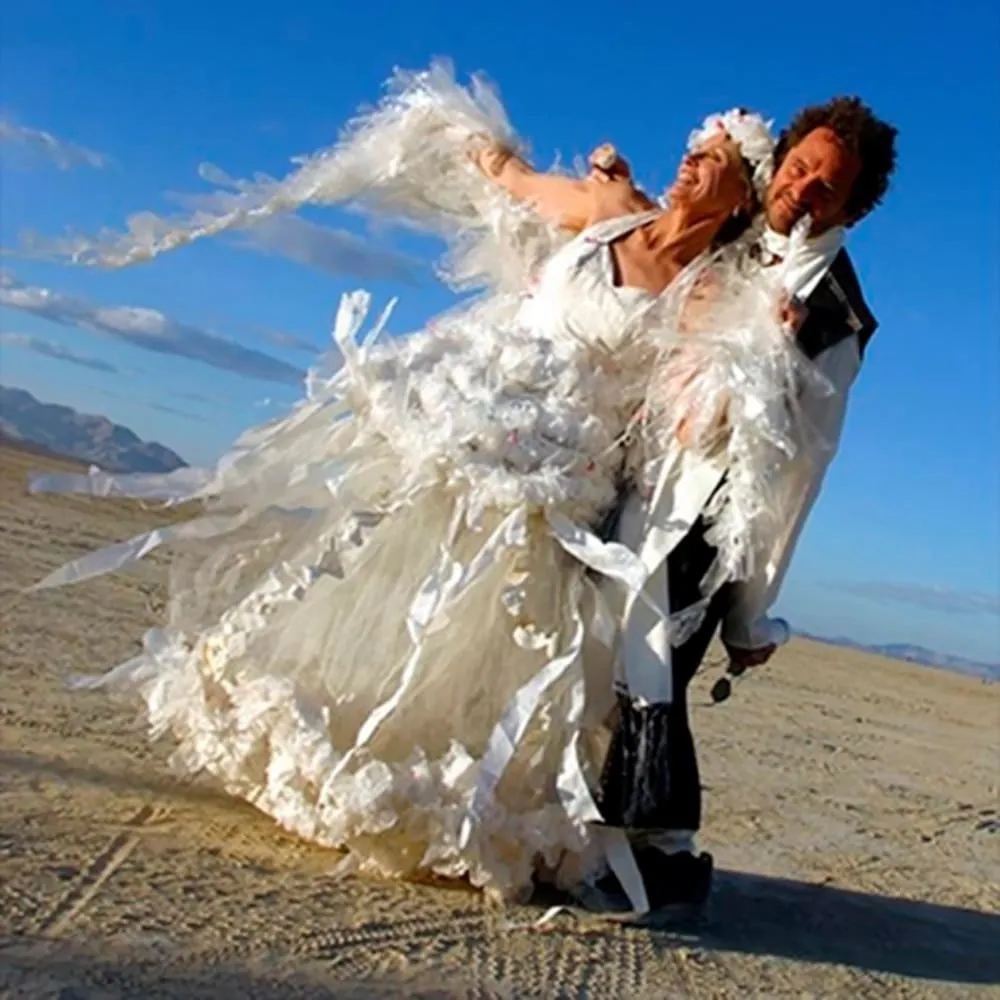 Not only does she get to spend the rest of her life with her best friend but she's also wearing a safeguard dress that has all the proper materials for any sort of disaster (although we hope she never had to use it under those circumstances).
What's Poppin'?
Oh, no. What's happening here and how do we unsee this image? Considering that this lady's wedding gown is purely made out of balloons, we can only assume that she had a wardrobe malfunction and was forced to turn to the balloon guy she hired for the reception.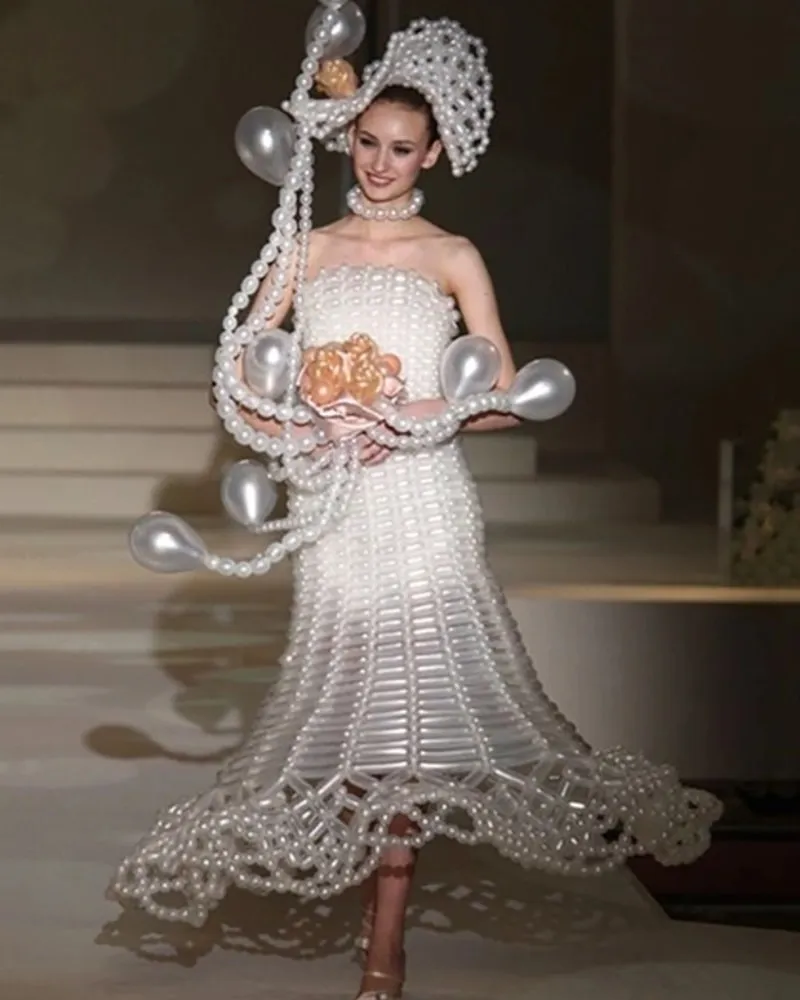 Our only worry is that she may have another gown mishap on the dance floor if she busts too hard of a move. Ah, well — to each their own, we guess.
The Roles Are Reversed
It looks like the roles are reversed for these two lovebirds — ya know, because she's wearing black and he's wearing white. In any event, while we can appreciate wanting to be different and unique from others, there's no harm in being a little traditional when it comes to your wedding ceremony.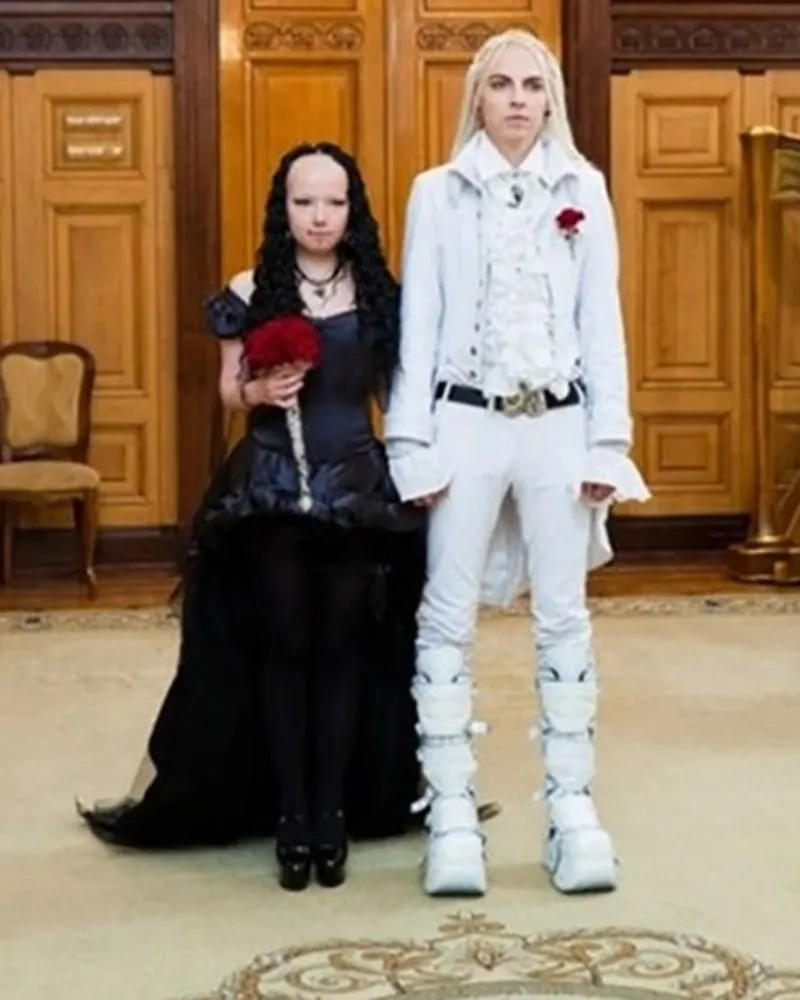 We hate to say it this vampire-esque style really gives us the creeps. Still, it's not our wedding and not our say. If this is how they want to tie the knot, who are we to stop them?
Too Much Skin
Okay — this definitely isn't the worst dress to have made the list. Still, we don't necessarily understand the concept of this dress and why someone would actually choose to wear it on their wedding day.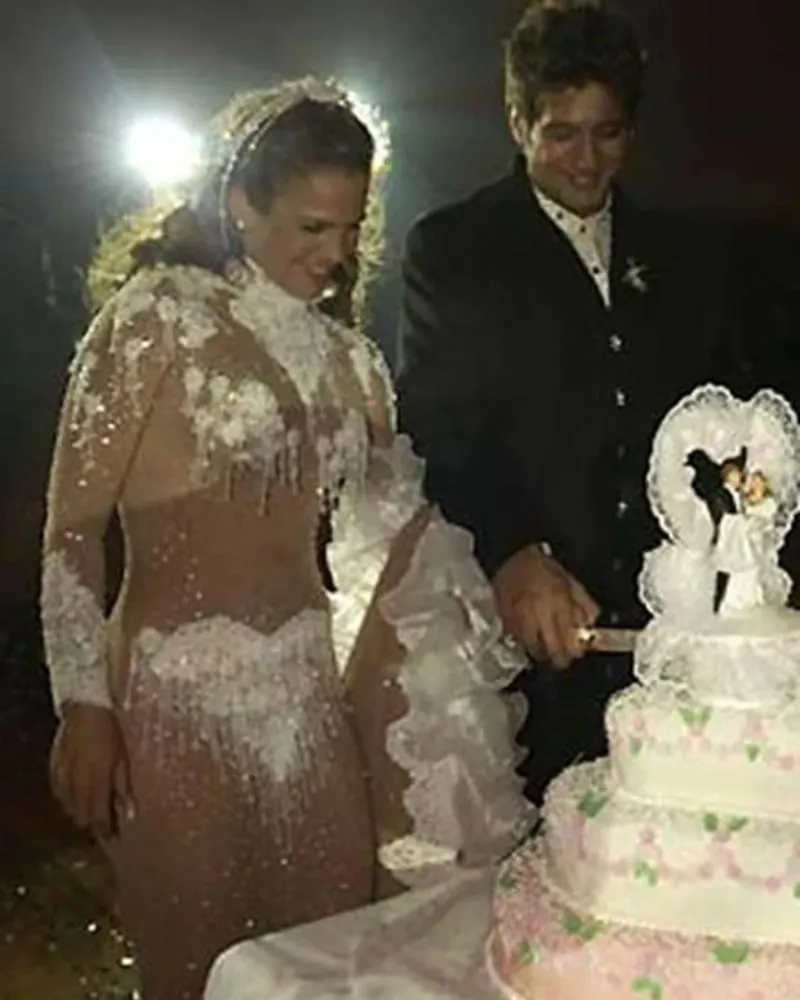 Although it has some wedding gown-esque accents throughout, the dress is pretty much a skin-colored bodysuit. And while it may be a fun piece to wear to — let's say — a costume party, we don't know that we'd really want to recite our vows in this little number.
Flower Girl or Bride-to-Be?
Call us crazy but this dress looks like it'd be more appropriate for the flower girl than for the bride herself. Still, we guess this woman wanted to channel her inner girl one last time before exchanging vows with her husband-to-be.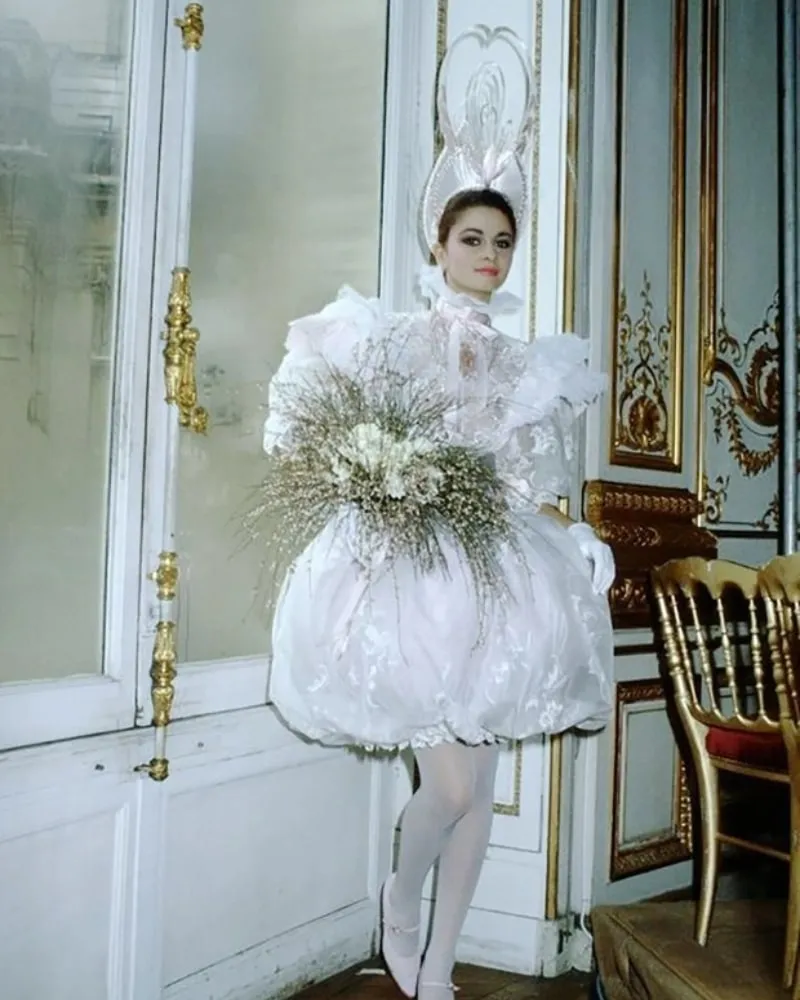 And while we can accept that, we're having trouble getting used to the swan-esque bonnet on top of her head. It's really quite distracting, after all. Also — we can't help but wonder whether or not the flower girl was in the same, matching attire as the wife-to-be.
Is That a Girdle?
Why carry around a bouquet of flowers on your wedding day when you have a bouquet-esque gown such as this one? Actually, we take that back. This isn't so much a gown as it is some vintage girdle from the '30s or '40s.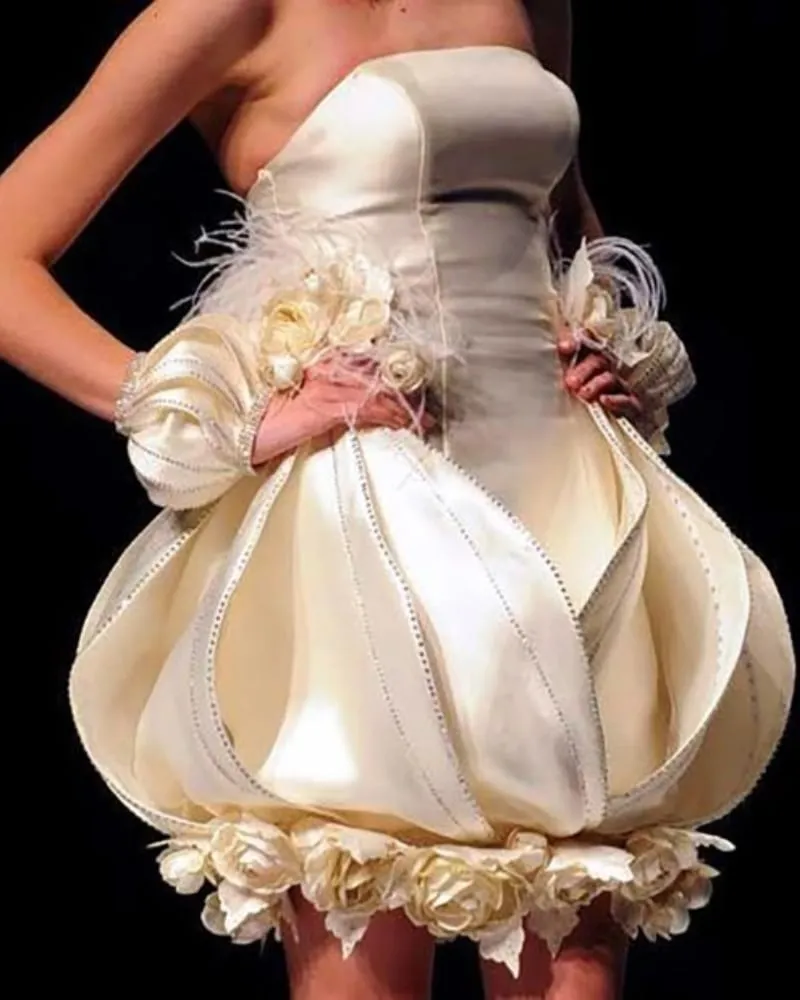 What we really can't get over, though, is the fact that this "dress" comes with a set of matching bracelets. We hate to say it but we think this might be our least favorite of all the confusing gowns to make the list.
Catwalk Catastrophe
There's a lot going on here, and that includes the discomfort we feel just from looking at this catwalk catastrophe. We're not sure what the designer was thinking when they created this dress but we're thankful that it only ended up on the runway rather than on a bride-to-be — at least we hope no bride ever wore this eyesore.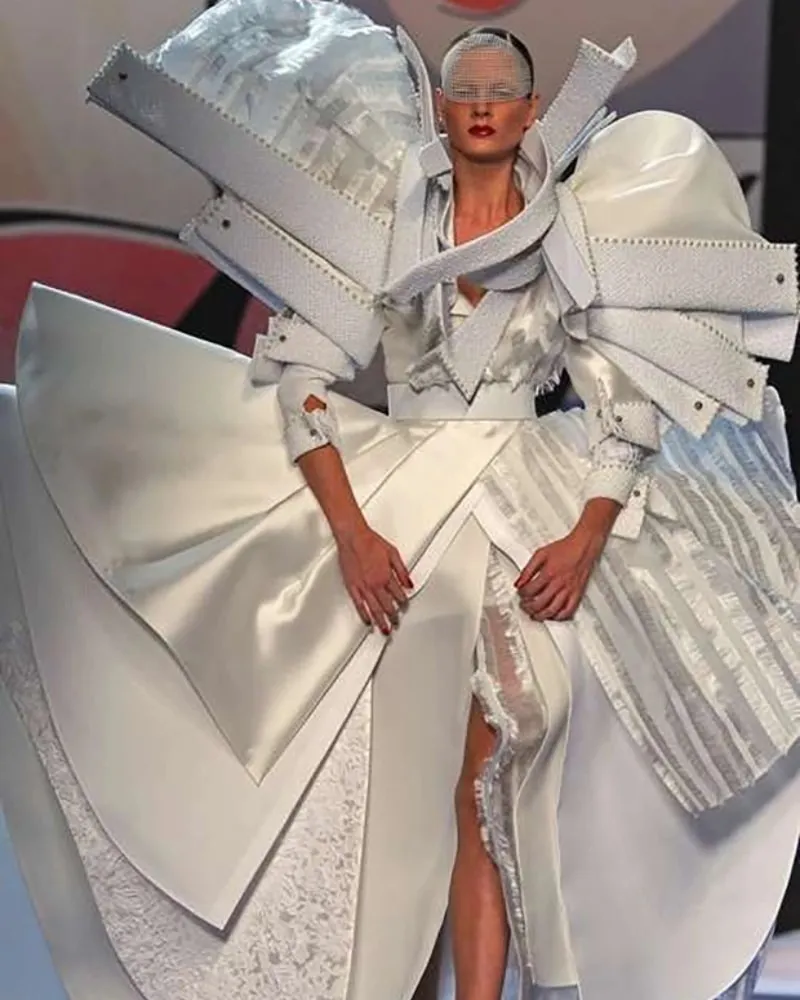 We're all about the fast fashion and trends but this is definitely taking things too far. Even the model looks highly uncomfortable…
This One Takes the Cake
Let's be real — this definitely isn't the worst idea for a wedding gown. After all, who doesn't love cake? Anyone who says that they don't eat cake is totally lying. In any case, while we're not totally sure how this dress technically works, we have to admit that we're quite impressed.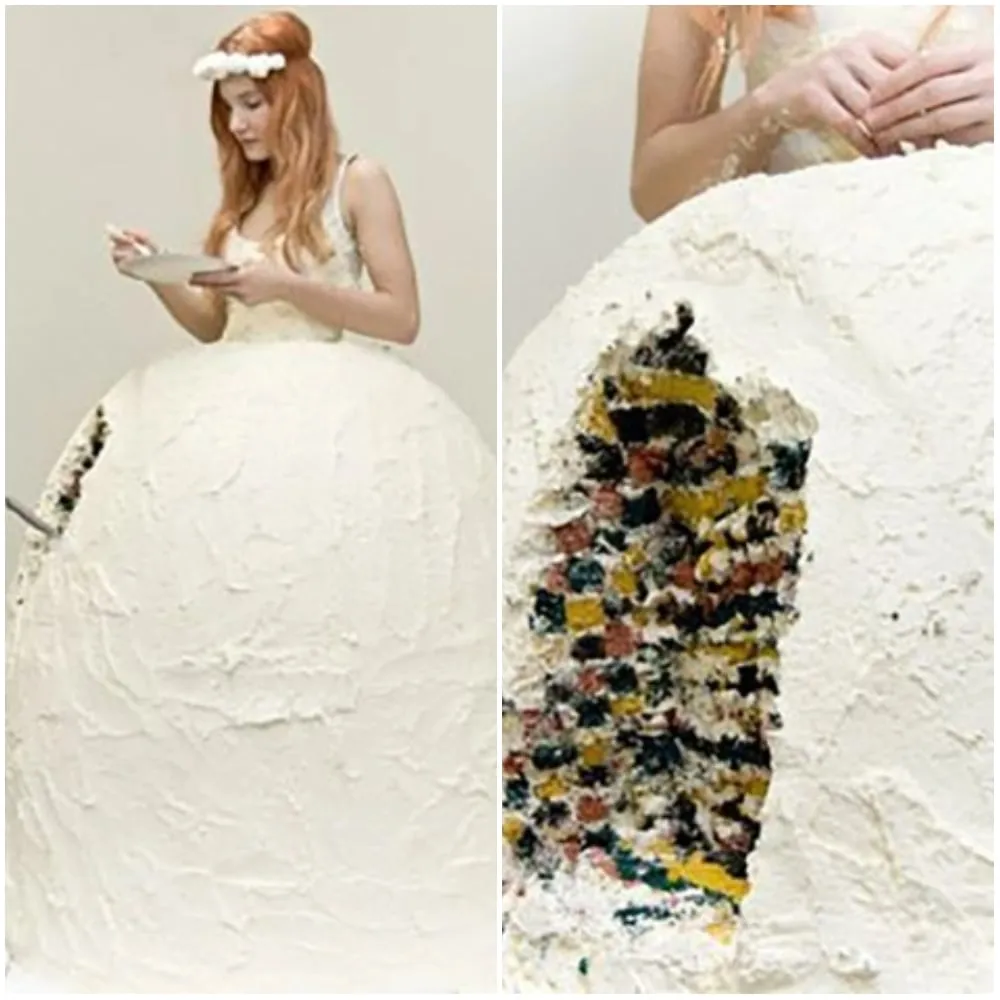 We mean, look at all those colors and layers of cake! Plus, this bride seems to really be enjoying herself. And why wouldn't she? She can literally eat her wedding gown!
Paper Train
Hmm, a wedding gown made out of toilet paper rolls. Ya know, just in case you accidentally get too excited while you're on the alter exchanging your vows.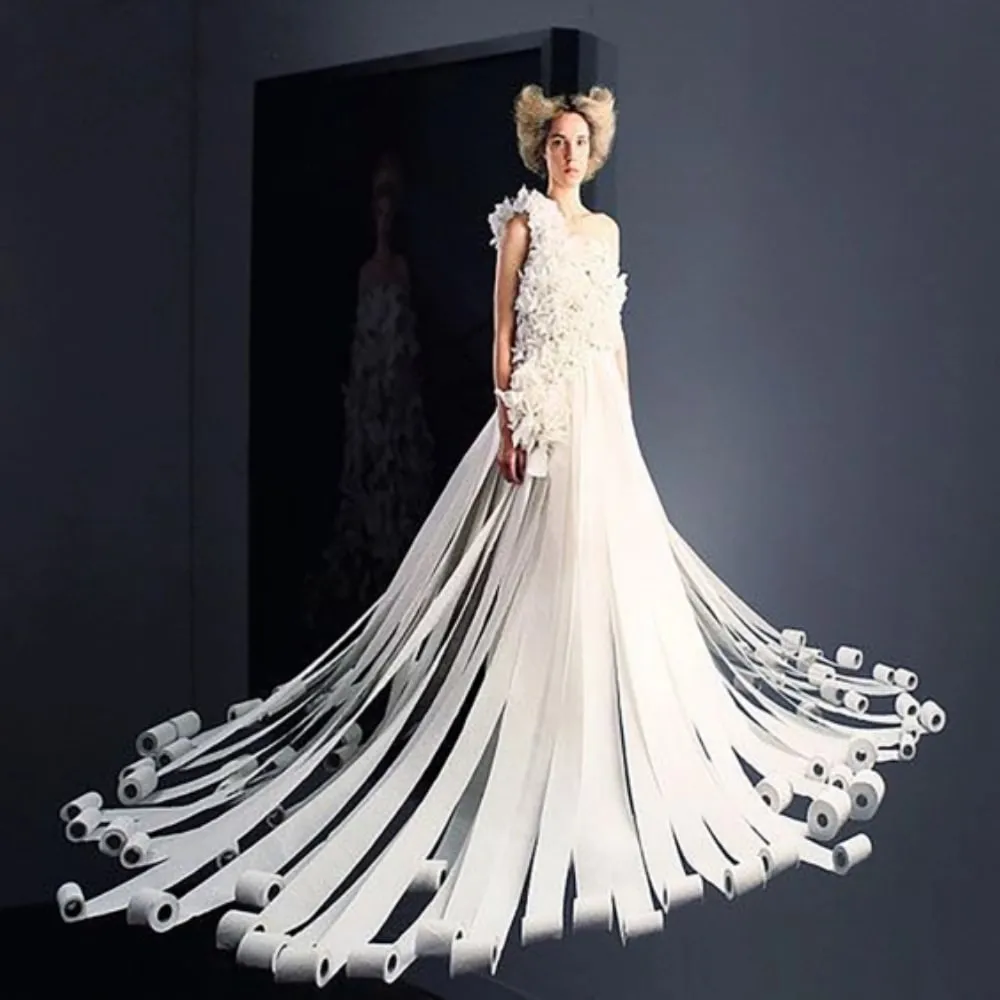 Although this isn't the first time we've ever heard about a wedding dress being made out of toilet paper — after all, TLC does have The Toilet Paper Wedding Dress Challenge — we can't help but feel like seeing the rolls themselves as the train of the dress is just a bit too much to wrap our heads around.
Something Borrowed, Something See-Through
So far, we haven't seen many images of couples getting hitched in churches. Perhaps that's because the confusing and outlandish wedding dresses we've seen wouldn't be very welcome in a more spiritual setting. However, it's not like the bridal gown shown in this image looks totally appropriate for a religious ceremony.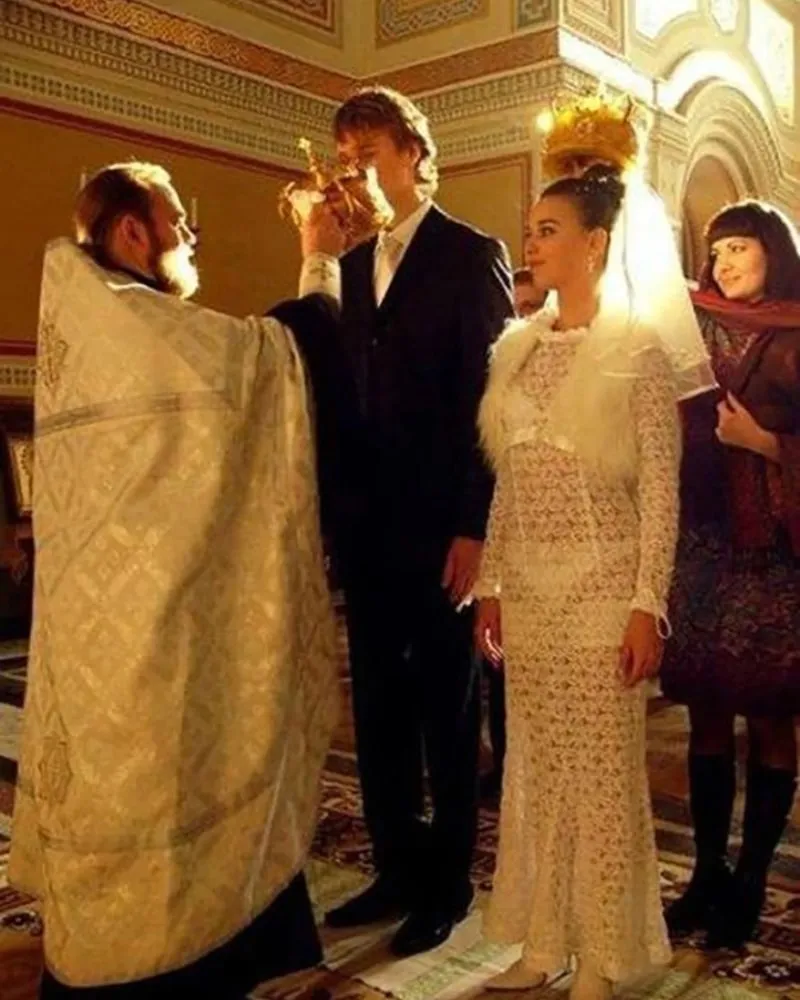 Isn't a wedding dress worn in a church usually long-sleeved, high-necked and opaque? Rather than this, which is long-sleeved, high-necked, and see-through. Seriously, we can see panties, people!
Roses are Red
We've already seen a Chinese couple break the record for the world's longest wedding dress. And here we have another Chinese couple going all out for their love. In this case, groom-to-be Xiao Fan had this dress made for his partner, a former Miss Bikini in China.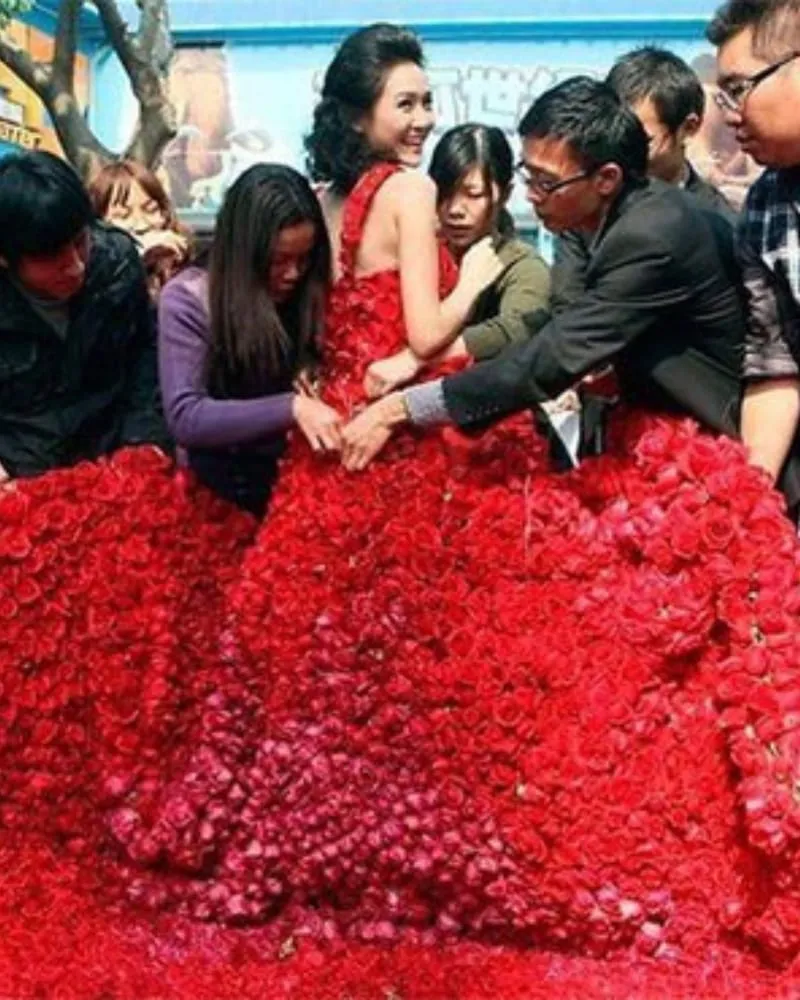 The stunning dress is made from 9,999 red roses, which is a lucky number in Chinese culture. Fan proposed to his other half on Valentine's Day. We can't wait to see what she wears to the wedding!
But Why-S-L?
Of all the confusing dresses on this list, this one takes the crown – or should that be the tiara? This dress is a high fashion creation, but that doesn't mean it was never worn down the aisle or used to terrify and confuse well-meaning guests.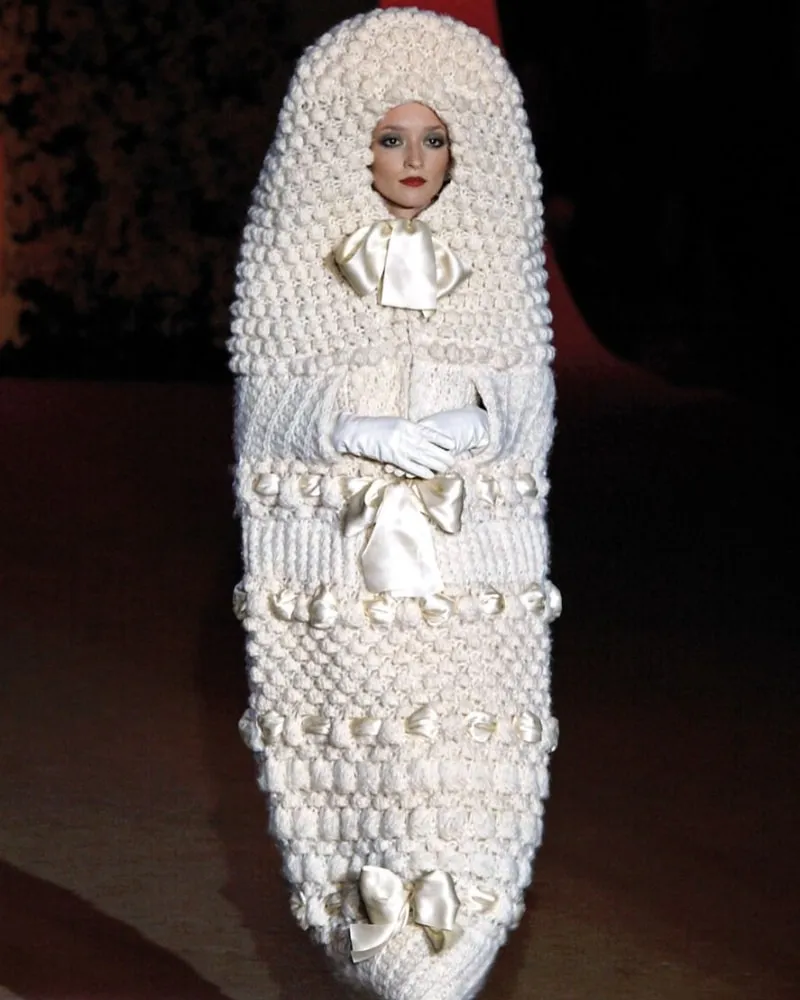 The Cocoon dress was designed by Yves Saint Laurent in 1965, and took its inspiration from Russian nesting dolls. We can't help but point out that it looks rather like a female hygiene product.
A Forest Themed Fairytale
When it comes to themed weddings, this couple has gone all out. There are no cheap costumes or ugly props for this pair – instead, they've managed to get their hands on an actual real-life owl.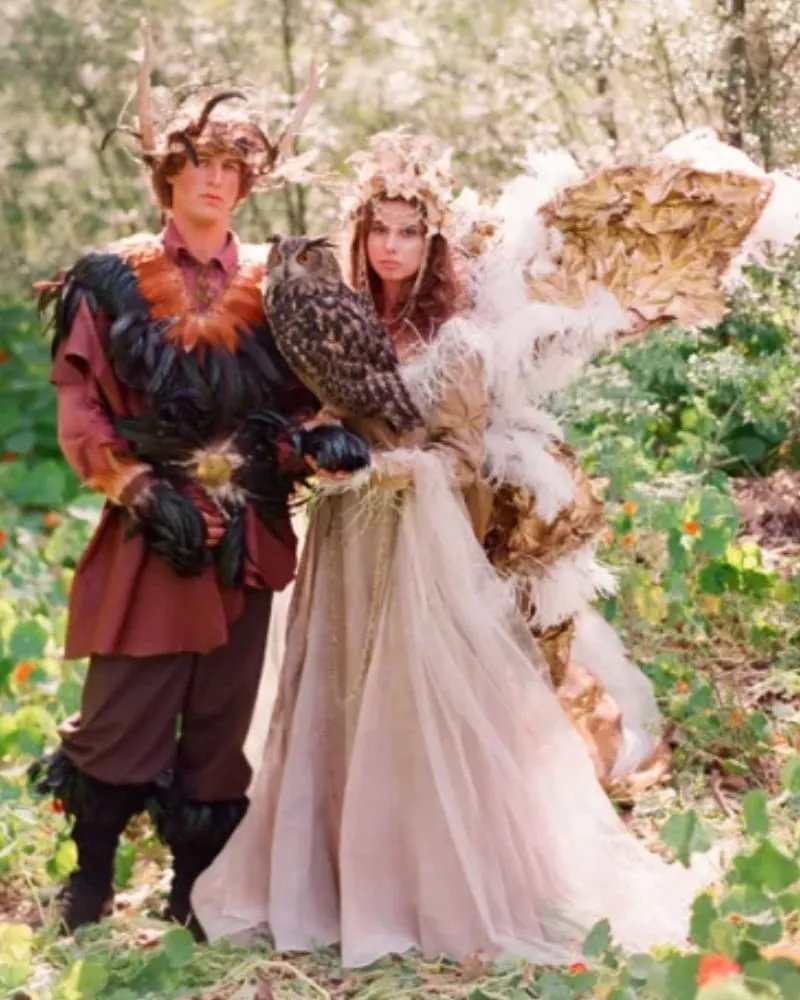 Lest we get distracted by the owl, let's not forget that this groom is wearing antlers, and the bride has a very large pair of wings. In fact, the more we look, the more feathers we see sewn into these outfits. Consider us confused.
Merry Wedding Everyone
Finally, we have a seasonal dress for all those holiday lovers out there. After all, why just celebrate Christmas, when you could wear Christmas? Why just look at a large pine tree when you could wear one? Why decorate your large pine tree when you could decorate yourself?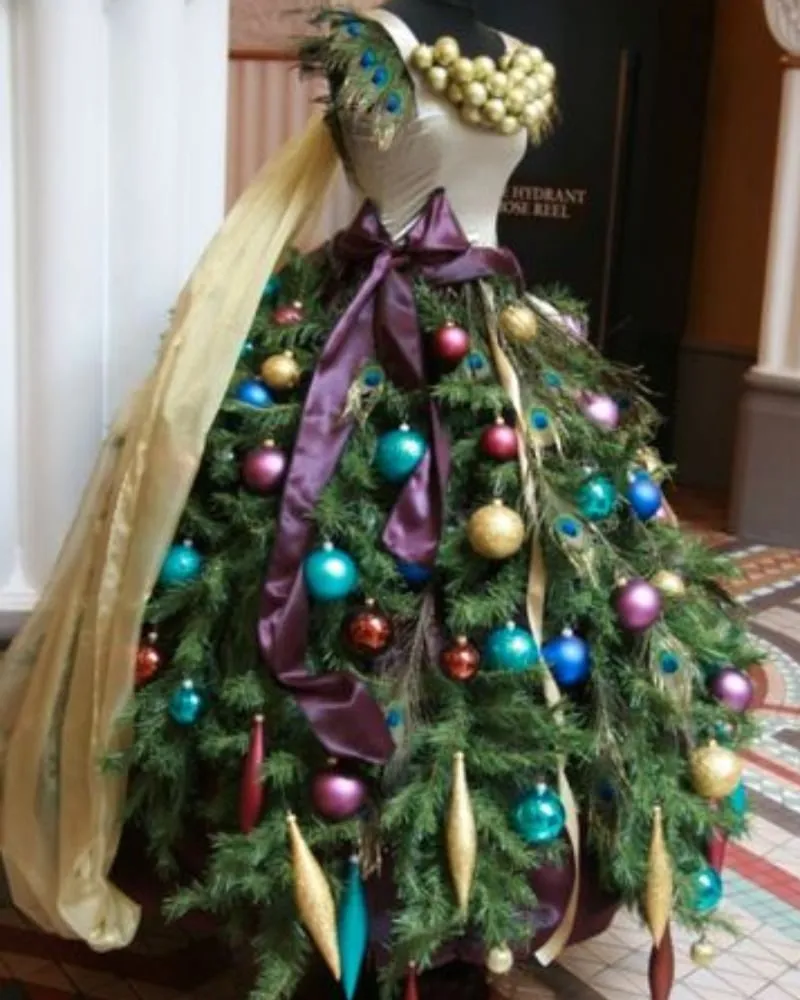 And why not just throw some peacock feathers in the mix just because you can? We can only imagine how confused the wedding guests at this event must have been.
Weddings are expensive. Once you've paid for the venue, flowers, catering, and all of the other important parts of any nuptials, you can be left seriously low on cash. Every bride needs a dreamy dress, but what do you do if your budget has taken a beating? As Macklemore once recommended — head to the thrift shop. You don't have to break the bank to find a gown that you love.
Classic A-Line Gown
This stunning A-line gown is giving us serious princess vibes. Who would have guessed that this bride picked it up from the thrift store? The off-the-shoulder style is charming and traditional, while the lace detail on the skirt gives it another layer of classic beauty.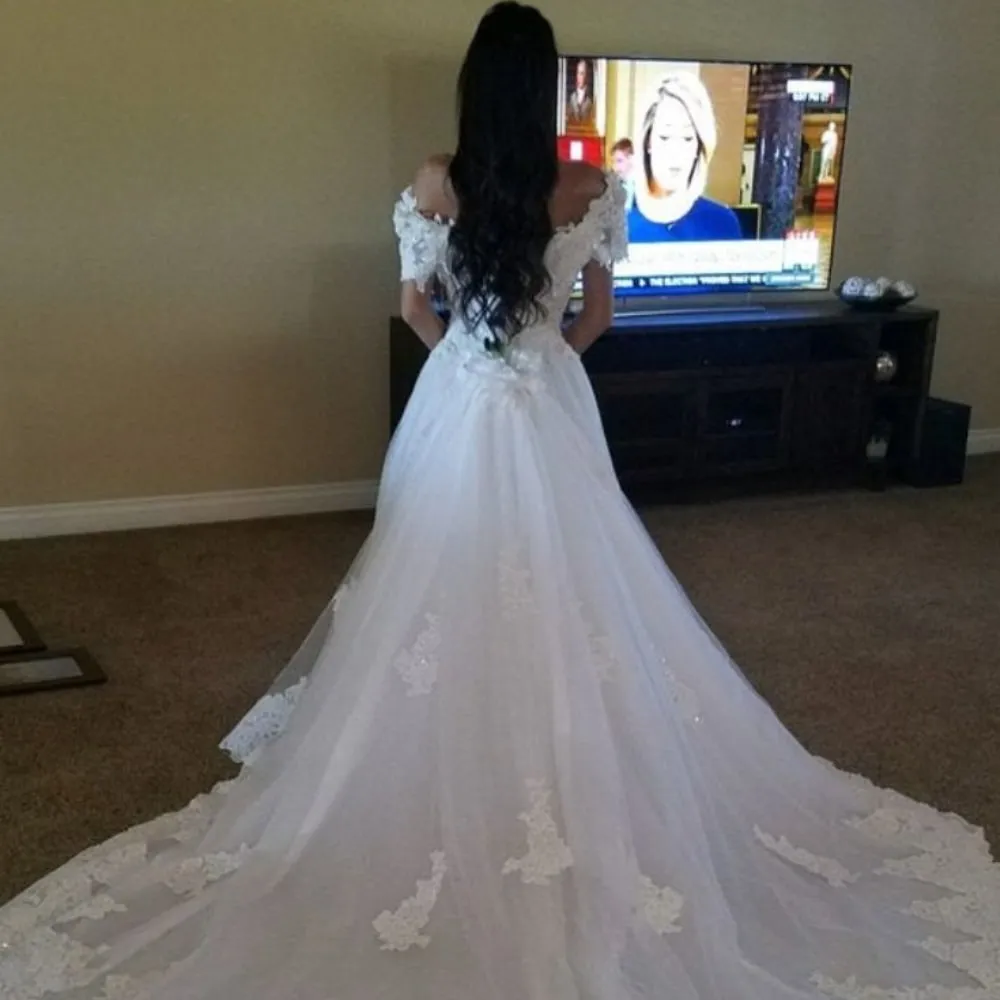 This bride certainly took her groom's breath away in this look. And it cost a fraction of the price that you'd pay for a boutique or couture gown. This is a fairytale wedding dress of dreams.
An Elizabethan Beauty
This dress looked like it was plucked from the set of a Shakespeare adaptation — with its glorious neck ruffle and long, elegant sleeves. If you want to capture classic beauty on your big day, then a secondhand dress is a great idea.

You can take inspiration from so many different time periods, altering your dress to fit your own personal taste. This style of dress is also perfect for those who wish to look modest on their wedding day.
Empire Line Glamor
This thrifted wedding dress is truly one of a kind. We love the empire-line style, with delicate lace detail to add some flair. The simplicity of this dress is something that's hard to find when buying a new wedding dress, as popular designs can be overrun with sequins, sparkles, and tulle.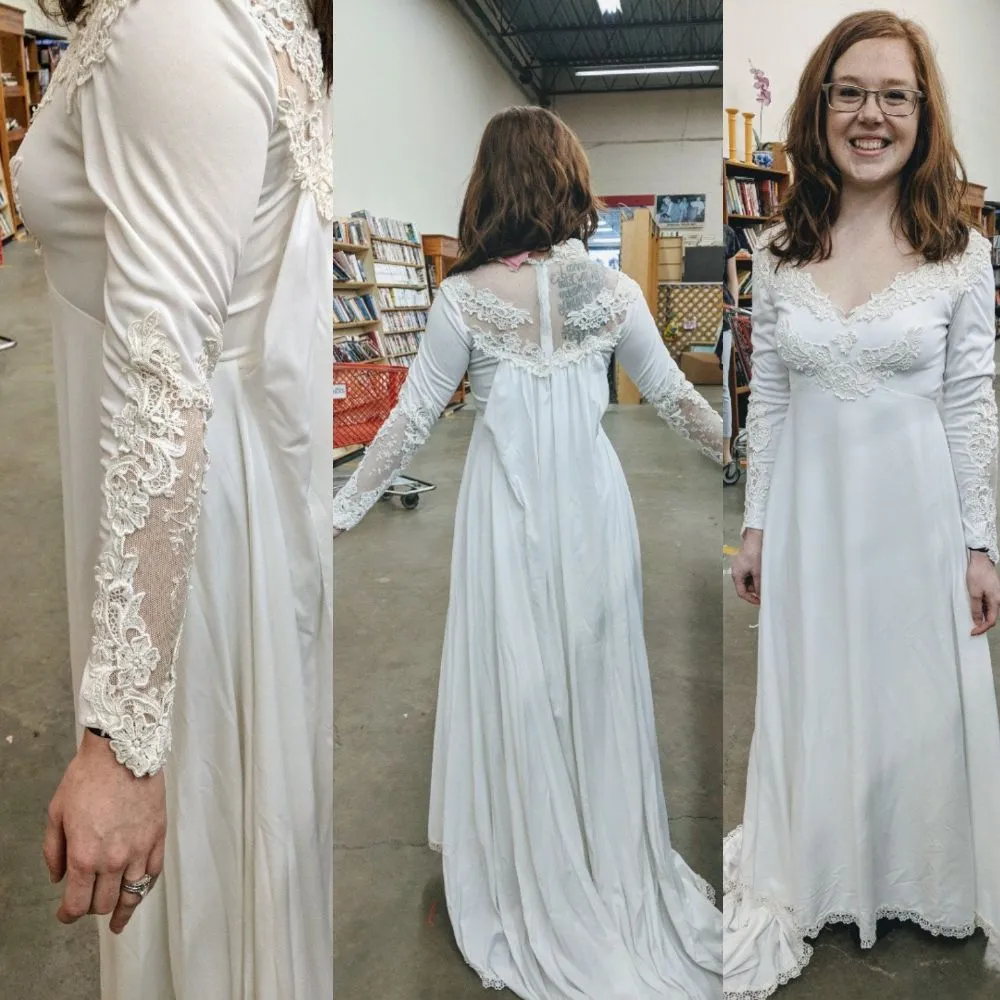 Going for a more minimal wedding dress also allows you to add pizzazz with accessories. This bride has definitely found her dream dress at the thrift store.
Brilliant Ball Gown
Every bride deserves to feel special on their wedding day. Some prefer a more classic and understated style whilst others think, 'Go big or go home!' We love to see brides embracing their inner diva with a full-on ball gown! This bride is serving ultimate drama in her huge skirt.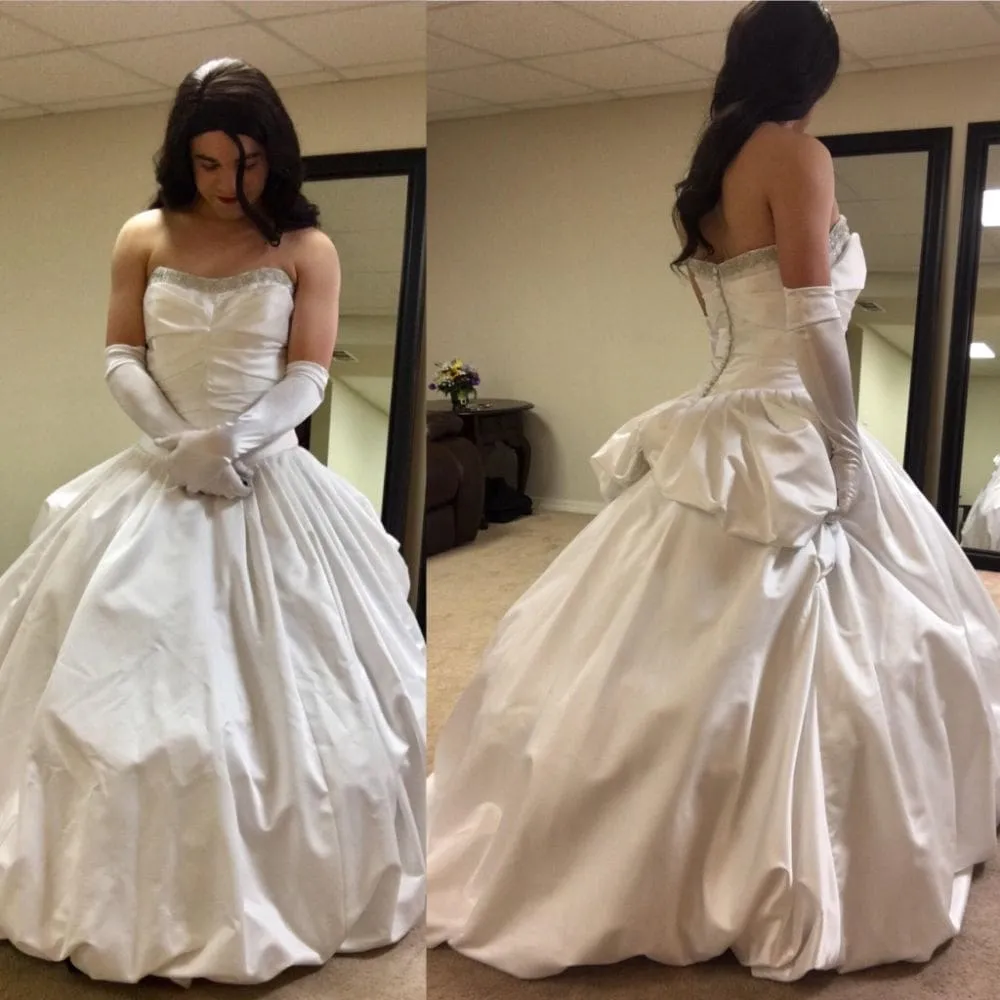 Imagine twirling on the dancefloor in this ostentatious number! The gloves add a touch of sophistication, whilst the satin material prevents the gown from looking tacky or over-the-top.
Trumpet Dress of Dreams
This blushing bride looks drop-dead gorgeous in her trumpet style gown. The sweetheart neckline accentuates her feminine shoulders, whilst the body-hugging flare design makes for a flattering fit. We wouldn't blame you for thinking that she had purchased her gown from an upmarket boutique.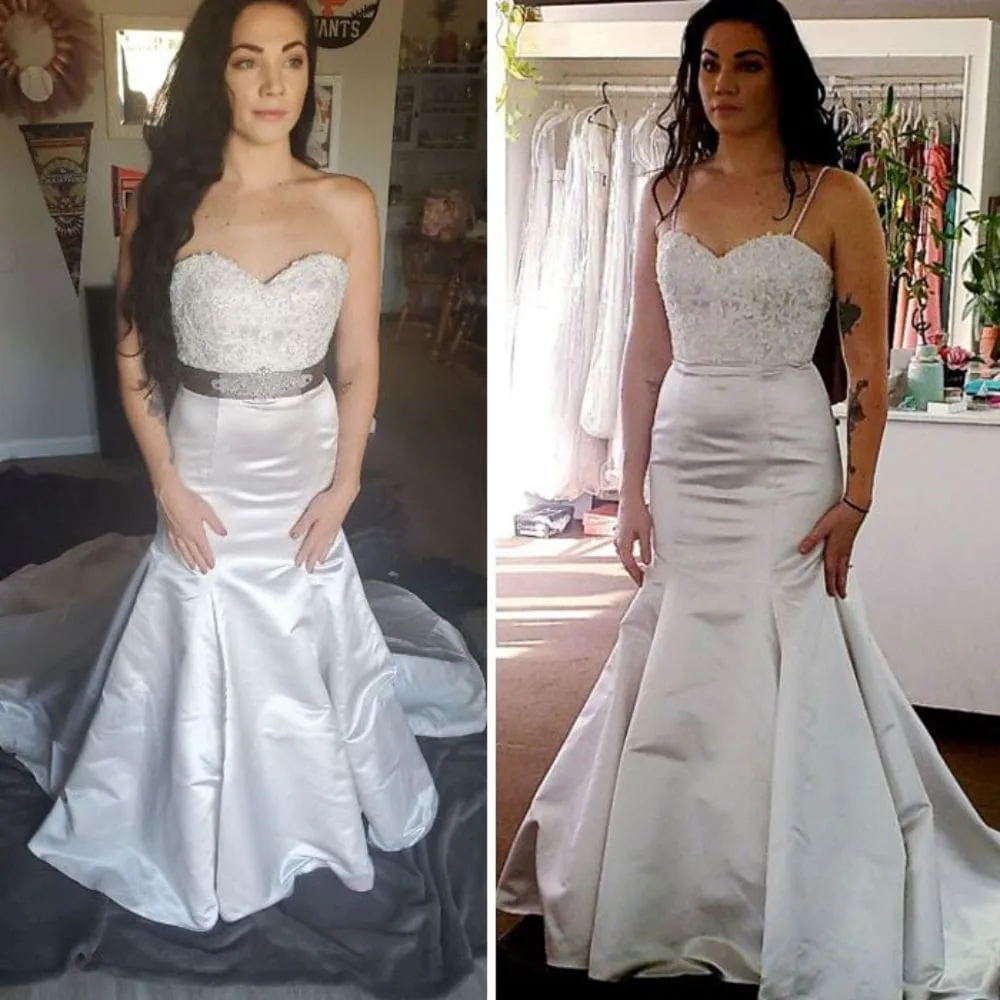 Instead, she headed to the thrift store and searched the racks for her dream gown. It must have been her lucky day, because this is truly perfection. It's true that some things are just meant to be.
Thrift Store Elegance
The perfect wedding dress does not have to be a sparkling ball gown or a traditional A-line with a sweeping train. Sometimes less is more, as this bride demonstrates. She found her perfect style when shopping secondhand, finding this elegant batwing gown with a deep 'V' neckline.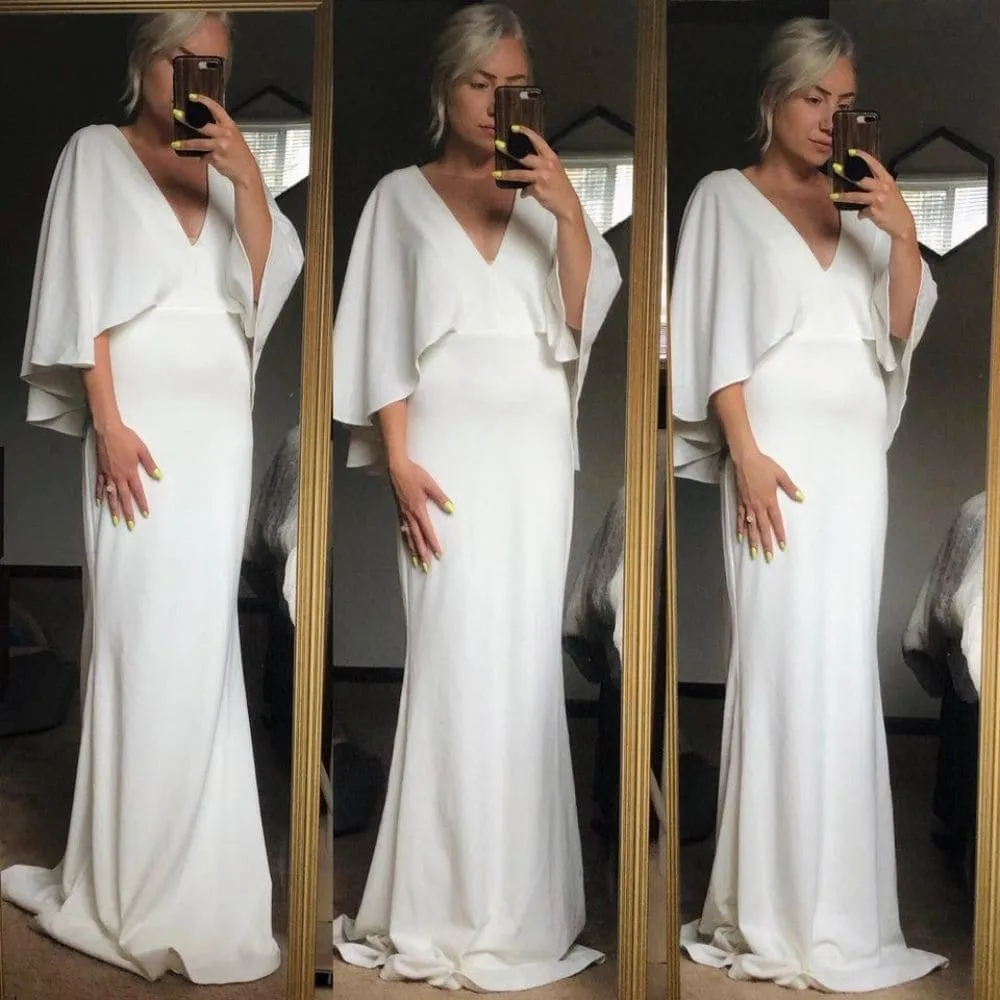 It's a mature yet modern look, perfect for a stripped back, intimate wedding day. With many brides being forced to postpone their elaborate nuptials, many are choosing more reserved styles.
A Stunning Strapless Look
This bride couldn't believe her luck when she found the dress of her dreams while shopping at a secondhand store. She wanted a striking, strapless gown with ornate beading and a touch of sparkle. This dress delivers on all fronts.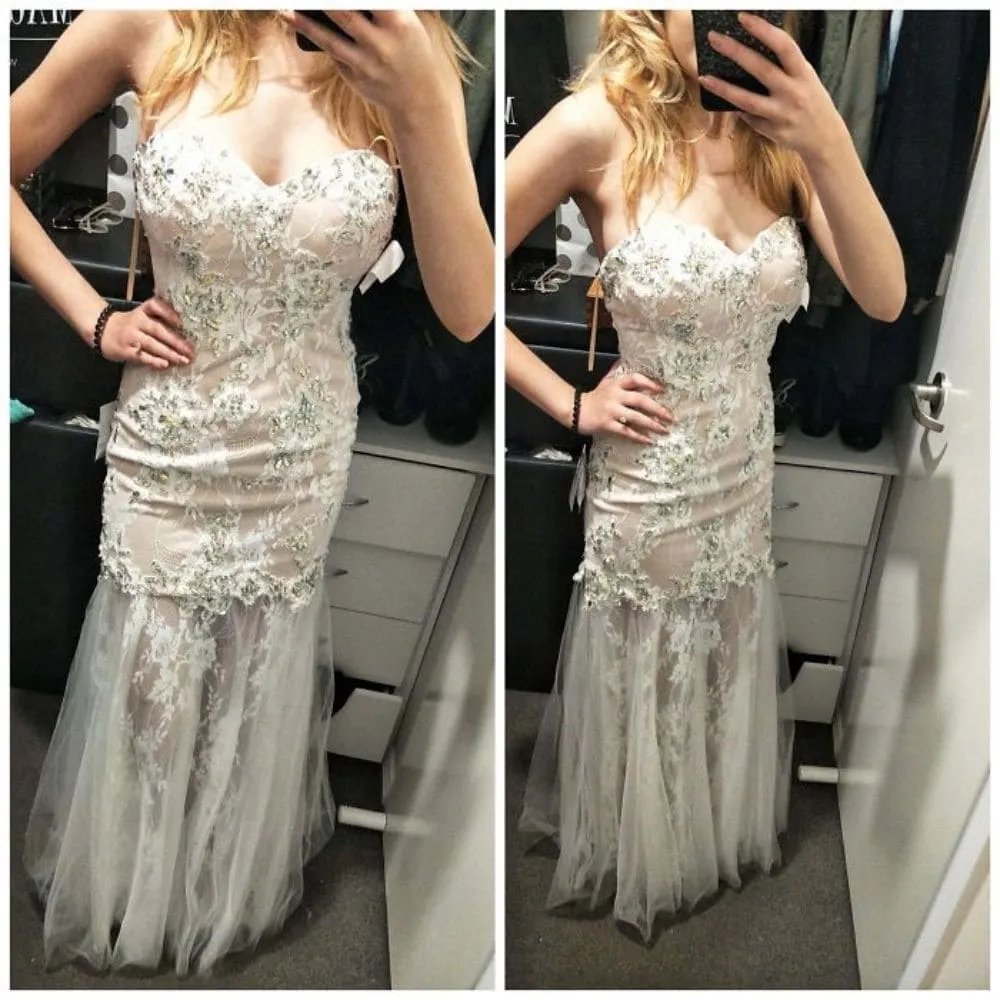 The fit and flare style is sleek and modern, whilst the mesh section at the bottom adds another layer of seductive drama. It's rare to find your perfect dress in regular bridal boutiques, so this bride was extra lucky!
DIY Thrift Flip
Not every bride is lucky enough to come across her dream wedding dress on the rails of a thrift store. Sometimes, you need to get a little creative. This bride used her incredible sewing skills to create a completely unique wedding dress out of a larger and frumpier gown.

She completely transformed the original dress, which drowned her small frame. On her wedding day, she was able to rock an entirely one-of-a-kind dress in a beautiful light pink shade.
Pink Ombre Masterpiece
Who says that wedding dresses have to completely traditional? Thrifting your wedding dress is another way to make sure that you stand out from the crowd on your big day. You can completely imprint your personality on your gown, just like this creative bride. She found a beautiful strapless dress with a sweetheart neckline and an empire waist.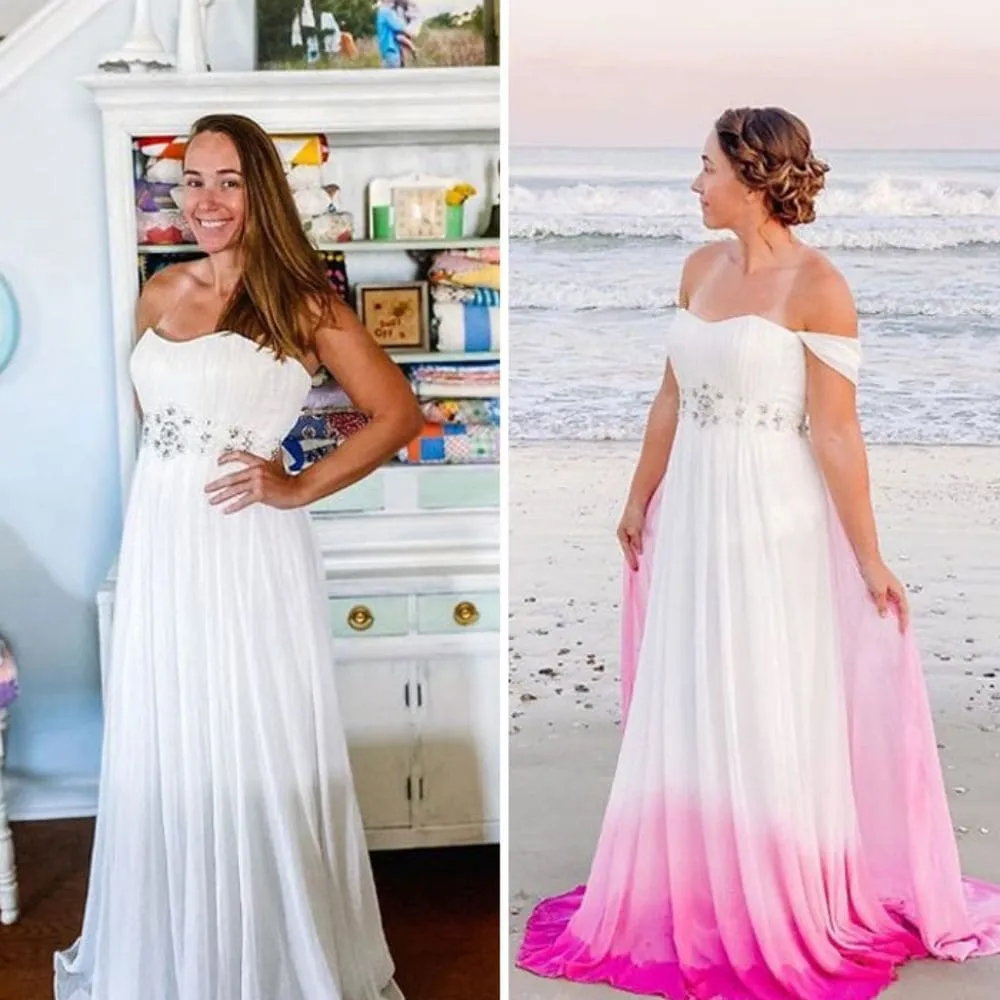 Whilst she loved it, it wasn't quite original enough. So, she decided to add off-the-shoulder sleeves and dip dye the bottom of the fabric in different shades of pink.
Vintage-Inspired Dream Dress
If you're a retro-loving bride-to-be, you will die for this one. This bride decided to go for a vintage-inspired look — with a high, boat neckline and long sleeves. You can channel Kate Middleton and Meghan Markle on your big day with a similarly elegant gown.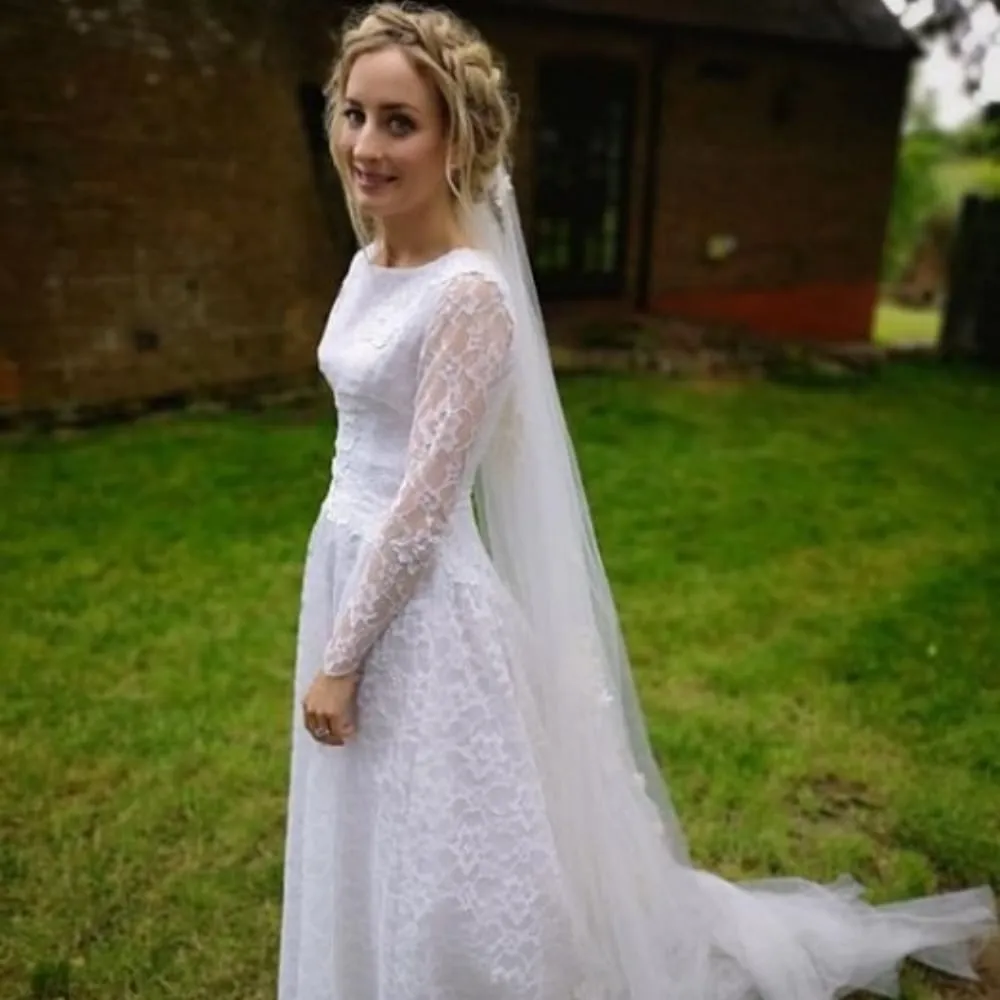 Traditional hints of lace, sheer sleeves, and a long veil will give you a perfectly regal look. And you don't have to spend wads of cash. Simply check out your local vintage and secondhand stores.
Reworked Vintage Look
This dress looks brand new, even though it was actually a secondhand find! The bride found a beautiful vintage dress, but it wasn't the one. It was too big, the high neckline and long sleeves looked frumpy, and the lace was much too fussy.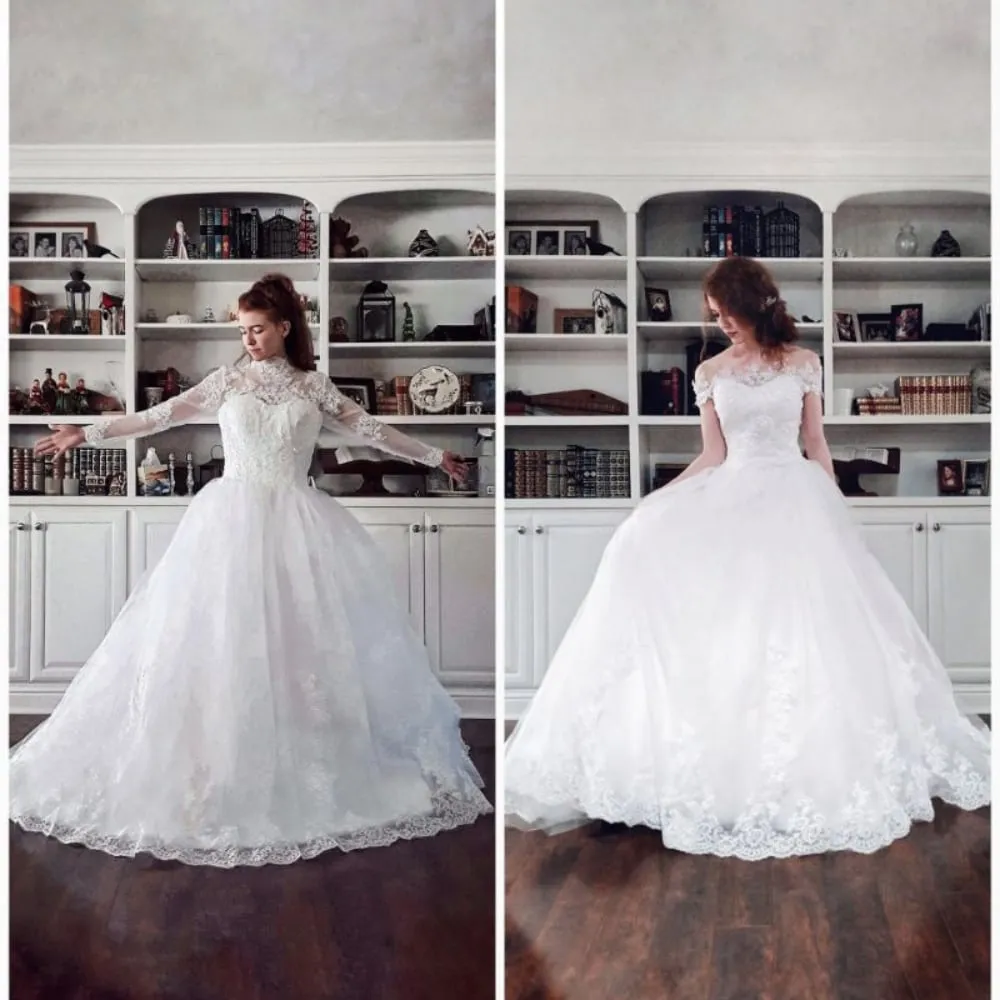 Instead of going back to the drawing board, this bride decided to alter the dress to match the picture in her mind. The sleeves were shortened, the dress was tightened to fit her frame, and the neckline was altered for a more comfortable fit.
Sweetheart in Satin
Sweetheart necklines are popular for a reason — especially when they are matched with a flattering waistband and a dazzling A-line skirt. The resulting look is feminine, classic, and chic. You don't have to head to an upmarket bridal boutique to look like a princess on your wedding day.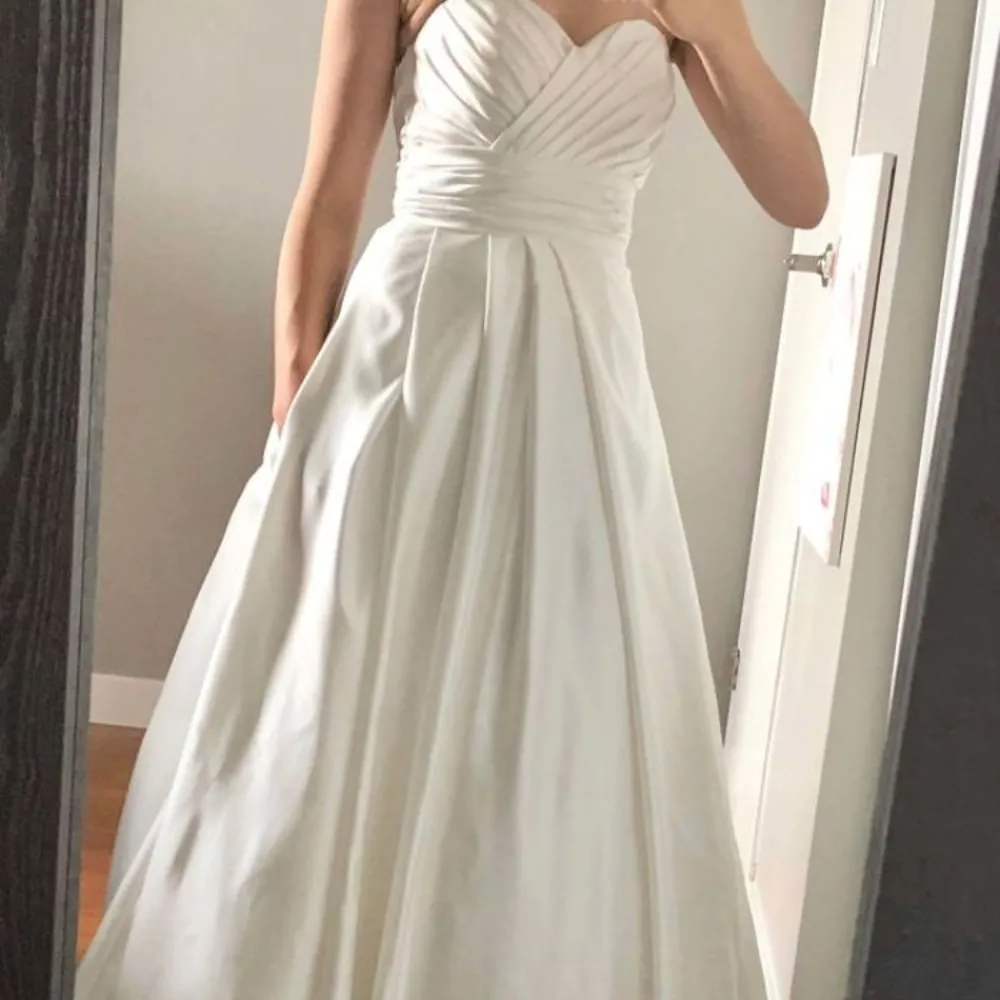 Instead, you can search the rails at your local thrift or secondhand store. Many brides choose to donate their dresses after their big day, so you can find your gown for less.
Heavenly Halter Neck
Not all brides want to achieve the princess-like, twirling ballgown effect with layers of tulle and taffeta. Some women choose a more understated look, like this bride. She was lucky enough to score a secondhand wedding dress that perfectly suited her personal style.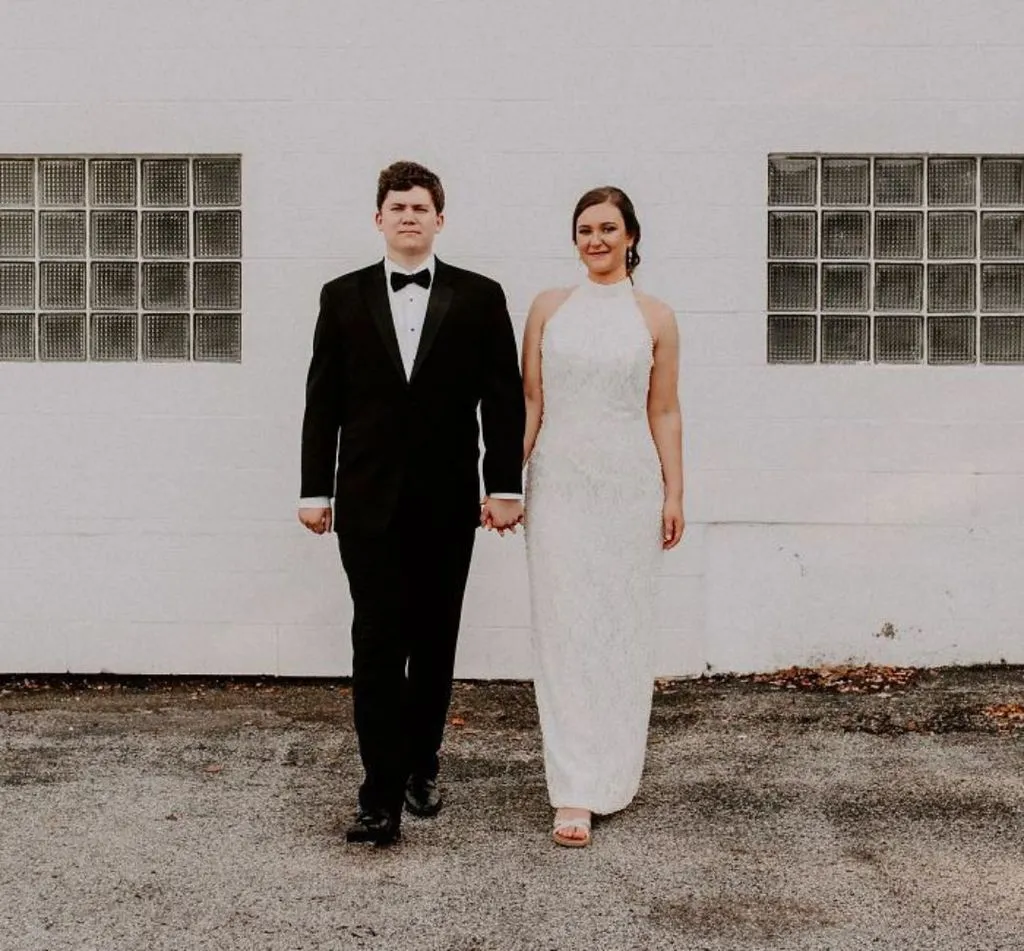 This halter-neck wedding dress with a column skirt is elegant and chic. You want to feel completely comfortable on your big day, so don't settle for less than perfection. Doesn't she look stunning alongside her husband?
Ivory and Lace
Ivory and lace is a classic combination. Many bridal beauties want to have a traditional ceremony, and this style of dress creates a stunning and timeless look. The shade of the gown perfectly matches the bouquet of flowers, and the Queen Anne neckline is totally flattering.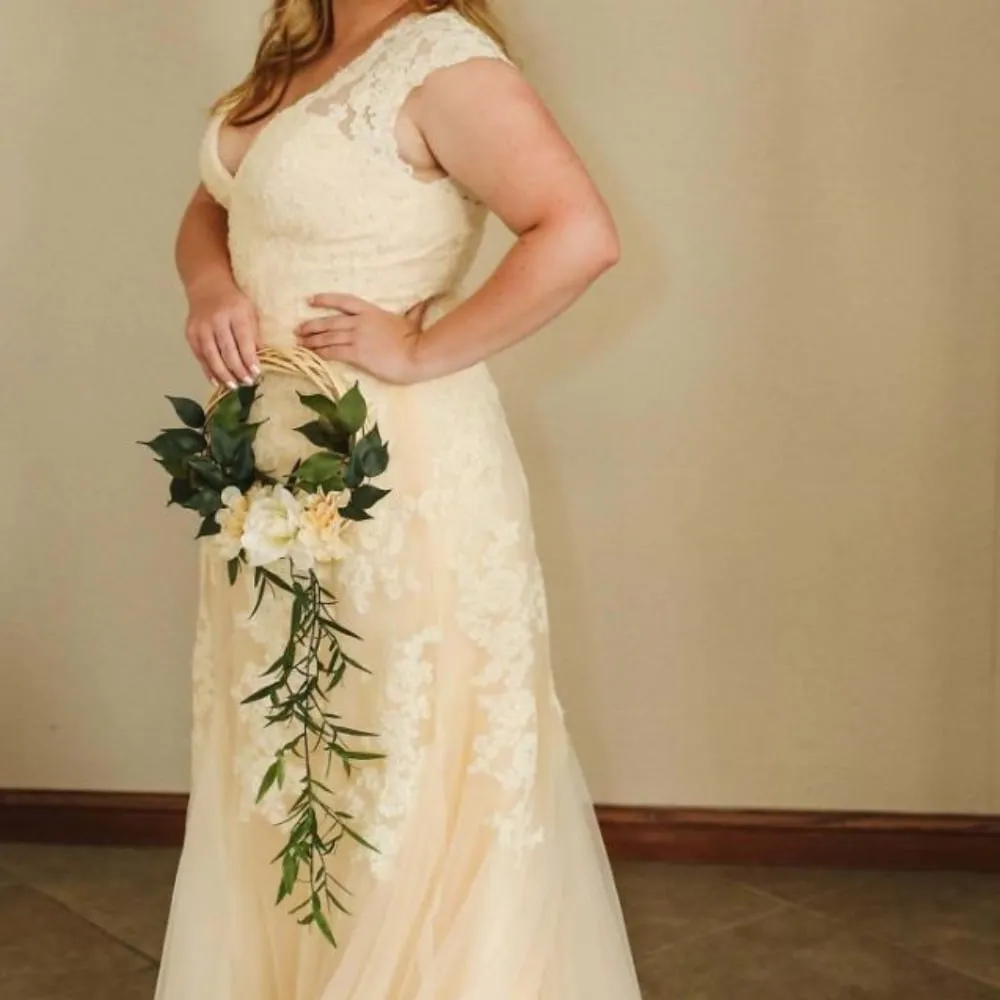 Can you believe that this bride scored her dress at a thrift store? It almost seems too good to be true. They say that fashion fades, but style is eternal. What an accurate statement.
Gothic Wedding Gown
Who said wedding dresses have to be white? In this day and age, brides can go for a range of colors and styles, without being judged or criticized for their alternative choices. This gothic bride chose a jaw-dropping shade of raven black, while the lace adds a traditional sensibility.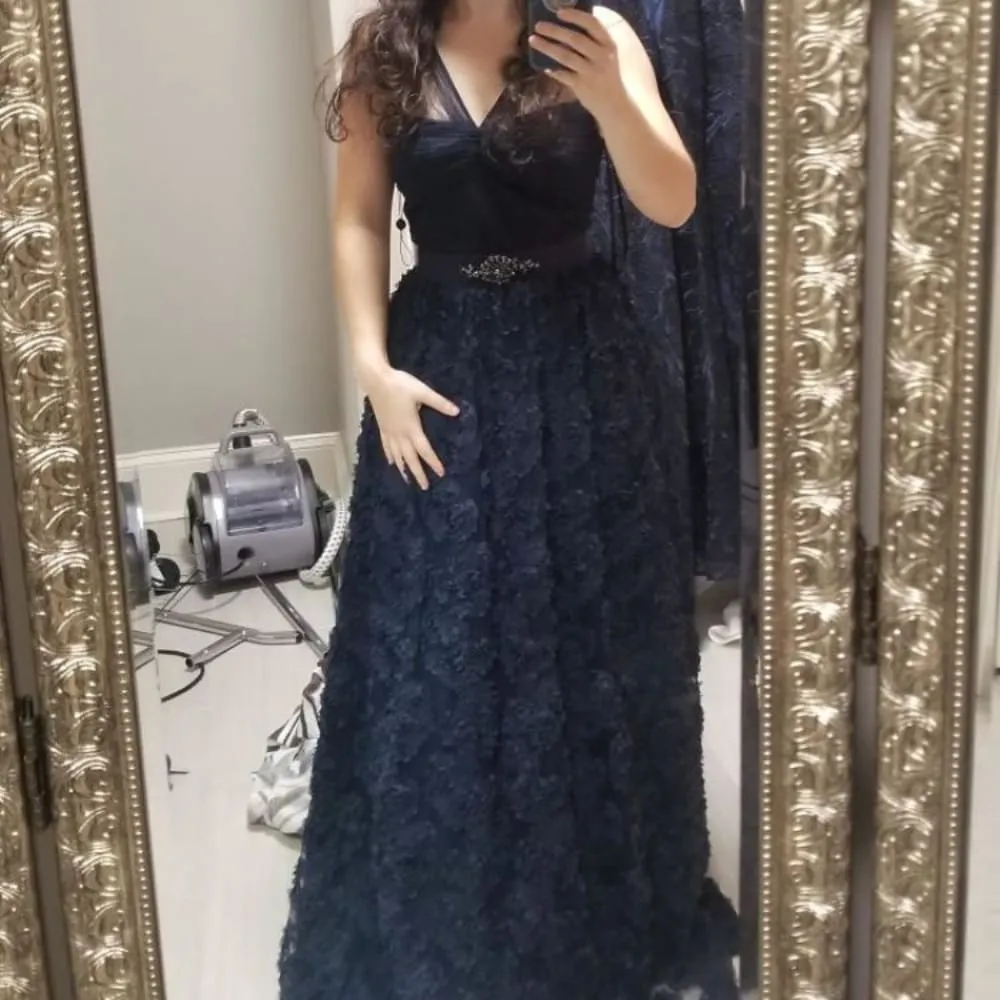 This striking look may not be for everyone, but we love how bold and brave it is. Imagine the wedding pictures! They must be absolutely stunning!
Fresh Fabulous Florals
A patterned wedding dress is a bold choice. This bride was not afraid to go for a floral look on her big day. Elegant and delicate touches bring some sophistication to the gown, just like those sparkling straps.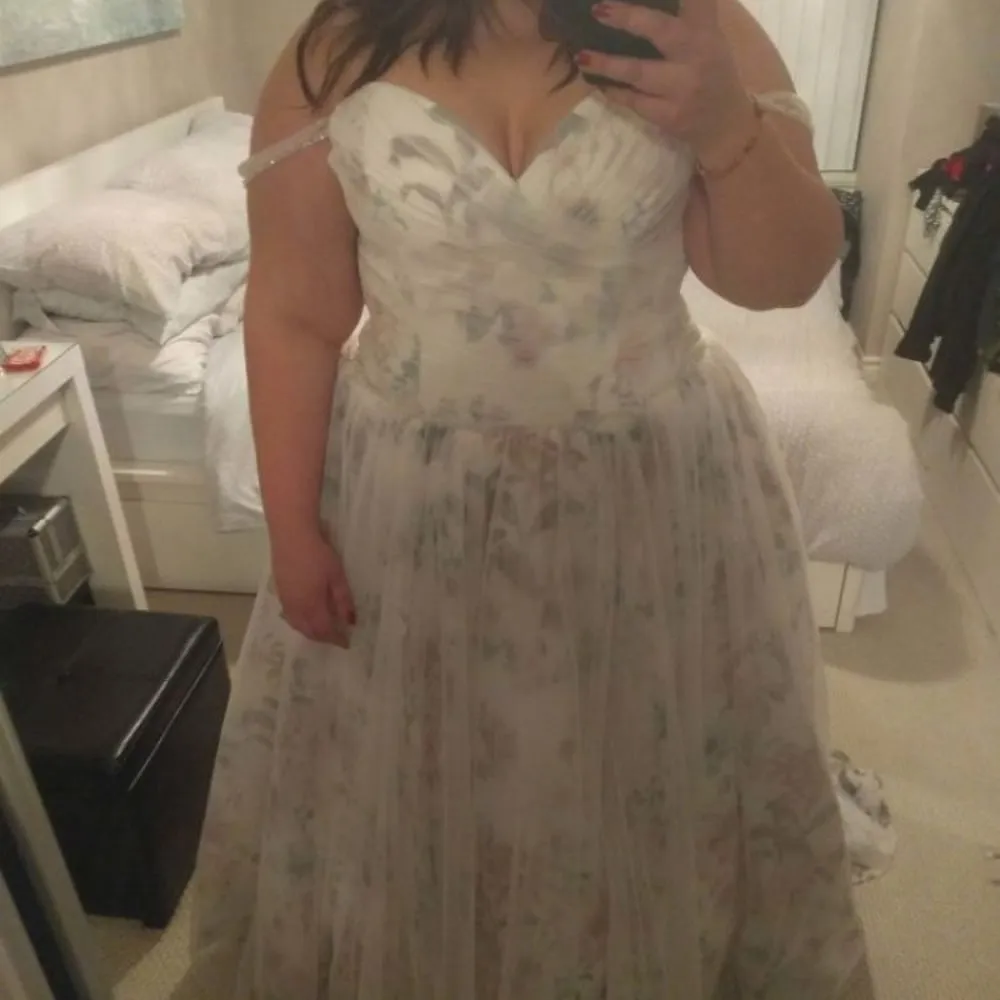 This bride decided to show off her sense of fun and femininity at her wedding. Why not choose a dress that matches your personality? Check out your local thrift store to see if you can find a unique gown like this one.
Lovely in Lace
Plain white or ivory gowns can sometimes look too simple. Adding lace to a wedding dress is a perfect way to add depth and texture whilst still achieving a classic, traditional style.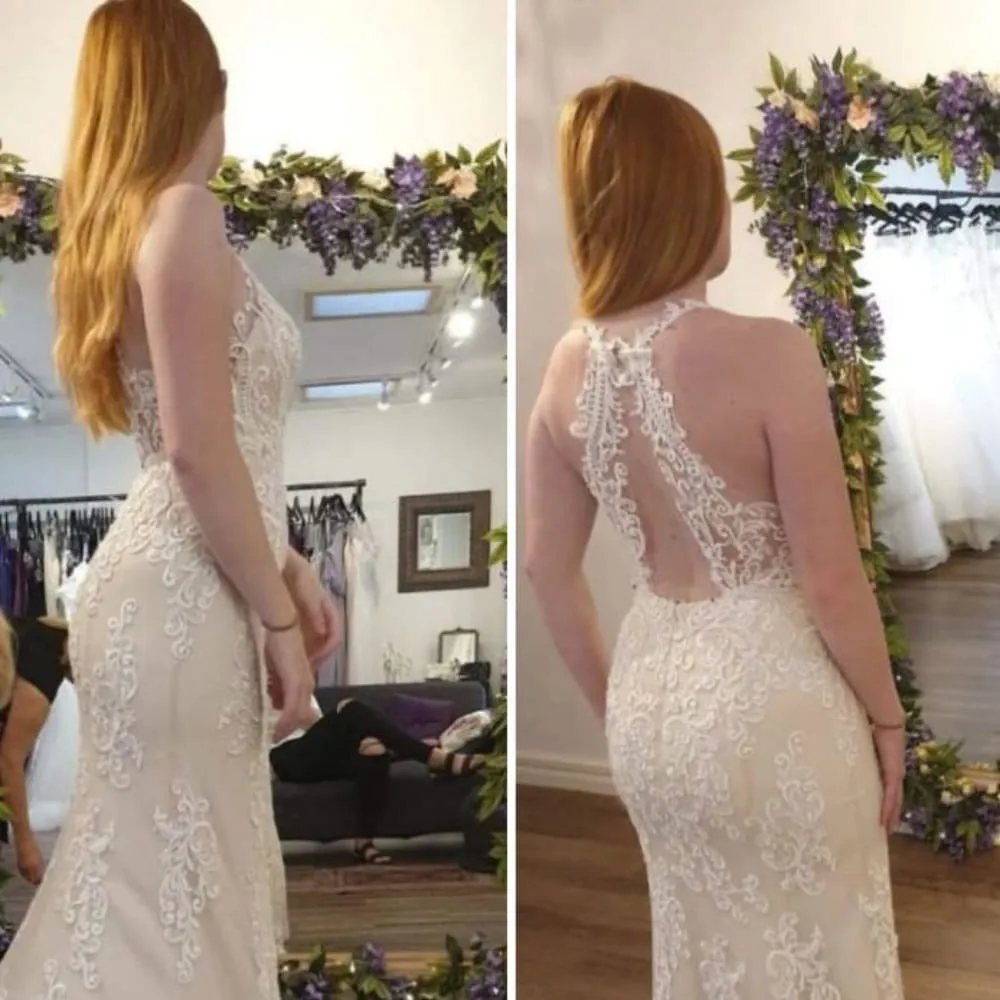 This bride found a stunning lace dress at a secondhand wedding dress store, proving that you don't need to break the bank to look like a star on your big day. The open back on this gown adds a sensual touch. We are obsessed with this look!
We Can Hear the Bells
You don't have to go to Kleinfeld to say yes to the dress. You can find amazing secondhand dresses at thrift stores, special secondhand wedding dress outlets, vintage retailers, online marketplaces, and re-selling platforms.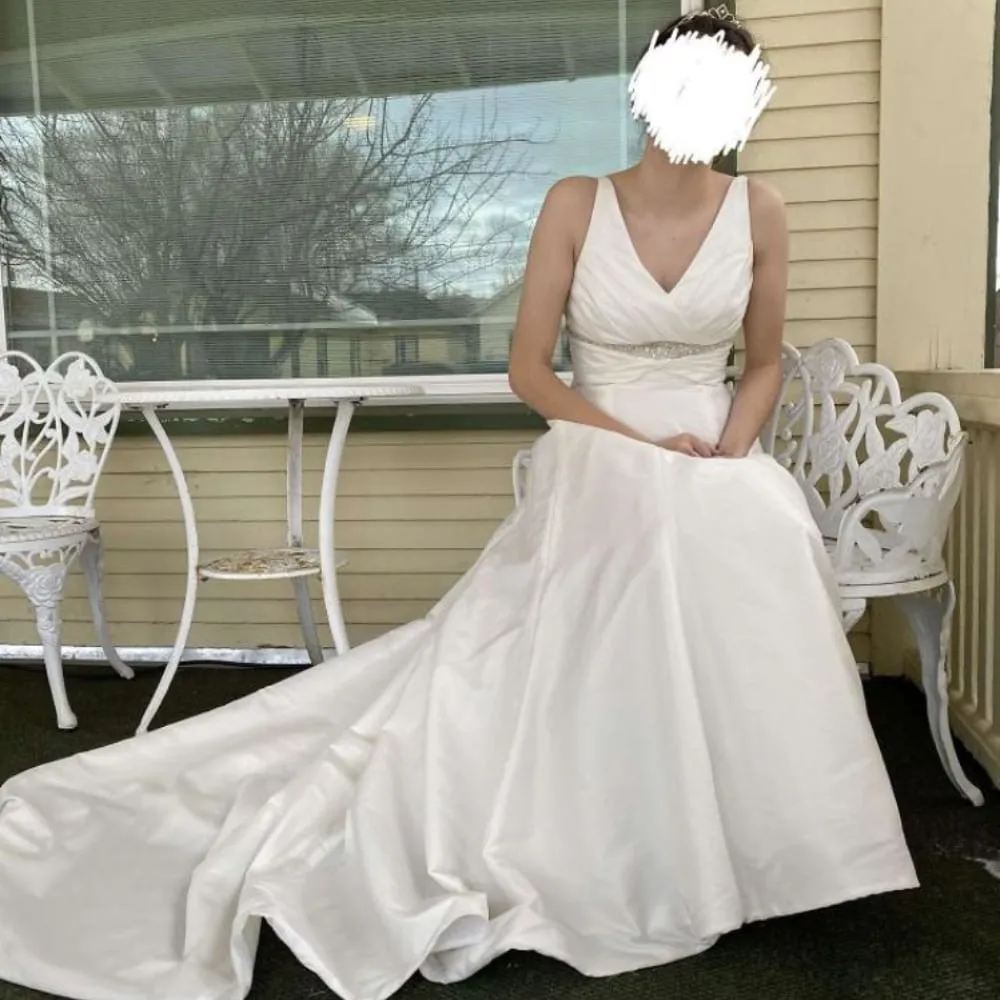 This thrifty bride found her V-neck gown at a low price, allowing her to spend her spare funds on accessories and other wedding essentials, like flowers and catering. You would have no idea that her wedding dress wasn't bought at full price! It's classic, understated, and chic.
A True Backless Beauty
Plenty of confident brides decide to go backless on their big day. No matter your size or shape, backless dresses are for everyone. If you want to go for a sensual and sassy look, check out your local secondhand bridal store — which is where this gal went — or shop online to find a dress just like this one.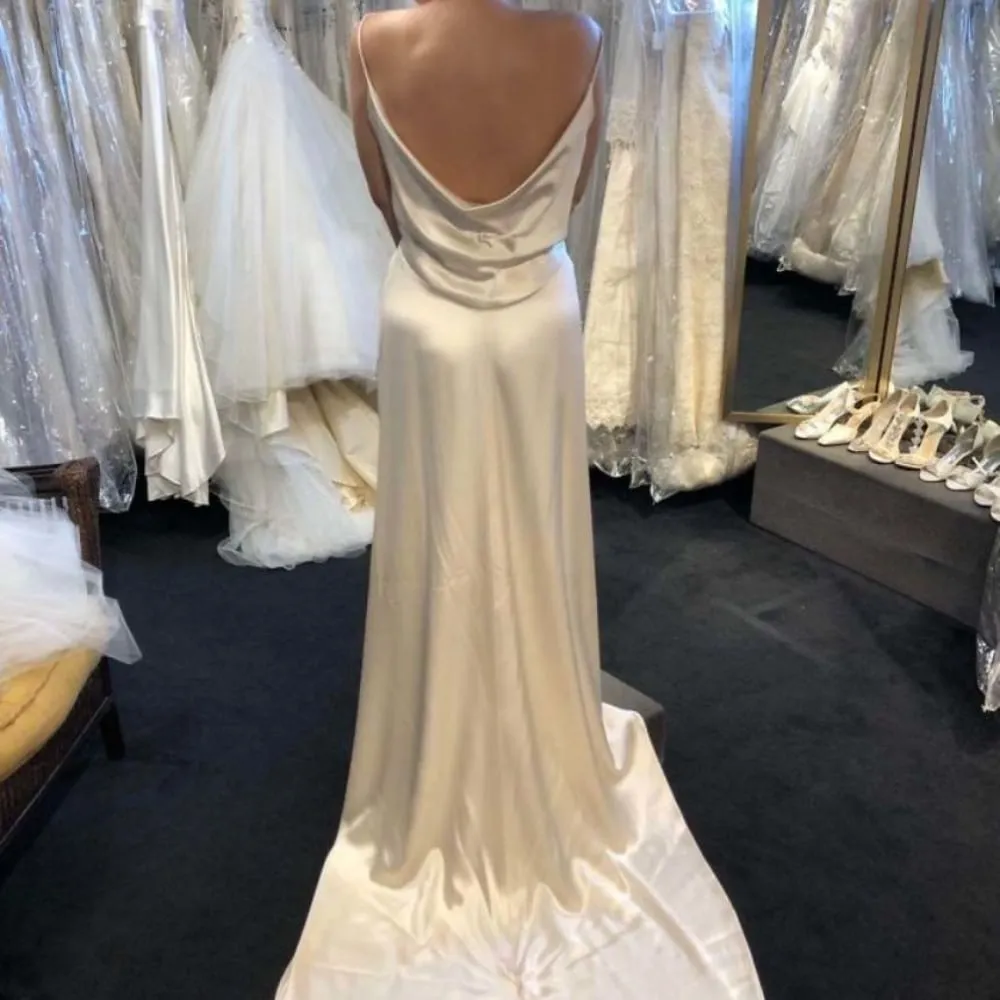 Choosing a backless wedding dress is also a fantastic way to show some skin whilst still maintaining a sophisticated, bridal-esque look. It's definitely a yes from us!
Gorgeous in Gray
This is another prime example of a non-traditional wedding dress that will take your breath away. This dove gray dress is perfect for brides who want that soft and charming look, without wearing white. The 'V' neckline, high waistband, and empire-line skirt create the perfect silhouette.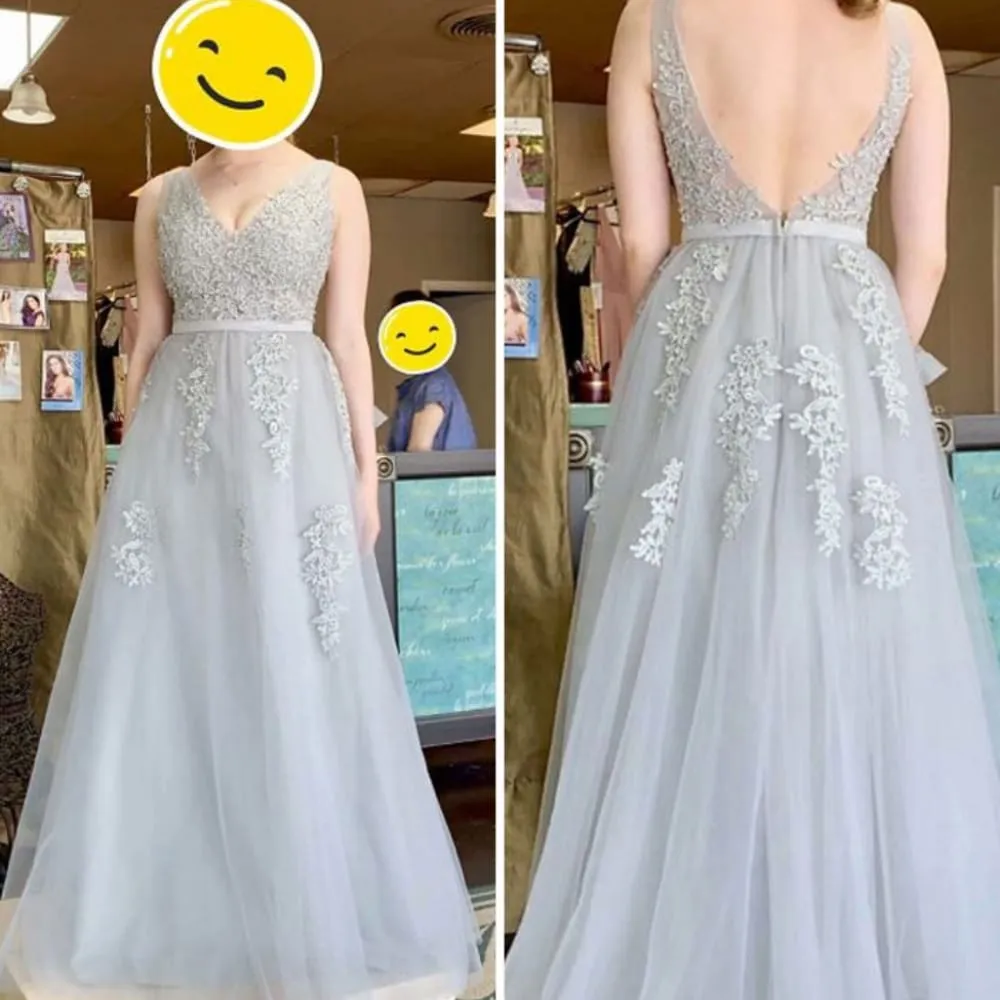 It's a totally unique look that can only be achieved by thinking outside of the box. Shopping secondhand will help you find a similarly special dress.
Bohemian Bridal Beauty
Are you ready for another secondhand find that will make you swoon? This wedding dress looks like it was ripped straight from the pages of a J.R.R. Tolkien novel. Just like Liv Tyler in Lord of the Rings, this bride looks like an elven goddess.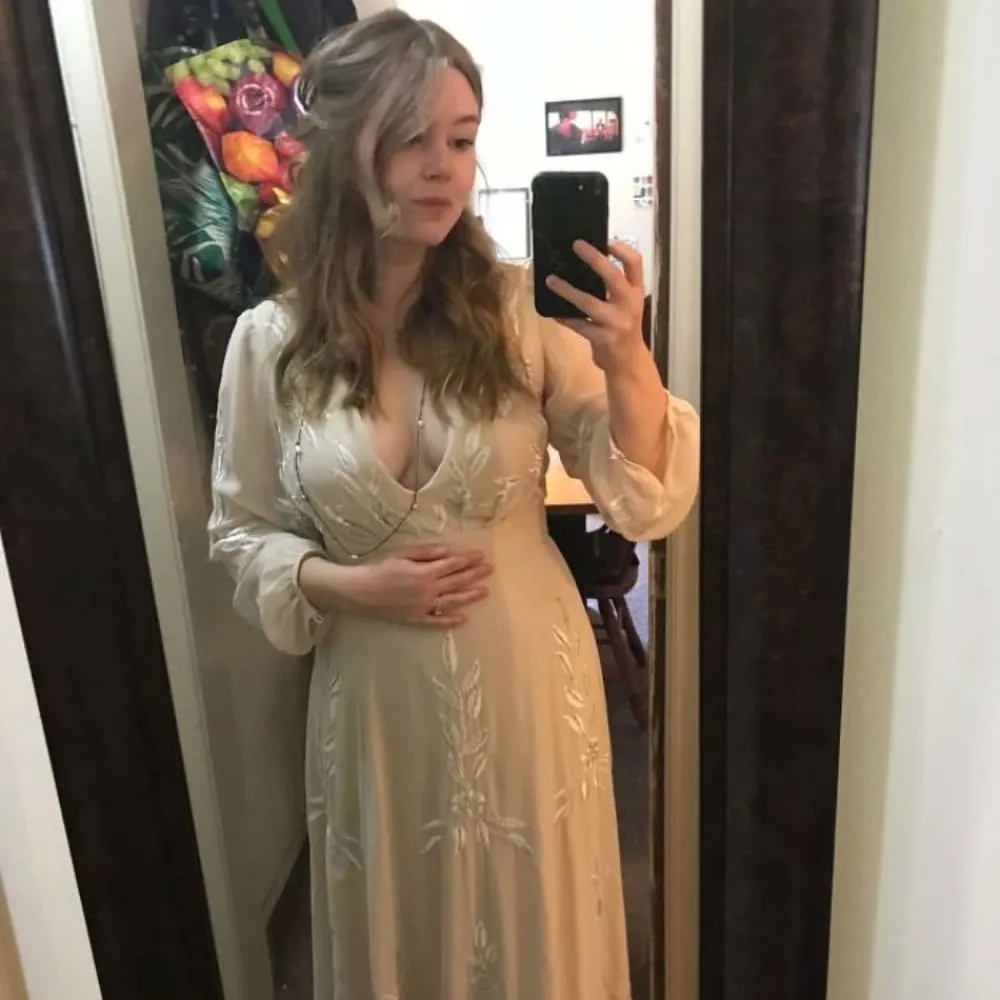 The balloon sleeves are fun and fresh, whilst the lace gives us all of the magical vibes. Don't give up on finding the dress of your dreams! The thrift store might be the answer.
A True Bridal Bargain
You won't believe that this dress cost only $12! That's right — with some savvy shopping skills, you can find a gorgeous wedding dress for less than the price of a Domino's pizza. This bride couldn't believe her luck when browsing the racks at her local thrift store.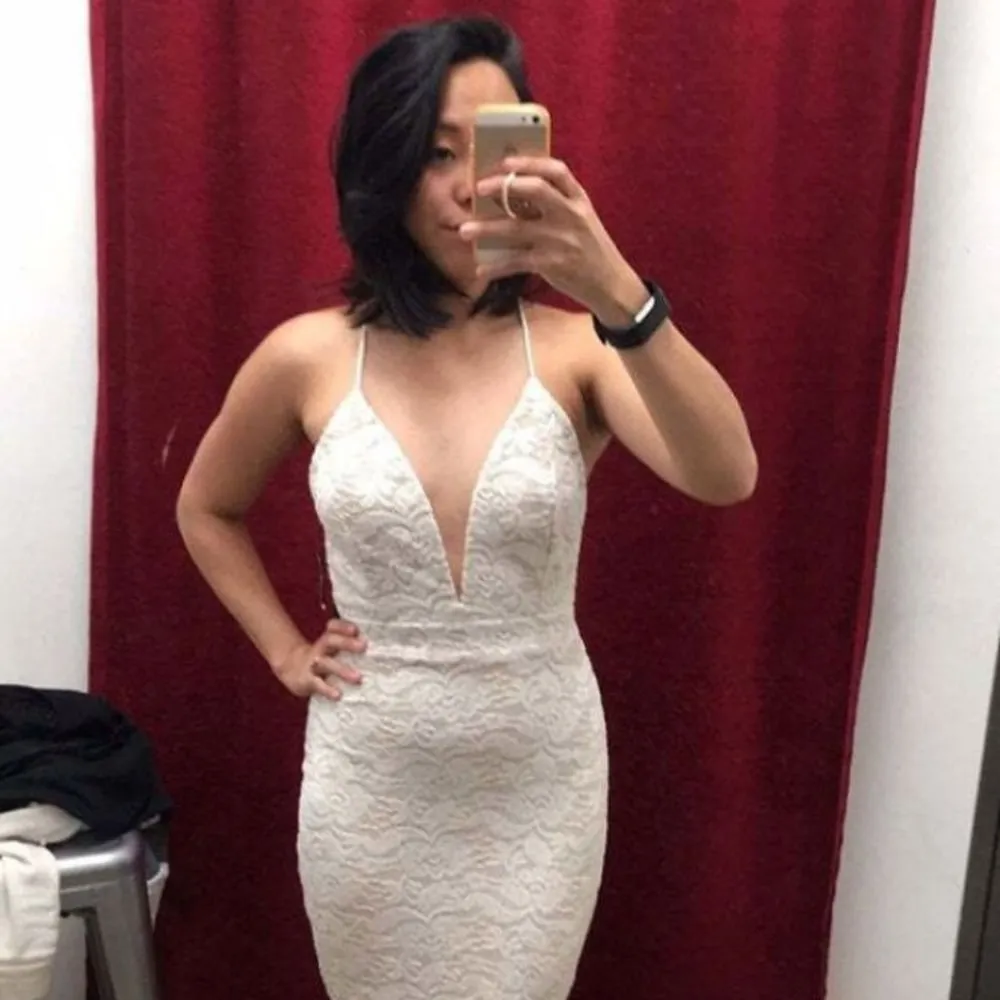 Whilst this form-fitting gown may not have originally been designed as a wedding dress, it's a perfect bridal look for a modern and casual wedding. We love the lace and deep 'V' neckline.
Lucky Lady in Lace
There's no feeling like standing in a fitting room and snapping the 'I just found my wedding dress' selfie! This bride did not have to head to any expensive, upmarket bridal boutiques. Yep, you guessed it — she got her dream wedding dress at a thrift store.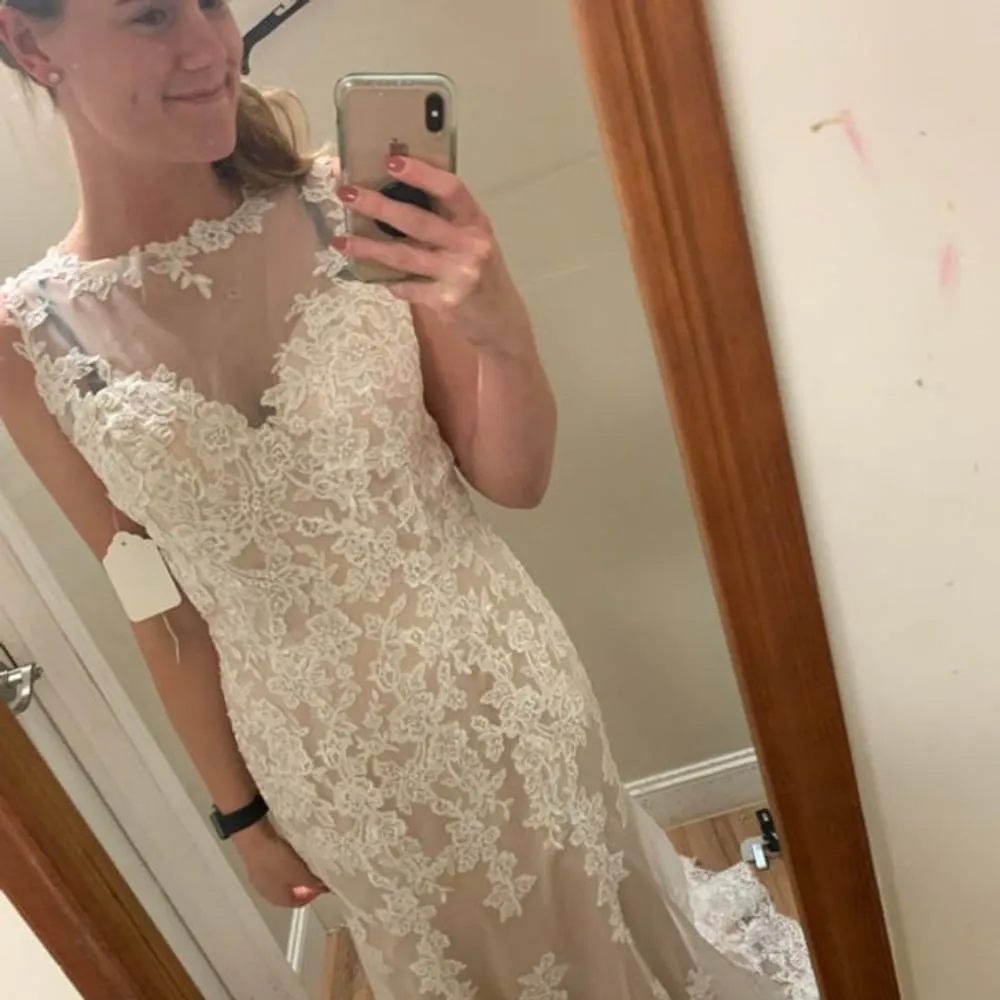 You don't have to sacrifice style when shopping secondhand, as this gorgeous gown demonstrates. The head-to-toe lace creates a striking yet classic look, and it's the perfect fit! What a find.
Fabulous Thrifted Find
Trumpet style wedding dresses are all the rage right now, and we can see why! The pool of lace left at the bottom of this silhouette is just so romantic. This bride couldn't believe her luck when she came across this second-hand bargain whilst shopping online.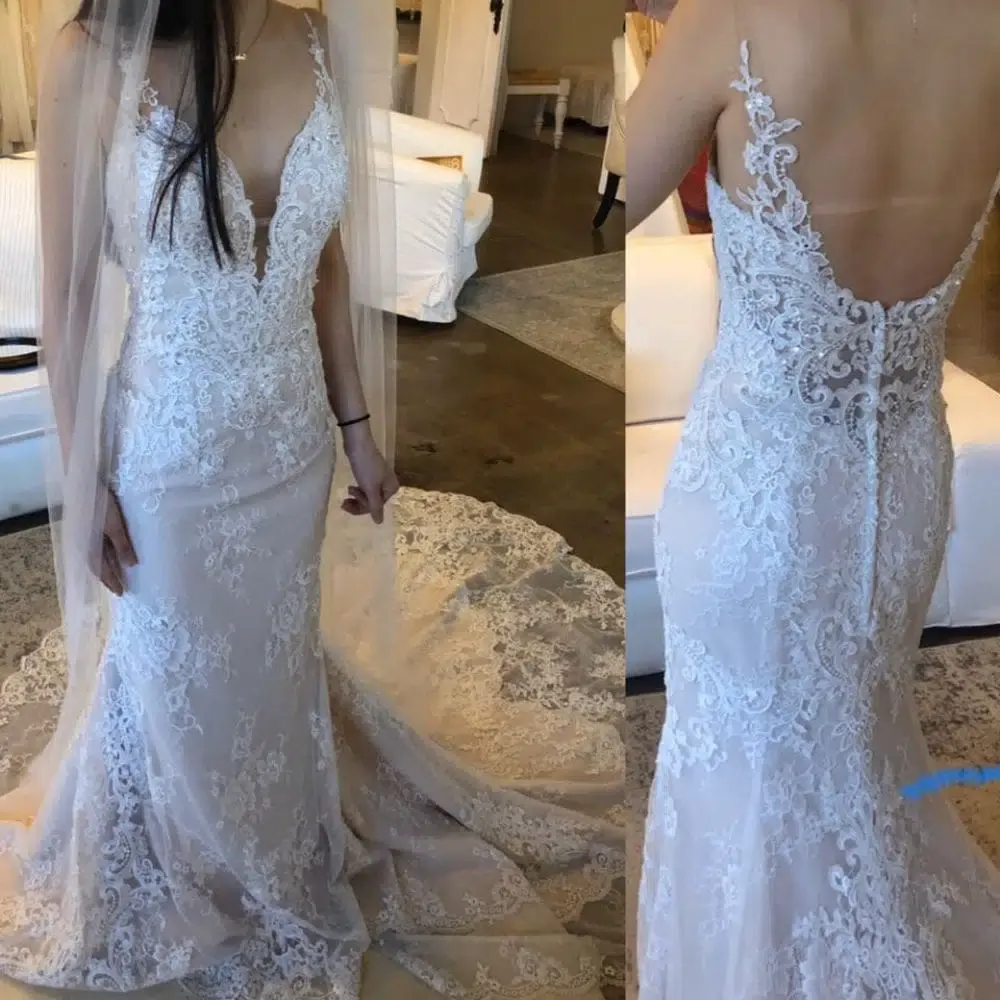 After a few alterations here and there, she was wearing the dress of her dreams. It's a striking dress that suits the young bride, with a dramatic deep 'V' neckline and all-over lace.
Dream Dress Double Whammy
This bride could not believe her luck when she found not only one thrifted wedding dress, but two! She now has one to wear for her ceremony and a shorter option for dancing the night away at the reception.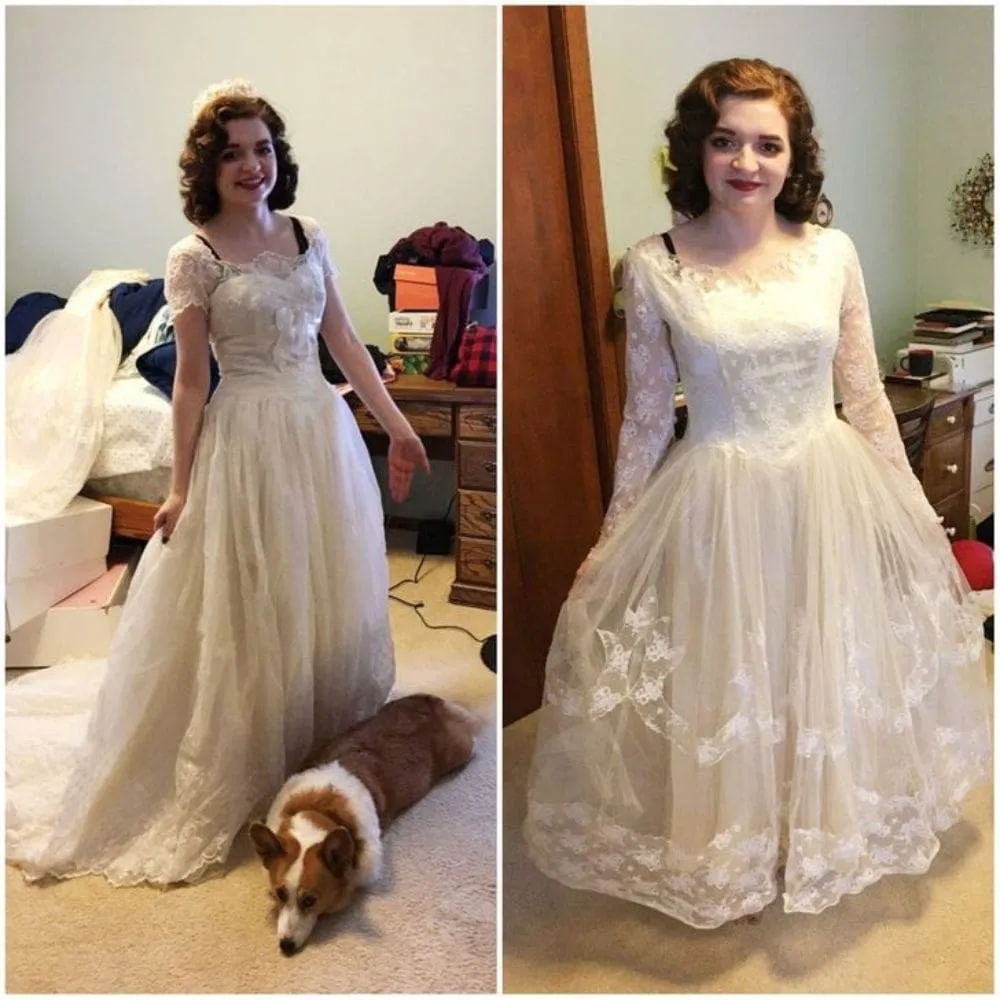 The first dress is classic and elegant with its longer length, illusion neckline, and bow. The second dress, on the other hand, is a 1950s-inspired tea dress, with long sleeves and a full skirt perfect for twirling on the dancefloor. We love them!
Updated '80s Gown
Vintage dresses have plenty of charm and personality. However, some styles are simply too dated to work in this day and age. This 1980s gown is a perfect example, with its outrageously puffy shoulders and shiny satin skirt. But, you don't have to throw your retro gown out the window — talented dressmakers can completely transform wedding dresses to suit your desired style.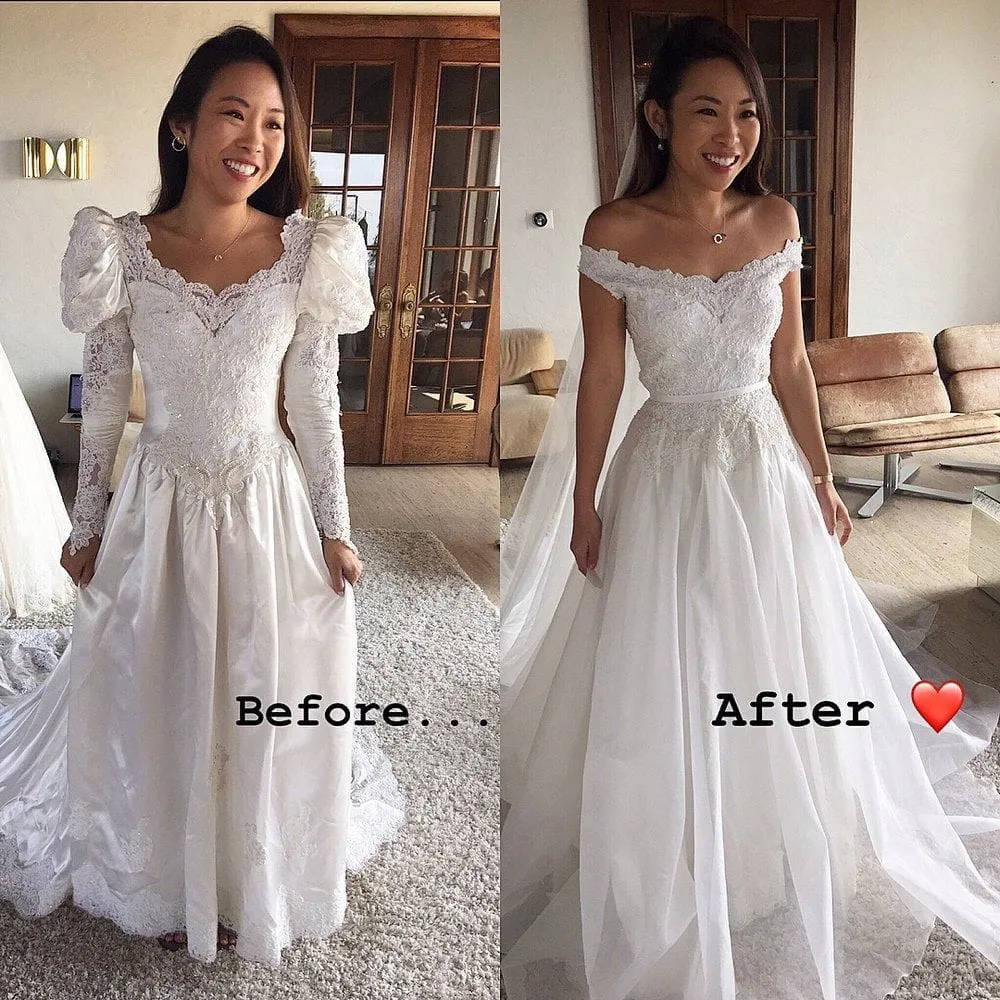 This bride traded the '80s look for a gorgeous off-the-shoulder design that transforms the gown into a modern-day piece of art. It's so gorgeous!
Vintage Dress Transformation
This is another example of a vintage dress that has been transformed and updated for the modern bride. When this bride came across this long-sleeved, lace gown, she knew that she had found the one. But, it needed some contemporary touches to make it appropriate for her wedding.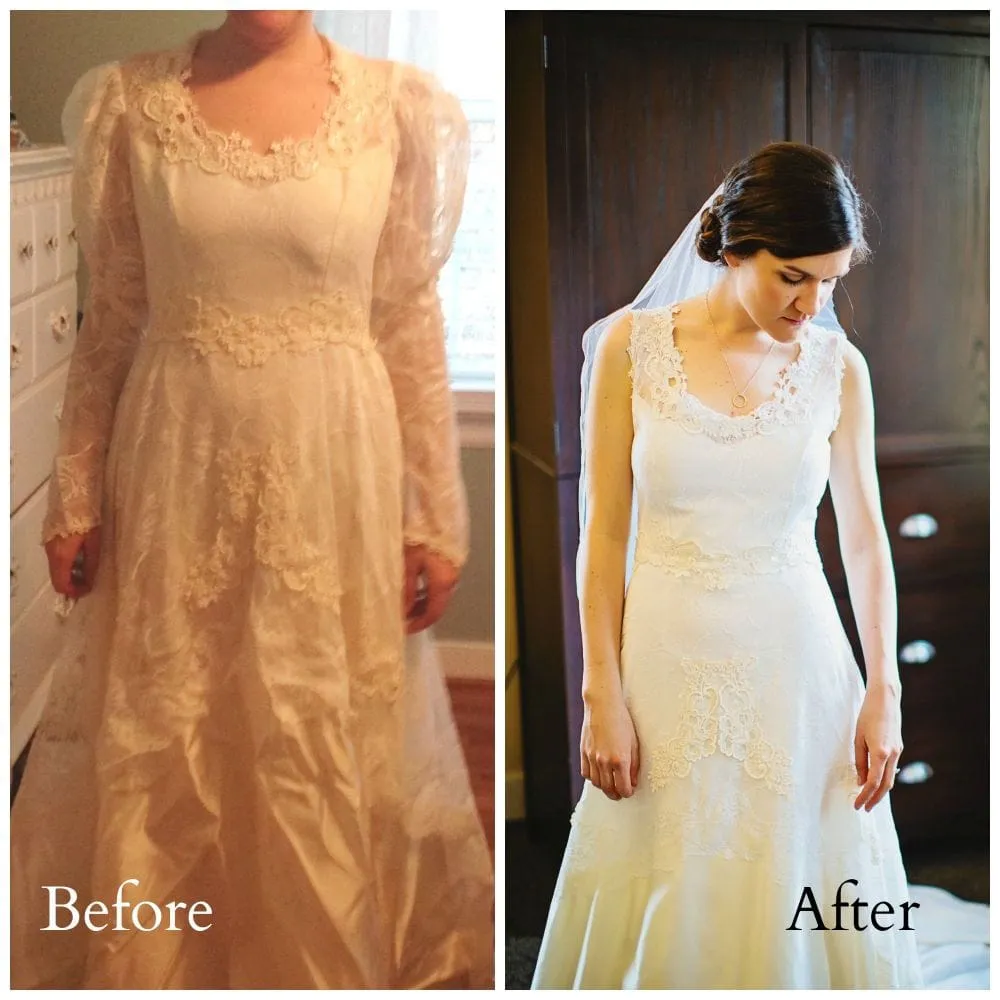 Fast forward a few months later and she was wearing the dress of her dreams. A handy seamstress worked her magic, removing the sleeves and altering it to fit the bride's frame.
Frumpy to Fabulous
This thrift transformation will surprise you! The first image shows the bride in a secondhand wedding dress from decades ago. Not only does it drown her frame, but it looks completely dated and dreary. Instead of splashing cash on a brand new gown, she decided to get creative.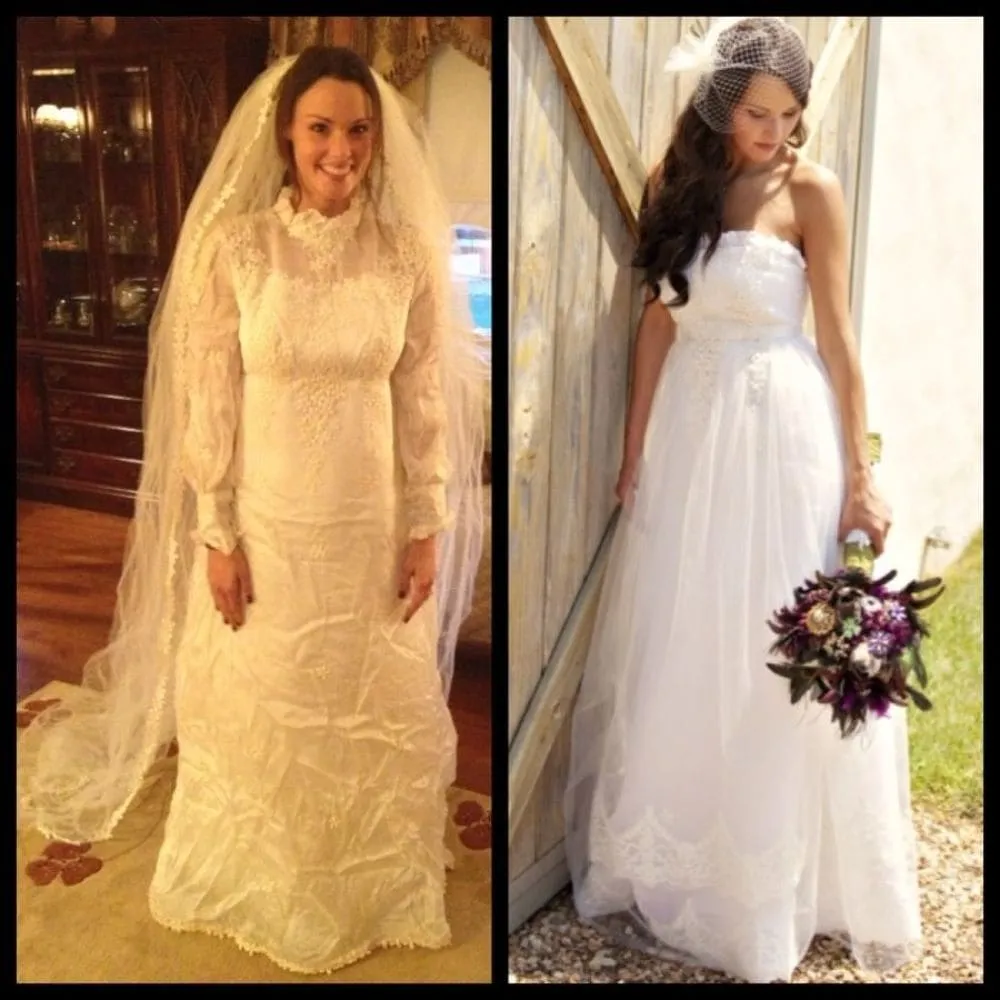 It's hard to believe that the second photo is of the same dress. Gone are the frumpy long sleeves and stuffy high neckline. Now, she wears a stunning strapless, empire-line wedding dress.
Tulle and Lace Perfection
We would definitely get down on one knee for this stunning thrifted dress! It's truly special — with a 'V' neckline, floral lace, and a beautiful, flowing tulle skirt. This definitely looks like the type of dress that you would purchase from a designer bridal boutique.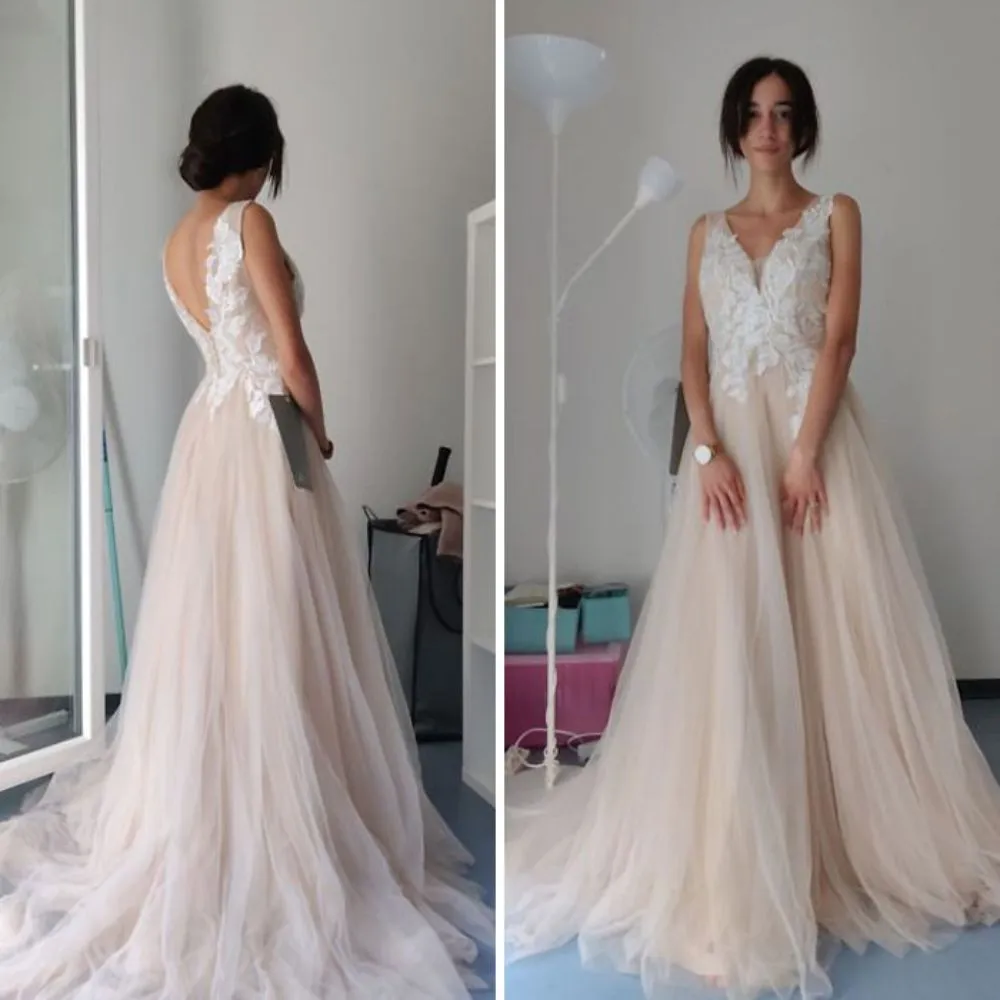 Instead, this bride found her dream gown at a second-hand wedding dress outlet. So, not only does she get to wear a stunning gown on her big day, but she also saved heaps of money in the process!
Adding Finishing Touches
Buying a thrifted gown is an excellent way to save money on your wedding whilst also protecting the environment and preventing fabric waste. However, sometimes when you buy a second-hand wedding dress, it isn't quite perfect.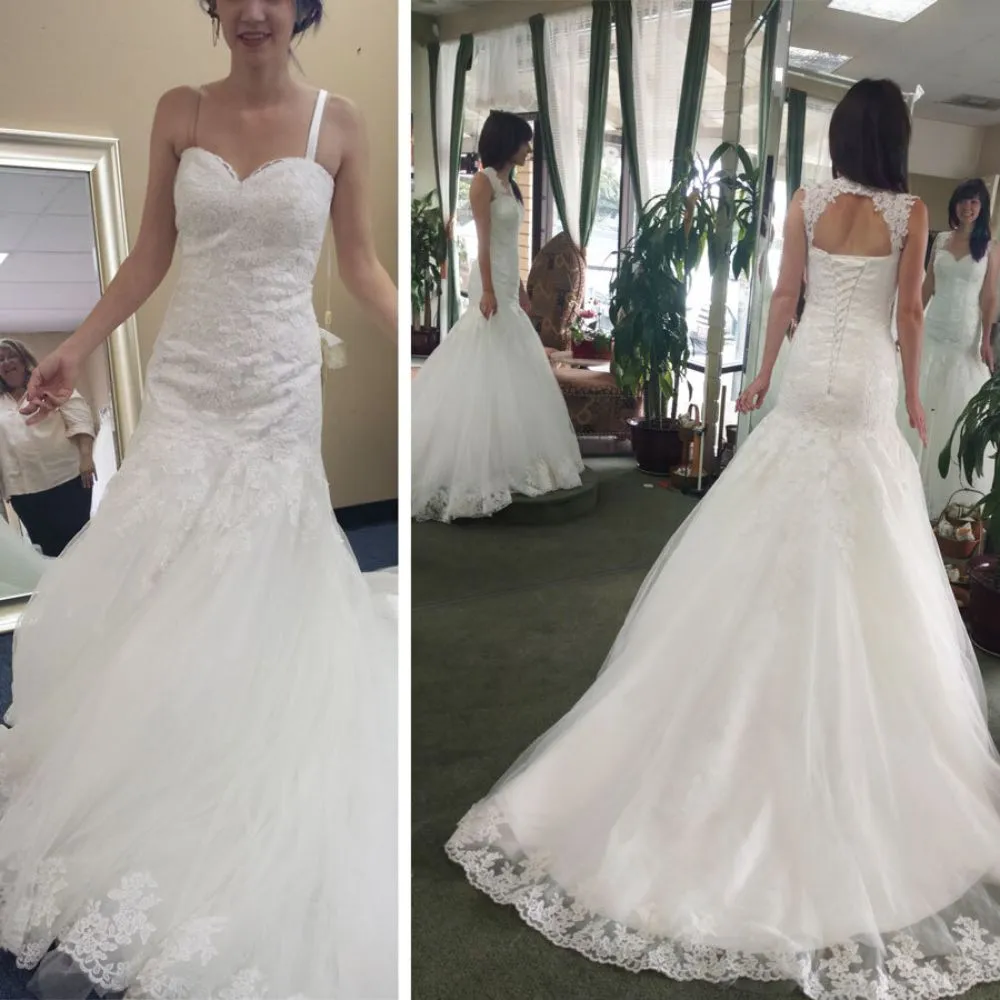 This bride liked her dress, but decided that she would prefer it if it had slightly thicker — lace — straps. So, she found a talented seamstress who was able to attach handcrafted lace straps, giving this bride her dream look for the big day!
A Touch of Movie Magic
This bride got lucky when she found this vintage wedding dress at a thrift store. It's an almost exact replica of Kimberly Williams-Paisley's lacy white number in cult 1990s comedy Father of the Bride. If you're a fan of the film, you'll love this look!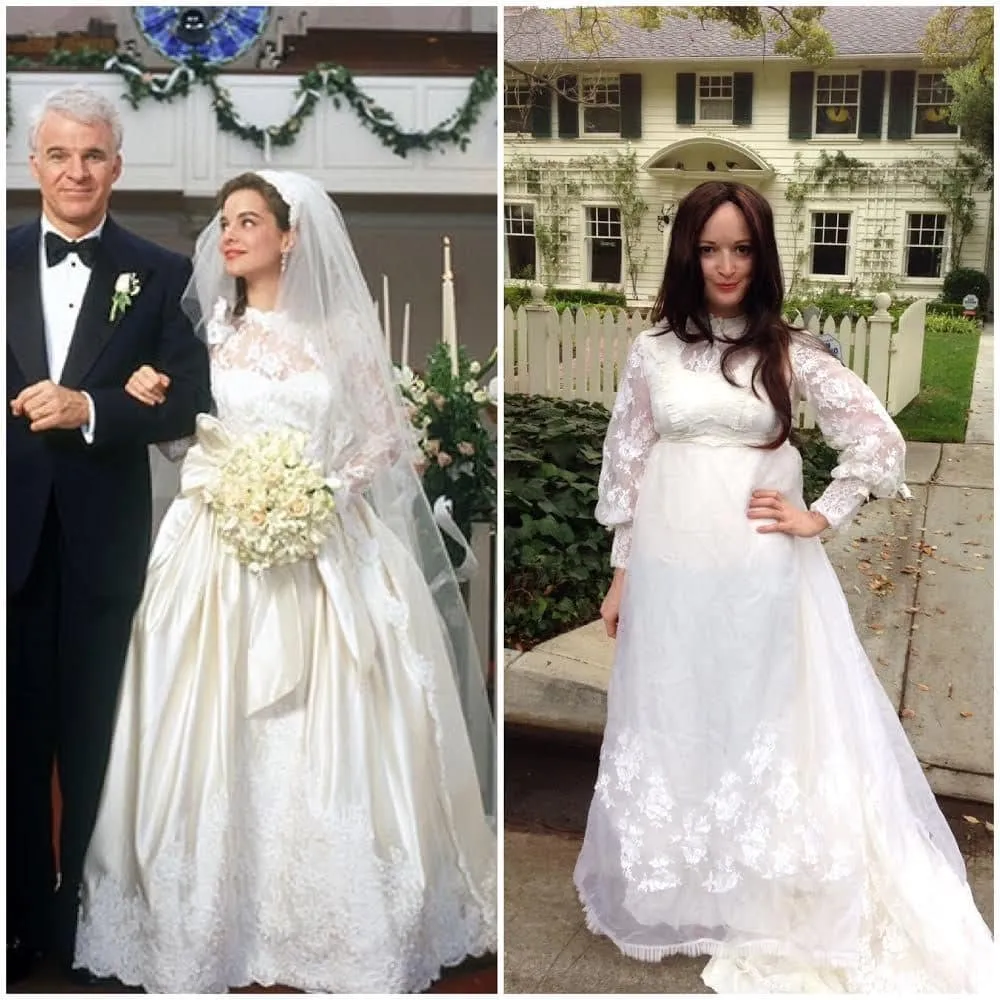 But even if you've never seen it, you will still be able to appreciate the beauty of this traditional wedding dress. The empire-line cut creates a classic silhouette that will never go out of style.
Hat's Off to the Bride
Another impressive thrift transformation, this wedding dress began its life as a frumpy monstrosity. It was an unflattering, awkward mid-length gown with puffy 1980s sleeves and an unusual veiled bowler hat! This bride said no to the dowdy look and decided to overhaul the entire wedding dress to suit her personal style.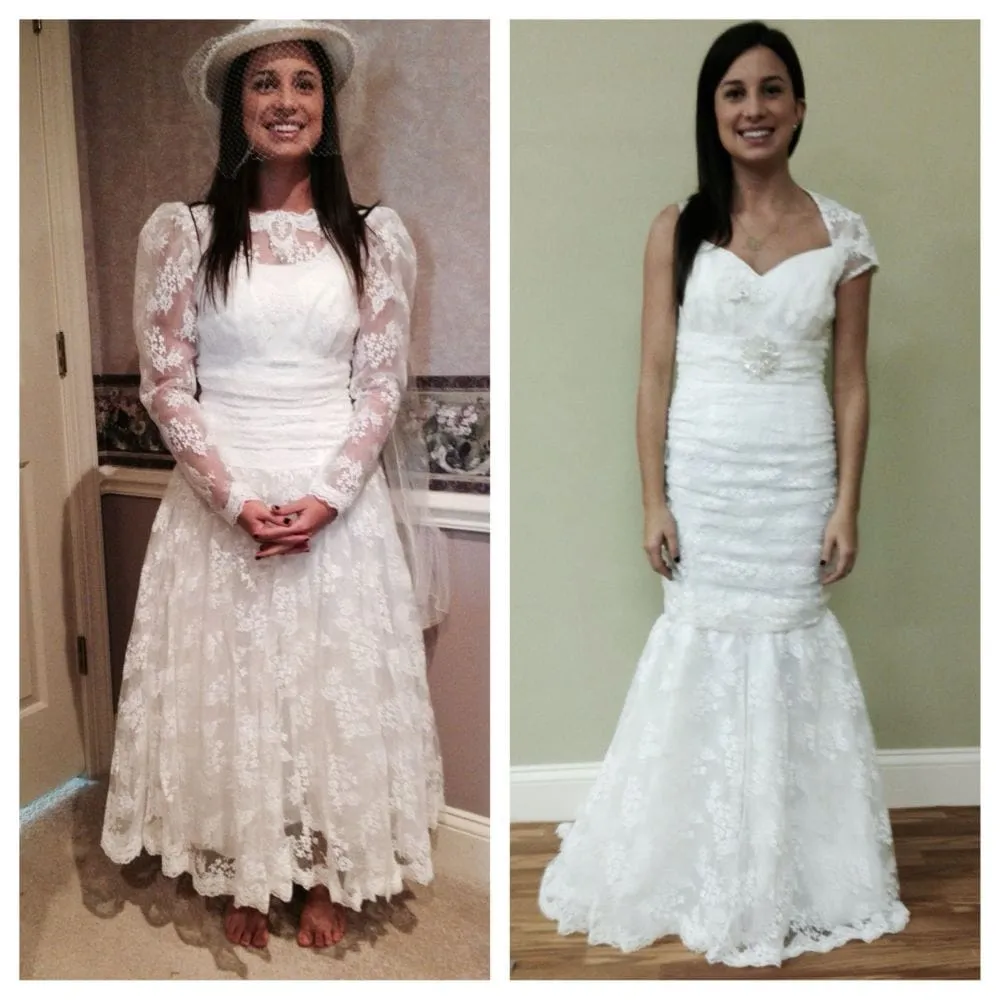 The result was totally impressive and the dress was unrecognizable. They kept the original bodice, adding a mermaid silhouette and cap sleeves for a sophisticated and contemporary touch.
A Huge Change
If the idea of being the center of attention on your wedding day gives you the creeps, you'll want to avoid sweeping ball gowns. This bride decided to reconstruct this retro thrifted wedding dress from top to bottom, turning it into a completely new design. Before, it boasted ginormous sleeves and a round, Renaissance-style skirt.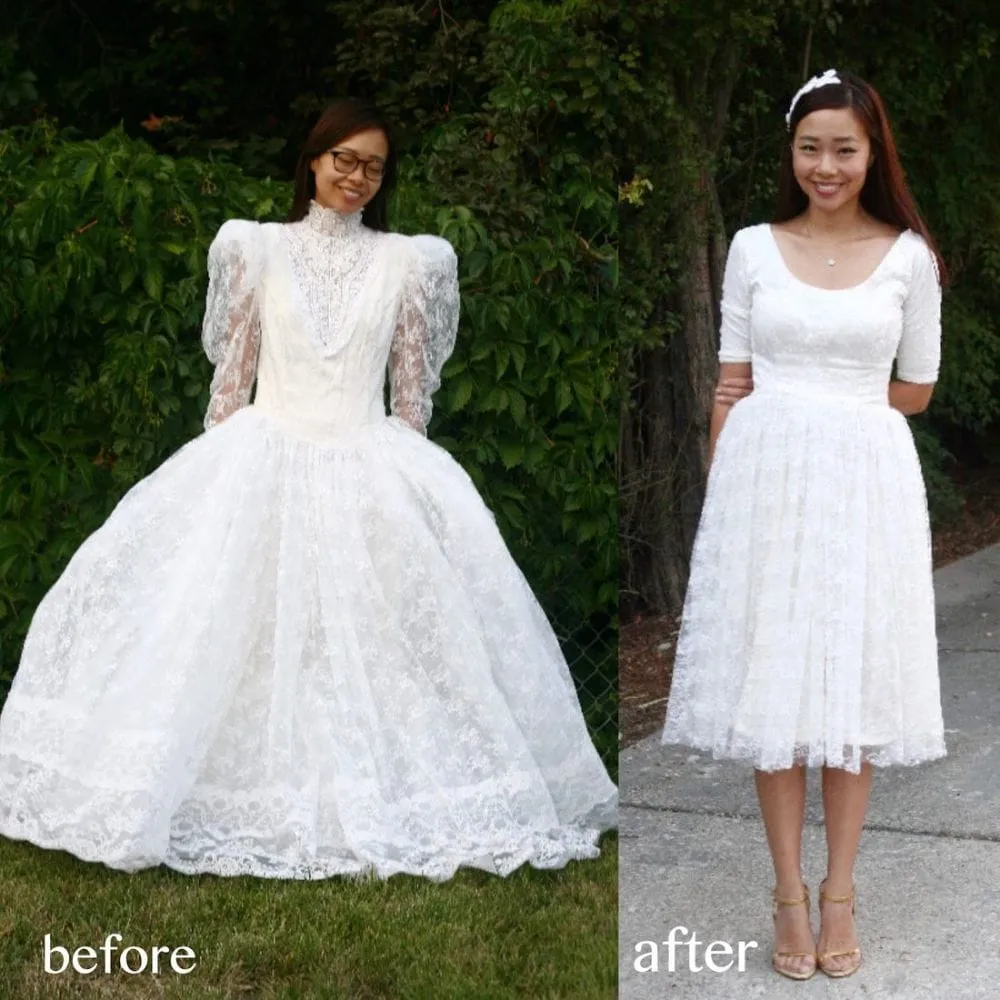 It looks totally different now! The sleek, short skirt is perfect for casual nuptials or elopement, while the round neck is feminine and sweet.
Happily Ever After
Will you take this dress to have and to hold from this day forward, for better, for worse, for richer, for poorer, in sickness and in health, to love and to cherish, till death do you part? We bet that the answer is yes.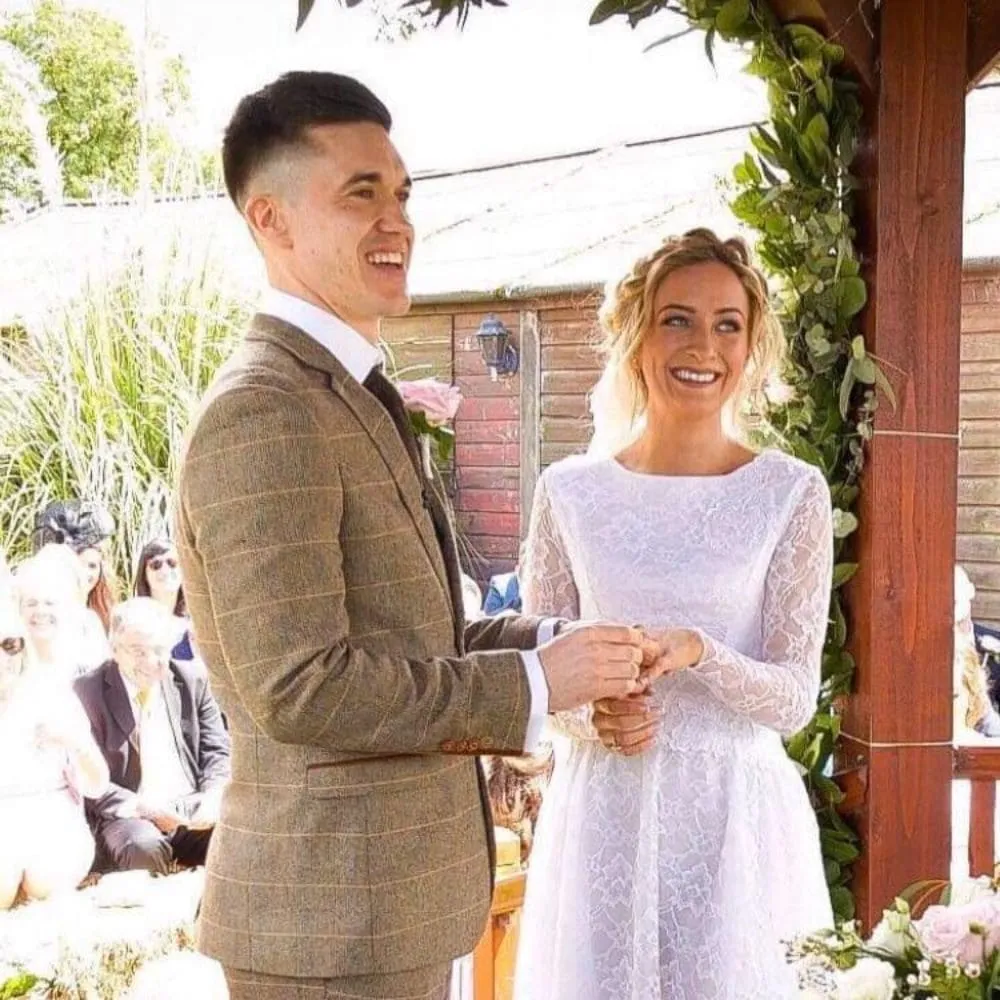 This thrifted wedding dress is a dream come true — with its elegant, long lace sleeves and round, prim, boat neckline. Paired with a chic, slightly messy up-do hairstyle, this bohemian bridal look is to die for.
Bows, Be Gone
We love a dramatic sleeve on a wedding dress. Give us long, sweeping poet sleeves, ladylike cap sleeves, dainty three-quarter length sleeves, or billowing balloon sleeves. We'll take them all. However, this thrifted, vintage dress from the 1980s takes the sleeve trend way too far.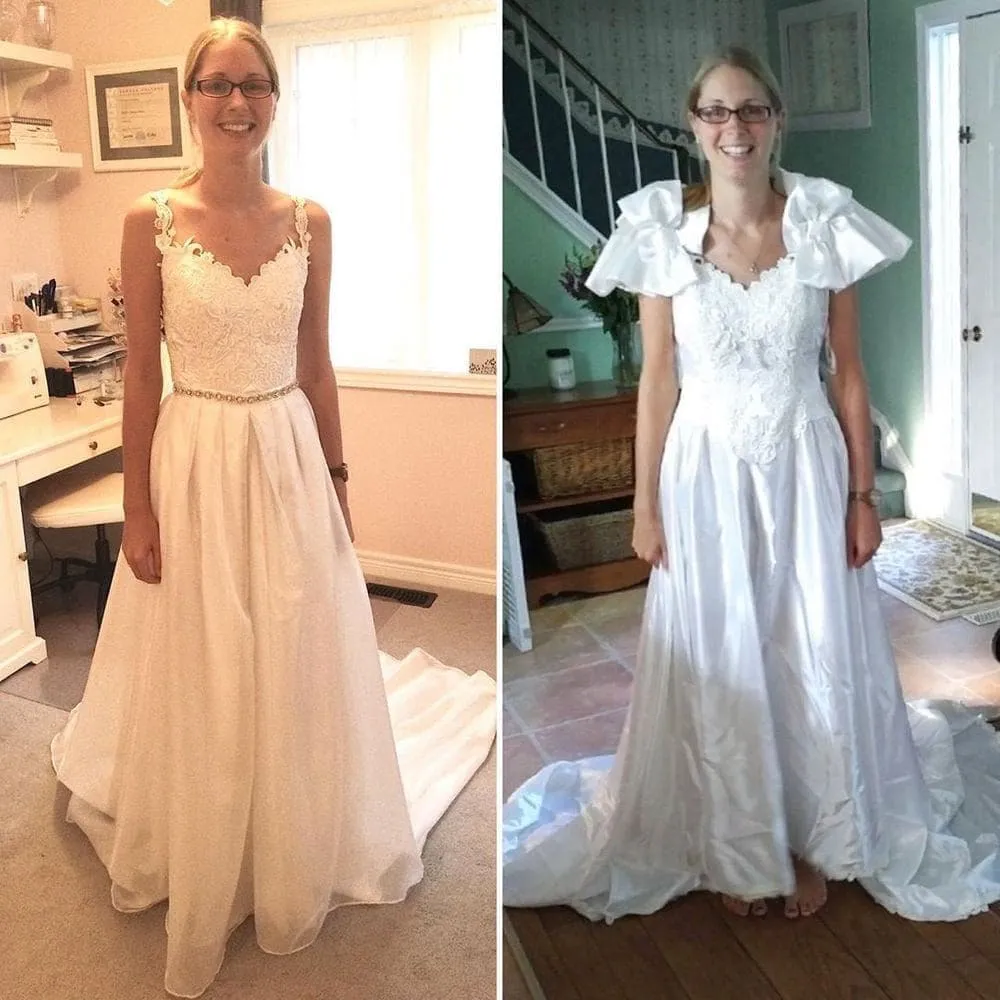 The bride in question did not hesitate to remove the giant bow sleeves on this gown, replacing them with some simple, lacy straps. The resulting look is much more modern and flattering than the original.
Flower Crown Queen
If you saw the original dress before it had been given a complete makeover, you would never guess that it would make a stunningly modern, minimalist wedding gown. This bride found her wedding dress at a thrift store, embarking on a DIY project that would see her become a beautiful, boho bride.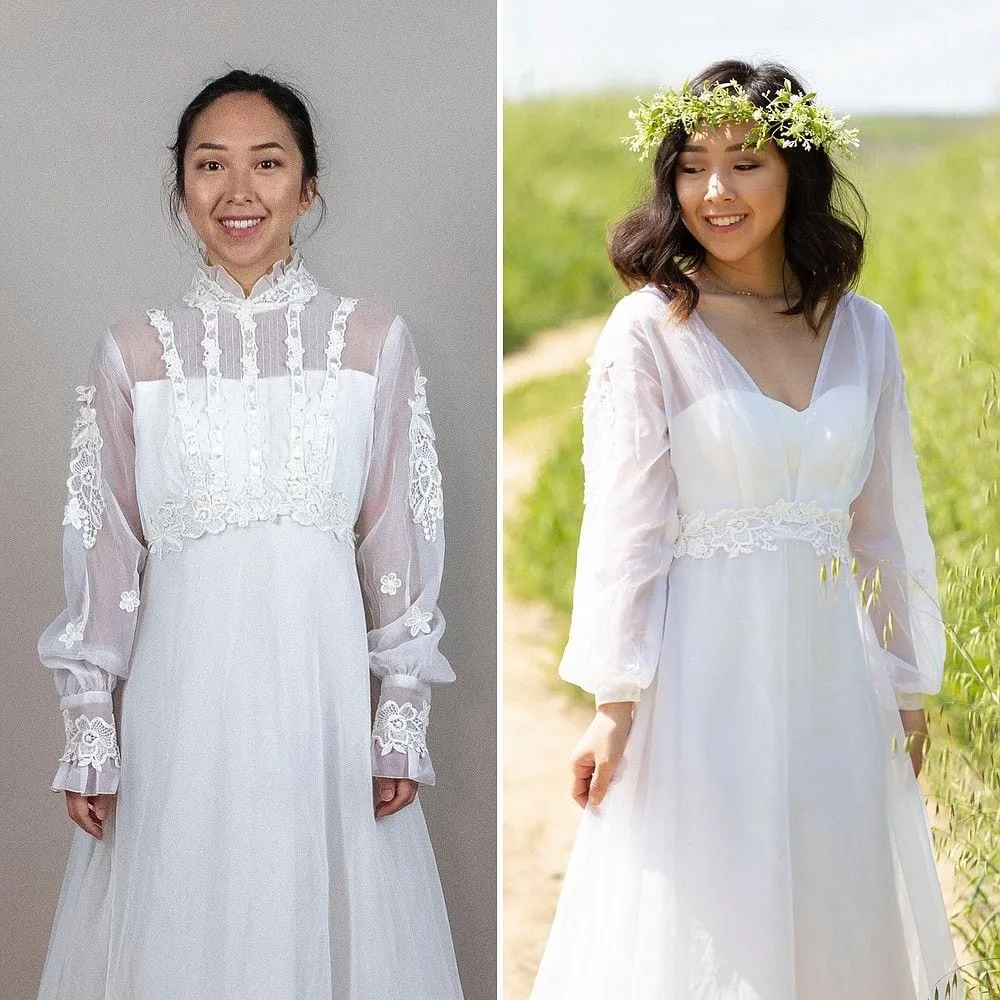 The Queen Anne neckline adds sophistication, while she kept some of the lace detailing of the original design, moving this to instead focus on the nipped-in empire waist.
Princess Bride Potential
If you saw this dress being modeled on the catwalk of an exclusive bridal couture designer, you wouldn't bat an eyelash. It has all the hallmarks of a high fashion gown — with its delicate lace sleeves, expensive-looking fabric, and elegant A-line shape. The bride's low, messy bun adds some model-off-duty chic to the look.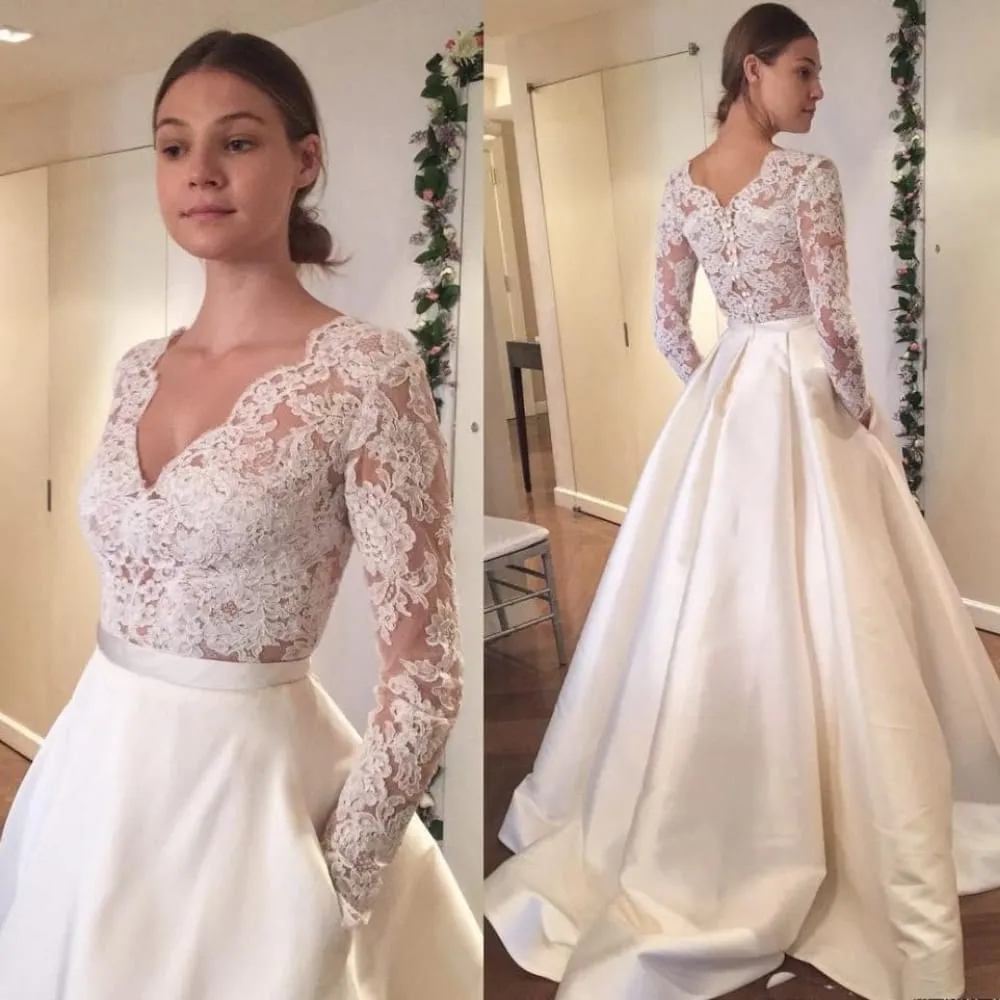 Keep an open mind when looking for your wedding dress and you might just come across something similarly special when browsing second-hand stores.
Show Off Your Ink
If you're a tattooed woman, you've probably been subject to some criticism from members of the older generation. Ya know, those who ask, "What will those look like on your wedding day?" Next time, instead of rolling your eyes and telling them where to go, just show them this photo!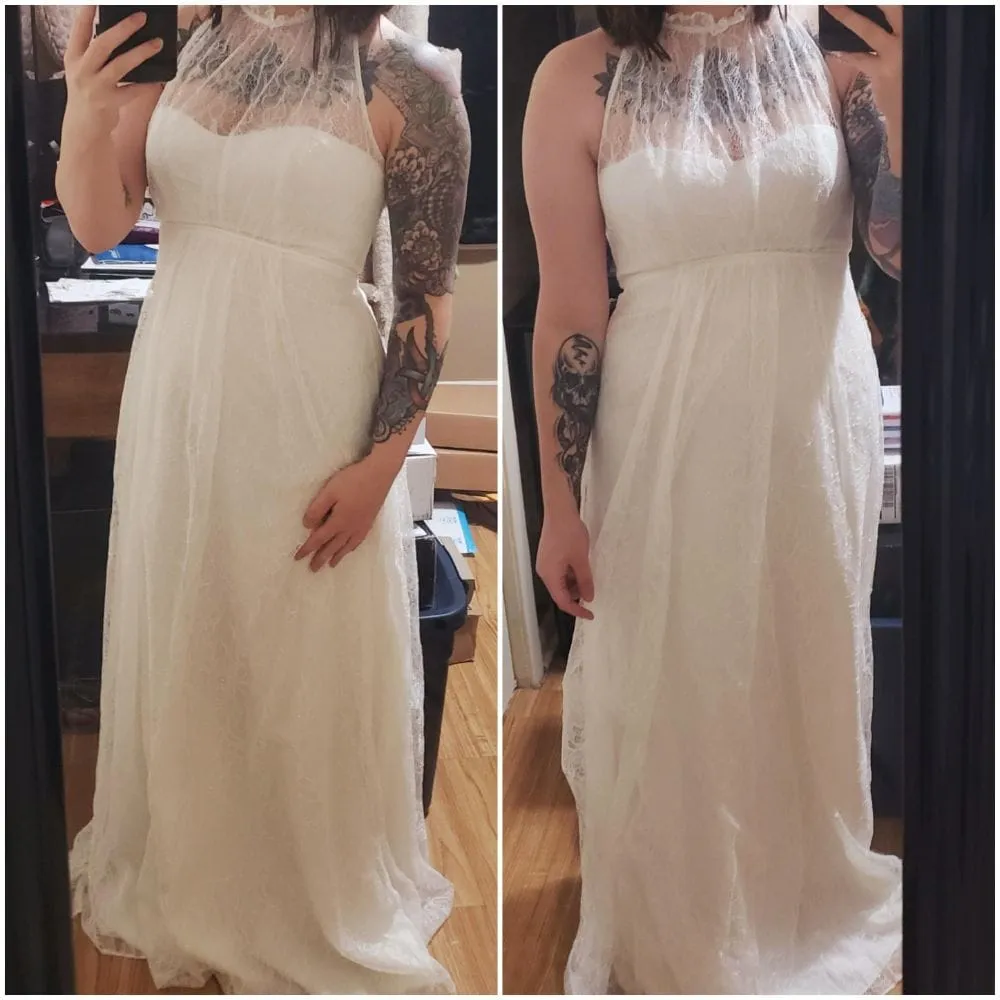 This bride found the perfect secondhand wedding dress to compliment her ink. The illusion halter neck style with sheer fabric perfectly showcases her tattoos and highlights her edgy, fun personality.
The New Classic
Don't let the events of this chaotic year ruin your big day. Support local and small businesses by shopping in secondhand stores, like this beautiful bride! She decided to go for a long, form-fitting trumpet style gown with a deep 'V' neckline.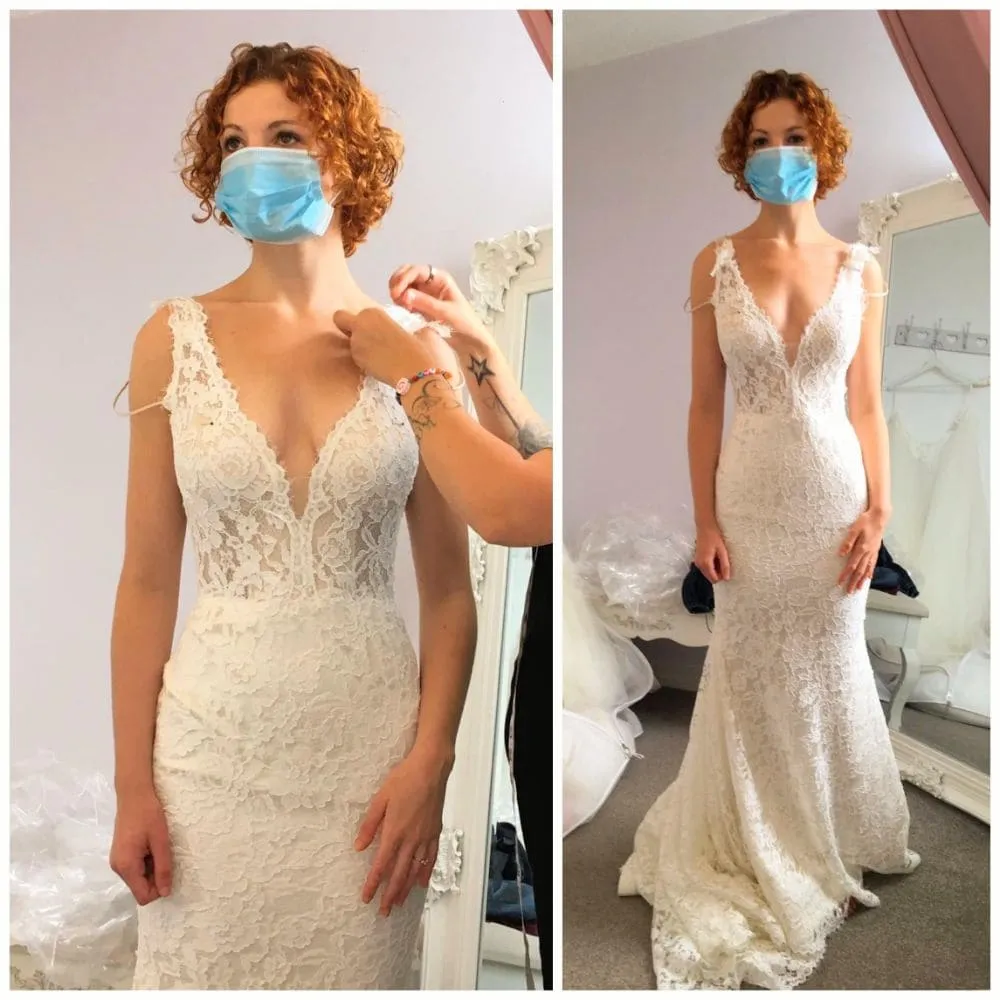 The resulting look is mature yet youthful, revealing yet classy, and modern yet traditional. Even if your ceremony needs to be scaled down, make sure that you don't settle for less than perfect with your dress!
Caped in Ivory
Whether you believe it or not, this wedding gown actually started out as a bridal party dress. Rather than shelling out tons of money on a traditional wedding dress, this gal decided to order the bridesmaid dress in an ivory color and cover it with a cape.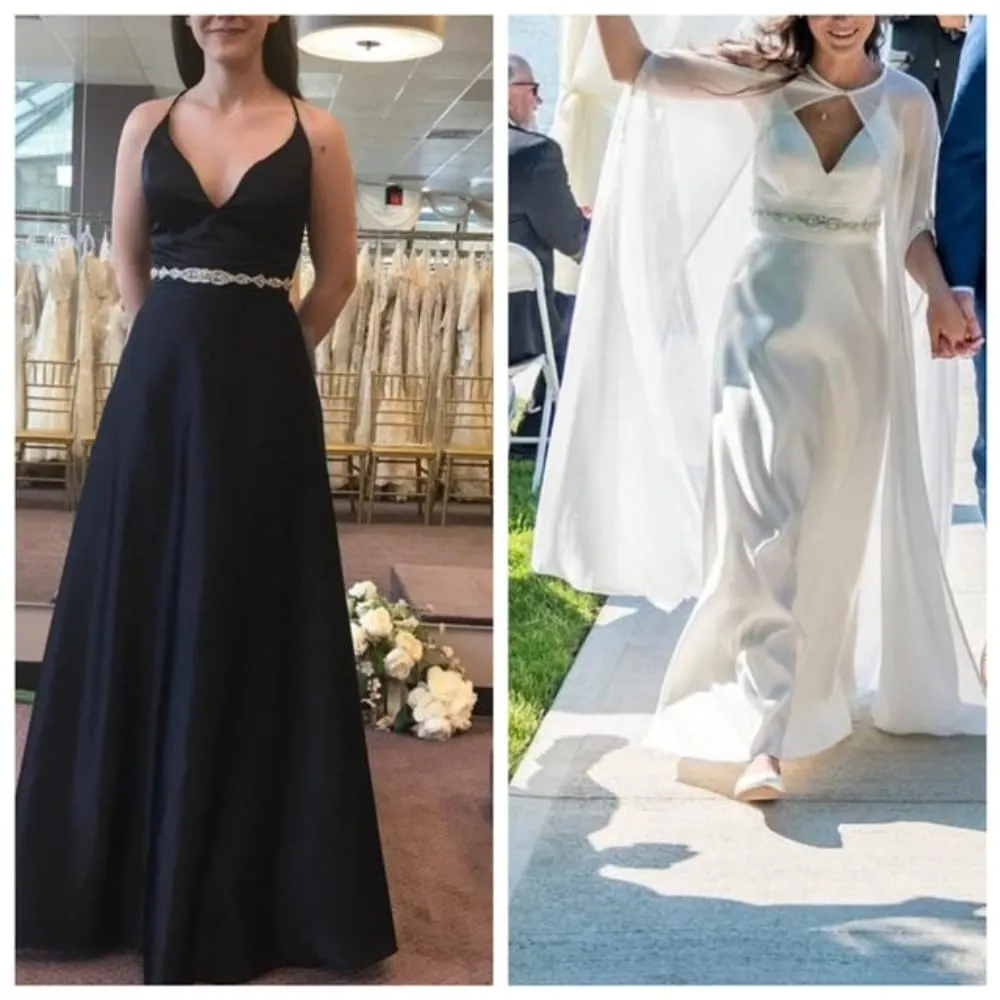 The result is proof that you don't need to break the bank to feel and look good on your big day. Sometimes, all it takes is just a bit of creative thinking.
"I Love It"
Some things are truly meant to be — like this lady and her dress, for instance. Gone are the days that you're forced to shop at a bridal shop to find the wedding gown of your dreams.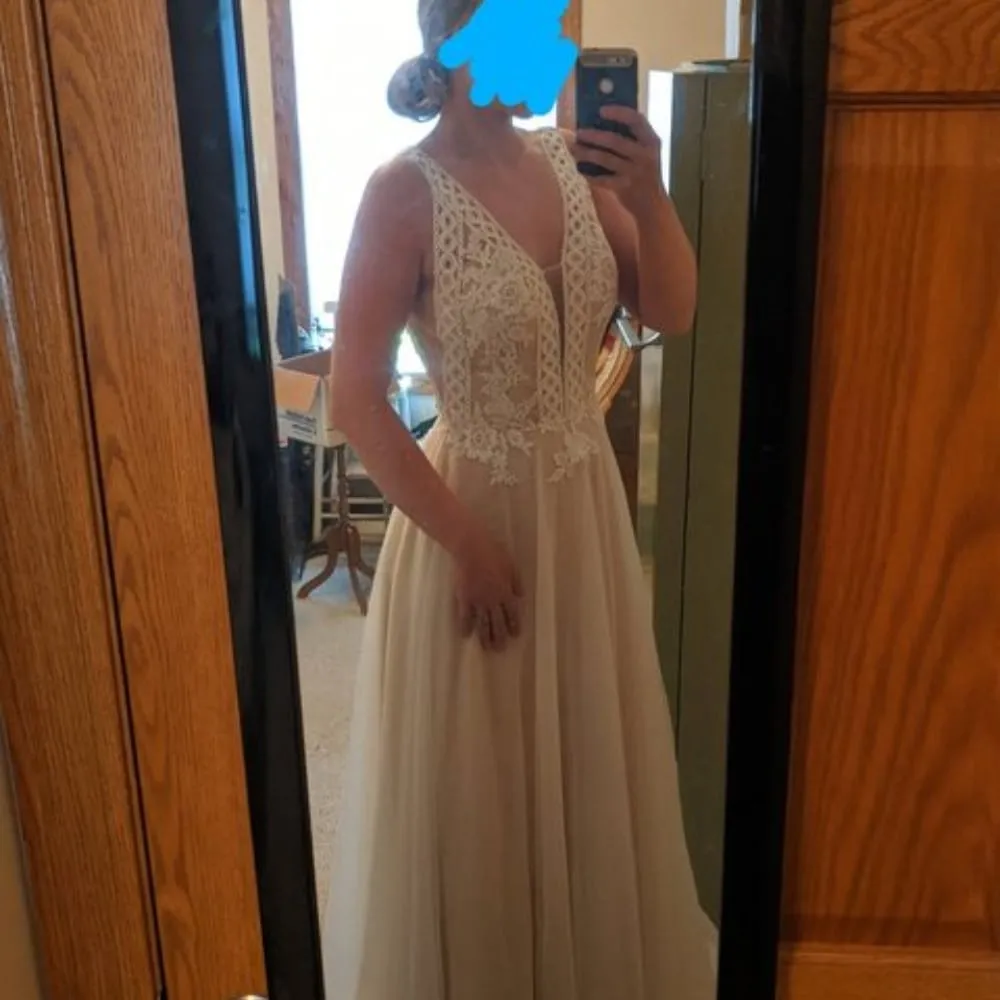 Nowadays, you can say yes to the dress at a thrift store, secondhand shop, or even online! Reddit user u/petitpoirier ordered her dress online for a fraction of the price that you'd normally see at a bridal store and that's exactly why she made it on to this list!
Six Dollars
Get this, people — this bride-to-be found her dress at Goodwill for six dollars. SIX DOLLARS! And according to the lady herself, the gown "fits like a glove and needs very minimal alterations, so I'm feeling incredibly lucky right now."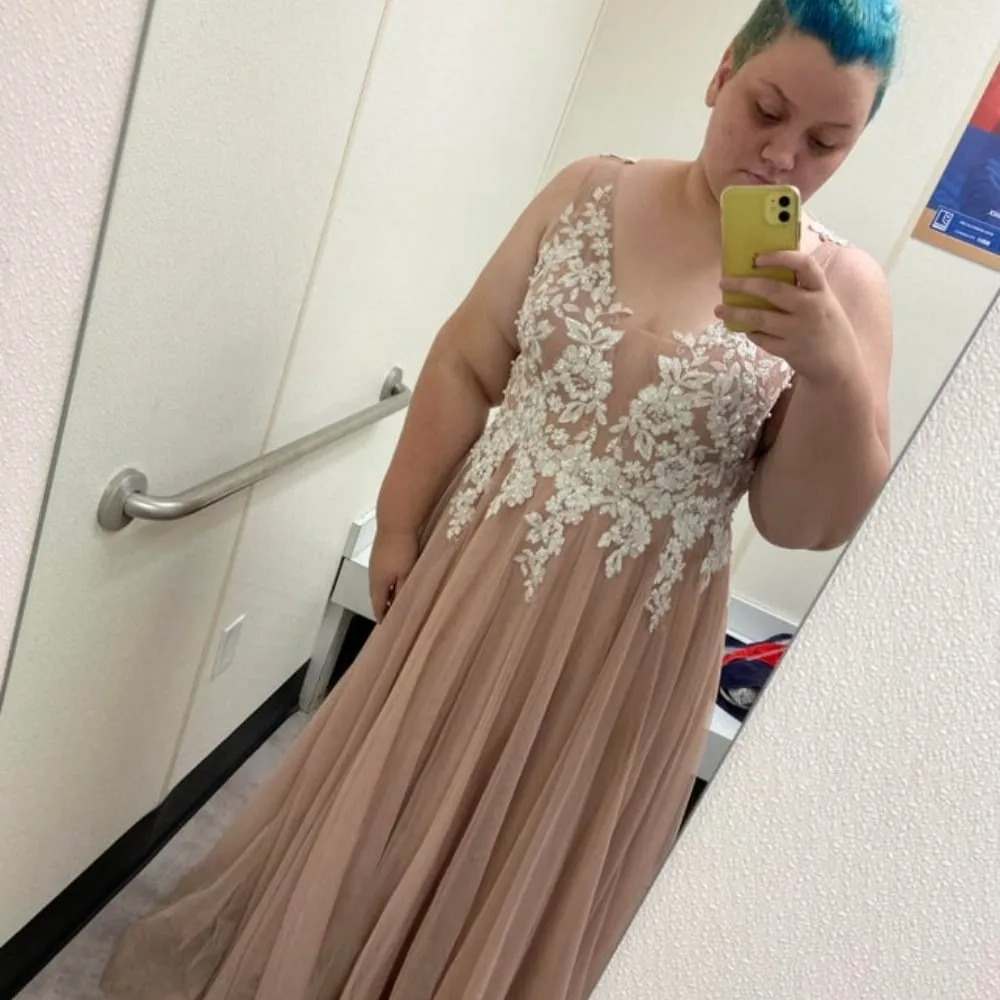 Well, we would be, too! The only change that this gal made to her dress was swapping out the current beige liner for a lighter one to give it a more bridal feel. We bet she looked absolutely stunning on her special day!
Take the Plunge
And here we have yet another bargain steal, all thanks to the wonders of the internet. While some are skeptical about ordering clothes online for fear that they may not fit the right way, there are others that decide to take the plunge.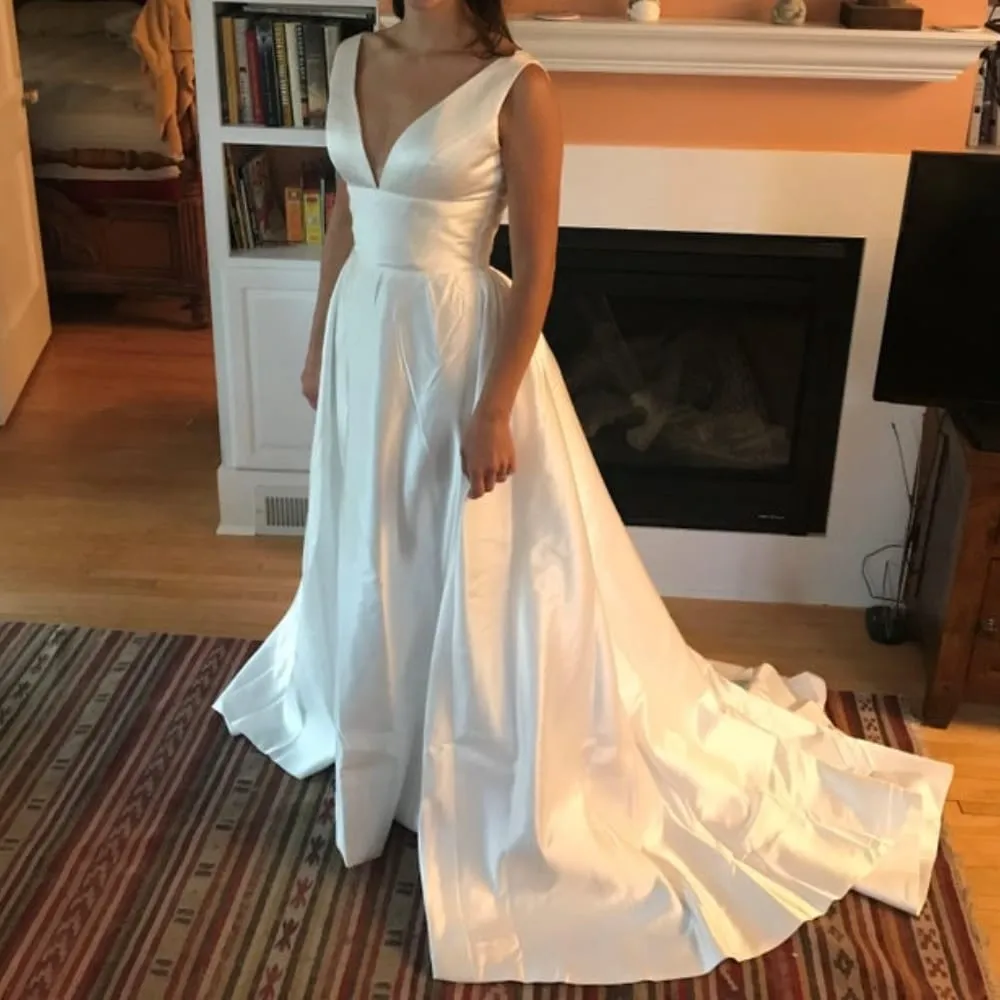 This bride-to-be bought her dress for less than $100! Can you guess where she ordered it from? Well, Amazon, of course! How crazy is that?! You can literally plan your wedding using Amazon alone. Oh, technology.
The Ultimate Hack
Okay, so this bride found the ultimate hack when it comes to shopping for a wedding dress. It's an art, really. For those of you that are afraid to order your wedding gown online before trying it on, just do what this gal did.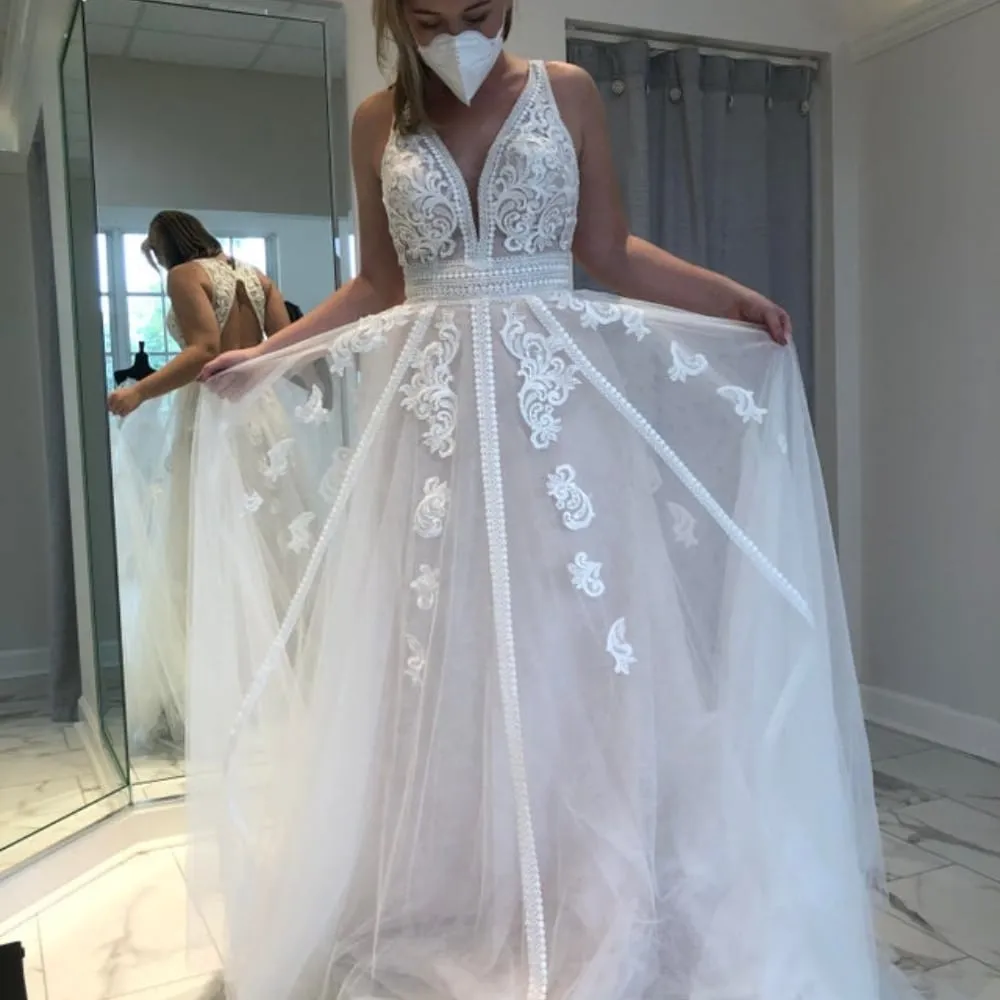 She went to a bridal shop and tried on a variety of dresses until she finally found the one! Then, rather than buying it right there and then, she bought the dress online for 70% off! Frankly, she sounds like a master. Perhaps she should become a wedding planner…
That Wedding Day Glow
This bride is absolutely glowing, and we can understand why! Not only did she get to marry her best friend, but she also found a way to do it on a budget! Her dress, which is absolutely stunning, cost $100 on Amazon — where she also bought her veil for an additional 10 bucks.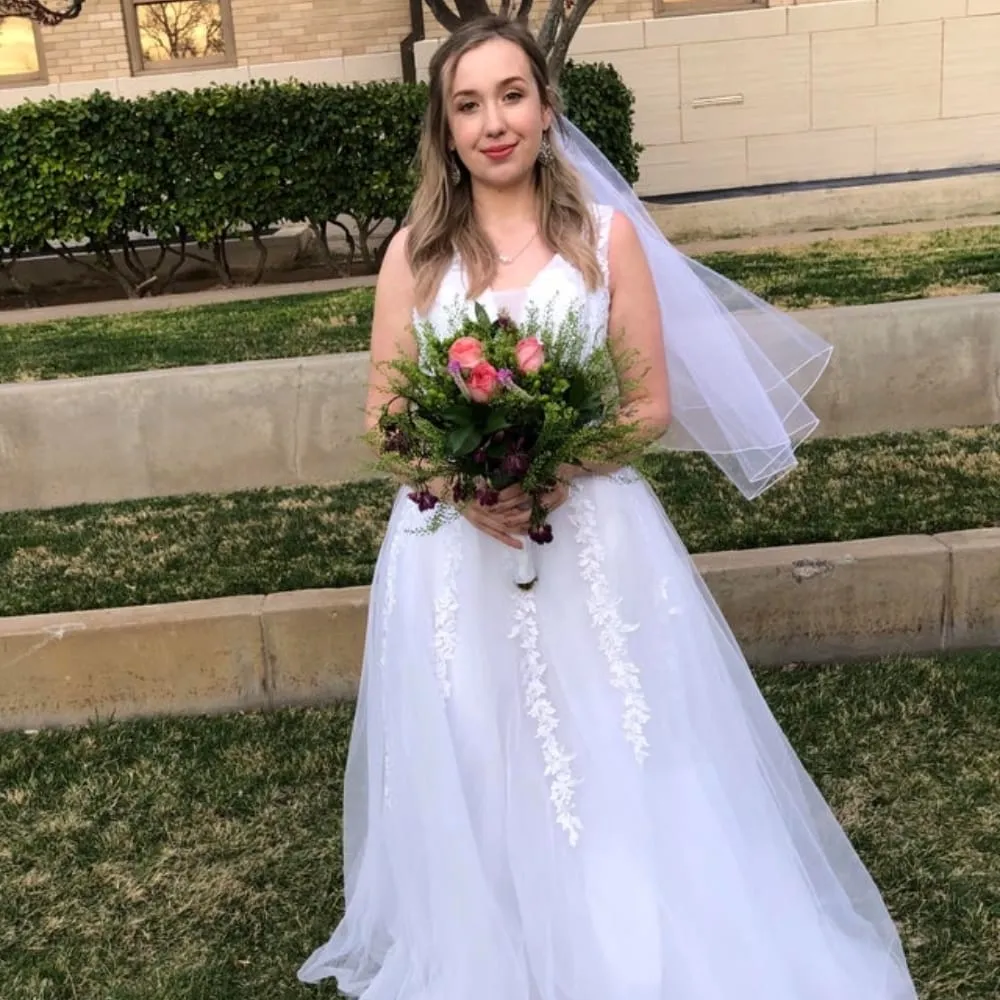 She then got her earrings from Walmart for two dollars, and her flowers from Albertsons for $25. And that, our friends, is how you have the perfect wedding without breaking the bank. Take notes!
Expand Your Horizons
Let's be real — the wedding gown pictured here fits this bride-to-be like a glove. And the best part is the fact that she found it at a secondhand store for $30, plus it's never even been worn! Ladies, this is what dreams are made of, are we right?!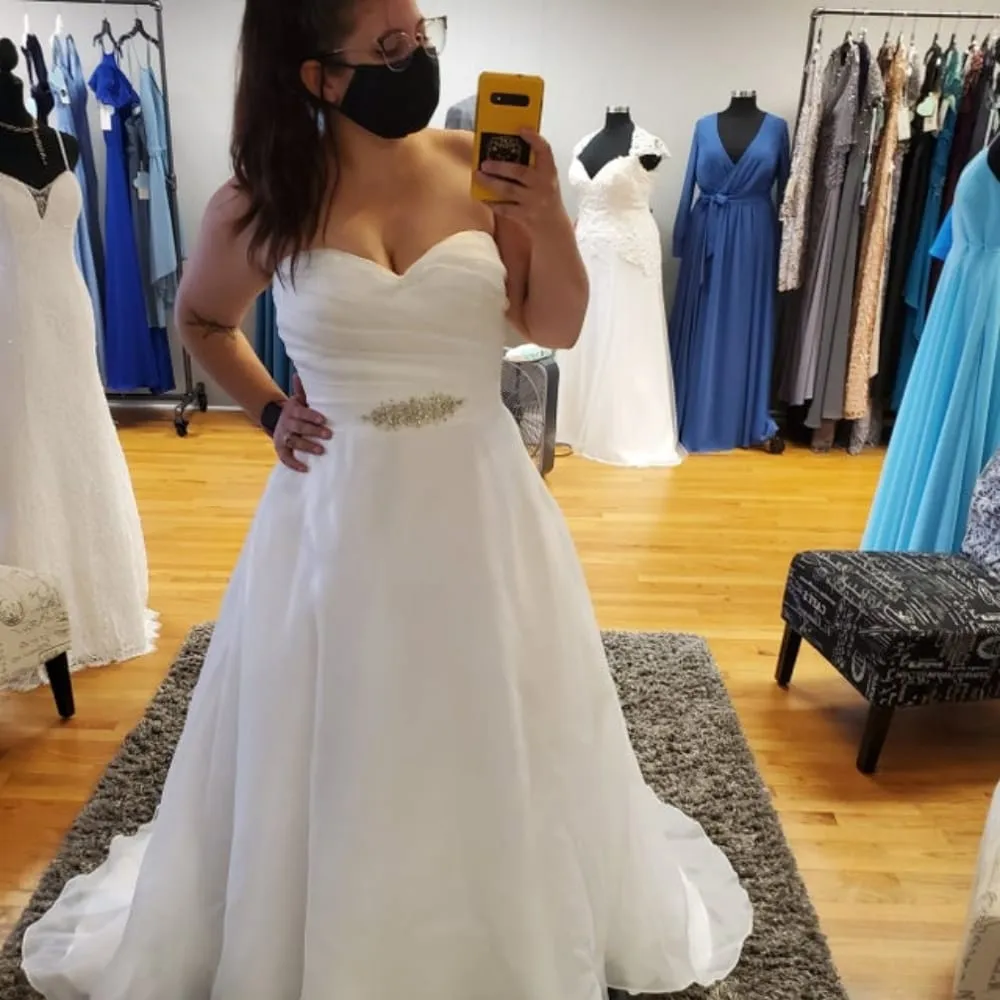 While it may have come as a bit of a surprise that secondhand stores carry gems such as this one, it gives you all the more reason to expand your horizons when it comes time to look for your wedding gown.
Talk About a Steal
Okay, guys. Just look at this glowing bride-to-be! It's clear that she "found THE dress!" We mean, what's not to love about this form-fitting lace and ivory pink wedding gown?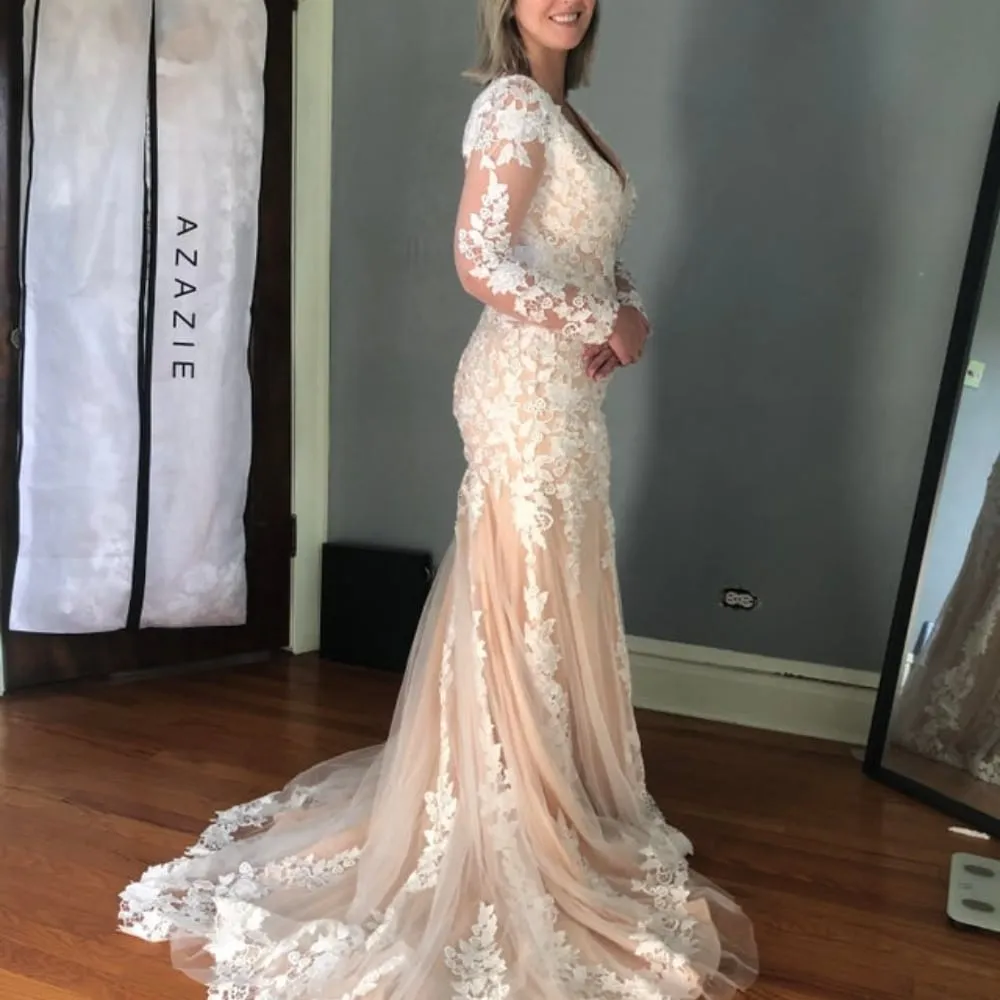 And to think that it cost this beauty less than 200 bucks! Talk about a steal. For those future brides out there that are stressing about finding the perfect dress within their budget, we promise that it's possible! And we hope that this list is all the proof you need!
Elegant & Sassy
As if you thought you couldn't find any better bargains than the ones you've already seen — BAM! There's another one. This time, a beautiful bride bought her wedding dress for $20. Yes, you read that correctly.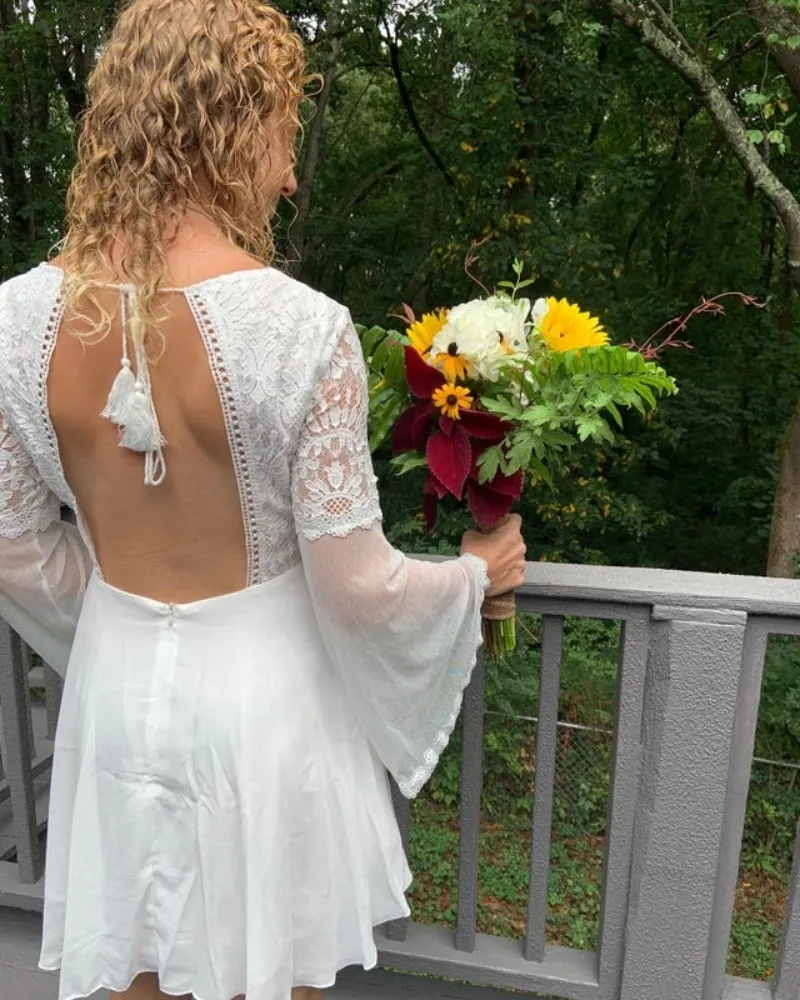 While this knee-length dress may not be the most traditional of wedding gowns, it's just right for this gal. It is the perfect combination of elegant and sassy, thanks to the open back and flared sleeves. Are you guys feeling inspired yet?
Work It!
We know, we know — this isn't necessarily a wedding gown but it is the outfit that this bride-to-be chose for her big day and honestly, we're absolutely loving it! Reddit user u/yr-favorite-hedonist clearly marches to the beat of her own drum and to that we say, work it!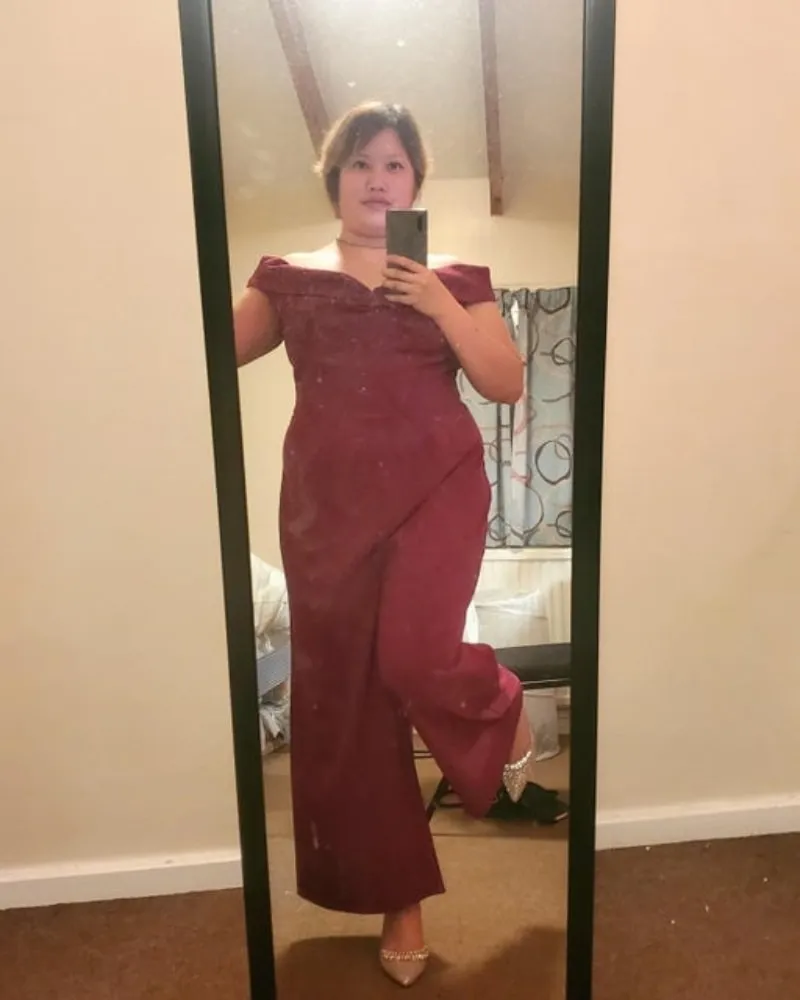 This blushing beauty advised other "untraditional brides [to] check out your local shopping outlets!" She found the "dress" for $11.90! Yep. And she seriously looks fab, right?! This might be our favorite wedding look to have made this list.
Another Vintage Gem
Shopping the racks of vintage or thrift stores can reveal some real gems. It might be more difficult to find 'the one' than if you went to a brand new bridal boutique, but we promise that the hunt is worth it!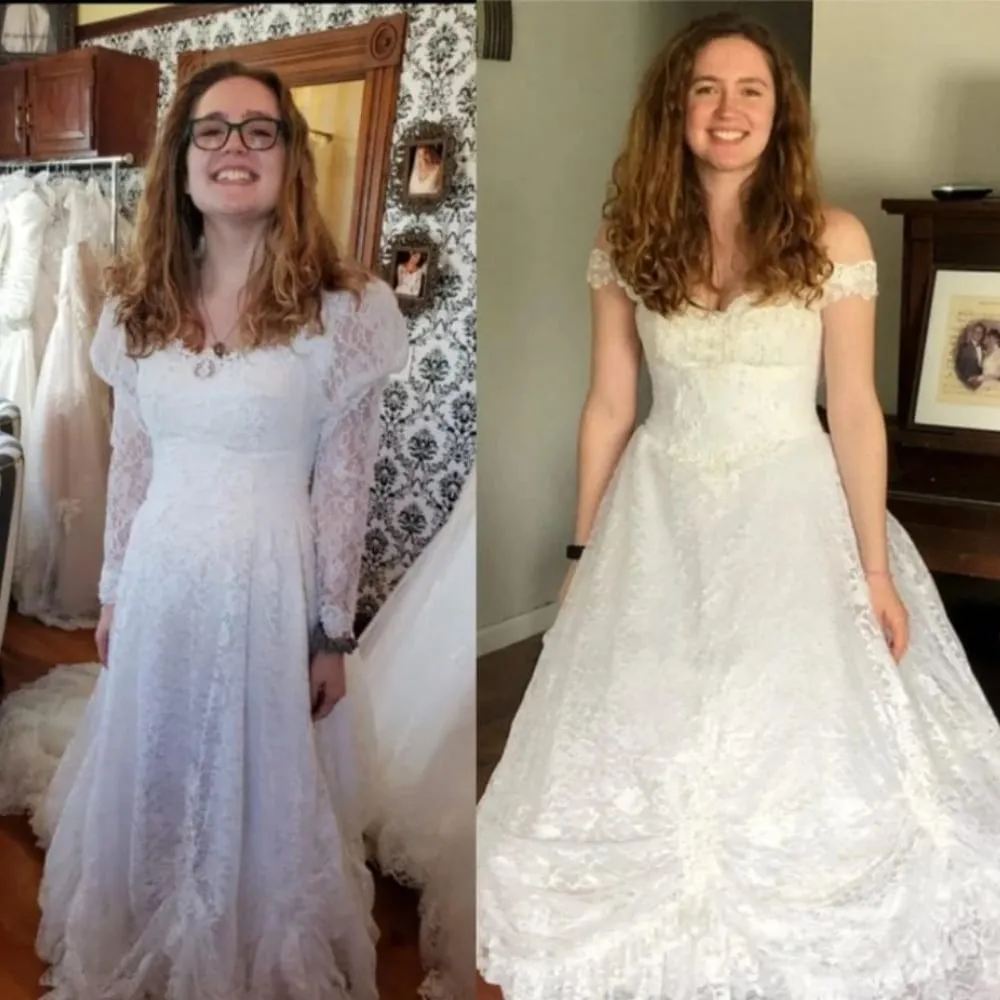 You are likely to find something totally unique that no other bride will be able to replicate, especially if you alter your dress to fit your desired style. This bride removed the excessive shoulder material to modernize her look.
Modern Lace Look
It is said in the wedding industry that too much lace can sometimes make a dress look old fashioned. This bride decided to break with convention, taking a lace forward dress and adding some contemporary flair. Her stunning, second-hand gown is brought up to date with a plunging neckline and elegant, flowing trumpet style skirt.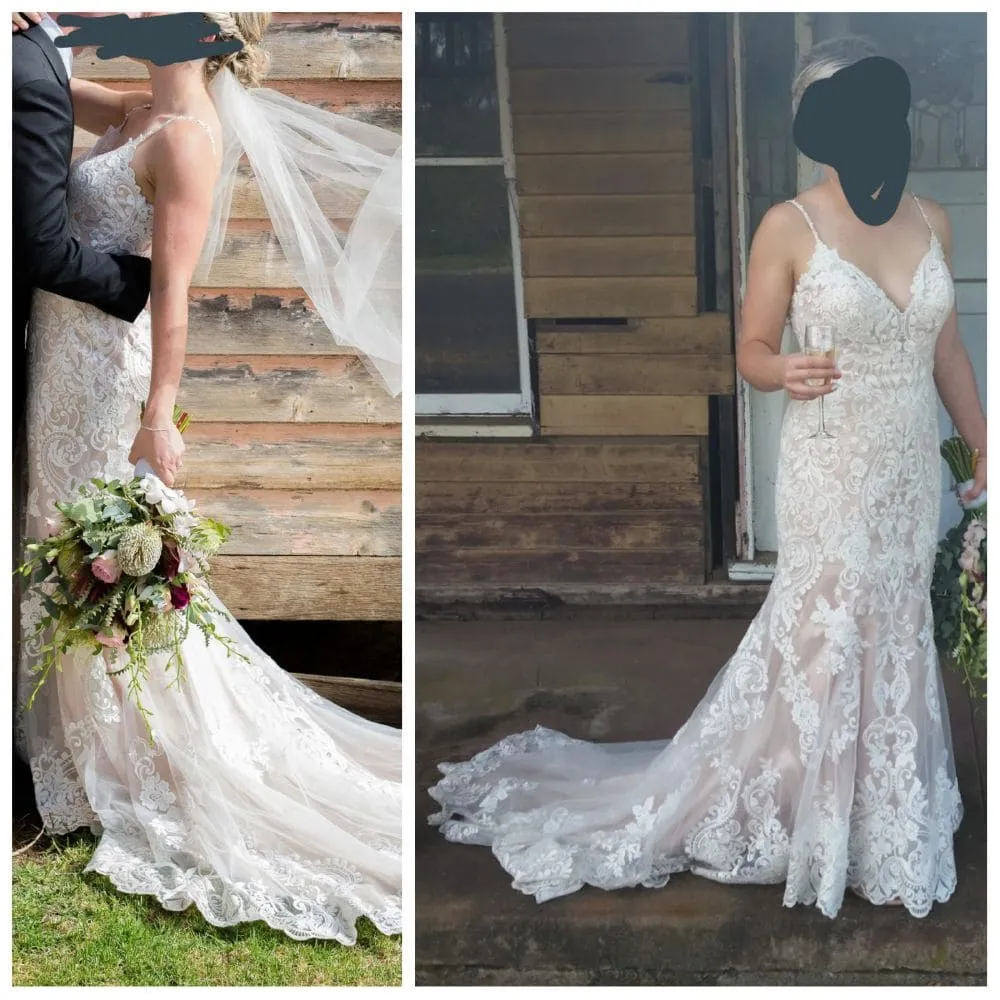 Her wedding dress definitely works for a rustic ceremony, and the floral bouquet compliments her style perfectly. We are in love with this look!
A Sleek Wedding Look
You don't need a full skirt with layers of tulle to make an impression on your guests and husband to be. With her gorgeous thrifted gown, this bride proves that you can wear something understated and still bring the 'wow' factor.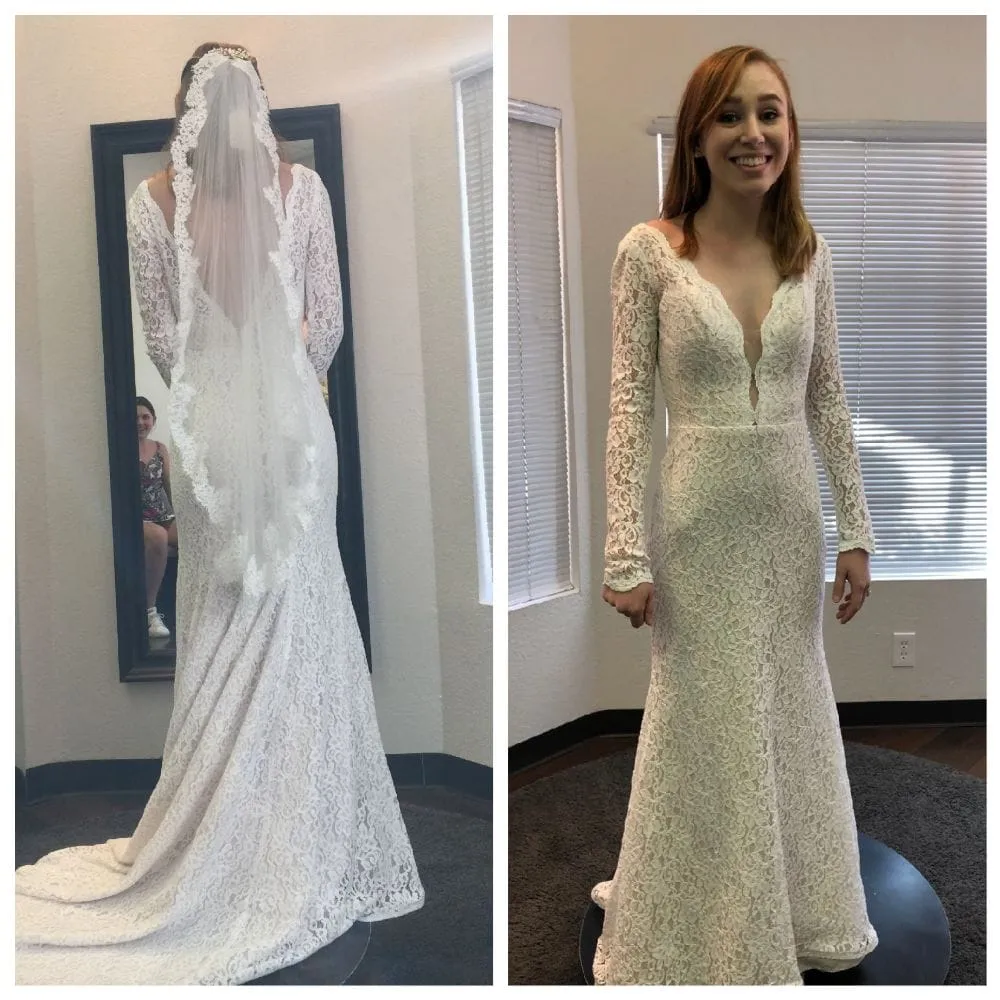 This full length, column-style skirt is minimalistic and chic, whilst the lace adds a touch of traditional class. Accessories can make or break a bridal look, and it's safe to say that the long veil is a perfect choice.
Elegance on a Budget
This happy bride hit the jackpot when visiting her local thrift store. You won't believe that a chic, strapless wedding dress set her back a mere $59! For less than 100 dollars, she achieved a timeless look with this mermaid style gown.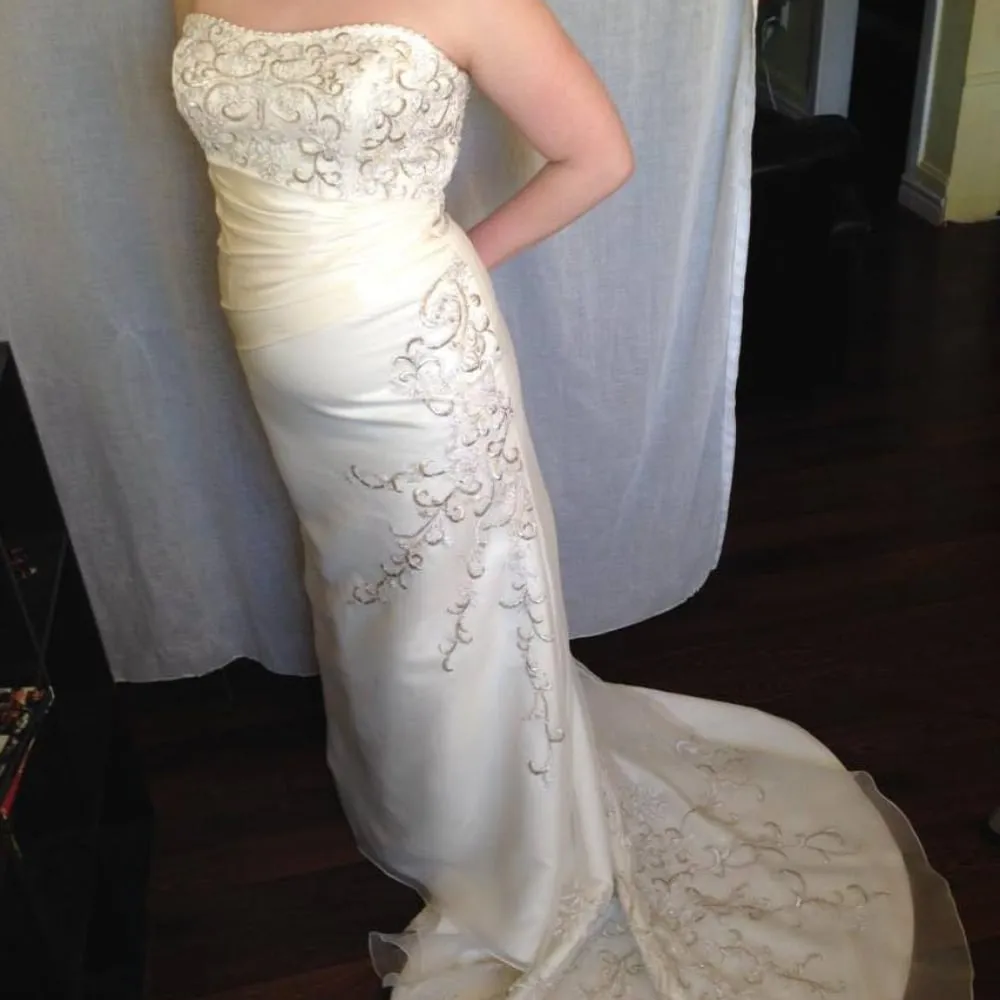 She is sure to turn heads in this dress with its sweetheart neckline, lace detail, and subtle ruching effect. This has definitely proven that secondhand is the way to go when planning a wedding on a budget.
Glitz and Glamor
Buying a secondhand wedding dresses doesn't always involve trawling through vintage gowns from years gone by. If you know where to shop, you can easily find a modern style at the thrift. This bride found a beautifully contemporary empire line gown with a draping back and sparkling lace detail.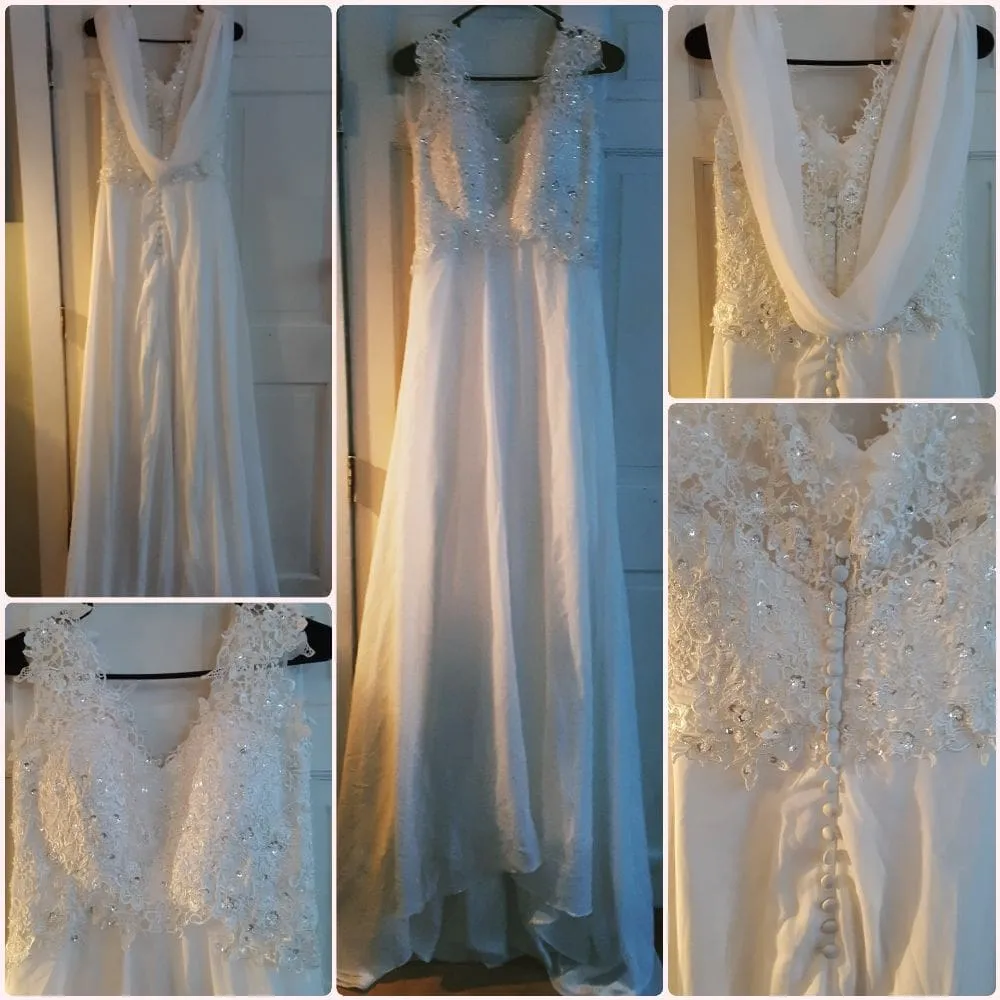 This looks like it would have originally cost big bucks in a bridal boutique. It's elegant yet bohemian, perfect for the laidback bride who still wants a bit of sparkle.