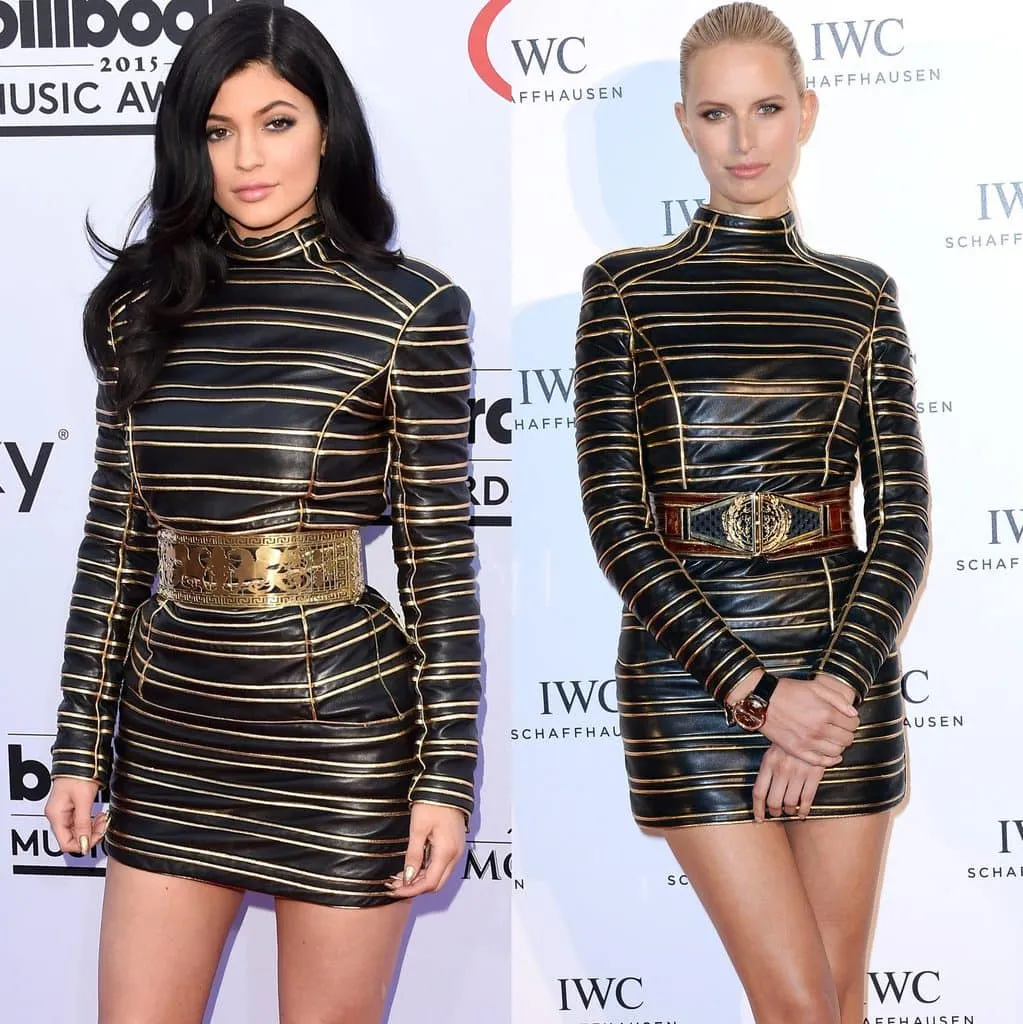 We often spend a considerable amount of time shopping for unique clothes to avoid matching with someone else. It can be disappointing to wear the same outfit as someone you know, but it's a common occurrence. Celebrities have it even worse as their every move is documented by the media. Comparing two celebrities who wear the same dress or shirt has become a popular pastime known as 'Who Wore It Best'. As a result, we have compiled a list of 25 celebrities who wore the same outfits, and we have determined which one of them wore it better.
Felicity Jones VS. Bella Hadid
Bella Hadid, a renowned supermodel, and Felicity Jones, an acclaimed actress, left us in awe as they donned a stunning Dior gown with a revealing neckline and an open-back. Despite both flaunting the same designer on the red carpet, they managed to showcase their individual styles and personality, making the look their own.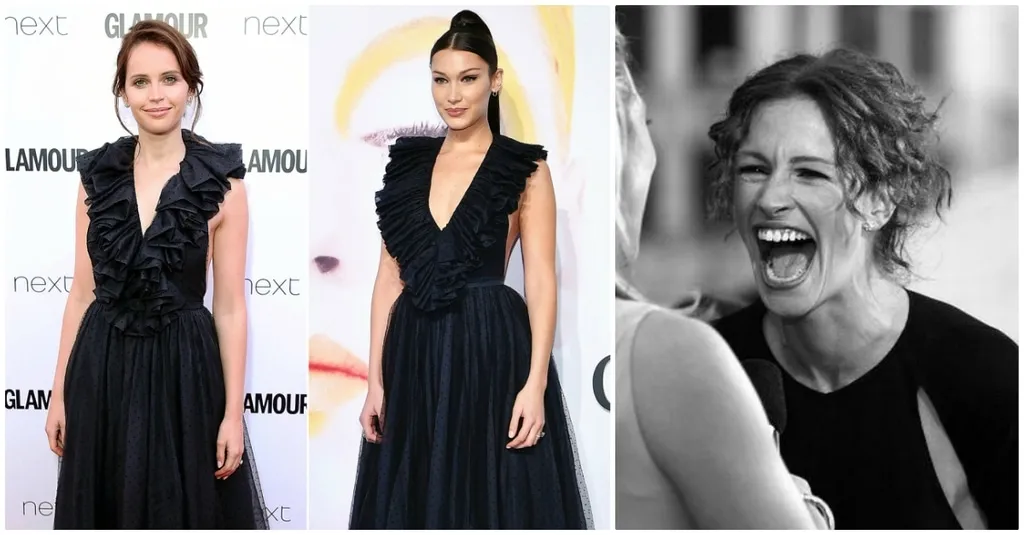 Jones is visible on the left side, wearing light makeup and with a disheveled bun. On the other hand, Hadid is seen on the right side, looking fierce with a high bun and a precise cat-eye makeup. Even though both girls captivated our hearts, Bella stood out as the winner due to her exceptional cat-eye makeup.
Josh Duhamel VS. Bradley Cooper
Let's be honest – both of these attractive Hollywood dads are extremely successful. They are dressed in similar Philanthropy shirts and complementary black baseball caps, giving the impression that they're in a hurry to get somewhere. We don't know where they're headed but we wouldn't mind accompanying them.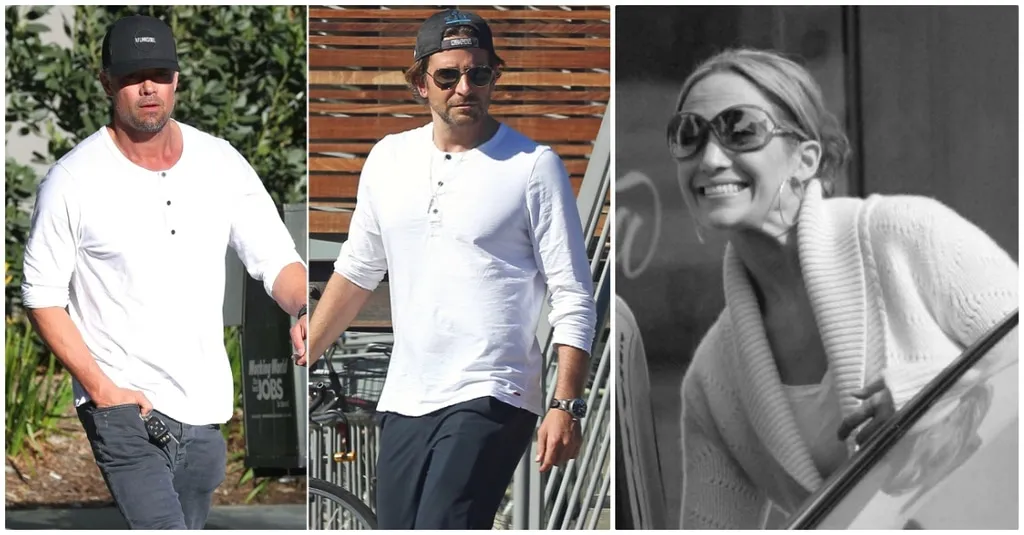 Everyone is a winner here because we have been fortunate enough to have these two heartthrobs with us. It's a tie, no clear winner.
Elizabeth Chambers VS. Yara Shahidi
Our feelings towards the LCD – Little Chanel dress, are uncertain. Despite the actresses' attempts to enhance it with their own unique touches, we're not completely sold on it. However, Yara manages to inject some life into the outfit with her blue eyeliner, adding much-needed color to an otherwise dull piece.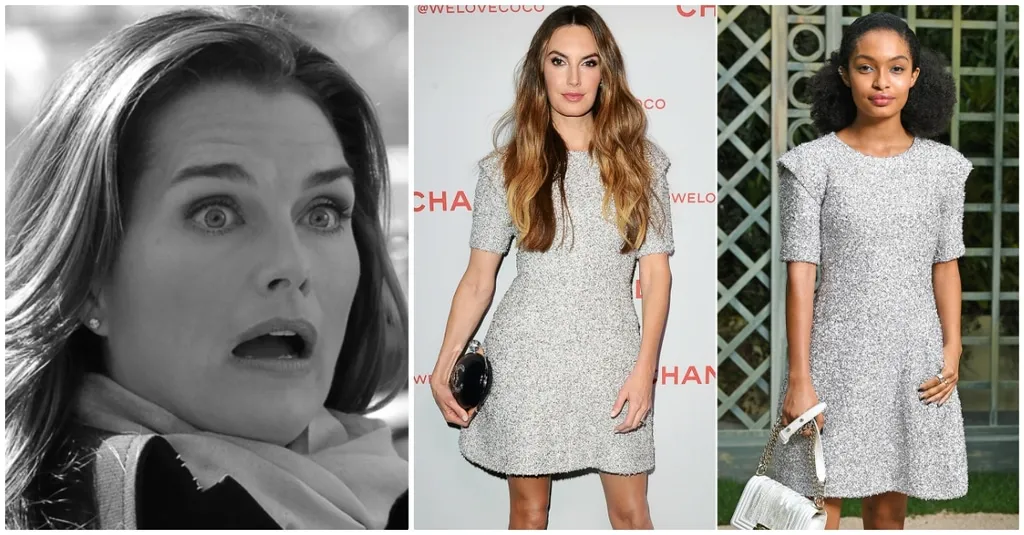 On the contrary, Elizabeth's hair didn't stand out as much as our new hair inspiration. However, Yara's makeup, which had a trendy splash of color, was spectacular enough to make her the winner of this round. The winner is undoubtedly Yara Shahidi.
Rowan Blanchard VS. Adwoa Aboah
Both of these gorgeous women looked stunning in the colorful floral dress from Coach, and they each added their unique flair to the summery outfit. Rowan elevated her look with the addition of two dots beneath her eyes, while Adwoa went for a more daring approach with the inclusion of large gold hoop earrings and necklaces.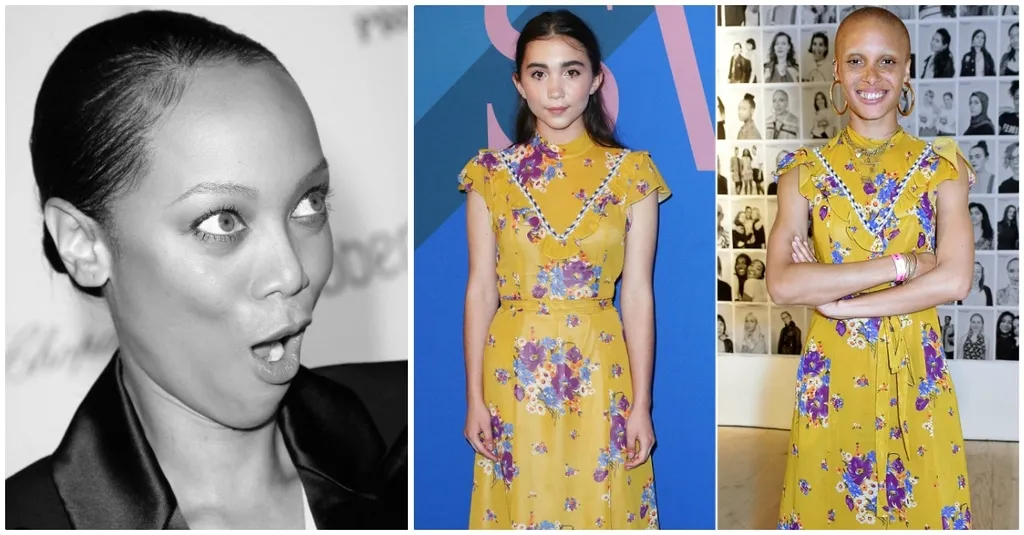 There's no certainty on which of the two looked better in the dress, however, the fact remains that the dress became a top-selling item after both women wore it, making it hard to declare a winner.
Angela Sarafyan VS. Busy Philipps
At times, the competition of 'Who Wore It Best' becomes a matter of 'Who Wore It First'. The sophisticated ball gown designed by Christian Siriano was first worn by Philipps at the Los Angeles premiere of the movie I Feel Pretty, where her playful pink hair added a fun and playful vibe to the dress.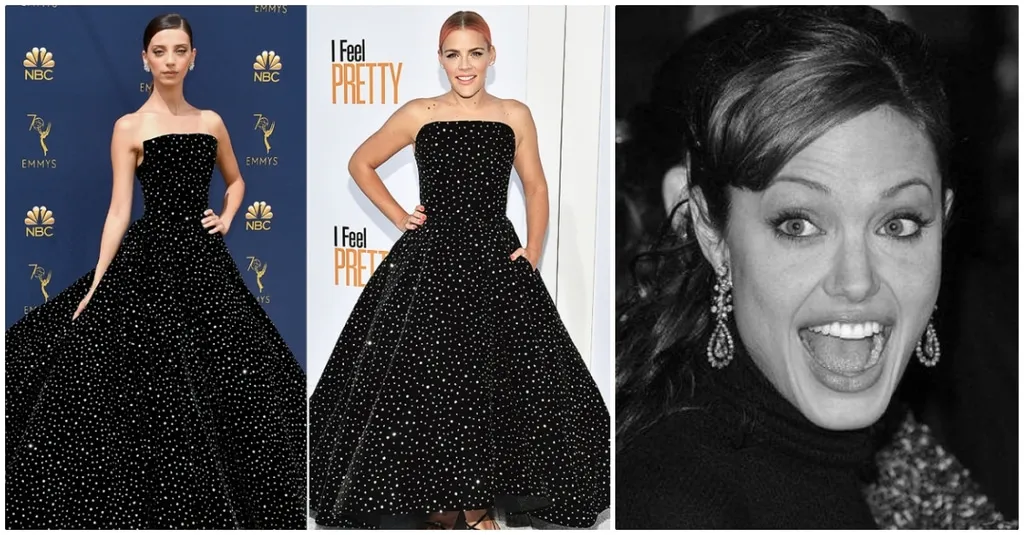 At the Emmy Awards a few months later, the actress from Westworld wore this outfit. Even though Sarafyan's earrings enhanced the beauty of the gown, Busy ultimately wowed us with her appearance. There's something about her that just clicks. Therefore, the winner is Busy Philipps.
Eva Longoria VS. Leona Lewis
To be honest, we're not particularly fond of this appearance. The two ladies were seen wearing the large Mario Dice white blazer. While we acknowledge its prospects, there's a certain element that just doesn't sit well with us.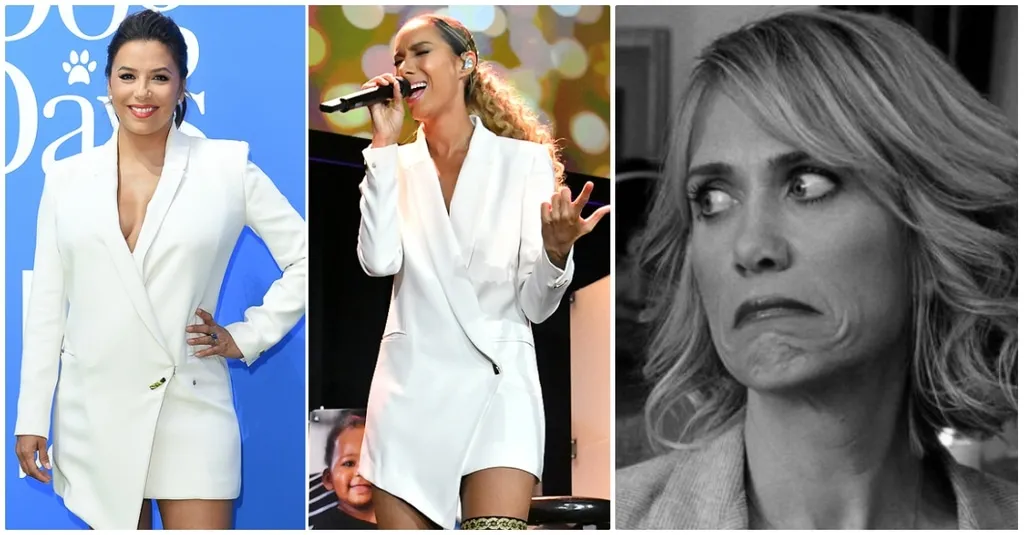 Longoria sported a simple and fashionable outfit on the red carpet, while Lewis opted to showcase a similar look on-stage. However, it was Lewis who pulled off the outfit better and emerged as the winner.
Kerry Washington VS. Kelly Clarkson
Neither the actress nor the singer triumphed in this competition, although it was not due to their abilities. Both of them wore an unfashionable Carolina Herrera dress.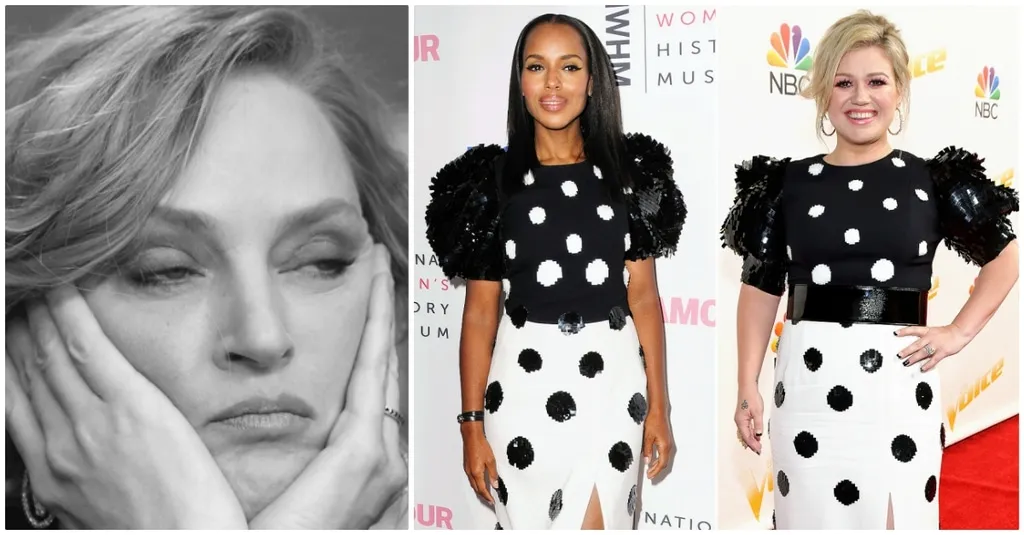 We are confused about how to begin as there are multiple elements like black and white, puffy shoulders, a belt, and polka dots. When all these elements are combined, it creates a mishmash outfit which is won by Uma Thurman.
Nicky Hilton VS. Ashley Benson
The two blonde women looked amazing in the leopard coat by Morgan Clifford Emily, leaving us in awe for a while. It's difficult to choose between them for a 'who wore it best' evaluation. Nicky, the heiress, opted for a chic style with minimal makeup and small studs.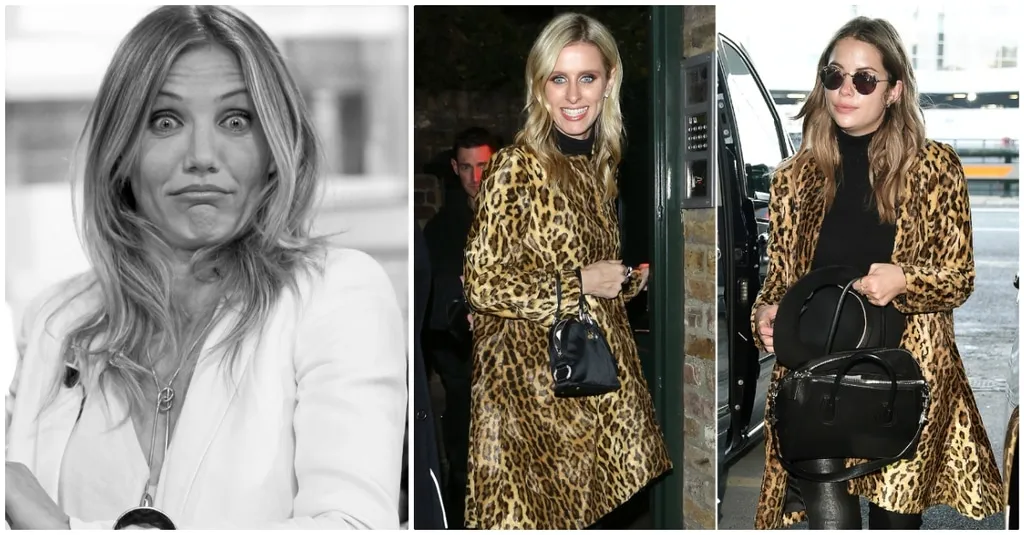 Ashley Benson, the actress, appears to be a bold and adventurous musician who is taking over the world with her performances. It was a tough decision to make, but she emerged victorious as the winner among two stunning women. We particularly admire her open coat, which seems to complement her overall appearance rather than just being a clothing article.
Grace Vanderwaal VS. Sarah Jessica Parker
The Iorane dress with silver sequins has been titled The Carrie, in honor of the iconic character portrayed by SJP, who served as an inspiration for it. Sarah was able to give the dress a Bradshaw twist, with the addition of a chunky belt and layered necklaces. Vanderwaal, the young singer, opted for a punk look by accessorizing the dress with a black beret.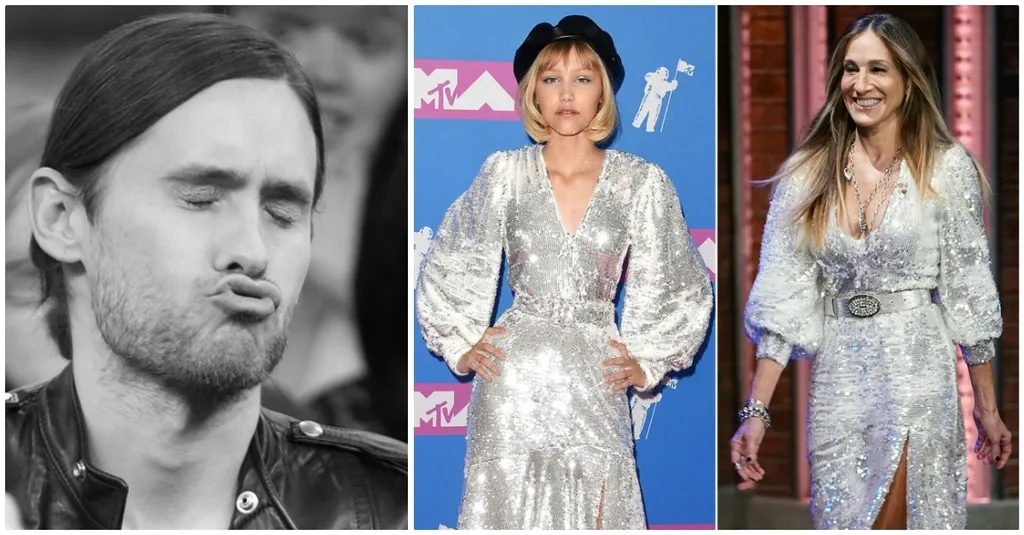 Unfortunately, we must inform you that Grace Vanderwaal has emerged as the clear winner of this round, as Sarah seemed to have surpassed herself in imitating Carrie, leaving no doubt as to the victor.
Gucci Mane VS. Sufjan Stevens
The colorful Gucci suit blazer was worn by both musicians together with a white shirt and a large black tie. We admire the daring hues on the pair of gentlemen.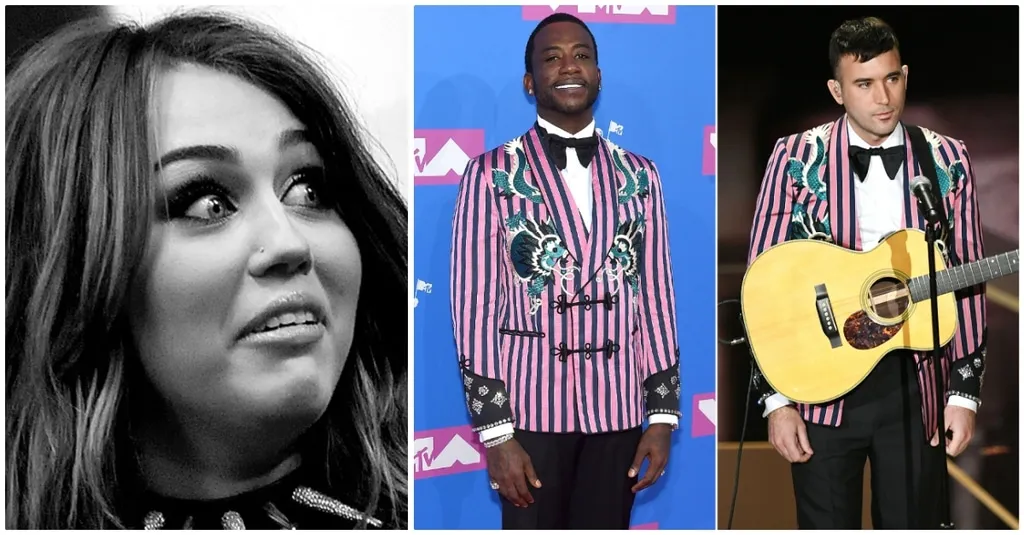 A musician who has a great fashion sense has an appealing effect on us, and we are currently enjoying wearing Gucci apparel, thanks to that musician. His well-dressed appearance makes him the champion in this category. The winner is Gucci Mane.
Dua Lipa VS. Gigi Hadid
The singer and supermodel opted for a daring style by wearing a brightly patterned Versace catsuit, which although we appreciate the design, we have some reservations about the color choices. Dua Lupa's short bob adds to the overall edgy aesthetic.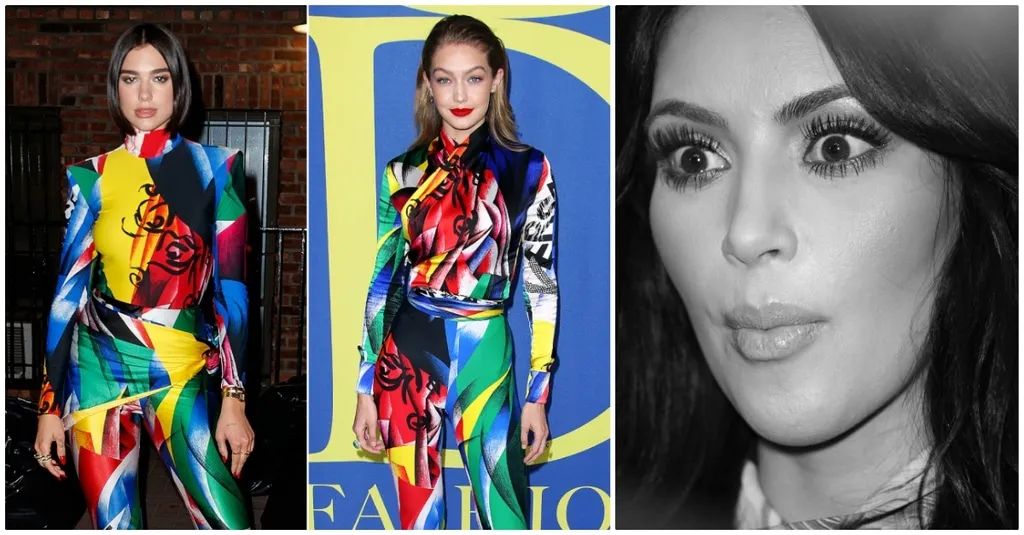 Gigi Hadid's whole look is complemented by the red lip she wears. And the deserving champion is none other than Gigi! She has taken the use of colors to an exceptional level, and it's truly inspiring. The triumphant winner is Gigi Hadid.
Claudia Schiffer VS. Stella McCartney
The leopard jumpsuit designed by Stella McCartney makes these two beauties look fierce but elegant. Both the supermodel and the designer added a black belt to this outfit, making it look effortless and flawless. It's clear that Stella succeeded in creating a winning design.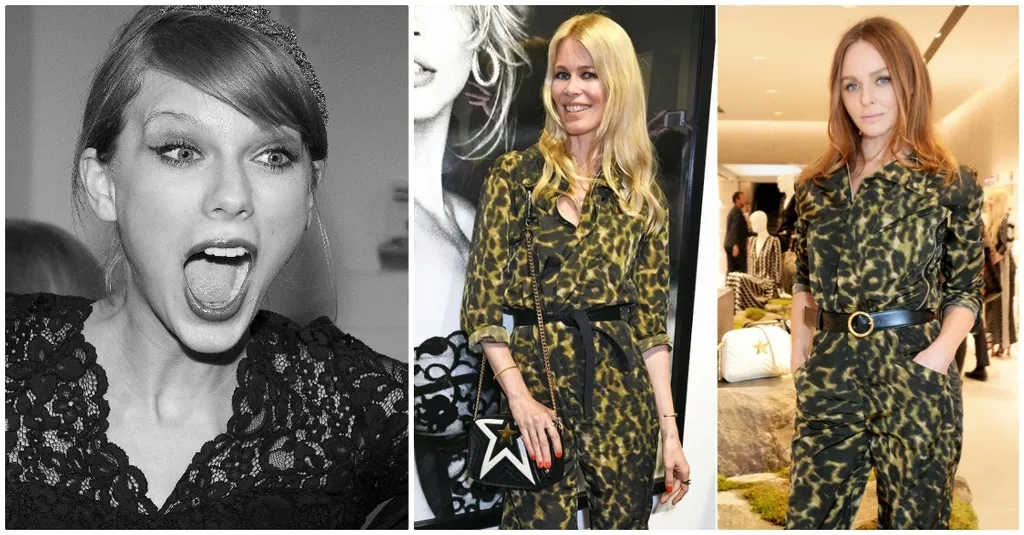 Stella McCartney wins as her subtle red hair complements the yellow in the jumpsuit, pulling the outfit together, while Claudia's blond hair is a bit overpowering.
Reese Witherspoon VS. Paula Abdul
We would never have imagined that Paula Abdul and Reese Witherspoon share a similar fashion sense. Both women adorned themselves with a Miu Miu collared mini, appearing elegant in their unique styles. While Abdul paired it with sheer stockings, Reese opted for long earrings and a few rings.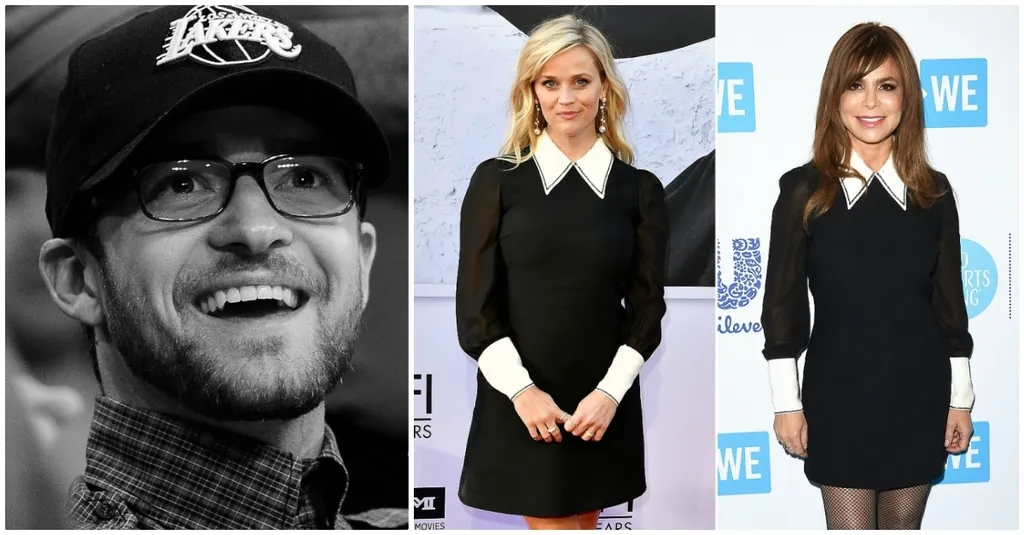 Choosing between the two stylish women is difficult as they both look stunning, but ultimately, Reese Witherspoon stands out more. This is due to the fact that the stockings added by Abdul were a bit too excessive. Therefore, the winner is Reese Witherspoon.
Jennifer Hudson VS. Camilla Belle
The expression on Kanye West's face reflects his admiration for the stunning appearance of two actresses who are wearing the same Ralph Lauren dress that was previously seen on the runway. Both Hudson and Belle have managed to impress the audience with their unique style. Although Jennifer appears to have a casual look as if she just got out of bed, she still looks magnificent on the red carpet.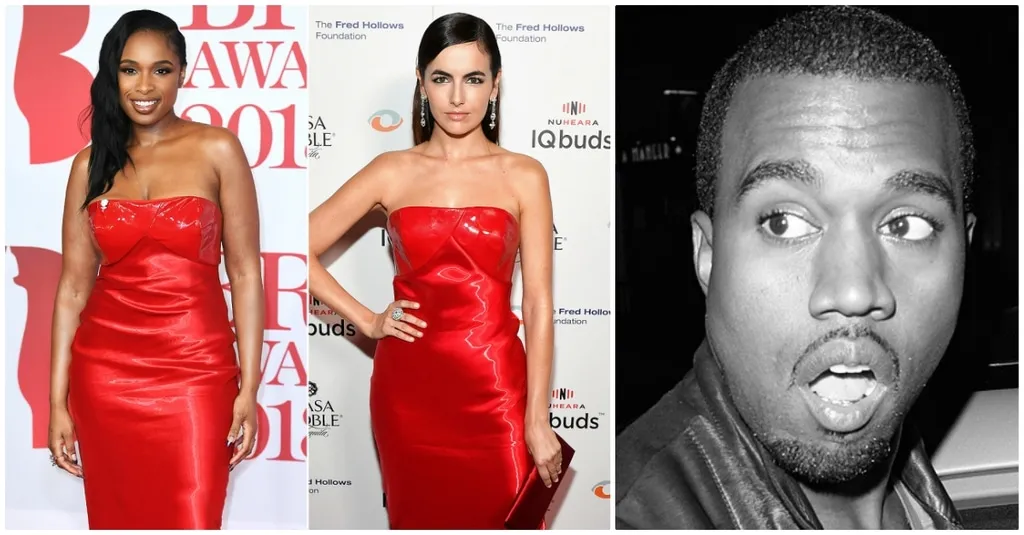 Belle has an intense gaze and her stance, makeup, and hairstyle collectively create an impressive appearance that we adore. Both of these stunning individuals are considered victorious, and we cannot select only one.
Janelle Monae VS. Olivia Wilde
Our purpose for being here is to admire this particular appearance. The Bella Freud suit in powder blue velvet complements these stunning women beautifully. Janelle exudes confidence and power, looking like the head of a large corporation ready to finalize a significant business transaction with her suit and tie in hand.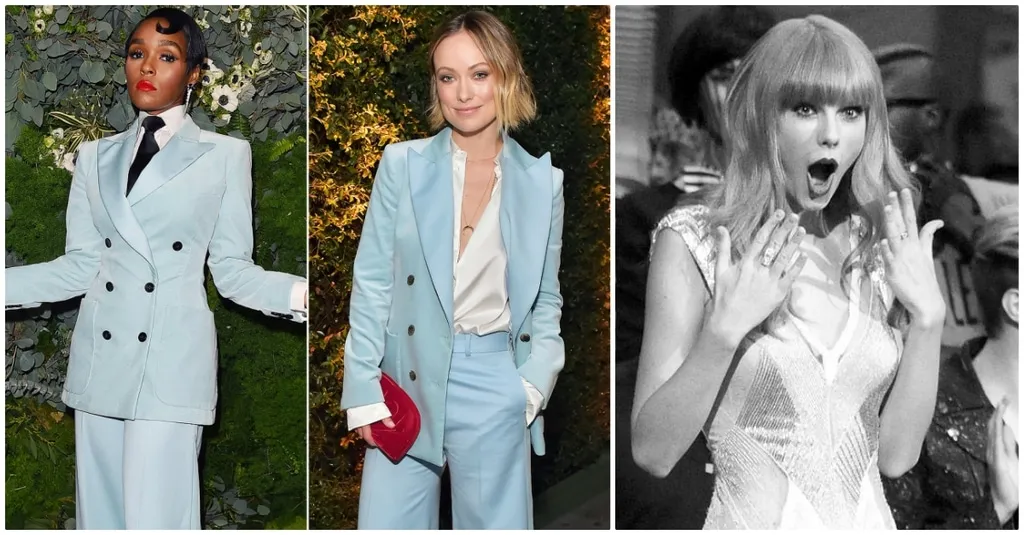 Olivia chose to go for a softer appearance with minimal makeup, and although we appreciate both styles, our preference is for Olivia's laidback and relaxed vibe. Therefore, Olivia Wilde is the clear winner.
Helen Mirren VS. Nina Dobrev
Nina, it can be considered a triumph to wear a dress that is identical to the one worn by Dame Helen Mirren. On the red carpet, both actresses donned a Prabal Gurung outfit, and apart from slight variations in their belt selections, they styled it similarly.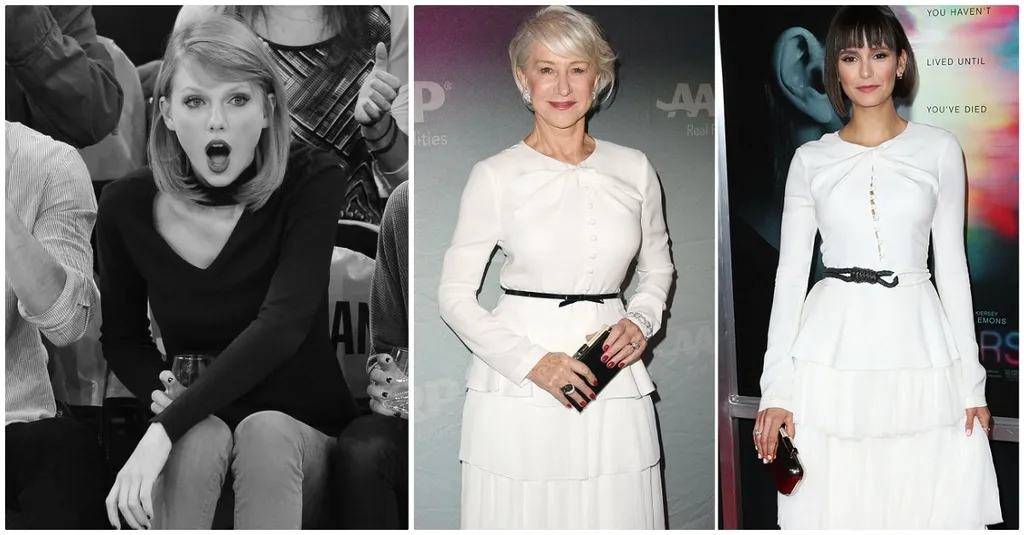 Their purses are so alike that it was a tough call, however, we ultimately chose Nina due to our admiration for her belt. Hence, the victor is Nina Dobrev.
Selma Blair VS. Kate Walsh
Both of these beautiful ladies chose the same elegant Christian Siriano dress for their appearances on the red carpet. They look stunningly refined, and they are even striking the same pose with their hands in their pockets for the photographers.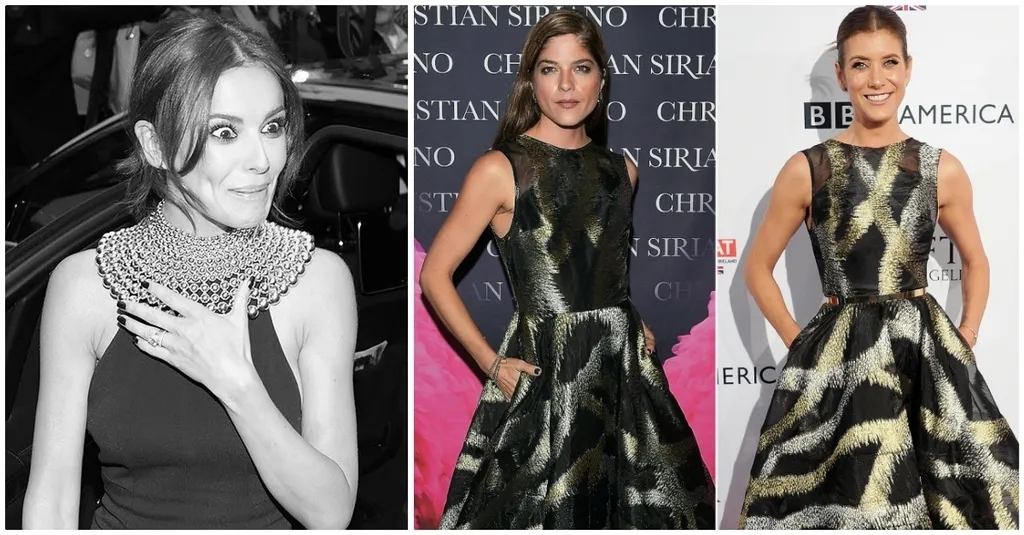 Blair opted to wear her hair down while Kate Walsh chose to style hers in a neat and tight bun, which is a classic look. In our assessment, we find Kate Walsh to be the winner, as her appearance is reminiscent of that of a graceful ballerina, and we find it very appealing. Kate Walsh is our preferred choice.
Laura Bailey VS. Nicole Kidman
This Erdem dress is making all our fairy-tale dreams come true – fairy-godmother Nicole Kidman? Don't mind if we do. Laura Bailey added some drama with a smokey eye and a bold lip. Nicole Kidman, on the other hand, stayed true to her roots looks au-natural.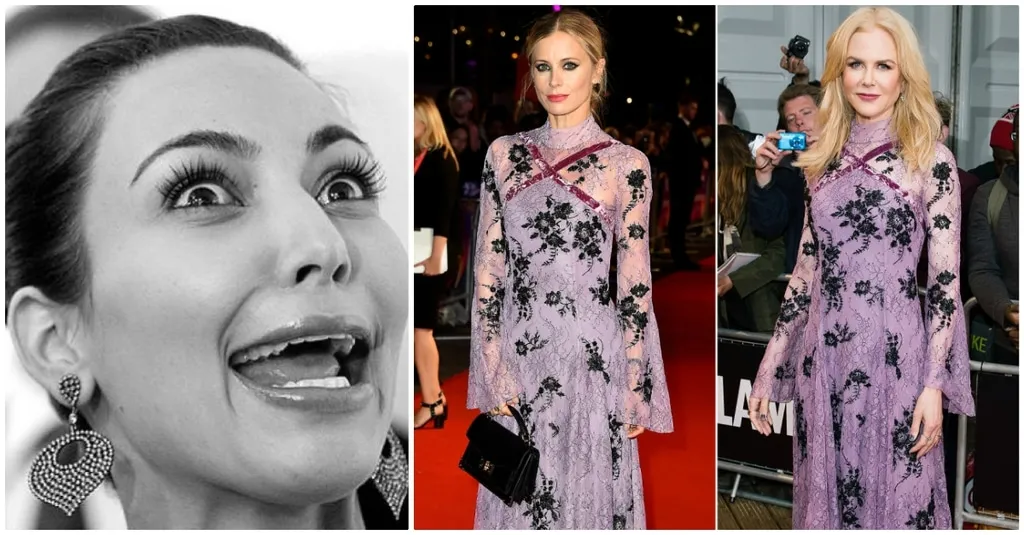 This gorgeous purple gown looks stunning on both of these women, but Kidman wins this one. Winner – Nicole Kidman.
Katie Holmes VS. Emily Blunt
The two actresses look comfy and chic in this Zimmermann sweater. It looks like Holmes wore this sweater while running errands. Emily sported the cream-colored sweater at a casual event.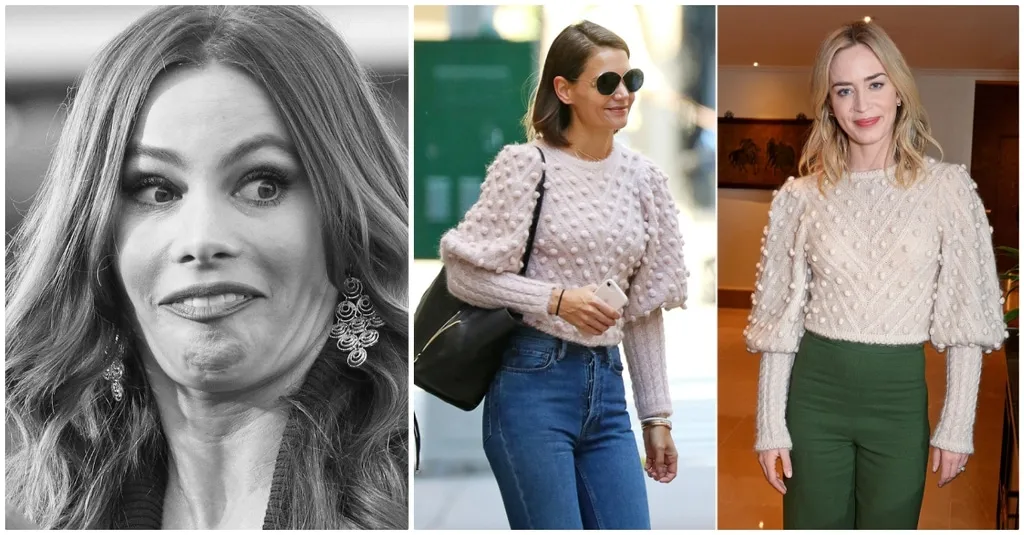 Both women are rocking the puffy-sleeved sweater, but there's something about Emily's bold green pants that won us over. Winner – Emily Blunt.
Kelly Ripa VS. Jennifer Garner
Ladies in red! Kelly and Jennifer look drop-dead gorgeous in this Roland Mouret dress. You can tell these two women spend time at the gym and that their hard work pays off (we're jealous).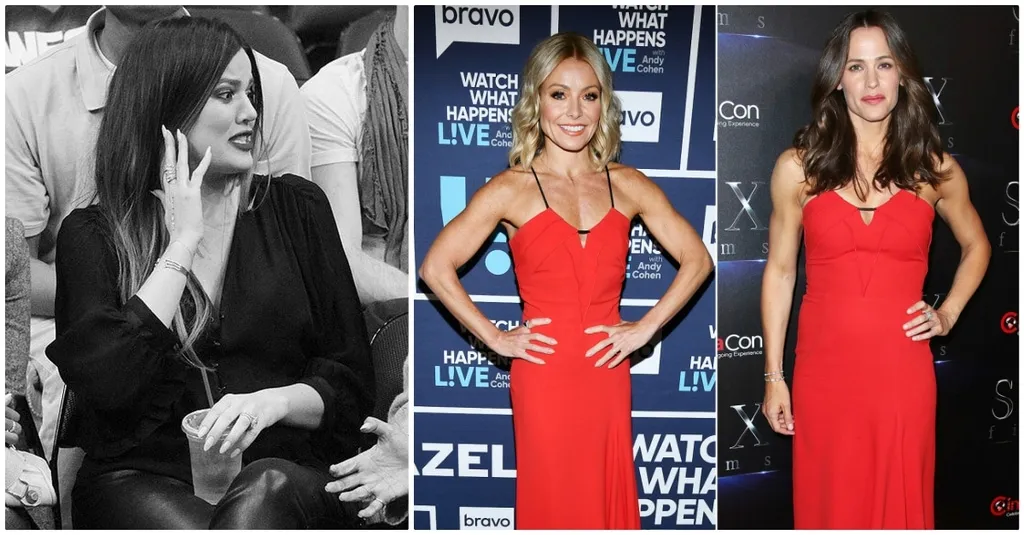 Both women look daring, but Kelly's blond with the red dress goes together perfectly. Winner – Kelly Ripa.
Emma Roberts VS. Eva Longoria
We love it when celebs wear other celebs. Both Emma and Eva wore Victoria Beckham's special shopping bag T-shirt – except they both wore the shirt on two different occasions. Emma sported the shirt for an afternoon out.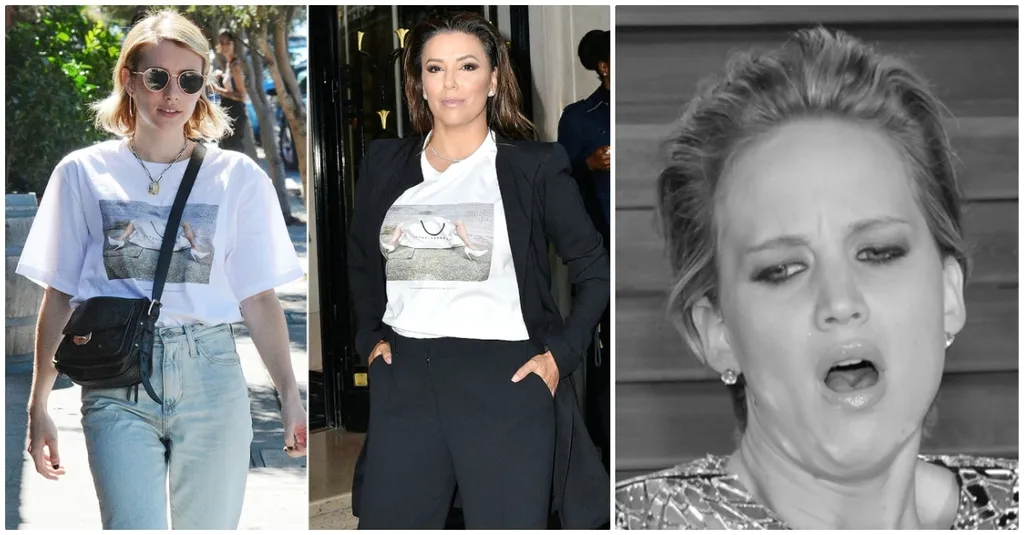 Eva spiced the look up with a blazer and pants. It's hard to compare the two looks, but with this specific t-shirt, we choose Emma. Winner – Emma Roberts.
Mariah Carey VS. Julianne Moore
Comparing a diva queen to a cinema queen seems virtually impossible, but we'll try. The pop icon and Oscar winner present two very different ways to style this Louis Vuitton dress. Mariah added tights and sparkling jewelry.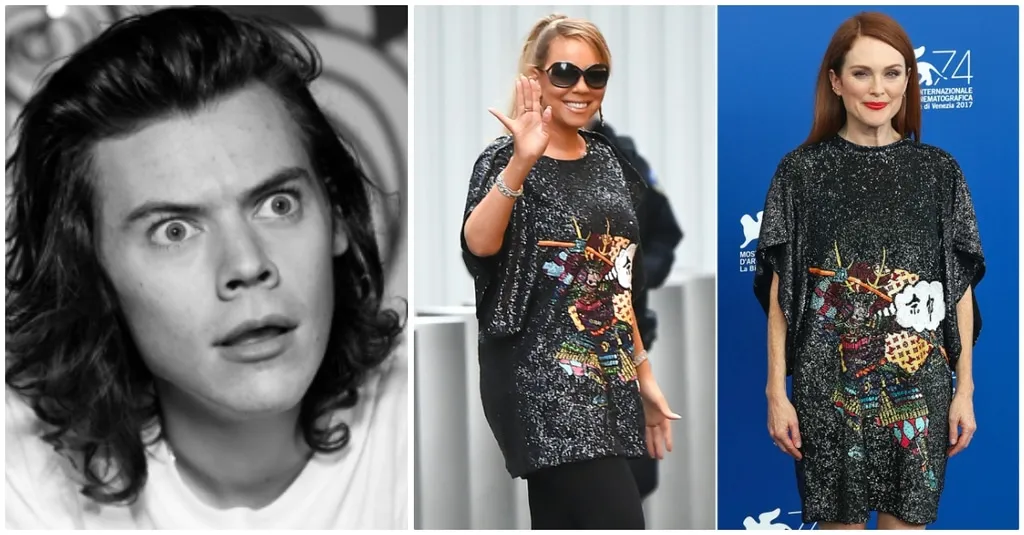 Moore went with a more relaxed look with a red lip and light makeup. We're feeling Julianne's look a little more, although we respect Mariah for giving it her own Mariah twist. Winner – Julianne Moore.
Millie Bobby Brown VS. Kristen Dunst
Dunst inspired the Stranger Things star after she wore this polka-dotted Rodarte dress on the red carpet. The two actresses stunned in this gown. Millie looked sleek with her hair pulled back, with light makeup.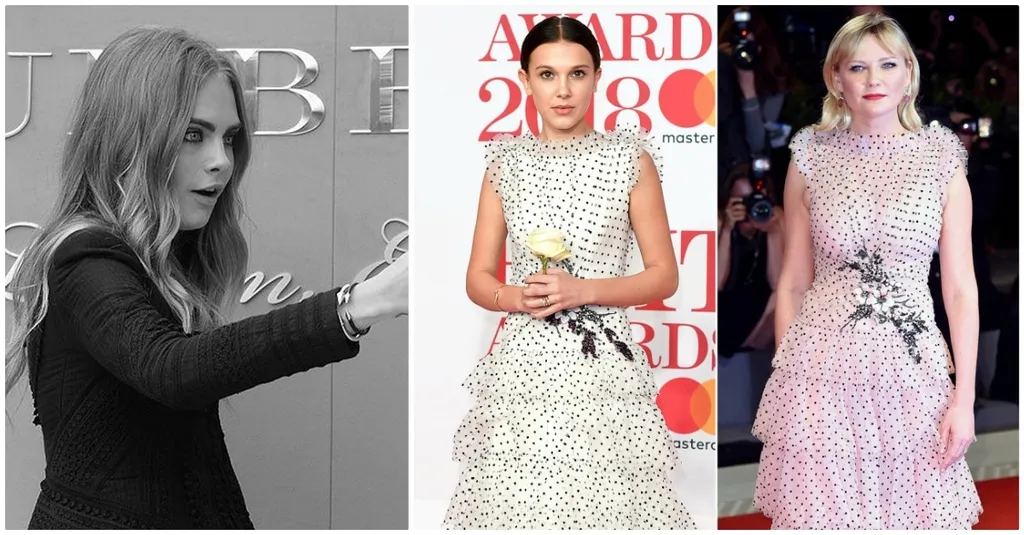 Dunst looks strong with her dark eye and red lipstick. Our hearts are set on Millie, her humble gaze is mesmerizing. Winner – Millie Bobbie Brown.
Tilda Swinton VS. Keira Knightley
Both stars added their accessories to this Chanel tux. Tilda added a little pin that is barely noticeable and yet adds a feminine touch. And then there's Keira who added a bow to tie (no pun intended) the look together.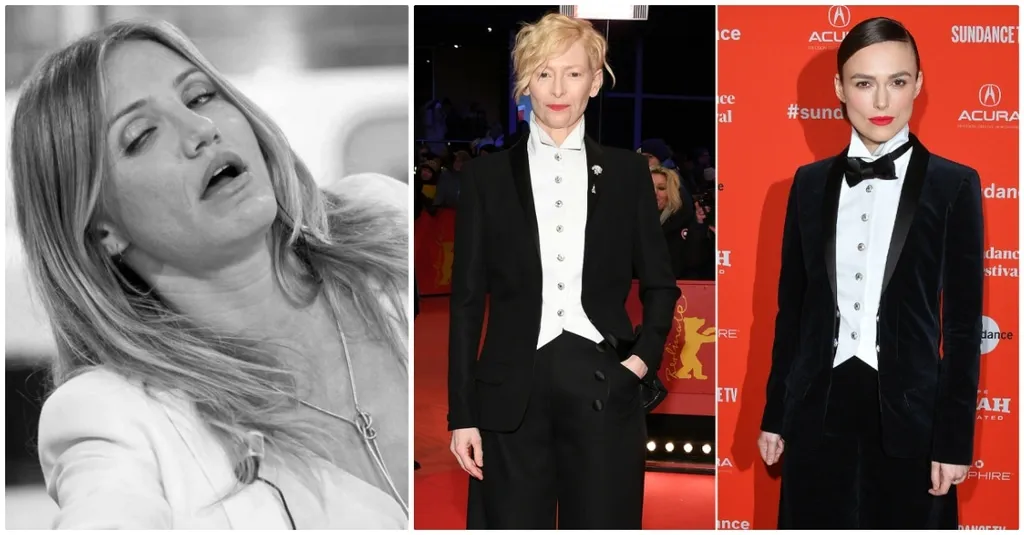 Both actresses wore little makeup but added a bright red lip that is gorgeous in contrast to the black and white of the tux. Tilda wins this one, she looks too good. Winner – Tilda Swinton.
Bella Hadid VS. Jenna Coleman
Both stars rocked this red plaid Burberry trench coat in their way. Bella wore it down with a beanie and hoodie. Jenna stepped out with a white turtleneck.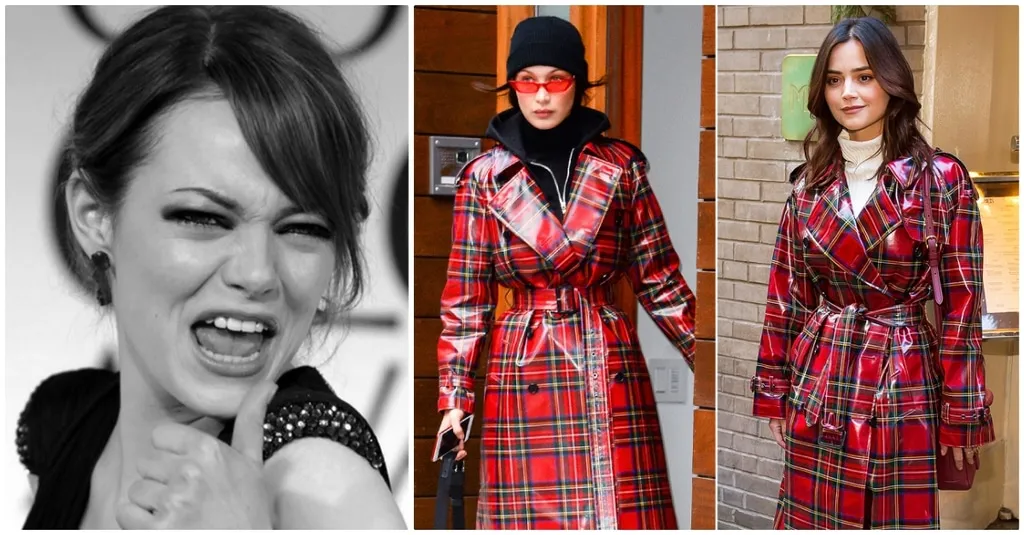 Although both are gorgeous looks when it comes down to it, we're feeling Bella's vibe more. Sorry Jenna, maybe next time? Winner – Bella Hadid.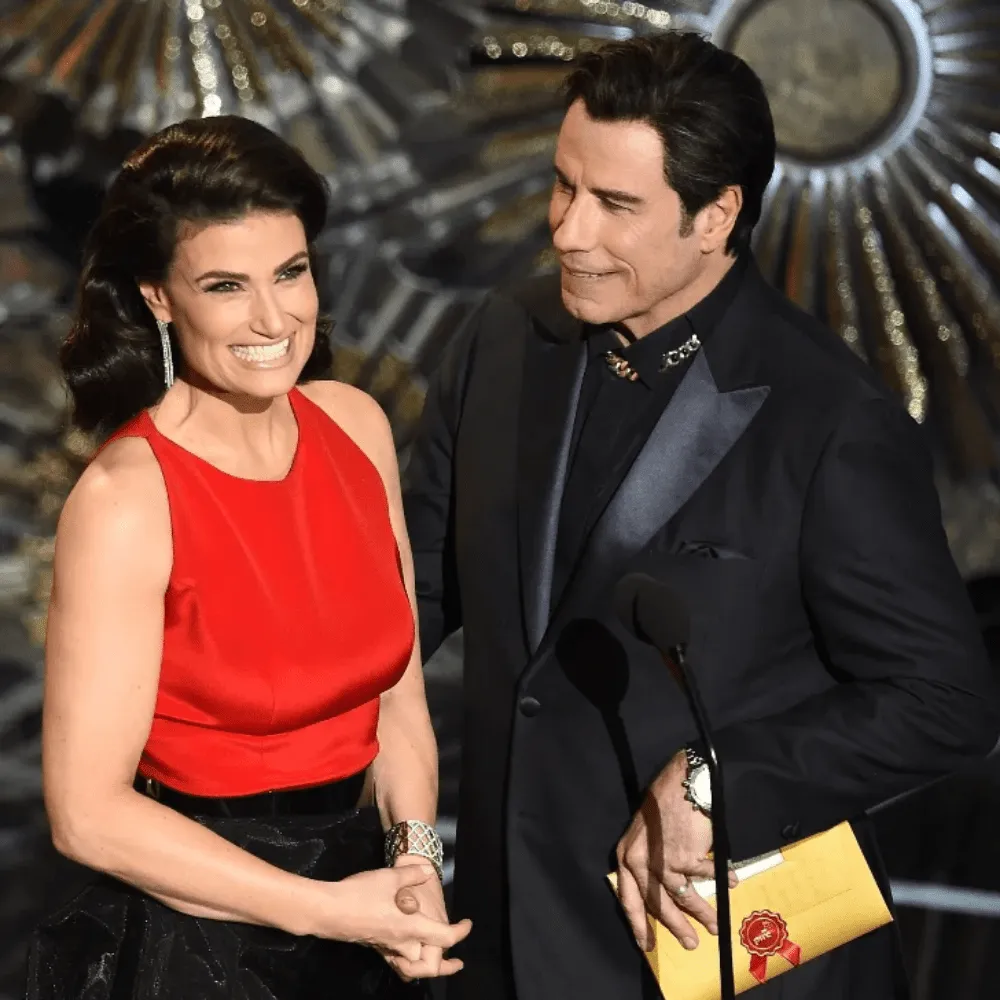 Awards shows give stars a chance to claim recognition for their work and usually draw in large audiences at home, too. With events this huge, though, it's impossible to avoid a few unforgettable moments. From unscripted bits to failed skits and even a few reactions, plenty of moments from awards shows live on years later.
Britney Spears' Live Python
Over the years, Britney Spears has surprised fans again and again. She did it again in 2001 at the VMAs. During the performance of her song "Slave 4 U," the pop star walked out with a giant, live python draped across her shoulders.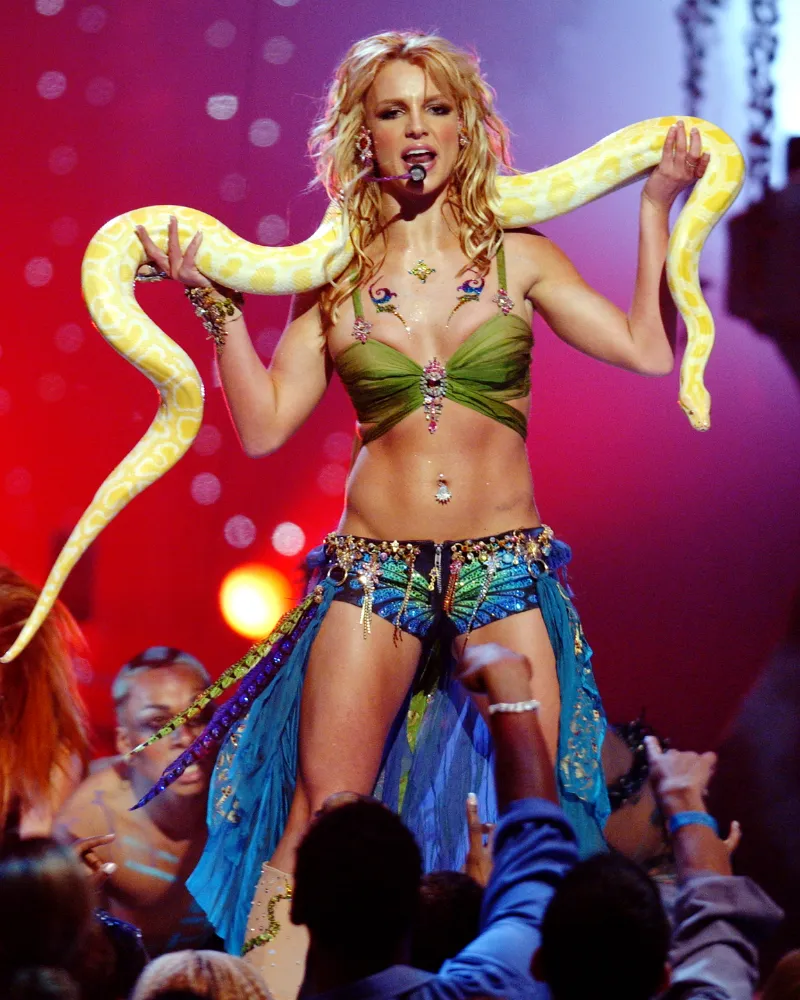 It's a moment that's hard to forget even though Spears told E! that she wouldn't do it again and the stunt was "so dumb." We'll never forget the appearance of Banana the python.
Joe Jonas' Glass Catastrophe
The 2007 AMAs were going pretty smoothly by the time the Jonas Brothers took to the stage. The trio was performing their song "S.O.S."

To start things off with a bang, each brother opened by walking through a panel where glass had just shattered. The effect would have been safe if Joe Jonas hadn't slipped as he was walking out, catching himself on a stage full of broken glass. The result was a sizeable cut on his hand.
Not Enough Content!
Today, if you settle down to watch an awards show, you can expect it to take a while. Most last up to three hours or even longer! In 1959, though, the Academy Awards actually fell short of the target run time of two hours.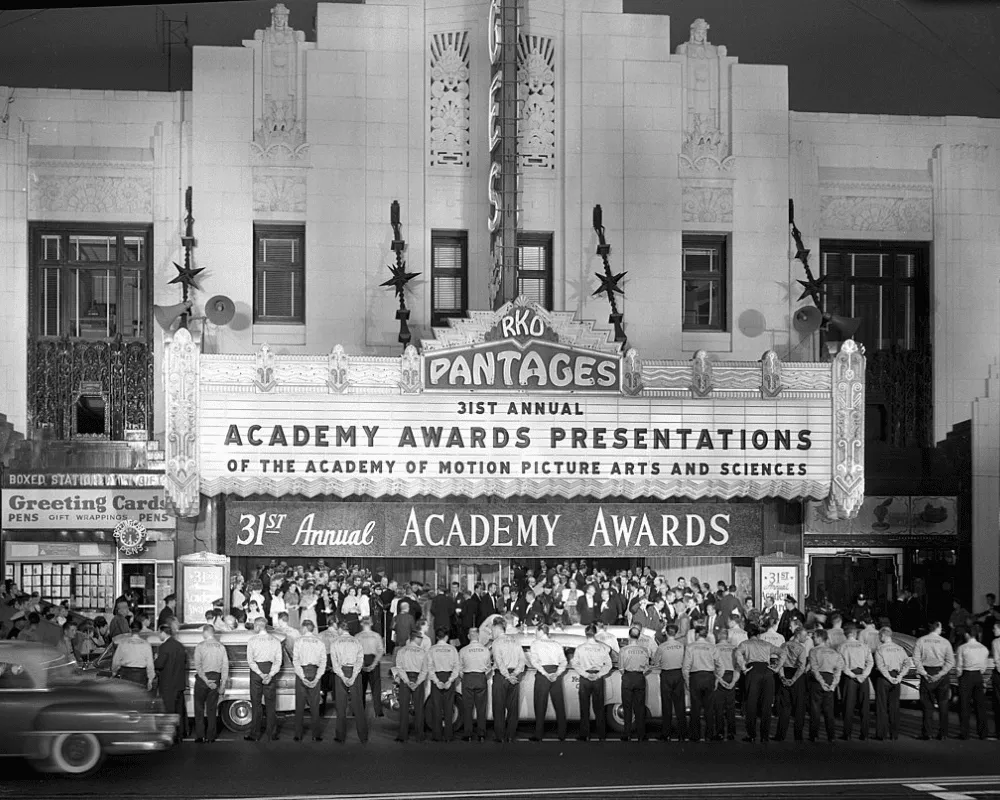 Jerry Wald, the producer that year, kept cutting acts to stay on time. As a result, the last 20 minutes of the show became an effort in improv to keep everyone entertained to the end.
Angelina Jolie and Her Brother
The Academy Awards in the 2000s had plenty of winners but Angelina Jolie really managed to stand out that night. The actress was accepting an award for Best Supporting Actress for her work in the film Girl, Interrupted.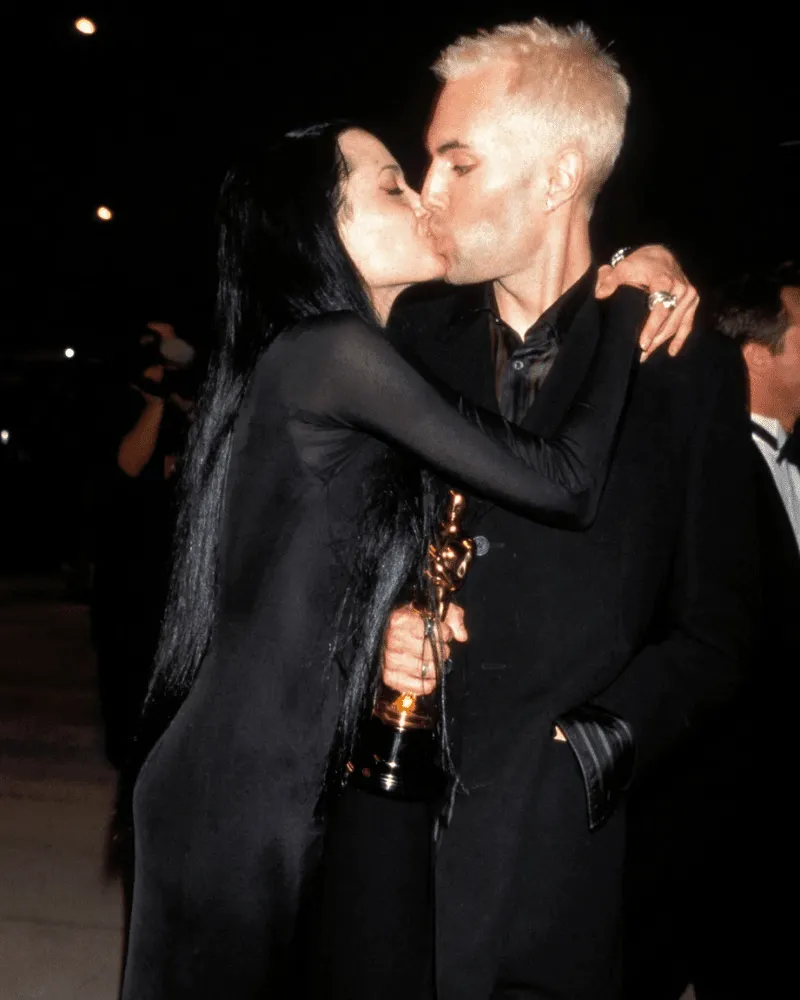 On the other hand, the crowd was a bit distracted from the moment when Jolie and her brother, James Haven, shared that night. It's a pop culture moment the world hasn't forgotten.
Helen Mirren Swears
It's not infrequent to see censors go to work on bad language in a show or movie on TV. However, it's a little harder for live events. That's why you might hear a swear word or two that the censors weren't quick enough to catch whilst watching an awards show.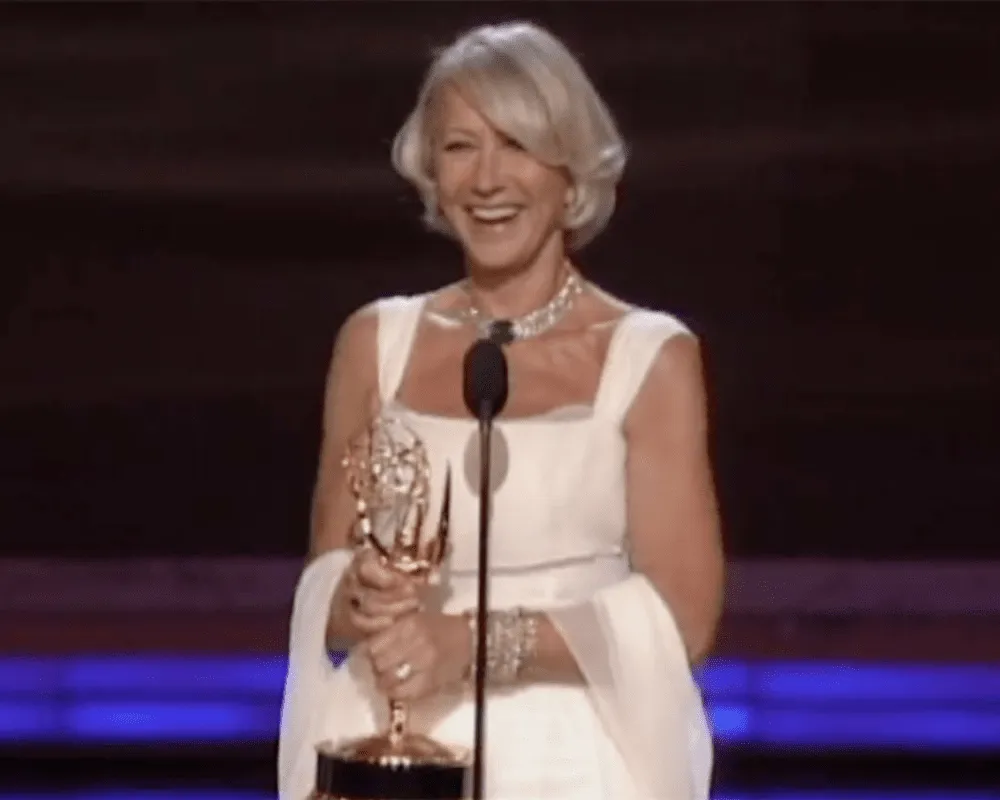 At the Emmys in 2006, the audience at home was momentarily shocked when Dame Helen Mirren let loose a few curse words during her acceptance speech that snuck past the censors.
Judy Finnigan's Wardrobe Mishap
All eyes are on the stars when they accept an award. However, they're susceptible to mistakes and wardrobe malfunction as Judy Finnigan once learned.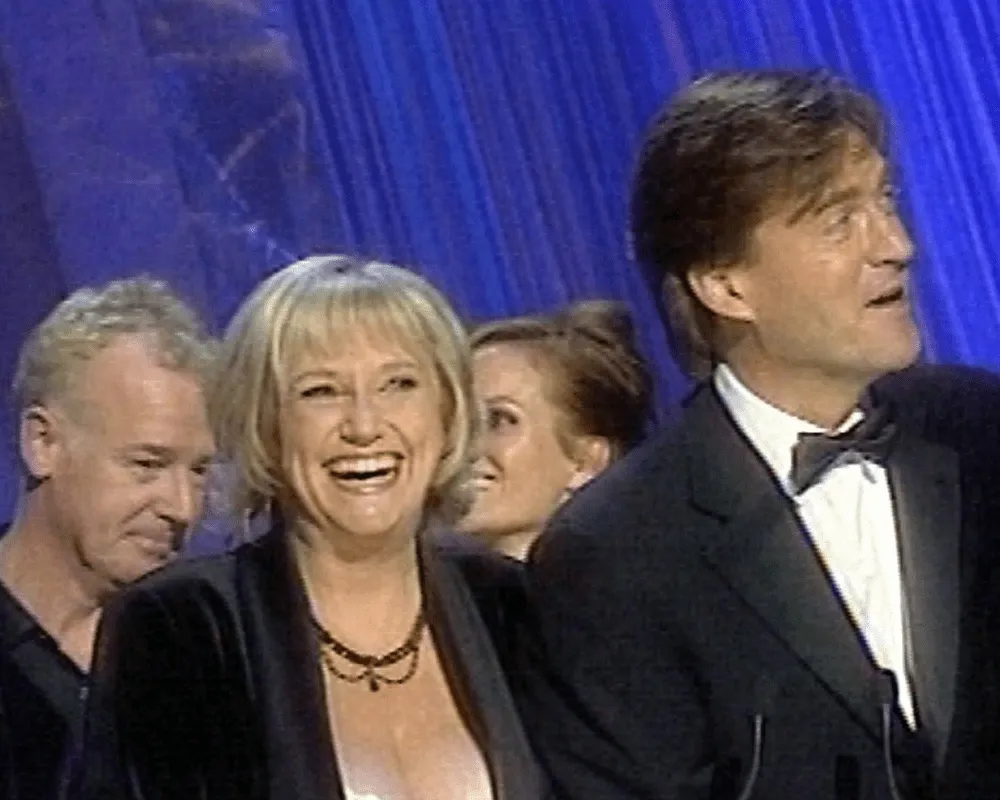 The star was accepting an award with her husband, Richard Madeley, when her dress popped down, revealing her bra. While it took a few minutes to notice, Finnigan laughed it off after someone ran up to right the outfit. She exclaimed to the crowd, "I'm sorry about that, let's try that again!"
A Snow White Misstep
In 1989, Robe Lowe was joined by Snow White on stage in a long, 11-minute skit that was supposed to feature Snow White coming to Hollywood. The audience was less than impressed.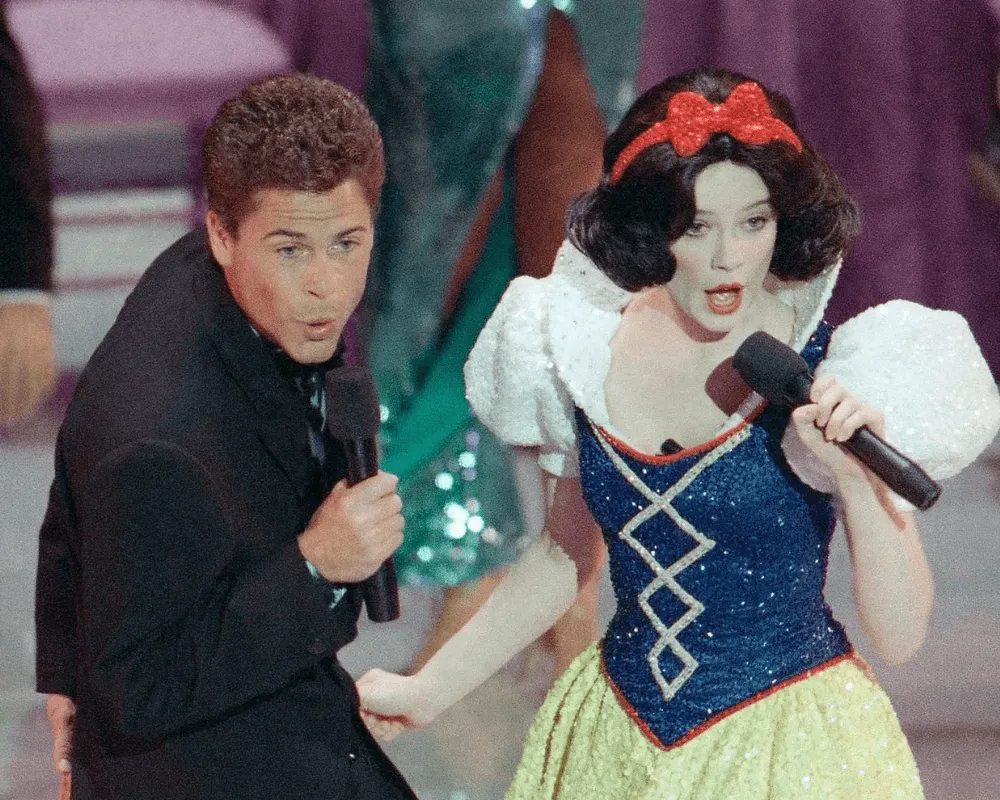 Even worse, Walt Disney sued for the unauthorized use of their character — and Allan Carr, who wrote the number, took a lot of heat for the move. Many actors jumped on to sign a petition to the Academy Awards to never do anything like it in the future and Gregory Peck even contemplated returning his awards for the offense.
Aretha Franklin Steps In
It's no secret that Aretha Franklin had a voice that could capture any audience. Her place in music history is cemented as the "Queen of Soul."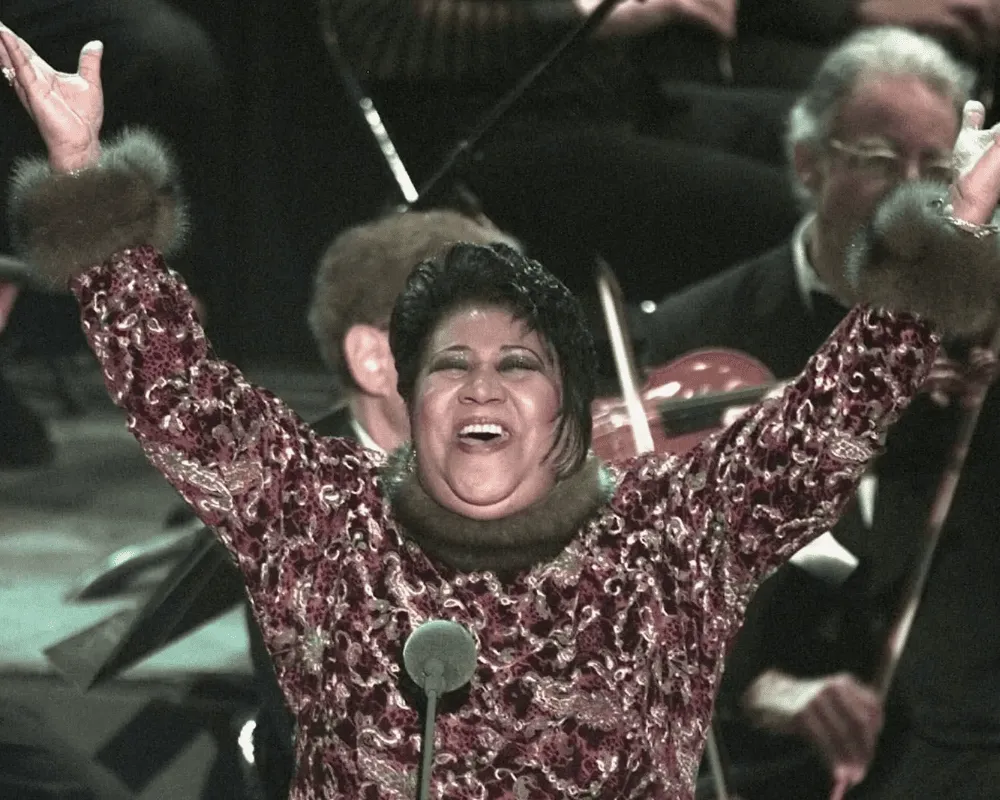 At the 1998 Grammys, Aretha Franklin had the chance to stun audiences again when opera singer Pavarotti had to back out. It's no small feat to step in for an opera singer but for the Queen of Soul, the show must go on. We're sure the crowd wasn't disappointed either.
Madonna Goes Flying
We're sure that Edna Mode would have a lot to say about this Madonna performance at the 35th Brit Awards. The pop icon walked on stage with a massive cape. She walked up onto a podium on the stage and her dancers were meant to tear the cape off.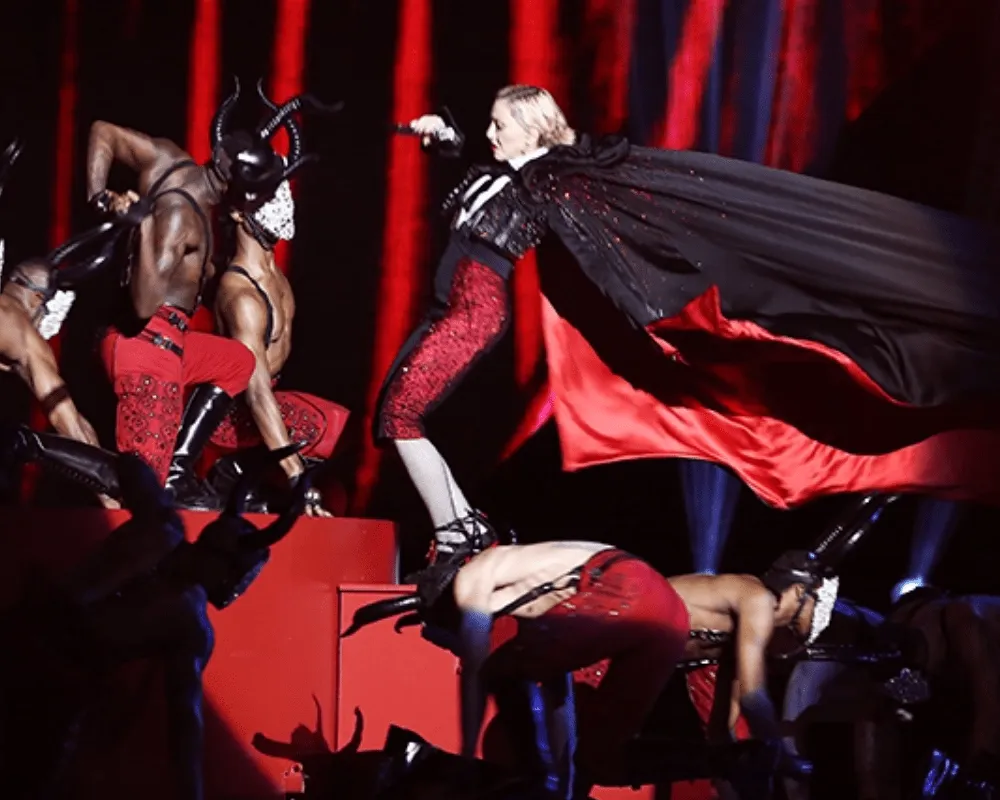 The only problem was the cape was secured a little too well and they just ended up dragging Madonna back down the stairs. Still, the singer got right back up and finished the song.
Julia Roberts' Speech
The prospect of fitting enough "thank yous" in a short acceptance speech is intimidating. Even Julia Roberts had trouble with it in 2001. The actress won an Academy Award for Best Actress for her role in Erin Brokovich.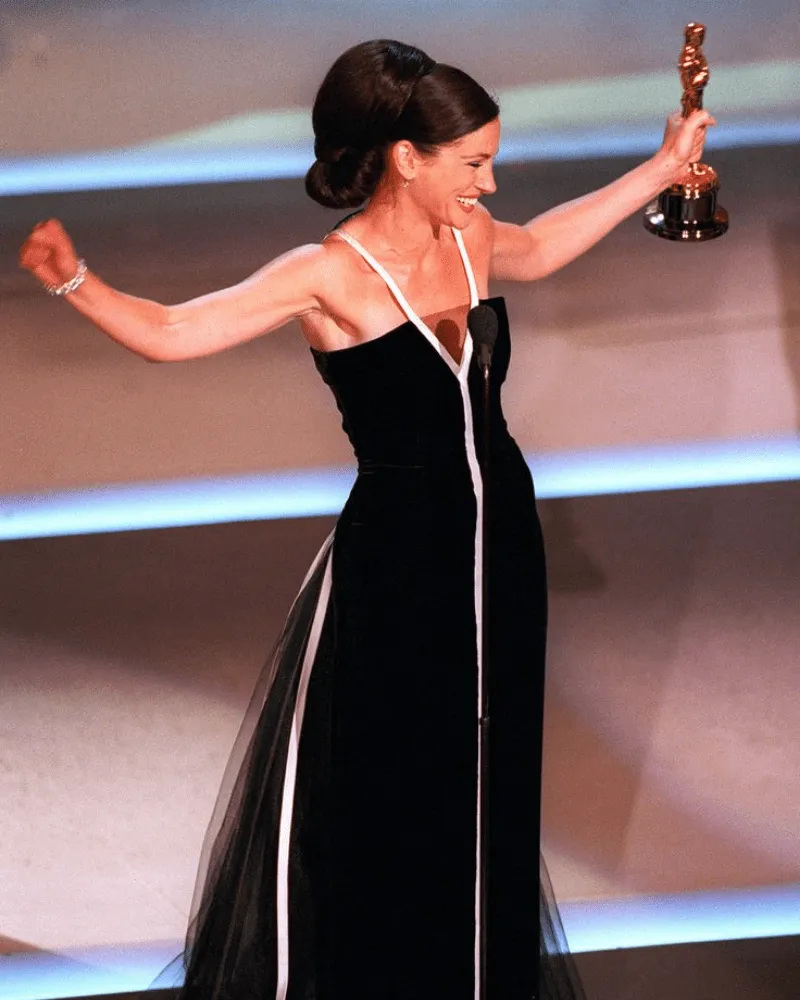 The actress even tried to ask the Academy for more time but to no avail. Unfortunately, she issued an apology a few days later for forgetting to mention the real-life Erin Brokovich.
Playing Off Cuba Gooding Jr.
There's a common move at awards shows when a star's speech is running on a bit too long — just cue the music! Usually, the cue works.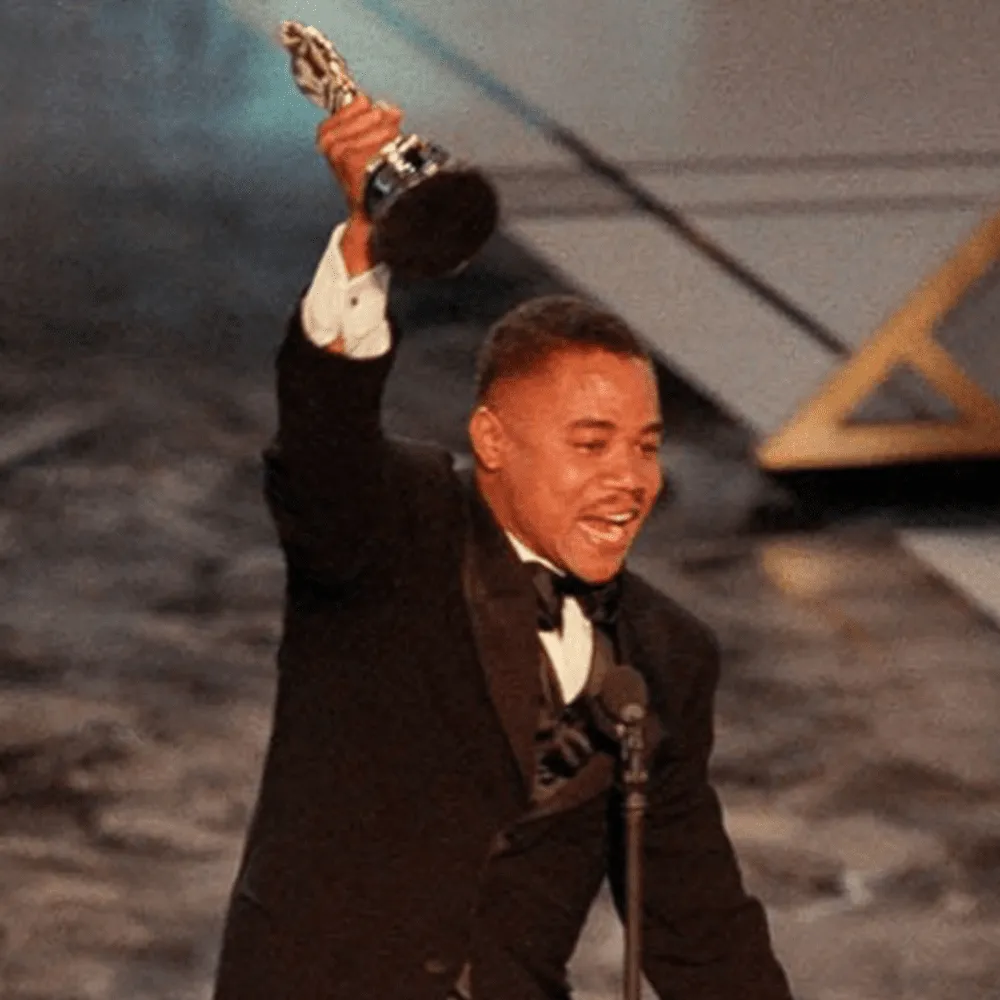 In 1997, Cuba Gooding Jr. wasn't about to stop before he was finished giving his speech, already noticing how short time was to thank everyone. As the music started to swell, the elated actor only got louder to shout the rest of his speech over the music before leaving the stage.
Nicki Minaj and Miley Cyrus
This award show moment came shortly after a Miley Cyrus interview involved critiquing Minaj's previous comments about unfair judging at the VMAs. In the interview, Cyrus was quoted to say that Minaj's comments were "just about herself."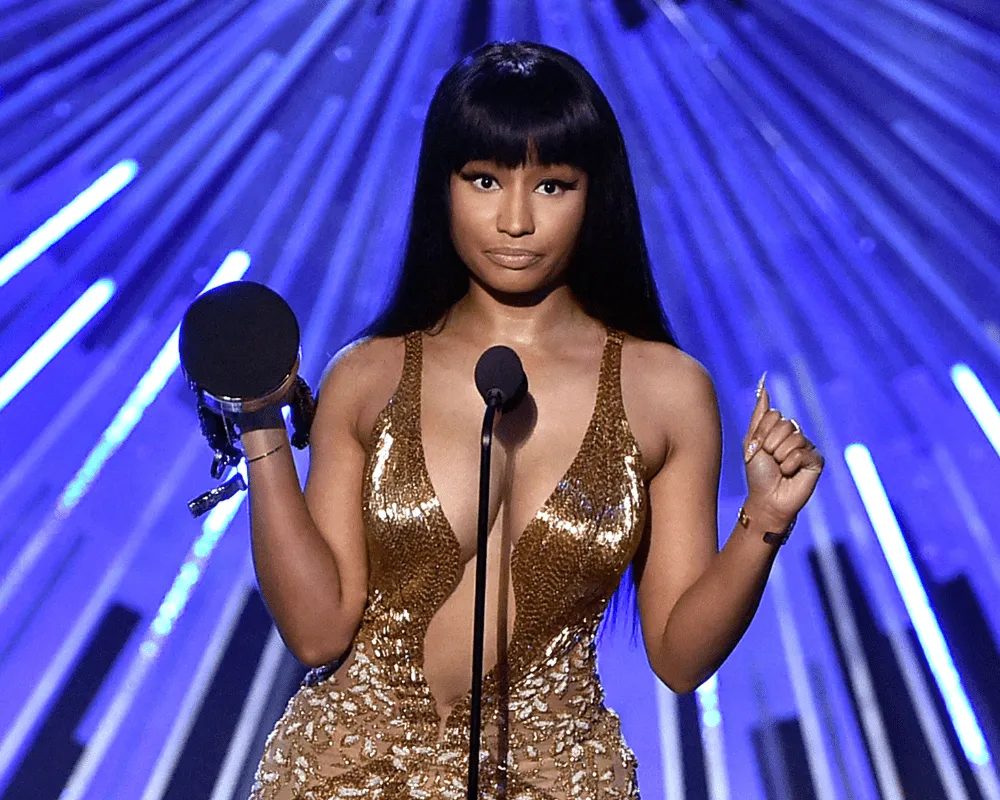 So, it was on the VMAs stage itself that Minaj infamously called Cyrus out with her, "Miley, what's good?" comment. As for Cyrus, she brushed it off, moved on, and briefly blamed twisted words in the interview for the problem rather than addressing the situation directly.
David Letterman's Awful Joke
David Letterman was tasked with hosting the Oscars in 1995. He kicked things off with a rather bizarre joke not many appreciated. In the joke, he pokes fun at a few actors with names he deems are "odd," specifically referencing Uma Thurman, Oprah Winfrey, and Keanu Reeves.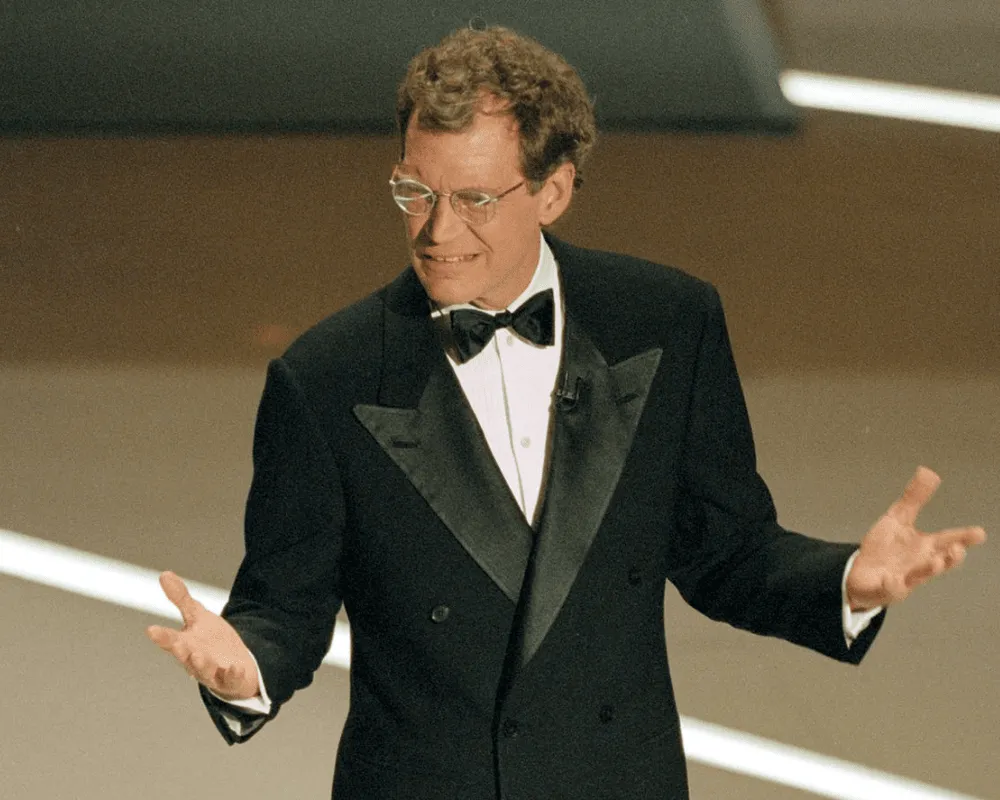 The joke was ultimately uncomfortable rather than funny. Plus, it definitely didn't help that none of the three were in on the joke — and Letterman had to find Thurman and Winfrey in the crowd, giving up completely on finding Reeves.
Jack Palance Proves a Point
Jack Palance was often known to play the rough-and-tumble characters or even outright villains, often in Westerns. As he got older, it seemed the actor was determined to prove he was still ready for these roles.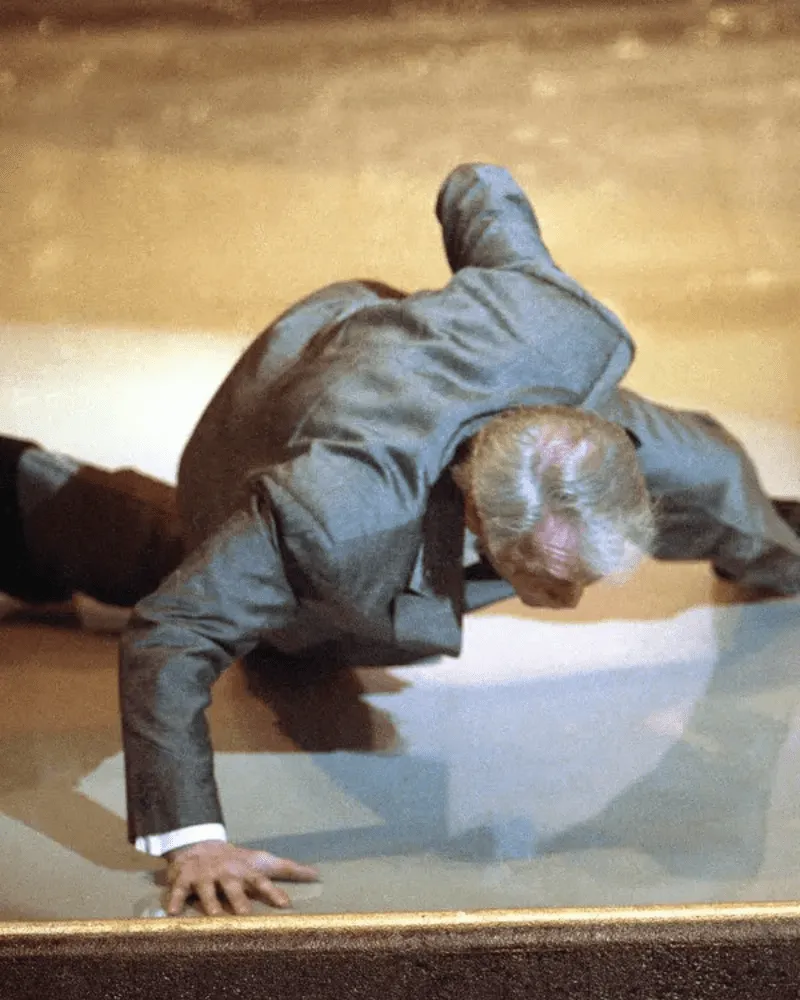 In case you didn't believe him, he stopped his 1991 Oscars acceptance speech partway through to show his skill at pushups — including a few one-armed ones to prove a point. It wasn't an approach anyone expected.
Ricky Gervais and 'The Tourist'
The organizers of the 2011 Golden Globes turned to Ricky Gervais to host the show. True to form, the performance wasn't without its risky jokes.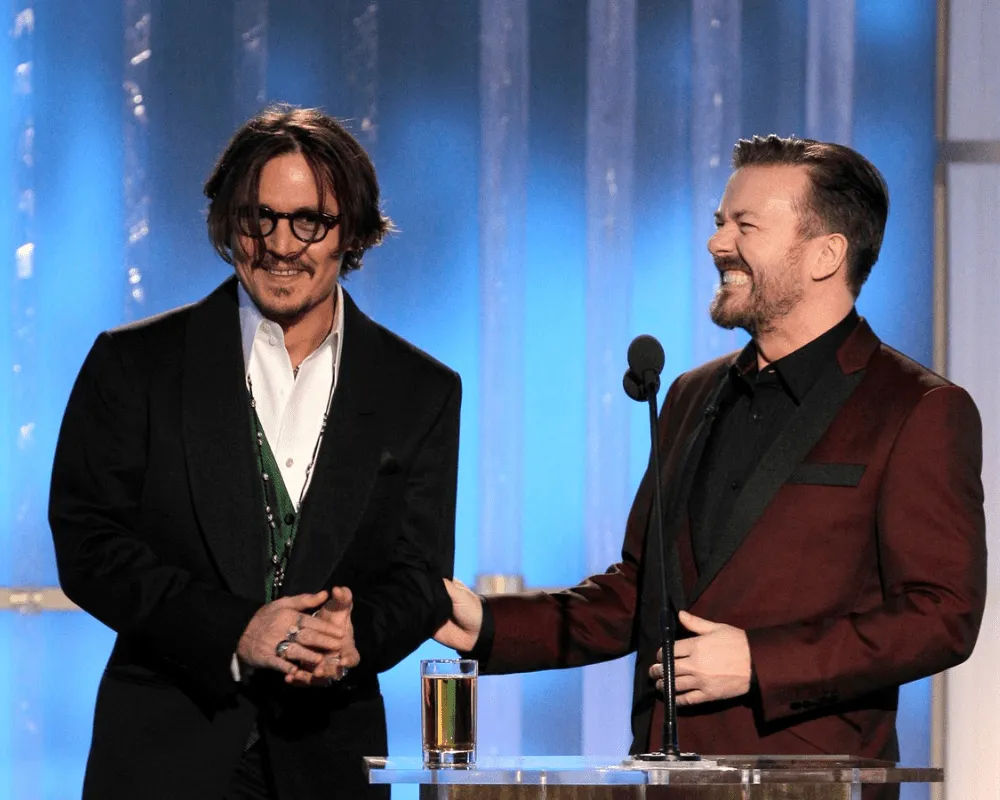 This included multiple jokes against The Tourist, a Johnny Depp and Angelina Jolie movie that managed to win multiple nominations despite the movie not seeing that much success. Gervais joked about name recognition and outright bribes but the audience didn't seem to love it.
Michael Jackson's Misunderstanding
The 2002 VMAs included a huge misunderstanding. To celebrate his birthday, Britney Spears presented him with a statue and the awards show basically had a moment to honor him.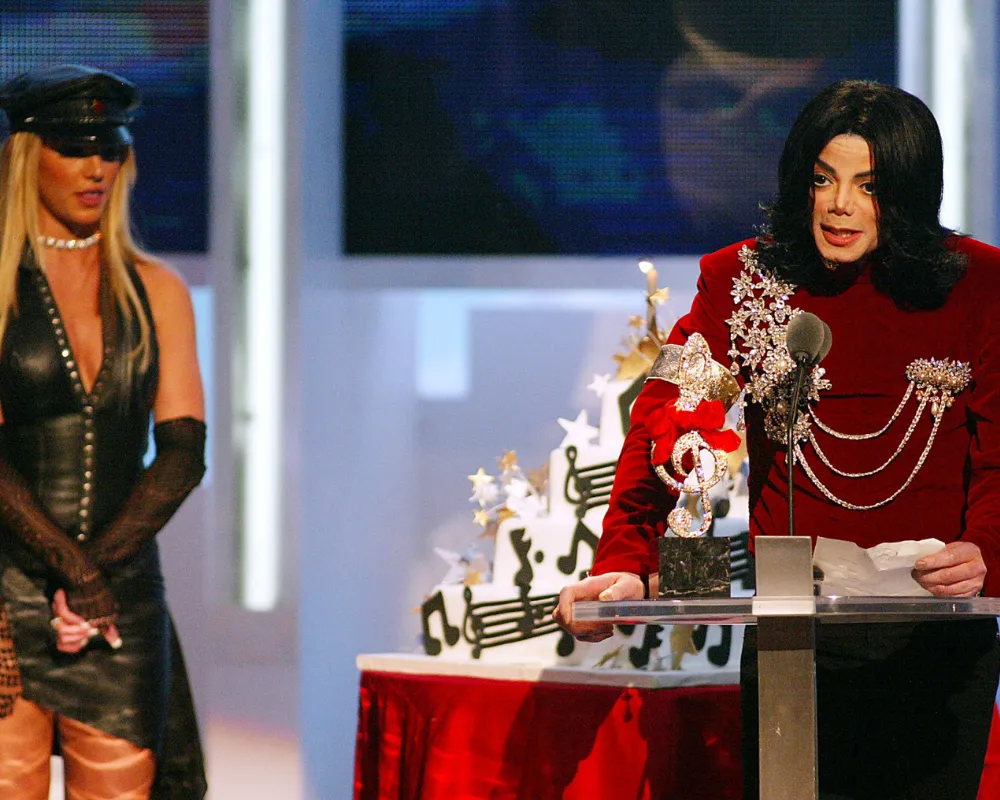 The only problem was Spears commented that Jackson was basically the artist of the millennium. In turn, that's exactly the award Jackson assumed he was accepting and gave a speech to match. The only problem was the award he gave a speech for didn't exist, leaving everyone confused.
Wrong One, Steve Harvey
Some awards show gaffs aren't that bad. Others can really cause a problem for the event and the people involved. Adding a bit of drama to the 2015 Miss Universe competition, Steve Harvey announced Miss Colombia as the winner.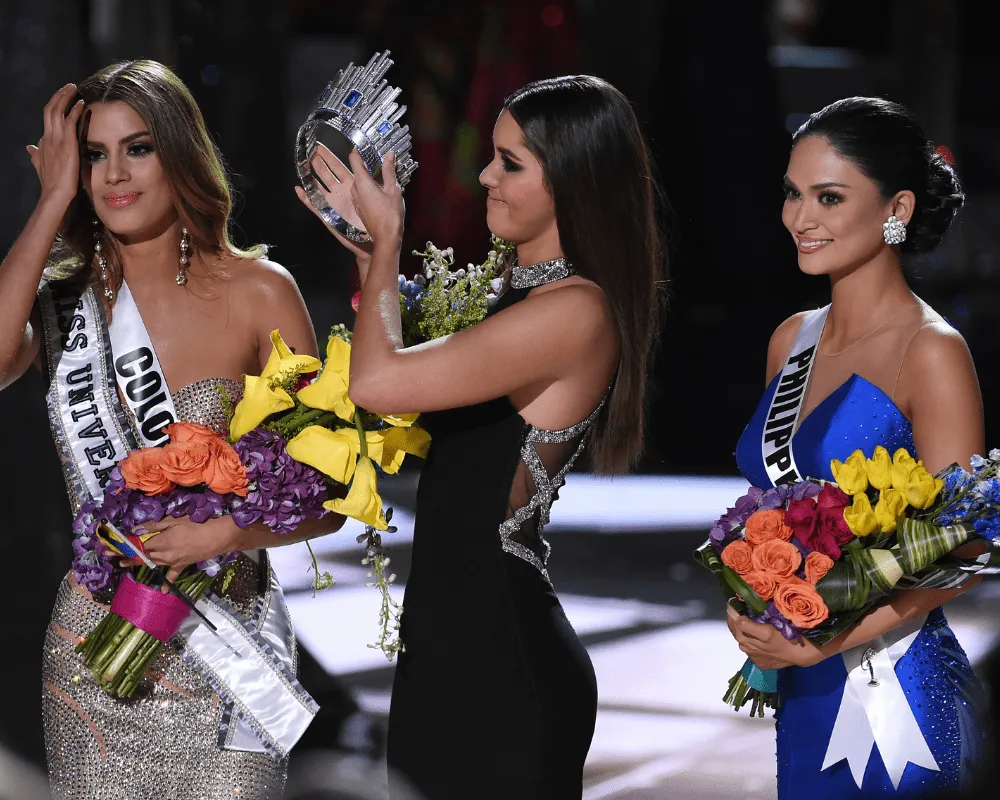 However, the real winner was the supposed runner-up, Miss Phillippines. Miss Colombia had already accepted the crown and started celebrating when Harvey reappears with an awkward announcement. We can't imagine what that must have been like for either of these competitors.
Something Missing
Sometimes, the things that stand out about awards shows don't have to do with the stars. It takes a lot to plan a successful event! In 2018, the Academy Awards might have forgotten something important.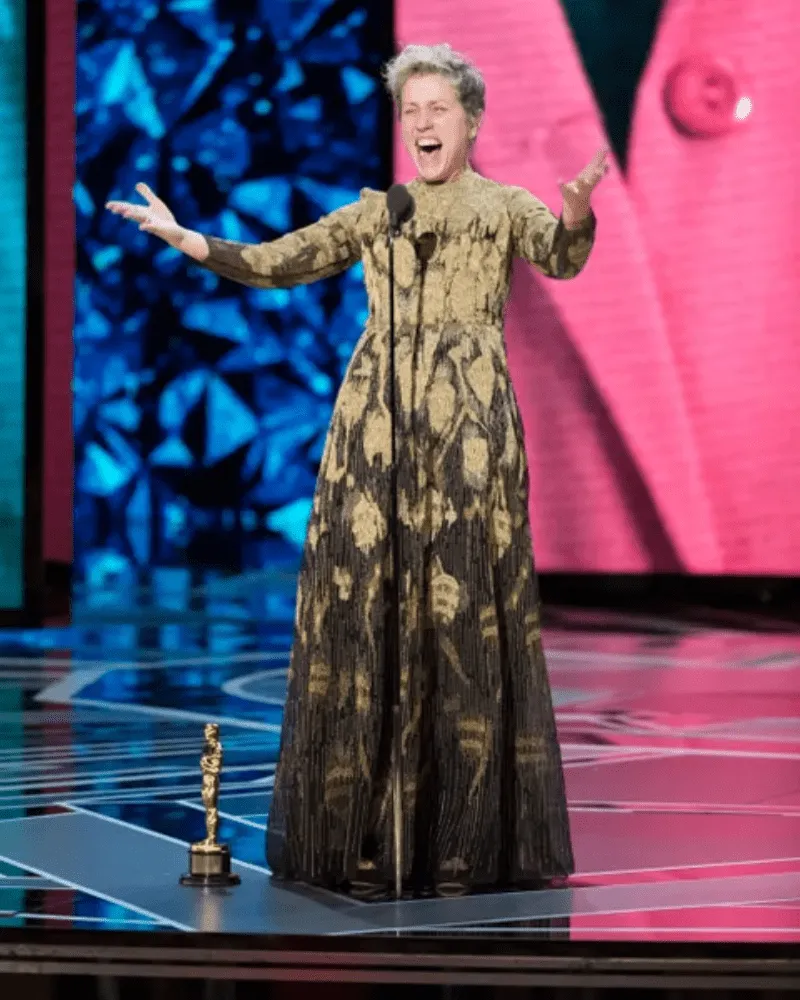 They switched out the traditional choice of a podium for a standing mic. The only problem was without this podium, most stars gave their speeches with their prestigious awards sitting on the ground beside them.
'Moonlight' or 'La La Land'?
The moment that La La Land was accidentally awarded an Oscar instead of Moonlight. This time, Warren Beatty was in Steve Harvey's shoes. Right before the actor made the announcement for the winner of Best Picture, rumors came out that someone said, "Oh my god, he got the wrong envelope."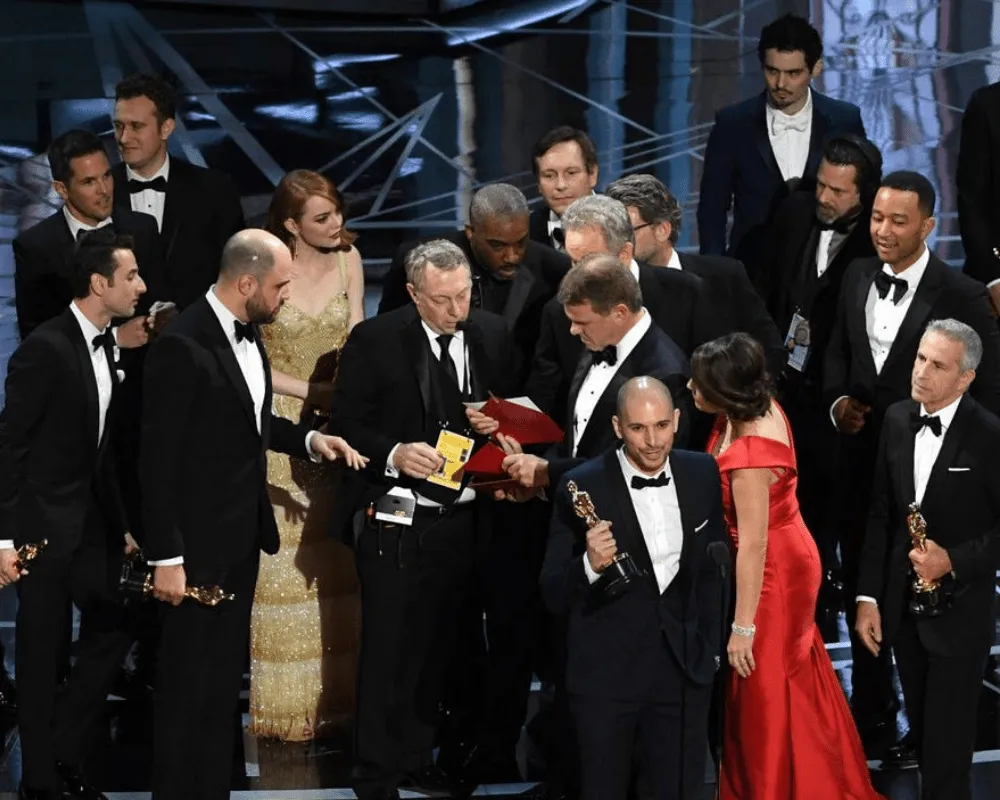 Whether he realized it or not, Beatty confused the envelope in which Emma Stone won Best Actress in a Leading Role and made an unfortunate error.
Faith Hill's Fake Out
Anyone watching the 2006 Country Music Awards couldn't help but notice that not everyone seemed happy when Carrie Underwood won an award for female vocalist of the year.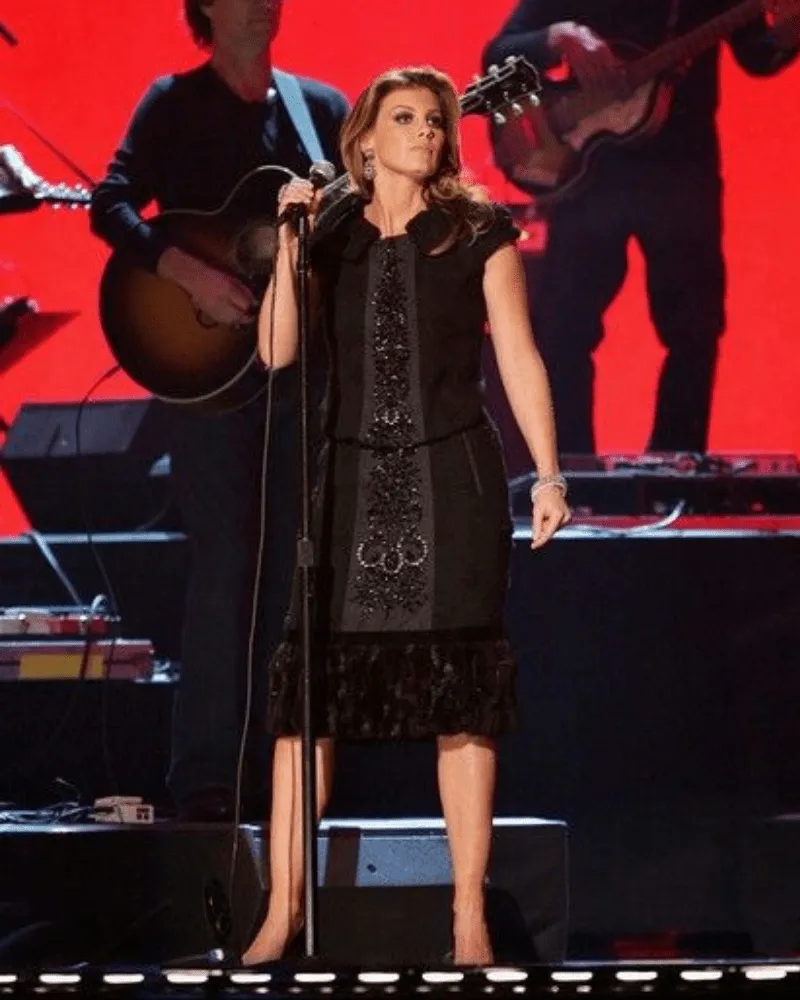 Specifically, the camera caught an image of Faith Hill, seemingly angry at the win, mouthing "What?!" at the camera. The day after, she clarified, "The idea that I would act disrespectful towards a fellow musician is unimaginable to me. For this to become a focus of attention given the talent gathered is utterly ridiculous," writing the expression off as a joke.
Beyoncé's Big Announcement
Beyoncé is a musician who needs no introduction. In fact, the singer is rather universally loved for her talent. The musician was already centerstage performing "Love on Top" when she stole the show even further at the 2011 VMAs.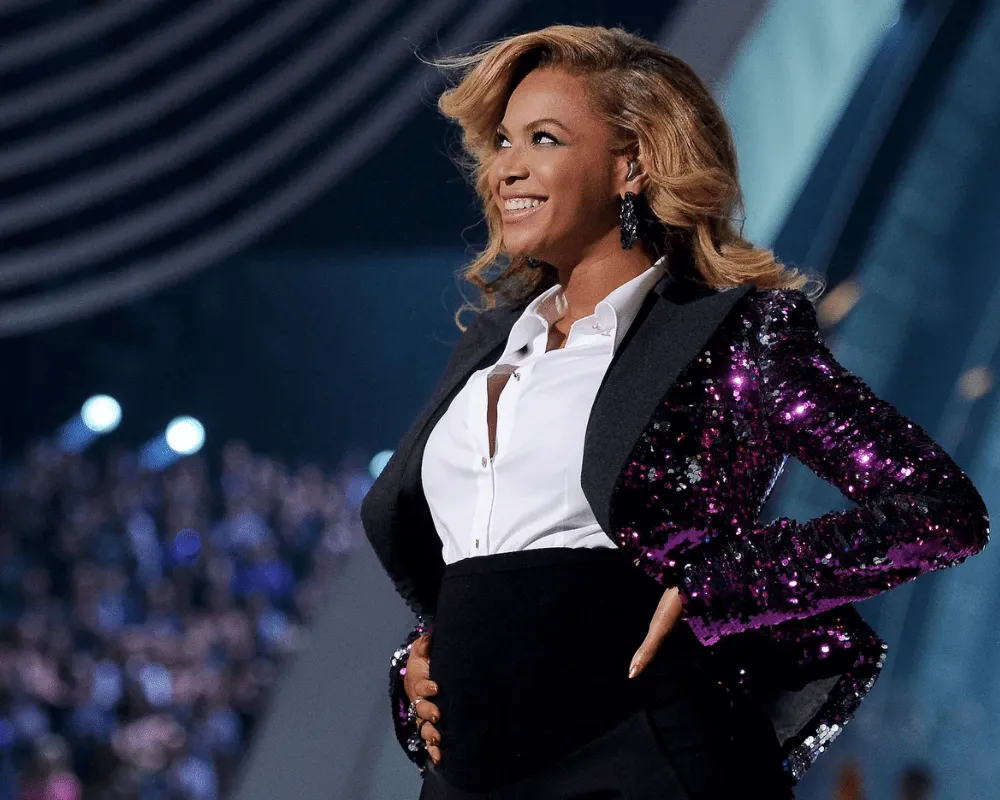 At the end of the performance, the singer tossed the mic aside and opened her jacket to rub her stomach, announcing her pregnancy with Blue Ivy. Needless to say, the announcement excited viewers both at the event and watching from home.
The Pussycat Dolls Performance
Performing live comes with its own set of challenges. You have to stay on cue and if you mess up, there's a big chance the audience will notice. The Pussycat Dolls were having an off night when they performed at the 2006 AMAs.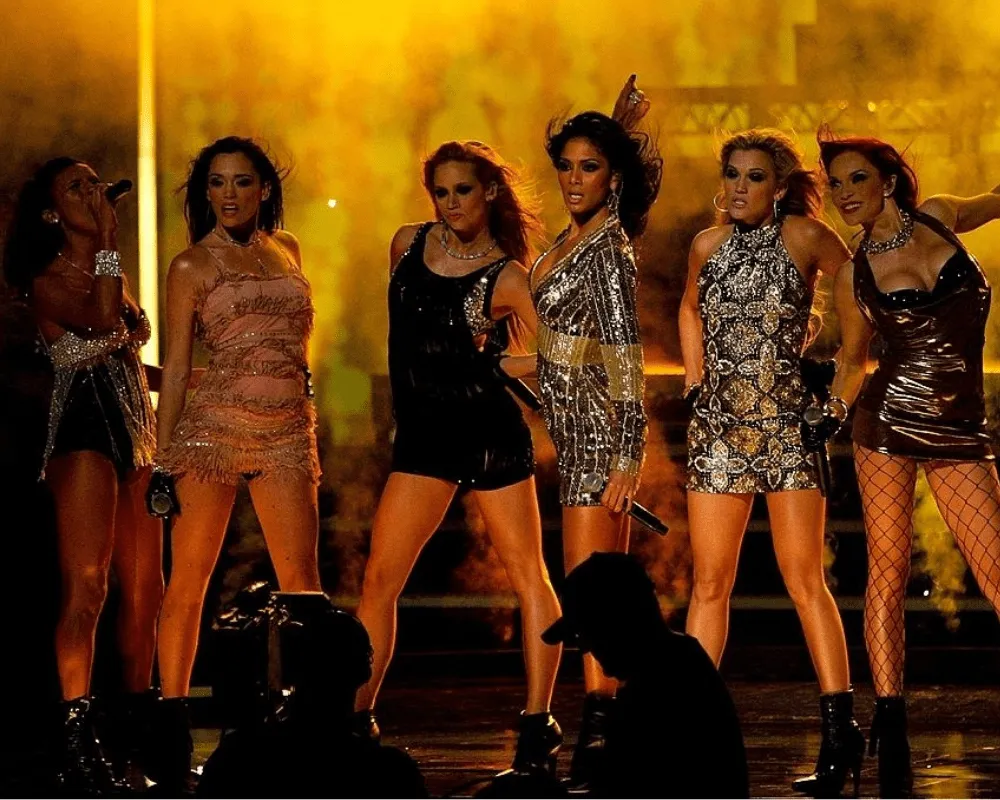 They were almost done with the song "Buttons" when suddenly member, Melody Thornton came on stage with 40 seconds to go. In those 40 seconds, she started yelling over the other members of the group who just continued with the choreography.
Winona Ryder's Expressions
Sometimes, moments in awards shows we remember the longest come naturally. It's just a matter of natural reaction in an often emotional environment.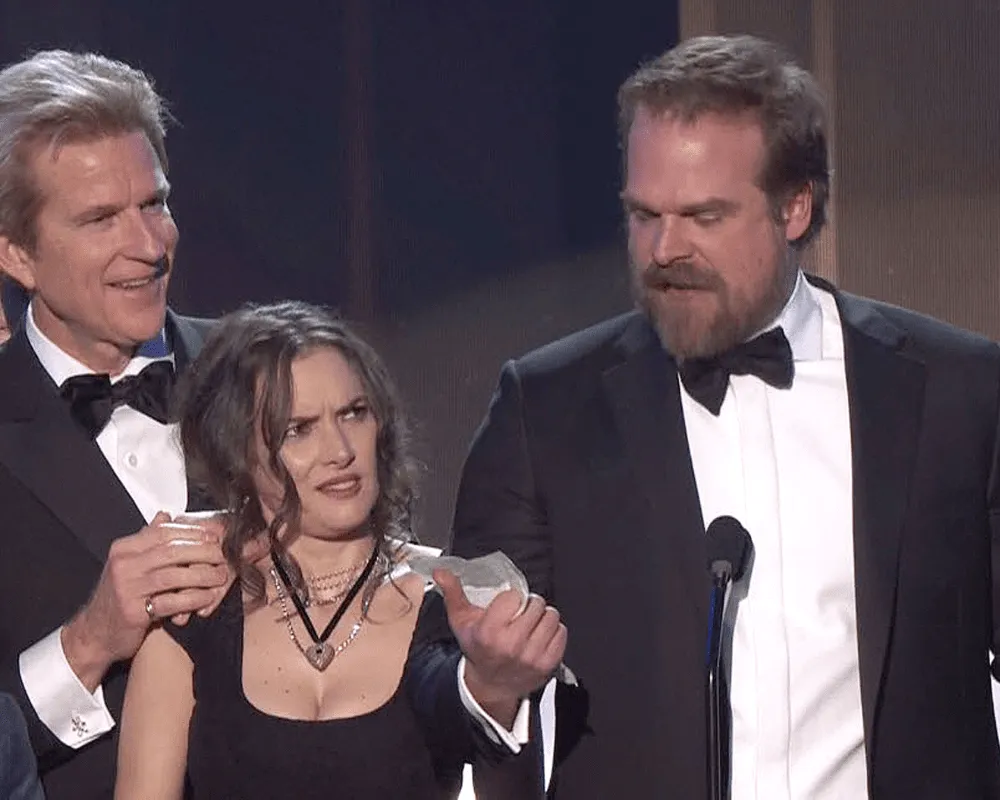 Winona Ryder accidentally captured the audience's attention while David Harbour made a speech for Stranger Things winning Best Ensemble in a Drama Series in 2017 at the SAG Awards. It's hard to focus on Harbour's rousing speech when Ryder stands behind him with such an incredibly expressive face.
Bob Dylan's Visitor
Bob Dylan performed at the 1998 Grammys and everything was normal— until someone ran on stage with no shirt and the words "Soy Bomb" written across their chest. The person behind the stunt and on-stage is Michael Portnoy.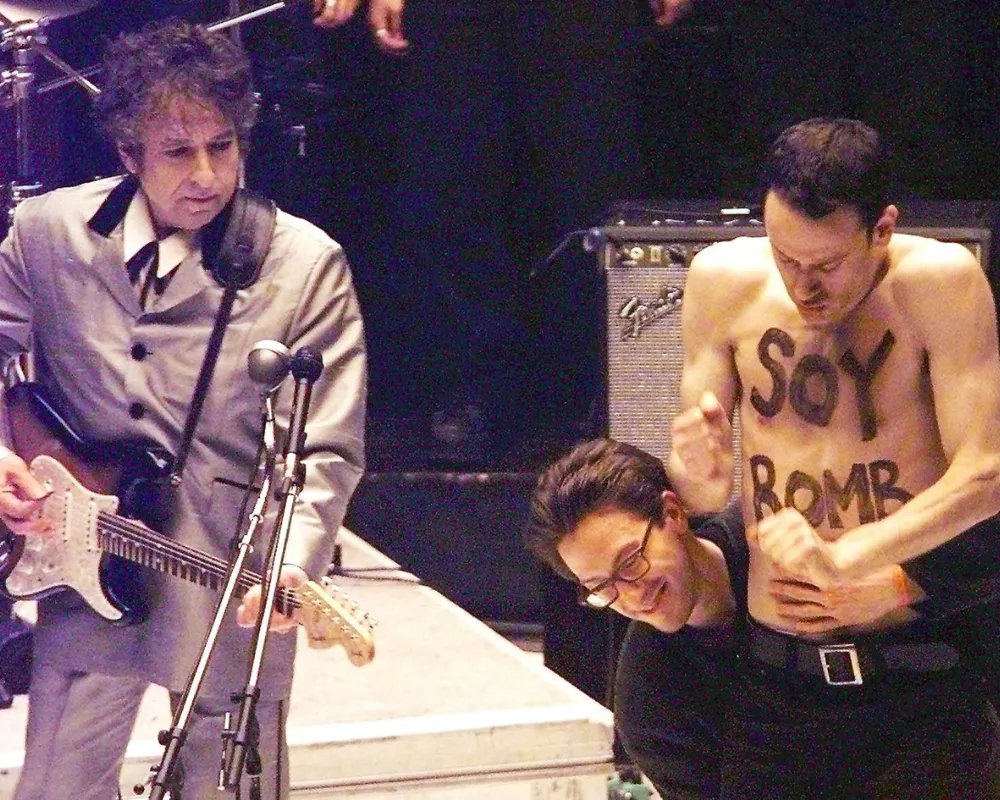 Another musician, Portnoy stormed the stage with the belief that he was on the new stage of music and Dylan was outdated. According to him, "Soy Bomb" means "Sort of life and death and explosion." We're not quite sure he convinced everyone they should abandon Bob Dylan's music.
Roberto Benigni's Interesting Route
Awards shows make for a fairly crowded environment. Yet, the aisles typically remain as a walkway for stars to move to and from the stage. Of course, we suppose you don't necessarily have to use the aisle if you don't want to.

At the 1998 Oscars, Roberto Benigni decided not to shuffle toward the aisle. Why bother when you can just walk over the chairs? It seems like the audience is entertained.
Nicole Kidman Becomes a Meme
Like many stars, an award show momentarily turned Nicole Kidman into a meme. Specifically, her interesting clapping method confused many. The actress later confirmed that she was clapping like that on purpose.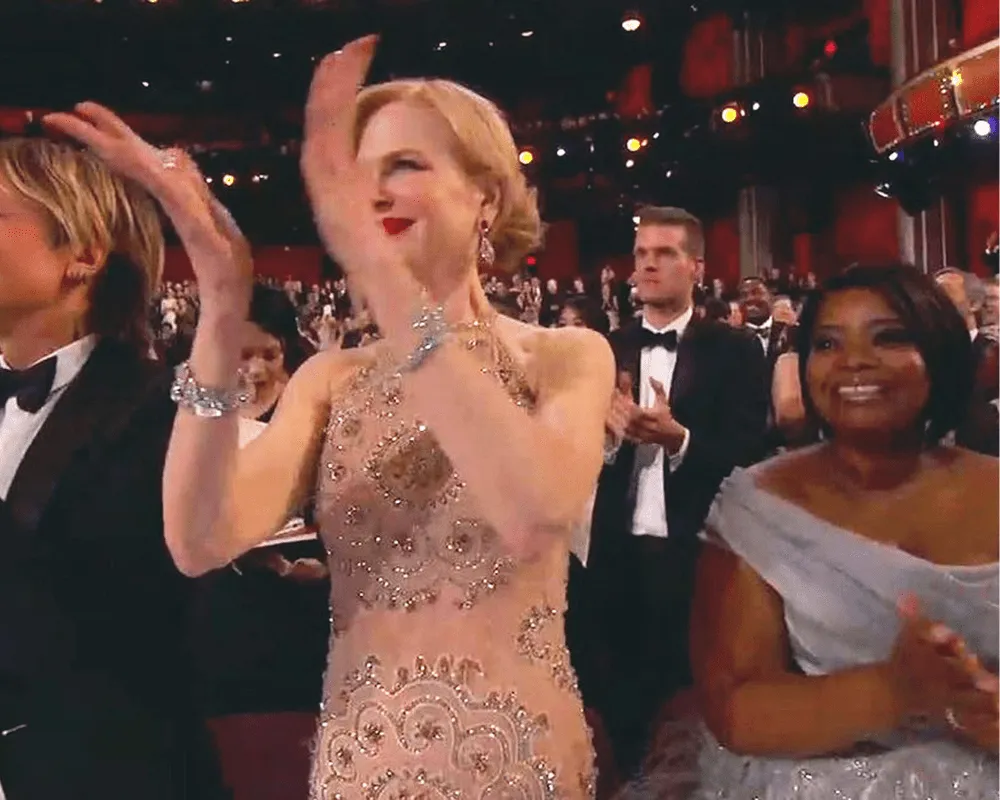 Decked out in eveningwear, Kidman had to be careful so as to not damage the jewels adorning her hands. Still, she didn't want to see everyone win and not congratulate them, so she improvised a safer method.
Lady Gaga's Meat Dress
Outfits steal the show sometimes, too. Lady Gaga really took it to the next level with a dress made of raw meat. It was the 2010 VMAs when Gaga showed up with a meat dress — complete with meat shoes and a meat hat.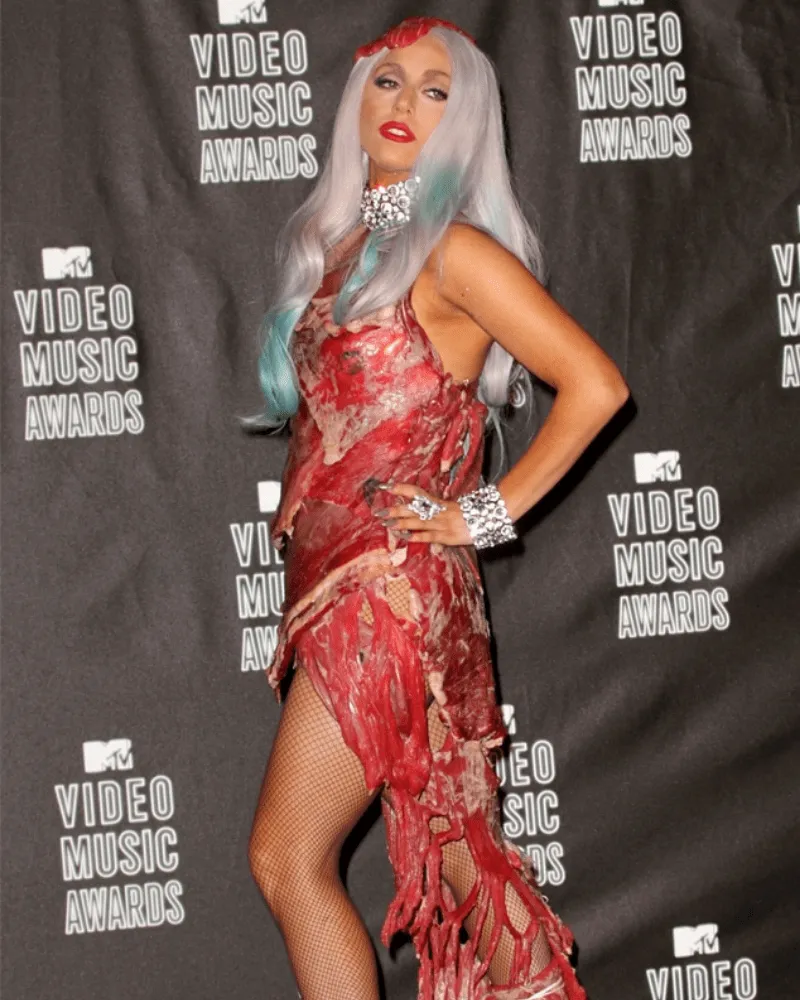 Don't worry, however, because the meat was treated with a host of chemicals including bleach, detergent, and formaldehyde, and then redyed. This way, the meat wasn't full of bacteria and a health hazard all night.
Jacqueline Bisset's Speech
If we've learned anything so far, it's that emotions run high at awards shows. This can make delivering a speech more of a challenge than you might expect.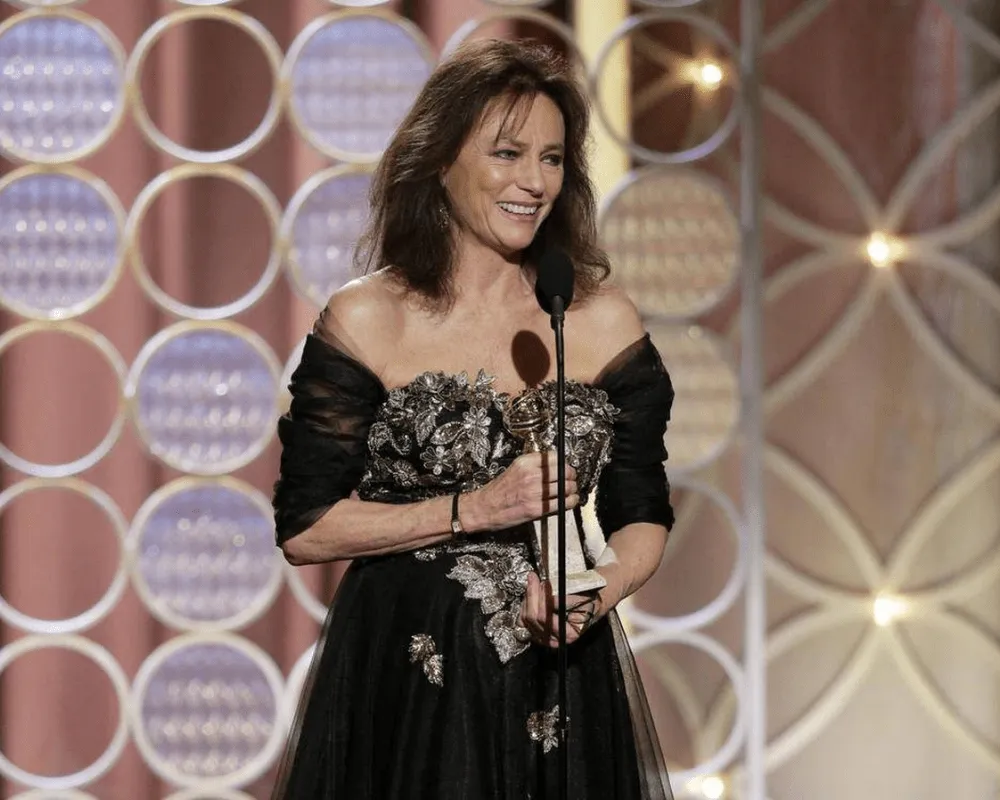 At the 71st Golden Globes, Jacqueline Bisset won a Golden Globe for her role as a supporting actress in Dancing on the Edge. Once she took to the stage, she hesitated for quite a while and then jumped into a long, disorganized speech, ignoring the music trying to play her off.
James Franco and Tommy Wiseau
When The Room was released, it wasn't in the running to win any awards. However, it still managed to take a place in pop culture's heart.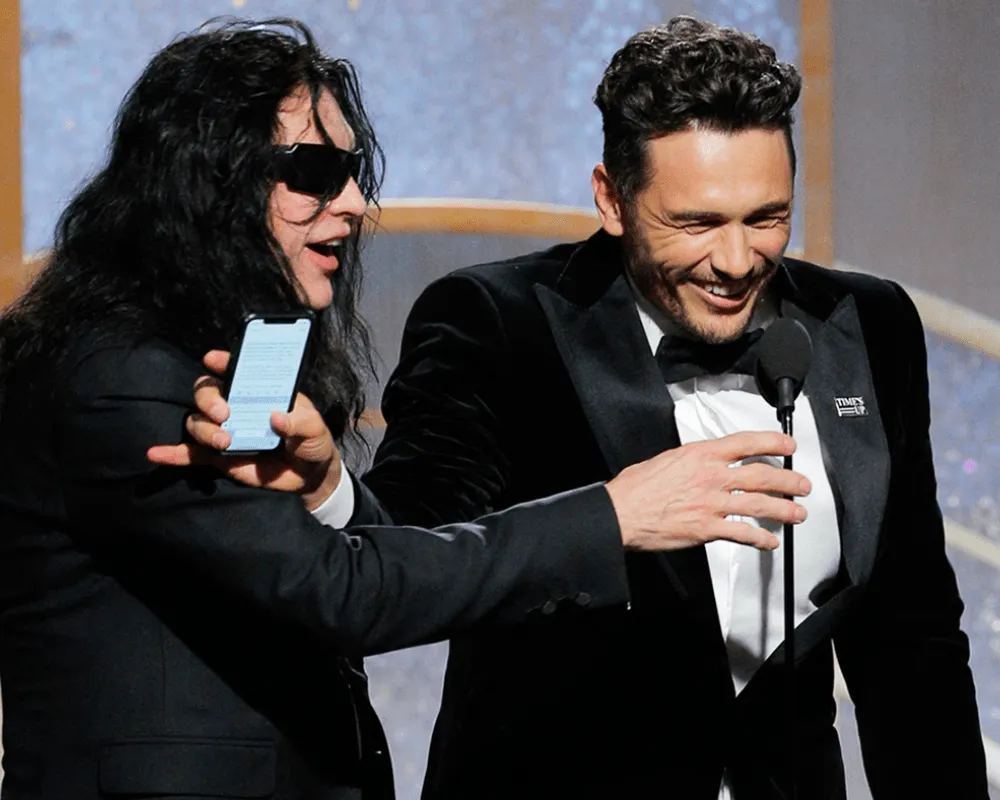 So much so, in fact, that James Franco made a movie about the The Room called The Disaster Artist. When the movie picked up a few Golden Globes, Franco pulled Wiseau on stage. In an attempt to stop a meandering speech, though, Franco awkwardly barred Wiseau from the mic in an unmistakable move to block him.
Madonna, Britney, and Christina
At this point, we should just expect the unexpected at the VMAs. It seems there's no way to know what the stars will do next. Madonna, Britney Spears, and Christina Aguilera had some serious star power when they took to the stage together.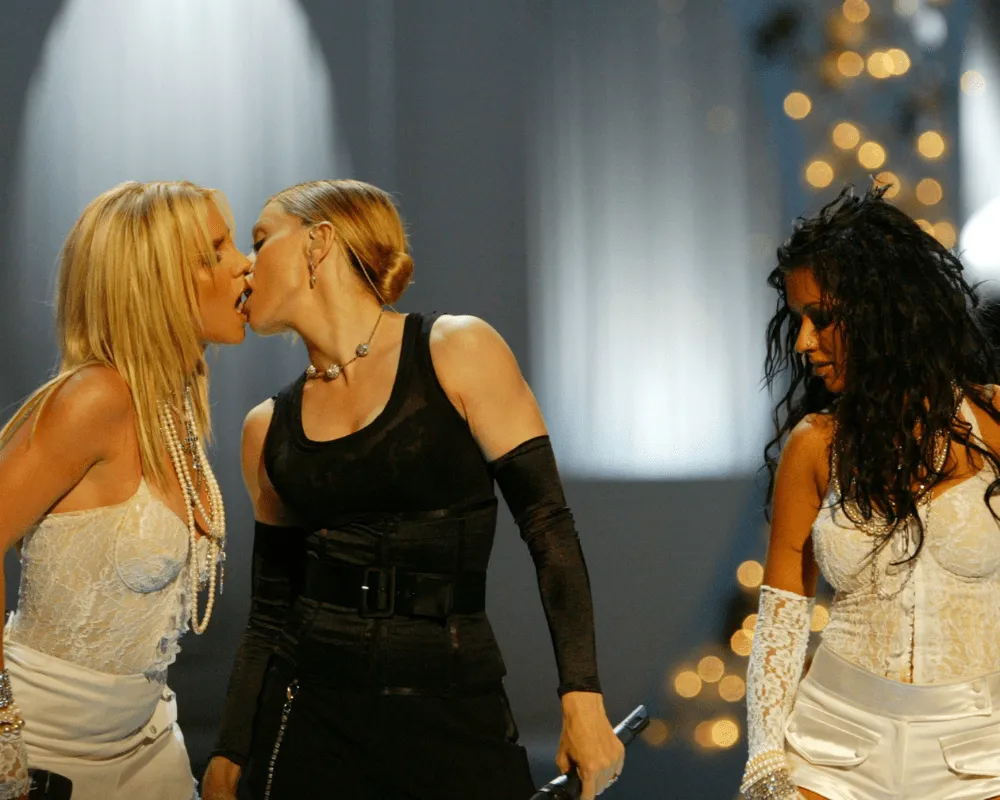 The crowd went wild when Madonna kissed Spears and then Aguilera. However, the kiss with Spears stole the show, complete with a cutaway to Justin Timberlake, her ex, in the audience.
Krist Novoselic's Botched Catch
The members of Nirvana weren't strangers to onstage antics. Those antics come with some risk, though. That's something that bass player Krist Novoselic learned the hard way at the MTV Video Music Awards in 1992.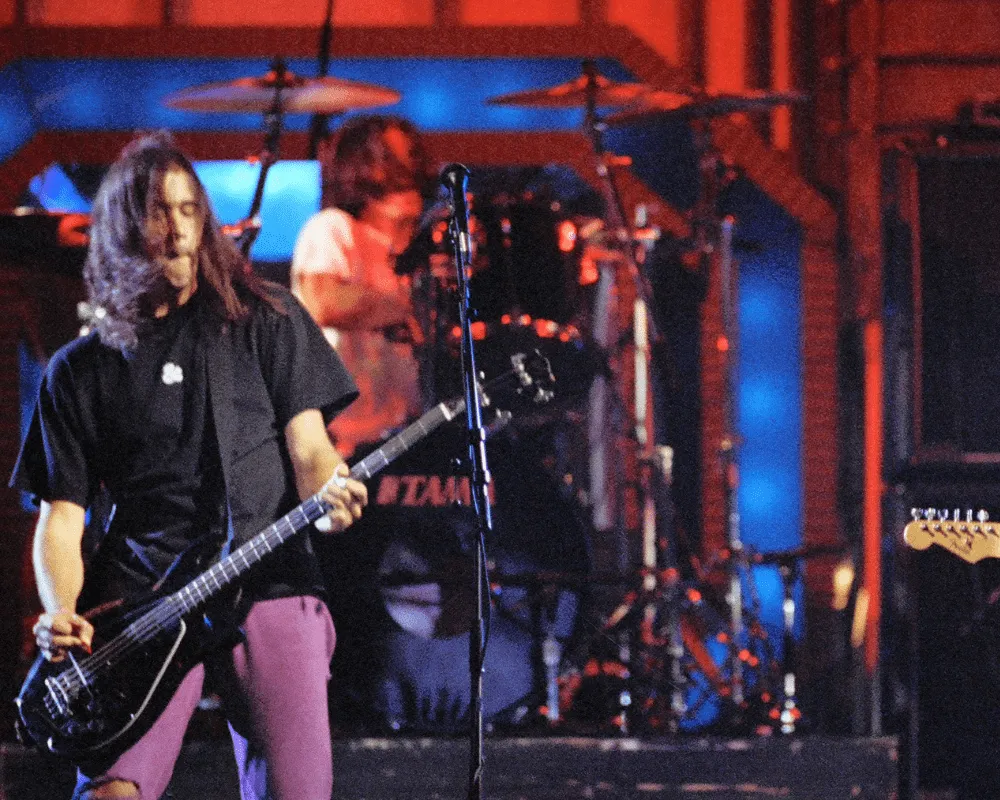 When his amp cut out, he tossed his bass in the air in anger, only for it to come crashing back down on his head. He stumbled offstage after what looked like quite a painful collision. In the following moments, Kurt Cobain took out the rest of the set while Dave Grohl called out Axl Rose specifically.
Jennifer Lawrence's Slip-Up
Everyone trips and falls from time to time and that includes celebrities. It happens to all of us! Jennifer Lawrence tried to go receive her Oscar in 2013 for her work in Silver Linings Playbook when she stumbled up the stairs.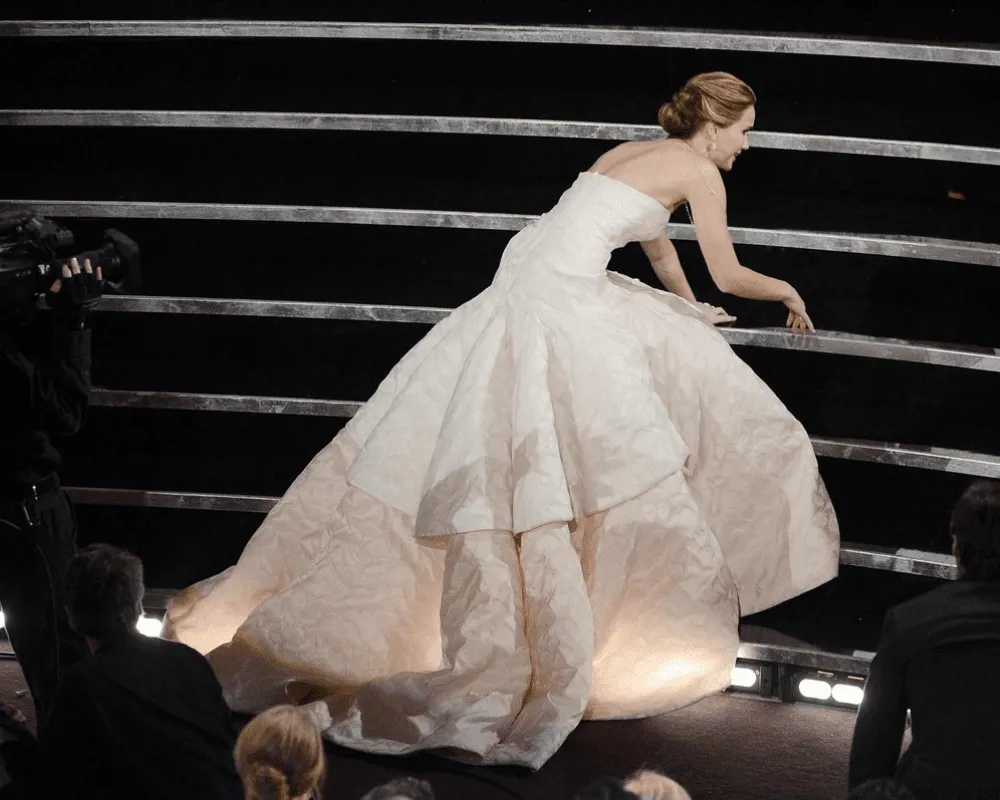 Hugh Jackman and Jean Dujardin quickly went to her aid and she commented at the podium, "You guys are just standing up because you feel bad that I fell and that's really embarrassing."
Chrissy Teigen's Memorable Face
At an awards show, it can seem like there are eyes everywhere. This means that they tend to capture pictures of celebrities whether or not they're flattering.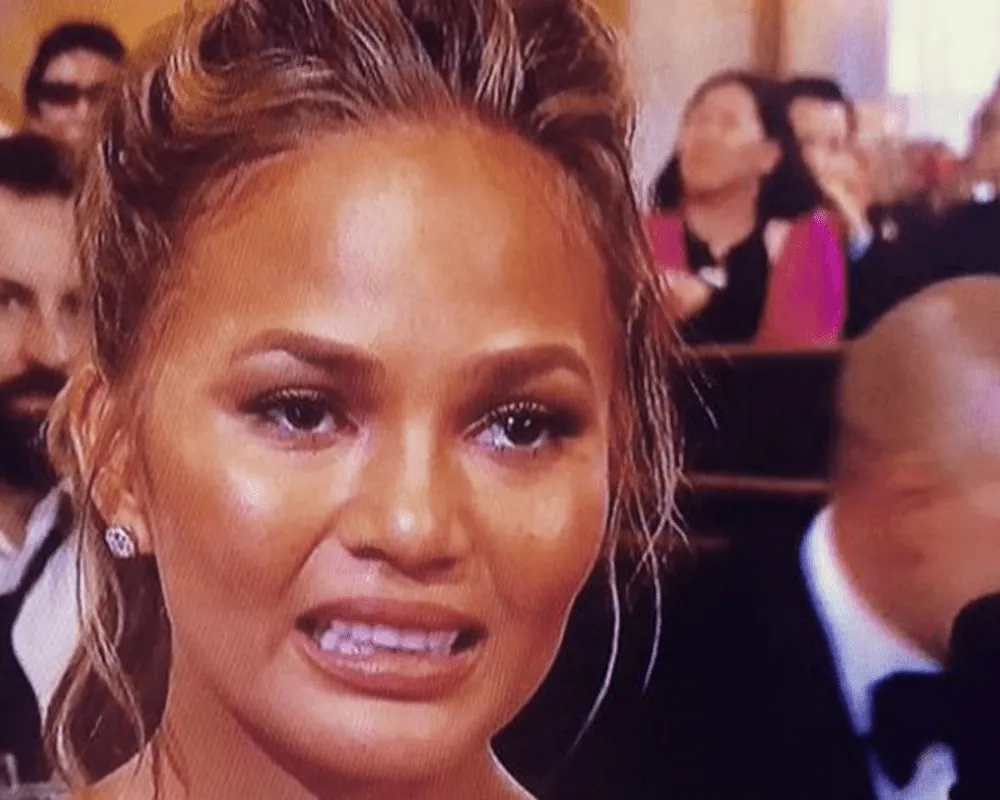 Take, for instance, Chrissy Teigen after hubby John Legend won a Golden Globe. During his speech, the camera swung to her in the audience. Can you blame her for crying when her husband won an award? Still, the internet saw plenty of meme potential in this frame.
John Travolta's Big Mistake
It must feel like a magical moment to hear your name announced at an awards show. Well, unless you don't actually get to hear your name. At the 2014 Oscars, John Travolta mistakenly announced Idina Menzel's name as Adela Dazeem.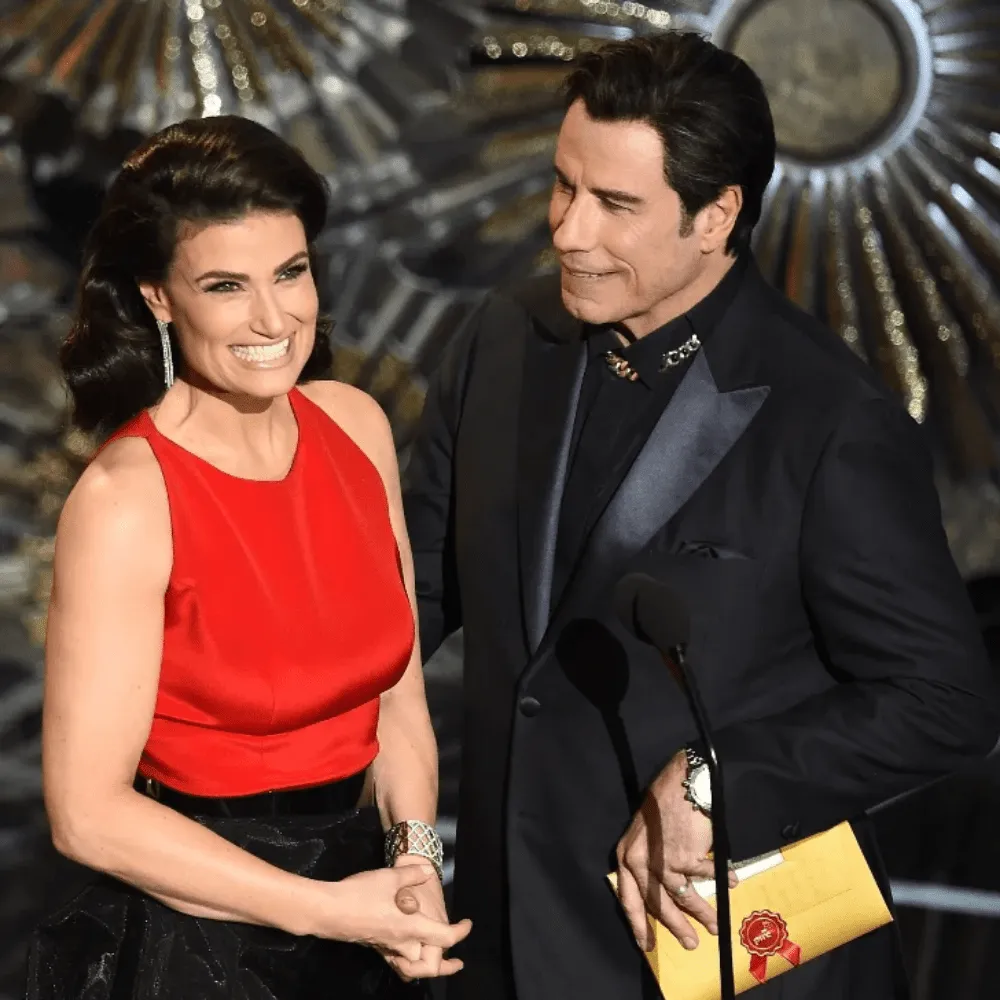 Menzel later said, "That threw me for a minute, but then I just got back on track and reminded myself of where I was. He was really gracious and sent this gorgeous email, and we're buddies and it's all cool."
Miguel Missed the Landing
Miguel was trying for a pretty cool stunt at the 20th Billboard Music Awards. In an athletic feat, he tried to jump from one section of the stage to another.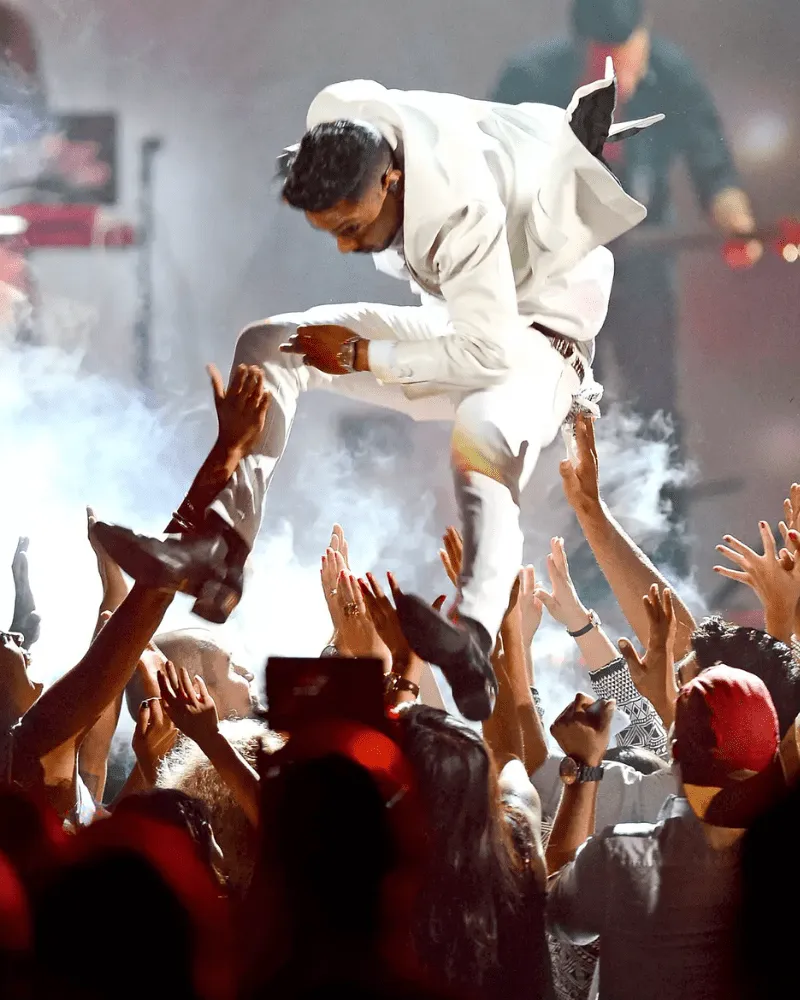 To pull this off, he had to jump over a section of the crowd. The singer almost made it too but he botched the landing. More specifically, he landed crotch-first into a fan's face. Honestly, it looked a bit painful for everyone involved.
Renee Zellweger Almost Missed It
Just because it's a busy night doesn't mean you can forego everything as an audience member at an awards show. Even celebrities need bathroom breaks.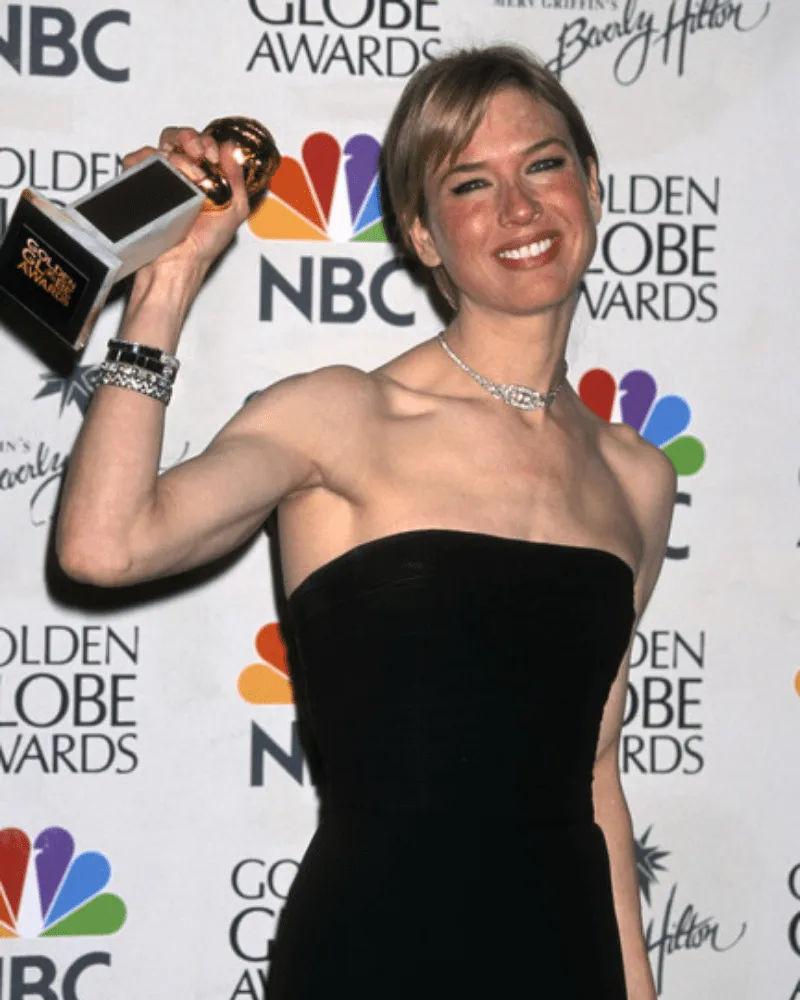 In a move that other stars have repeated since Renee Zellweger almost missed the chance to grab her award for Best Actress in a Musical or Comedy at the 2001 Golden Globes. Why? The star was in the bathroom but she ultimately made it to stage to accept the award! She even said in her speech it was definitely a moment she wouldn't forget.
Taylor Swift's Speech Interrupted
Ye, who changed his name from Kanye, is well-known for letting people know how he feels. In fact, one award show moment is hard to forget even years later. At the 2009 VMAs, Taylor Swift was accepting a music video award for her video for the song "You Belong with Me."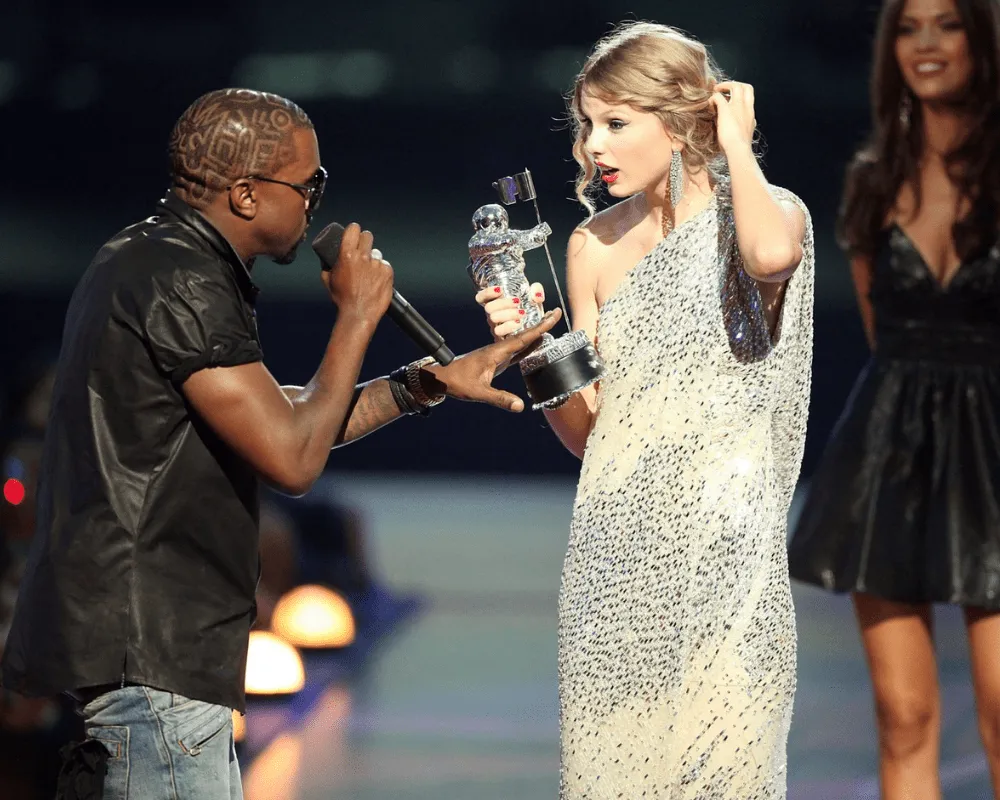 Obviously, not everyone agreed. It wasn't long before Ye pulled the mic from Swift with the comment about letting her finish before saying that she didn't actually deserve the award — Beyoncé did for her "Single Ladies" video.
Charlie Chaplin's Standing Ovation
It's easy to tell who's a legend in Hollywood at an awards show. It's often a time that stars pay homage to their heroes as well. In 1972, during the Academy Awards, Charlie Chaplin was given an Honorary Award.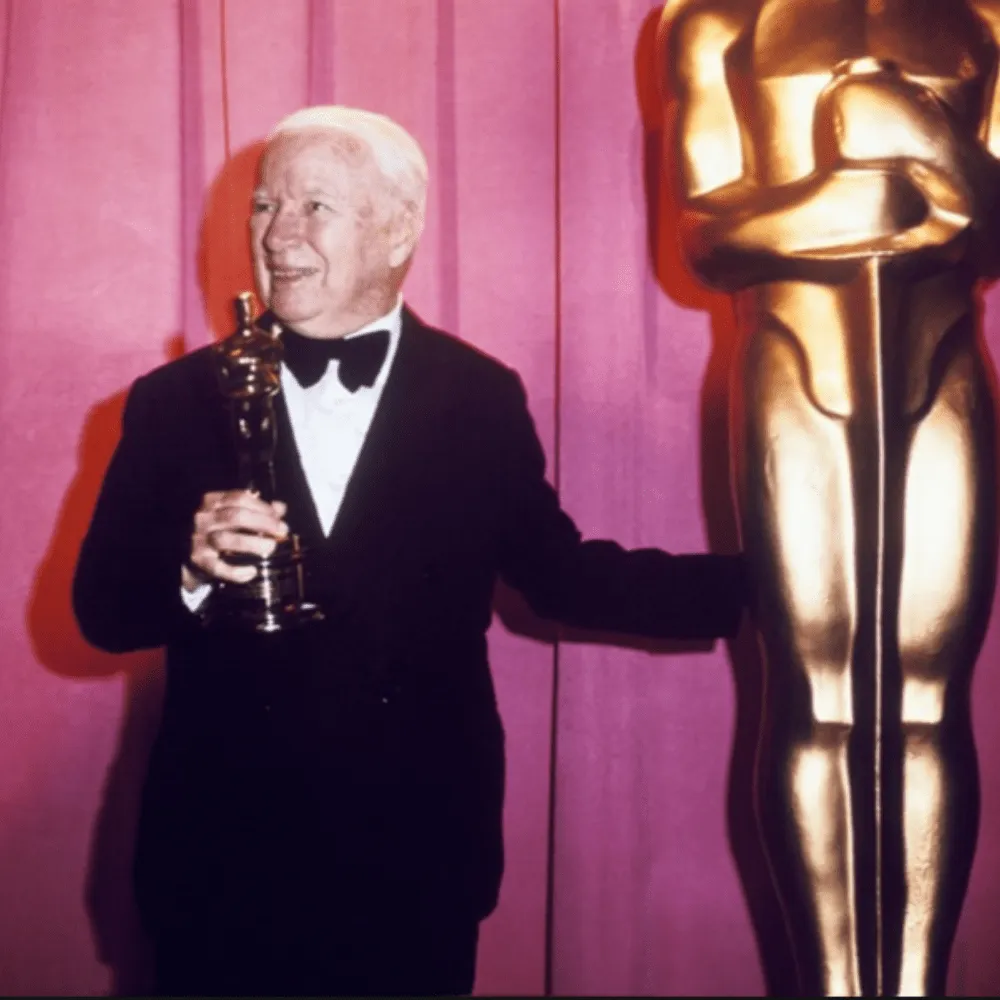 It seemed the crowd was thrilled for the film star and launched into a standing ovation. To make it stand out even further, the 12-minute standing ovation broke records for the longest one yet!
Katy Perry Tripping Up
Katy Perry is no stranger to big props in her shows. Sometimes, they just don't work out the way you picture it going in real life, though.

During the 7th Annual Los Premios MTV Latinoamérica, Perry finished off by jumping into a giant cake. The only problem was the icing was much more slippery than the singer expected. She fell four times in a row before accepting the situation.
Streaking at the 1974 Oscars
The Oscars has a fairly formal dress code. For the most part, you see people in stunning gowns and suits posing and accepting awards. In 1974, something a bit different happened.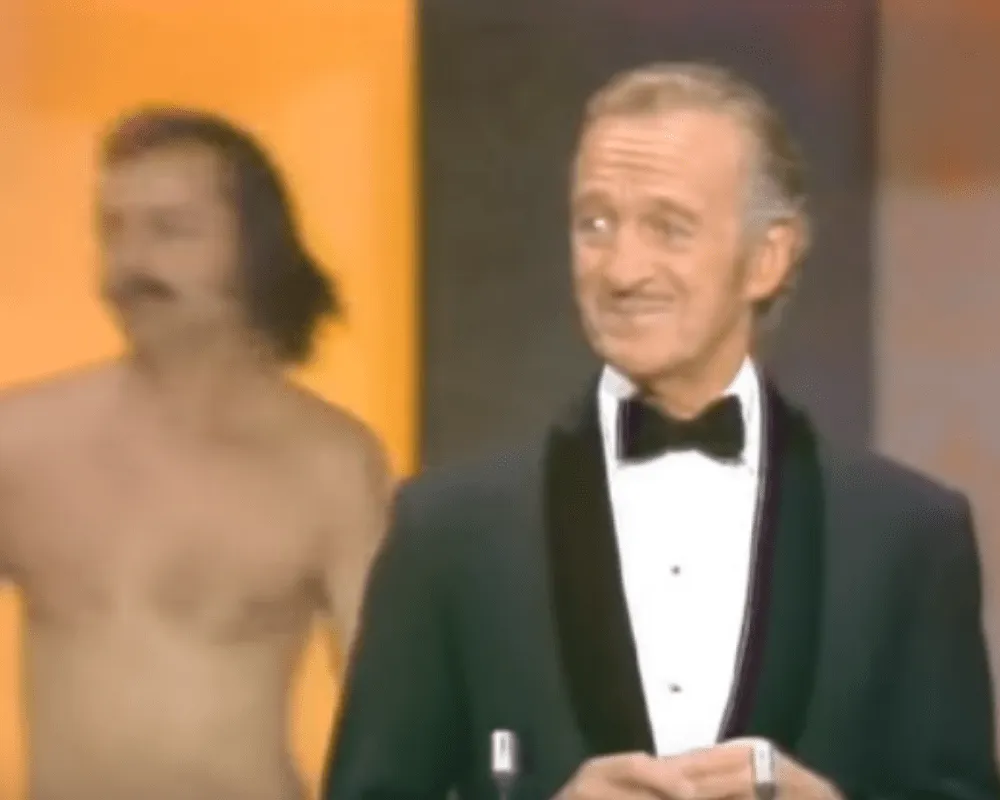 One person forewent the dress code completely to streak across the stage. The man's name was Robert Opel but the idea for the gag came from none other than Allan Carr — the same mind behind the ill-received Snow White skit.
Tim Commerford's Surprising Revolt
During the 1999 VMAs, Linkin Park was accepting the award for Best Rock Video when something a little unplanned happened — apparently, Tim Commerford had some complaints.

While nü-metal saw a lot of controversy even within the rock scene, no one was quite expecting the bassist from Rage Against the Machine to protest by parking himself atop the set and refusing to come down. When security finally got him down, the stunt ended in a night in jail.
Leonardo Dicaprio and Lady Gaga
While everyone is supposed to get through the crowd easily during an awards show, that isn't always the case. It wasn't at the 73rd Golden Globes, at least.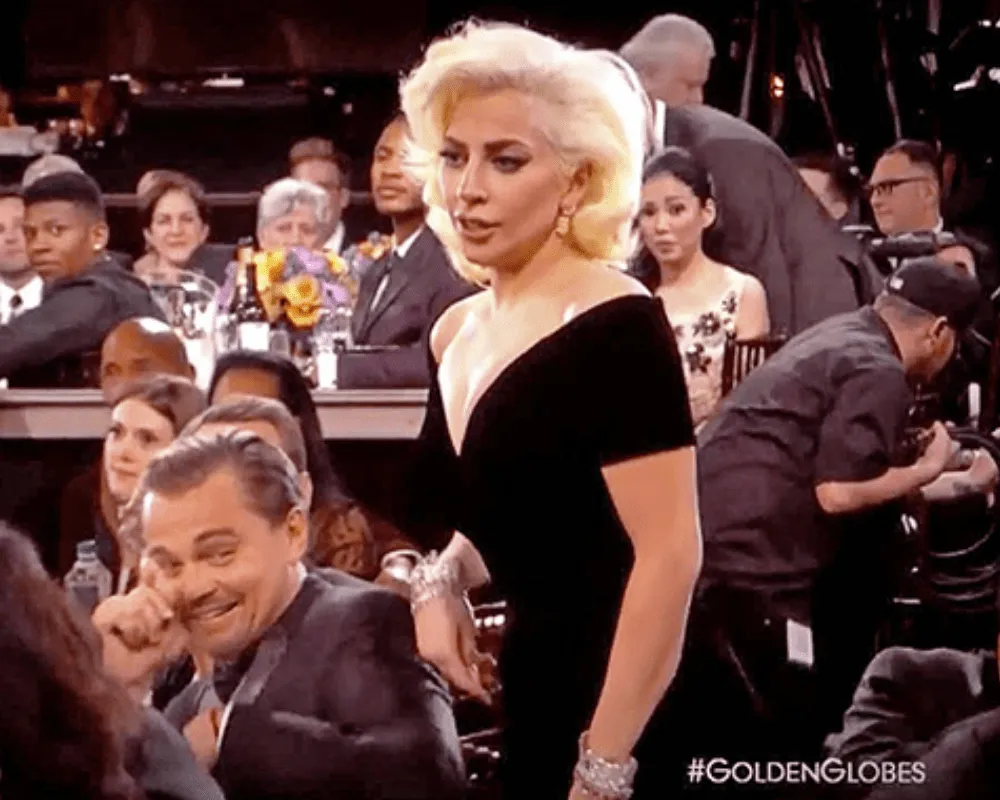 Given the tight area to walk through, we can see why Lady Gaga might have bumped into Leonardo Dicaprio. As for Dicaprio, he explained that the contact startled him since he wasn't expecting it. Still, the internet had a field day with the still image.
Ronnie Wood Tosses His Drink
The 20th BRIT Awards got a little messier than anticipated when Ronnie Wood and Brandon Block got into a bit of an altercation. Wood was helping present an award when Brandon Block suddenly appeared on stage.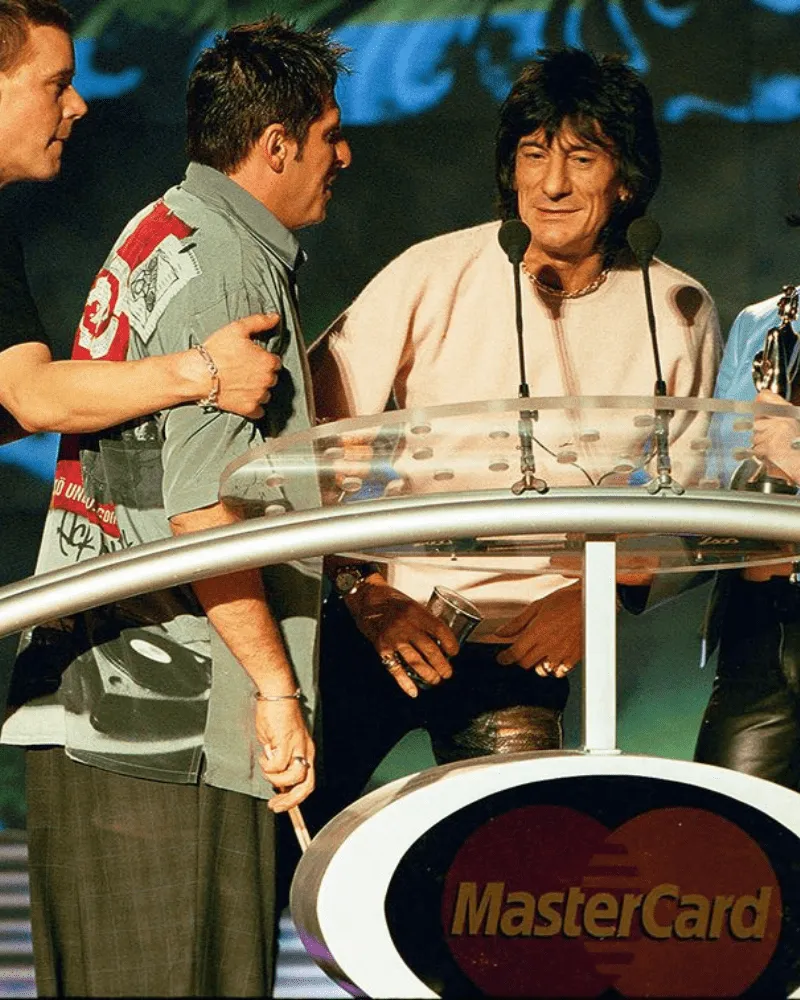 The announcers and security started to try and get Block offstage when he broke free and ran back. In response, the Rolling Stones member threw his drink in Block's face.
Ellen Degeneres' Selfie
Ellen Degeneres was tasked with hosting the 2014 Oscars. To her credit, she definitely made for one of the more memorable hosts in recent years. During part of the show, the talk show host decided to break the internet with a star-studded selfie.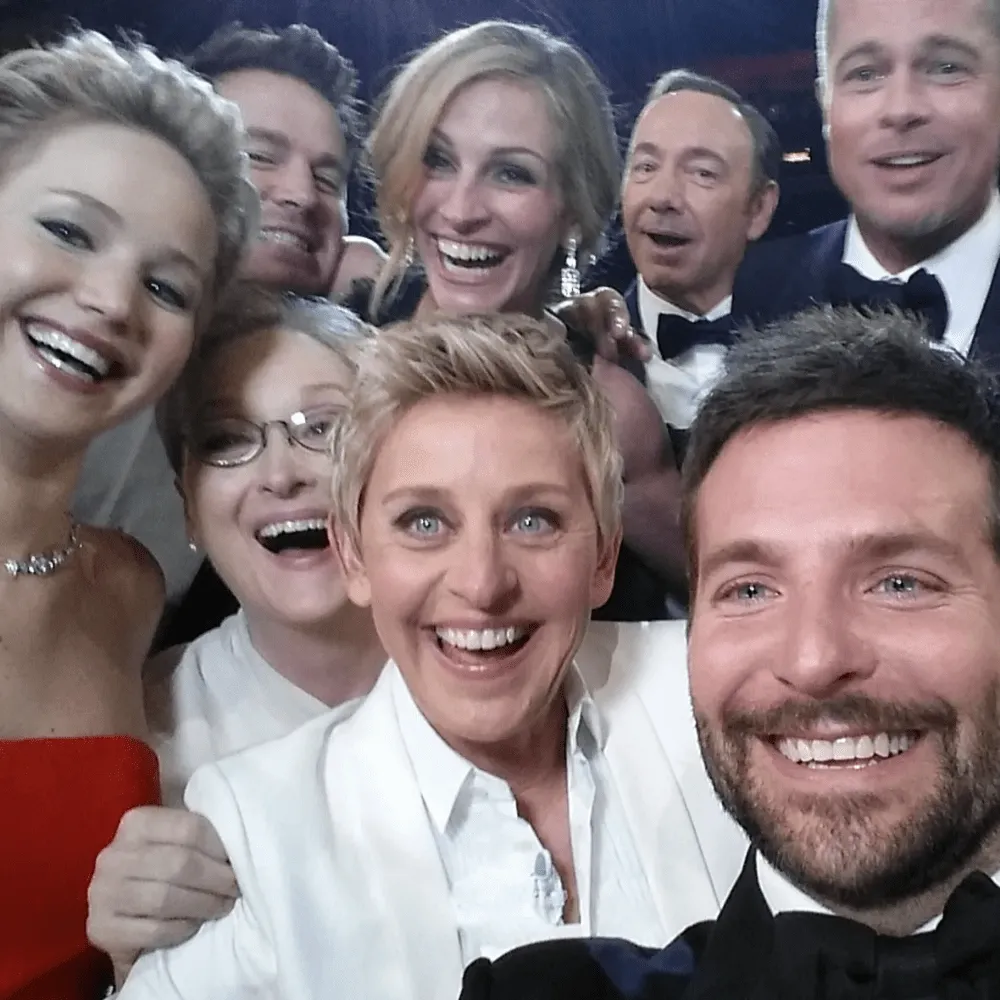 Once the picture hit Twitter, it really did break the internet or, at least, slow Twitter down a bit. Not to mention, Bradley Cooper managed to capture a lot of people with this photo.
Will Smith's Slap
Last but not least, the 2022 Oscars had a moment that left the audience wondering what was real. Chris Rock was hosting when he cracked a joke about Jada Pinkett Smith's hair.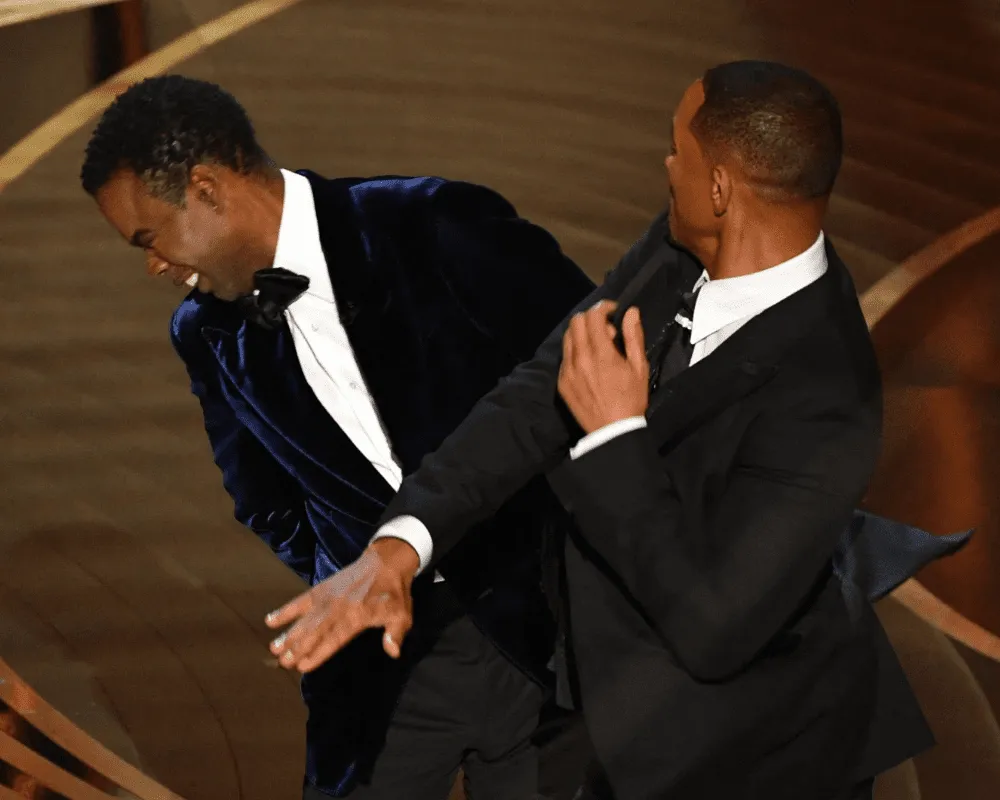 Responding to the joke about his wife — who has alopecia — Will Smith walked on stage and slapped Rock across the face. Later in the night, though, Smith would win Best Actor. Since then, however, Smith has resigned from the Academy over the incident.