Pilar Rubio – Wife of Sergio Ramos
Sergio Ramos, the celebrated football player from Spain, tied the knot with Pilar Rubio in 2012 and now they have three kids. Ramos focuses on displaying his talent during games while Rubio captivates the audience with her work as a TV host and reporter in Spain. Rubio gained recognition for covering events for Sé lo que hicisteis… on La Sexta. Later, she went on to host other shows including Operación Triunfo and ¡Más que baile! Rubio has also been a collaborator on El Hormiguero for several years now, beginning in 2014.
Bruna Marquezine – Girlfriend of Neymar
Neymar, a footballer from Brazil, has been in an on-and-off romantic relationship with Bruna Marquezine, who is a Brazilian model and actress since they first met at a carnival in 2012. Although he hasn't been performing well since moving from Barcelona to PSG, his love life seems to be doing fine. It's possible that his relationship with Bruna could potentially distract him from his soccer commitments, however, with the World Cup coming up soon, there is no room for such distractions.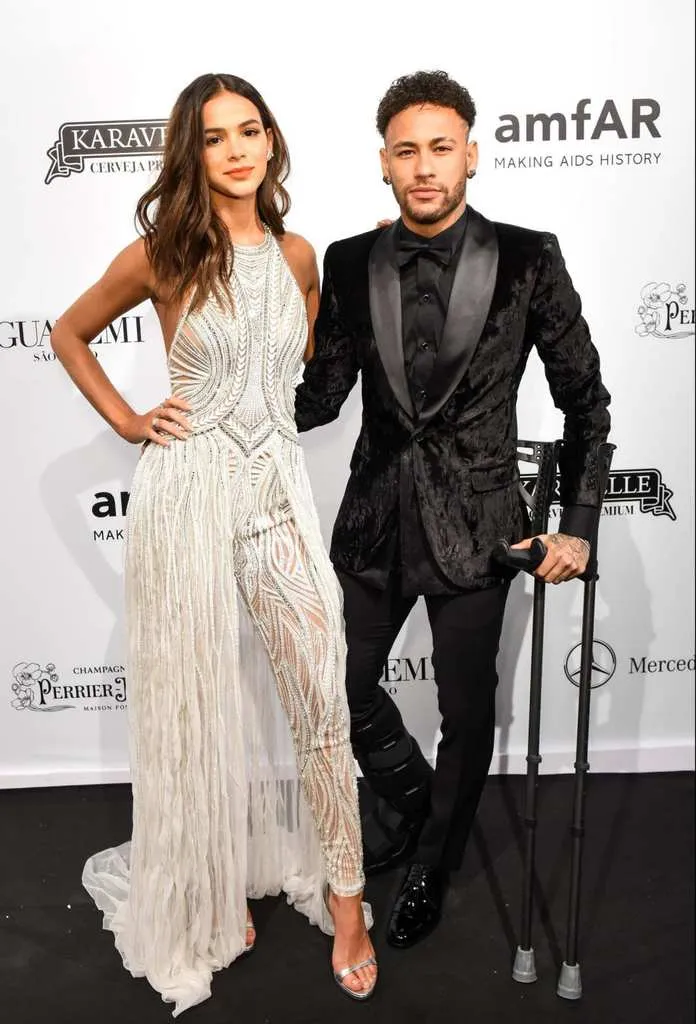 Anna Lewandowska – Wife of Robert Lewandowski
Anna Lewandowska, who is married to the renowned Polish football player Robert Lewandowski, is scheduled to accompany her husband to Russia. Anna, who is a skilled athlete, has participated in various national, European, and global karate contests, proving to be an incredibly powerful woman. In addition, she has won numerous medals for her achievements in the sport and was crowned Nutrition Specialist in 2013. Anna and Robert celebrated the birth of their daughter Klara Lewandowska in 2017.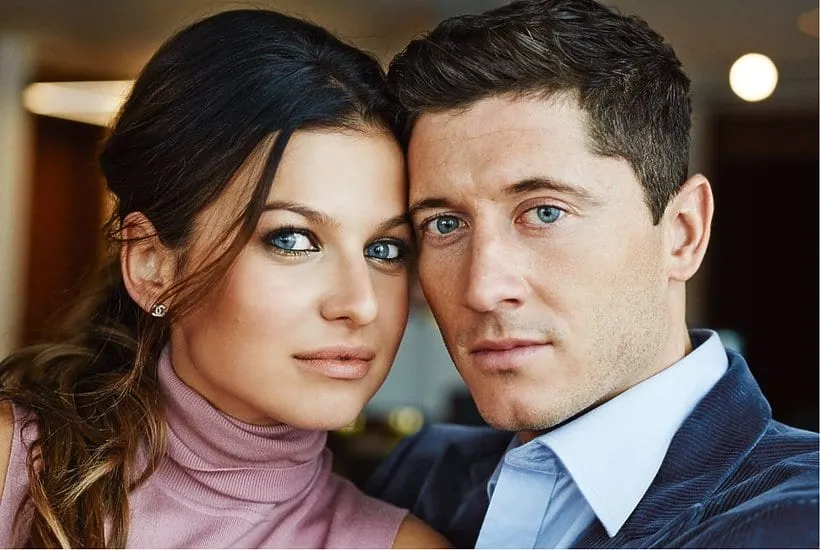 Anastasia Kostenko – Wife of Dmitri Tarasov
According to reports, Dmitri Tarasov's former wife Olga Buzova had only been divorced for a month when he found out that his current girlfriend, Anastasia Kostenko, was pregnant with his child. Dmitri was previously married to Olga from 2012 to 2016 and has since tied the knot with Anastasia, a Russian model. Their wedding was a grand affair in 2018, and with the impending arrival of their baby and the World Cup scheduled for the same year, it promises to be a significant period for Dmitri who already has a daughter named Angelina.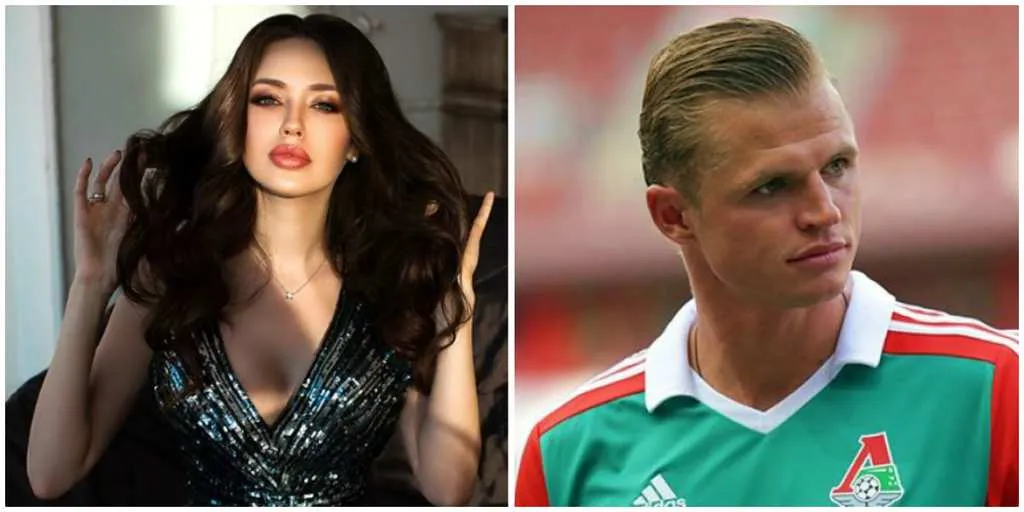 Katie Goodland – Fiancée of Harry Kane
Over the past year, Harry Kane has demonstrated his abilities as an exceptional athlete by scoring more goals than any other football player in the Premier League. He is expected to lead England's World Cup team as the captain, and his fiancée and childhood sweetheart, Katie Goodland, is likely eager to support him. Unfortunately, she is pregnant with their second child and will be heavily expecting during the tournament, making it unclear if she'll be able to travel to Russia.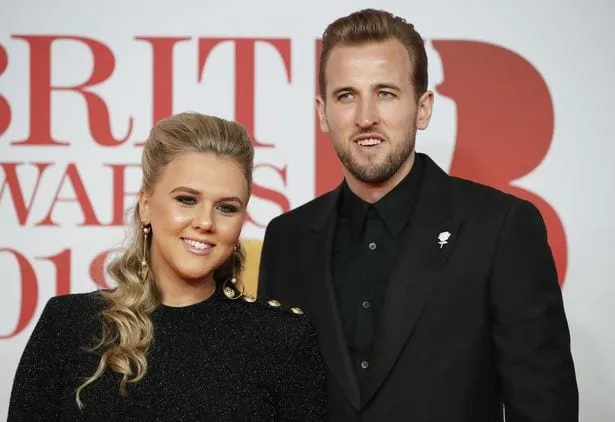 Rebekah Vardy – Wife of Jamie Vardy
Jamie Vardy, a striker from Leicester, is well-liked and admired by the English people. After his success in leading his soccer team to win the Premier League in 2017, there's no doubt that he will be part of the England team in the World Cup. During the games, it's highly possible that his wife, Rebekah, will be present in the stadium, cheering him on. Jamie and Rebekah first crossed paths at a nightclub in 2014, where Rebekah worked as a promoter. They eventually exchanged vows and now have two children together. Rebekah is also a mother to two children from her past relationships.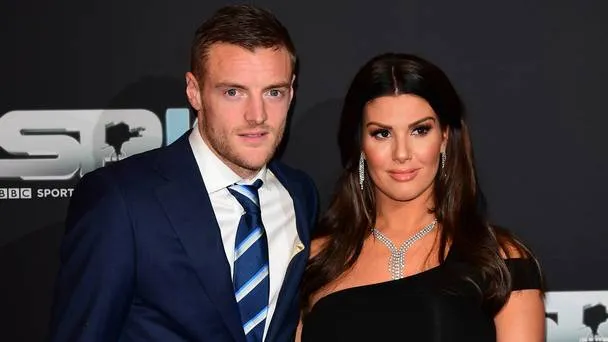 Noémie Happart – Wife of Yannick Carrasco
Noémie Happart, who hails from Belgium, is a model at the age of 24. She tied the knot with her boyfriend, Yannick Carrasco whom she had been in a long-term relationship with, in the year 2017. When Yannick Carrasco had to relocate to China after being drafted by another soccer team, Noémie moved alongside him. Miss Belgium 2013, Happart has taken part in many international pageants such as Miss Universe 2013 and Miss World 2013, representing her home country. Happart has always been an avid supporter of her husband's soccer career and is expected to accompany him to the 2018 World Cup where he will be playing for Belgium.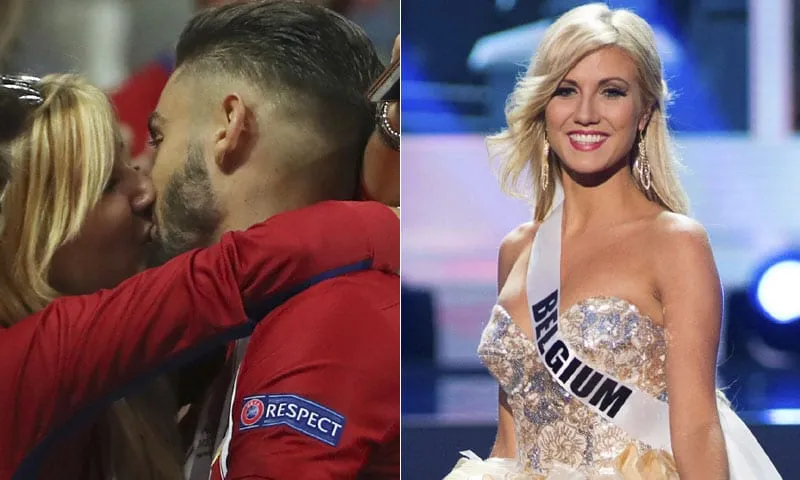 Jessica Sterling – Wife of David Ospina
David Ospina, who is the backup goalkeeper for Arsenal, got married to Jessica Sterling in 2012. The couple has two children named Maximiliano and Dulce Maria. Ospina will probably play for Colombia in the 2018 World Cup, and his wife is expected to support him as she does during his other matches. Ospina was part of the Colombian World Cup squad in 2014, in which they got to the quarterfinals, which is the farthest Colombia has ever advanced.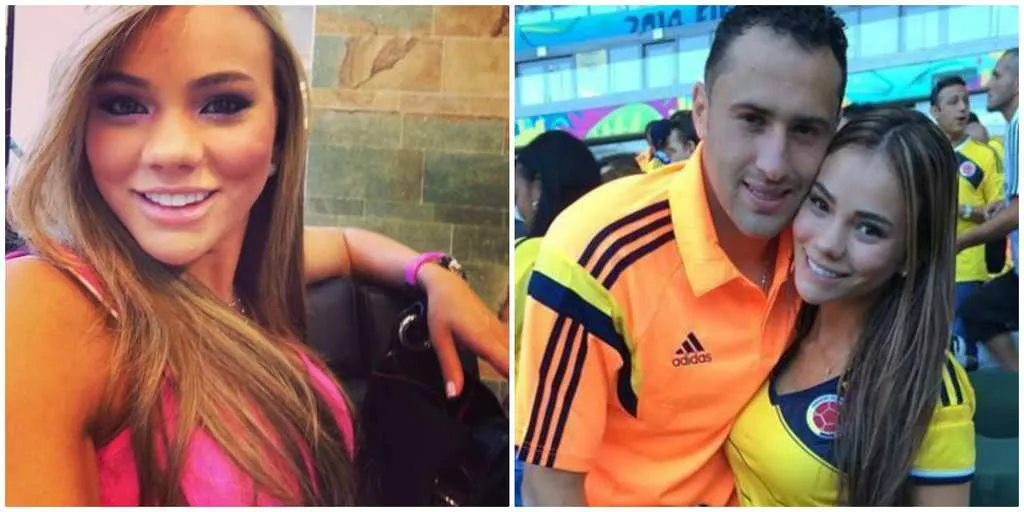 Ruby Mae – Girlfriend of Dele Alli
Since 2016, Ruby Mae has been an important supporter for the famous Tottenham player, Dele Alli. She was initially in the spotlight when she was spotted kissing Alli after England's soccer victory against Iceland at Euro 2016. Mae, who works as a lingerie model for various high-end brands such as Chanel, Dolce & Gabbana, and Hidden Fashion, is expected to watch her boyfriend play for the English team in the World Cup in Russia. She has always been a great support to him in all the previous tournaments, and it's certain she'll continue to be there regardless of the team's success.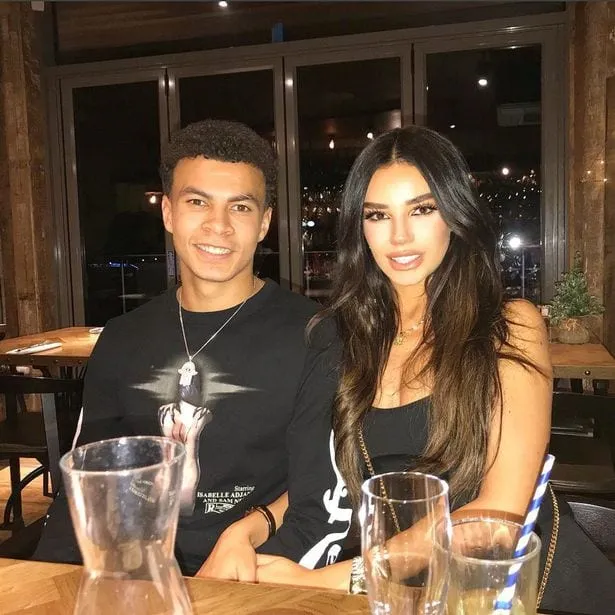 Megan Davison – Girlfriend of Jordan Pickford
The anticipated goalkeeper for England in the upcoming soccer tournament in Russia is likely to be Jordan Pickford, who currently plays for Everton. He is only 24 years old and has a good chance of being the main goalkeeper for his country, and he is expected to bring his girlfriend, Megan Davison, along with him. Davison has been with Pickford since they were both 14 years old and they recently moved to Liverpool after Pickford's transfer from Sunderland to Everton for $40 million. Davison is a university graduate who enjoys traveling with Pickford and is undoubtedly looking forward to the possibility of accompanying him to Russia.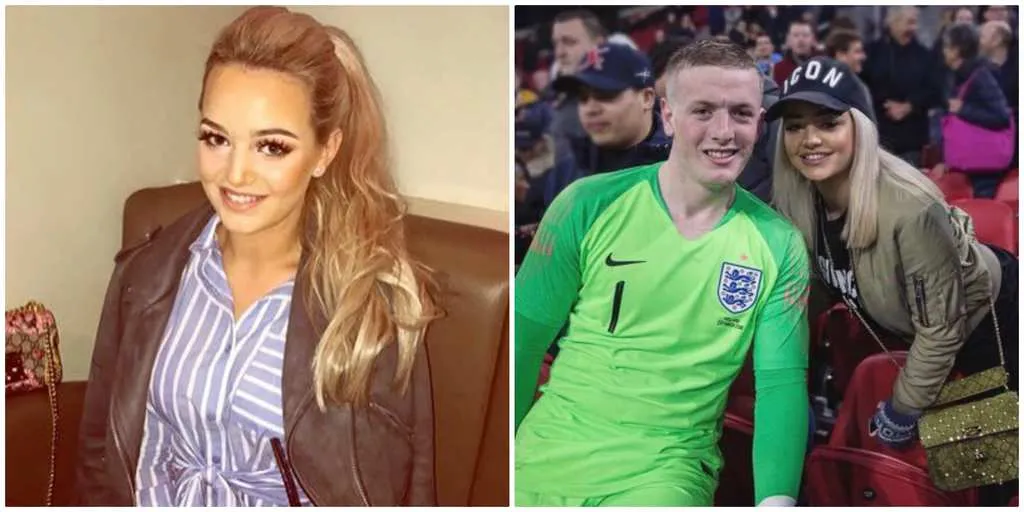 Edurne García Almagro – Girlfriend of David De Gea
David De Gea has been selected as Spain's goalkeeper for the upcoming 2018 World Cup and he will have the backing of his longtime girlfriend, Edurne, who is a popular Spanish singer, actress, and television presenter. Edurne achieved fame in 2005 when she participated in the Spanish casting show, Operación Triunfo, which aired on Telecinco. She also represented Spain in the 2015 Eurovision Song Contest with her song, Amanecer, which secured her 21st place.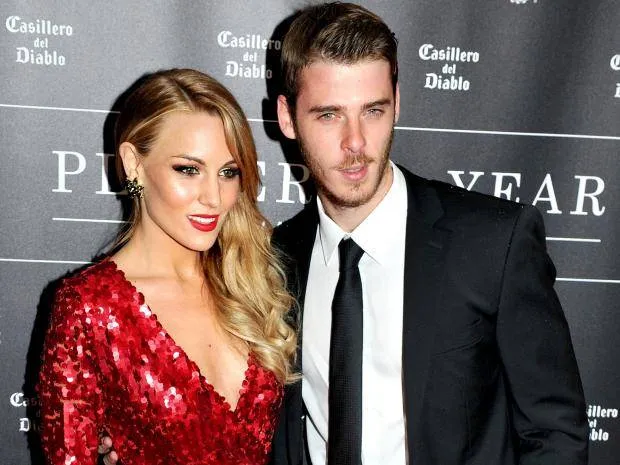 Alexandra Ívarsdóttir – Girlfriend of Gylfi Sigurdsson
Alexandra Ívarsdóttir caught everyone's attention by cheering her partner, Gylfi Sigurdsson, in the 2016 Euros. She is all prepared to do it again as she cheers her significant other playing for the Iceland World Cup team. As she won the Miss Iceland 2008 title and represented Iceland in the Miss World 2008 contest held in South Africa, she is a beauty pageant winner. Iceland, having the smallest population in Europe, could use all the encouragement they can get, and Alexandra is expected to provide full support.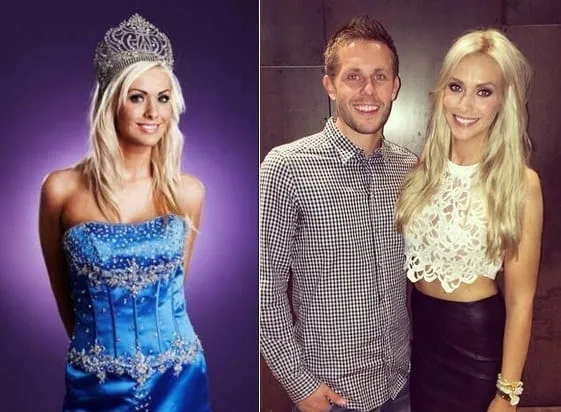 Andrea Duro – Girlfriend of Javier Hernandez
Javier Hernandez, a player for West Ham soccer team, has been romantically involved with Andrea Duro, a Spanish TV actress, since 2017. Andrea is renowned for her portrayal of Yolanda Yoli Freire on the Antena 3 series Física o química, which lasted three years. Javier Hernandez, on the other hand, will be participating in the Mexican 2018 World Cup Team, and his lovely partner is undoubtedly going to want to see him play on the field and cheer him on from the stands.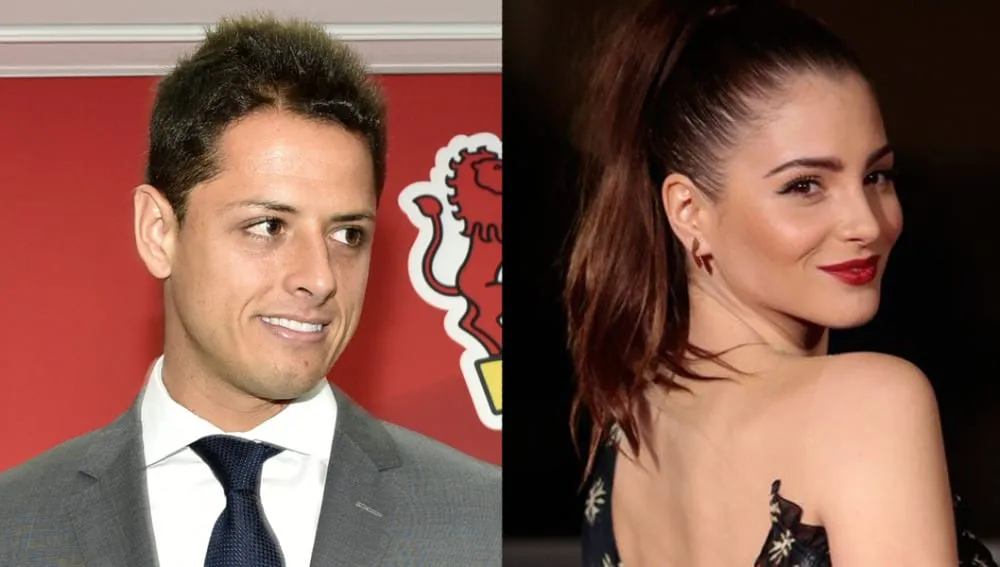 Daniela Casal – Girlfriend of Eric Dier
Eric Dier is set to represent Tottenham and England in the 2018 World Cup, and his girlfriend, Daniela Casal, is expected to accompany him. Although originally from Portugal, Casal may not have supported England before the tournament, but she now proudly wears the England shirt to support her boyfriend. Dier, who was born in England but raised in Portugal, met Casal in the country and she has been spotted cheering him on at several of his matches.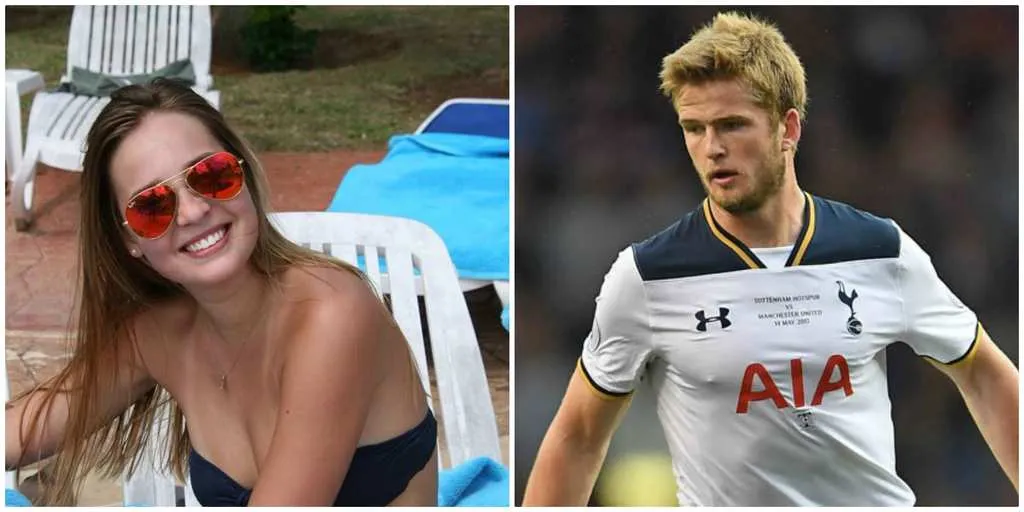 Annie Kilner – Girlfriend of Kyle Walker
Kyle Walker, who is a defender for Manchester City, has been assured a place in England's World Cup team for 2018. This means that he will be reuniting with some of his ex-Tottenham teammates for the tournament. Additionally, it is anticipated that his girlfriend, Annie Kilner, who is a model, will travel to Russia to cheer on her partner during the matches. The couple, both from Sheffield, have been together since 2011 and have a two-year-old son named Riaan. Annie Kilner, who is an attractive mother, has previously modeled for lingerie and swimwear advertising.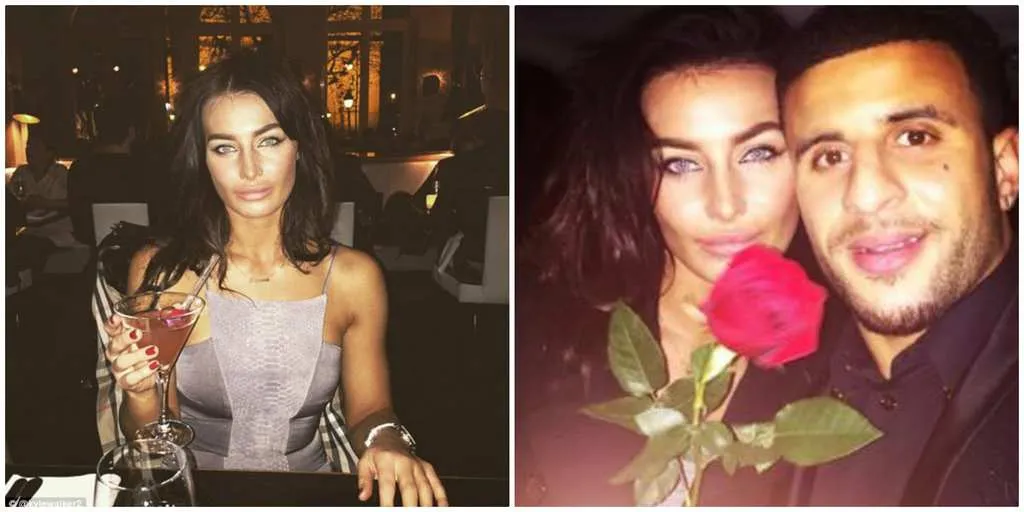 Lisa Trede Müller – Wife of Thomas Müller
When he takes to the field for Germany at the 2018 FIFA World Cup, Thomas Müller is expected to become one of the most prominent stars, and he will undoubtedly have his devoted wife, Lisa Trede Müller – a German model and aspiring equestrian who has been with him since the age of 18 – cheering him on from the stands. However, with Germany having won the previous World Cup in 2014, the pressure is high for the national team.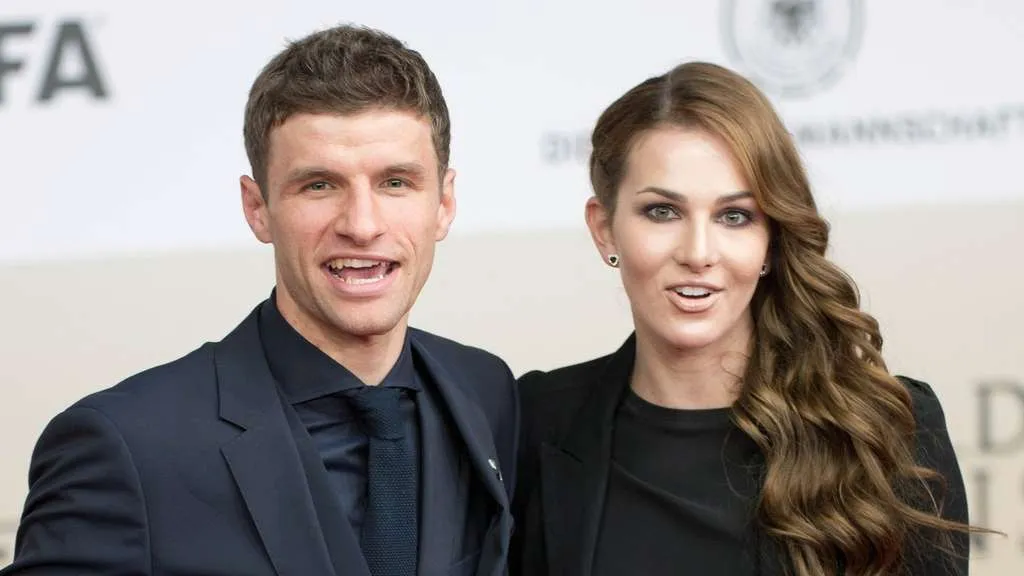 Lena Terlau – Girlfriend of Julien Draxler
Julien Draxler is preparing to represent Germany at the 2018 World Cup alongside his girlfriend, Lena Terlau, who usually keeps a low profile and is seldom spotted in public unlike other WAGS. However, she loves to support her boyfriend during significant football competitions and demonstrates her loyalty by wearing German shirts and colors to show her support for the team.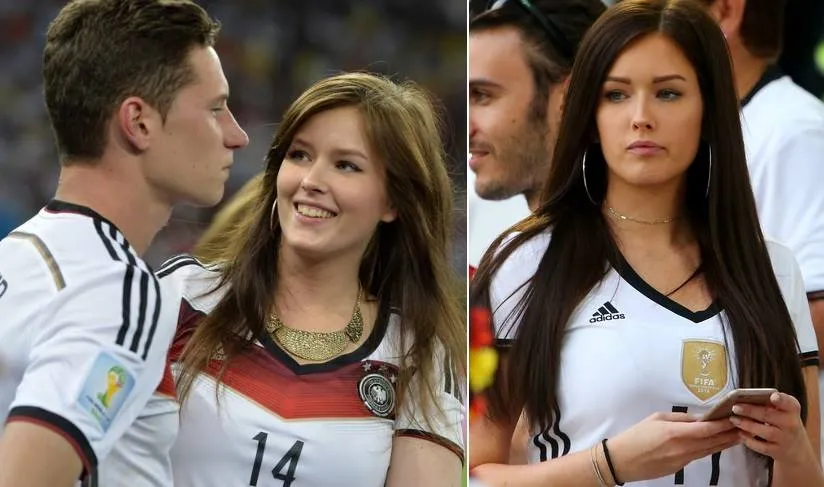 Paige Milian – Girlfriend of Raheem Sterling
One more footballer from Manchester City, Raheem Sterling, has been chosen for the England World Cup squad. Sterling was outstanding during a highly remarkable season under the guidance of the team's coach, Pep Guardiola, and is expected to be an excellent choice for the English team. Additionally, Sterling is romantically involved with Paige Milian, who he met as a teenager. The 23-year-old and his partner share a one-year-old son named Thiago, and Sterling also has a daughter called Melody Rose.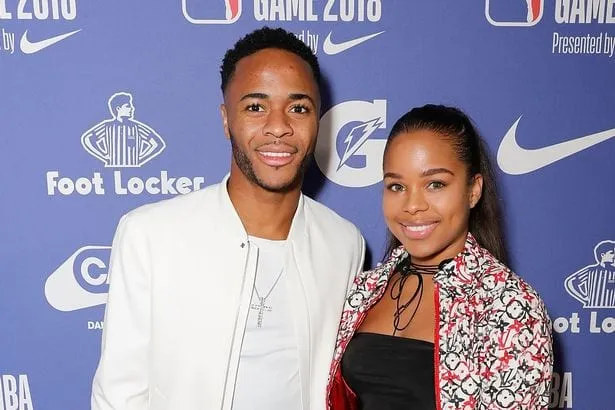 Yoo So-Young – Girlfriend of Son Heung-Min
Son Heung-Min, who is popular and successful in the Premier League, will be participating in the upcoming South Korean World Cup team. Fans will be eagerly watching Son's performance during the tournament, but his girlfriend, Yoo So-young, is expected to be his biggest supporter. Yoo So-young, known for her stunning appearance, came in second place in the 75th Miss Chunhyang pageant. She will be cheering on her partner's team in the hopes of them winning first place.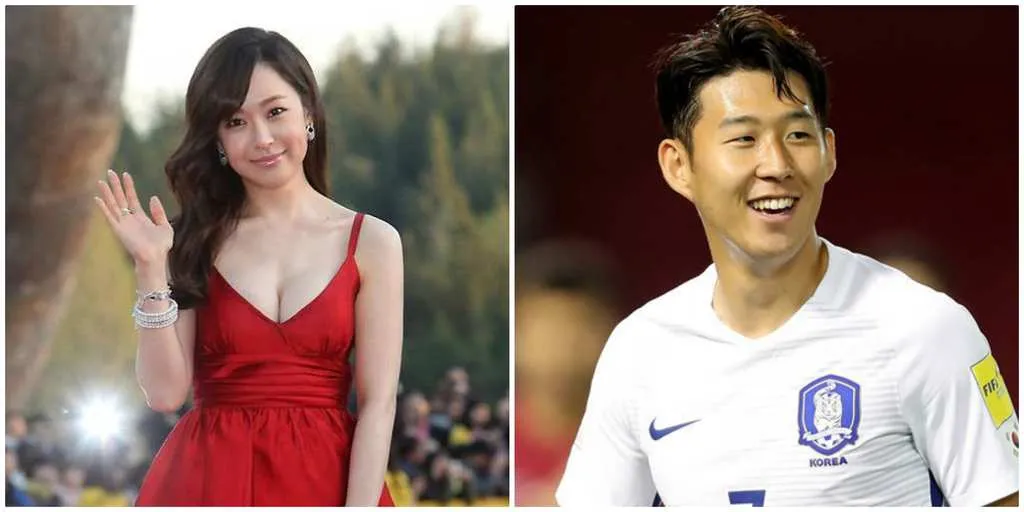 Lorelei Taron – Wife of Radamel Falcao
Radamel Falcao was unable to participate in the 2014 Brazil World Cup due to injury, but he has persevered and will be part of the Colombian team in this summer's World Cup. His wife, Lorelei Taron, who is originally from Argentina and is a singer, is expected to accompany him to Russia, along with their two children, Dominique García Taron and Desirée García Taron. The couple, who got married in 2007, are both highly talented individuals. When Falcao signed a contract worth $372,000 per week with Manchester United in 2014, Taron became Britain's richest WAG.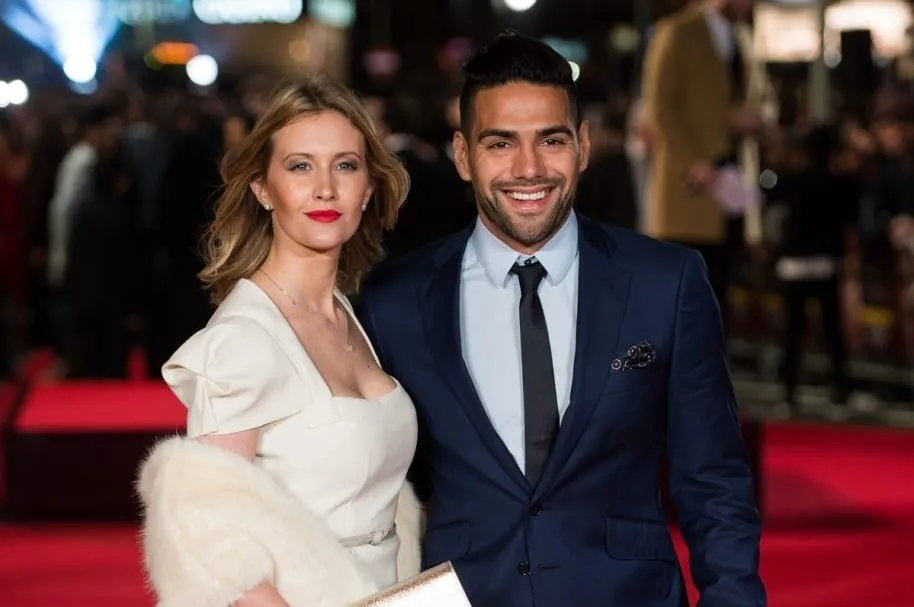 Rebecca Burnett – Wife of Jordan Henderson
Jordan Henderson, a midfielder from Liverpool, has been selected to be a member of Southgate's World Cup team. Although he was not chosen as the captain of the Three Lions in Russia, he is expected to deliver an outstanding performance. His off-field activities include spending time with his wife, Rebecca Burnett, and their two children, Elexa and Alba. Like many other WAGS, Rebecca is anticipated to accompany her husband on his trip to Russia.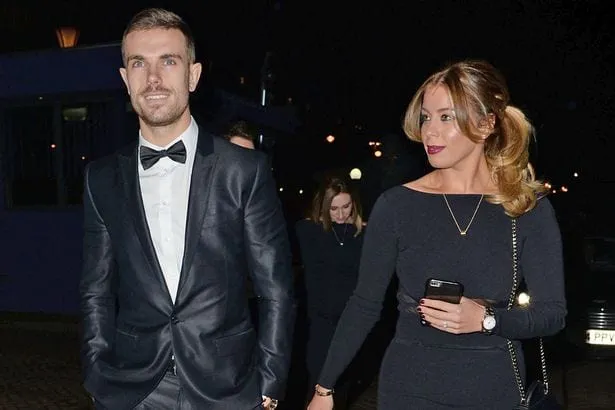 Kaya Hall – Wife of Phil Jones
Gareth Southgate has announced that he picked Phil Jones, a defender from Manchester United, to be part of the England World Cup squad. Although Jones wasn't included in the latest Three Lions squad, he and his wife, Kaya Hall, will still travel to Russia at the start of their summer. The couple tied the knot in 2017 in a Cheshire church, after being together since Jones played for Blackburn. Back when Jones made a $22 million move from Blackburn to Old Trafford, Hall had to defend him.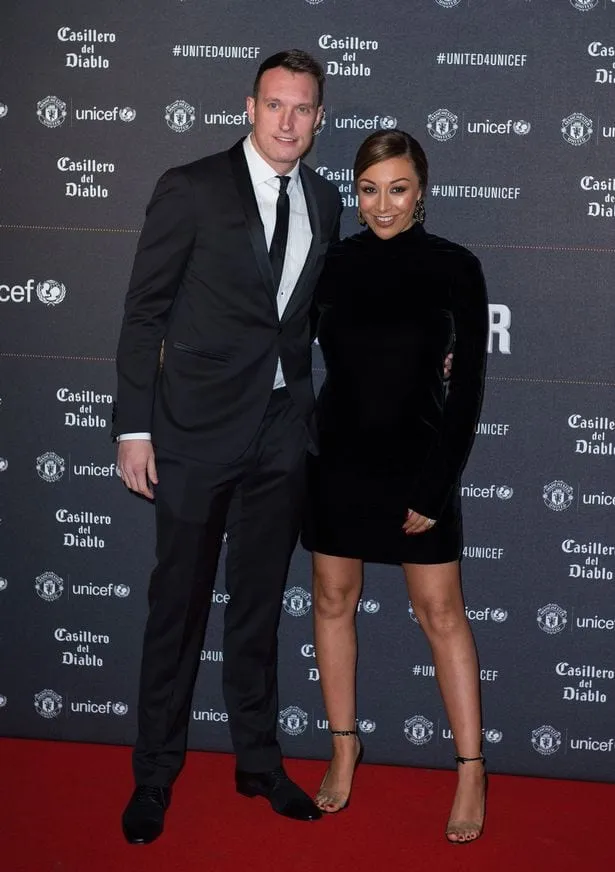 Annabel Peyton – Girlfriend of Jack Butland
One of England's selected goalkeepers for this year's World Cup, Jack Butland, will travel to Russia. His girlfriend, Annabel Peyton, who works as a flight attendant for Emirates, will probably accompany him since she is accustomed to traveling. Peyton and Butland have been dating for two years and recently got engaged during their trip to Italy. It appears that they have an eventful year ahead of them.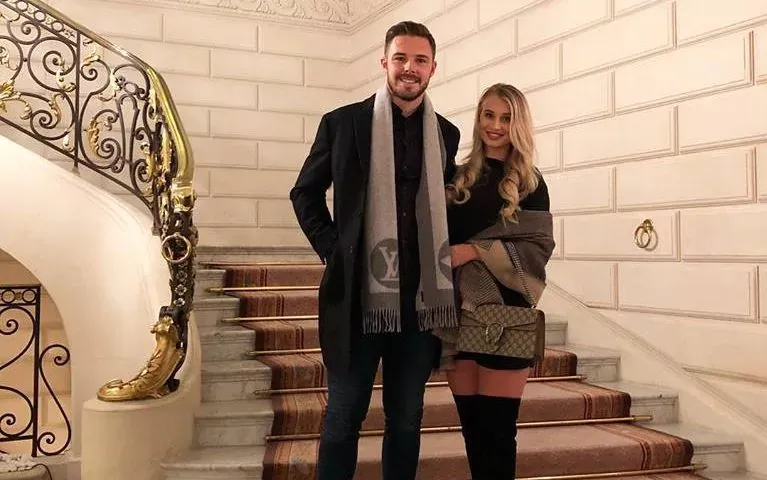 Leonita Lekaj – Wife of Granit Xhaka
Granit Xhaka, who plays for Arsenal's midfield, is also a part of the Switzerland national team and is set to participate in the 2018 World Cup. He resides in North London with his wife Leonita Lekaj, ever since his transfer to Arsenal for a jaw-dropping $40 million. Both Xhaka and his wife come from Kosovo Albanian backgrounds and met when he was playing for Borussia Monchengladbach. The couple got married just before the onset of the new season in 2017.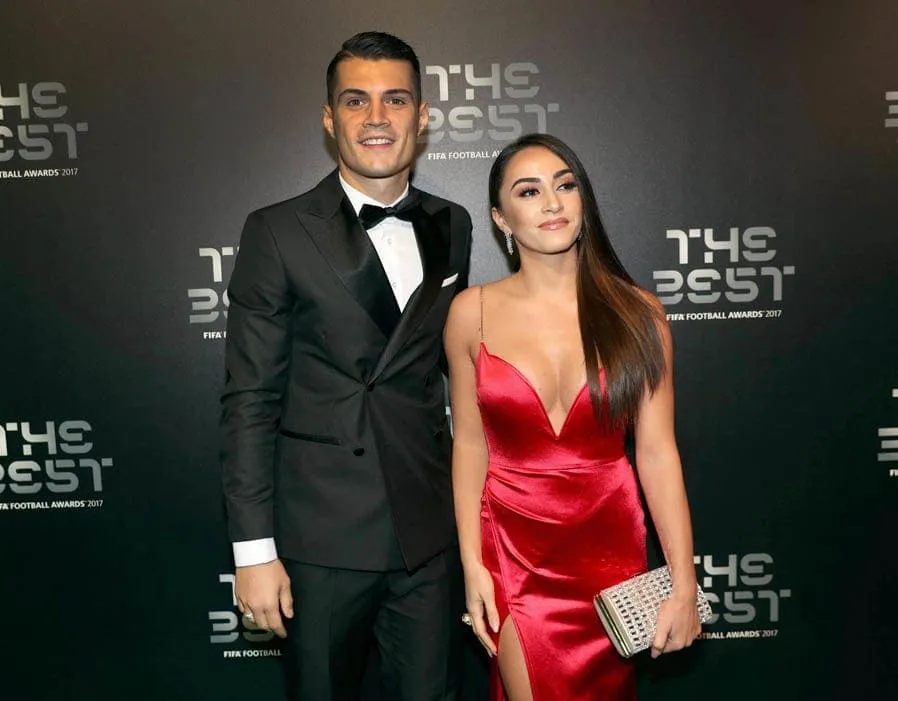 Antonella Roccuzzo – Wife of Lionel Messi
If you are the top-notch soccer player globally, it's highly expected that you would attract the most attractive lady. Lionel Messi's experience is a clear example of this; he initiated a relationship with Antonella Roccuzzo in 2008. They first crossed paths at the age of 13, but their romantic journey started much later. The couple got married in 2017 and has been blessed with three sons – Thiago, Mateo, and Ciro. They are indeed childhood sweethearts whose love has stood the test of time.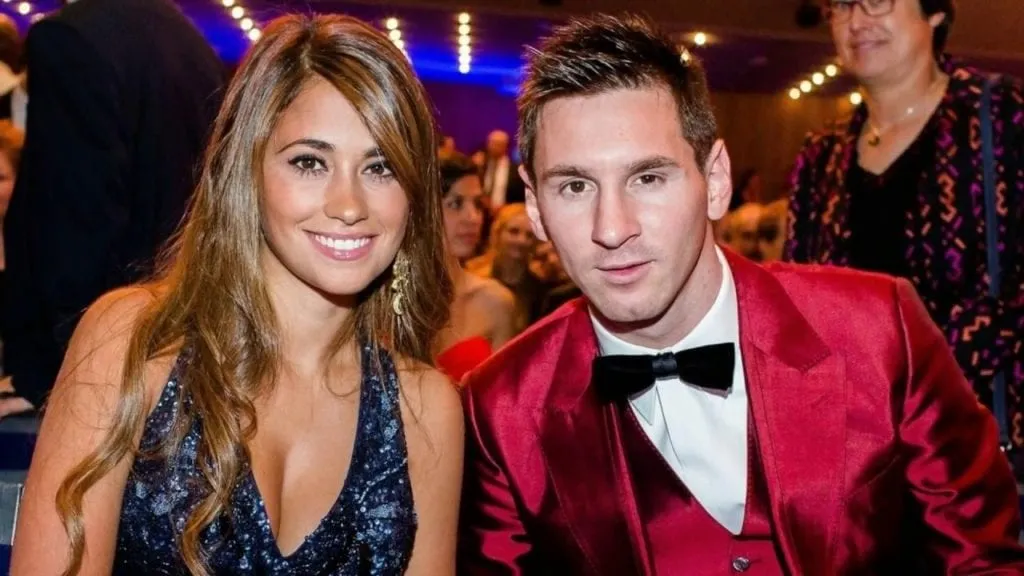 Nicky Pike – Wife of Ashley Young
A popular player of Manchester United had planned to marry his girlfriend Nicky Pike in 2011, but surprisingly cancelled the wedding only 48 hours prior to the scheduled date. The exact motive behind his decision was not revealed, however, the two reunited four months later. After four years since the original wedding date, the couple's marriage ceremony was held clandestinely in Buckinghamshire, attended by some of the athlete's colleagues. The pair has a son called Tyler and a younger daughter named Ellearna, both offspring of their relationship.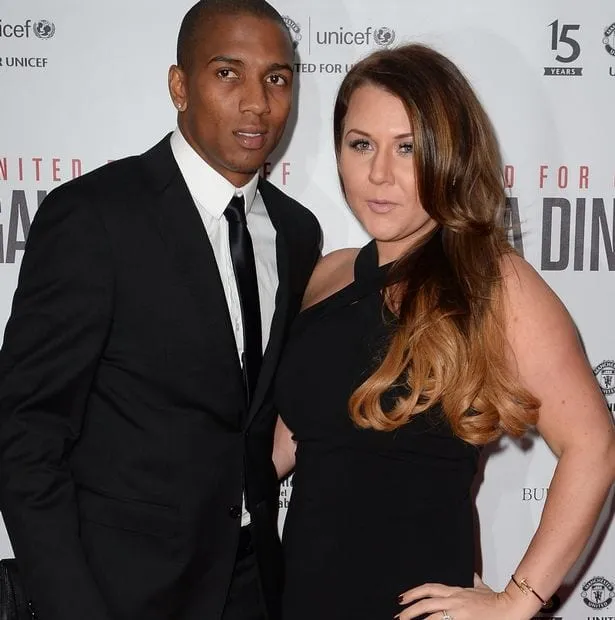 Sara Salamo – Girlfriend of Isco
In 2017, Isco, who is a Spanish soccer player and a member of Real Madrid, announced that he was in a relationship with Sara Salamo, a Spanish actress from Tenerife, who is famous for her roles in Wild Oats, Foam Party! and Glorious Seven. Sara has a large fan following on Instagram, and Isco managed to connect with her through social media. Sara has shared pictures of their relationship on her social media pages.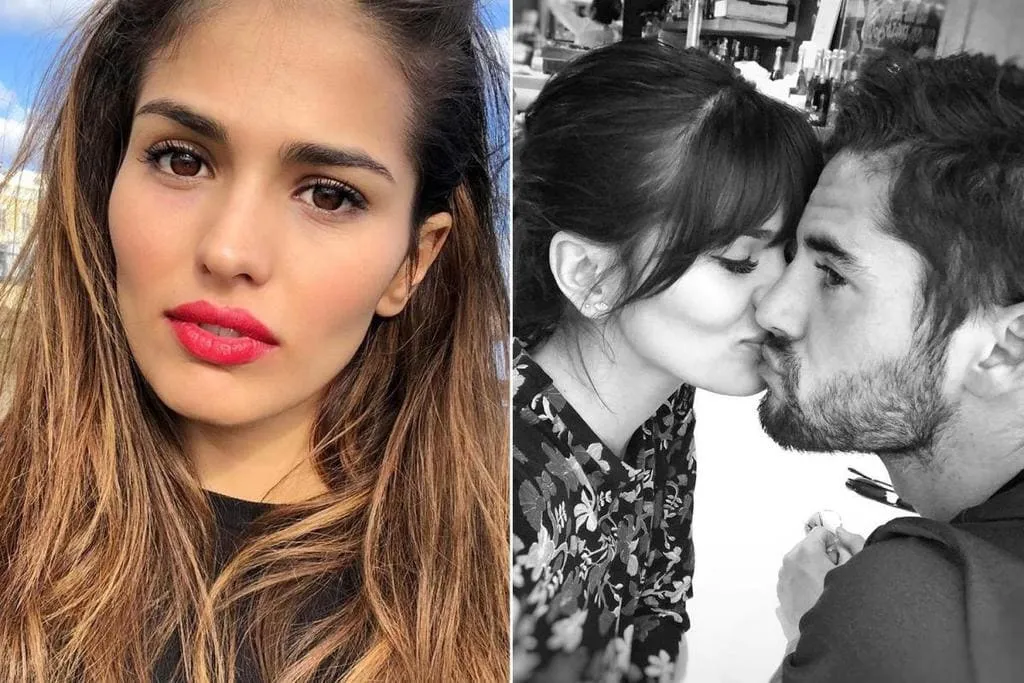 Maja Nilsson – Fiancee of Victor Lindelof
When Victor Lindelof joins the Swedish team in the World Cup, his fiancee, Maja Nilsson, is expected to attend the game in Russia to show her support. Maja, who is a blogger from Sweden, moved to Manchester with her boyfriend and has been vocal about her admiration for his soccer career through her social media channels. She even shared the news of their engagement last year after Victor proposed during their romantic trip to the Maldives.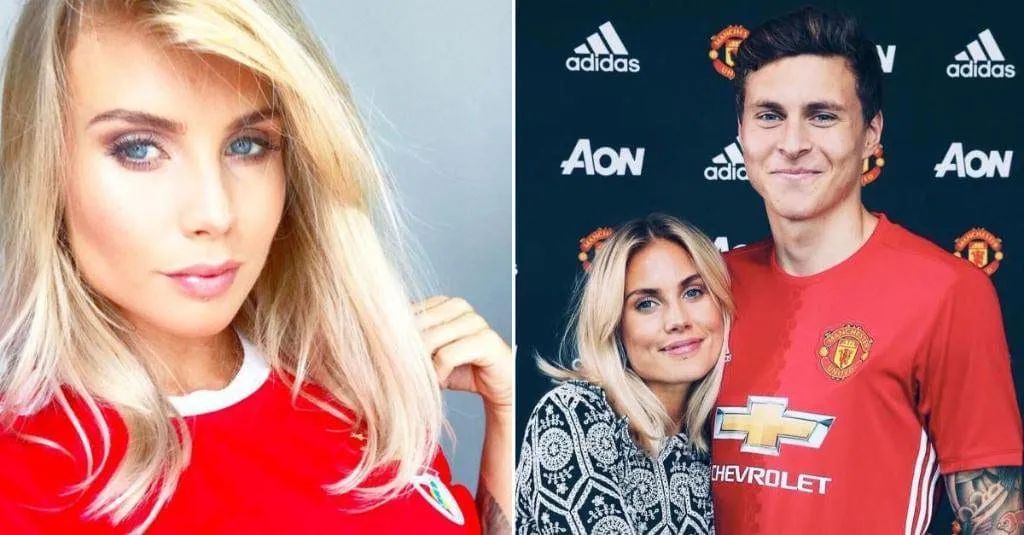 Georgina Rodriguez – Fiance of Cristiano Ronaldo
For a few years now, Cristiano Ronaldo, the prominent Portuguese celebrity, has been in a relationship with Georgina Rodriguez. In 2017, they had a baby girl.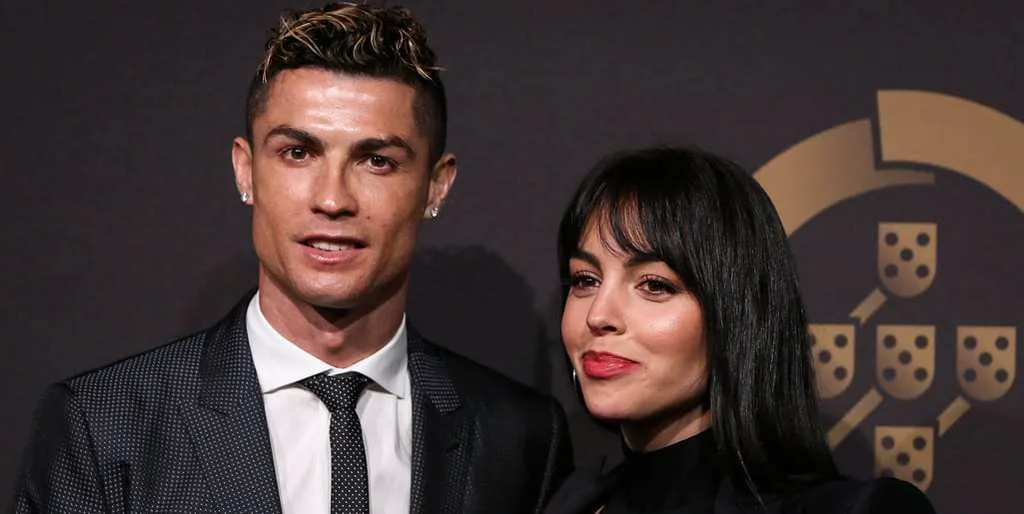 Margaret Natsuki – Girlfriend of Shinji Kagawa
Shinji Kagawa, a Japanese professional athlete for the German club Borussia Dortmund, is currently in a romantic relationship with Maggy, a Japanese actress widely known for her appearances on the television show Sport on Fuji TV since 2009. Maggy, whose full name is Natsuki Margaret Gibb, is of Japanese-Canadian descent and grew up in Halifax, Canada. She is a frequent guest on NTV's Hirunandesu! and serves as a host for Buzz Rhythm as well. Ever since she started dating Shinji, she has gained significant publicity as one of the most prominent WAGS in Japan.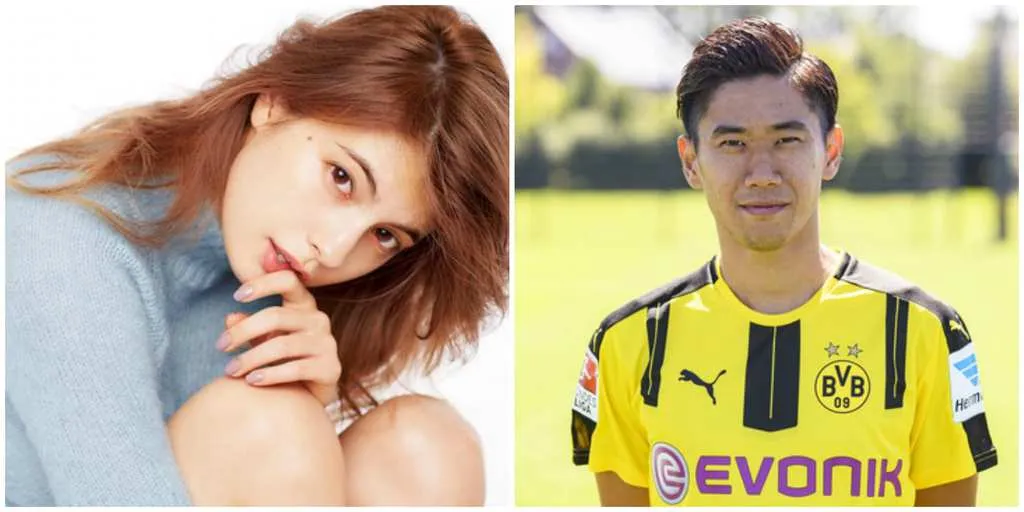 In the past, these famous individuals exchanged marriage vows but unfortunately, their relationships did not last happily ever after. Consequently, all the aforementioned pairs have now separated. Come along as we explore celebrity unions that were previously unknown to most of us.
Paula Abdul and Emilio Estevez
We'll kick things off with the union of Paula Abdul and Emilio Estevez. They got hitched in 1992 but called it quits two years later. Paula Abdul has since revealed that they divorced because Emilio didn't want any other children. Paula did marry again, but they split in 1998. Emilio didn't remarry.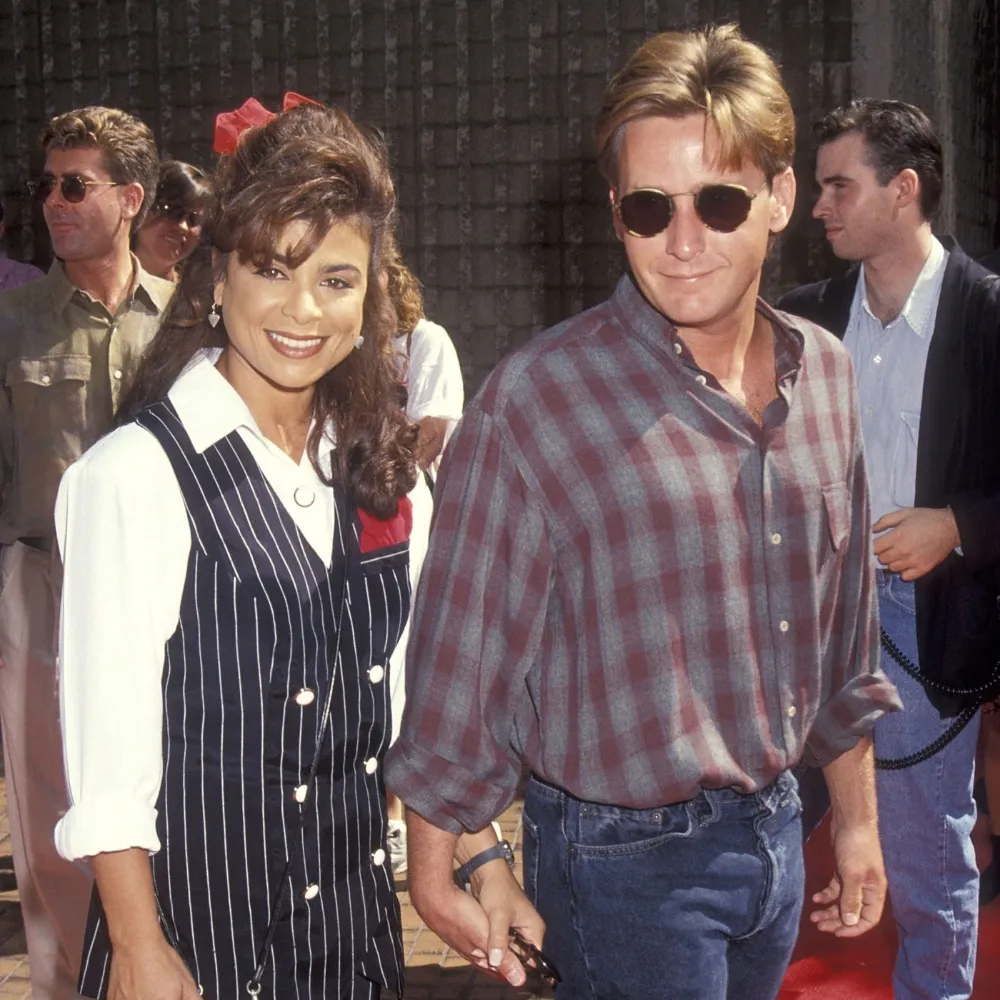 Jennifer Garner and Scott Foley
Many individuals are familiar with the union of Jennifer Garner and Ben Affleck; however, it may come as a surprise that the actress was previously wed. Garner encountered actor Scott Foley while working on a program in the 1990s. The two tied the knot in the year 2000 in the comfort of their own residence.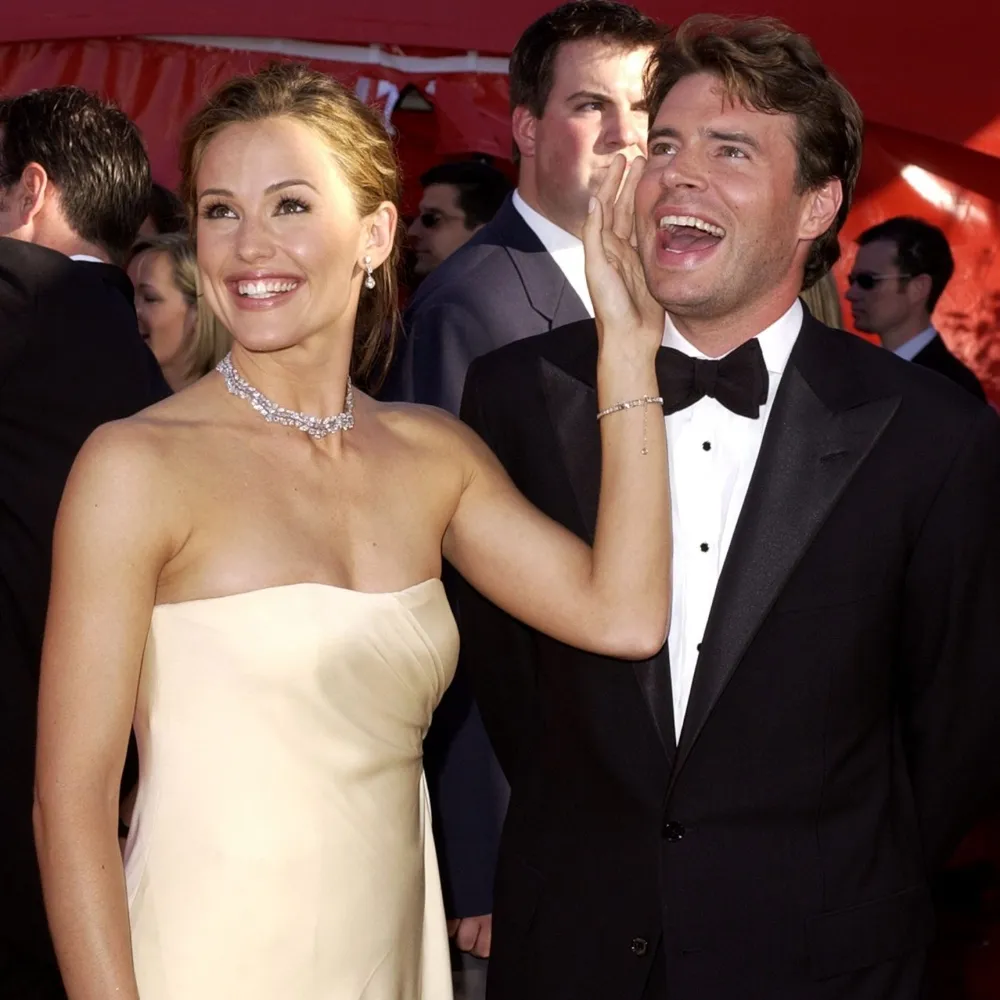 Jen has commented on their marriage, expressing that it was doomed from the start. Despite her ex-husband being a great person, their relationship fell apart. They split up in 2003, and Jen began a romantic relationship with Ben the subsequent year. At present, Jen is not in a relationship, but her former spouse has since remarried.
Angelina Jolie and Jonny Lee Miller
Even though we've heard multiple times that Angelina Jolie was wedded to Jonny Lee Miller, we are still unable to accept it. Their backgrounds seem so diverse, yet they connected through working on a film and ended up falling in love and getting hitched.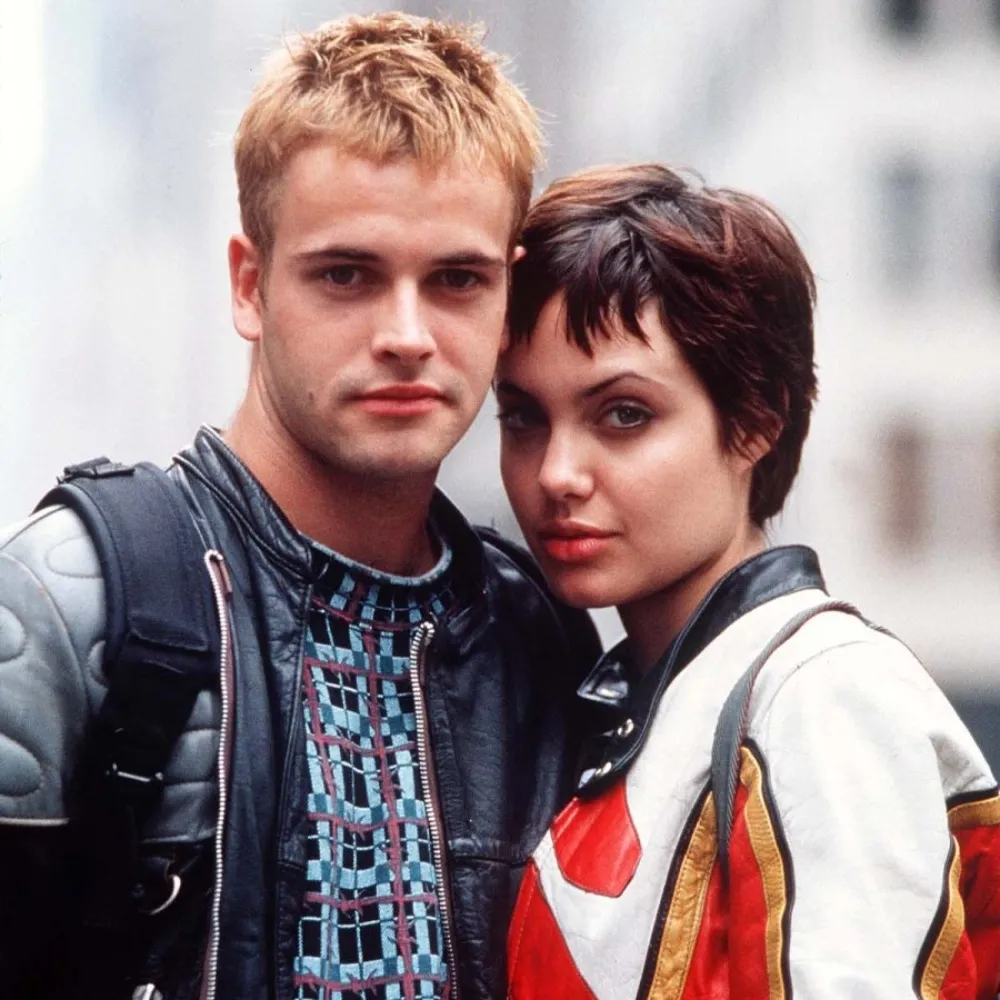 The couple was married for a year and a half, but despite their separation, they remain on friendly terms. Angie expressed remorse for the divorce many years after it happened in 2004. Jonny Lee Miller got married again after their split, but he divorced from his second wife in 2018.
Brooke Shields and Andre Agassi
It's quite surprising to know that actress and model Brooke Shields and tennis pro Andre Agassi were married from 1997 to 1999. Even though they had been in a relationship for many years before tying the knot, their celebrity romance faced an unfortunate fate unlike some other couples mentioned in this list.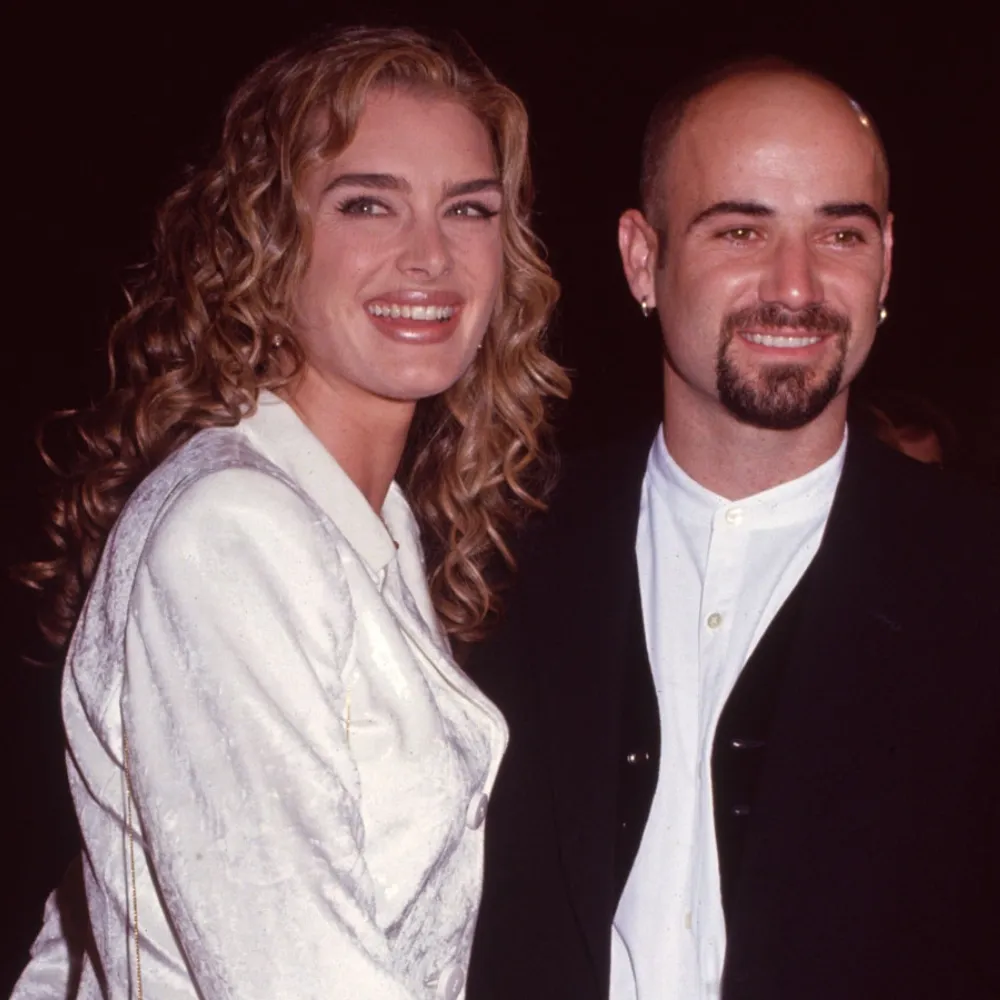 Brooke Shields has disclosed that Agassi was struggling with addiction issues while they were married. It is said that he destroyed his tennis trophies after witnessing her character flirt with Joey Tribbiani in a TV show. Both celebrities have tied the knot with other people since then.
Carmen Electra and Dennis Rodman
These two seem like a perfect couple from the '90s, don't they? Carmen Electra, an actress and model, encountered NBA player Dennis Rodman at a nightclub and began a romance. Unfortunately, Carmen suffered the devastating loss of both her mother and sister within a short period during their time together. Despite this tragedy, Carmen and Rodman tied the knot in Las Vegas several months after their passing.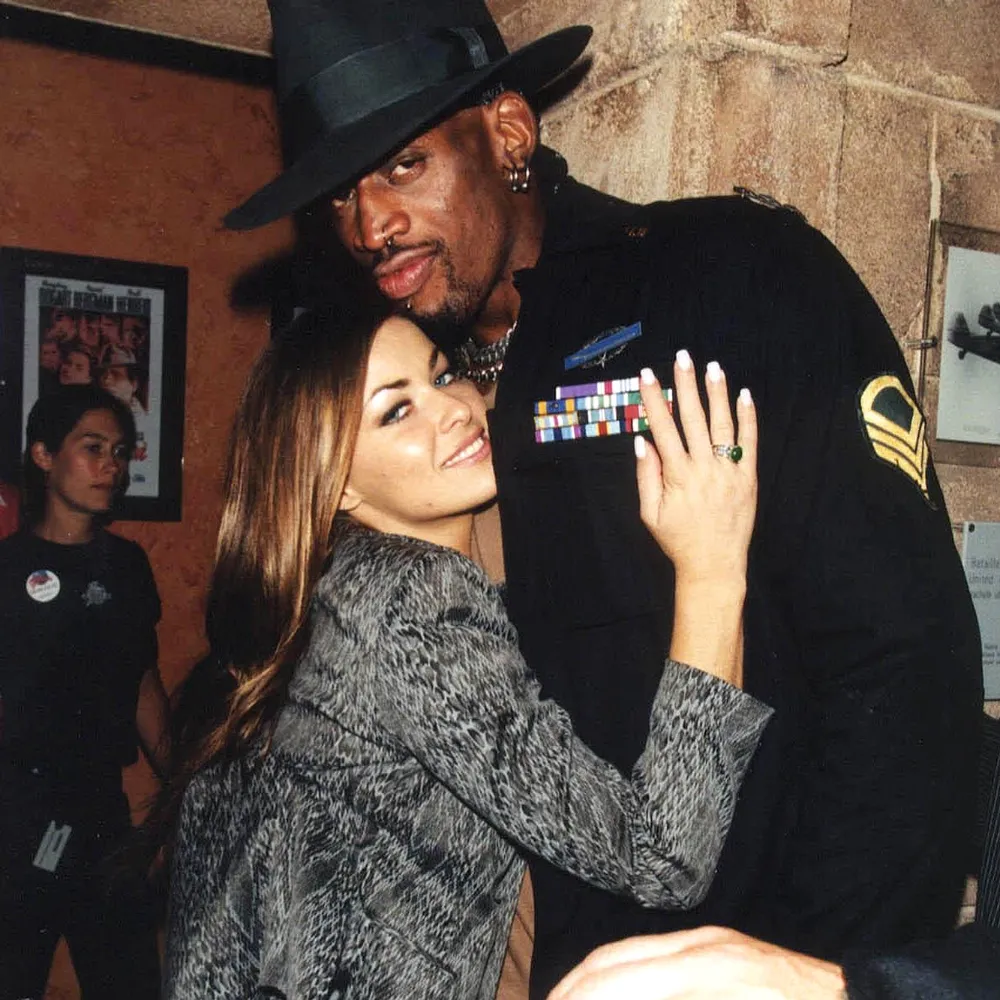 Rodman submitted a request for nullification after just nine days; however, the couple reconciled briefly before separating permanently after four months. Carmen later clarified that she was mourning and feeling completely devoid of emotion.
Helen Hunt and Hank Azaria
They are continuously arriving! To our surprise, renowned actress Helen Hunt, who won an Oscar, and actor Hank Azaria, who won an Emmy, were actually wedded. They tied the knot in a customary Jewish wedding ceremony back in 1999. Unfortunately, their marriage officially ended after just a year together. Hank vacated their mutual residence, and Helen initiated divorce proceedings.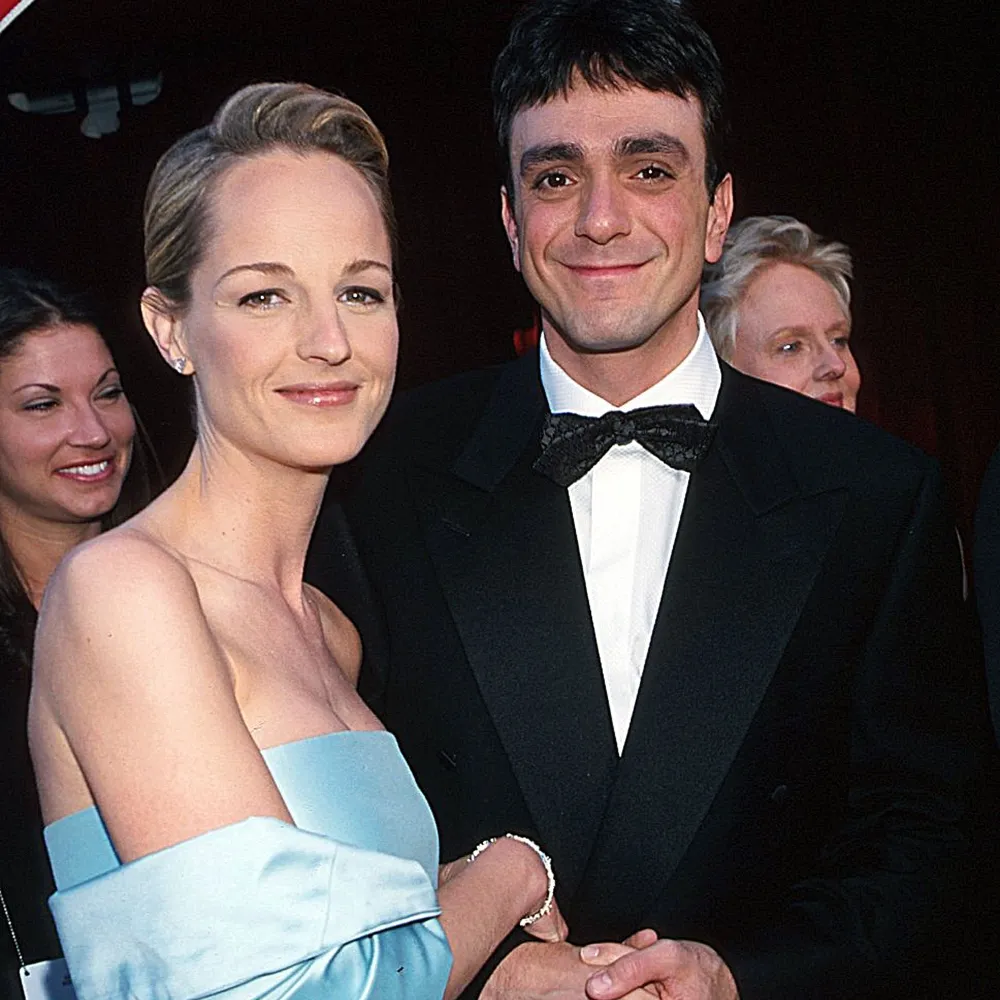 Hank Azaria remarked that moving on from a person is similar to going through a sorrowful phase. He tied the knot with Katie Wright in 2007; however, Helen hasn't remarried yet, although she had been in a romantic relationship from 2001 until 2017.
Jeff Goldblum and Geena Davis
Although they have acted in multiple films together, not many are aware that Jeff Goldblum and Geena Davis were once married. Prior to their acquaintance on set, both of them had been married previously. The couple tied the knot in 1987 in Las Vegas but their marital relations came to an end in 1990.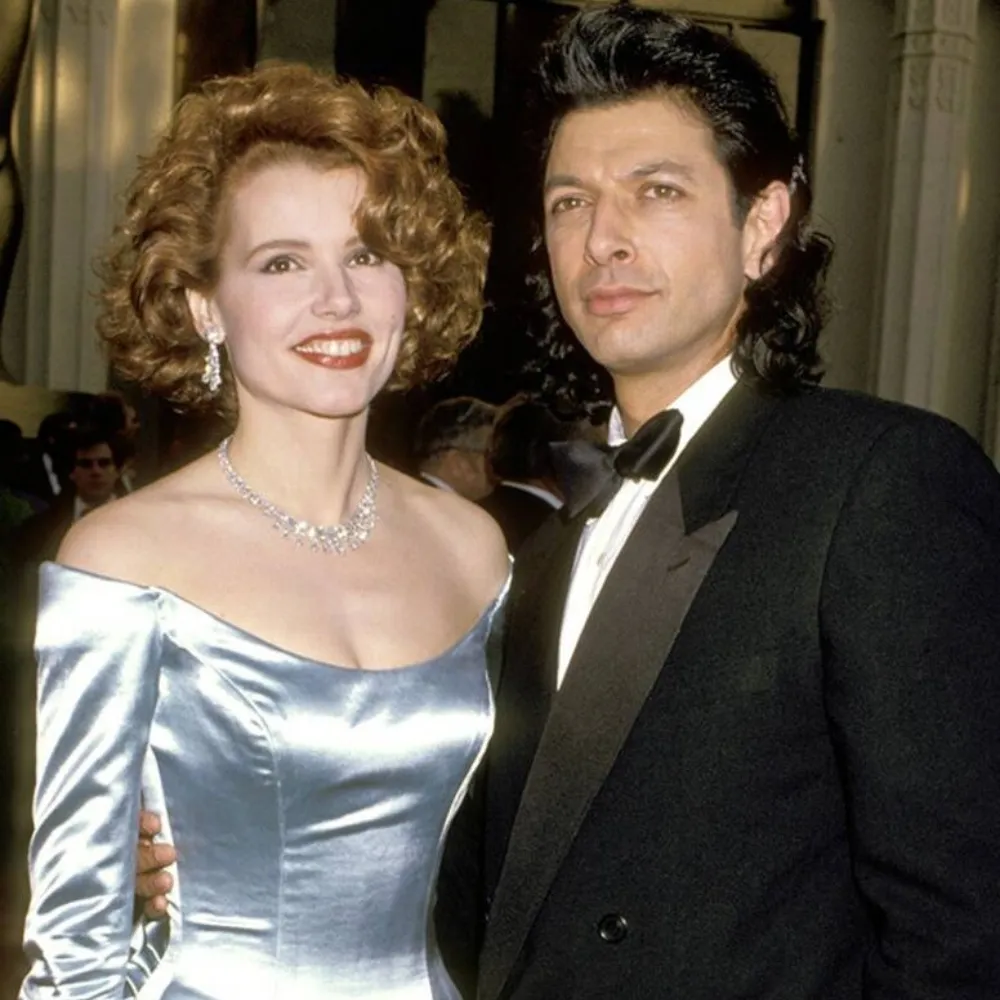 Jeff Goldblum tied the knot with Olympic gymnast Emilie Livingston following that incident. On the other hand, Geena Davis, who won an Academy Award, got remarried only two years after separating from Jeff, but that union ended in 1998. There is conflicting information on whether she has undergone a third marriage.
Zooey Deschanel and Ben Gibbard
In 2019, Zooey Deschanel, an actress, ended her relationship with film producer Jacob Pechenik. Prior to him, she had been previously married to Death Cab for Cutie's lead singer Ben Gibbard in 2009. Gibbard expressed his admiration for her after being initially starstruck that she was even conversing with him.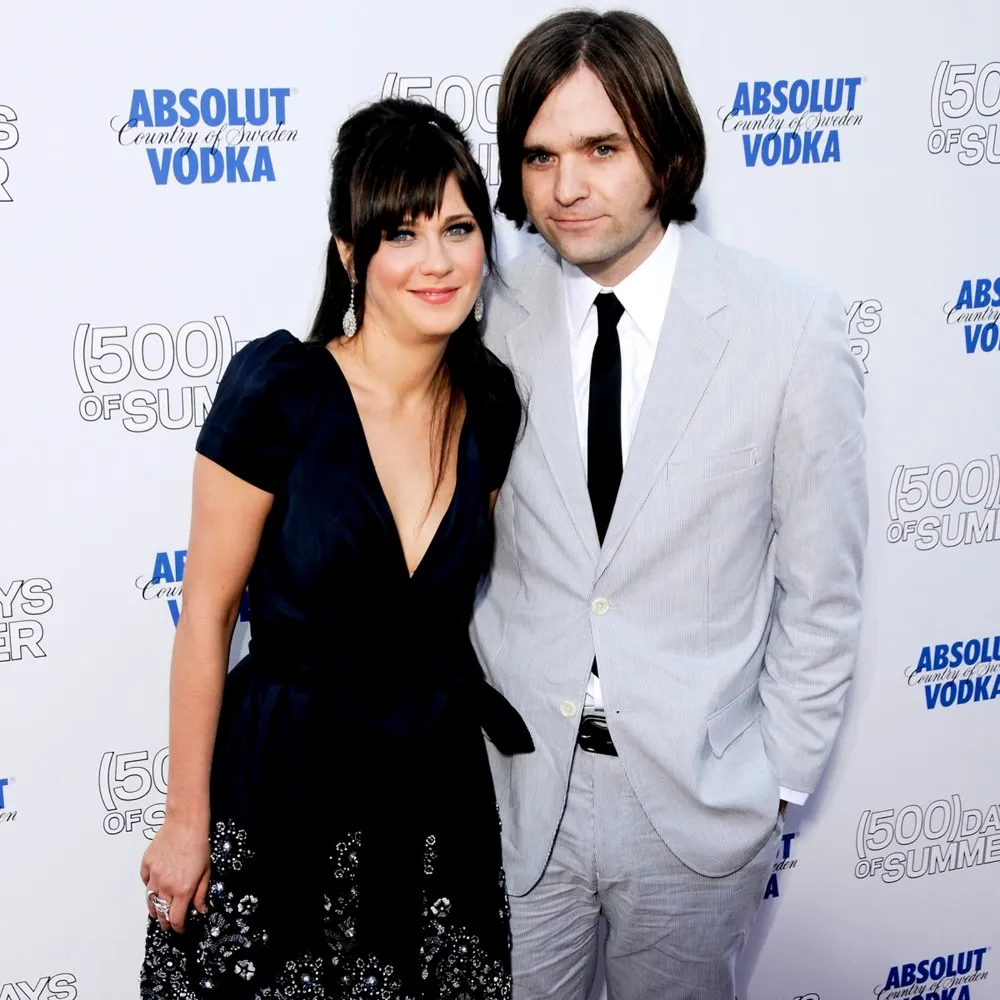 The couple remained together in marriage for a duration of two years prior to informing the public of their decision to separate. By 2011, Zooey had initiated proceedings to legally end the marriage through a divorce filing. Currently, she is in a relationship with Jonathan Scott.
Kaley Cuoco and Ryan Sweeting
Similarly, the public is more aware of the recent separation of actress Kaley Cuoco from her equestrian spouse Karl Cook. Nevertheless, Cuoco was previously wedded to professional tennis player Ryan Sweeting. The duo became engaged after only three months of dating, and their wedding took place in 2013. They proclaimed their separation two years later.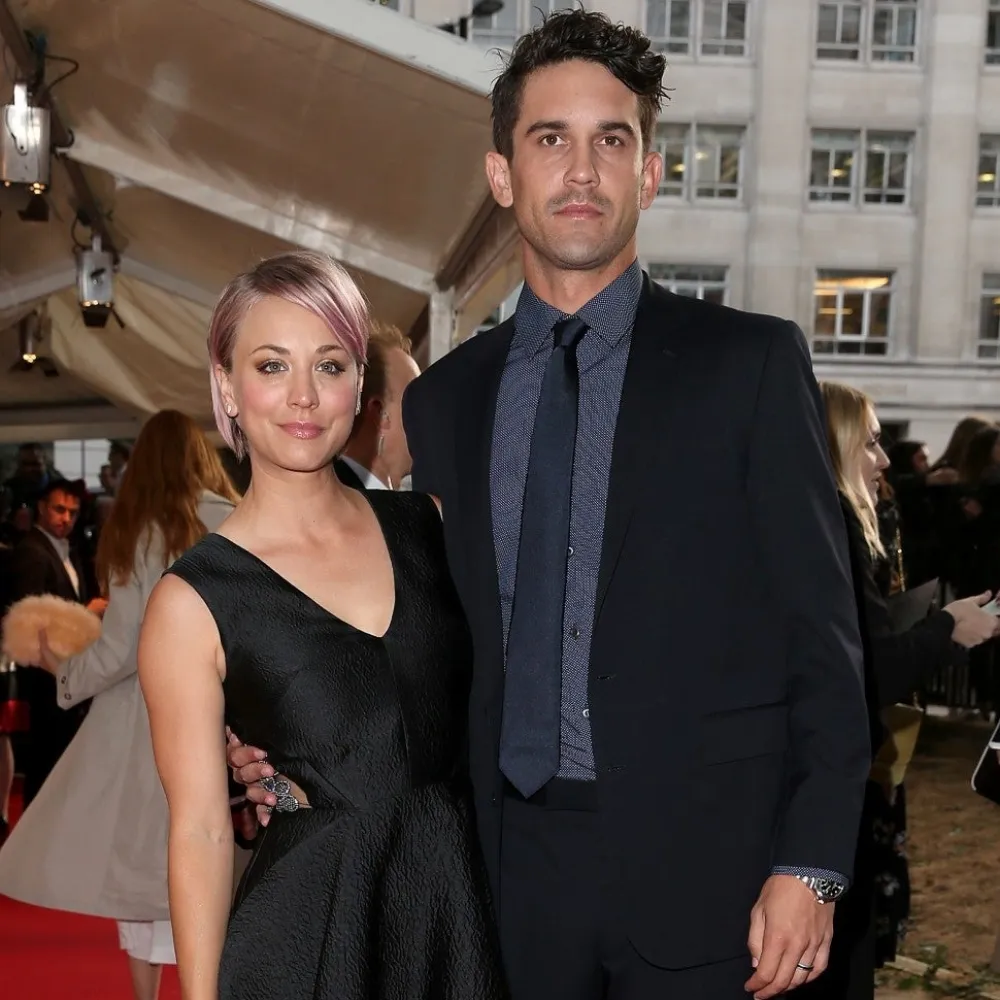 Kaley stated that the person she married initially underwent a complete transformation, and the person she ended up with was not the same person she met initially. She also mentioned that it was not her fault, but rather a result of her partner's actions.
Cher and Gregg Allman
When we consider Cher's partner, we usually associate her with Sonny Bono. Nonetheless, Cher and Sonny parted ways in 1975 and Cher tied the knot again shortly after her divorce was finalized with Gregg Allman, who was part of The Allman Brothers Band.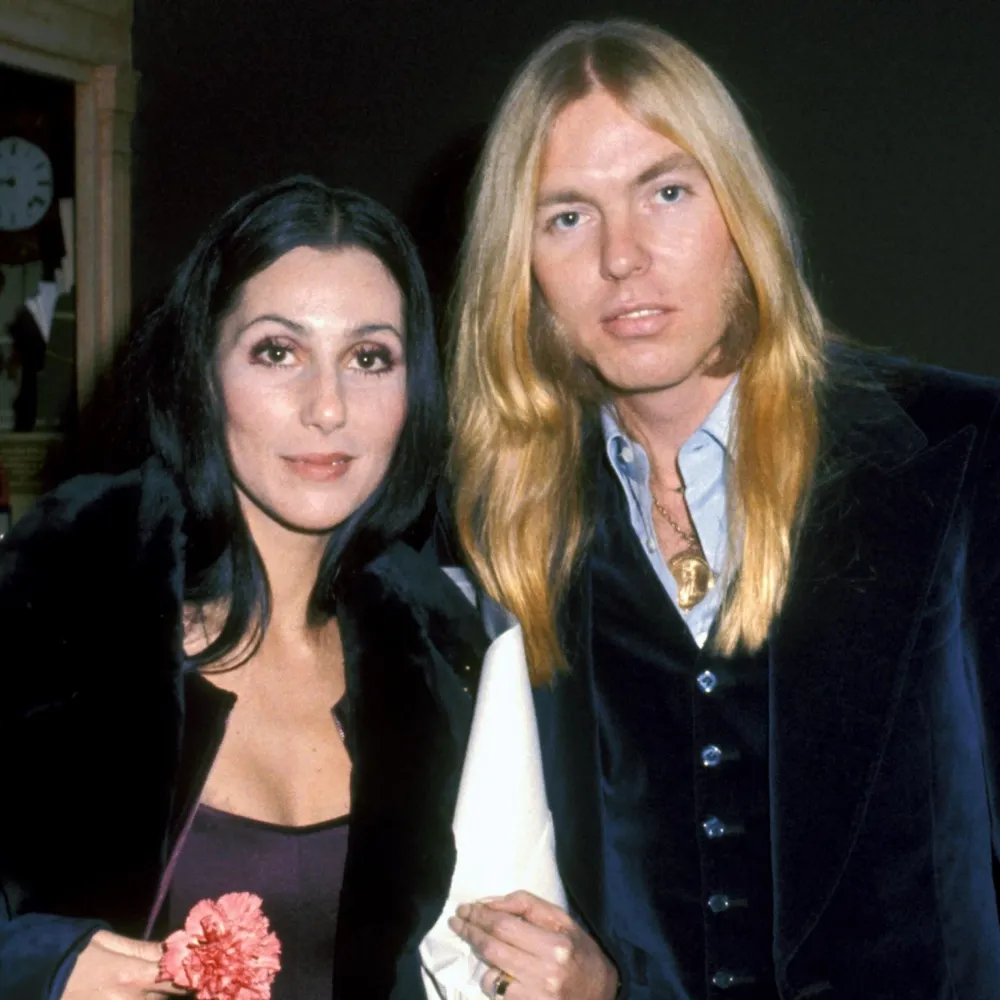 Cher initiated divorce proceedings just nine days after getting married, but later the couple reconciled. They became parents to a son in 1976, but separated again in 1977. The following year, she officially changed her name to just Cher, dropping her previous surnames.
Shannen Doherty and Ashley Hamilton
Fast marriages have become increasingly popular in Hollywood due to the abundance of wealth, physical attractiveness, and egos among celebrities, causing them to get swept up in the romanticism. For instance, actress Shannen Doherty and actor Ashley Hamilton tied the knot in 1994, just two weeks after they had met.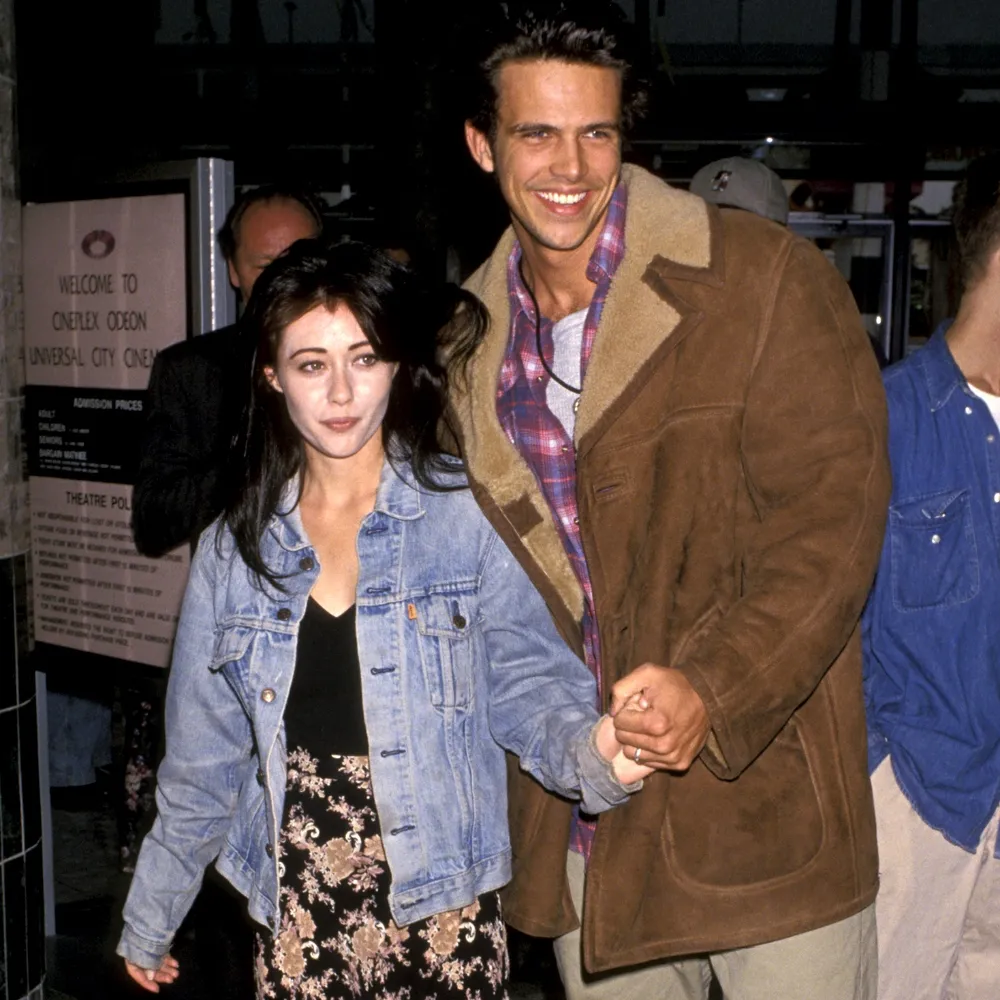 The marriage between Ashley only lasted for five months, which was not surprising. Similarly, Ashley had another brief marriage in the 90s that ended in divorce, and Shannen was also married to Rick Salomon for only nine months. Currently, Shannen is happily married to a photographer named Kurt Iswarienko.
Mario Lopez and Ali Landry
Occasionally, couples opt for marriage due to lack of other viable options which is not advisable and often results in divorce. The same scenario occurred with actors Mario Lopez and Ali Landry, who were in a six-year long relationship before tying the knot. Surprisingly, their marriage came to an end in just two weeks.

During Mario's bachelor party, he cheated on Ali Landry. As a result, she ended the relationship and is now married to director Alejandro Gómez Monteverde. Mario has claimed that he was never genuinely fond of her.
Janet Jackson and René Elizondo Jr.
Janet Jackson, the popular performer, has tied the knot three times in total. She wed a Mexican dancer, René Elizondo Jr., in secret during their eight-year long marriage from 1991 to 1999. The public only became aware of their relationship due to their turbulent separation.

Janet's husband filed a lawsuit against her, alleging that she manipulated him for tens of millions of dollars. He has since gotten remarried. Janet also got married again, but later got divorced from her second husband, who is a Qatari businessman named Wissam Al Mana.
Nicolas Cage and Patricia Arquette
Among the names on the list are individuals who have repeatedly committed offenses, including actor Nicolas Cage. The unique celebrity has gone through five marriages, the latest being with Riko Shibata in 2021. It has been reported that Nic attempted to attract actress Patricia Arquette in the 80s, but only succeeded in the 90s.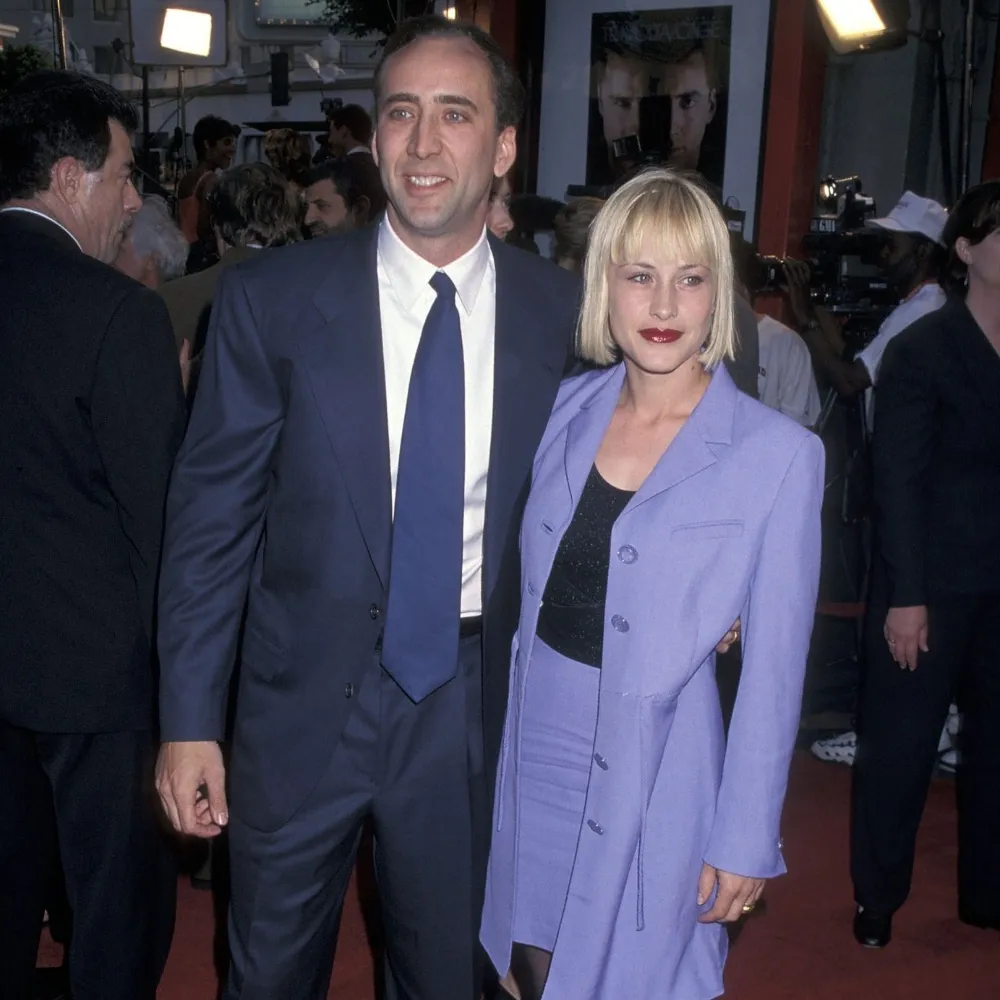 Although they were wedded from 1995 until 2001, they only spent a total of nine months together. The actress, who has received numerous awards, later married actor Thomas Jane in 2006. The couple had an unstable relationship and eventually broke up in 2011.
Bradley Cooper and Jennifer Esposito
During the mid-2000s, Bradley Cooper had appeared in television programs and a few films. However, he was nowhere near the successful and acclaimed movie star he is today, having won Grammys and achieved great heights. At that point in time, he was wedded to actress Jennifer Esposito.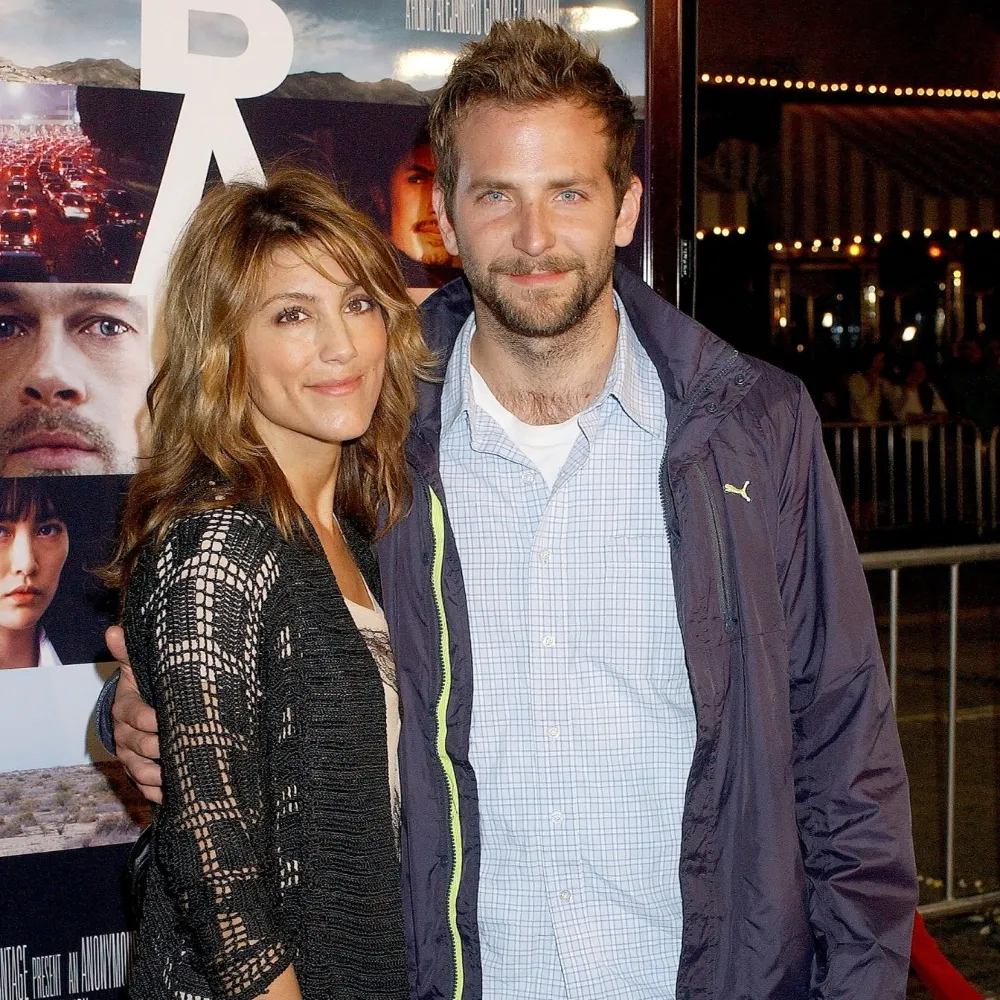 In 2006, the couple tied the knot but only four months later, they filed for a divorce. He expressed that it was an event that occurred unexpectedly, but the positive is that both of them acknowledged it. It's just one of those situations where you become aware of it. Presently, Jennifer Esposito is happily married to personal trainer Jesper Vesterstrøm.
Angelina Jolie and Billy Bob Thornton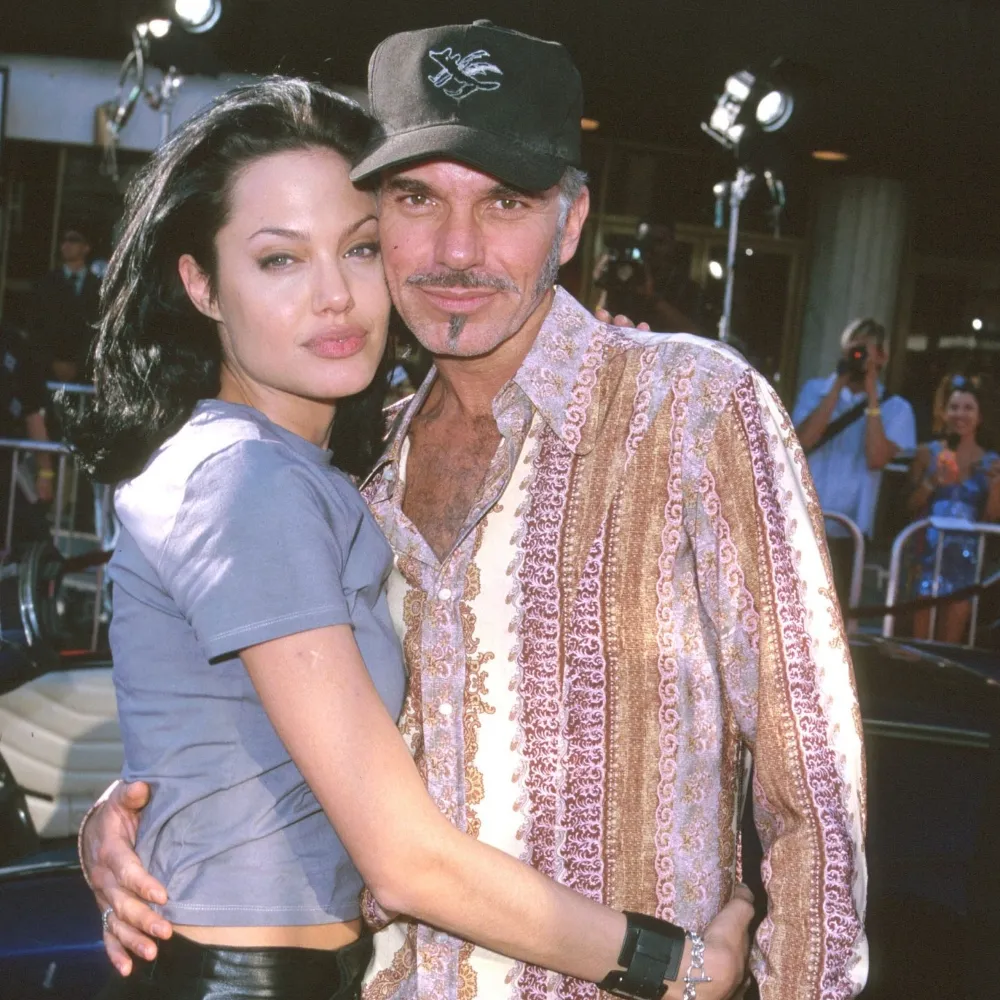 Converting! Wait…
Amber Rose and Wiz Khalifa
Converting! Wait…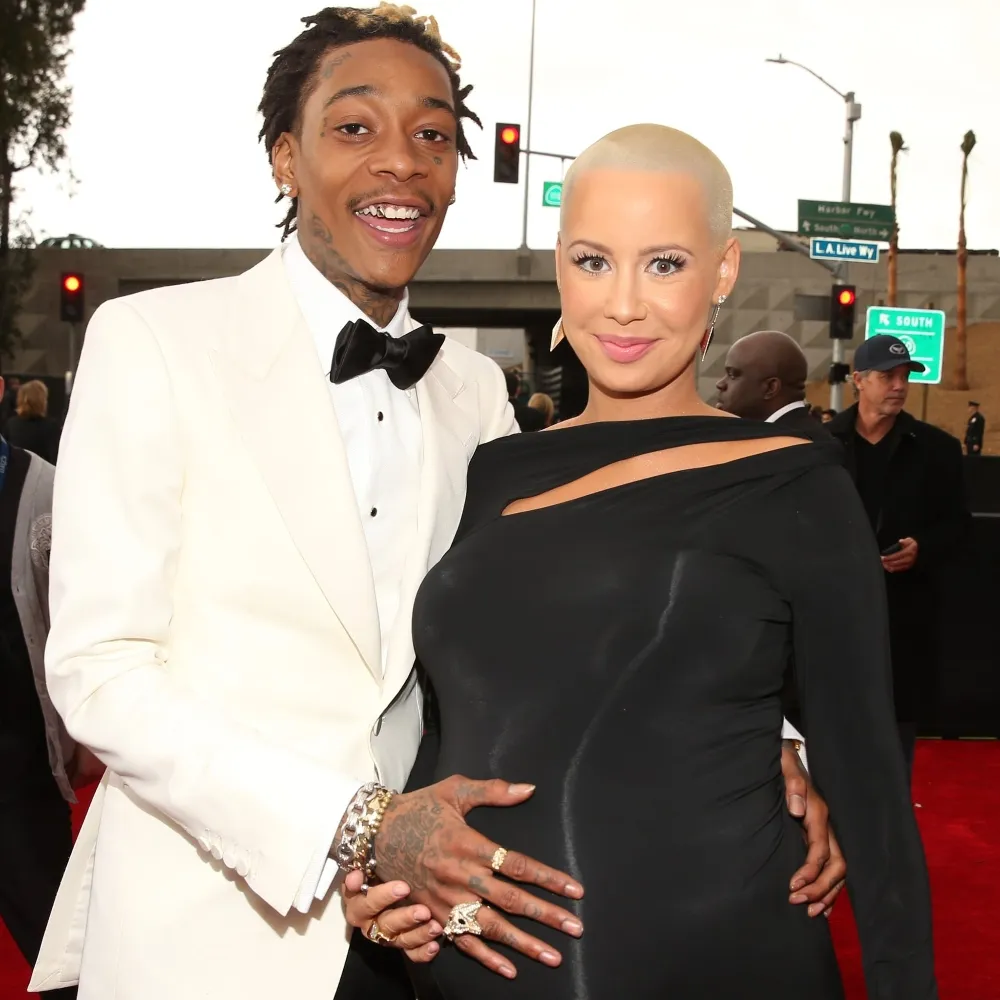 Converting! Wait…
Renée Zellweger and Kenny Chesney
Converting! Wait…


Converting! Wait…
Chris Kattan and Sunshine Tutt
Converting! Wait…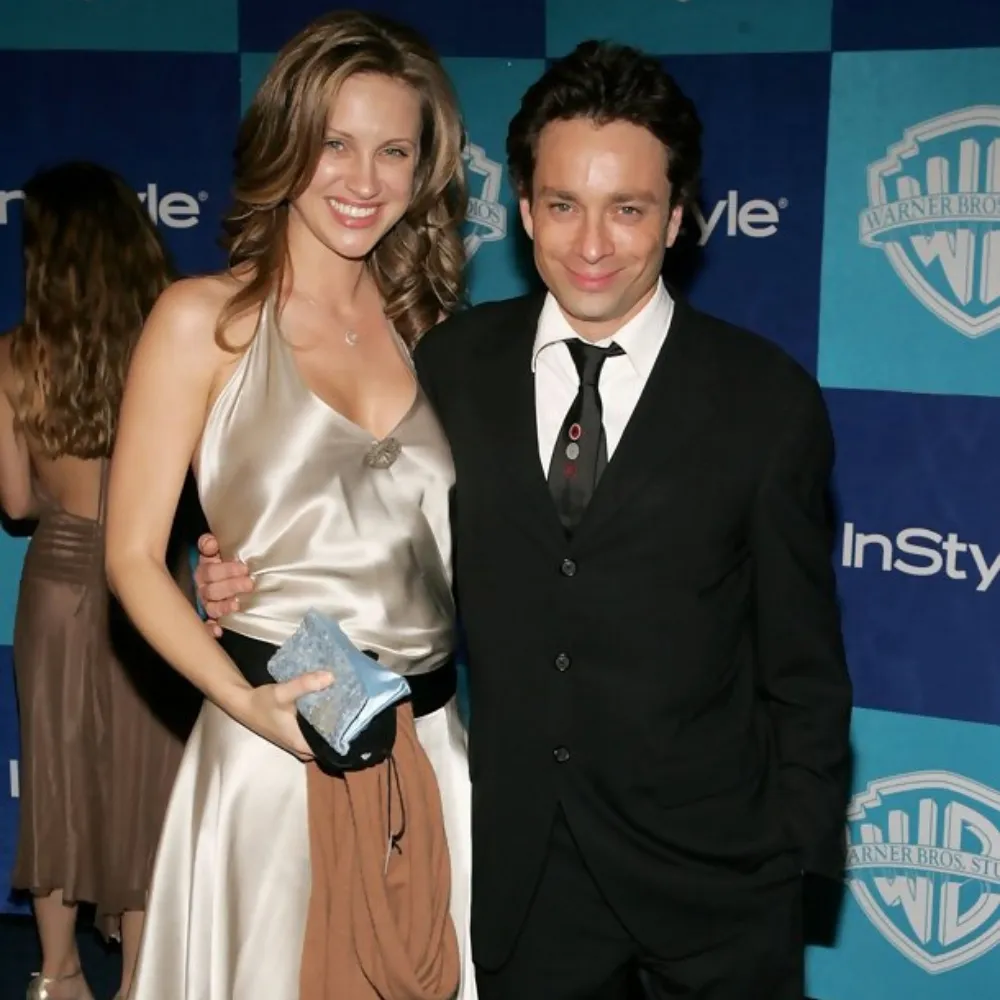 Converting! Wait…
Sandra Oh and Alexander Payne
Converting! Wait…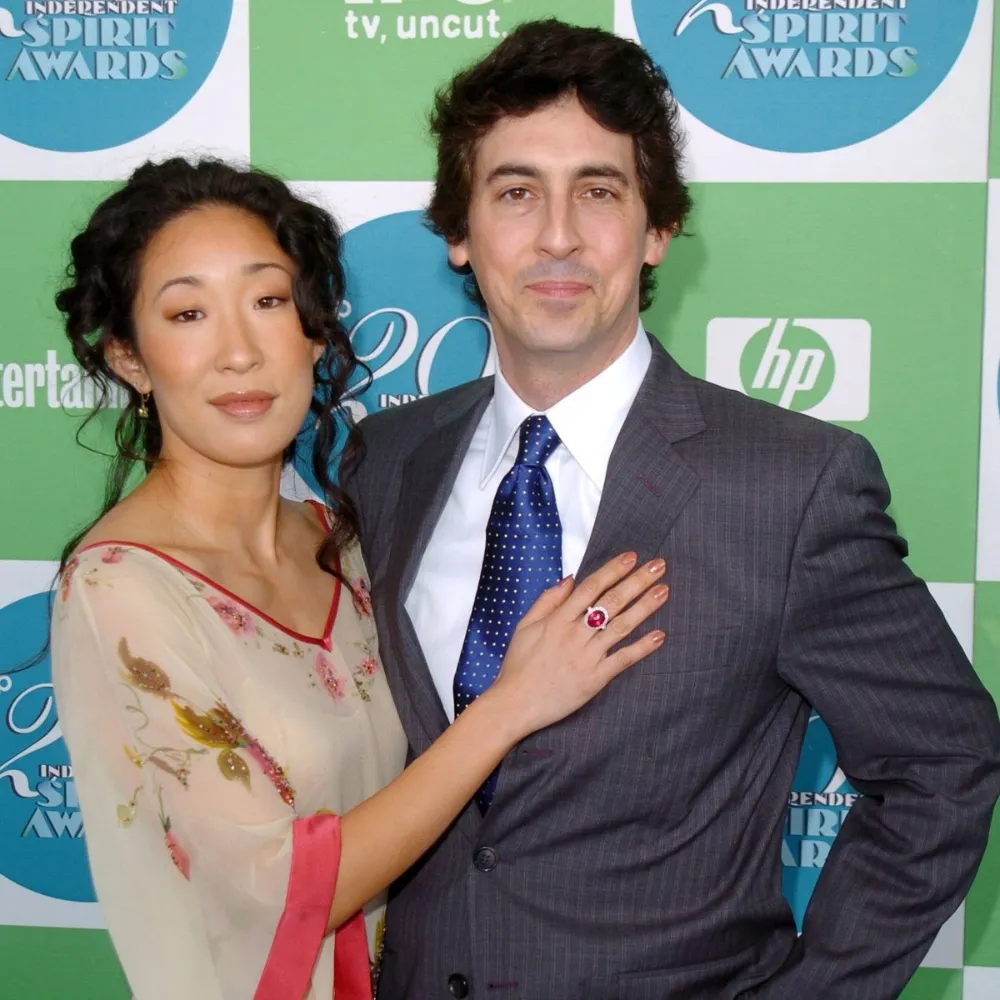 Converting! Wait…
Tommy Lee and Heather Locklear
Converting! Wait…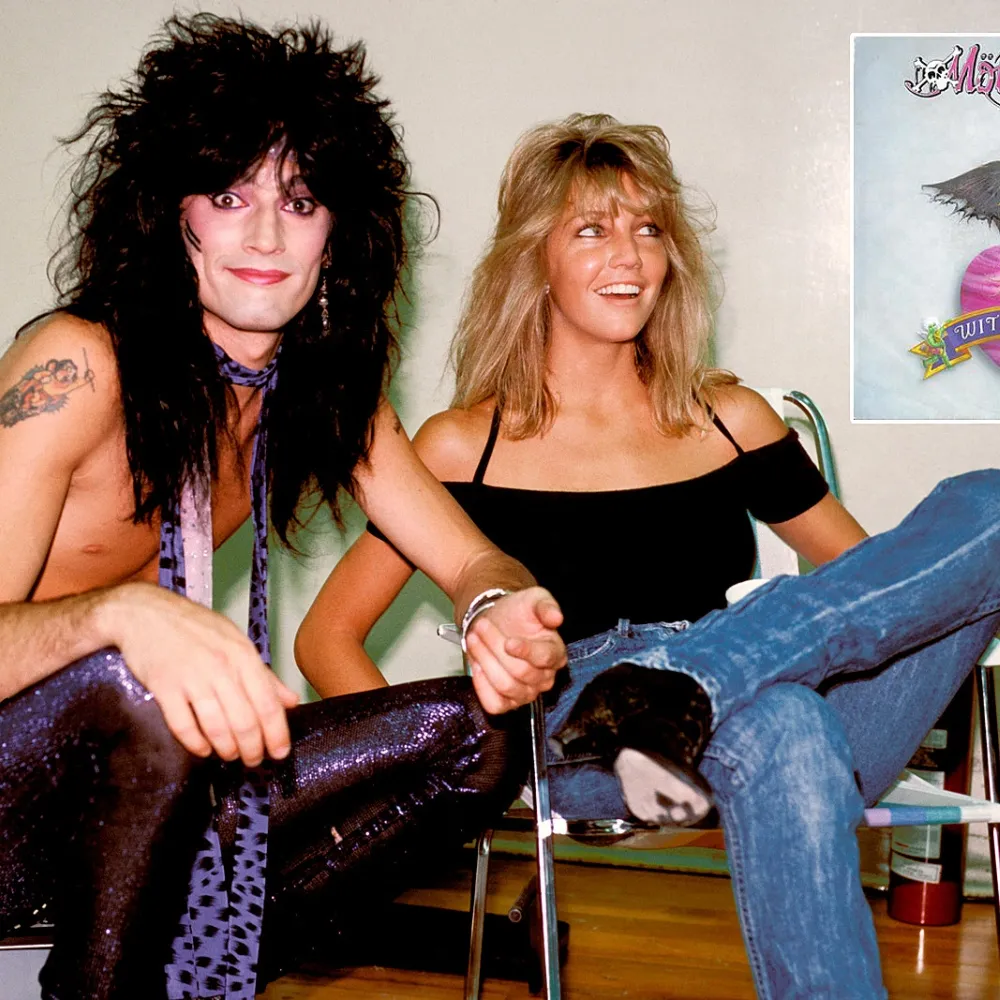 Converting! Wait…
Chad Michael Murray and Sophia Bush
Converting! Wait…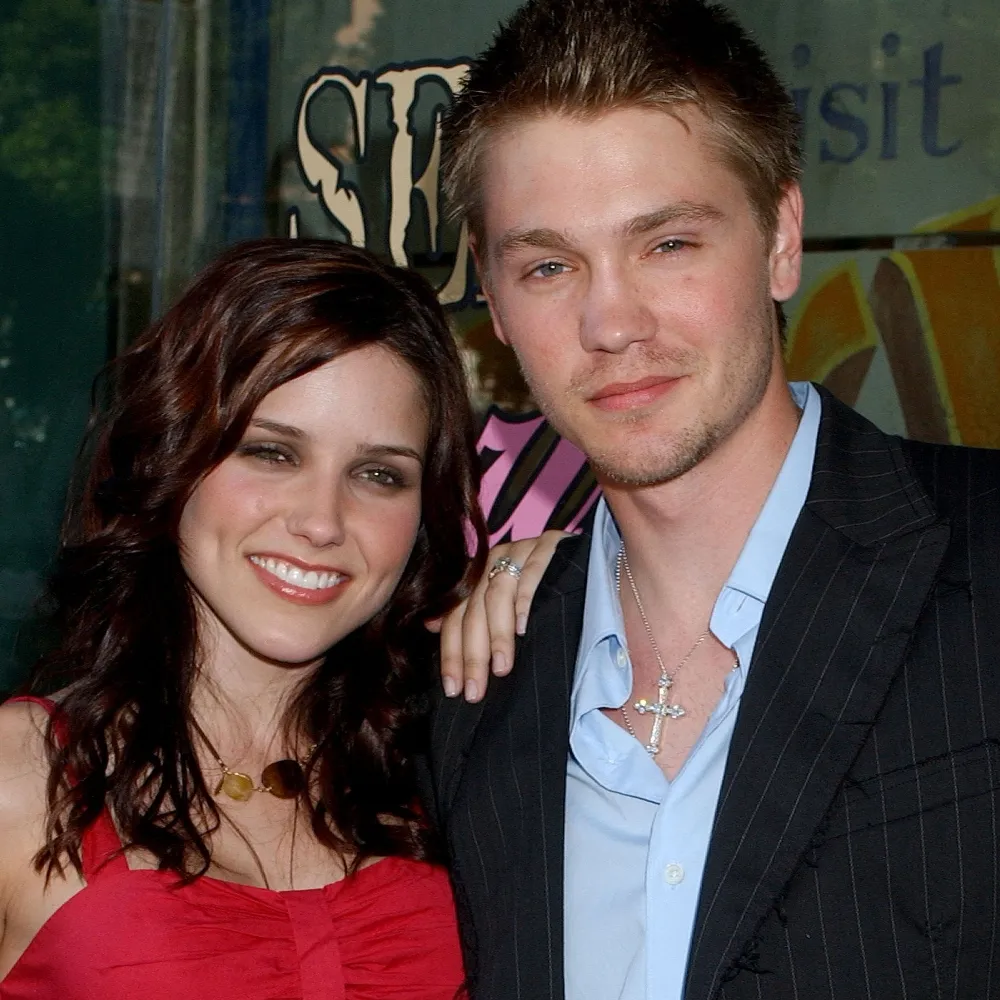 Converting! Wait…
Drew Barrymore and Tom Green
Converting! Wait…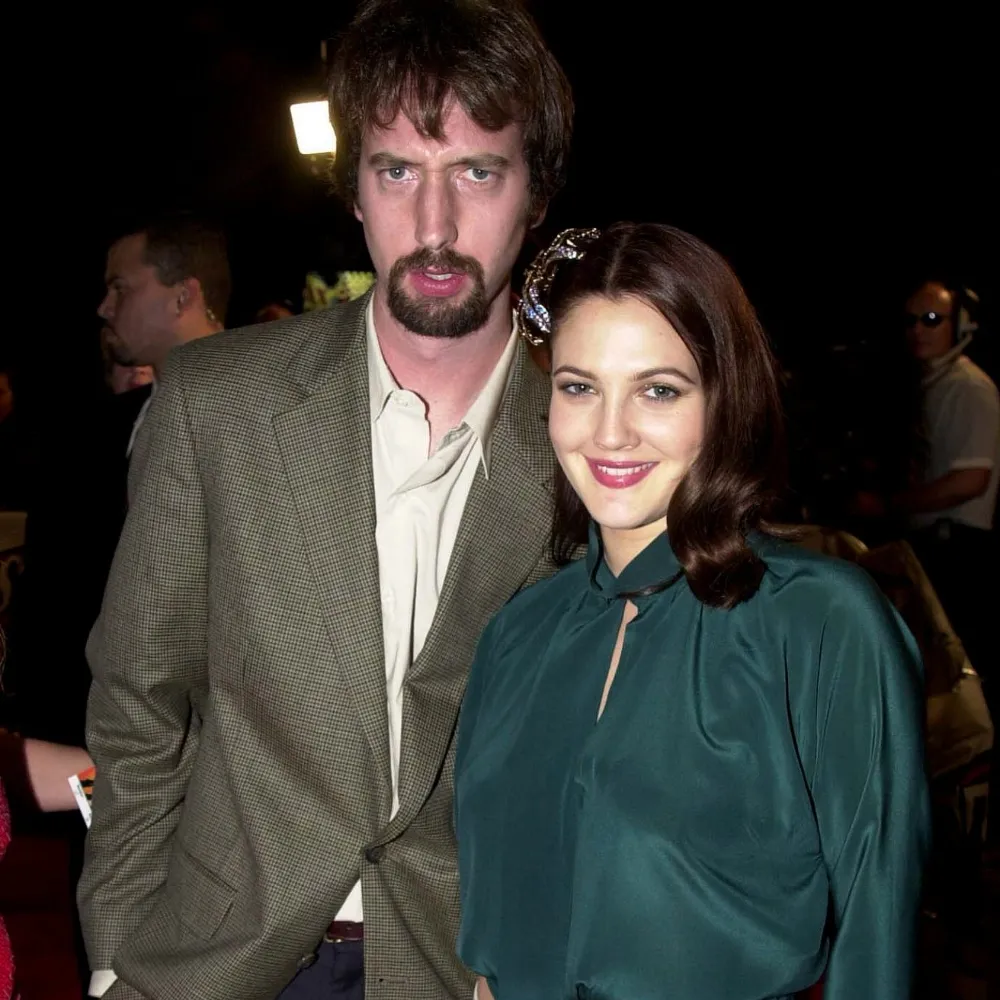 Converting! Wait…
Heidi Klum and Ric Pipino
Converting! Wait…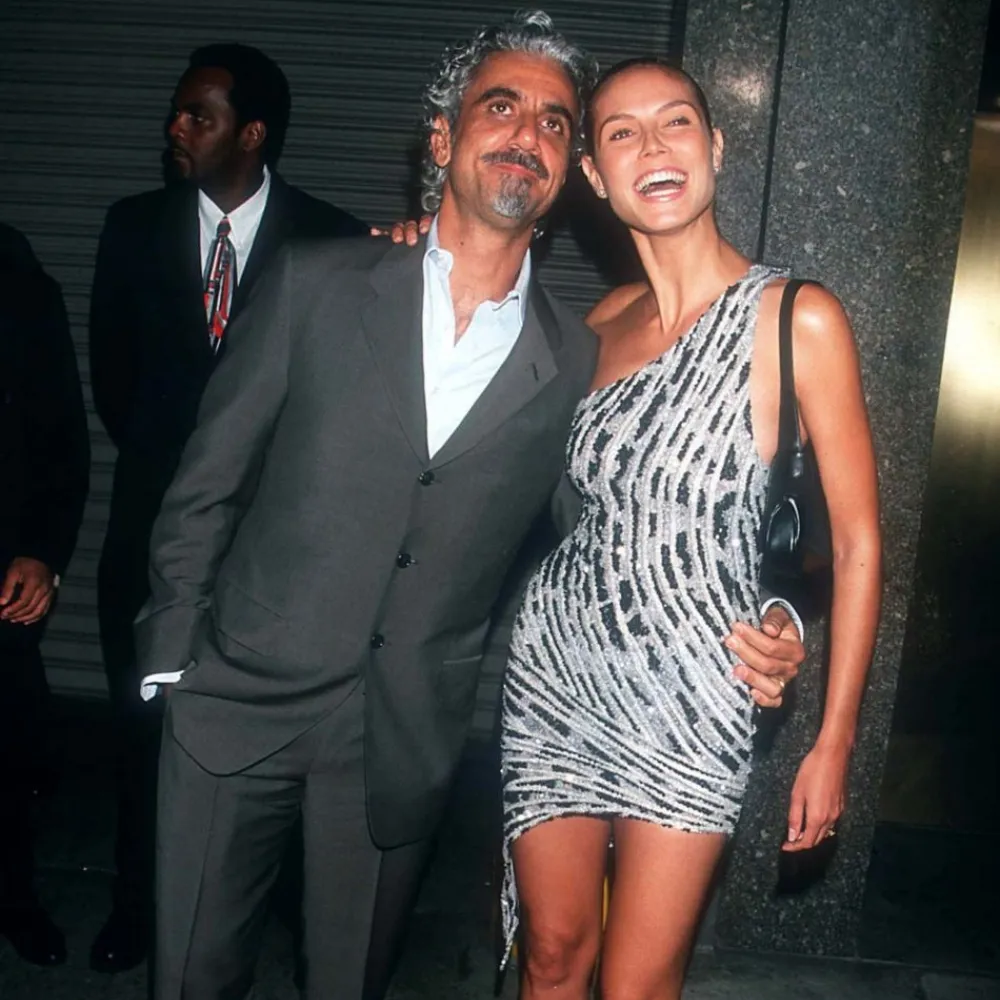 Converting! Wait…
Cindy Crawford and Richard Gere
Converting! Wait…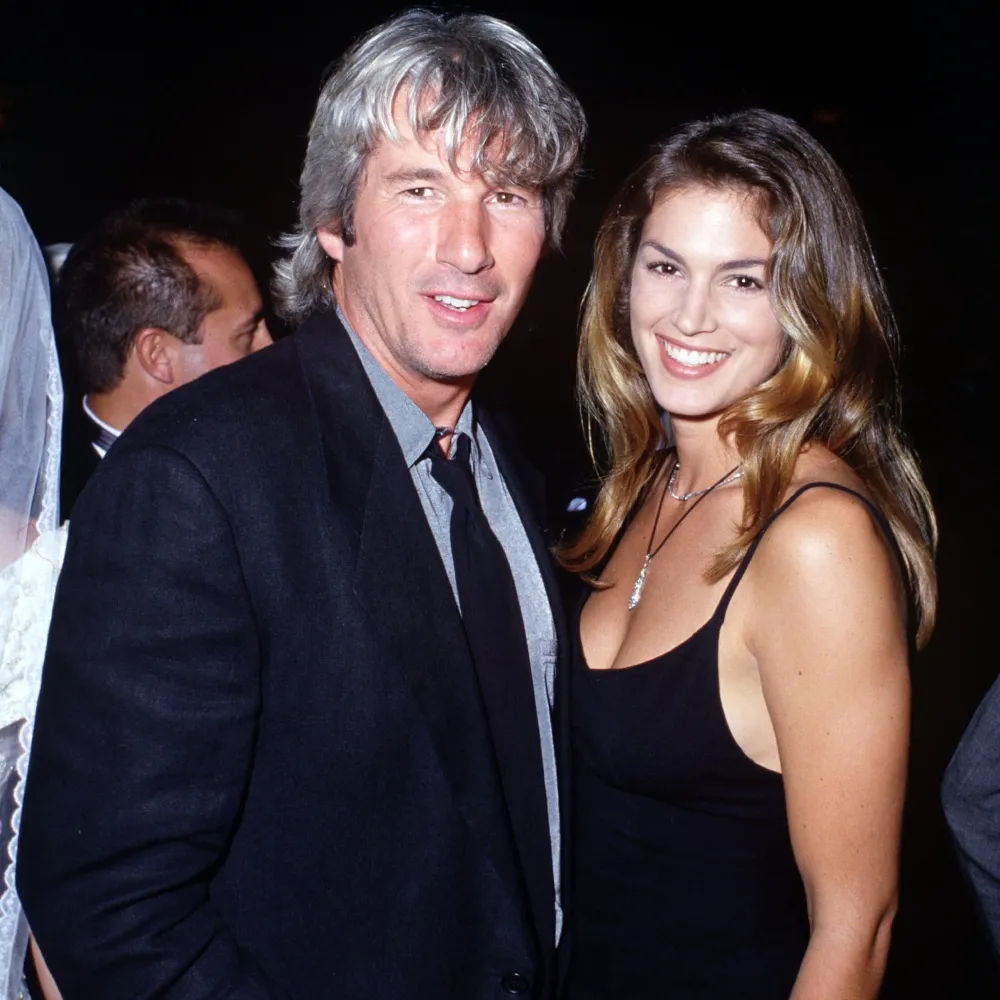 Converting! Wait…
Christina Milian and The-Dream
Converting! Wait…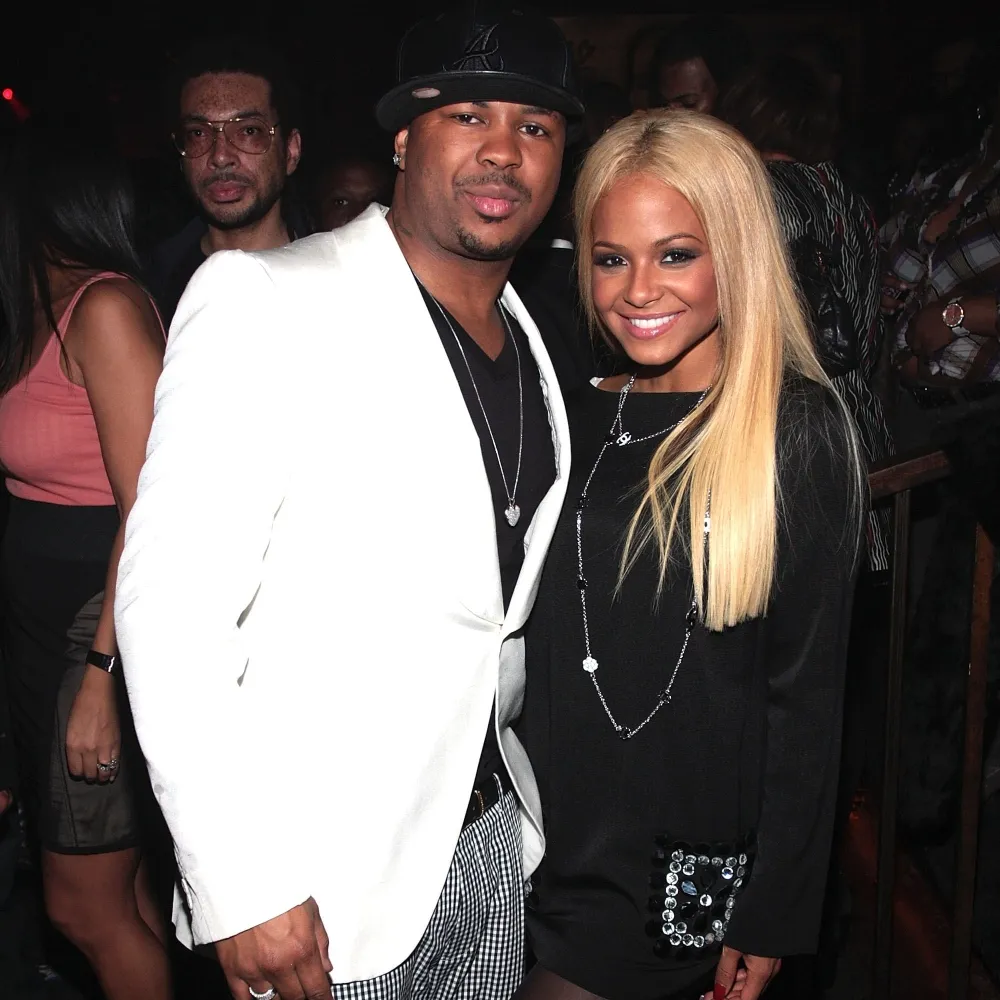 Converting! Wait…
Jennifer Lopez and Ojani Noa
Converting! Wait…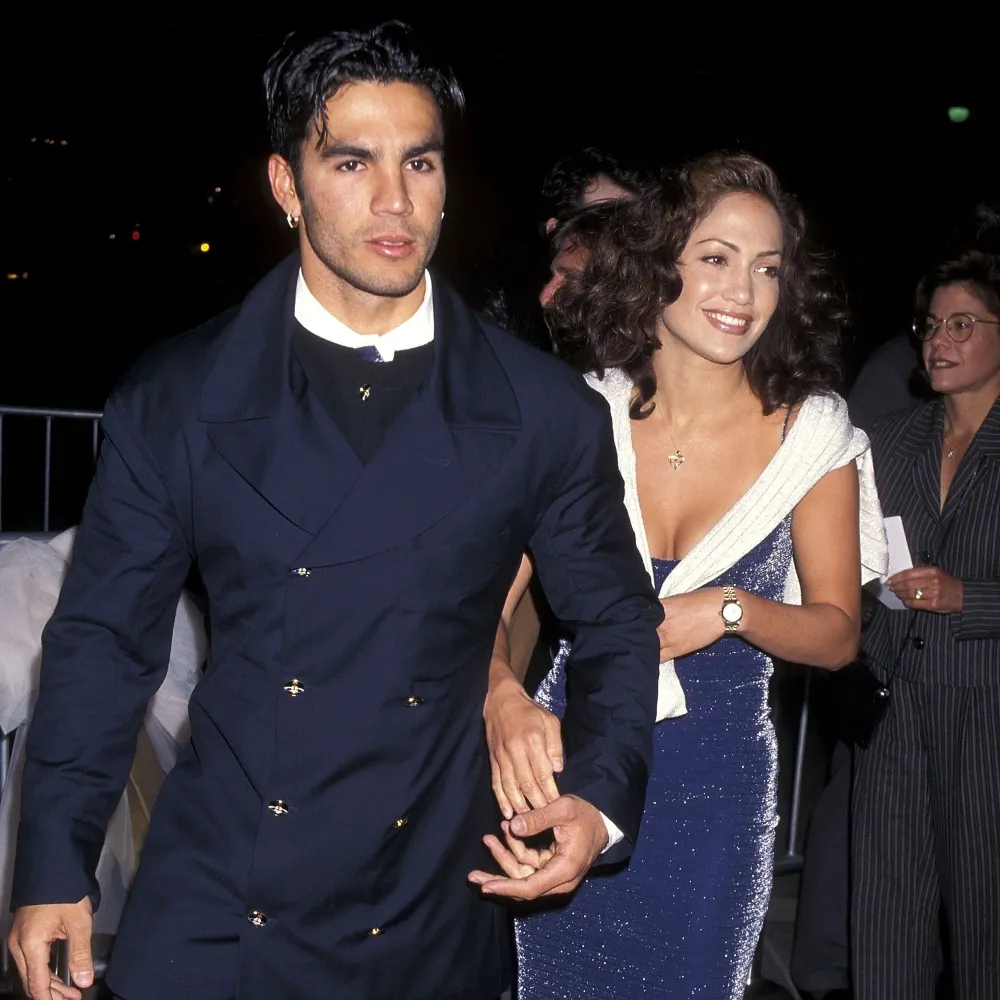 Converting! Wait…
Will Smith and Sheree Zampino
Converting! Wait…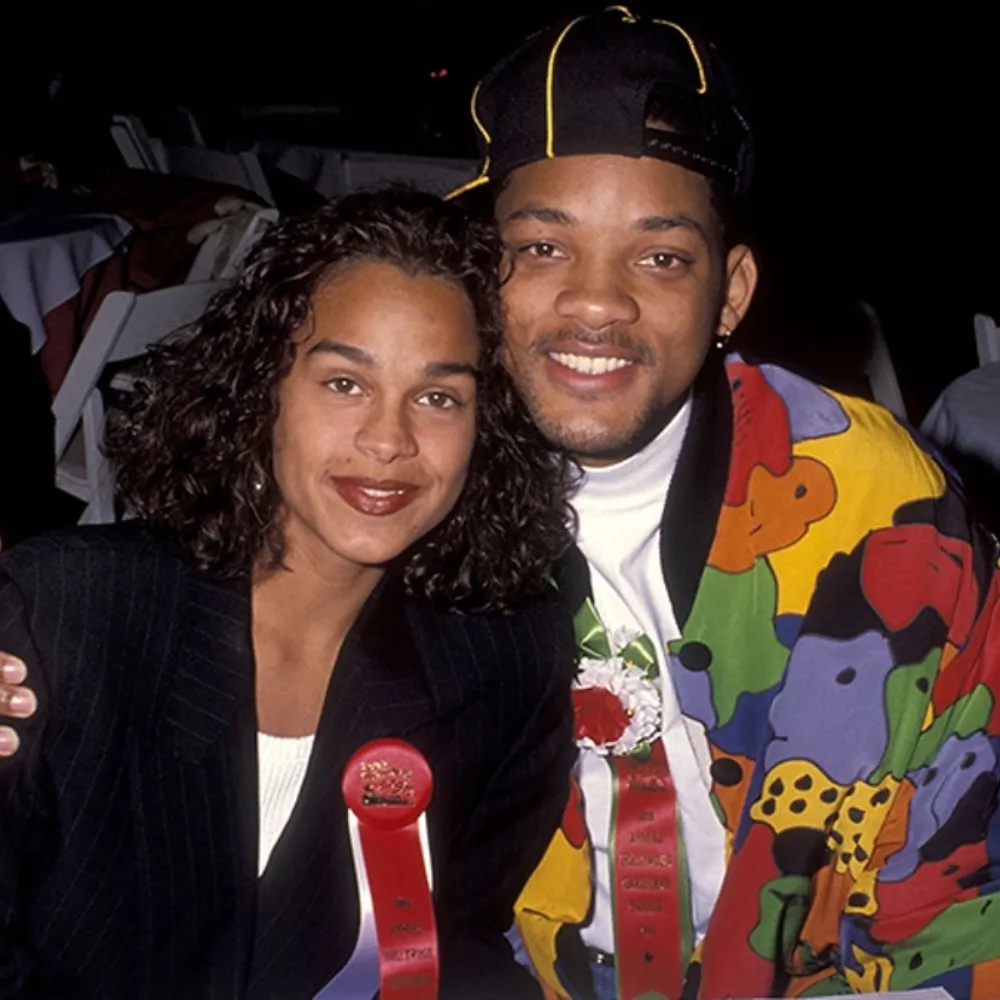 Converting! Wait…
Julia Roberts and Lyle Lovett
Converting! Wait…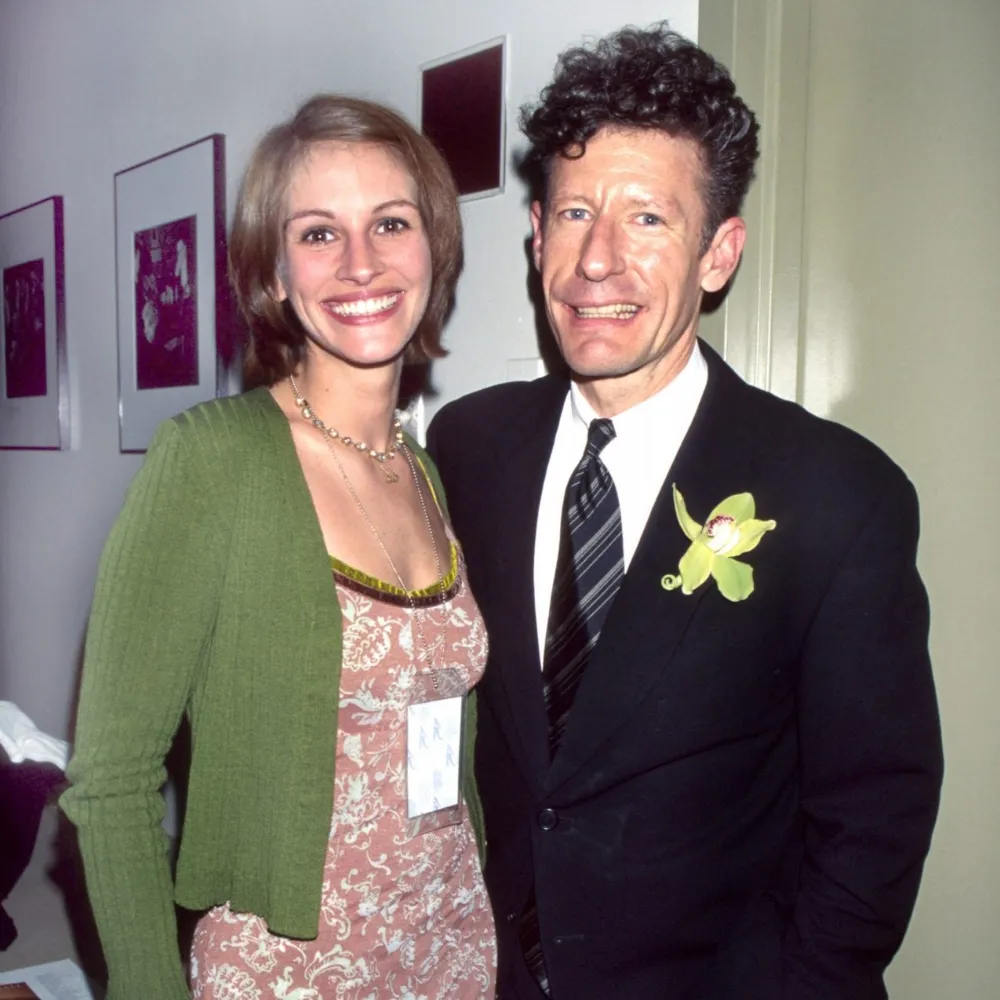 Converting! Wait…
Nicolas Cage and Lisa Marie Presley
Converting! Wait…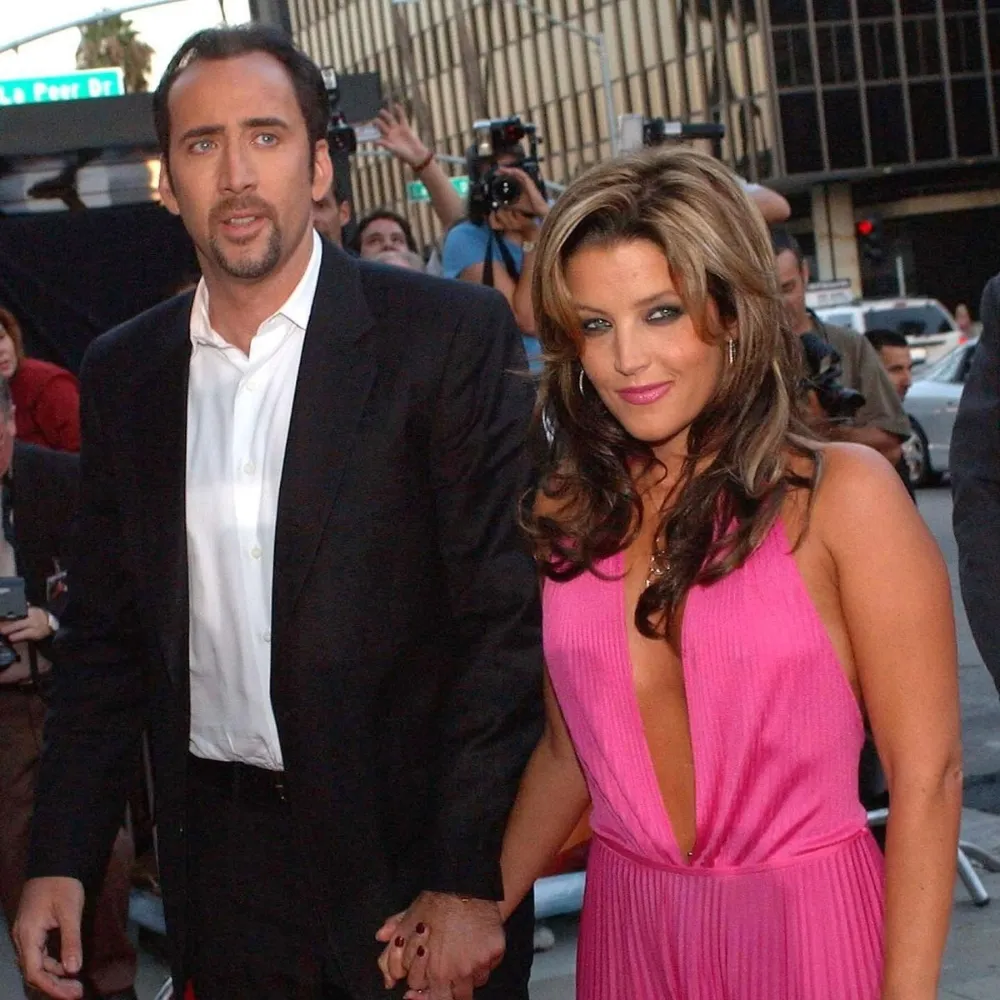 Converting! Wait…
Jenna Fischer and James Gunn
Converting! Wait…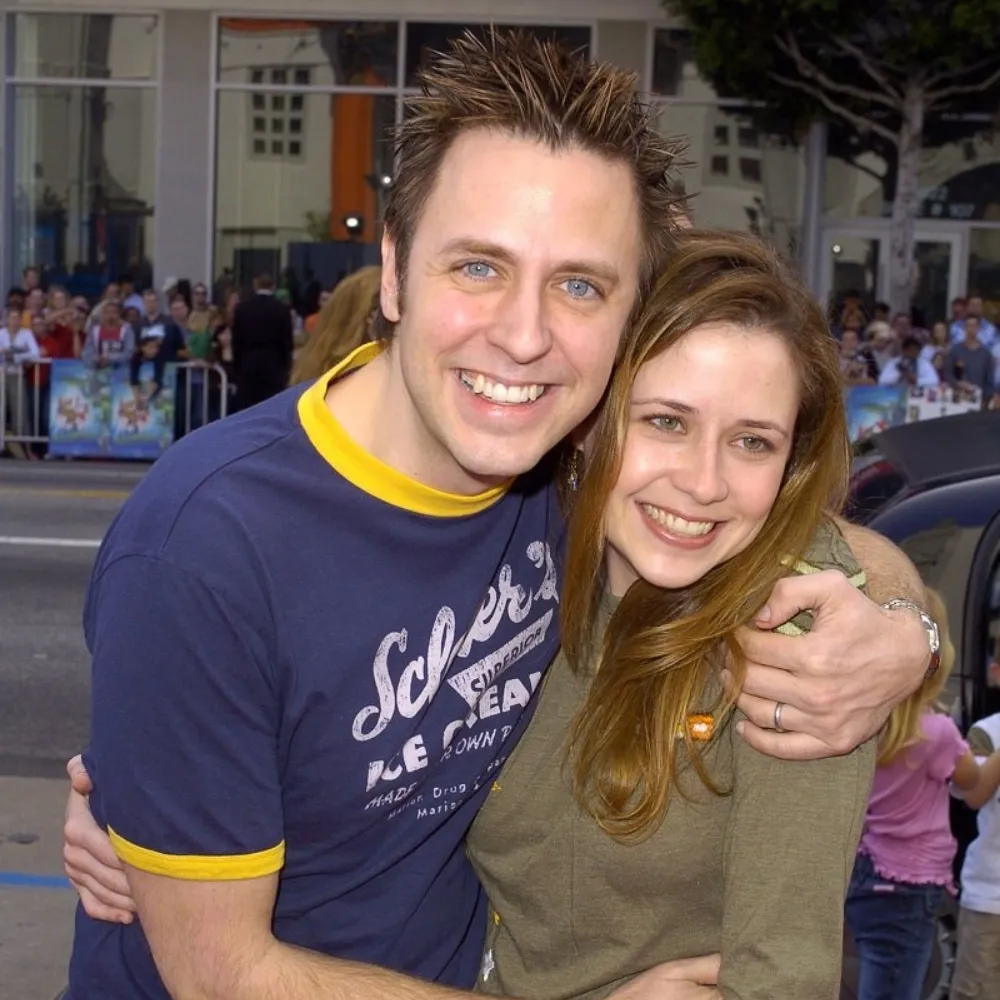 Converting! Wait…
Meghan Markle and Trevor Engelson
Converting! Wait…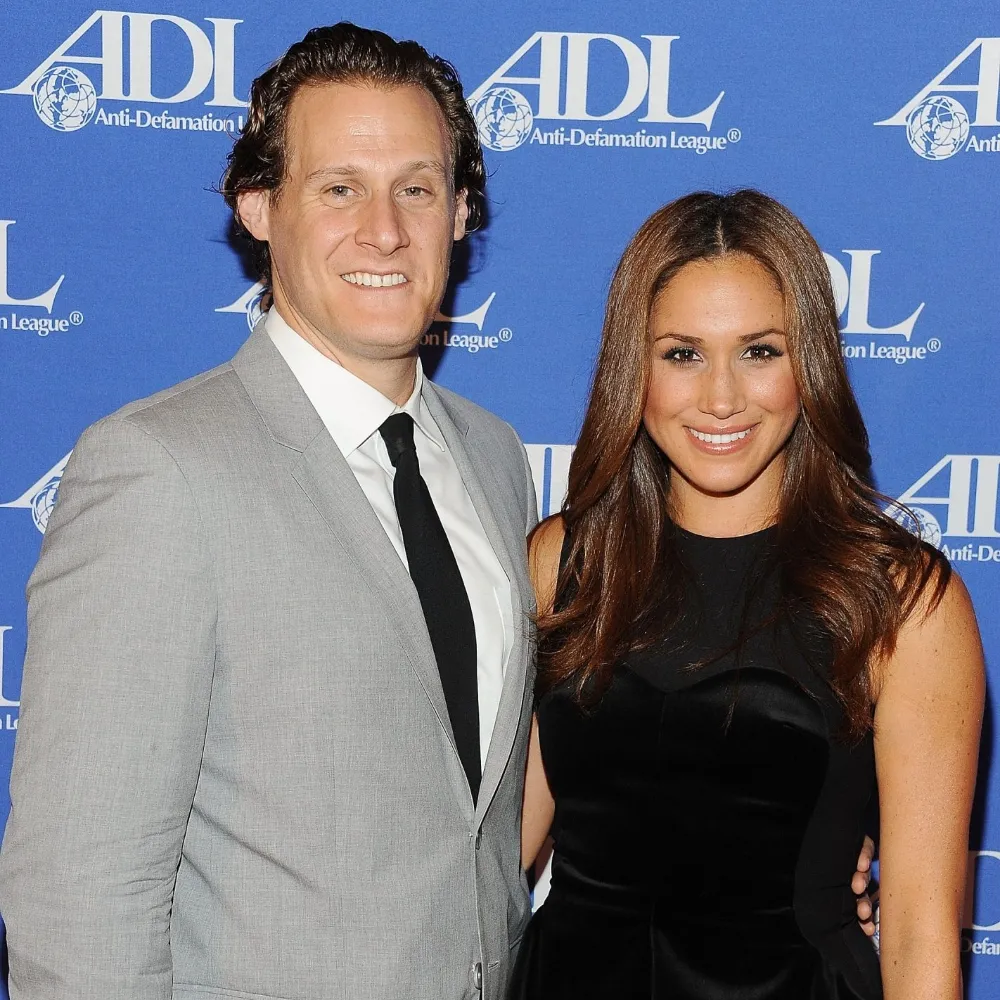 Converting! Wait…
Nicky Hilton and Todd Meister
Converting! Wait…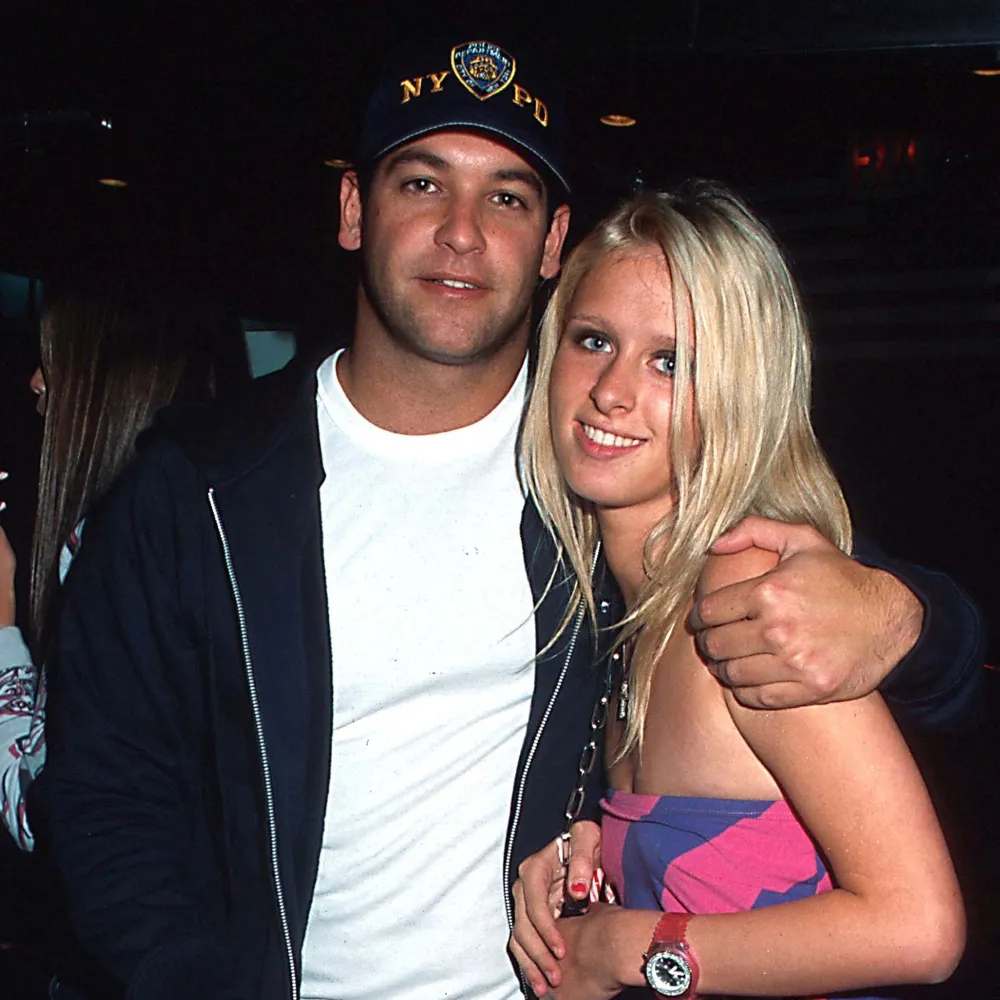 Converting! Wait…
Fred Armisen and Elisabeth Moss
Converting! Wait…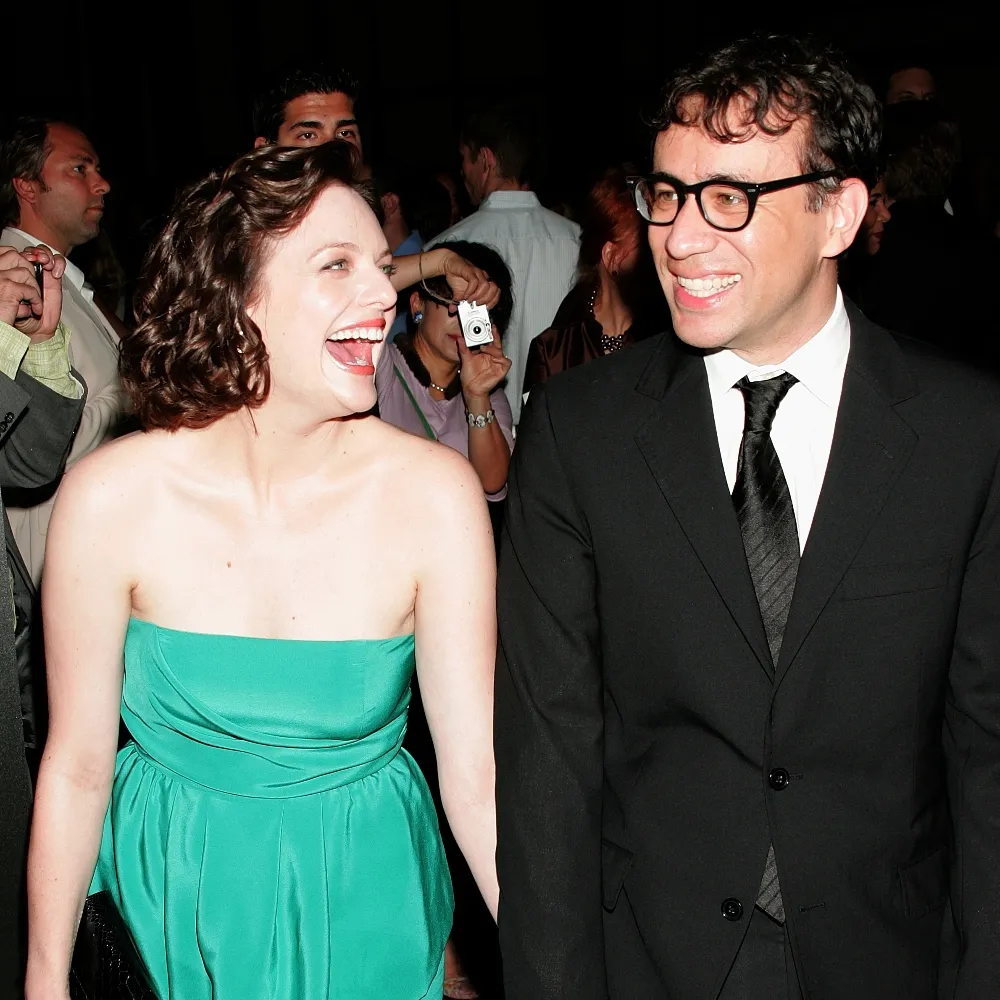 Converting! Wait…
Demi Moore and Freddy Moore
Converting! Wait…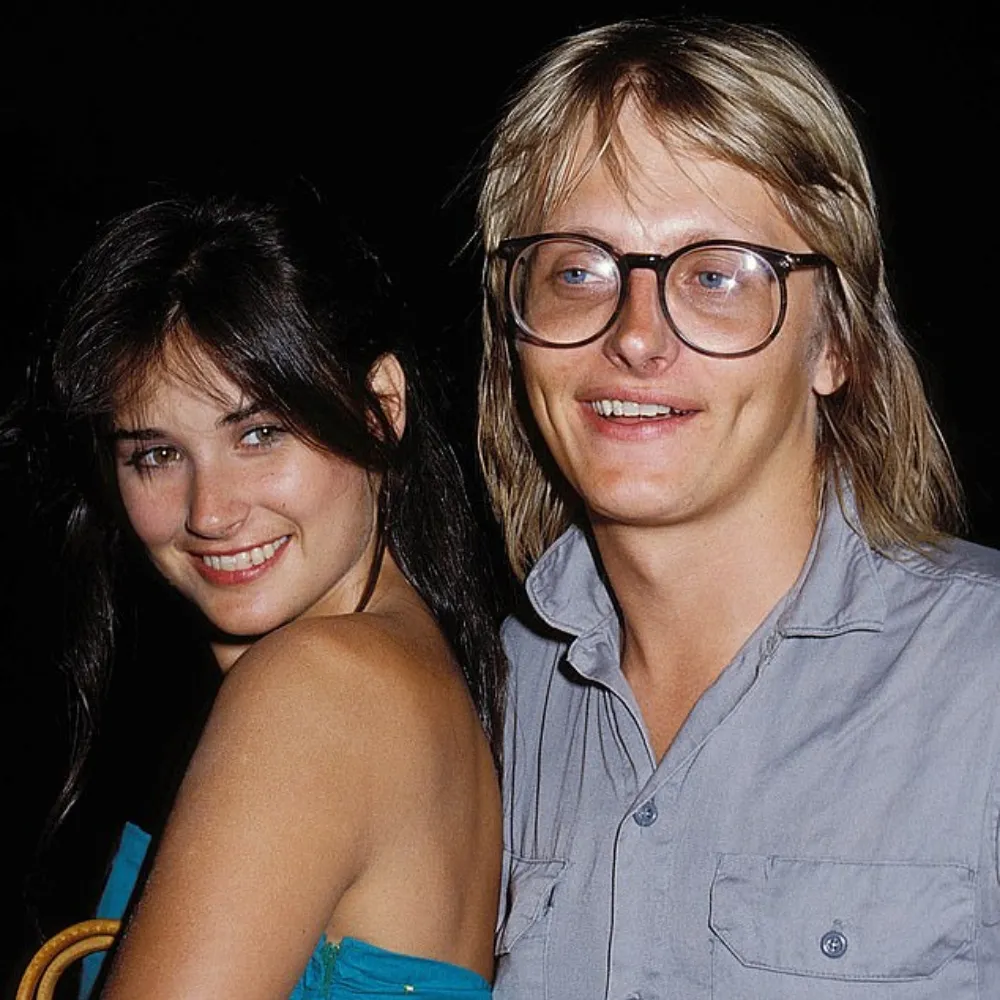 Converting! Wait…
Britney Spears and Jason Allen Alexander
Converting! Wait…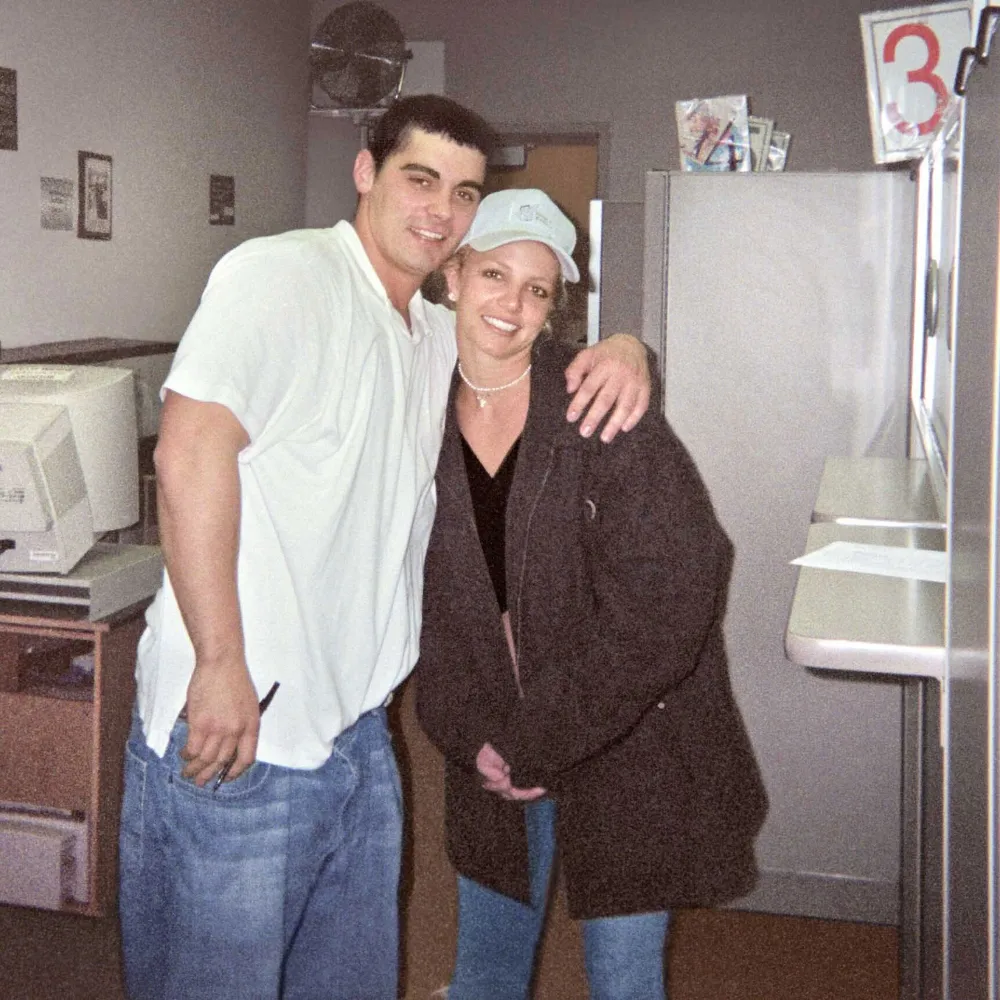 Converting! Wait…
Halle Berry and David Justice
Converting! Wait…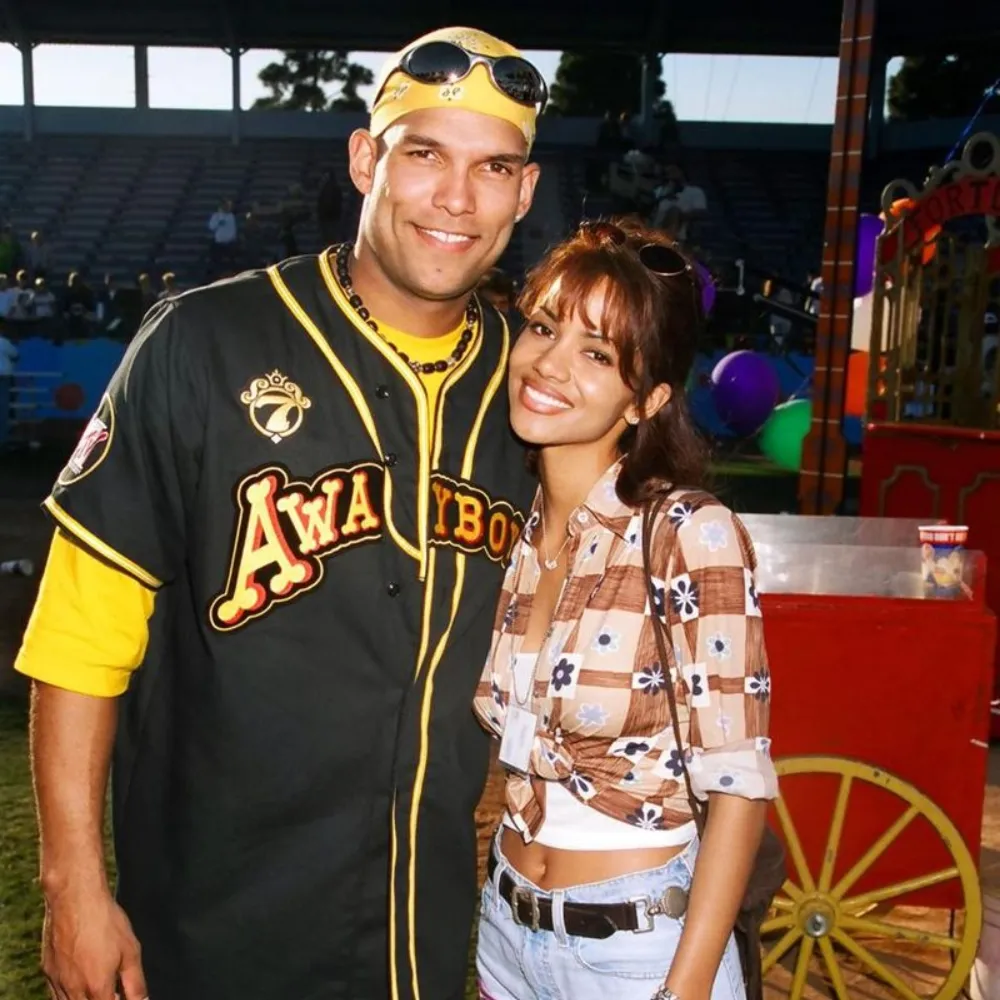 Converting! Wait…
Colin Farrell and Amelia Warner
Converting! Wait…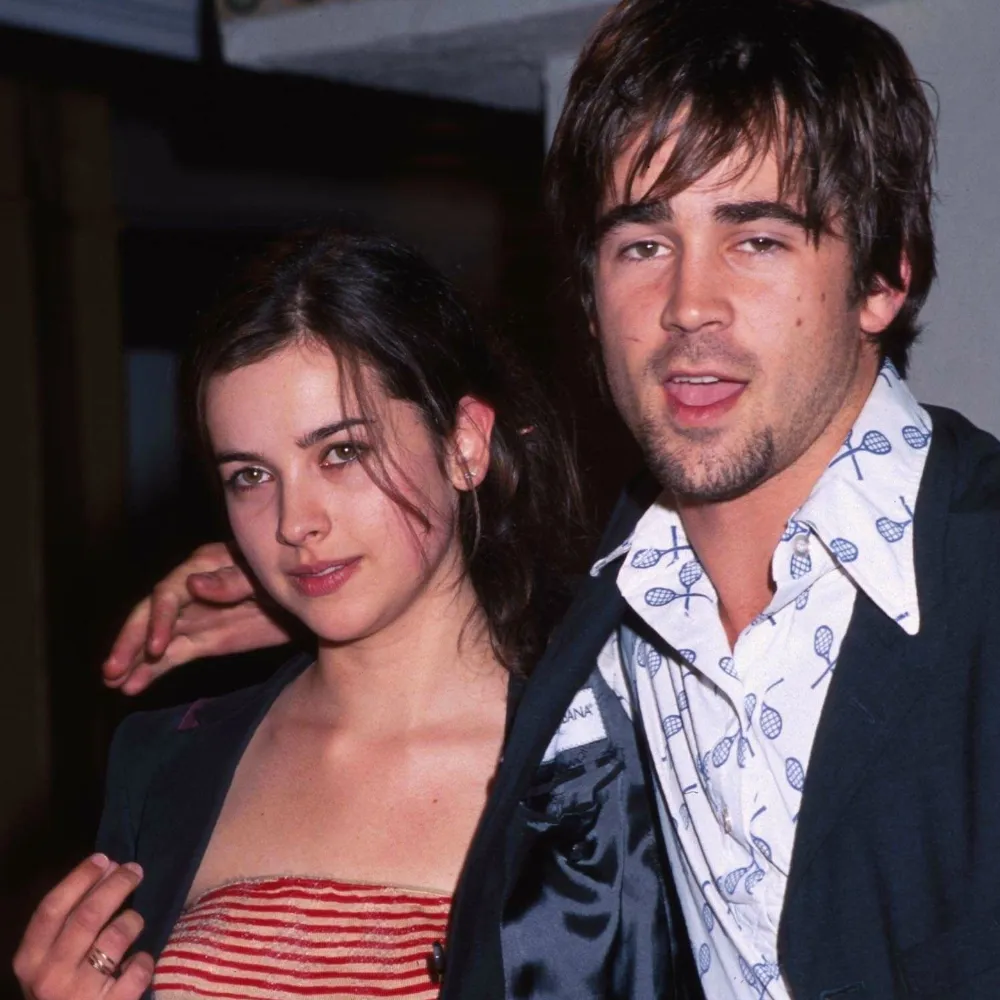 Converting! Wait…
George Clooney and Talia Balsam
We were shocked to discover that famous long-term bachelor George Clooney had been married before! We thought his union to Amal Alamuddin in 2014 was his first! Truly, we feel sort of robbed.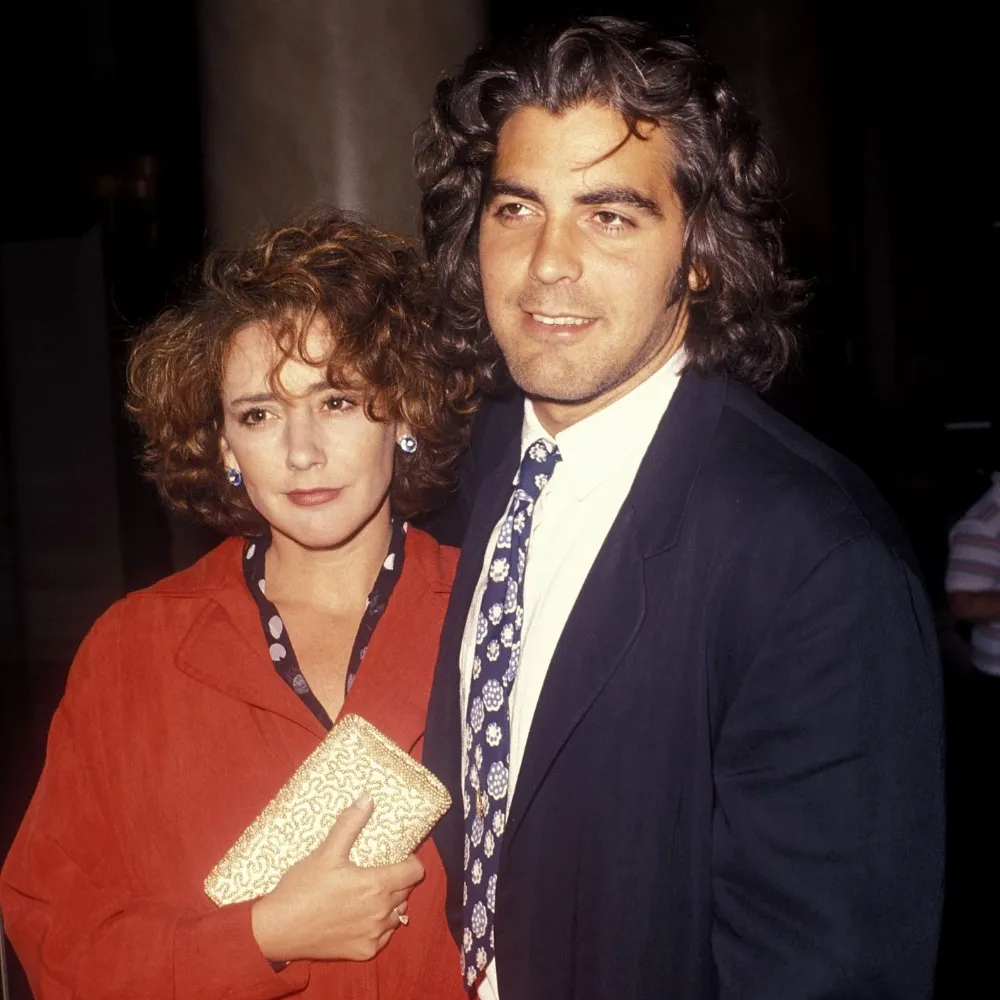 George was married to actress Talia Balsam for four years in the '90s. After their split, the actor told Barbara Walters, "I won't get married again because I wasn't very good at it." Thankfully, that seems to have changed. Talia has been married to John Slattery since 1998.
Drew Barrymore and Jeremy Thomas
Here she is again! Before Drew Barrymore married actor Tom Green, she was married to bar owner Jeremy Thomas. This time, Drew was just 19 when she became the wife of 31-year-old Jeremy. They had only been dating for six weeks, and it only lasted two months.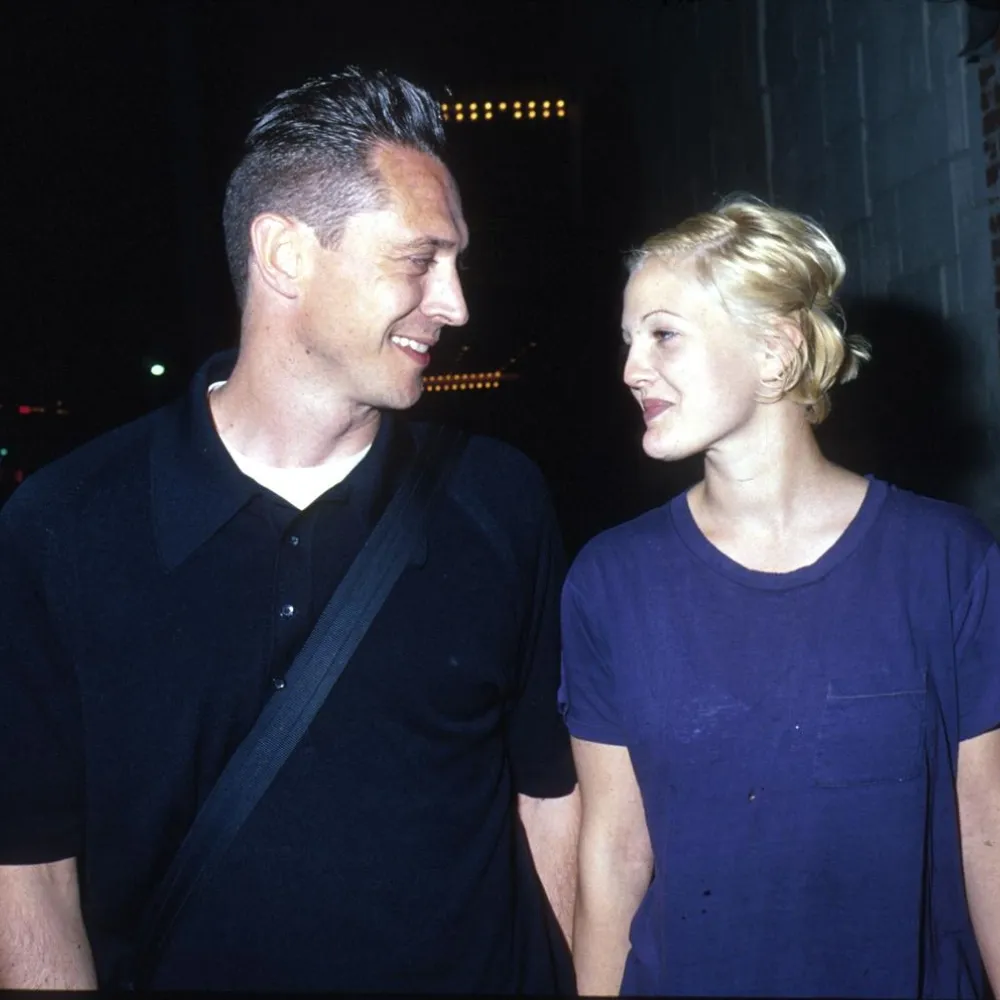 Drew has since revealed, "I realized my mistake on the day I married him." As far as we know, Drew Barrymore is currently single. She has two daughters from her marriage to Will Kopelman.
Eddie Murphy and Tracey Edmonds
In total, comedian and actor Eddie Murphy has 10 children. When it comes to marriage, though, he's only said "I do" three times. Compared to some celebs on this list, that's conservative! Eddie's second wife was businesswoman and TV personality Tracey Edmonds.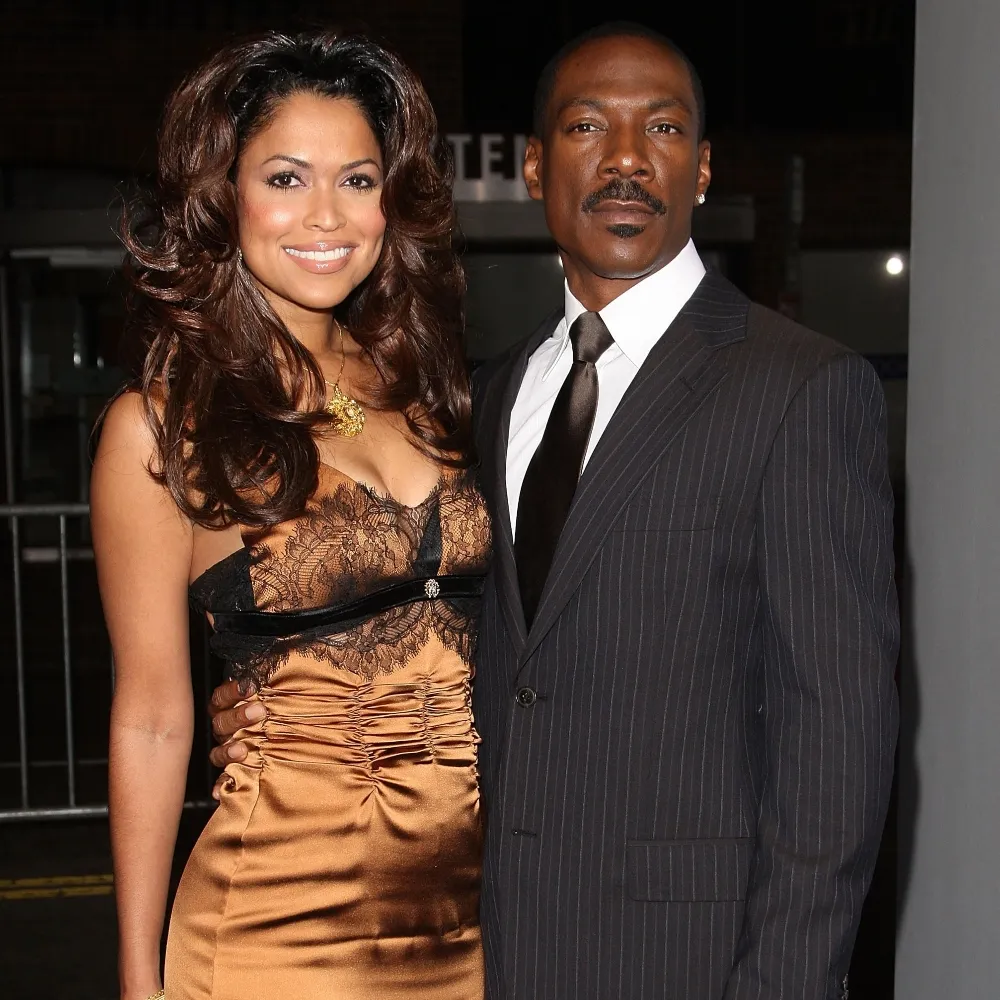 Strangely, the couple had a ceremony in French Polynesia but chose not to have a legally binding one. Just two weeks after their wedding, they announced a statement saying they would "remain friends." Both are now with new long-term partners.
Uma Thurman and Gary Oldman
The lovely Uma Thurman was indeed married to acclaimed English actor Gary Oldman. The couple had a 12-year age gap and met when they worked on the same movie. After marrying in 1990, Uma and Gary called it quits in 1992. That didn't last long!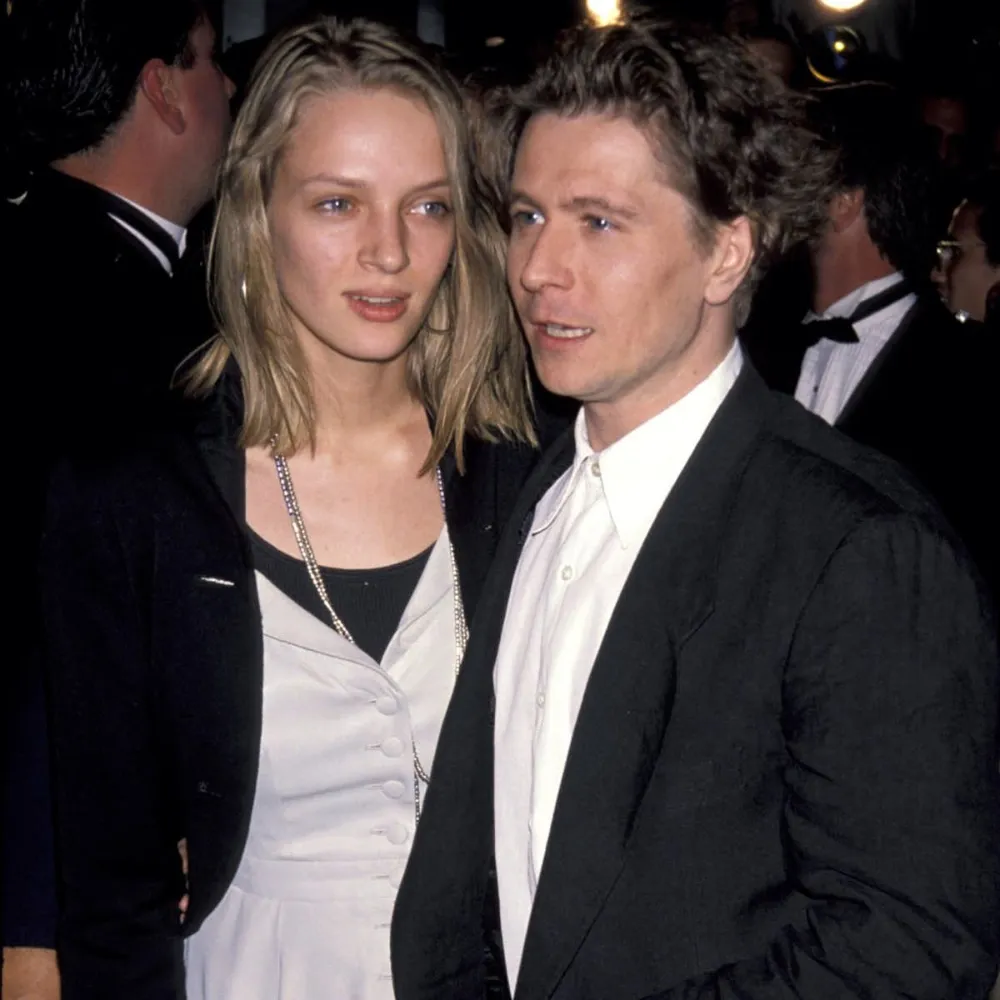 Currently, Uma Thurman is single, though she did remarry after Gary Oldman. As for the award-winning star, Uma was his second of five wives. He married writer and art curator Gisele Schmidt in 2017.
Laura Dern and Ben Harper
Multi-award-winning actress Laura Dern started dating Ben Harper after meeting at one of his shows. After five years together, the celebrity couple made it official in 2005. Two kids later, and after a temporary split, the pair decided to divorce in 2013. She said, "It just is what it is."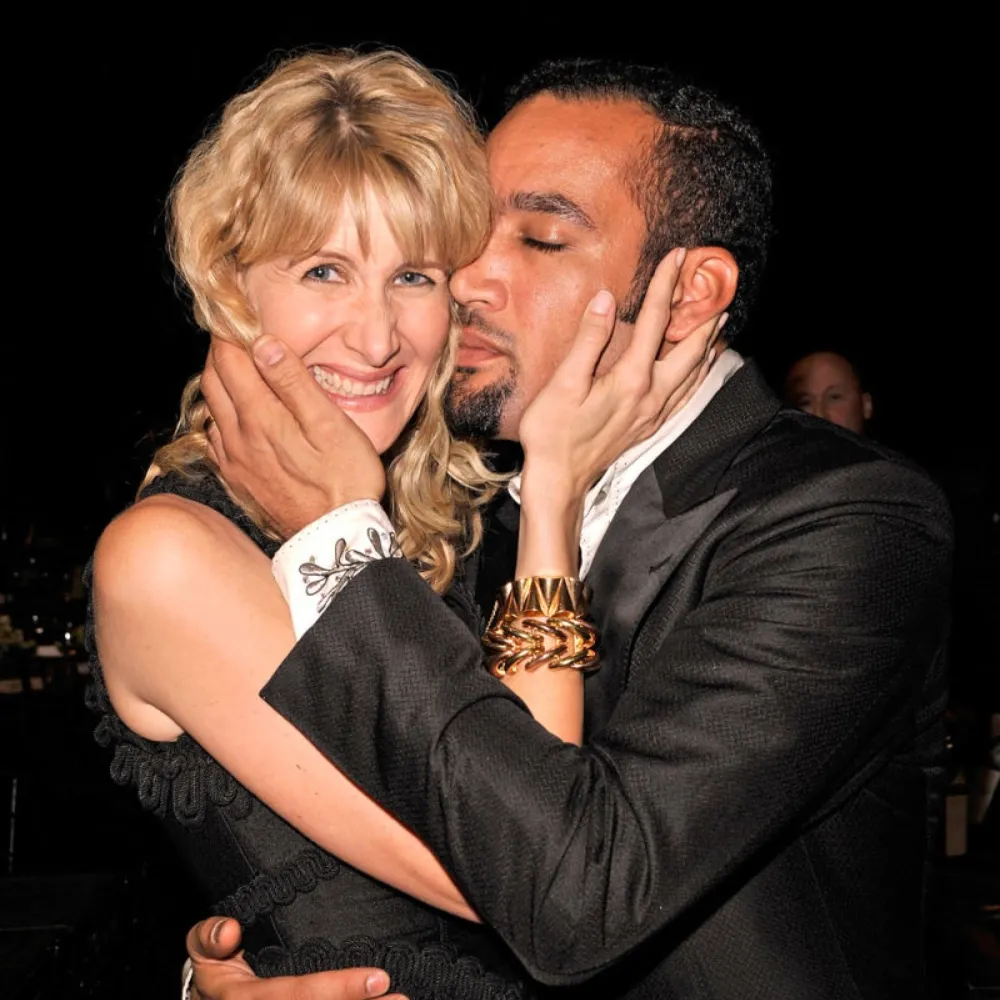 Since the end of the couple's marriage, Laura Dern hasn't remarried. Ben Harper was married before her and has married since. He got hitched to Jaclyn Matfus in 2015.
Tom Cruise and Mimi Rogers
When it comes to ex-Mrs. Cruises, we'd list Nicole Kidman and Katie Holmes before we even think of Mimi Rogers. Perhaps that's a good thing for her! The couple got married in 1987, but divorced three years later. Interestingly, though, it's Mimi that introduced Tom to the Church of Scientology.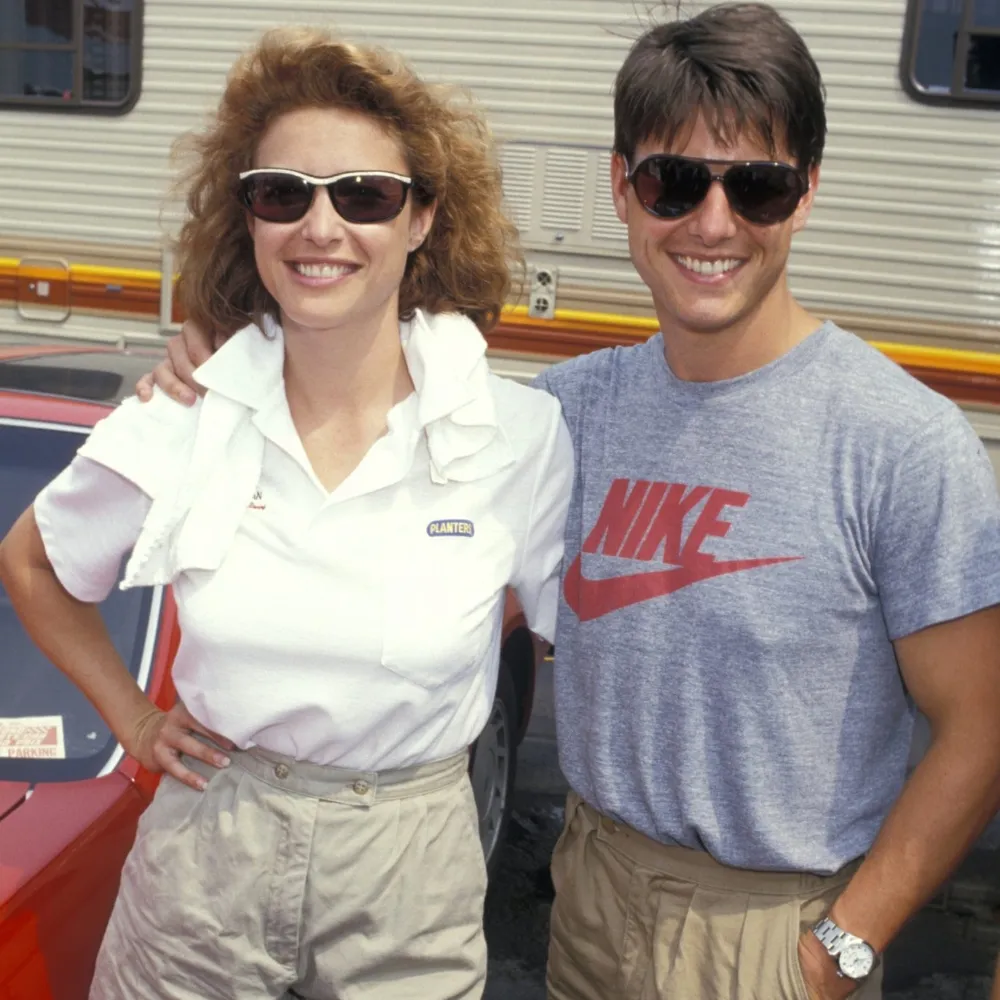 After her split from Tom Cruise, Mimi Rogers met producer Chris Ciaffa. They got married in 2003 and have been together ever since. As for Tom, he must be keeping his girlfriends on the down-low!
Eva Longoria and Tyler Christopher
Lastly, we turn to the ill-fated union of actress Eva Longoria and actor Tyler Christopher. These two were husband and wife from 2002 to 2004, but they each moved on to other relationships. After this doomed relationship, Eva married and divorced basketball pro Tony Parker. She's now the wife of Mexican businessman José Antonio "Pepe" Bastón Patiño.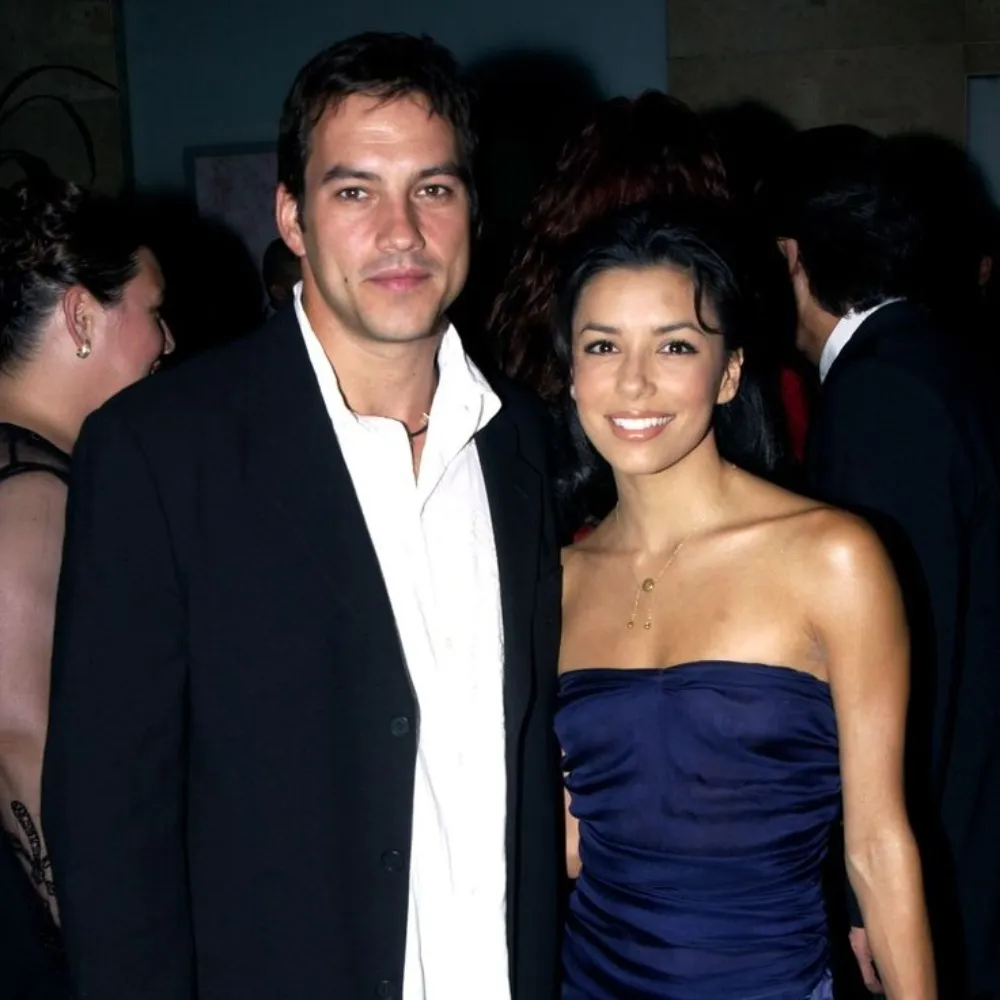 And what about Tyler Christopher? Well, he married auto racing reporter Brienne Pedigo in 2008. Sadly, it didn't last, and she filed for divorce in 2019.